Handbags and Brad Pitt. It's an unusual way to start an article on Speedhunters granted and I can assure you you're still definitely in the right place. But you see, these were the things most girls thought about when I was a teenager. But not me. Oh no. No, I'd promised my heart to another. You see, I'd fallen completely head over heels in love. And the object of my desire? Mitsubishi's Lancer Evolution.
When Mitsubishi released the Evo V in 1998 it was love at first sight. Those aggressive haunches, the deep front bumper, the in-your-face rear wing. I knew from the moment I laid eyes on it that the Evo was the car for me, and made myself a promise that I would own one someday. After years of saving, many months of searching to find the perfect black specimen and a 600-mile round-trip to pick it up, I became the ridiculously proud owner of W27 EVO.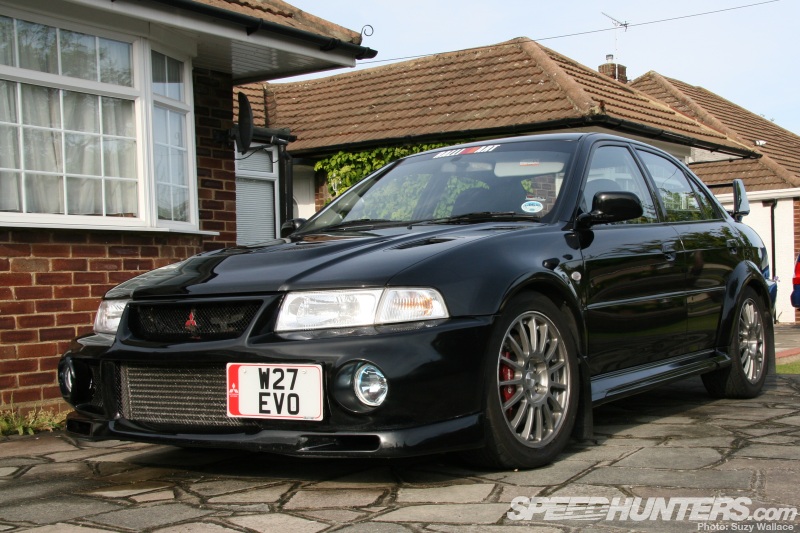 A Pyrenees Black Mitsubishi Evolution VI GSR – an official UK import from Ralliart. Here it is the day after bringing it home. My grin was visible from space.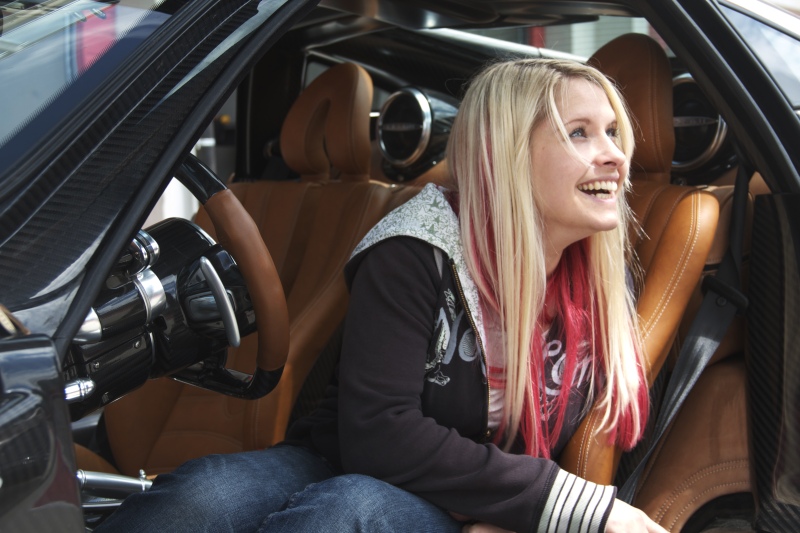 Perhaps I should backtrack for a second. My name's Suzy and I'm now the Editorial Manager here at Speedhunters. Hello! I've been a self-confessed 'car geek' for a while now, and have a background in writing and also producing car-based videogames, most notably Need For Speed: SHIFT and SHIFT 2 Unleashed. I guess you could say I'm quite a petrolhead and I also happen to be proficient at swearing, making impossibly cheesy grins when behind the steering wheel and hearing noises with my car that nobody else can pick up on. So that's me in a nutshell. As for the car, I'll be bringing you monthly updates about what I've done in it, and to it. Back to the car…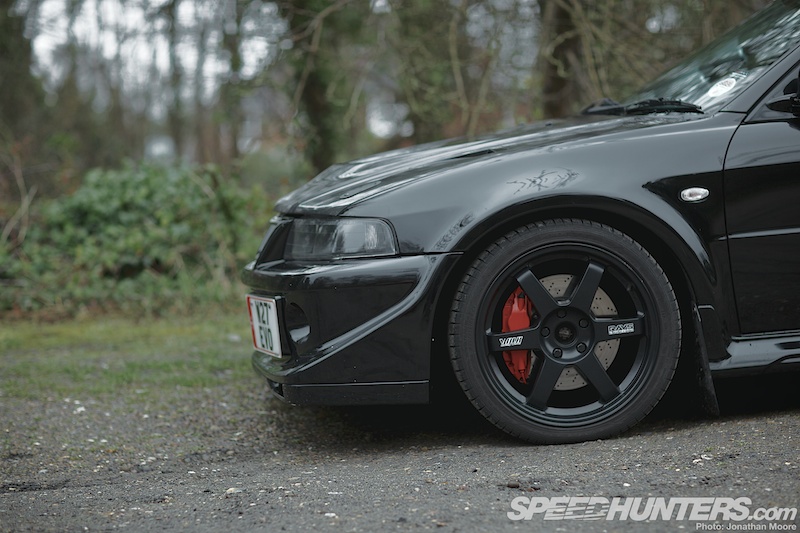 The first mod to it had to be wheels. The standard issue OZ SuperTurismos were decent enough quality but they just weren't doing justice to the car's aggressive lines. So with some cash burning a hole in my pocket, I sourced a set of RAYS Engineering Volk Racing TE37s through my car club (the MLR – Mitsubishi Lancer Register). After being powder-coated satin black, the 18×8.5-inch wheels looked amazing on the car, filling out the arches and giving the car a new sense of purpose. The grin remained.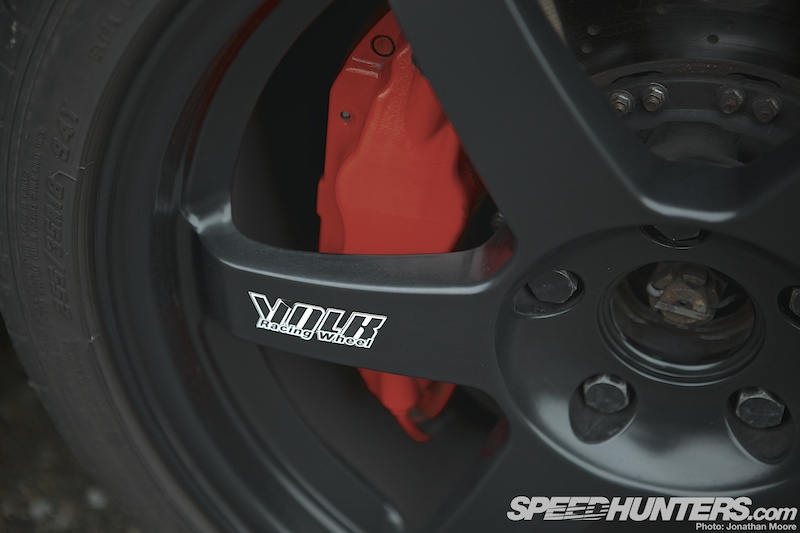 The standard Brembo calipers have been painted Ford Electric Orange after a particularly spirited trackday at Anglesey circuit in Wales saw me boiling my brake fluid and turning the normally red paint to brown – not a great look. Behind the wheels, a set of Performance Friction two-piece floating discs and Carbotech XP8 pads give the car all the stopping power it needs. For now…
Externally, you'll notice that the car looks different to when I first became its proud owner. I'd love to say that it was all planned from the offset. Sadly, it has more to do with me being an idiot than any grand plan. Shortly after finishing the previously mentioned trackday in Anglesey, I was involved in a road traffic accident.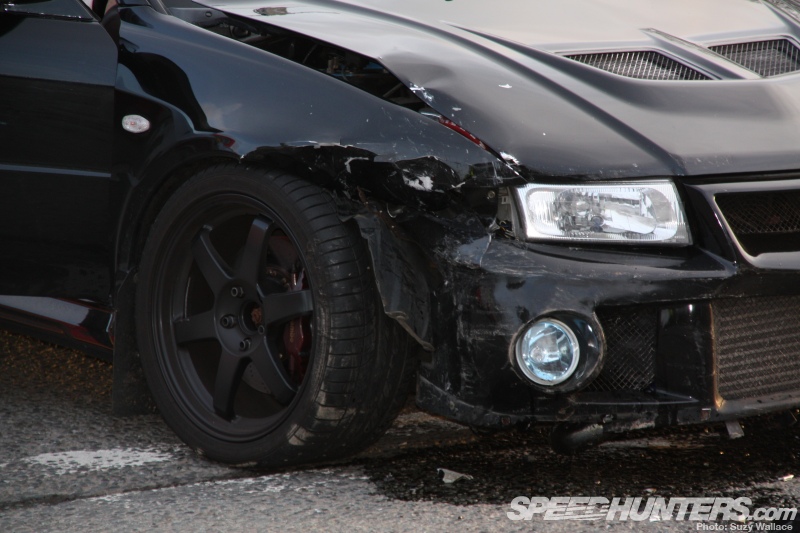 To make things worse, it was my fault. I'll admit I cried. Not because I was in pain (although I'd managed to pick up a split lip, nosebleed, burnt nose and swollen face from having the steering wheel airbag go off), but at the fact that I'd crashed my dream car. Epic fail.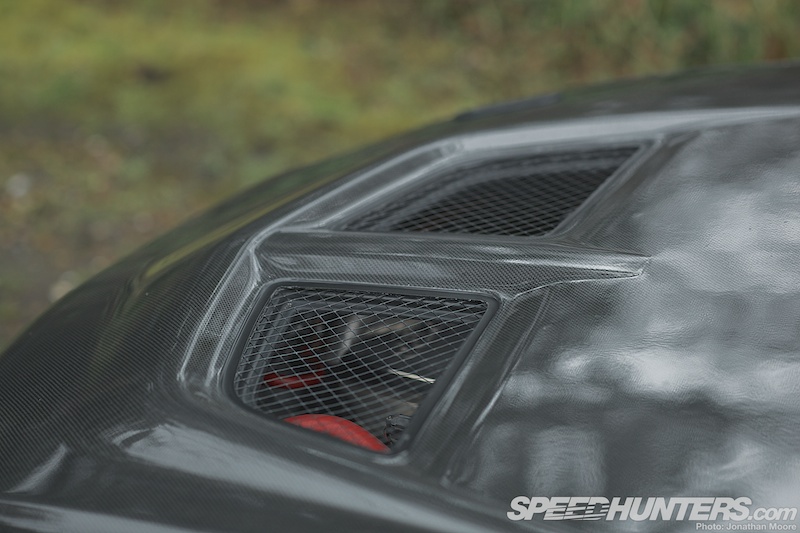 Desperate to somehow repay my idiocy, I decided to celebrate its rebirth with a makeover. First off was the carbon fibre bonnet…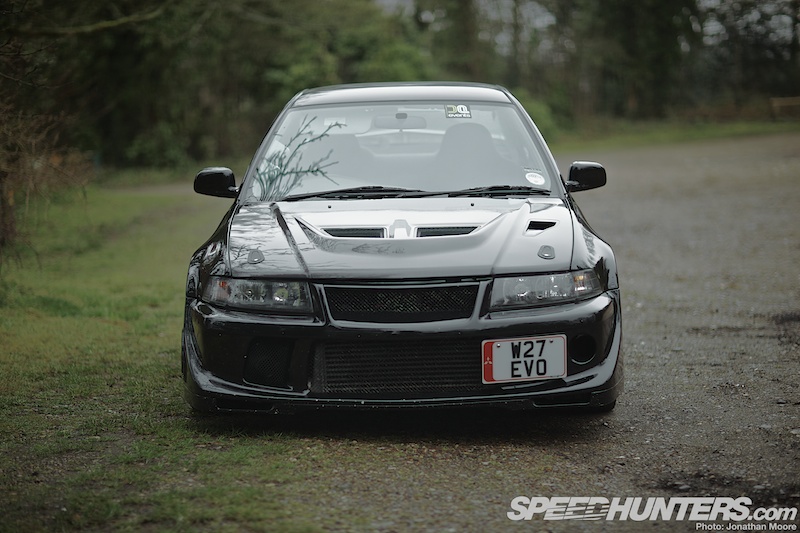 … then a Tommi Mäkinen Edition bumper was sourced…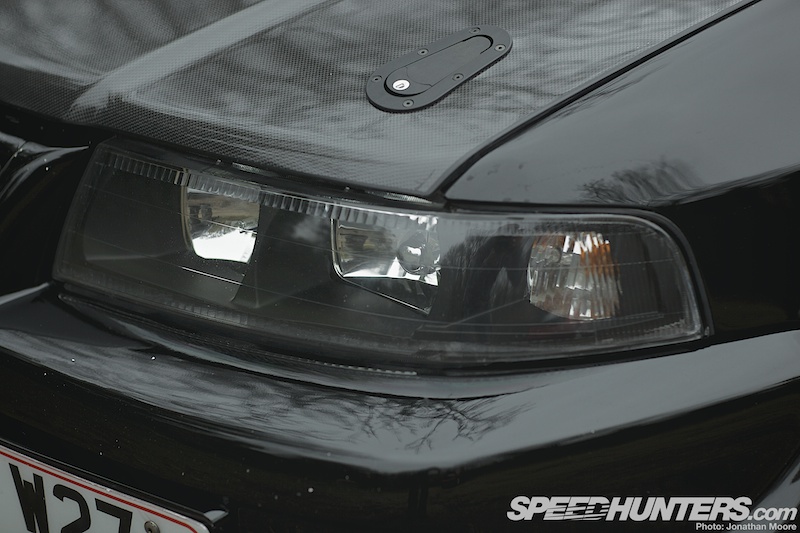 … and the front end was finished off with these gorgeous TSL one-piece headlights. My ego had been dented but at least the front-end of the car wasn't any more. The changes completely transformed its looks. I'd loved it before but I literally couldn't take my eyes off it now. It's got real presence on the road, and the double-take people make when they realise it's a girl driving it is priceless. It looks angry and I like that. Perhaps I should be concerned what that says about my personality…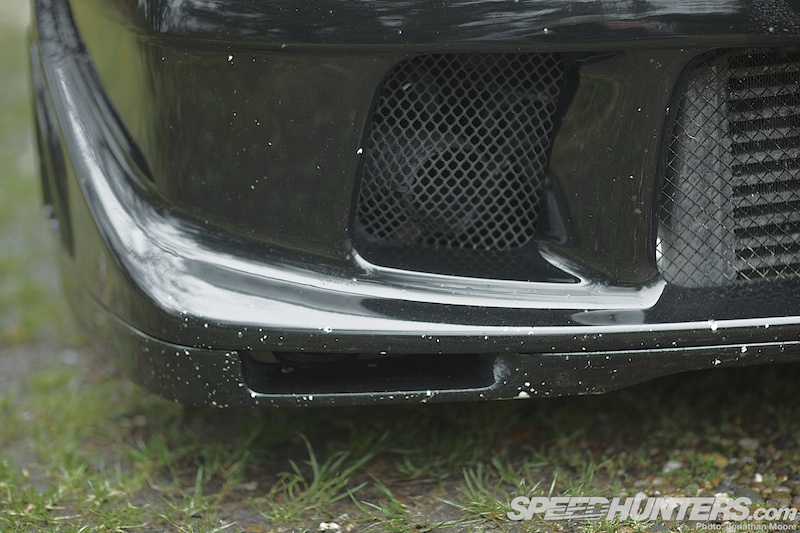 A few other parts 'mysteriously' crept into the rebuild too – a Koyo alloy radiator, HIDs for the lights and an uprated HEL oil cooler to keep things cool out on track. To my surprise, my oil temps didn't drop much though; the new bumper almost completely blocked off the oil cooler. Hunting around, I sourced a custom fitting for the oil cooler with twin inputs for ducting which you may be able to see here. One section runs from the gap in the splitter and the other from the gap in the bumper. Et voila! A nice steady oil temperature, even after a thrashing on track.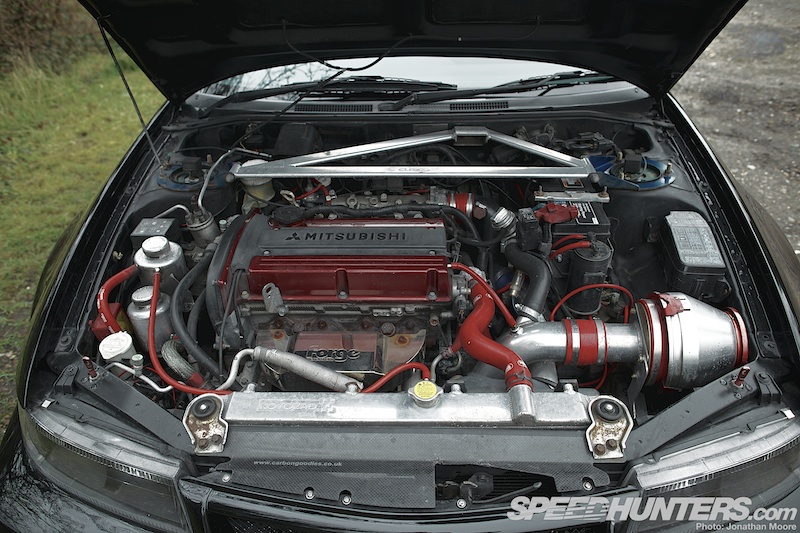 I guess I should touch upon the heart of the car: the engine…
Firstly, I should probably apologise for the state of it! Whilst I'm somewhat anal about keeping the exterior clean (anyone with a black car will be able to sympathise at how amazing they look when clean, although also knows that rarely lasts more than an hour), I'm afraid that doesn't extend to underneath the bonnet. I should really lavish some attention on it though, as it's the one part of the car that's never let me down. Sporting a low mileage engine and turbo from the later model VIII MR, it's in a pretty light state of tune, putting out around 360hp (atf) courtesy of an Autronic ECU, Blitz Sonic Power air filter, HKS intercooler, uprated fuel pump and regulator, and a mainly Magnex exhaust system.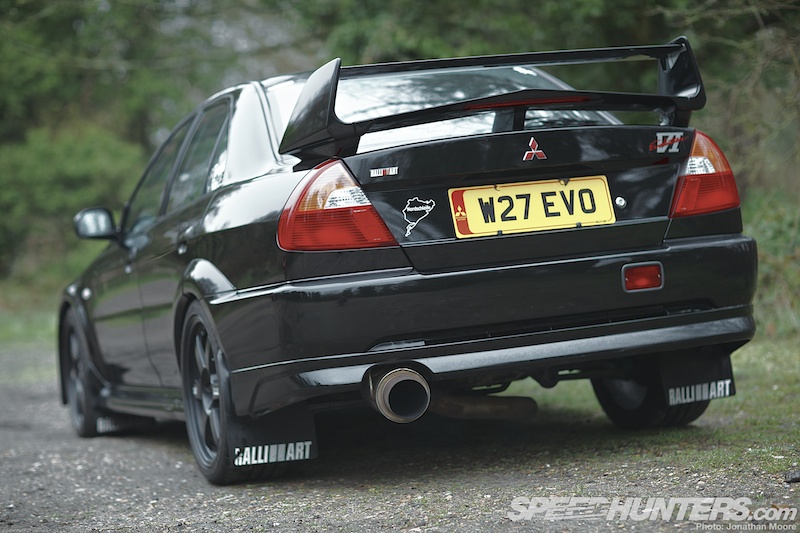 I say mainly because the rear section has a twist in its tail – it's a NISMO item. Ha, bet that's confused you! Yes, yes, I know NISMO don't make parts for the Evo, but it was shoe-horned on when my normal exhaust went… um… well, 'missing'.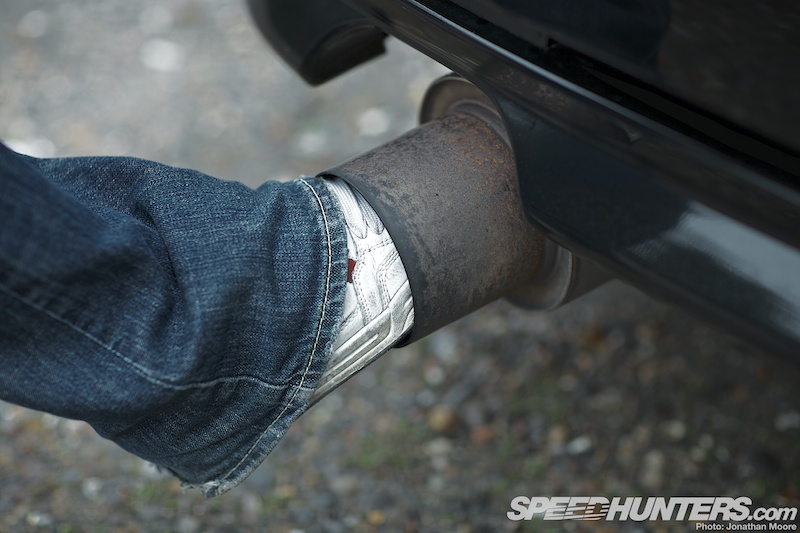 The NISMO Spec-Pro cat-back has seen far better days and was purely put on as a temporary measure. Okay, so my definition of 'temporary' is probably longer than most but it's high up on the list to be sorted. Honest. In the meantime, I sometimes use it for storing shoes…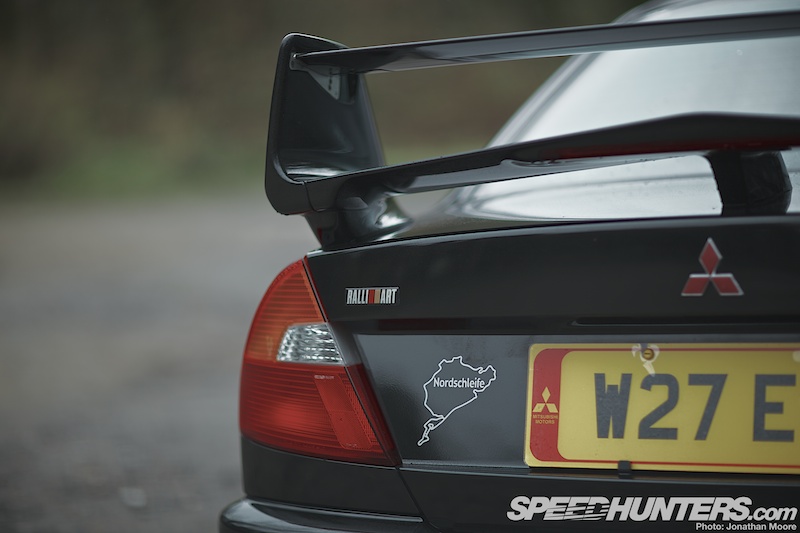 The back also sports the obligatory 'Ring sticker…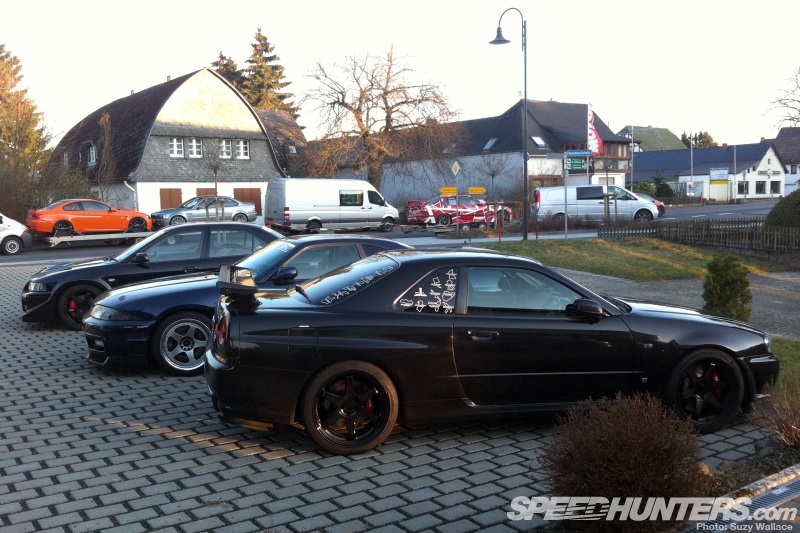 … a place that you could call my 'home away from home'. It's where I can normally be found at least twice a year, on the track during the day and eating the customary steak on a stone in the Pistenklause during the evening. That's also normally followed by keeping the barman serving far past the time when the sensible people have retired for the night. In fact, amongst my Skyline buddies who travel out there with me, we often joke that "our driving pursuits interfere with our drinking holiday". But I digress…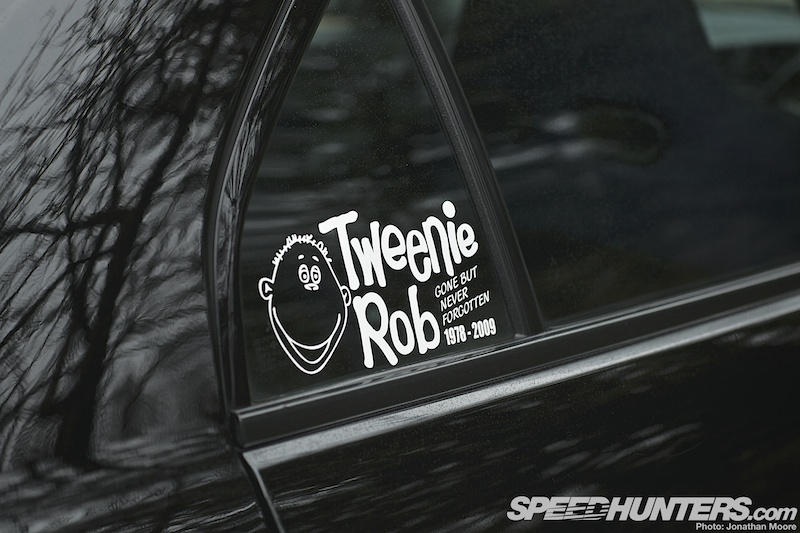 Back to the Evo. I'm not particularly a big sticker person, preferring to keep the exterior as lean, mean and black as possible. However, one I do proudly sport commemorates 'Tweenie' Rob. A well-known Skyline mapper and tuner in the UK, the first man to lay his hands on my Evo when I picked it up (indeed, shedding blood to fix a popped boost hose on my first day of ownership!) and genuinely all-round top guy. He sadly passed away in 2009 in a car accident, but is no doubt still tearing up the strip 'somewhere upstairs'.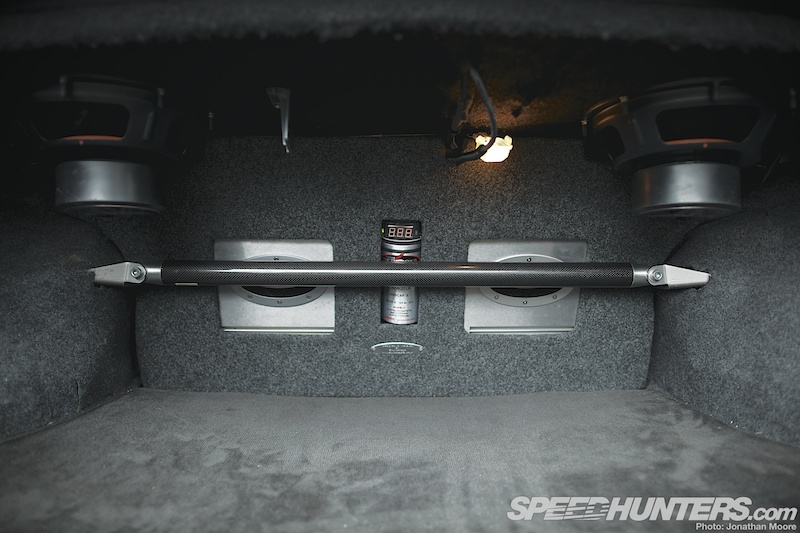 Opening up the boot may provide a bit of a surprise…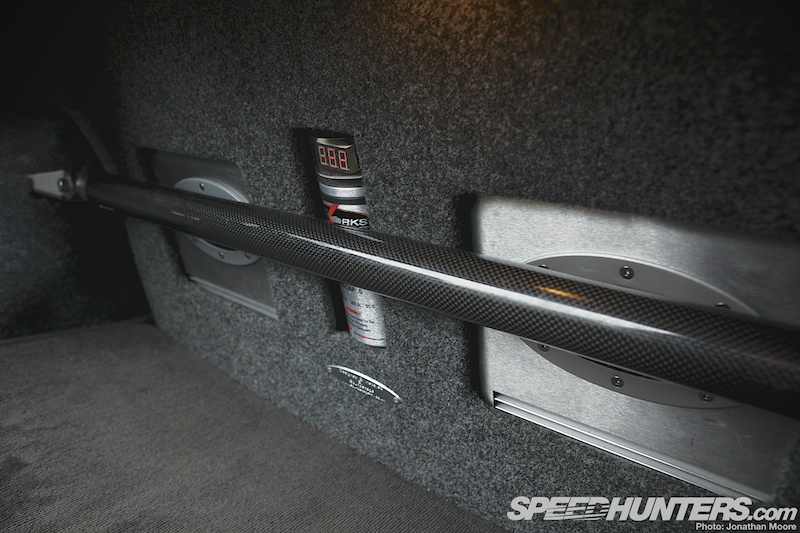 What's that I hear you say? An audio install in a car that sees a lot of track time? Well, yes. The install was already present in the car when I got it and not only is it a very tidy install (the untidy bits are all my work), but it's made up of some great components too – an Alpine head unit is connected to two Genesis amps, which in turn power a Kicker capacitor and two JL Audio subs on the parcel shelf, as well as door speakers and tweeters. It's not a mod I'd normally consider, but it definitely makes the 800-odd mile roundtrip to the 'Ring a whole lot easier to bear! Contrasting the comfort factor of the set-up is the latest addition to the car – a Cusco carbon fibre strut brace, complimenting the three-point item in the front.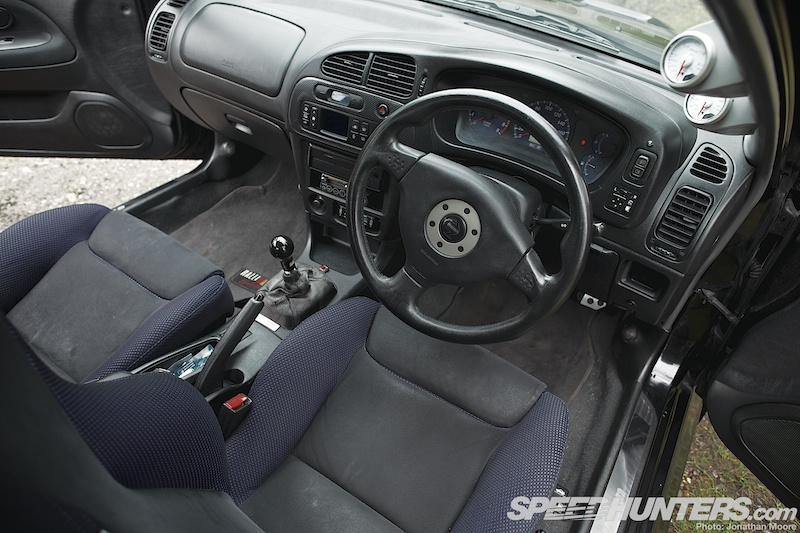 The interior is largely stock…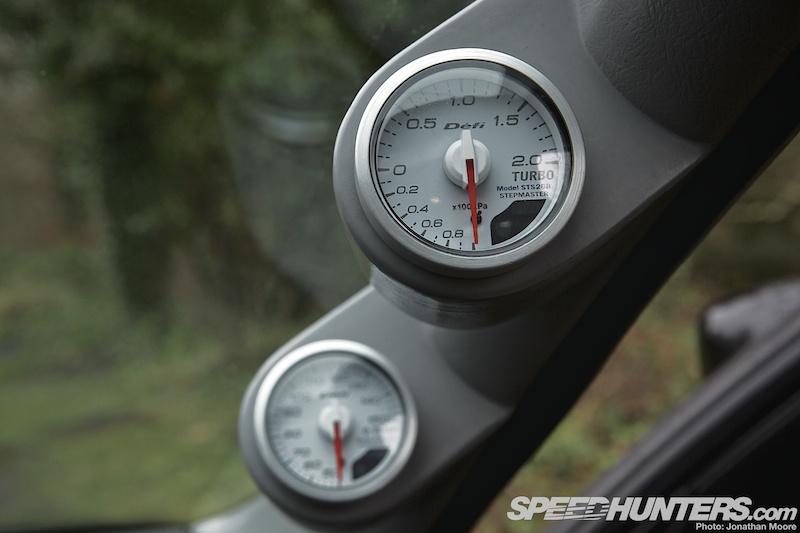 The most obvious modification being the custom A-pillar pod that features these Defi StepMaster gauges. These keep me constantly informed about boost pressure and oil temperature (essential on track), and also feature a controller with which you can set warning limits and record peaks. They're also just genuinely nice to look at to boot.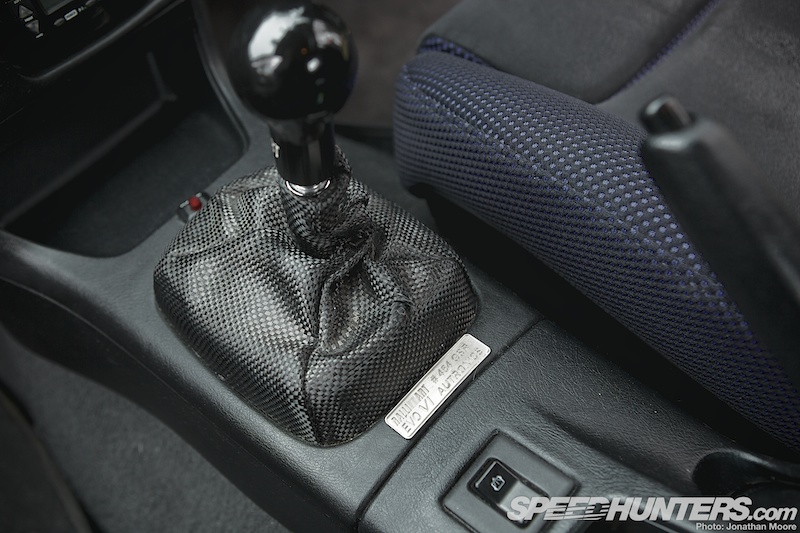 Other minor bits include a carbon fibre cloth gear gaiter and Ralliart gear knob on top of a B&M short-throw gear lever, plaque denoting the car model and ECU details (in the same style as the Tommi Mäkinen Edition)…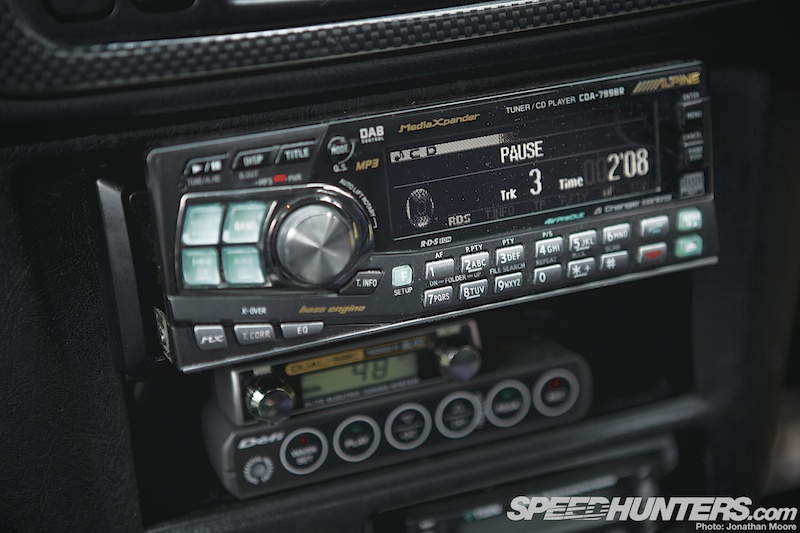 … Alpine head unit, Blitz Dual-SBC Spec S boost controller and Defi gauge controller…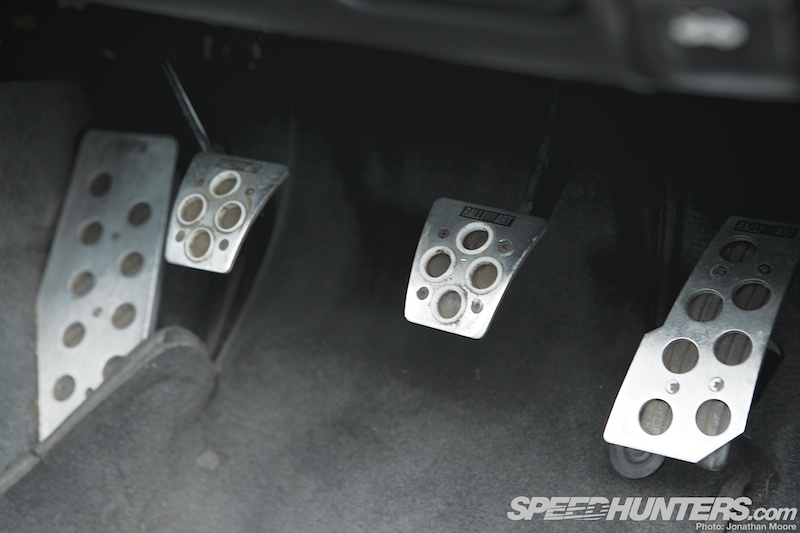 … the Ralliart pedals…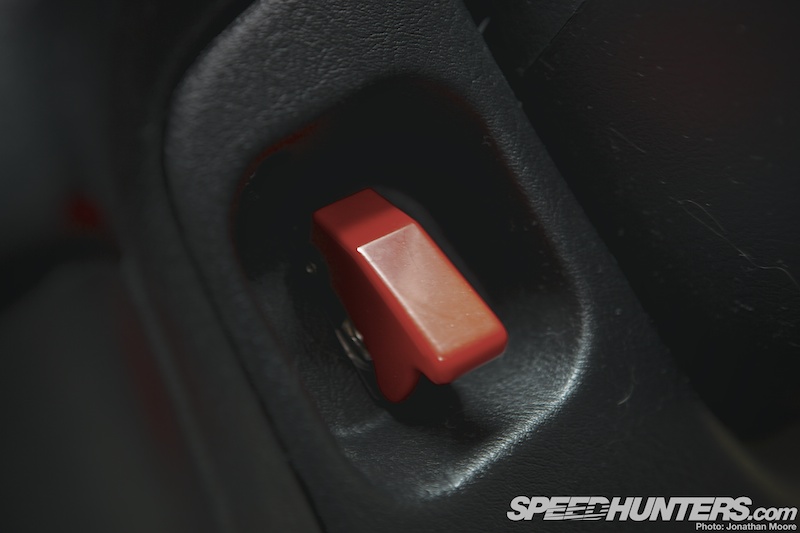 …and last but not least, my very own missile launch button. Or is it an ejector seat? Actually, it's the switch for the ECU-programmable anti-lag. I'm not sure which would cause the most carnage?!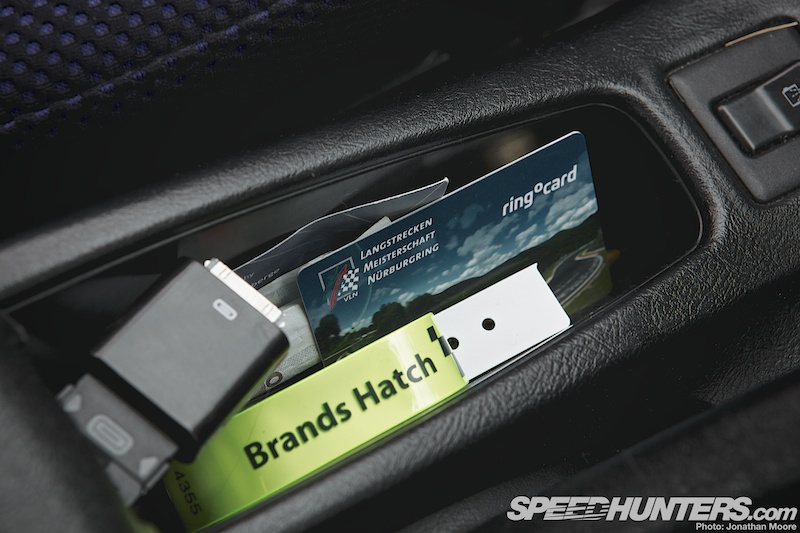 There's also plenty of mementos from recent trips hanging around.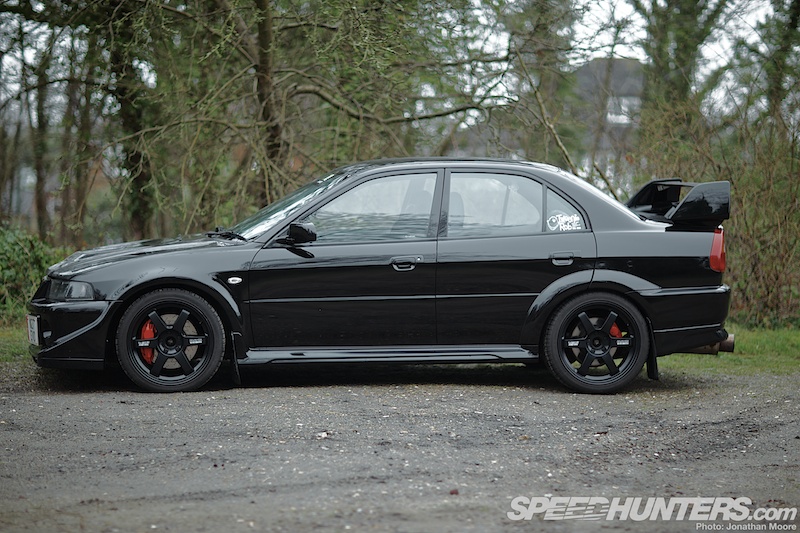 So that's the details of my car then. As you will have noticed, it's not a show car. It's a car that gets used. I track it, compete in sprints, visit my 'second home' often and attend many car club meets. I also do my shopping in it. Which is fun. Talking of shopping, I do have a reasonably hefty mental shopping list for it: seats, harness bar, a properly fitting exhaust, some wheels to use as my dedicated track set, new steering wheel, various carbon fibre bits and pieces I've been eyeing up, flocked dash, uprated anti-roll bar, etc… But the real aim now is a stroker kit. I've always maintained that there's no point in getting more power til you can use what you've got. I reckon I'm pretty much at the limit of it now though, so more power beckons!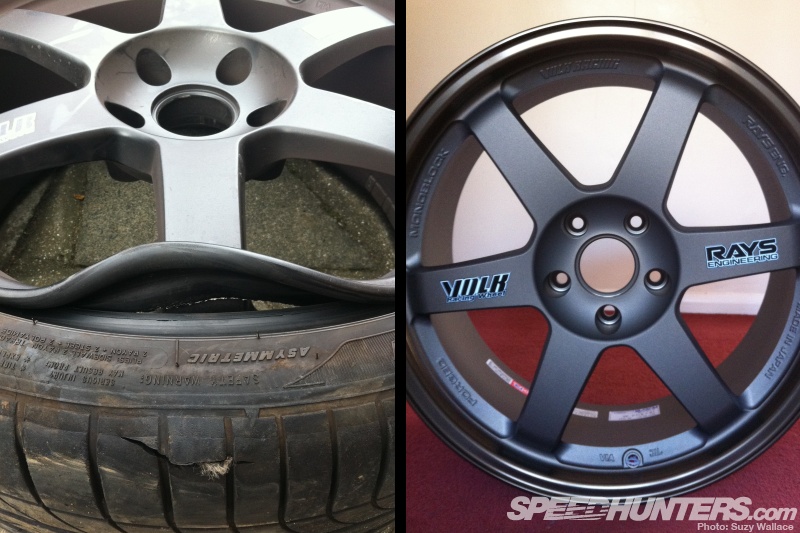 Like any good relationship, there's been ups and downs. Take for instance the time I hit something lying in the middle of the road. Besides ripping the rim of my wheel away (my god, what was that I hit?!?), the replacement one I got was of the updated design with embossed writing between each spoke. Which none of my others have. Paying someone to grind it all down was emotionally scarring. And the cost of replacing this wheel? You don't even want to know. Seriously…
But that's just it: you take the good with the bad. Though I might sometimes threaten to burn it when something breaks (I do actually do this), the next time I drive it, I just can't stay angry with it. After all this time, I still think it looks amazing, it still gets my pulse racing and I still can't think of any car in the world I'd rather own.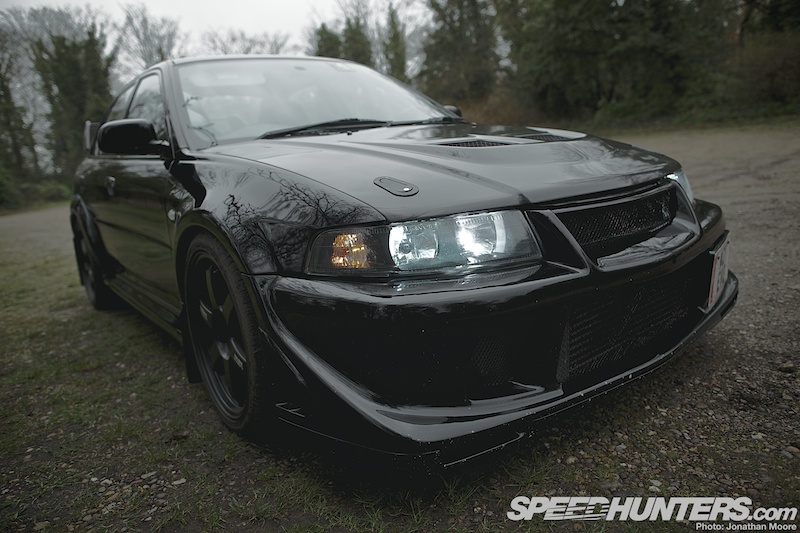 I guess after four years of being together, I'm still madly, deeply, head over heels in love.
Suzy Wallace
Instagram: speedhunters_suzy
suzy@dev.speedhunters.com