We all have our favorite 'firsts' our lives. The first time you rode a bike, the first time on a roller coaster, the first kiss…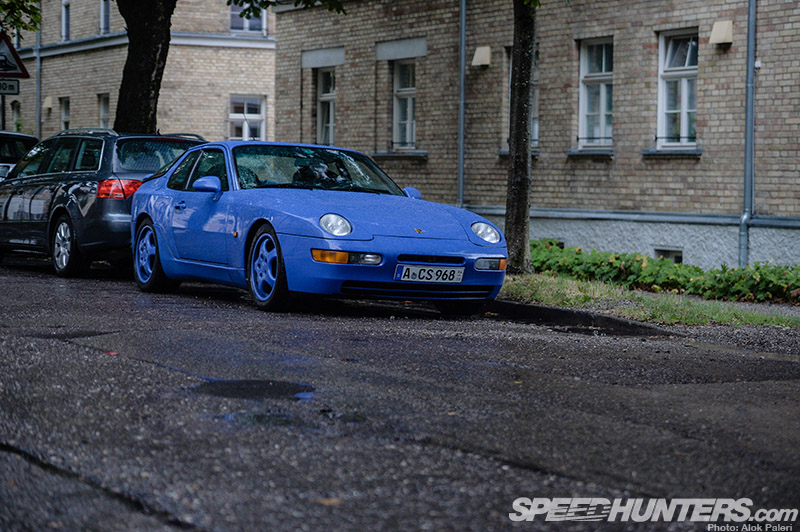 This Porsche 968 CS sits close to my heart. Not because it has enormous power – the 3.0-litre unit, the last four-cylinder engine Porsche has ever made –  only makes 240 horsepower.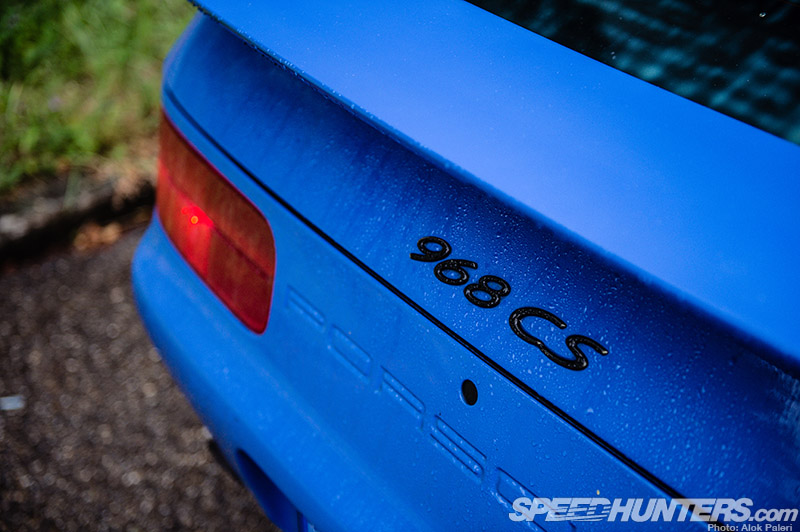 And not because of its pedigree – this is no classic rear-engined, rear-driven 911 that everyone instantly recognizes.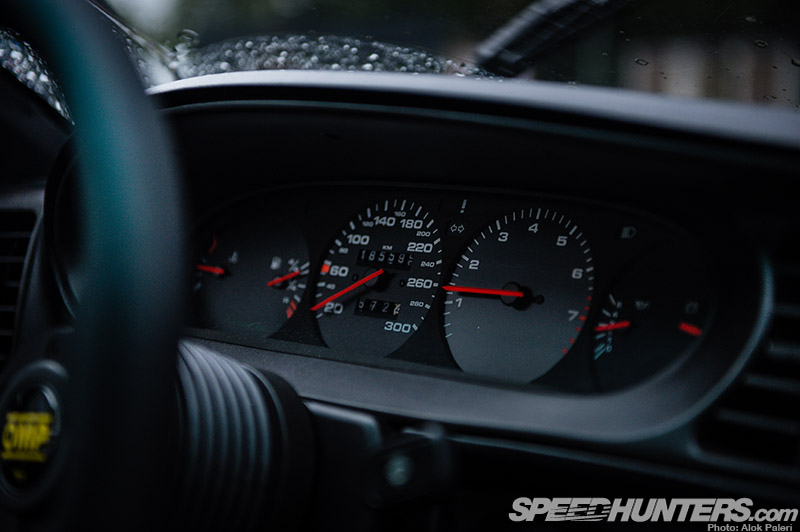 No, the reason why I am so fond of this 968 Clubsport is because it ticks a big box in my 'firsts' list. This is the first car I'd driven after I'd gotten my drivers' license.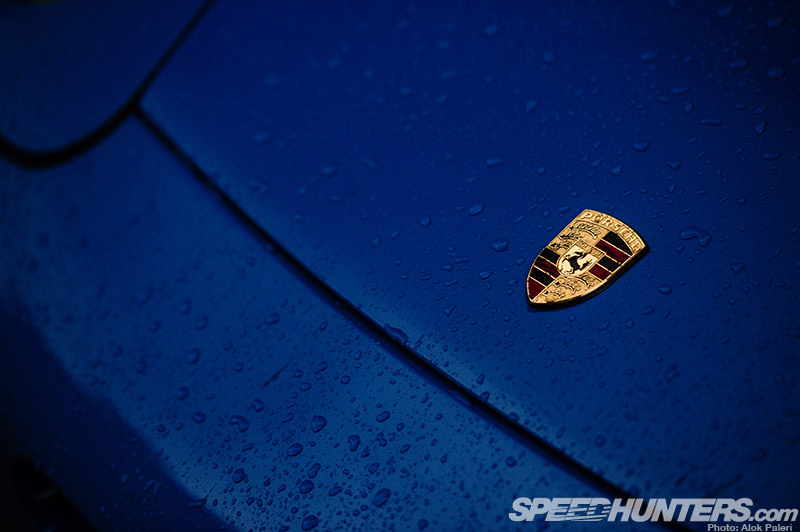 It belongs to my colleague and good friend Sebastian and for him too this was one of the 'firsts' – his first car and a daily driver no less.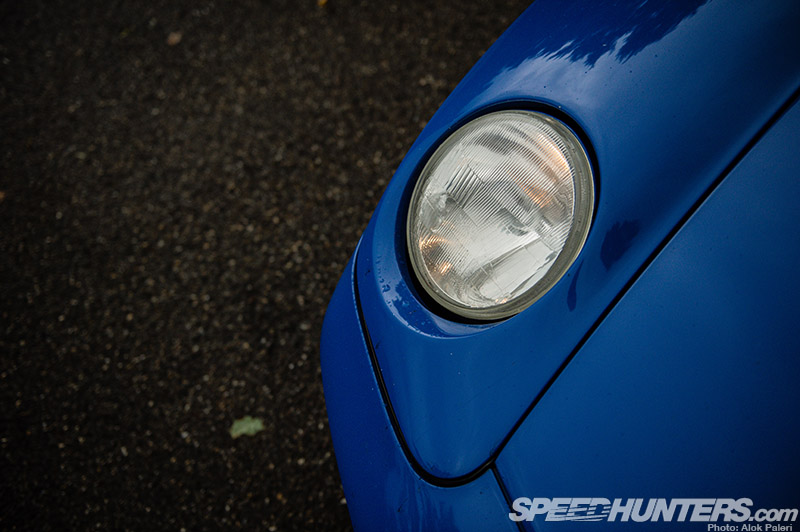 Jumping into this car after learning to drive in a moderately powered modern diesel hatchback was one of the most terrifying experiences of my life.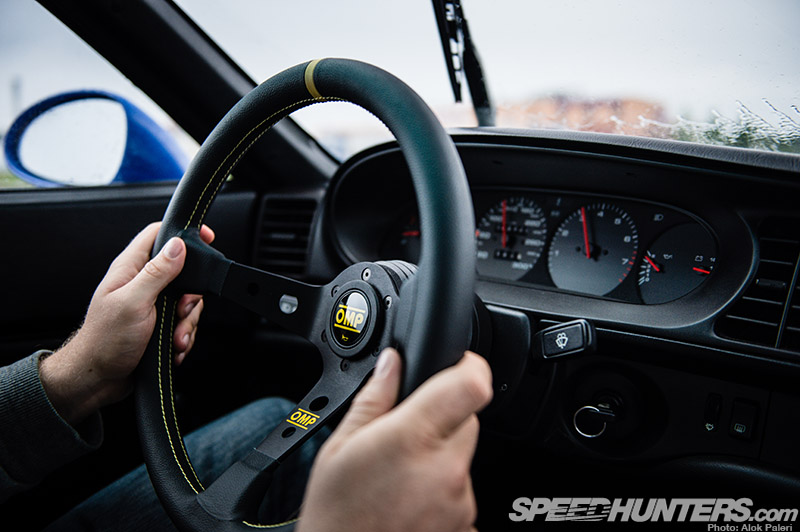 The power steering was incredibly heavy for a beginner and provided an overwhelming amount of feedback. This car used to have the stock 968 steering wheel which was recently replaced with this leather-wrapped OMP item.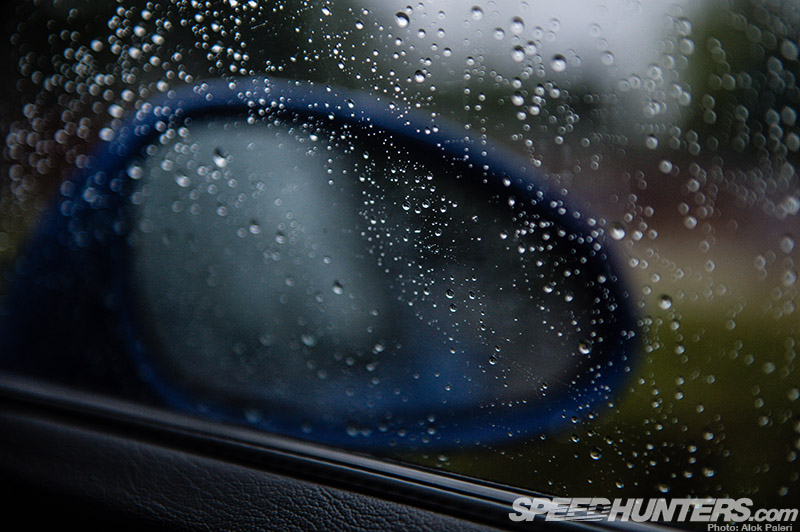 The wing mirrors weren't even remotely as convex as its modern counterparts, which called for a lot of interesting head movements before changing lanes. It was the most I'd ever had to concentrate in a car.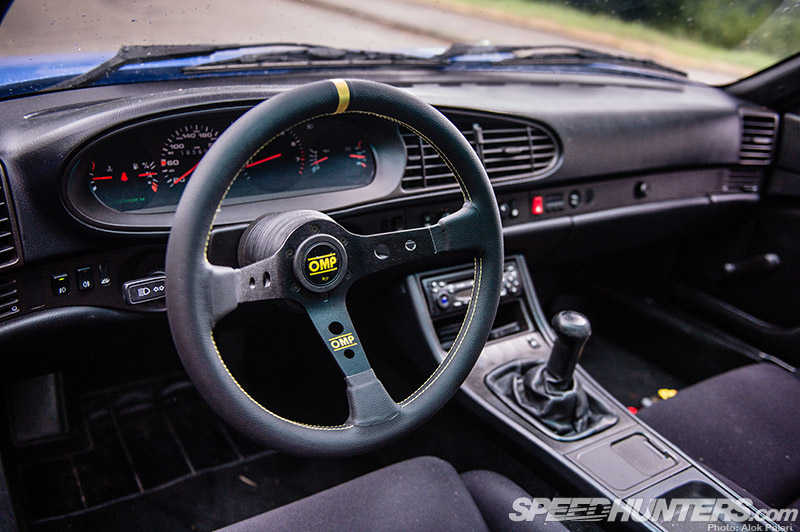 The Clubsport boasted of a Spartan interior with most of the standard 968 luxuries removed. Air conditioning and sunroof were optional and wind-up handles replaced power windows. Unlike the standard car which is a 2+2 coupé, this is a strict two-seater with the rear seats deleted.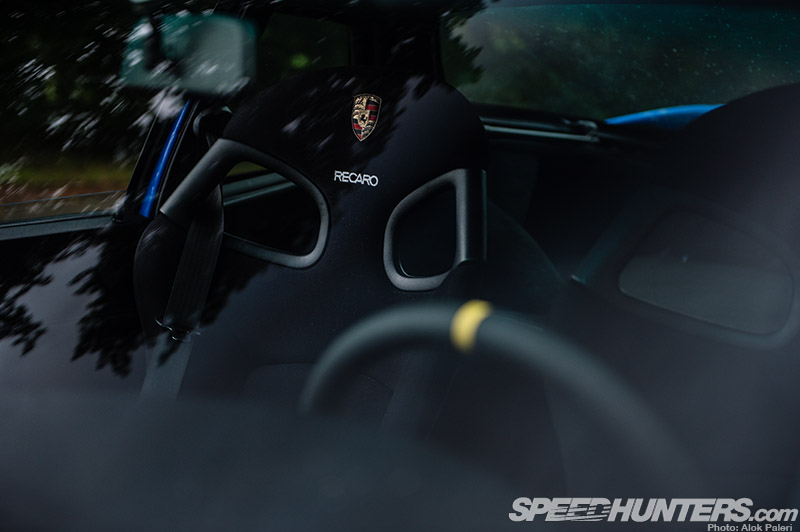 The seats in this car were swapped out to make space for two Recaro units sourced from the 996 GT3.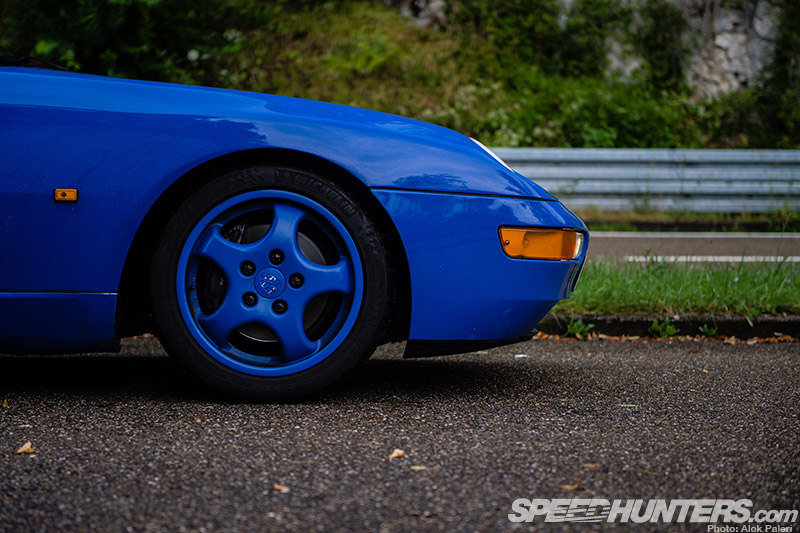 The Clubsport sits 20mm lower than the standard 968, equipped with a revised suspension that can take a good beating on track. The 17-inch wheels are also slightly wider to accommodate the wider tires measuring 225 and 255 sections at the front and rear respectively.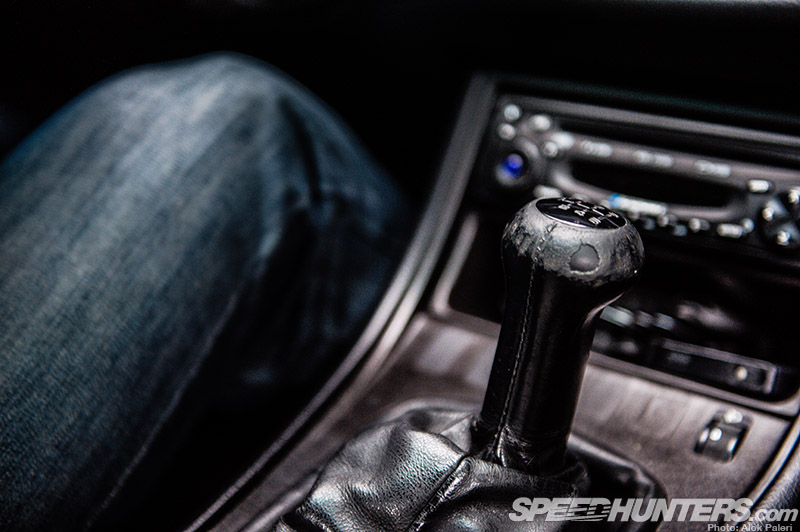 Just one glance at the shifter knob and you can tell this car has seen a lot of use…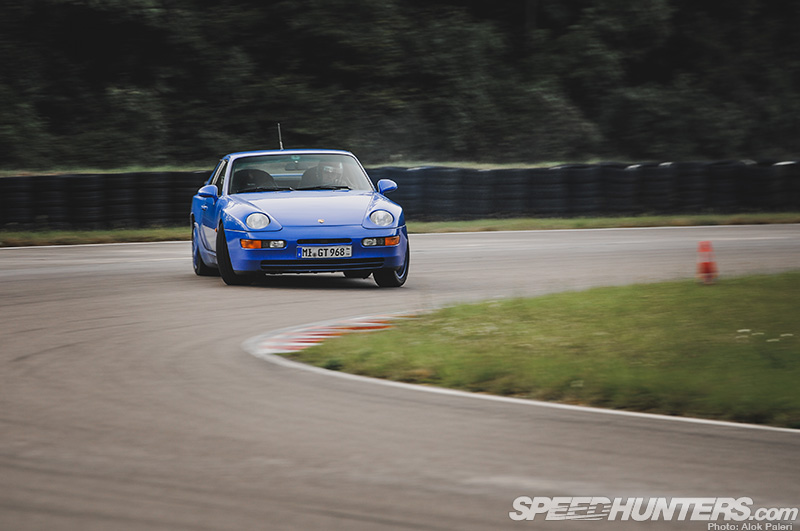 … and abuse. Despite the odometer reading a little under 186,000km, it's very often tracked and misbehaved with, even in its relatively unmodified form. Tipping the scales at 1320 kilograms you can really throw it into corners and make it dance.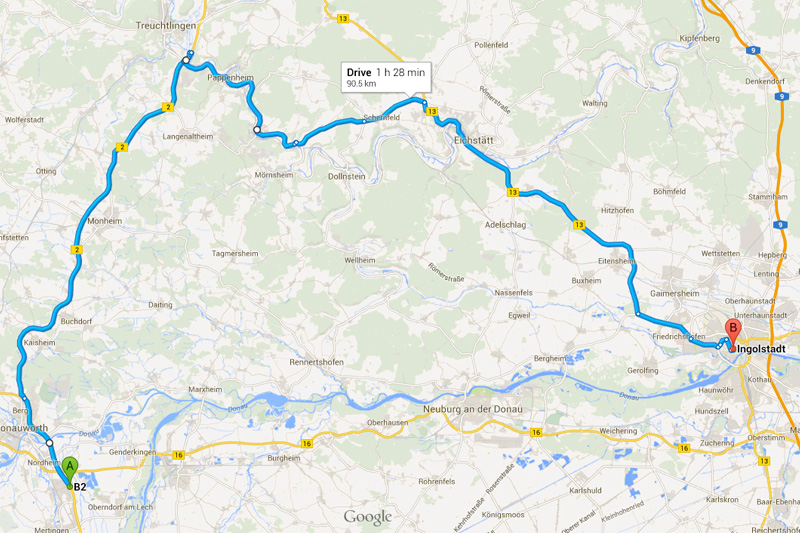 So when it came to picking a car to do this month's story, I asked my friend Sebastian if he wanted to take the Porsche out for a short, spirited drive along the limestone valley of the river Altmühl.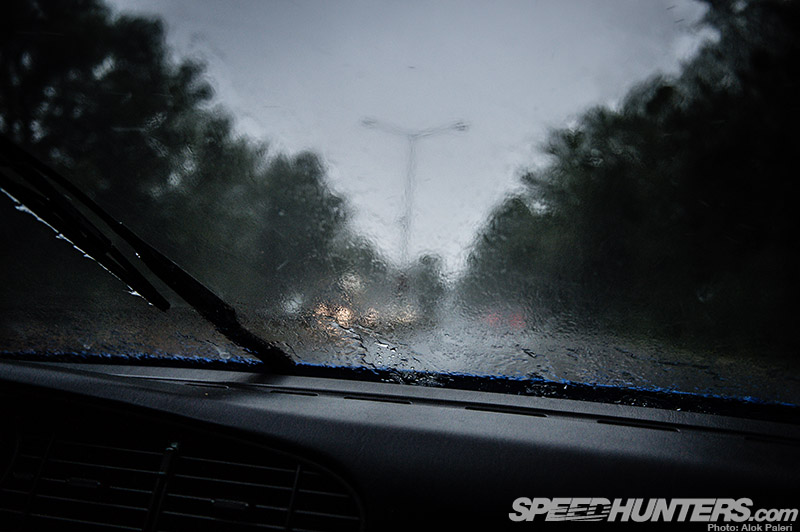 When we set off it was pouring down with rain with wipers on full workout. Notice how mid-swing the windshield is already completely soaked.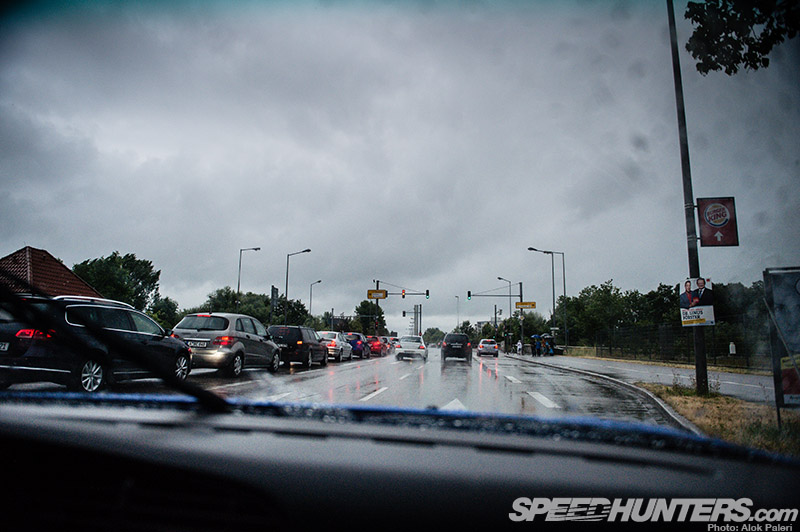 The roads we were planning to hit are a haven for motorcyclists, but rain this heavy meant once we get out of the city the roads will be completely empty.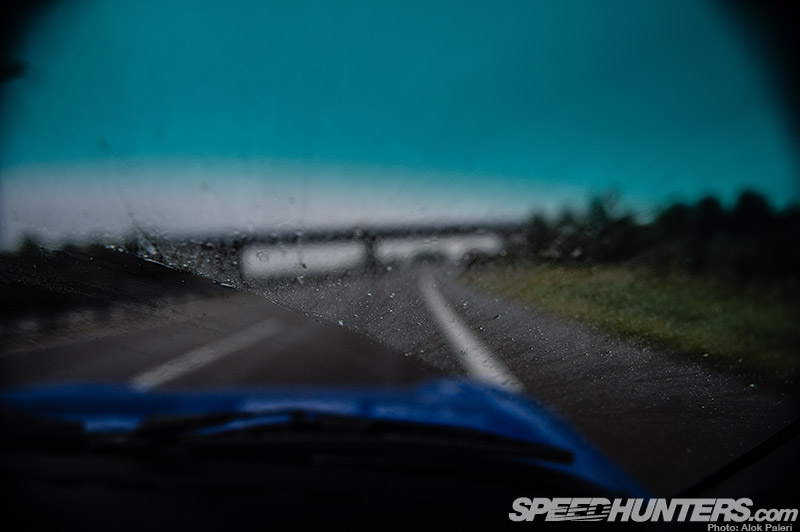 We were soon on the B2 heading towards the town of Treuchtlingen when the downpour began to thin.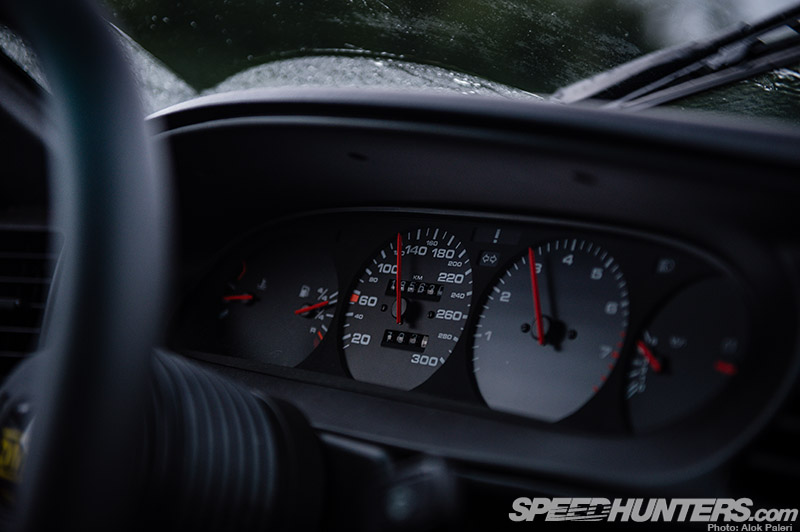 One of the awesome things about Germany is that you don't necessarily need to be on the autobahn to go flat out; as long as you are on a B-road with two lanes in each direction and a guard rail separating them, the regular B-road limit of 100km/h is lifted unless signs say otherwise. Since the car hadn't been driven for a while, we decided to put in good temperature before going #maximumattack.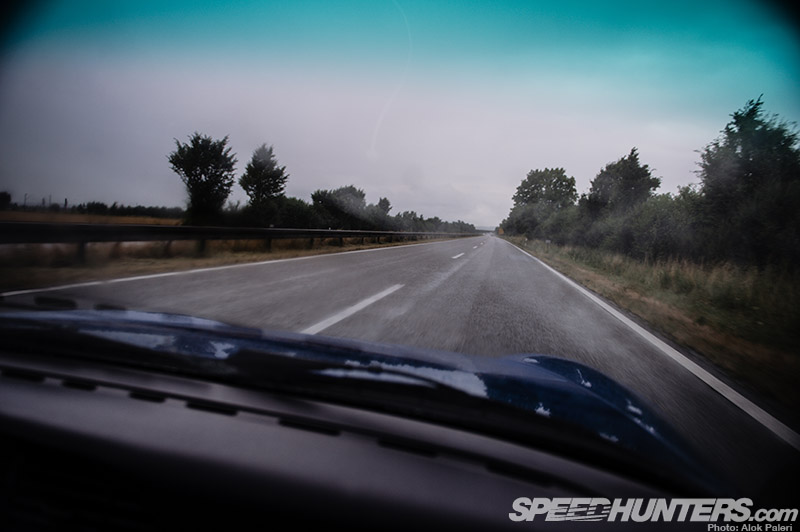 The roads were eerily empty with not a single car in sight.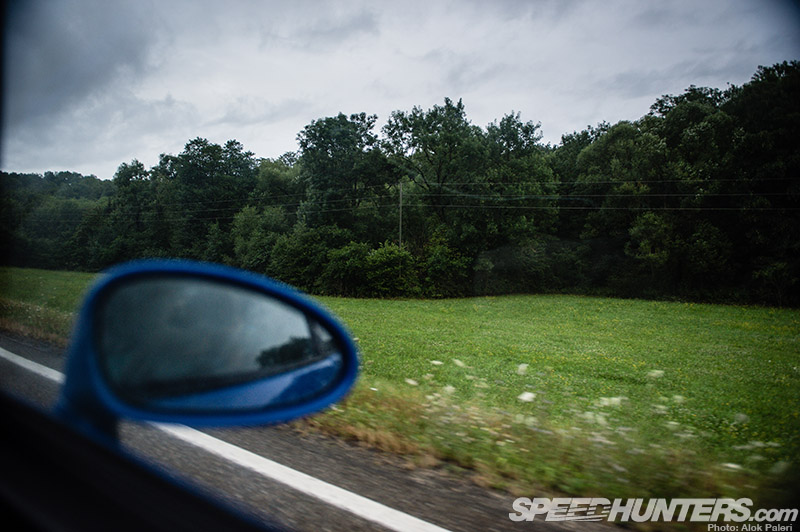 By this time the rain had stopped completely, but dark clouds loomed over nevertheless.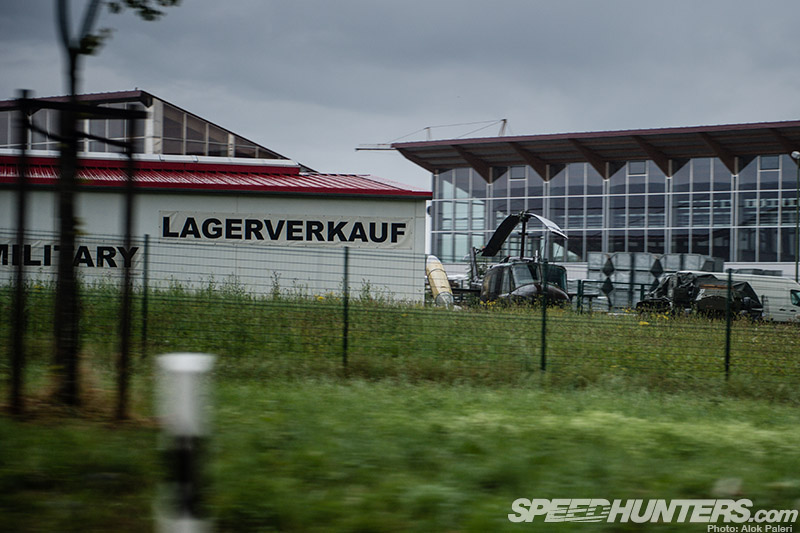 Occasionally you'll drive past one of these barn sales that basically sell decommissioned military hardware to the public, often as garden ornaments. Who wouldn't their house guests to be welcomed by a Huey sitting on the front lawn?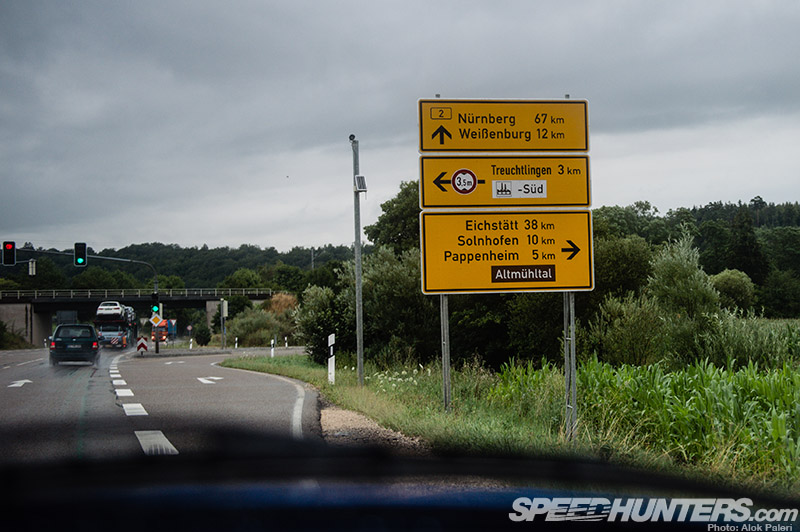 Eventually we turned off the B2 and followed signs leading to Altmühltal.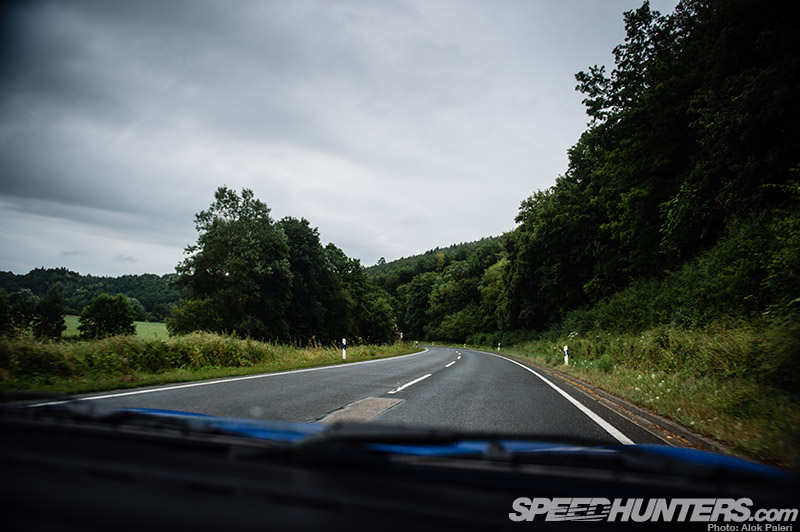 The roads here aren't particularly fast, although corners are often big and sweeping.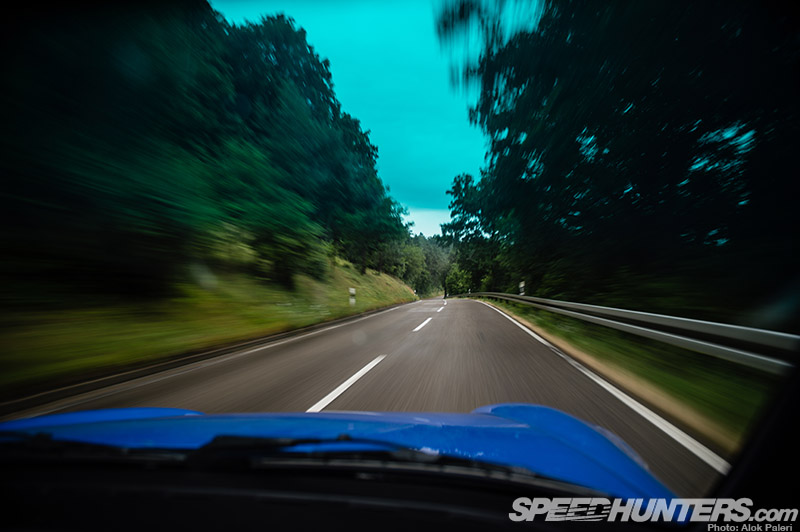 What makes these roads so much fun to drive in an engaging car like this 968CS is the texture of the asphalt. The surface isn't perfectly smooth, so you are constantly getting information through the seat-back and the steering wheel, allowing you to feel exactly what the car is doing at any given time.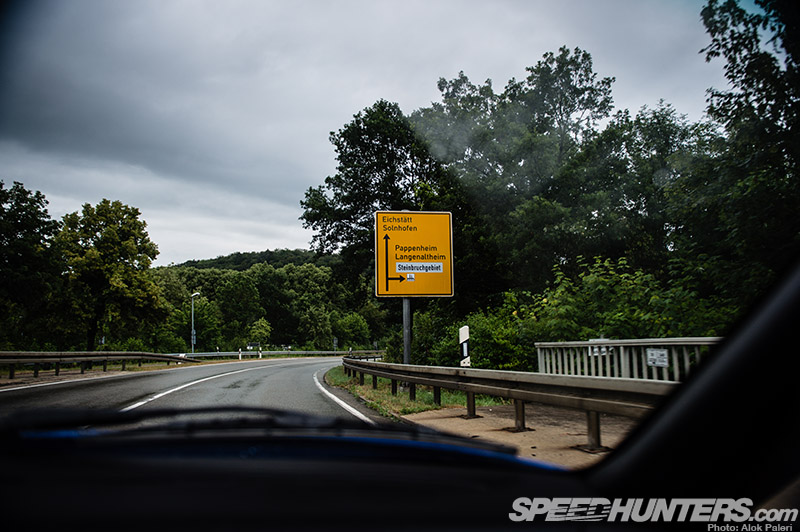 Short bursts of spirited driving are often punctuated with little towns along the way.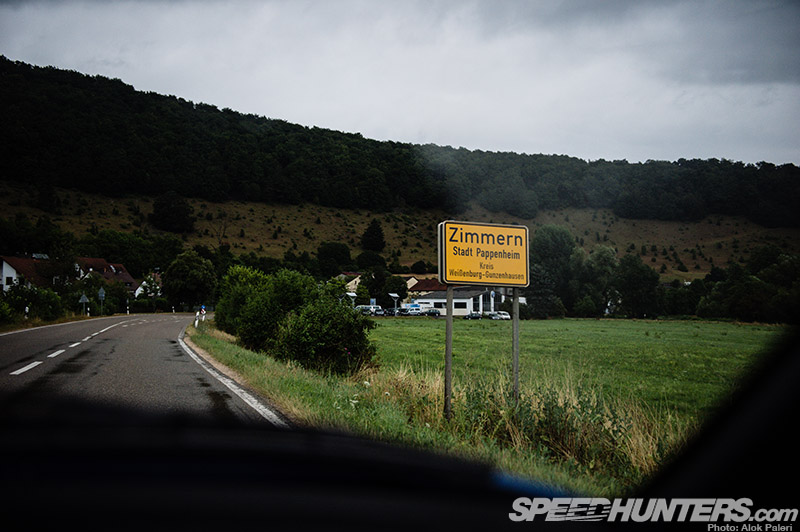 The town of Zimmern was one of our waypoints. Often you'll come across German towns with regular nouns for names. Zimmern, for example translates to "rooms" in German.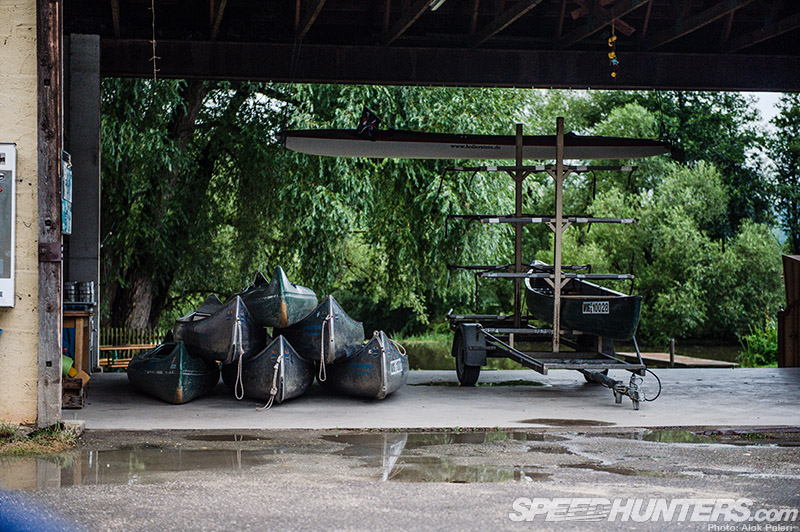 This town is peppered with canoe rentals. People can rent the canoes here, and get going directly at the waterfront right behind the rental place.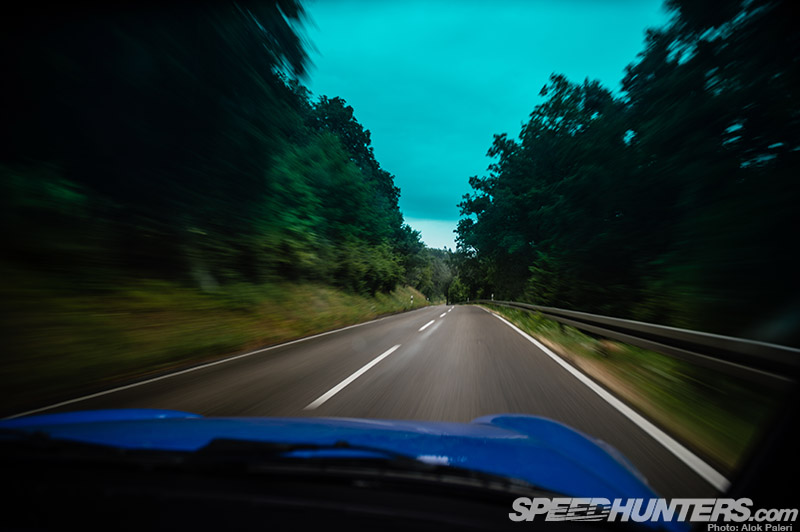 We exited Zimmern and drove on to Solnhofen. At this point the roads less twisty, but to compensate for that you have quite a lot of elevation changes. There are dips and blind crests every few hundred meters, which when added to the beautifully textured tarmac, constant compressions and decompressions and weight transfer, result in a very engaging and satisfying drive.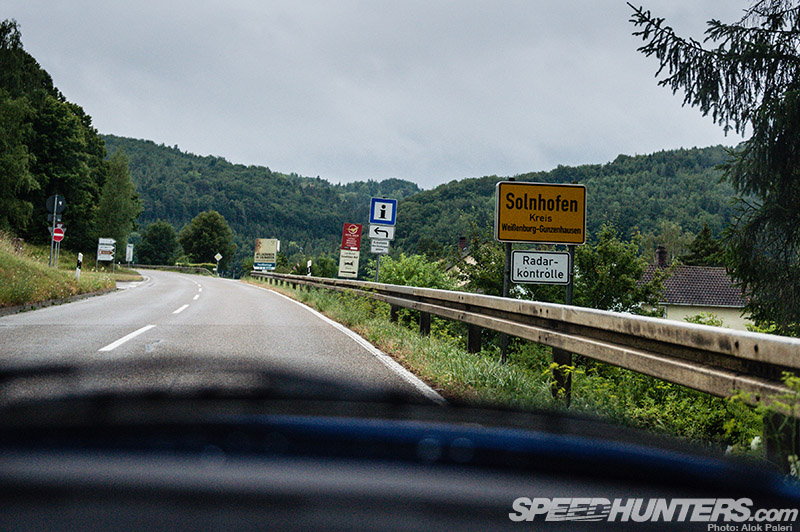 You can't get too carried away though, as most of the towns host an armada of speed cameras. At least they warn us in advance.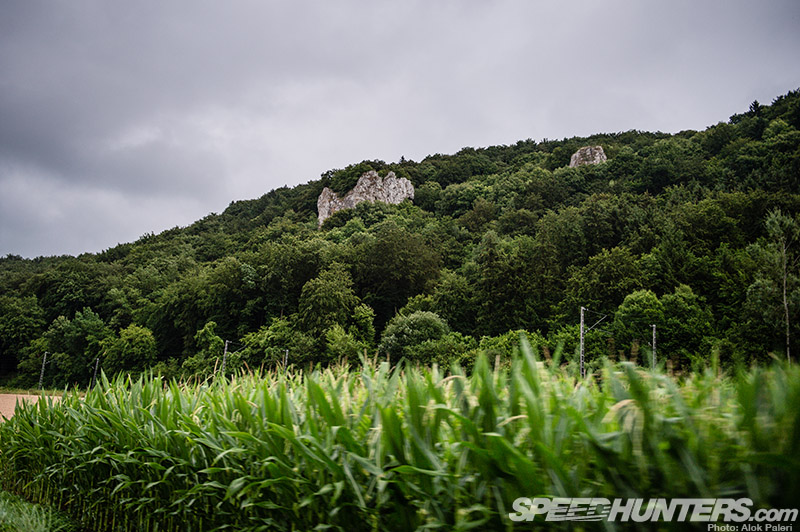 Between the towns intermittent grain fields line the road…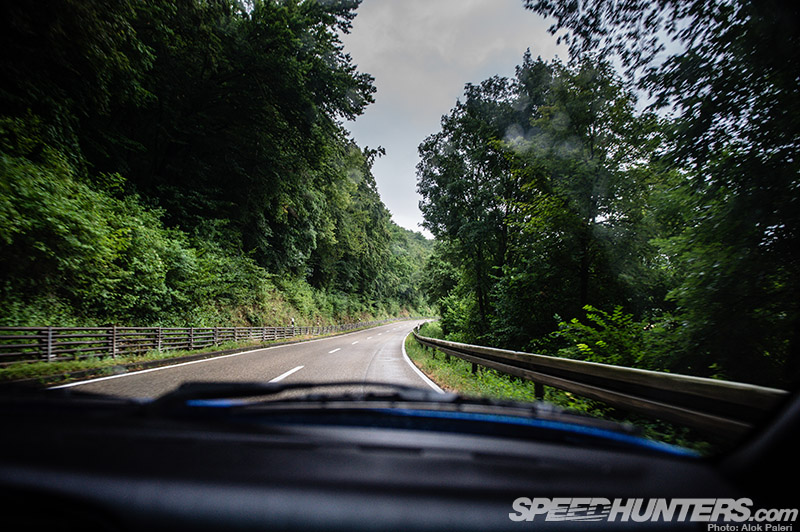 … before the landscape closed in on us from the sides again.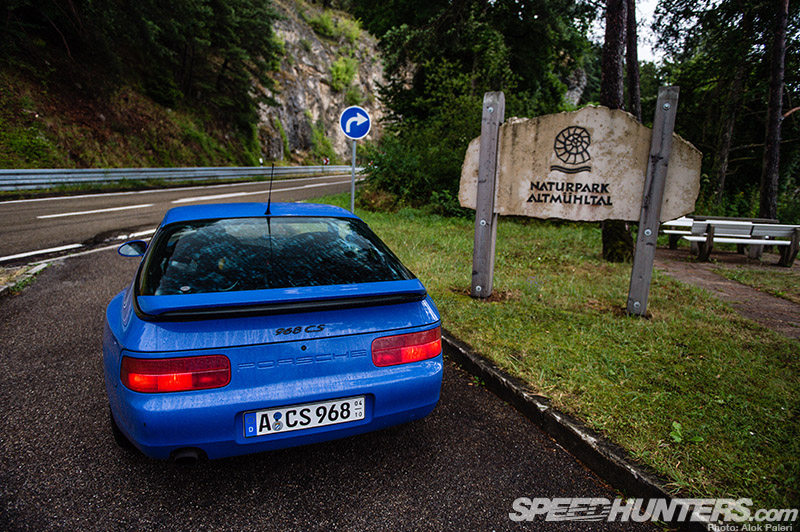 Altmühltal is a nature park so beautiful that I often caught myself driving deliberately slow, trying to take in the views.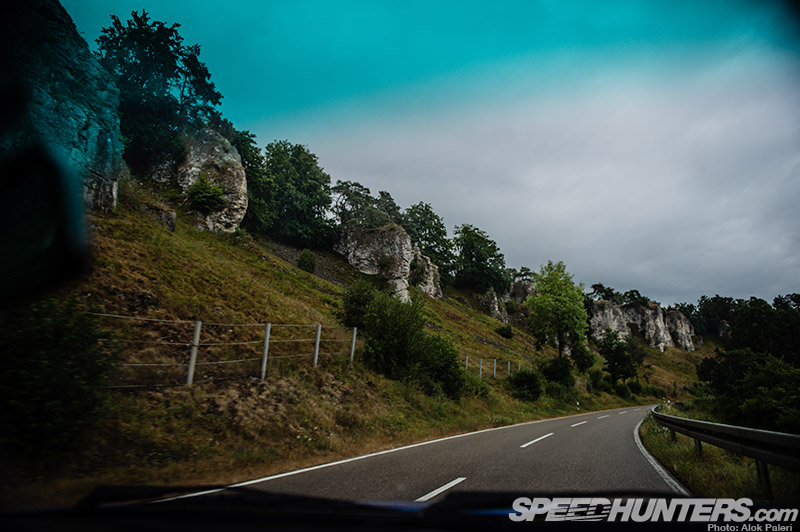 Uneven erosion of the soft limestone means you'll often see such hard rock boulders jutting out of the greenery.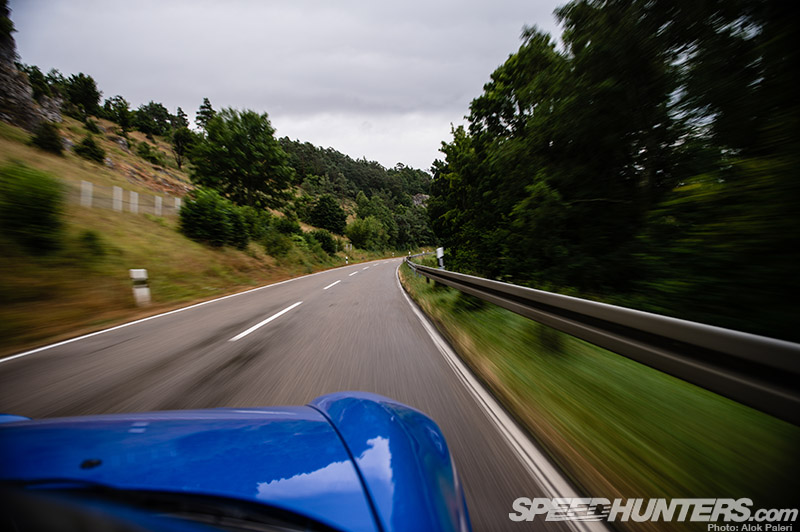 Altmühltal is famous for its fossil fields. As worshippers of the internal combustion engine and fossil fuels, I felt a distant connection here…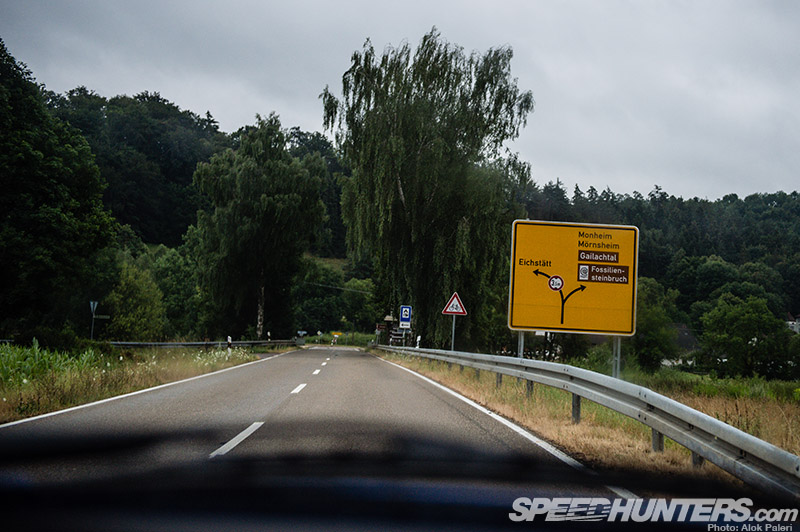 We drove on towards Eichstätt. To the right lies one of the fossil quarries for which this region is known for.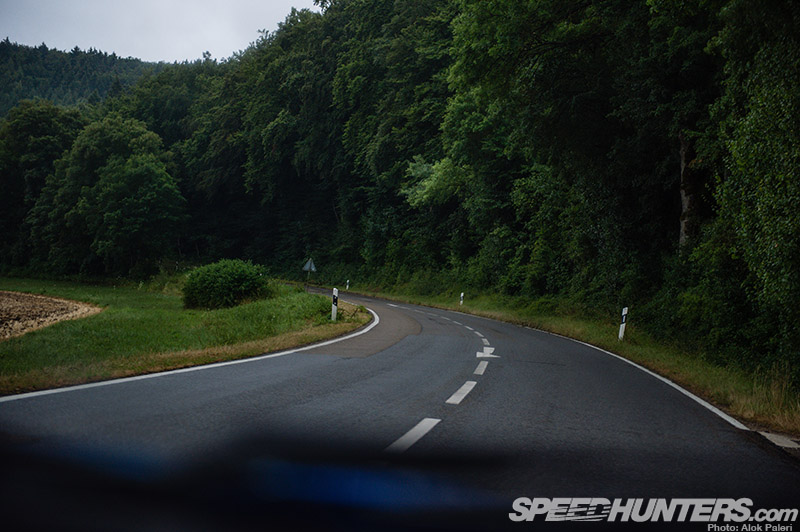 The emptiness of these roads were unbelievable. We drove for nearly an hour without coming across a single vehicle coming the other way!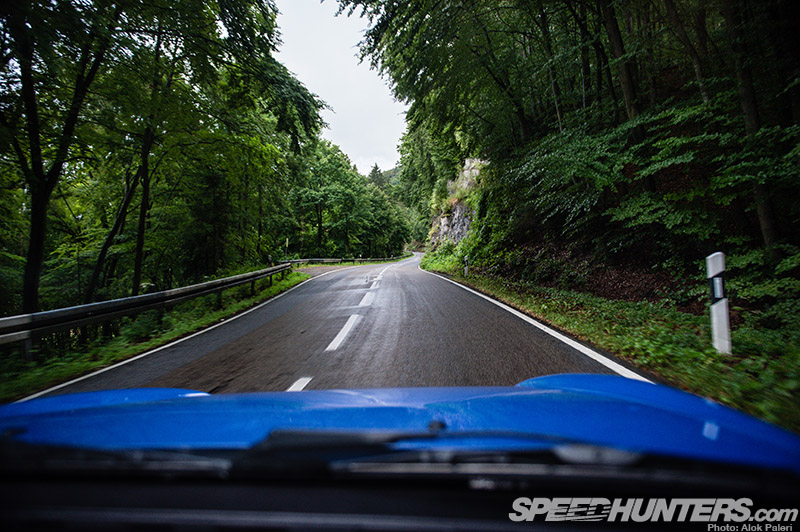 Soft rocky cliffs lining the road are often prone to landslides and falling rocks.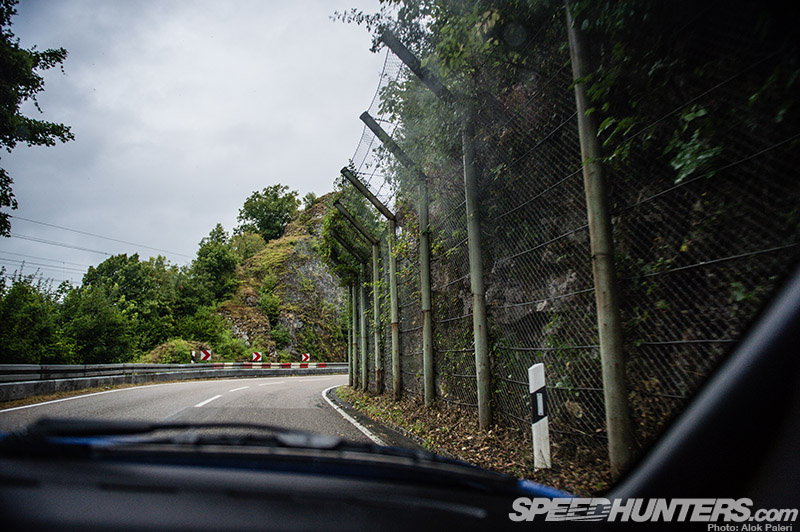 There are support fences around the critical areas to make sure none of the debris makes it onto the road.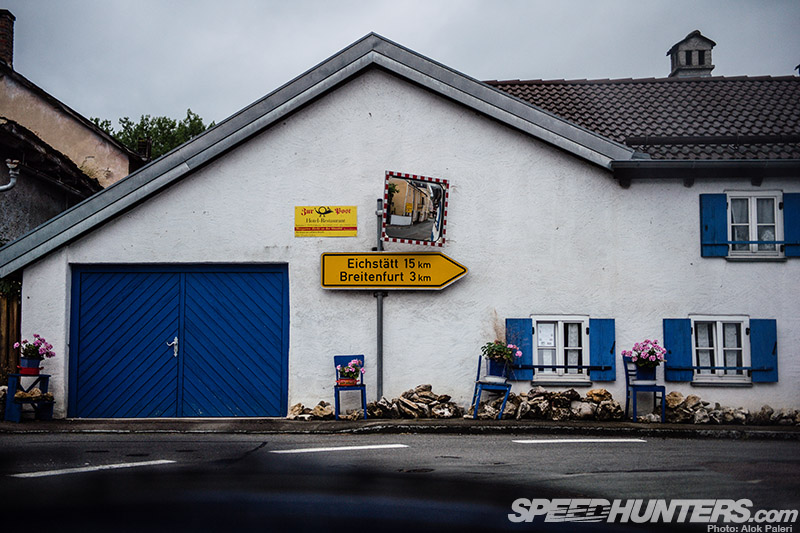 We passed some beautifully color coded houses on our way…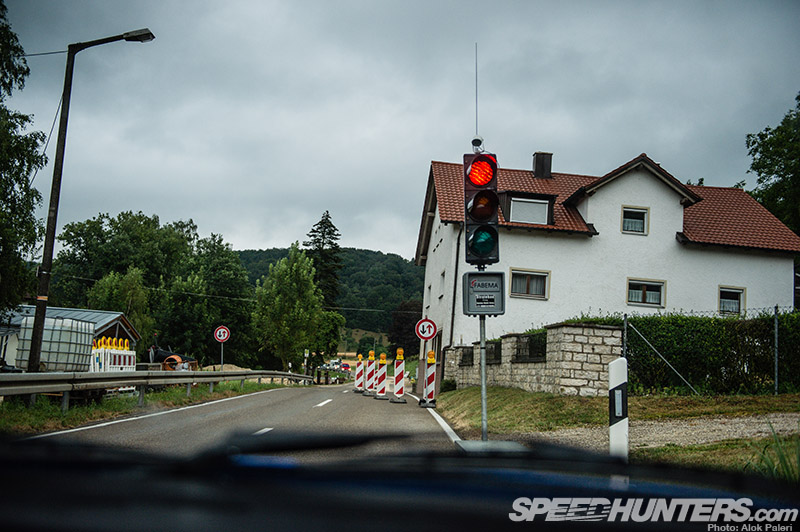 … And some not so pleasant traffic lights. Since these roads are often the only ones that connect smaller towns, traffic direction is often dictated using mobile traffic lights when there is construction work going on, and the switching frequency can sometimes be quite long.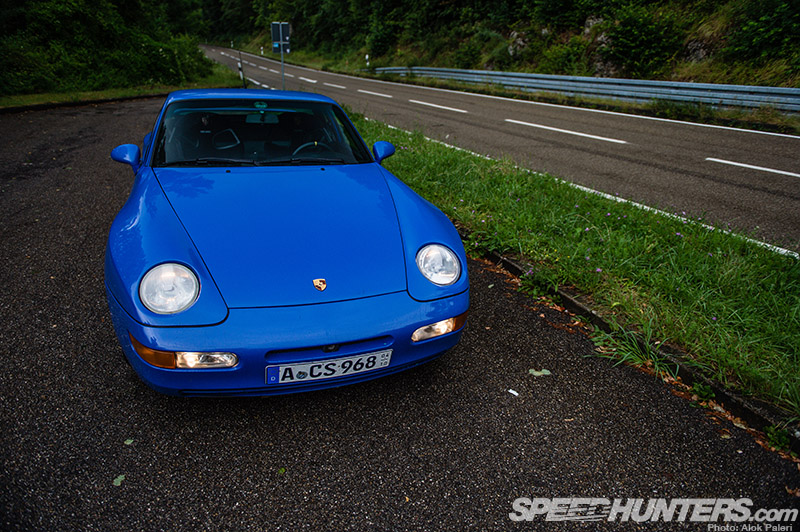 Since it was getting dark very quickly we stopped at the end of the journey to swap driving roles. Driving back felt like getting reacquainted with an old friend, one of my 'firsts'. The experience this time was completely different, yet a highlight in its own right.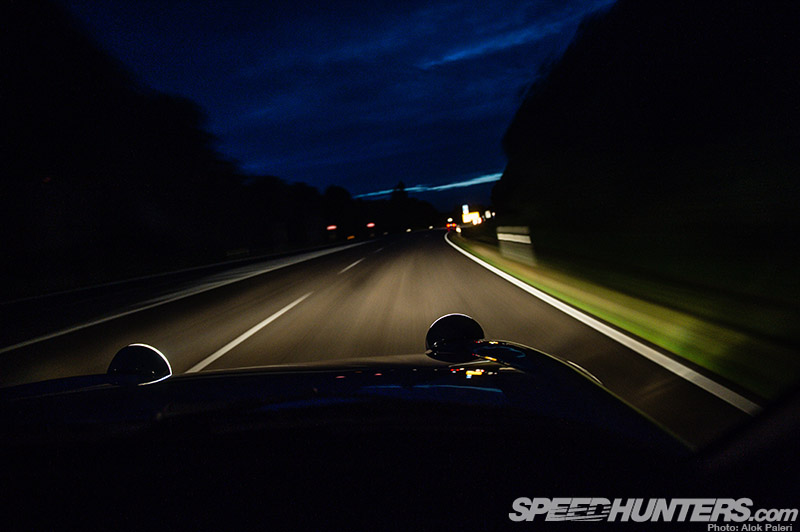 The old lamps can't hold a candle to the modern laser blasts we are used to these days, but pop-up headlights more than make up for all the misery. Knowing that there might never be pop-up lamps again in modern cars is reason enough to relish it.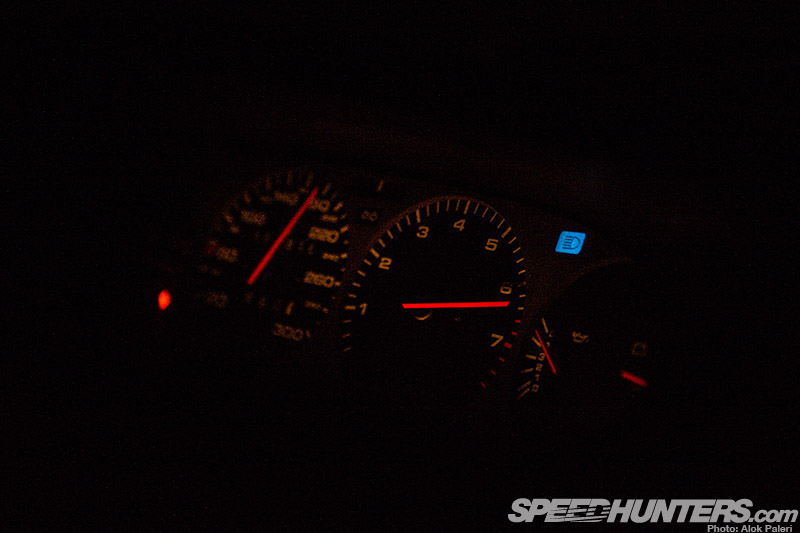 Pin it past 6000rpm and you are in heaven. The whole car just fizzes and tingles to life and in the darkness. I had an ear-to-ear smile.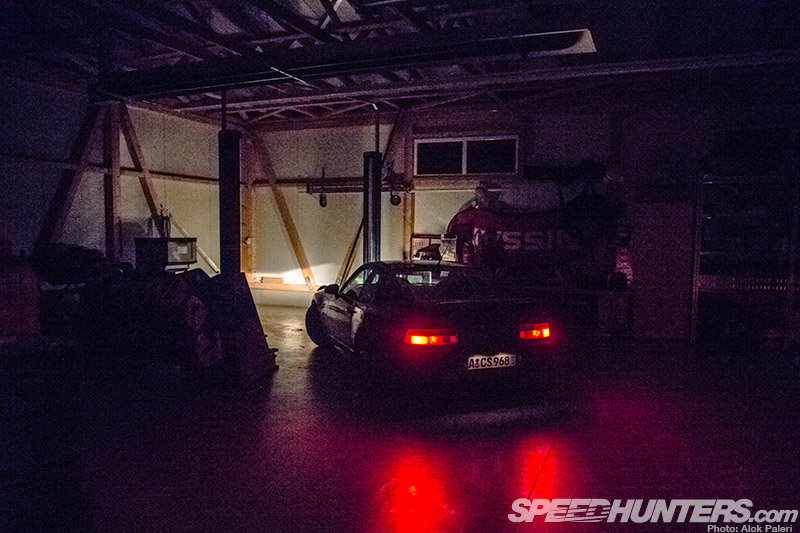 As Larry pointed out with his S30, cars like these are not simple mots (modes of transport). They are extensions of personalities and even though this one doesn't belong to me, I can feel that connection. I asked Sebastian whether he is going to sell this car, seeing as it is appreciating in value. His answer was simple, he is never going to sell it because it will be like selling a part of himself. Even if the car just sits around in the garage only to be driven just once or twice a year I can tell they are never going to part ways.
If you could take your first car out once again for a dream drive, where would you take it to?
Alok Paleri
Instagram: rennworksmedia
alok@speedhunters.com
More Dream Drive stories on Speedhunters