It's been a long time coming, but a few days ago the stars aligned and I finally found some time to take the GT-R out for a much needed drive. Not only was I eager to put my new wheels and tyres to the test, but it had been far too long since I had the time to really enjoy a proper touge drive with the R34 with a couple of friends. I've been driving many press cars lately, but nothing quite hits the spot like putting your own car through its paces on the right sort of roads.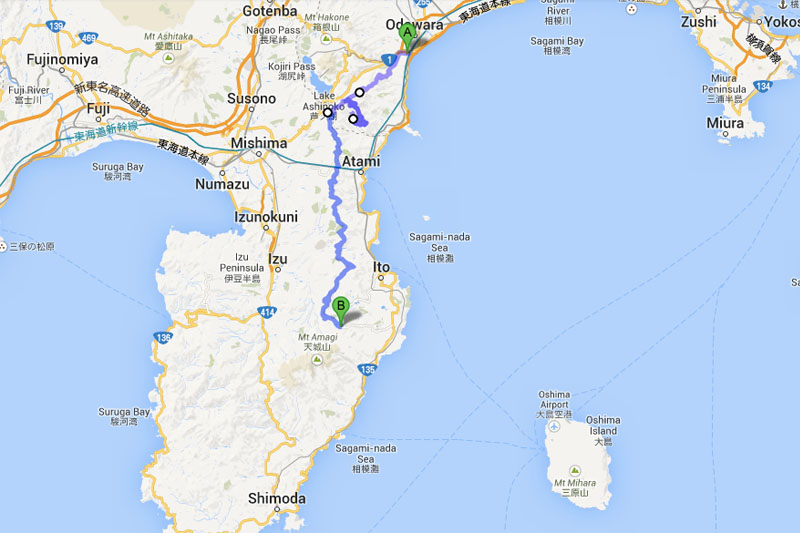 After an early rise to finish a bit of writing, I managed to get away a little before lunch. The first stop was my local Super Autobacs for a quick oil change (the car does sit a lot of the time, so I try to change engine oil as often as I can), before I met up with a couple of other GT-R enthusiasts at everyone's favorite rendezvous spot on the Tomei Expressway: Ebina PA. From there we slowly cruised down to Odawara, conserving our fuel for the fun roads, and jumped on the Toyo Tires Turnpike where we met a third member for this rather impromptu afternoon drive. With temperatures in the city in the mid-30s it's always a nice break to head up into the mountains where ambient temp can be 10+ deg Celsius lower. That of course translates to potentially more power too, so it's a bit of a win-win situation.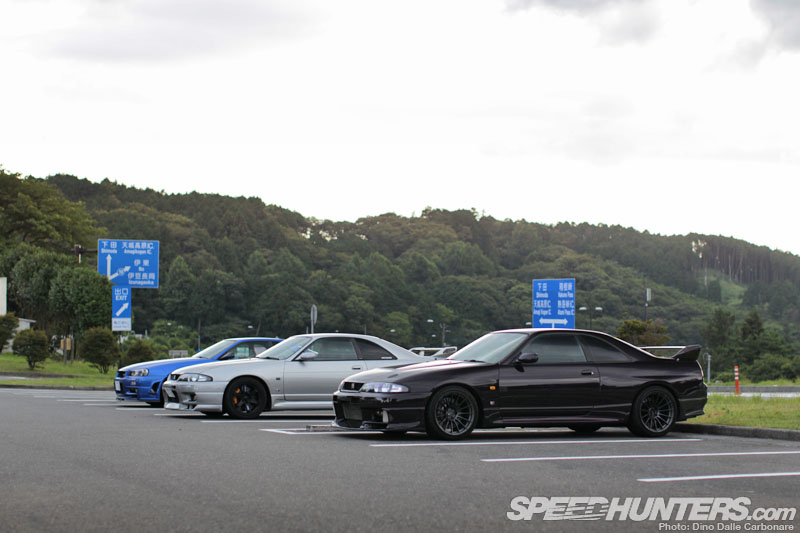 After our initial meet the adrenaline kicked in and we spent the next hour driving pretty much non-stop, heading down the Tsubaki-line – a tight second-third gear road – to Yugawara and then back up to the top of the mountains via the Yugawara Parkway toll road. From there it was onto the Izu Skyline, a much faster stretch of pay road that takes you half way down the Izu Peninsula – an unbelievably stunning drive. It wasn't until we reached the largest rest stop that we decided to take a little break, grab our cameras and start shooting away at our trio of well-thrashed GT-Rs.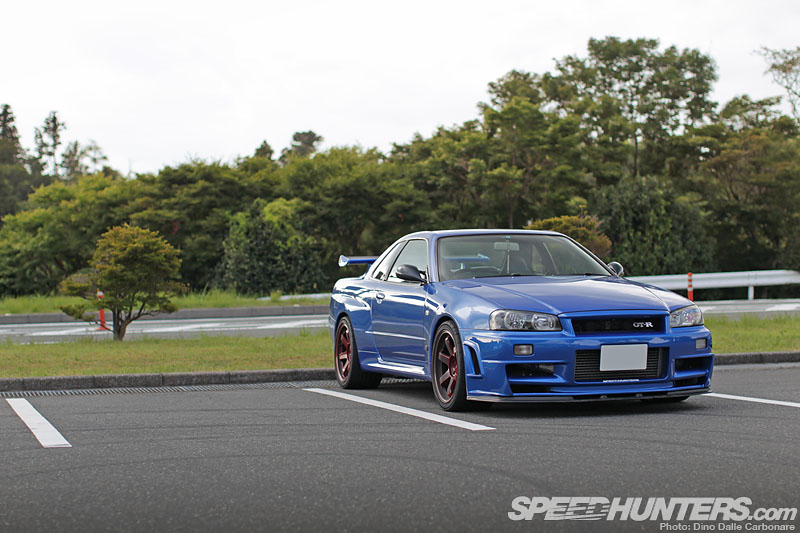 By this point I was already pleased with how the new rubber had performed. The wider 295-size had definitely introduced impressive lateral grip – more so than the worn S-tires I was on previously, and especially at the rear when exiting corners. I was getting on the power so early, allowing that Tarzan G-Box I fitted last year at Honjo Circuit to really show its potential. However I did instantly notice an increase in understeer both on corner entry and sometimes mid-way if I got on the power too aggressively. It's nothing new – this is the same behavior the car has always exhibited on the limit, but it was definitely more perceivable now. I've definitely reached the point where my Nismo S-tune suspension and stock-ish geometry is at its limit.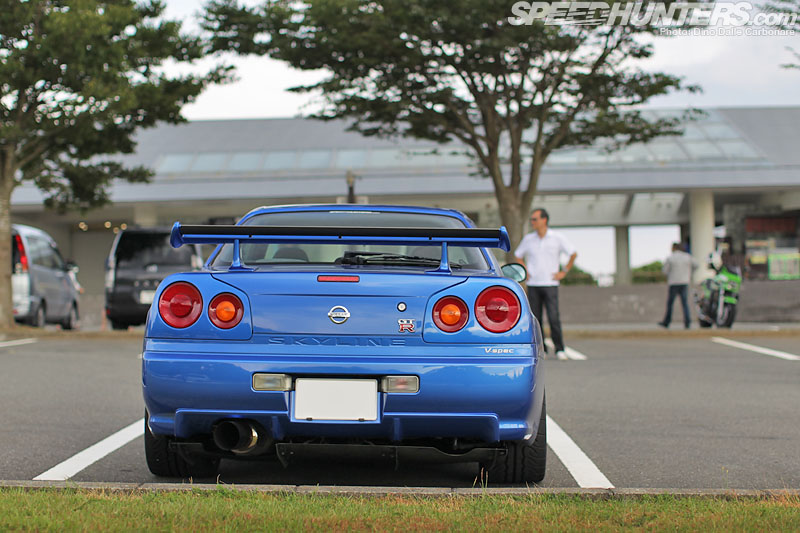 The move to create a more track-oriented set up with the wider wheels and rubber needs to now be taken advantage of, so this will be the next step in Project GT-R's evolution. That aside however, I enjoyed every second behind the wheel taking the car to safe limits and…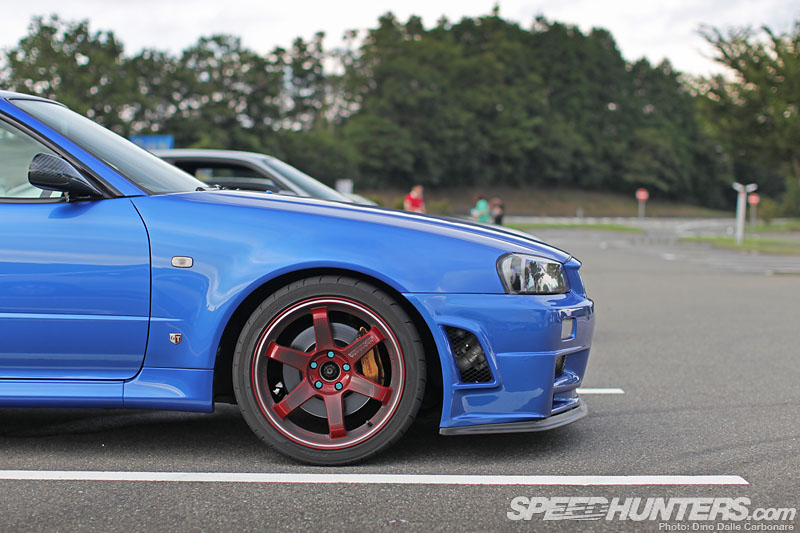 … grinning all the way.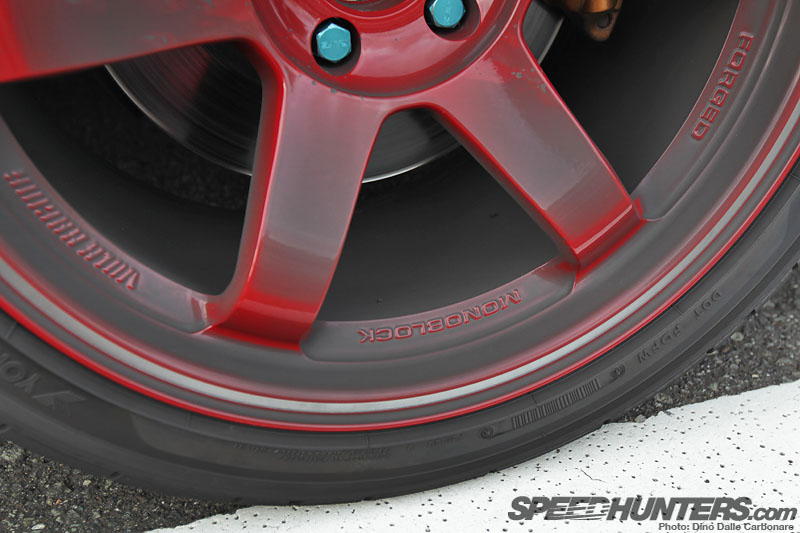 Brakes sure take a beating on roads like these, especially down the Tsubaki-line where by the bottom I had absolutely no more stopping power. I had boiled the fluid so much that with the middle pedal fully depressed I had almost no braking. In fact, I had to take the last three to four corners at 20 km/h, slowing the car with the e-brake. A 15-minute or so pause to make sure everyone caught up was enough to get some pressure back and once we set off again, and with a bit of speed and airflow the brakes returned to 100 percent in a matter of minutes.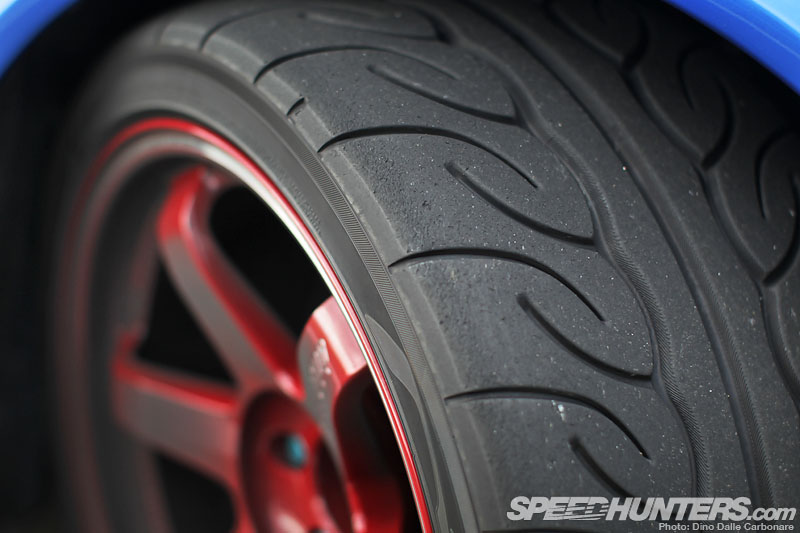 After a good hour-plus of driving I had well and truly scrubbed the Neovas and was enjoying the benefit of the sticky compound.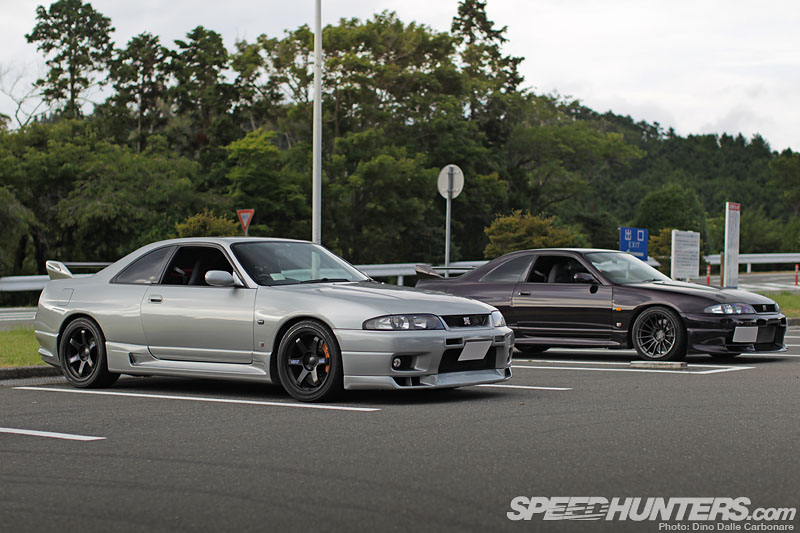 I was accompanied by two very well set up BCNR33s. The silver kouki is regularly tracked at Fuji and Tsukuba so has all the right bits for guaranteed fun.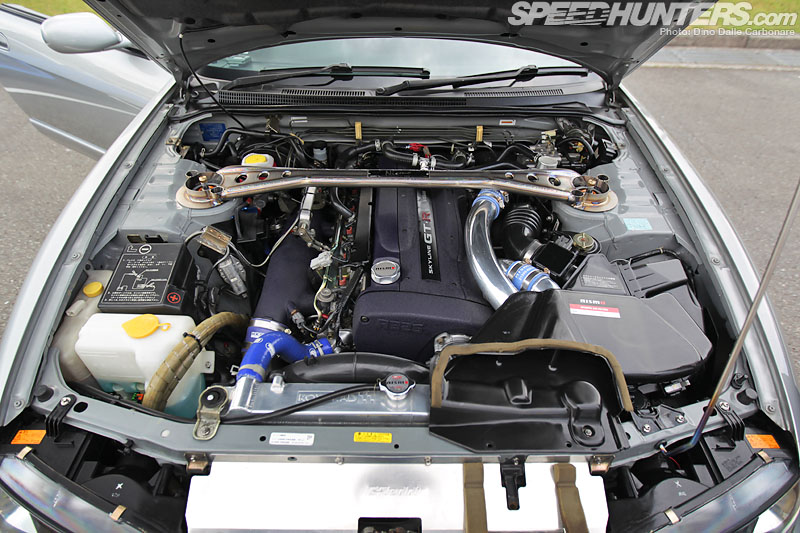 First up the engine is a 550hp Mine's Stage 1.5, running forged internals, plenty of head work, cams and HKS GT-SS turbos for optimal response.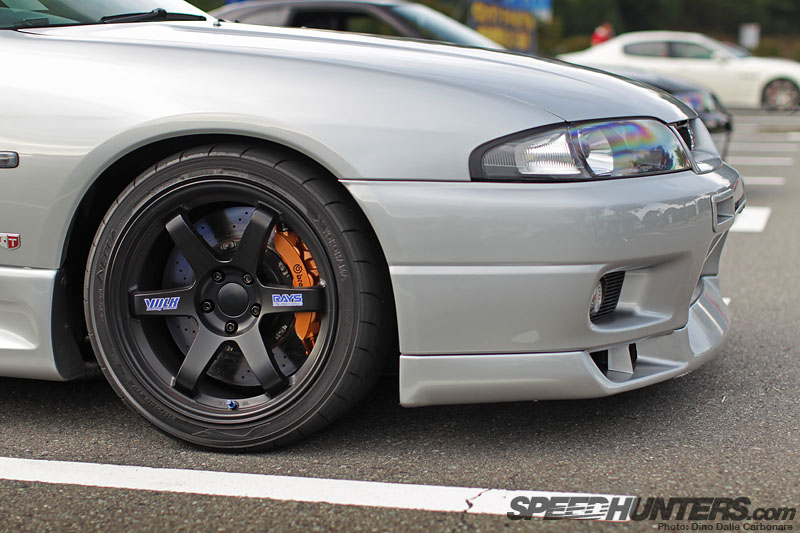 R35 GT-R front and rear Brembos, including rotors, make sure it can stop as fast as it can pile on the speed, while Öhlins DFV suspension take care of the handling. The car runs my old wheels, albeit repainted in flat black for a good contrast with the light silver.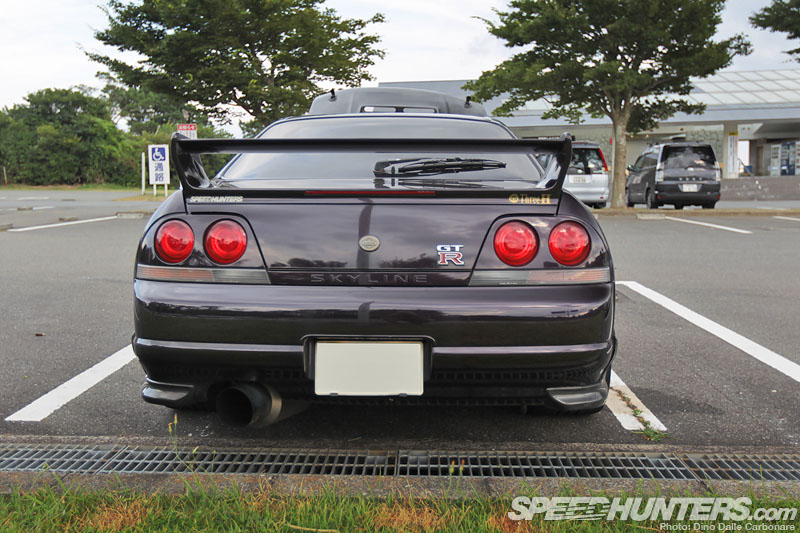 The Midnight Purple zenki is built up in collaboration with Three-H…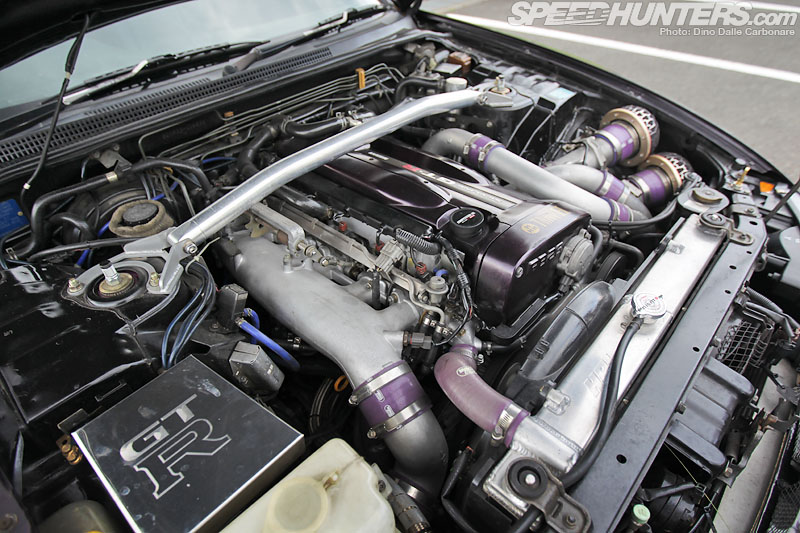 … running a stroked 2.7L bottom end, GT-SS blowers and plenty of fine-tuned mods like HKS piping and R35 air flow meters.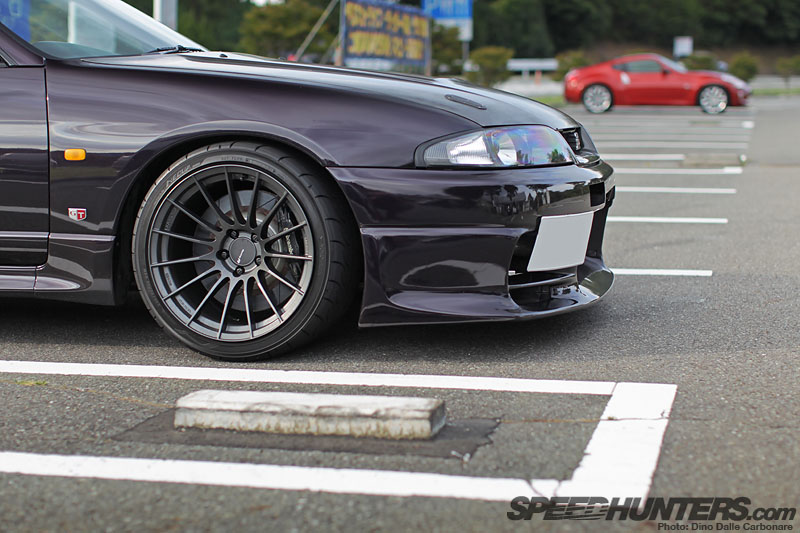 This is one of the very first GT-Rs in Japan to be fitted with Enkei's new RS05RR multi-spoke concave wheels, fitted in the same size as my TE37RTs, 18×11-inch, and running 295/30 rubber all round. Back there in the background you can see the metallic orange Z34 that was also part of our group for the afternoon.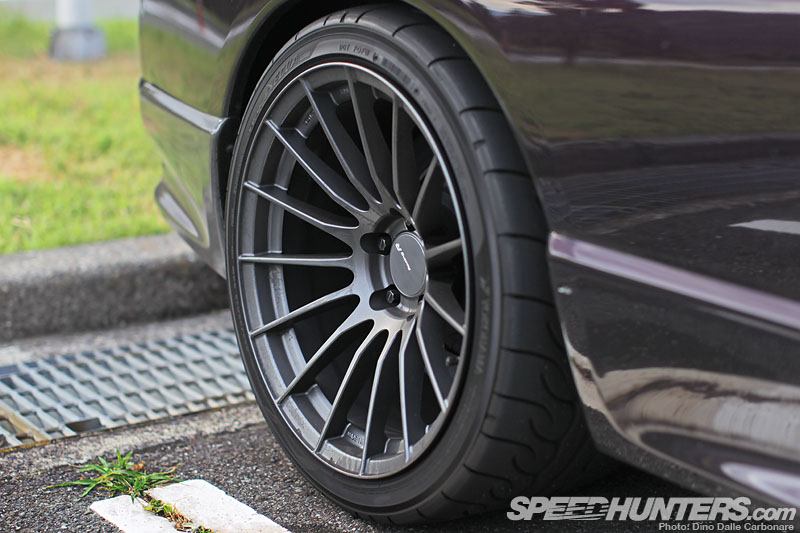 This is definitely the new GT-R size wheel to have!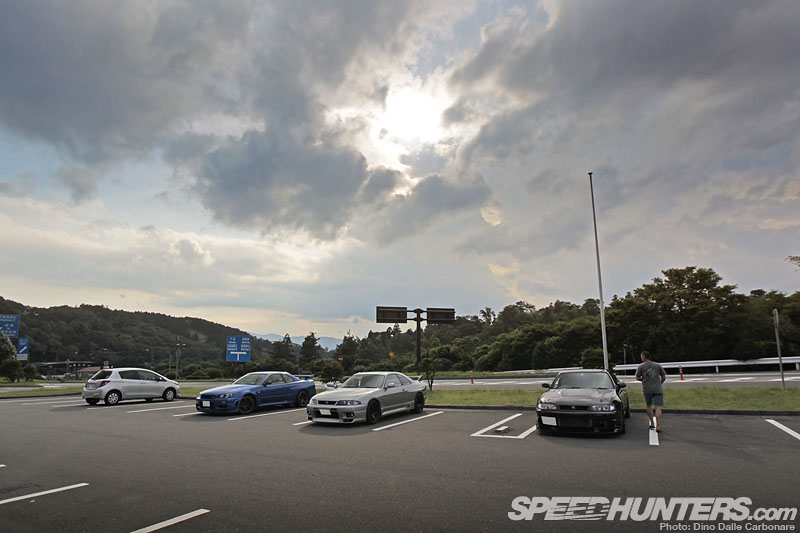 It wasn't long before everyone took off and left me to my own devices.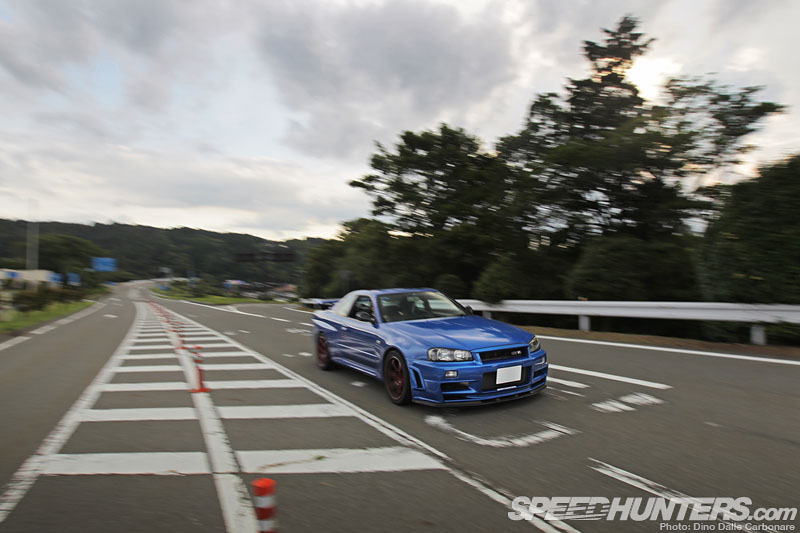 With about three hours of light left I had much exploring, driving and shooting to do so I set off in the opposite direction and continued my drive down the Izu Skyline…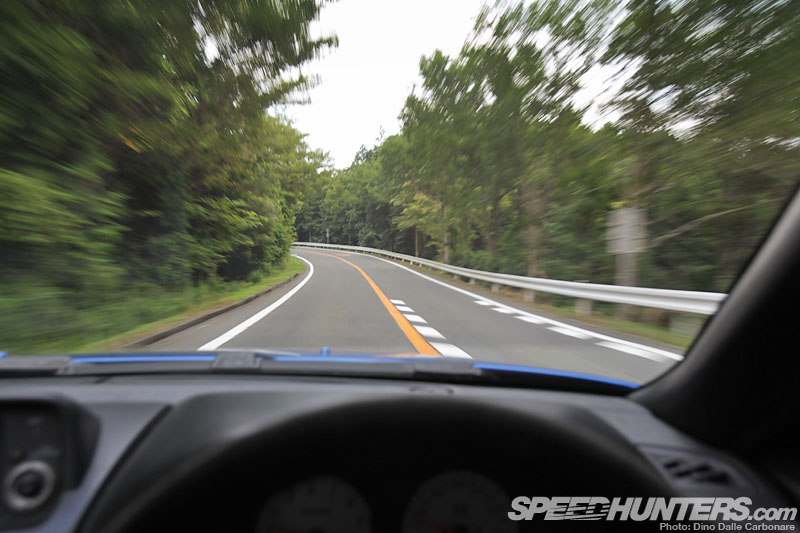 … enjoying the deserted roads and sublime grippy surface.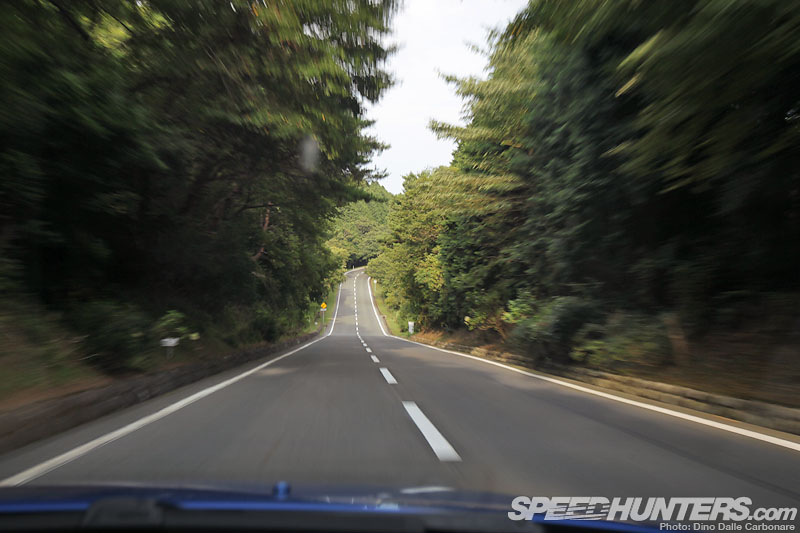 There are plenty of straights to enjoy all the pull your engine has to offer, and you can really pile on the speed if you keep your foot planted.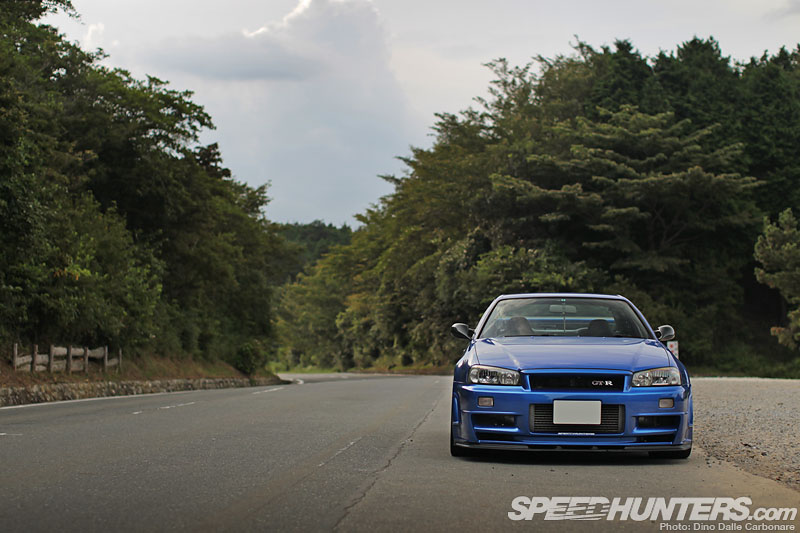 I stopped in various places along the way for a breather. Driving without A/C (I always turn it off when I drive seriously, I hate knowing the compressor draws power from the engine, even though the pulley is disengaged at 5,000rpm or so) in the middle of Japanese summer can be quite brutal. But once you are at speed with the windows down there is plenty of air to cool you off.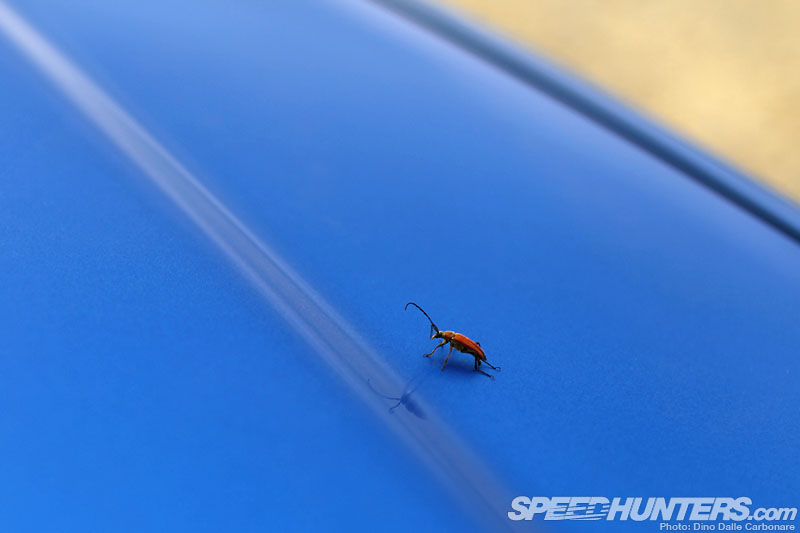 Hey there Mr. big/freaky bug, liking the metallic blue?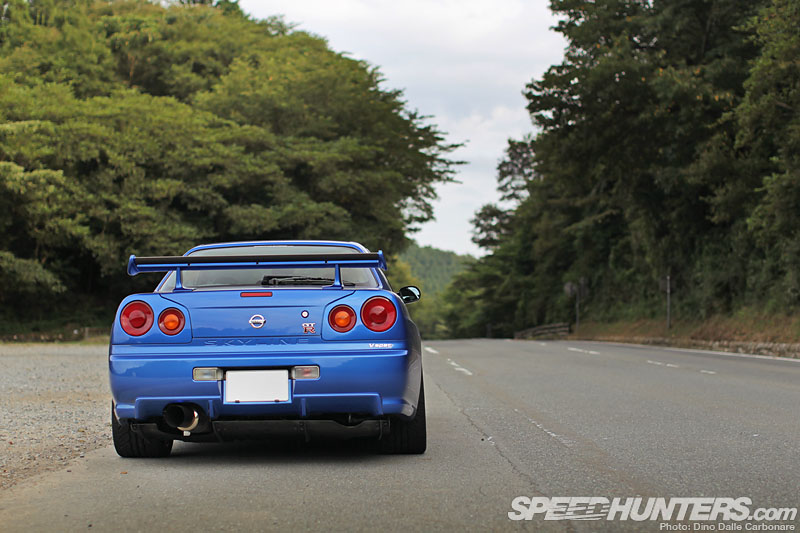 With a busy and pretty hectic schedule throughout the year I really cherish these few hours I get with my GT-R every once in a while. It's man and machine, working together to keep a decent pace through challenging roads.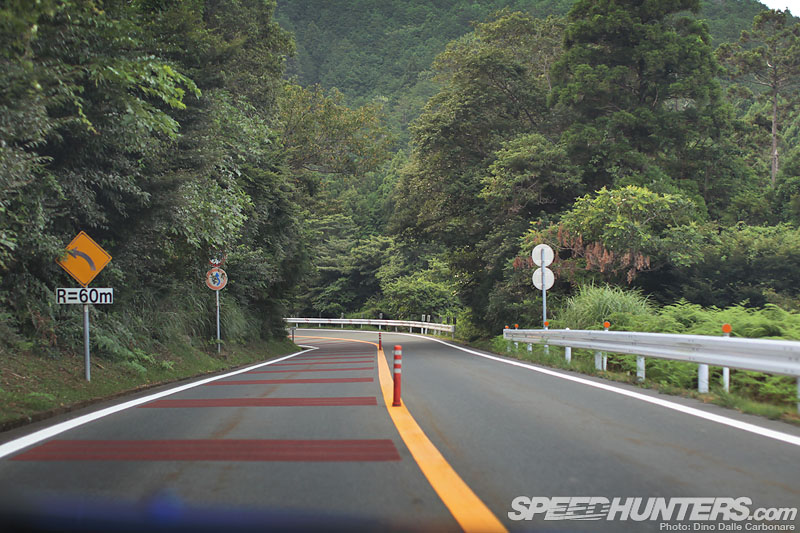 When I'm driving there are virtually no other thoughts in my head, it's pure concentration and enjoyment – a little time to myself to do what I love most: drive.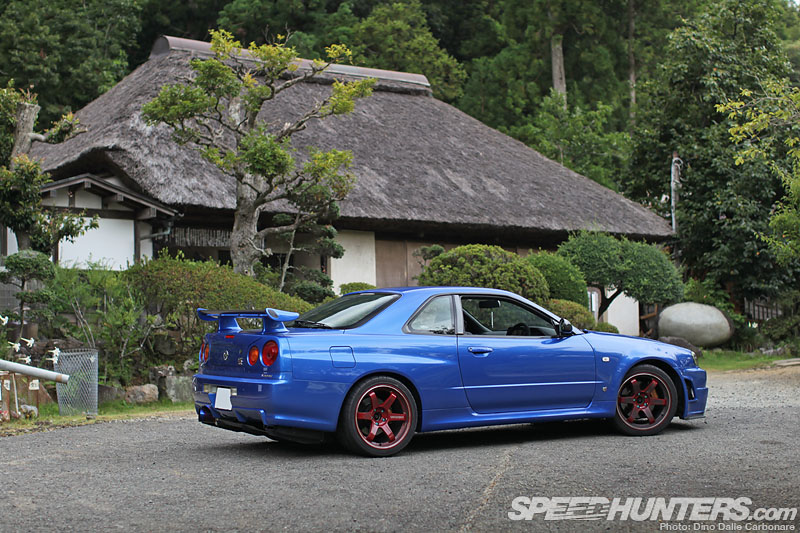 A little further on I noticed a country house with a thatched roof. It was nothing like the massive ones you can see down in Shirakawa-go and Gokayama, but still a bit of a rarity for this particular area of Japan and a great place to grab some more shots.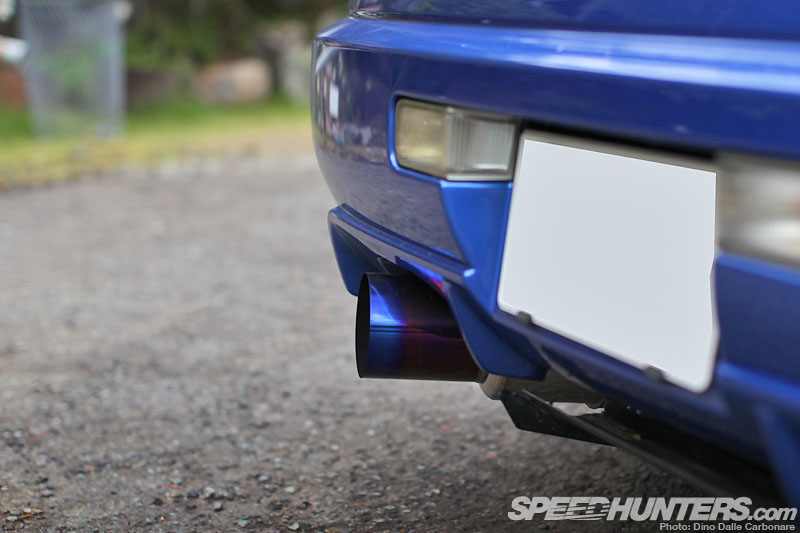 The big bore Tomei Expreme Ti gives so much character to the R34. It fills the cabin with a deep growl that rises to a true supercar-esque scream at high rpm, rewarding rev-matched downshift with massive backfires. On the overrun it never stops crackling and popping. The hotter it gets the more these effects are emphasized and I also noticed it's roasting my reverse light. I might need to try and polish that yellow gunk off next time I get a chance!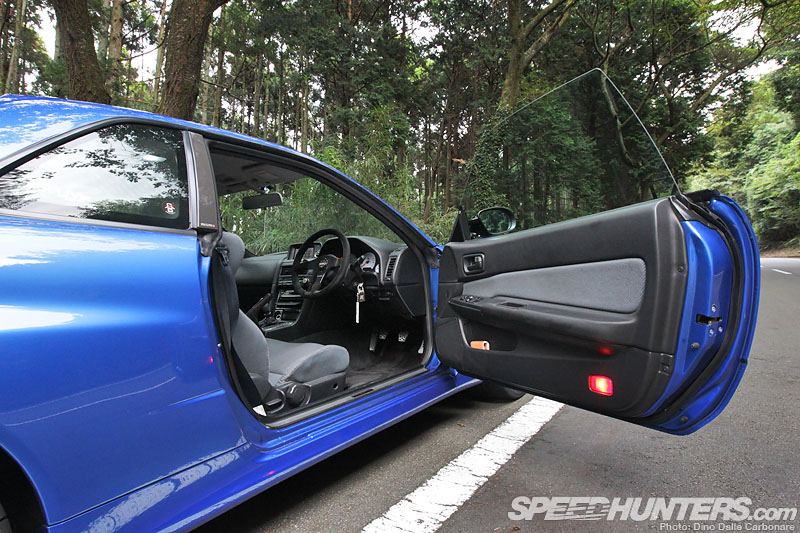 I jumped back in…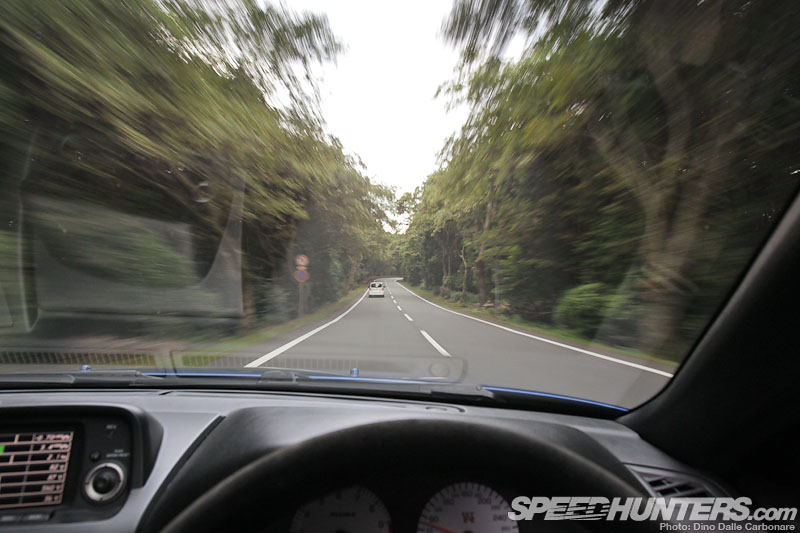 … driving all the way to the very end of the Izu Skyline.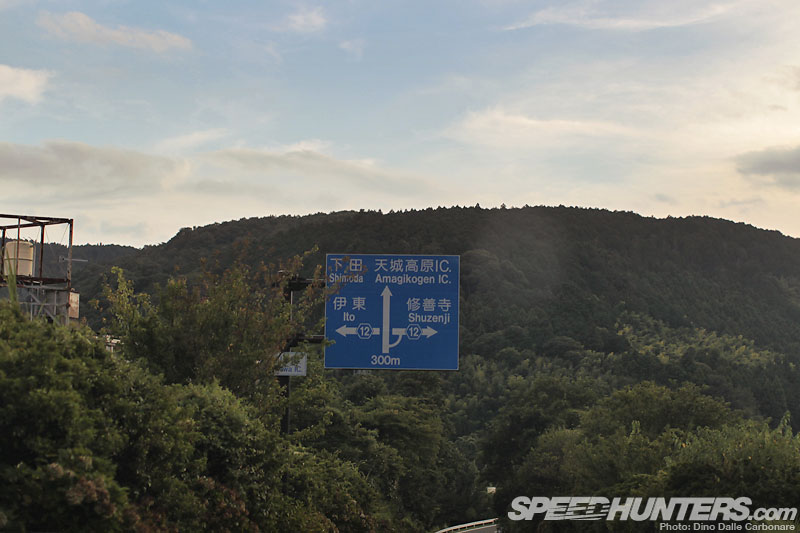 From this point you can continue onto normal roads all the way to Shimoda and onto the Pacific coast. Not wanting to deal with slow-motion Japanese traffic however I pulled a U-tuned and headed back…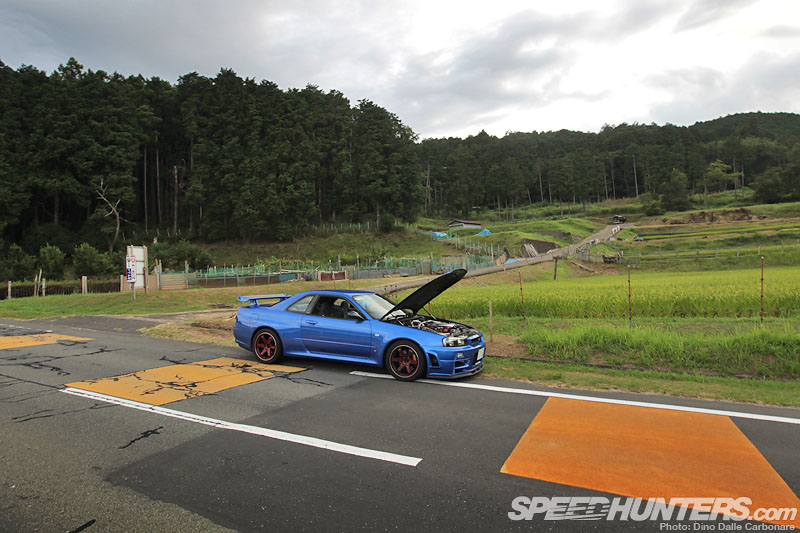 … stopping once again to let the car breathe a little.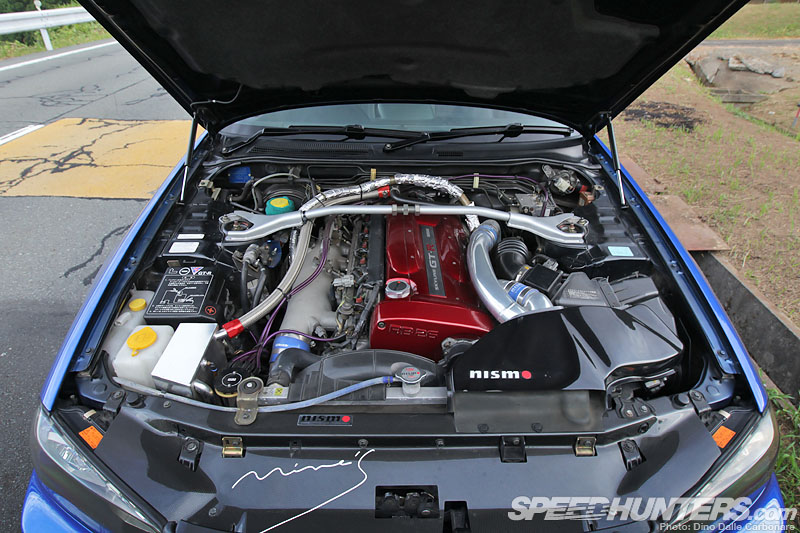 After the brake issue earlier on I made sure to keep…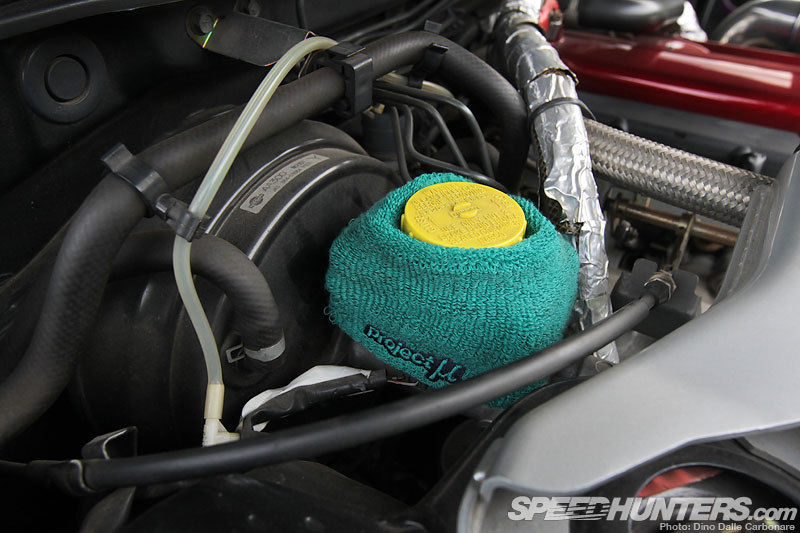 … an eye on the brake fluid and see if any more had boiled over and got soaked up by the Project µ leg warmer – err, sorry I mean cover. It was all good…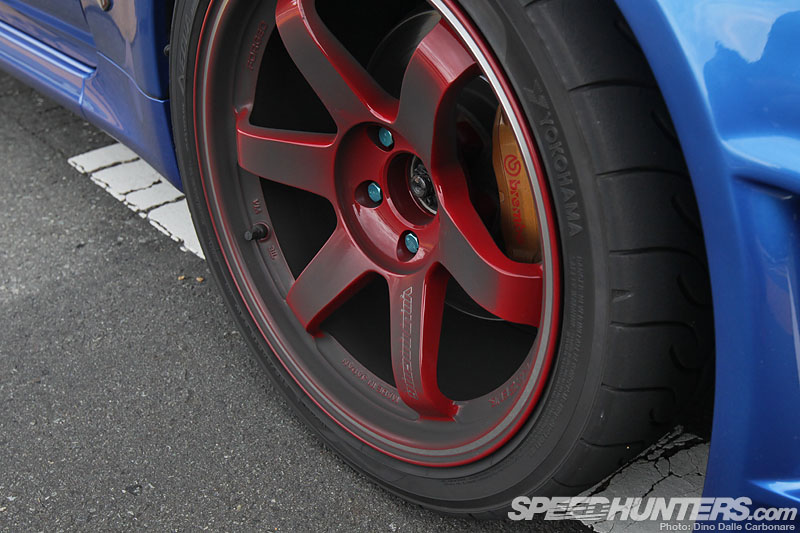 … but the brake dust kept layering onto my once shiny new wheels! That would be something I'd have to address once back home.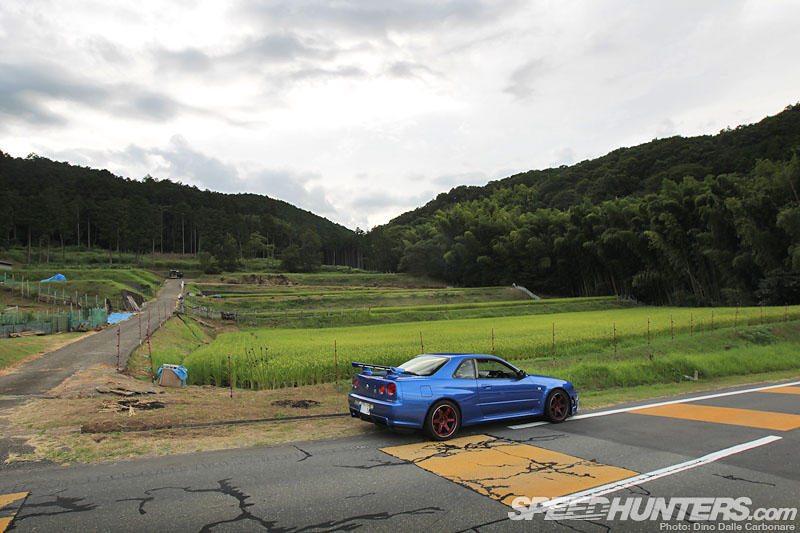 With one final shot I jumped back in and drove all the way back to the other end of the Izu Skyline…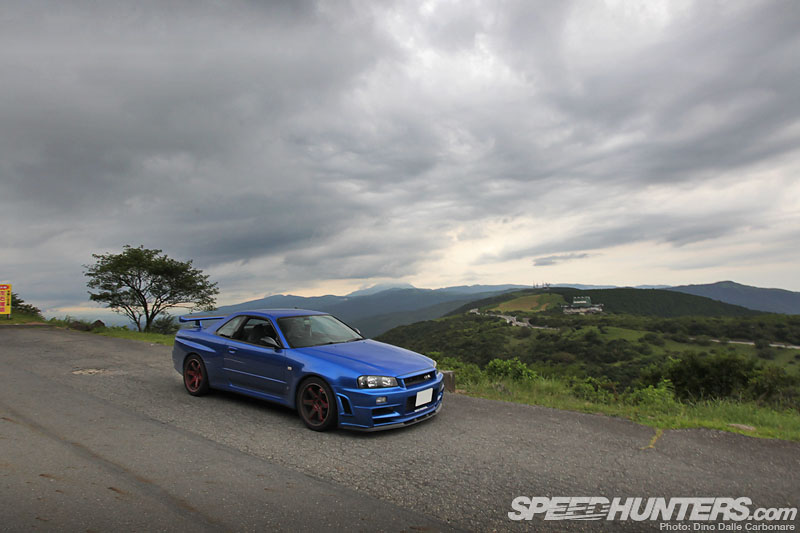 … stopping where on clear days you normally get a pretty epic view of Mr. Fuji. Not today day though; with summer thunderstorms brewing in the distance visibility wasn't that great…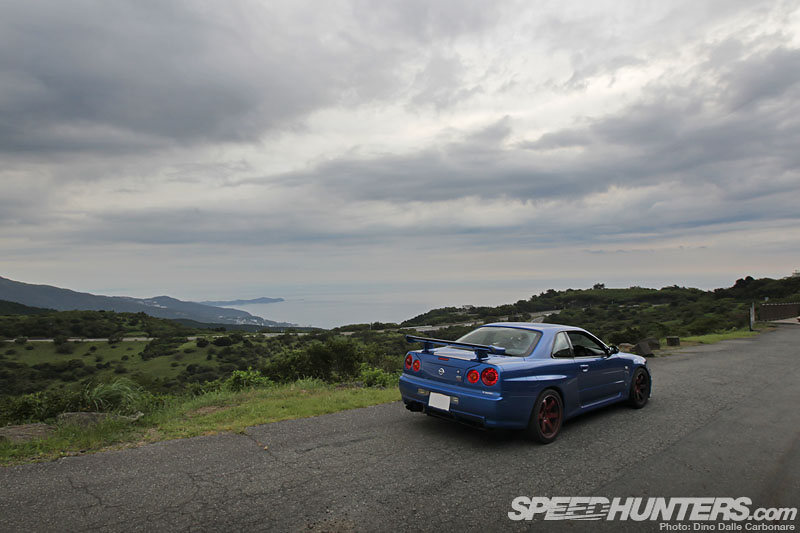 … but in the other direction you could still manage to get a nice view of Sagami Bay looking back towards the Kamakura/Yokohama direction.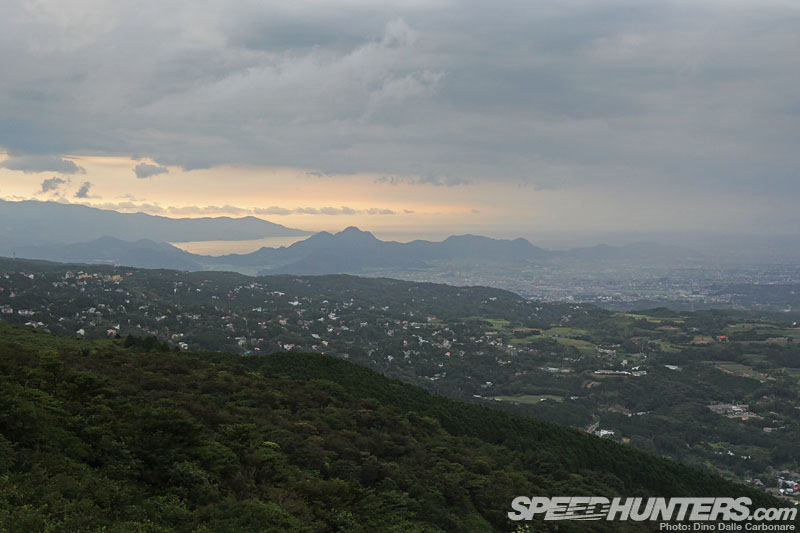 This is actually the narrowest point of the Izu Peninsula so if you go about a kilometer further down the road, you can easily see Suruga Bay on the other side, down towards the south of Japan. With the sun starting to set…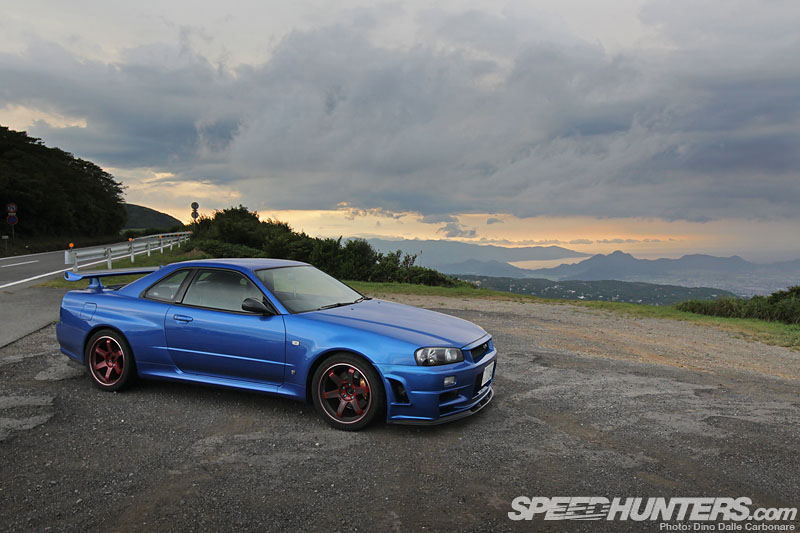 … and some pretty big rain drops falling I decided to pack the camera away, jump back in the car and head back to hot and humid Tokyo. I returned completely and utterly satisfied, stress-relieved and already thinking of the next mods that I should consider doing to Project GT-R…
Dino Dalle Carbonare
Instagram: speedhunters_dino