As I've said time and time again, the absolute best thing about being a Speedhunter is getting the chance to experience so many different facets of car culture. I'm not just talking about the opportunity to many cover many different types of cars from around the world, but also the massive scope between the various events, shops and builders we cover. From the biggest to the smallest, we hold no bias.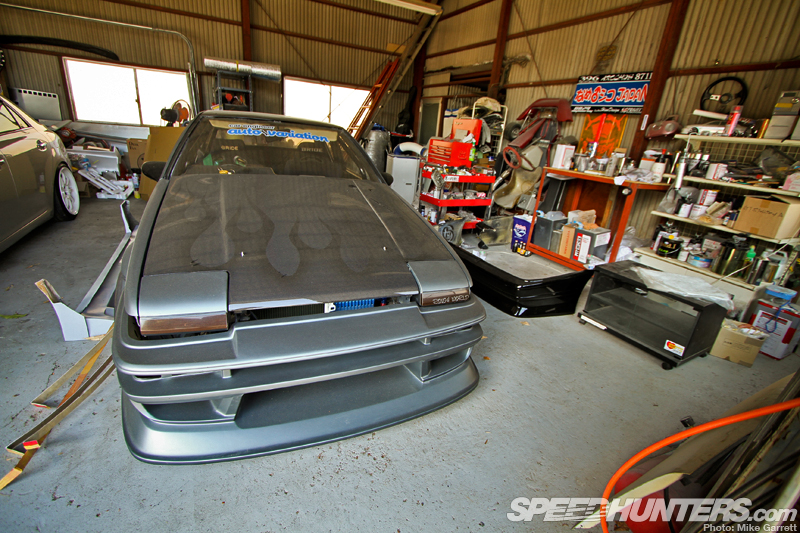 For example, my last car builder story came from Northern California's Canepa, a massive facility that's known around the world for its awe-inspiring collection of race cars and classics. This story though, will cover another garage that's exponentially smaller, but was no less rewarding to visit. I'm talking about Japan's 396 Motoring, the home of the unforgettable JZX100 Cresta I featured last month.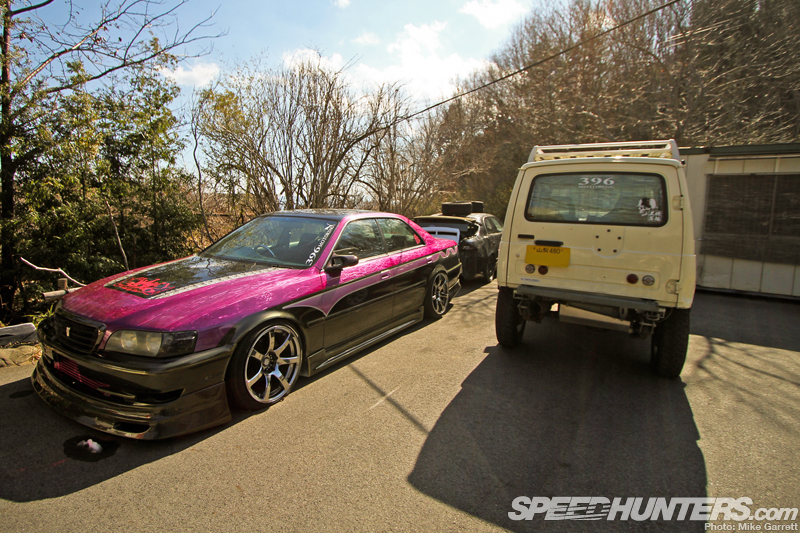 During my venture to Yamanashi Prefecture to meet up with Suguru Ishiai and shoot his Cresta, I also got the chance to check out his workshop. In case you're wondering, the '396' in 396 Motoring is a play on the Japanese characters in his name.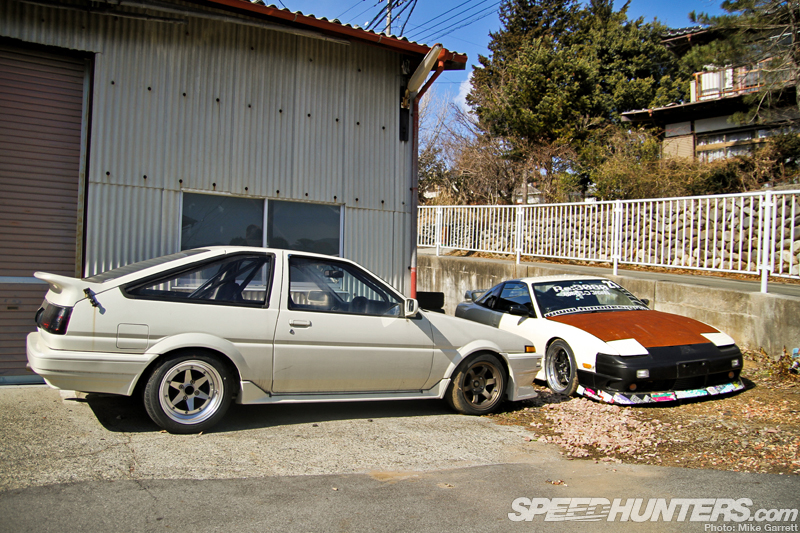 Rather than a traditional business that is open to customers, 396 Motoring is simply Ishiai-san's personal workshop. It's a spot that he uses to work on his own cars, as well as those of friends and fellow drifters from the Yamanashi area. As I wrote in the car feature, he has a day job that's completely removed from this lifestyle.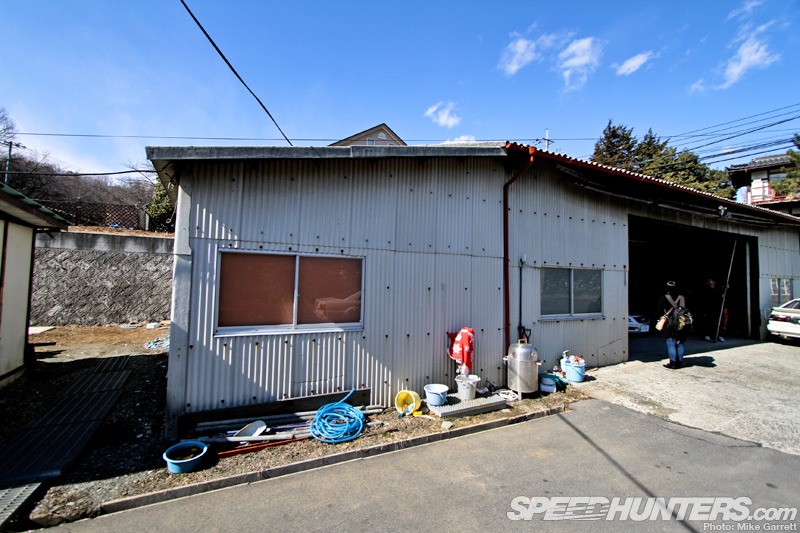 The building that houses the work shop was formerly used for his father's business, but now Ishiai-san has made it his own. As car enthusiasts, the idea of having your own private shop for you and your friends is something I think we've all dreamed of. Some of you may have even made it a reality.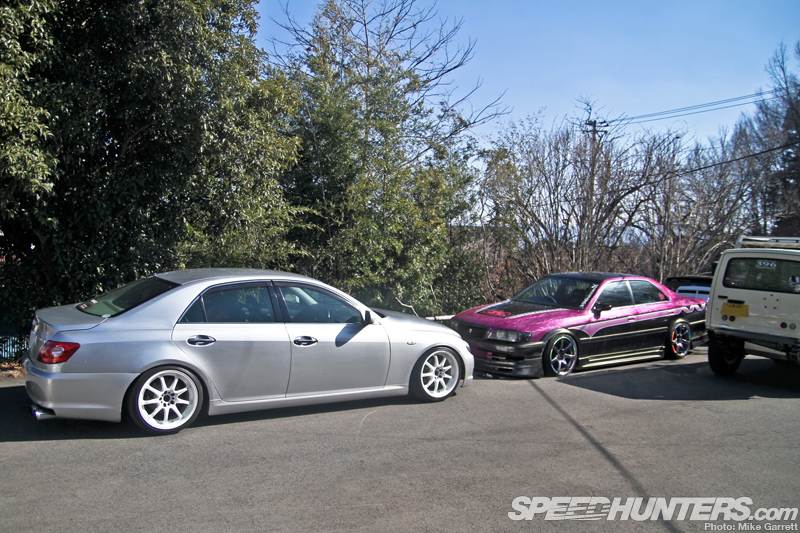 And even though 396 is a personal garage, the selection of cars hanging around when I visited was impressive enough to rival many 'real' shops I've visited.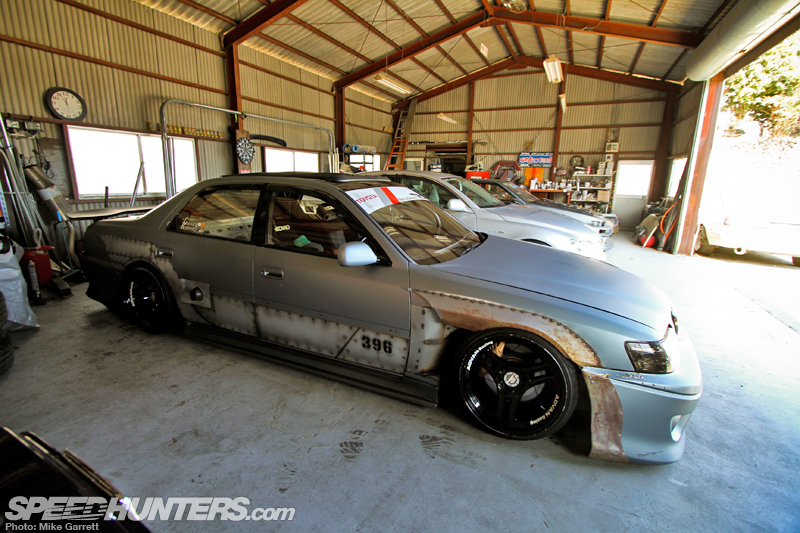 Naturally, there was Ishiai-san's own Cresta looking right at home in the big garage, as well as several other cars that belong to both himself and friends.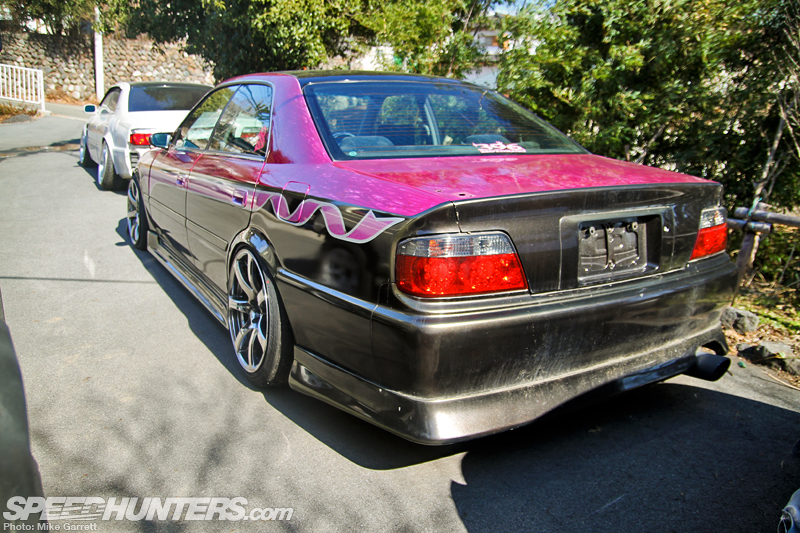 One of Ishiai-san's other cars is this JZX100 Chaser that he now uses only for the occasional drift event. As you can tell, he's quite a fan of these four-door Toyotas.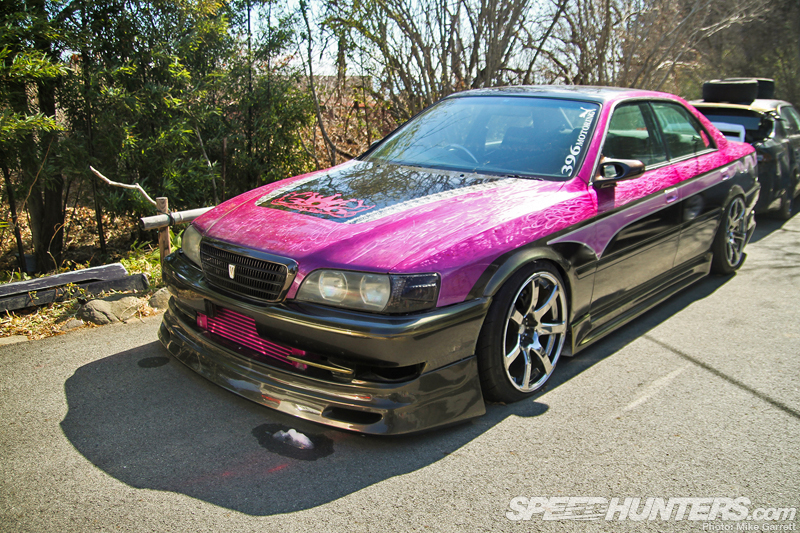 The JZX100 has been built with a lot of cool touches, like the totally custom paint job (with a pink intercooler even!). In a break from the norm, it's equipped with an automatic transmission rather than the more common manual boxes found in drift cars.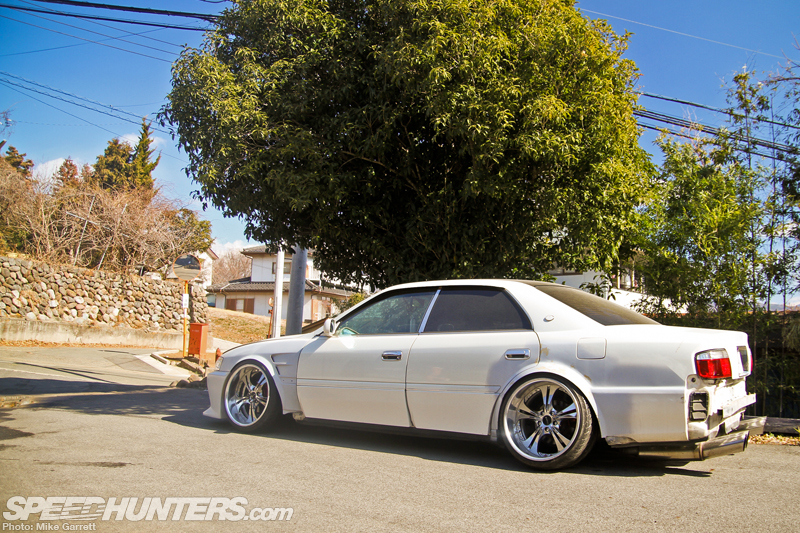 Elsewhere, there was another Chaser hanging around the shop that was modified with some VIP style.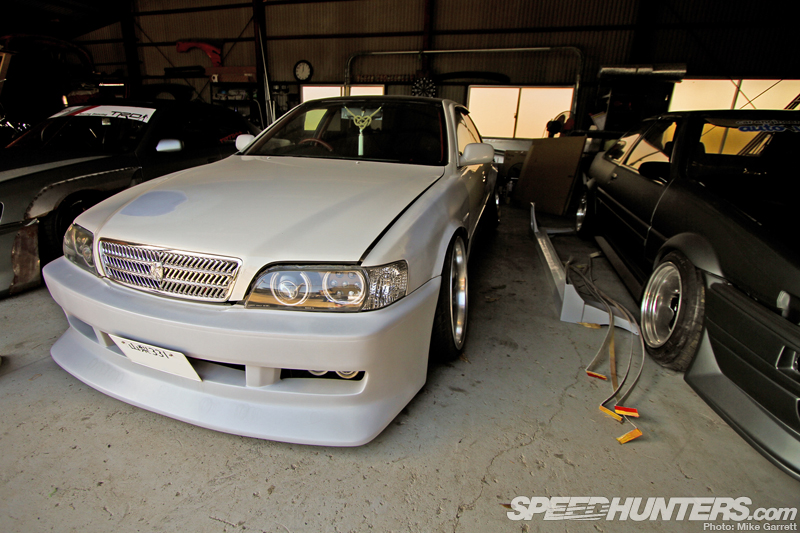 It was clearly a work in progress at this point, but you can already see some of the unique details like the re-worked fenders and custom projector headlights.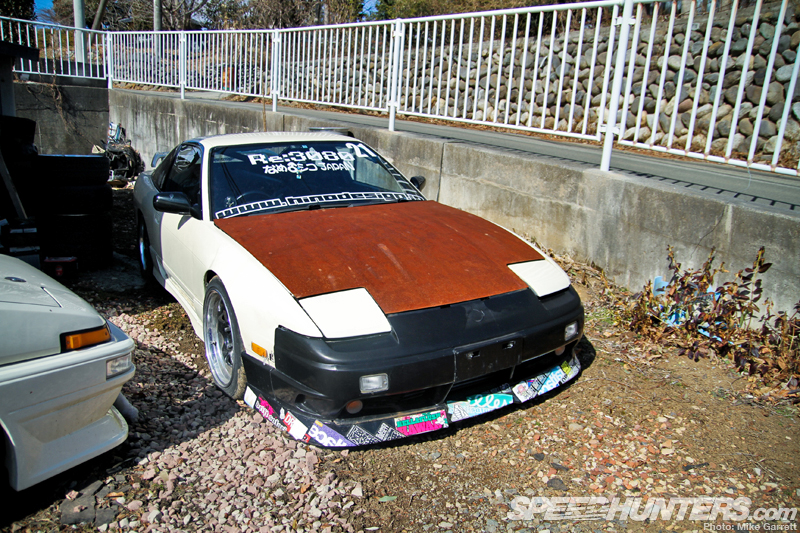 Of course it wasn't all sedans. Also part of the 396 family is this 180SX…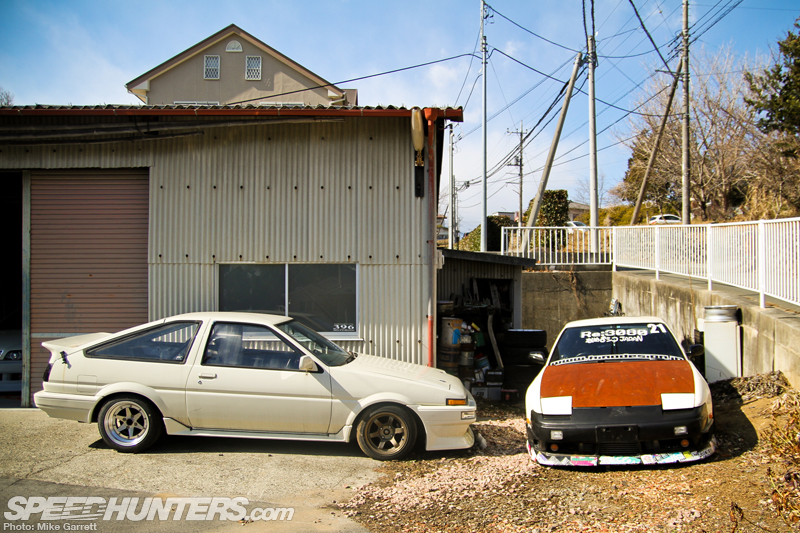 … along with a couple of AE86s.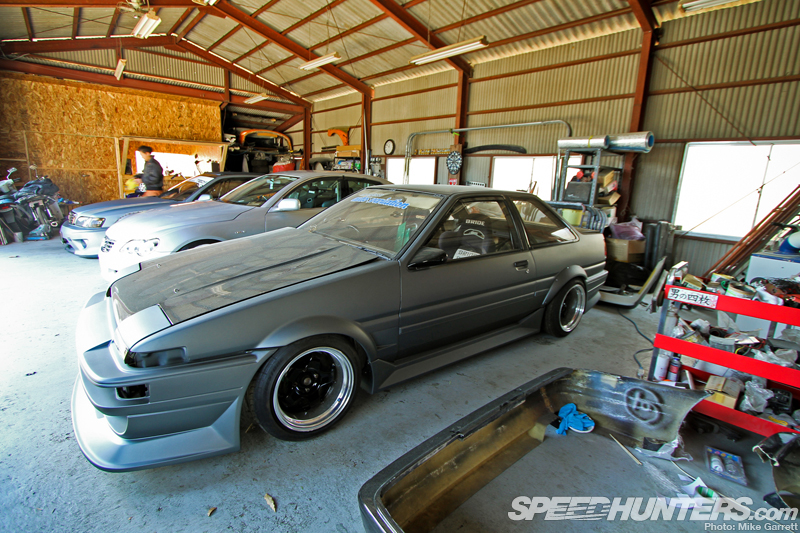 Wearing a similar paint job to the one on Ishiai's Cresta, this matte gray two-door 86 really caught my eye.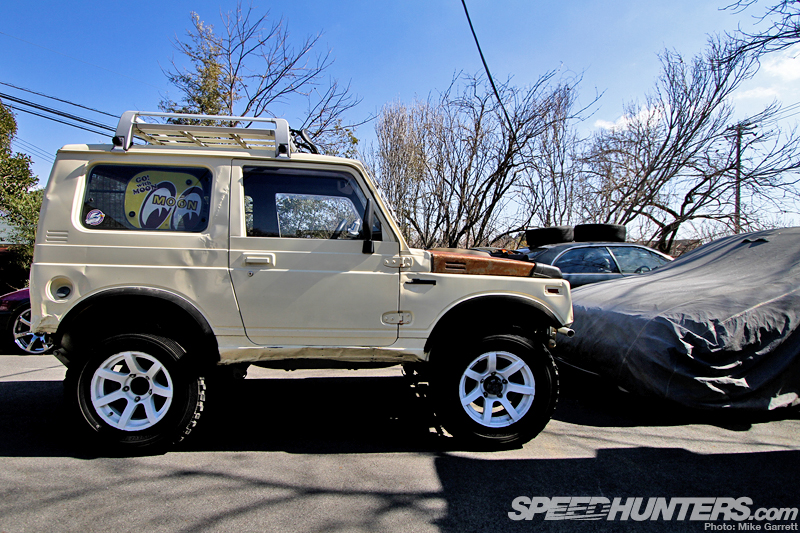 You also gotta have a dependable daily driver, and for this duty Ishiai-san uses a Suzuki Jimny kei SUV. It's the perfect workhorse considering the local terrain and climate.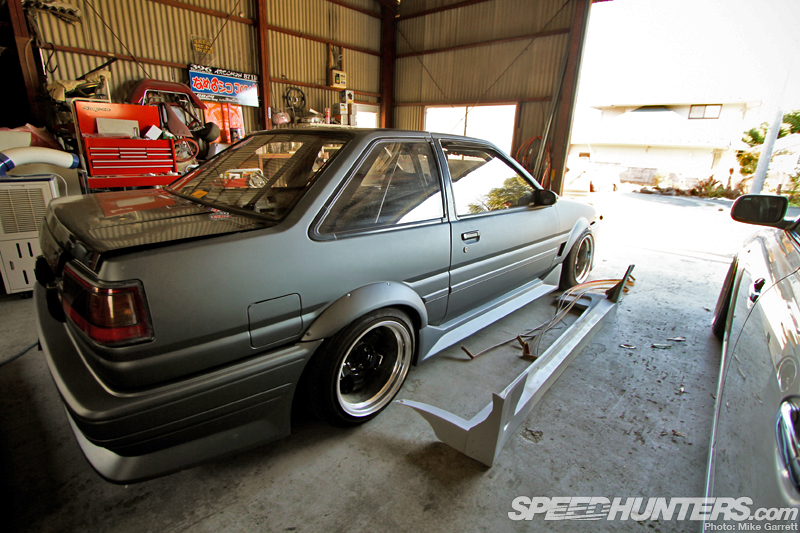 Even though 396 Motoring is not a traditional business, you can see that Ishiai-san and his buddies stay quite busy building and re-building cars in their spare time.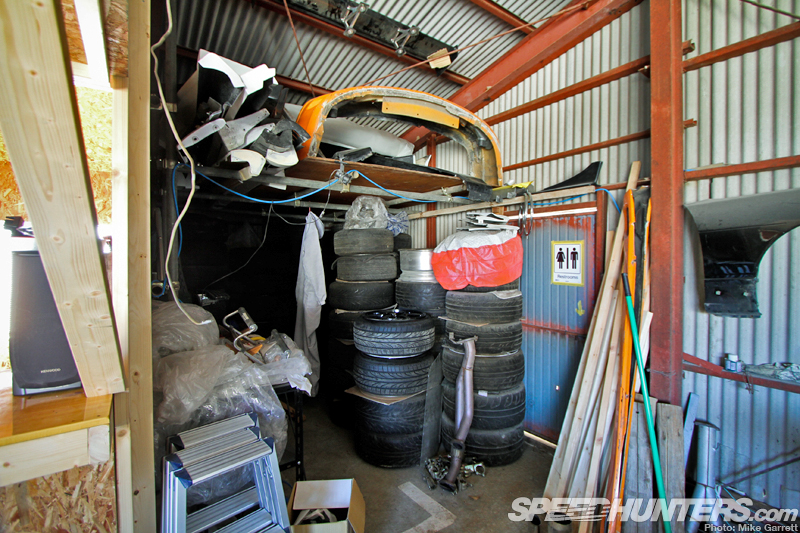 There's also a whole lot of cool stuff to see in the shop besides the cars. Needless to say, there are stacks of spare wheels and tires…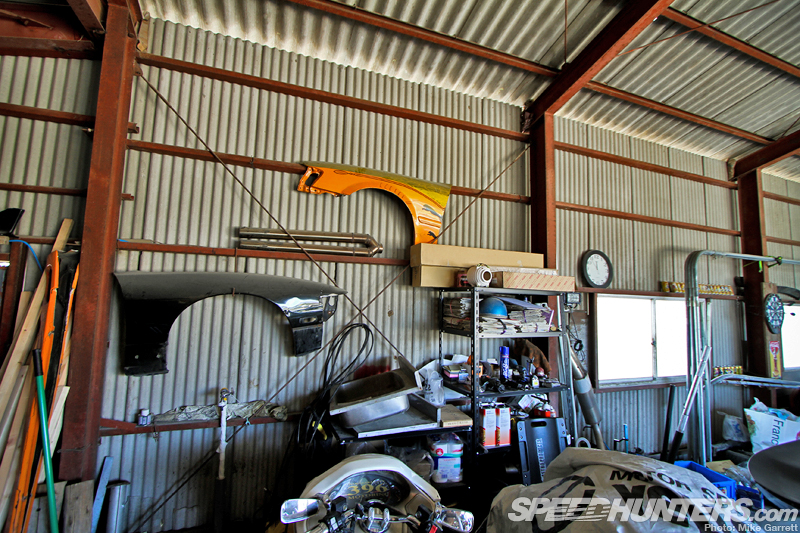 … along with lots of body parts from both former and current drift cars.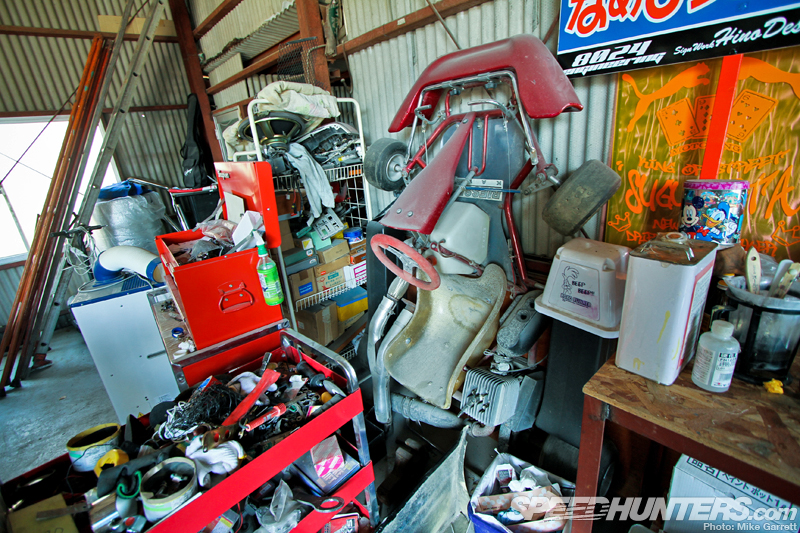 And if the real cars weren't enough to devour of all of their spare time, there's also go karts…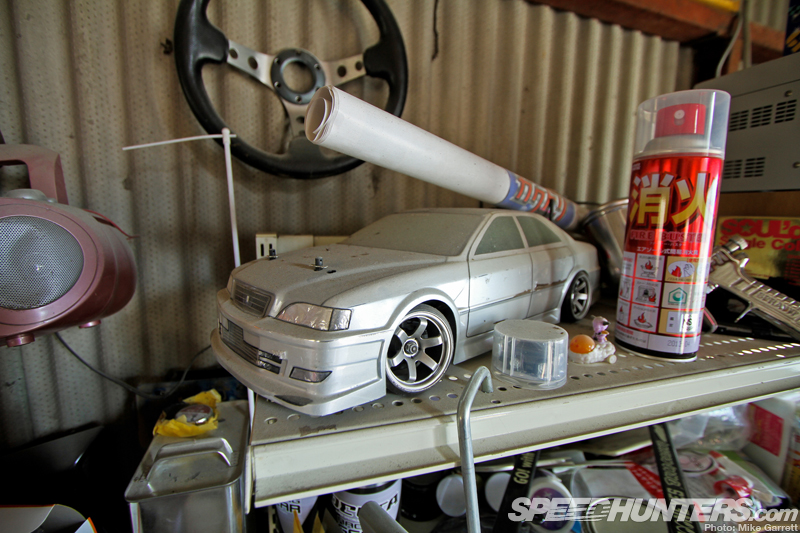 … and RC drift cars.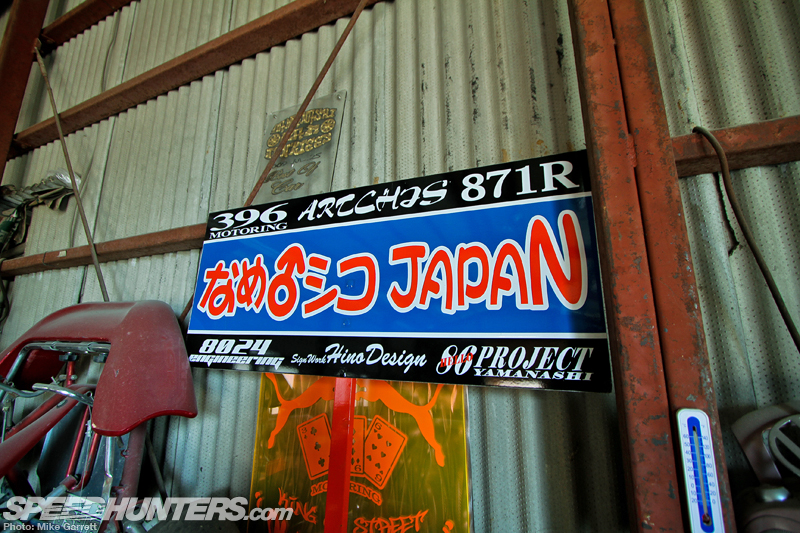 "Nameshiko Japan" – a clever take on the name given to the Japanese women's soccer team that won the World Cup in 2011.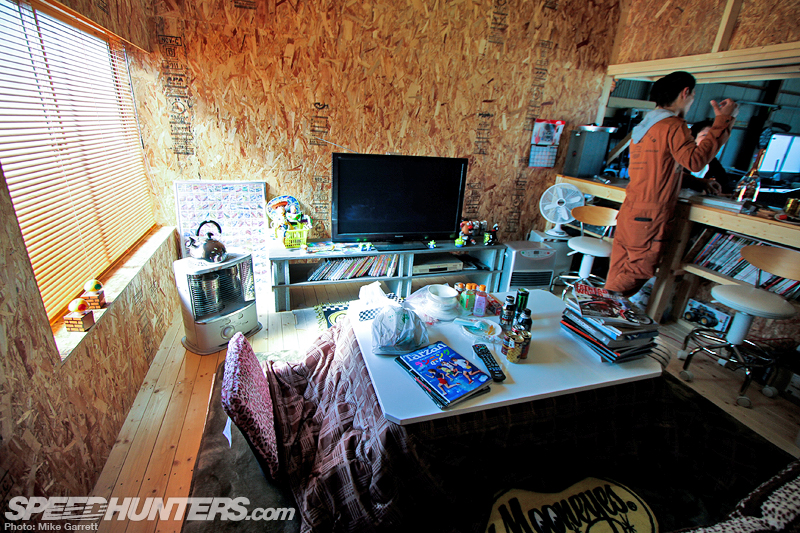 Rather than just being a place to work on cars, the 396 Motoring base is also a spot for Ishiai-san and his friends to hang out and relax.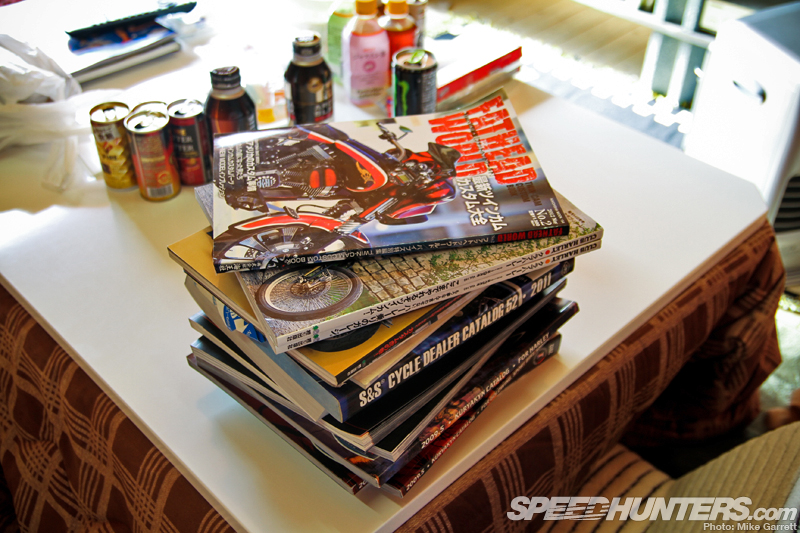 The shop features a lounge area complete with a flat-screen TV, a traditional Japanese kotatsu and a fully stocked library of car magazines.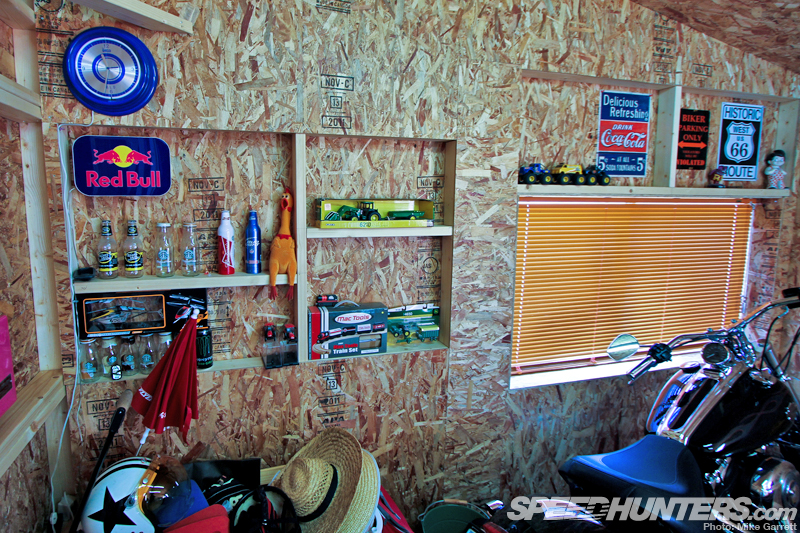 The hangout area has also been decorated with a range of collectables and other bits of Americana…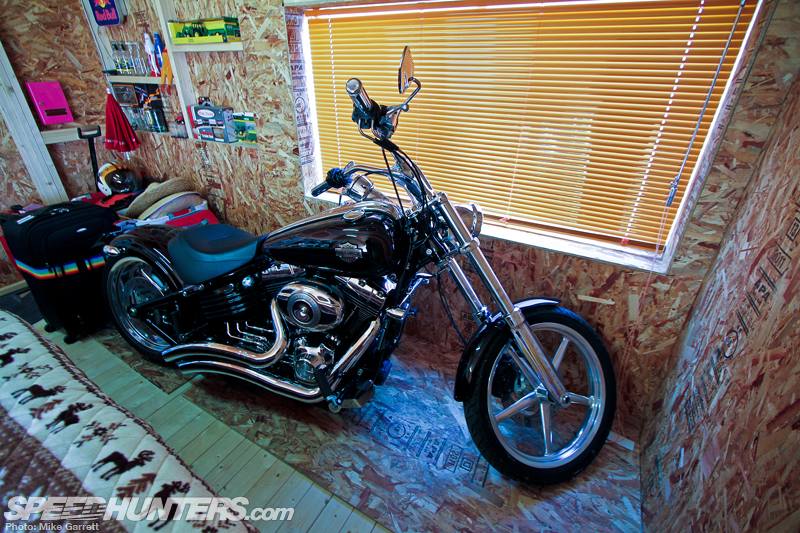 … including motorcycles. Besides his love for building and driving drift cars, Ishiai-san is also a huge fan of Harley-Davidson bikes.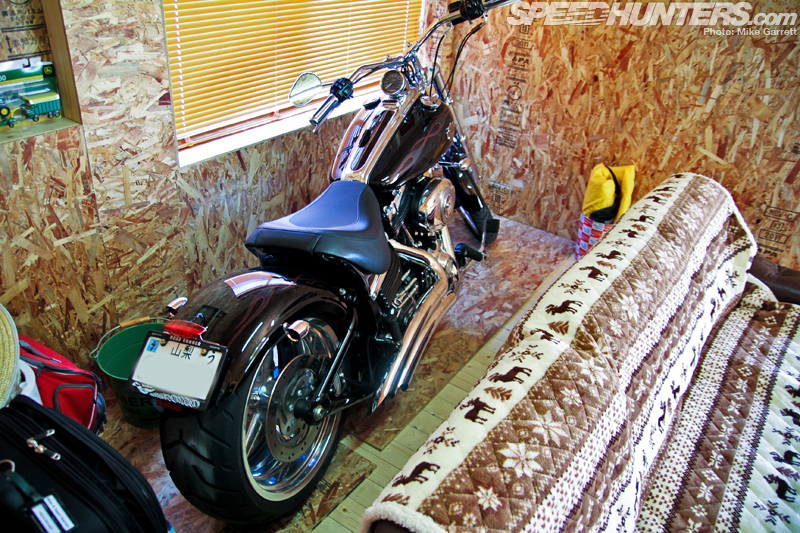 This is his Harley Rocker C, which he can be found riding when he's not cruising the streets in his JZX100 or pitching it sideways at a drift event.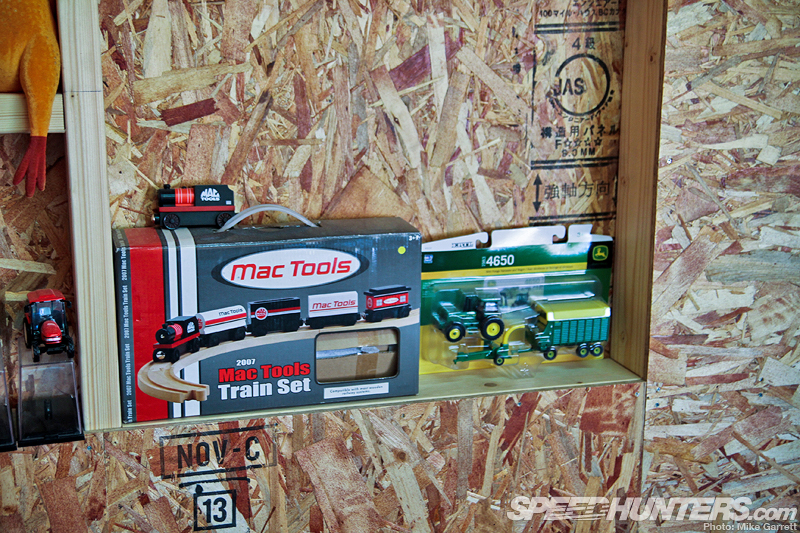 I also like the use of raw particle board on the floors and walls for a unique, yet functional look.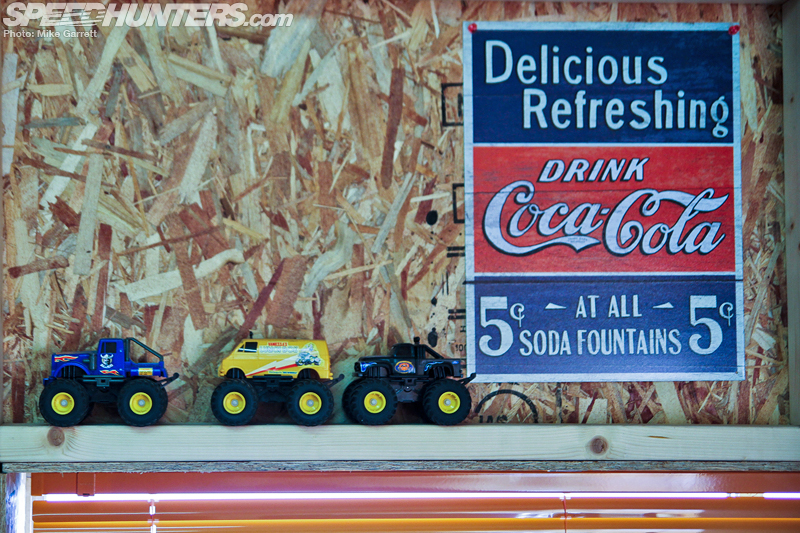 The walls are decorated with everything from miniature monster trucks…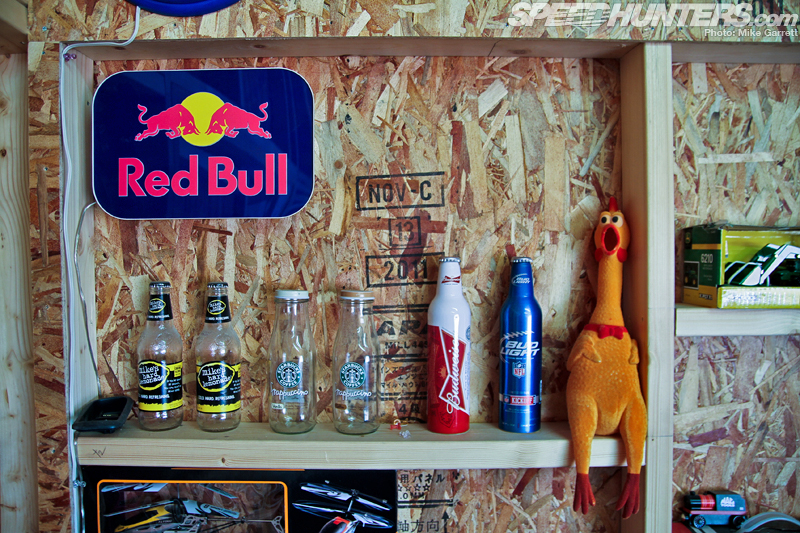 … to rubber chickens and Budweiser beer bottles. As you can see, Ishiai-san is quite fond of American culture.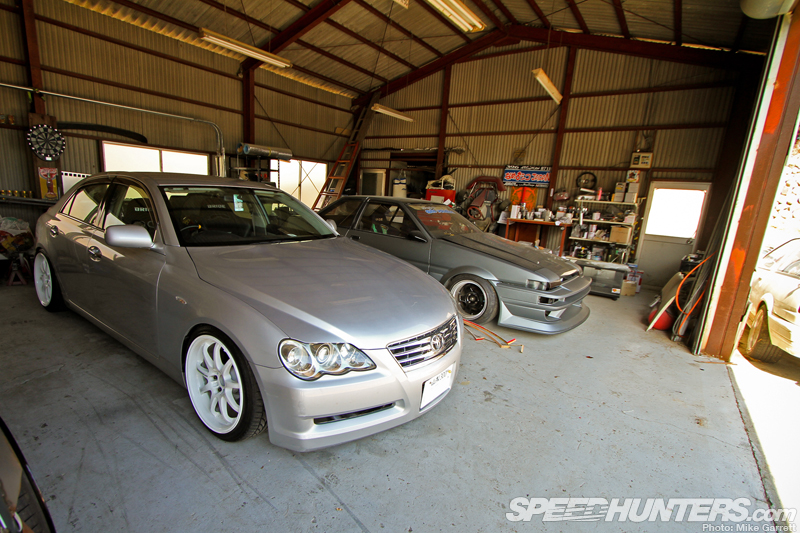 While having the chance to shoot the 396 Motoring Cresta was an unforgettable experience, it was made so much better by getting the chance to visit this little private workshop tucked away in the hills of Yamanashi-ken. The cars might be the first thing we notice, but it's the opportunity to meet the people behind them that really brings these machines to life.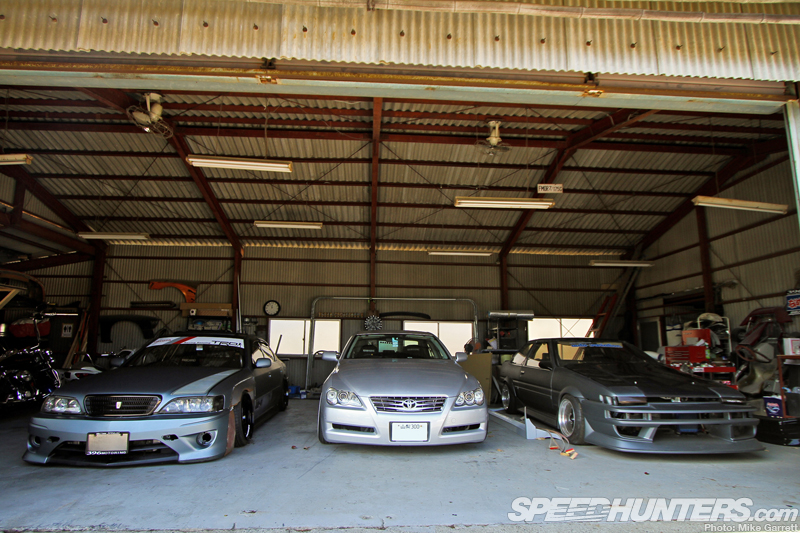 I know there are so many more tales like that of Ishiai-san and 396 Motoring that are waiting to be told, and I'm absolutely looking forward to discovering more of these hidden gems during my future visits to Japan.
From the spotless factories and world famous car builders to the guys working away in their own little garages – we dig it all.
Mike Garrett
Instagram: speedhunters_mike
mike@speedhunters.com