This year the celebrations for the 7's Day began a couple of days early, when on Friday some of the most respected rotary tuning shops in Japan met at Tsukuba Circuit along with an impressive showing from track-mad privateers. Unlike the 7's Day meeting in Daikoku which we have been looking at over the last couple of days, this was a refreshing change from the regular festivities…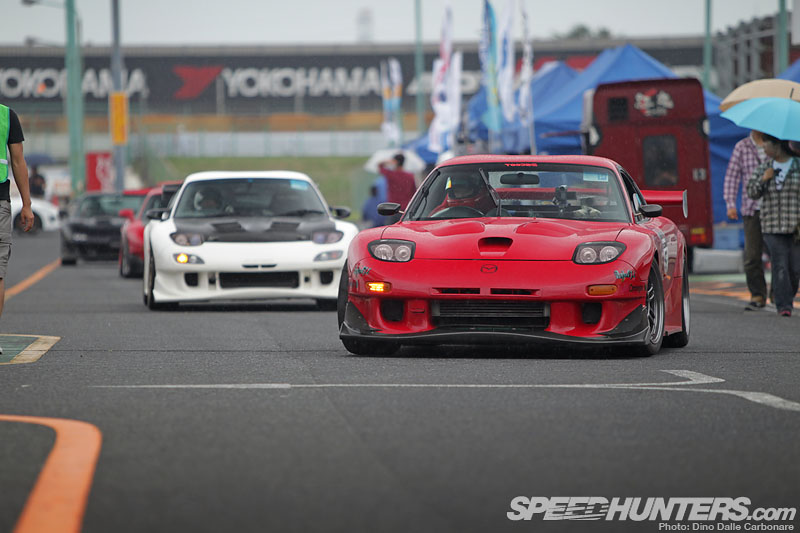 … and when that includes non-stop action out on track as well as time attack attempts, you know fun is assured.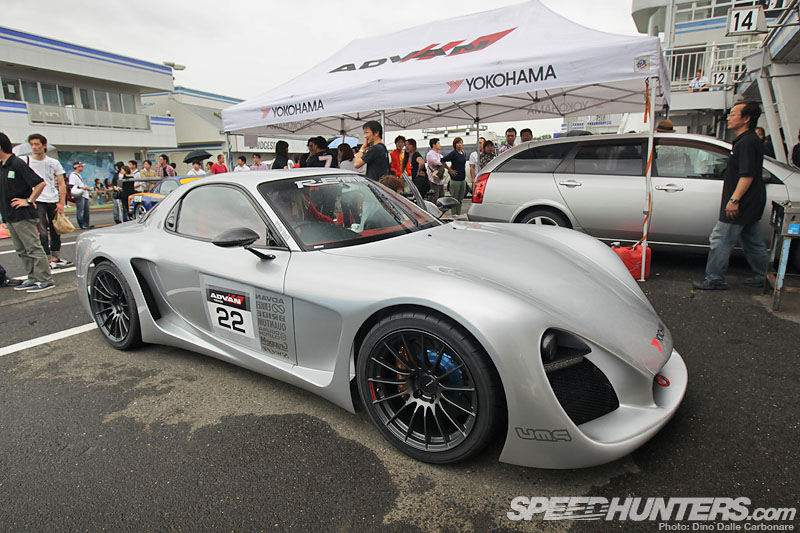 RE-Amemiya brought a total of three cars to the event, starting off with one I thought I'd never see hit the track: the naturally aspirated NA-7. I shot this FD back last year and I assumed that like most of the recent show-oriented cars that Amemiya-san had built, it would end up being sold off before it had a chance to prove itself on track. Glad I was wrong on this one!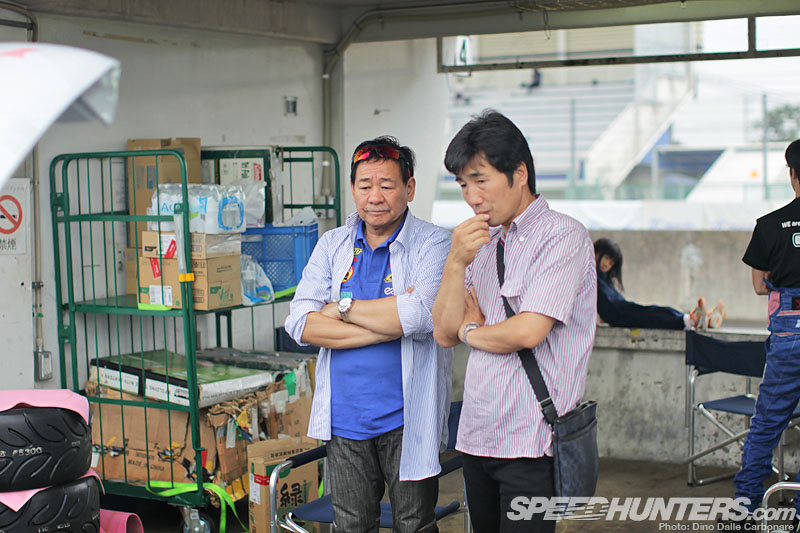 Here is the man himself looking a bit worried, probably due to the intermittent rain that kept falling throughout the day. The 13B NA-powered car might not be setting any records…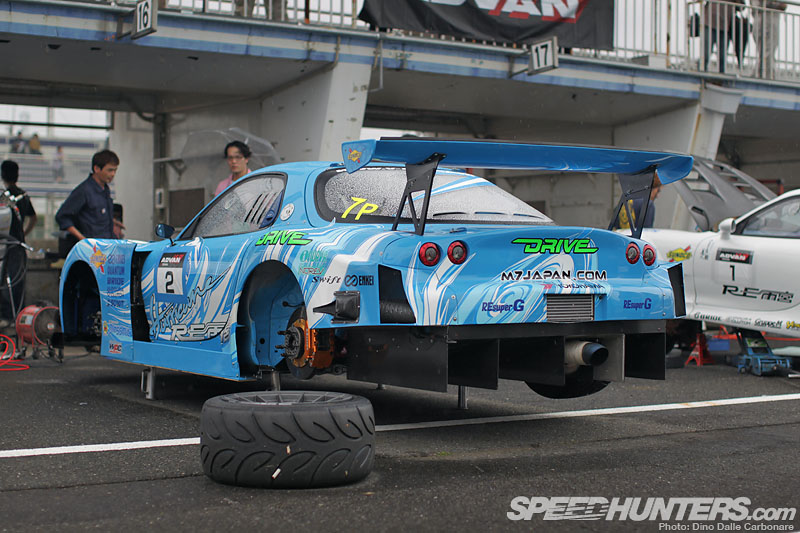 … compared to the WTAC Hurricane RX-7 they were also running on the day, but it will be cool to see if it can dip under the minute once they get a proper chance at a hot lap.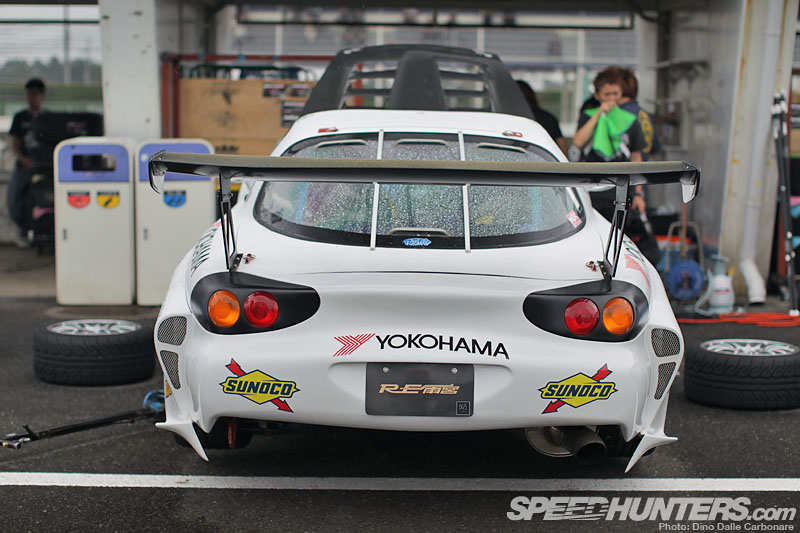 Next to the time attack beast was Suenaga's D1 car which had been brought to participate in the few drift sessions that were also organized. Nothing like a mix of drift and grip to bring smiles to people's faces on a wet day!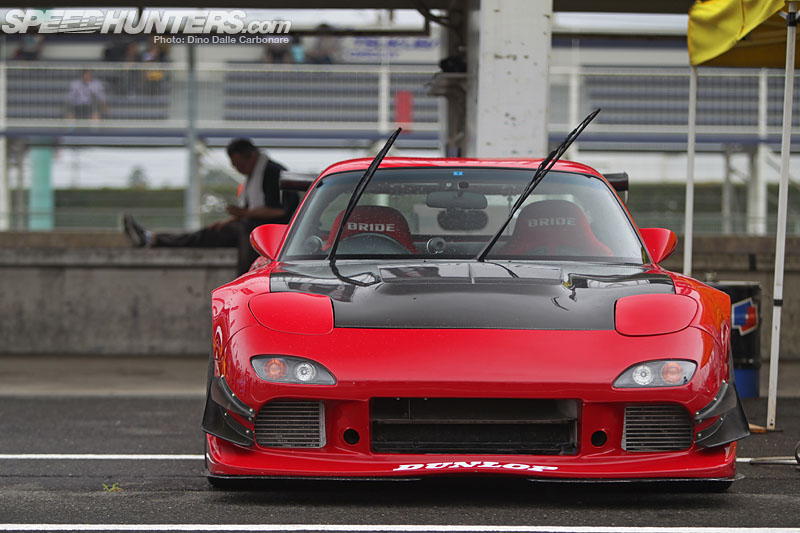 The Pan Speed guys have been heavily concentrating on refining their red street-tuned FD, which does away with big power upgrades in favour of an extremely responsive set-up.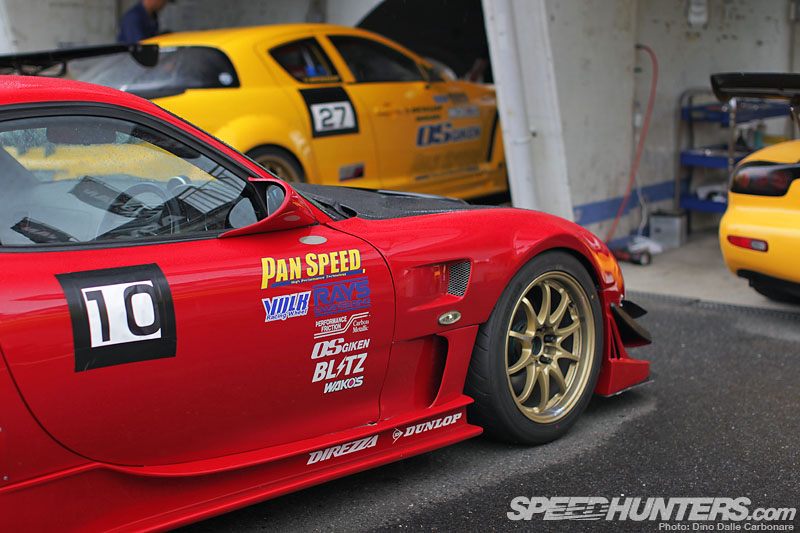 That's why this car still runs the stock twin turbo layout, fine-tuned with a set of specially built GCG bearings and impeller/turbine design. An easy way to get over 400hp and not sacrificing the 13B's instant throttle response. Along with this car was their mid-spec track FD and the triple rotor RX-8 which continues to undergo development.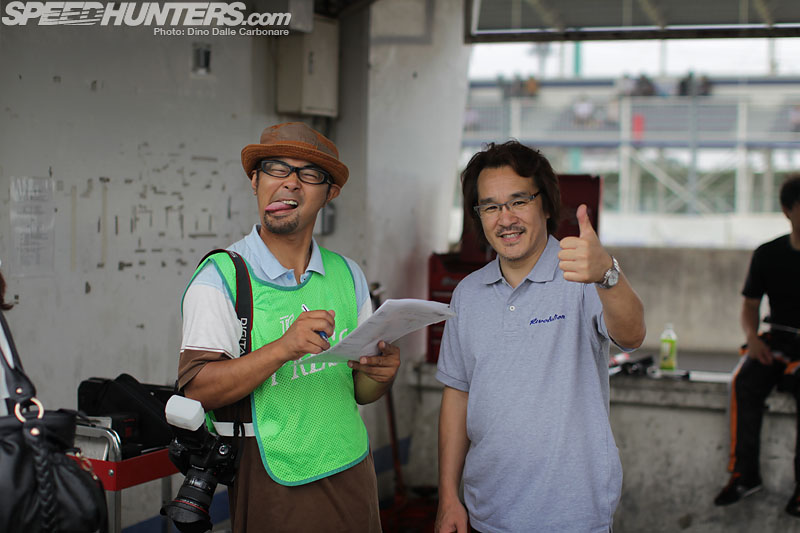 Aoki-san from Revolution…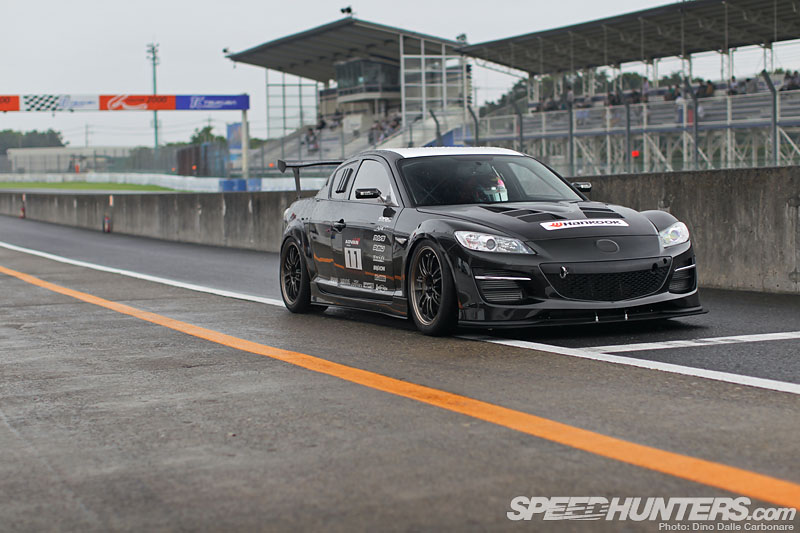 … had also taken his 3-rotor RX-8, so you can just imagine the sound that was coming from the track when all these wild cars were out at the same time!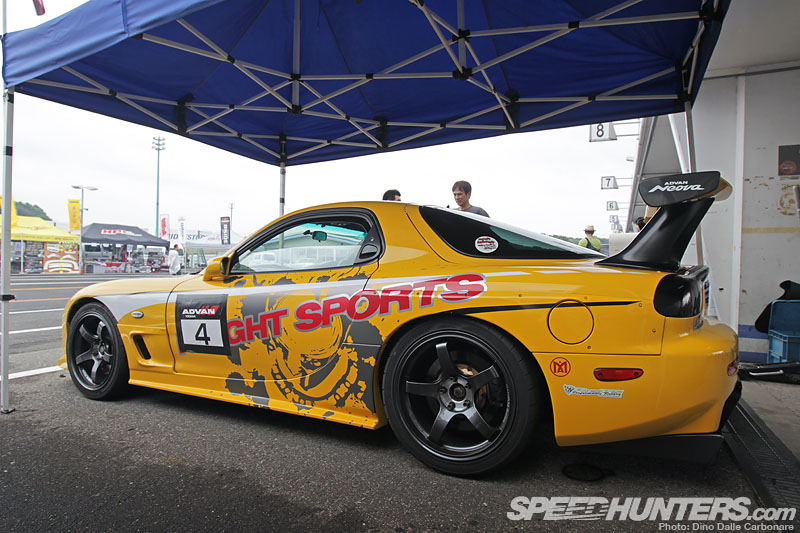 Knight Sports is a shop that has always approached rotary tuning from a unique perspective. Almost all of their solutions have come from the racing they have done over the decades, and their engines are set up for responsive street applications rather than high power wangan racers. It was very cool to see them at the event with their yellow FD demo car. Knight Sports is definitely a place I must do a tour on soon!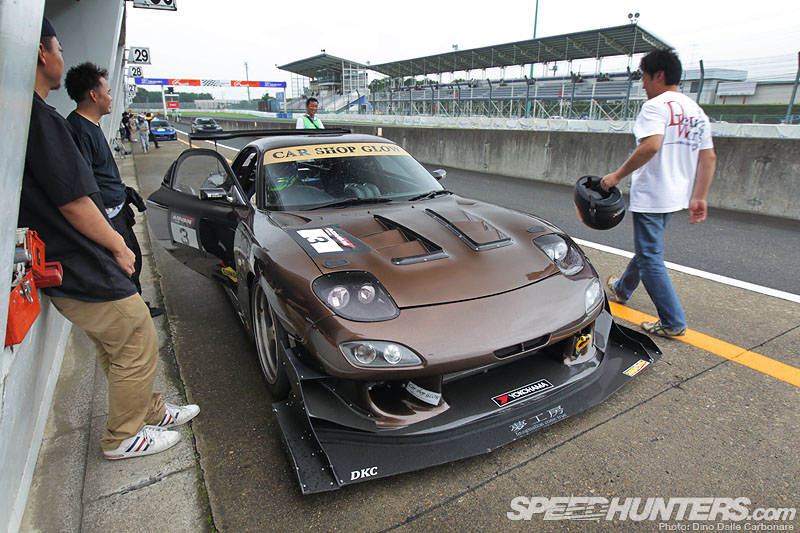 You may recall seeing this stunning Car Shop Glow FD from my winter time coverage of the Battle Evome series. It's one unique-looking ride!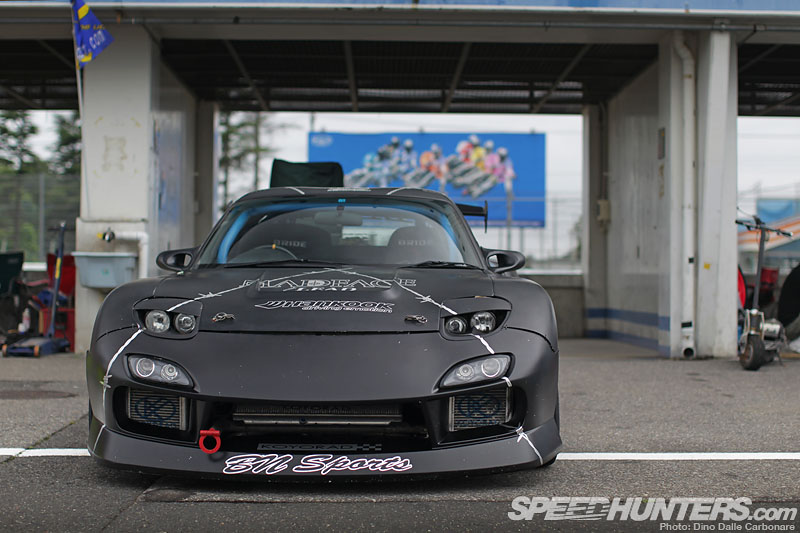 On the opposite side of the paddock the drifters had set up camp…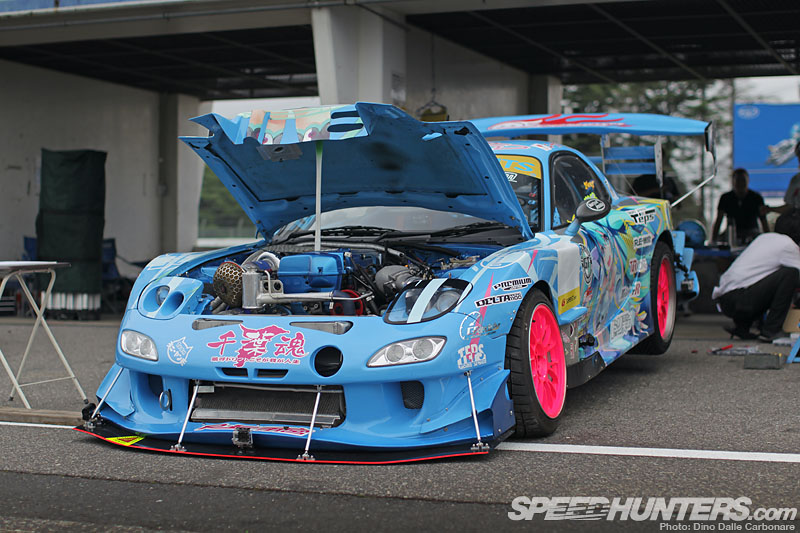 … so I just had to go over and take a look but was surprised to see the Sexy Knights FD3S there. Why you may ask?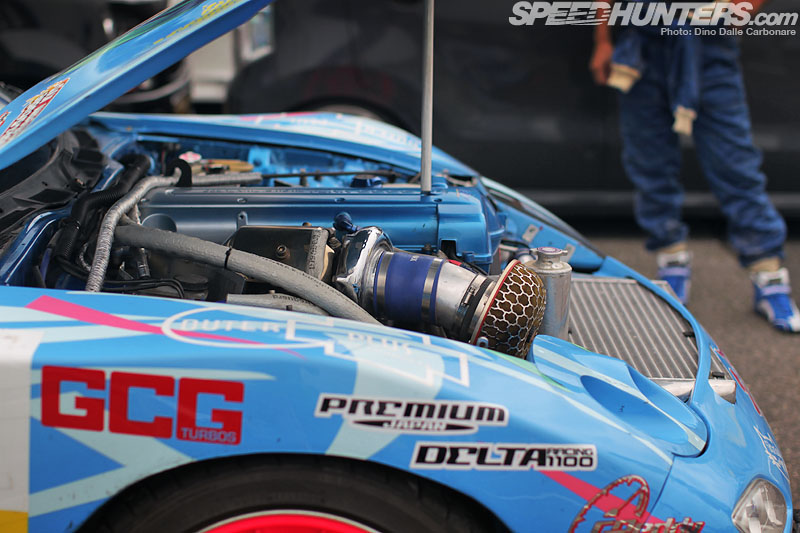 Well because it runs a 2JZ swap, doing away with rotary power in favour of low-rpm straight-six torque. This was the only non-rotary car in the paddock, but I guess with it being an FD chassis, it still qualified!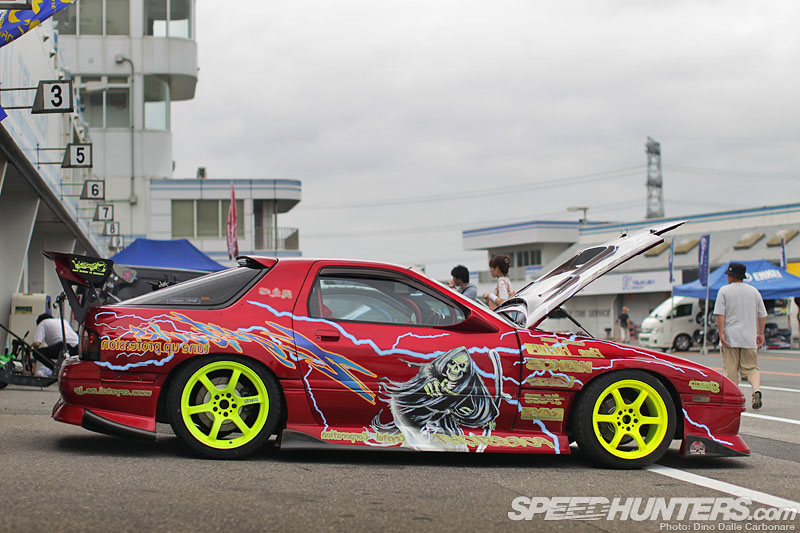 This Team t-get with Monroe Walk FC was ready to burn some tires…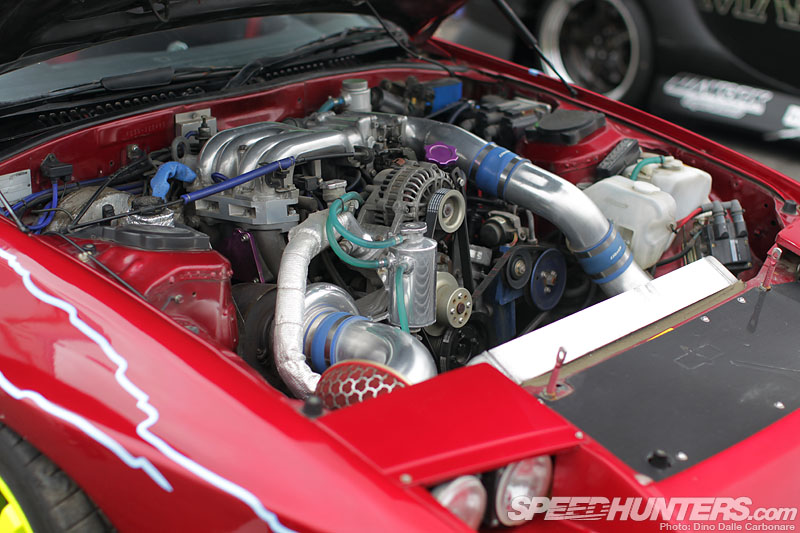 … the driver already warming up the heavily modified, single turbo 13B. I'll have some action to show you in the next part of the coverage but until then I can leave you with some text-simulated bridge-ported engine sounds: braaap braaap braaap braaap, braaaaap brap brap braaap…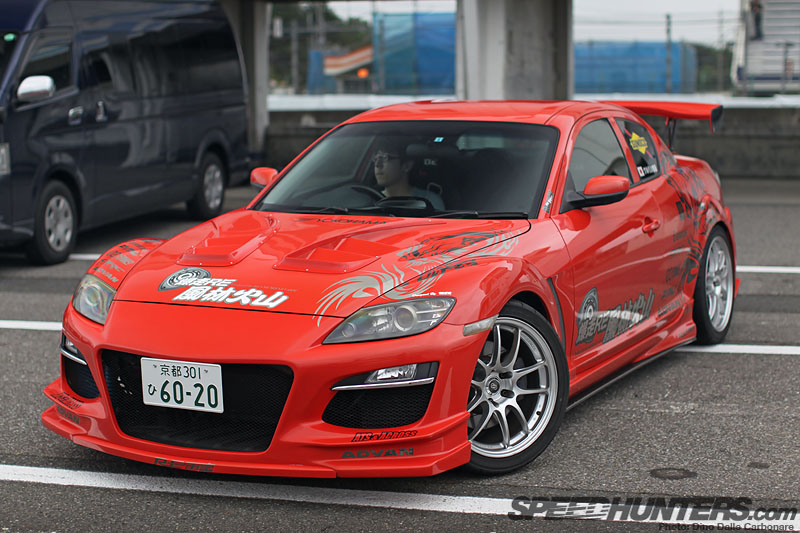 With cars coming and going from the track there was always lot of movement in the paddock…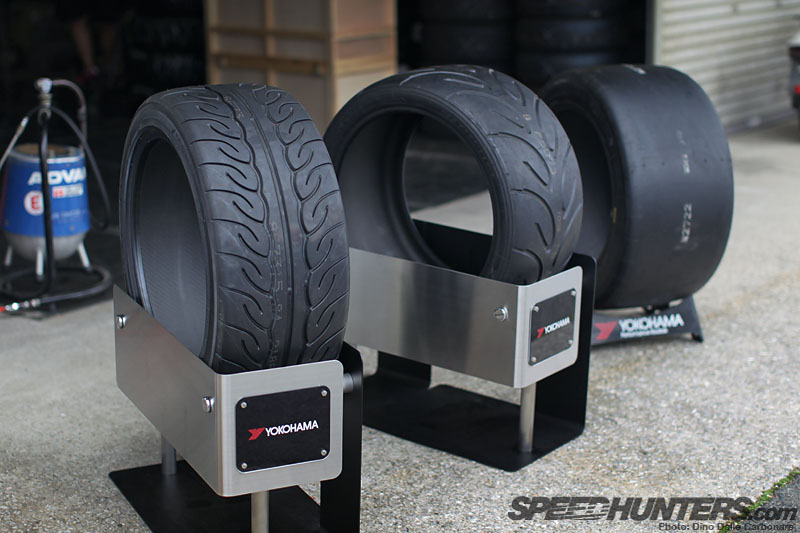 … but it was this display of Yokohama rubber that caught my eye. I can't wait to fit the Neova AD08R on my TE37RTs, and it seems that my wait is over as Yokohama has released the sizes I was after. But more on this at another time!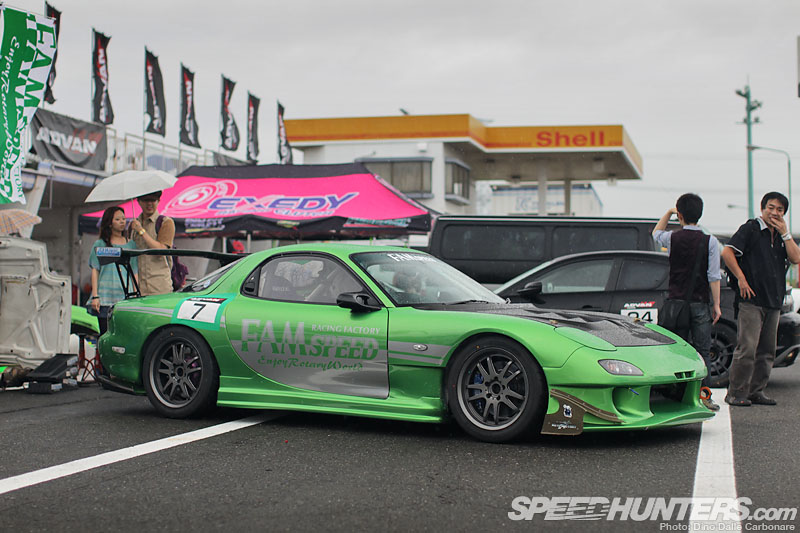 The FAM Speed FD is always such an impressive car when we see it in action at Fuji Speedway during the HKS Premium Day, expect with the wet conditions it wasn't being driven to its fullest potential.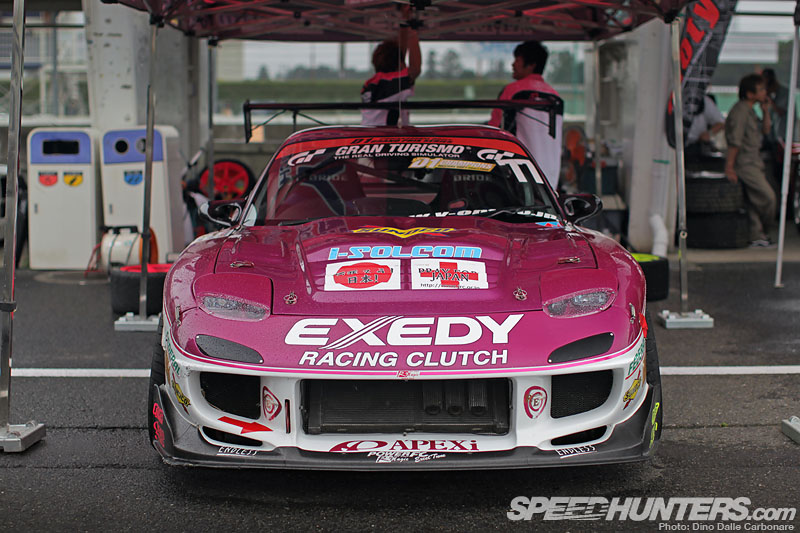 It's been a long time since I covered a D1 event, so it was really cool to see Takayama's R-Magic Pink Number 6 drift car up close. I see the 'high riding front' stance is still a popular set-up in the pro Japanese series. But for how cool and legendary this car may be…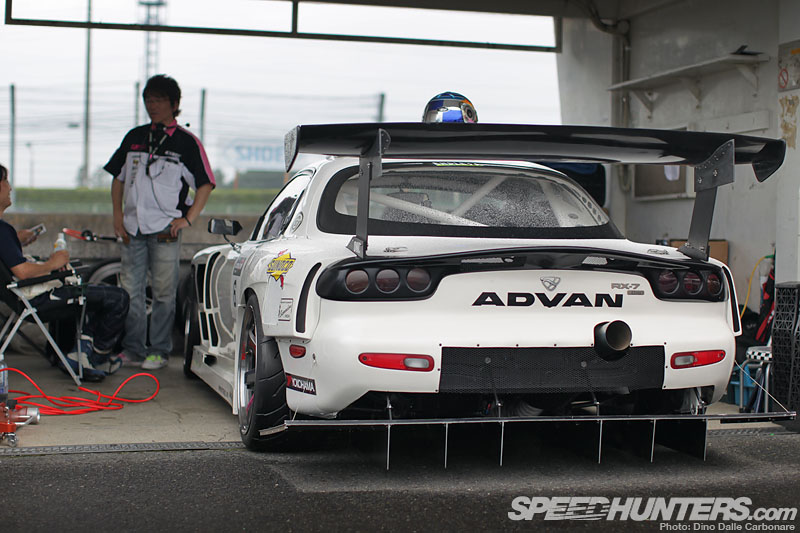 … it was their new time attack FD that really got me excited. We have seen this widebody RX-7 many times before but it seems its time as a show and street car has ended; it's now a fully fledged lap-time-hunter! Take a look at that rear diffuser and exhaust popping up from the bumper.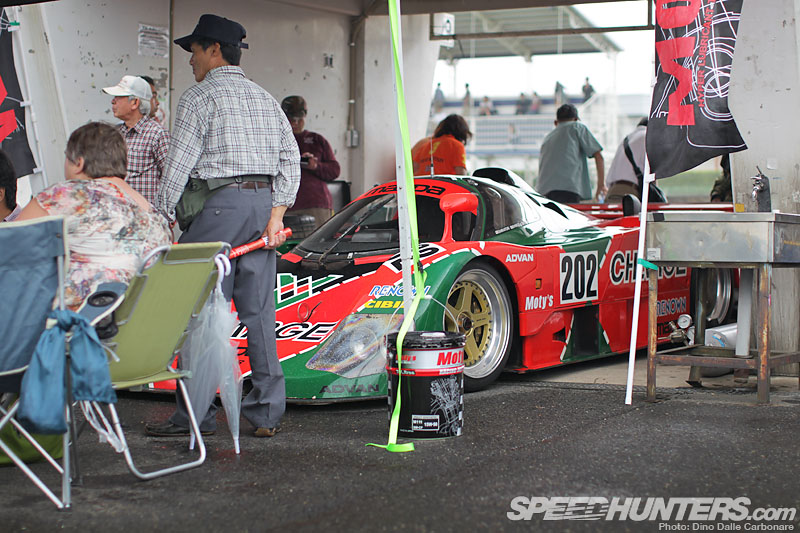 The main reason one should make sure to check out the Mazda Tuning Festa at least once in their lives though, is to see the 767B in action.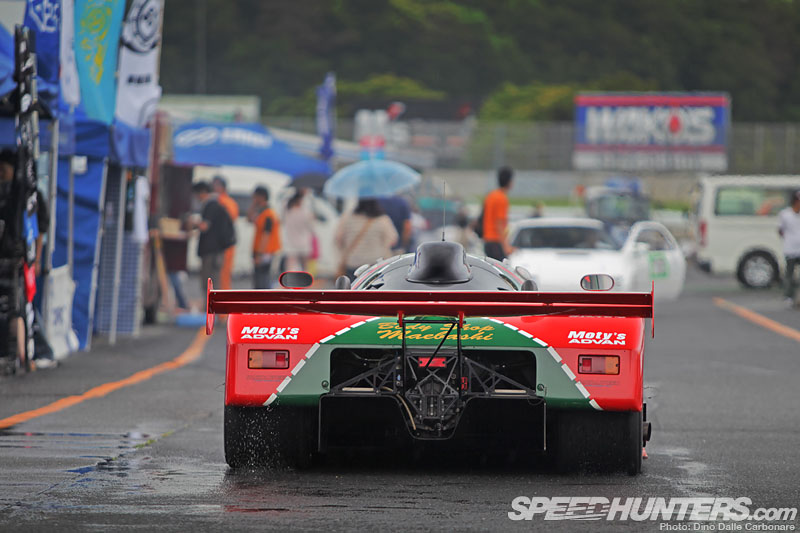 The now privately-owned 24h of Daytona and 24h of Le Mans 4-rotor racer is always taken out on track…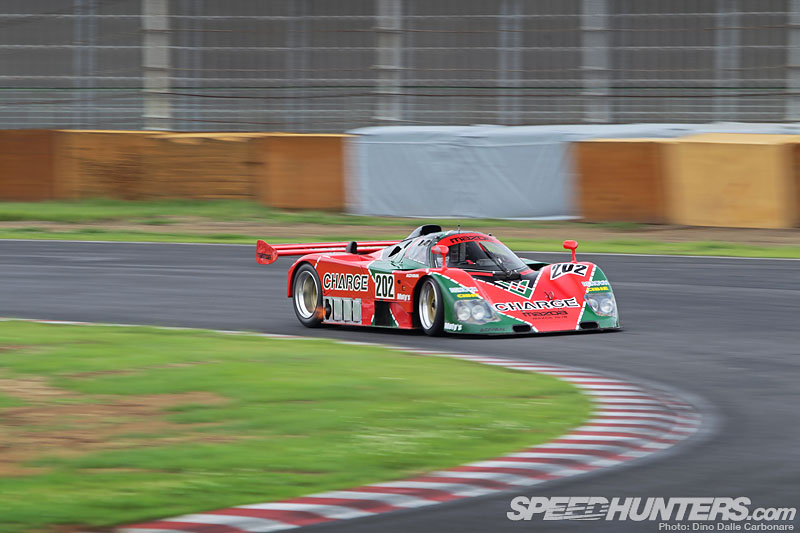 … where its owner has two fifteen minute sessions at his disposal to open that hand-built engine up! While I've seen the 787 in action before, this was my first time coming face to face with this particular car.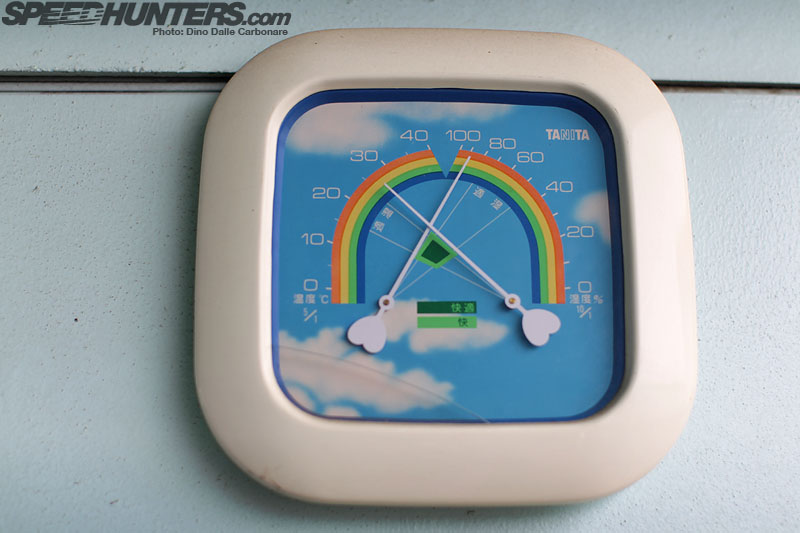 With regular sprouts of rain keeping things nice and sweaty for everyone…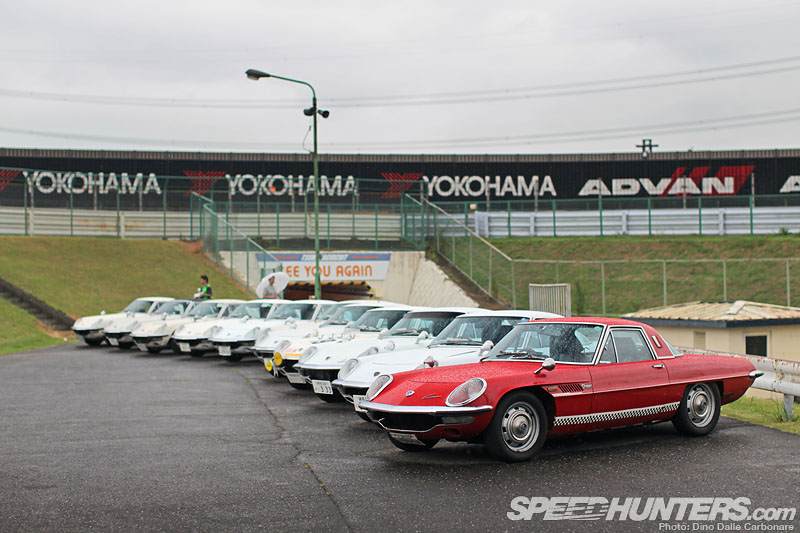 … I moved onto the small area on the inside of the first corner where ten Cosmos had neatly lined up. Seeing rare cars in such numbers  is almost overwhelming…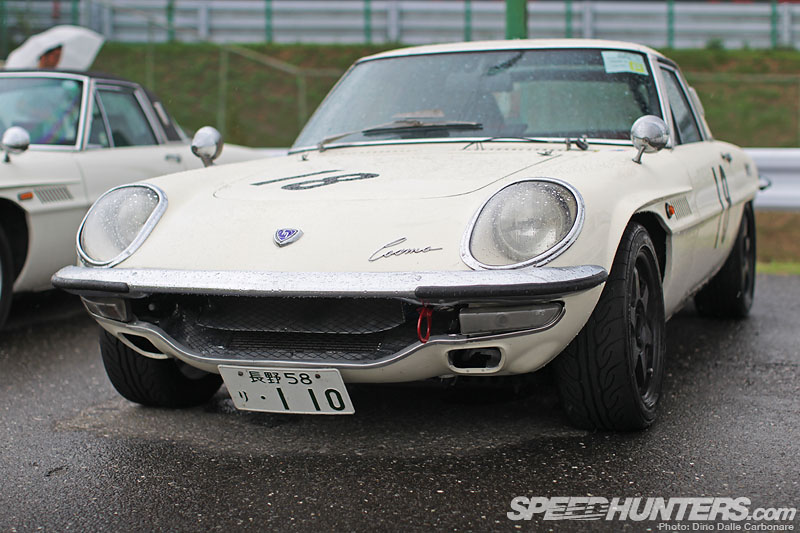 … but better still is seeing that their owners use them regularly – some also for track duty judging by this car on sticky Neovas.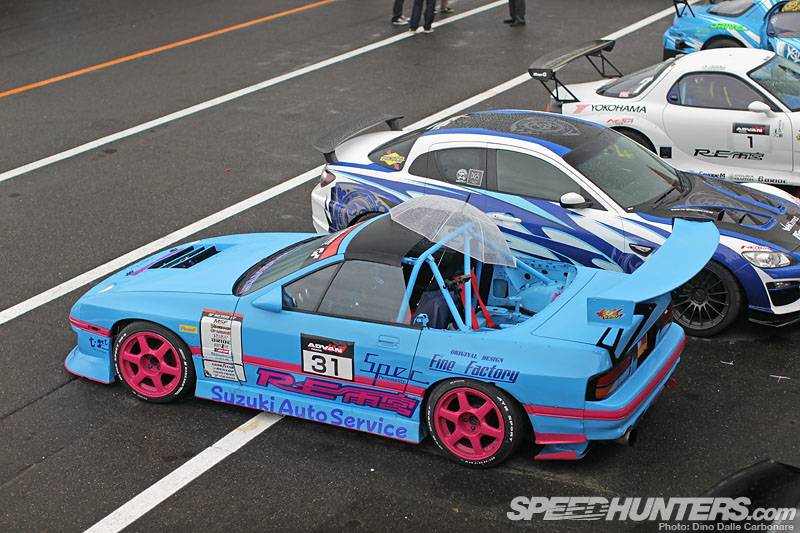 A drift car with no roof is probably not the most practical of cars during Japan's rainy season!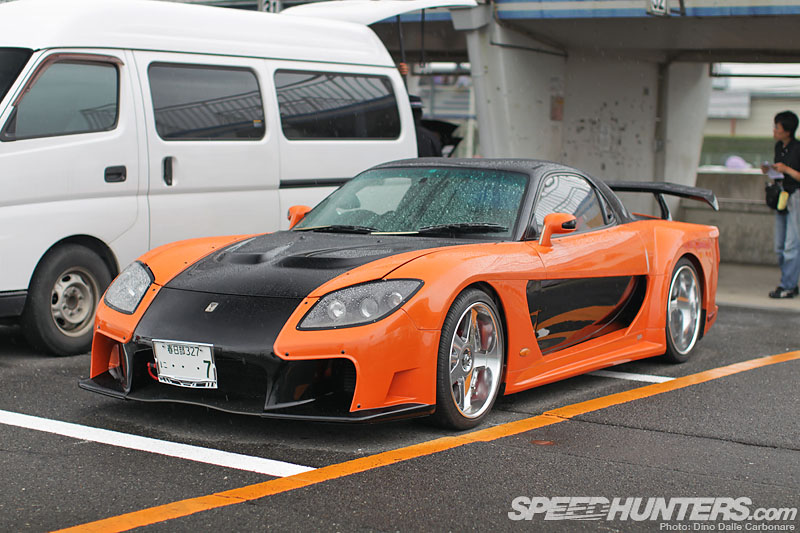 I noticed someone mentioned on the 7's Day coverage that they liked the Veilside Fortune RX-7, so I thought it would be a great car to end this first part of the coverage with. Back soon with some action…
Dino Dalle Carbonare
Instagram: speedhunters_dino
7's Day 2013 Coverage on Speedhunters
More Tsukuba stories on Speedhunters