I believe that car design directly charts the shifting tides and styles of humanity itself. So would you agree that as they become more and more complex, so do our lives? Is it so bad that I crave cars from a time gone by? Or is it a good thing that I recognise what kind of person I am? Simple.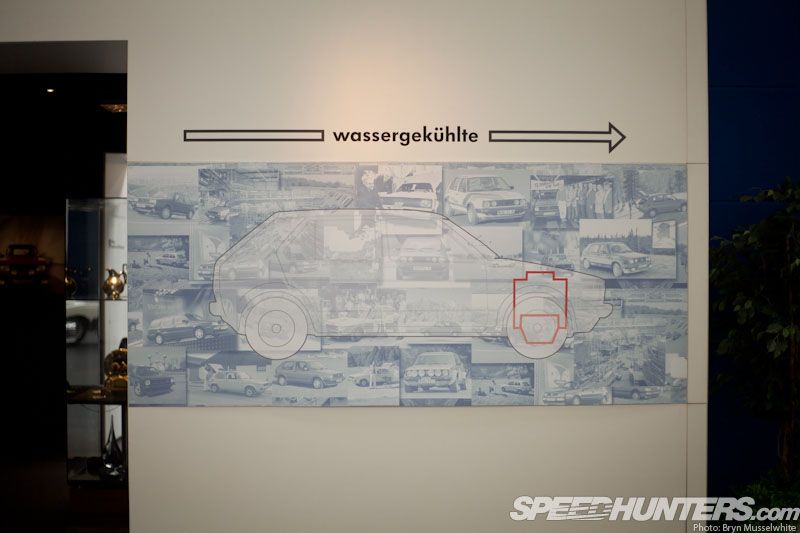 Hmm… having wandered the air-cooled section of the VW Museum in Wolfsburg here, I'm now turning right at the entrance and becoming immersed in the water-cooled generation.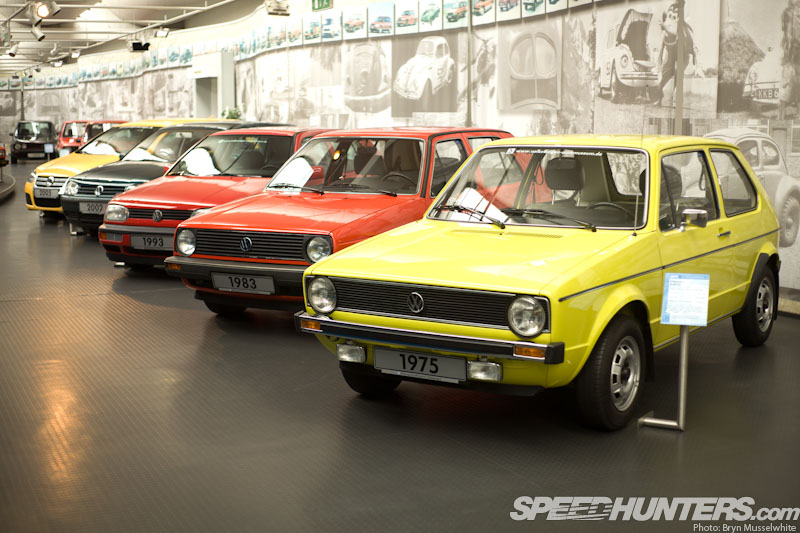 Often lauded as the original hot hatch, the Golf Mk I has a lot to answer for. Just like the Beetle before it, the last four decades have been shaped for VW by the success of the Golf. You can see here how the shape has slowly grown and flared out under the waistline, hugging the ground.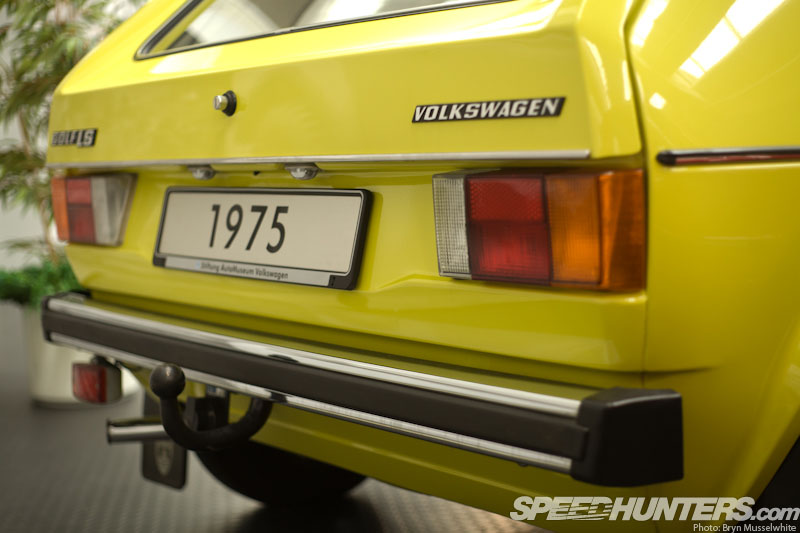 The 1975 model that VW has lined up here is what's known as a 'swallowtail', which is in reference to the rear panel, which has a dipped swage line under the registration plate area. If you find one for sale cheap, pick it up as they're amongst the most desirable models.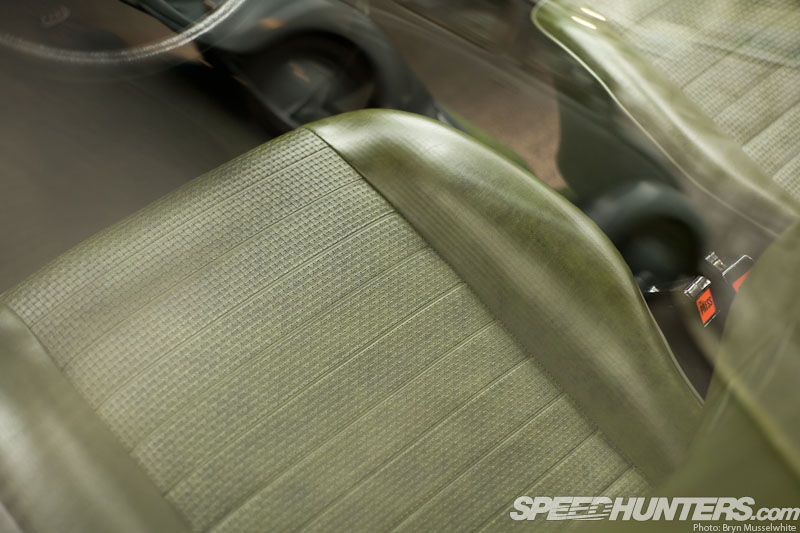 Just like the '40s era Beetle I looked inside, the Golf has all the internal hallmarks of a '70s car. Green vinyl is such a good look when coupled with the bright yellow exterior, don't you think? When did we all become so introvert and pseudo-aggressive with our black interiors and tinted windows? Make with the happiness people – get some colour in your life.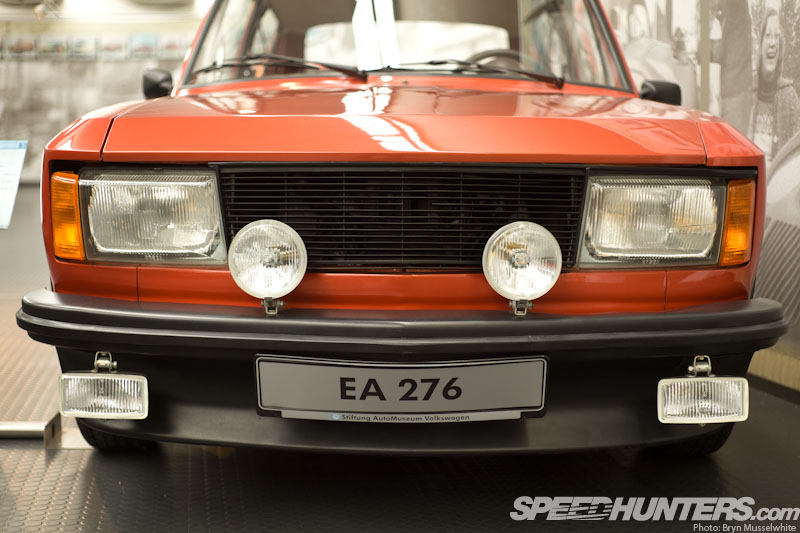 You can only look at it subjectively, but this styling exercise named EA 276, from 1969, could have been the Mk I Golf.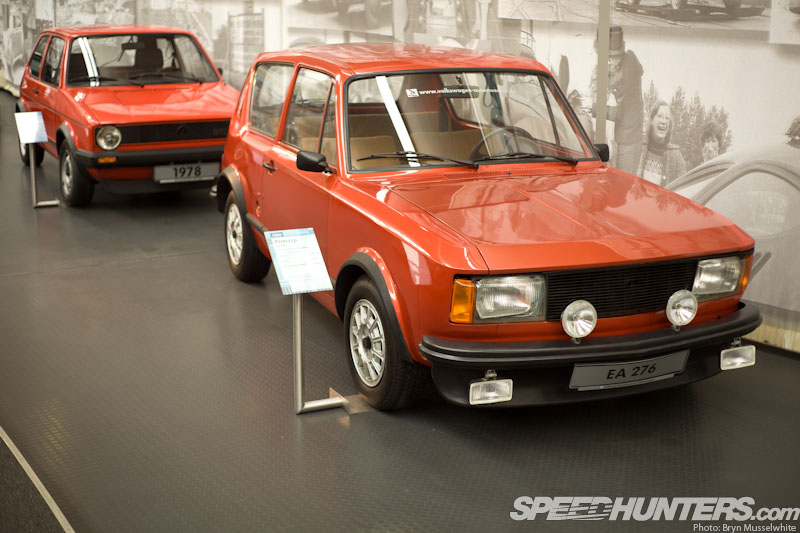 Imagine if the distinctive shape that we all know hadn't come to be – if it had looked different.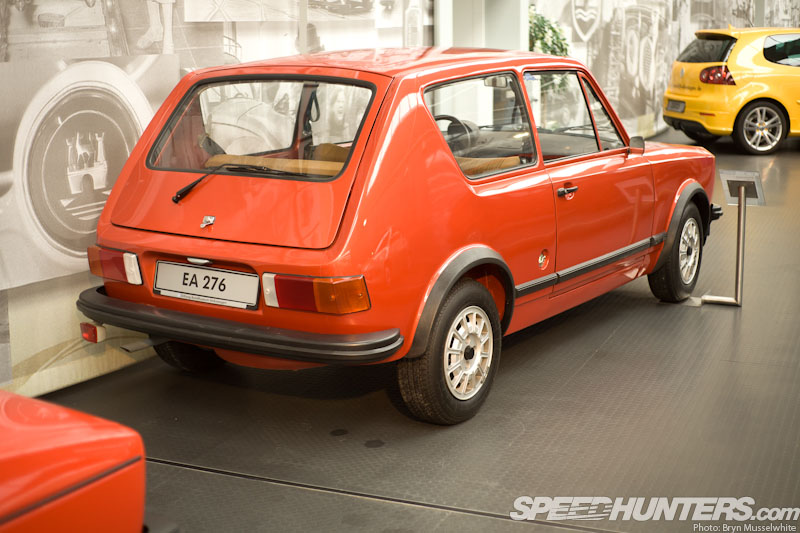 With all the market research in the world, a manufacturer can never be 100 percent sure of its design choice until the public start voting with their cash. You can see the plastic arch trims, hatchback and thick C-pillar here that made it to the Golf. Even the bold red colour is more '70s than '60s.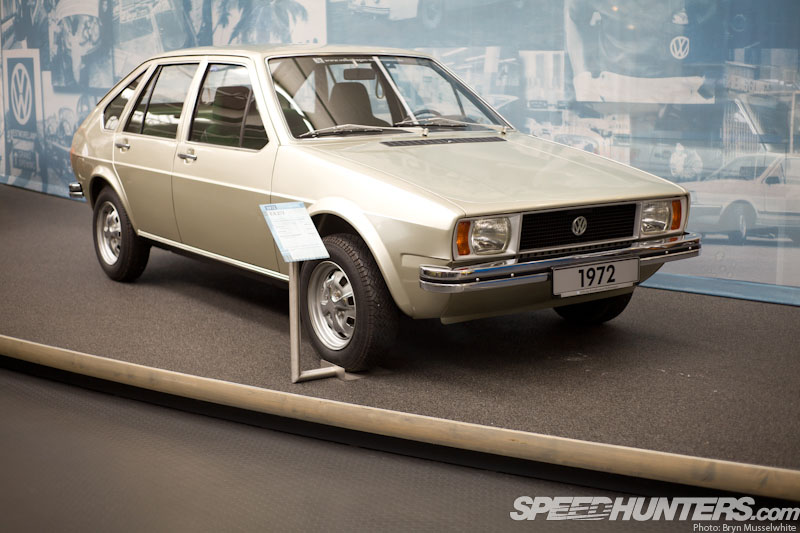 The same goes for this styling exercise from 1972. Can you guess what it might have been?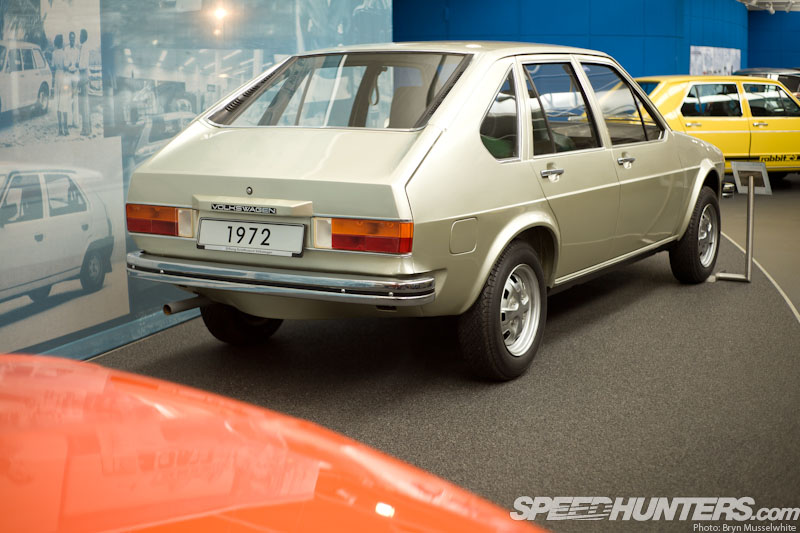 Maybe the back end will give you a better idea? Angular five-door, mid-sized (for the '70s) saloon. Anybody?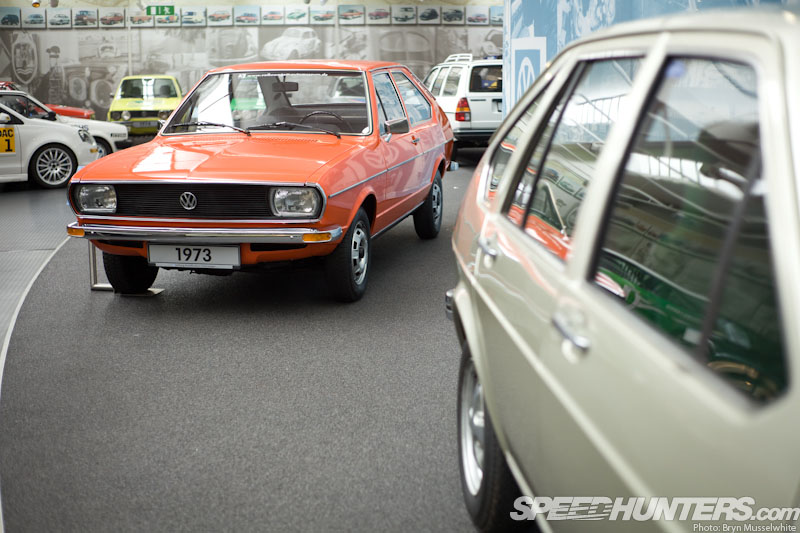 Yup, it was nearly the Passat. I don't know about you but I think it looks more modern than the shape VW settled on. Maybe they thought we weren't ready for it 40 years ago?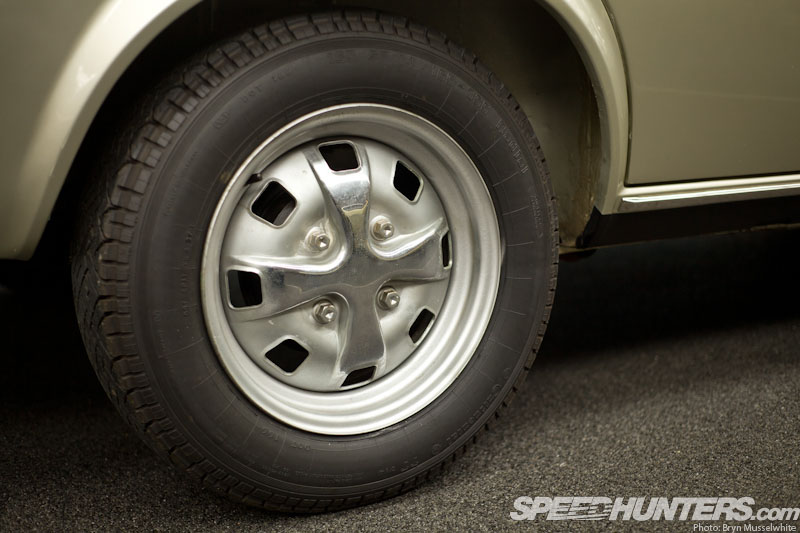 As well as body styles, every other aspect of the design is open to change and experimentation too. These steel wheels would be an amazing coup for an early water-cooled restorer to stumble across. Again, I'd like to think there's a random set out there that slipped through the net, hiding in the back of a retired engineer's shed. Maybe, just maybe…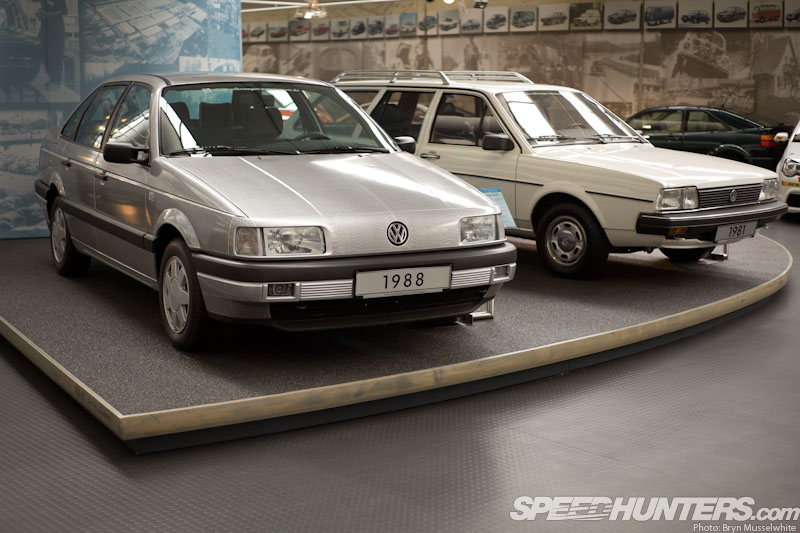 The Passat went on to greater things of course. I've always thought it's like the quieter brother to the Golf. The silver one is the millionth made and to celebrate…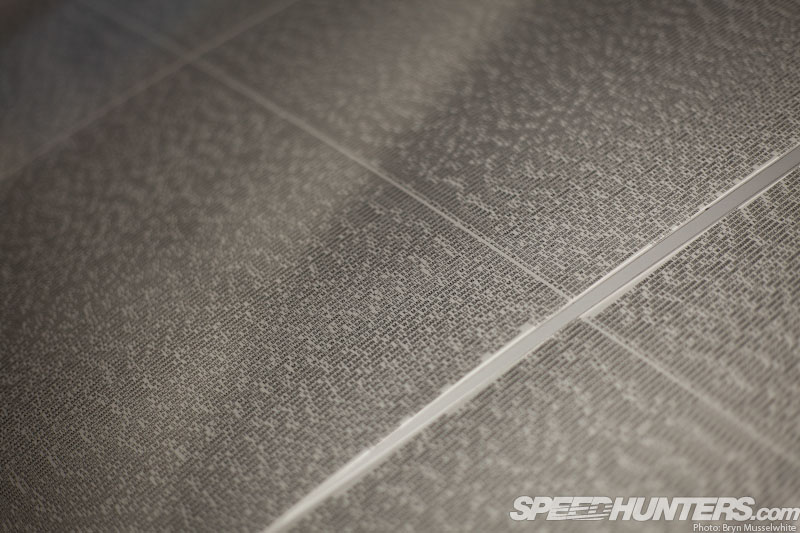 … VW stuck the names of every employee at that time on it. Just another one of those slightly random things a manufacturer will do to mark an anniversary. It's not even a VR6.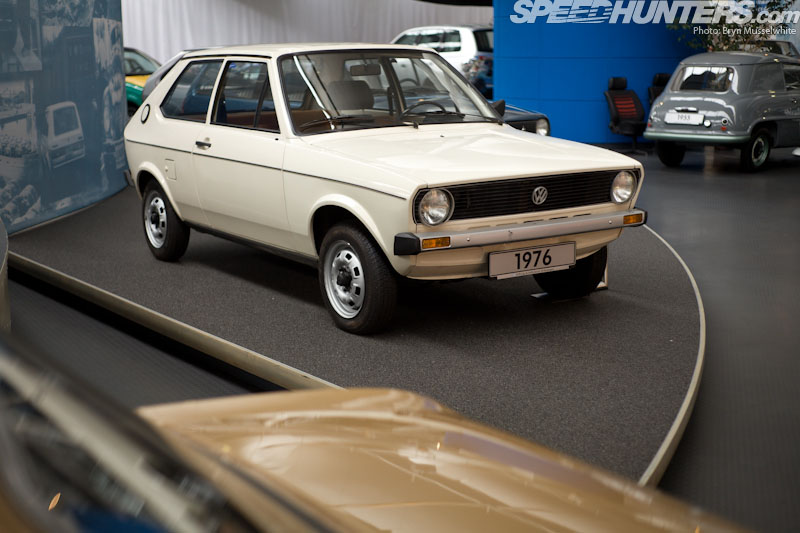 Back in the '70s again. As I learnt at Ingolstadt, this was actually an Audi 50 before VW used the design for the Polo, which itself has transformed over the years. It's very cool to see these shapes you think you're familiar with but realise you haven't seen in so long.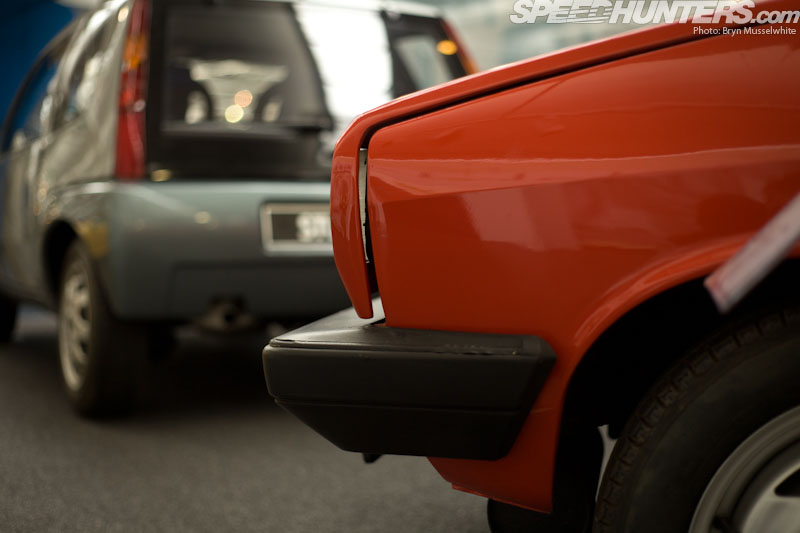 Can you guess what this is?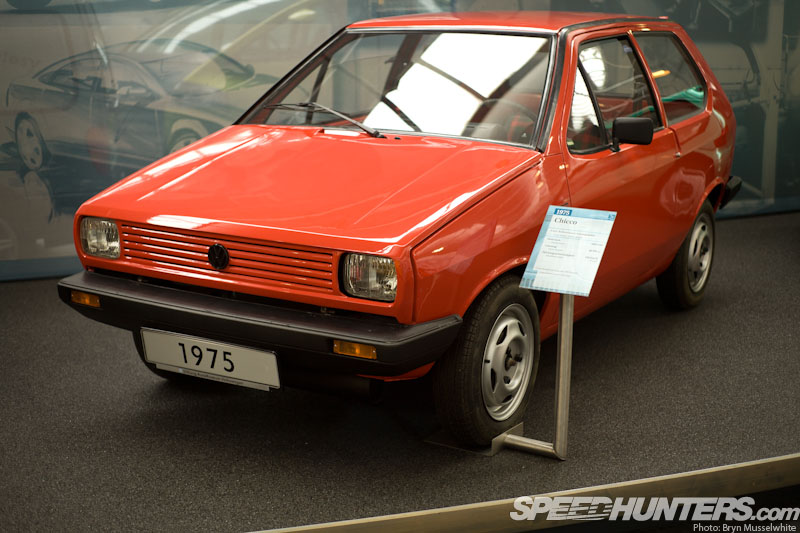 It's a 1975 Chicco, or if you squint a bit it's actually a Mk II Polo about five years before it debuted. VW has made a big push over the years at the small car market, which is natural given its history with the Beetle. The Chicco name seems to be one that's never made it to production but has been used on prototypes.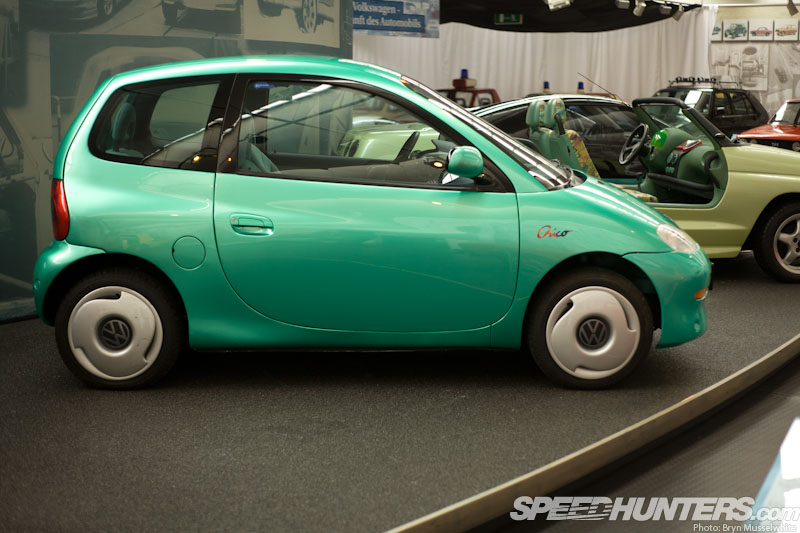 Here's a later attempt with less C's in the name. Square it off and you have the Lupo. Pick out elements like the C-pillar treatment and it could be the Polo 6N. Just the other side of it is something I can't really relate to production at all.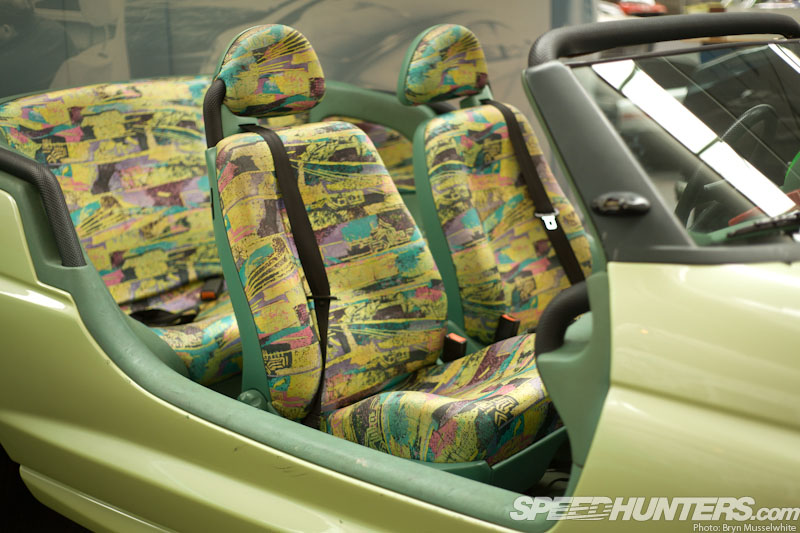 I seem to remember a school teacher having a ski suit in this fabric, from 1990. This open-top roadster was obviously aimed at the lifestyle sector.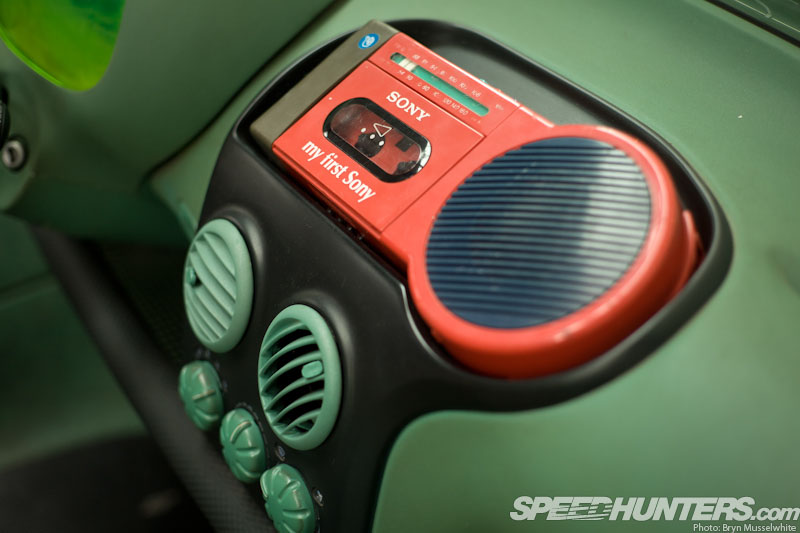 In car entertainment was, err… basic. Although I'm guessing the idea was you could take it with you wherever you went after arriving. That sounds like a pretty good idea huh? Oh I see…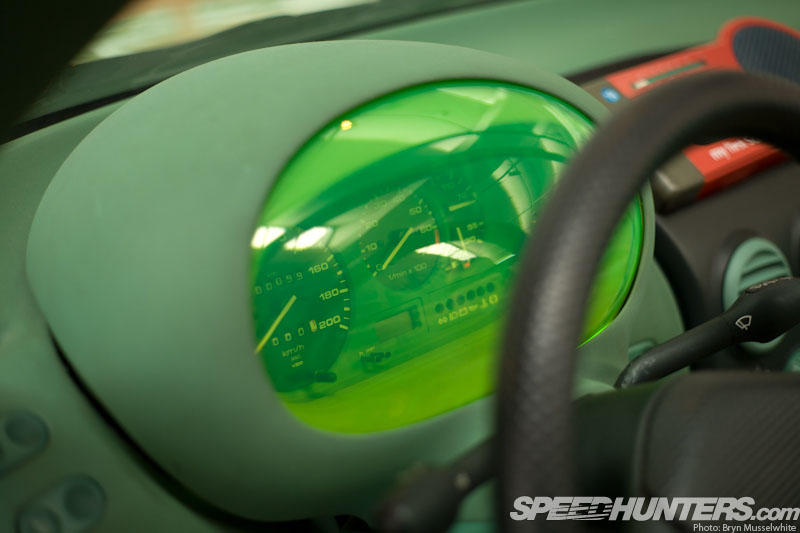 I'm not really sure what kind of adhesive they used on that interior, but it must have had pretty strong mind-altering qualities to it. A blown neon plastic instrument binnacle? I like it but I can't imagine the bean counters ever giving it approval.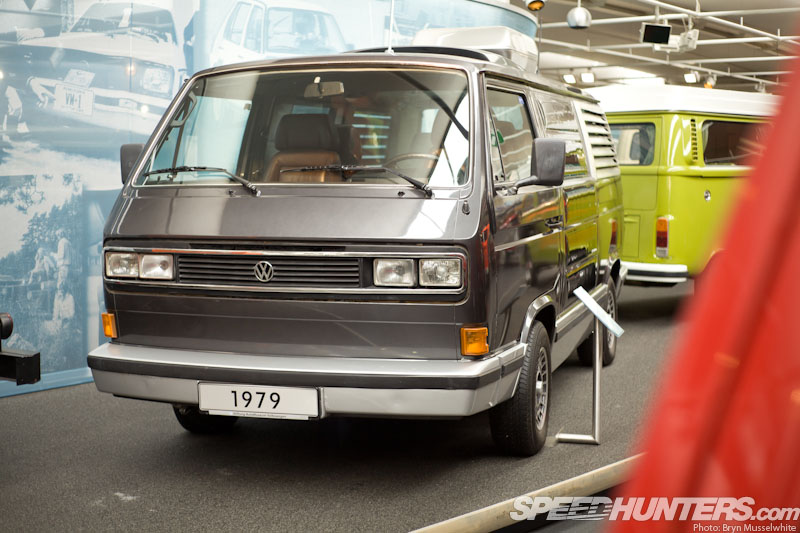 We've got an imposter here! Shhh… it's actually an air-cooled T3, but I had to include it and my previous air-cooled post was getting a bit heavy. Plus it looks incredibly futuristic for the time. Remember that this was the first year of T3 production.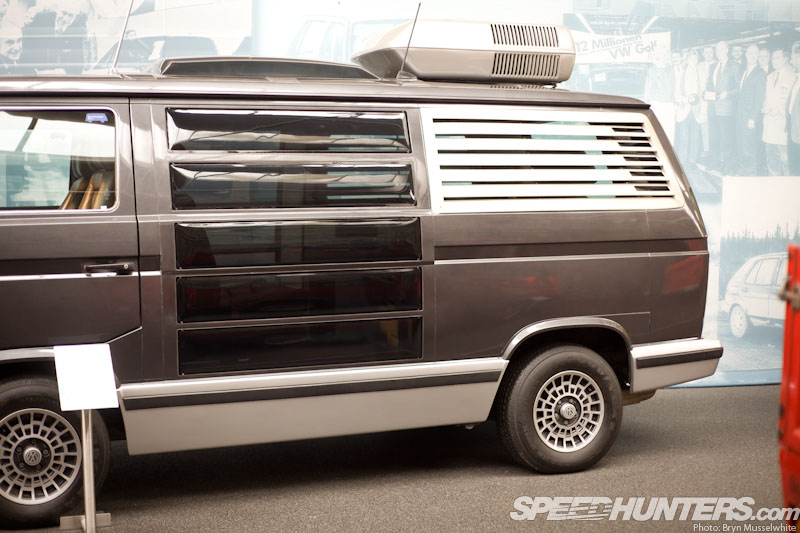 The reason why I love it so much? That sci-fi like exterior. I've always had a fondness for custom vans and this one is painfully cool in my slightly bleary eyes. Again it's a vision from my childhood: somebody very important would have sat in the executive leather seats and made important decisions about important things, whilst parked importantly. They were wearing polyester and could well have been talking about a Buck Rogers episode.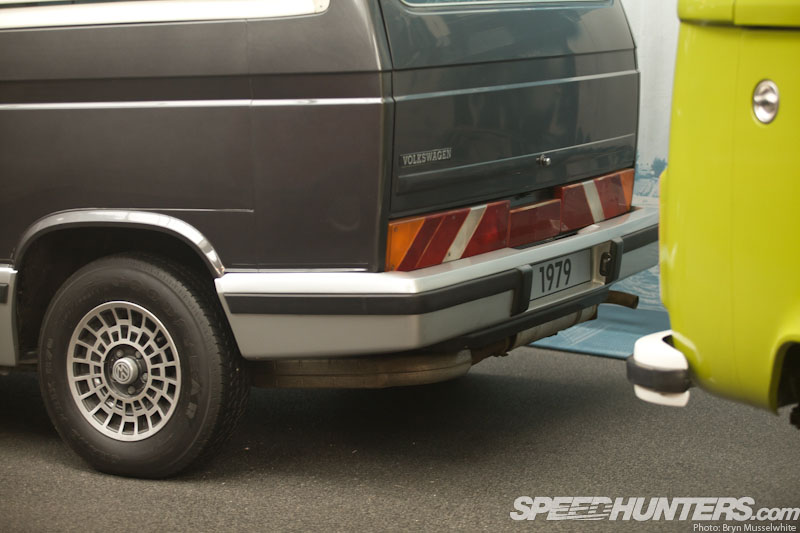 Let's face it, that 7 could be an 8.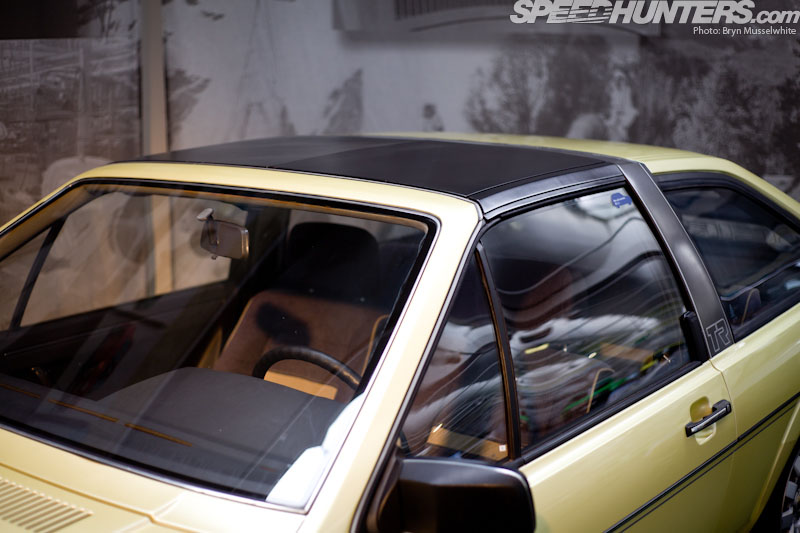 Here's the Scirroco TR prototype – the TR standing for Targa Roof. We don't see enough removable roof panels any more. Why not? Did people lose them or something? Everybody from Triumph to Pontiac had a go in the '70; a sadly lost option in my book.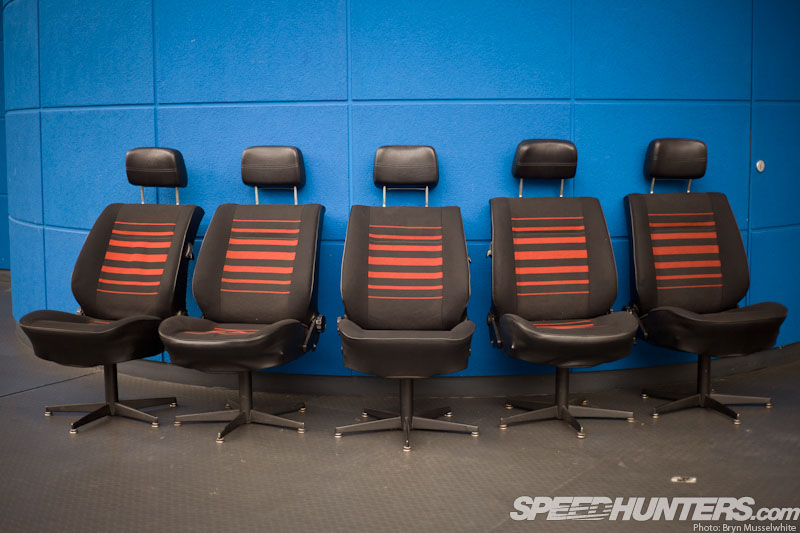 When you look closely so many things smack of the birth of the digital age. These Mk I Golf office chairs with the familiar red flash may well have been inspired by flashing lines on a screen.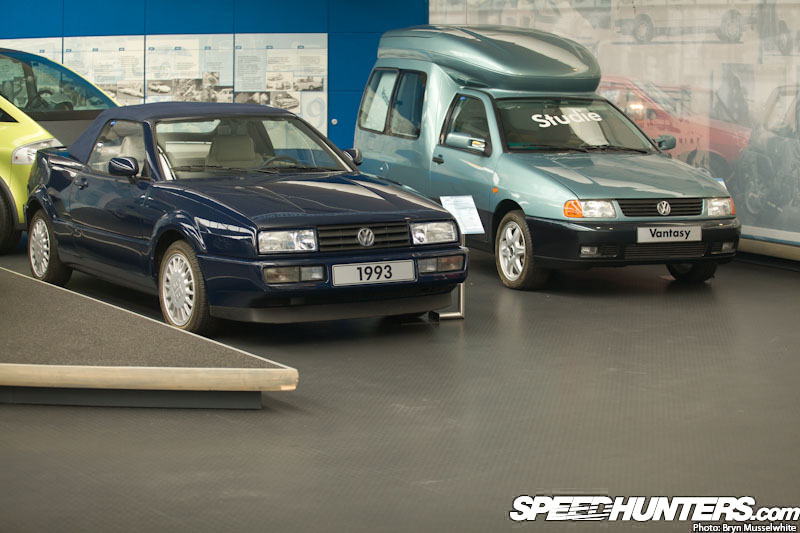 Some concepts look more familiar than others of course, and I think the Corrado convertible works pretty well. The lines are similar to a Renault Megane of the same era, which would make sense as no doubt it was styled by Karmann, which also did the Renault. The Caddy Vantasy (I see what you did there VW) was an attempt to tap in to the smaller motorhome market.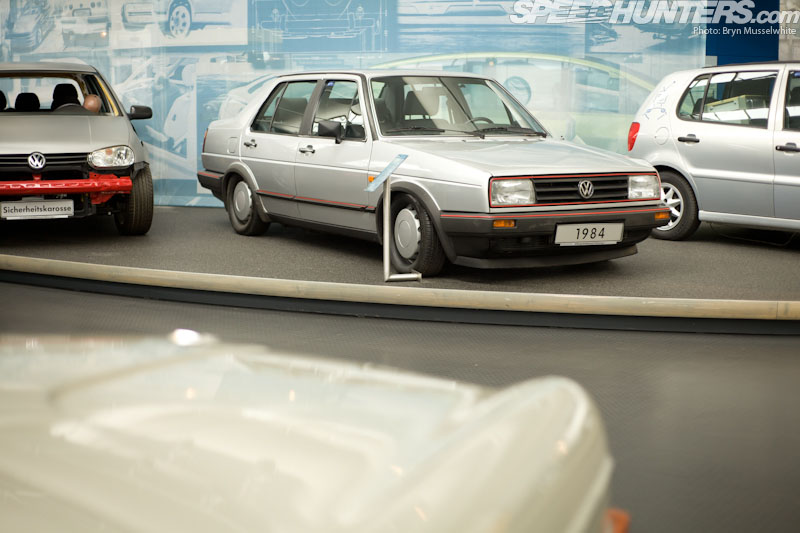 For obvious reasons this Vento/Jetta got my attention. Although, as it was lined up with a bunch of safety orientated models I wasn't expecting coilovers or air ride. Looking closer those wheels are pretty funky huh?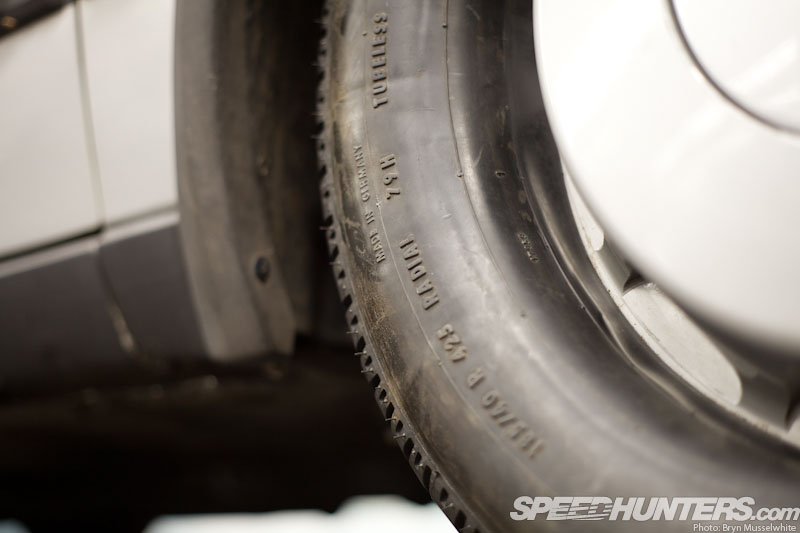 The tyre appearing to be an integral part of the wheel. I can't figure the safety aspect of this, but it looks pretty cool.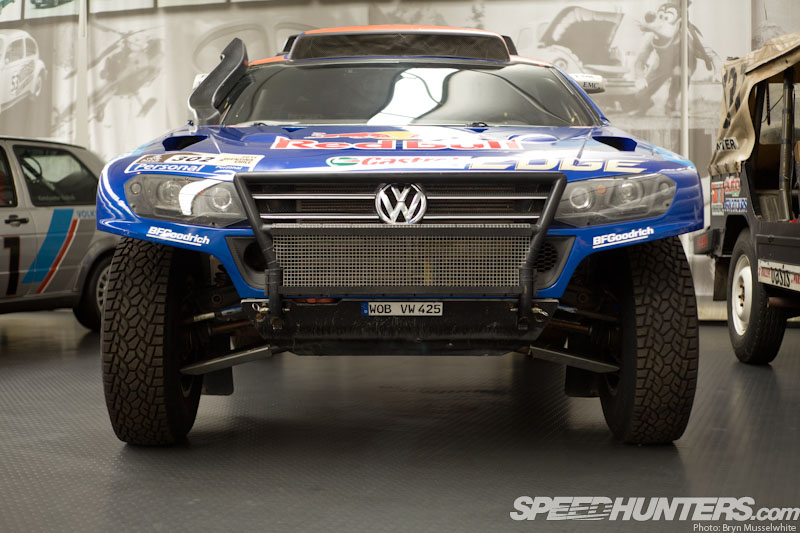 Turn around and we're right back up to date again with this 2008/09 (perhaps) Touareg Dakar racer. I've always loved off-road racers so it was pretty cool to compare it to the Iltis sat alongside from 30 years earlier.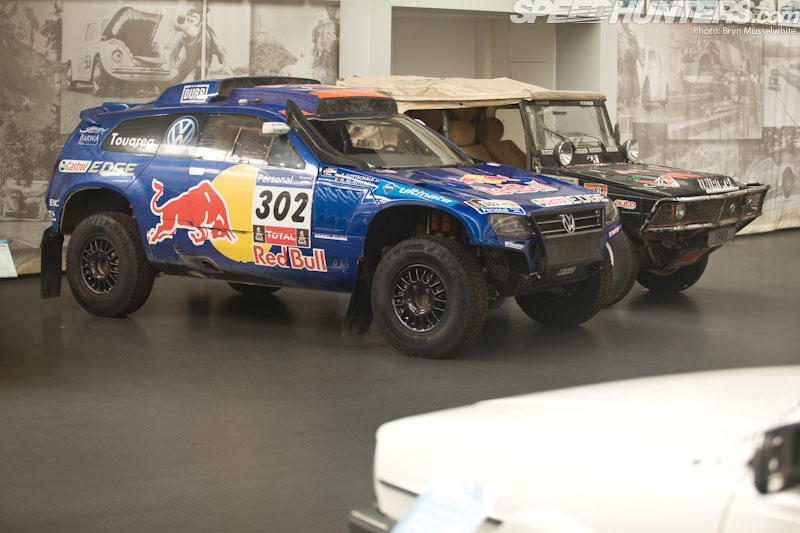 An ill what?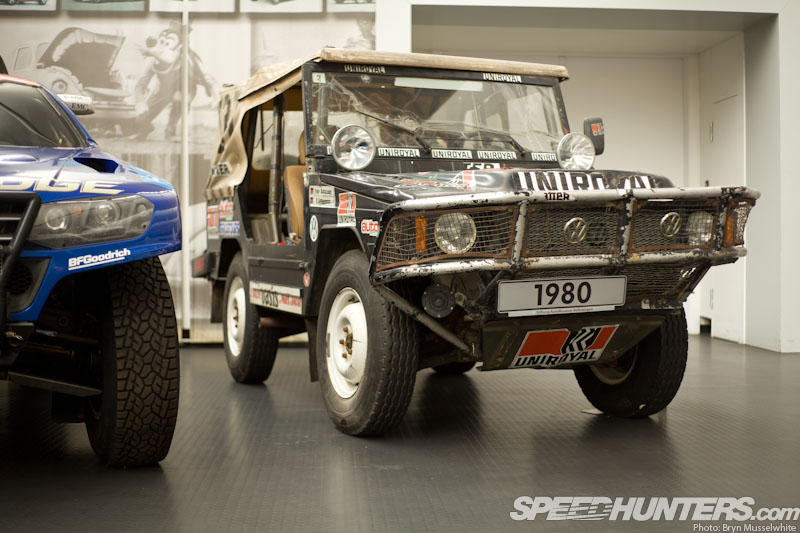 The Iltis, which was also built for the Paris Dakar. It looks to have taken quite a beating on the nose too, perhaps having flown through the air and landed on that bull bar at some point.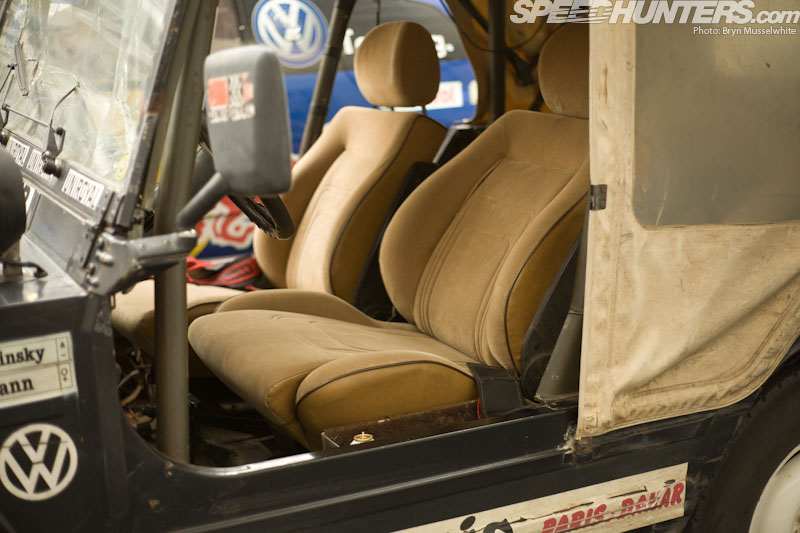 So it's a good thing that there's such high-level safety equipment fitted. You can bet the guys probably wore bandanas around their faces to keep the dust out too. Heroes.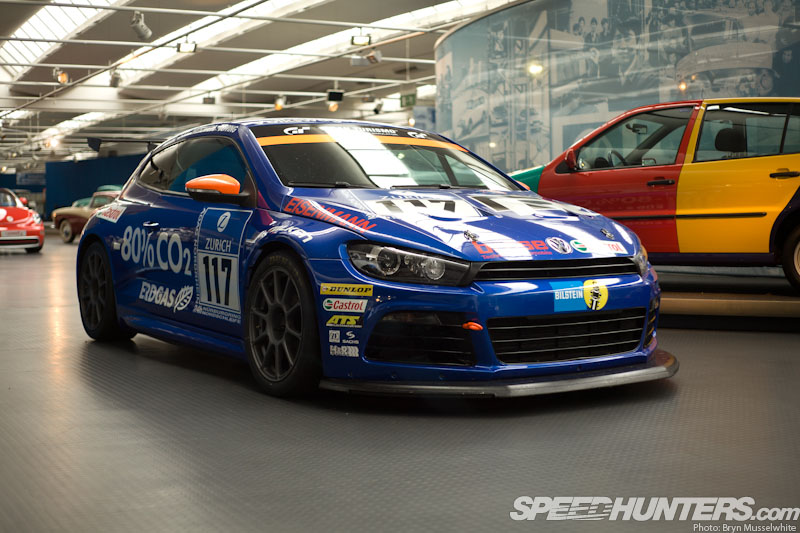 As you're probably gathering by now, the museum is pretty random and you can see from the pictures, often the exhibits are loosely parked with large areas left empty. It's almost like a well-lit car park in here.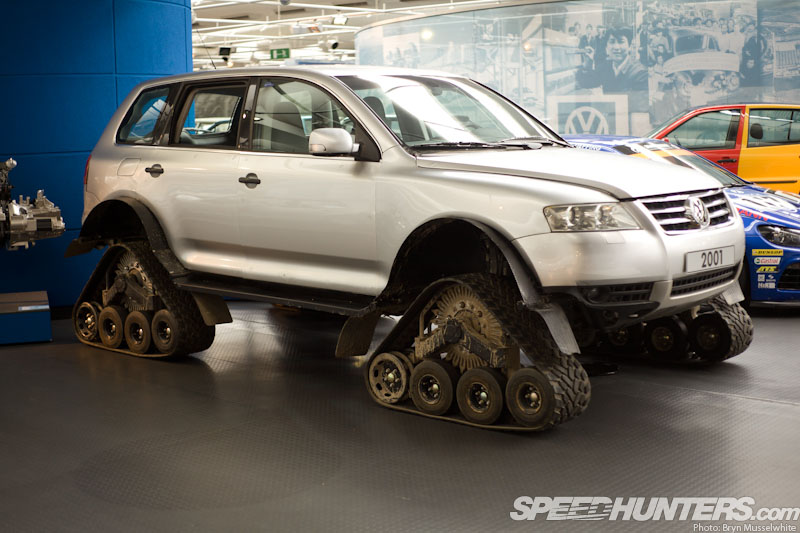 Because look what's sat next to the Scirocco race car: a Touareg on rubber cat tracks of course. Take a closer look at the plate and you'll see 2001, which is interesting because VW didn't commercially release the Touareg until 2002. I think it's pretty cool that they were doing stuff like this to a model that hadn't even been released. Maybe it was lined up as an obscure option in snowy climates?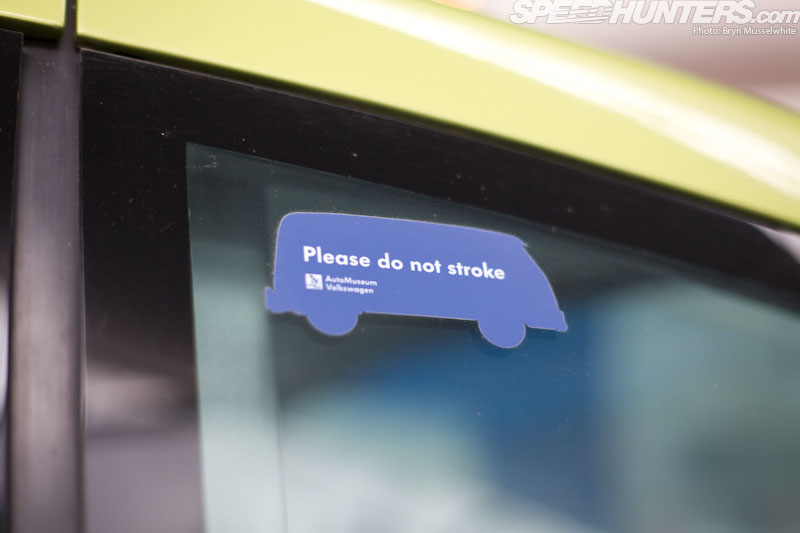 VW even has its own take on 'do not touch' stickers – rather apt given the dedication of many VW owners. This one was stuck to something pretty cool.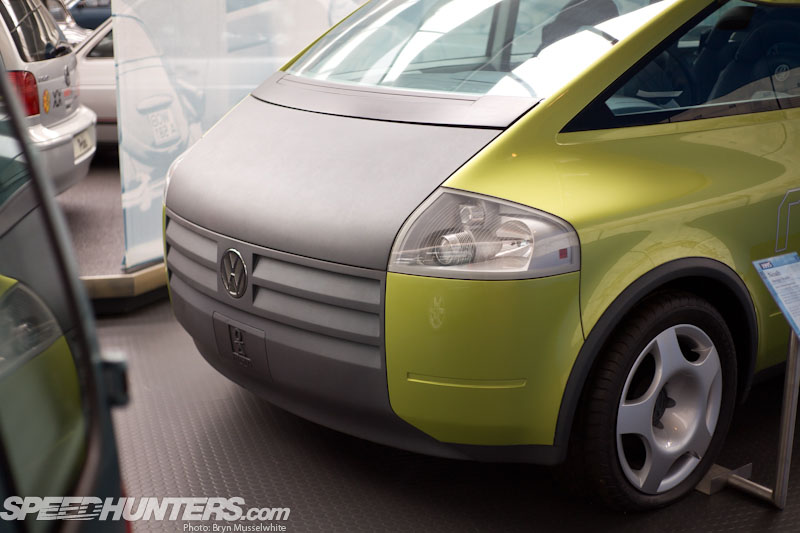 The VW Noah: a kind of people carrier but with bulbous flanks and cool matt bodywork mixed with painted panels.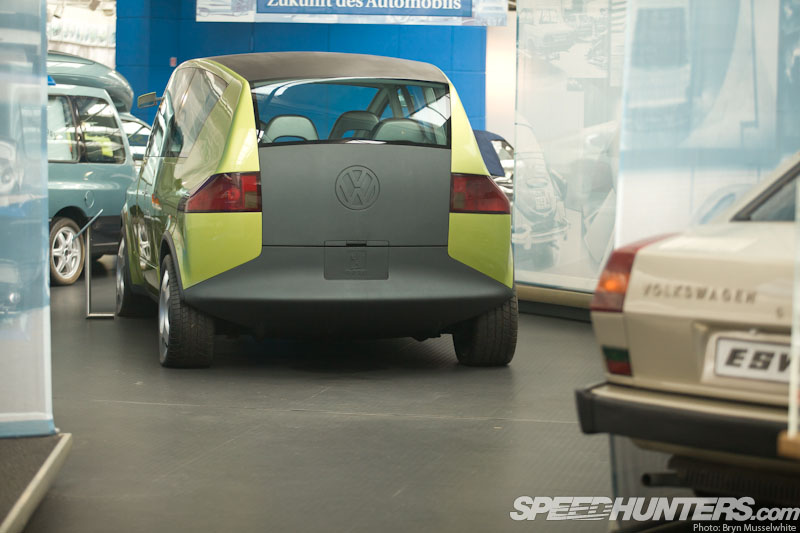 I'm not the only one that thinks it could sell some of those, am I?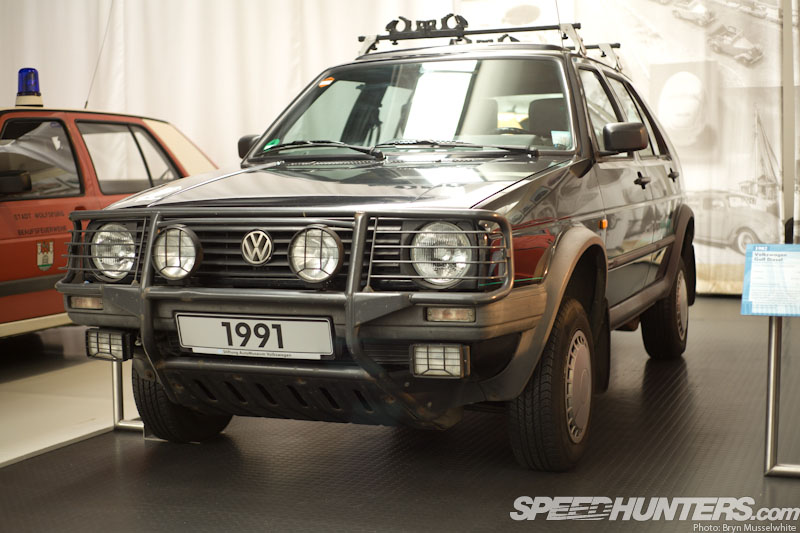 It's almost time for me to leave, but not before a few more obscure models, like this Golf Country.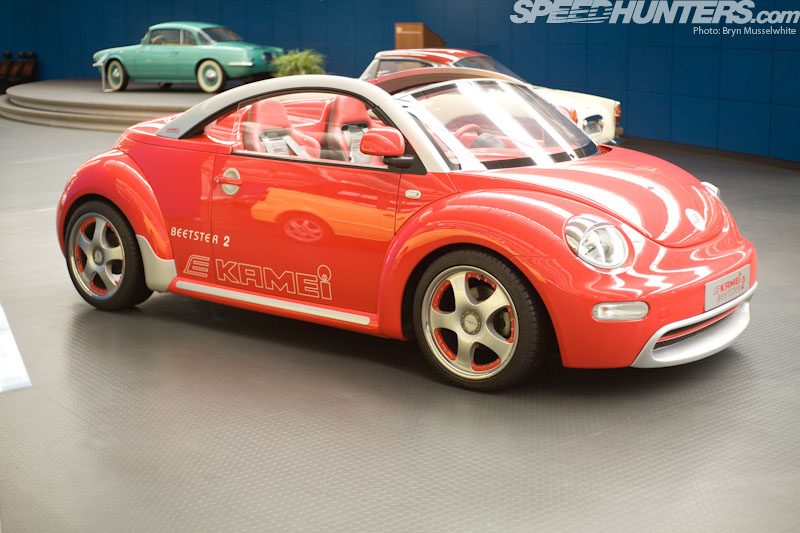 There's been some stuff in here that's really opened my eyes and some which I could leave behind – but all of it I found interesting.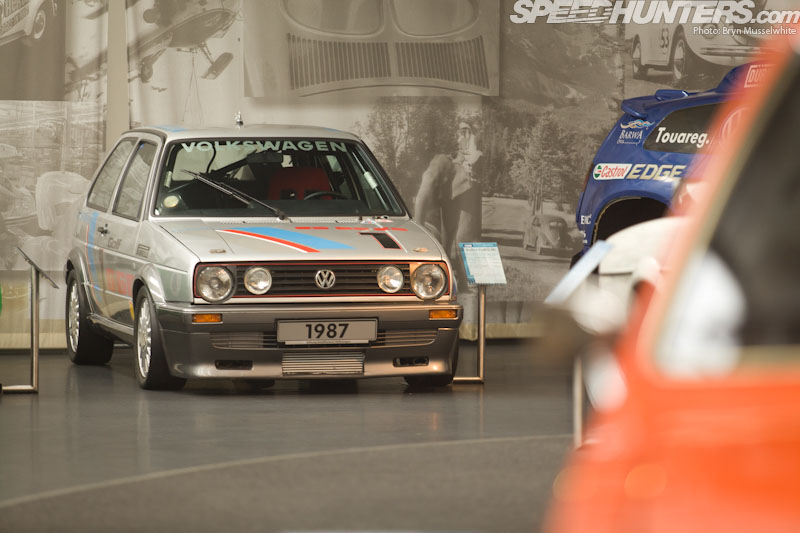 Looking around it really hits home just how many VW models are true motoring icons.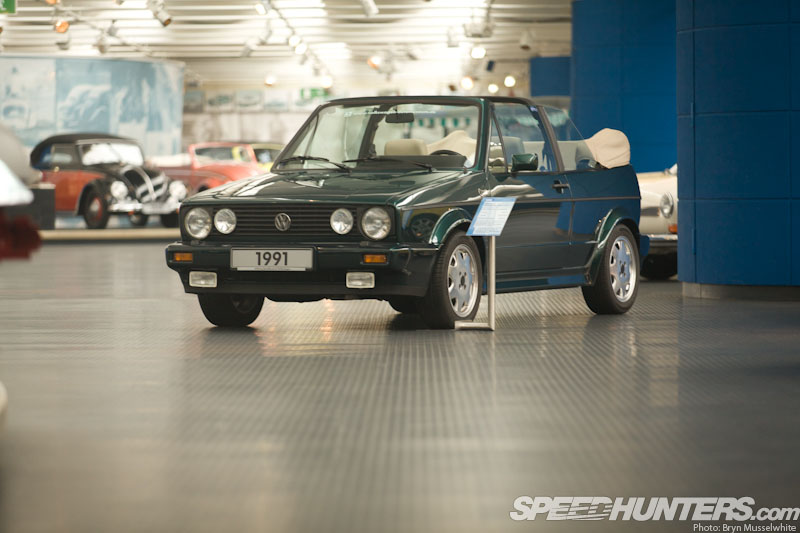 Most people having a memory or story attached to one or more of the line-up. For me it was pretty cool to see this early '90s convertible. In 1996 I drove from NY to LA in an old Cadillac that died somewhere north of Flagstaff. Three weeks later in Santa Barbara I collected a Rabbit just like this one and delivered it to Boston for a lady who was moving back east. Loaded with three months worth of kit, my best friend and I covered 3700 miles in it and I wrote what became my first ever print-published article about the trip. That article directly led me to this career and in turn now standing here today. A knowing smile and I wheel on my heel to leave.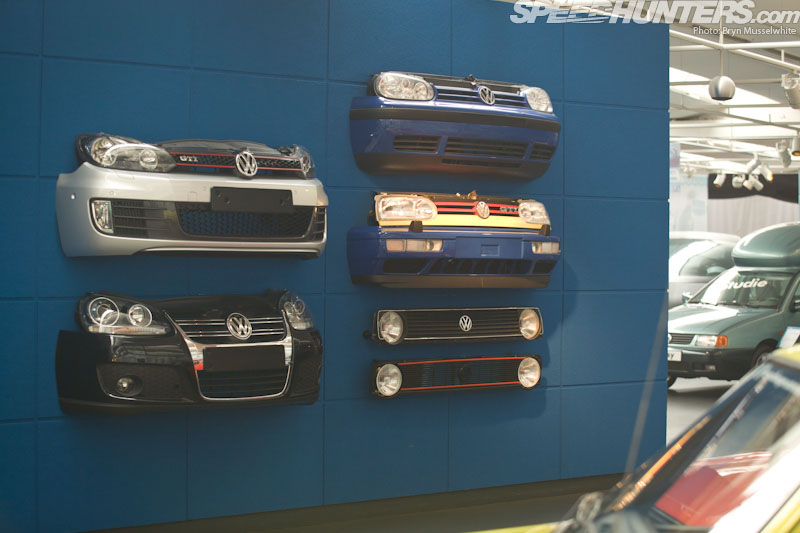 So if the Beetle defined the early period in VW history, then the Golf more than took over from it and has lead the way since then. You'll notice that there aren't any development cars from the last 10 or so years in here, which when you consider what is on show makes sense, as they'd give strong indications of what VW have got planned for us. If you follow the VW mantra, sometimes the simple ideas really are the best. Just like its museum.
Bryn Musselwhite
bryn@speedhunters.com
Air-cooled at the VW Museum on Speedhunters