We thought what better way to kick off our mini VAG theme this month than with a brief tour through some of the group's history. And with that as a focus, then surely there's no more appropriate starting point than the world of air-cooled Volkswagens. In this day and age where you have manufacturers with modular bases and model lists longer than a giraffes neck, it's refreshing to walk in to the VW Museum in Wolfsburg. Instantly you're reminded that this global force in car manufacturing was born out of one model. The Beetle.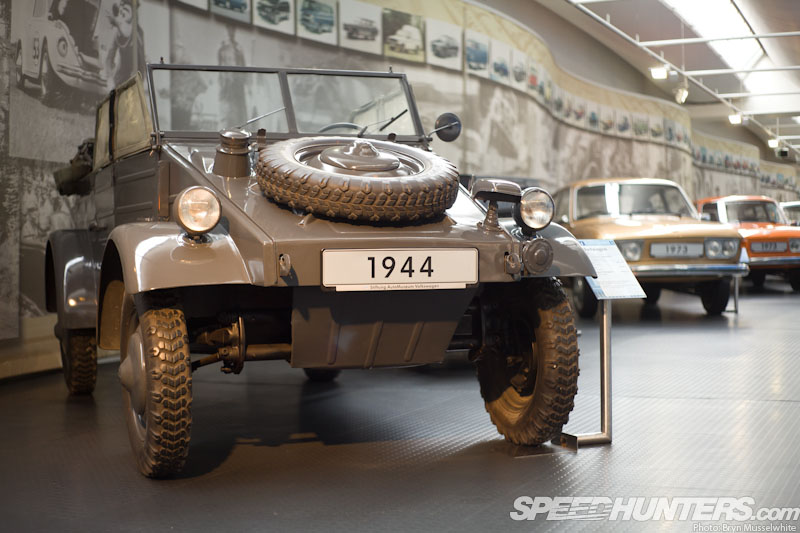 Sure, there were wartime variants and I love the bare bones feel of them. When I look under the front end of this Kubelwagen I recognise a front suspension beam similar in design to the one on my own beach buggy. It's also got that same stripped-down purity to it, which is what I love about VW – its lineage is so clear throughout history.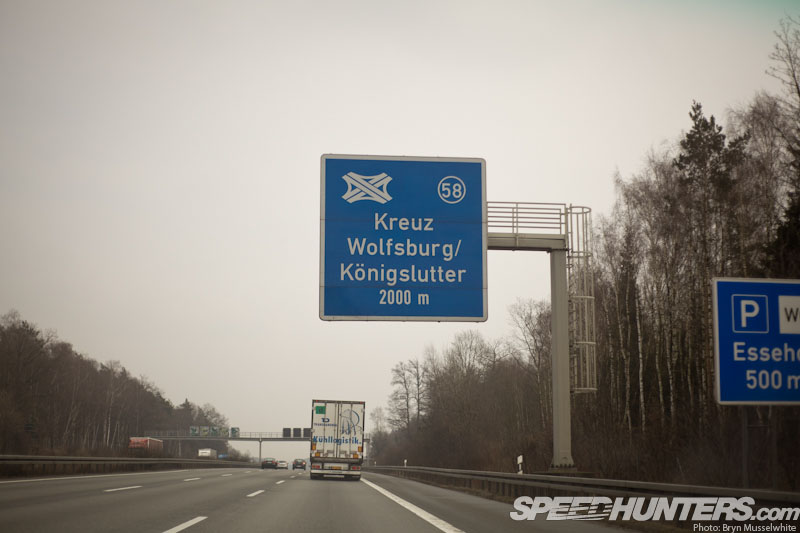 I don't honestly know why I've never been to Wolfsburg, even though I've driven past it before, but as the sign comes into view the excitement of visiting a new (to me) museum builds. I love all of them, big or small, as you never know quite what gems you'll find.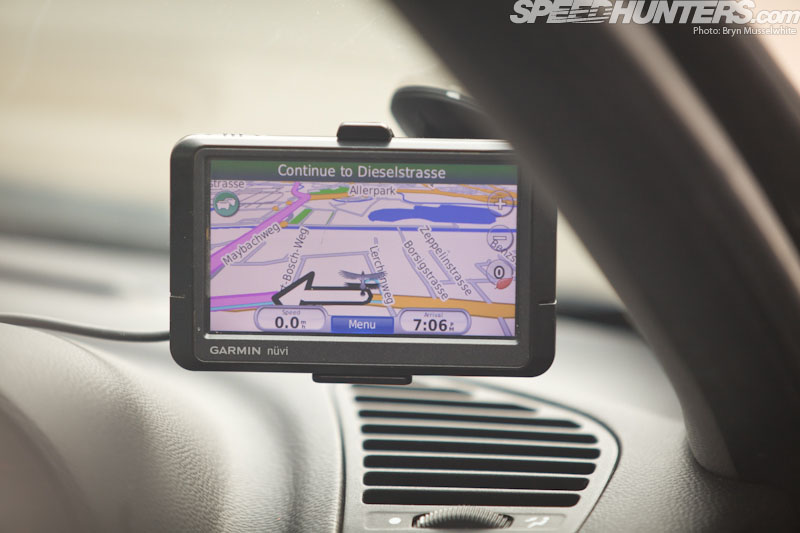 The musuem is located on Dieselstrasse. I'm not sure you could have a more industrial name. Maybe Ironworks Way? Forge Crescent? I do have an urge to drive along to Zeppelinstrasse and see if one of my all time favourite bands have got a B&B there. That's Wolfsburg for you though: industrial through and through, and yes, that's a kind way of saying it's all a little bit grey.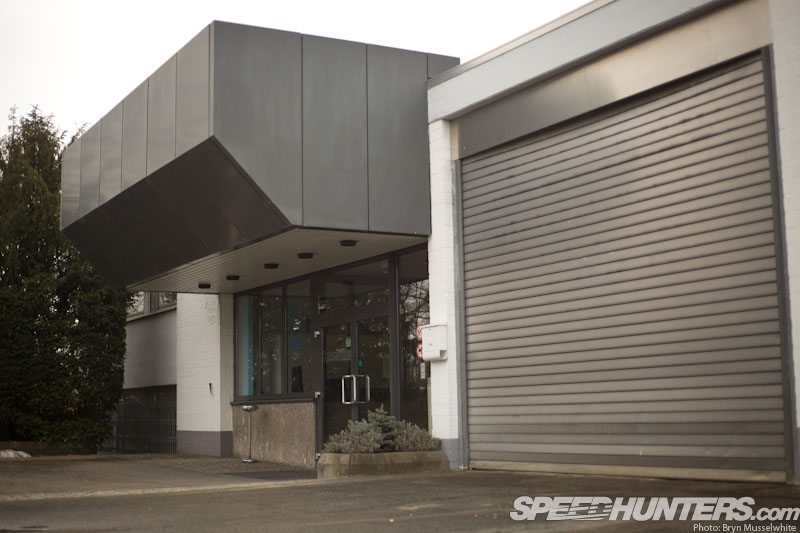 Arriving my enthusiasm is dampened a little bit. At one end of a single storey building this is the entrance to the museum – no dazzling glass work, bright lights or other fancies. In fact, aside from a few stencil car outlines on the wall, there's very little at all to give away what is inside.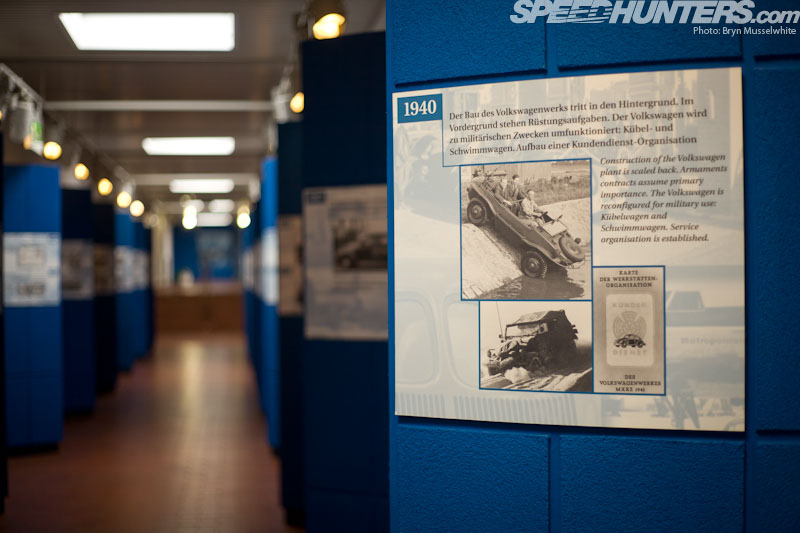 The entrance is strangely normal too: no big signs or dancing, wild graphics and impressive light shows. Just a corridor with printed information guiding you through the last 75 years as you walk along. It makes for fascinating reading by the way.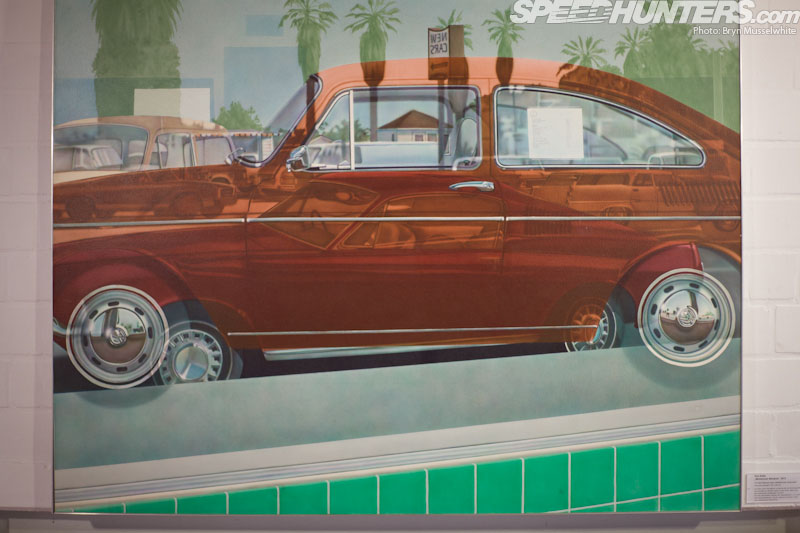 To be honest I'm a little confused by now. Maybe I've got used to big flashy showrooms and plush design interiors, but this all seems a little basic. Am I really in the museum of one of the worlds largest car manufacturers? This piece of photo realism art hangs alone on the wall at the end of the corridor. I can't tell which way around it's meant to be but the Mustang, VW Type 3 mix-up is indicative of when the 'people's car' took on the muscle cars of California.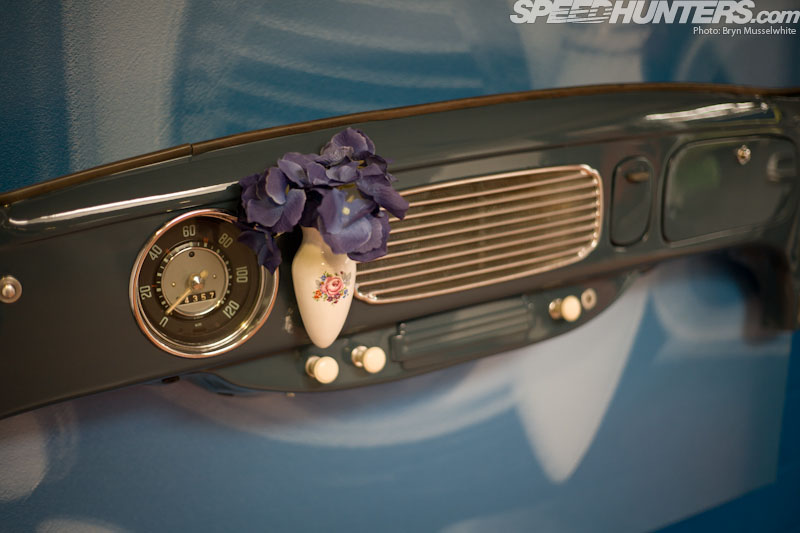 Turning to my right there's this Beetle dashboard with familiar bud vase – a popular accessory available in loads of different styles which allowed you to have fresh flowers on display in your VW. Like an actual organic air freshener, instead of some chemically dipped cardboard.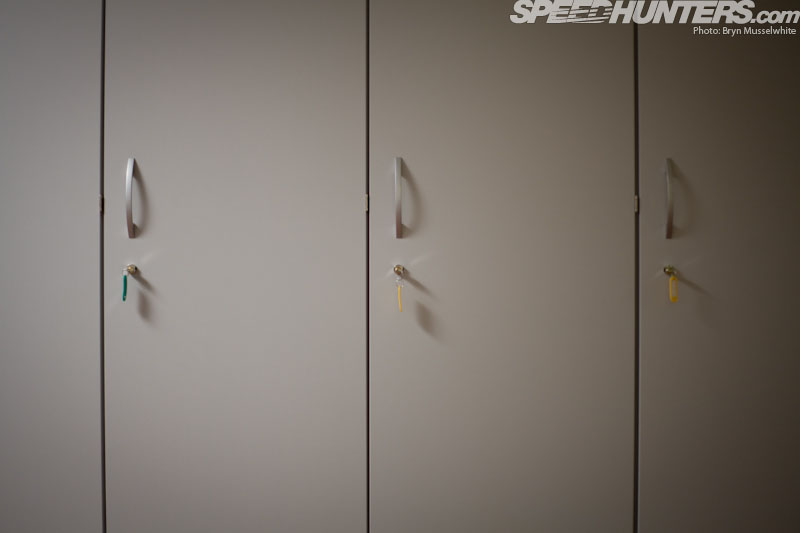 Now I promise I'll get to the museum in a minute, but the way you enter a space can tell you a lot about it. For example, just next to the entry door which takes you in to the large exhibit area are these lockers. There is no obvious signage or clue as to their purpose, but I assume they're for visitors to deposit anything unwanted, take the key and enjoy the scene. VW relying on people's initiative to figure it out,  how wonderfully simple.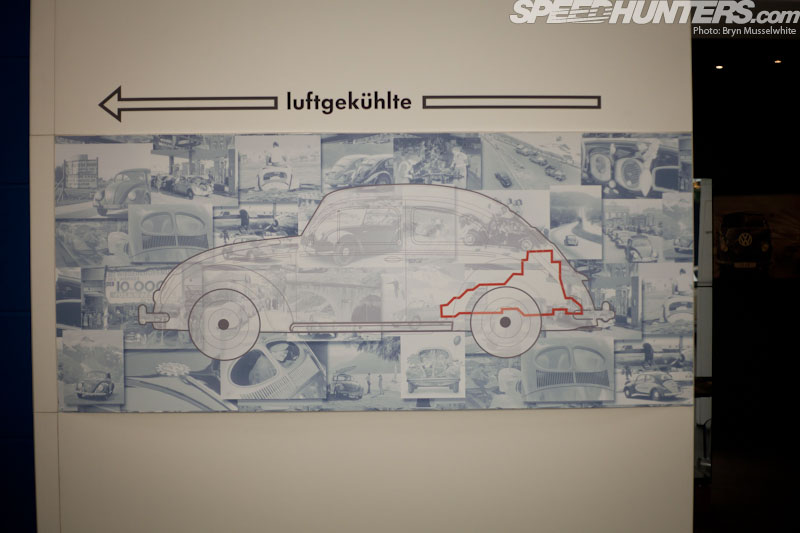 Now we're here. Luftgekuhlte means air-cooled and if you don't understand that, the outlined shape and engine position should leave you in no doubt.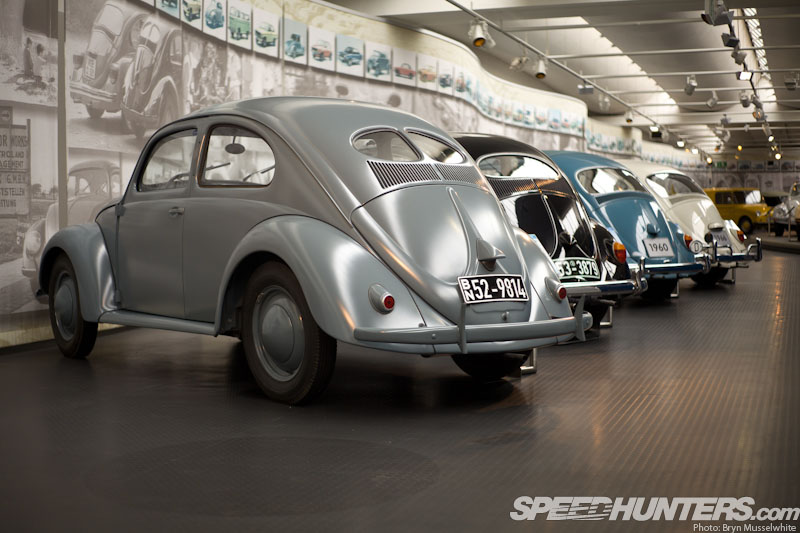 It really is such a simple design, but it is a design. I've always thought that. Some utilitarian machinery is left as such in appearance, but the Beetle is a good looking car that's proven itself over and over.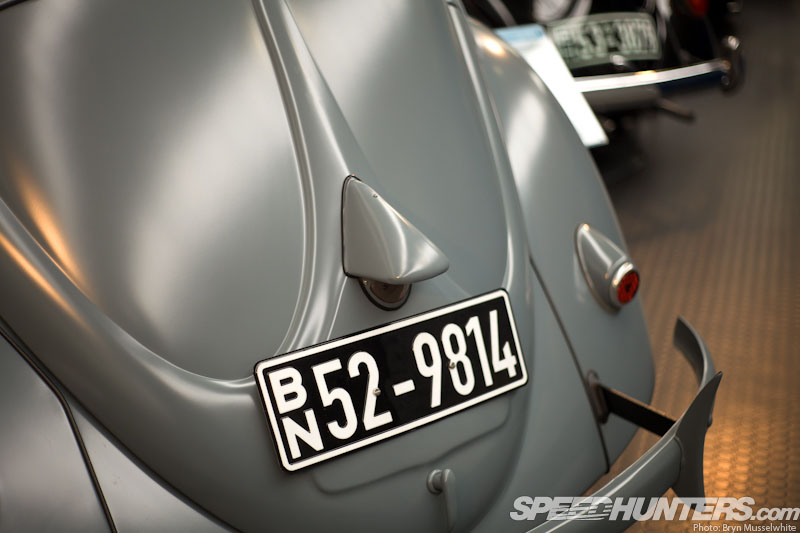 The subtle differences between models aren't always obvious, but they're there. This number plate light and decklid would have an early Beetle enthusiast doing back flips – not that you'll find them anytime soon given the rarity of this model from the '40s. Just so you understand model designations as we go through the museum, the Beetle is the original Typ 1. That's Typ 1 not T1 – it can get confusing.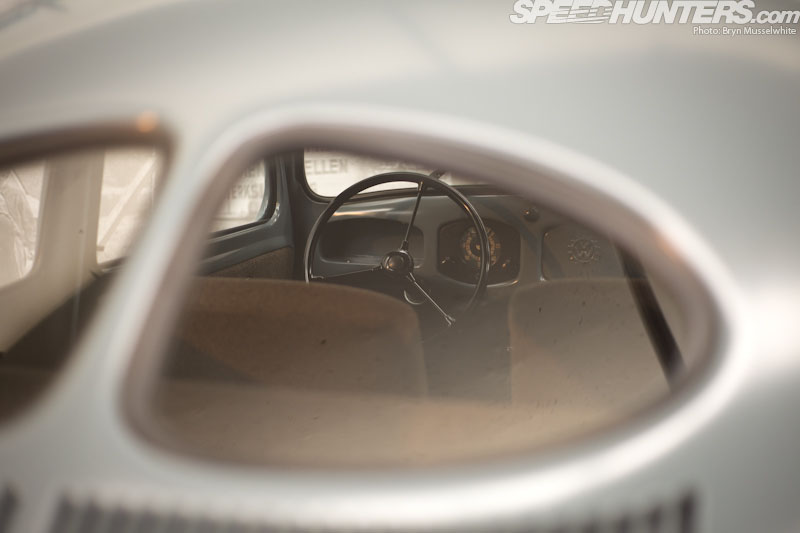 Early cars had the split back window and looking through it now – without the rest of the Beetle in view – you get a real sense of nostalgia. The inside really does look like it's from an entirely different age.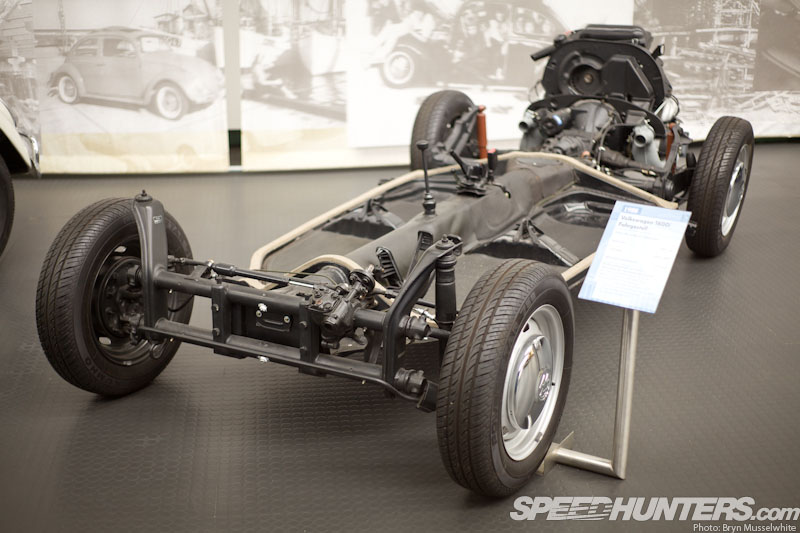 This is what made the Beetle so successful for me: the simplicity of the design. This floorpan is pretty much driveable as you see it here – wiring, steering and seat aside, of course. But this platform meant any number of body styles could be bolted on and construction was kept simple, which made it ideal for export.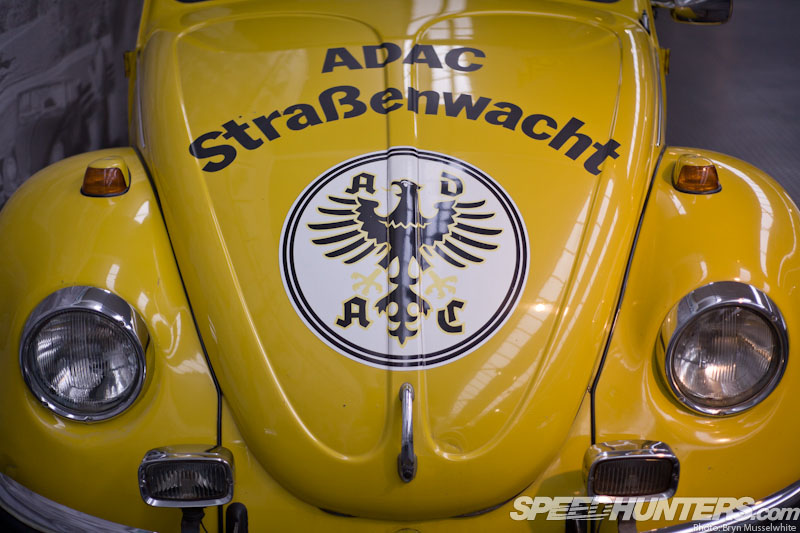 Further up the line is this model from the '70s, which makes for an amusing choice in its role as a roadside assistance car. In fact it was the last one ordered by European outfit ADAC. Why so funny then?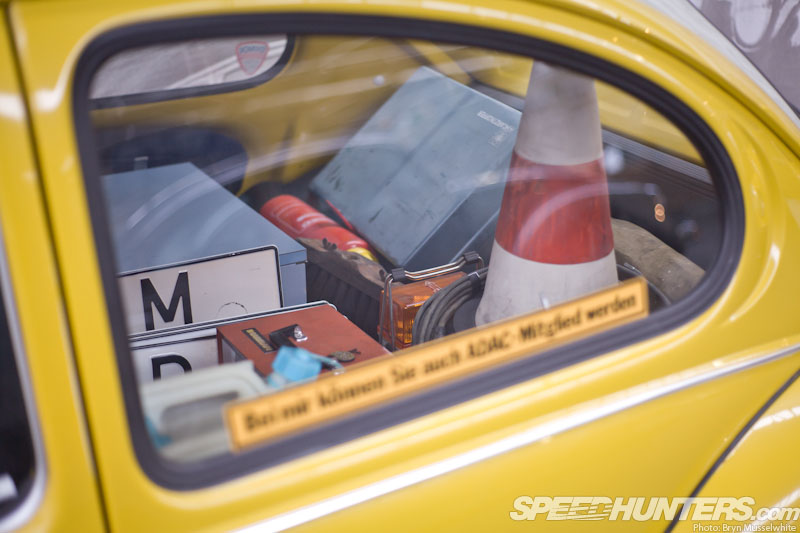 Well can you imagine having to lean over the back seats to get to your kit every time you needed it? What a massive pain that must have been.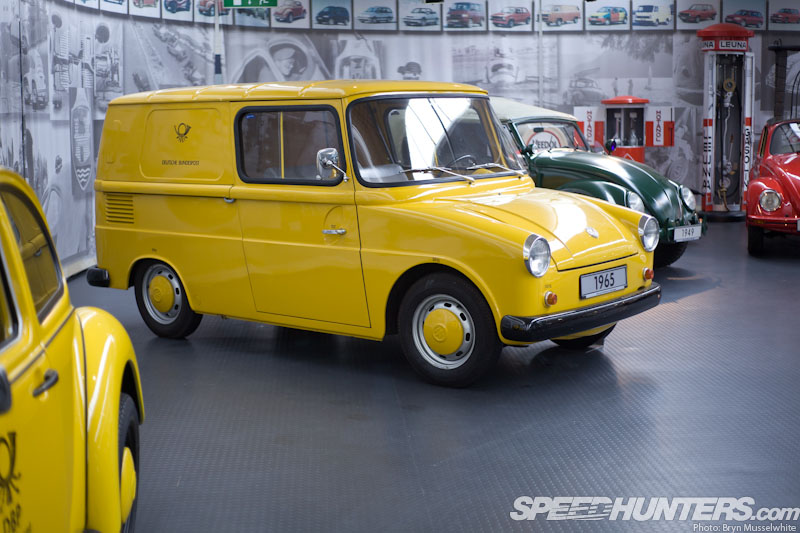 This is a Typ 147 or 'Fridolin' van, seen here in its most common German Post Office guise. The back end kind of looks like a smaller Transporter van, but this particular model was still built on a floor pan similar to the one above, albeit modified to suit.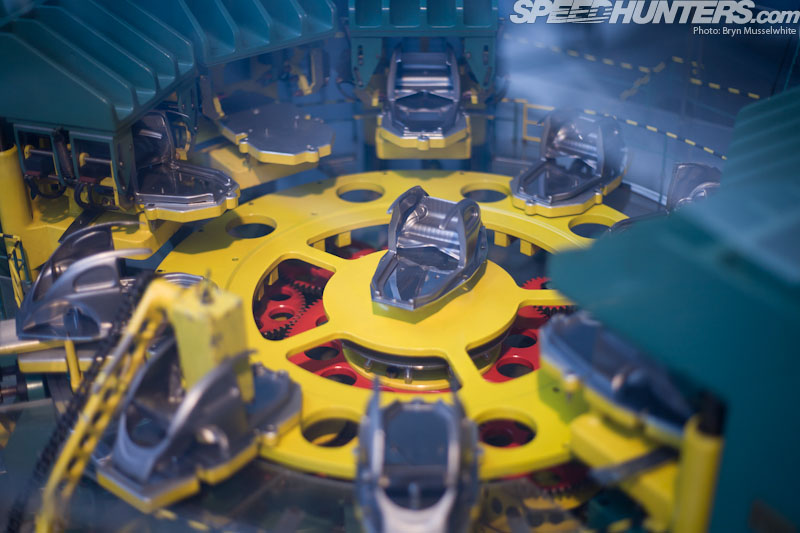 I'm fast realising the museum is a simple place. Slanted glass panels in the roof illuminate everything perfectly and littered in between what are mainly Beetles, there are treats like this model, of what I assume may depict an early factory layout.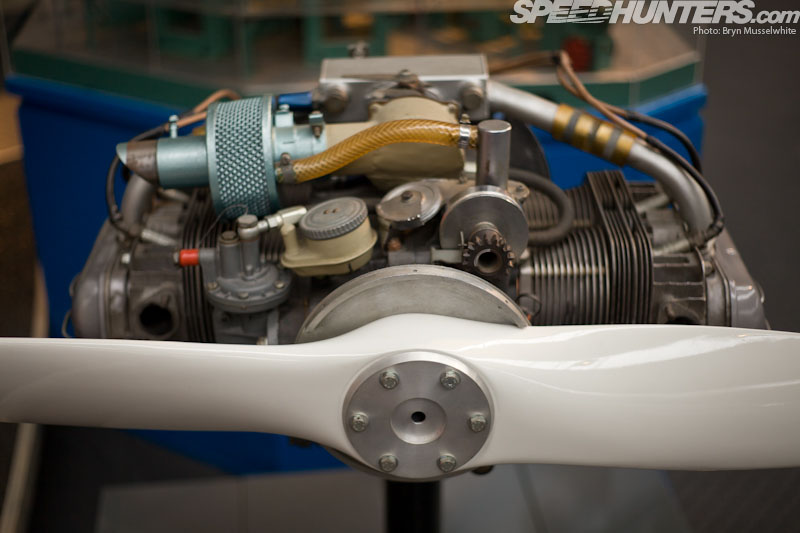 Over the decades Beetles and their simple flat four engines have been used for so many things. I'm looking at the engine as though we are stood at the back of the car with the lid up, so you can see the heads opposing each other, keeping the weight nice and low. But yes, that is a prop bolted to the crank; the induction on this one is different to a standard engine too. To be honest I've had my fair share of engine failures, but I'd be more than happy to rely on this simple design.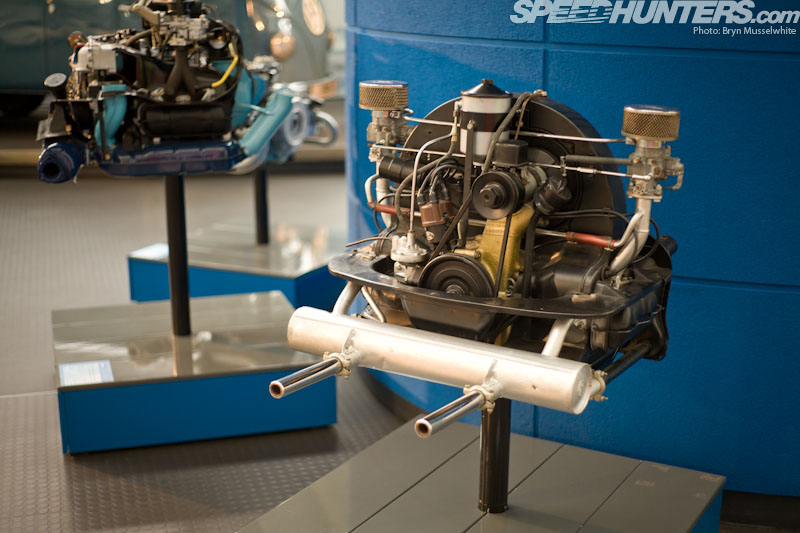 Here's a standard engine for you to compare it with, although this one has got twin carbs. A single, centrally-mounted carb is more common, of course.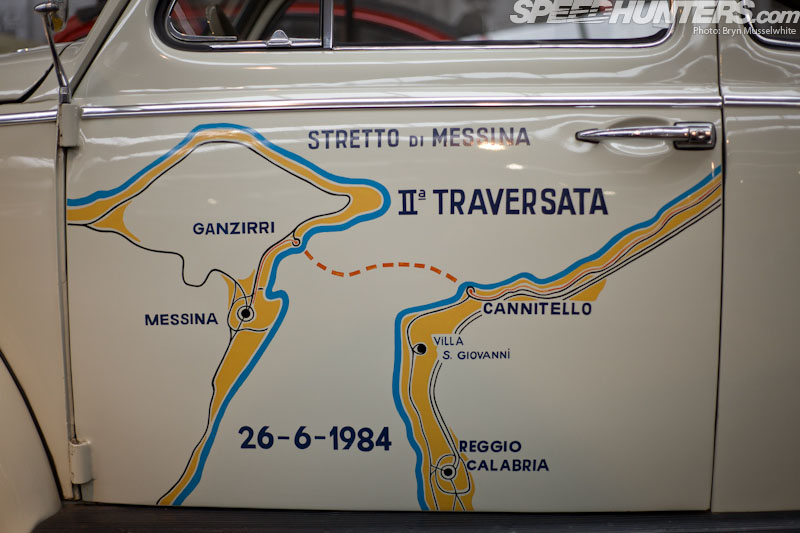 So if they're good enough for air, what about water? This door confused me at first as I fancy my knowledge when it comes to geography. I was trying to figure out what piece of land this car had traversed, then my pidgin Italian kicked in and I realised Stretto means strait as in water. This thing is a boat?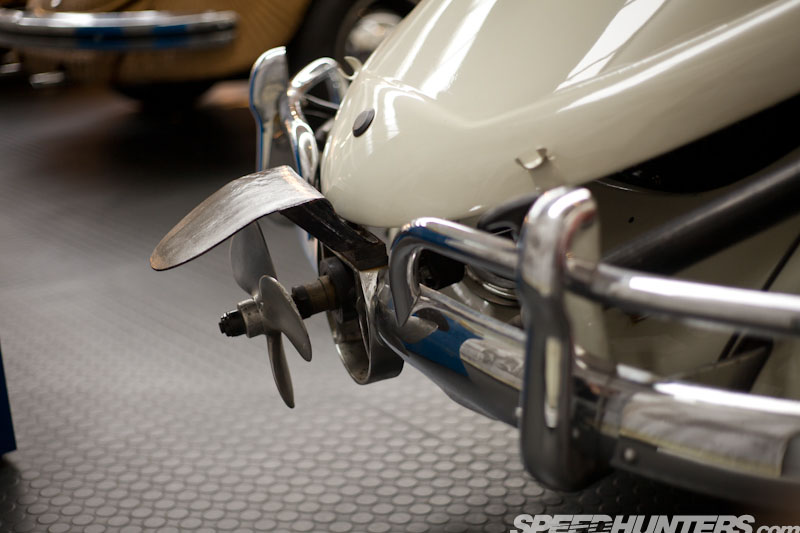 Yup, walking around the back I spy the propeller, once again mated to the engine. The black pipe on the right of it…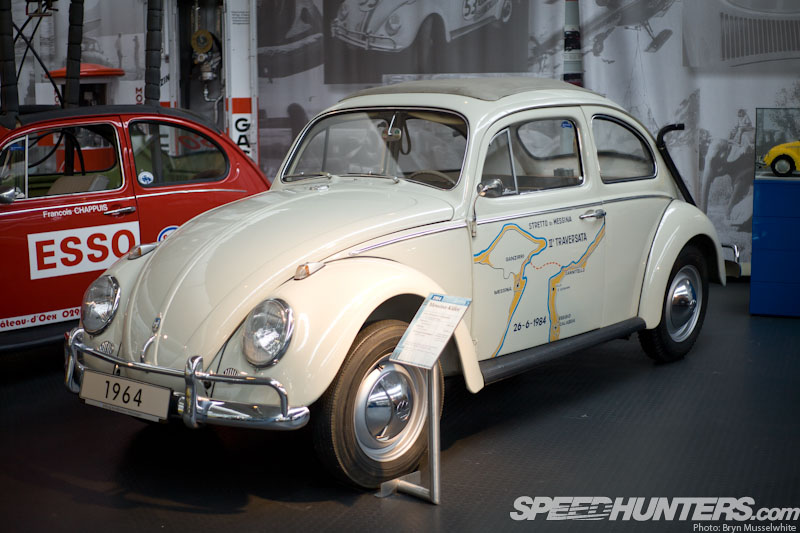 … is an exhaust, with the carbs mounted in the cabin behind the rear seat. You can just see the top of the air intake here. Good thing it's a sunroof model, but seriously, this was 20 years old when the crossing took place and without a second look you'd be hard pressed to notice anything out of the ordinary.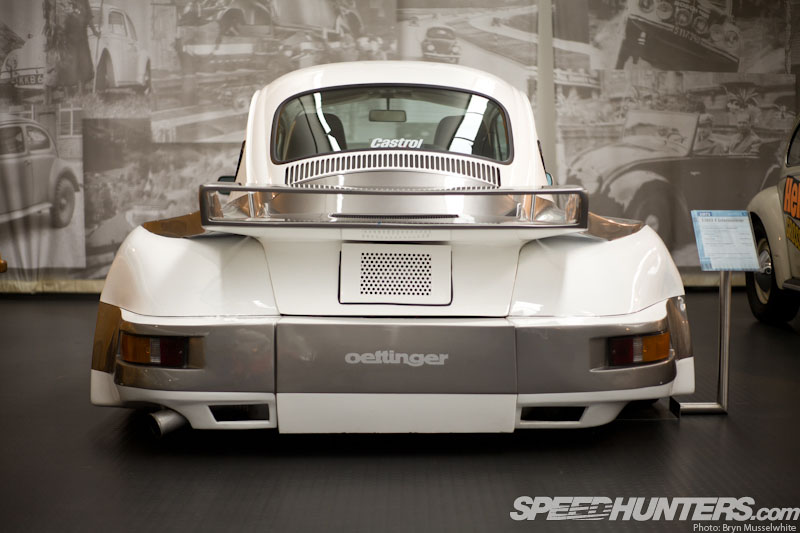 Unlike this one. Modified by the respected tuner Oettinger (pronounced oot-inga), I'm sat here in stunned silence. I can usually find the good in everything, but hmm…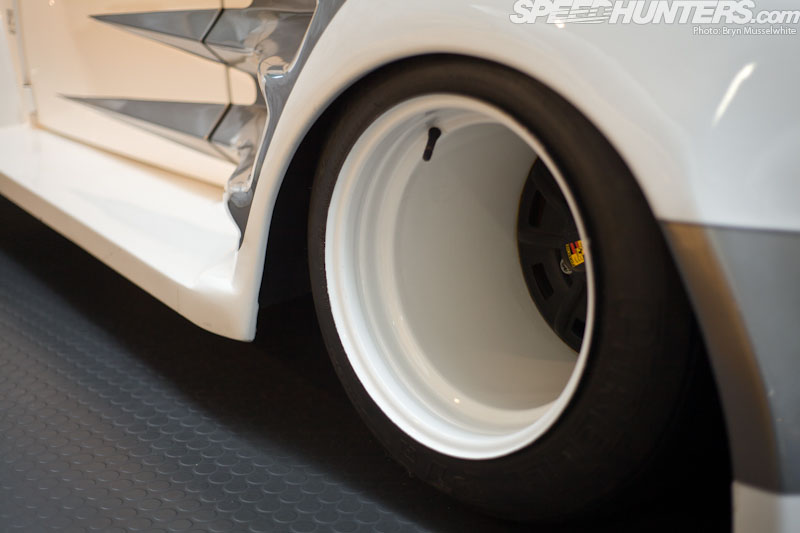 There it is! Massive banded steels. The kind you could use as a dog kennel if you wanted. And yes, those are Testarossa-style side strakes.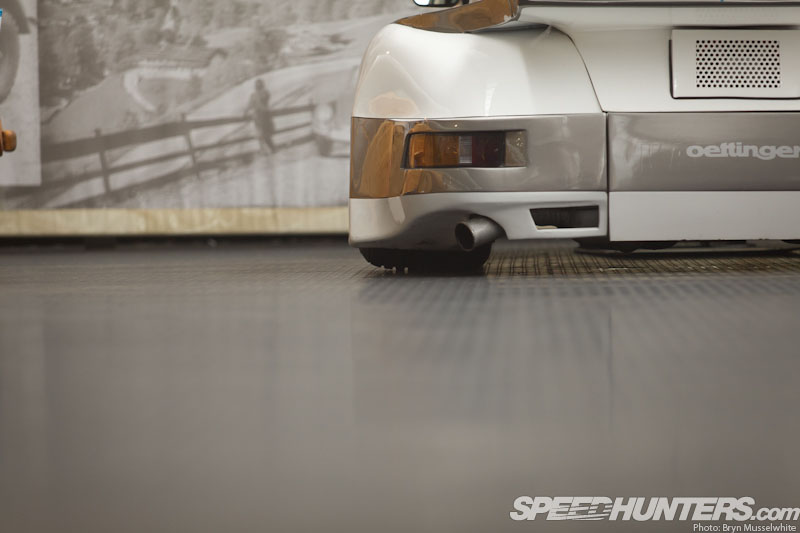 The panel fit is almost as good as the contact patch. If you look on this as a Euro VIP-style treatment, does it work? Care to discuss?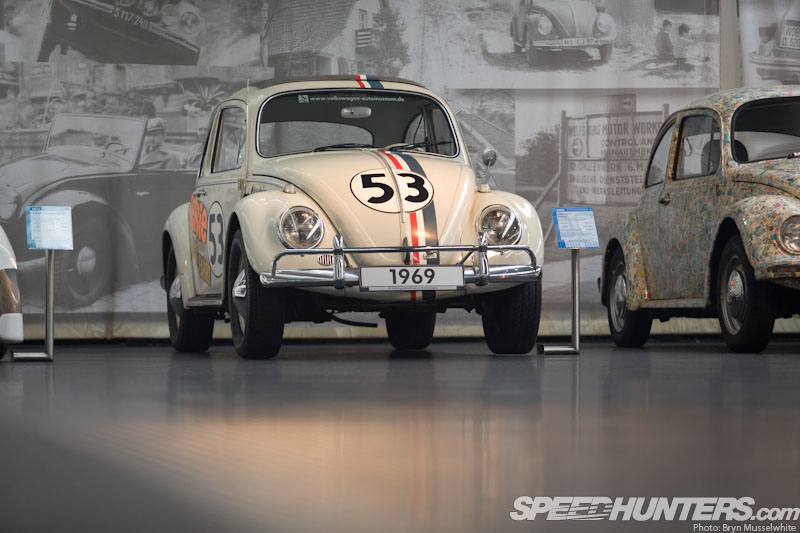 Parked alongside is the ubiquitous Herbie; an original film car, it's synonymous with just why the Beetle is so enduring.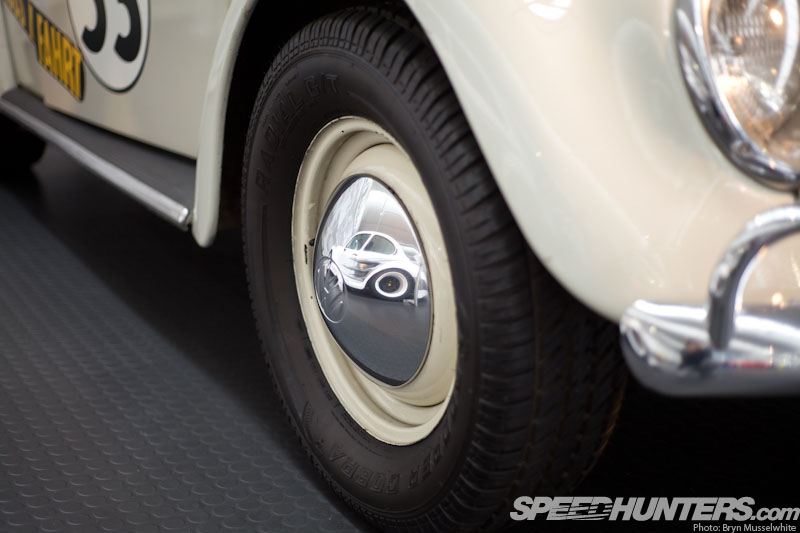 But did you ever notice why Herbie has that slightly more purposeful stance? The use of over-wide tyres gives it an increased footprint and that signature look.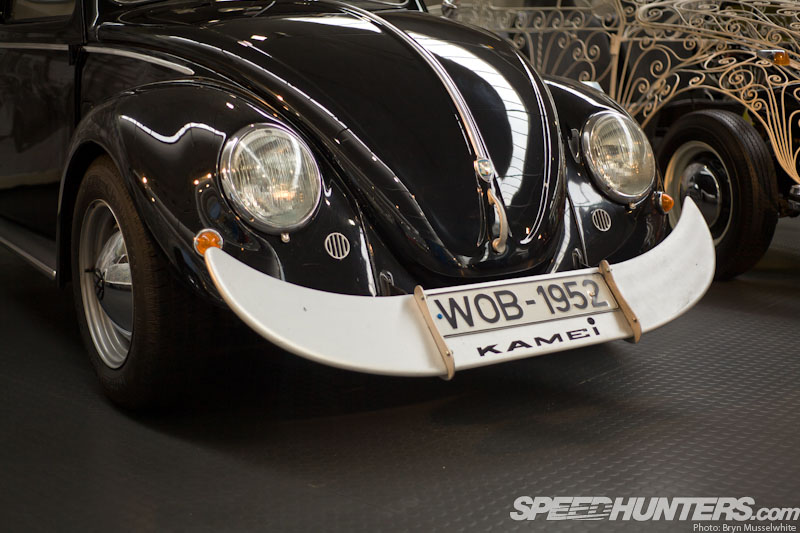 Most tuners have got crosses to bear somewhere in their past and Kamei had a pretty interesting take on aero work when it came to the Beetle. Already a slippery shape, this is an actual accessory that you could buy with your own money.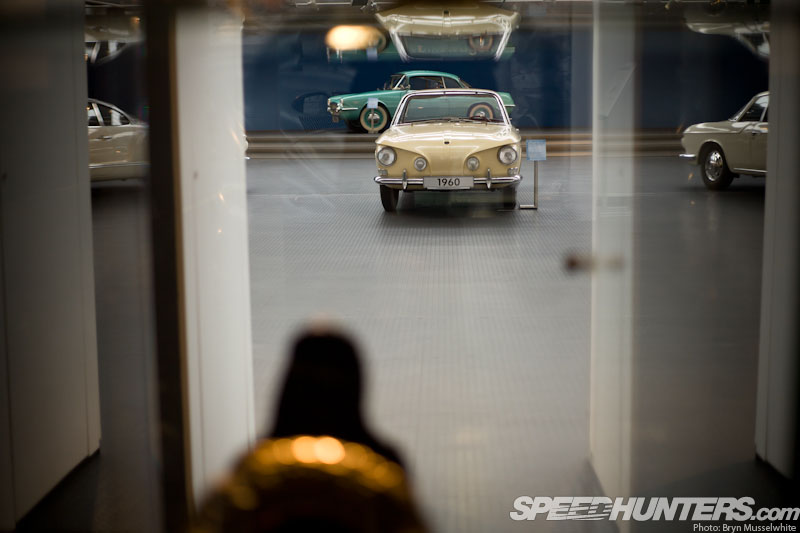 How many museums can you name that rely on one model to guide you through nearly a quarter of their exhibits? Like I said though, that floorpan design meant coachbuilders like Karmann could add its styling easily and create more desirable metal for customers.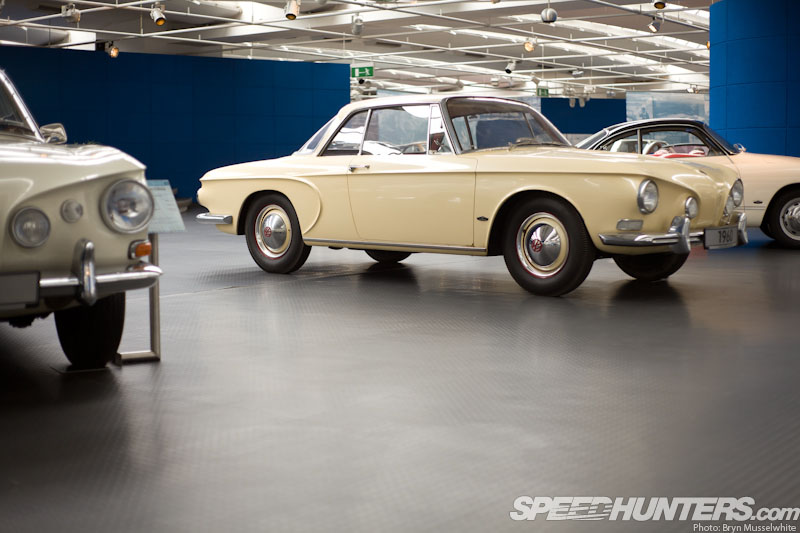 Even these smaller run models saw big changes in their lives. The Typ 34 is more commonly known as the Razor Edge Ghia for obvious reasons. This 1960 prototype features a raised swage line that breaks up the rear quarter on an already complicated body shape.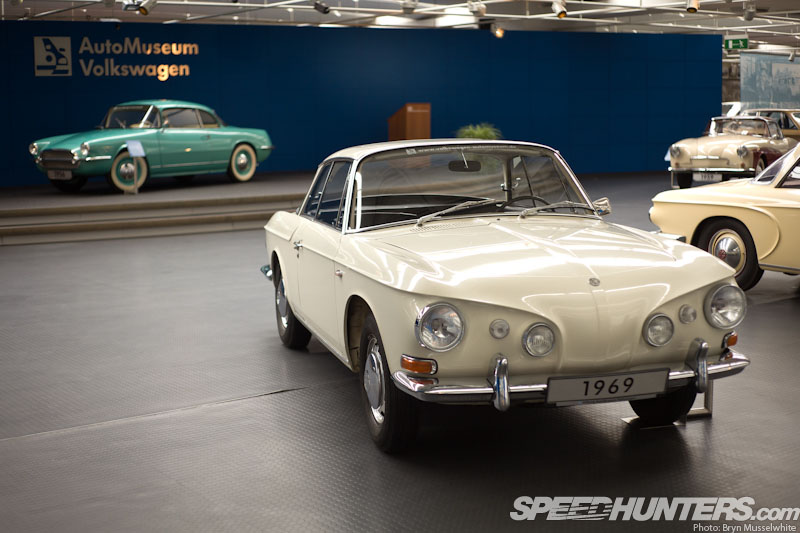 Something that you can see here never made it in to production.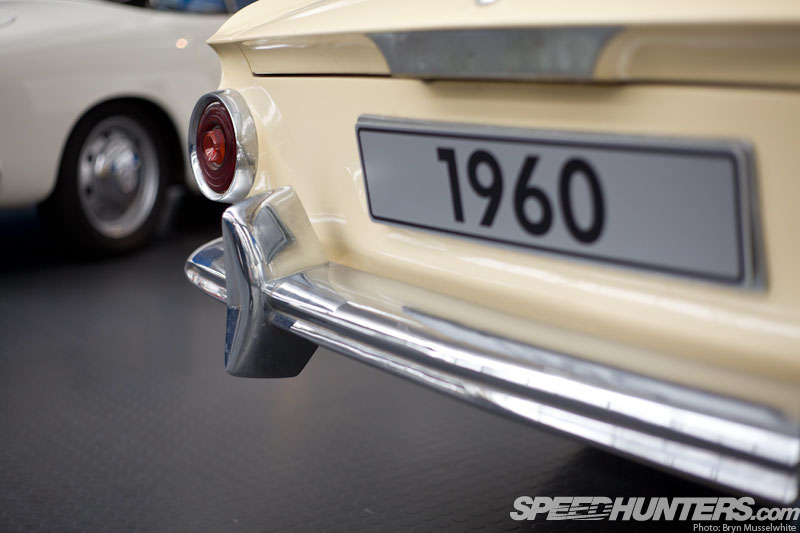 Check out the rear over-rider too, sharper and more fin like.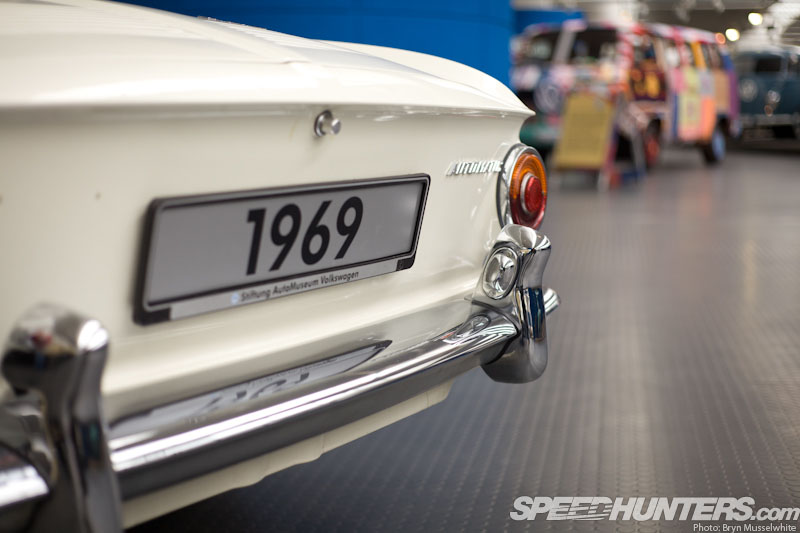 By the end of the decade it had become chubby and rounded. No rubber dressing just yet though.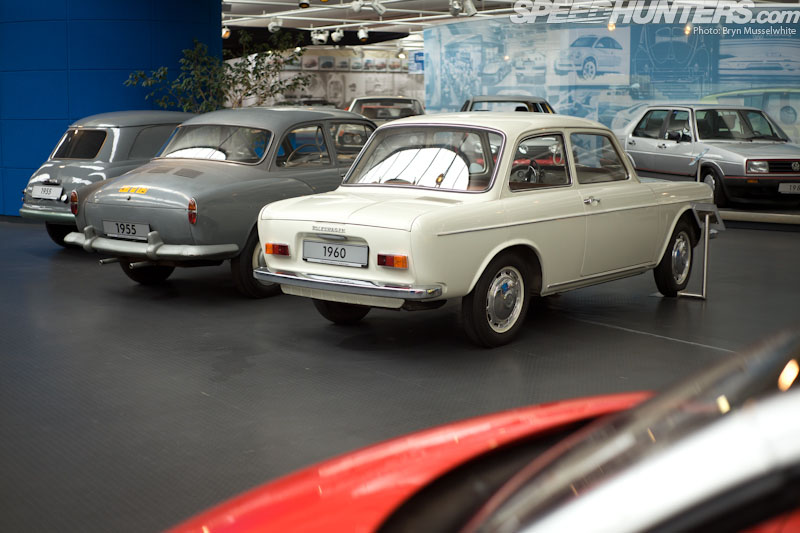 As with any successful company, VW tried to innovate over the years and develop new models for the masses. Looking around the museum you can see just how many different attempts it made – many of which made it to production but never quite hit the same spot as the Beetle.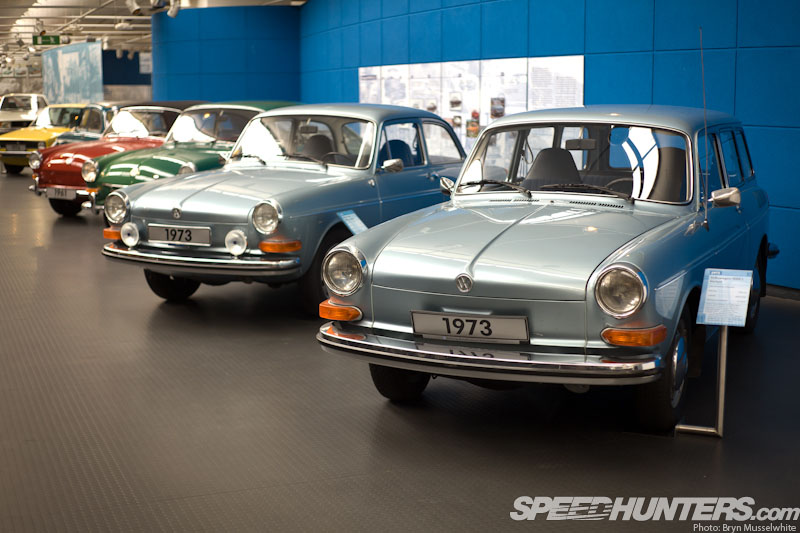 I'd say the nearest one in terms of air-cooled success was probably the Typ 3.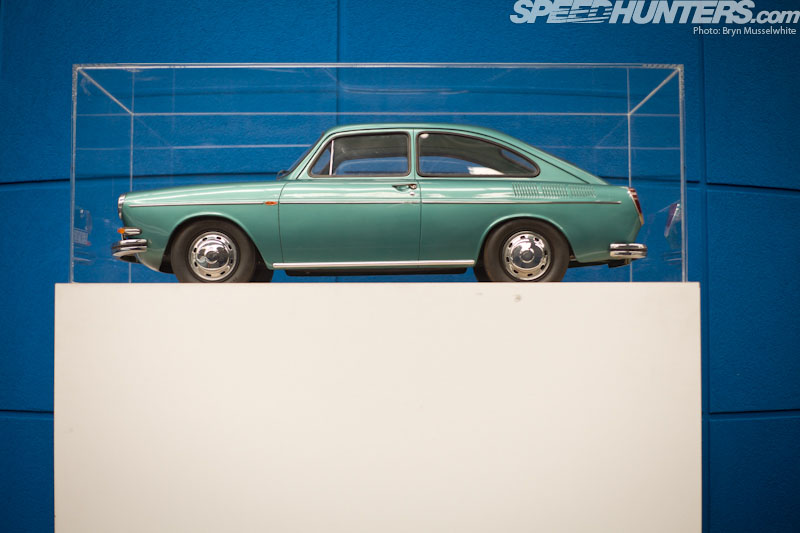 I might be biased, but my parents took me home from hospital when I was born in a fastback like the model above. The really cool thing about these – which often caused confusion amongst onlookers – was the way you could lift the bonnet at the front and load it up, then lift the bootlid at the back and add more luggage in there, thanks to the engine being mounted below the load compartment.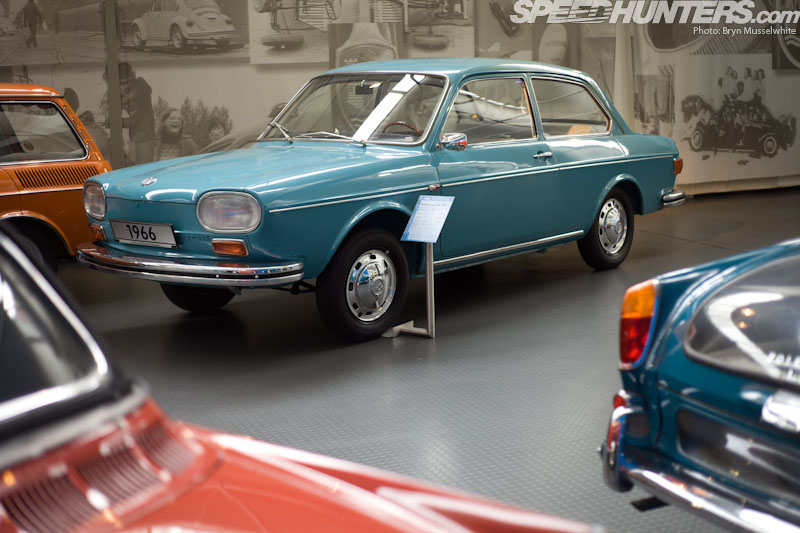 But you can see even with the Typ 3, VW tried to mix it up and change the style around. The headlamp design here did come to market in the later 411 bodystyle.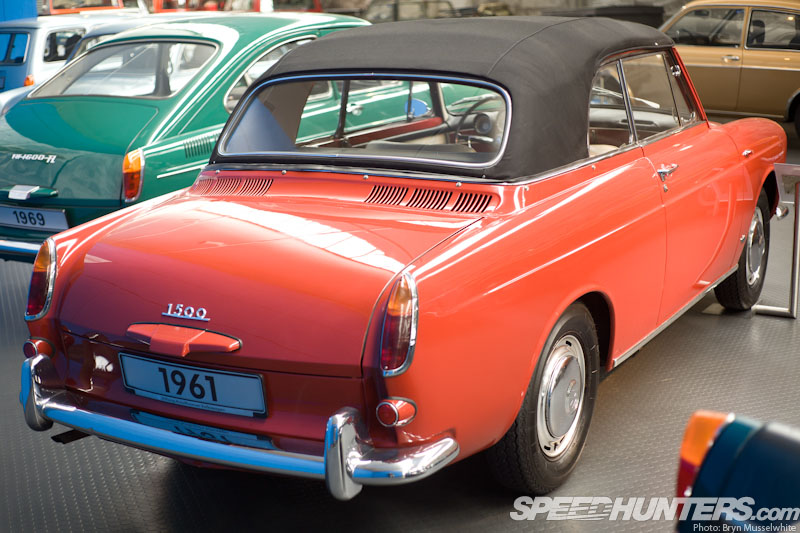 Sometimes not even the good stuff makes it though. I've heard of the 1500 convertible but have never actually seen one until now. I reckon the lines are gorgeous, but then you have to remember…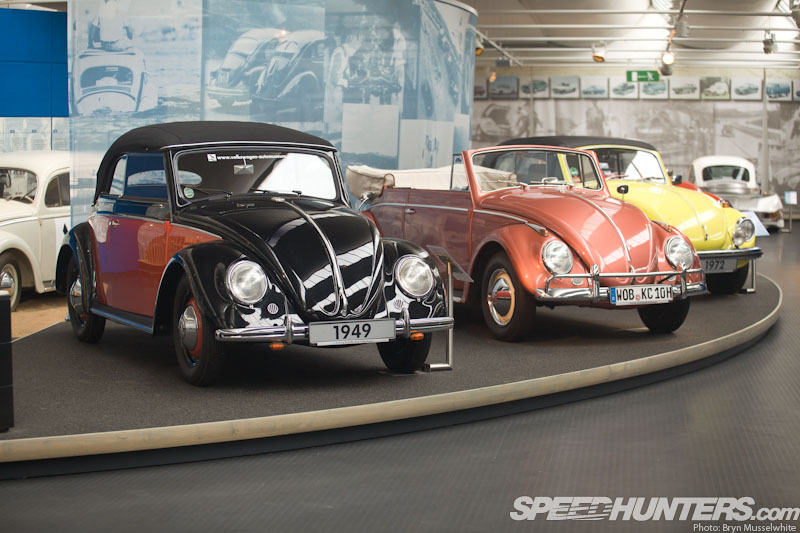 … that the Beetle convertible is a very good looking car, even with its pram-like look when the hood is down.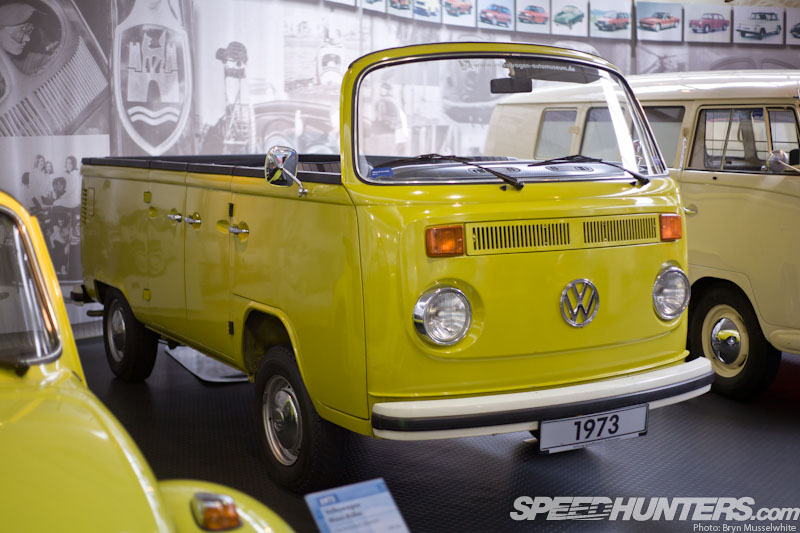 Sometimes it would appear that VW didn't bother with a roof at all. Whether it ever seriously considered selling this model is another question. Having owned some 'bay window' models in the past, and knowing how they like to rust, I was interested to see how this one had been strengthened. To be honest though, I couldn't see how VW had done it. It reminds me of the early to mid '90s when we used to buy a car solely to cut the roof off and fit a four-foot gearstick. If in doubt, get the grinder out.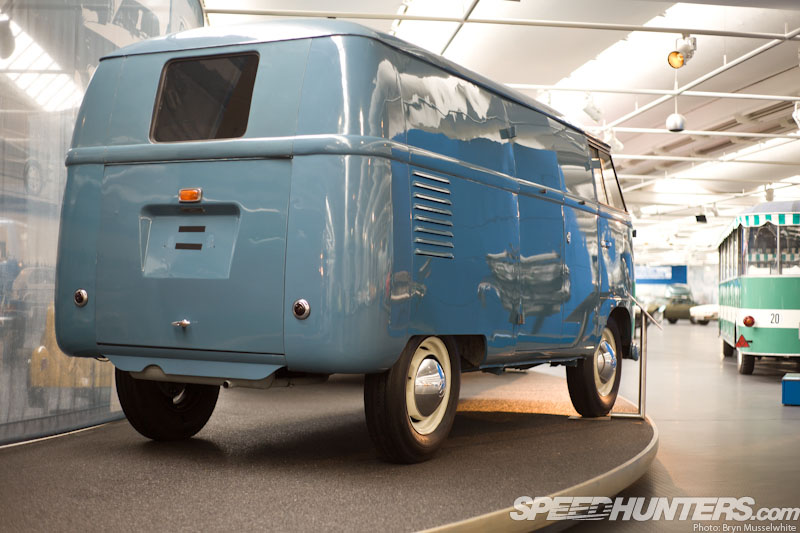 Of course the vans are just as big of a part of the history as the Beetle. This '49 barndoor T1 (Transporter 1) is the definition of purity to me. It always seems to be that the first iteration is the best with a manufacturer piling on additions and modifications as production goes on. The barndoor bit is a reference to the large engine cover you can see here.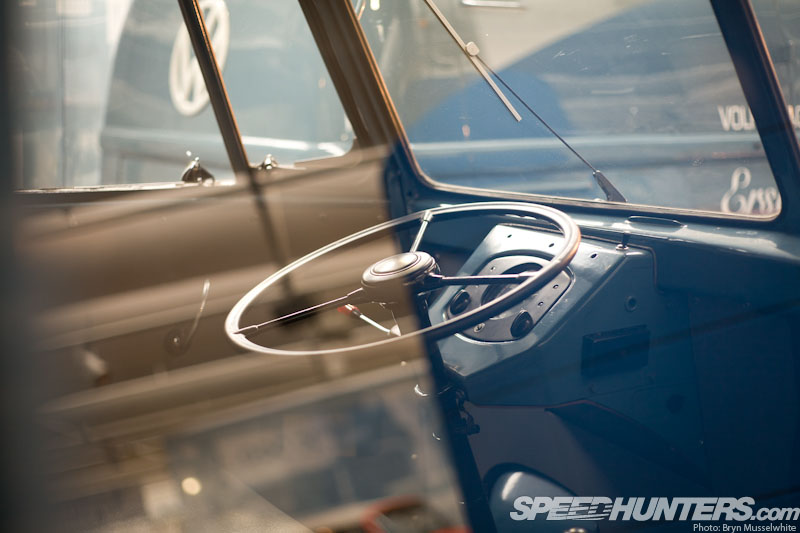 Look inside and you're straight back to the late '40s like the Beetle at the top.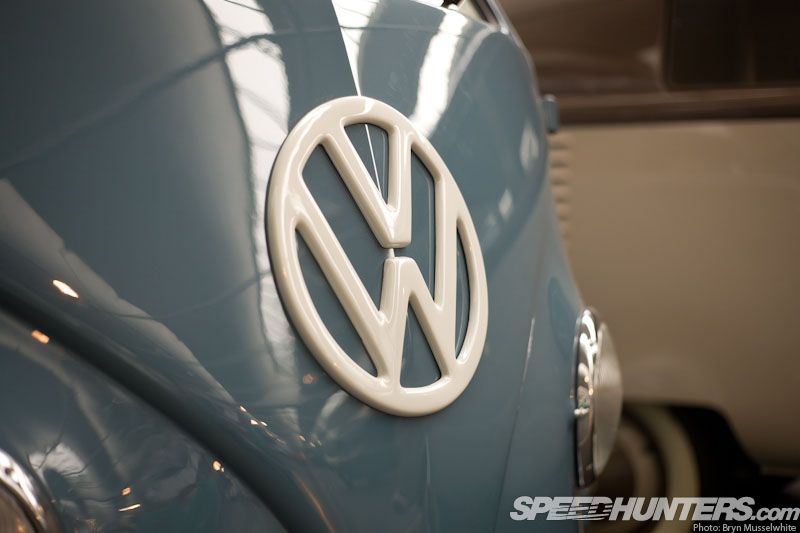 Again the subtle differences are there, like the nose badge – here with the 'V' and 'W' separated.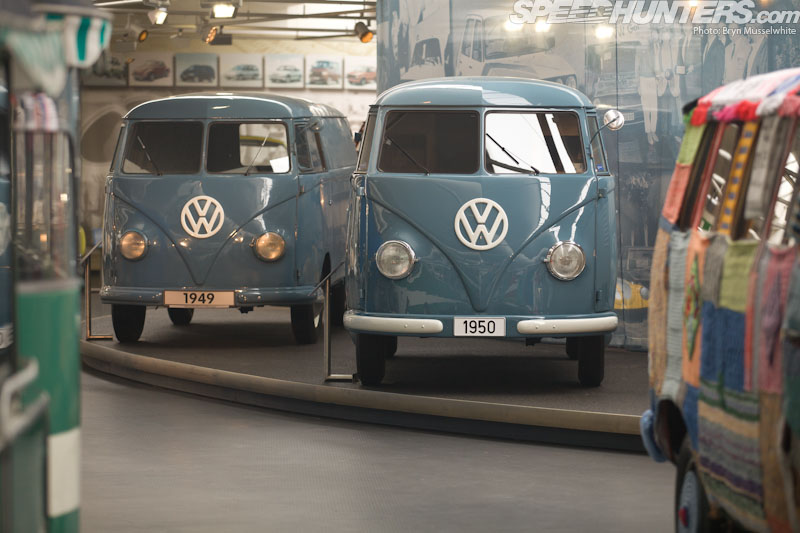 This early pair are easily worth well in excess of 100K in any currency you care to name, not that they'll be for sale anytime soon.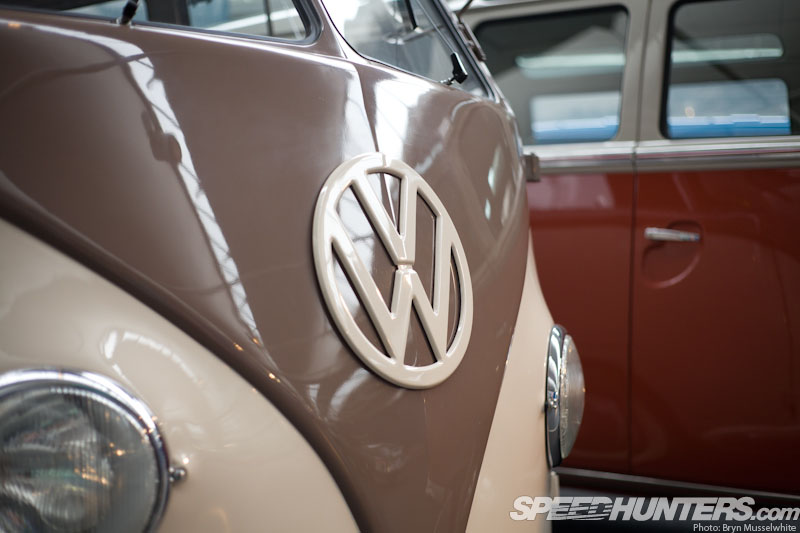 Still in the early '50s, you can see the badge has changed slightly. The other thing that really sets the early split vans aside is the leading edge of the roof.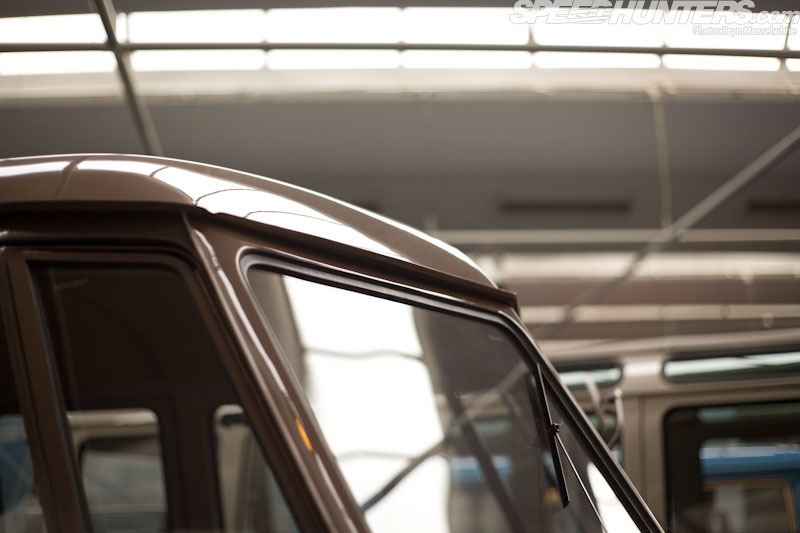 Here's the barndoor.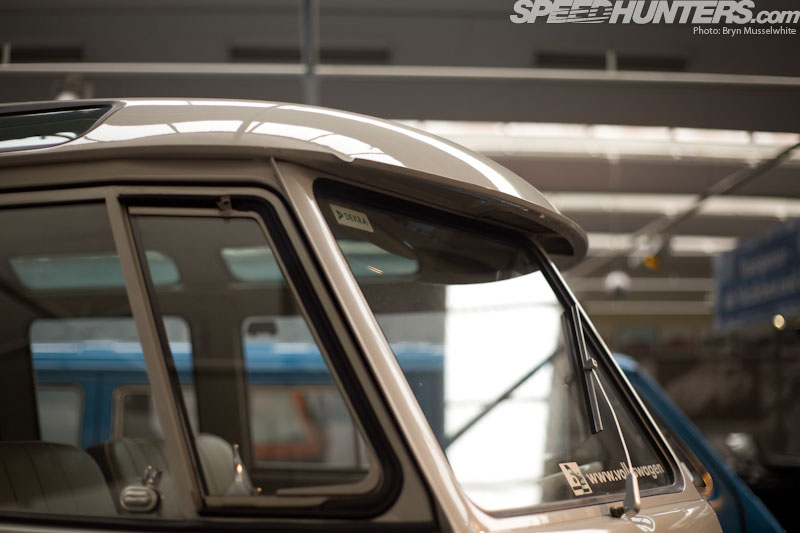 With a later model showing the air intake designed to give a little cooling to the interior. This is just one of the many, many reasons I love a good museum. It gives you a chance to brush up on your car knowledge and learn new things.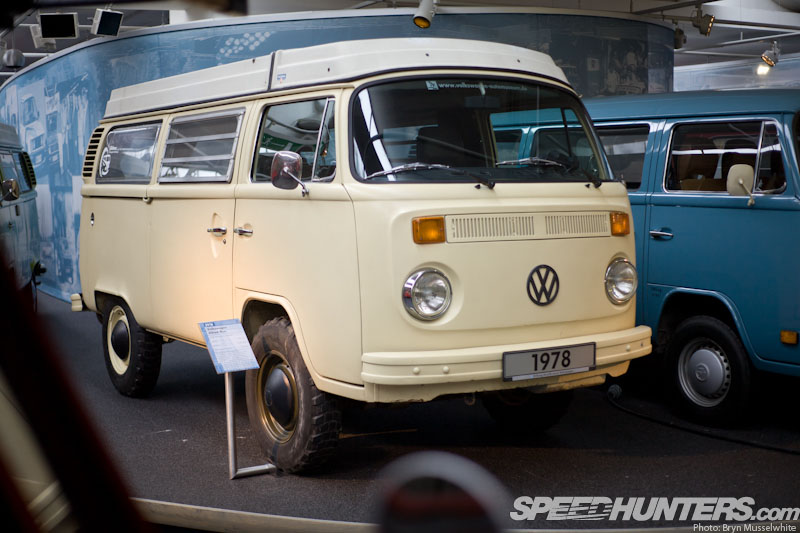 So what about my ultimate vehicle in here then? Believe it or not, this is probably the one I'd take home: the four-wheel drive, late model bay window camper. Again I knew of its existence, but had never seen one in the metal. Word is, VW made five prototypes but I've only ever seen pictures of what would appear to be this one, then and now. The later T3 Syncro models aren't exactly everywhere, but this bad boy is downright rare. Incredibly it was in private ownership for many years before VW managed to buy it back, and it even looks as though it's been left in 'as found' condition. Get the kettle on mother, we're going off road.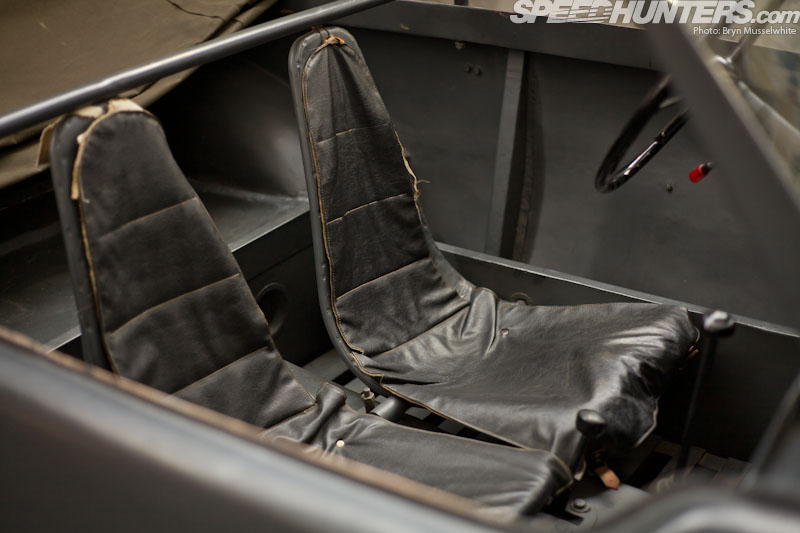 The other thing that inspires me for when I get home are the simple seats in the Kubelwagen pictured at the top. The worn leather could be recreated using old jackets and the simple frames and wouldn't take much to knock up.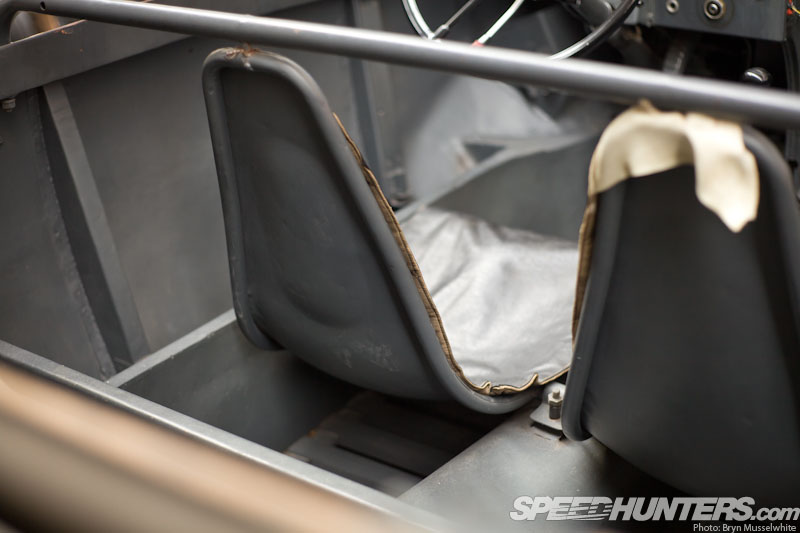 The curved inserts would prove a little harder, but I reckon they'd make a great alternative to all the 'bomber' style seats you see in hot rods everywhere. I might have to do something about this one.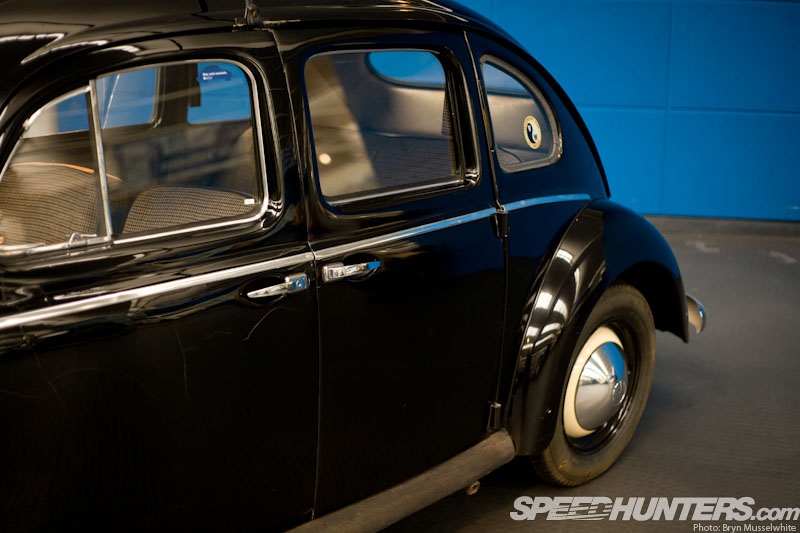 There are some things that are best left in a museum though. I can see where VW was going with this, but a four-door Beetle just doesn't work for me.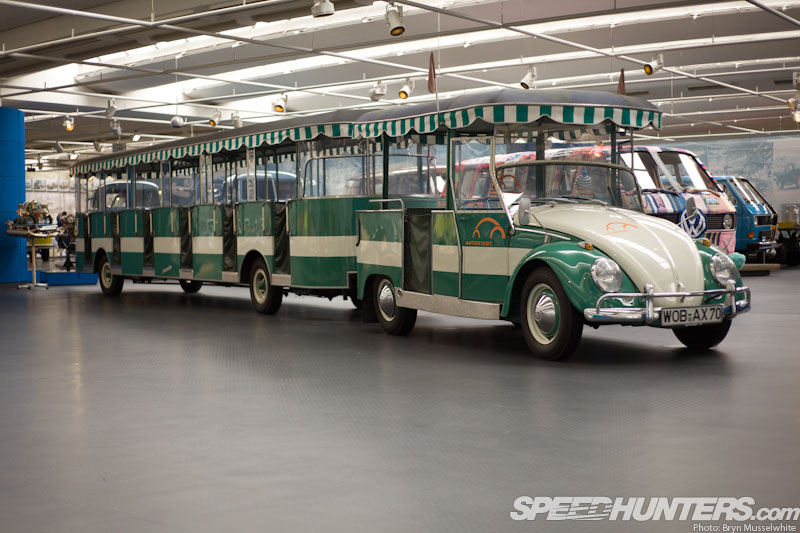 And I'm hoping this has got more than the stock 1200cc motor in the back.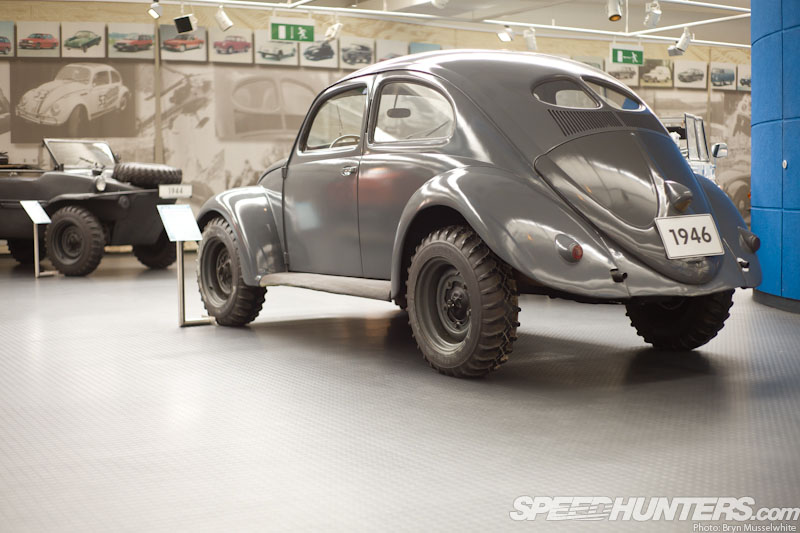 Truth be known, the museum is fast growing on me – its straightforward, no nonsense approach really reflects the cars inside. This '46 Beetle could quite easily be my favourite ever. It's probably time I should explain I'm not actually a Beetle fan. VW yes, but Beetle no. I've owned plenty of air-cooled stuff but the original has always been a bit too cramped for me, although there's space in my garage for this one. Imagine turning up at the Baja 1000 in a replica, complete with grey painted cage and hot motor hidden in the back.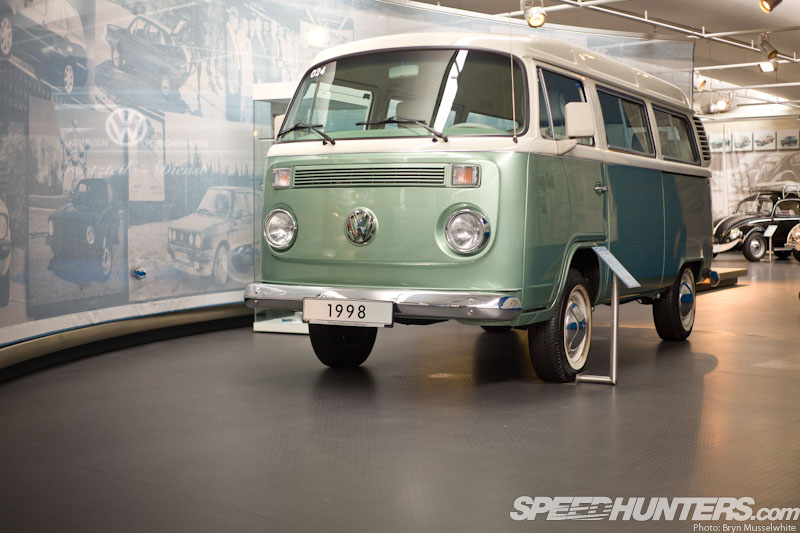 Incredibly there are 52 years between that Beetle and this T2 bus. Even with all its modern luxury and water-cooled, injected engine, you can still see where it came from.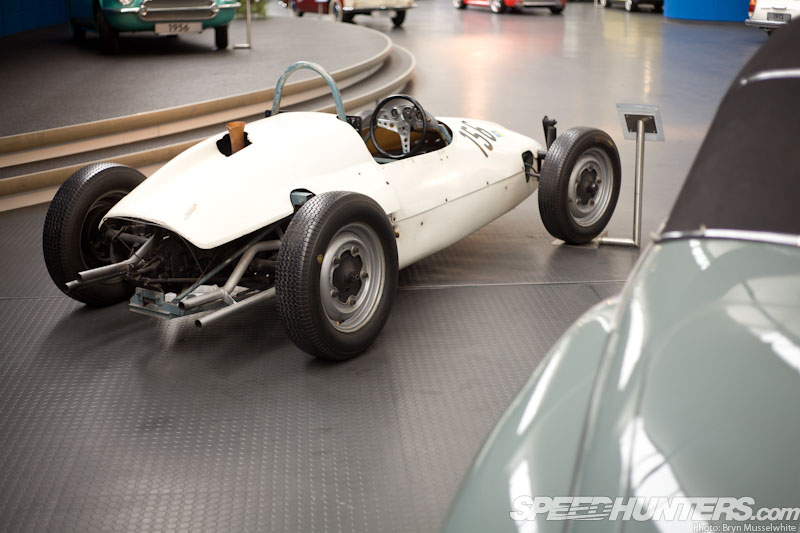 VW has also played its part in grass roots motorsport over the decades, with Formula Vee being popular the world over.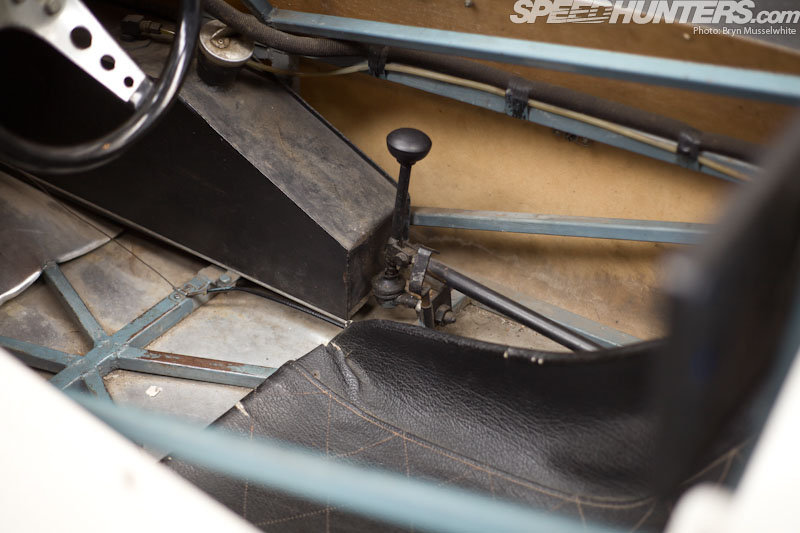 Remember when racing was simple? No? Us neither.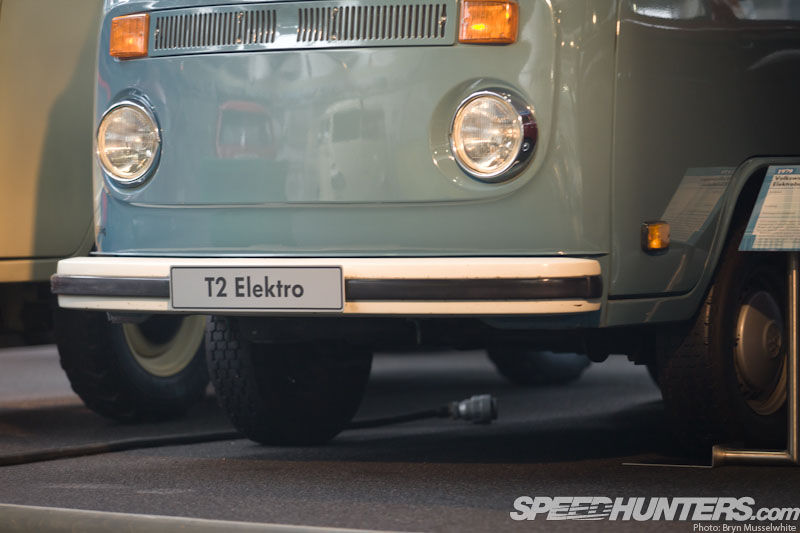 Oh, and ecology is nothing new either. Electric power? Yes please, this is 1979 after all.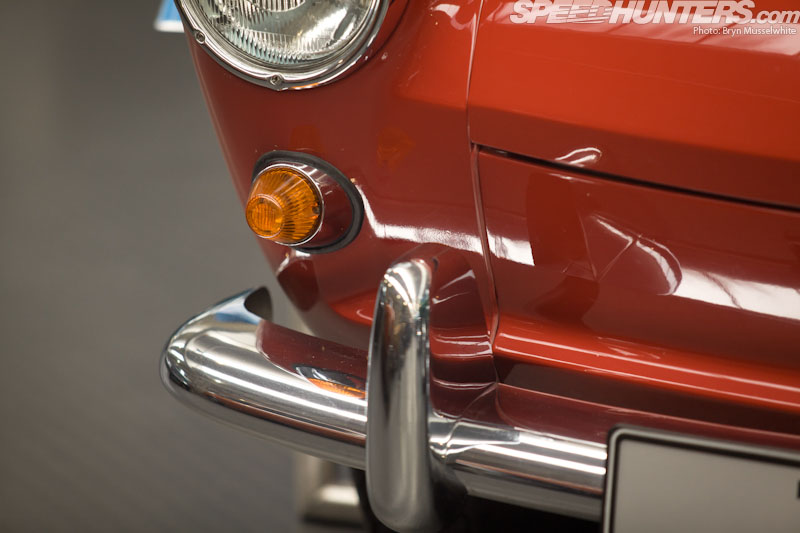 As for development over the years, I'm not always a fan of that. Take this early Typ3 indicator….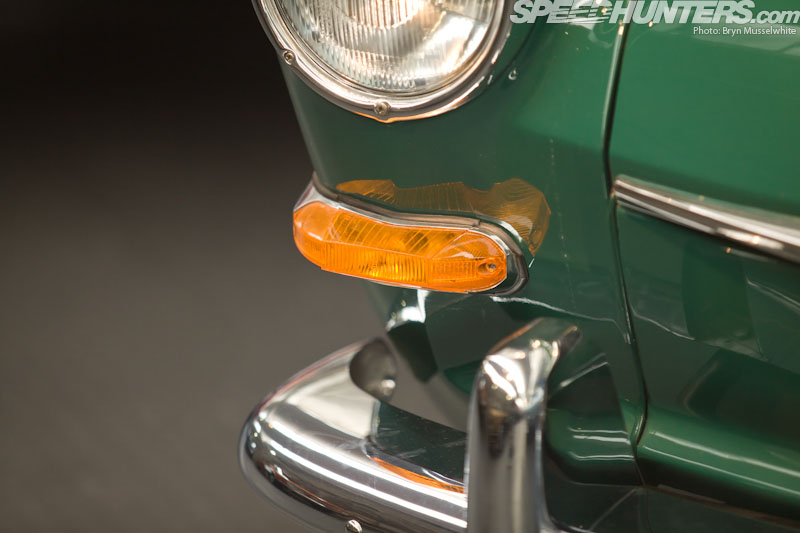 Slowly it spreads around the wing, getting larger…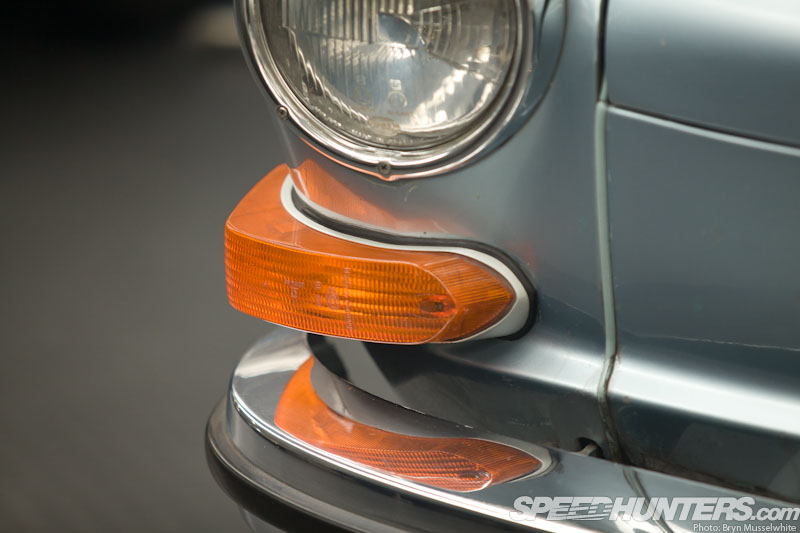 … before it finally dominates that beautiful curve, being joined by an ugly rubber bump strip too.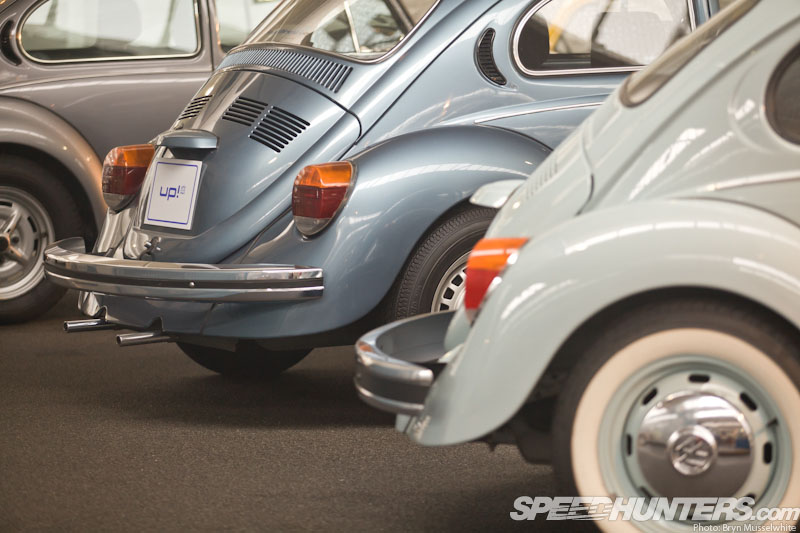 VW may have given its models bigger lights because we all became a bit more blind and ignorant as the years passed.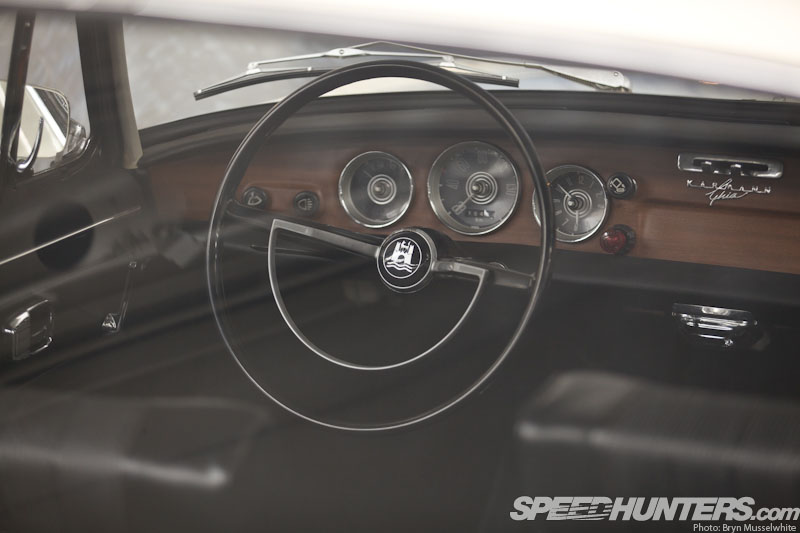 But they're just add-ons; the basic principle seems to have remained the same. Keep it simple.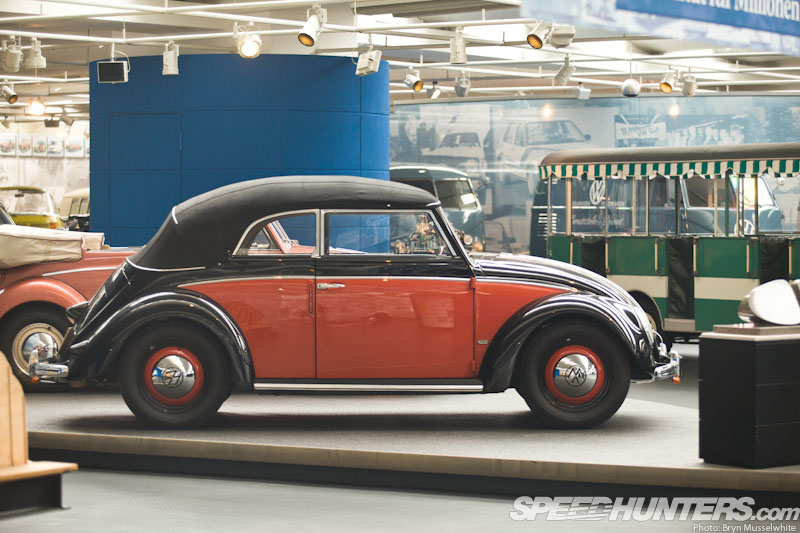 Because that works the best, an everyman car for every man, woman and child.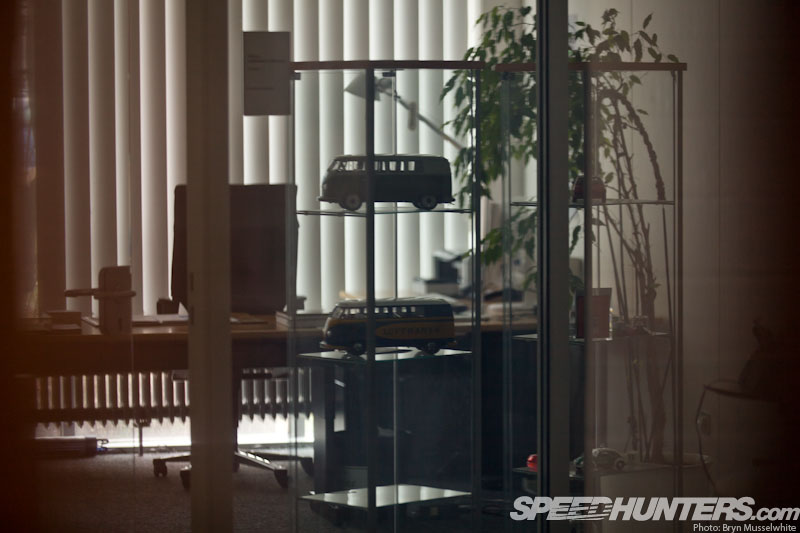 Wandering back down the corridor as I leave the building – which incidentally now reminds me of a '60s warehouse or design studio – I spy these models on the shelf of an office. As if working in the museum wasn't enough, a simple daily reminder of the heritage which VW has and is rightly proud of.
Next up: the water-cooled.
Bryn Musselwhite
bryn@speedhunters.com
Other Volkswagen content on Speedhunters