Quattro. Even the way it leaves your mouth is purposeful, as though you become that guy on the advert and everything is suddenly a voiceover. It's not so much of a word or a description, as a statement of intent.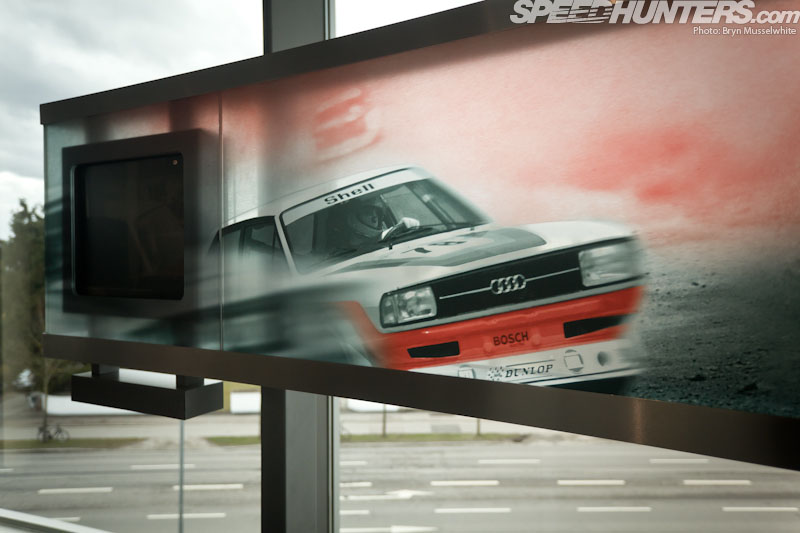 I showed you around the rest of the Audi Museum in Ingolstadt in this post, but it's predominantly the second of the three floors that I'm going to wander round here and I think you're going to like what I've found. Just take a look at the driver's crash helmet in the graphic above: old school cool.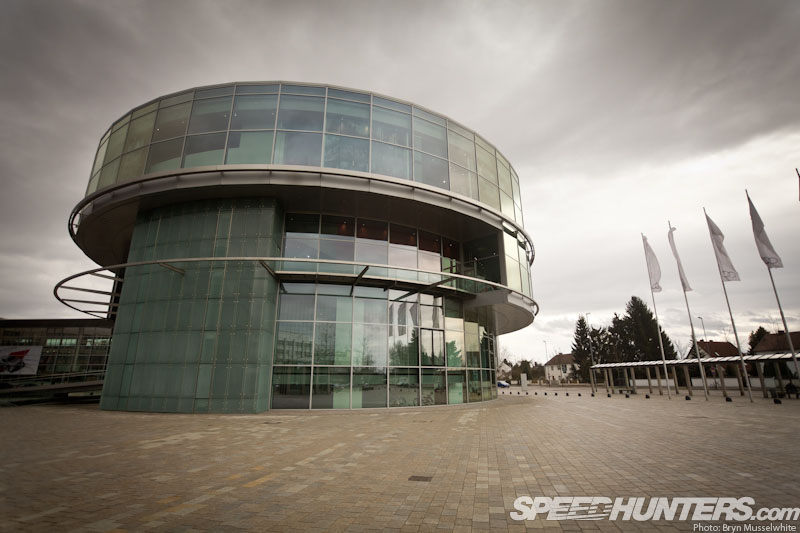 It's fair to say that the Audi Forum is an impressive building, that central band of glass hiding some of my most desired Audi models. They're the ones I grew up with, watching them get thrown around in rallies, five cylinder engines growling and eating the horizon.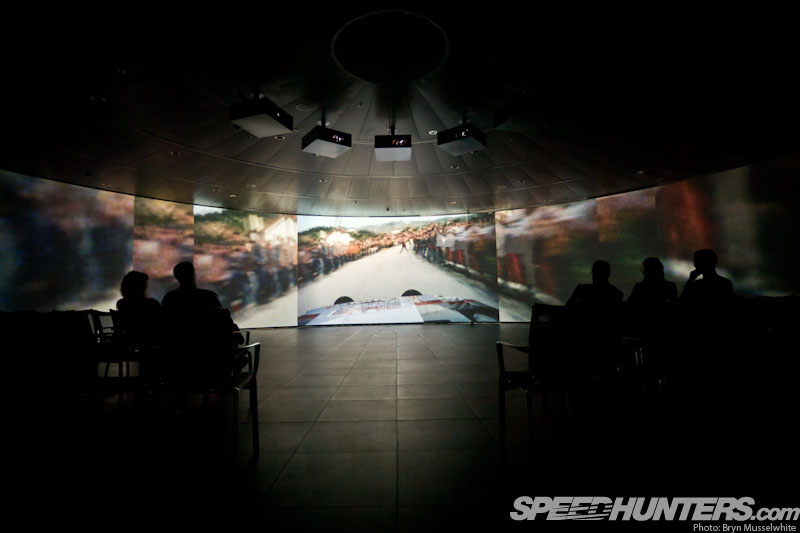 I talked about the amazing introduction video that you watch before entering the museum, but what I didn't show you was some of the stunning imagery used for the Quattro sections. The clever editing technique takes original in-car footage of the crazy group B days, and puts us right in the middle of the action by extending it to 180 degrees.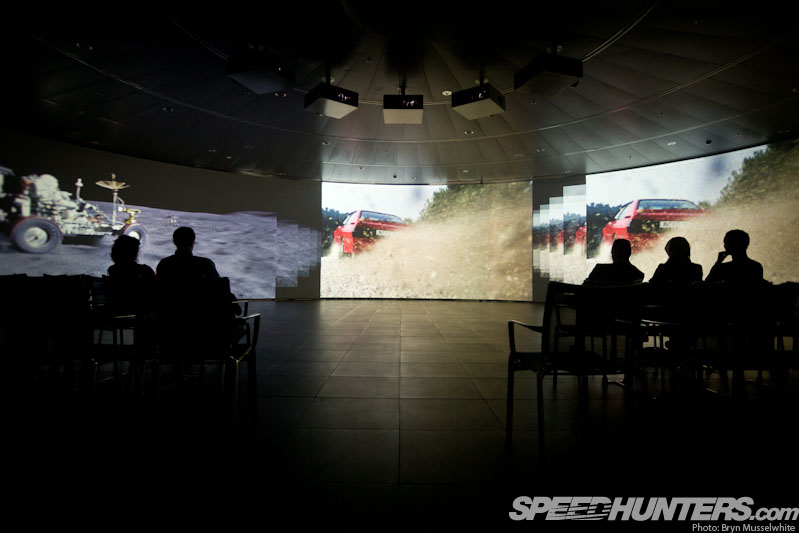 I'll make no apologies for using so many images from this film; it really is such a great piece of work.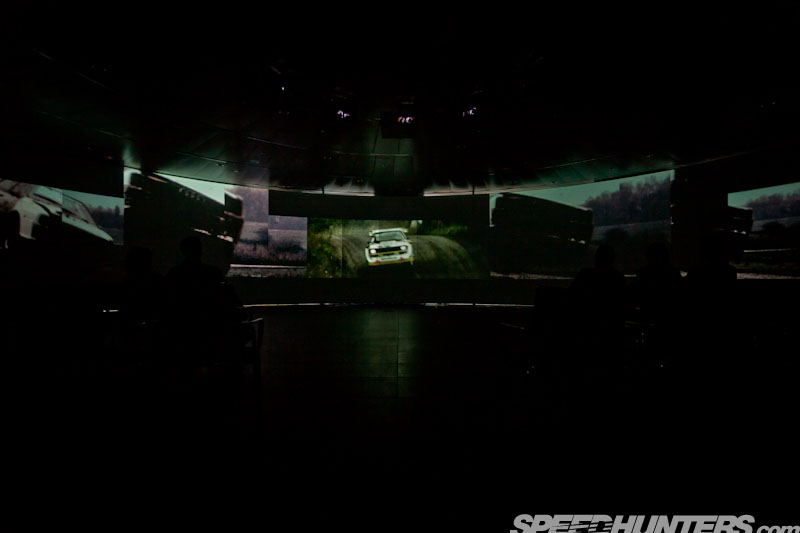 A proper reminder of just how crazy those days were.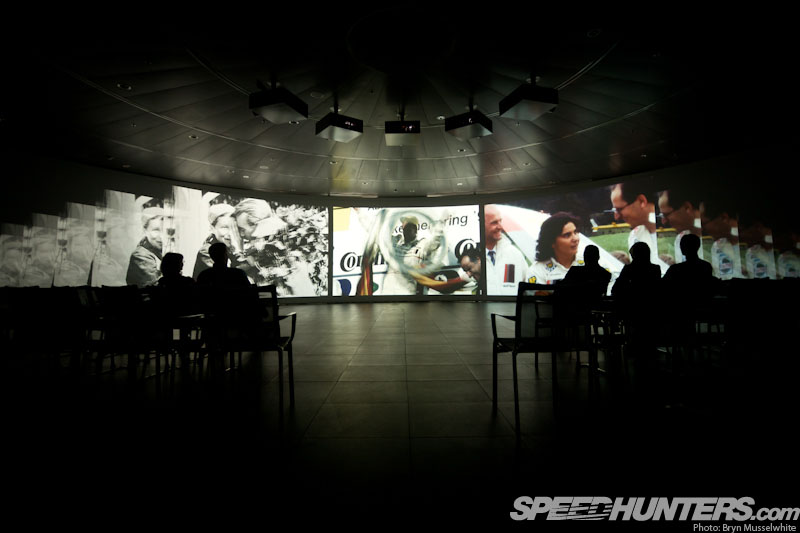 And some of the characters whose names still captivate today. Michèle Mouton is a name firmly embedded in my childhood memories; she won at Le Mans, on many different rallies and was the first lady to win a WRC event. She came second in the drivers' championship of 1982 behind the one and only Walter Röhrl, who was of course driving an Audi. As if that wasn't enough she also won the Pikes Peak Hillclimb in 1985, also in a Audi. Since then she has founded the Race of Champions, so as heroes go, she's right up there for me.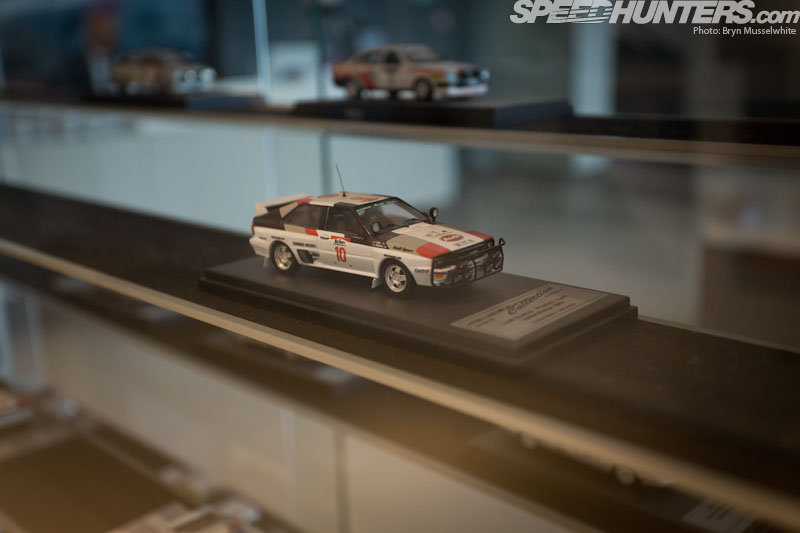 If any company was to ponder on how motorsport can affect sales or image, I'd point them in the direction of Audi and rallying. Had Audi not enjoyed such success in the early 80s, would they be as large as they are today? I don't know and I can theorise all I want but it's not helping right now, because there are race cars to be drooled over.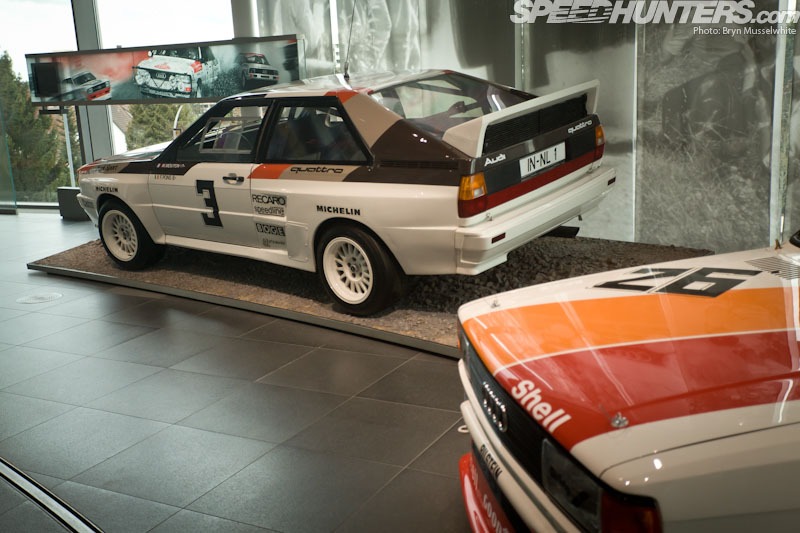 That distinctive and almost restrained white/grey/grey paint scheme has a lot to answer for when it comes to my desires. This Quattro A2 from 1983 is the perfect mix of road car and weapon.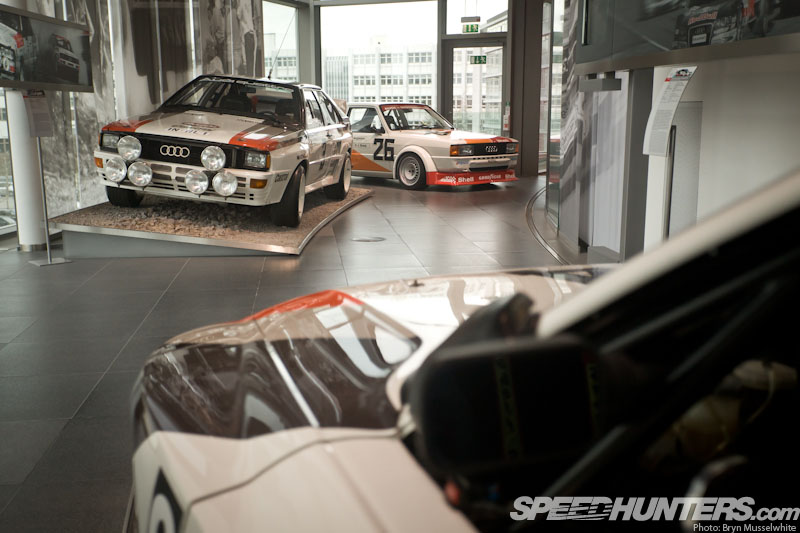 Given the space around some of the other exhibits, I find it strange that these seminal cars are almost squeezed in to a wing of one floor. Although as I understand it they do change fairly frequently, like most museums, so there's a good chance this is just a temporary layout. There's still so much to see here though, one car standing out as a new discovery for me.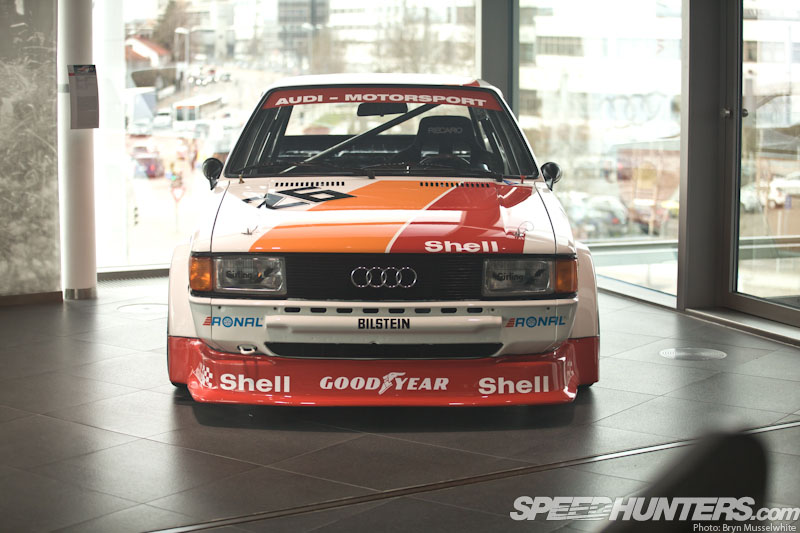 As I've written before, I love finding previously unknown (to me) incarnations of popular cars. The more and more I immerse myself in car culture and the longer I've been doing it, the rarer it becomes. So right now, although nearby is a dream line up of race cars, this Audi 80 GTE is capturing me. A European Touring Car championship win in 1980 means this is also a very important vehicle for Audi.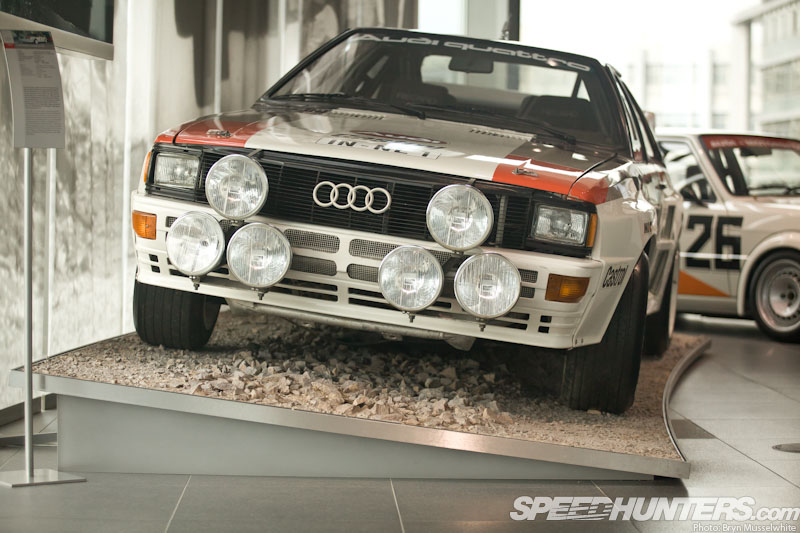 That's a whole year before Hannu Mikkola drove a Quattro as a course car at the Algarve Rally and finished nearly half an hour quicker than the eventual winner. I bet that made the WRC world sit up and think, what the actual… ?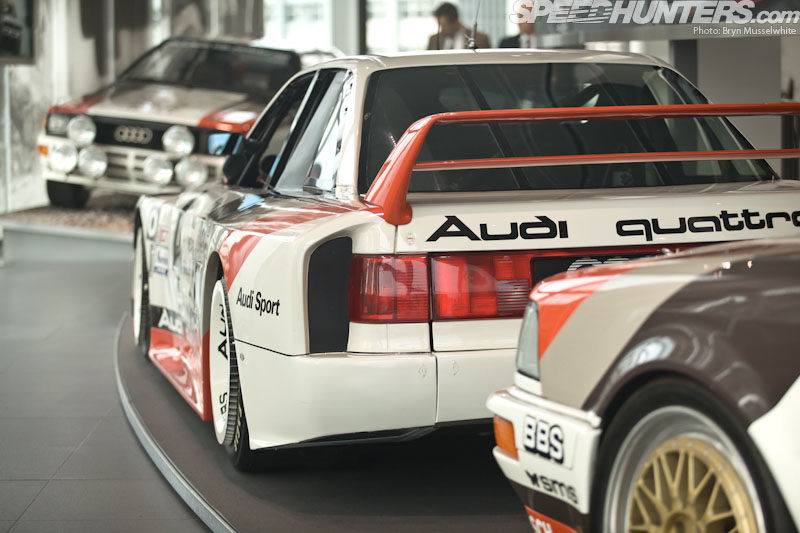 It's this bad boy that I can't keep my eyes off though: the incredible 1989 90 Quattro IMSA GTO. An everyday, more door body shape transformed into a wide-arched warrior that went to America with two special friends.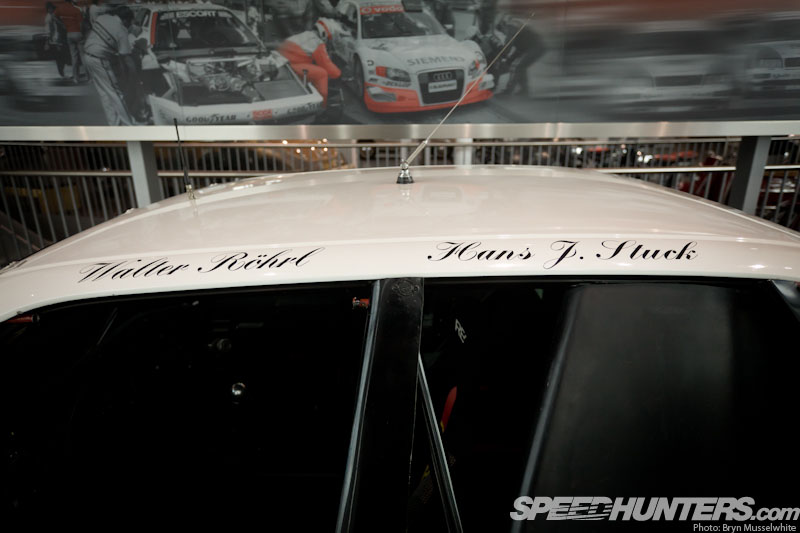 Hans Stuck and Walter Röhrl? As successful partnerships go they're right up there with fish and chips, burger and fries and my love of apple-based confectionery.That's a winning combo right there, able to take on all comers and find apple-based perfection.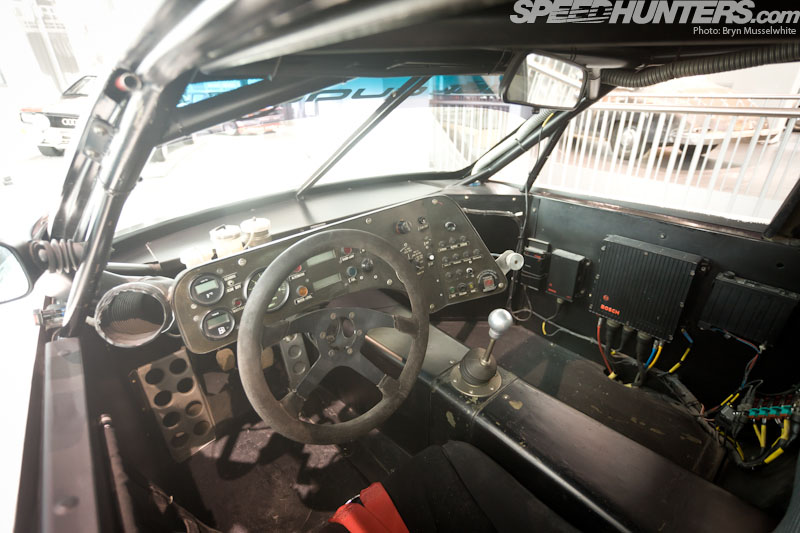 This was their office twenty three years ago, all alloy and big electronic boxes. Noise, smells and skill.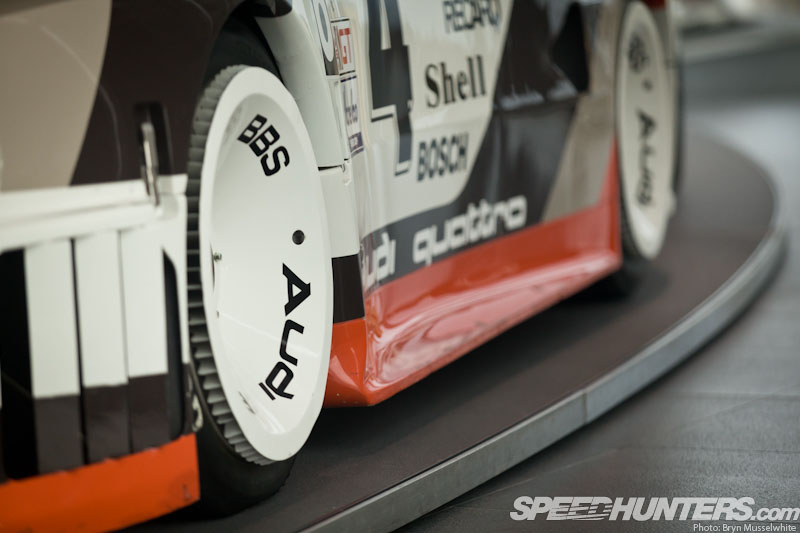 Although Ronal were responsible for a lot of the road car wheels, when it came to racing in the late 80s, BBS was the brand of choice. Again my knowledge of aerodynamics is weak here, but I believe these fins were designed to suck air out through the wheel after it had been fed in the front and over the brake discs. Please feel free to correct me if I'm wrong, as I'd love to know if it's the other way around. Looking at the profile of the bodywork and knowing a bit  about drag, I can only think it's this way around.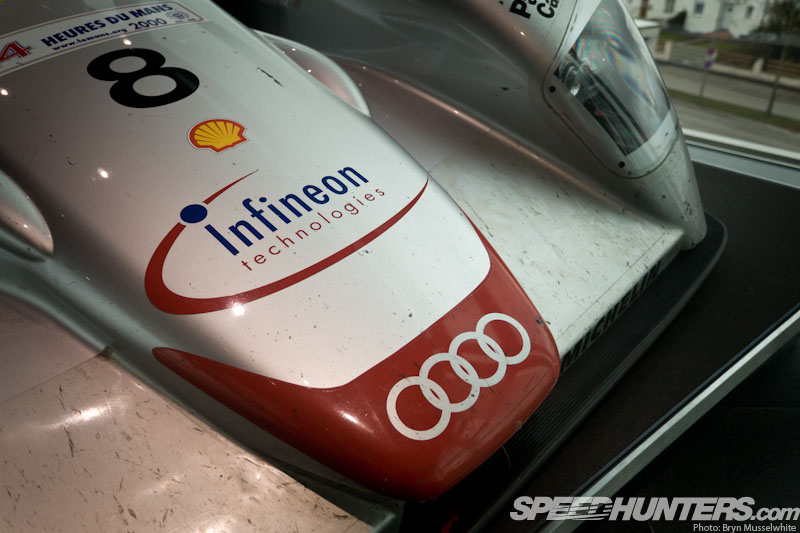 No Audi race car line-up would be complete without an R8. Alongside greats like the Porsche 962 it's one of the most successful sports cars of all time, winning the legendary 24hr race in 2000, 2001, 2002 and 2004, pipped to third in 2003. Oh and that year it was beaten by a Bentley Speed 8, which had the same twin turbo V8 in the back.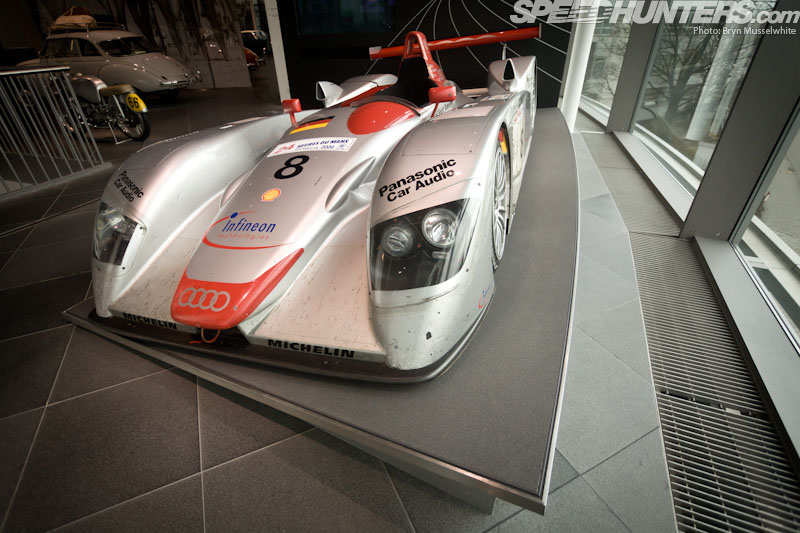 It sits here dirty and it blows me away to think this is nearly ten years old. Now we're all about the diesel eh?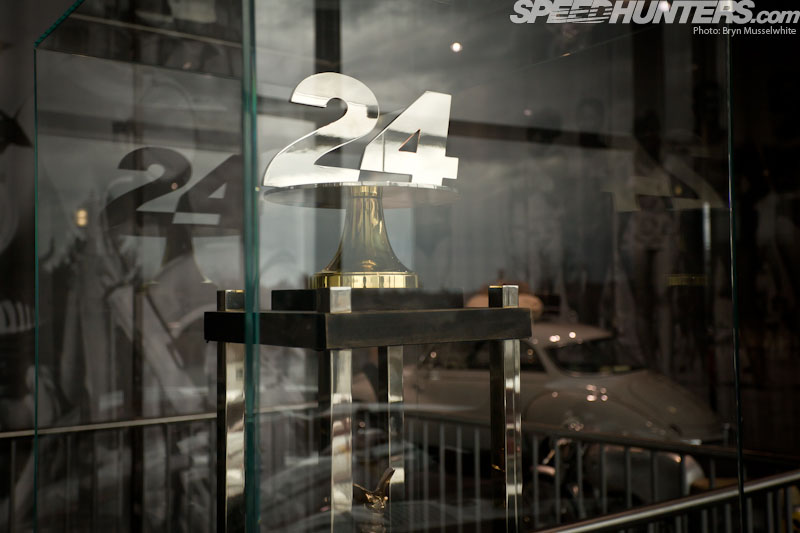 The trophy sits alongside; it's maybe four feet high? Yeah, we'd show it off too…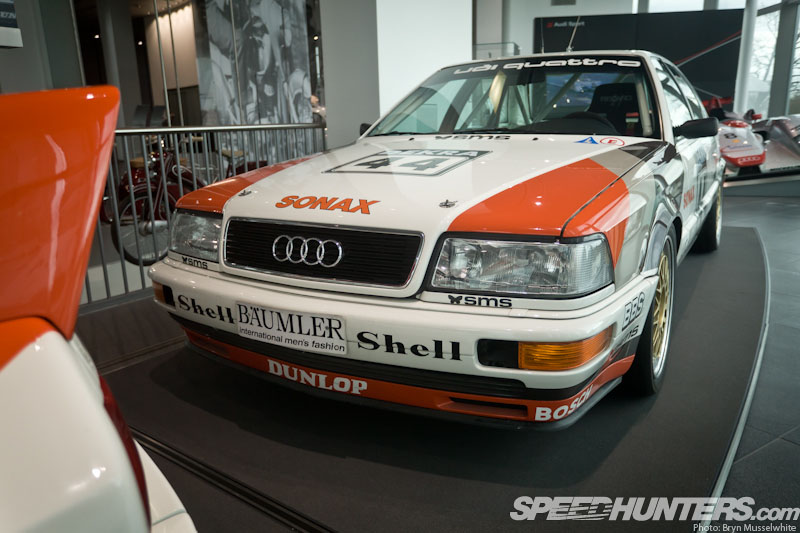 The V8 200 race car is a little closer to a road car than the others and again it's easy to forget just how long Audi have been making big, powerful saloon cars.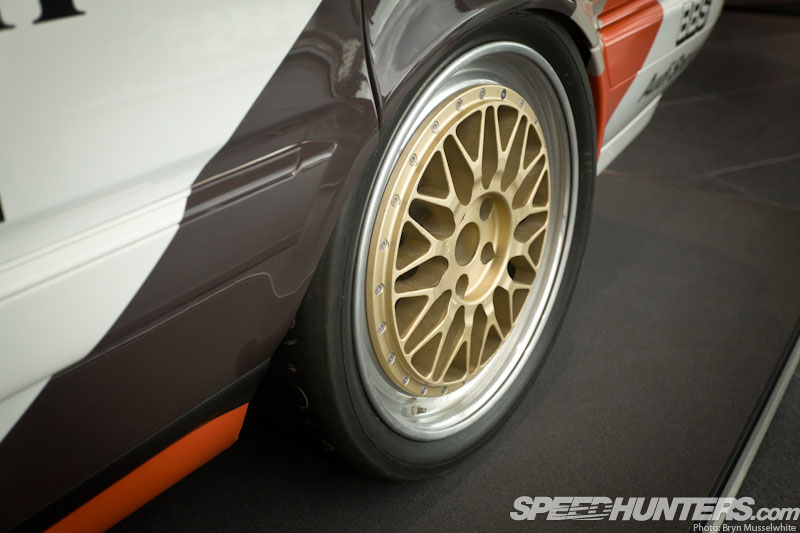 Which as ever look so good on BBS wheels.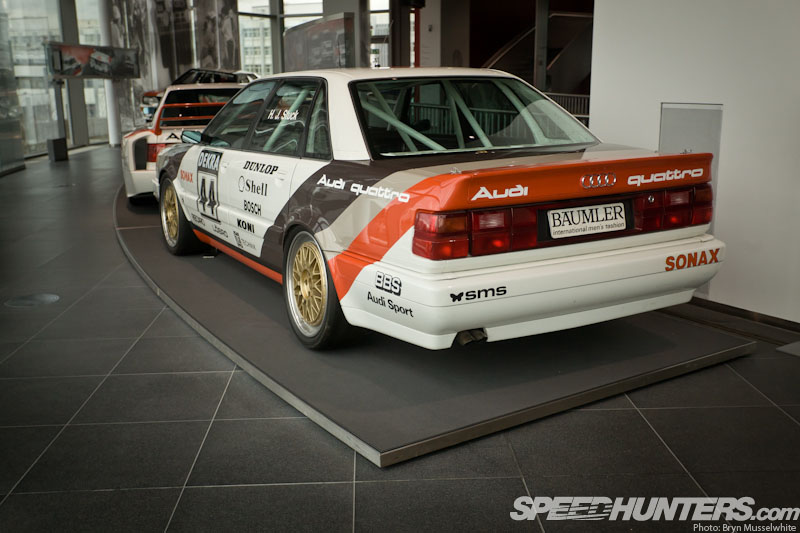 Hans Stuck was again responsible for guiding this one, Audi having another well-known driver at the same time for a similar sized car from the line-up.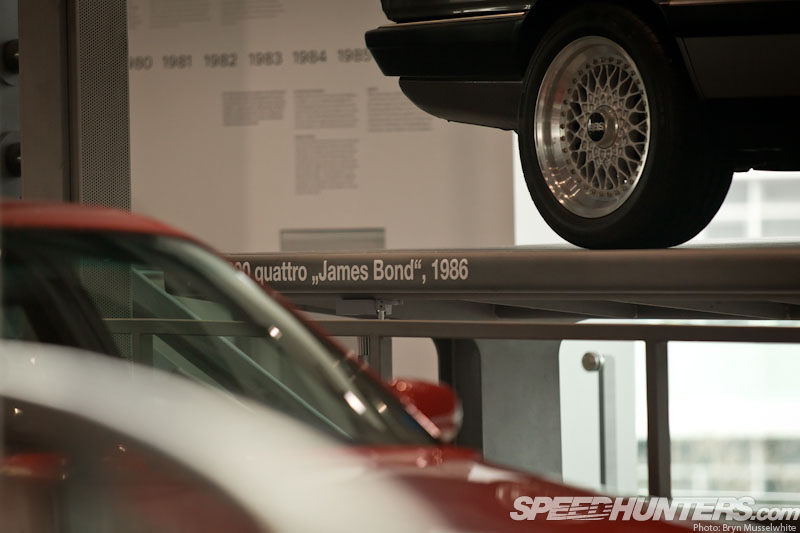 Although this one had the five cylinder, 2144cc turbo charged engine in it rather than the V8.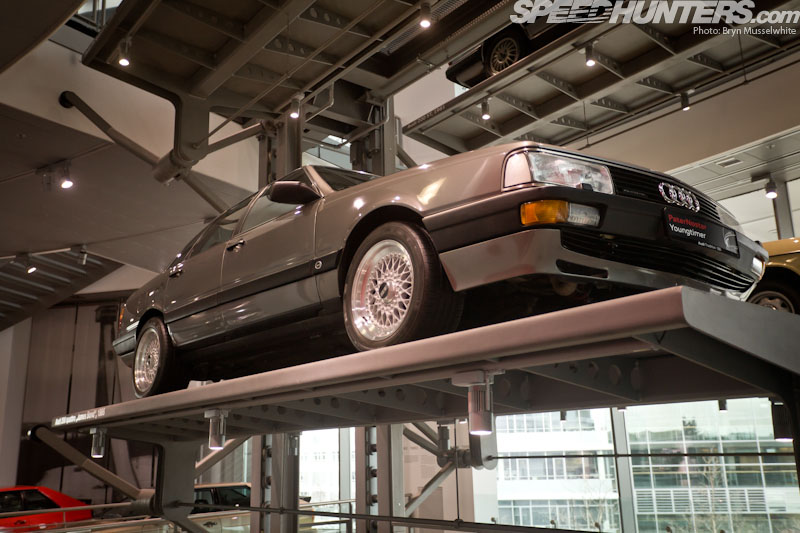 Driven by Timothy Dalton in 1987's The Living Daylights, it was in addition to his usual Aston Martin seat. This is what the Germans refer to as a 'Youngtimer' model, so a car from the '70s through to the mid '90s, 'Oldtimers' being earlier than that. Always worth knowing when you're searching those foreign for sale sites.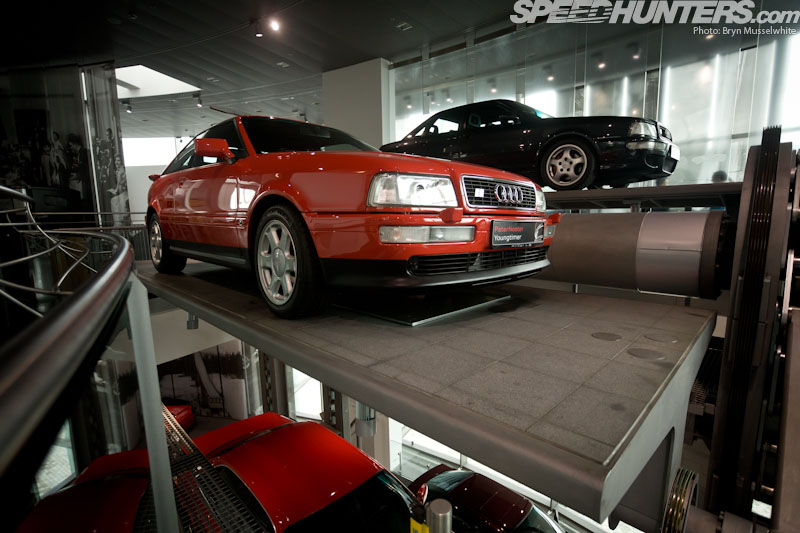 Also on the car rotiserie of magnificence is this Quattro coupe, albeit an mid 90s model. These can still be picked up for sensible money in Europe.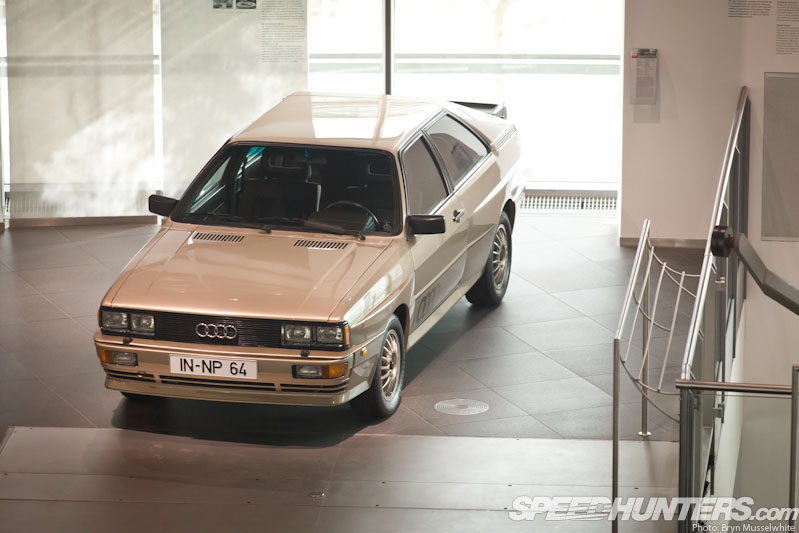 Unlike some of the earlier models like this 1980 Quattro, which have really gone up in value over the last few years. In the UK there was a TV police drama which saw one of the main characters drive an early Coupe, famed for saying, "Fire up the Quattro". It did wonders to remind us of the first models.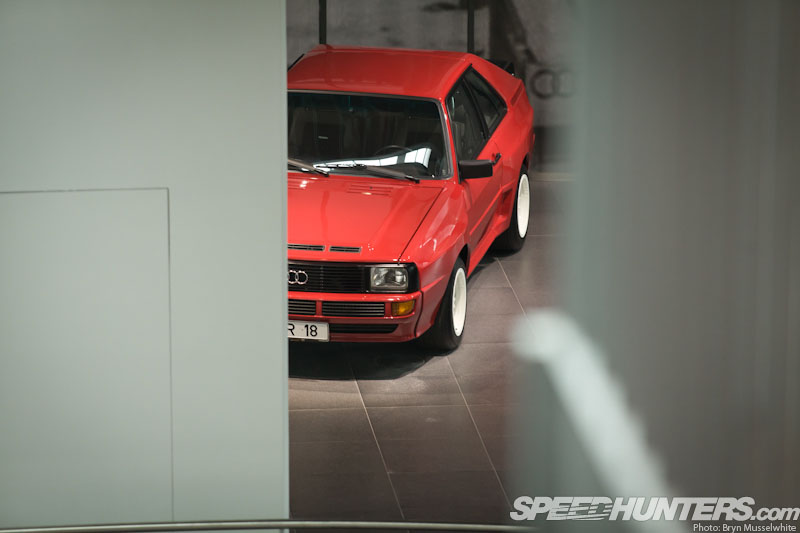 Looking down through the museum I keep on getting glances of what is to come: the ultimate road-going incarnation for me.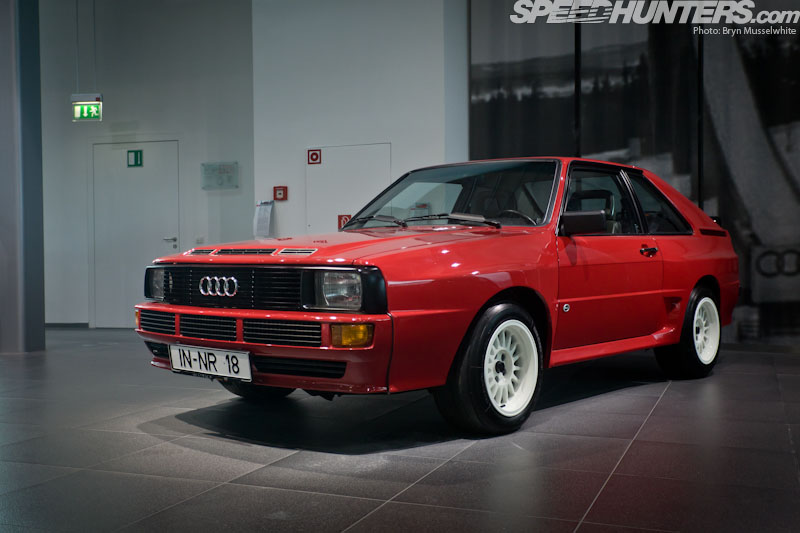 The 1983 Sport Quattro. Its squat stance is a sign of the pure, factory 'hotrodness' of it all. Take a road car, shorten the shell and up the power.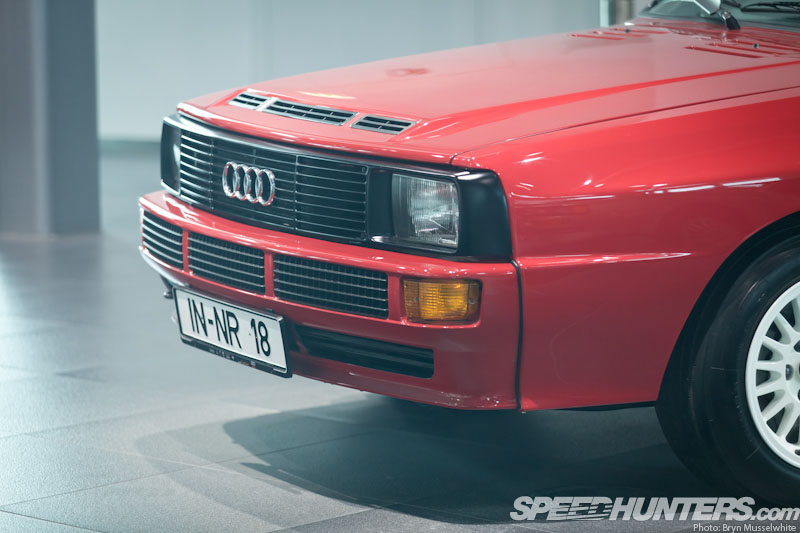 It occurs to me that short of making the light lenses perforated, there's very little space left on the front of this thing that doesn't serve as an intake for air. Bullish and pronounced, I would quite honestly take this as a road car over virtually all others. Not a problem I'll have today though, as even replicas run to over £25,000.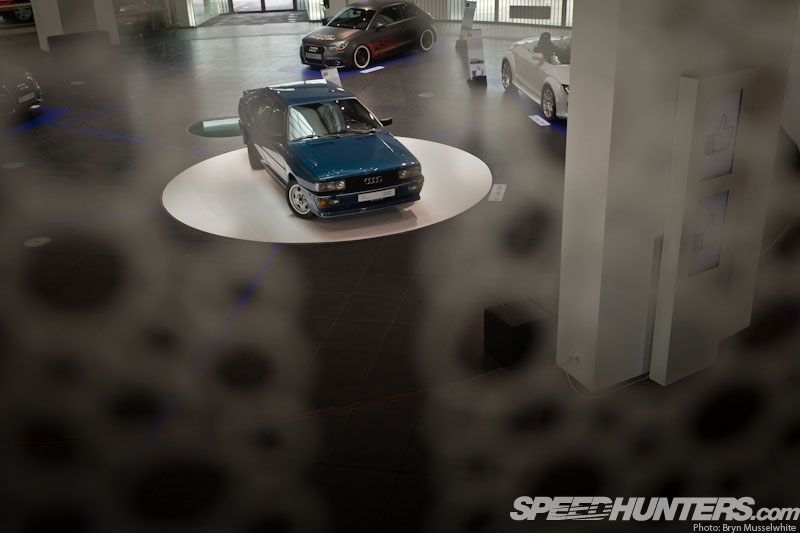 Now I'm done on the middle floor, it's time to descend to the ground floor, where there's a mix of old and new awaiting me. Something is odd here…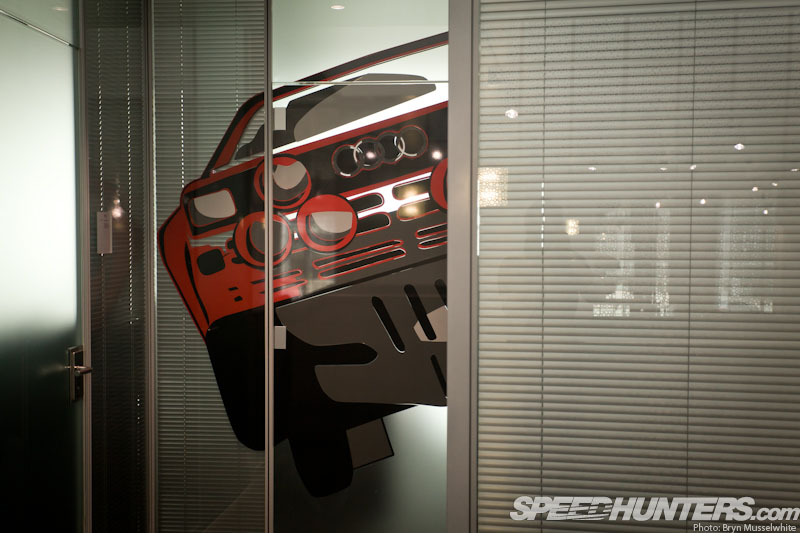 Momentarily I'm distracted from the main view as on the way down I pass one of the administration offices; stuck on the opaque window is this excellent decal. Later on I can feel disappointment coming my way as I don't think this will be available in the gift shop.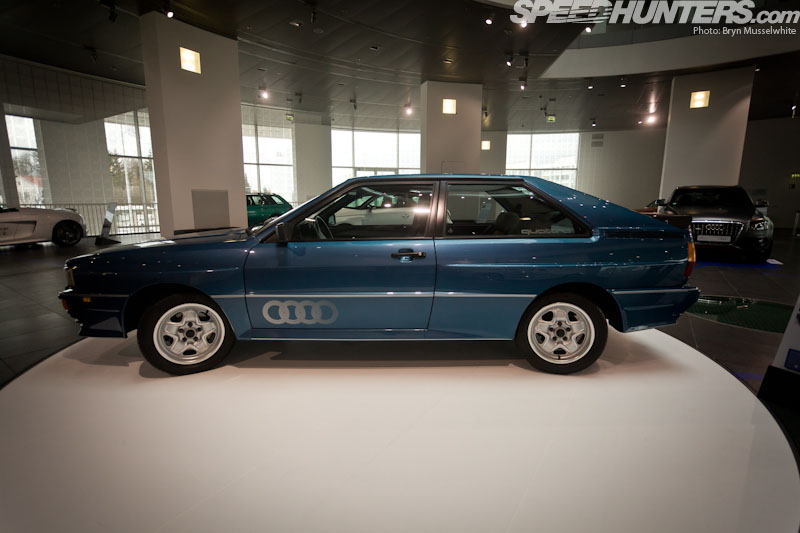 But now it's back to that funky looking coupe on the main floor. Yup, not only is it four-wheel drive but it's also…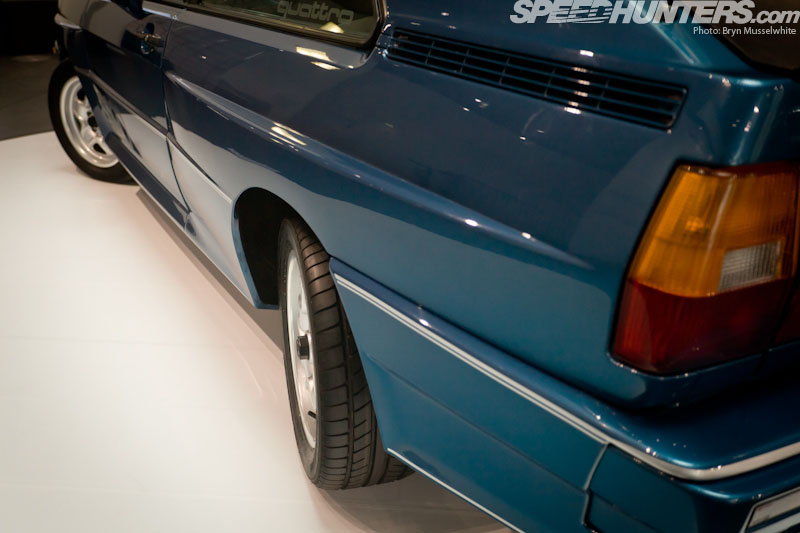 Four-wheel steer! With a rack mounted behind the rear cradle, so I'm guessing they used front stub axles modified and reversed? Who knows but I'd love to drive it. I remember a 300Zx I used years ago with active rear steer. It kind of felt odd; although the principle does make sense, there must be more than a few reasons why it never really caught on. Probably a lack of driver skill and understanding amongst the general public to be fair.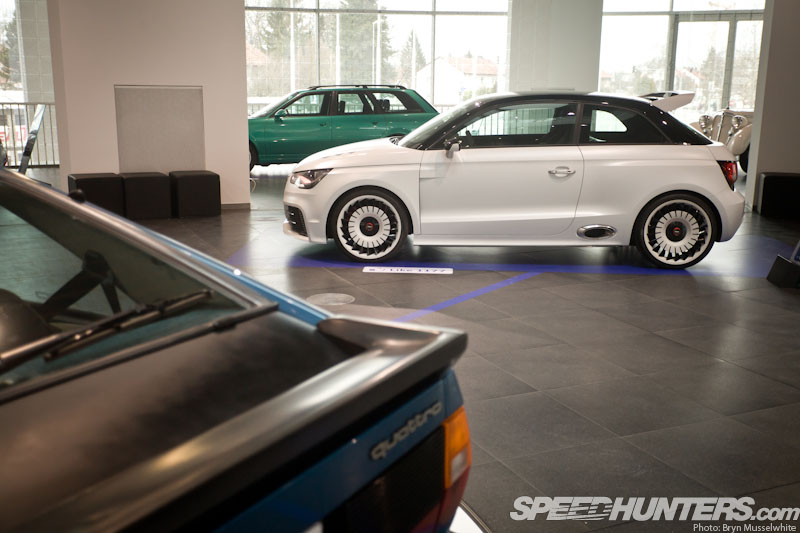 It's bang up to date alongside though: here's the A1 Quattro concept. I wasn't a fan from looking at pictures but here in the metal I can relate to the family likeness in the styling.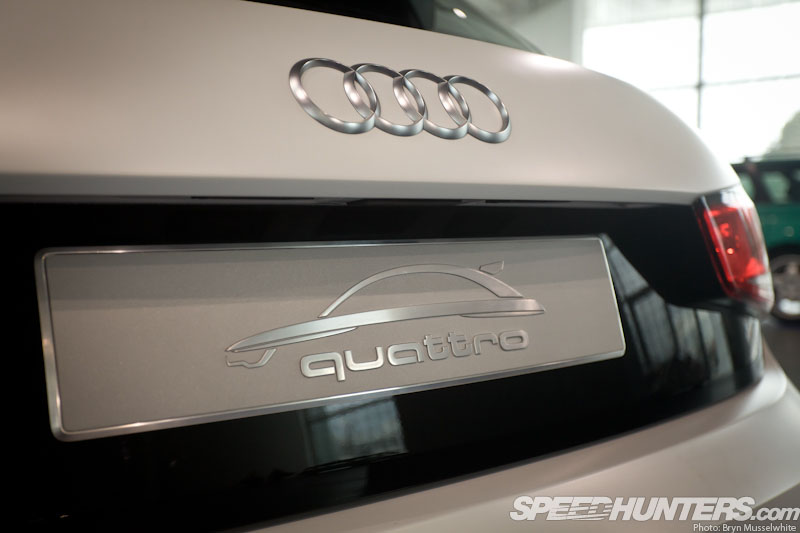 The profile on the display plate evokes the earlier shape too.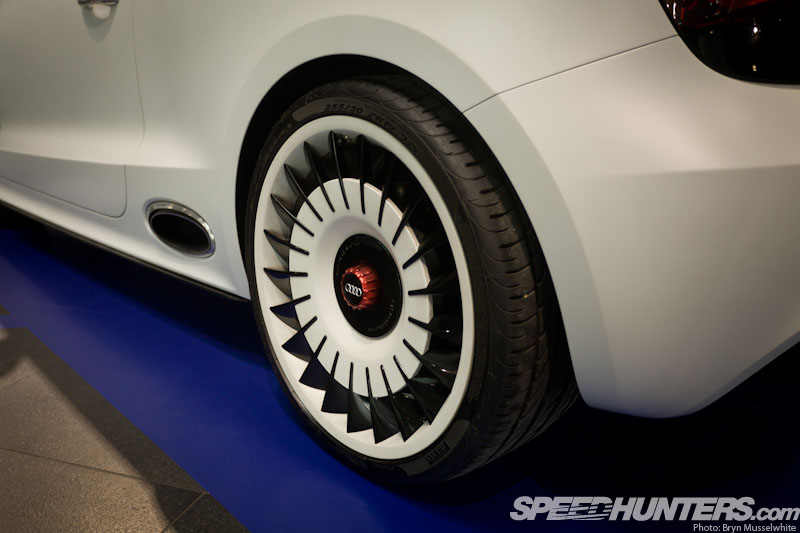 The wheels have echoes of BBS and 80s experimentation.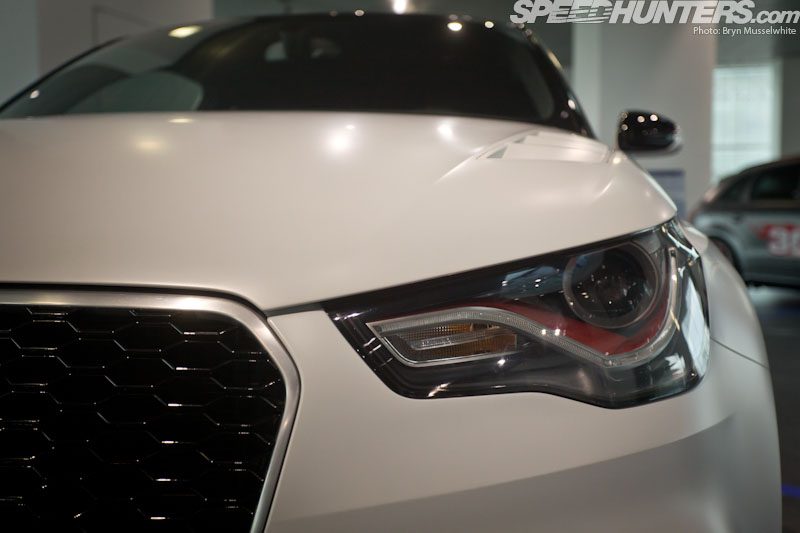 While the front end is distinctive new-age Audi, with the single eye headlamp and underlying LED running light.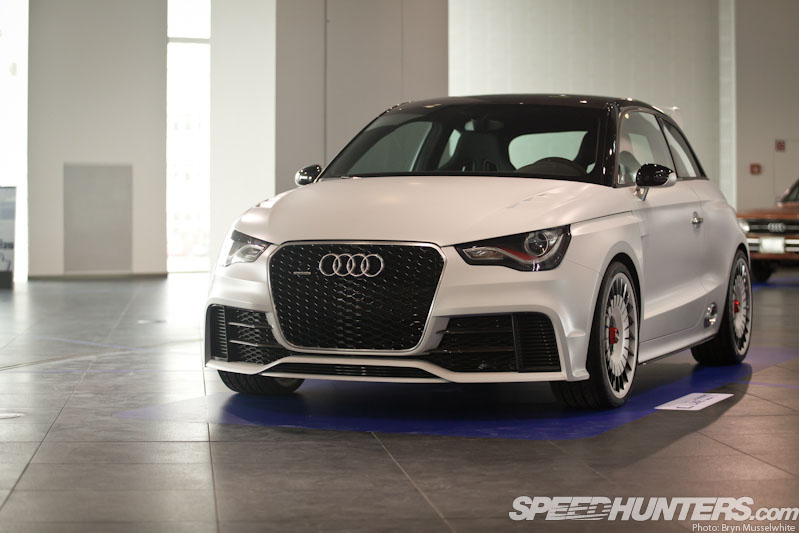 It does look like somebody melted a Stormtroopers helmet down and made Darth Vader wear it though.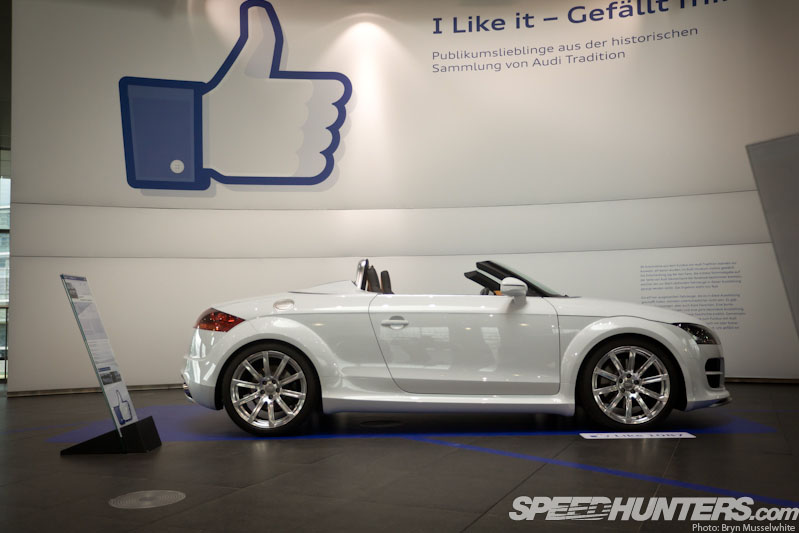 Another concept that catches my eye is the TT Roadster. I know many people dismiss this type of car just because it's got no roof and to be completely honest I think that's pretty dumb. Until you've driven your favourite road really hard in an open-top car you don't know what you're missing.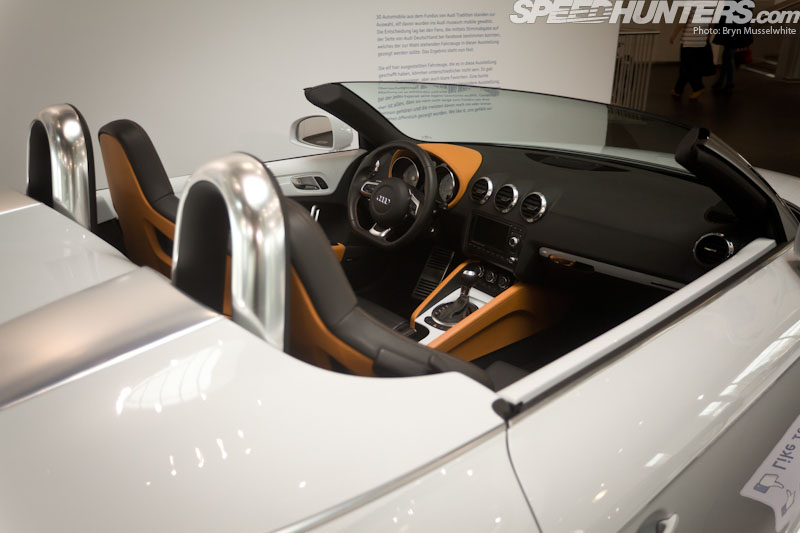 Too often these days we like to cocoon ourselves in sound-proofed interiors, removed from our surroundings. Driving for me is all about connecting with your environment and with no top rail above the screen the open air sensation is even greater than a normal convertible.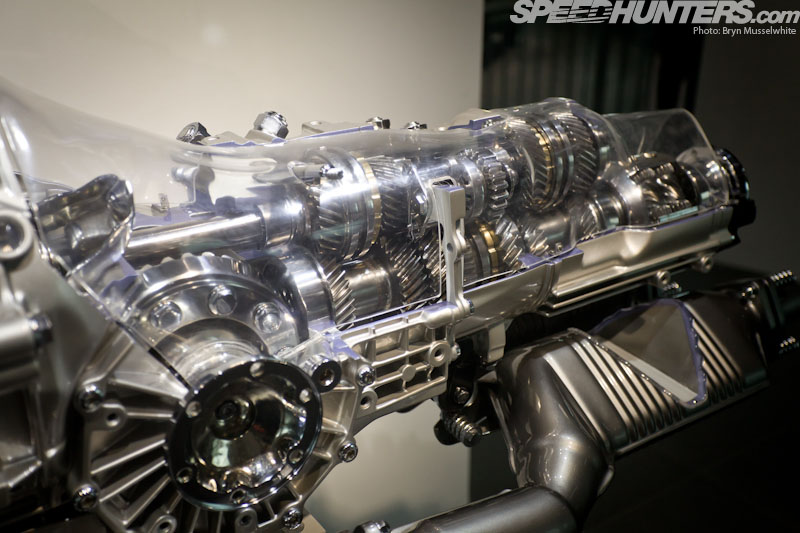 This is the internal workings of a Quattro box. One thing I've never understood properly is a gearbox. Consequently they fascinate me and confuse me in equal amounts.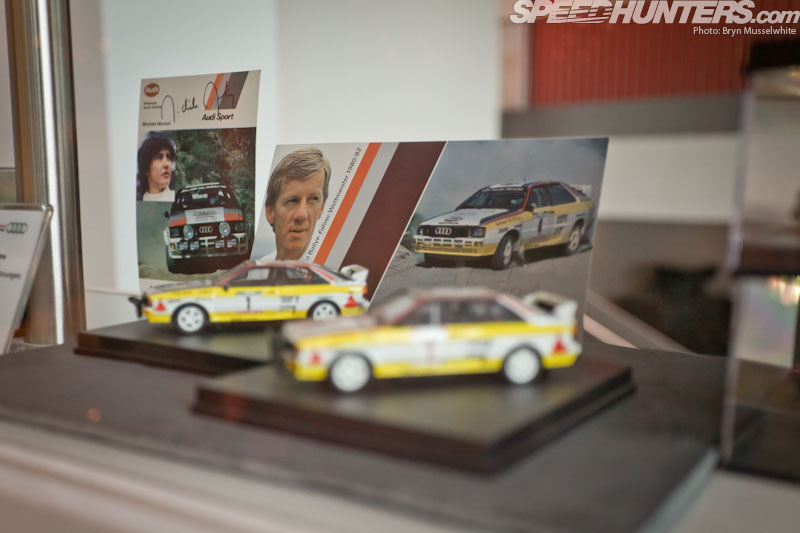 Again as I explained in my first post about the museum, the gift shop is of the highest order although I couldn't quite stretch to a Michèle Mouton signature. One day I hope to shake her hand personally.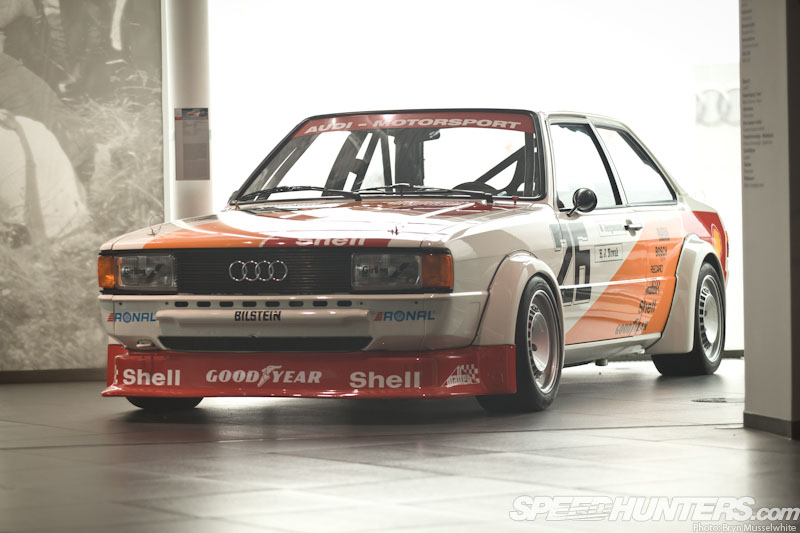 And yes, as you will have realised there was an interloper, as the 80 GTE race car isn't a Quattro, but I think seeing as how it looks so good you'll forgive me for sneaking it in.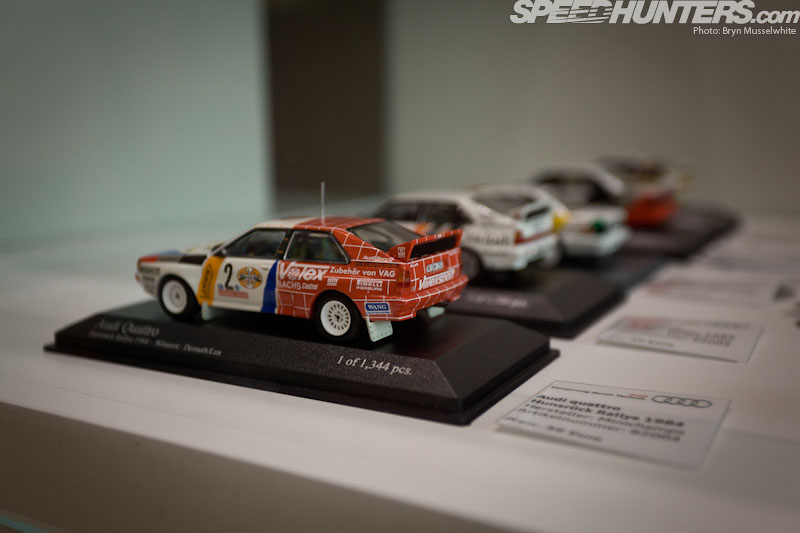 There's been a lot of history to take in here today, and that's what a good museum should leave you with.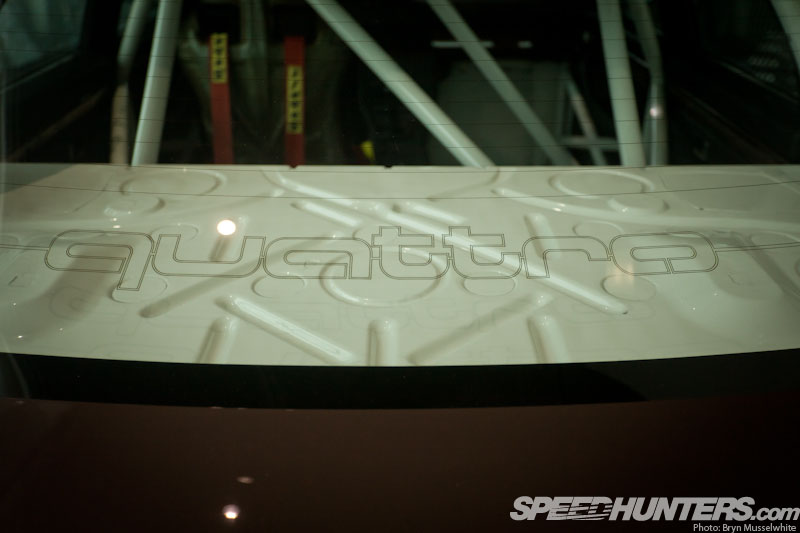 A sense of history and education.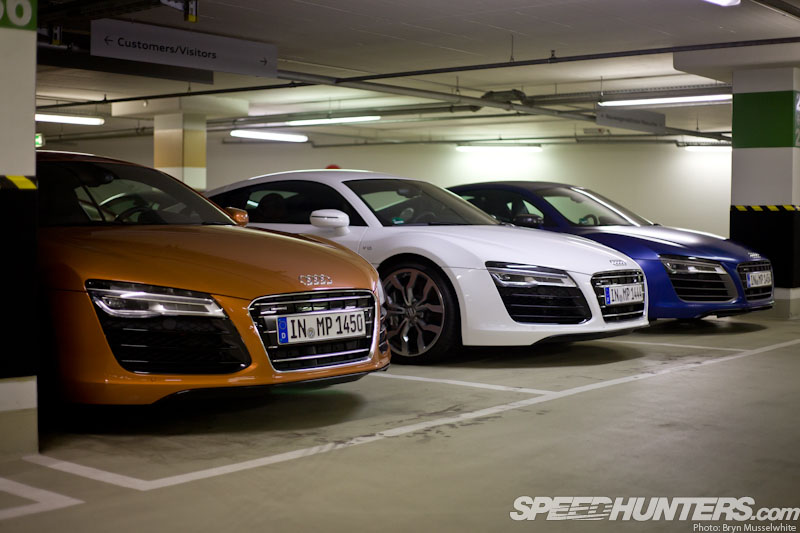 A poignant reminder of where a company has come from and where they're going to in the future, leaving you to decide on whether you want to join them for part of the ride or not.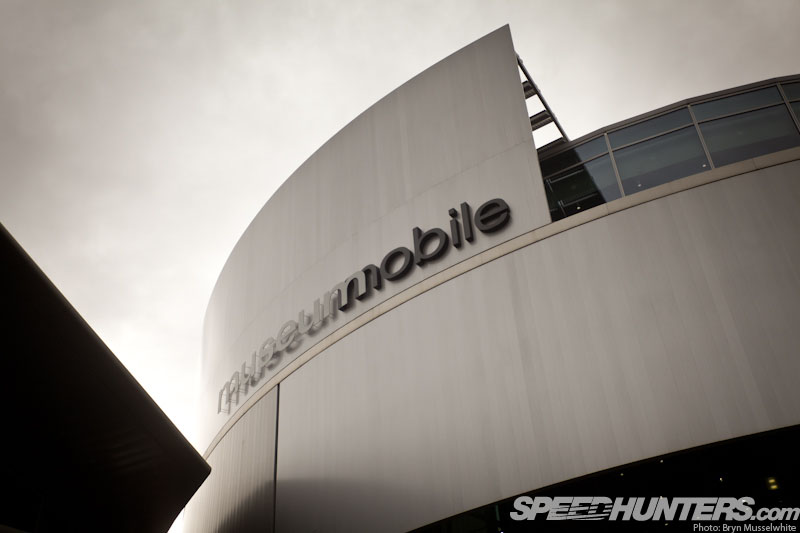 I didn't feel at home here, but I could certainly have stayed longer. Thanks for a splendid day Audi.
Bryn Musselwhite
bryn@speedhunters.com