What do you think of when you think of Audi? A manufacturer of quality? Precision German engineering? Or perhaps a brand that manages to marry both function and form in its vehicles? As the latter, the Audi Forum provides a perfect showcase. Just take a look at the shot above. Not only are the vehicles within an excellent cross-sample of the marque's evolving history, but the building and exhibitions inside also demonstrate the perfect blend of practicality and aesthetics. But I'm getting ahead of myself. Let's start from the beginning…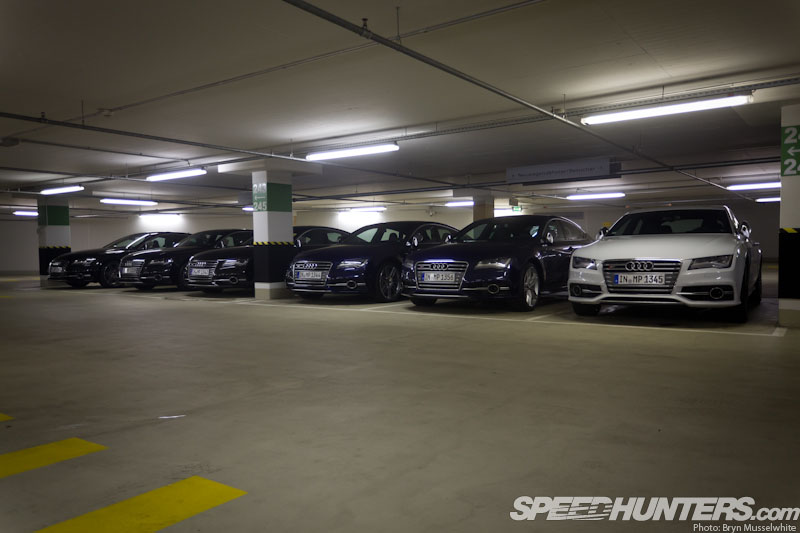 I'm fairly sure I've just arrived in a car park only used by captains of industry, discrete high security drivers and anybody else who likes to cross continents with ease, without anybody else noticing of course. There's very nearly 2500bhp in this picture, as each of those S7s has a 414bhp twin turbo V8 as fitted to the Bentley Continental GT.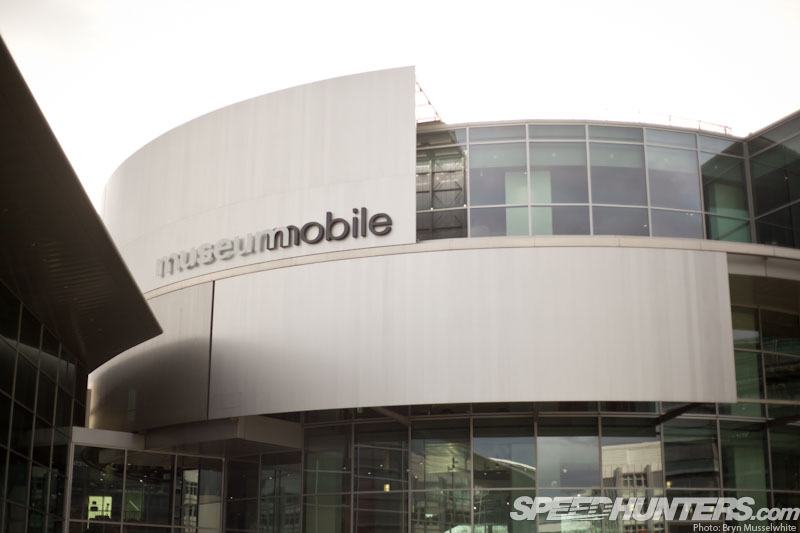 It's not really a top secret car park of course, after all they let me and my Alfa Romeo in, part way through my road trip around Europe. I've worked my way around Ingolstadt in southern Germany on a network of roads which I'm sure are designed to leave you in no doubt as to just how big of a deal Audi are. Parked up below one of the many hundreds of modern, industrial yet chic buildings that Audi have built here I realise I'm at the very core of their prescence and as I emerge into a large mainly pedestrian area, there at the heart of it all is the Audi Forum. Their showpiece museum.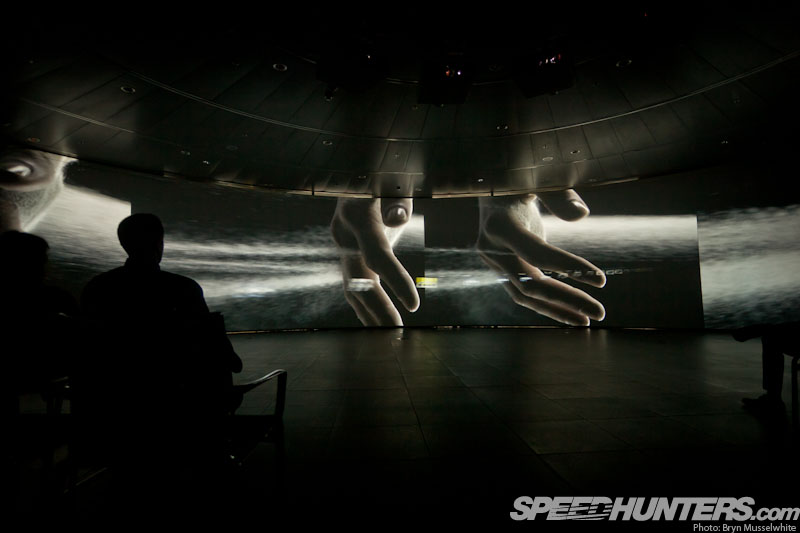 Greeted by what appear to be receptionists, instead of ticket sales people I'm told the welcome film has just started. I'm pointed in the direction of a nearby double door and sneak in to the back of the cinema. I have to confess I was feeling pushed for time with only a couple of hours of opening time left, so thought this might be an unnecessary delay. How wrong was I? Having produced a few films for manufacturers before, I can honestly say this one blew me away.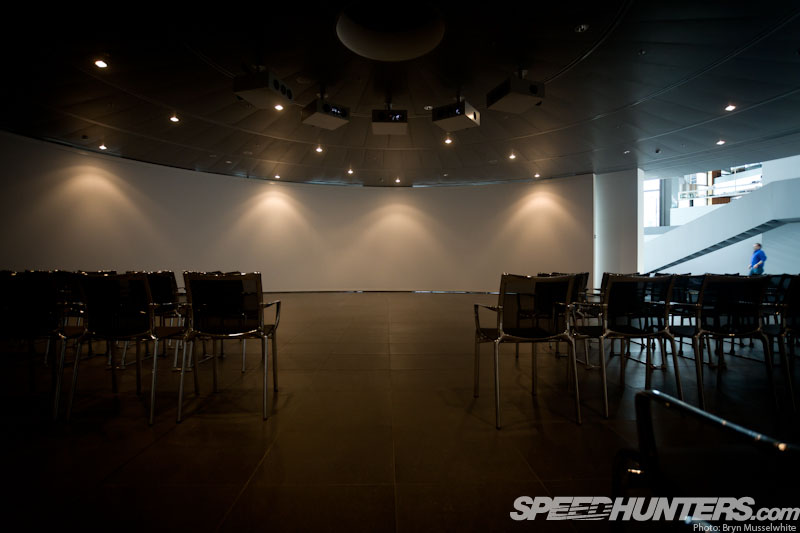 Even more so when the screen slowly slid back…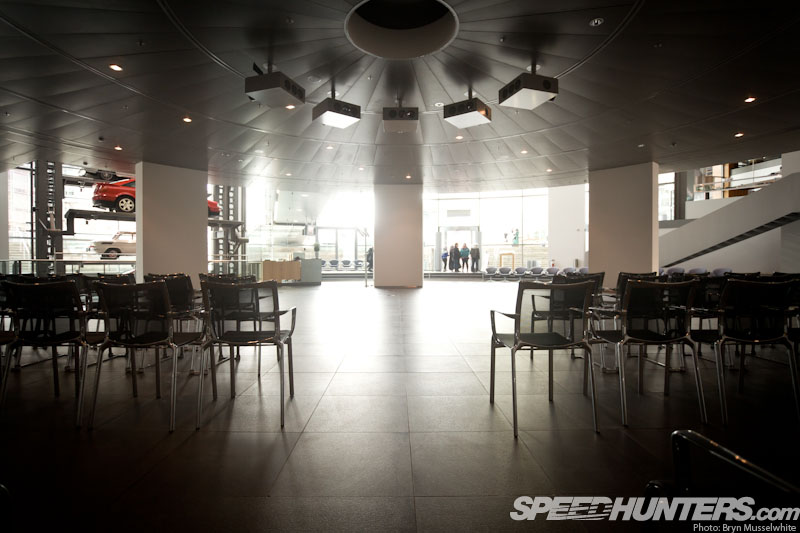 … to reveal the reception area I'd entered a short time before. I swear if there had been a salesman stood there I probably would have signed on the dotted line. Very clever Audi, very clever. So now I'm interested.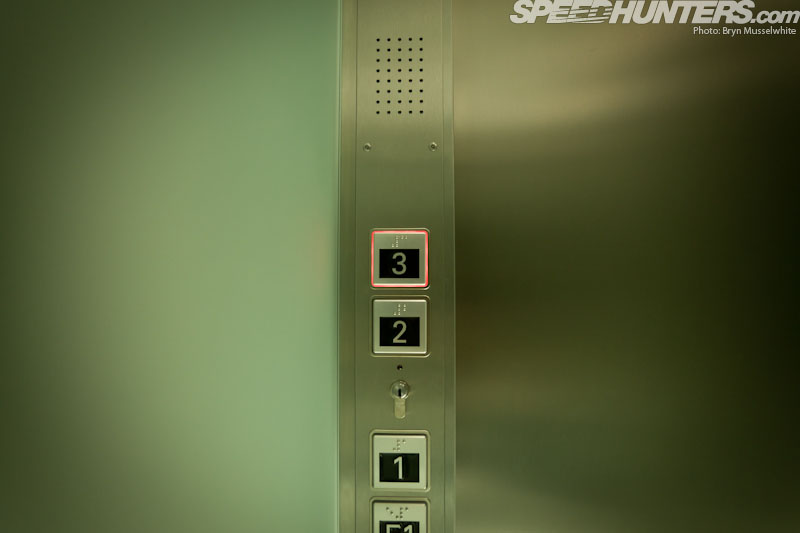 But first I have to catch a lift to the third floor and work my way back down through the three floors of history.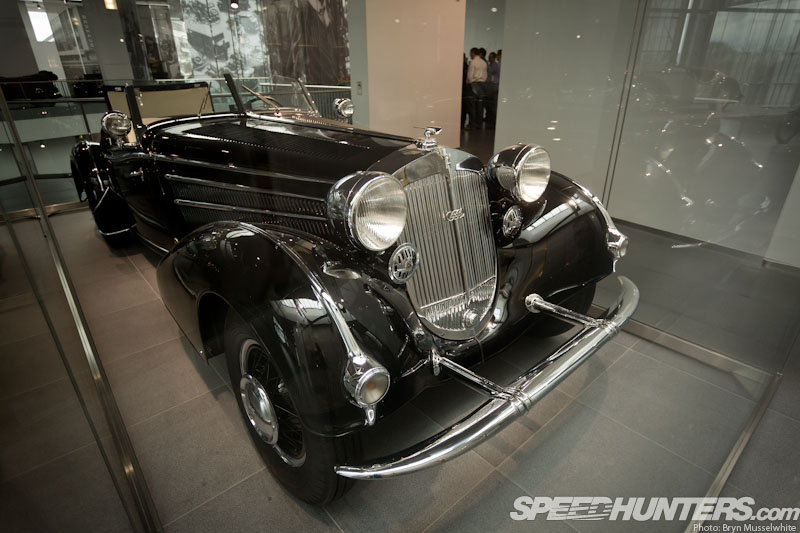 And what a history the company has. I'll tell you more in a minute but for now just take a look at the detailing on this Horch 855 Special Roadster. It's inline eight cylinder engine is nearly five litres and produces a lowly 120bhp. Max speed? 87mph and it'll give you 11mpg. But worth it if only for those gorgeous wing-mounted driving lamps. I can feel myself sweeping along a mountain pass at the end of a summer night, headed back to a mountain retreat with a suitable companion.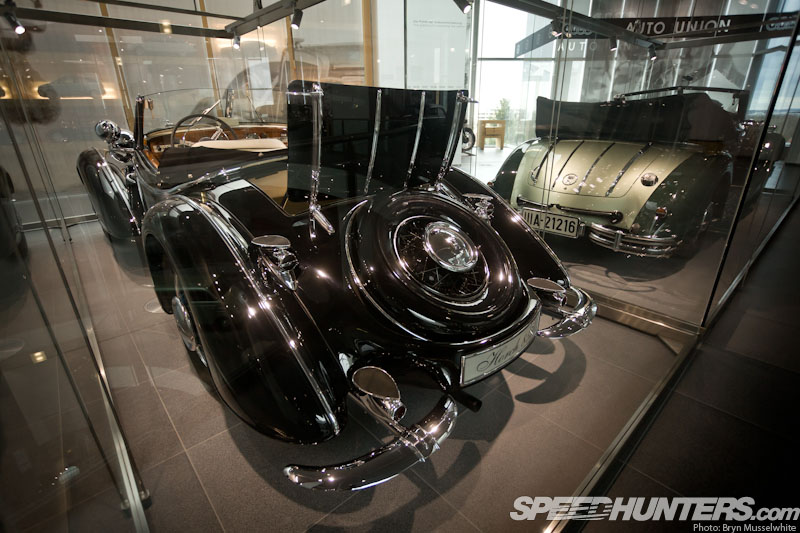 Only seven were produced in 1938/9 and this one was delivered in June '39. The curves are incredible; the body hand crafted of course by a company called Glaser in Dresden. Check out the teardrop foot plates and curved quarter bumpers. I don't care if you're not into vintage metal; just the design of this thing should raise your pulse if nothing else.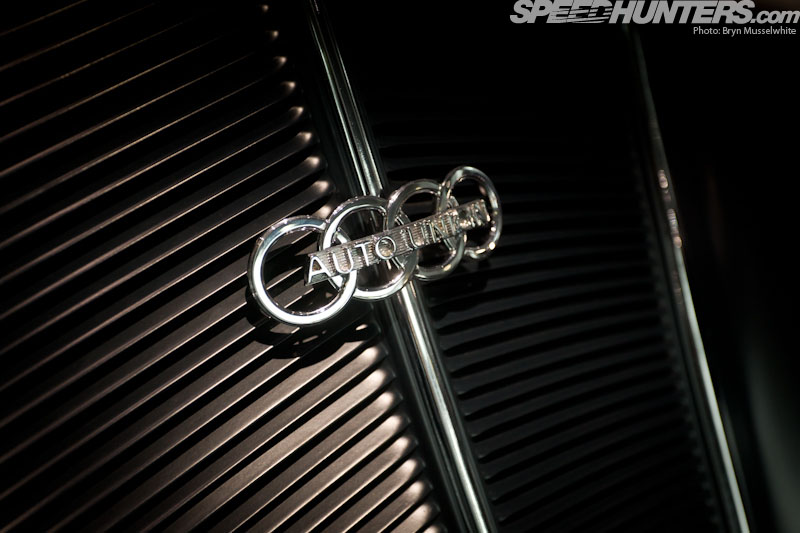 Audi's history is far from straightforward, so although you might recognise those four rings it's not that simple.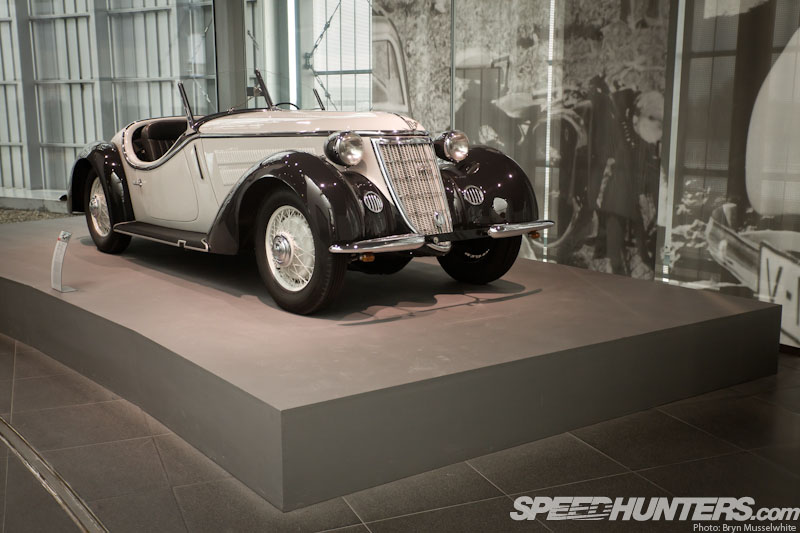 It started with August Horch, who set up on his own in 1899 after working for somebody called Karl Benz. Yes, that Karl Benz.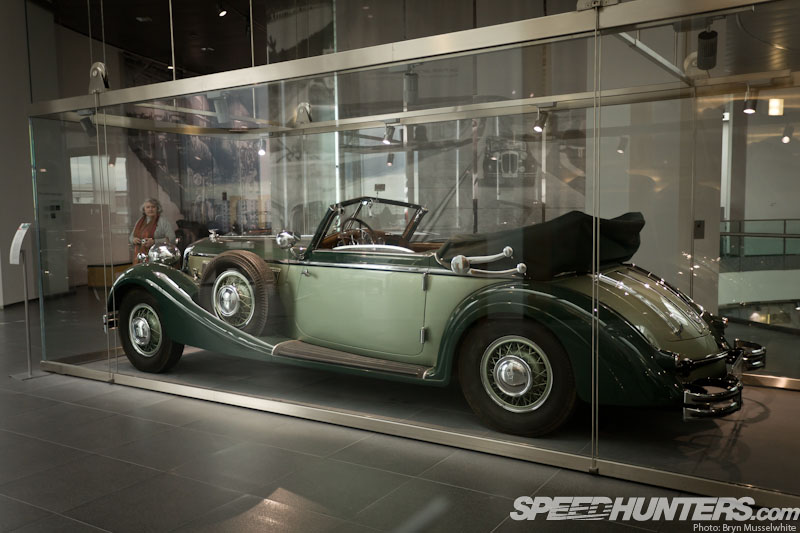 Success came quickly and the Horch & Cie. Motorwagen Werke was transformed into a stock corporation in 1904. Trouble was August fell out with the board in 1909 and left, immediately setting up another company called Audi, the word itself is derived from Horch, which means hark; translated into Latin it comes up as Audi.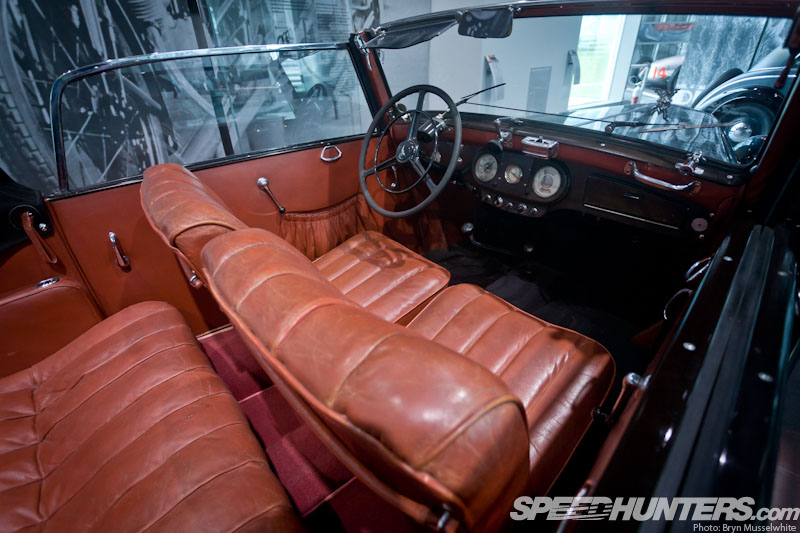 Again August was successful with models being well received for the next twenty years. Then in 1928, Jorgen Skafte Rasmussen who owned Zschopauer Motorenwerke/DKW bought a majority interest in Audiwerke. What he didn't realise was that a global downturn was on the way and in late 1929, the market for large cars died. So he got Audi to work on a small, front-wheel drive car for the masses.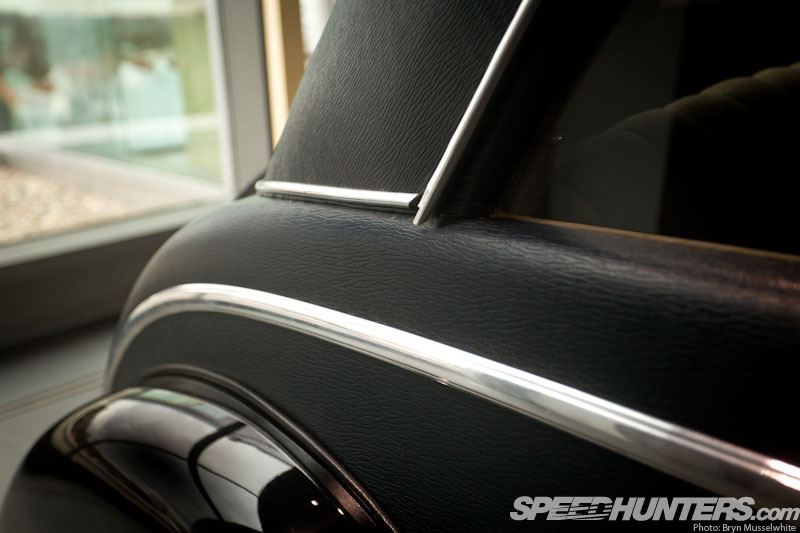 The next big change was in 1932 when the State Bank of Saxony, who had a lot of money tied up in the troubled car industry (which remember is only really 30 or so years old) decided to merge Audiwerke, Horchewerke, Zschpopauer and DKW. Giving the company the name Auto Union, the four rings became the symbol of this new start. Ironic considering that August had left the company after WW1 to become an independent automotive expert in Berlin. Now here we are still saying his name.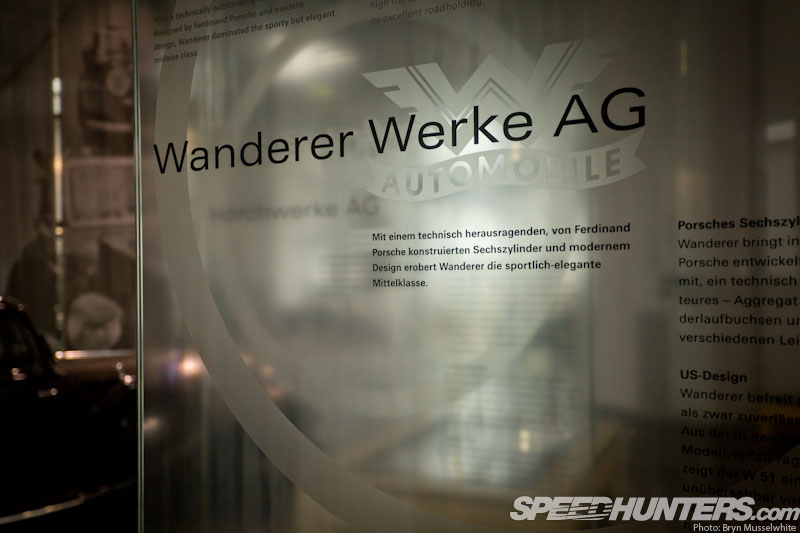 Okay, so I've gone a bit heavy on the history but this is what a good museum is about, huh? The layout is perfect, logically leading you through the timeline. Walking the third floor I find the name Wanderer Werke and smile; is that what I do? It's one of the trade names that survived the creation of Auto Union and a pretty accurate description of my life right now.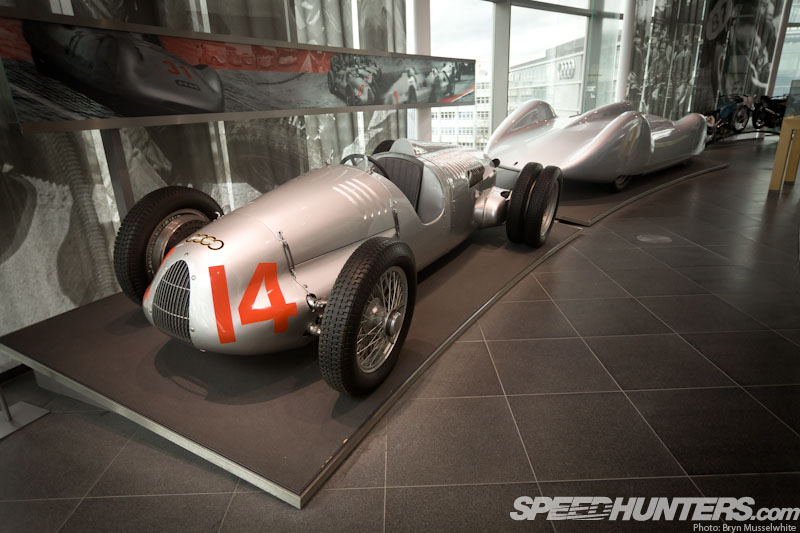 You know the name Auto Union right? Black and white pictures of mammoth race cars from the 30s? Well here they are. What would you do if you needed more traction but wheel and tyre technology hadn't evolved enough? Double up of course. The Typ D nearest the camera is massive. Note how it's rear-engined which was pretty radical for the time. The Typ C streamliner behind must have seemed like a spaceship when it first appeared, remembering that it would be another thirty years before man set foot on the moon.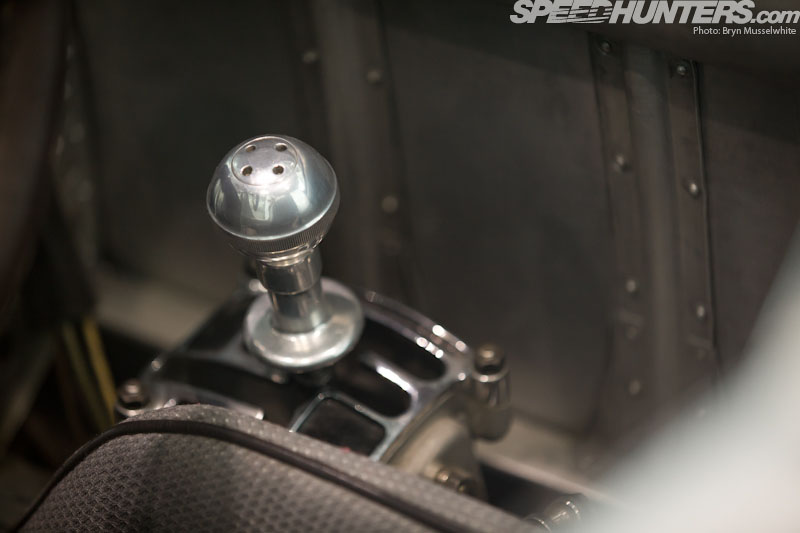 Looking down into the Typ D cockpit reveals this beautifully engineered shifter. Seemingly hewn from a chunk of metal, it's got the look of a good watch movement about it. I'll bet it's as satisfying to shift as it is to look at too.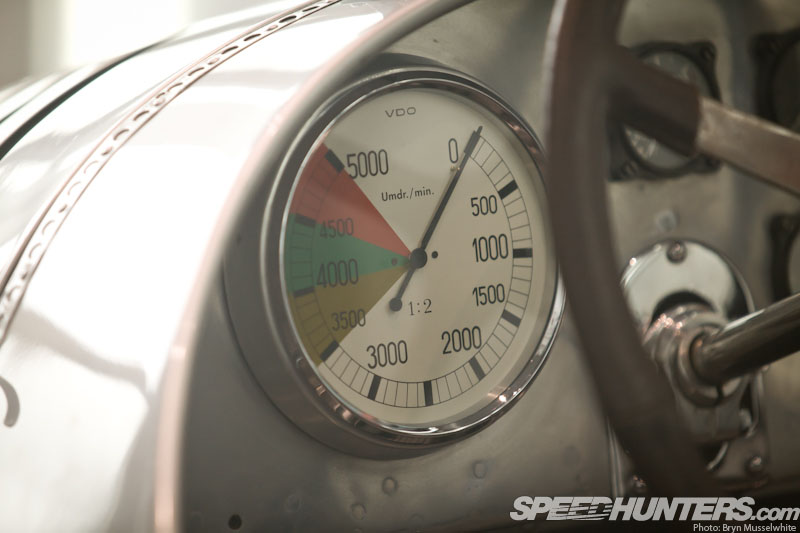 To raise its profile, the new company got involved with motor racing, and went in hard and high. Grand Prix. The Silver Arrow models being some of most successful and recognisable of that era. How could they have possibly failed with gauges like this for the pilots to observe?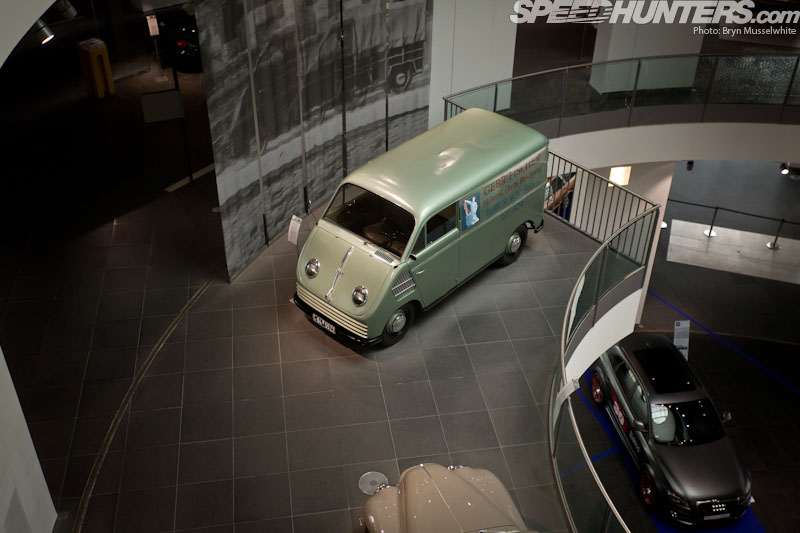 Looking over the balcony, I get to look into the DKW post-war era. This 1950 F89 L Schnelllaster is indicative of the need for small, affordable, simple work vehicles as Europe recovered.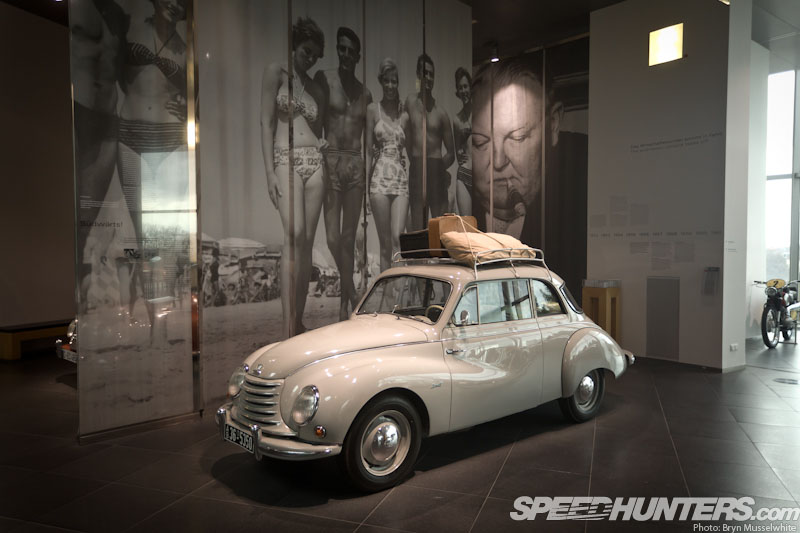 DKW did well through the 50s: simple vehicles for simple times? I find myself loitering around this saloon, because father Bryn raced one of these in the 60s, I never did find out if it was any good or not.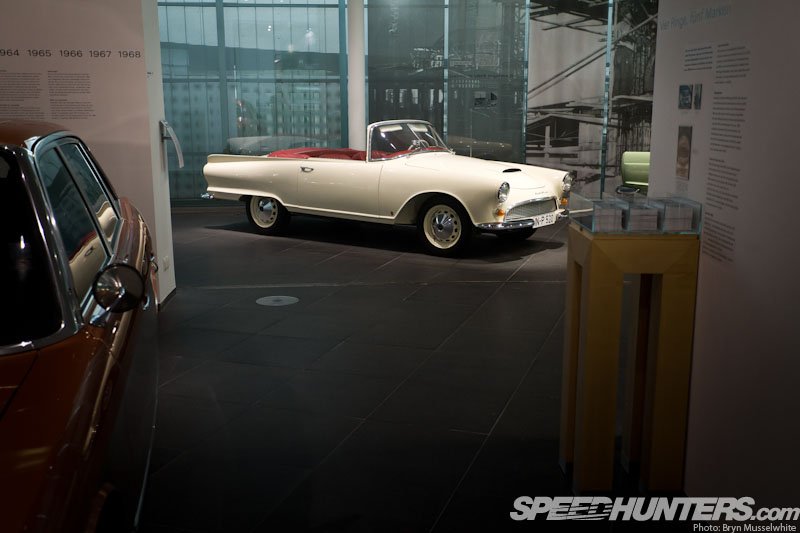 It must have been a crazy time to be a motor manufacturer: influences were becoming global and peoples desires broadening year on year. If DKW were getting the masses motoring, higher up the internal food chain, Auto Union were selling the 1000 sp to those that wanted to show off a bit.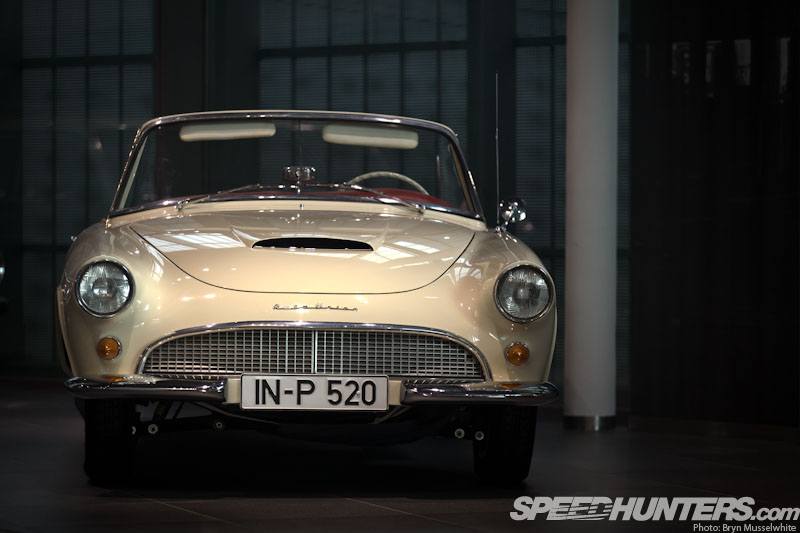 The late 50s design has got a definite air of Ford Thunderbird about wouldn't you say?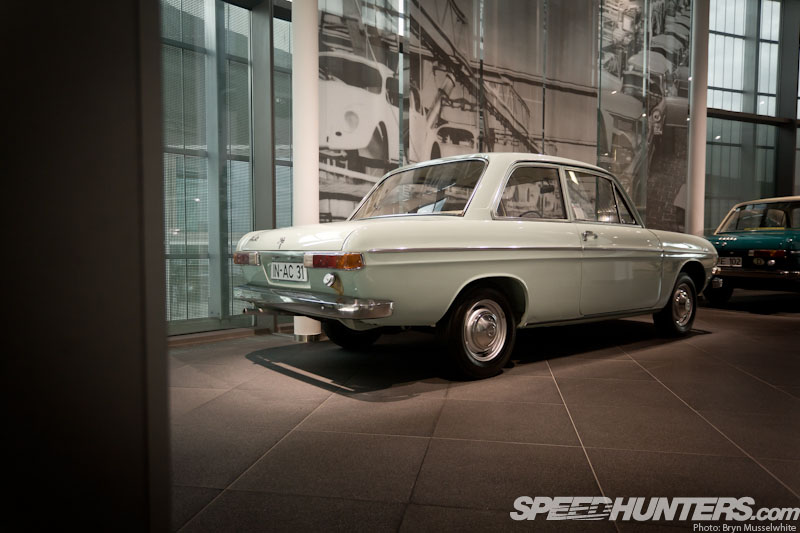 In 1965, big things happened. First up Audi became part of the Volkswagen Group, who passed down an instruction that no new models would be developed. They hadn't figured on a guy called Ludwig Kraus though: Head of Development and on the board of Management he quietly pushed through the Audi 100, the first four cylinder, front-wheel drive, new model since the war. This is the 1965 Audi 75, which you could argue without which we would not have had the rest of the Audi line-up since. Instead the brand may well have just fizzled out and disappeared, making this little green two door a pretty important car. I still don't feel guilty for wanting to see it lowered on some large diameter Fuchs wheels though.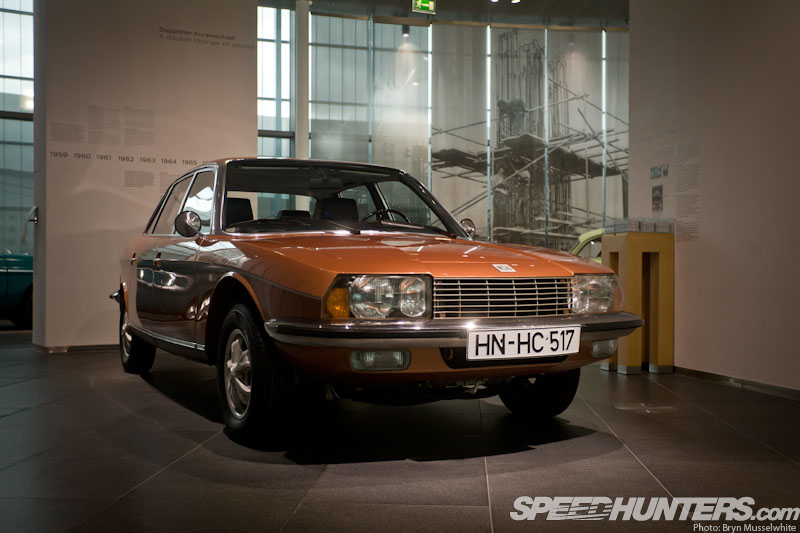 So now we've got NSU as part of the group too and at the same time Mazda were bringing the Cosmo to market in 1967, the RO80 also appeared. Both fitted with Wankel engines, this model is from the 70s but the basic shape remained unchanged from it's inception. This could well be the only other car you'll know of that came with a Wankel motor.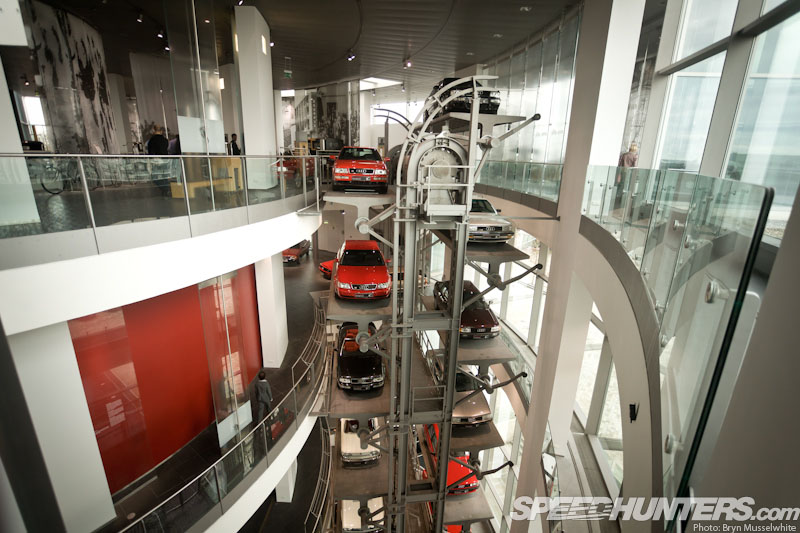 There I go getting carried away with history again. Quickly snapping me back is this car lift, rotisserie-type construction at the front of the building. Slowly rotating with a full load of mainly 70/80s mainstream models, I rest for a couple of minutes and just admire it. If you only had the footprint for a large double garage but height wasn't an issue, this could be a solution to all your car storage problems.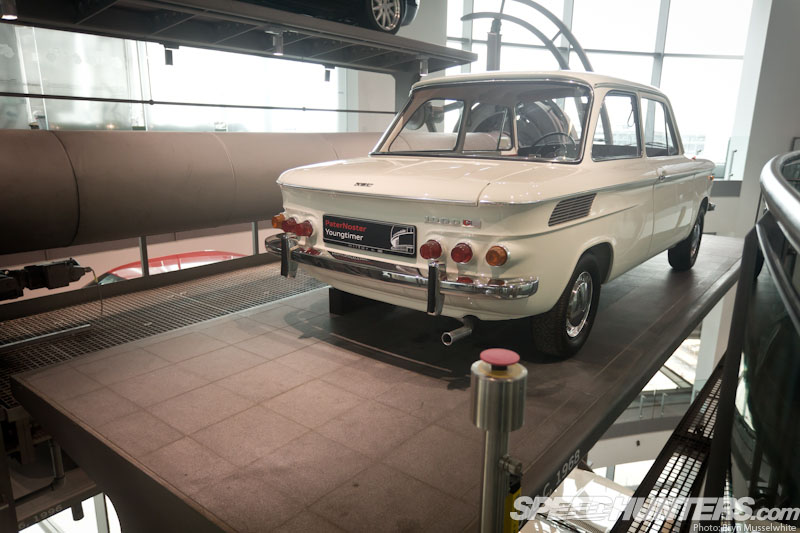 I was almost hitting the stop button for this. The little NSU 1000 is rear-engined and the base came in a range which included the very competent TT model. Look at all that glass and bullet rear lights. I want to buzz some back roads with too much rear camber.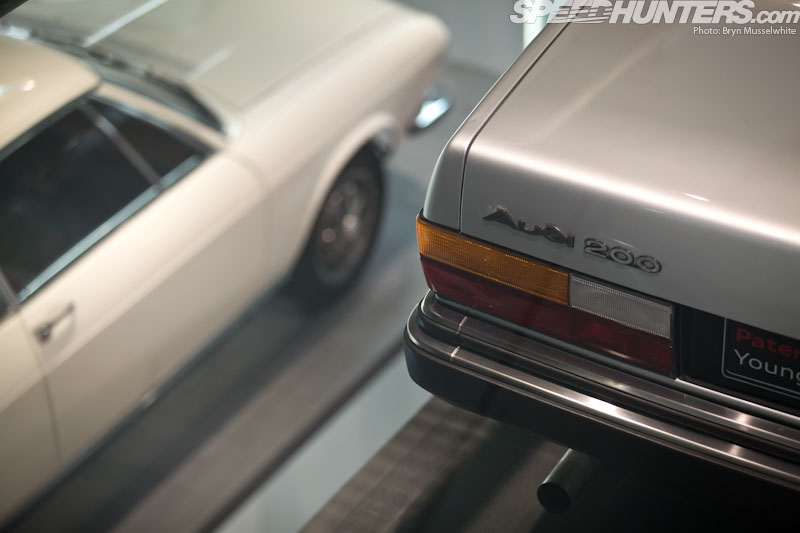 I do question my taste in car design sometimes and that's another reason why I love museums; you can indulge yourself without being judged. I don't have to engage with an owner or buy a model myself, I can just take in the details as I see fit.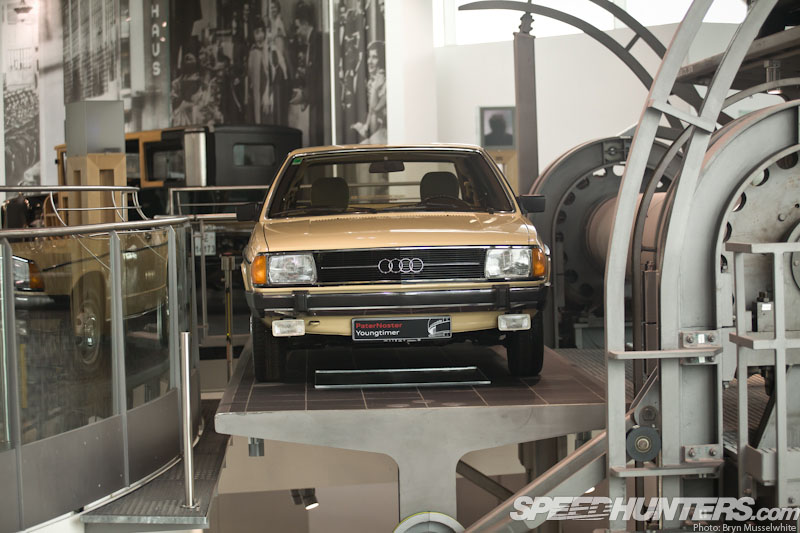 It feels like we've come a long way in the last thirty years.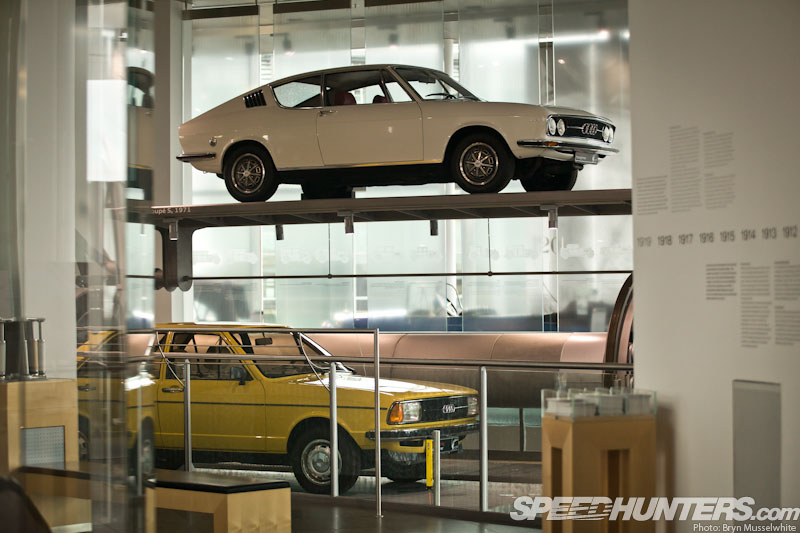 The 100 Coupe and 80 below it feel like they're from another age.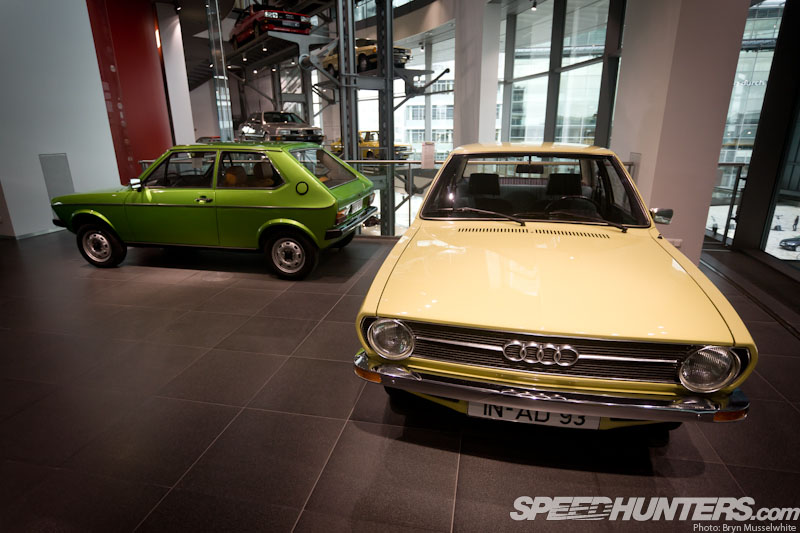 Because they are really, though what amuses me is that they would have done much the same journeys that we do today, so remind me why we need such complicated machines? The VAG tie-up produced some interesting results; the green coupe here is now more commonly known as the VW MK1 Polo…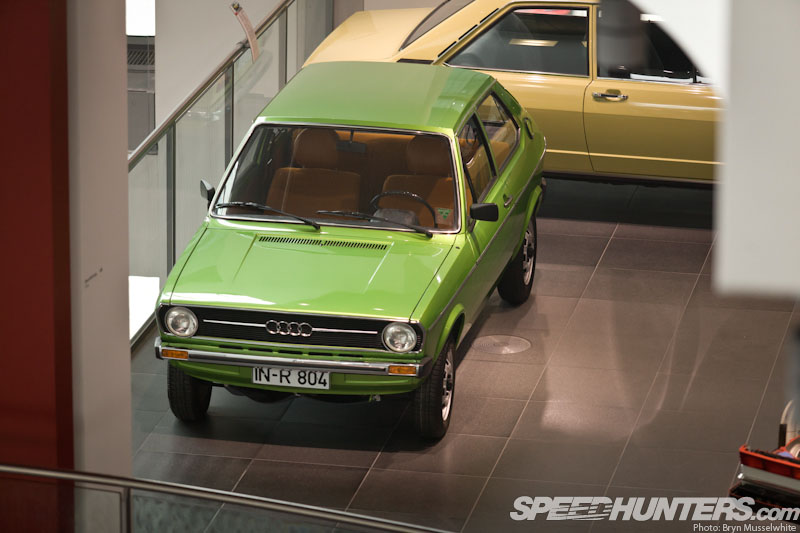 When it was an Audi 50 first.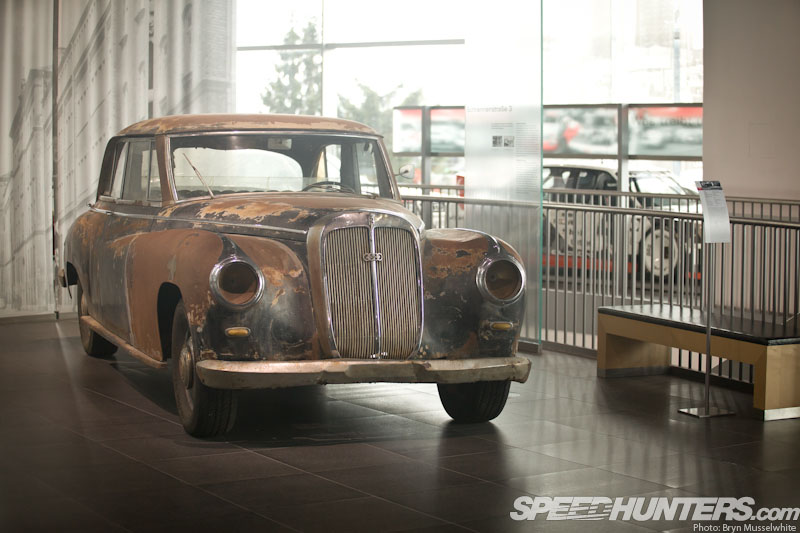 Catching me by surprise as I wander the second floor is this relic. Found in Texas it's a rare prototype that was sold on to a US serviceman. Restoration is promised, although I think I'd prefer some air ride.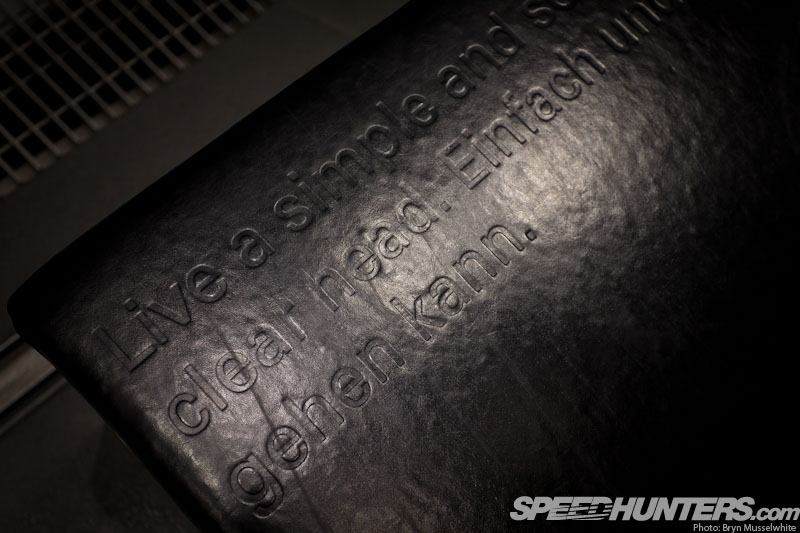 With every floor the museum is fast becoming a favourite. Even the leather benches are embossed with multilingual messages.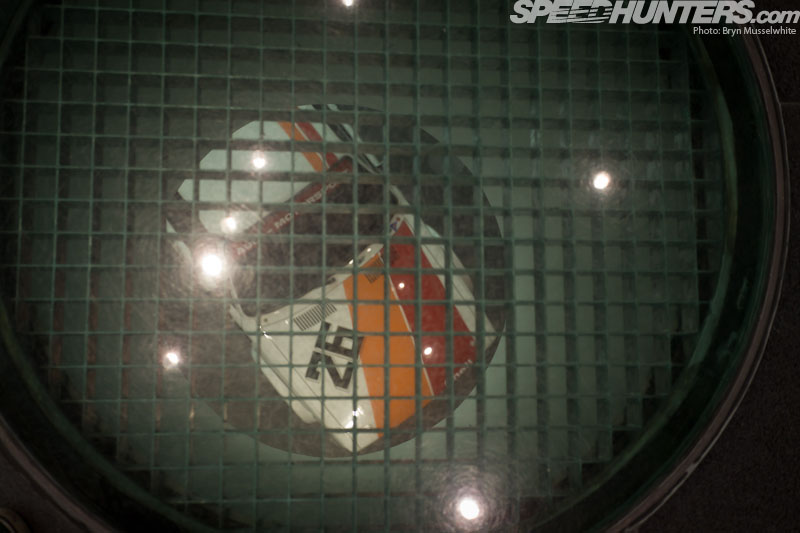 Now of course you might be wondering where the fast stuff's at? The Quattros?  Which is a fair comment. I'll show you more of that in a separate post though, because trust me, it's well worth it.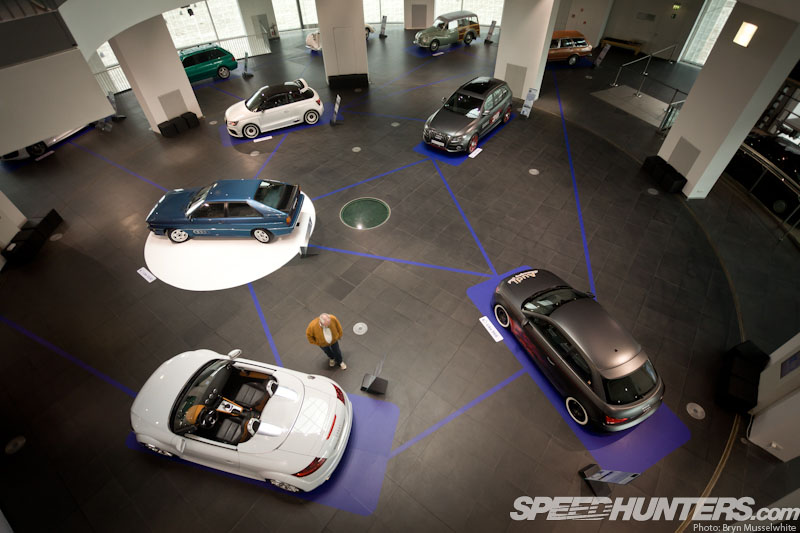 So it's down to the ground floor and the more modern machinery.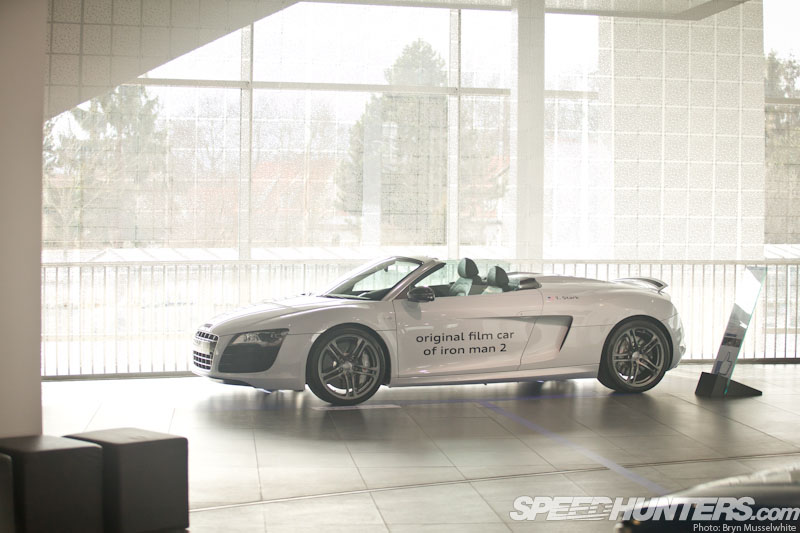 I've never driven an R8 and looking around this convertible I have mixed feelings; judging by looks alone I'm still not convinced. Then I'm reminded of the Silver Arrows cars a floor or two above me, and suddenly it makes more sense.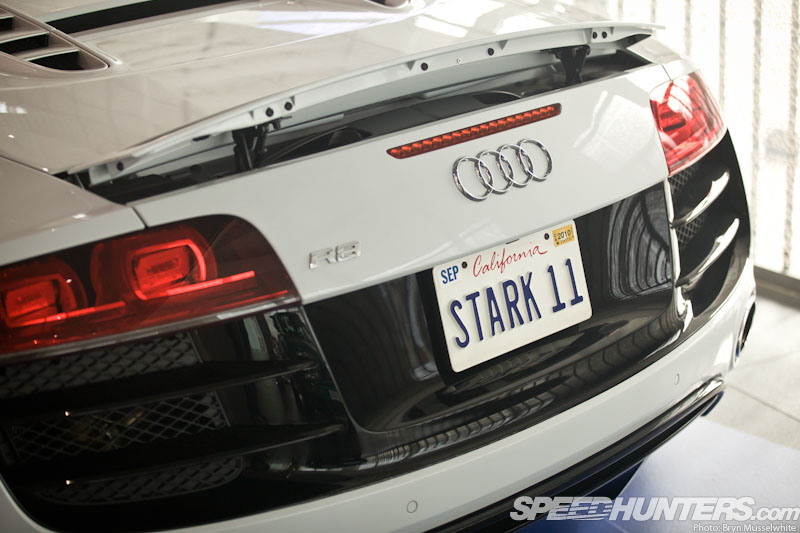 Of course this one had a rather famous first 'owner'.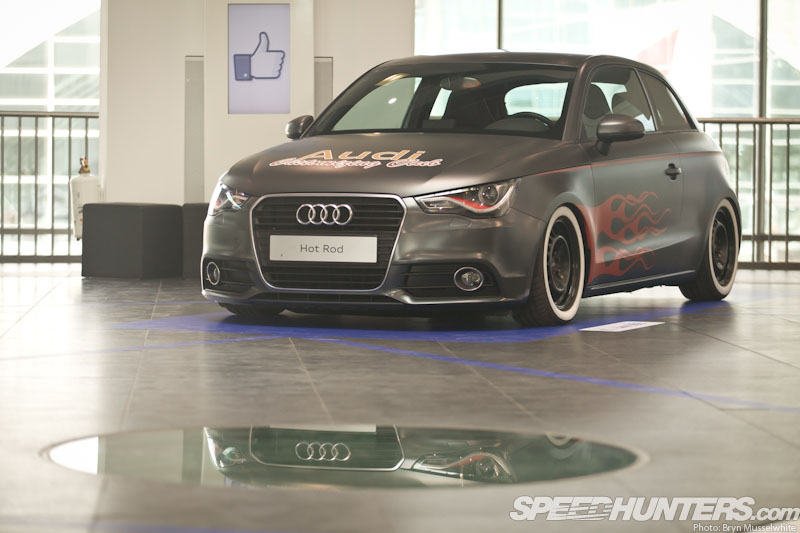 The surprises just keep coming too: for all my talk of fitting air ride to this or Fuchs wheels to that, Audi aren't adverse to modification themselves. I'm not sure where the idea for this A1 came from, but I approve. Sure you might think using styling cues like steel wheels, flames and satin black paint are contrived, but to the larger motoring public this is cool. Sometimes we can be far too caught up with the specific details of one genre or the correct way of doing something, to the detriment of just slamming a car, painting it satin and whacking some flames down the side.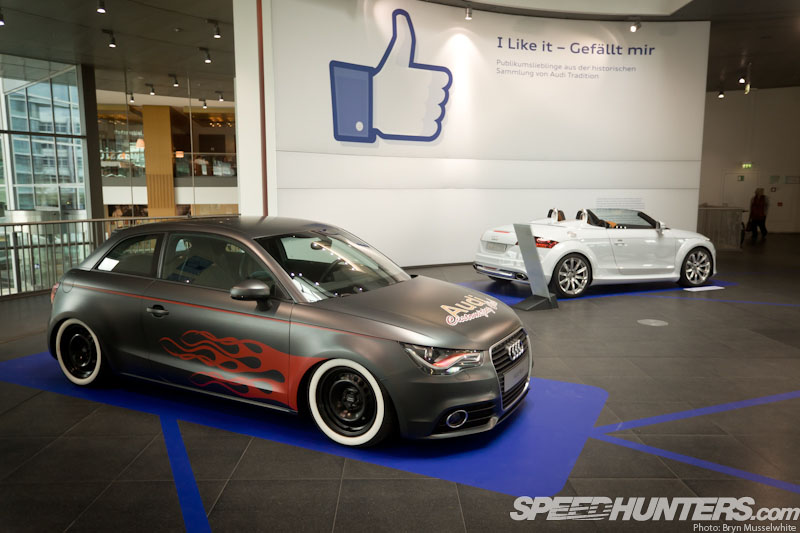 You know, having fun?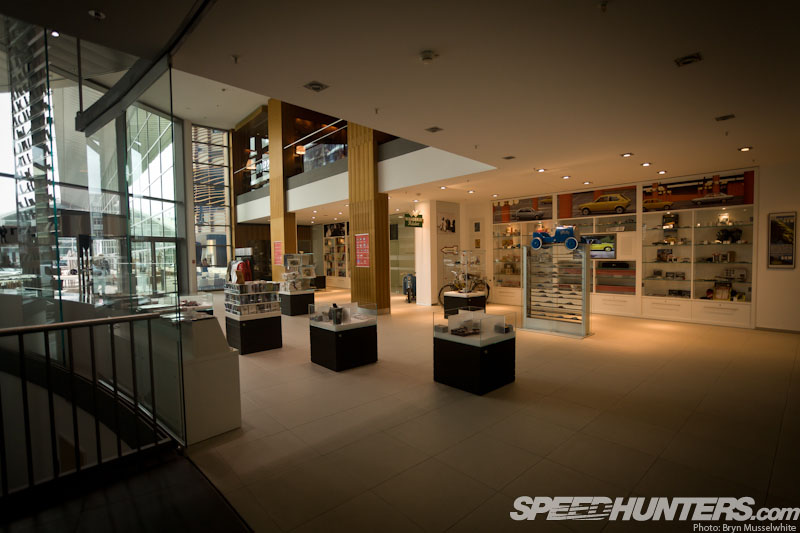 Just like intro films, I usually avoid gift shops. Given how good the intro film was to the museum though, the shop has a lot to measure up to.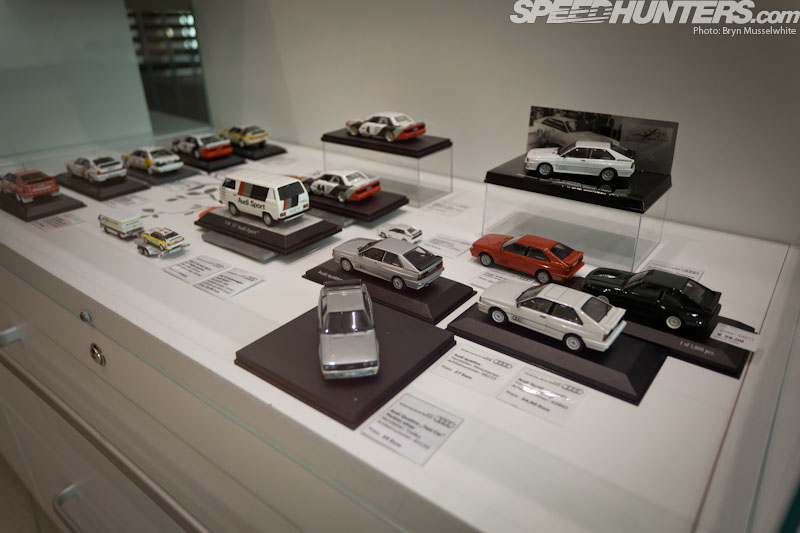 And it doesn't disappoint. I know we have some die-cast fans on the Speedhunters team and they'd be well catered for here.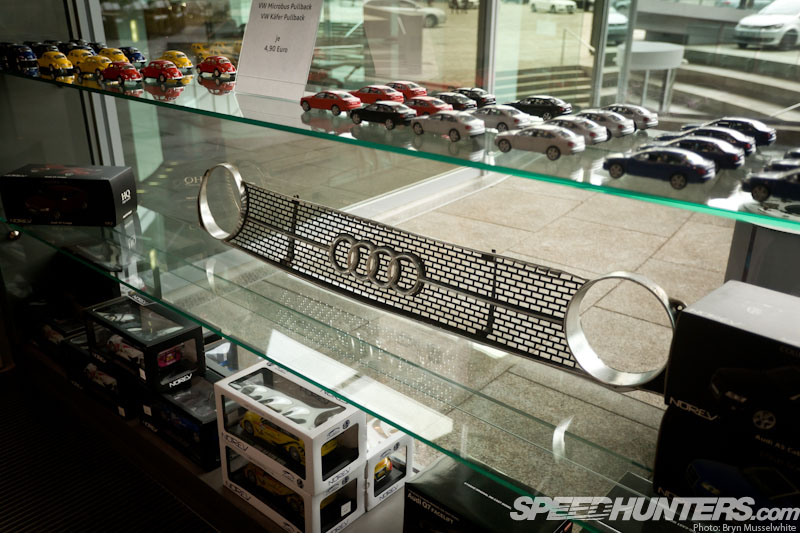 But what I wasn't expecting was actual spare parts for your Audi. Your classic Audi at that.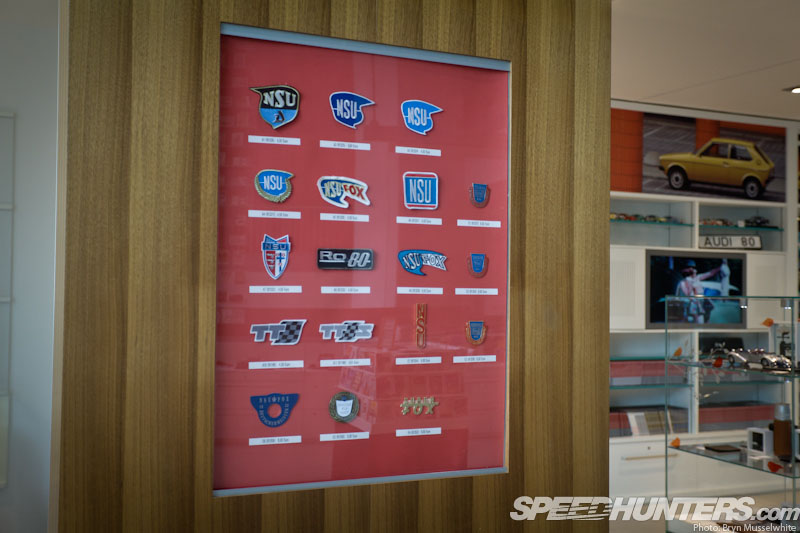 Period sew-on patches were a nice touch; quite probably one of the few places you could find them too. This is Audi really celebrating its diverse history.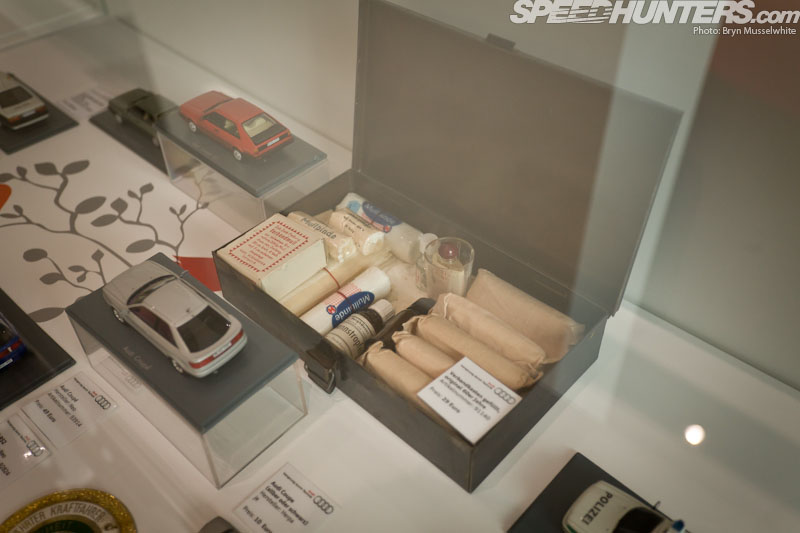 Looking through the cabinets I spotted this first aid kit; original and unused it was made in 1960. I asked how such items came to be here and was told that Audi scoured boot sales, autojumbles and spares shops for period pieces to sell. So this is real? How cool is that? Yes I bought it… Now if I ever have a cut that I want to infect with 53yr old bandages I'm sorted.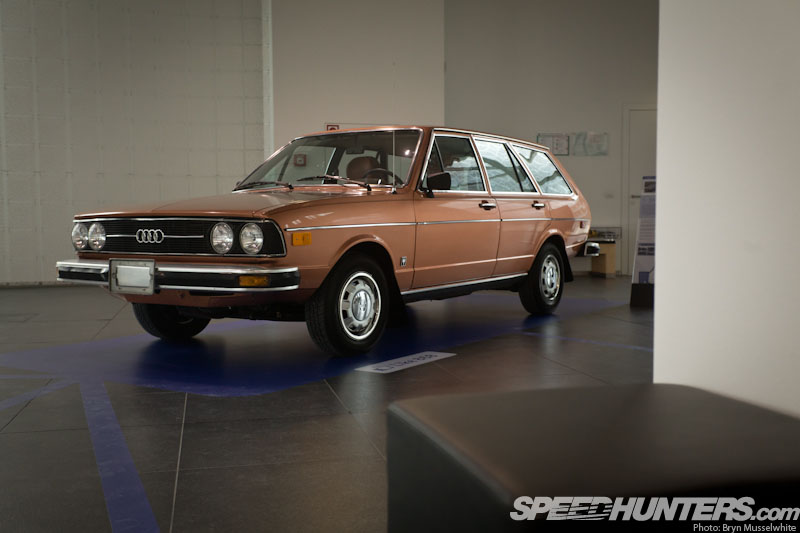 One last glance at a Federal bumper specced Audi estate and it's almost time to leave.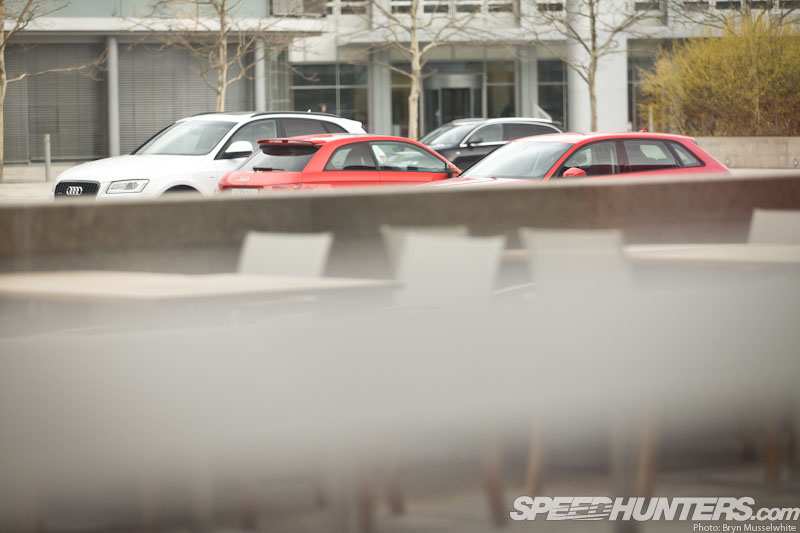 But first I go next door to a sprawling glass-sided restaurant, and picking up some food I sit and look around. Recognisable shapes are everywhere.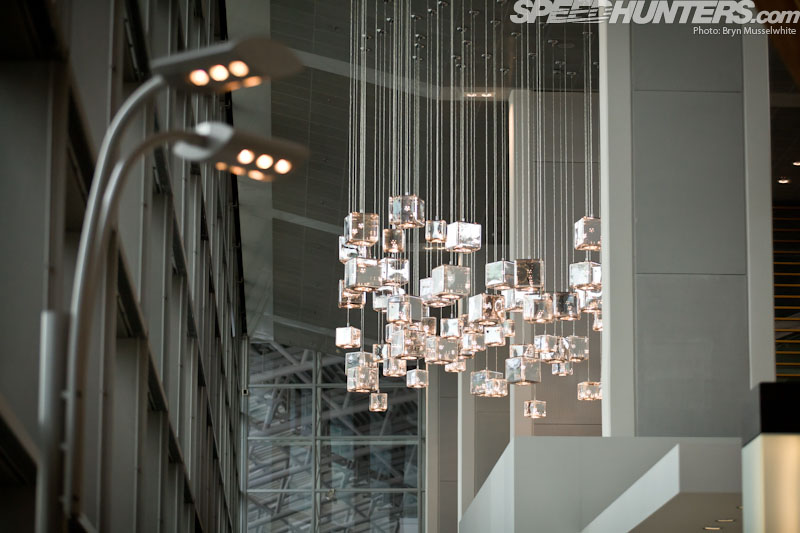 It's the end of the working day and I realise that most of the people around me are Audi employees, relaxing and chatting. A piano plays at one end of the hall and the atmosphere is calm.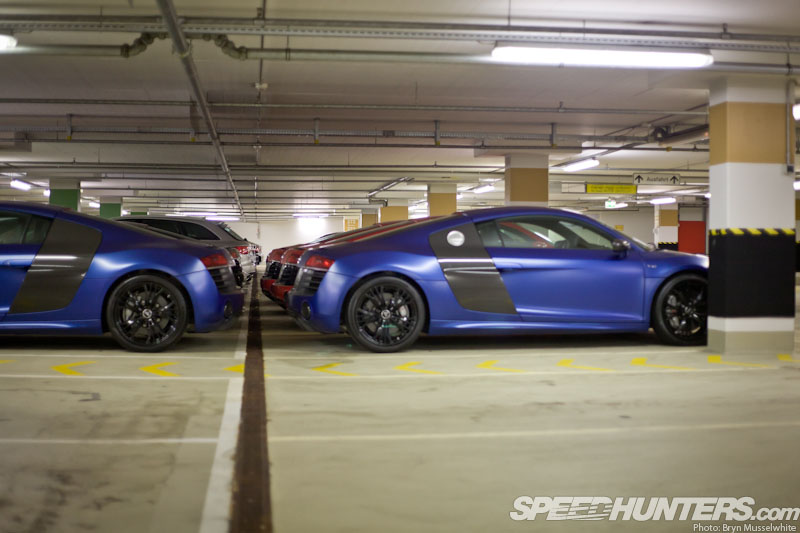 Back in the car park I ponder on how different the Audi I know now is from the one I did when I walked in. One thing's for sure, I like what they've done here.
Bryn Musselwhite
bryn@speedhunters.com
More Audi stories on Speedhunters