I'm in love. I've seen this car on the internet many times. In my eyes it's a thing of beauty. This is a car with a soul.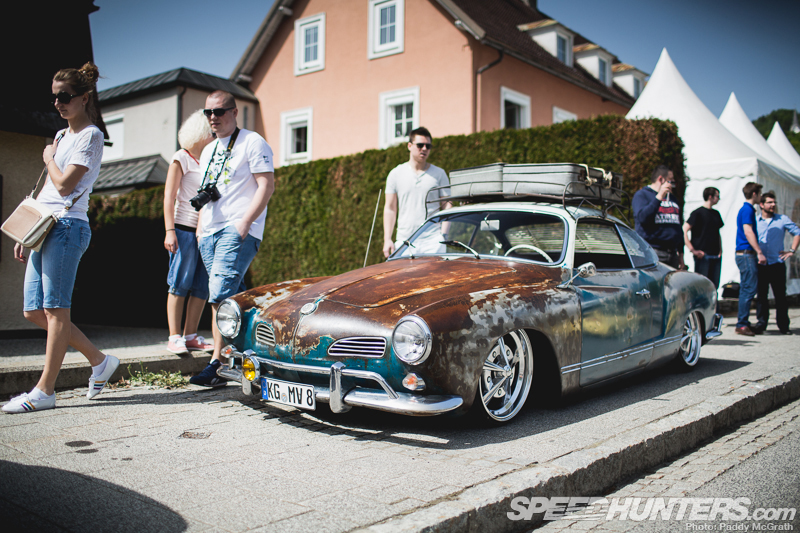 The Volkswagen Karmann Ghia has the chassis and mechanicals of the Type 1 Beetle. This car is the coupe version from the early '60s.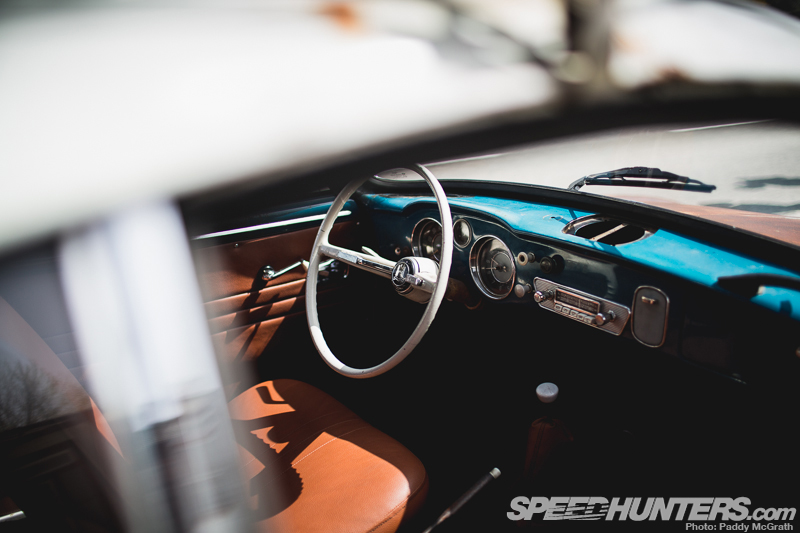 Convertible versions were also available, but I much prefer the hardtops. Unfortunately the owner was not around. I would have liked to get some info on the history of the car.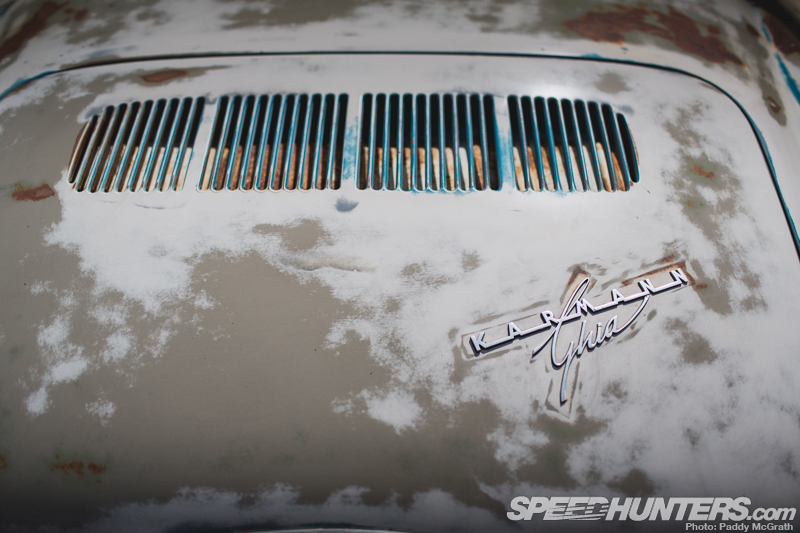 The patina look to this just oozes authenticity to me. It's just so cool. I'd love to spend the next few weeks cruising around Austria, Italy and the south of France in this lovely machine.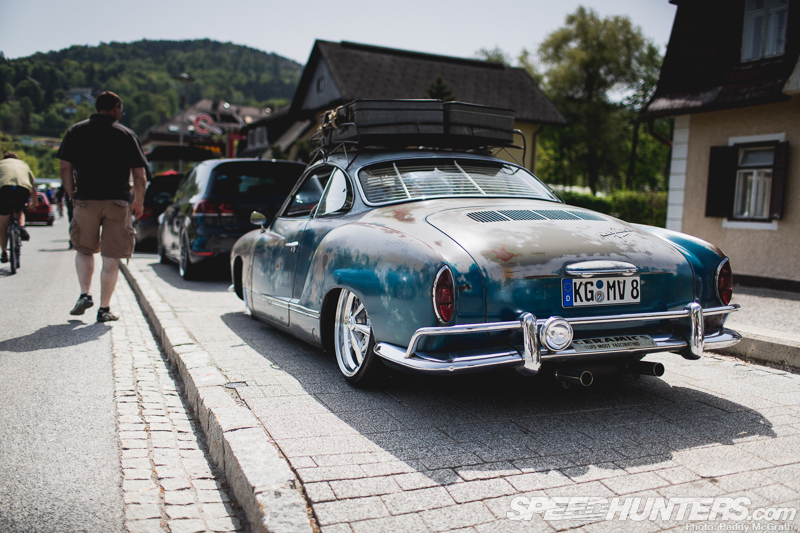 I could genuinely just look at this car for hours. It's not fast, but it is a gorgeous piece of Volkswagen nostalgia.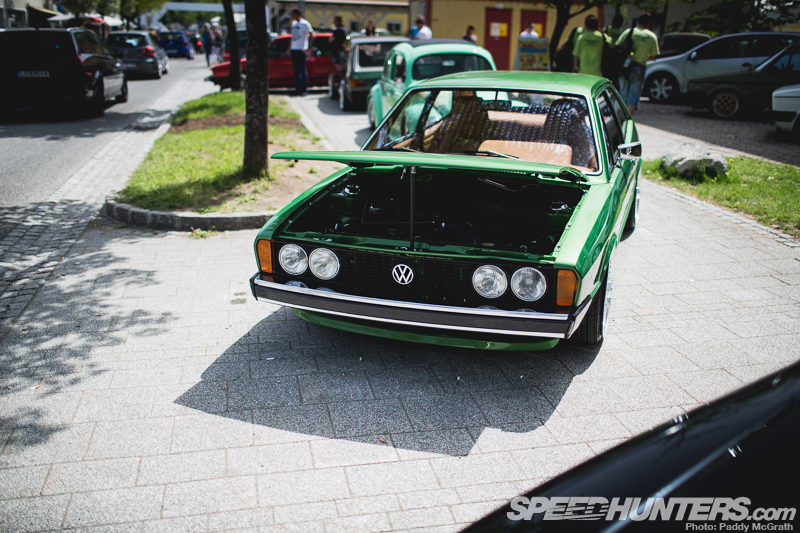 And on to this. Just wow! The Mk1 Scirocco in front of your eyes is my favourite car of the event so far. It's nothing short of perfect. Not too low. It's a piece of art.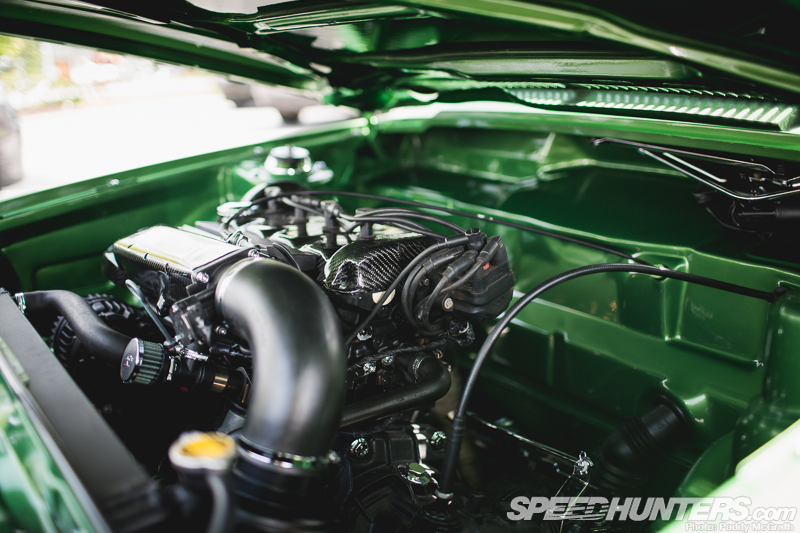 The engine bay has without doubt received hundreds of hours of love. Factory sealer has been stripped off, all surplus holes have been welded up and much smoothing has taken place. This is hot-rod-inspired modification at its sweetest. A later 20-valve turbo lump has been carefully fitted and I bet this car goes pretty quickly up the road. I'd love to see it in action.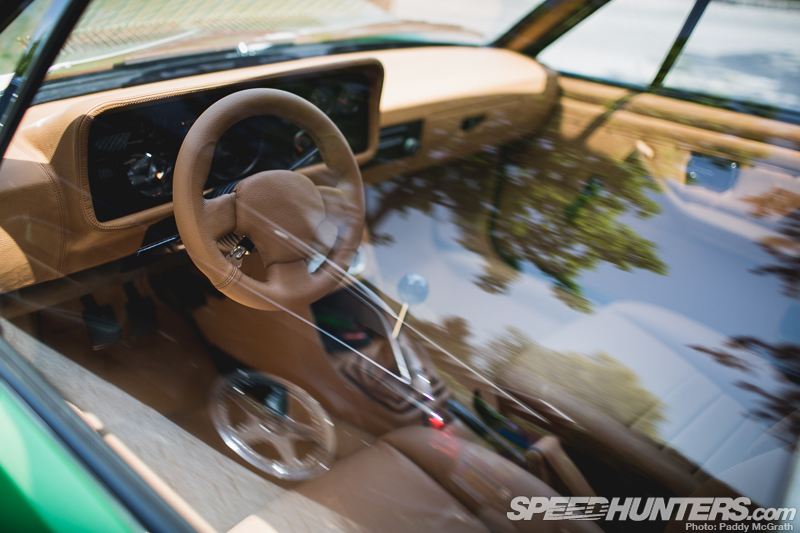 The owner, again, was not to be seen. A common happening at Wörthersee. People park their cars up and go walking around to soak up the vibe. The trim was very nice indeed. The tiny Raid steering wheel is a classic Euro touch and that simple gear knob, with polished stem, looks just right.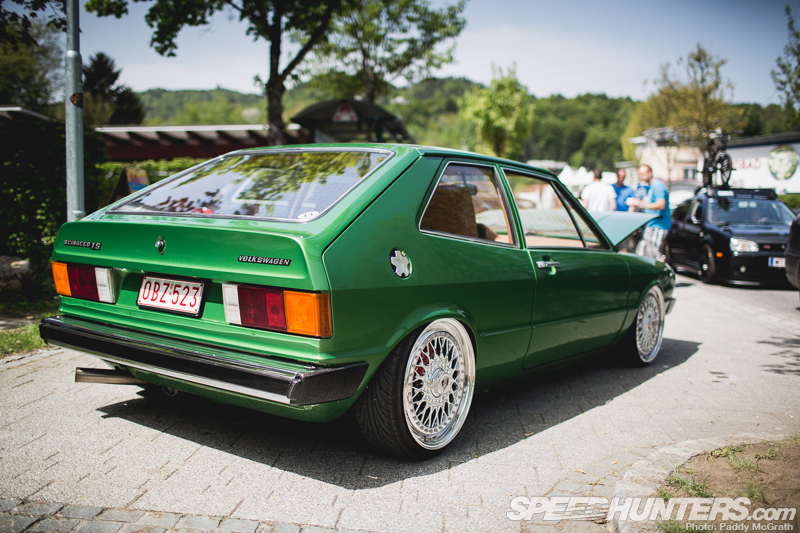 Rolling on 17-inch BBS RS wheels this Volkswagen is classically styled. It's understated. I got down on my hands and knees to check the underside and I wasn't disappointed. This is a proper build with no stone left unturned.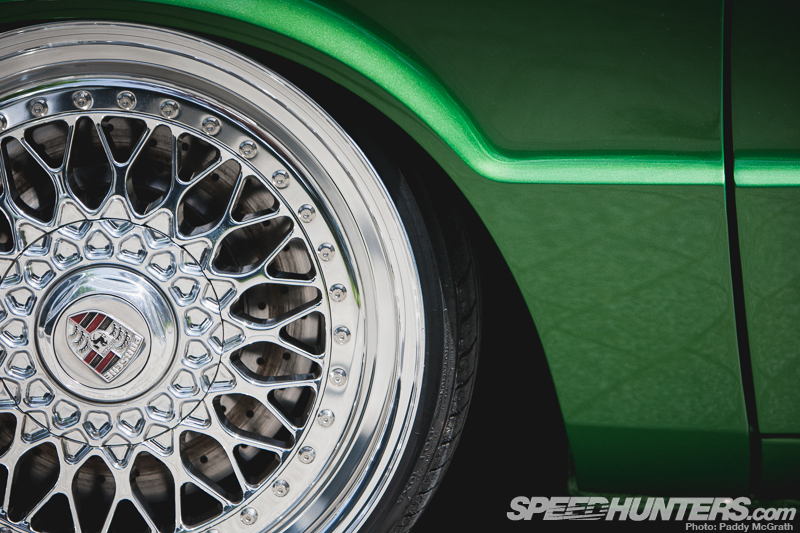 The stunning Porsche theme runs from the wheels through to the brakes too. I'm almost certain that these are genuine Porsche BBS wheels. I couldn't see any adapters, so it's possible that the car has been converted to Porsche 5×130 PCD. Volkswagen guys will go to amazing lengths to get the perfect wheel fitment, so hub conversions are commonplace. Hopefully we will get to do a full feature on this car and then I can go into more detail.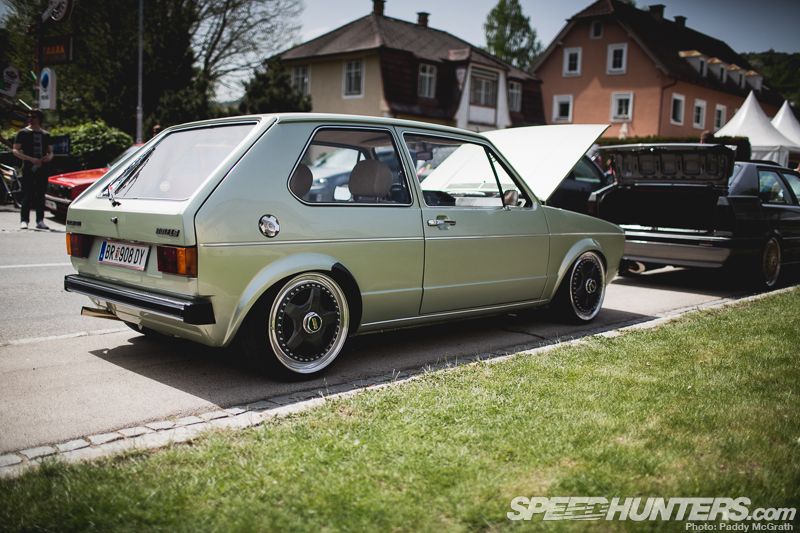 Mk1 Golf models are getting more and more rare. Certainly examples in this state of glory.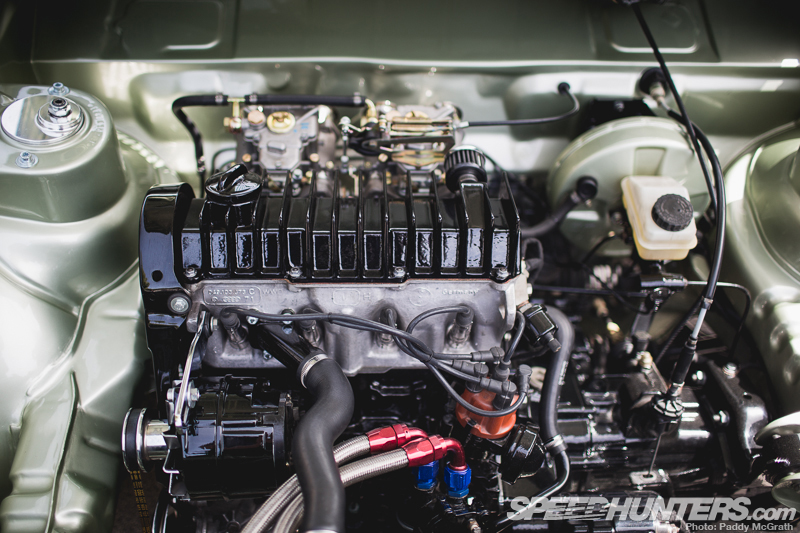 The motor is pure class and runs a twin carburettor set-up. Bay smoothing has taken place, but the owner has opted to keep the original identity of the bay. I'm not really a fan of super-smoothed engine bays which lose all the originality. This is just right. It makes the whole under-bonnet package more appealing without drawing your eye to any one part too much. Engine bays such as this feel balanced. It's also really cool to see a kind of period motor in a Mk1 bay. A nice change from all the new-wave turbocharged lumps.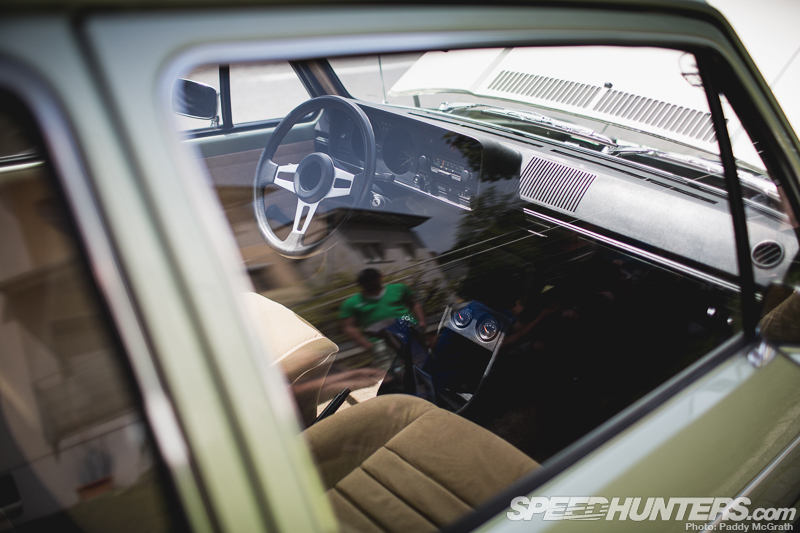 Interior wise things have been kept simple. Nice trim, classic dash and seats that won't break your back on a long journey. This is just as well since, as we have already mentioned, cars and their owners often travel thousands of miles to make the Wörthersee show.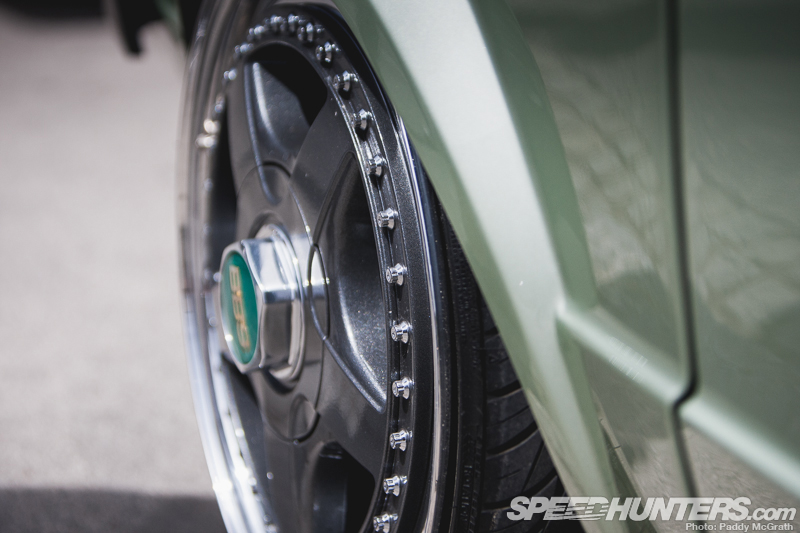 BBS RF wheels with not too much dish look bang-on. I really do love this wheel. I'm yet to own a set, but they're definitely on my wish list. Pure awesome.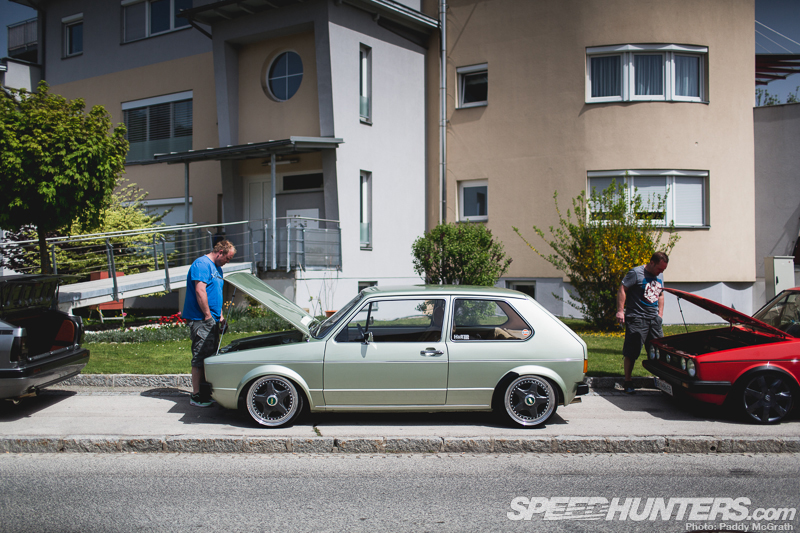 This car was rightfully getting a lot of attention just casually parked up on the kerb. It's amazing to me that all the locals seem so cool with this pre-car-show meet taking place on their doorsteps. If people starting randomly parking on the pavement in the UK it would be armageddon!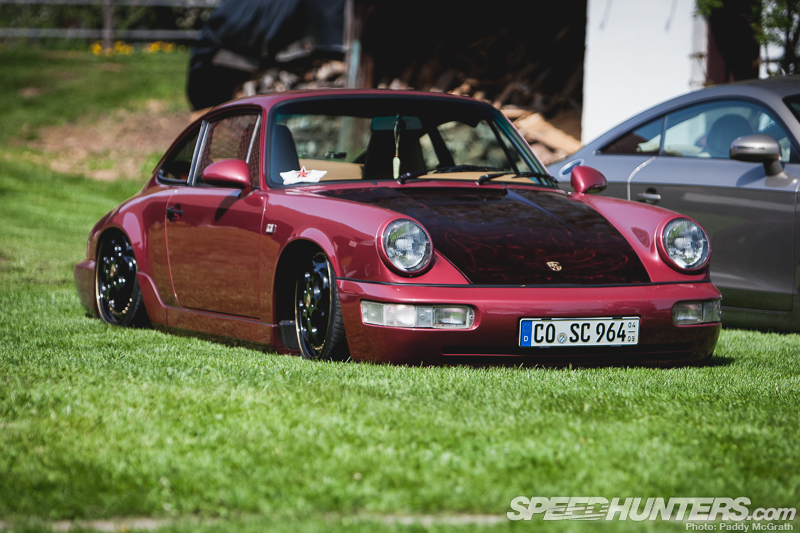 This Porsche. Oh my. I guess if ever a car was to be loved or hated, then this is going to be it. It's love or hate. Nothing inbetween.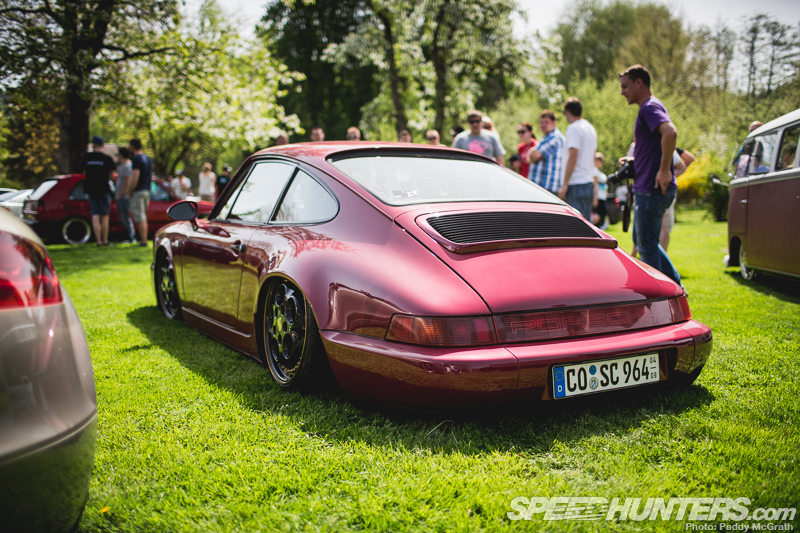 We came across this at yesterday's Low Familia meet, which was basically held in a garden. On air, running Porsche Teledial wheels and mental paint; this car is seriously eye-catching.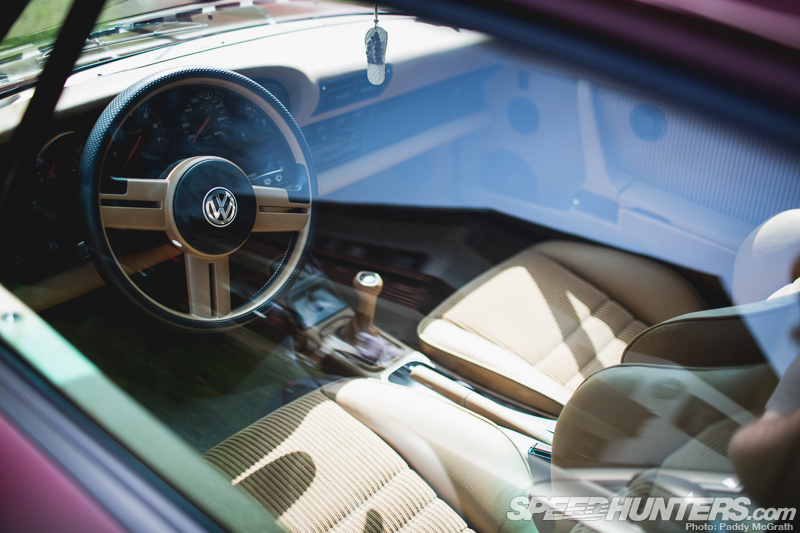 The Lupo 3L steering wheel almost pokes fun at all the Volkswagen aficionados that fit Porsche parts to their VWs.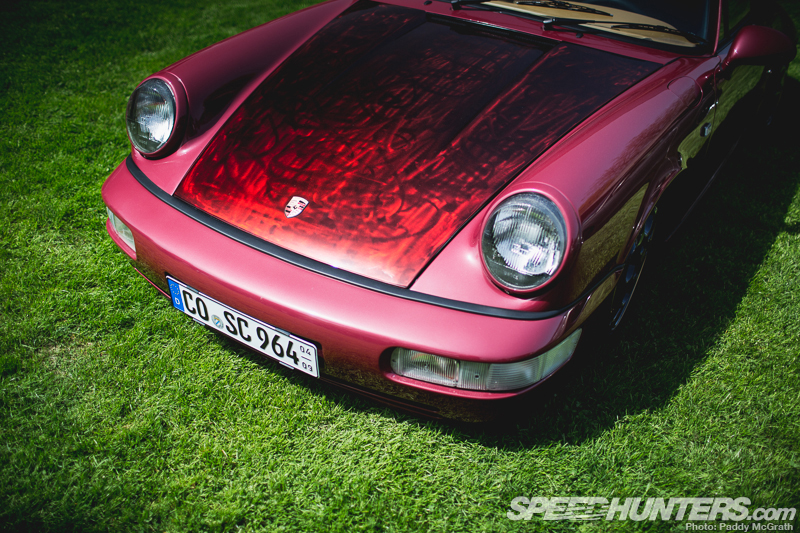 What do you think? Don't sit on the fence. Are you feeling the vibe?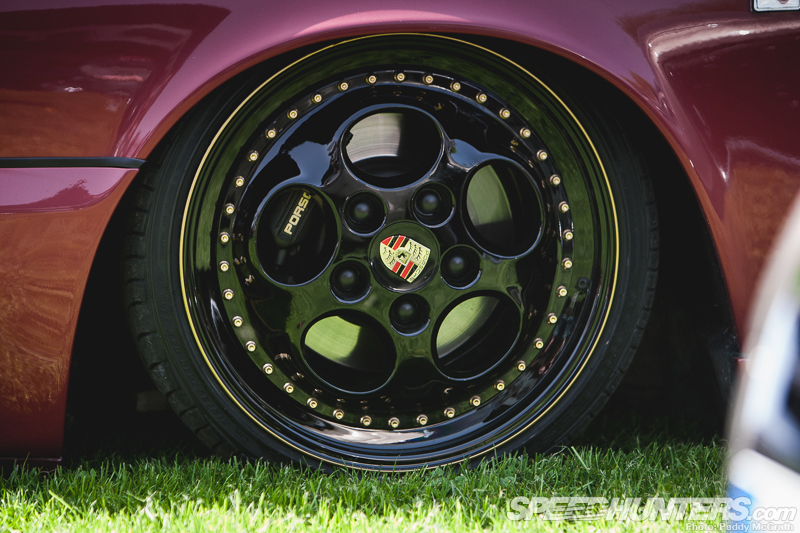 Whatever your view, the finish was next-level. Very well put together. And not a car I shall forget in a hurry.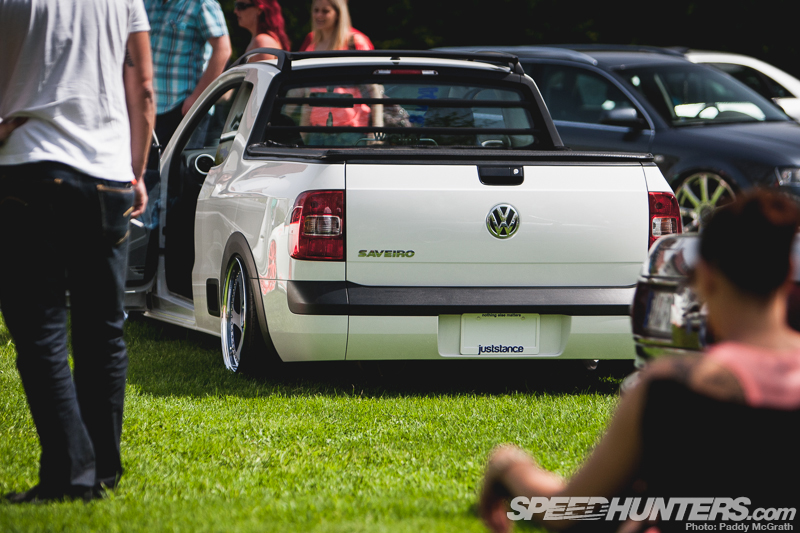 This spun my head a little. A serious treat. I kind of want one. This would make a great photography vehicle for Paddy. Although probably not as useful as a Caddy van.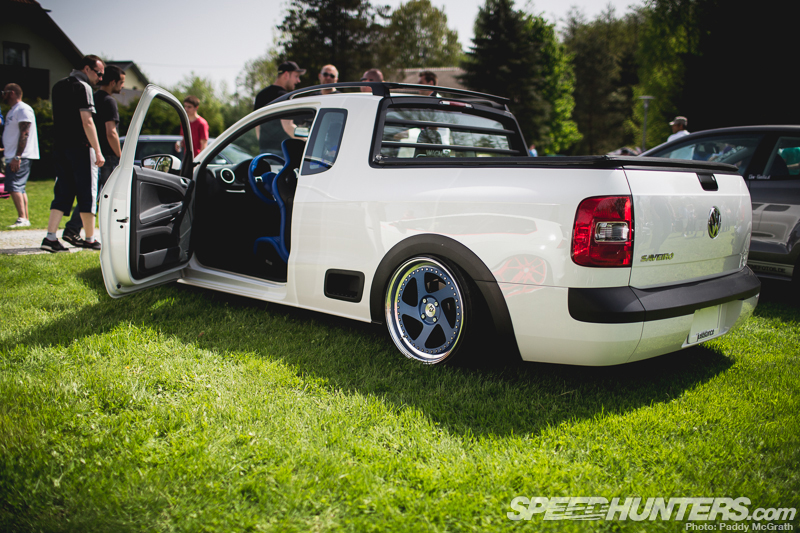 Nevertheless, this non-Euro market Saveiro got people sucked in.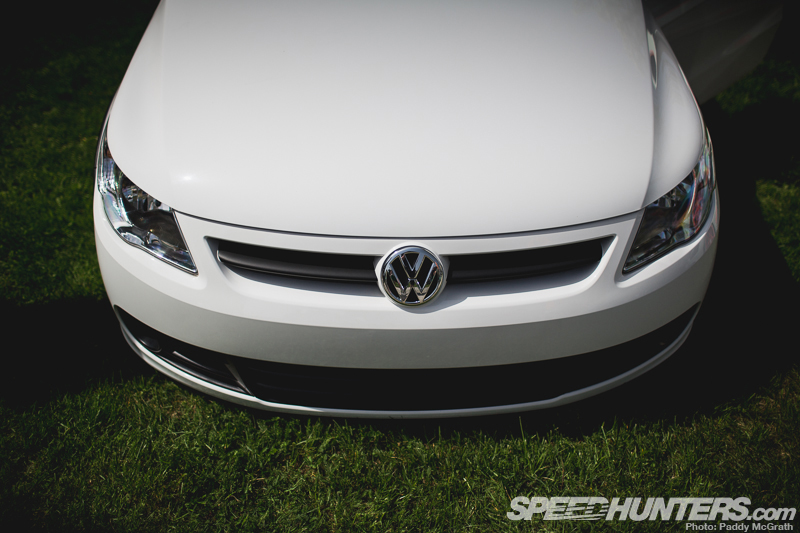 It's a lightweight pick-up truck that's available in Brazil. The vehicle looks to be the result of a serious raid of the Volkswagen parts bin. There's elements of the Polo in there and when you move inside this becomes even more apparent.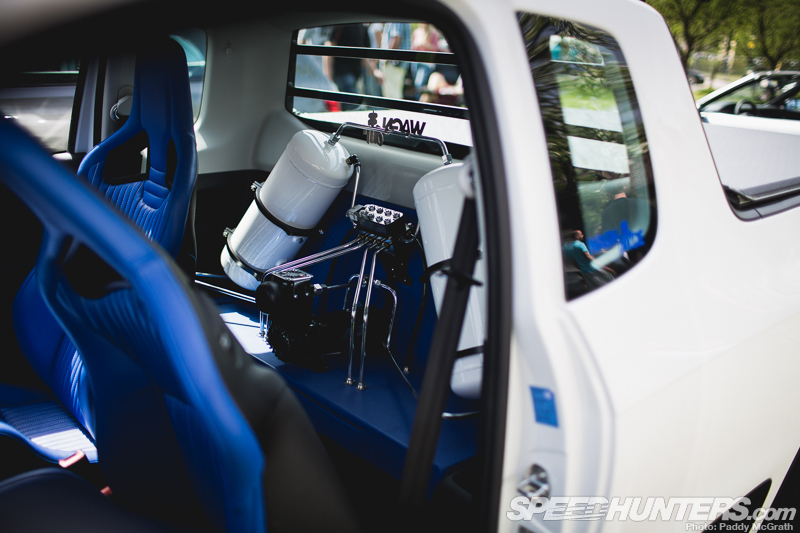 Although this has been torn apart with a full air-ride kit fitted and lovely trimmed Recaro CS seats.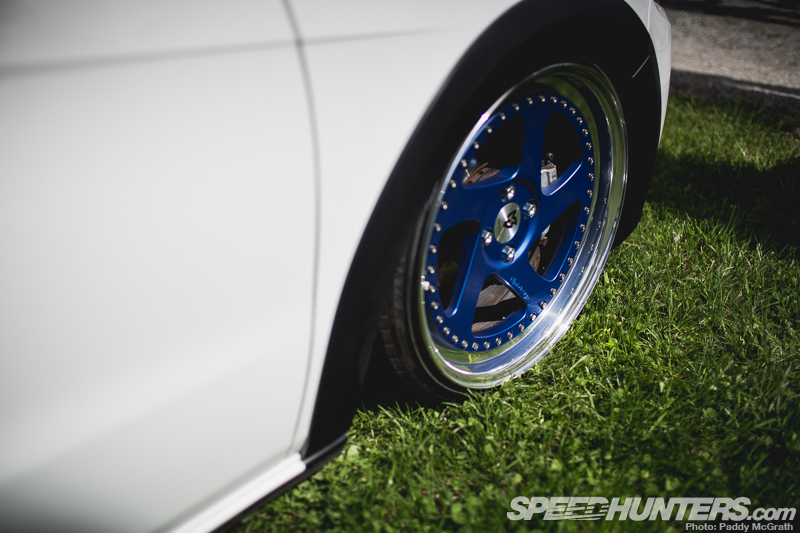 I kind of like the way the plastic wheel arches contrast with the white bodywork, like the Audi allroad; it gives a purposeful feel.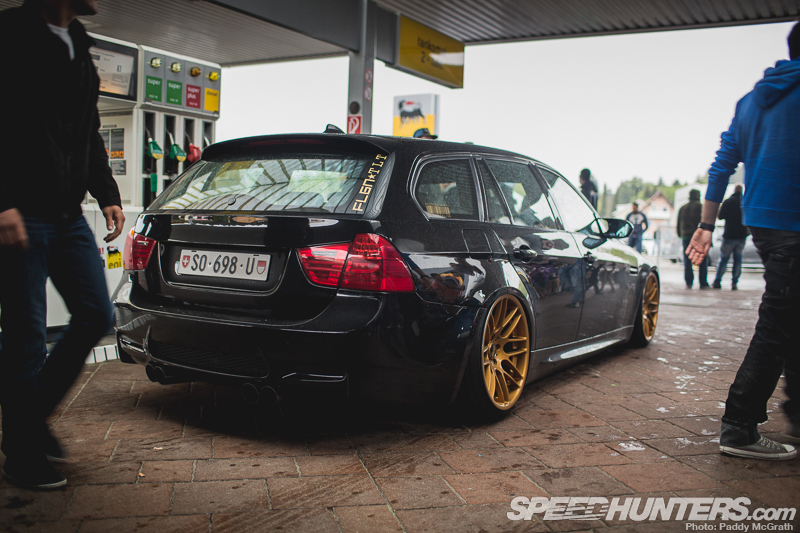 Last in this spolight is this E91 330D which casually rolled into 'that' fuel station…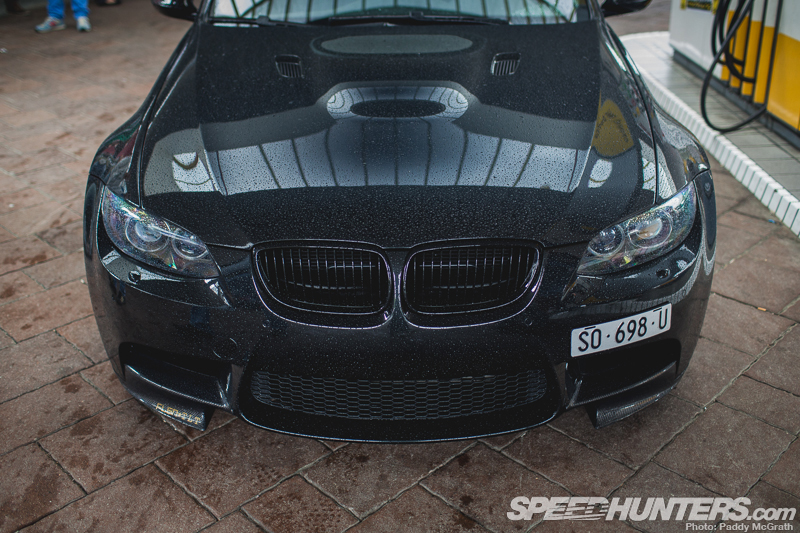 … with an E92 M3 front end conversion. The longer and wider headlights have also been installed making this look very complete.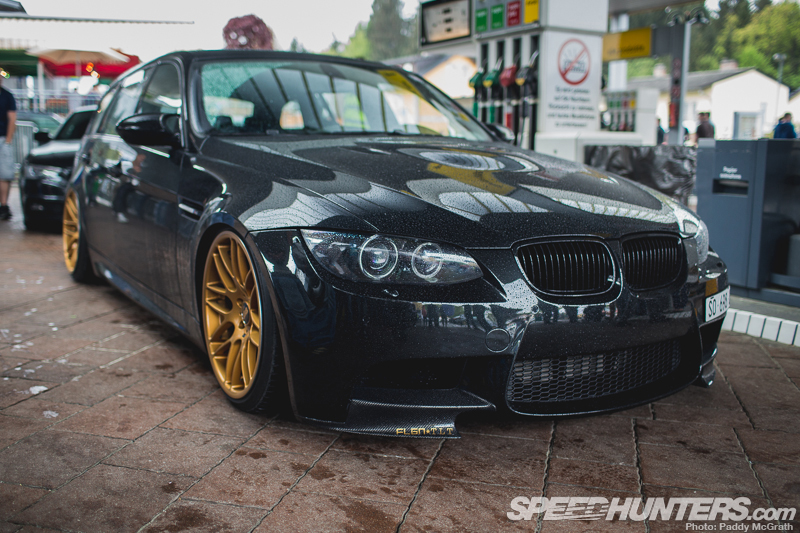 We chatted to the owner briefly and he plans to fit an M3 motor and also carbon fibre roof. This is about to get serious.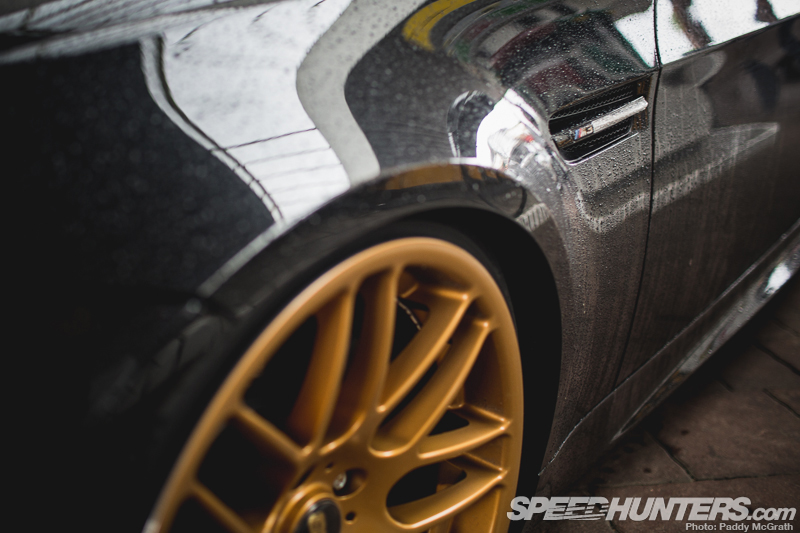 Contrasting gold wheels have been installed which really set this car off.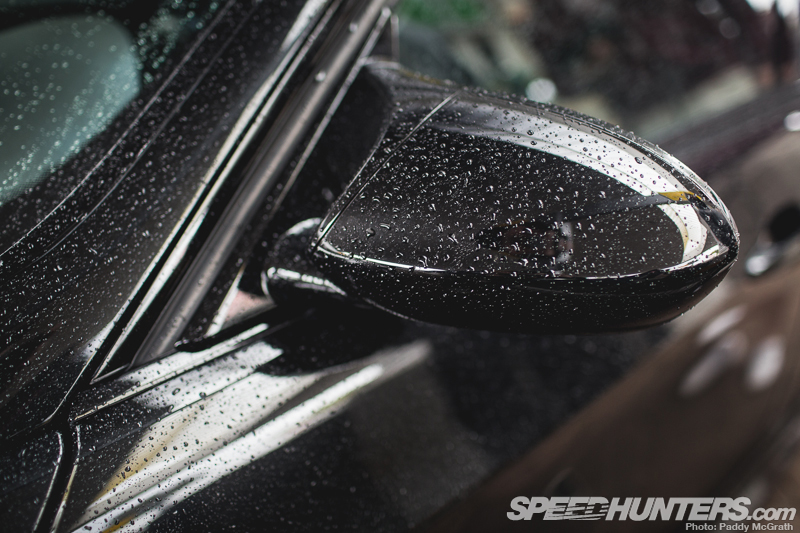 M3 mirrors are a nice touch too. I know of a few E91 models running E92 M3 power and it would definitely be cool to hunt them down and bring you a full feature. I love the idea of a crazy M3 Touring to use on a daily basis. One of the nicest things about Wörthersee is the celebration of cars in general. There's not really any marque snobbery. Everyone's just here for the automotive experience. If you get a chance to come then put the first week of May into your diary for next year. Flights are cheap. But to do it right, you really have to make the effort and drive down to Austria. It's definitely worth the extra effort.
Words by Ben Chandler
Twitter: @Ben_SceneMedia
Instagram: @ben_scenemedia
Photos by Paddy McGrath
Twitter: @PaddyMcGrathSH
Instagram: speedhunters_paddy
paddy@dev.speedhunters.com