Now that the big gravel parking lot next to the space used to hold the Street Car Nationals has been fully resurfaced, we might as well think of it as the show's annex, such is the selection of cars that you can run across. About an hour before the show was due to end I headed there in the hope of finding a nice selection of cool metal…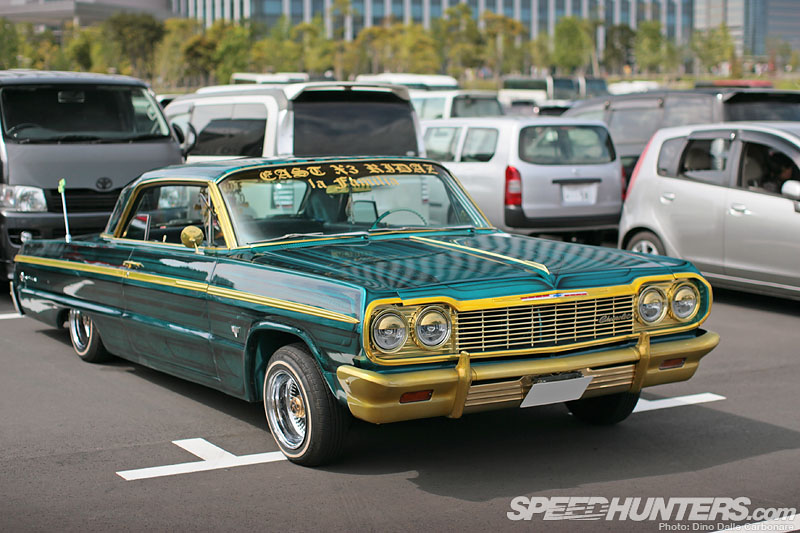 … needless to say I wasn't disappointed.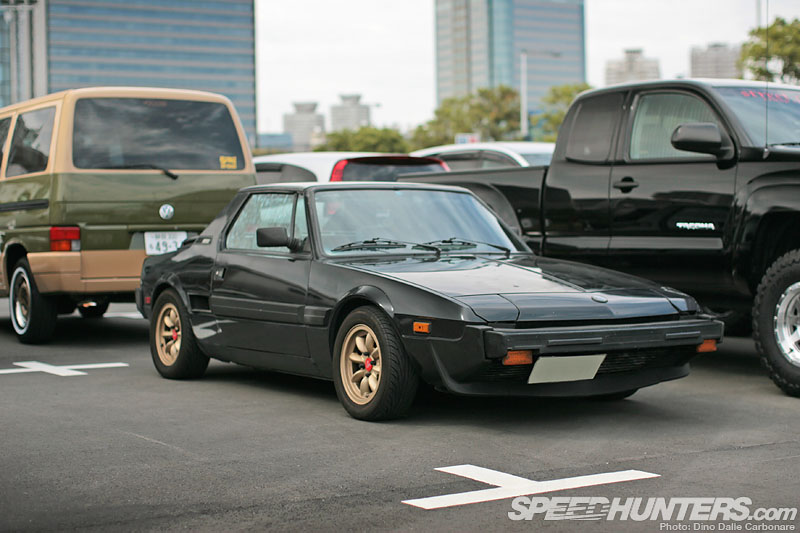 There was probably even a wider mix of cars and one of the first that got me excited was this Fiat X1/9, a beautiful angular creation from Bertone. It may not been known as the most reliable of vehicles but this little mid-engined affordable sports car is one I've always admired. Imagine rebuilding one today and swapping in a fun motor in there, maybe something from Honda. Uhmmm… the possibilities!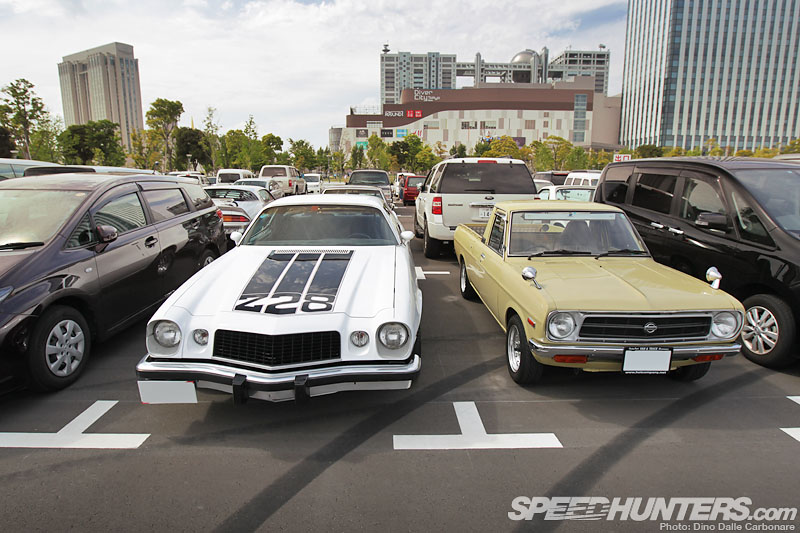 How about this pair for a stark comparison between two very different style of cars, but both equally attractive in their very own way. And this Z28 wasn't the only American brute from the eighties…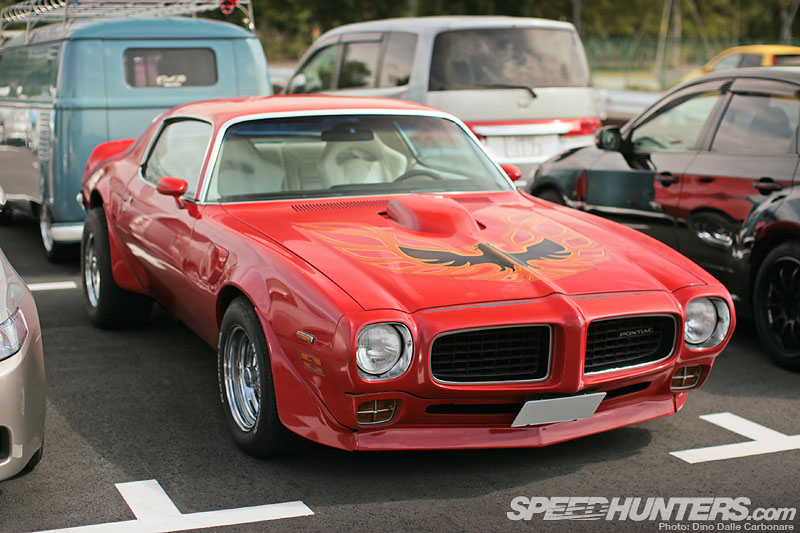 … I also spotted this period correct Pontiac Trans-Am.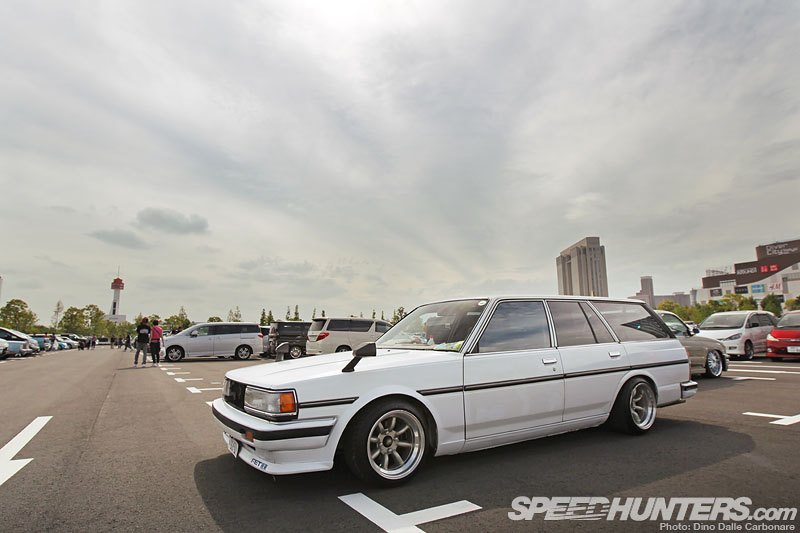 Of course there are plenty of Japanese cars to feast one's eyes on too, like this Cresta wagon dropped on a set of Watanabes…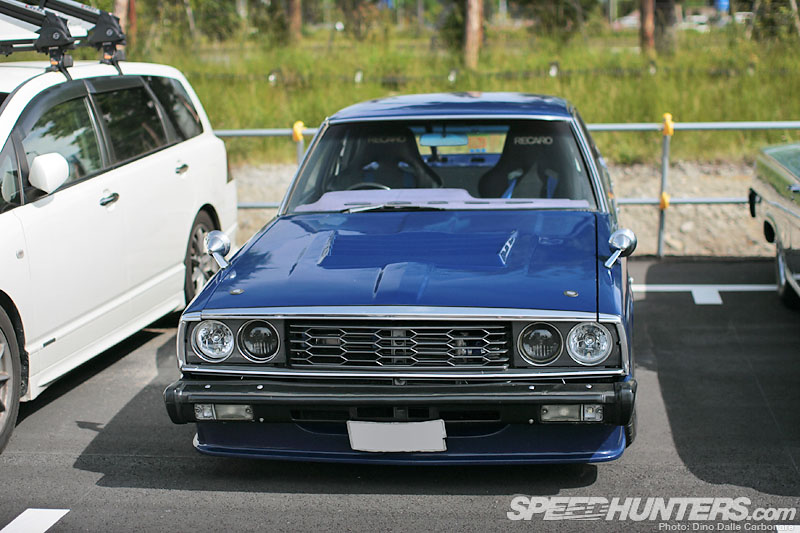 … or this C210 'Skyline Japan' given some sort of extra spice under that vented FRP hood, if the front-mounted intercooler hiding behind the grille is anything to go by.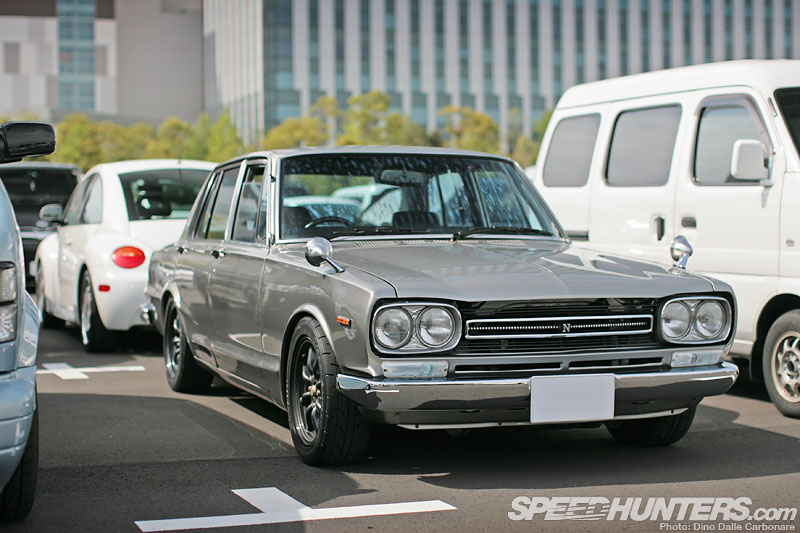 A parking lot at any event held in Odaiba wouldn't be complete without at least one Hakosuka! I may have started shooting a little too late as I only found this one.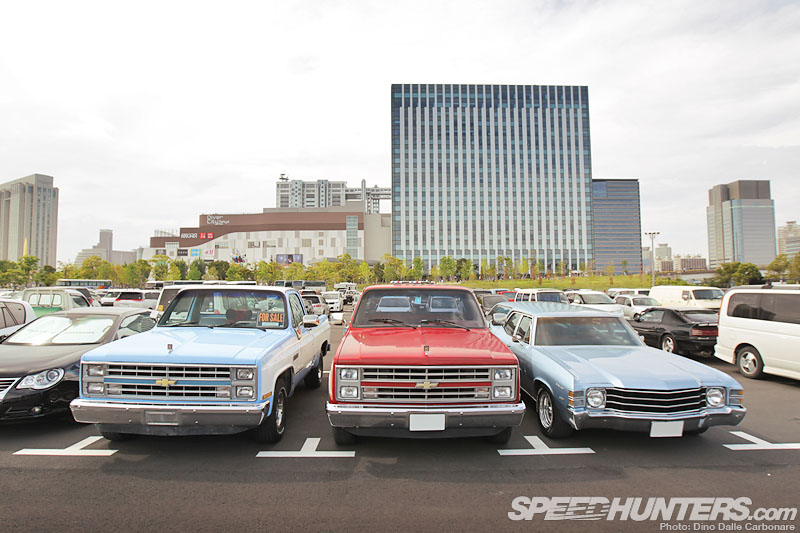 These parking spots are actually pretty wide for Japanese standards so I have no idea how owners of these sort of behemoths manage. Loving the Malibu wagon by the way…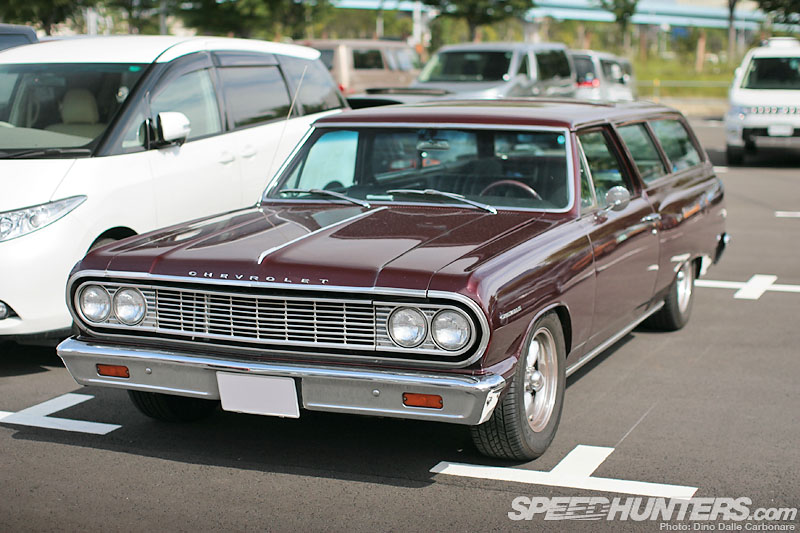 … as well as this Chevelle! Would love to rock a big US vintage wagon like this in Japan. Maybe it's time to get rid of the Legacy and go a bit crazy!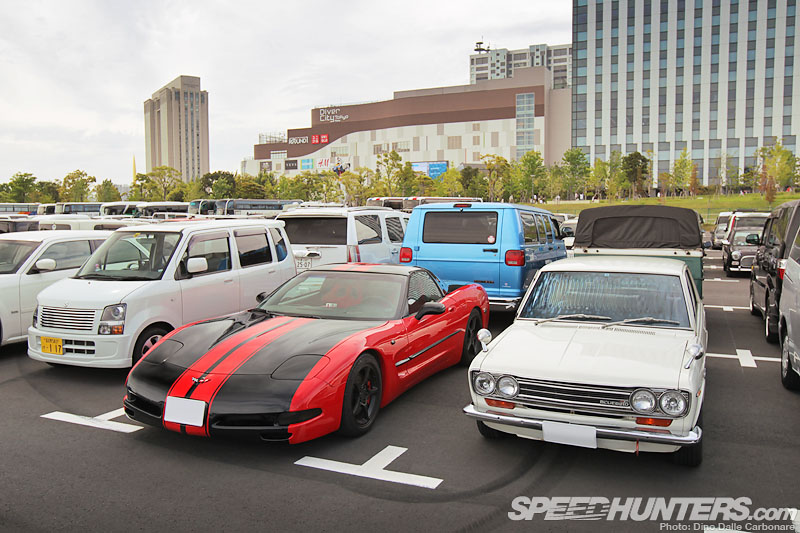 Seriously, how different could you possibly get?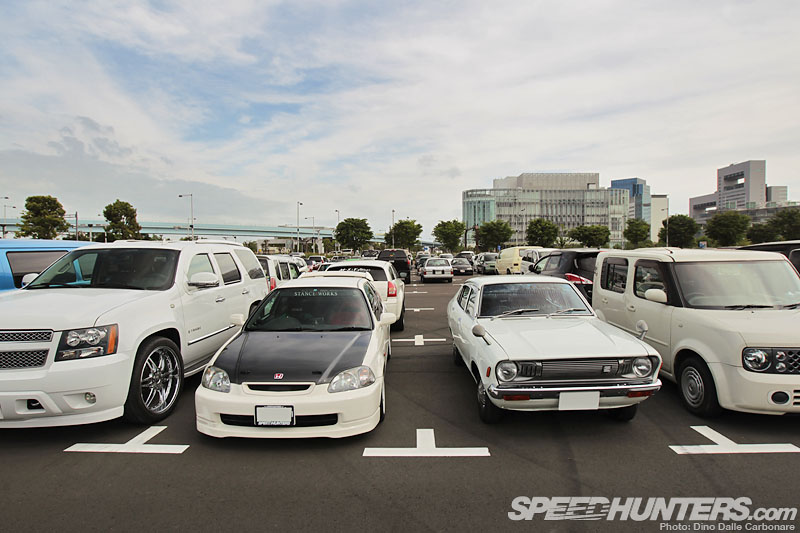 Tough choice, but which one would you pick? Would the screaming B16 of the EK9 Type-R win over the vintage lure of the little Sunny?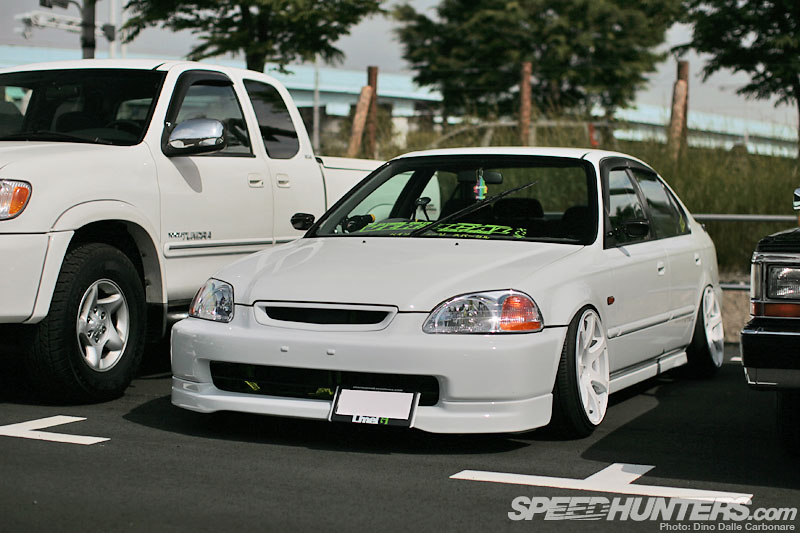 Oh and there were lots of other Hondas worth getting a closer look of, like this USDM-look EK9 sedan on Work Emotion XT7s…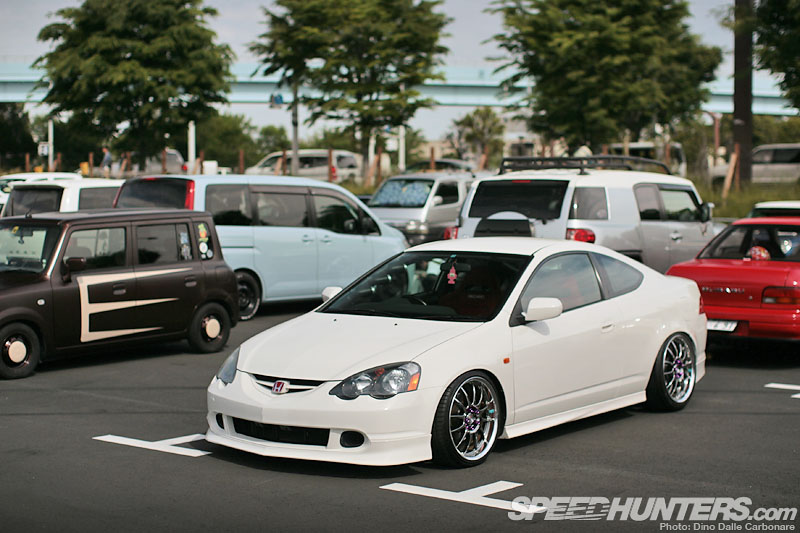 … and this very clean spoiler-less DC5 Type-R.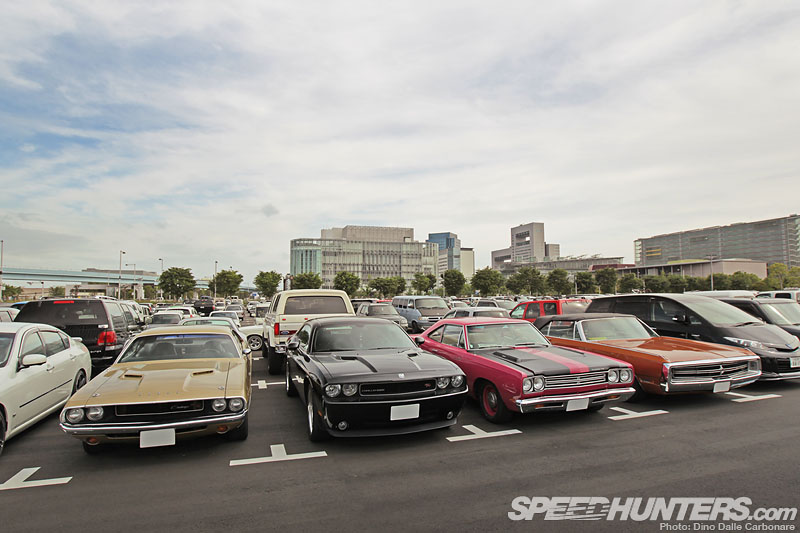 Muscle overload!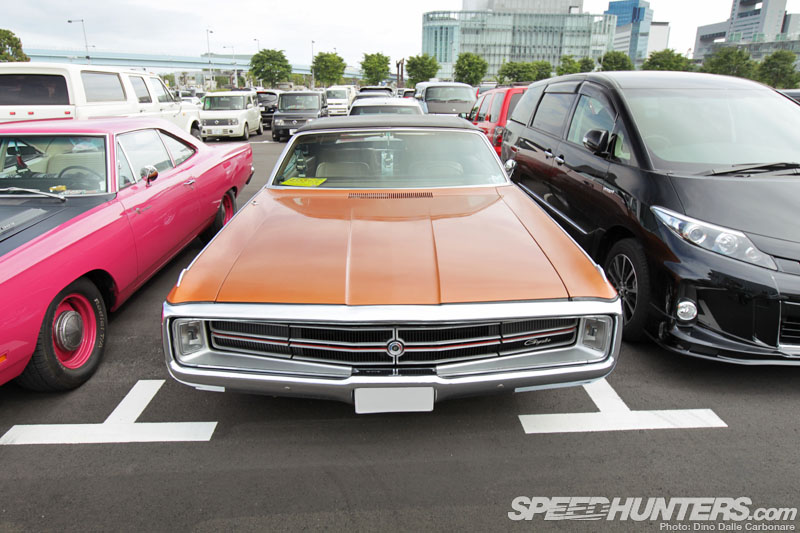 I'm pretty sure I've never come across a Chrysler 300 before and I have to say I quite liked the sleek look of this massive convertible. The width of it was shocking however!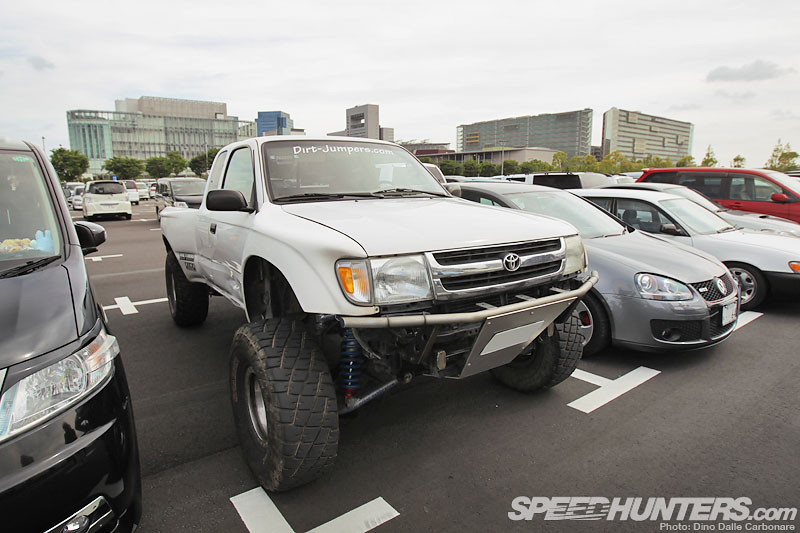 Out of all the cars in the parking lot this lifted Hilux really took the win. This thing was mean from every angle, with that massively increased front track, exposed dampers and pipe bumper with sump/engine/chassis guard.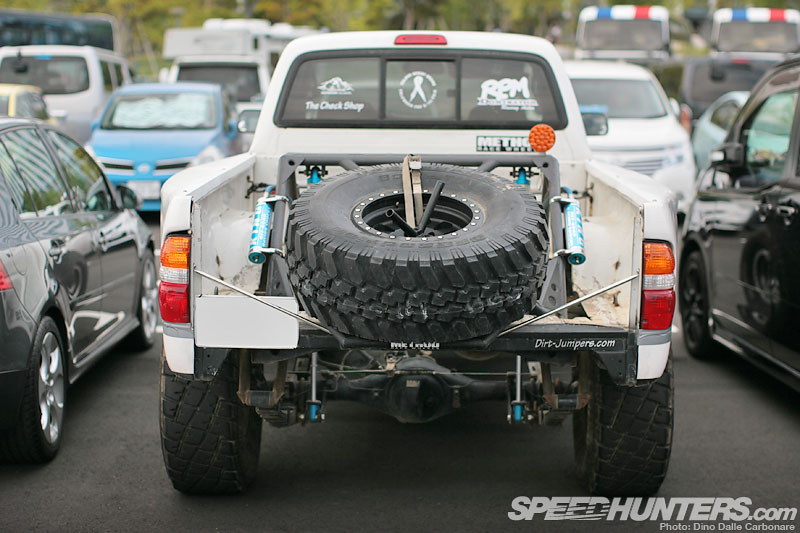 But it was full-on Baja style at the back!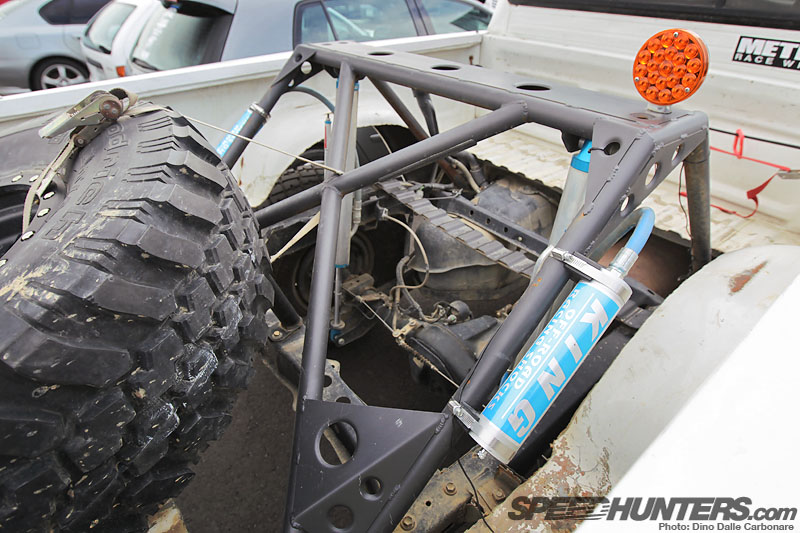 Most of the rear bed had been cut away to make space for this tubular subframe onto which the huge King dampers are fitted onto. This thing must be a hoot to drive and tackle jump with! I really should find out where 4×4 guys play at in Japan!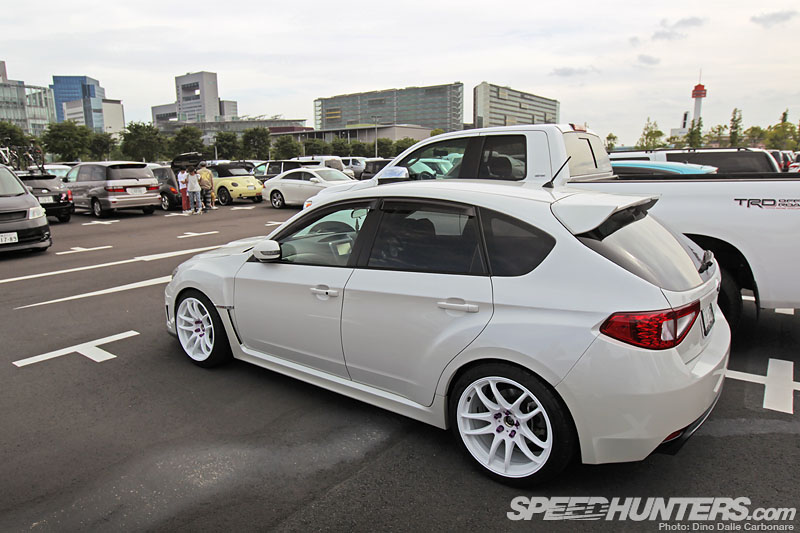 Imprezas do the white-on-white thing really well for some odd reason. Don't you think?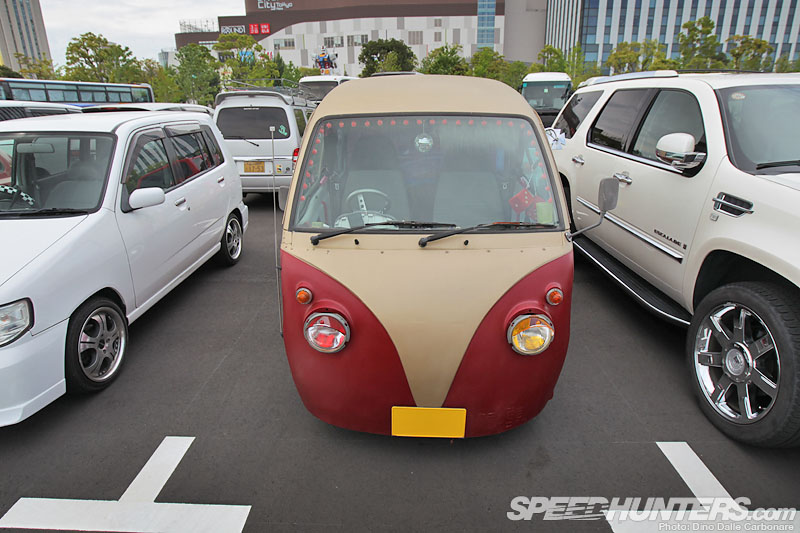 Why the sad face?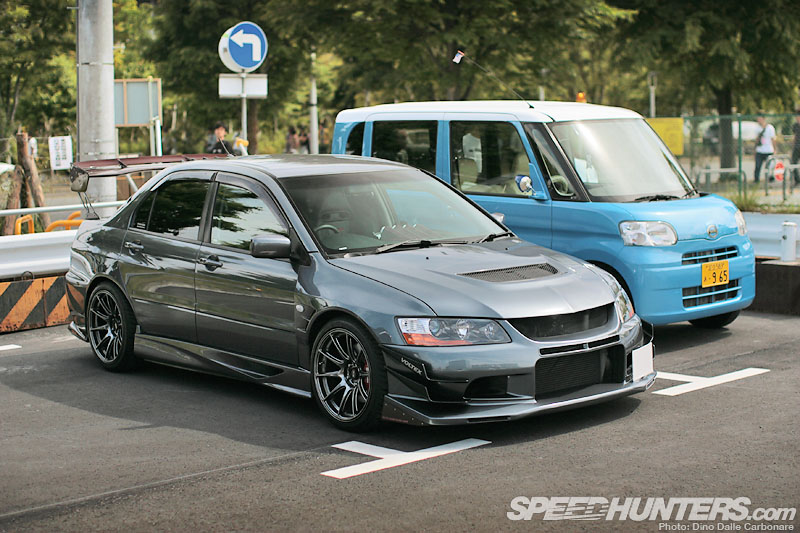 Check out this Voltex-kitted Lancer Evo I spotted right at the top of the massive car park. The Japanese don't do things by half when they build their cars, that's for sure.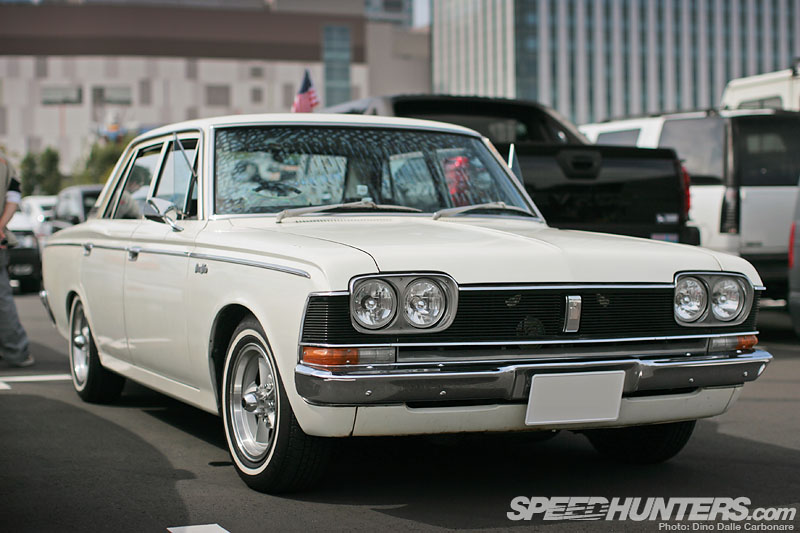 Classic Crown perfection.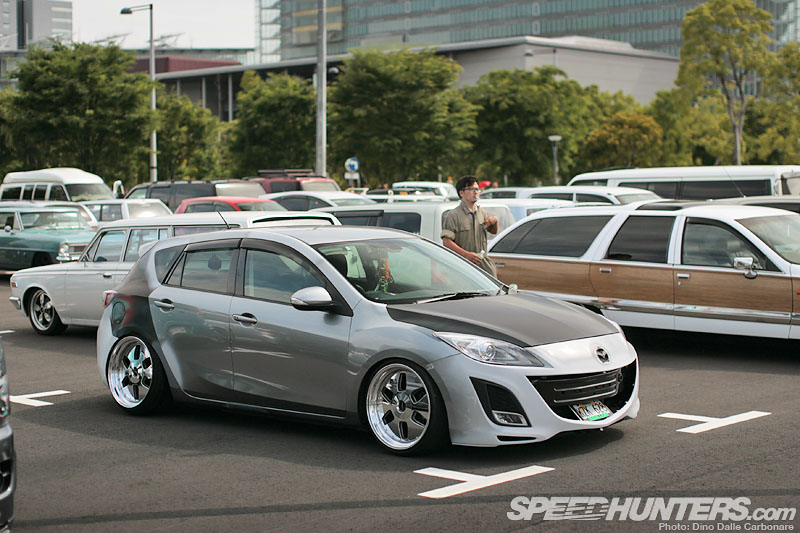 This Mazda Axela (Mazda3 in the rest of the world) has obviously just been put through some pretty evident custom body work to get it to sit just right on those big chrome rims.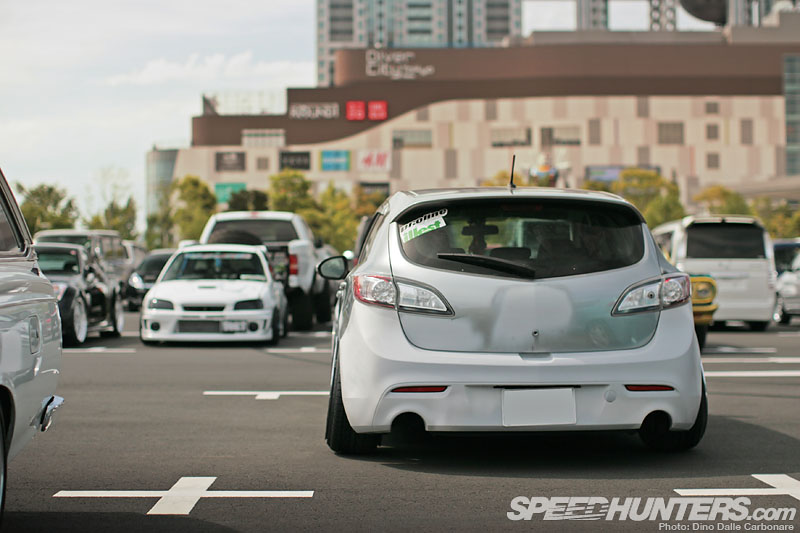 The look has been achieved, no question about it, now all it needs is paint…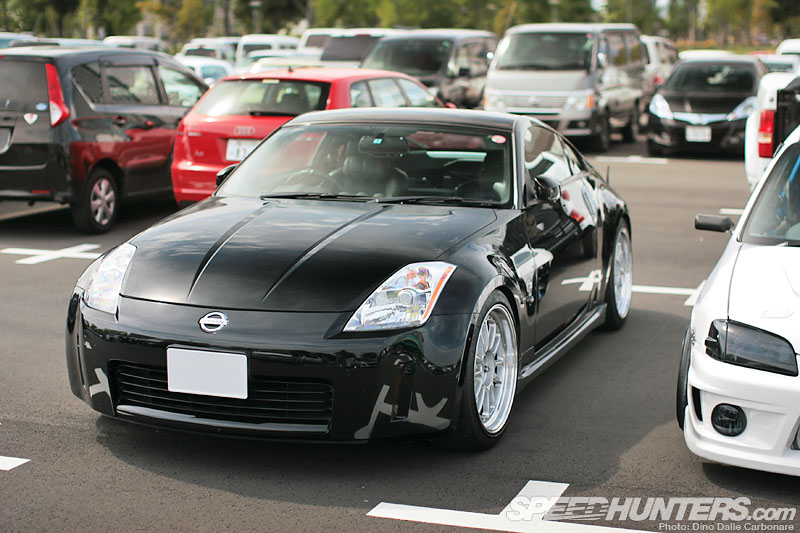 This Z33 was a breath of fresh air. It might be a somewhat dated design but it proved that when cars are left simple and mated to a good choice of wheels, you can't go wrong.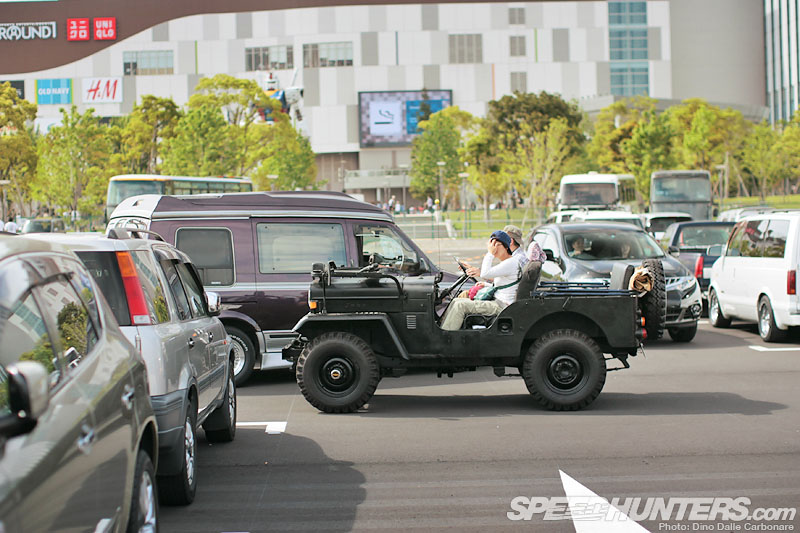 There are always plenty of WTF moments when you are in Japan, and this was it for me while in the parking lot.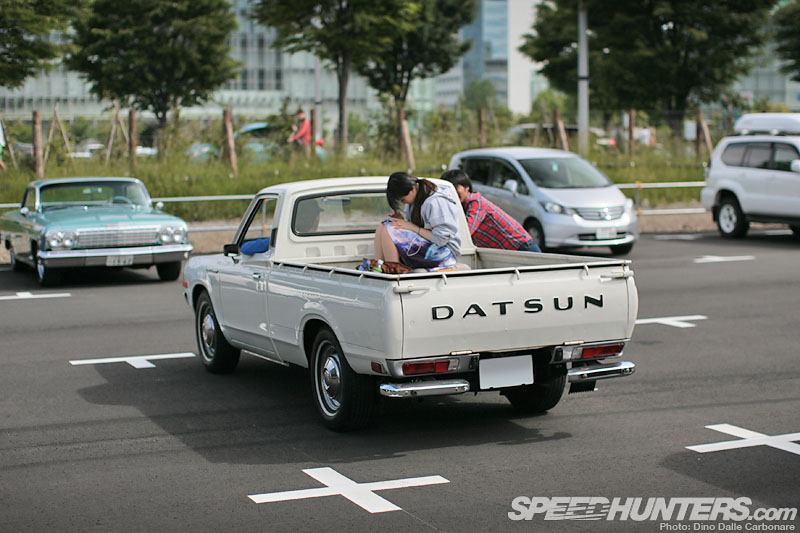 That about raps up the coverage of this year's Street Car Nationals; yet another great gathering put on by the Mooneyes crew. I think it's safe to say that with the continuous variety this event throws into the mix…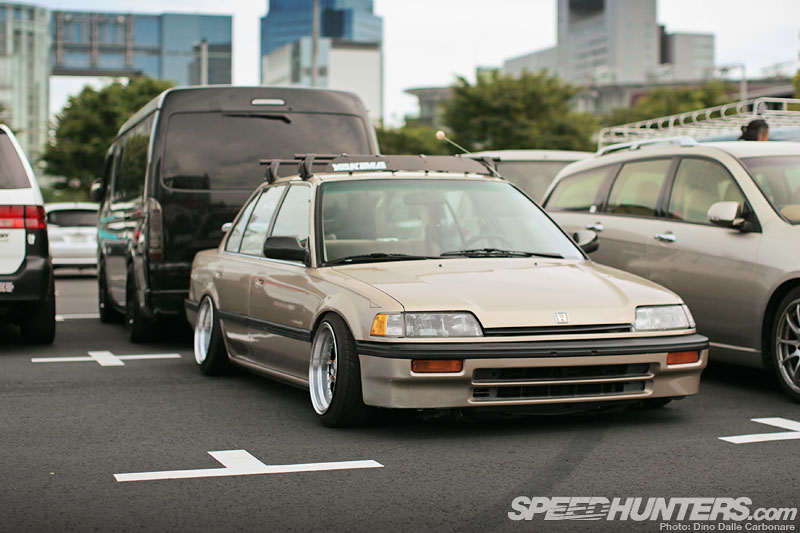 … it's virtually impossible to get tired! Until next year that's about it. There are a total of 38 desktop-sized images available across the various posts, so make sure you have a look through them and download all your favorites!
Dino Dalle Carbonare
Instagram: speedhunters_dino
Mooneyes Street Car Nationals coverage on Speedhunters
Mooneyes Coverage on Speedhunters