The Marronier Run is probably one of the lesser-known classic car events in Japan. It's a friendly rally organized by enthusiasts, for enthusiasts and it turned out to be one of the most enjoyable weekends I've had in a very long time. We are always on a mission to step outside of our comfort zones here at Speedhunters, pushing ourselves to go and cover scenes we may have never even thought of hitting up in the past. It keeps our outlook on things fresh and it helps bring a bit of variety to the must-see events and races that we cover year in, year out. I found out about the Marronier Run from my friend Arai-san, the owner of the immaculately restored and authentic Fairlady Z432 you see here. He is quite the classic car aficionado, and after putting up with the long wait to get his car restored by Ando-san at TA-Auto, he is out to make the best of it, hitting up events up and down the country…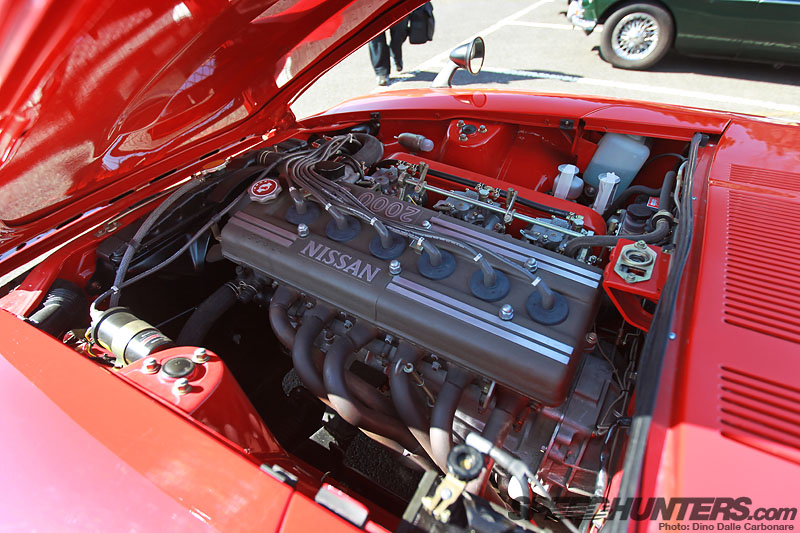 … and putting some enjoyable kilometers on the musical instrument that powers his fire-red Z, Nissan's great S20. Actually, back in 2010 when I first visited TA-Auto, Arai's 432Z was in the midst of its full restoration. As you can see here the car now looks a lot more presentable! It's been restored back to 100% stock condition, every upgrade on the car being either period correct or something that Fairlady Zs used to run in competition at that time. It's an awe-inspiring machine up close, so when I got the invitation to join him as his co-pilot in this year's rally, well I literally jumped at the opportunity! My job would be to sit in the passenger seat and carefully guide him through the one-day trial that had been set up for the entrants, flicking through the pages to some pretty intimidatingly complicated Japanese pace notes. No problem I thought, nothing like a bit of challenge! So a few Saturdays back, Arai picked me up in front of my house at 5 am sharp. We had to cover about 150 km up to Nikko in Tochigi-ken…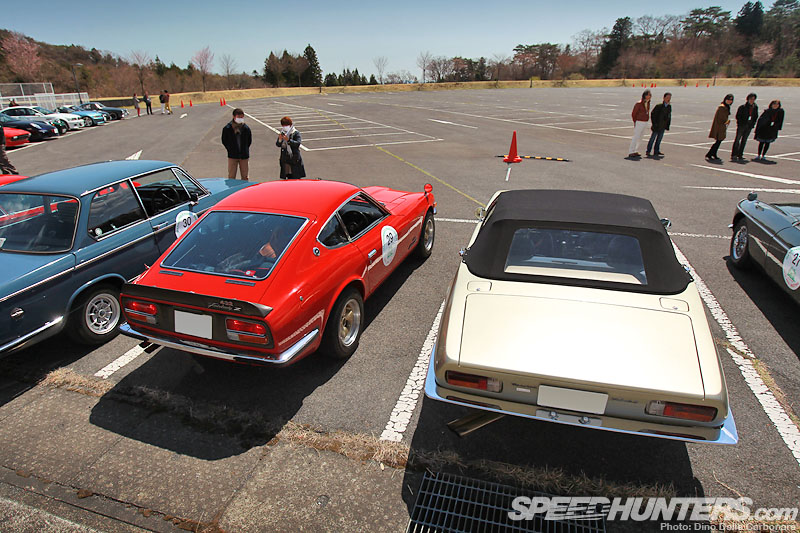 … to meet up with the rest of the entrants at the starting point of the Marronier run. The PS30 turned out to be a surprisingly comfortable car; smooth riding and quite sonorous through that stock exhaust system. After signing up and getting all the documentation for the weekend, not to mention our number 29 stickers for the car and the dreaded aforementioned pace notes, the first part of the event was a gymkhana trial. This was a simple course laid out with some cones at the Nikko Kirifuri Ice Arena parking lot where we had gathered, and something I was looking forward to shooting.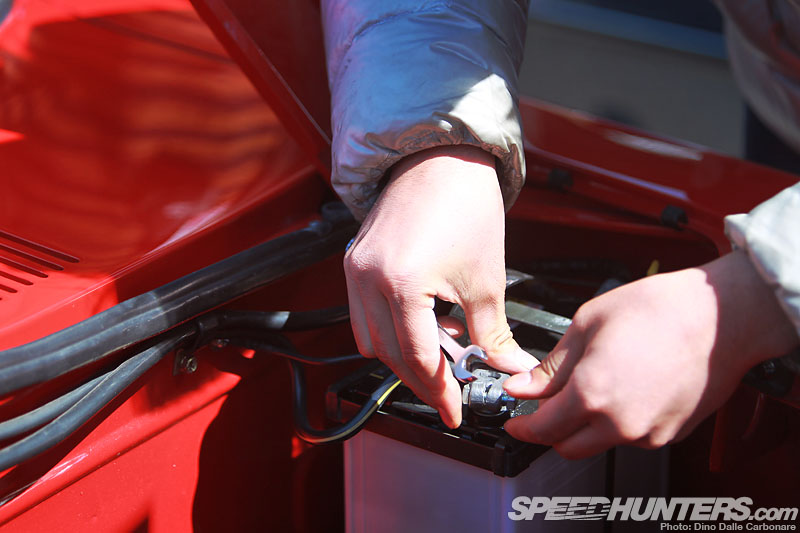 However the car had different ideas. As Arai went to warm up the engine, there were no signs of life from the electrical system. Despite having a fresh battery in there and no prior issues, we were all baffled at what had caused the flat battery. After pretty much giving up and calling a tow truck someone fiddling with the connectors discovered that the disconnect switch on the positive terminal wasn't making contact. This was quickly removed and a direct connection to the terminal made again, and voilà the car started up without a problem.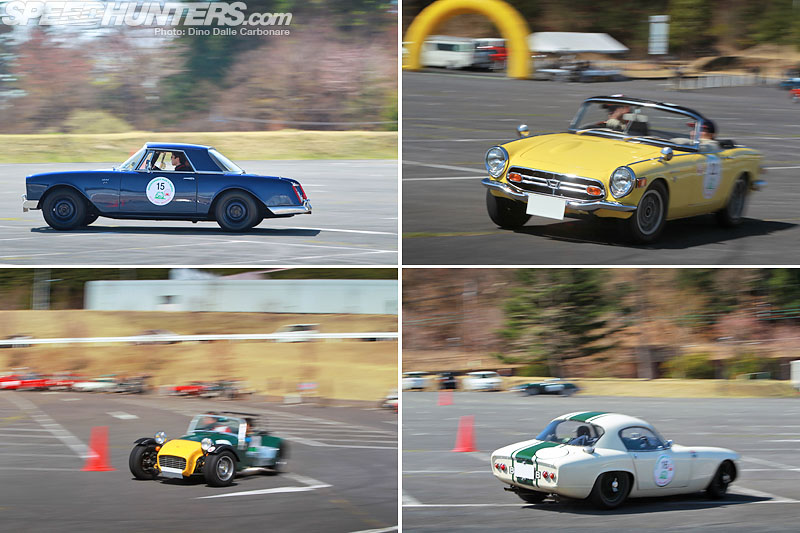 While this was happening however, most of the entrants had gone out for their little spirited drives around the course…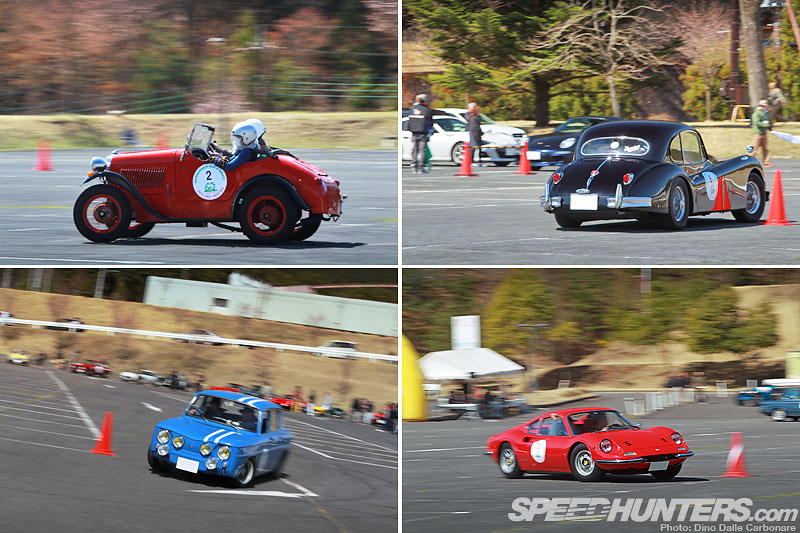 … which left absolutely no time for us to get in there and have a go. This wasn't exactly an important part of the overall trial, but still it wasn't a great start to the day. However, we were more than glad the car was running and that we didn't have to go back home!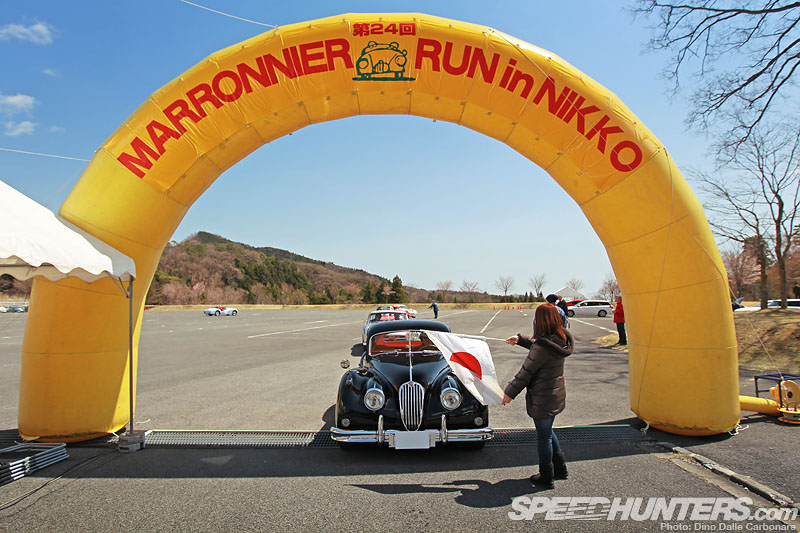 With the gymkhana finished the cars were let off through the start gate, a few minute interval separating each one. We had 28 cars in front of us (out of a total of 41) so had to patiently wait our turn…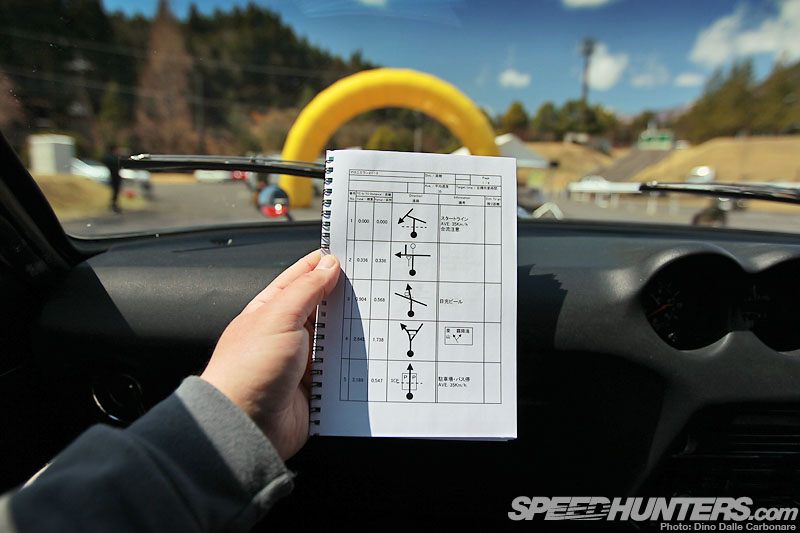 … something that allowed me to go through all the instructions in the notes. This was a time trial so we weren't supposed to drive as fast as we could, but rather precisely respect the timing quoted for each of the 10 checkpoints. Along the way major crossings and intersections were graphically represented to make sure we were all heading through the correct pre-set route. If we got to the checkpoints too quickly, we had to park up and wait to cross the line to avoid getting time penalties; if the opposite happened, Arai would have to step on it and make up time as we raced to the next point.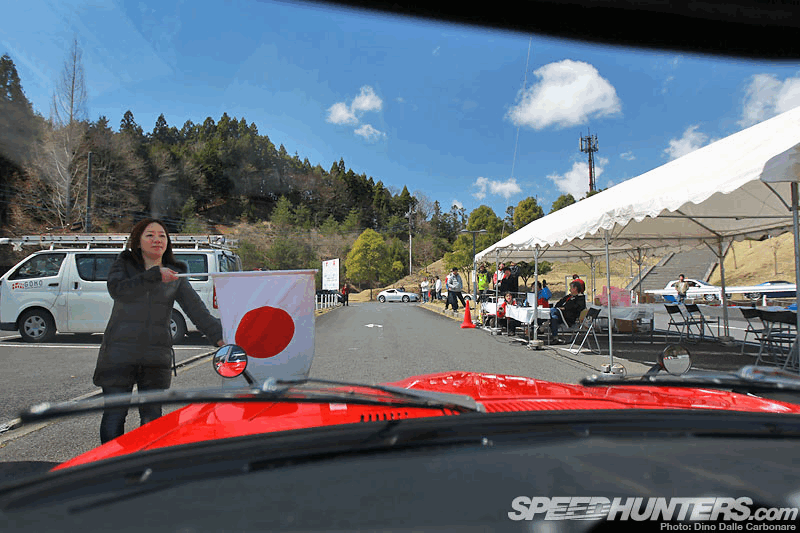 So with the 432Z running great, camera ready and pace notes in my hand we were off!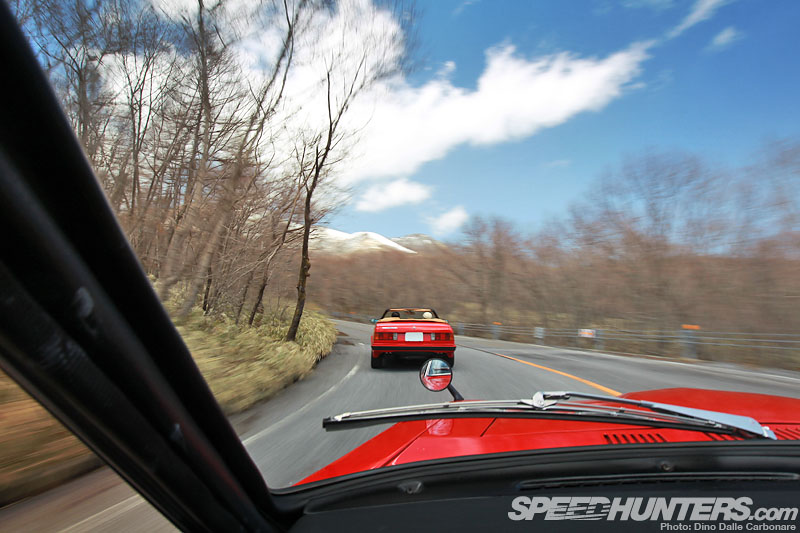 The first leg of our journey would take us all the way up the surrounding mountains…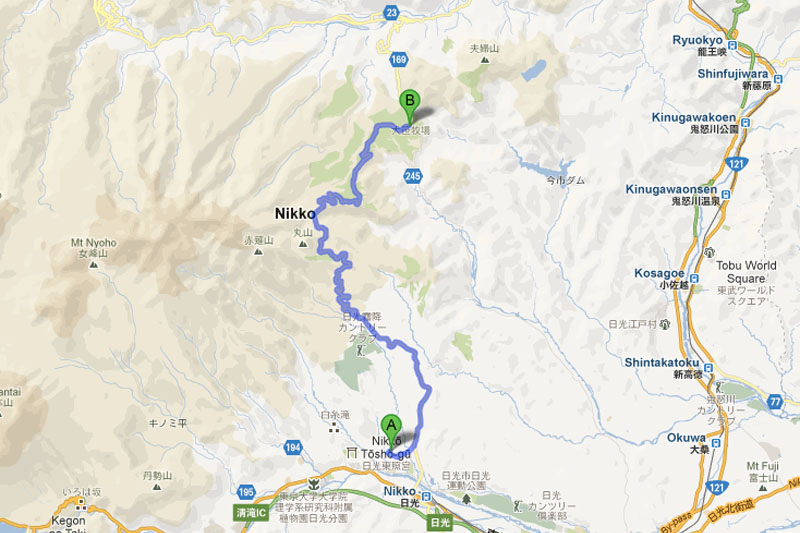 … on the Kirifuni Kogen Road…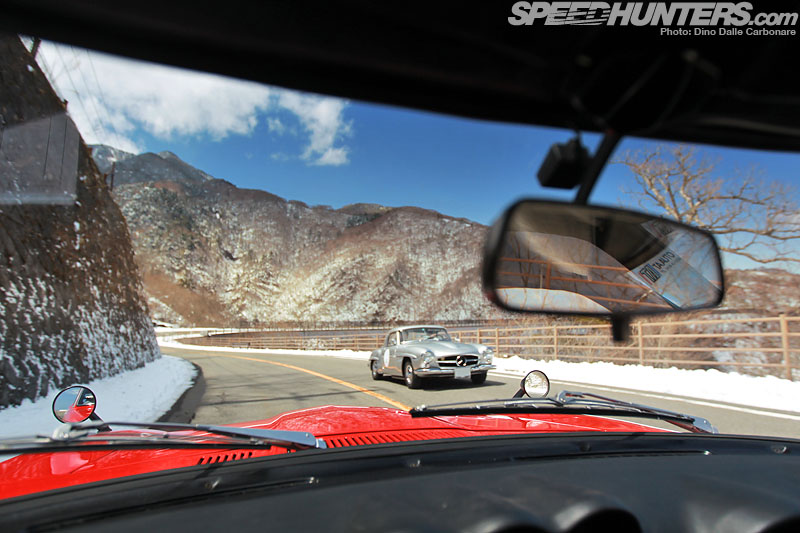 … an amazing touge I had never experienced before.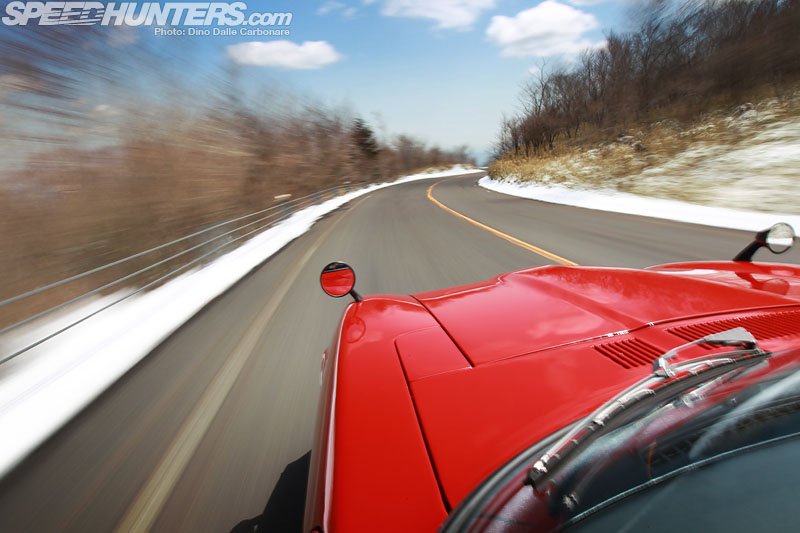 I was literally blown away at the views as we climbed through what can only be described as yet another blindingly impressive Japanese driving road.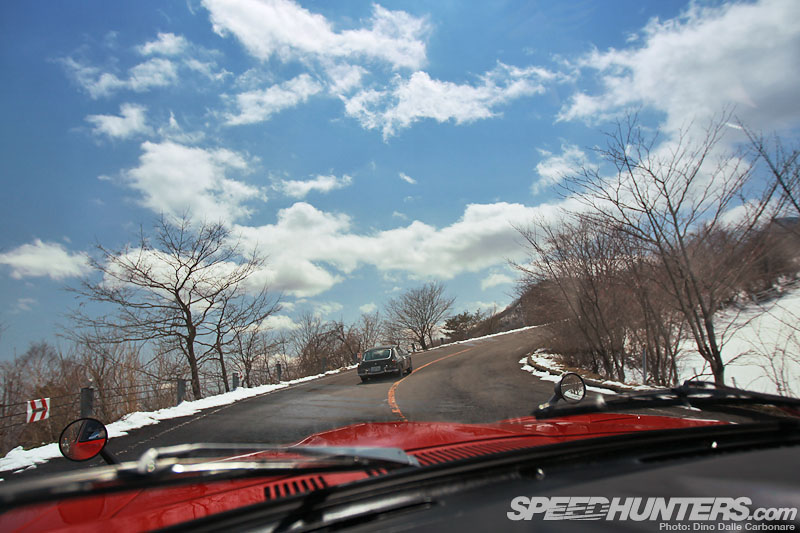 We passed a few checkpoints along the way; some on the dot, some a little behind the preset time as we actually got stuck behind a bus at one point. But it's not like we were worried…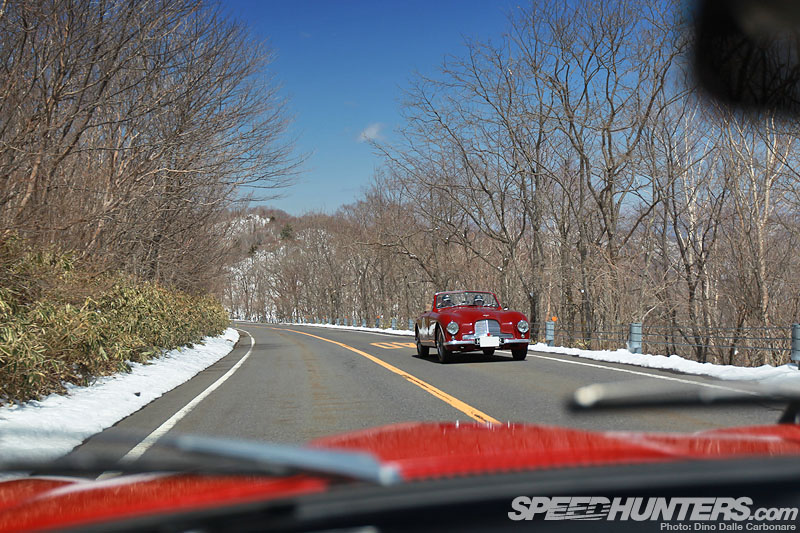 … we had a big grin on our faces as the S20 sang through the gears and the lightweight 432Z tackled the corners and hairpin bends with surprising compliancy and grip for a 44-year-old car. Some of the cars that had started the time trial before us, like this maroon Aston Martin DB5, were already on their way down…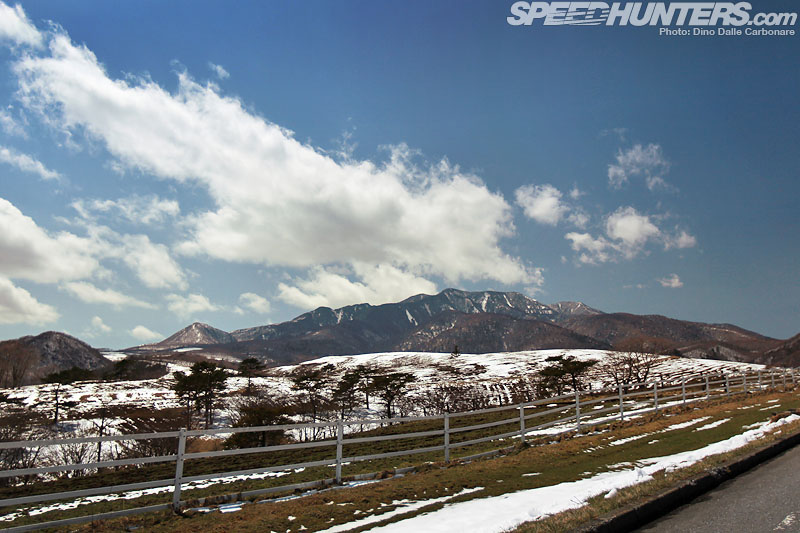 … but we continued the climb almost all the way up to the top of the mountain chain that surrounds the historical town of Nikko.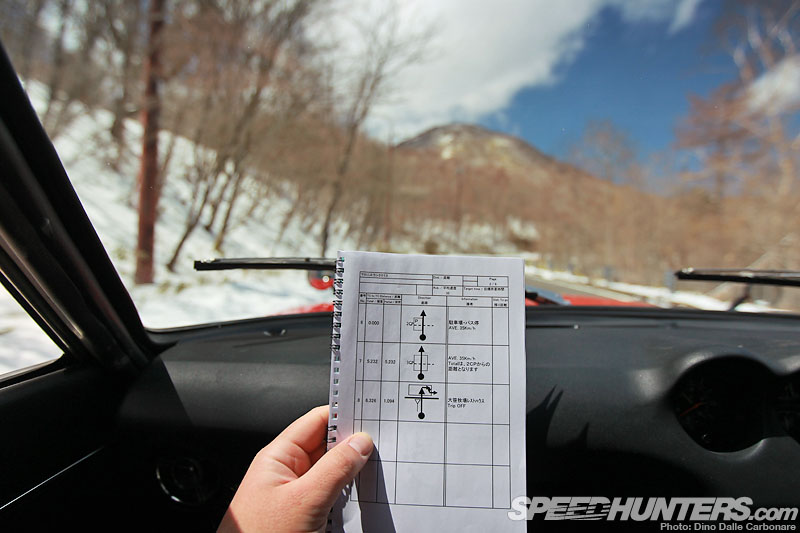 As the pace notes illustrated we had to hit up a viewpoint area and then do a U-turn to turn back and repeat the same stretch of road.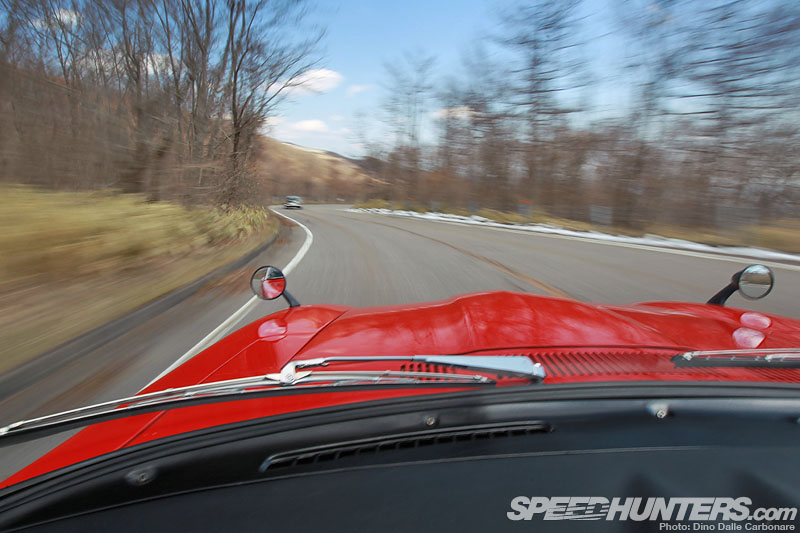 So back down we went!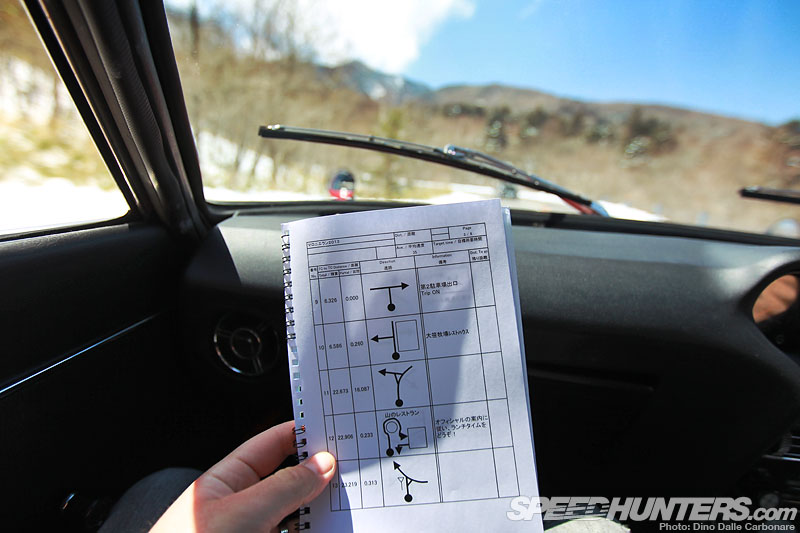 Our next port of call was our first and only pause for the day. After a morning of driving and no breakfast this little hour-long lunch stop was something our growling stomachs were calling out for.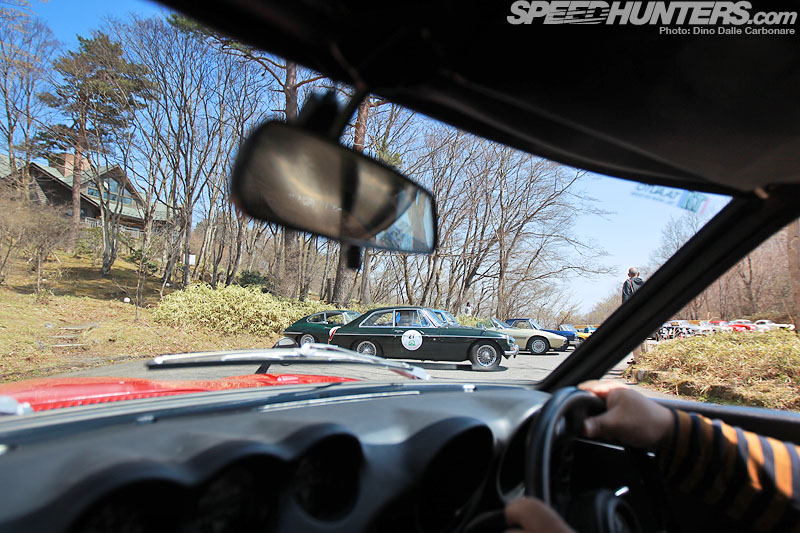 So after a pretty fast descent we pulled up at the restaurant's parking lot…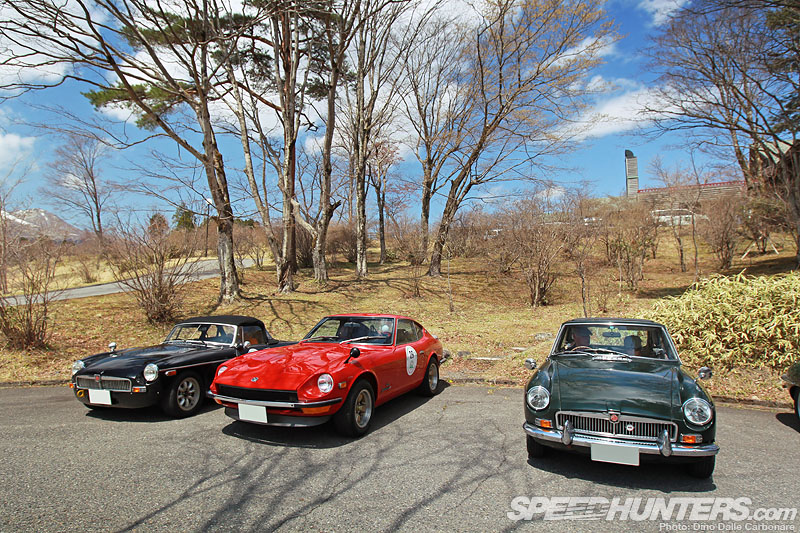 … and found a spot among this pair of MGs.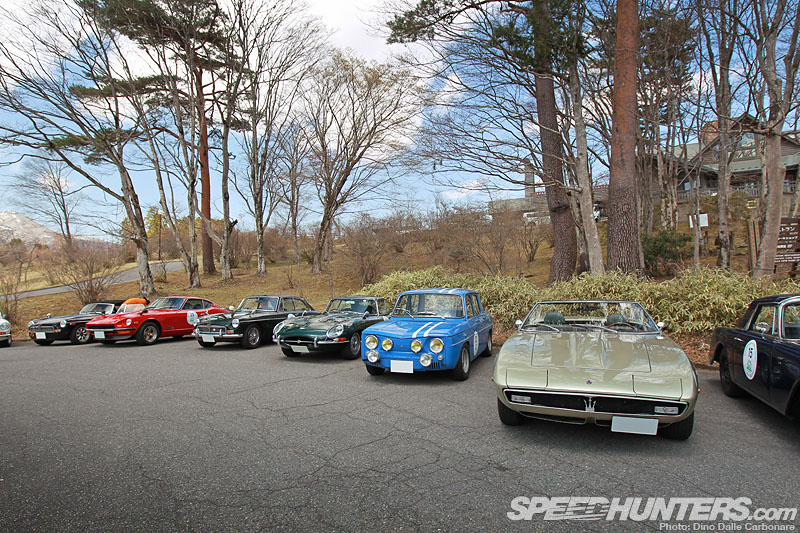 Just to give you an idea of the awesome selection of vintage rides that were part of this 24th Marronier Run!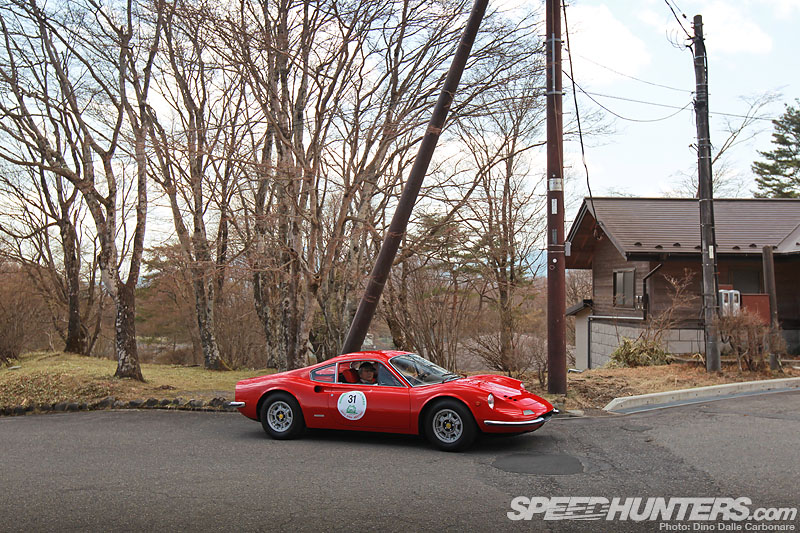 One of my absolute favorites was this 246GT Dino, which was only two cars behind us.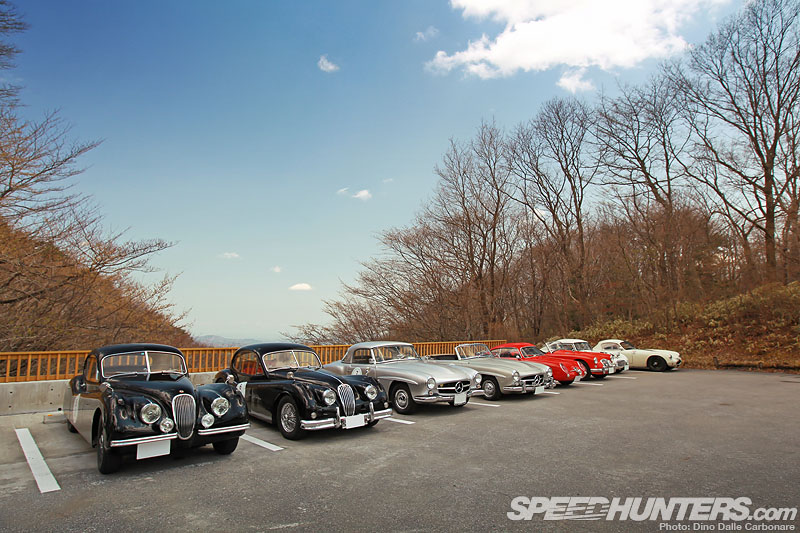 While this post chronicles the actual time trial from the cockpit of our PS30, I will be dedicating a second part to all the other wonderful classics that were entered.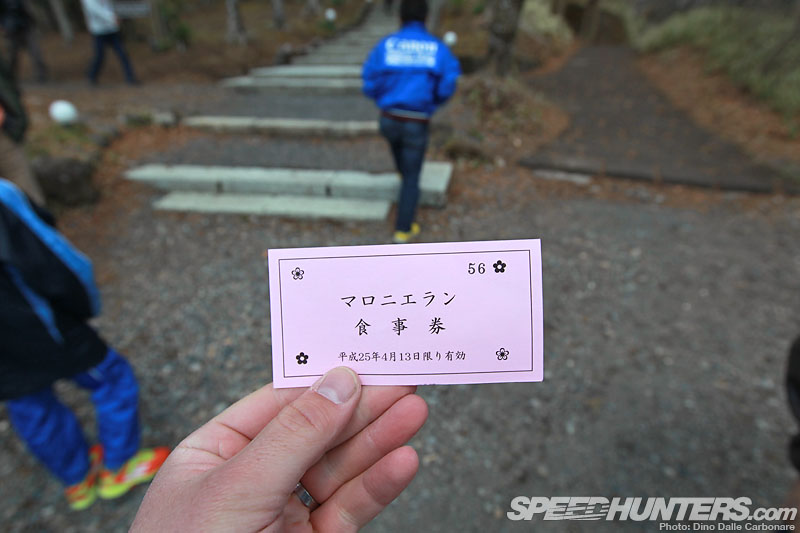 Also included with our respective entry packs were these meal coupons…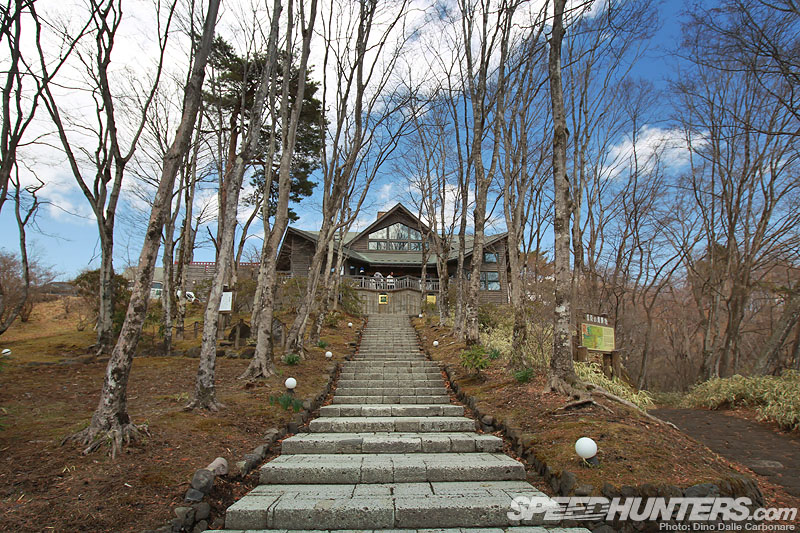 … which would entitle us to an apparently pretty heartfelt meal at the "Yama no Restaurant," a nice chalet style building set on top of a little crest.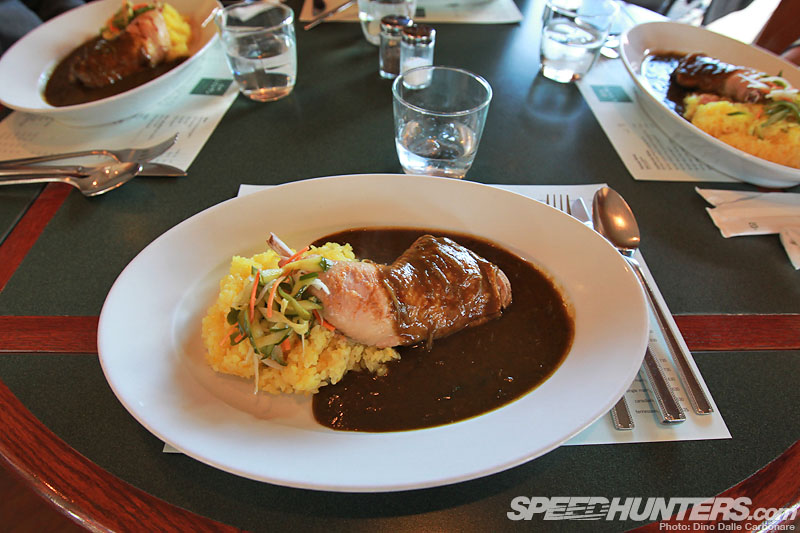 We were fed what has to probably be the most gourmet take on Japanese curry-rice I've ever had, served with a nice grilled chunk of chicken and saffron rice. That plate was cleaned up to a shine in a matter of minutes!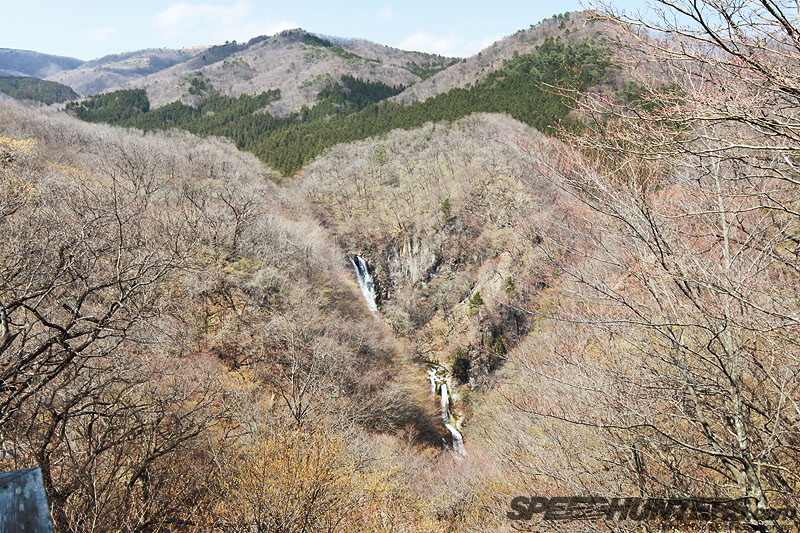 With a bit of spare time before we had to get going on our next leg, we all stepped outside onto the balcony to enjoy some beautifully fresh air and a stunning view of the Misty Falls in the distance.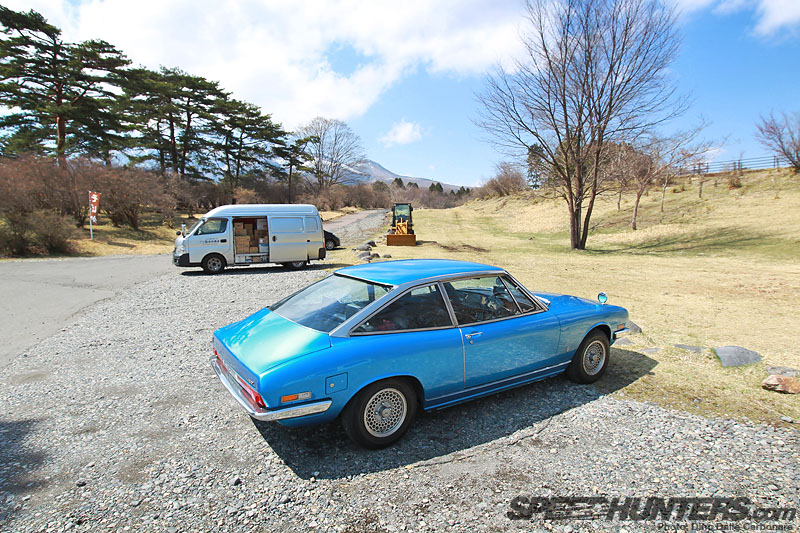 Before we jumped in the Z and shot off again I had to quickly run to the far side of the parking, as I spotted this Isuzu 117 Coupé. A rare Japanese classic and not part of the actual Marronier Run!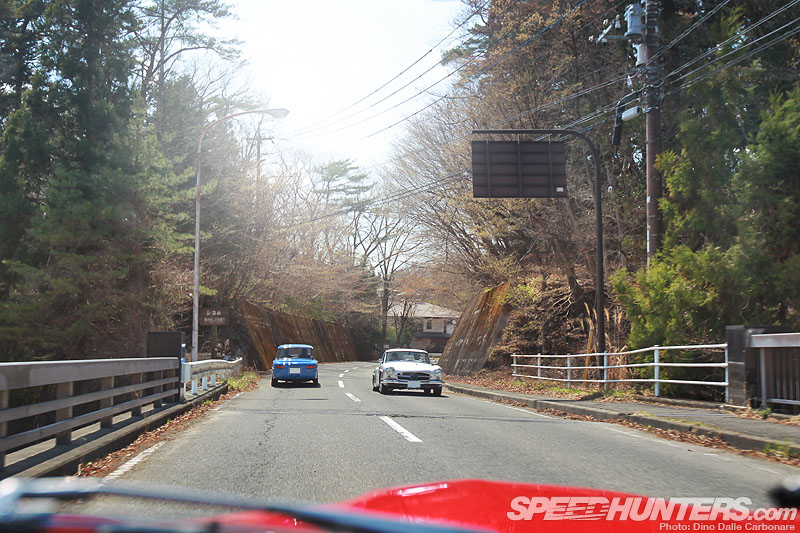 From the restaurant it was a short journey following the little Renault 8 Gordini 1300 in front of us…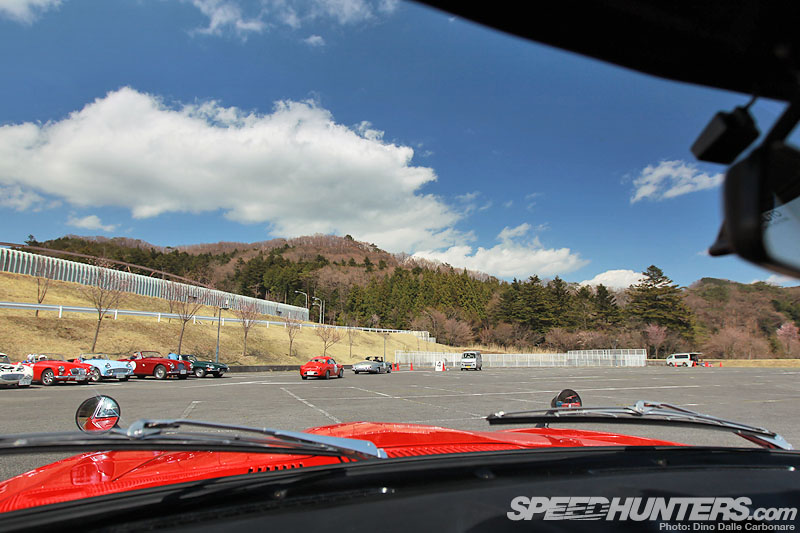 … back to where the day had started at the Ice Skate Arena parking lot. Here we would line up for a fast paced run around four cones before shooting back off once again…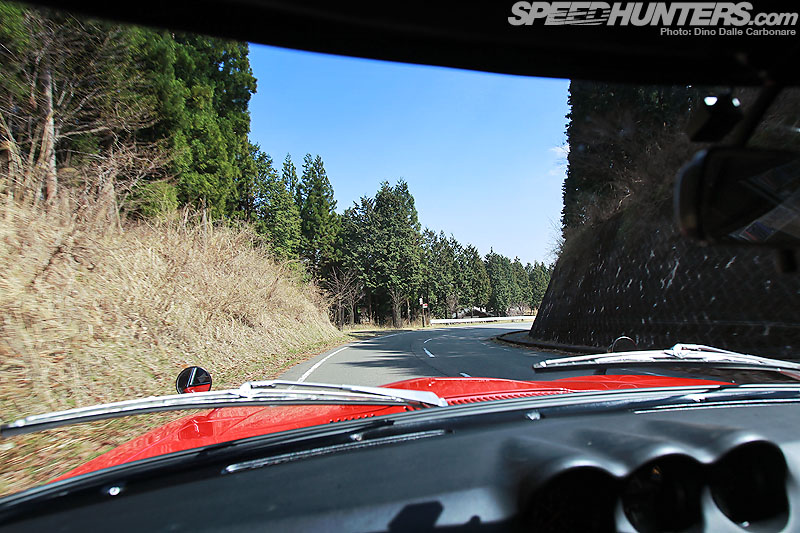 … onto the open road.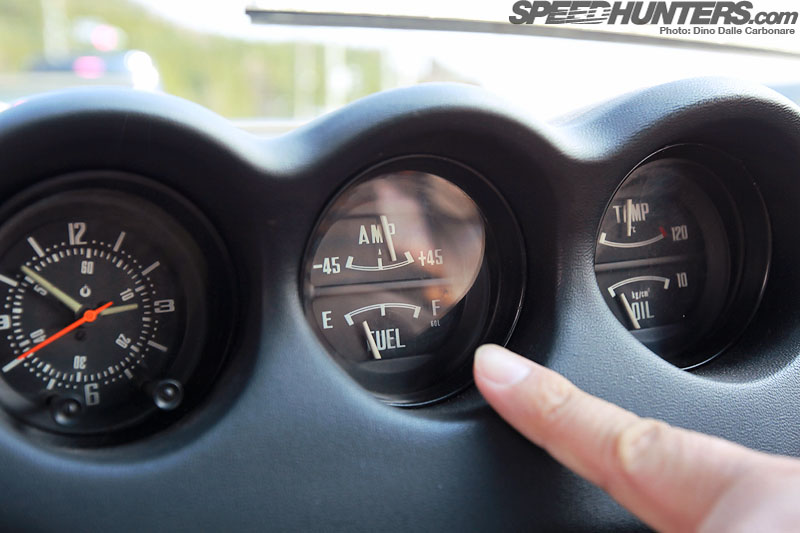 One of the negative aspects of the S20 is its thirst for high octane gas and after a spirited drive up and down the touge that fuel gauge was edging ever so close to the 'E' marking.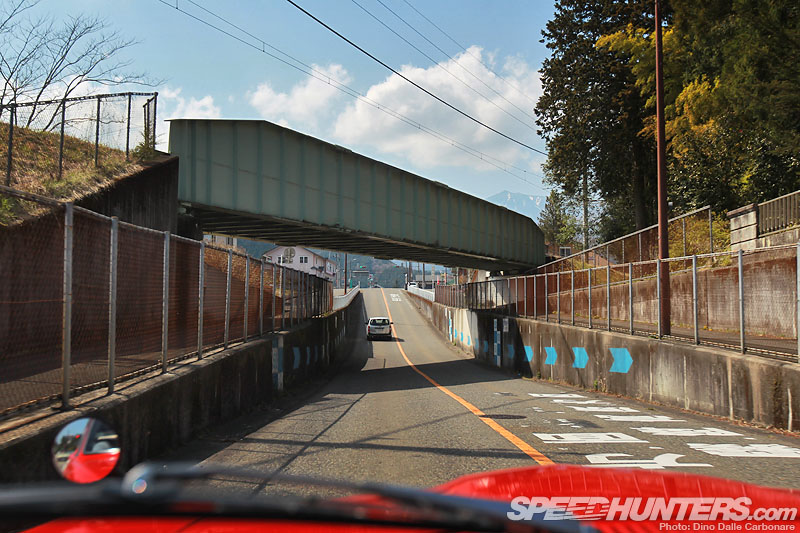 But according to Arai we weren't going to have any problems – hopefully! We had to cruise through a short section of regular town roads down in the outskirts of Nikko…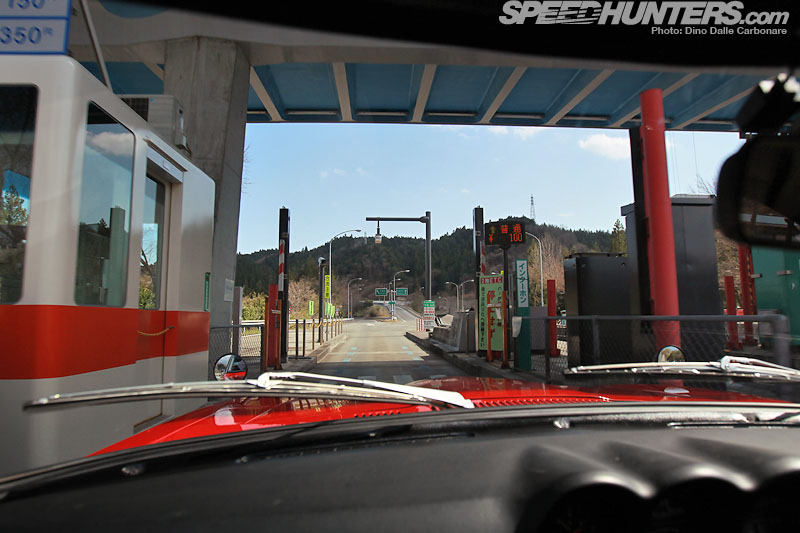 … before jumping on the 'Nikko Road' highway…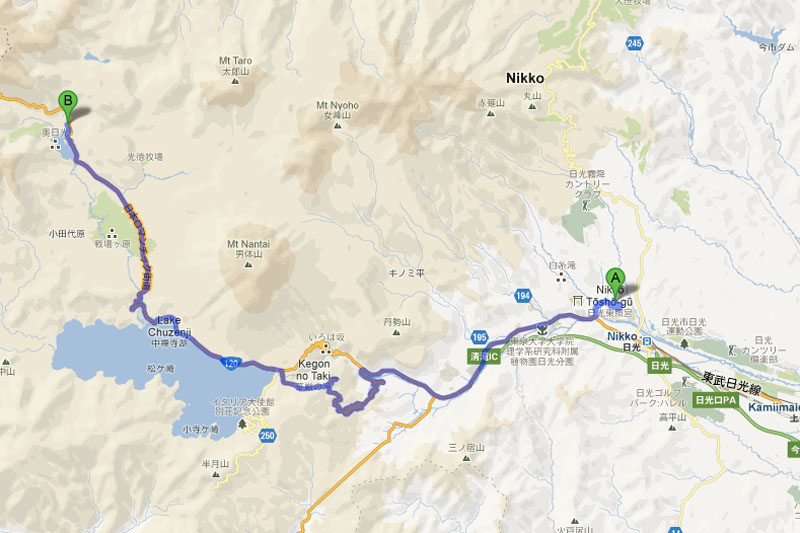 … and on to the afternoon's planned route.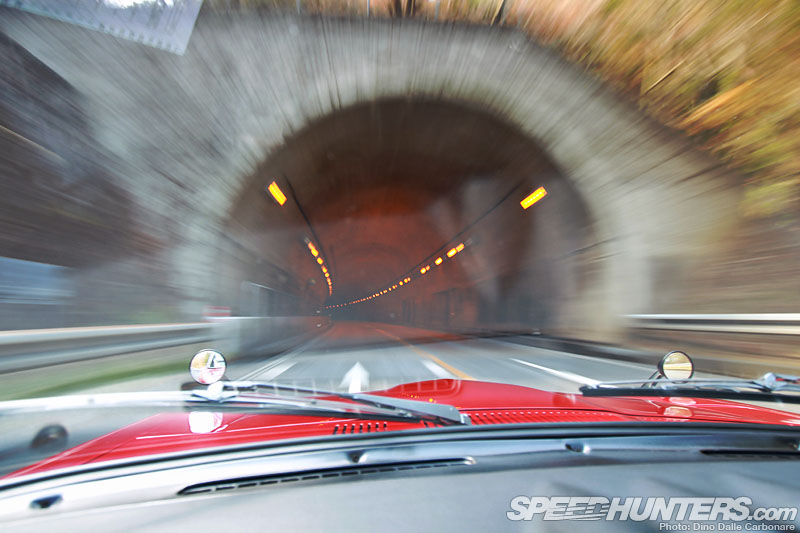 We had a very fast 10 minute ride here through a bunch of tunnels…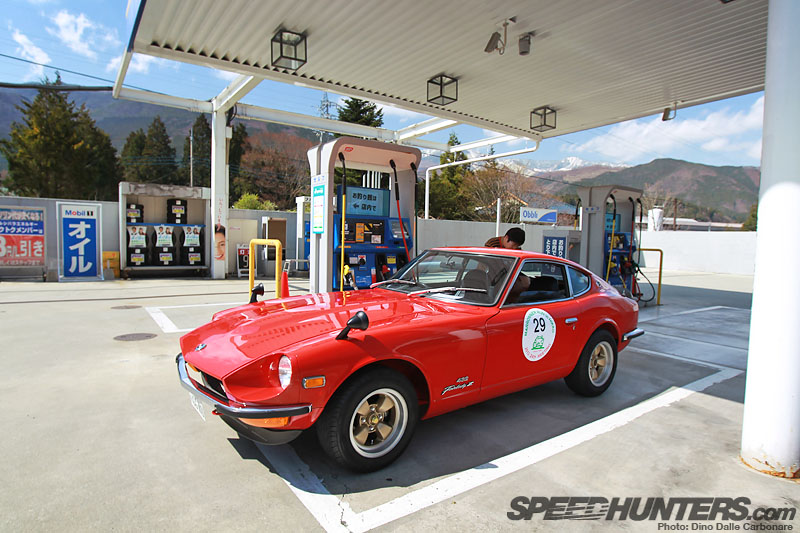 … before exiting at Kiyotaki. There we had to stop quickly for a bit of fuel…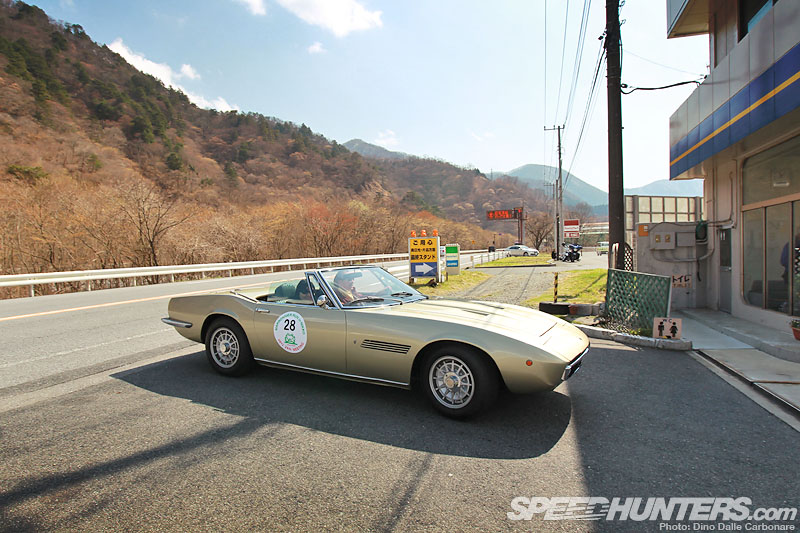 … and we weren't the only ones! Entry number 28, a metallic gold Maserati Ghibli, was running on fumes too as its 4.7L V8 guzzled through its entire tank.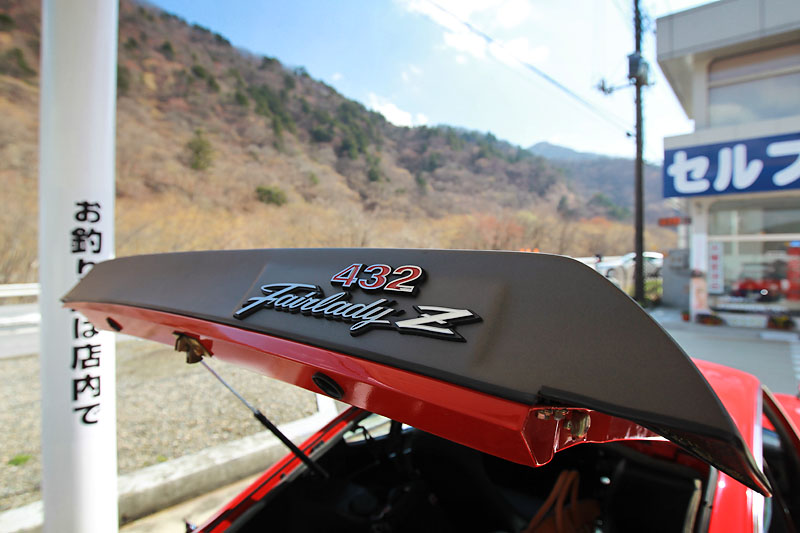 I took the opportunity to change lens and drop the other camera back in the bag to make my life a little easier.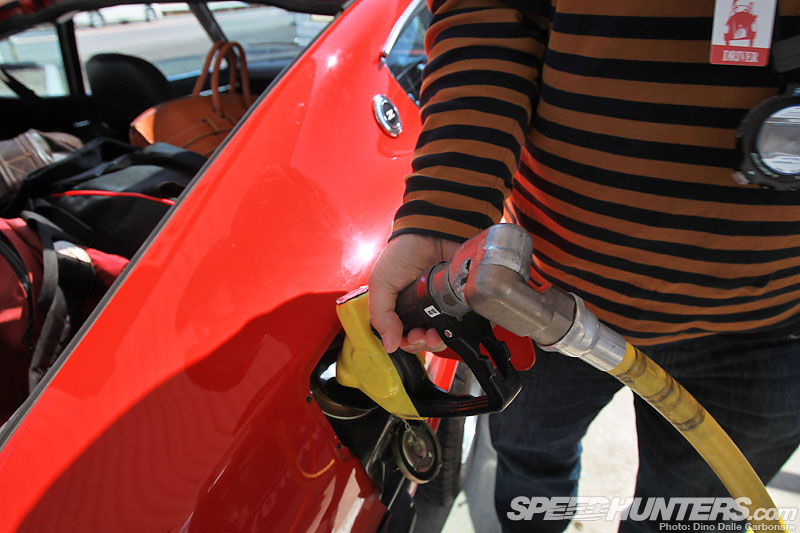 In the mean time Arai put a bit of gas in the tank, enough to allow us to finish the rest of the day.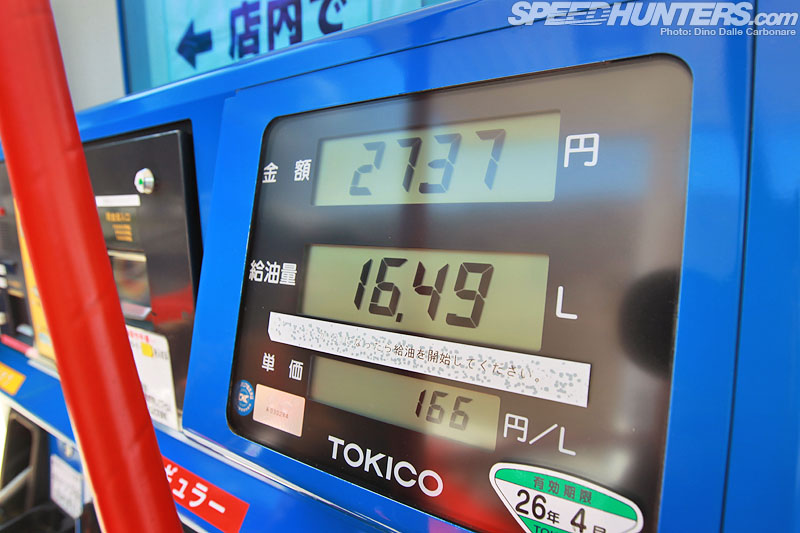 Gas stations up in touristy areas always add a mark up to their prices, and at this particular spot hi-oku cost about ¥15 more per liter than what we paid earlier on in the morning in Tokyo. How do these prices compare with your local gas station?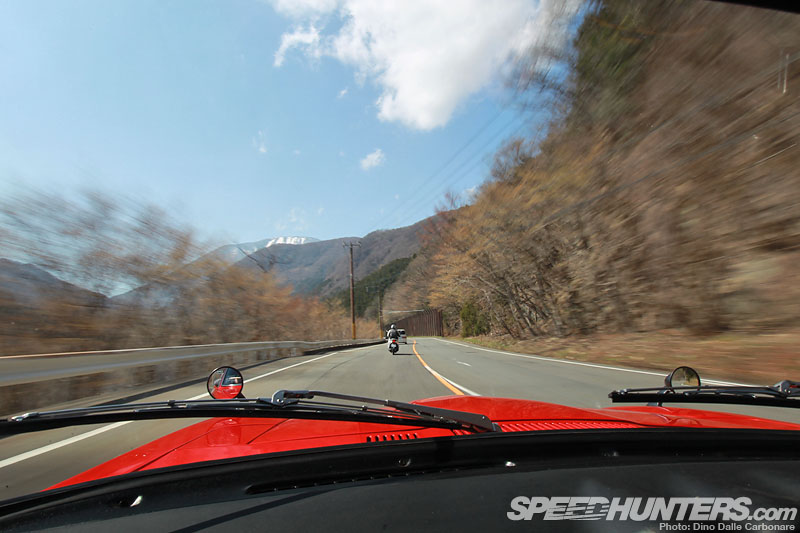 We were doing OK on time…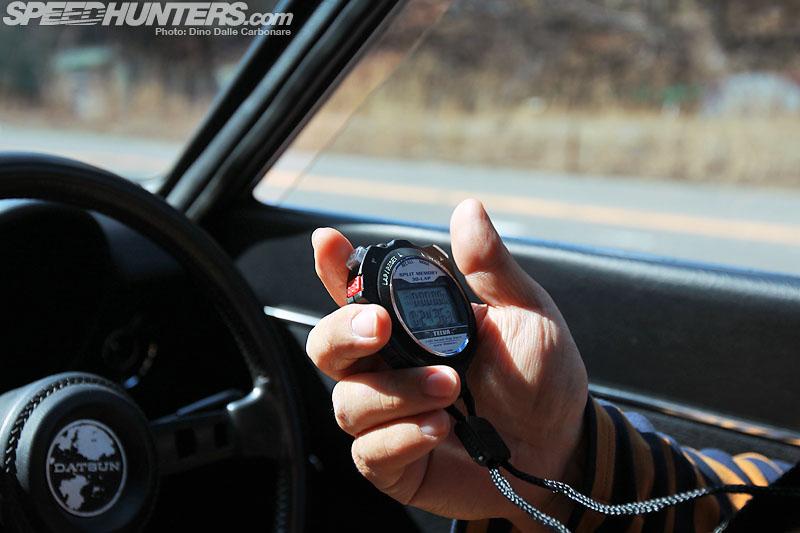 … so when we arrived at the next checkpoint we had to stop and wait for about three minutes…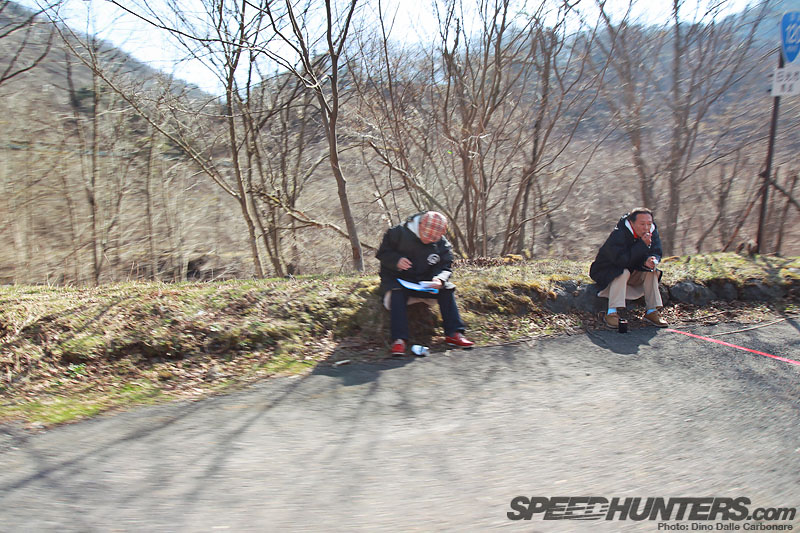 … before passing the red line. As each car drove by, these marshals jotted down that we had successfully cleared the section.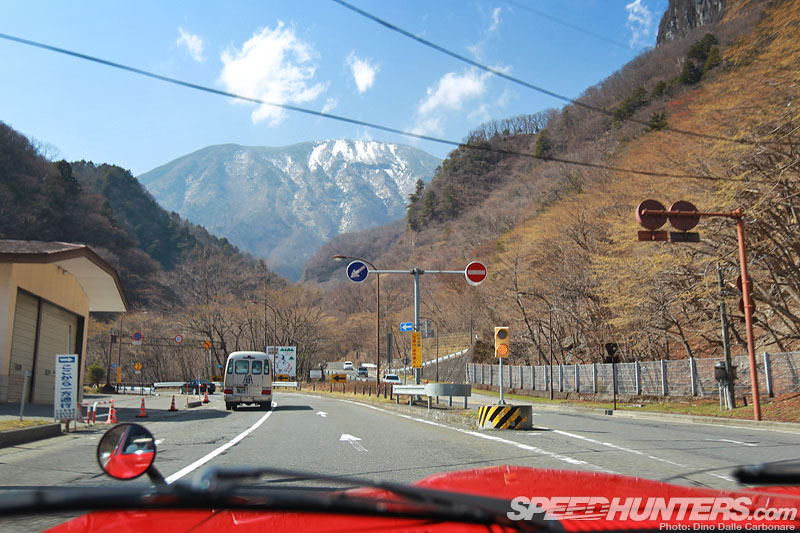 Next came another awesome road, the Nippon Romantic Kaido, which takes you up to Chugushi town and Lake Chuzenji. Fans of Initial D will know exactly what area and road I am talking about here.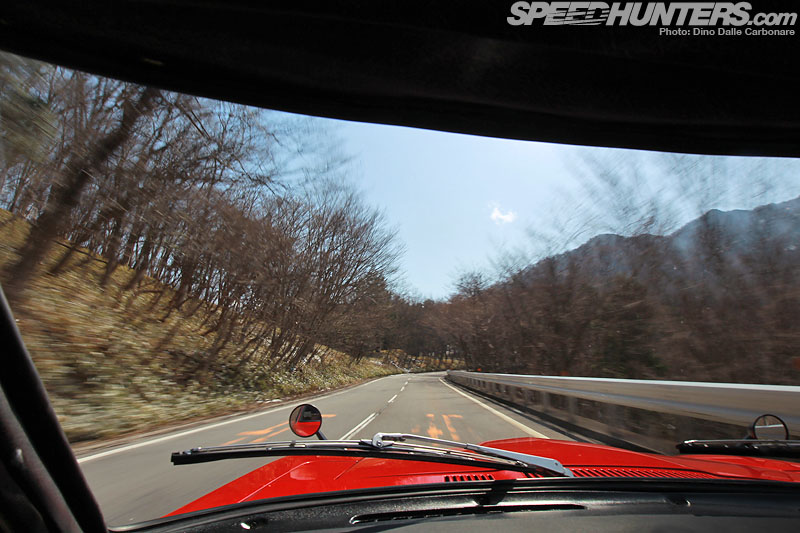 It's a two lane, one way stretch of tarmac, and with virtually no cars around you can imagine the race lines you can take through here.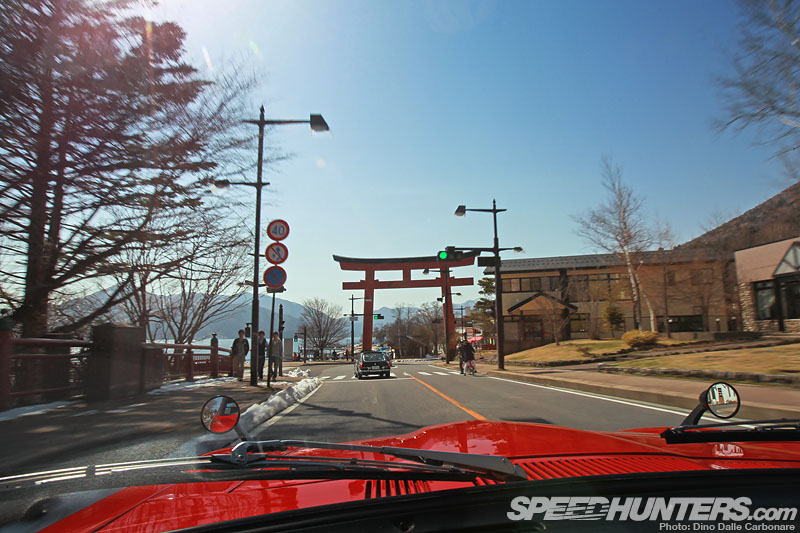 In no time we were right up in the town center and before hitting the lake we took a left turn…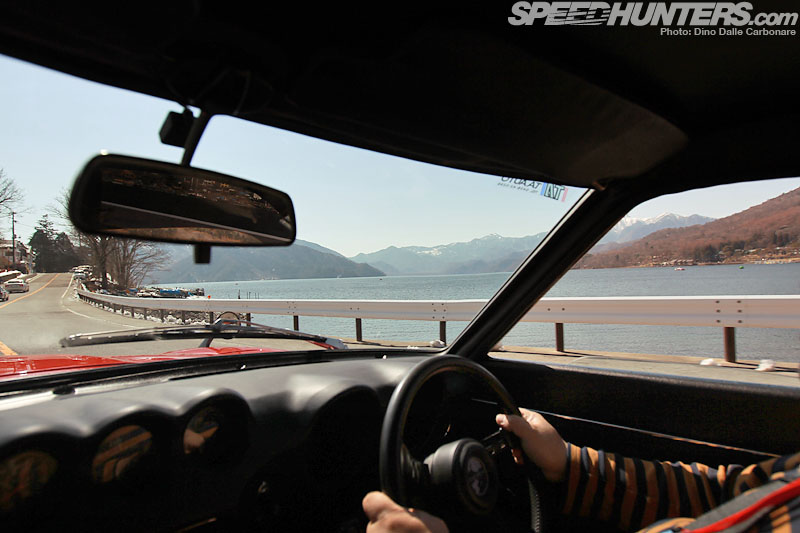 … and circled around for a couple of kilometers.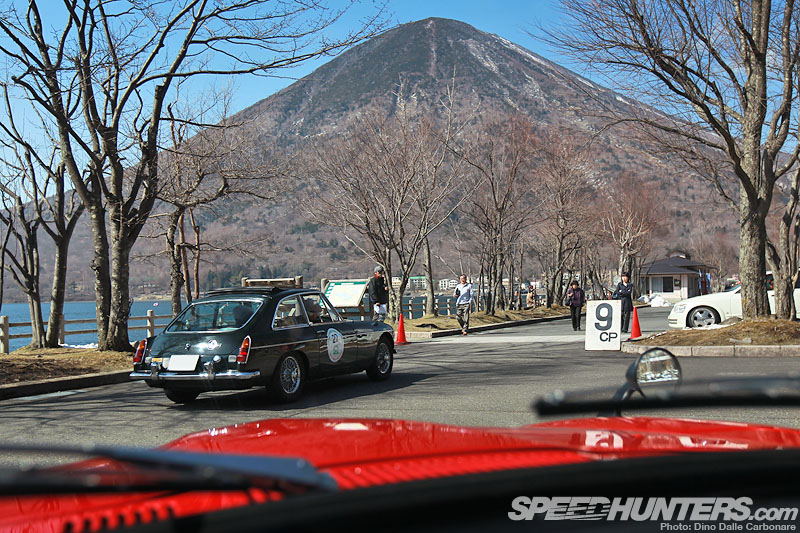 We reached our penultimate checkpoint in the Tachiki Temple parking lot with a few minutes to spare, so once the MG in front of us drove on, we waited the right time and did the same. The spent volcano in the background is Mt. Nantai which stands at 2,486 m. The actual lake is at an elevation of 1,269 m.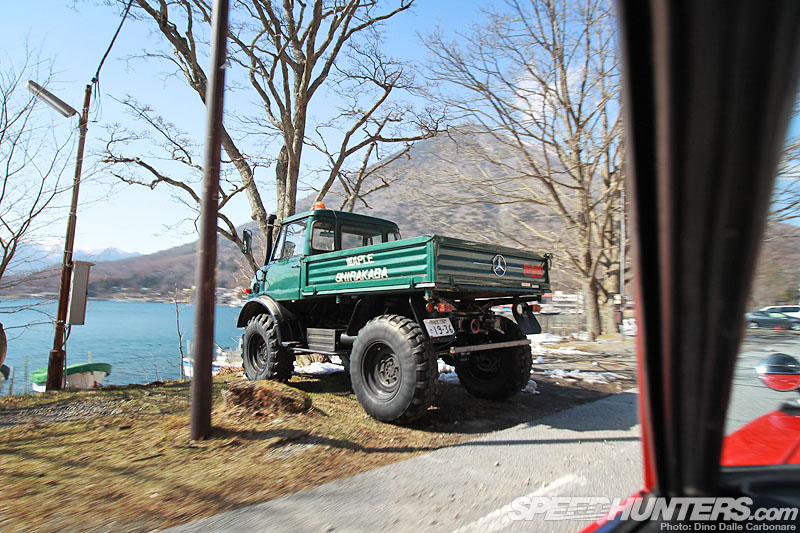 As we drove out back onto the road I spotted this old Mercedes Unimog parked on the side of the street! How cool!!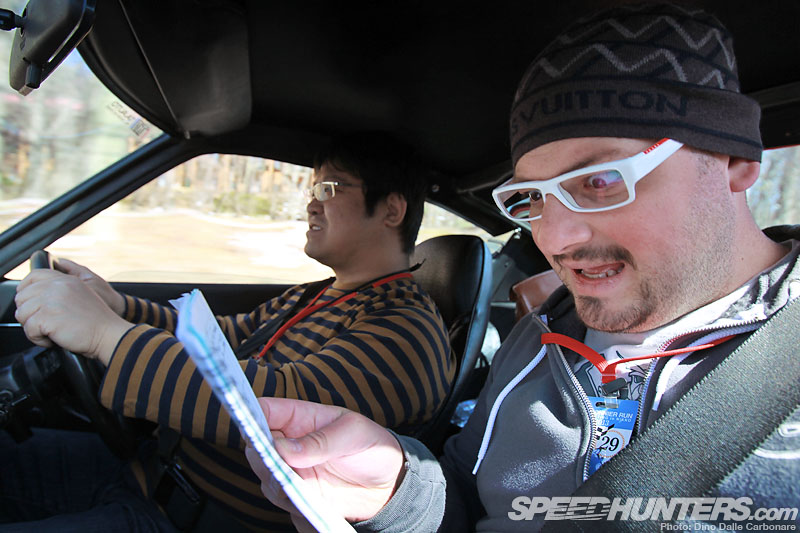 And so with one final check point to go, I attempted to study the next set of directions, somewhat panicking at the complexity of it all. It was all good though…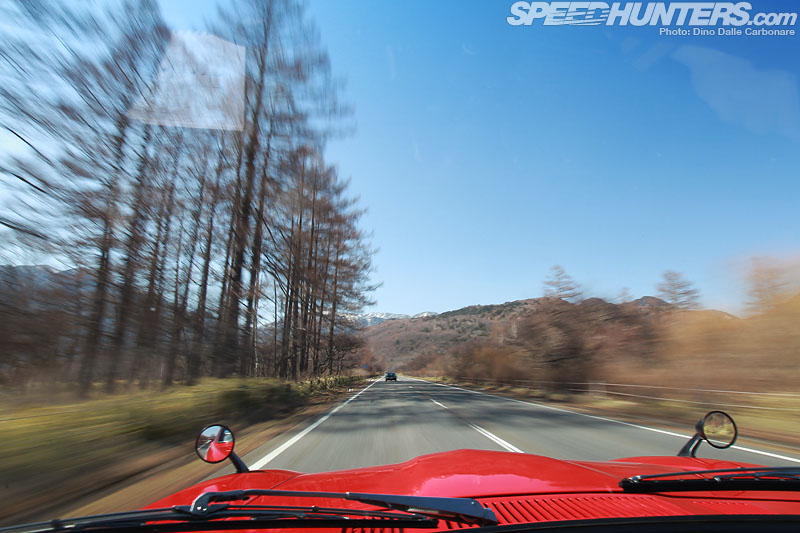 … as it turned out to be pretty straightforward. We climbed further up the Nippon Romantic Kaido…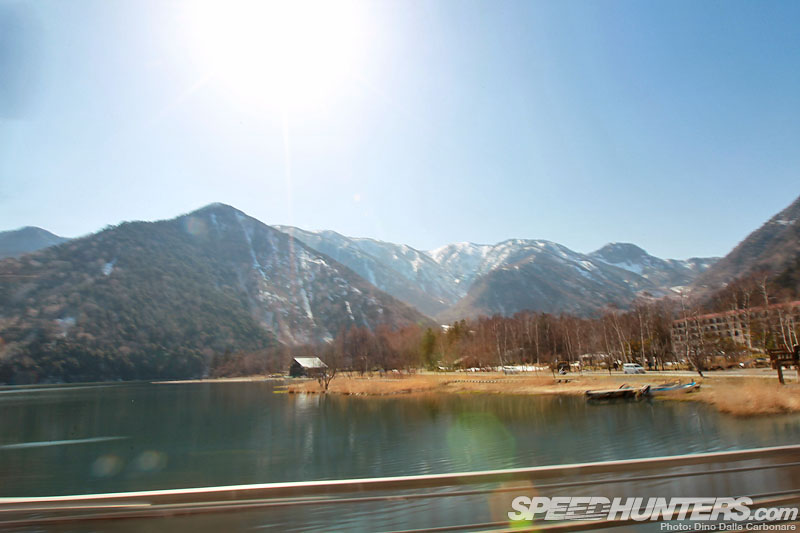 … and arrived in Yumoto Onsen, a hot spring town overlooking Lake Yunoko.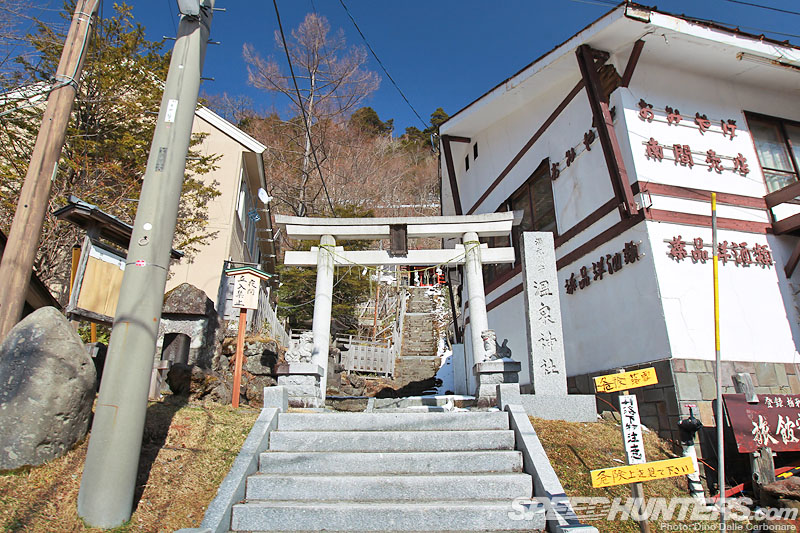 The complex instructions were there just to make sure that we all made a U-turn right in front of this shrine, before heading back down towards Chuzenji…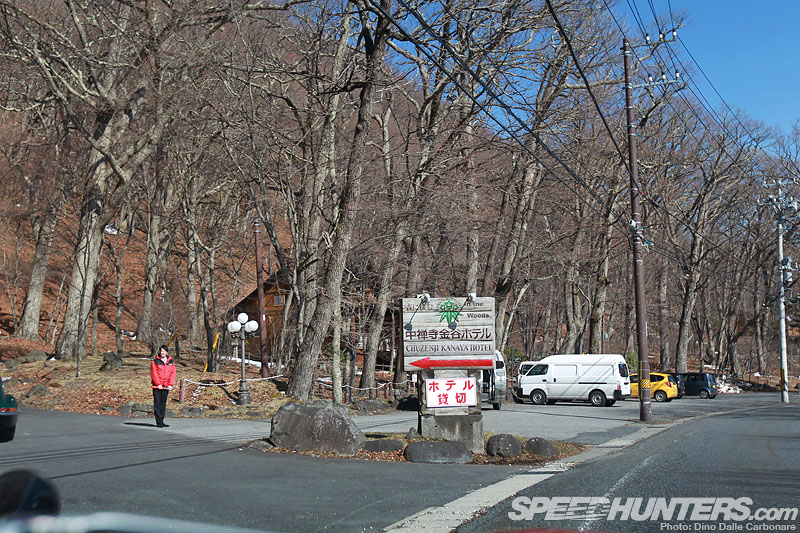 … where we would take a left turn onto the access road to Chuzenji Kanaya Hotel…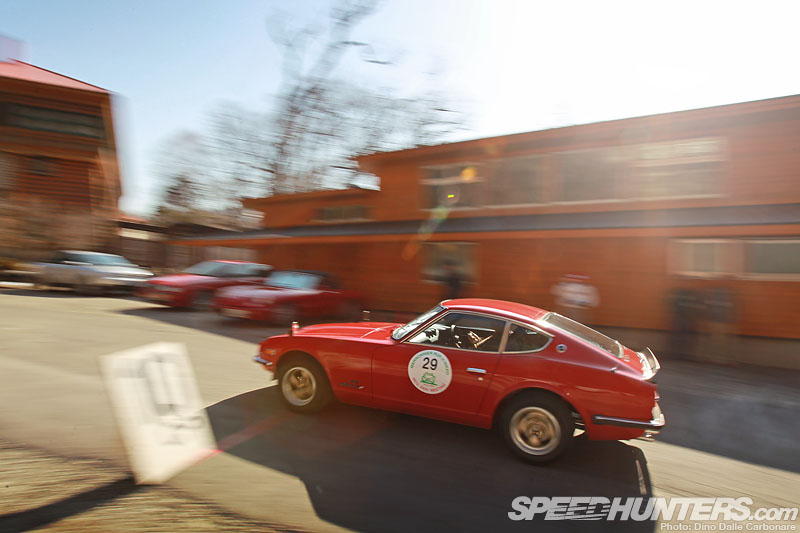 … and make our way through checkpoint 10, the finish line. Due to a few mistakes here and there we finished in 33rd place; not a great result but we didn't care as we were just there for the experience! We would go on to enjoy a soothing onsen hot spring bath before a lovely dinner party and a good night's sleep! My first experience participating in a historic car rally was one I will definitely cherish for many years to come. The excitement of the time trial, the awesome cars that participate and above all the amazing people I got to meet have made me think that next time I should probably enter this as a driver! Now all I have to do is get myself some sort of classic!
It doesn't end here however. As I mentioned, in the second part of the coverage from the Marronier Run I will cover the Concours D'Elegance that was held the following day. After all I haven't even shown you half of the cars that took part! So stay tuned for more…
Dino Dalle Carbonare
Instagram: speedhunters_dino
Other historic car coverage on Speedhunters