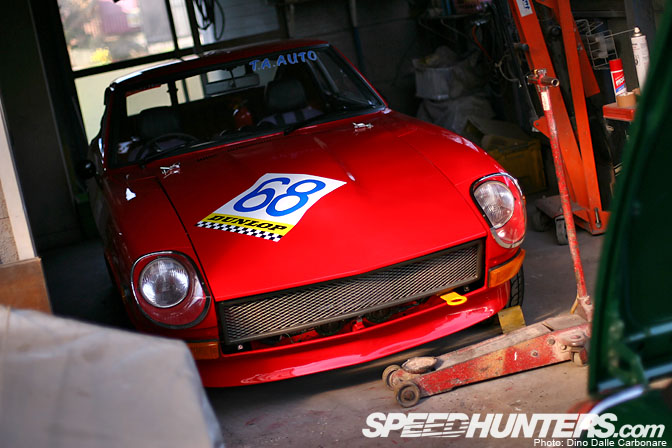 With this month being dedicated to builds and previews there is one place I knew I had to visit for you guys. You wouldn't be able to find it if you tried, nestled deep in the Chiba-ken countryside, a stone-throw away from the new Sodegaura Forest Raceway. This is where magic happens, you feel it the instant you set foot inside one of the garages where restoration projects are underway. Thanks to people like Ando-san rare Japanese classics are brought back to life here, often starting off from nothing more than a rusted up shell.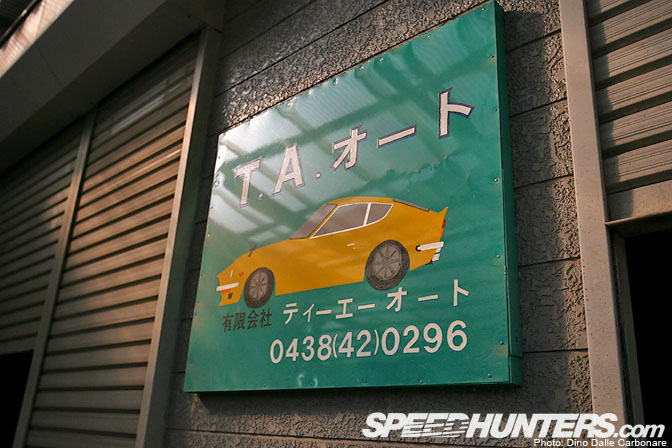 Welcome to T.A. Auto.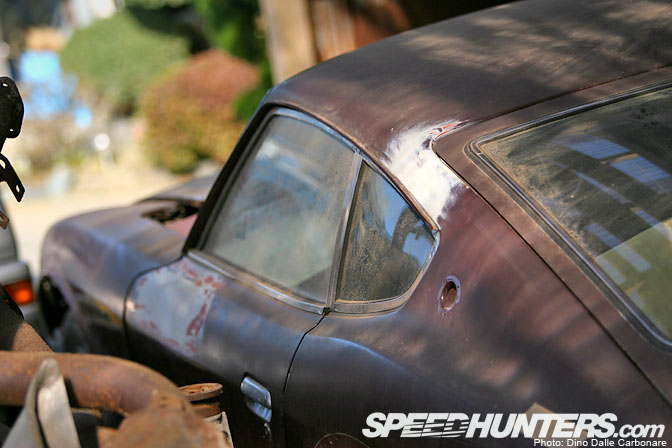 Ando-san has been in this game for many years, building a reputation as one of the most gifted restorers in the country. Over the years he has brought all sorts of classics back to their original glory, manly Nissans, specializing particularly in the Fairlady Z and the Skyline 2000 GT-R. Hearing I wanted to come for a visit to shoot for Speedhunters Ando-san was kind enough to organize a very special visit from some of his friends in the classic Fairlady world. While I waited for them all to arrive I took a quick stroll through the premises checking out some of the cars that he has lying around…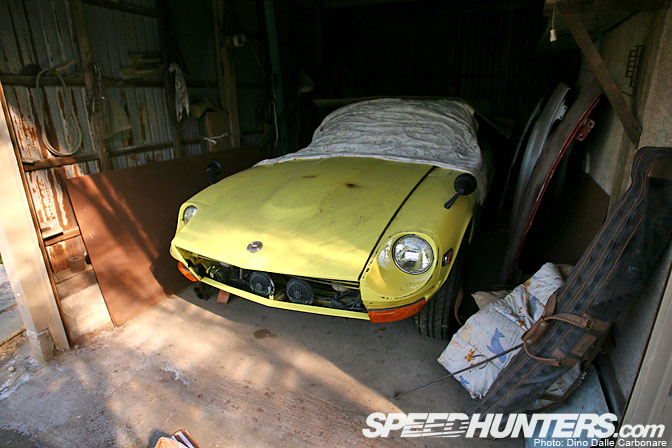 …like this yellow S30, which is his own personal car he hopes to find some time to restore in the future. He used to drive this back in the day but after the business picked up it had to take an almost permanent spot in the garage!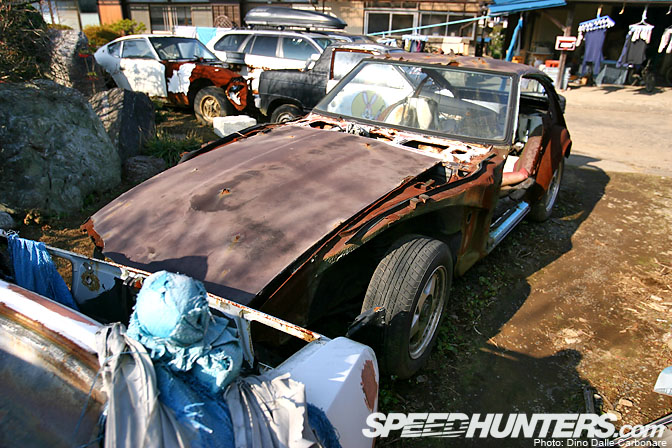 The yard around the workshop is littered with old Zeds…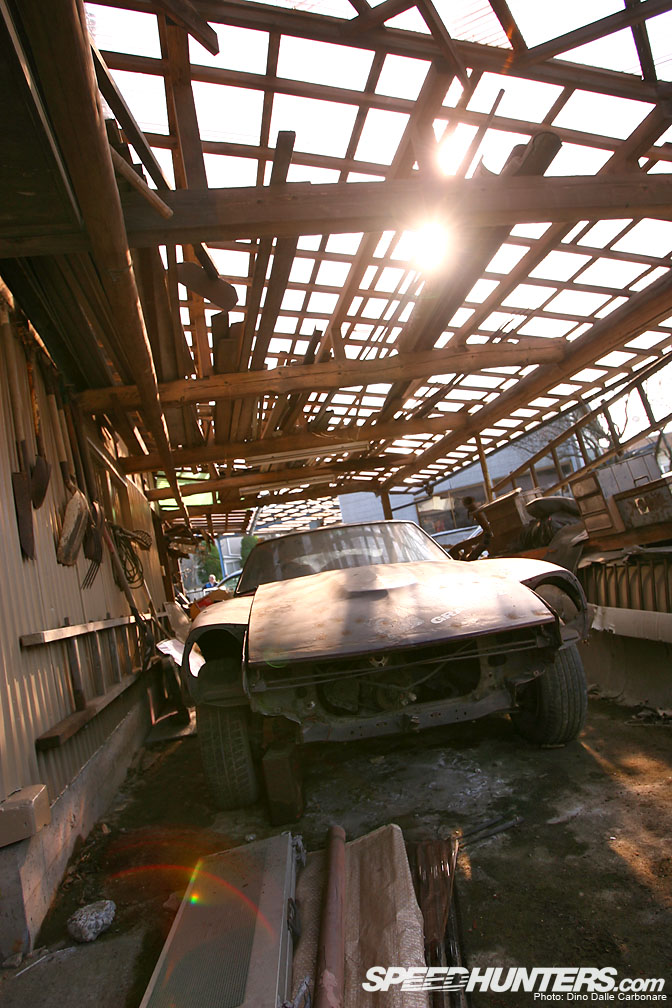 …everywhere you look there is one sitting, waiting to be used for parts or for a potential owner to come and snap it up and have Ando-san restore it.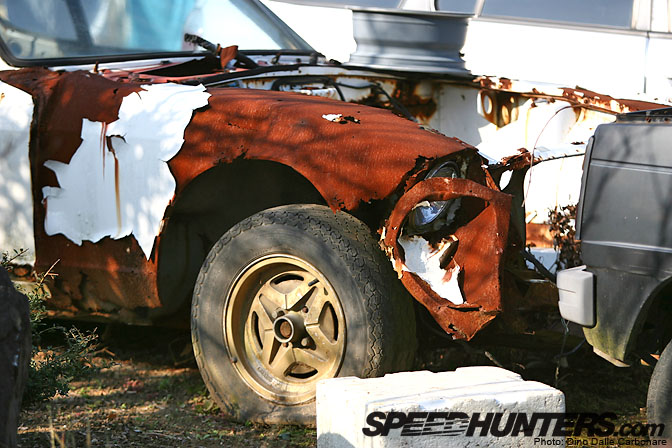 It's a pity to see such great historical rides crumble away but they are in the right place to be brought back to life.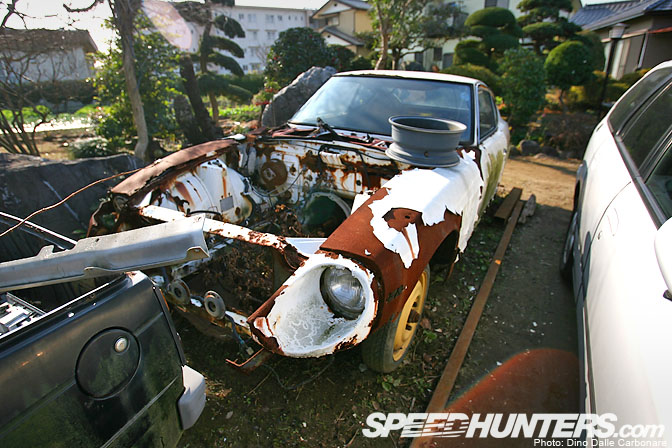 The donor car lineup is joined by…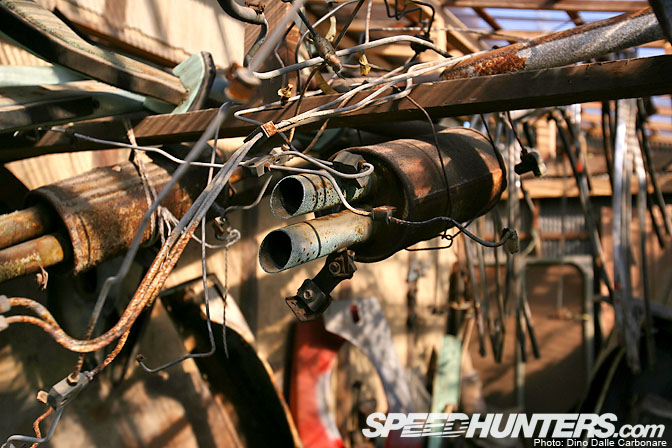 …an endless storage of parts that can serve as templates when making one-off bits and pieces.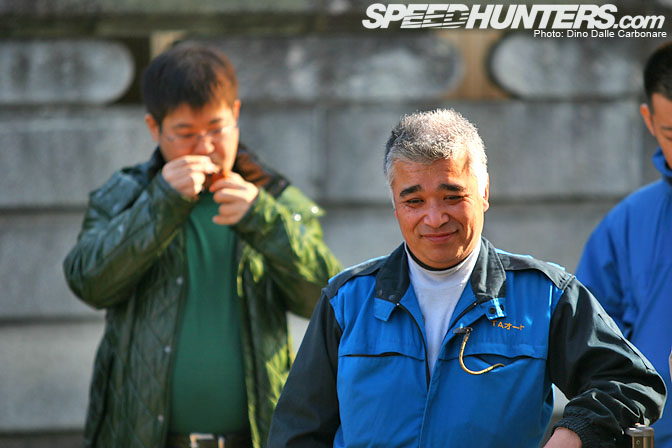 As I finish shooting at the back of the shop Ando-san, seen here, calls me over to begin the introduction of some very special guests…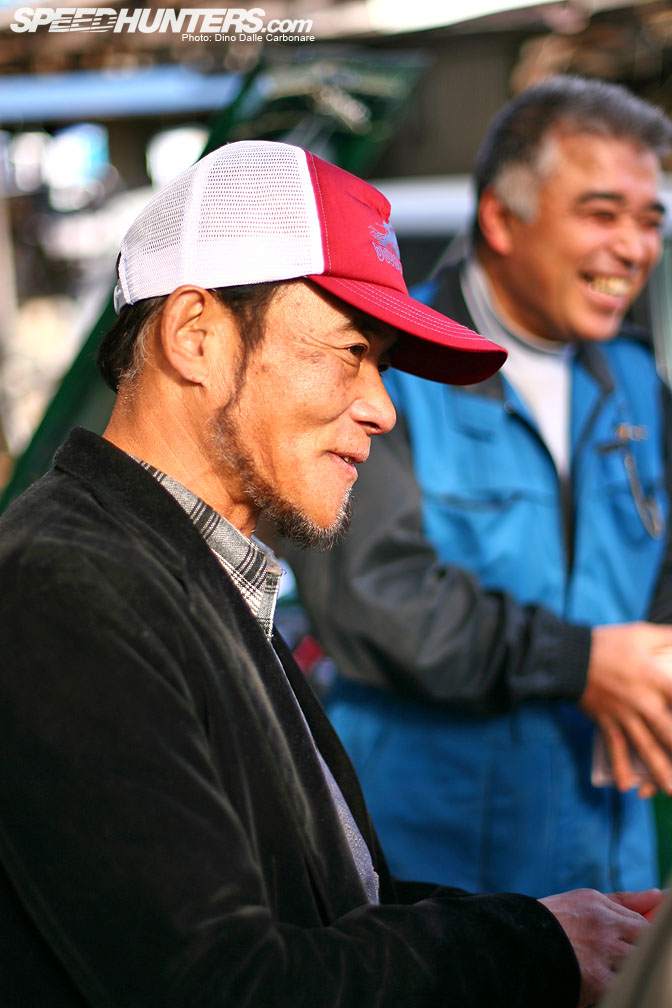 …starting with Tamura-san, the designer of the original S30 Fairlady Z. He had come all the way to T.A. Auto to explain to me how the Z came to be, armed with all sorts of original documents, drawing and books following each step of the design process. We moved into the small office and began chatting about cars and the history behind the Z. Needless to say, I was in heaven!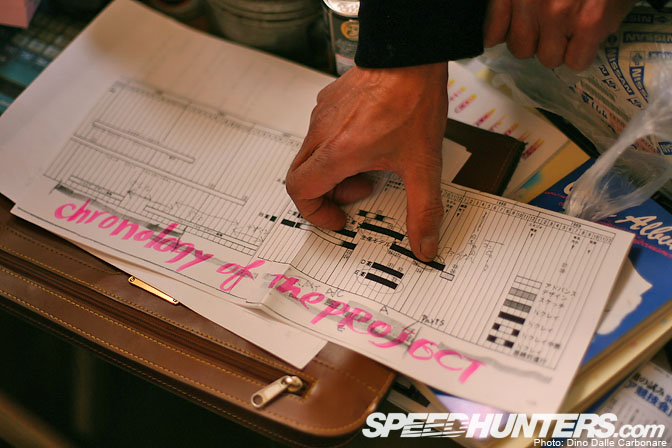 The actual Z project, known in Japan as the "Circle Z," started off in 1965, four years before the S30 went on sale in Japan and the US. Nissan wanted to create a sports car that would appeal to the US market, as well as in the home ground. As Tamura-san explains a lot of discussions were needed to come to an agreement on what the S30 needed to look like, with top brass at Nissan wanting a sleek 2-seater fastback. Subsequent talks led to the initial dimensions of the car being slightly increased, especially the width, with the body being lowered by 20 mm to give it a more appealing profile. It was also decided that the US cars would get a 2.4L engine, unlike the 2L JDM versions.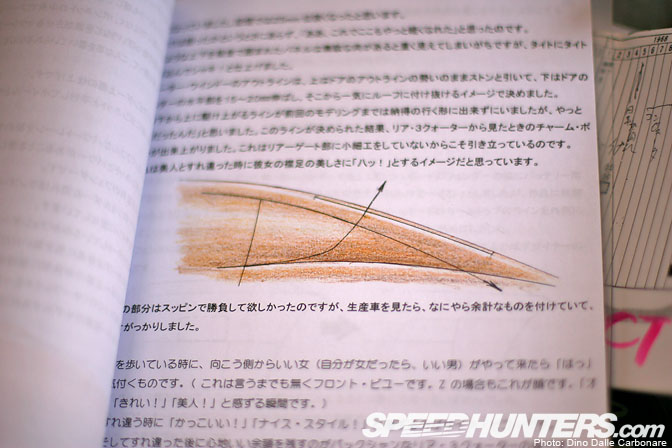 With the dimensions set it was then on to the design stage and Tamura-san got to work with his pencil. Here is a shot of some of the original sketches showing that unmistakable side window kink.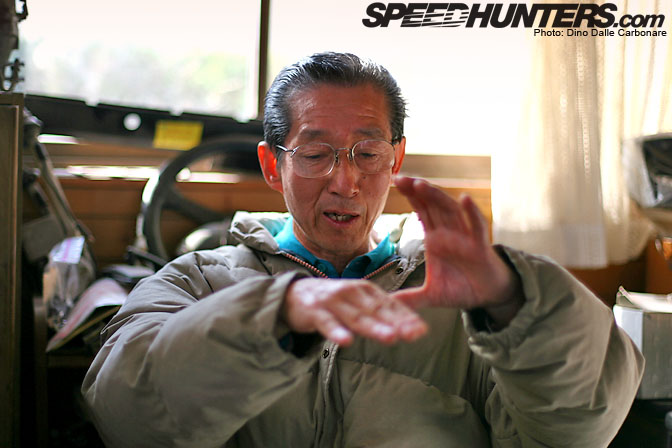 The design stage was followed with full scale modeling, which is when Abe-san, pictured here in the middle of an explanation, got to work. He was the chief clay modeler overseeing the clay rendering of Tamura's design proposal.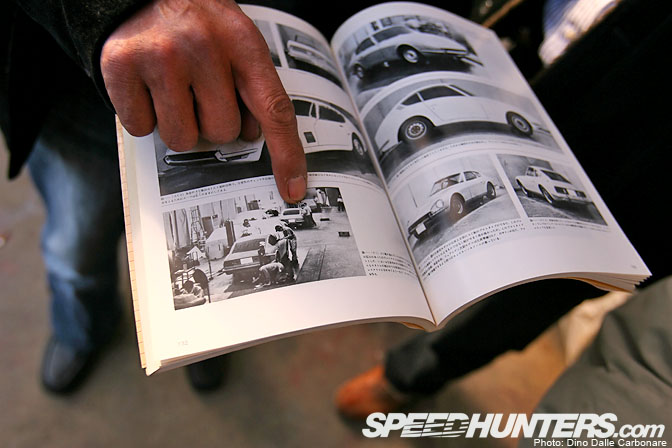 Tamura-san and Abe-san can be seen here working on their model, a picture taken in 1966 inside the Nissan design studio.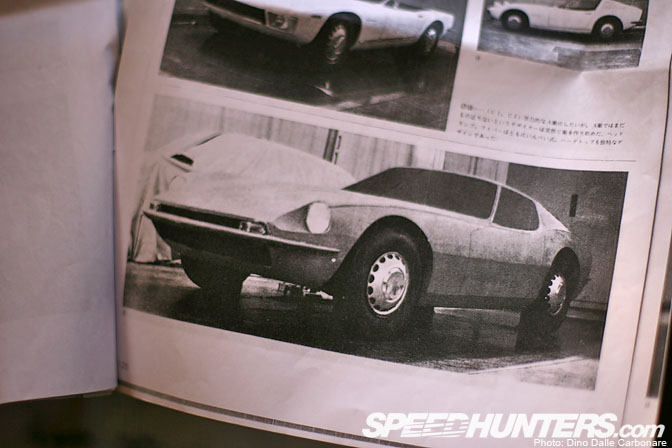 There were a lot of proposals submitted but their creation was the one chosen for the final production car.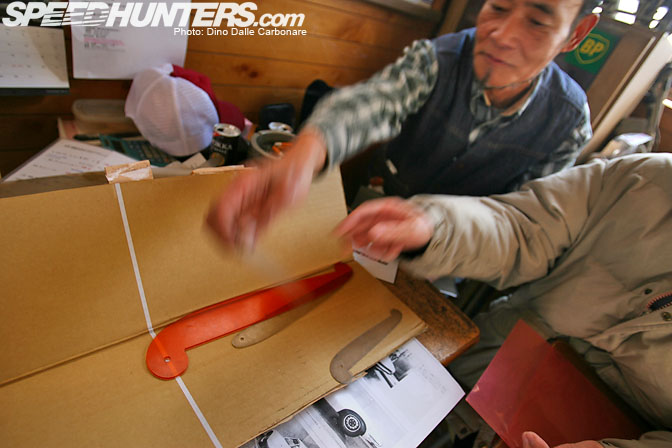 They even brought the original custom made curve rulers for measuring the surfaces on the clay model with the layout machine! Once the final design was decided it was then on to insert the surface data and measurements into the computer. The S30 was the first model Nissan started using computers on to speed up development and productions times.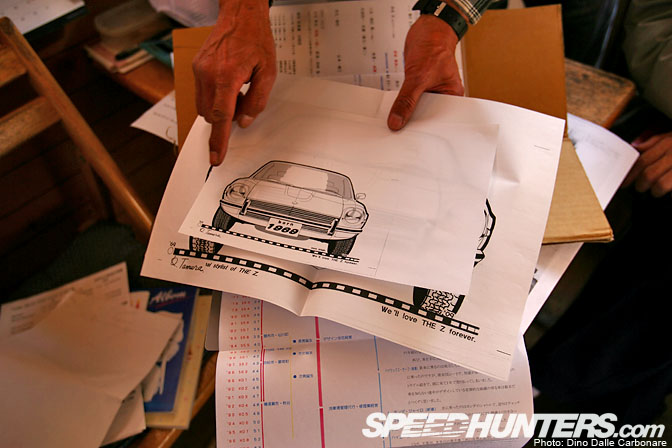 Tamura-san was kind enough to give me these two copies of the original sketch he made of the Z in 1969. They are now framed and hanging in my office wall!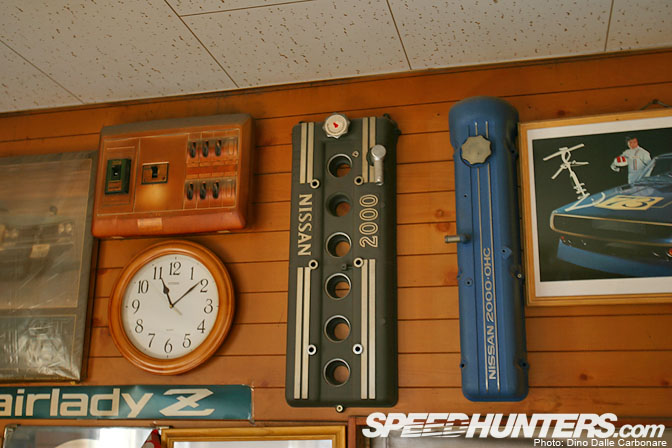 And talking of hanging stuff on the wall! This is the inside of the Ando-san's office, that is a S20 head cover from a KPGC10!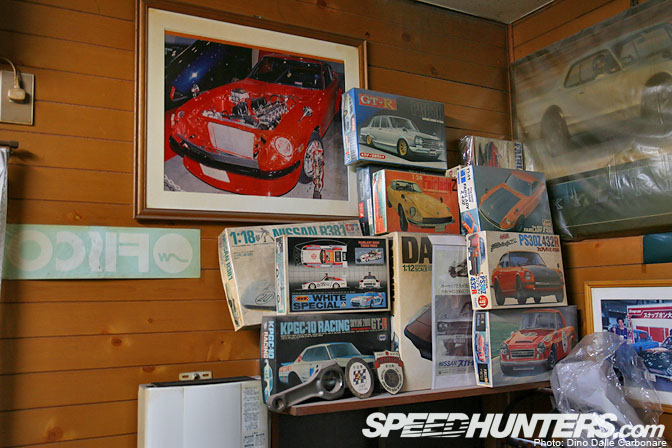 More memorabilia in the form of Fairlady and Skyline model car boxes. The silver Hakosuka in the picture on the top right is a car he restored for Nissan, now kept in the massive Zama storage facility I'm trying my best to get access to!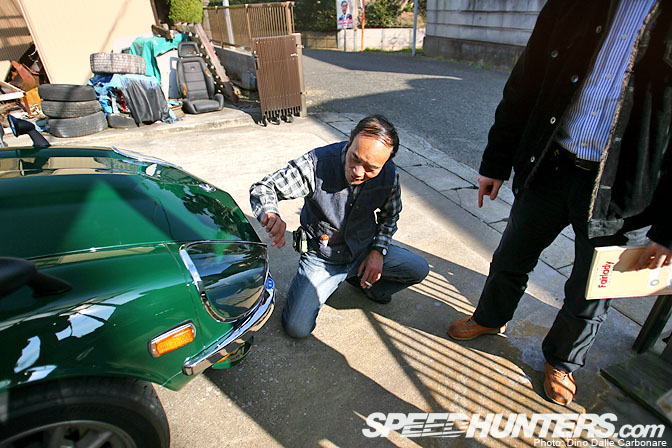 Tamura-san proceeded to explain how smaller design features of the S30 came to be, pointing at the sharp chrome headlight surrounds, something that just couldn't be done into today's safety-obsessed world.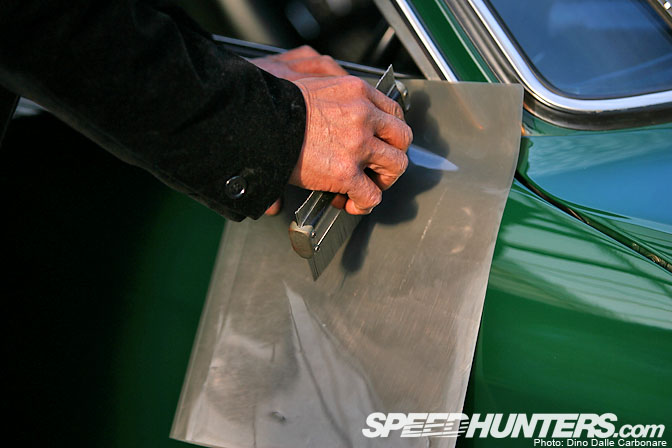 Here is another tool of the trade, a Contour Gauge, used to scrape away bigger quantities of clay. One of Ando-san's customers kindly came over to show us his recently restored 432Z version of the S30, a JDM-only model powered by the same S20 2L straight-six engine found in the GT-Rs.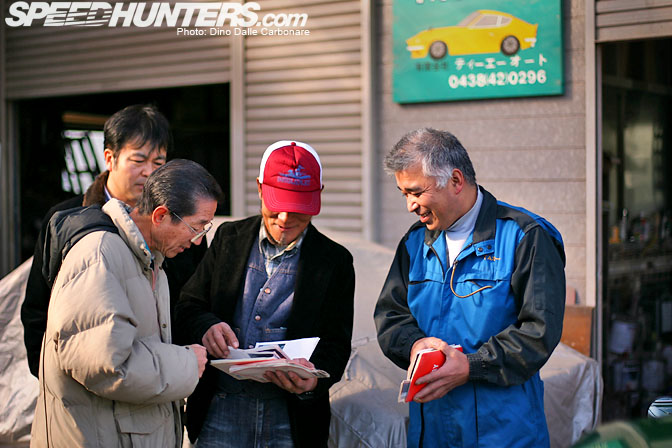 Sawano-san of Club S30 accompanied Tamura-san and Abe-san to T.A. Auto, himself a die hard fan of the Z. He founded the S30 owners club back in 1996.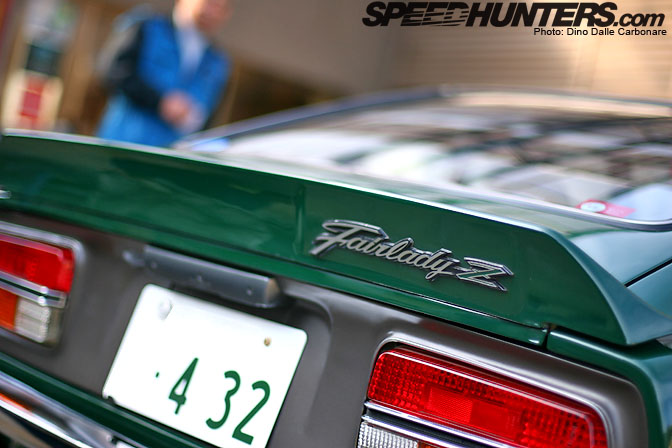 Another look at this rare machine…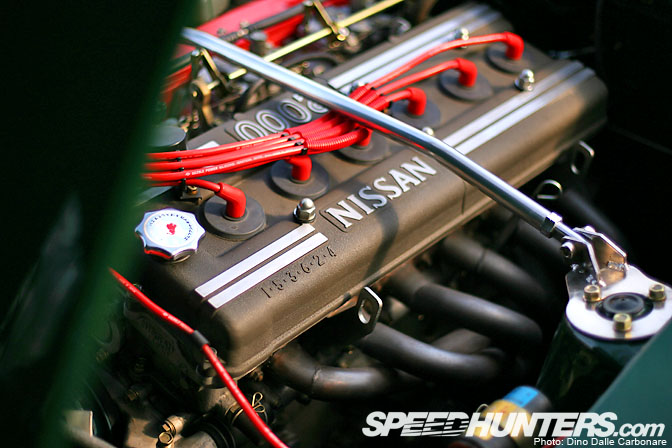 …and of course the very special motor that propels it.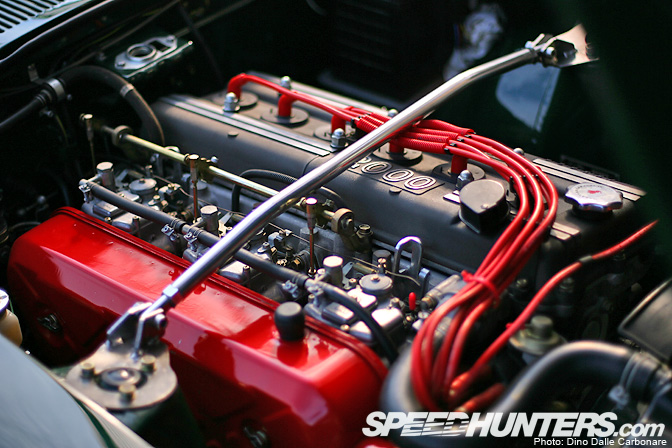 The owner preferred to keep everything stock for sake of authenticity, even the airbox is the original item. A masterpiece!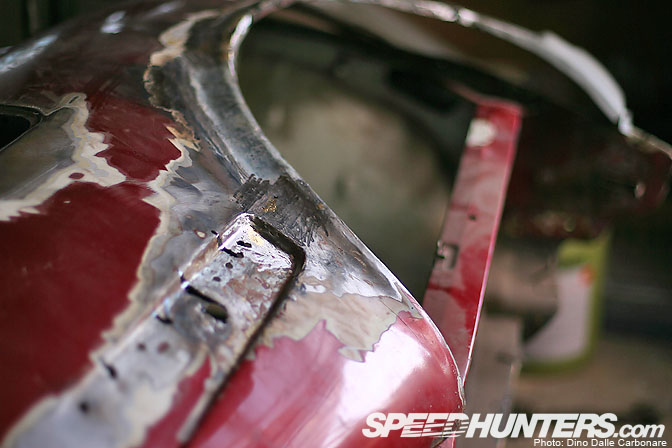 On top of Ando-san's 432Z R in the opening picture, an even rarer race version of the yon-san-ni (432), there was a third one at the shop, currently in the middle of what is a major restoration project. The car belongs to Arai-san, a friend of mine that originally introduced me to this very special classic Z-scene here in Japan. His S20 motor is already built up and ready to go, but Ando-san has more than one year of work in front of him before he can complete this particular car. In the picture above you can see how he is recreating rusted out areas of the body piece by piece, this rear fender having been quite a nightmare to get right.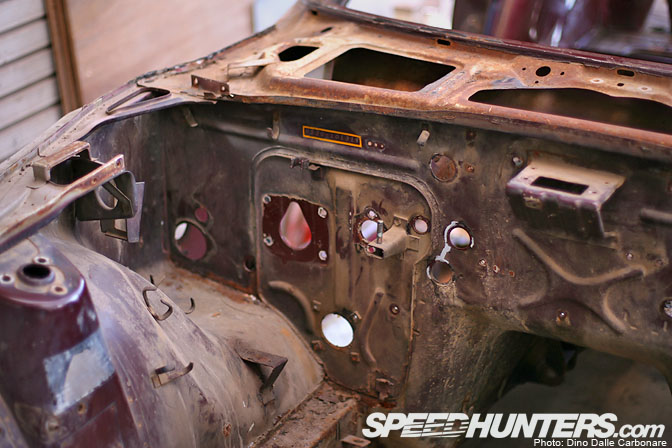 Next step is the engine bay…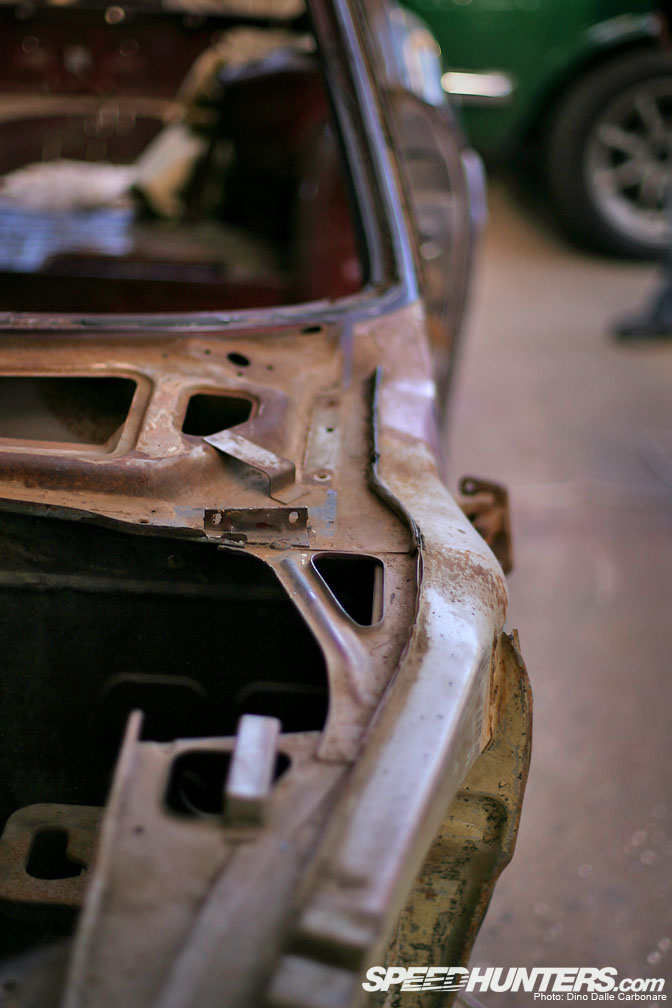 …as well as the front part of the chassis which, as Arai-san told me today, is proving to be a bit of a problem with more custom parts being needed than was originally thought.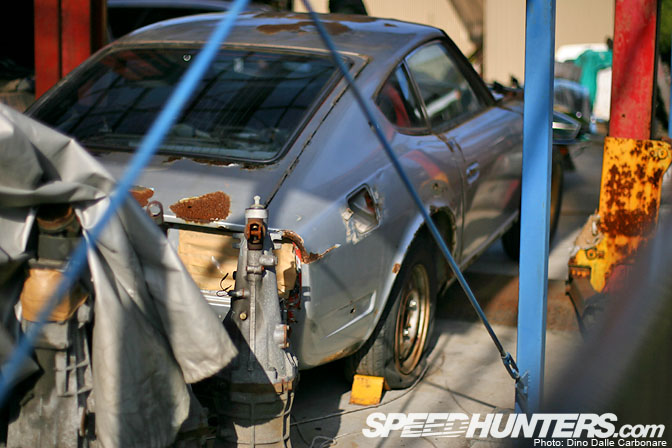 I really love places like T.A. Auto, the cars sitting outside, the parts laying around, you can really soak in the atmosphere of an era that has well and truly passed.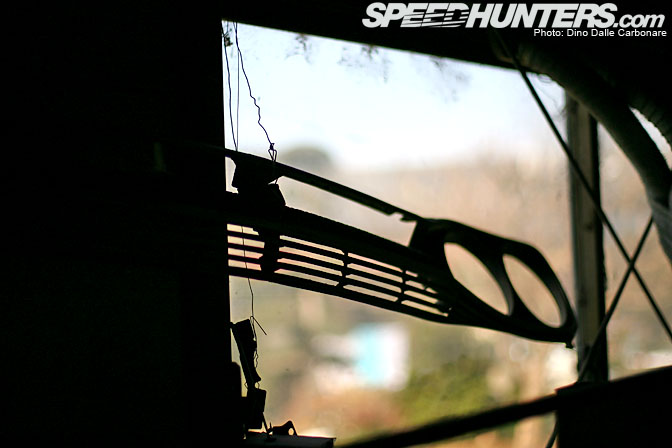 I spotted this KPGC10 front grille hanging in the workshop.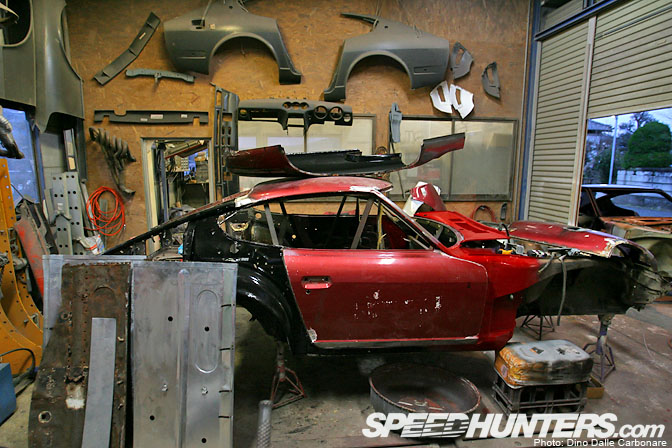 Needless to say once Arai-san's 432Z is done it will be getting shot and featured, but the wait will be quite a long one, so in the mean time I will make sure I show you some other cool cars that Ando-san has restored, kind of like that impressive 240Z I drove a few months back. 
I'd like to thank Tamura-san, Abe-san, Sawano-san, Arai-san and Nakatsu-san for coming over to meet with me, Hori-san and Ishi-san for letting me sample their cars, and for Ando-san for having us at T.A. Auto! All a great bunch of car-obsessed people.
- Dino Dalle Carbonare