I found a home away from home at Suzuka over this past weekend as a little slice of Italy was served up for Japanese fans of the prancing horse. It never fails to amaze me just how much love actually exists for Ferrari over here, and seeing the collectors, the owners, the racers and of course, the enthusiasts, all come together to celebrate what they love the most was amazing.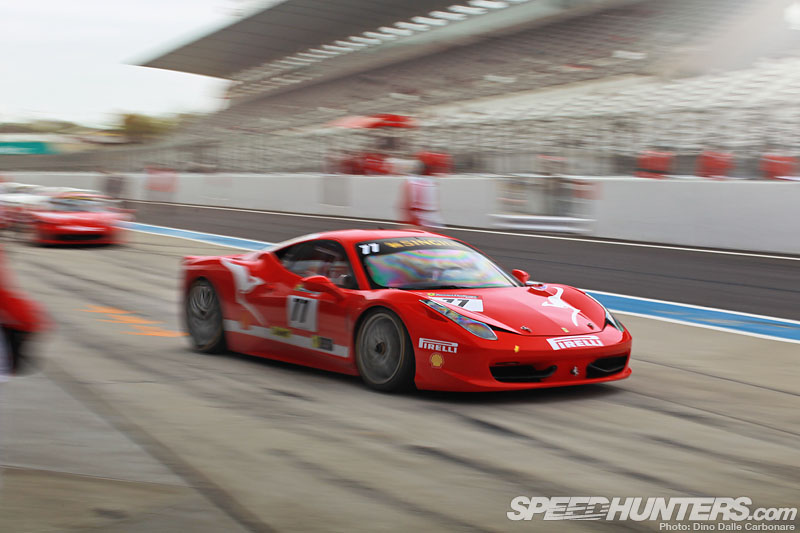 And the biggest surprise was just how open Ferrari Racing Days was, with people able to get up-close-and-personal to the current line up that was on display, as well as having the opportunity to walk along the pit lane and see the race cars zoom by as they went through their weekend of competition. But then again for Ferrari Japan, making the brand more accessible has been a very big priority, something I will touch on shortly.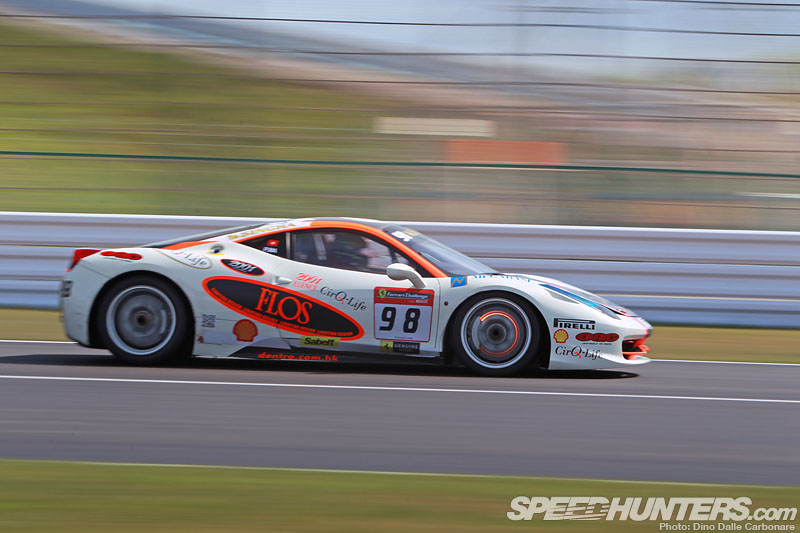 Before we get into the Sunday's proceeding however, I want to revisit the various cars that were on display in the paddock and the pits themselves.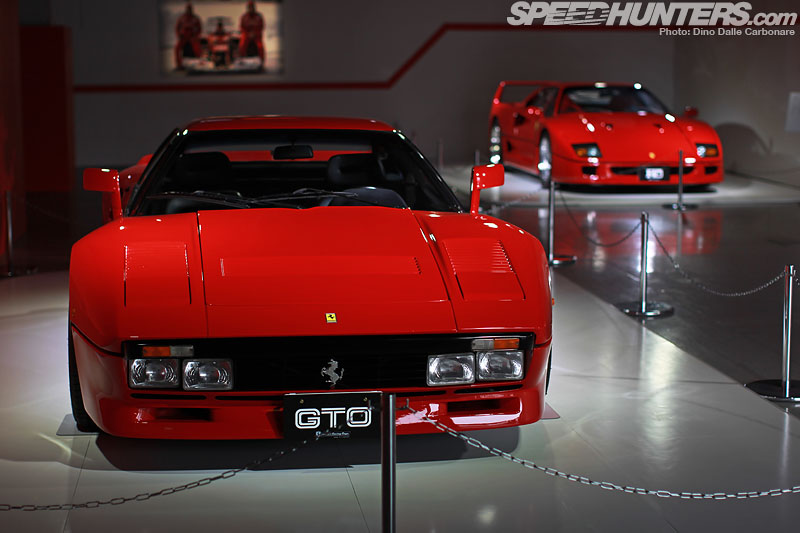 I already gave you a little taste of what this event is all about in Saturday's post, but it would be sacrilege not to dive a little deeper into the rarities that Ferrari had prepared, starting off with the 288GTO. This and the F40 in the background,  are – at least for people of my generation – pretty much the ultimate modern day classic Ferraris. They represent the best from an era of excess, a time when Enzo Ferrari himself was still around to call the shots.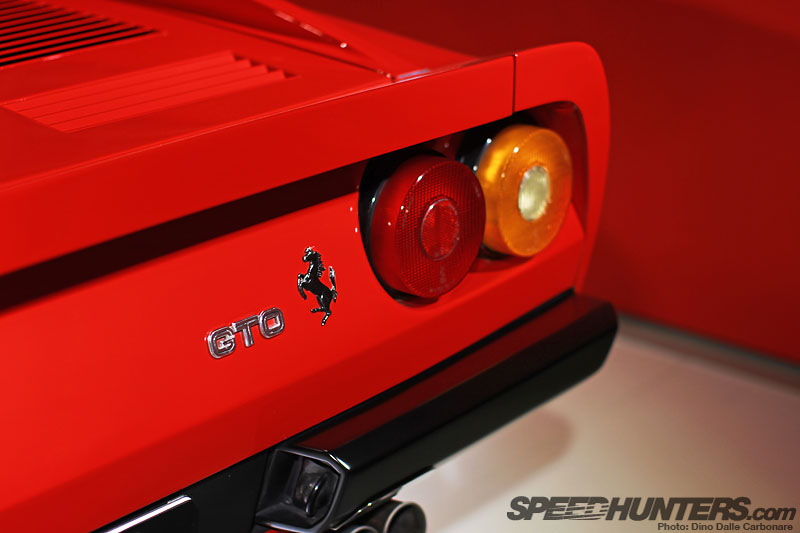 There is such a purity in their execution. They are both the perfect interpretation of what a road going race car should be;  their design and construction in no way dictated by the countless rules and regulations that manufacturers have to adhere to these days.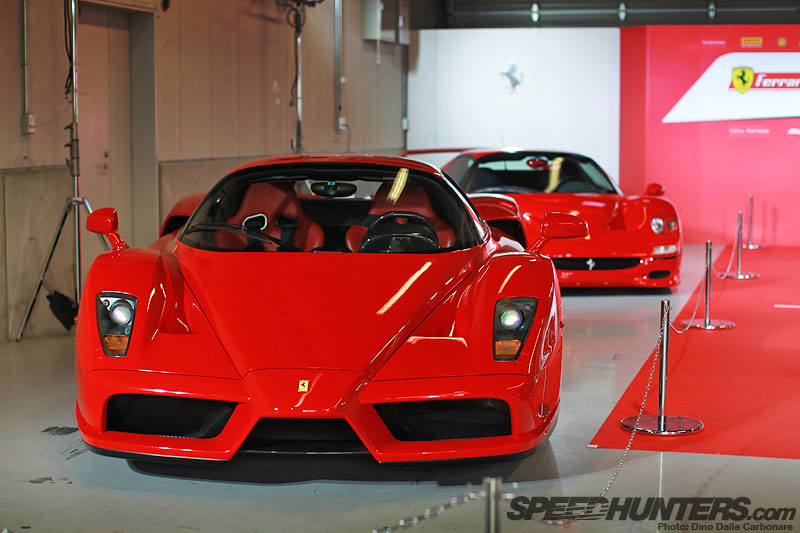 On the other extreme it's equally impressive to see how Ferrari has managed to carry over all the qualities those initial cars possessed, and integrate them in modern day equivalents like the Enzo and the new LaFerrari. Evolution is something Ferrari has always done rather well.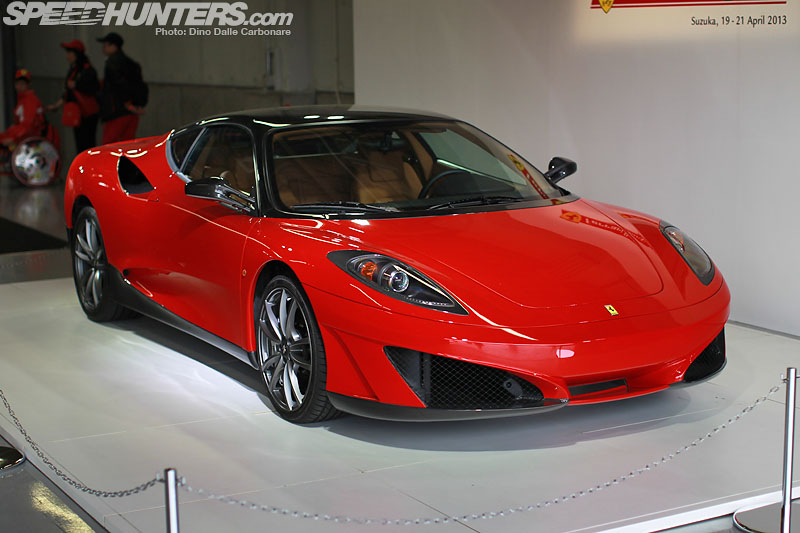 The rarities continued with this one-of-a-kind F430 SP1, the first ever Ferrari made under the Portfolio Program. This car was created for Junichiro Hiramatsu, the former president of the Ferrari Club of Japan. The bespoke body was penned by Pininfarina…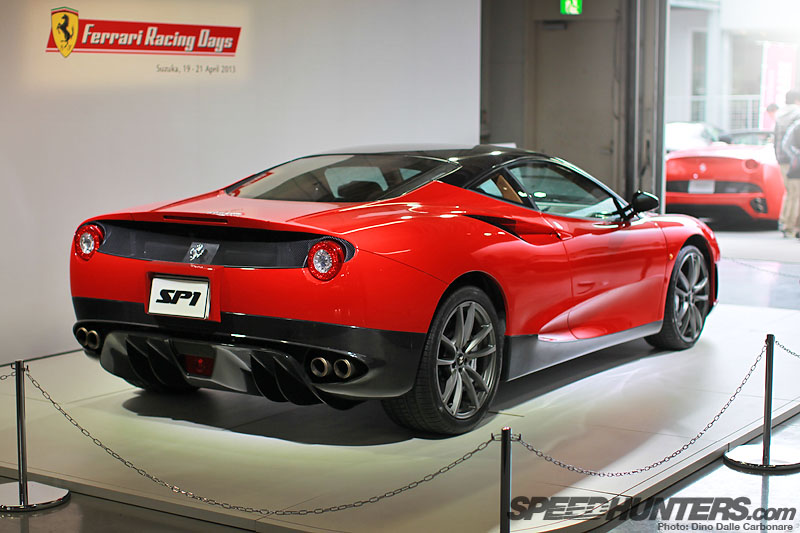 … who gave it a very unique style. I'm not sure if the inspiration was a 512BB, but that's the car I couldn't help thinking of when looking at the SP1 from this rear three quarters angle.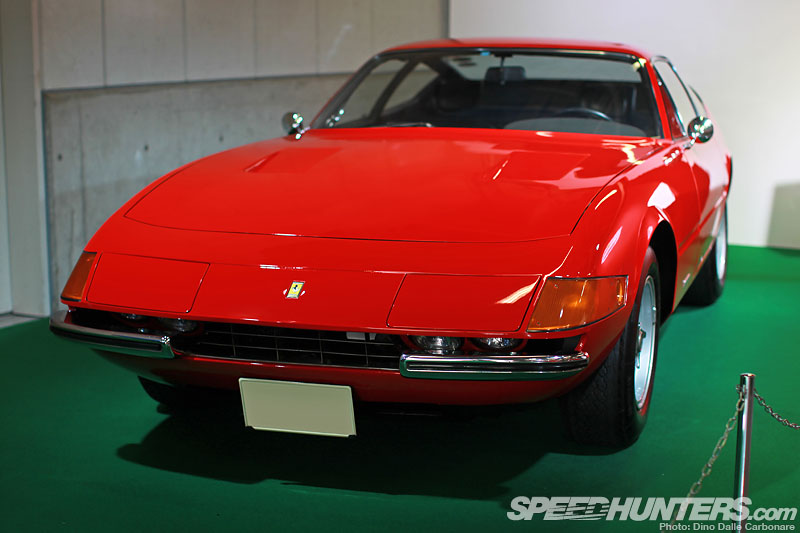 I showed you a little detail of the 365GTB/4 in the previous post, a car that…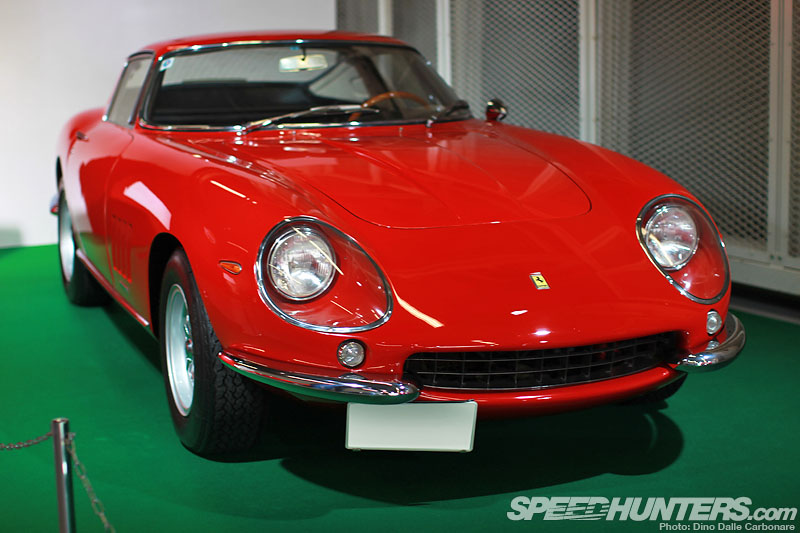 … like the 275 GTB/4 it replaced in 1968, so beautifully represented all that Enzo Ferrari believed in. That means there's a big V12 up front and rear-wheel-drive. The 'Daytona' as it was referred to, had some great touches for the period like a transaxle five-speed gearbox to help it give optimal weight distribution. The spirit of the 275 and 365GTB/4 now lives on in the FF and F12 Berlinetta, of course.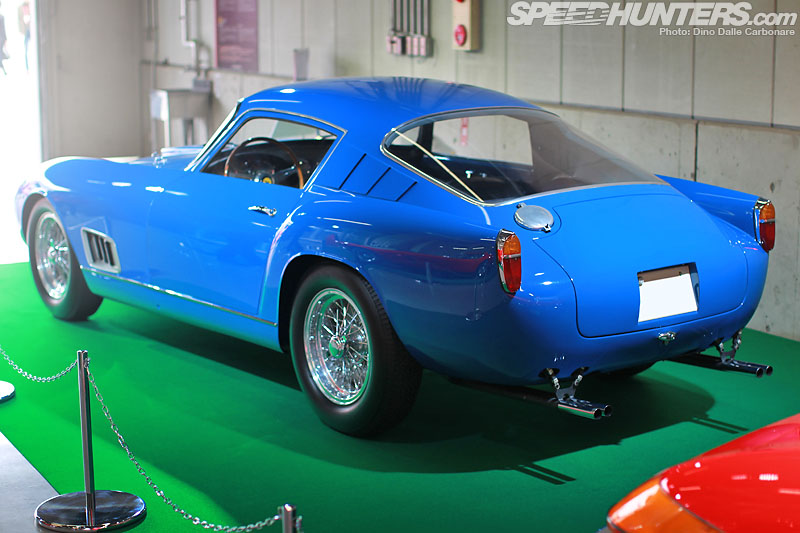 Here is another look at the stunning 1957 250GT Tour De France that was on display, one of only 77 examples ever built and part of a rather impressive Nagoya-based car collection…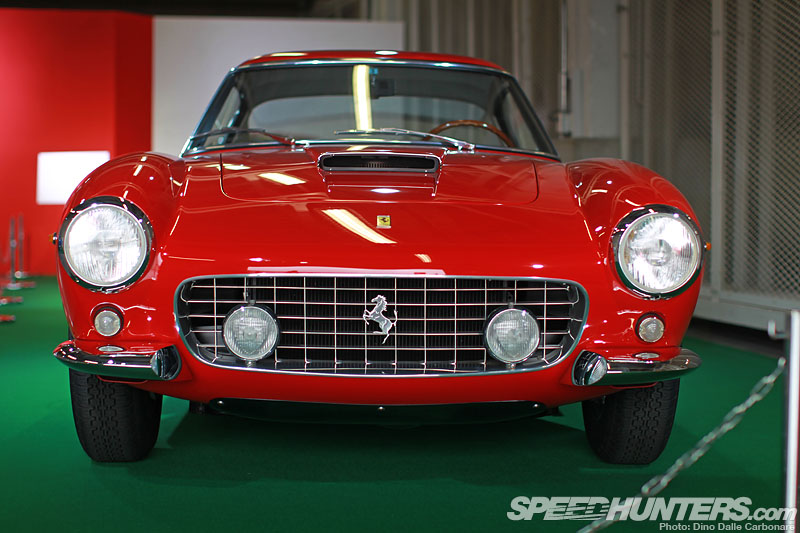 … which also includes the shorter wheel base version of the 250 in this 1961 250 GT SWB.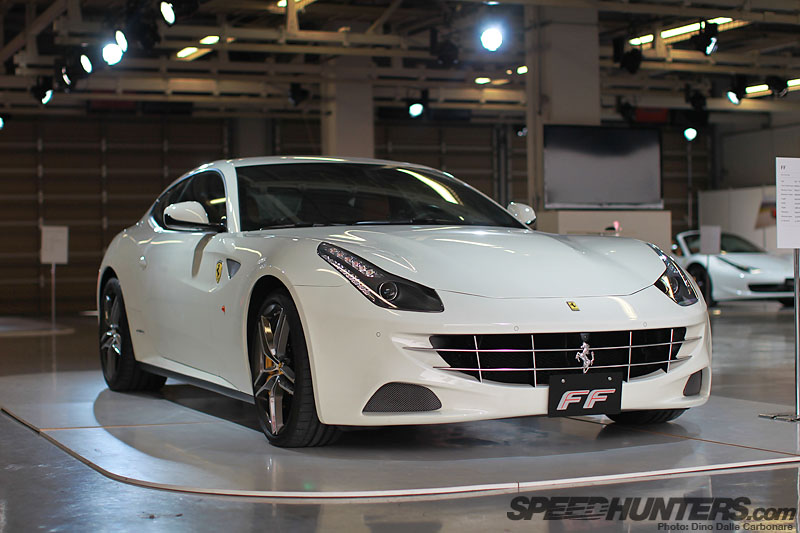 Next door, local dealerships were called in to create a display highlighting all of Ferrari's current five-model line up. The four-seater and all-wheel-drive FF has to be one of the most controversial models of recent years, but a great example of how Ferrari continues to think outside the box.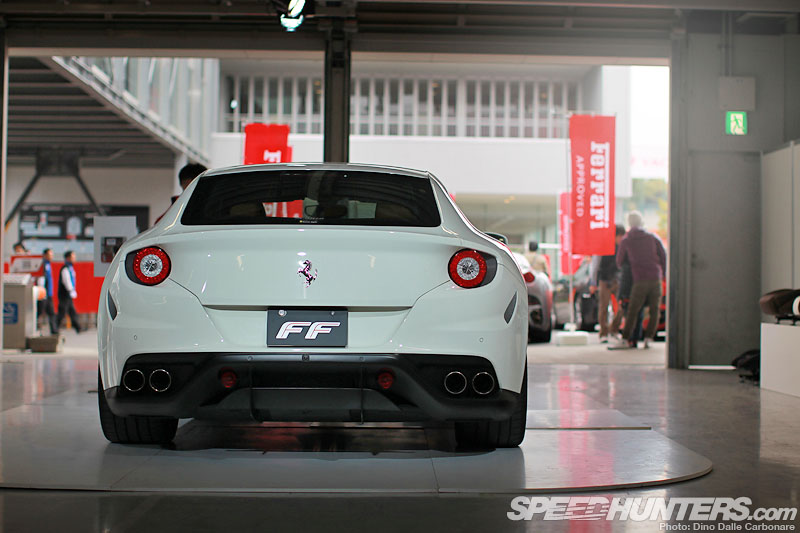 It's an either love it or hate it sort of car, but I have yet to meet anyone who has driven one that hasn't come away loving it. One to add to the 'must drive' list for sure!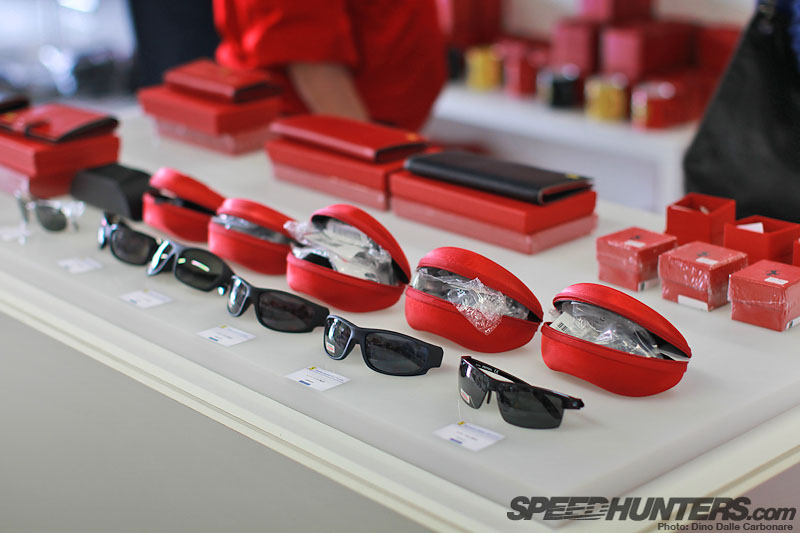 If you make high quality things people will want to buy them, and this is especially true if there is a nice shiny prancing horse stamped or embossed into it. The Ferrari Store that was set up in one of the pits brought in crowds looking to spice up their attire…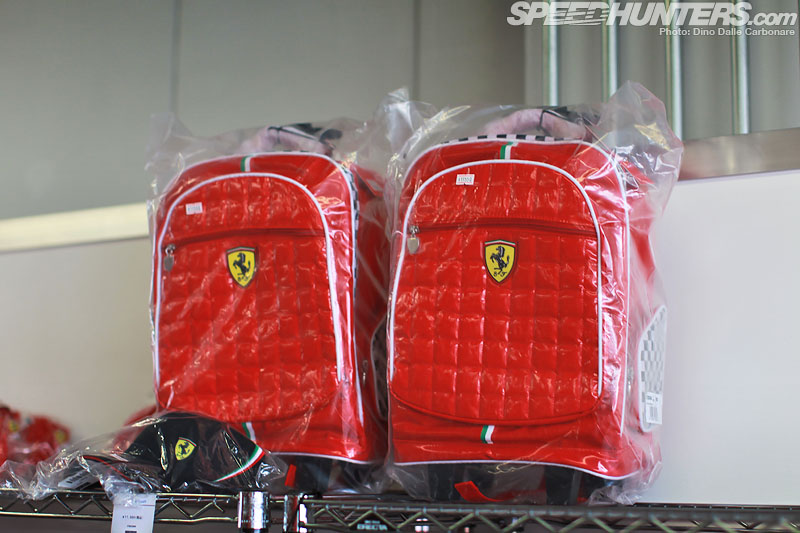 … or pick up some miscellaneous accessories. But not matter how cool soft leather wallets and key chains are…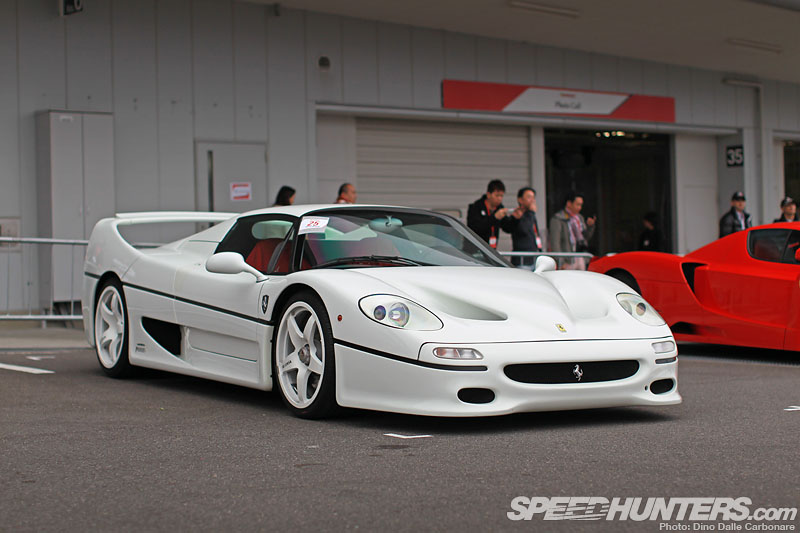 … the lure of the metal outside in in the paddock was just too strong. I have no idea how many times I went into the little cornered-off area where the F40s, F50s, Enzos and 599GTOs were lined up in, but it was a lot. I probably took the same pictures a dozen times just to make sure I didn't miss anything!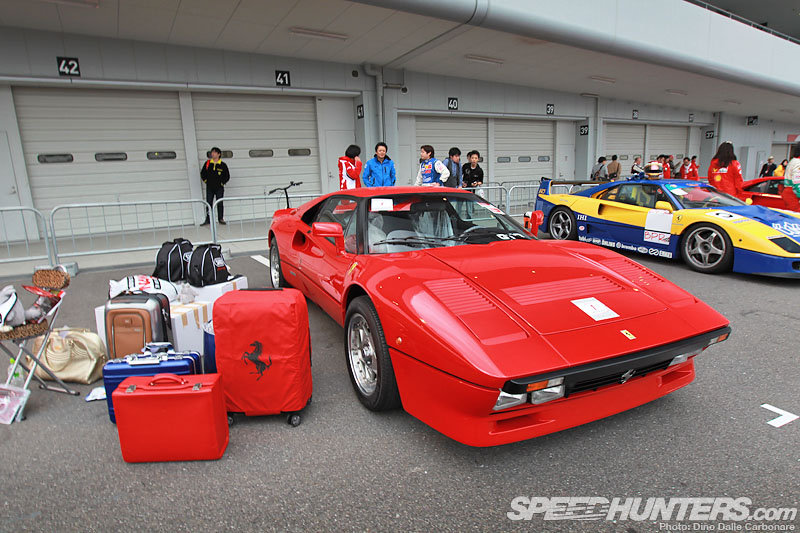 There was also one 288 Gran Turismo Omologata (GTO) which was fighting for attention…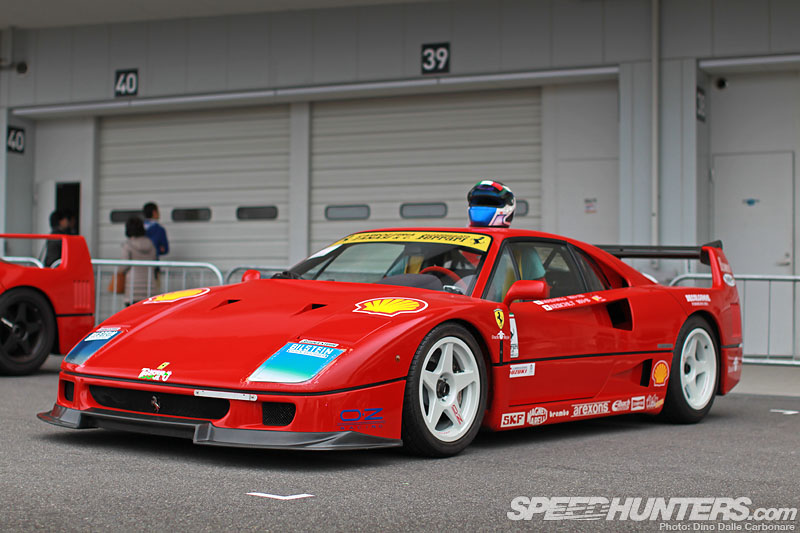 … with the race F40s next to it…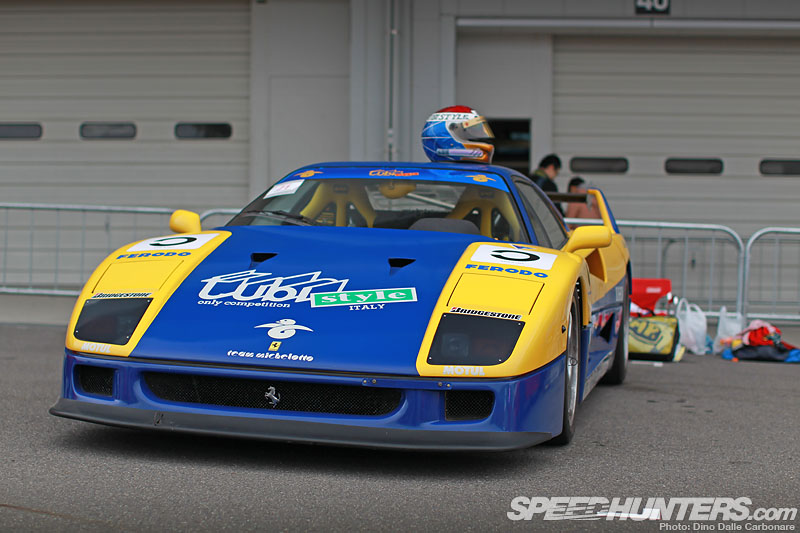 … like this Michelotto car wearing 'tubi' style livery.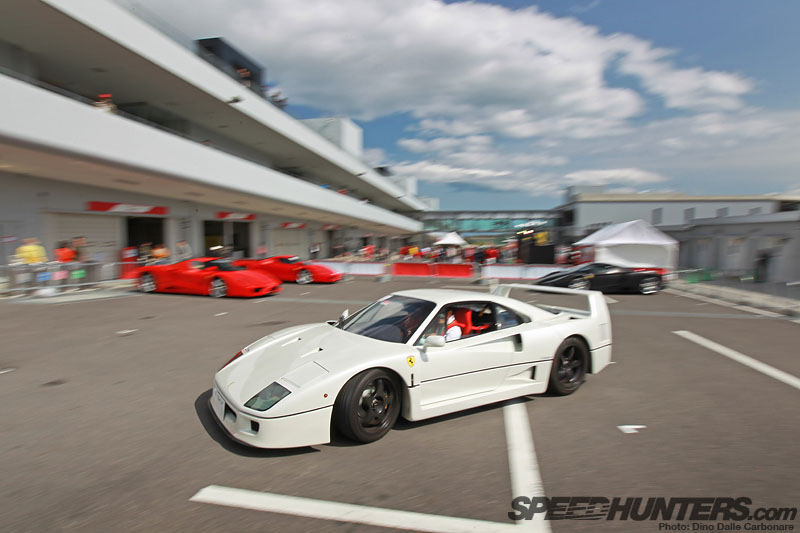 Many of you asked to see more images of the white F40 that was present, so here it is!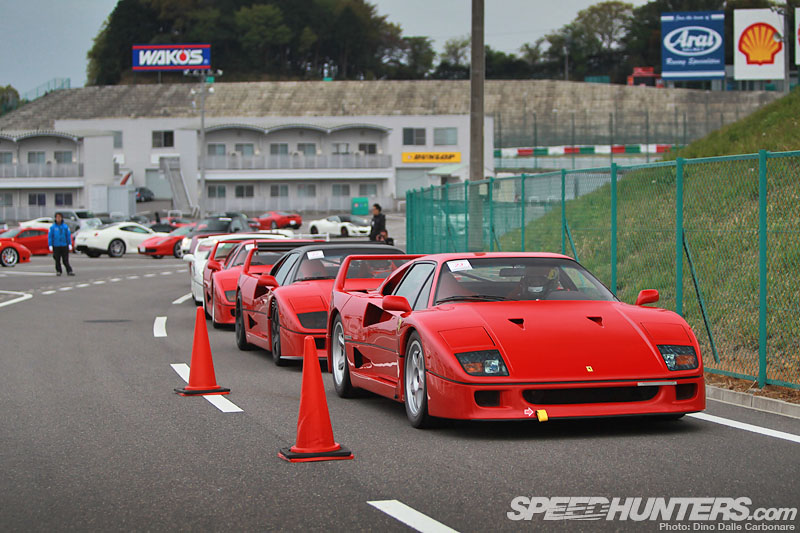 Oh, and also that little queue they all formed as they were waiting to get out on track for the Supercar drive on Saturday afternoon.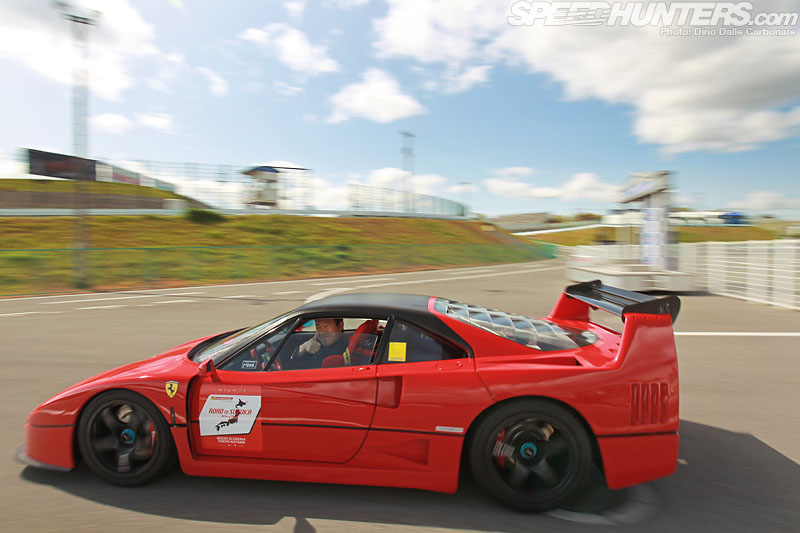 I don't think I've been so excited shooting any sort of car as I was for that whole half hour.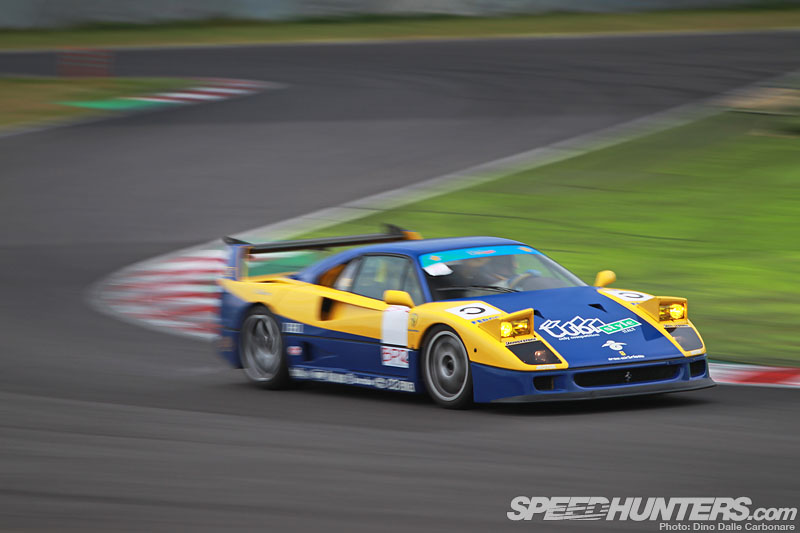 After all,  it's not every day you get to see a hoard of your dream cars blasting around a track like Suzuka.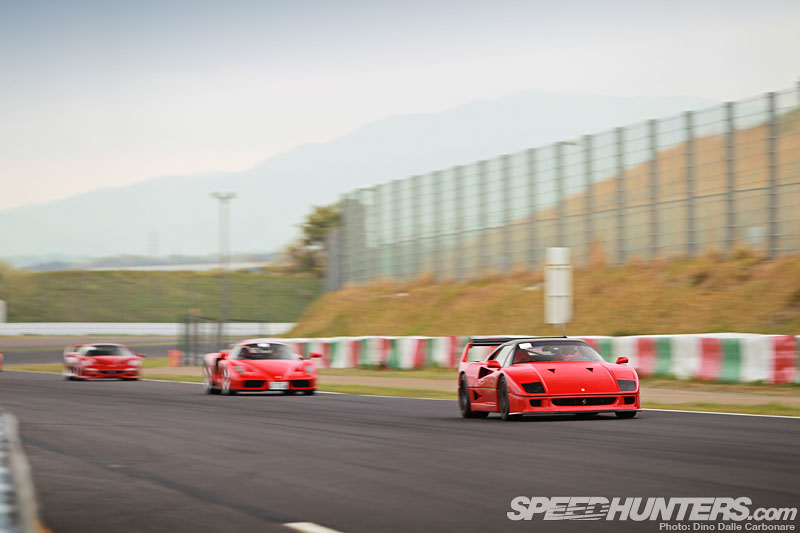 I would normally apologize for going a little bit model-specific-crazy at times, as sometimes I do it with GT-Rs,  but this time it's F40s (and lots of them!) so I've got no regrets.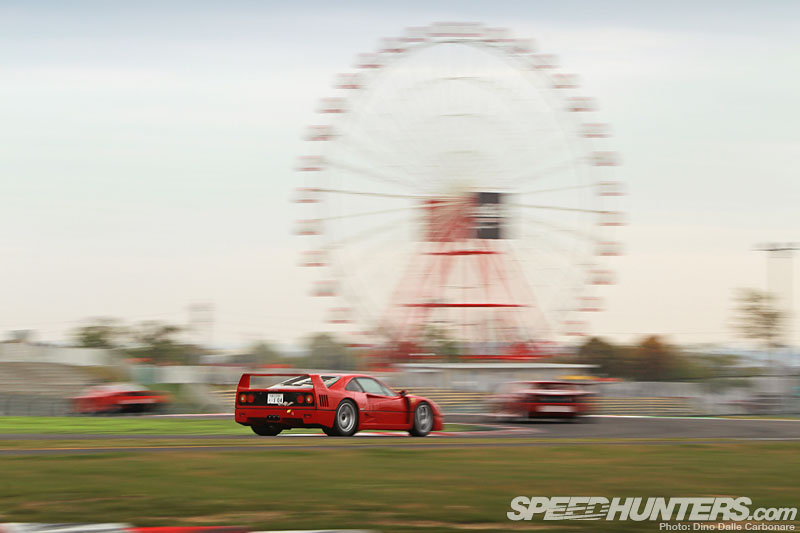 Oh, and if you want to see even more scroll down to see the finale!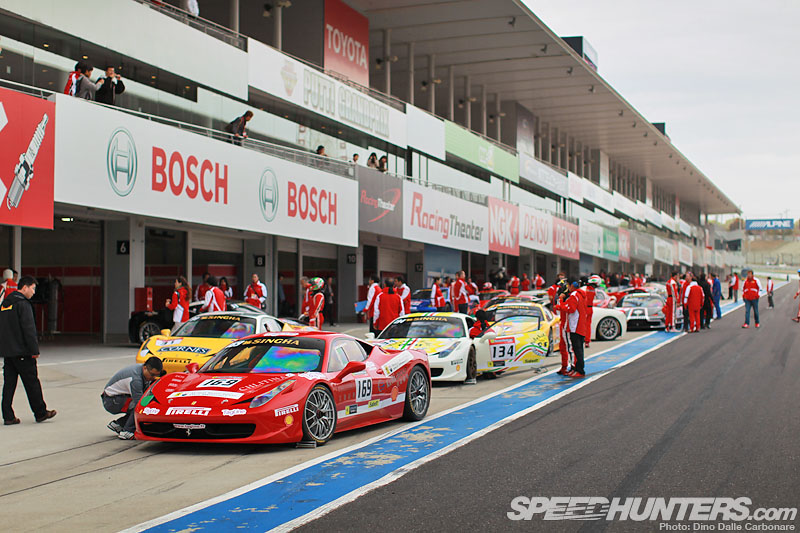 Back in the pits the 458 Challenge guys were getting ready to head out for their final qualifying session of the day before their two races.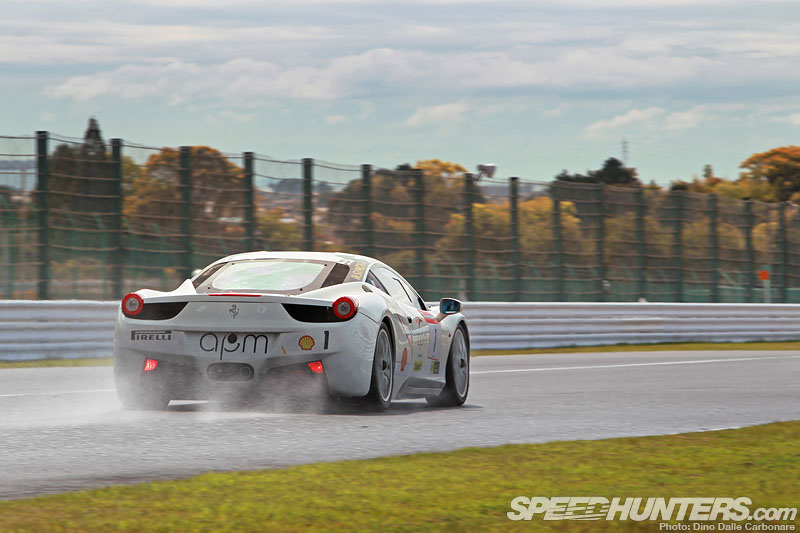 Rain had fallen throughout the night, but with warm spring sun rays warming things up quickly, and all cars running on intermediates, the Suzuka's tarmac was dry in no time.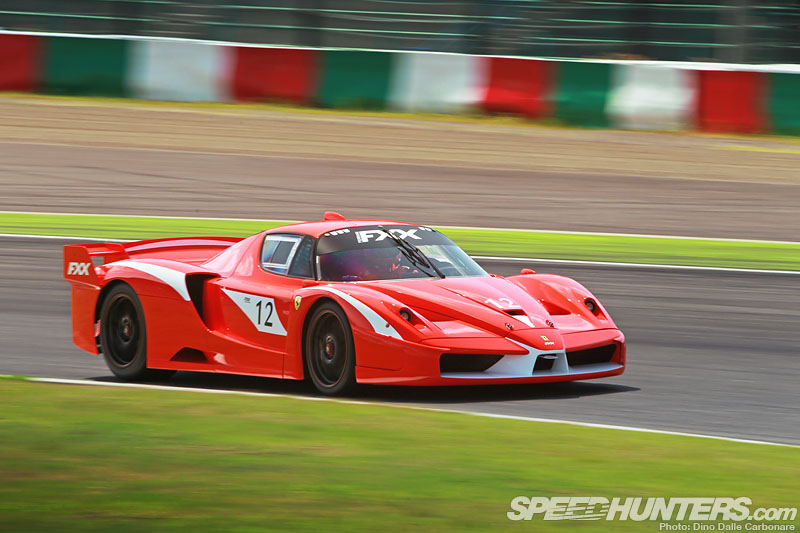 That was a good thing as there was some prohibitively-expensive metal due to head out right after them, starting off with a quick 15-minute on track for those that participate in the FXX program.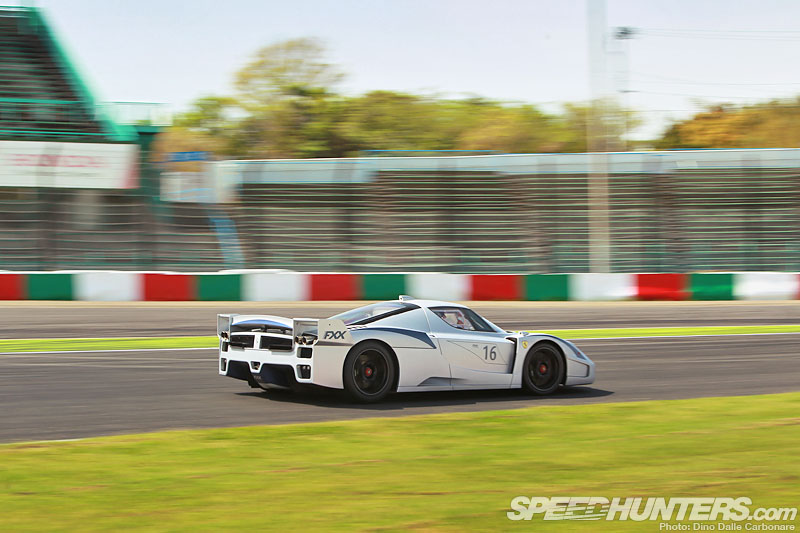 Nothing like a few screaming V12s to get you going early in the morning!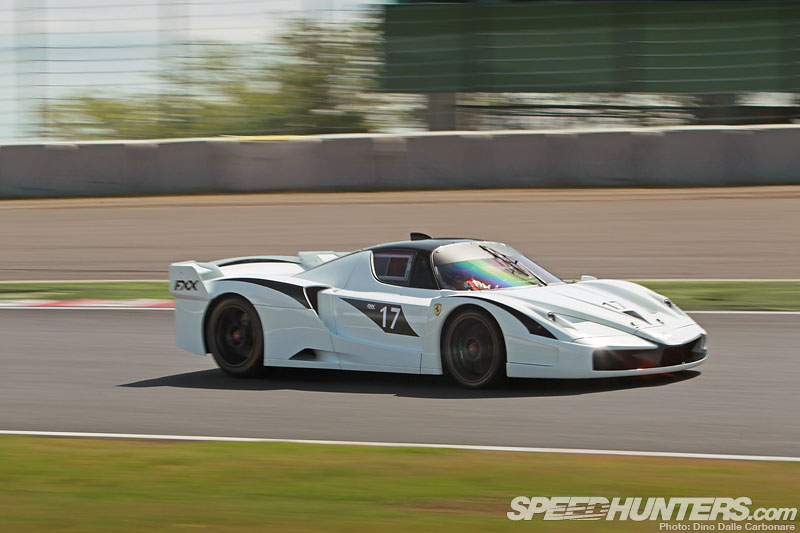 Of course this being Japan, you are guaranteed to see a white version of every model.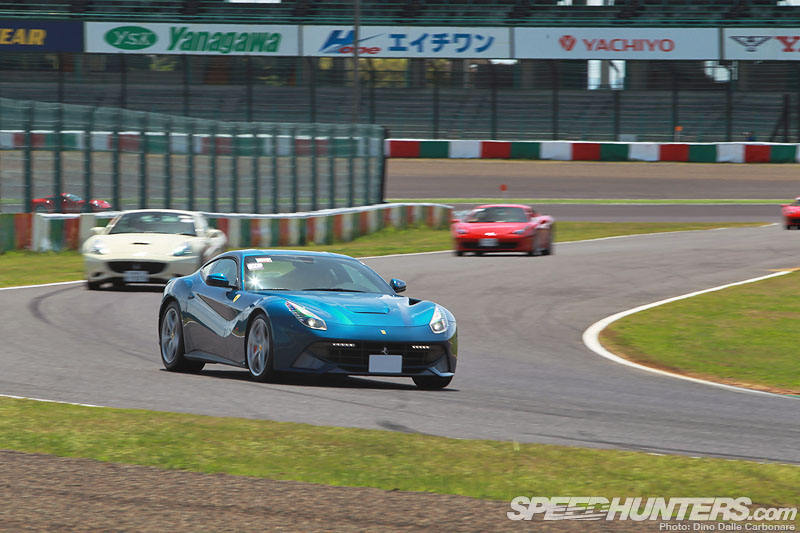 Ferrari owners who had come from all over the country were also given a chance to drive their cars on Suzuka. Not a proper soukoukai obviously, but rather a more slow paced cruise limited to 100km/h behind a Fiat 500 Abarth pace car. Oh and yes, I do have a thing for the F12 Berlinetta – a car that is doing rather well in Japan with over 120 examples currently on order.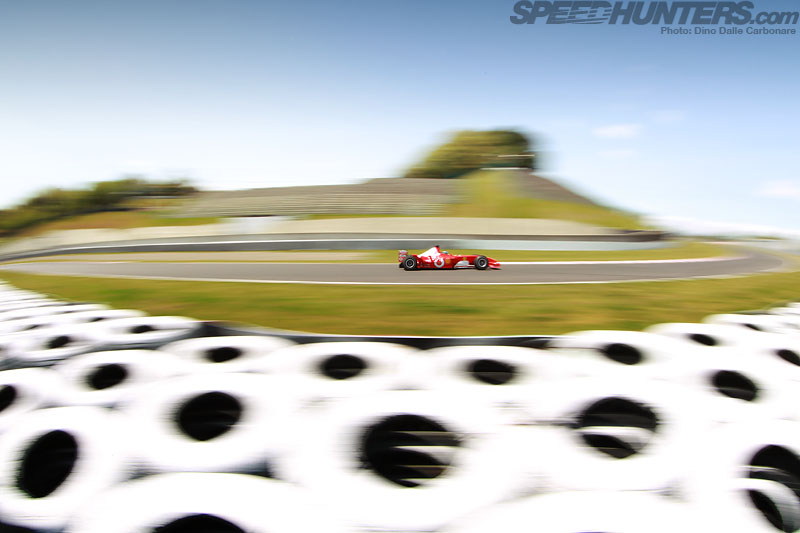 What would a Ferrari event be without at least one F1 car present!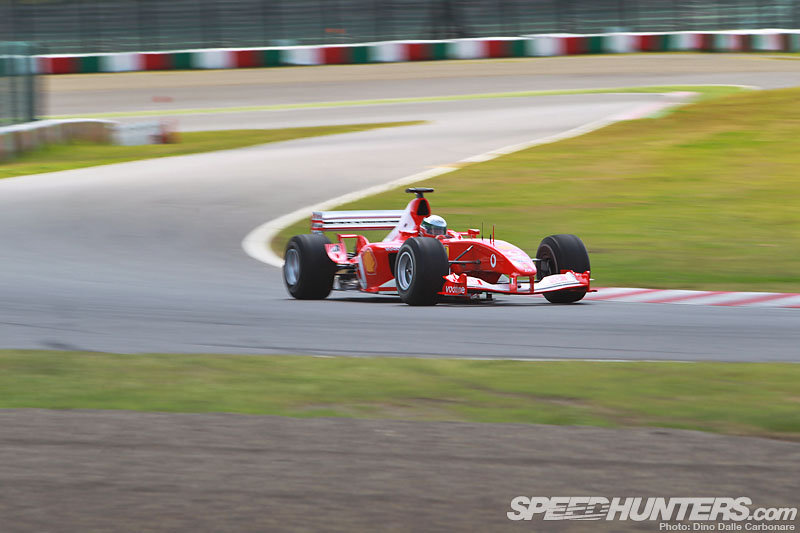 Luckily the owner of this F2003a F1 racer didn't just have it on display in the pits, but also took it out for some pretty damn fast laps…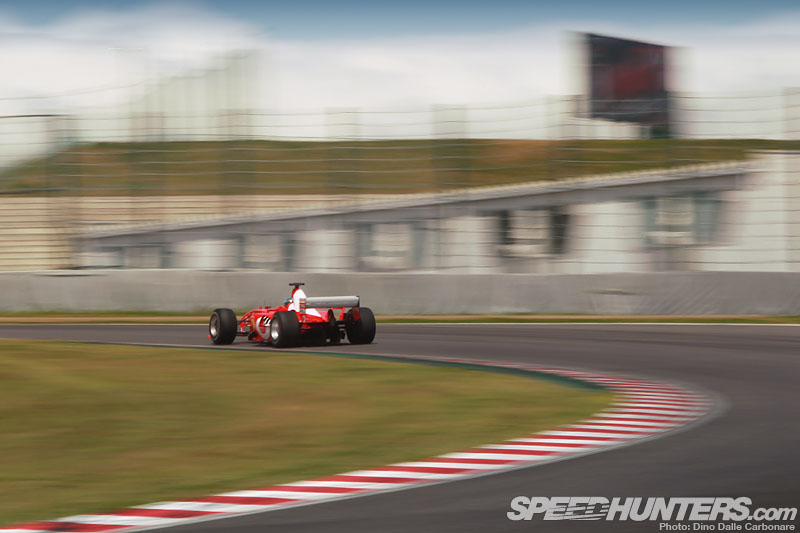 …really opening the V10 engine down the straight and making use of the aerodynamics through the corners. It was the little red cherry on top of a very large, premium sort of pie!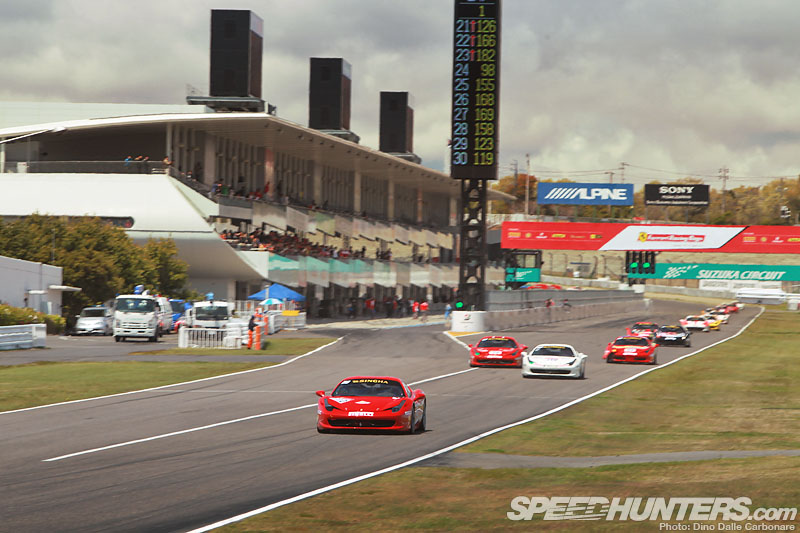 F1 driver Kamui Kobayashi, who was invited as a guest driver to compete in the 458 Challenge races, was made to start from the very last spot on the grid and work his way through the ranks. He managed to finish in third but since he was a guest didn't make it on the podium.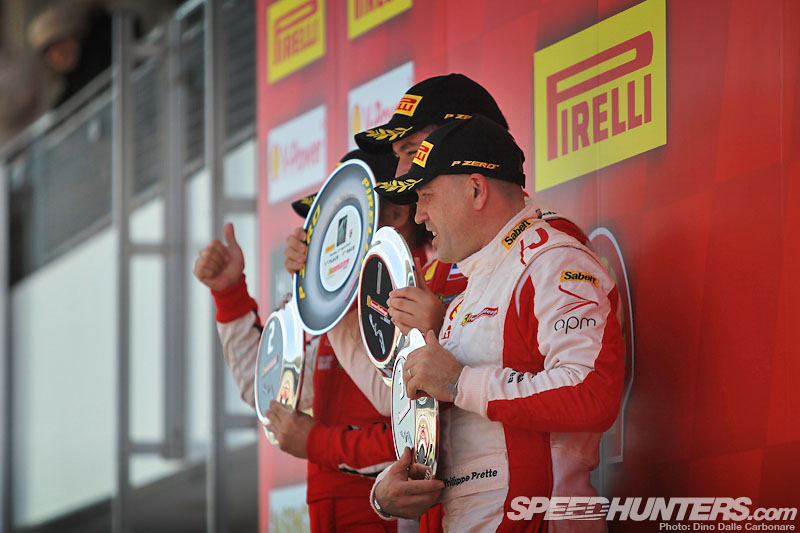 The Ferrari Challenge for years has been a great way for amateurs and pros alike to race competitively around the world, sampling some of the best circuits each country has to offer.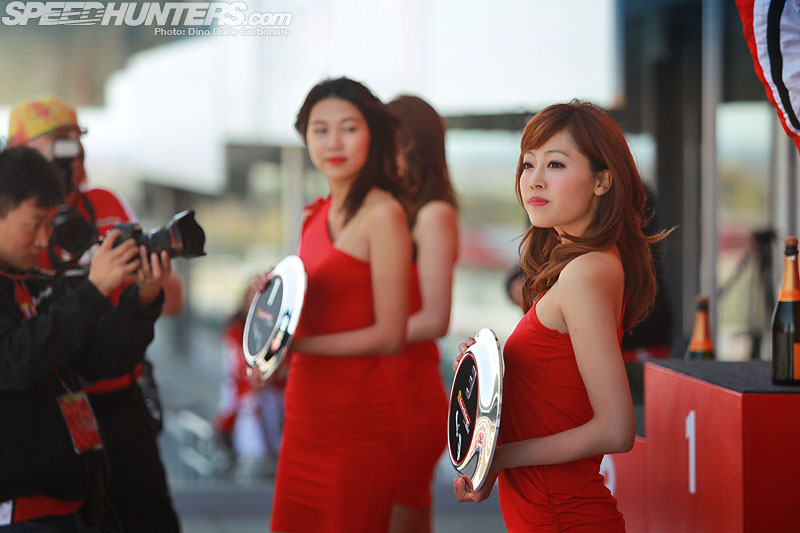 With the first race over…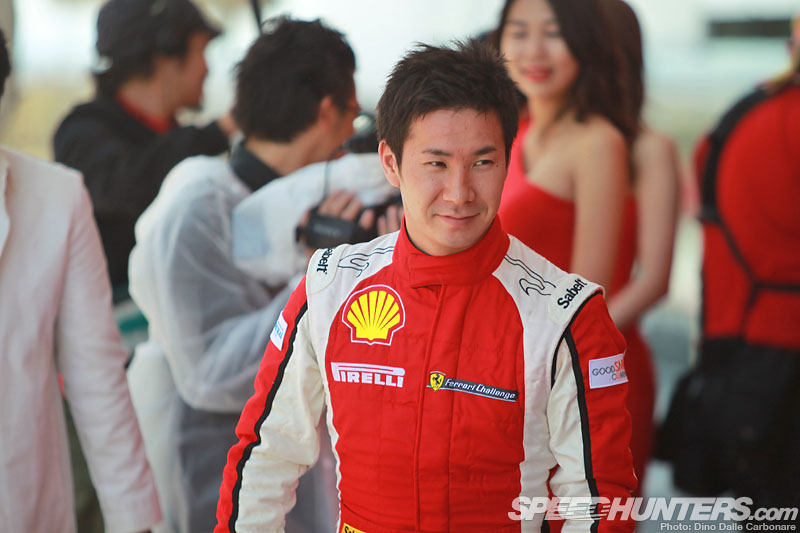 … Kobayashi-san was asked to present the drivers with their trophies…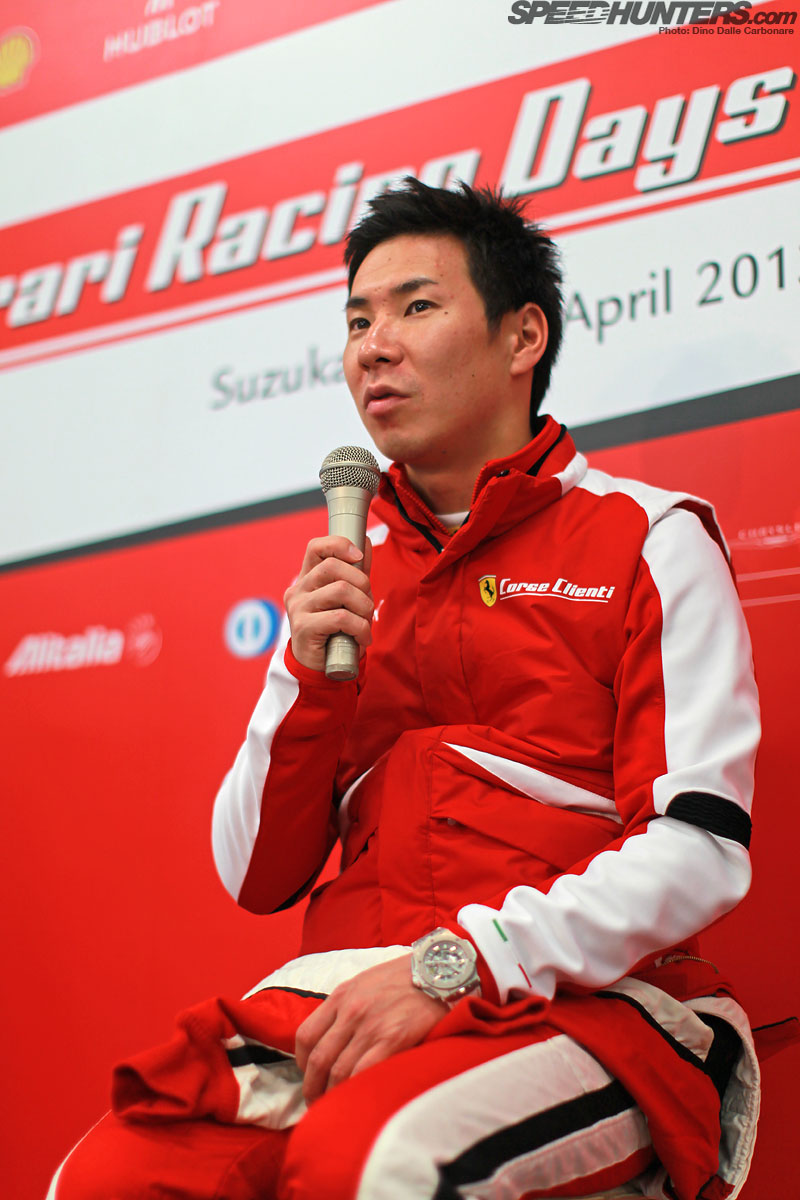 … before heading into the press room for a quick question answer session with the local and international media. Kamui, who competed in F1 from 2009 till last year, has just signed up with Ferrari to race in Team AF Corse in the LMGTE-PRO class of WEC.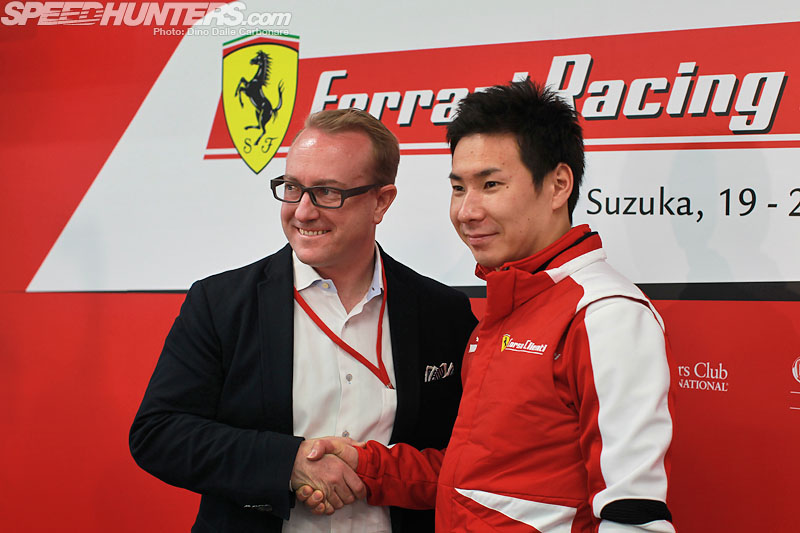 Here he is shaking hands with Ferrari Japan president Herbert Appleroth, the man behind Ferrari's boost of success in the country, and of course the Racing Days Japan event itself.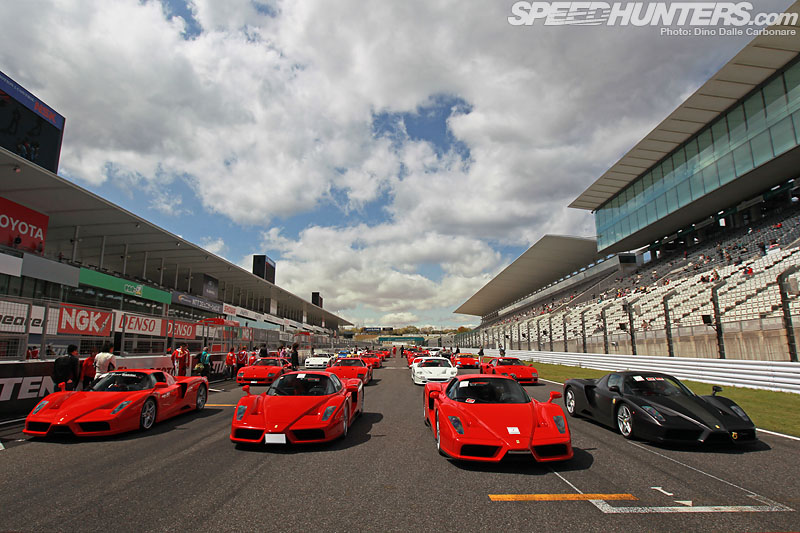 With one final race to go in the afternoon there was time for one final 'Supercar' parade…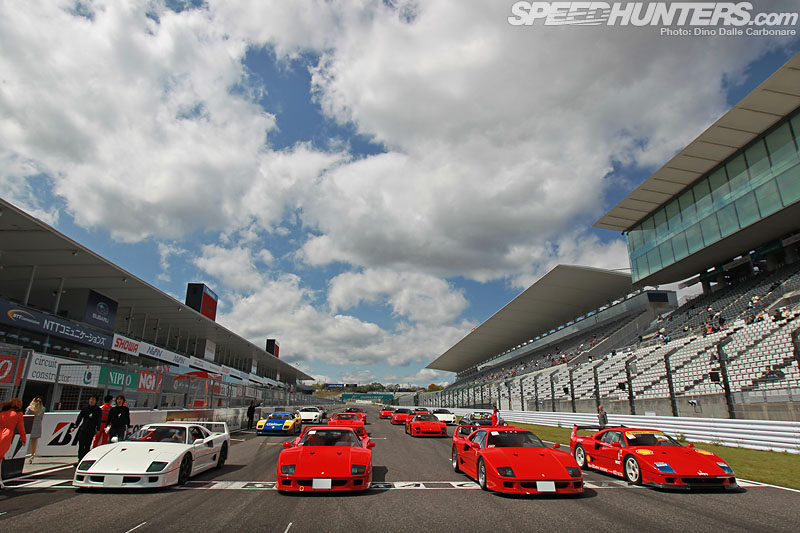 … which unlike on Saturday kicked off with a proper grid start. As you can see I indulged in immortalizing yet another rare occurrence!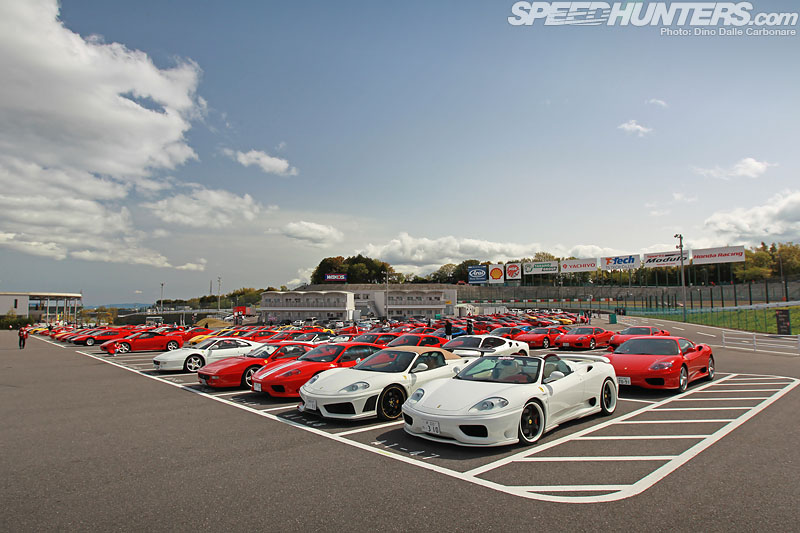 That's pretty much it for the main event side of things, except of course, one other aspect I'd like to focus on: the car parks. With what must have been about 200 cars, this has been the biggest gathering of Ferraris I have ever seen in Japan, so you can expect my next and final post to concentrate specifically on this…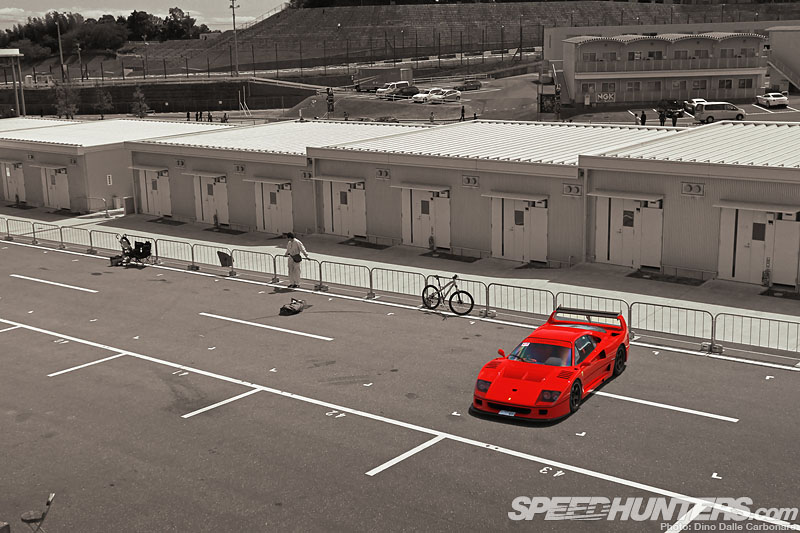 … as well as maybe one or two late arrivals to the party. Yes, more F40 goodness! You have no choice in the matter and I am sure you won't be too fussed about it, especially when the letters 'L' and 'M' follow that legendary name.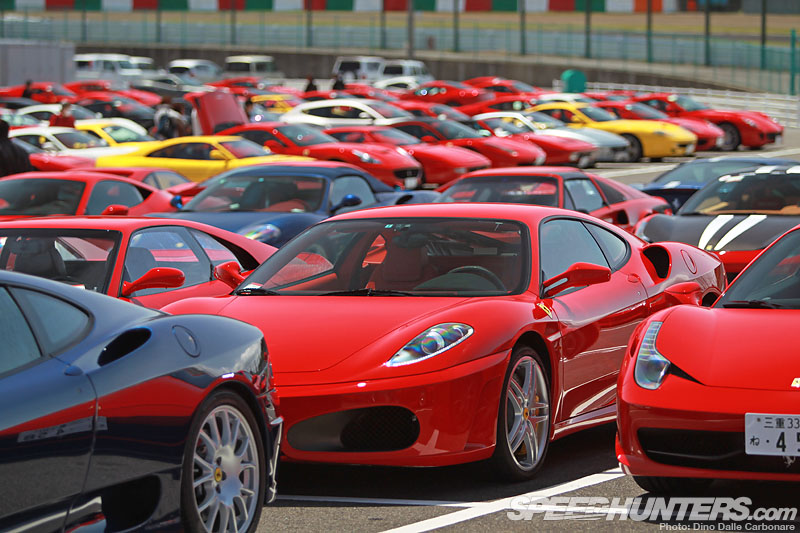 So I'll stop here for now, but make sure you check the selection of desktops I've prepped for you below.
I'd also like to touch on the fact that at the very end of the second Ferrari Challenge race a rather big accident occurred. Car number 31 driven by Shigeru Terashima collided with the barriers along the main straight right after passing the checkered flag. It's yet unknown what caused the accident but the driver remains in critical condition at a hospital close to the track. A circuit volunteer was also hurt in the accident. It's a stark reminder of the dangers of motorsport. We hope both the driver and volunteer pull through. 
Dino Dalle Carbonare
Instagram: speedhunters_dino
Ferrari Racing Days Japan coverage on Speedhunters
---
---
---
---
---
---