There's a saying, 'You can choose your friends, but you can't choose your family'. I guess this would be a good way to describe how I feel about all of the cars that I've owned. Perhaps it's because of the series of events that led me to owning one after the other and the eventual impact they've each had on my life. In fact, it almost feels as if they chose me, instead of the other way around.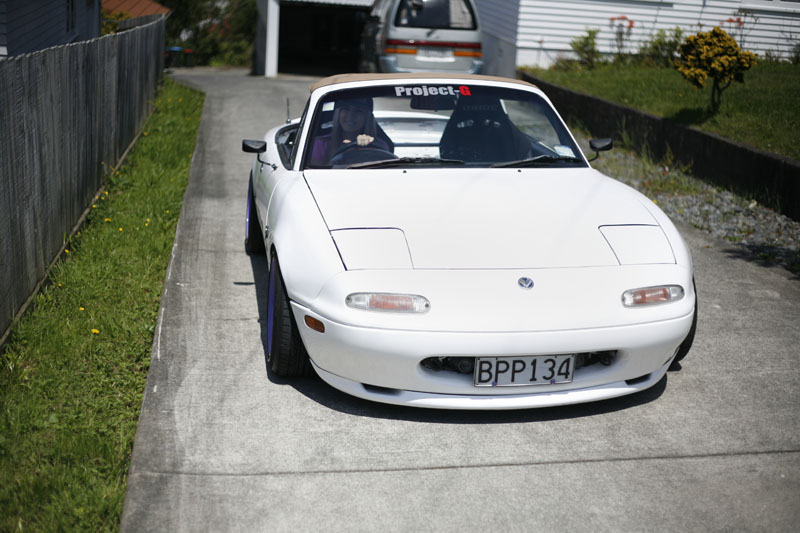 Because of my cars being like family to me, I found myself in an extremely difficult situation at the end of last year when I was faced with the ultimatum of having to say goodbye to one of my beloved projects. The MX-5 Roadster that had helped me discover the next level of my automotive passion and the car that had helped me first get noticed in the international car scene…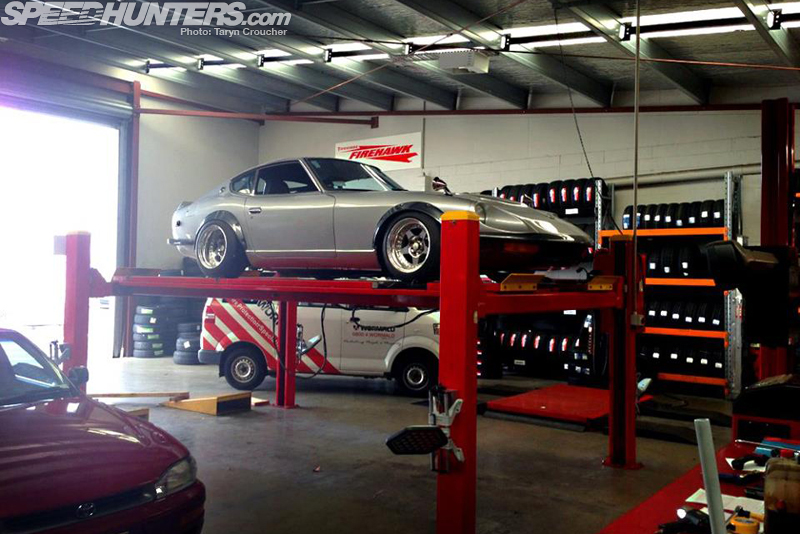 … or the nostalgic Japanese classic I had been dreaming of owning for sometime, but now that I had it in my possession I had run out of funds to continue with its restoration. I knew what I had to do, and it was hard to say goodbye to my Roadster. Although the money I received for it went to a good cause with buying new parts for the Z, I still found myself often wondering about what 'my old MX-5′ was getting up to.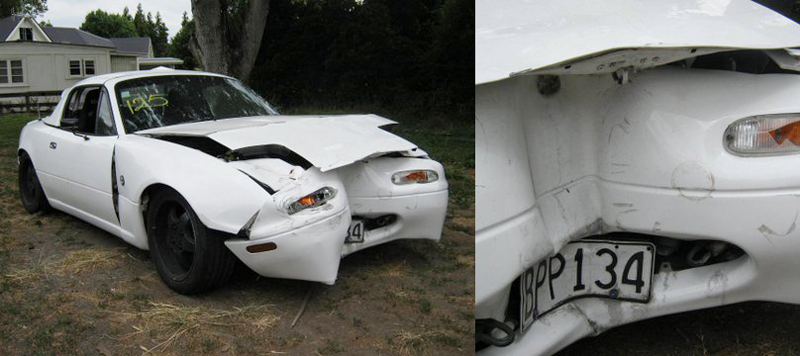 So a few months back when I opened my inbox to find these images, it was hard to ignore the awful sinking feeling in my stomach. As it turned out, shortly after it left my ownership the MX-5 was involved in a head-on collision with a motorcycle, and was sadly damaged beyond repair. Thankfully, the driver was okay, but this time the car was really gone… forever. It was sad to see, but in a way it's helped me focus more on the task that lay ahead. It was time to get cracking on my new project and make the sacrifice of my Roadster worth it!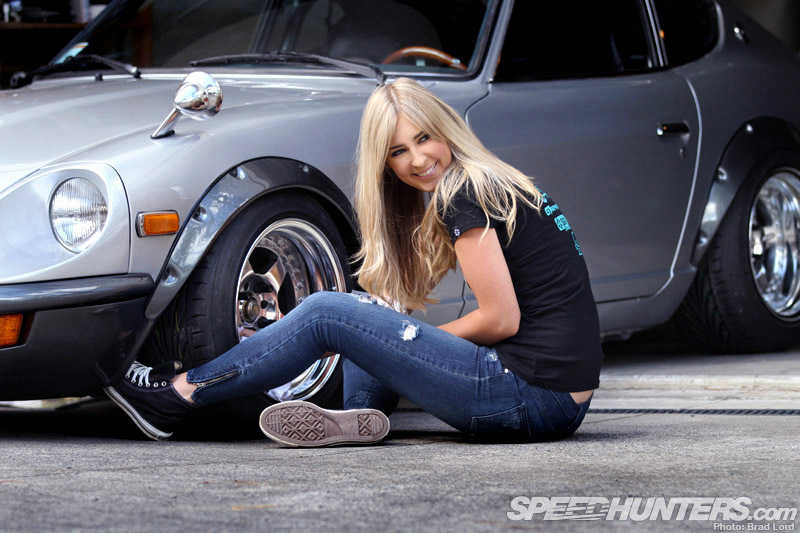 Although the MX-5's number was up, if it wasn't for that car I doubt I would be where I am right now. That is, introducing Project Z as one of our official Project Cars here on Speedhunters!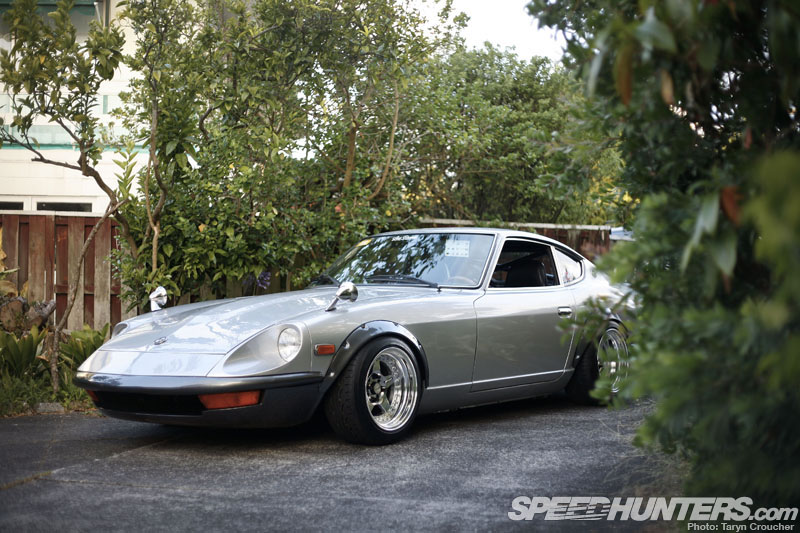 You might have already seen a little bit of Project Z either on here or if you're a kiwi, you may recognise it from the editorial column in New Zealand Performance Car magazine. I should probably mention that the editor of NZPC is my husband, so he has also been giving NZPC readers a monthly update on Project Z's progress!
Anyway, despite the outside of the car being 99% complete, what's going on underneath the bonnet is a different story. Instead of skipping out all the juicy parts though, I thought I'd take you back to the beginning to show how the car has got to where it is today.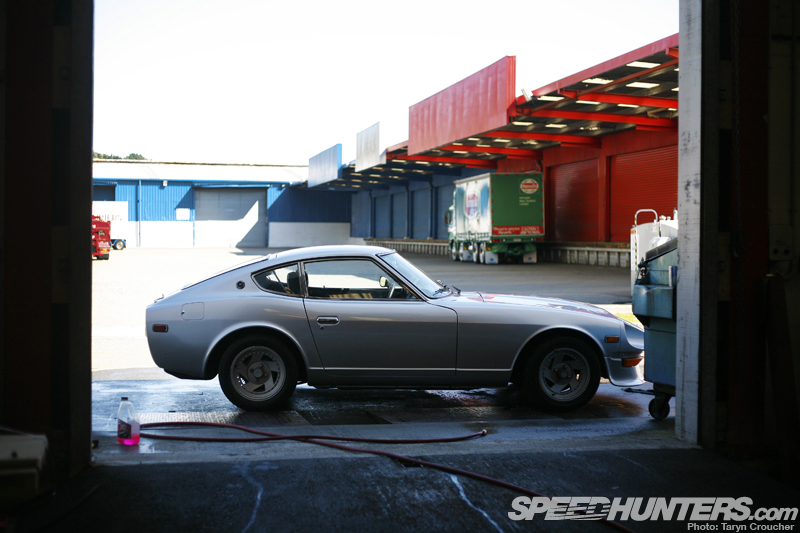 It began exactly one year ago, when I was browsing cars on a local auction website. I came across what appeared to be a Fairlady 240Z, but after taking a closer look at the listing I discovered otherwise. This particular car was a 1975 Datsun 280Z, imported into New Zealand from the US back in '76.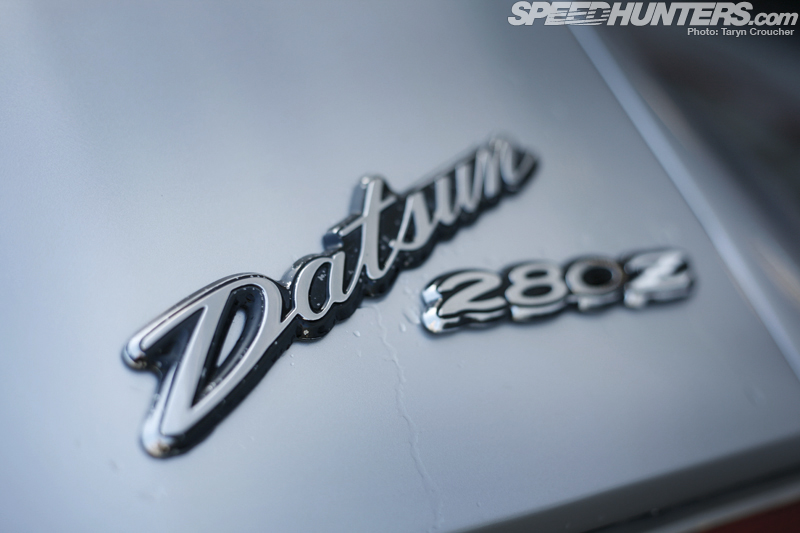 Strange, considering both the 240Z and 260Z models were available new in New Zealand at that time, but perhaps it was the appeal of the bigger L28 motor, the status symbol of left-hand-drive or the reliable (at the time!) Bosch L-Jetronic fuel injection system that convinced the first owner to bring the car over to New Zealand.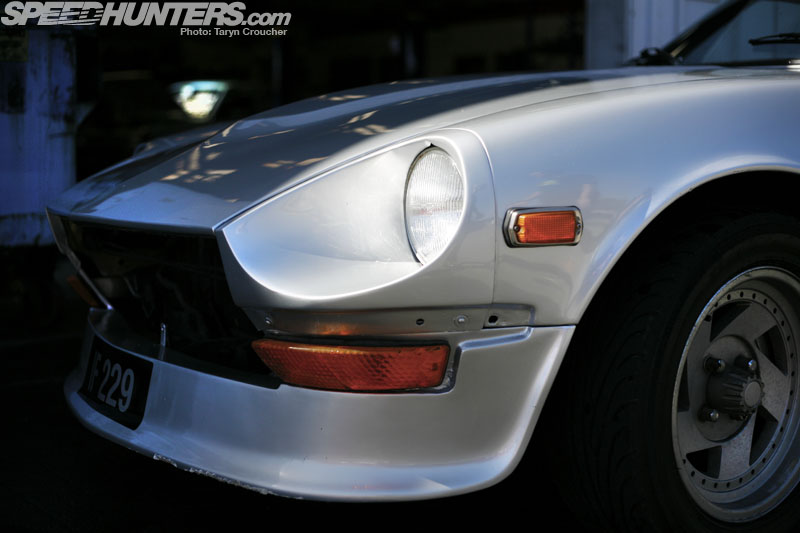 I'll never really know what the reason was, and I'll never really know why I had to have this particular car either. There was just something about this S30, (I pronounce it as 'Zed', not 'Zee') and although I tried not to, I had already fallen for the car before I knew if I was even going to be able to buy it. Soon enough the papers were signed, and I had this glorious hunk of 70s Japanese tin sitting in my garage. I had a pretty clear vision of how I wanted the car to look, and over the last year I gradually started to acquire parts from all corners of the globe to make things come together.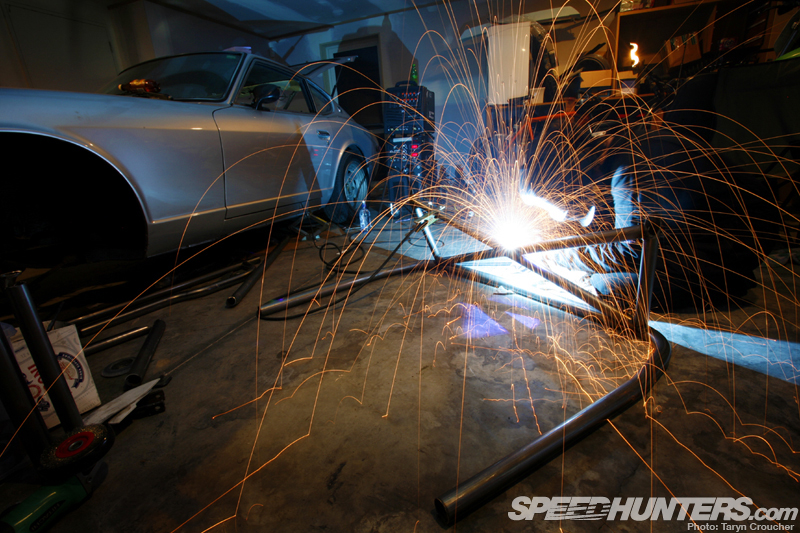 A half-cage was the first mod on the list. I'd seen quite a few different cage designs in the S30 chassis before, but I wanted something very simple and not too hardcore. A friend of mine fabricated up a custom half-cage and we installed it straight away.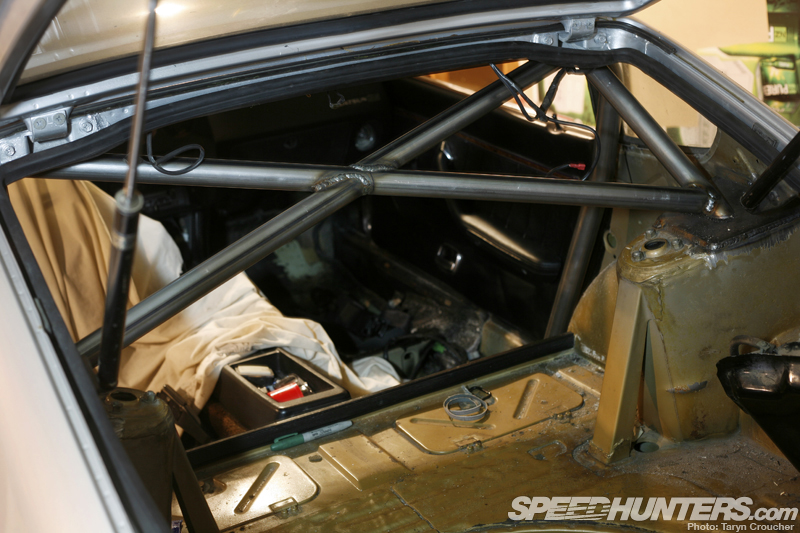 One glance at the staunch looking metal bars peeking through the rear windows made it instantly ten times more badass looking, and I knew I'd made a good choice!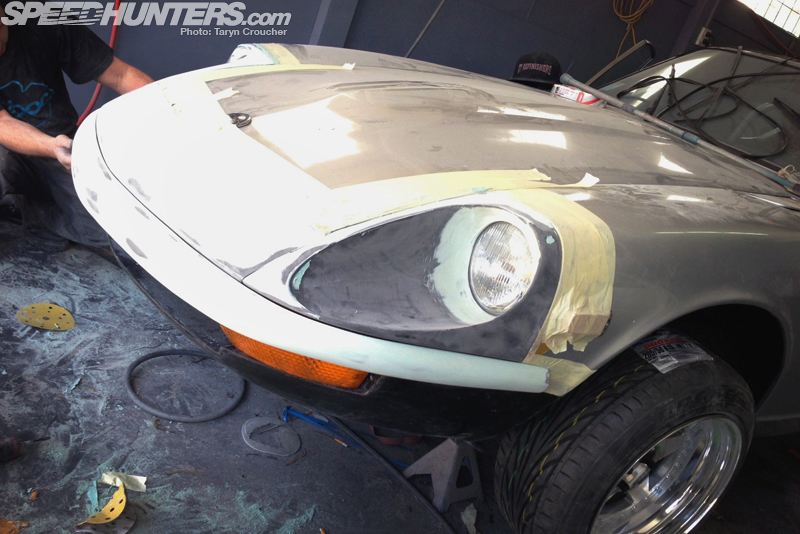 The next thing on the mod list was a nose-job, which came in the form of a Fairlady 'G-nose' bumper. This particular bumper is a five piece replica of the option that was offered on the special edition Fairlady 240ZG in Japan. From what I've seen so far, Z fans seem to be about 50/50 on the G-nose, with some absolutely swearing against it in favour of the original front-end. However, I love the smooth, sexy lines of the elongated snout and I can't imagine the Z without it now!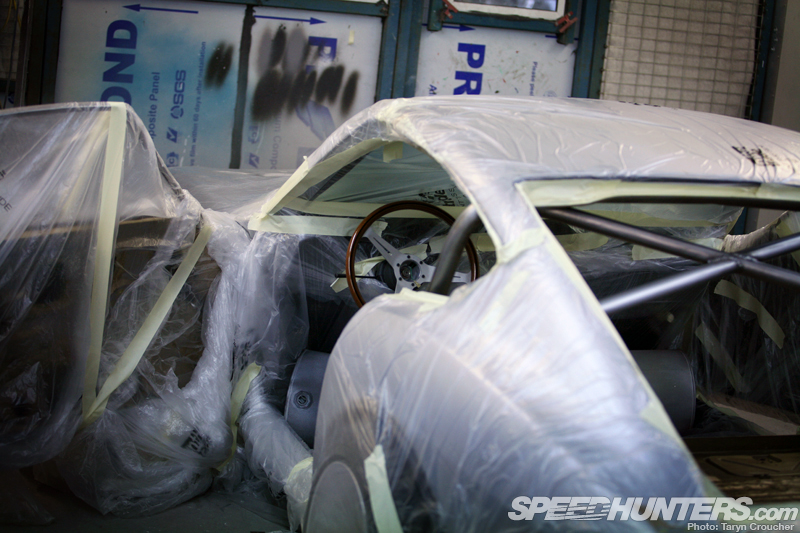 The 280Z was repainted in a beautiful shade of arctic silver only recently by its last owner – as you will have noticed in one of the previous photos, the car originally used to be gold. After removing the carpet from the boot and deciding to keep it that way, we realised that this space would also need to be repainted, so into the paint shop she went.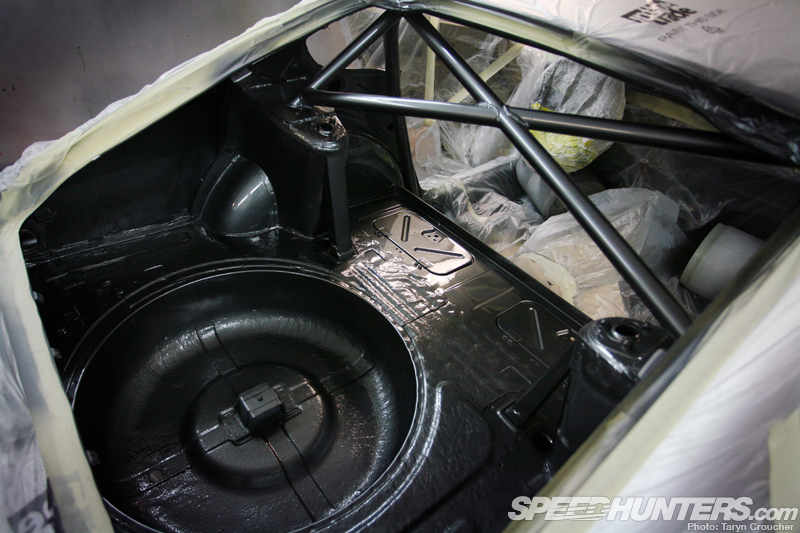 As well as having the rear section of the interior and the cage painted, sections in the spare-tyre well and both the driver and passenger footwells had to be cut out and replaced due to rust. Unfortunately this would not be the car's last encounter with rust problems.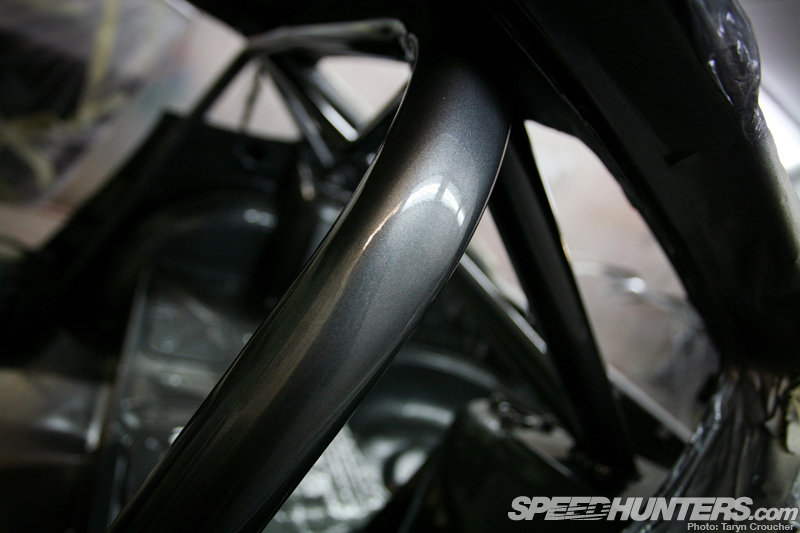 Your eyes aren't deceiving you, these parts are painted in a darker grey.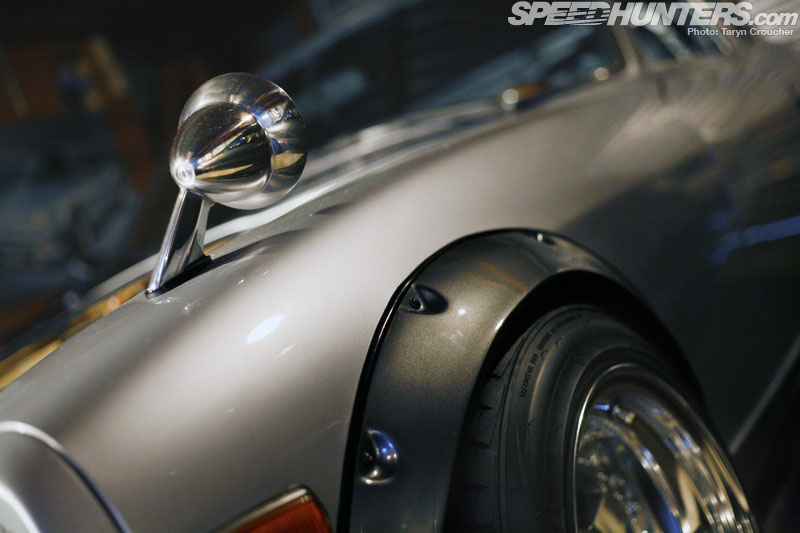 A pair of OEM fender mirrors and ZG-style flares were also sourced to complete the ZG-inspired theme, and the darker charcoal colour is also used on the flares, the bottom half of the G-nose and a newly smoothed, recessed 240Z rear bumper. I love the way the metallic colour contrasts against the silver paintwork on the rest of the body – I think it's just a tad more classy-looking compared to the usual flat black colour used on most flares.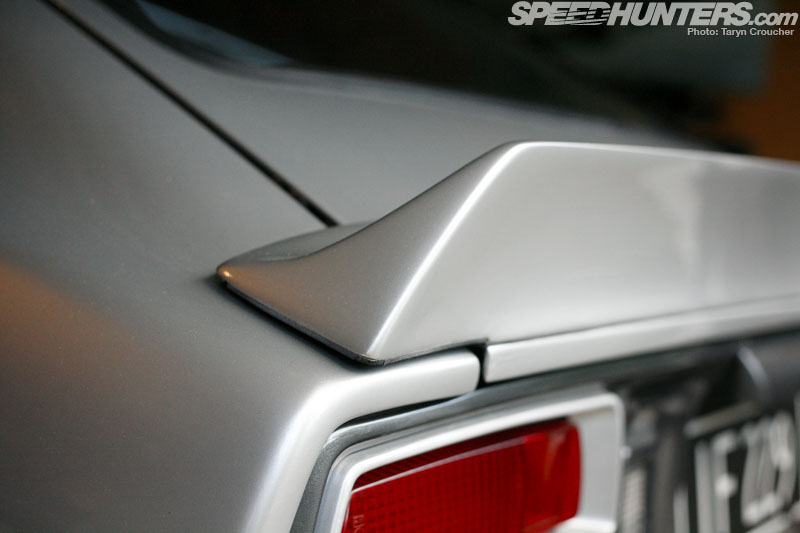 The rear end of the car looked particularly naked after the new front bumper was put on, so a boot spoiler was also added and this now seems to balance things out nicely.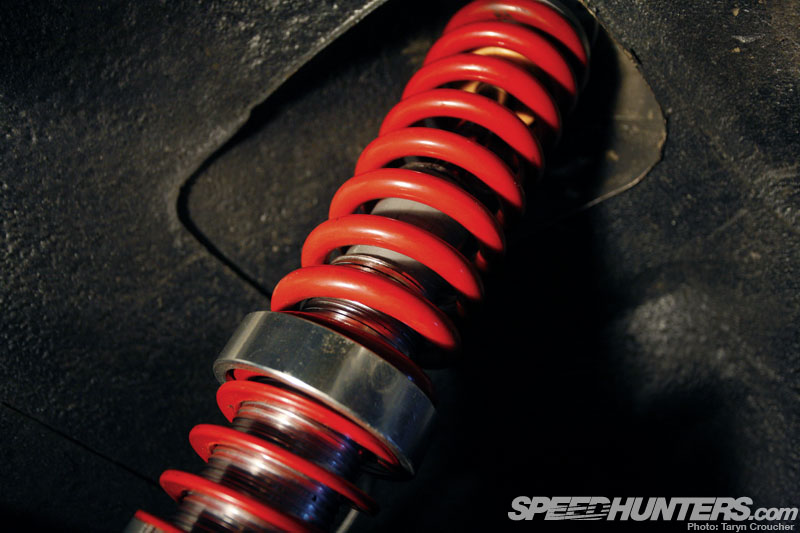 I won't delve into the topic of suspension too far (it's that deep!) but since it's probably the subject I get asked about the most, I'll try to give you an attempted brief description of what's going on under there. The suspension saga went on for some time and after a lot of trial and error, the Z ended up with with shortened 240Z strut tubes front and rear, KYB AW11 rear struts up front with S13 camber plate tops and KYB 240Z front struts in the rear. The coilovers run 8kg springs up front and 6.5kg springs in the rear.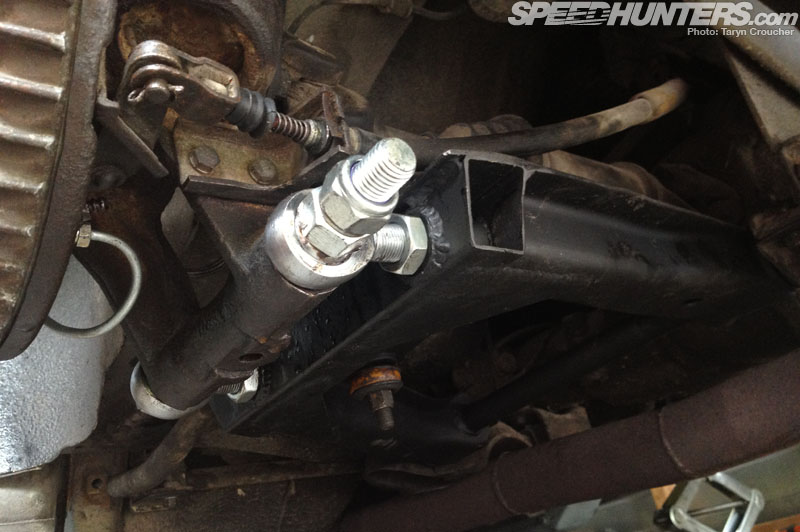 After getting the ride height sorted, it was apparent that the rear wheels suffered from huge amounts of toe-in the lower the car went. Rose-jointed control arms now allow for plenty of adjustment for both toe and camber. If I were to do things over, I think I would've just gone with a higher quality coilover kit and proper camber plates or even making S13 coilovers fit, though that would be a lot harder to make legal here. It may have taken a while to get right but this set-up has now been certified as legal, so I'll just have to see how things go.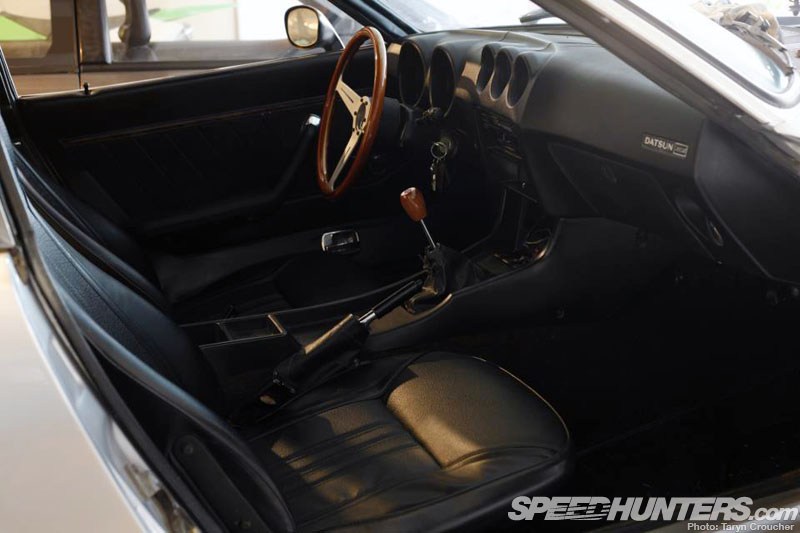 Interior-wise the Z has been kept very simple, with the original seats being reupholstered, and a woodgrain Nardi steering wheel and matching woodgrain gear knob have been added.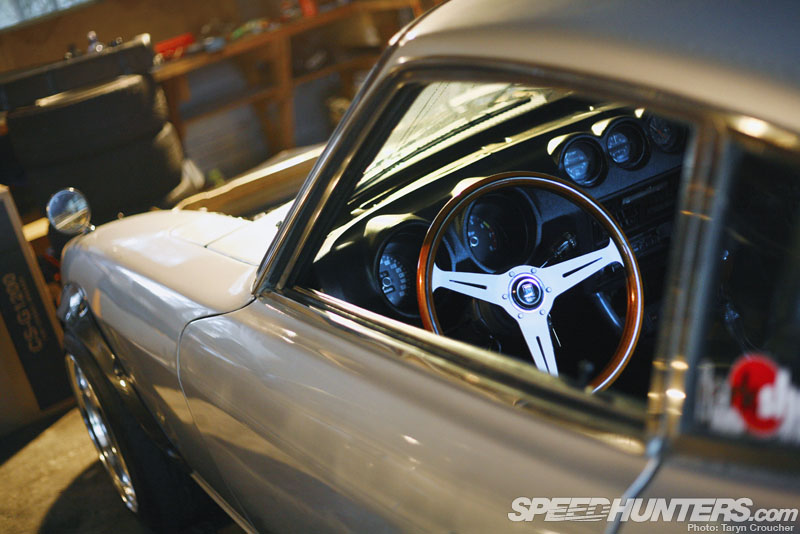 I know what the JDM enthusiasts are thinking looking at this – but here in New Zealand all cars are RHD, so a left-hook car is actually considered pretty cool here! I'm sure some will disagree with this, but I like how it's out of the ordinary.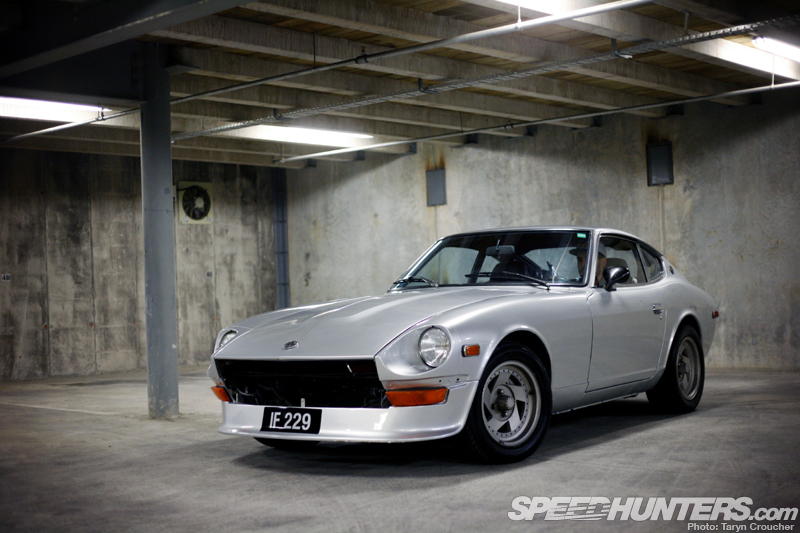 It's hugely satisfying looking back at these photos and seeing how far the S30Z has already come in the last year…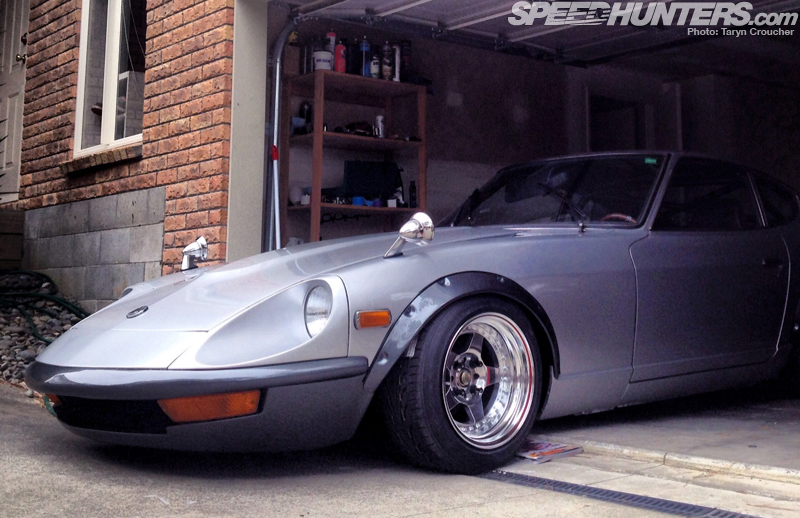 … but despite everything looking the part, unfortunately Project Z has been plagued with problems from day one, and it feels like for every step it takes in a forward direction, three steps backwards then have to be taken. The main issues have been with the factory-fitted injected L28E, and also the aforementioned rust, more of which turned out to be hiding in the chassis rails.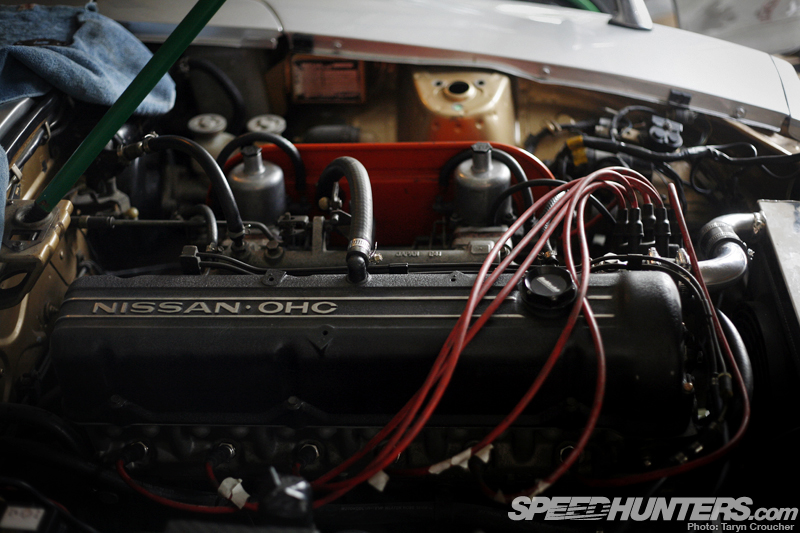 Back at the beginning of the year and conveniently just before the 4 & Rotary Nationals, the car failed to start and under closer inspection the EFI fuel system revealed a number of different problems. To put it simply, it was old and falling to pieces. Although the plan was eventually to switch to triple carbs at some stage, a set of twin SU carbs came up for sale at the perfect time, so these were quickly put on in an attempt to get the car running in time for the show. But in another frustrating twist, at around the same time the Z was finally certified and deemed legal, a compression test revealed that the fifth cylinder was reading at 130 PSI, while the others all read at 170.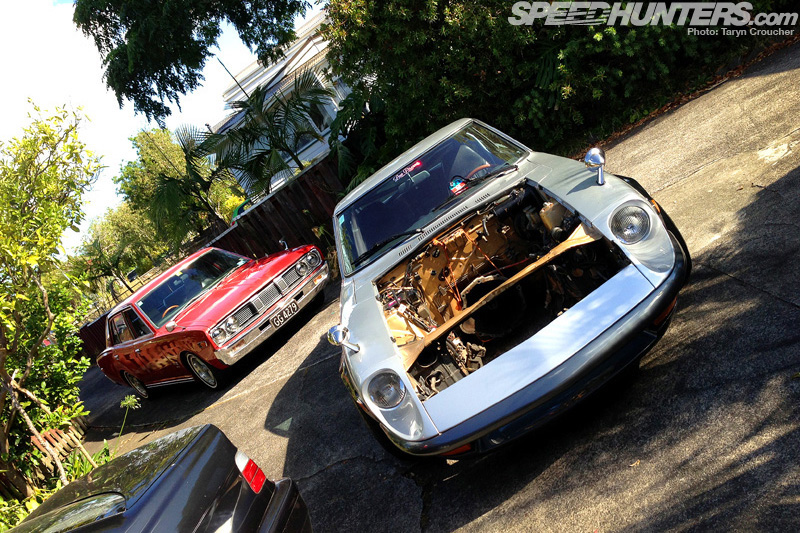 So this is how the Z sits today. With the help of some friends, the L28 was lifted out and the block is currently sitting on the cold concrete floor of my garage, while the head is away awaiting news from a specialist on whether it will be worth rebuilding or not. I'll also obviously take this opportunity to clean up and repaint the engine bay. Personally, I've become quite fond of the L-series engines and I'm crossing my fingers that the motor will be rescuable, so it can be rebuilt with triple carbs and stronger internals. Perhaps stroking it out to 3.1 could be an option too?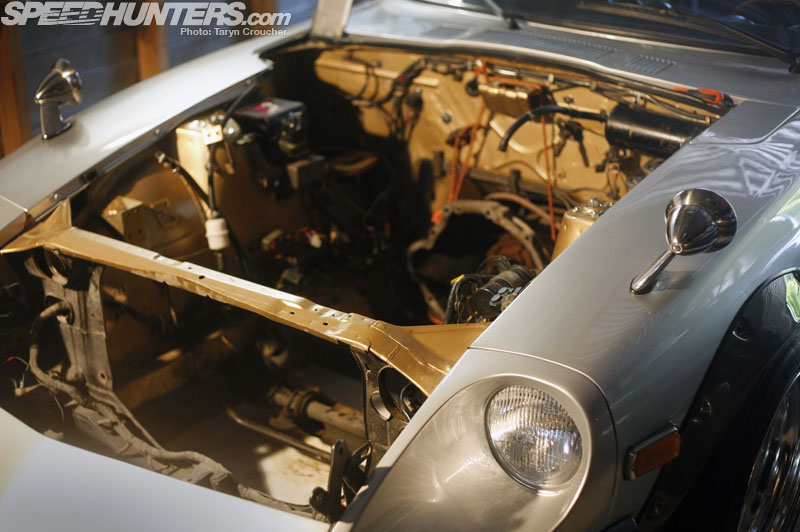 What would you do if you were in my position? Take this as a sign that the Z is crying out for a different new powerplant, and take the opportunity to swap in something exciting and crazy? Or stick to a more traditional path and save the L28 engine, rebuilding it into something stronger and more powerful? There are so many options really, so I'd love to hear your thoughts!
Taryn Croucher
Twitter: taryncroucher
Instagram: taryncroucher