Big engines and big cars are kind of obvious huh? Don't get me wrong, I love a good V8 and have owned more than a few. An Audi R8 with that V10 sat behind my head? All day, every day my friend. Yet if I'm honest I think my ego gets in the way sometimes. For years I craved big engined hot rods and large capacity BMWs, but often they were unsatisfying – aurally muscular but lacking in go. So when I see a diminutive truck like Brad McIlroy's Datsun, I get a kick. It's inoffensive, approachable yet devastatingly effective. Can you imagine covering the quarter mile in seven seconds in a handyman's runaround? The deeper and wider I delve in to car culture I think it's the unexpected that now attracts me. This Ute eats tarmac like a vacuum cleaner sucks up a piece string, and it cannot be ignored…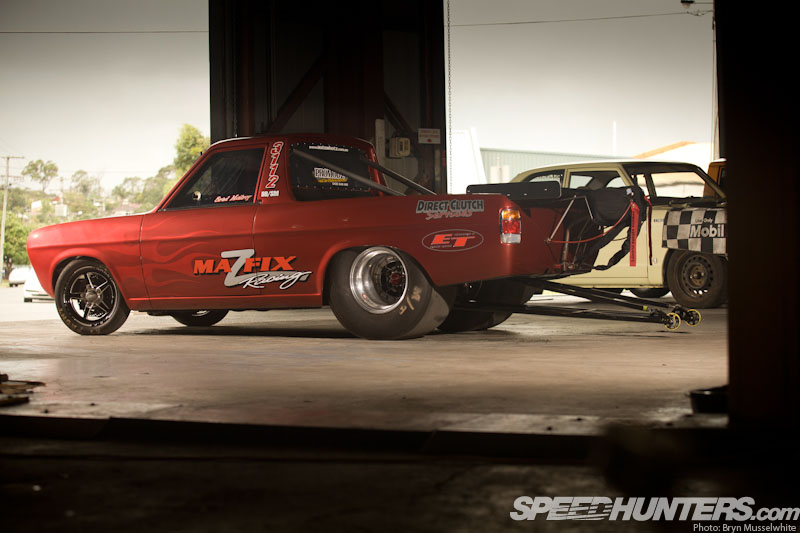 It always makes me smile when I talk to a drag racer like Brad McIlroy, because it's usually the same story you hear. He never meant to go this fast – it kind of got out of hand. It's like going out for a kick around with a football and ending up at the Superbowl, almost without realising exactly how you got there. Except this is all about going fast, really fast, and there's something very pure and honest about that.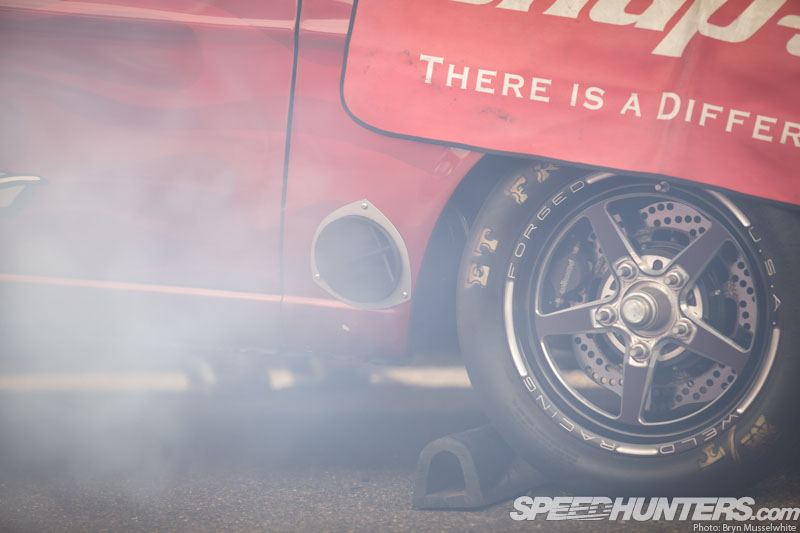 At Willowbank Raceway Brad is pitted alongside the Mazfix 6 that I featured last month. His Datsun ute runs on methanol and I'm sat right in the wash of the fumes as the guys fire it up. It's a rookie error. As my eyes start to stream a little it strikes me that this kind of sums up drag racing itself – you do things that might hurt a little because the rewards are so temptingly close.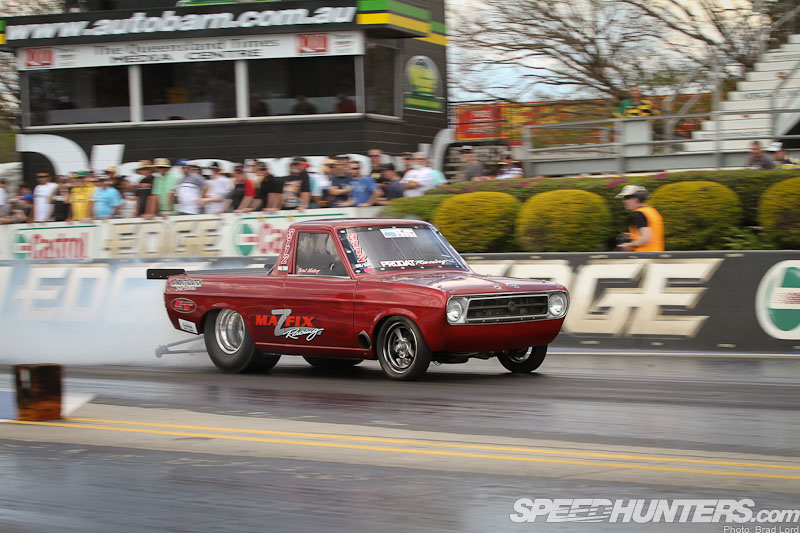 My reward for today is denied though. The rain that's been looming starts to spatter the track by lunchtime, and I don't get to see Brad and the Datsun run. As achingly annoying as it is for me, for a crew like Brad's with days and months of dedication and hard work in this build it's very frustrating, but all part of the process. Thankfully for me, fellow Speedhunter Brad Lord was stood exactly where I am now for the Brisbane Jamboree last September and got some shots of Brad and the truck in action.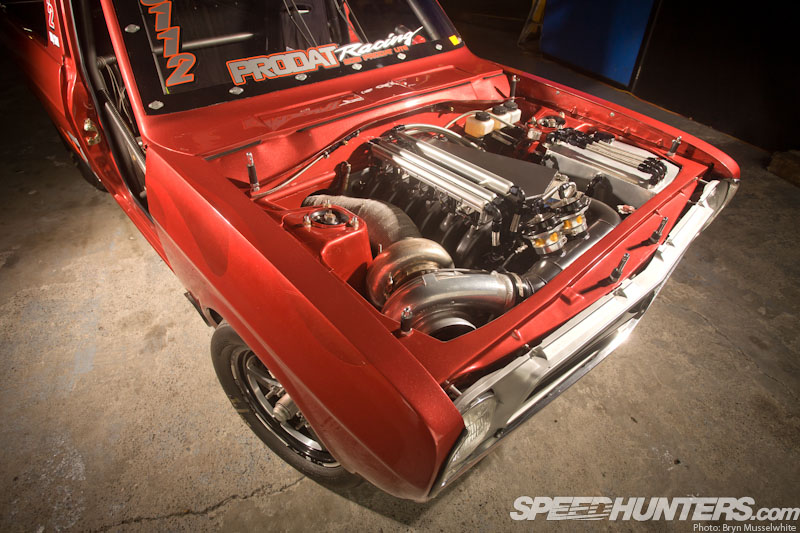 So a couple of days later I find myself at the Mazfix workshop to take a closer look at the little truck. The basic facts? Small and powerful, the wheelbase is a factory-stock 90 inches and it has around 900hp at the rear wheels thanks to an extended port 20B rotary motor.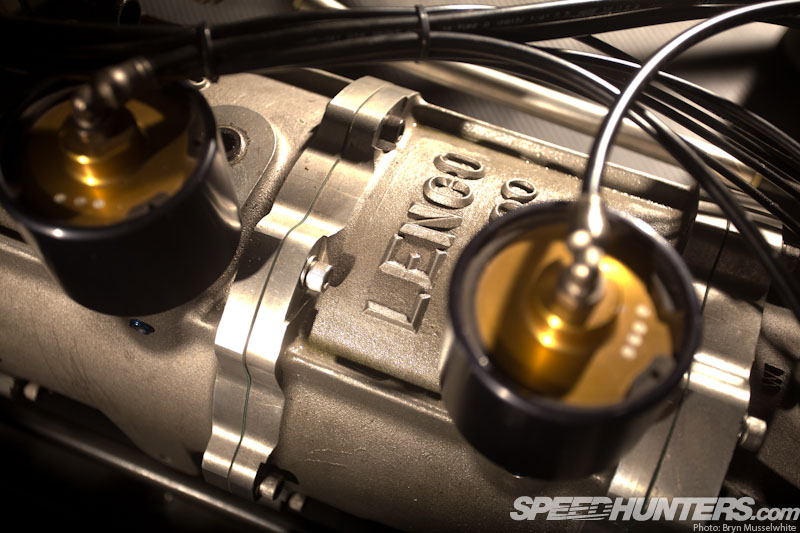 As ever, the real story is Brad's though. The parts are laid out for us to see but I want to know why we're not looking at a Ford or a V8 or even talking about train spotting? So it comes as a surprise when Brad tells me he got in to drag racing through a neighbour when he was a kid. Not the usual route, no parental input aside from 'yeah you can go to the drags', just a healthy interest that grew and grew.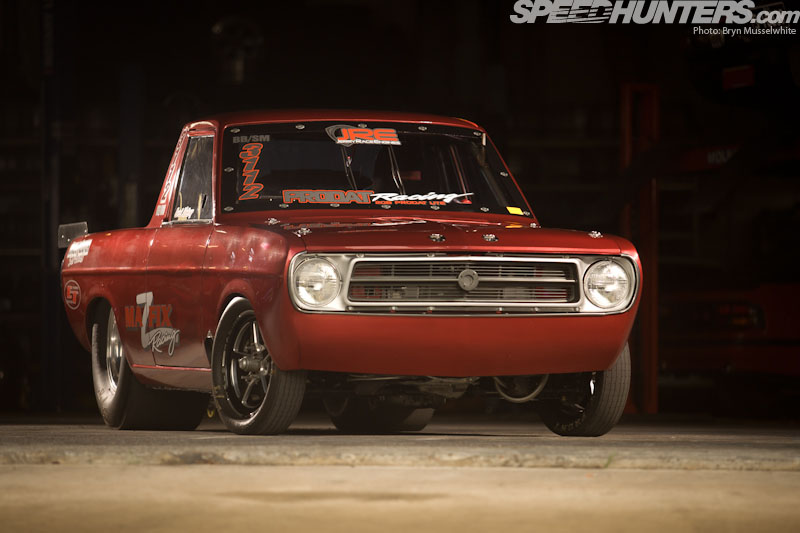 For Brad it always had to be a Datsun Ute though, and the ute part I get. This is Australia and I swear they'd use one for a state funeral if the opportunity arose. They are such an integral part of the culture it was a natural choice. The design is a classic choice, beloved as much in South America and Africa as it is here, although the single headlight grille is relativly clean it's got a hint of aggression to it when you look at how the centre tucks in at the top either side.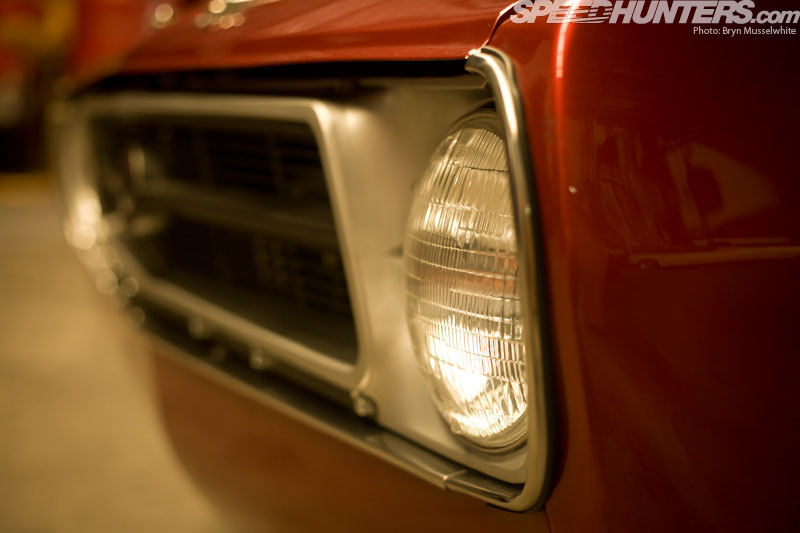 Brad was attracted to the clean look they have, which he's kept with some simple debumpering but incredibly no aero aids at the front given the potential it has.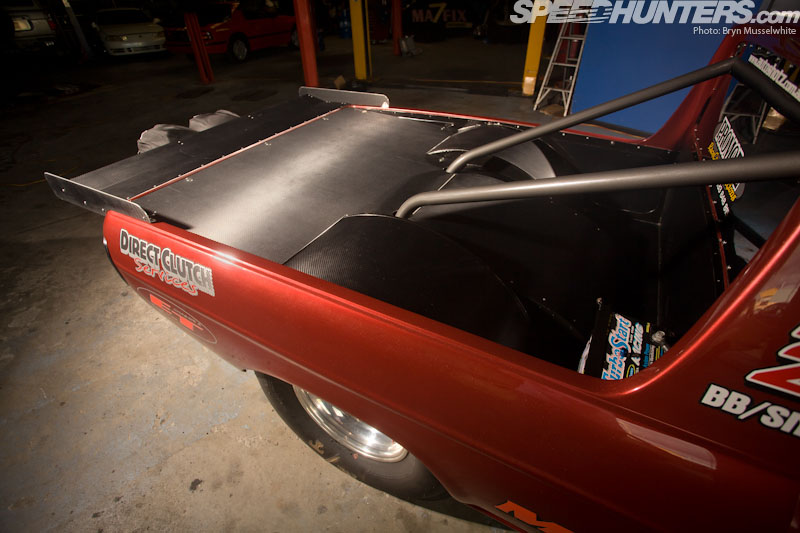 It's a different story at the back though, the game is up. I personally like the detail where the cab joins the rear bed, it looks considered and not separated like so many others. According to Brad they're a great base to start with, as you can do so much with them. Small and compact, they can be made fast with off-the-shelf conversion parts for not much money given great aftermarket support.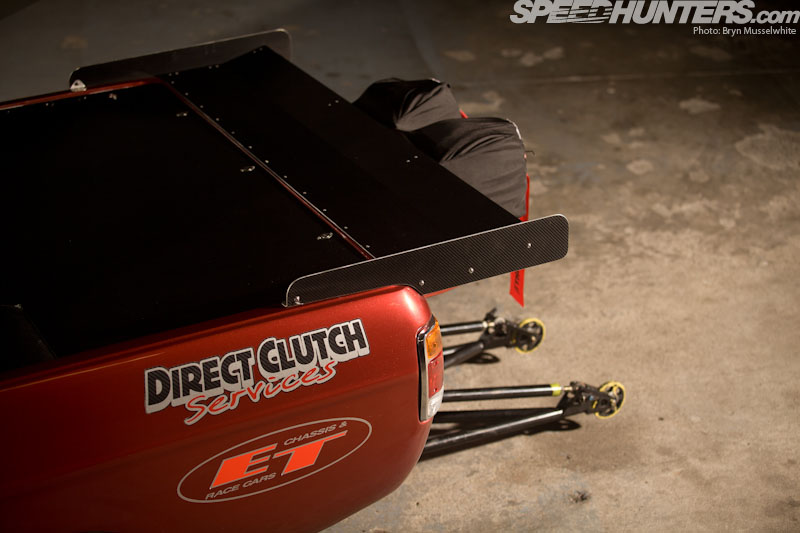 He also said something about them being cheap and keeping it road legal… Yeah, I didn't believe that bit either, Brad.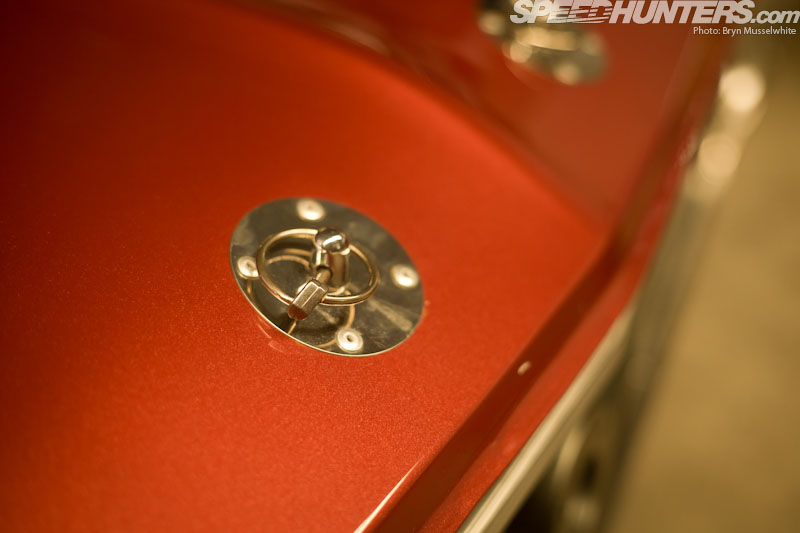 Sure a few of the modifications could be true for a road car. But it's gone way beyond that now.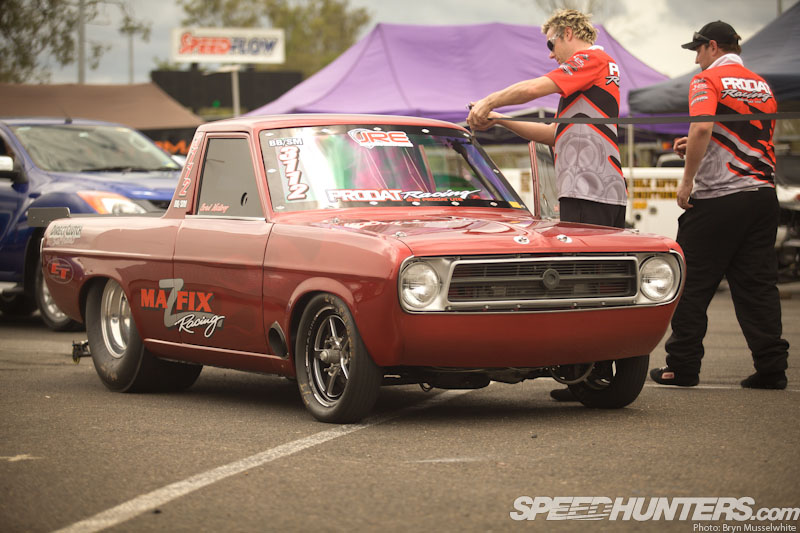 Through heading to the track to get his straighline fix, Brad met up with a whole crew of guys. Drag racing the world-over has always shown me a healthy social scene, because when so much rides on so little time spent doing the actual racing, everything around it grows.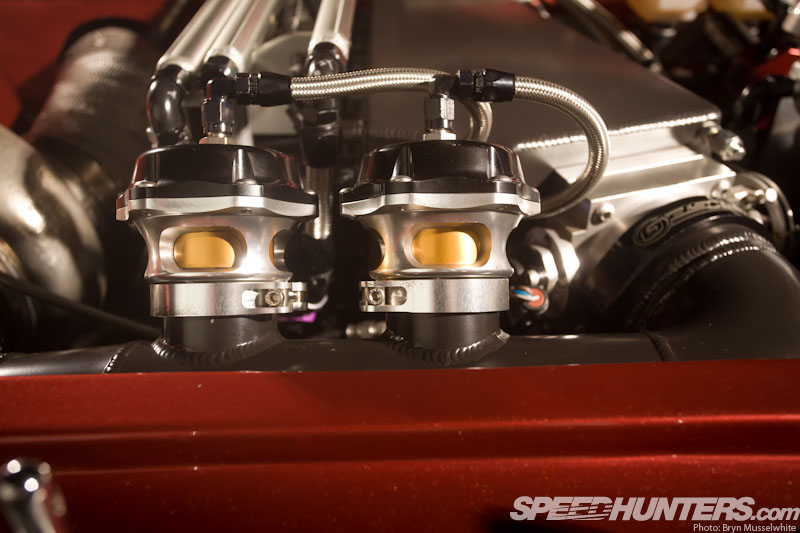 Buying a bare Datsun 1200 shell, Brad met 'Jerry, Dan and all the boys' as he calls them. These guys then guided, helped and pushed him through the build, with the original plan being for a 10-second legal street car with a 13B. So what happened? "Build it once, build it right," states Brad.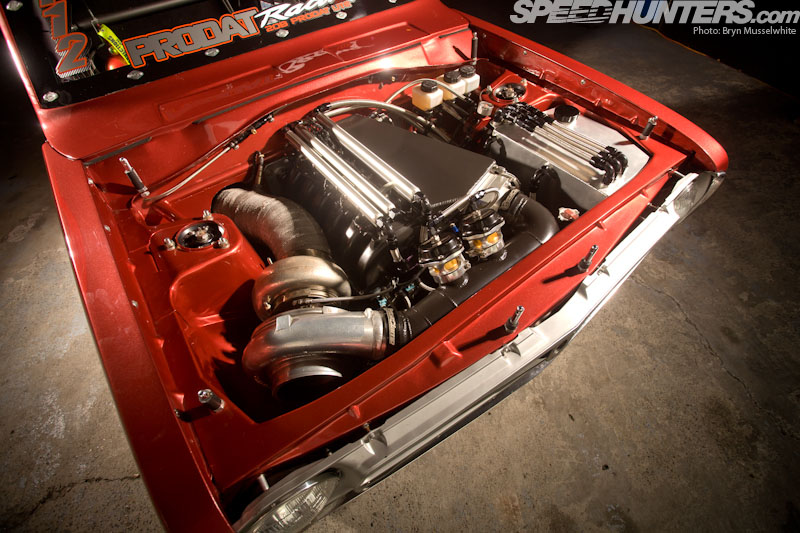 Because like I said, Brad is the same as every other normal-on-the-surface-methanol-burning-drag-racer. They just want to go fast. Pure, unadulterated speed delivered in a kick-to-the-brain kind of way.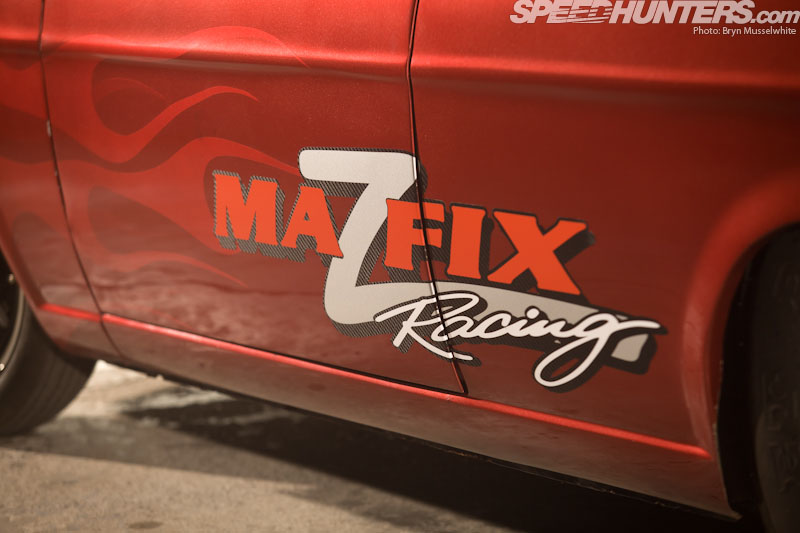 No prolonged endurance racing here. Explosive forces, combined with friction and propulsion, designed to get the job done as quick as is possible.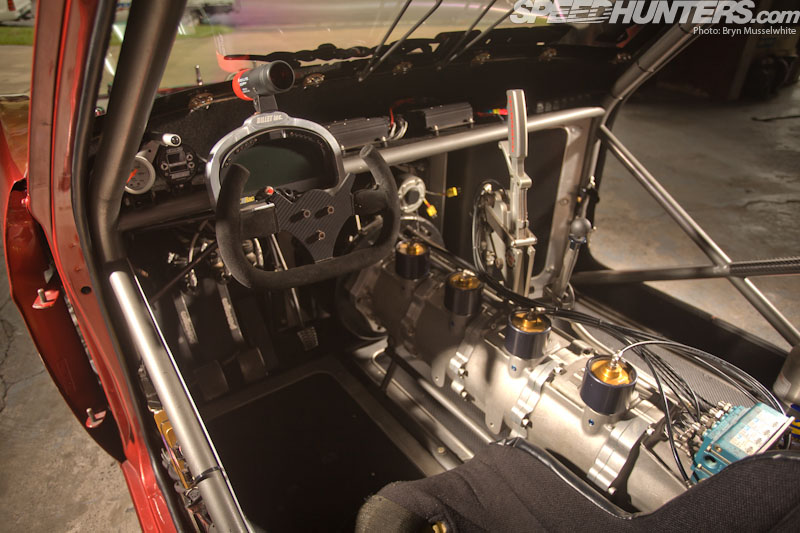 It's a real pleasure taking a look around the truck as it all looks so methodical, which Brad puts down the experienced team and thinking four or five steps ahead in the build stage.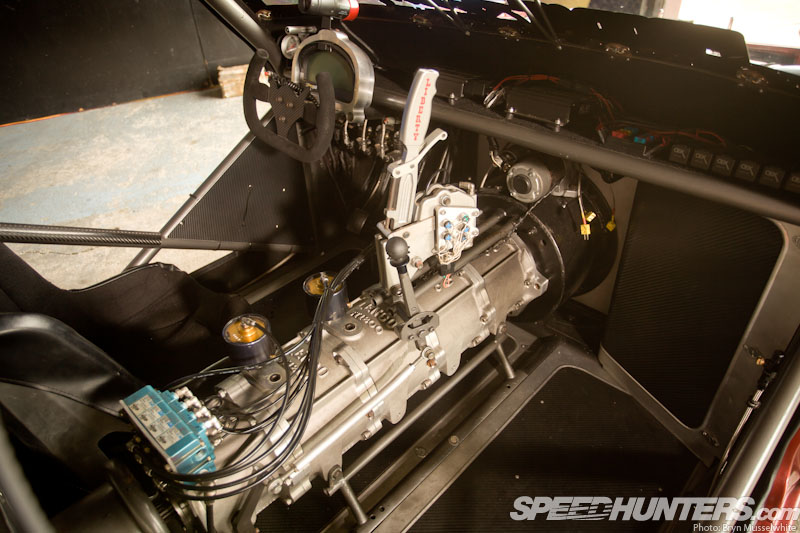 I love the Liberty shifter atop the Lenco transmission; it's almost reason enough in itself to get a drag specific car. You can show me stripped down quickshifts or VW Motorsport shifters, but this bad boy will win every time.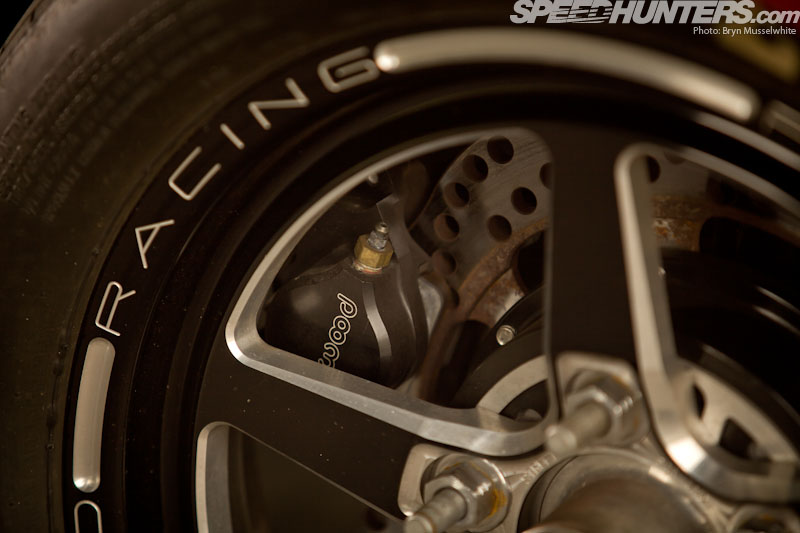 Just as I saw on Mazfix's six-second drag car last month, the Weld Racing rims have that gorgeous anodised and machined finish to them.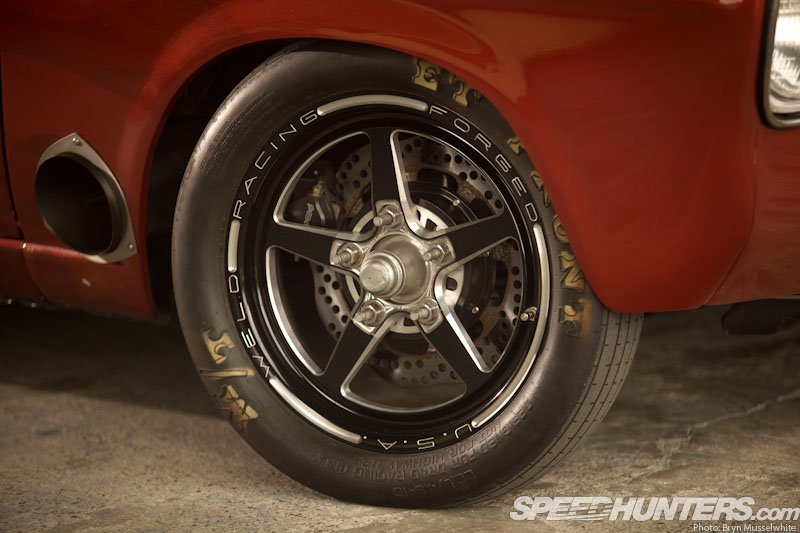 A skinny 4.5 inches up front…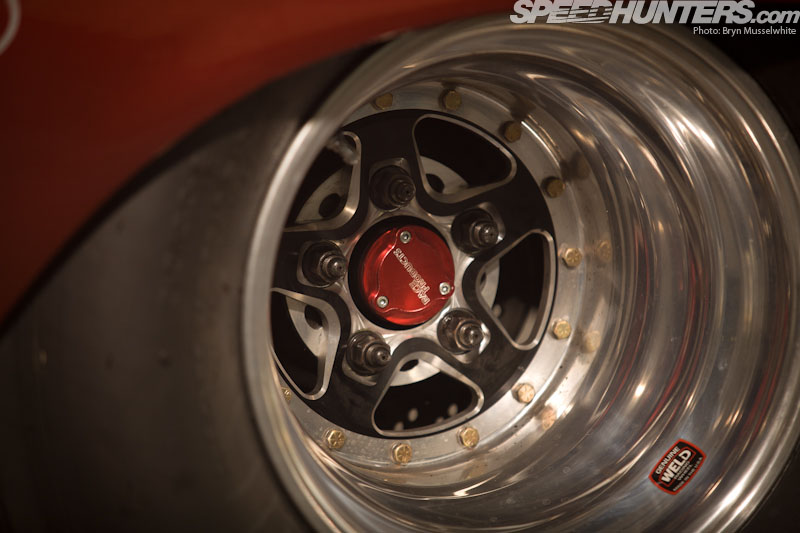 … And an almost square 15×12 inches at the back.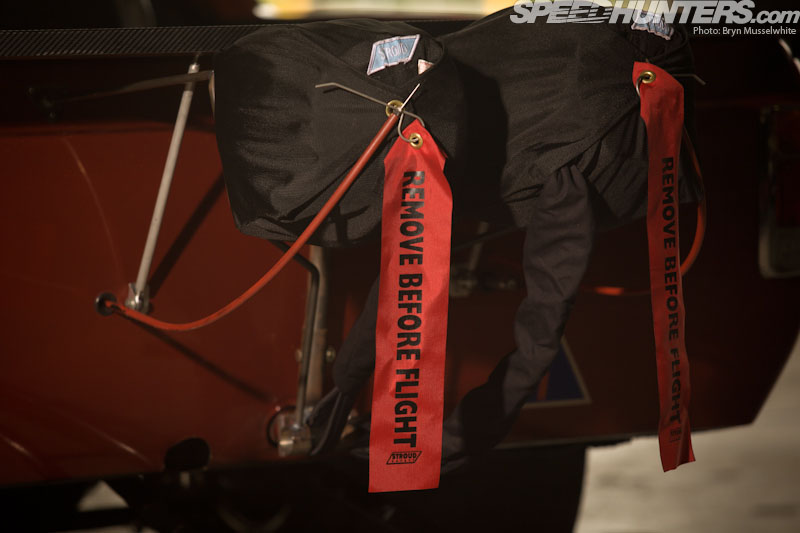 Twin parachutes mean that stopping really isn't a problem, which is good because since I was with Brad he's set a new personal best of 7.79 seconds at 178mph. Talking to him you can hear it hasn't quite sunk in. "It just felt good off the line, I listened and it went straight. Everything fell in to place."
That time is well-deserved with Brad having raced the Ute for roughly two years now. Although there's been a few mishaps along the way, hopefully the good times are here to stay.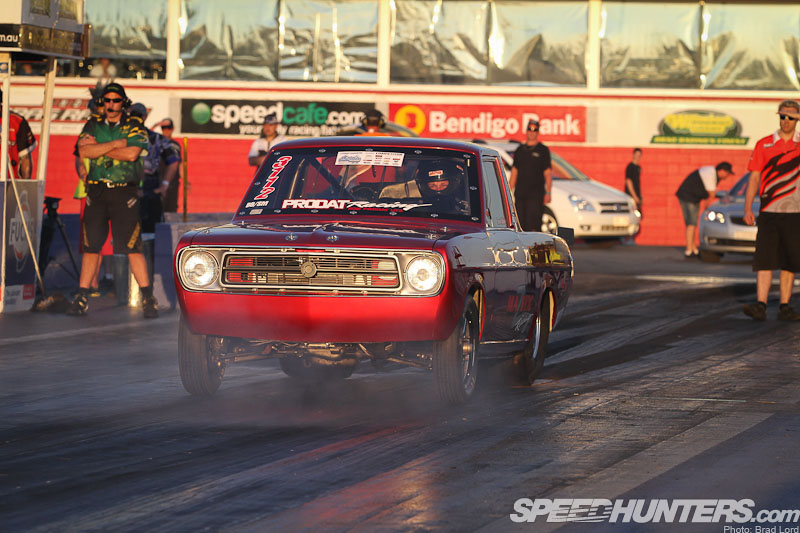 Just stop for a second and imagine how that must feel? That's a crazy-quick time for a vehicle of this size, surely? Well maybe not, but I for one love it that it's even possible.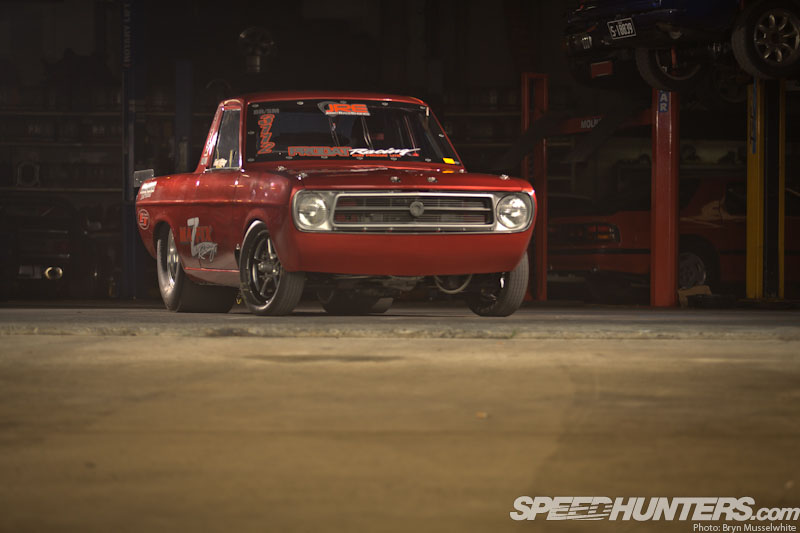 Maybe better times are yet to come, because Brad wants the Datsun to run reliable and consistent 7.30-second quarter mile times.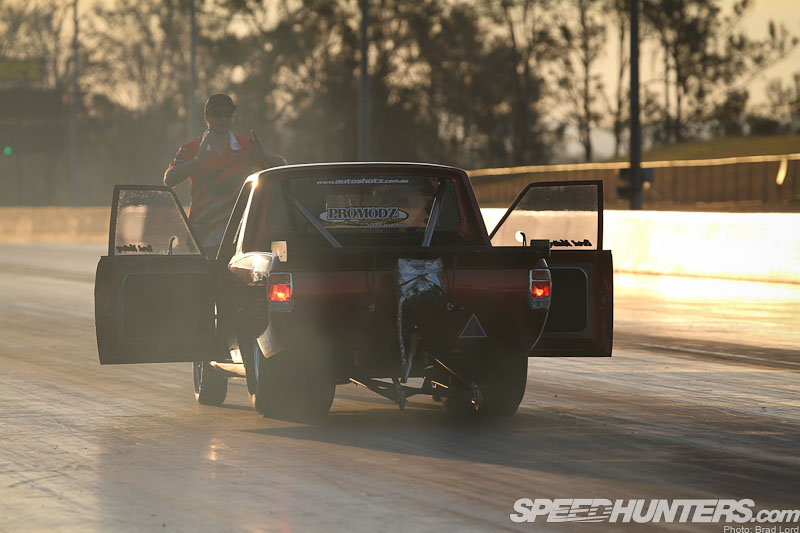 Ultimately though the Ute's days might be numbered with Brad. Like all of us he just wants to go fast. Really fast. So a six-second, full chassis car like Mazfix's 6 might well be on the cards. One thing is for sure, my eyes are being opened small car after small car by their potential.
I don't how this is going to end up for Brad or I, but I need to shake it up a bit and smaller, harder, faster is the way forward.
Bryn Musselwhite
bryn@dev.speedhunters.com
Brad McIlroy's Rotary powered Datsun 1200 Ute
Numbers:
Max Power (current) – 900whp / potential for 1500bhp
Engine:
20B, extended port, dowelled and drilled, bolted through ports, Series 4 rotors/balanced and lightened & CNC machined, Garrett 55R turbo, MoTeC M84 with Racepak dash, M&W Pro Drag 6 ECU to control ignition x2 (one for trailing and one leading sparks), PWR 600x300mm radiator, one boost pipe straight to intake from turbo, 60mm blow-off valves plus wastegate in front of boost pipe 60mm Turbosmart, one 45mm wastegate on each exhaust outlet for turbo manifold (three in total), 12 x ID2000 injectors
Driveline:
Lenco ST1200 5-speed air-shifted transmission, Direct Clutch twin plate cltuch, full-floated rear end, Race Products fabricated 9-inch case, Race Products chromoly axle 35-spline shafts, Strange diff centre, 5.1:4 ratio
Suspension/Brakes:
Koni double adjustable rear shocks, 'Mad Dat' front strut conversion kit for 1200 Ute, Wilwood brakes all round, 4-pot callipers
Wheels/Tyres:
Weld Racing 15×4.5-inch front with 22×4.5-inch Mickey Thompson tyres, Weld Racing 15×12-inch rear with 31×13-inch Mickey Thompson tyres
Exterior:
All steel panels with carbon rear deck cover, de-bumpered, custom mix colour based on standard RX8 hue
Interior:
Kirkey alloy seat, Stroud Safety harness
Chassis
Three-quarter drag chassis (standard from firewall forward, tube back from this point)
Thanks
Dan from ProMods, Jerry for the extended guidance, Brad for the wiring, Archie and the boys from Mazfix, Justin from HPS
The Mazfix 6 on Speedhunters
An 8-second Datsun 1200 Coupe on Speedhunters