As you saw in our Nostalgia Immersion: March Meet 2013 coverage, there were plenty of mega-buck Top Fuel dragsters and Funny Cars at the March Meet, but they were far outnumbered by the hobbyist drag racers and their production vehicle racecars. These are cars that we mere mortals might have a chance at owning and racing. Larry and I chose a few different models with the idea of showing the range and variation in which they are built for the purpose of quarter-mile racing.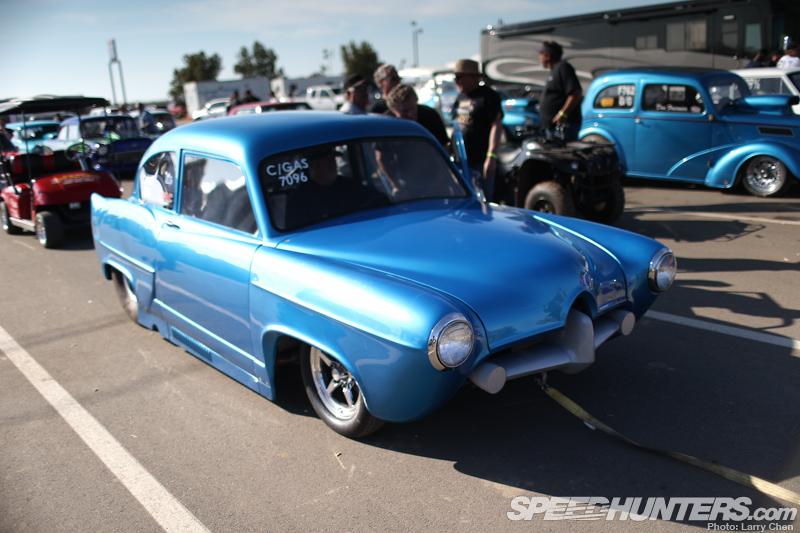 Let's kick it off with a Kaiser: the Henry J model to be more precise. Being a '50s American compact, drag racers have always been drawn to them, making this the Kaiser model most car guys know. This one has a fairly stock body, and we know it runs in the nines because it's in the C/Gas category. Obvious mods are bumper removal, a heavy rake and some interesting rocker panel aero that incorporates an exhaust cutout.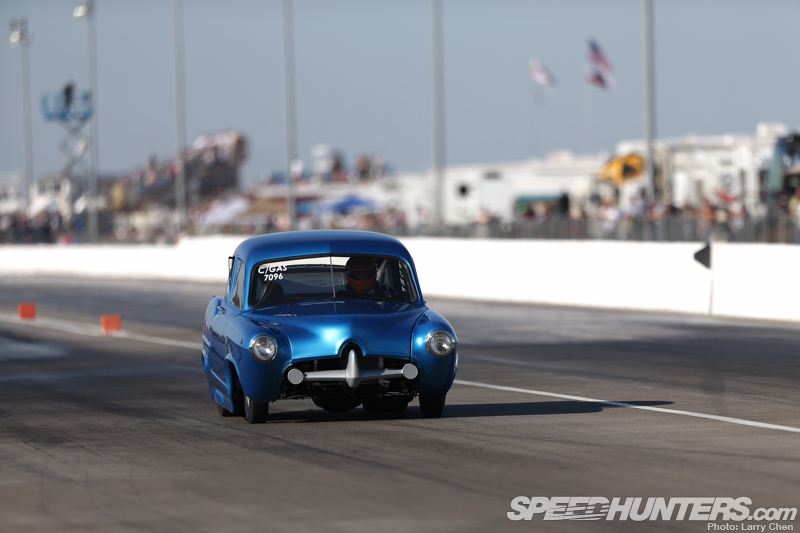 With a driver behind the wheel you get a sense of the car's scale. Notice the headlights and glass are still in place, evidence that this could be a pretty quick street-driven car…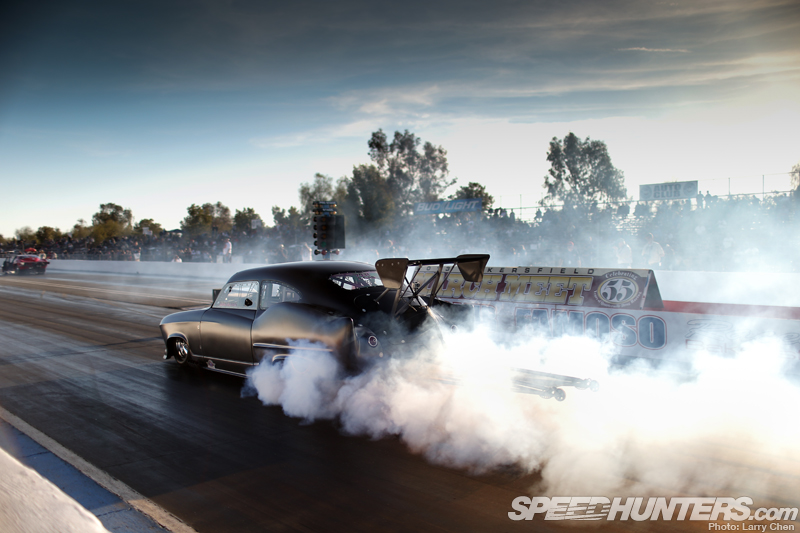 …but not as quick as this purpose-built version. Here's a dedicated race Henry J. It reeks of Funny Car, with the wedge-shaped body and exaggerated rear quarters.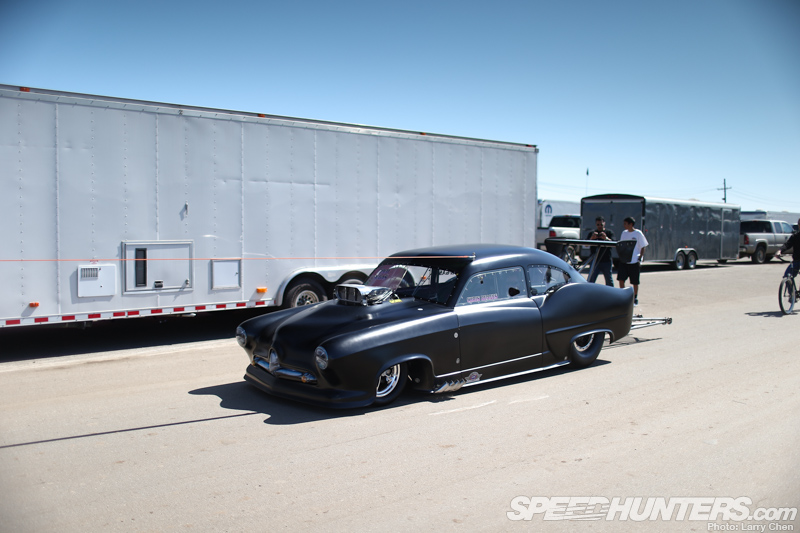 With a custom-built fiberglass body inspired by a Henry J, surely there are no Kaiser parts left. This type of build reminds me of a toy R/C car, where you can swap on your body-style of choice. Notice the headlight stickers and painted-on grille, also the wheelie bars, wide open headers and chopped roof.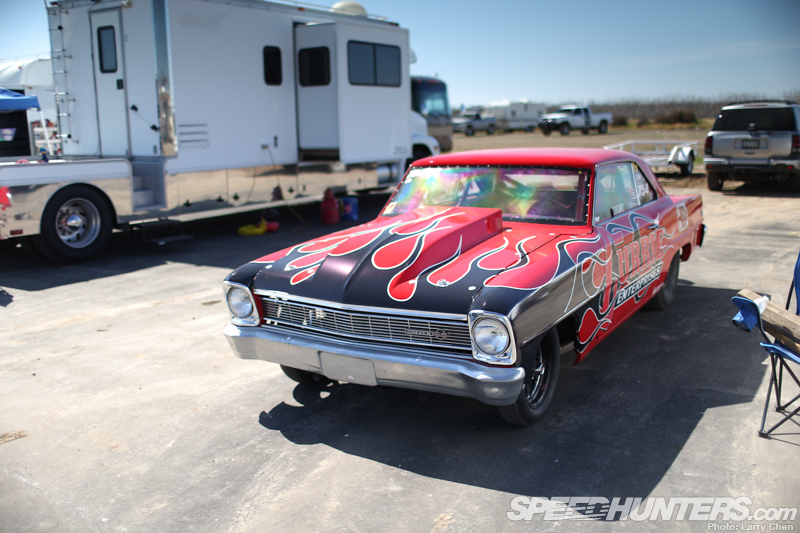 Moving more towards the mainstream we have another American compact: a Chevy II Nova. Have you ever had a daily driver that slowly turned into a project car, to the point that one day you realized it was no longer street-worthy? The Currie Enterprises Nova appears to be right on the cusp. On one hand it still has lights, bumpers and door handles, and the four-inch cowl hood looks pretty street too. That Lexan windshield is getting hazy though, and peeking through the grille we can see that the front wheelwells have been gutted. It's hard to say whether this one gets driven or strapped to the trailer.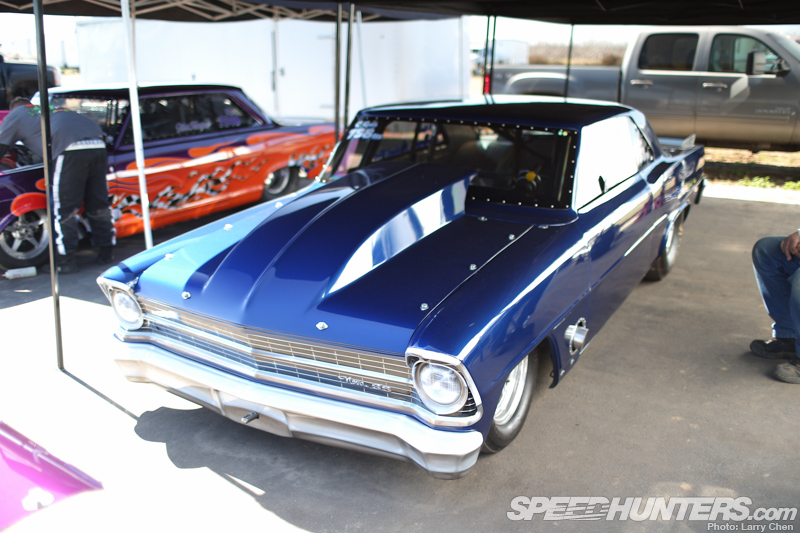 This one's a little easier: it's gotta ride on a trailer. The Dzus-fastened, six-inch cowl hood is probably hiding a BBC, and the open exhaust and stickered-on headlights would make it rough to go more than 1,320 feet. The lack of door handles suggests the door shells have been swapped for lighter fiberglass versions.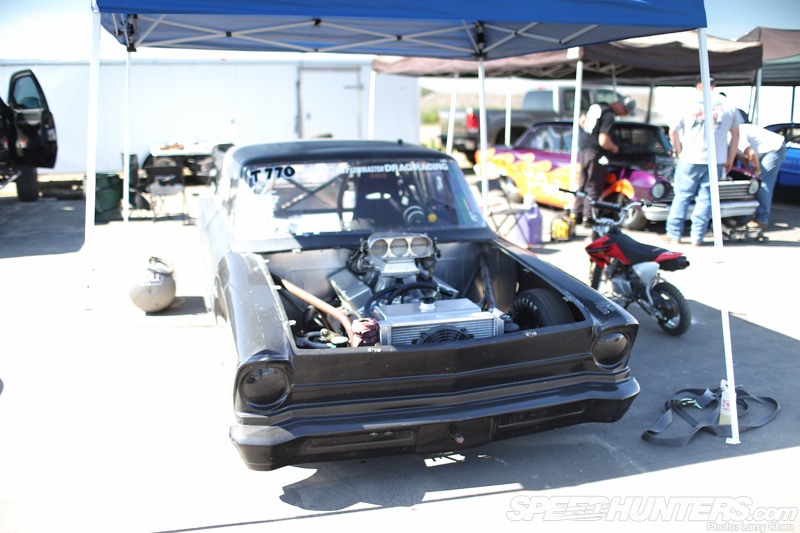 Drag racers value speed over glamour, so an unpainted one-piece composite front-end is entirely acceptable. Check out the engine set-back and tire-to-fender proximity.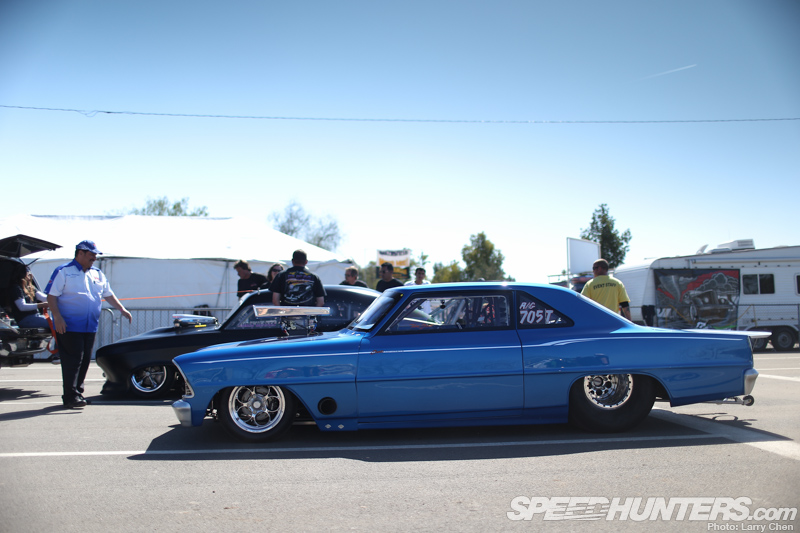 Even if drag racers don't prioritize aesthetics, it's hard to argue with the profile of a slammed and raked Chevy II. Form follows function.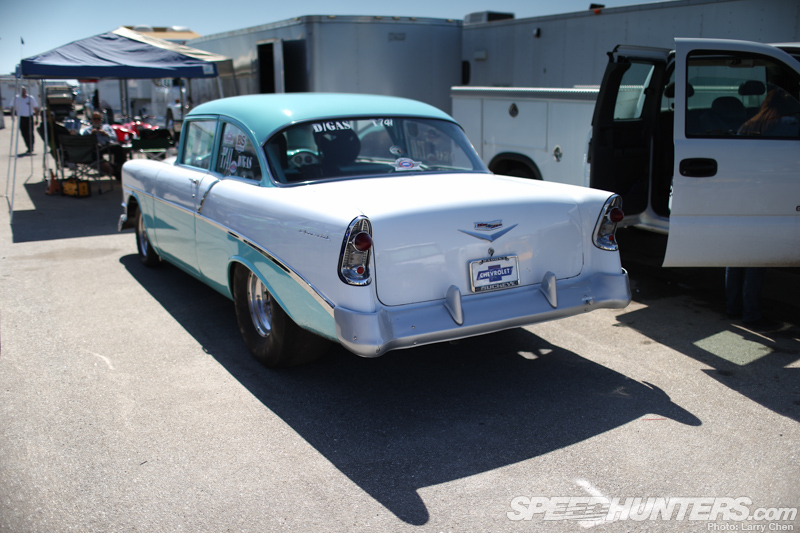 Now we'll go full mainstream with the token hot rod, a Tri-5 Chevy. D/Gas means he runs tens, which is very quick for a completely steel full-size car. It still has all the glass and trim, a dashboard and a license plate frame. I'd call this '56 pro-street.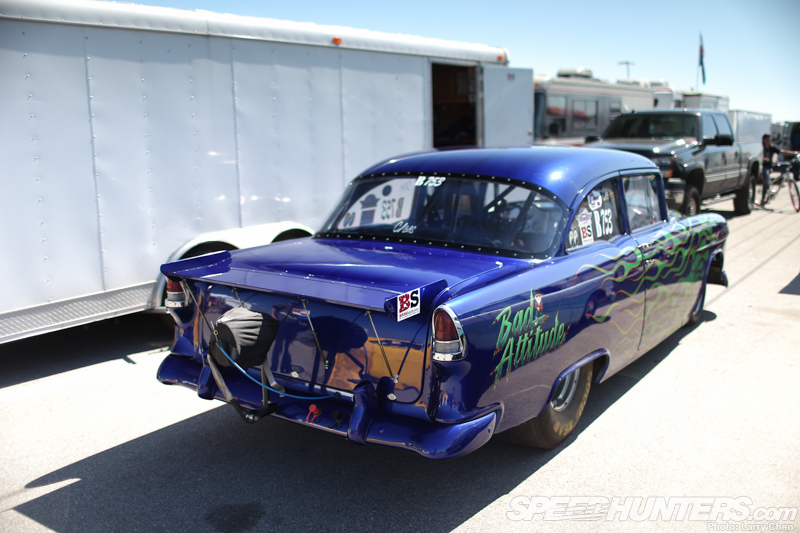 C/Gas is one second quicker, and nine seconds means a 'chute. The big wing and Lexan windows also mean business.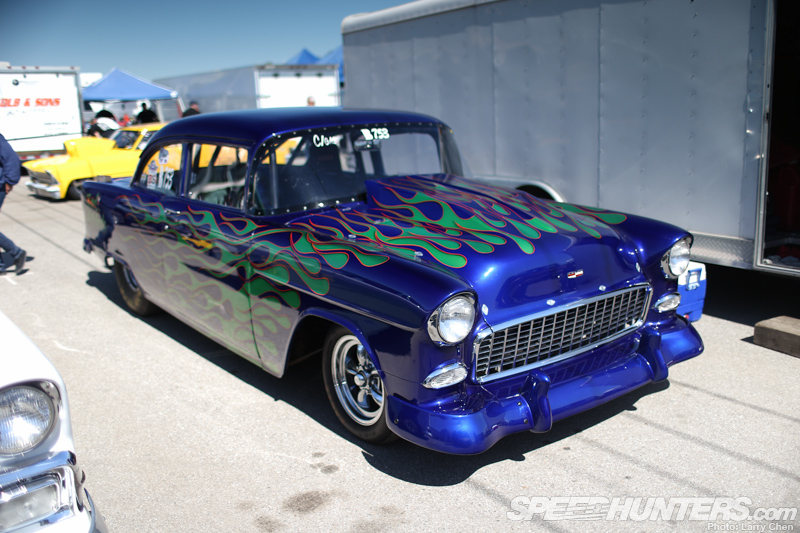 The lift-off fiberglass hood is held down with Dzus fasteners. I was a bit surprised at the mag-style front wheels on such a quick car though.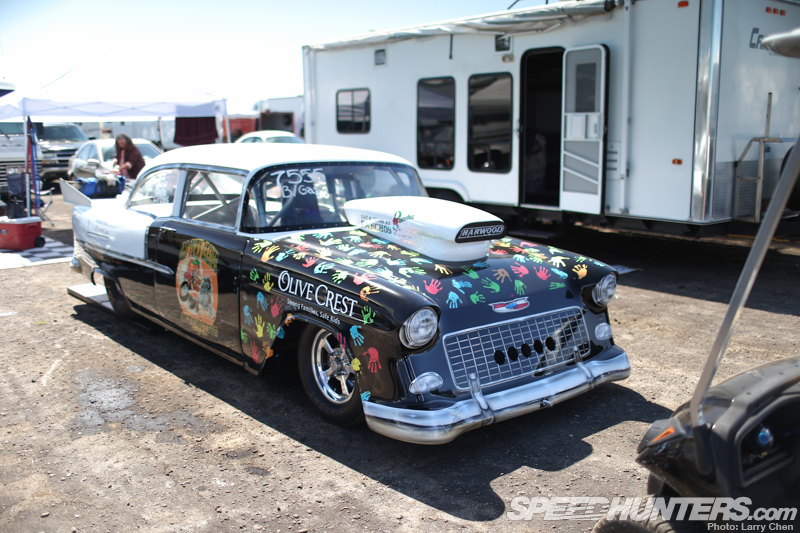 As they get faster we see more attention to aerodynamics  Since B/Gas cars can break 150mph it starts to count. The one-piece front end on this '55 has a definite slant to it, and this time even the bumper is painted on!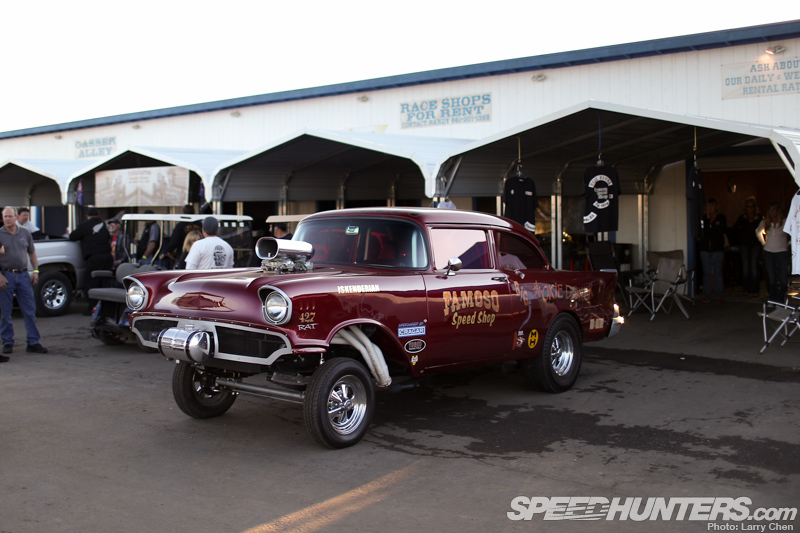 This is supposed to be a nostalgia race though, so we better check out a gasser '57 too. From the nose-bleed stance to the white fenderwell headers this machine absolutely nails it. Radiused rear fenders make room for slicks and the solid front axle suspends the nose in the air for faster weight transfer off the line. At least that was the theory when these cars were built in the '60s.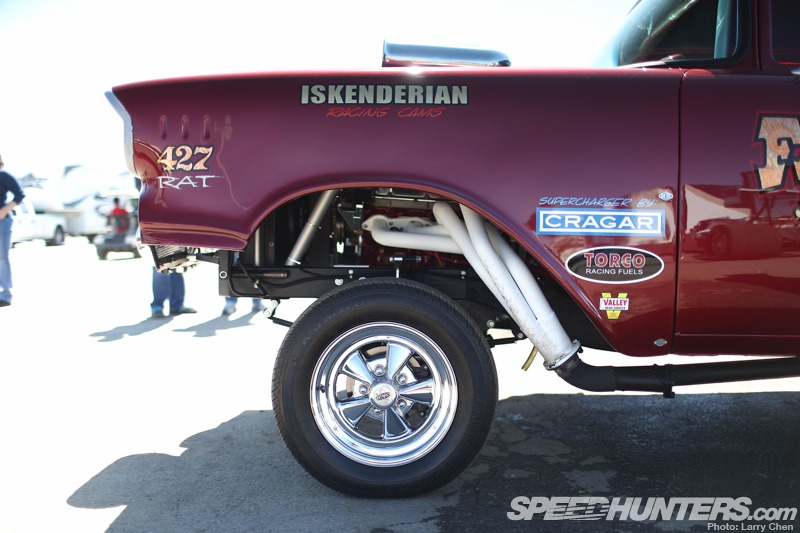 Not only does it look the part, the craftsmanship is show quality. All the lettering and decals were hand-painted and then sealed under the clear coat. Look for a feature (with an extra twist!) as soon as Larry can get back out to Bakersfield.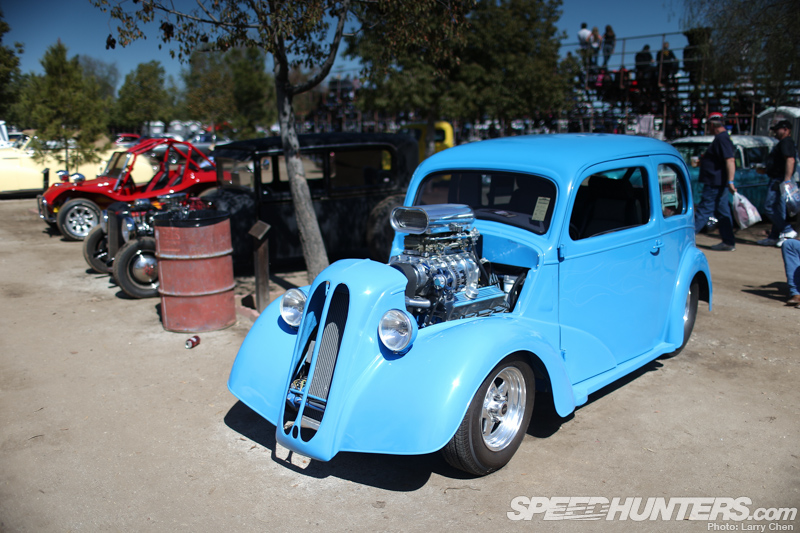 I have a thing for oddball hot rods, so we'll close out with the UK-built Ford Anglia. Anglias were true econoboxes in the late '40s and early '50s, so naturally drag racers dropped in big engines and took them to the track.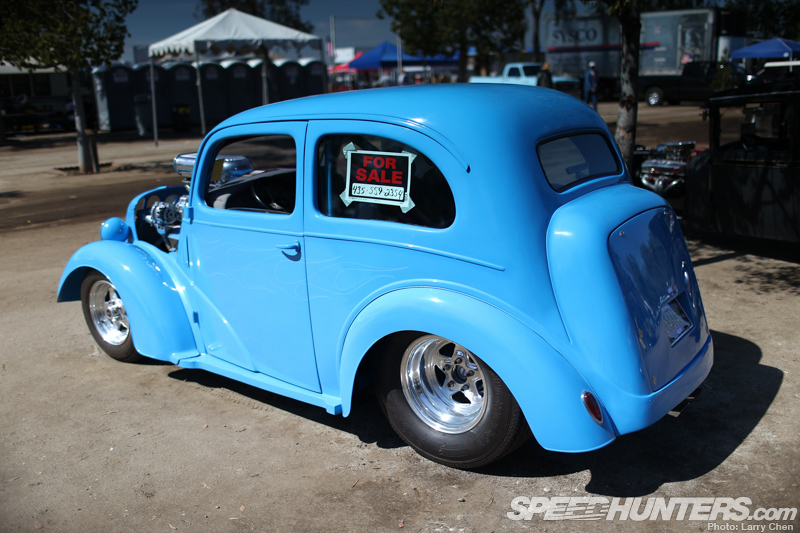 We found this one in the car show, although it looked ready to race with a blower, cage and tilt front-end.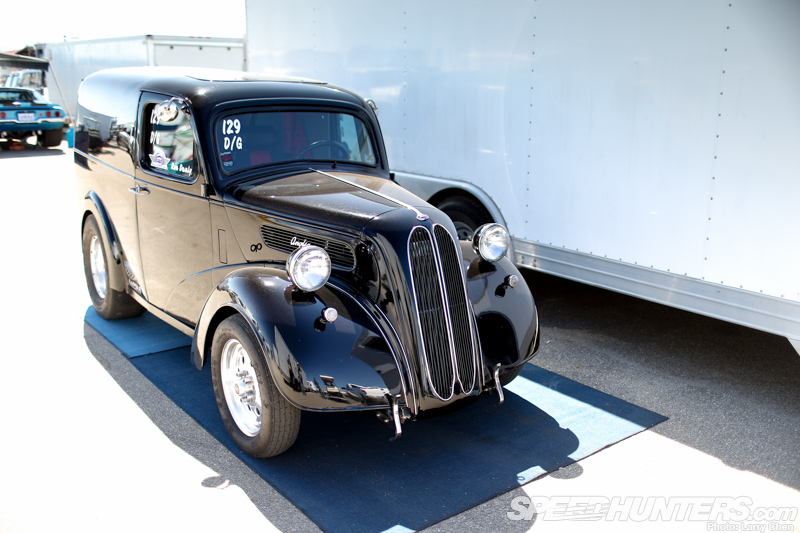 A more stock version was sitting in the pits. This is the commercial model with a squared-off, windowless rear.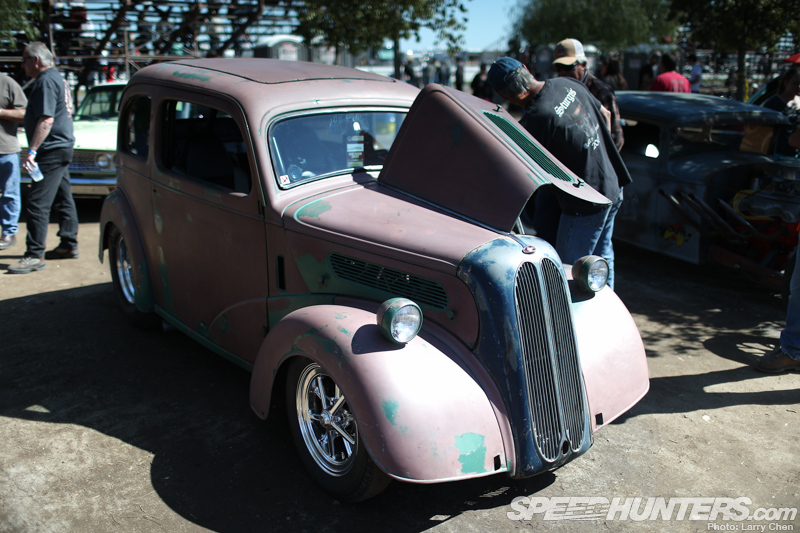 Surprisingly there was another Anglia in the car show. This is definitely built more as a street rod, but it still has a drag-inspired stance and wheel choice.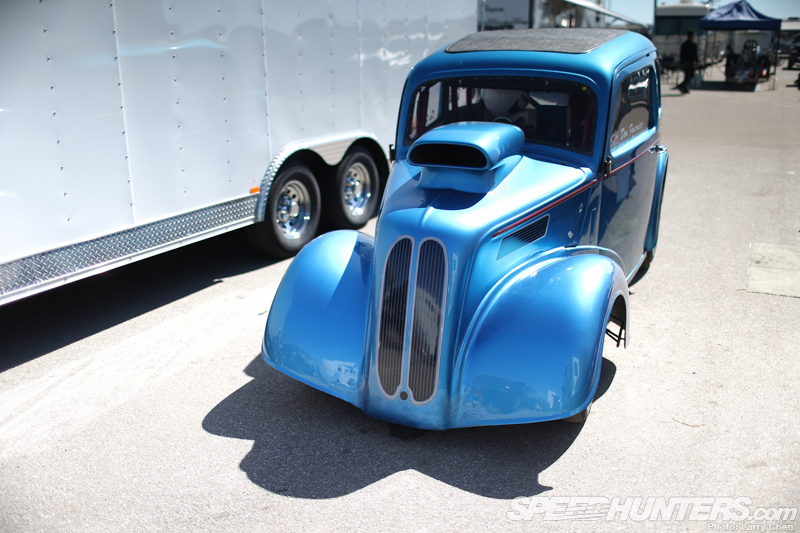 And finally, the full-blown race version of an Anglia. We've seen the same treatment on the other cars we looked at: no lights, fake grille and giant hood scoop.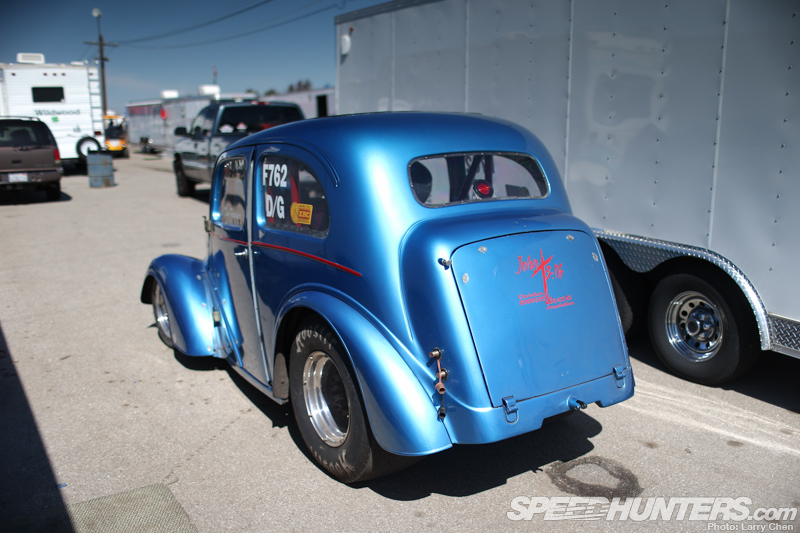 The lightweight Ford Anglia can haul the mail with a big engine, but their short wheelbase also makes them a handful to get down the track.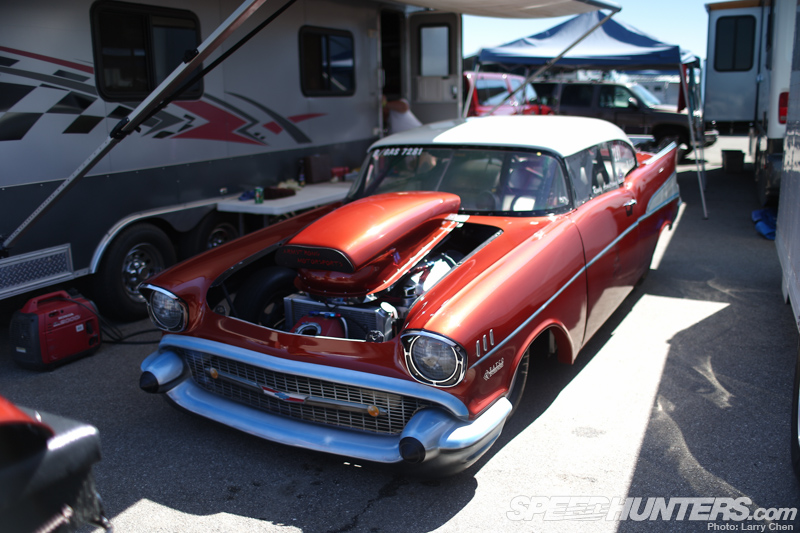 In no particular order, and chosen just because we like 'em, these are four completely different models that racers have embraced over the years.  Cars like the Anglia are favored for their size, but guys will still race a heavy Tri-5 Chevy simply because it's such an icon of hot rodding.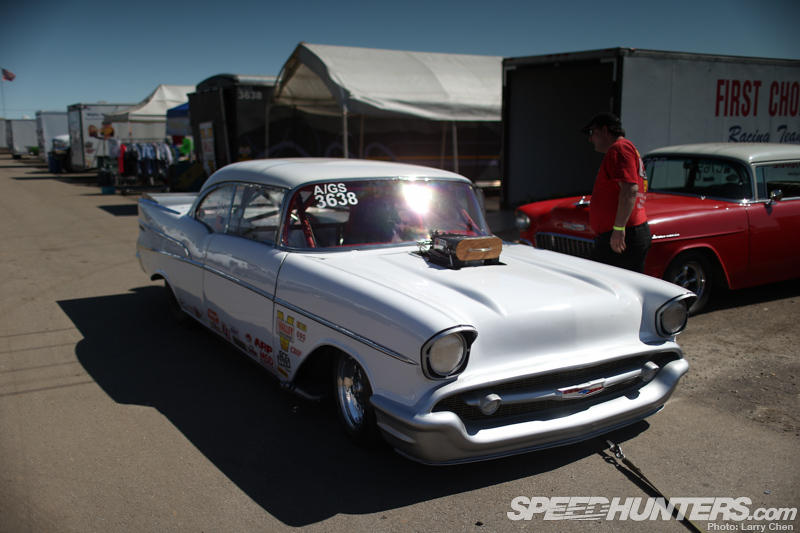 These are cars with full bodies and doors that latch. I think what I like most about them though is seeing the different approaches to building the same car for the same purpose – blasting down the quarter mile.
Words: Keith Charvonia
Photos: Larry Chen
Keith Charvonia's Drag'N Kaiser Stories