It's the smell of nitro and rubber turned to smoke, BBQ and kettle corn; the sudden crack of a blower separating from its engine at 260mph, enough to make you jump even with earplugs; the guttural tremor as a Top Fuel car claws for traction. This must be March Meet.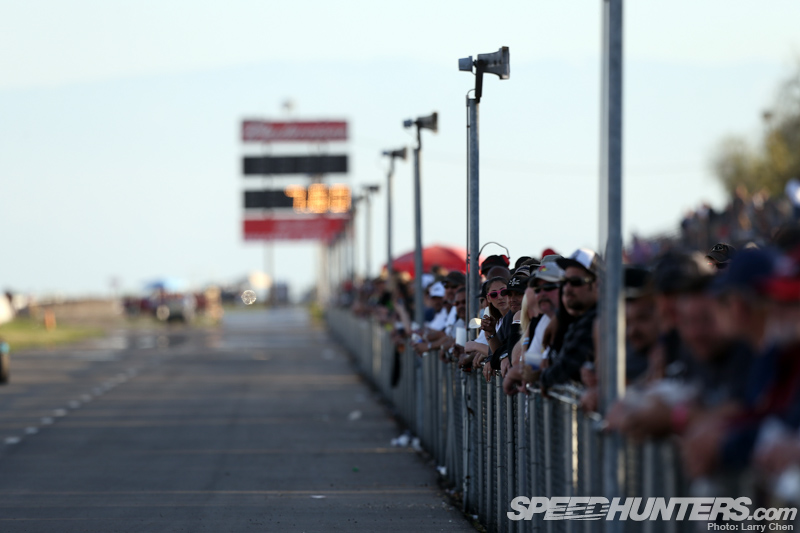 55 years later, people still turn out in droves for the March Meet, packing the stands and lining the fences three or four deep.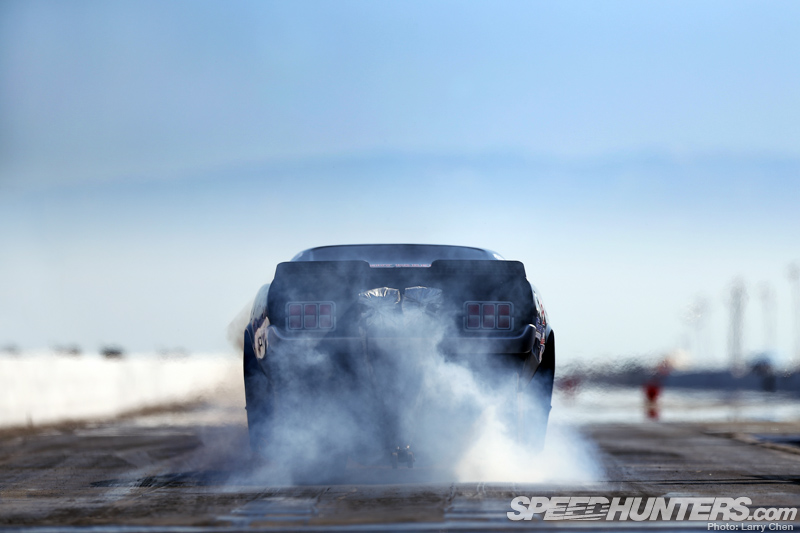 What's attracting all these fans to a far-flung place like Bakersfield, CA? It all goes back to the Smokers Car Club, who had the foresight to lease an old airstrip and allow nitromethane on their track when no one else would. This drew the biggest names in racing and made Famoso Raceway the place to go fast – really fast. Name a famous drag racer and I'll bet they've won here. Don Garlits, Tommy Ivo, John Force, Connie Kalitta and Ron Capps are just a few. To a drag racer, winning at March Meet is like winning the Super Bowl.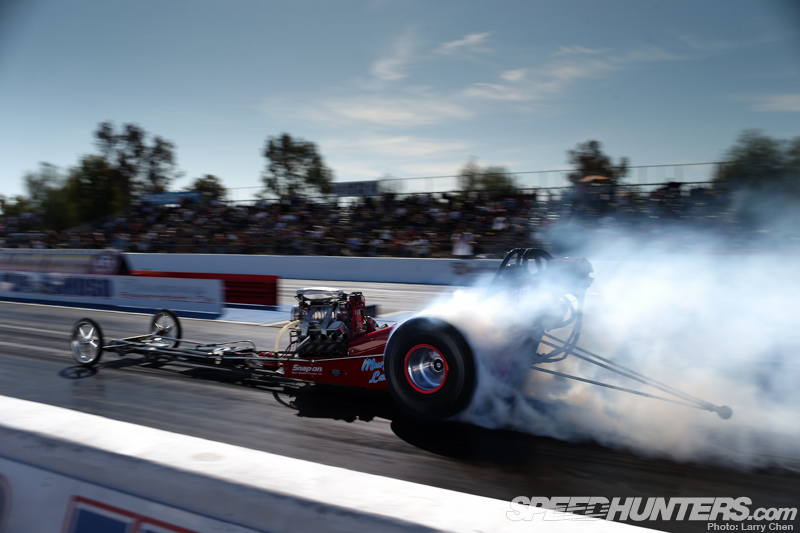 Today this is a nostalgia race, which means they run 'em like they used to… well, mostly. Modern dragsters are rear-engined – a concession to safety and logic. In a Front Engine Dragster (FED for short), when something goes wrong the driver is next in the line of fire. Tired of eating pistons and being doused in hot oil, racers moved the engine to the back.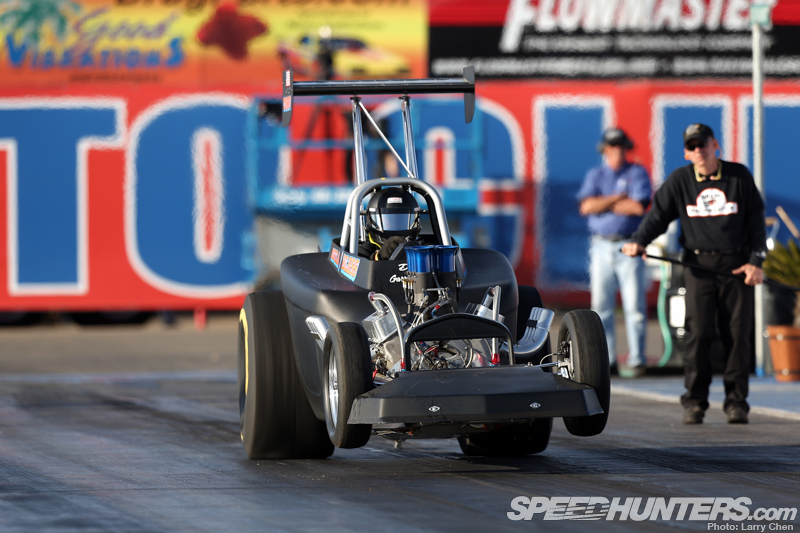 These cars are built to look old, with FED architecture and pre-'72 bodies on the Funny Cars, but they are new builds that must meet today's safety standards.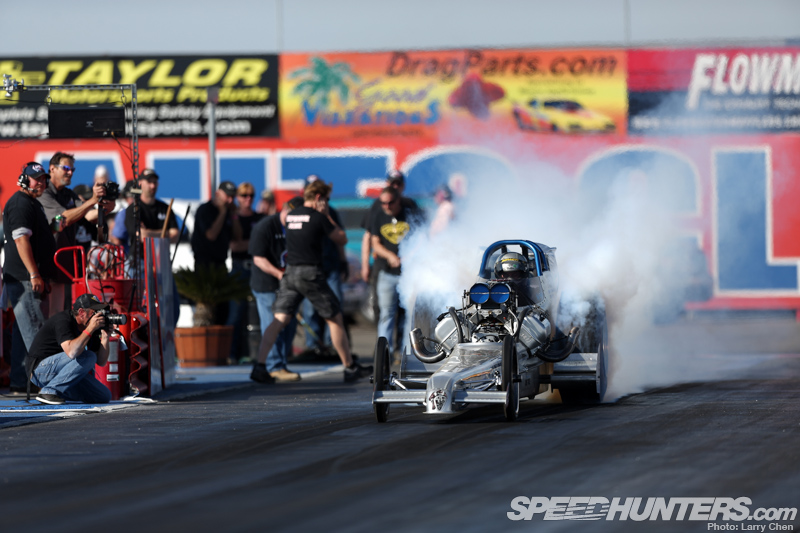 But don't worry about all that rear-engine safety stuff: this is way more badass.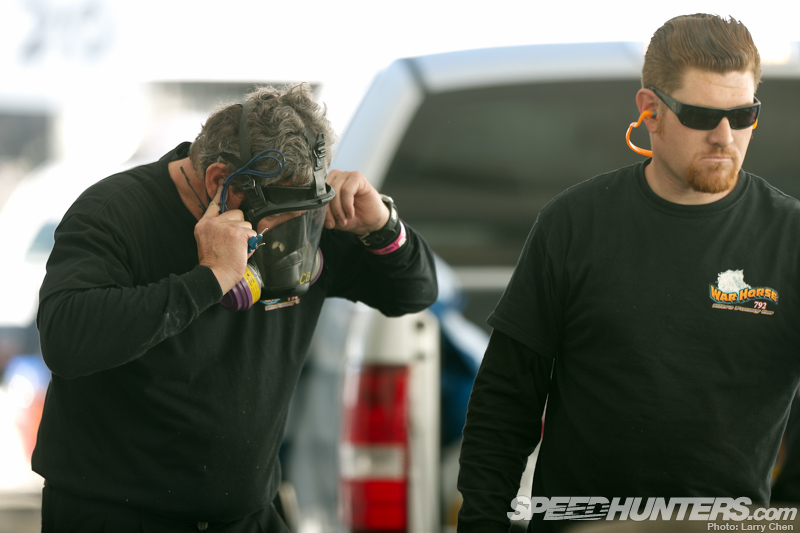 And don't forget your gas mask if you're going to sit behind a nitro engine.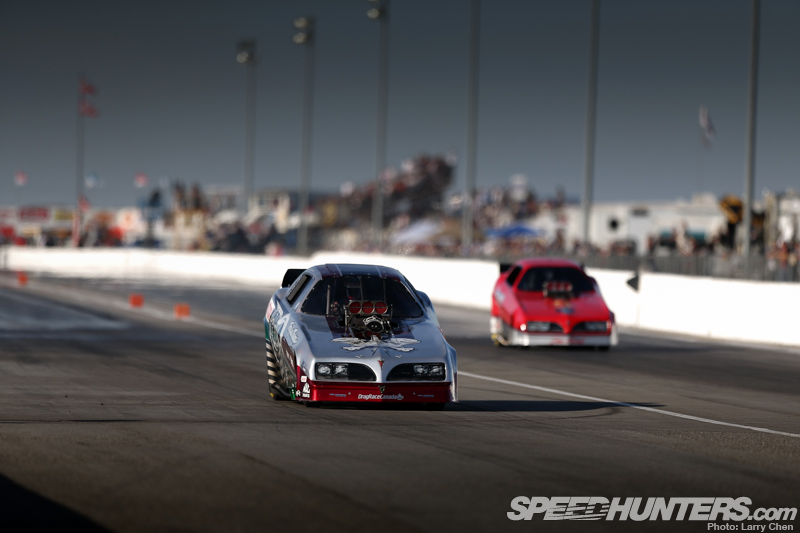 It's actually amazing how competitive nostalgia racing has become. The resurgence began in the early '90s with demonstration runs, but of course racers will be racers and serious competition began.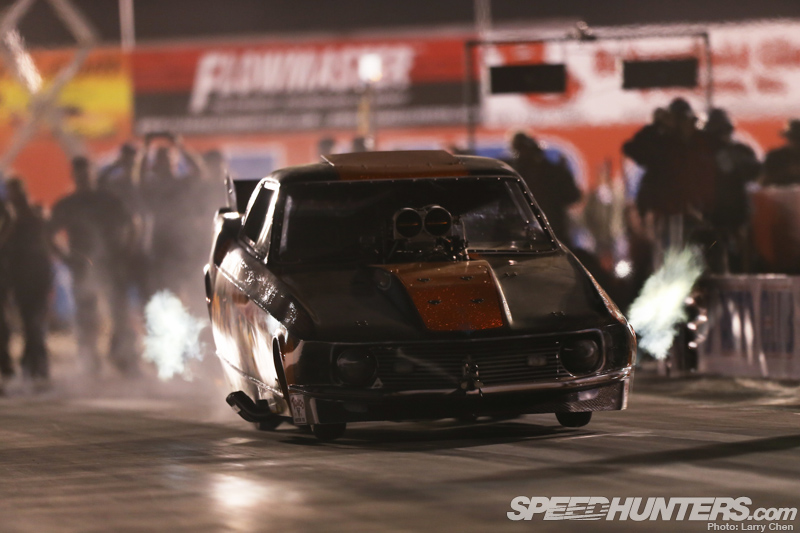 March Meet has grown to a four-day event due to the sheer number of entries. After being rained out on Friday there was a lot of catching up to do on Saturday. Hundreds of cars battled into the night to qualify for their classes. The best part about nitro racing in the dark is getting to see the flames!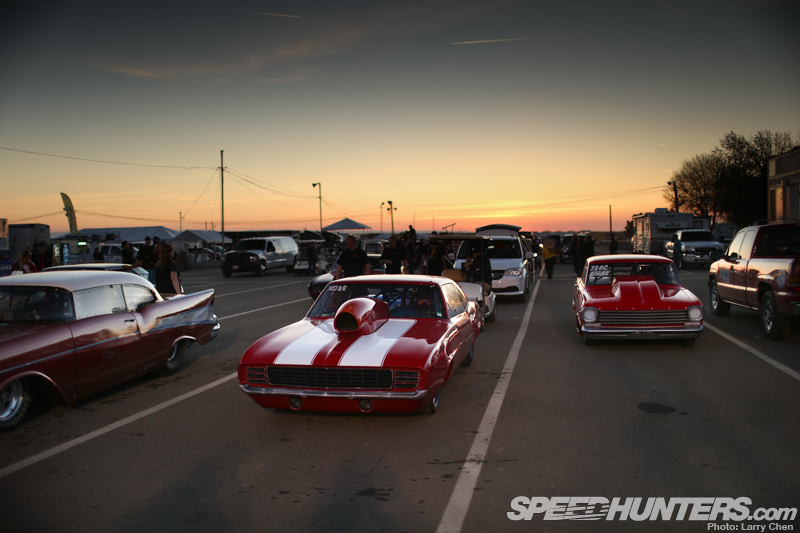 A walk through the staging lanes revealed the multitude of cars and classes. Doorslammers were the predominant style, being broken into A, B, C and D classes based on index. Compared to the Top Fuel teams' tractor trailers, these original-bodied race cars almost looked budget.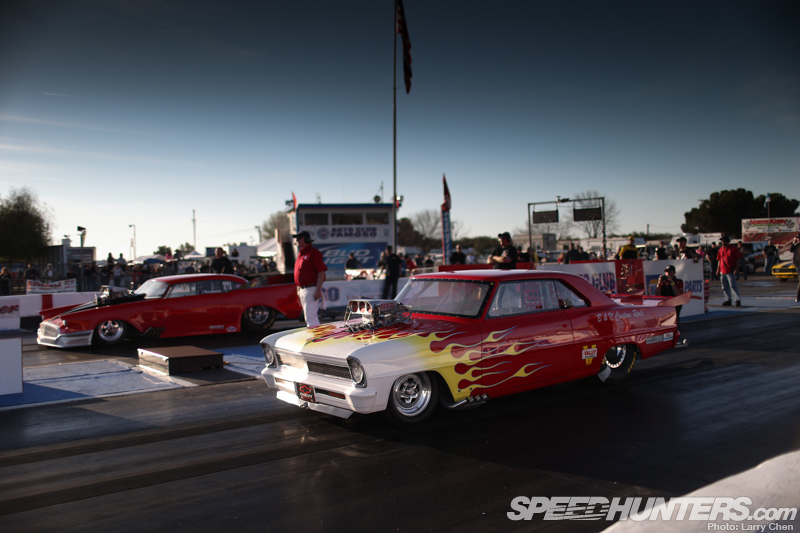 With their class based only on dial-in times and fuel choice, you got match-ups like this Tri-5 Chevy and Chevy II Nova. With all the different models it almost felt like a street race on the track.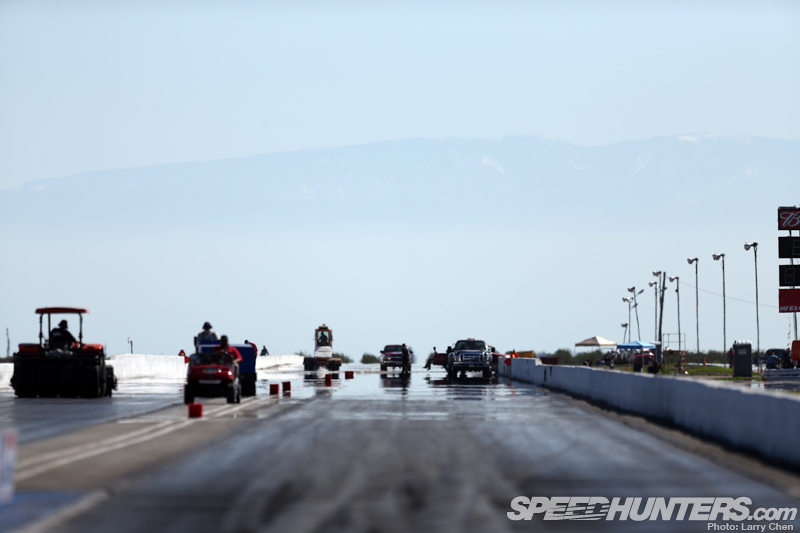 When someone crashed or oiled down the track everyone pulled out their earplugs and wandered the pits.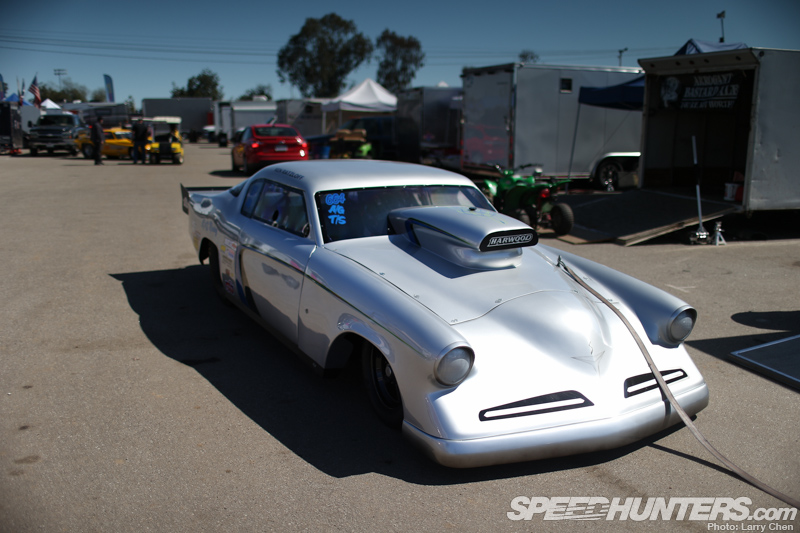 There's a lot of action in the pits and everyone is doing something different, whether towing to the staging lanes like this Studebaker…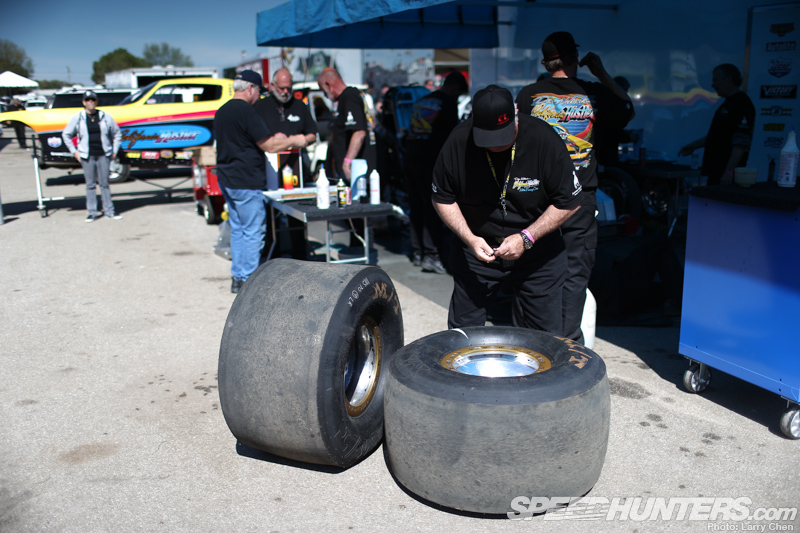 Swapping huge slicks on a Funny Car…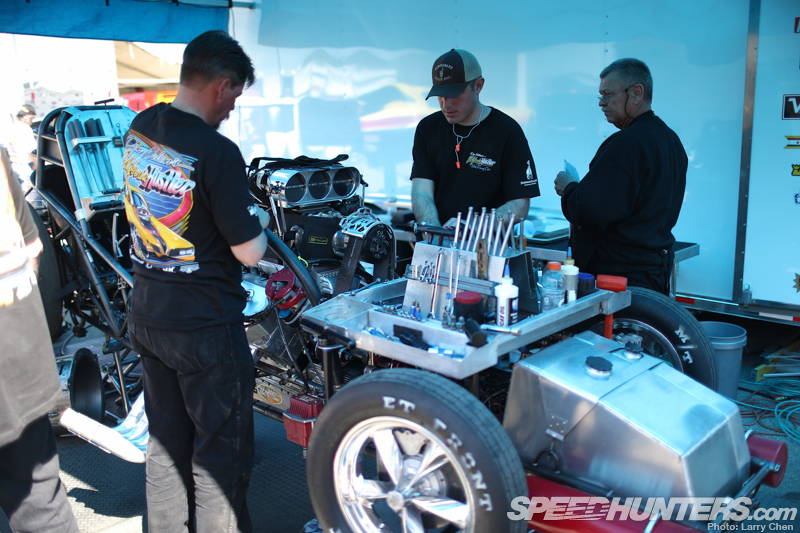 Or buttoning up an engine after it self-destructed.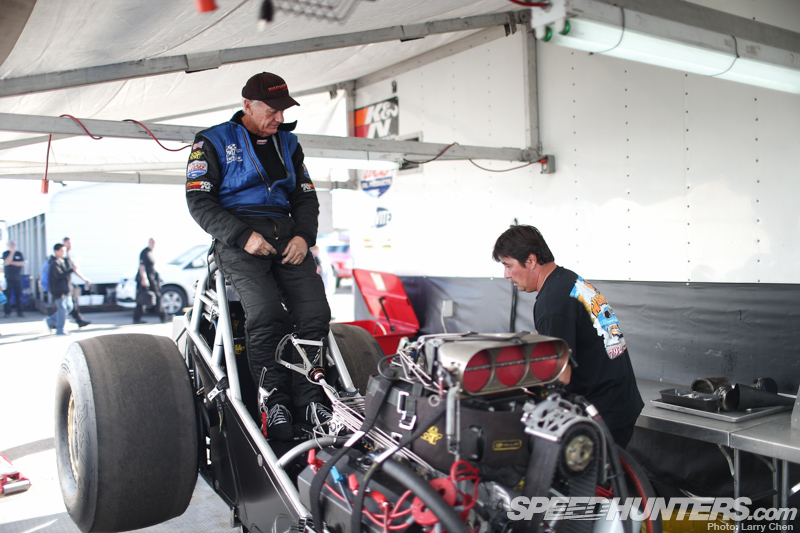 Just gearing up and getting in the car is a ritual in itself.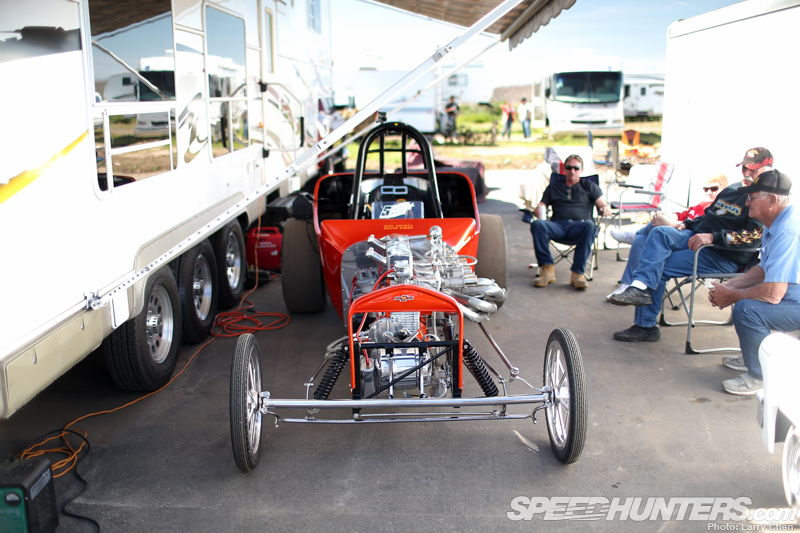 When there's nothing left to do, you sit and wait. Notice the straight-six in this early Altered.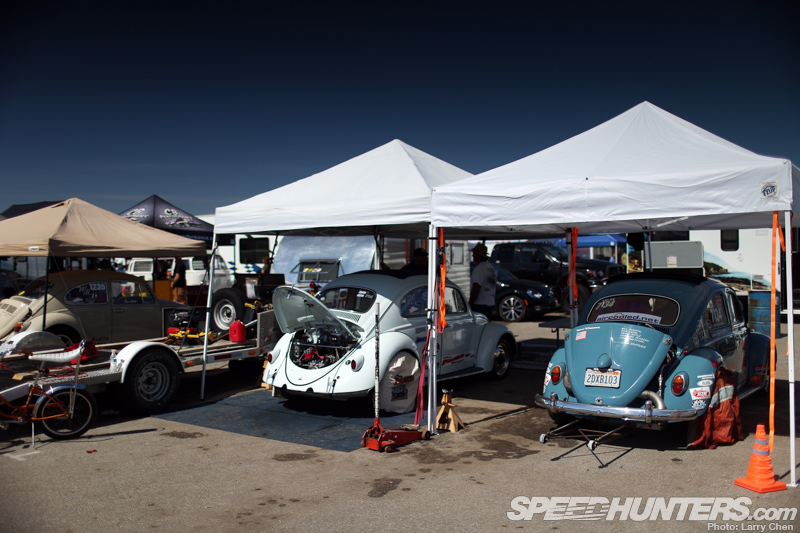 Volkswagen guys seem to stick together, don't they?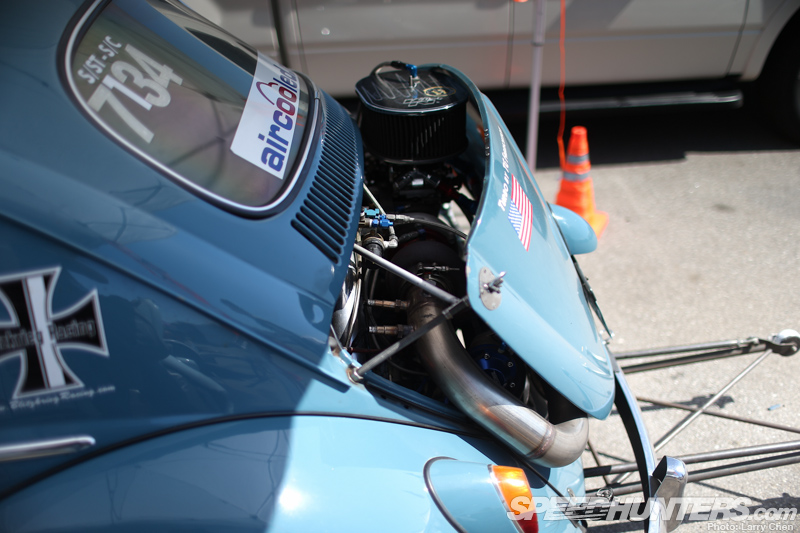 What we thought was a popped hood turned out to be by design. This thing was bursting at the seams with turbo piping.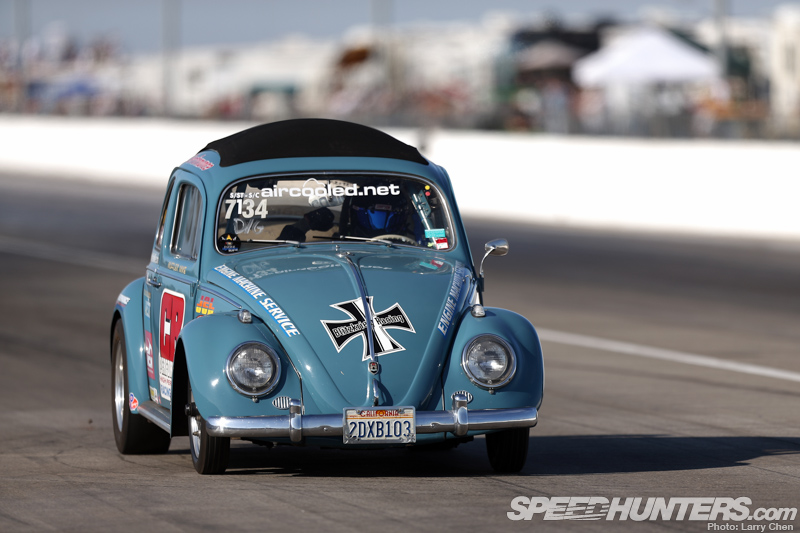 Larry caught it at the end of the track, looking tame compared to the Top Fuel monsters. The only evidence of velocity is the ballooned rag top.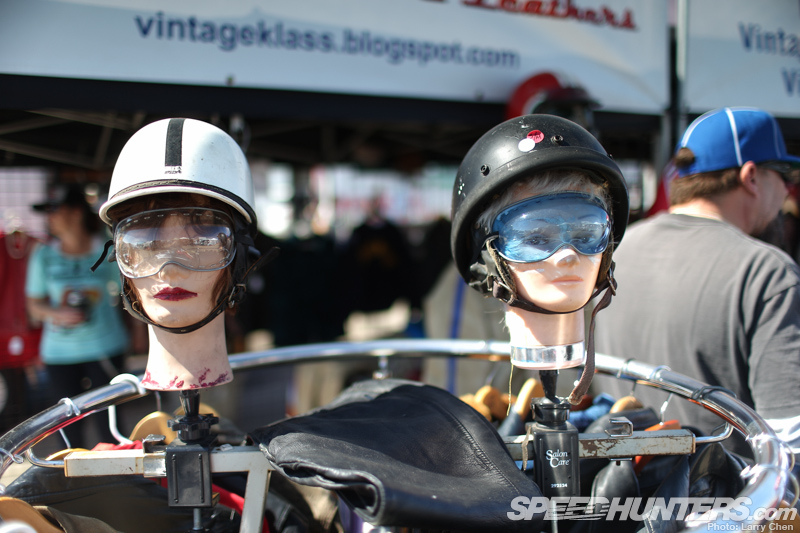 At the swap meet you could find all sorts of vintage speed equipment.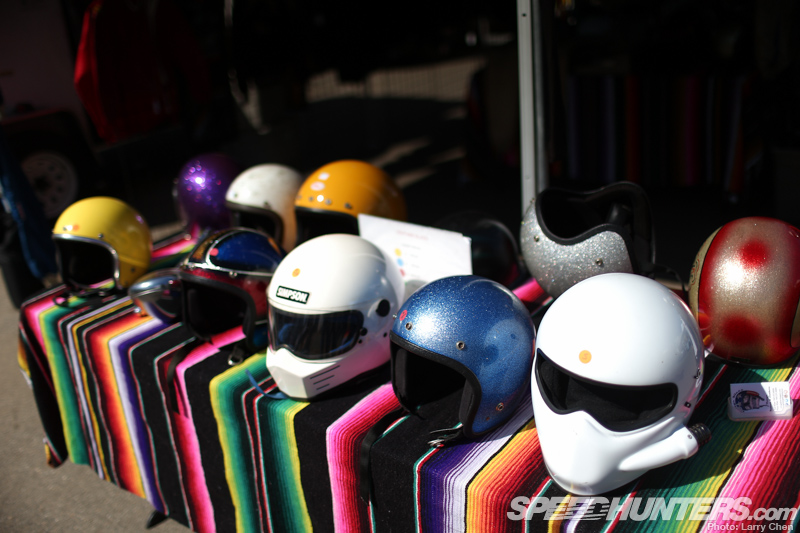 You could select a helmet to declare your chosen spot on the cool to safe ends of the spectrum.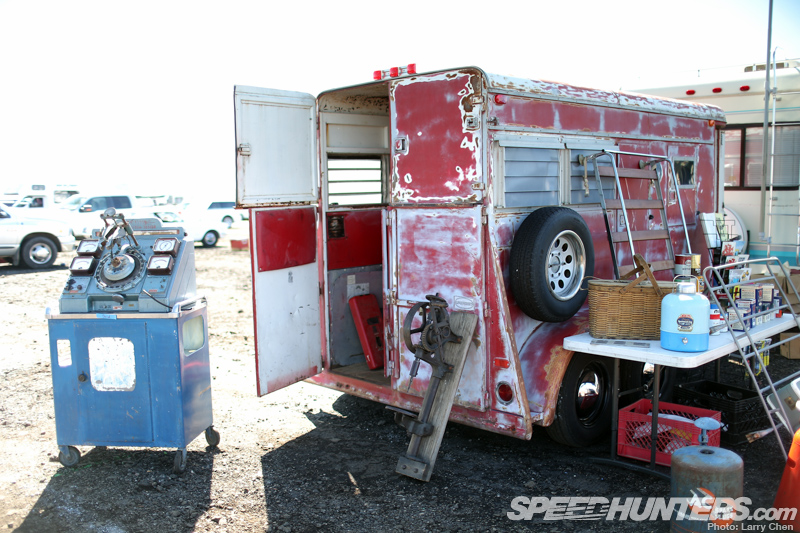 This guy brought an old trailer, an older Sun distributor machine and a positively medieval drill press.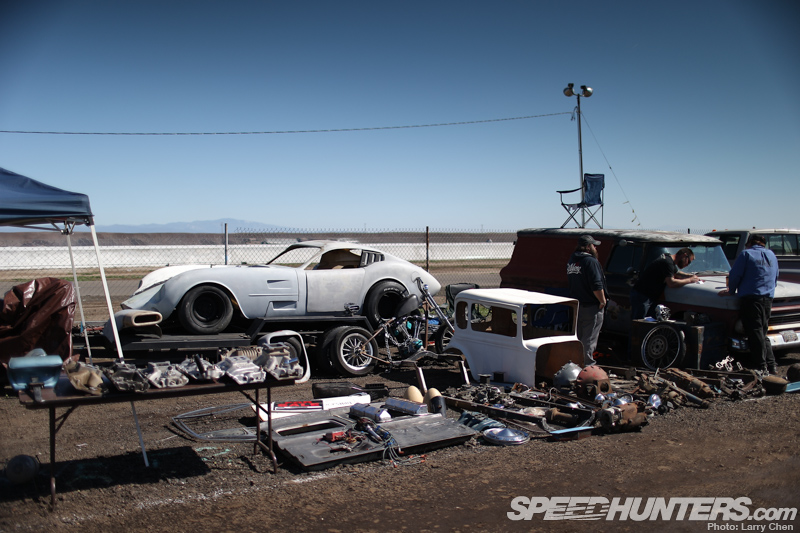 I suppose you could turn this Kellison into a Funny Car with the proper motivation.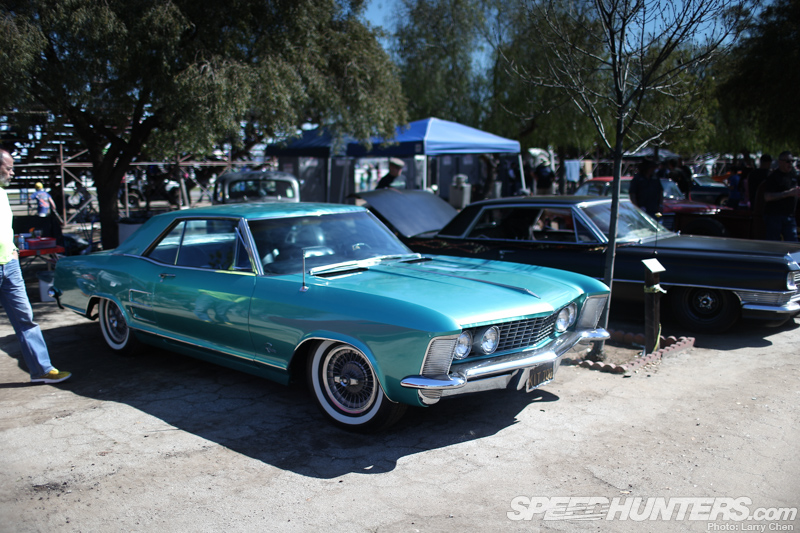 You can't have a gathering of gearheads without a car show. A nice assortment of local tin showed up, like this '63 Riviera with deep shiny paint.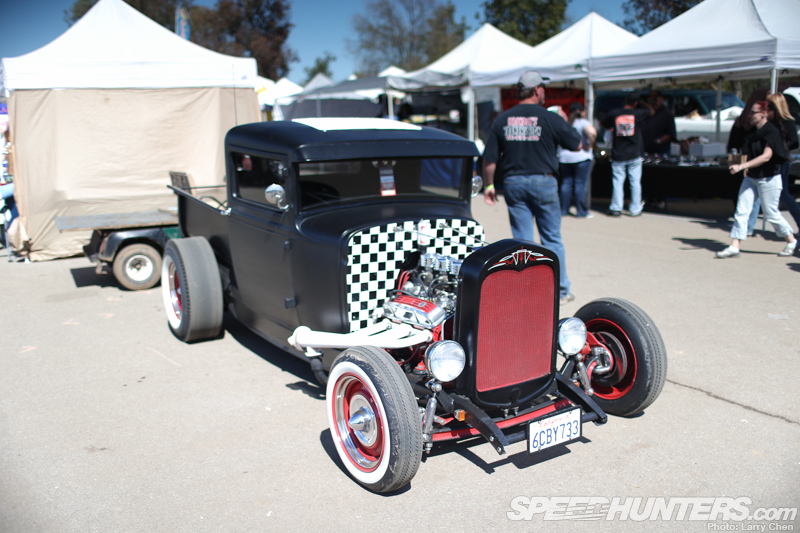 This little pickup fit right in with open headers and pie-crust slicks…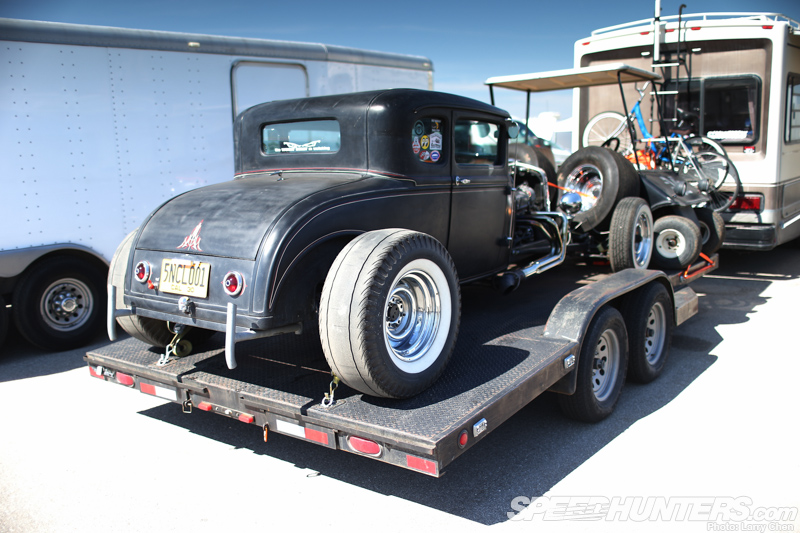 …as did this five-window.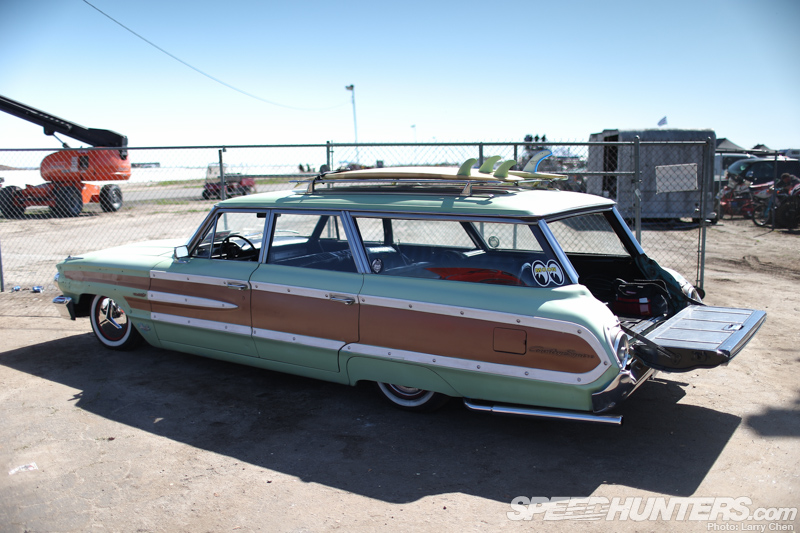 A '64 Ford Country Squire wagon makes the perfect surf wagon, plus you can fit your cooler in the back when you go to the drag races. The fender damage was a shame, but I guess it proves that the owner drives it too.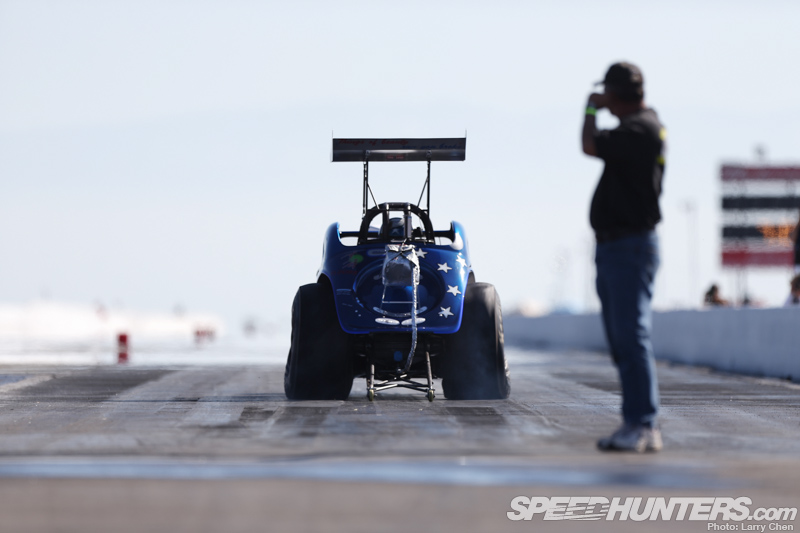 When we started hearing burnouts again we headed back to the track. Actually, Larry grabbed his camera and headed onto the track. You have to get pretty close to the action to see tires flex like this.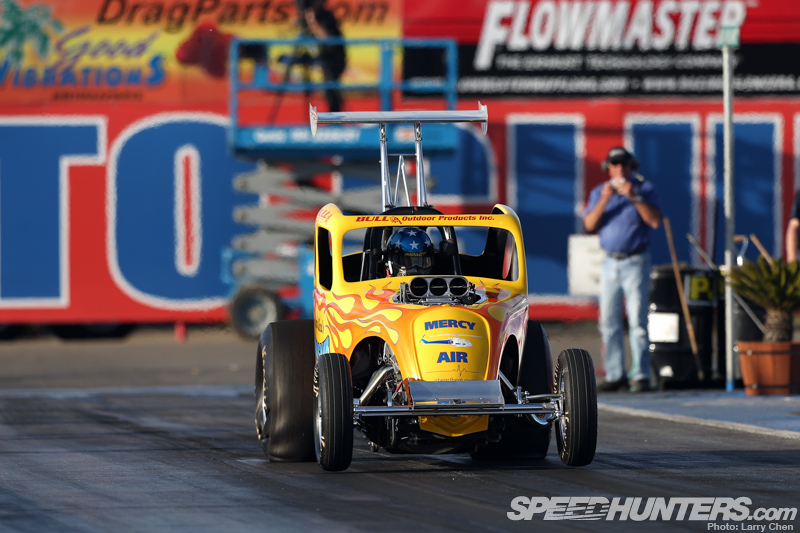 From the stands you can't really see the sidewalls wrinkle or the daylight under the front tires either.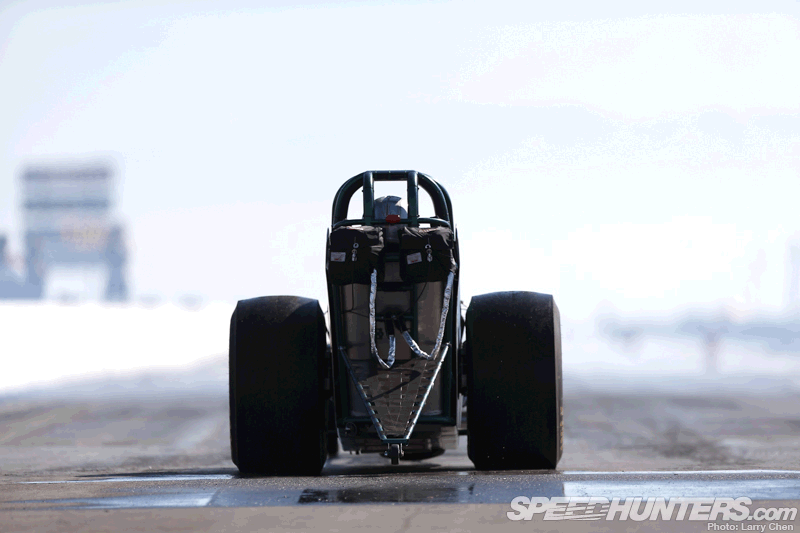 See the sidewalls grow? That's called an extra gear, and believe me it's accounted for when they set up the car.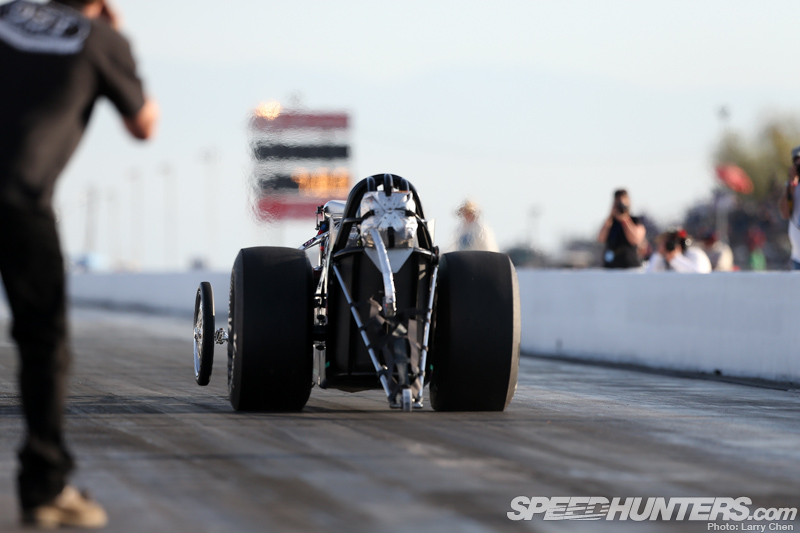 Another great detail Larry captured was the chalk on the little wheel of this wheelie bar. The teams look at where the chalk rubbed off after a run and make all sorts of adjustments, from tire pressure to suspension settings.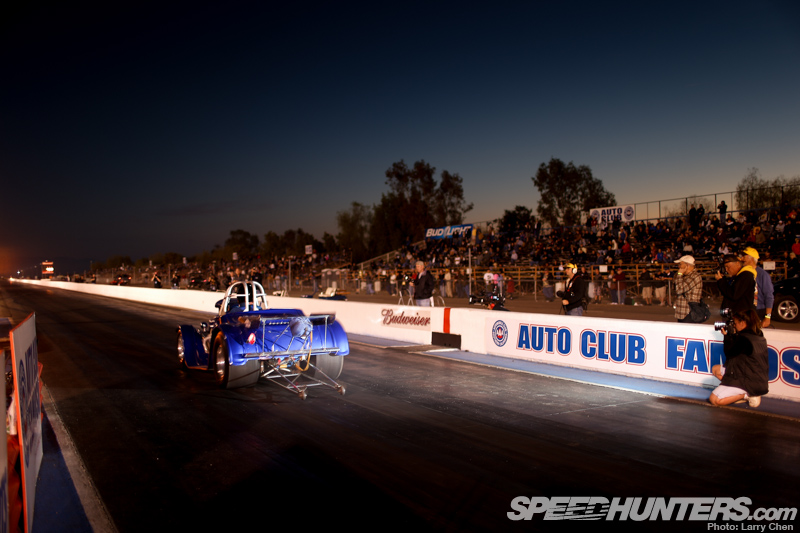 It was getting dark, so Larry borrowed this guy's flash.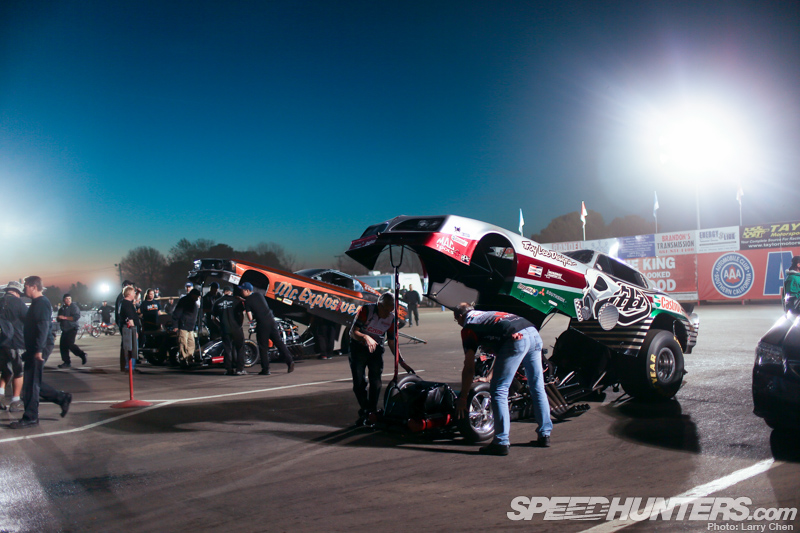 The remaining couple of Funny Car teams were making adjustments all the way down the staging lanes, factoring in the rapidly dropping night temperatures.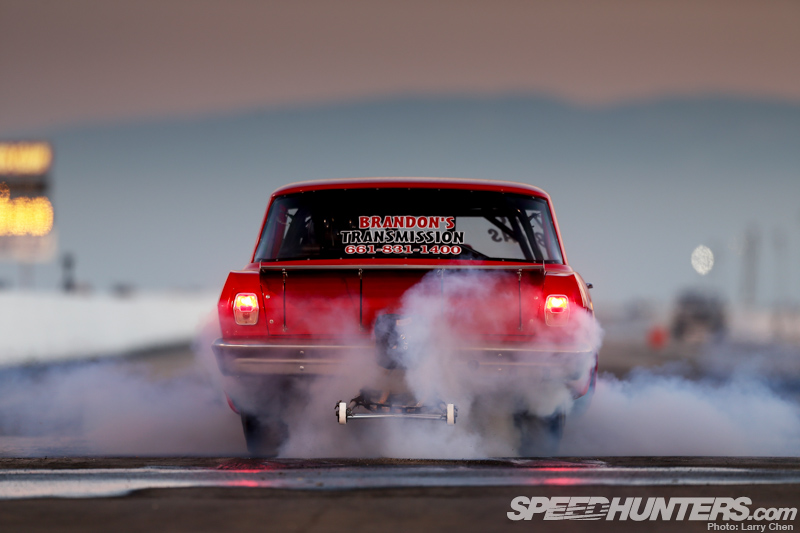 Unfortunately I had to catch a flight back home, so I missed the final round of racing. Surely most fans were there to see their favorite driver win, but to me visiting Famoso is something entirely different.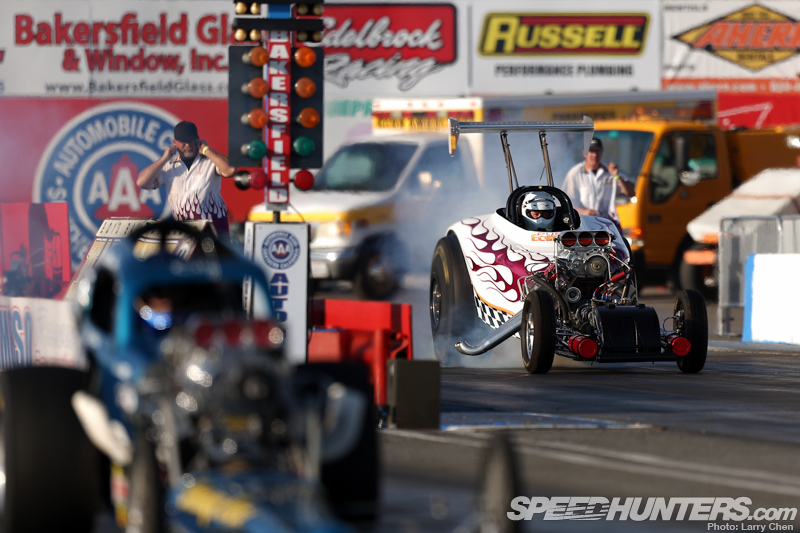 It's about immersing oneself in tradition and soaking it all in. Honestly it's hard not to with nitro fumes hanging in the cool spring air and the muffled sound of Top Fuel engines blasting through your foam ear plugs.
Keith Charvonia
Photos: Larry Chen
Keith Charvonia's Drag'N Kaiser Stories
More Nostalgic Drag Racing Coverage
---
---
---
---