One of my favorite things about the Speedhunters universe is the vast diversity of content that gets presented on this site. In fact, I still check out Speedhunters every day just to see what kind of cool stuff my colleagues are getting up to. The great thing about having such a wide range of cars to go after, aside from expanding my own automotive pallet, is that it provides almost unlimited opportunities for Speedhunting; anytime, anywhere. The car car you see before you now is just one such example of a build so extreme that when I happened upon it, I had no choice but to share it with you guys.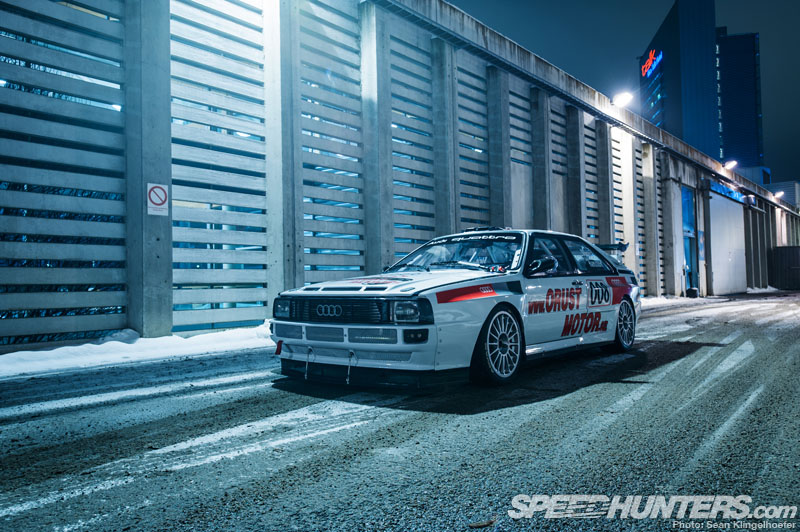 Back in January I spent the better portion of the month in Stockholm at the Speedhunters main office, discussing – among other things – ways to further improve the Speedhunters experience. Whilst in Sweden, I made sure to meet up with some locals like our friend Arslan from Club JDM. After talking with him on the phone he had informed me that he had just seen an unbelievable Audi Quattro inside of a small trade show that I had to come check out.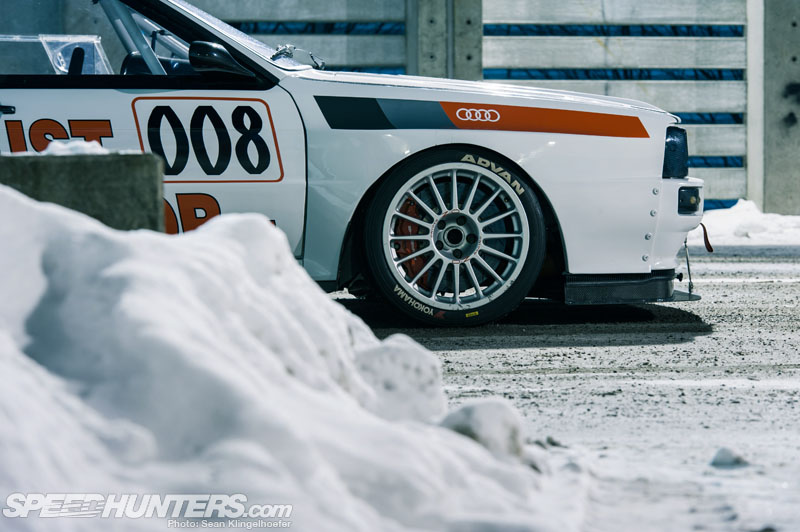 The next day he came by to pick me up and we made our way to the convention center to see the car. When I first laid eyes on it I couldn't help but be reminded of the home-brewed insanity that I had seen at Gatebil Rudskogen last summer. After a walk around this beast I couldn't help but imagine seeing it in action, something I hope to do in the future. Although I had yet to even hear it fire up, I could spot all the tell-tale signs of a Swedish monster…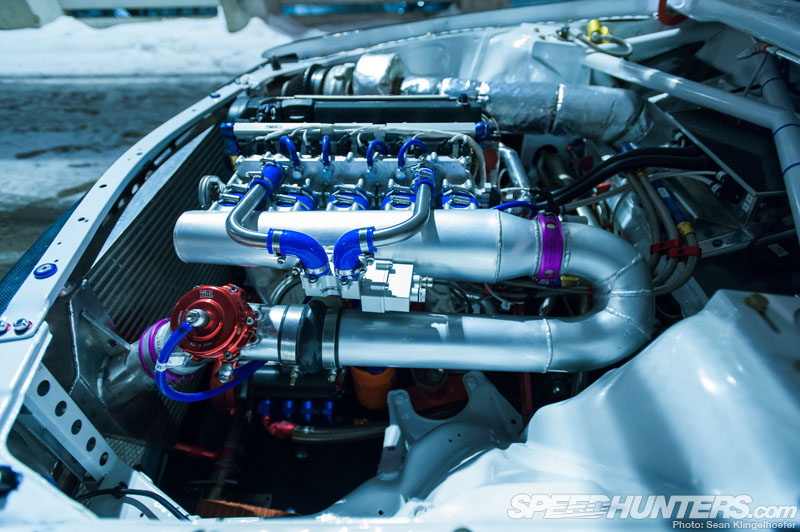 Under the hood was an engine that the Scandinavians seem to know better than anyone else – Audi's unique and seemingly ultra-boostable 5-cylinder. Attached to it were all sorts of massively improved go-faster bits. Had I never witnessed cars like this in action, I'd think this were a show car, but I know better than that.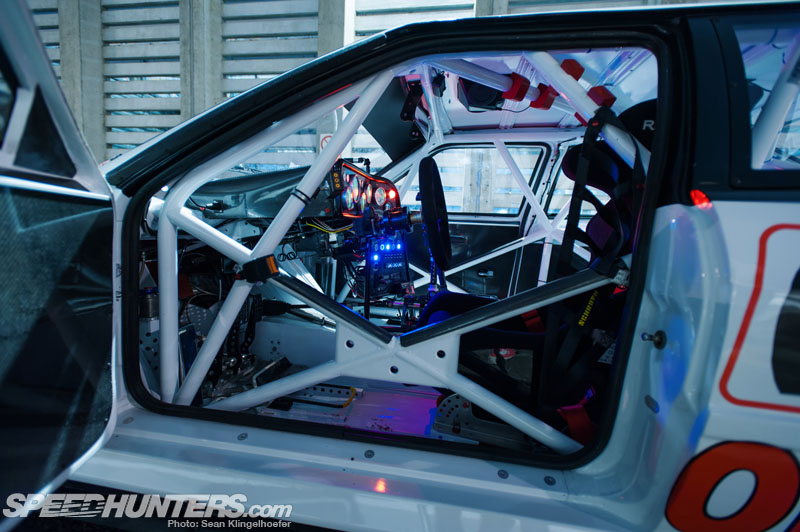 The interior was also a masterpiece in and of itself, and probably my favorite aspect of the build. It was clear that this was one of the areas where a lot of time was spent to ensure things went properly. Clearly I was very intrigued by the car and I needed to know more about it, but there was a familiar enemy standing between me and the details; the language barrier.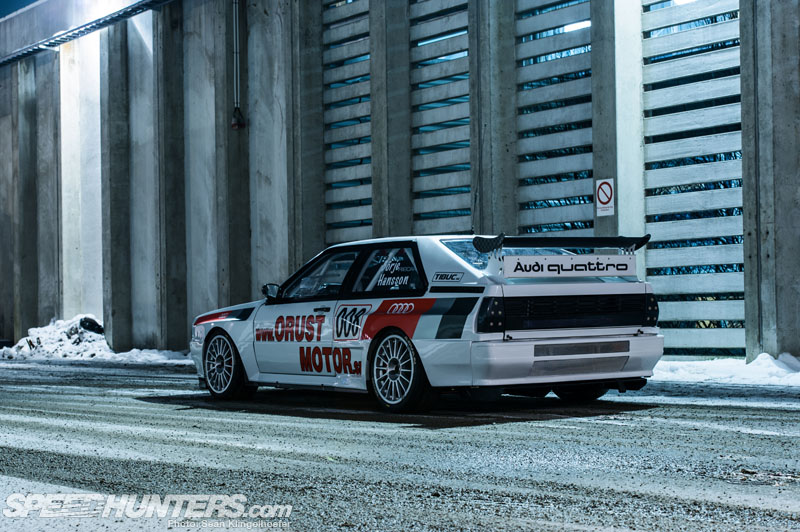 Fortunately enough, while I was quite literally freezing my ass off (possibly to death had the shoot run much longer), Arslan was able to chat with the owner and get the full story. So how does someone come about building such an insane machine? Well, here goes nothing…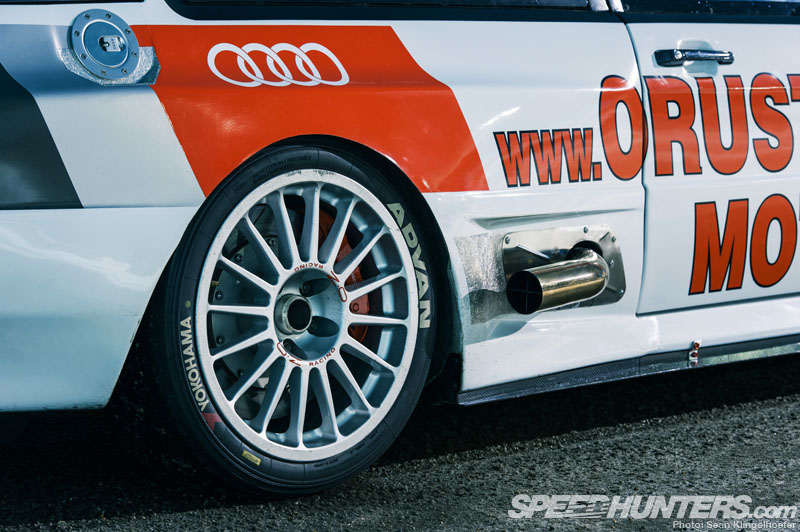 Börje Hanssen is the owner of the car, and has been involved in competition racing and rallying for over forty years, so he had a little prior experience to say the least. Like many Swedes, he's always been a fan of the Ur-Quattro (first gen Audi Quattro) but really fell in love with the chassis when he saw them competing in the Swedish Rally series, and instantly began dreaming of building one for on-road duties.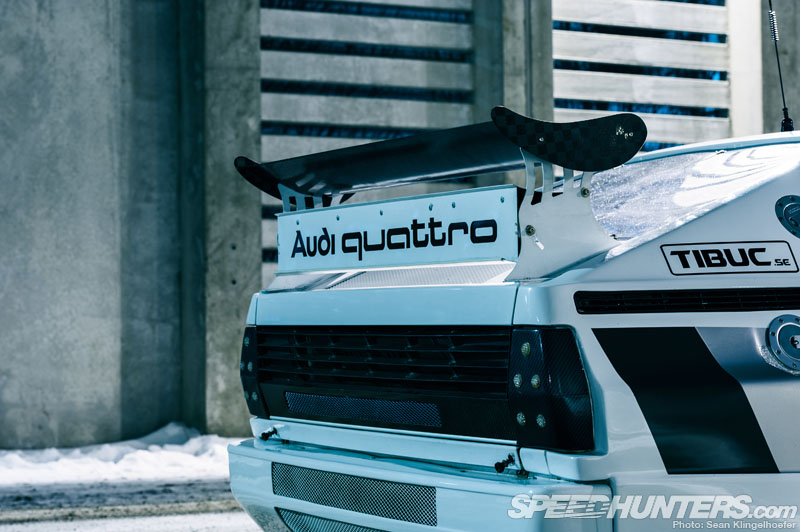 A few years later he would compete in one of the Nürburgring's famous four-hour VLN endurance races and knew then and there that he had to build a Quattro to one day race in the series. He was completely blown away by the track, as most drivers are, and made a promise to himself that he would one day return with a machine of his own design to tackle the Nordschleife. Alas, the motivation was found and plans were laid.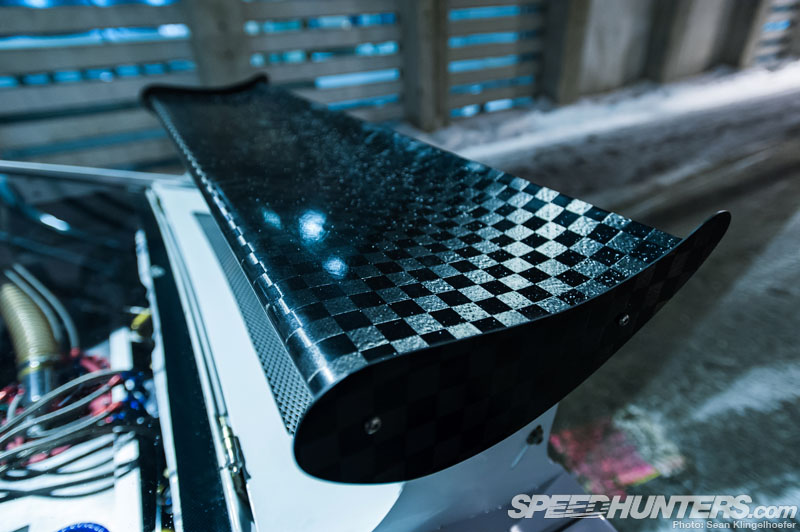 Börje knew that he would have to build a car that was better balanced than the front-heavy example Audi would sell you to be competitive, but the problem was there weren't many people even attempting to do that. With a little research he was eventually able to find one Quattro built in Germany for asphalt racing, only to later discover that it was simply a show car and didn't have any practical R&D put into it.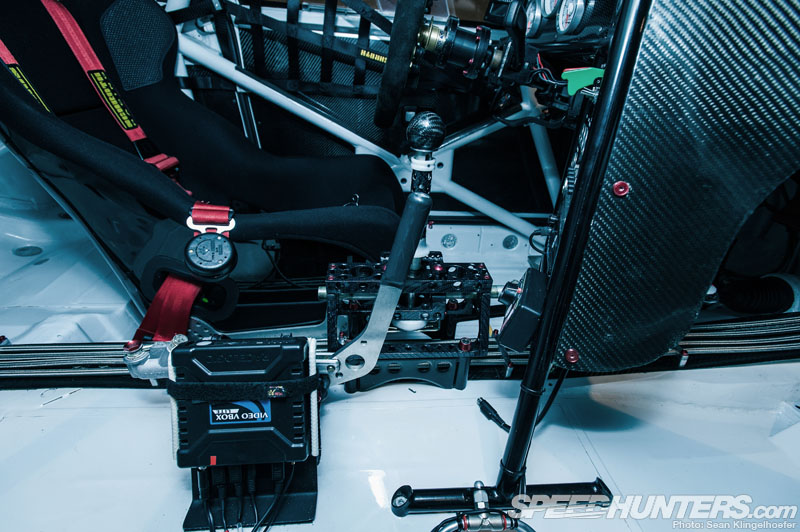 With little choice, it was up to Börje to start down his own path to build the ultimate Ur-Quattro. The first thing he did wasn't run to turn a wrench, but actually turn pages as he studied as much as he could about suspension geometry. If he wanted to make the car handle better, he'd need to brush up on his understanding of physics. In the end he decided to team up with John-Erik Andersson, a very famous name in the Swedish racing industry.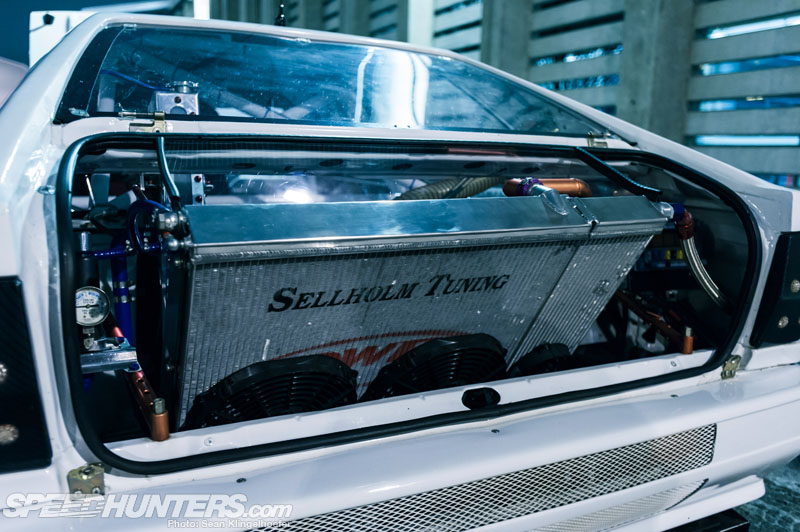 During the '90s, John-Erik was responsible for building all of the factory Volvo BTCC cars, so he happened to already know a thing or two about tweaking the underpinnings of a competition car. The two would end up devising an extremely complicated solution to the problem and re-engineered virtually every suspension link on the car and moved almost every single pickup point as well.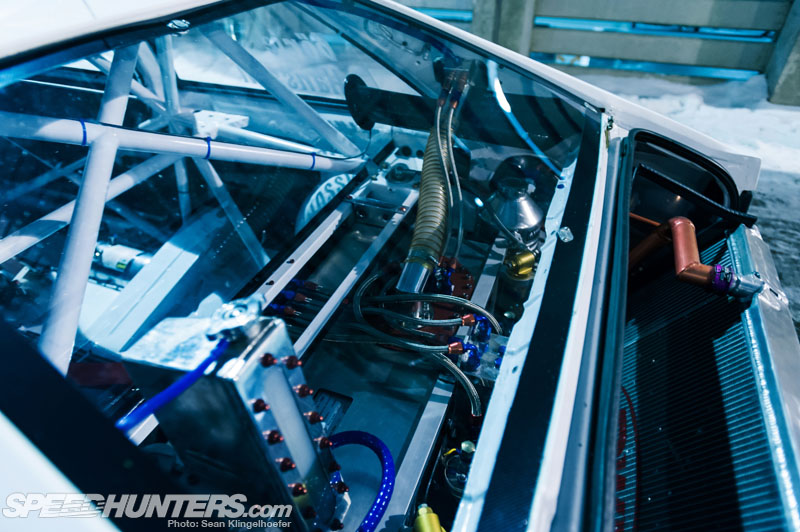 With the footwork all sorted out, the team started looking at ways to move some of the weight away from the front axle. Taking a cue straight from Audi's own Pikes Peak effort, they decided to move the radiator and dry-sump oil tank to rear of the car. They also removed or converted certain items to remove any weight possible, like switching to an electric power steering setup.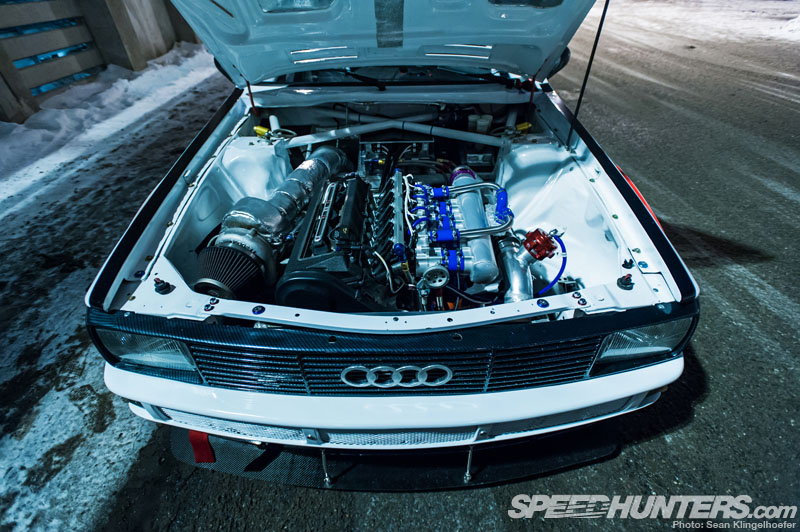 Considering so much effort was put into the chassis, it should come as no surprise that the engine setup is also totally bonkers. I had never really been a huge fan of Audis until going to Gatebil, and configurations like this are exactly the reason why – they aren't always the most expensive on the planet, but they often put down more power than engines that cost several times as much.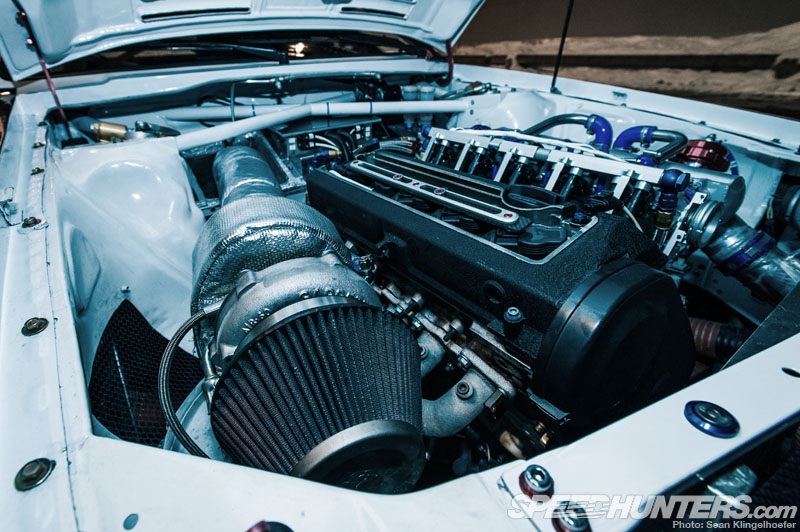 The motor itself is something I encountered many times at Gatebil and utilizes a 20-valve gasoline cylinder head mated to a stronger diesel block. The center piece of the build is a massive Garrett GTX35 turbo which shoves boost down the incredibly sick TIBUC throttle bodies and into the petrol/diesel frankenstein engine; good for 487hp and 407lb-ft of torque.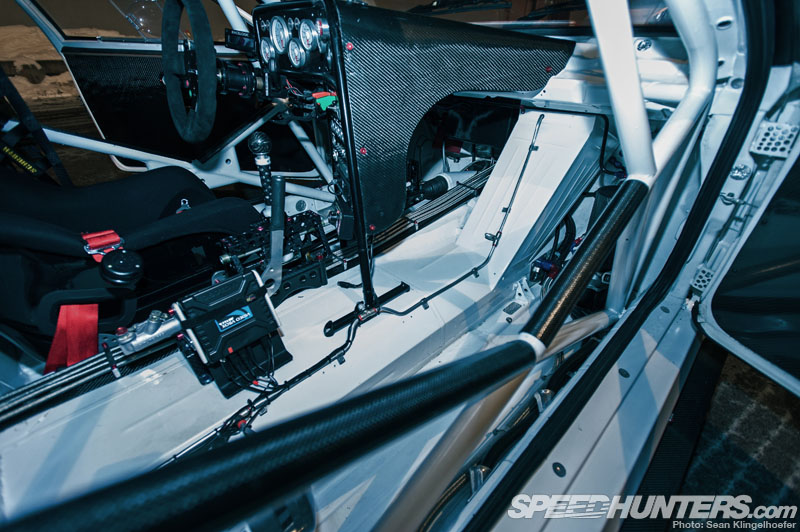 In order to clear the massive exhaust system hanging off the engine, a custom tunnel had to be notched into the interior. As you can see from the photo, this isn't your typical half-assed piece of scrap metal that has been thrown into a car. Each section has been custom formed and sealed to the chassis – if you didn't know any better you'd almost think this was OE metal.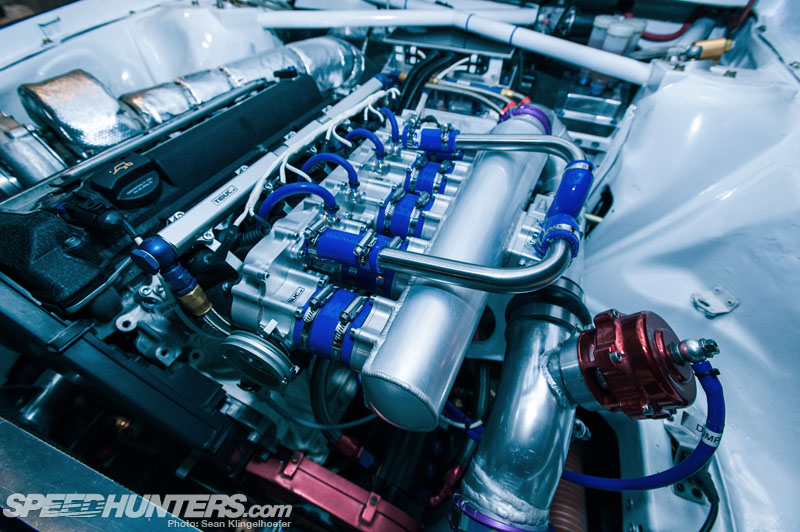 Originally the idea was to have a motor that was powerful but not overly brutal. Ironically, even though the engine puts down very nearly 500hp, Börje says he thinks he still needs another 100-150hp in order to really be competitive. Thus, the work is never truly done.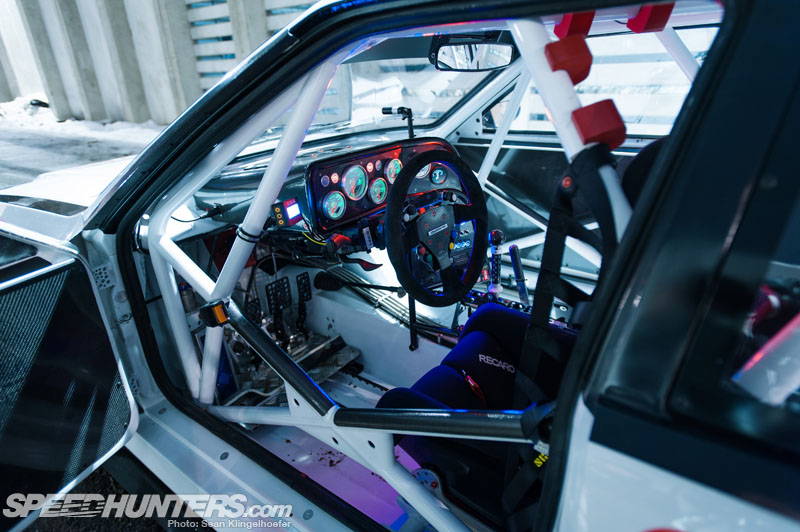 Although he talked little about it, I think that the interior is by far and away my favorite part of the build, and one area that really stands out compared to many of the cars I've seen from Scandinavia.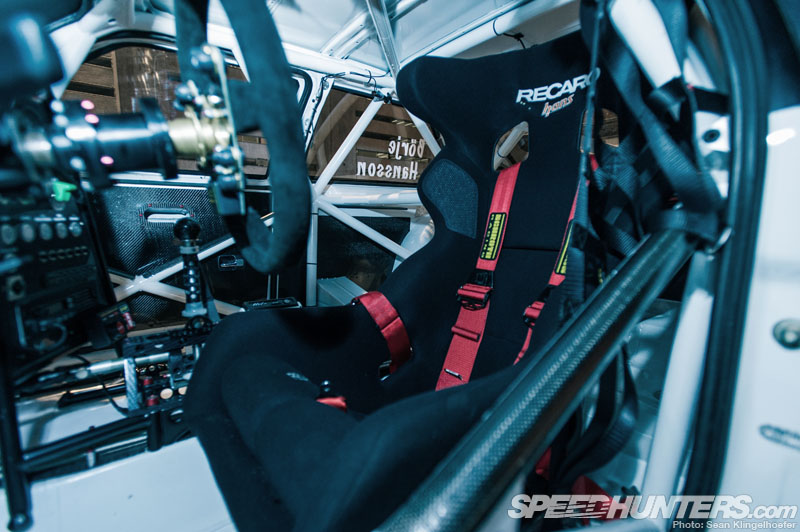 The driver's seat has been thrown back to fall behind the B-pillar, just like you'd expect of any serious competition car. It's also mounted on a rigid fixed bracket as mandated by FIA rules, which typically causes a bit of a problem if you want the ability to allow multiple drivers to pilot the car.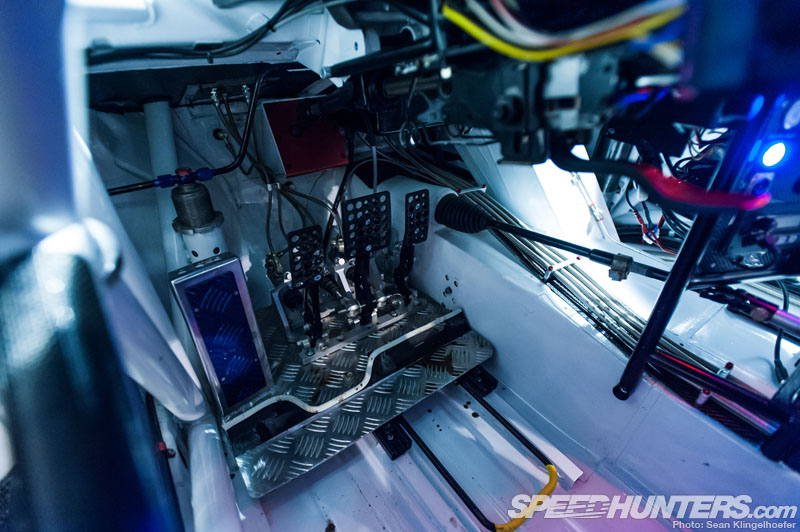 To find a solution to this problem, Börje once again enlisted the help of the guys at TIBUC and devised an ingenious contraption. The floor-mounted pedal set has been placed atop a sled that rides on rails and can be precisely adjusted to the driver's liking.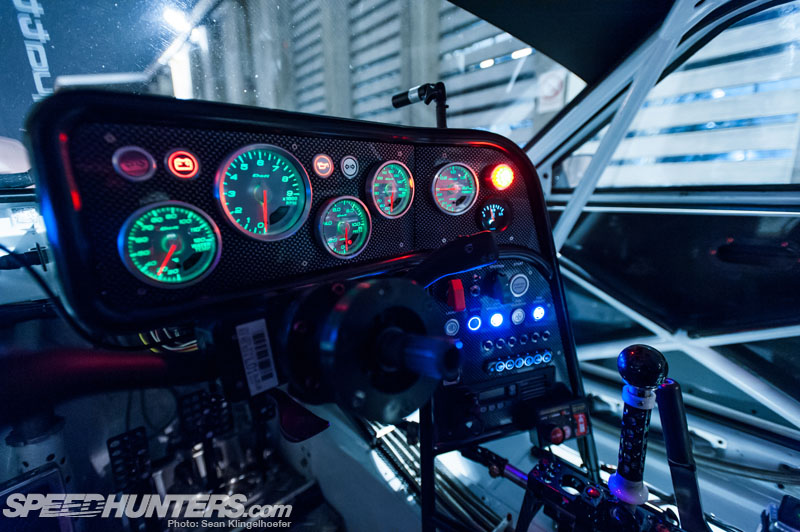 As cool as that may be, my favorite part is probably the fighter-jet style carbon dashboard. Stuffed with a range of gauges from Defi, this driver-centric piece is a really simple and elegant way to get information to the driver and comes off looking refined rather than lazy.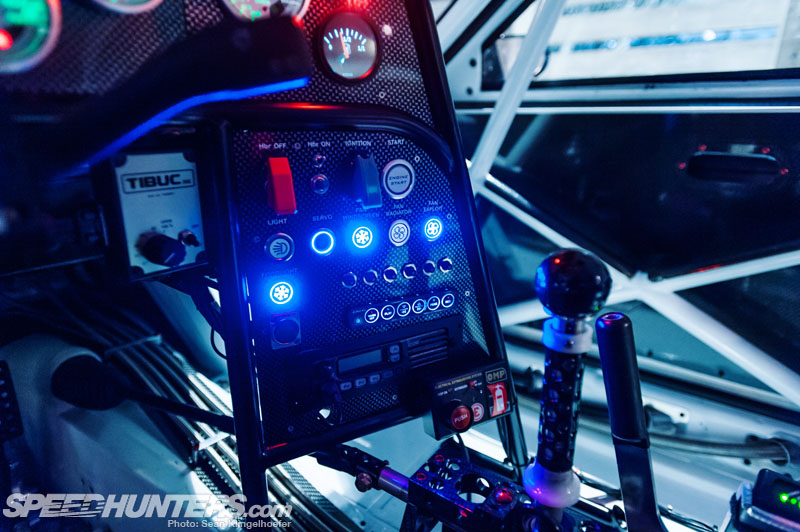 How cool is that?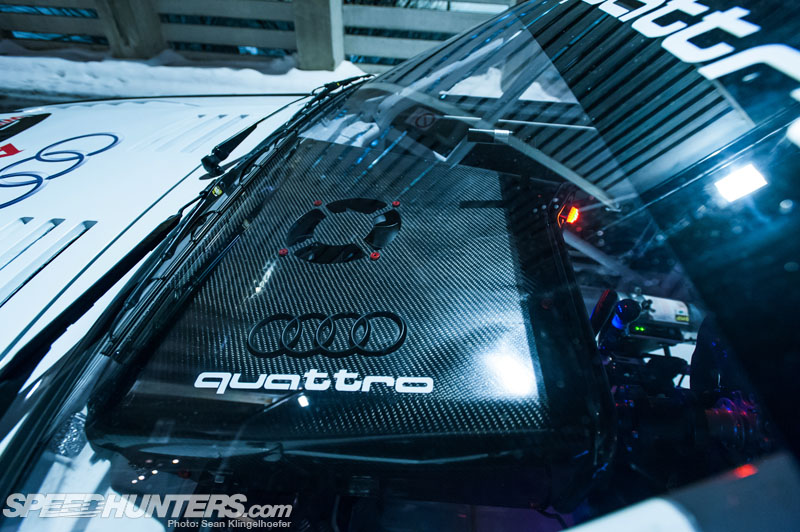 To top it all off, there's even a cooling fan built into the lid to prevent any of the electronics from overheating!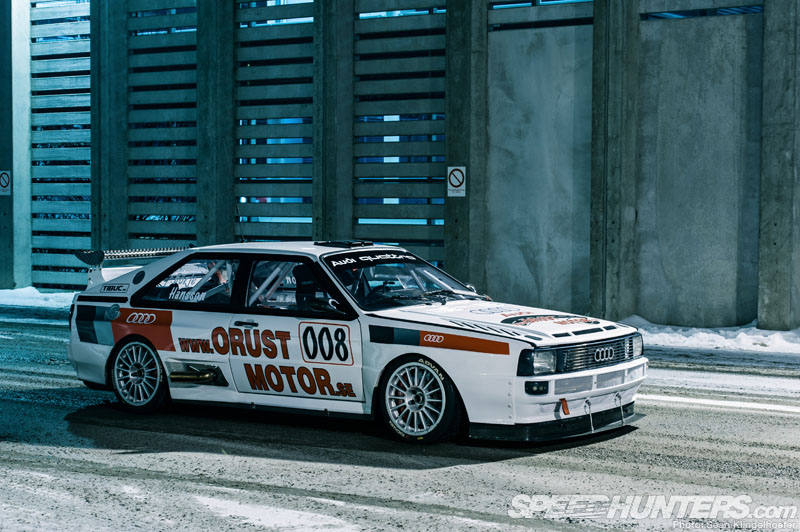 Last year Börje was able to take the car to the 'ring for an initial shake-down test, but encountered overheating problems after half a lap. If there's anything I've learned from talking to Swedes, perhaps the only thing they don't do well is give up. I'm sure that come spring time, this car will return to the Nordschleife and start clocking some very fast laps – who knows, we might even run into it!
1981 Audi Quattro
ENGINE
Turbocharged Audi 2.5-liter inline-5 cylinder engine; diesel ACV block; rigid engine and trans mounts; balanced internals; Stone Pamer connecting rods; RS2 pistons; ABY 20-valve petrol cylinder head; port and polish; Catcams camshafts with adjustable gears; Garrett GTX35 ball-bearing turbo; GIK Turbo Technology dump valve and wastegate; Jorgen Source split-pulse turbo manifold; TIBUC throttle bodies, fuel rail; custom 600x400x40mm intercooler and piping, custom 3″exhaust system; Finnkat catalyst; VAG ignition coils; Verdi 4-channel dry sump oil pump; Aviad U.S. oil modified for greater volume; Sellholm oil cooler kit with PWR Australia exchanger; Sellholm PWR rear-mounted radiator with custom expansion tank and triple fans
ENGINE MANAGEMENT / ELECTRONICS
Nira ECU mapped by Per Johansson; Bosch EGT sensor and broadband lambda; Peltor Lite Com and IC-F210 radios; Tran X260 transponder; VBox; Optima battery; Porsche main switch
DRIVELINE
Audi six-speed manual transmission with  PAR Engineering dogtooth gears; transmission cooler; Benny Axelsson custom shift lever; 034 Motorsport steel flywheel; Sachs clutch; Quaife front LSD; factory center diff; Audi 4.111 final drive from S2; rigid rear diff mount; GKN racing axles and internal drive hubs
SUSPENSION / CHASSIS
CBT roll cage; fully redesigned suspension with completely modified chassis geometry including Ackerman angles; camber adjustable from three different points; toe adjusted centrally on each tie rod; lowered to 9.5cm clearance by custom spindles with 9cm lower attachment point for smaller arms; Ohlins suspension with 3-way adjustable shock absorbers with custom rates by KH Motorsports; upper mounting points have been moved; aluminum control arms from older Audi DTM car; custom braces; rear DTM components from Audi; Mo-Thu port by Anders Carlsson in Borås; Gunnarsson Motorsports blade-type sway bars; Audi 200 steering rack with electric power steering pump
BRAKES
Porsche GT2 six-piston calipers and 365mm discs (f), four-piston calipers with 355mm discs ®; custom brake ducts; custom pedals built by TIBUC and-mounted on adjustable sleigh with gas piston.
WHEELS / TIRES
9.5×17 "+22 OZ Racing; 240×610-17 Yokohama racing slicks
CABIN
Recaro Pro Racer Hans SP-G fixed seat; adjustable steering column and pedals; Reverie Rally 330 carbon fiber steering wheel; upholstered dashboard with built-in fan; Defi-meters; Demon tweeks power switches; Schroth harness; OMP fire system
BODY
Custom exhaust tunnel sectioned into floorboard complete with brackets for the six-speed box and support pieces; modified firewall, front grille and rear screens; carbon fiber hood and side skirts; custom adjustable carbon fiber rear wing; Kristoffersson Motorsport fiberglass doors with quick release hinges; roof scoop; genuine Audi fiberglass trunk with Lexan window and air intake; Audi Ibis White; decals by Advertising Service Henån
PERFORMANCE
487hp, 407lb-ft
THANKS
John-Erik Andersson, Racing Consultant Sell Holm, Källmans, TIBUC, Åberg Naval Service, Herman's Marine Service in Henan, Lars Svantesson Ljungskile, Anders Carlsson, Per Johansson, KH Motorsports, Kristoffersson Motorsport, Composite Design, Advertising Service Henån, Inger and firefighters at Mantorp Park – without them I wouldn't have a car today!
More car features on Speedhunters
More stories by Sean Klingelhoefer on Speedhunters
-Sean