When we decided to do this short 80's theme I knew just the car I wanted to post up. I featured this orange FC3S a while back for a magazine, but despite the fact that some of our US readers might have seen it in print, I thought it would be a pity not to share it with the rest of you. It is the embodiment of the no-frills driver's car, modified with the sole intent of carving up the challenging corners that dot the Hakone and Izu mountain areas just south of Tokyo.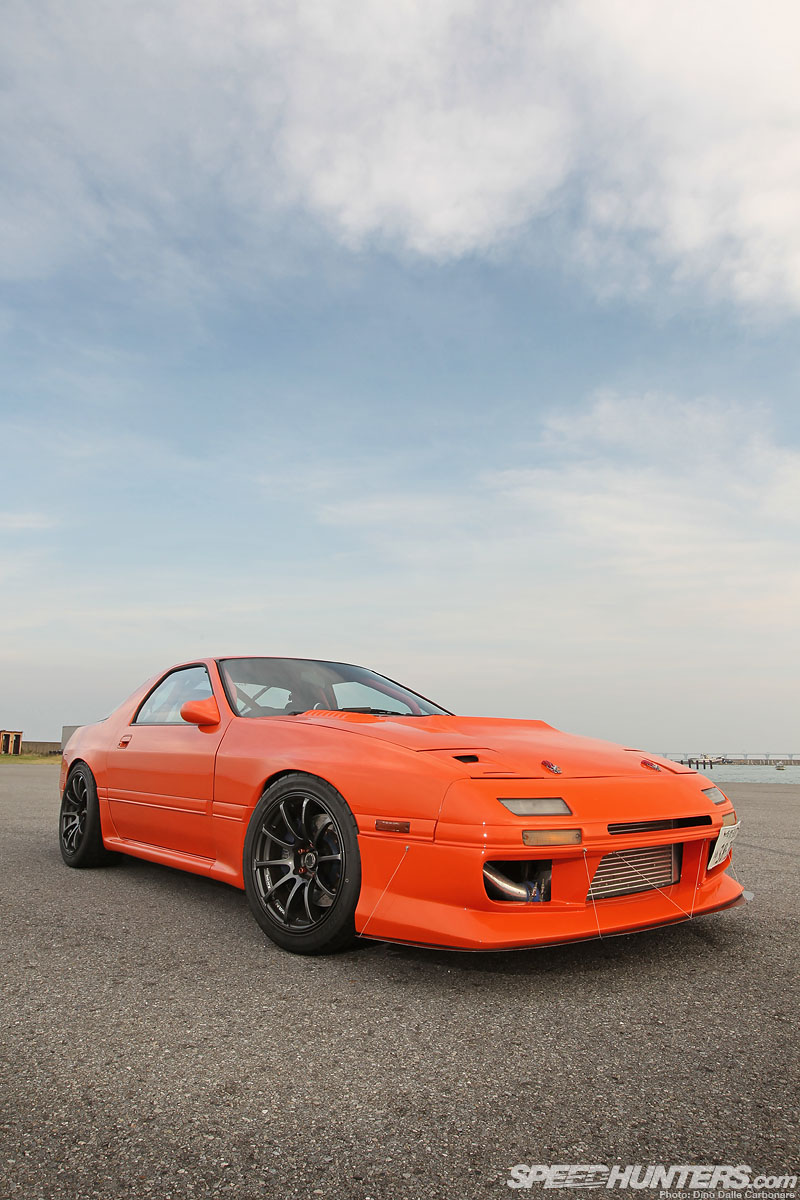 The owner, Yoshi, is someone we know well here at Speedhunters; he's the guy that in 2014 will be taking his Dandy-built pre-production R34 Skyline GT-R on the salt of Bonneville and attempt to go as fast as no man has ever dared to in a stock-bodied san-yon. While Dandy-Tanaka continues to slowly build his GT-R, Yoshi can usually be found putting his FC to good use, honing his skills through the mountains, which is actually where I first laid eyes on this car.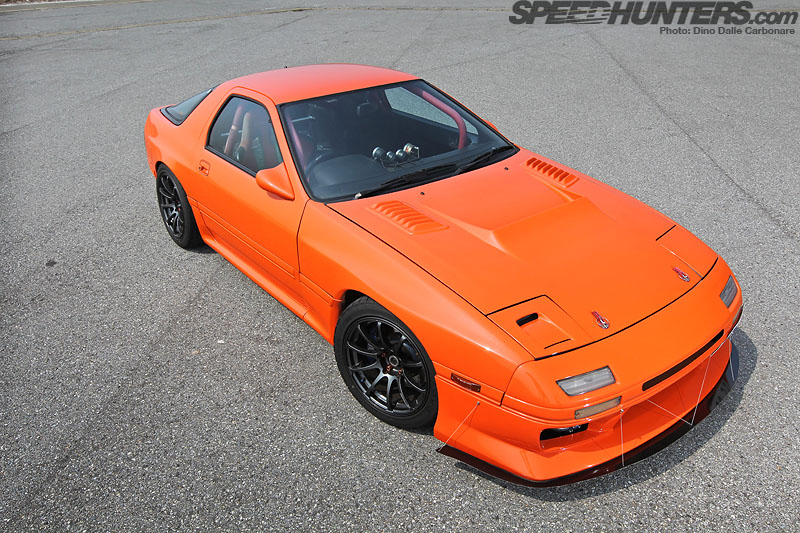 It happened back in 2010 when I, along with a few friends, decided to head down to the Izu Skyline to let off some steam and drive our cars hard for a few hours. Yoshi showed up with in this bright orange RX-7, a car I had heard about but hadn't seen before. He proceeded to outdrive every single car in the group, the FC's boasting a power to weight ratio we all dream about! I knew right then and there that a feature was a must.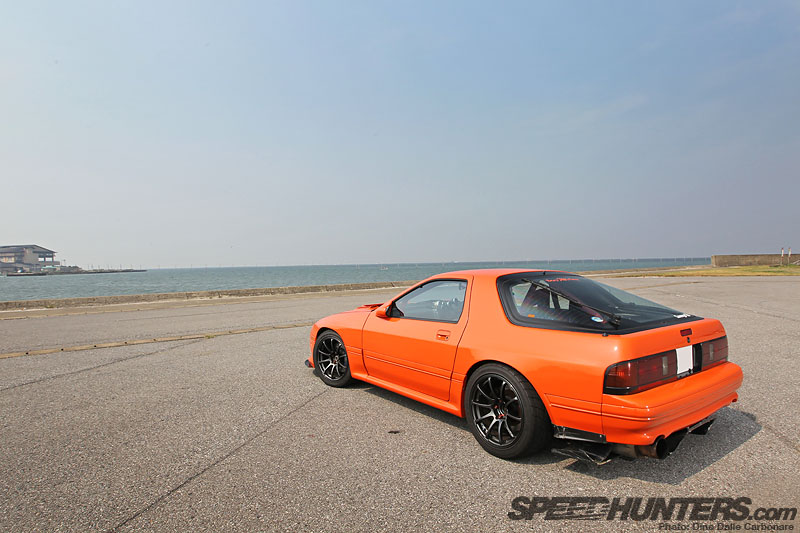 So to find out more about the FC I met him up one late summer day and chatted about him as we immortalized his pride and joy against the Tokyo Bay backdrop. The orange exterior came to be out o pure coincidence, following an accident on a wet highway where the car was pretty badly crashed after aquaplaning out of control. Yoshi thought it would be the perfect opportunity to give his, then gunmetal grey car, a few upgrades which included rigidity -boosting upgrades, some choice aero parts to replace the damaged body and a rather catching color change.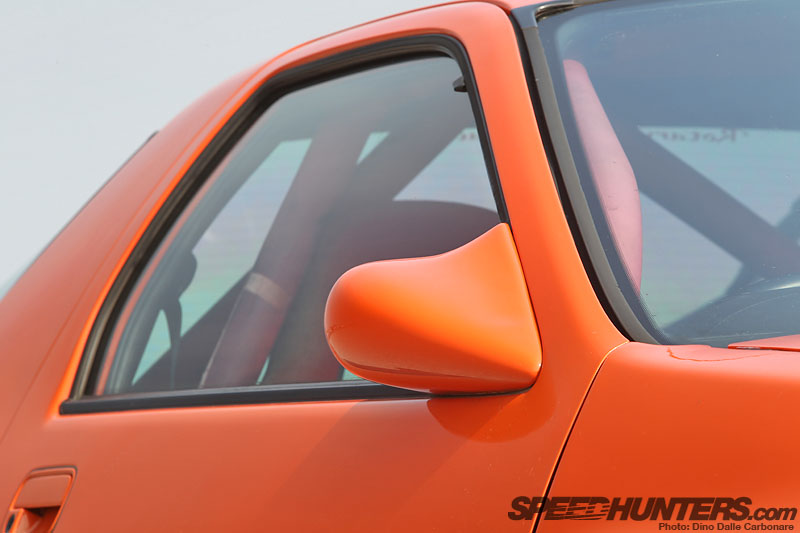 The color is the same orange as used on the 911 GT3 RS, a nice touch that gives the 80's shape a little bit of spice. Part of the body upgrades were these vintage Pan Speed mirrors.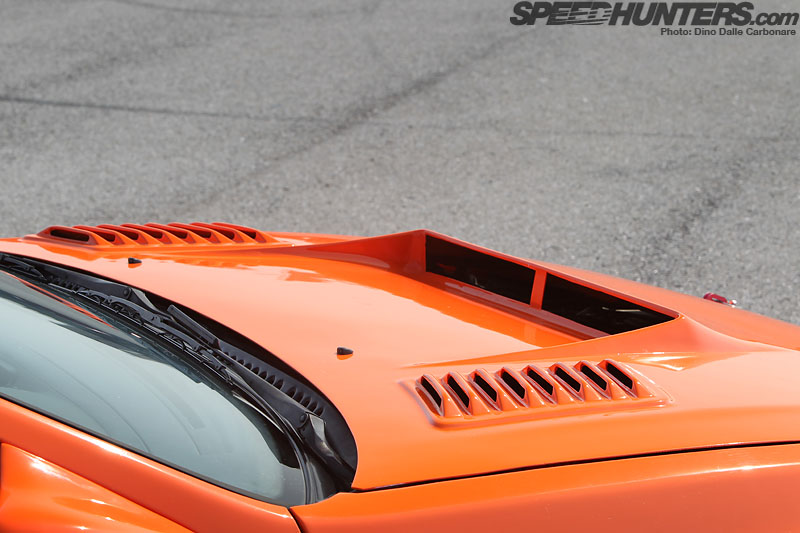 Under the vented hood however…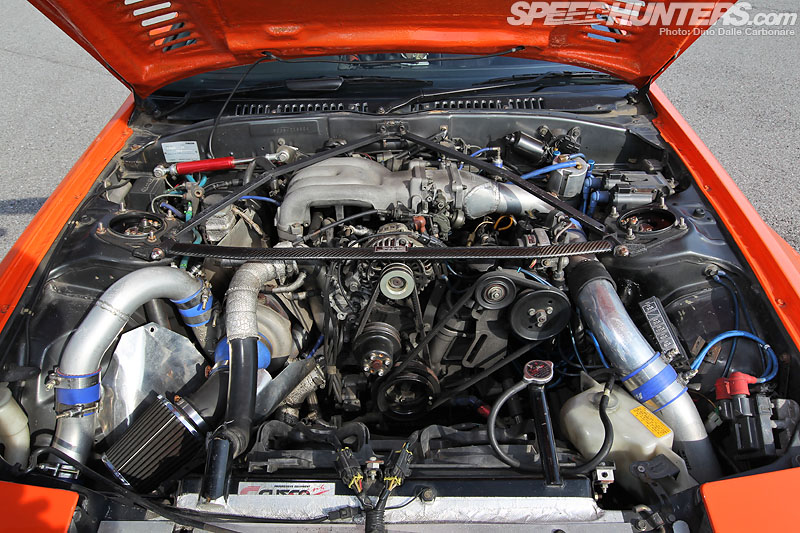 …the engine survived the impact, a good thing because this little bridge-ported 13B is half the secret to Yoshi's untouchable pace through the mountains. Built by Prestige, a rotary shop located in Kyushu, it delivers a 500 HP punch and an unstoppable appetite for high revs.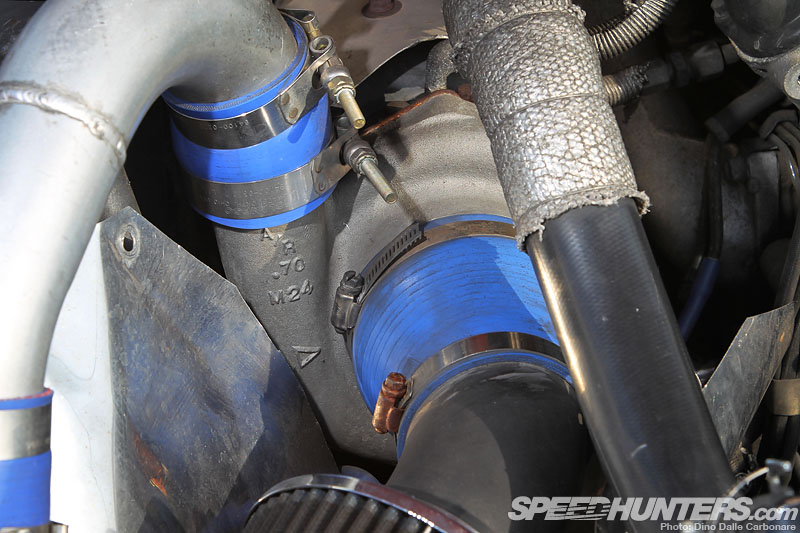 Force feeding it is a T04R, plumbed into position courtesy of custom stainless steel headers and aluminum piping, channeling the 1.5 bar of boost…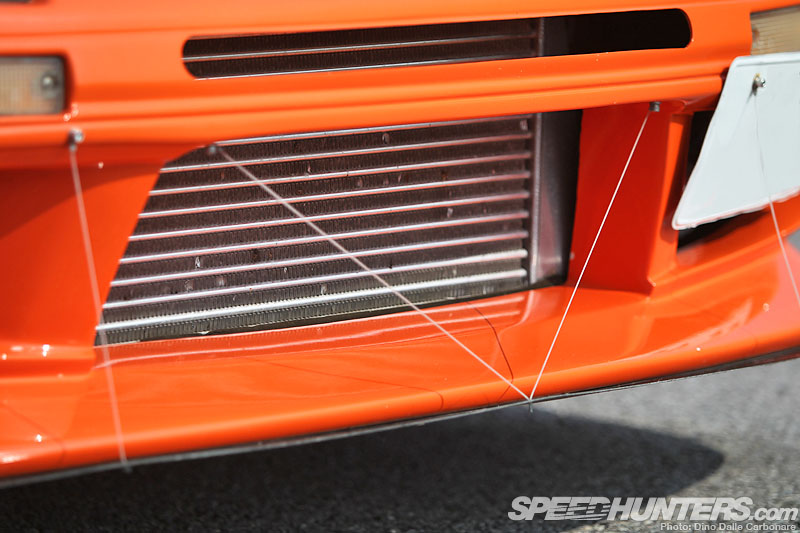 …through the front mounted intercooler…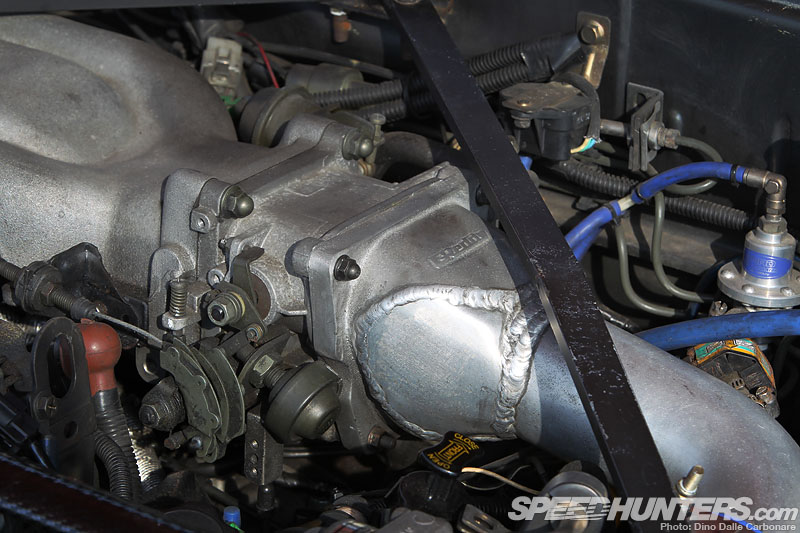 …towards the engine via a straightened out GReddy elbow and stock throttle.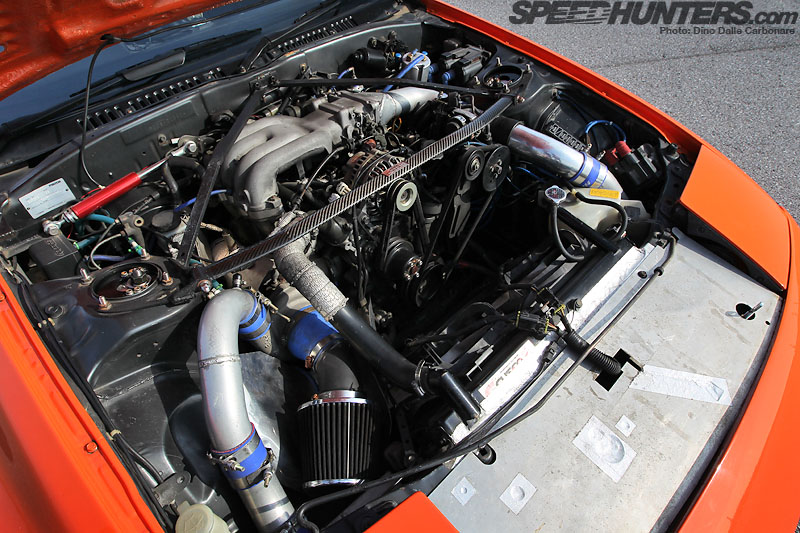 It's a pretty wild tune for a 13B but Yoshi isn't really one to care for reliability, he just wants the best possible performance out of his car. Supplying the fuel are four Sard 1000 cc/min injectors fed by a modified R32 GT-R fuel pump controlled by the HKS F-Con V Pro piggy back ECU tuned by Top Fuel Racing.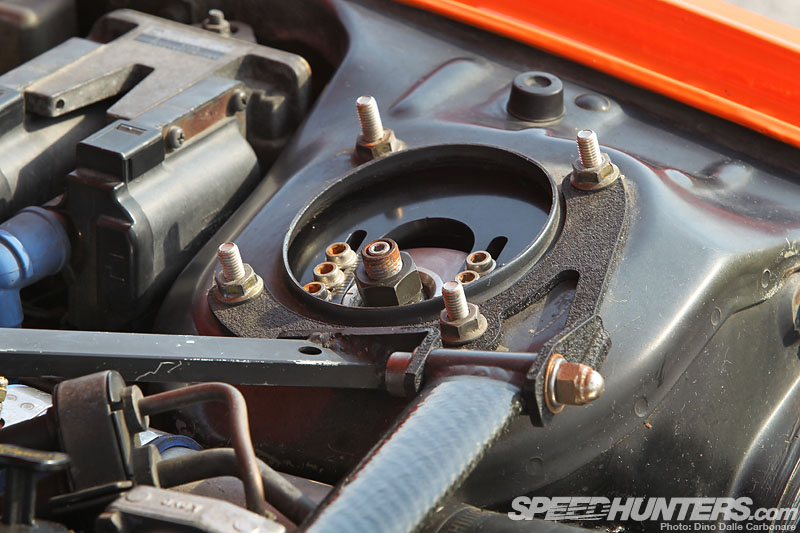 Joining the PCR custom gassed dampers Yoshi also threw on a JIC front strut tower bar and Nagisa Auto Gacchiri supports, to help inject a bit more structural rigidity to the front of the ageing chassis.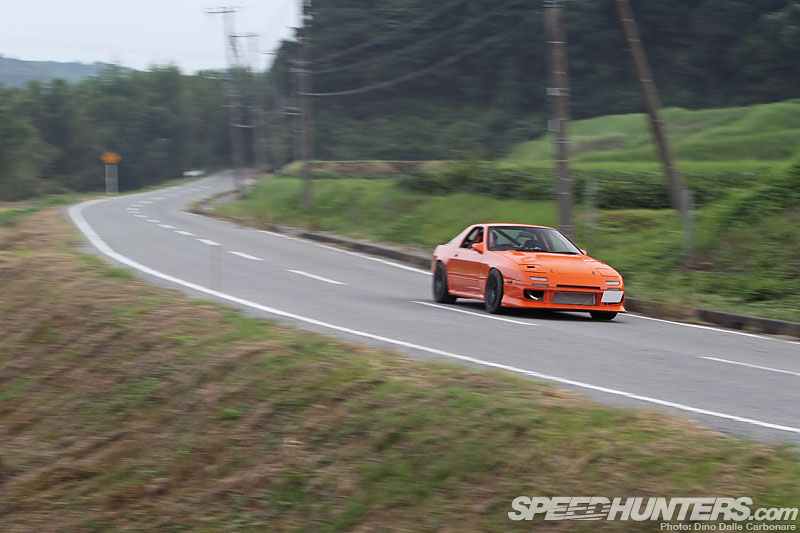 This has helped a lot, tightening up the steering feel, a welcome effect when putting the car through its paces…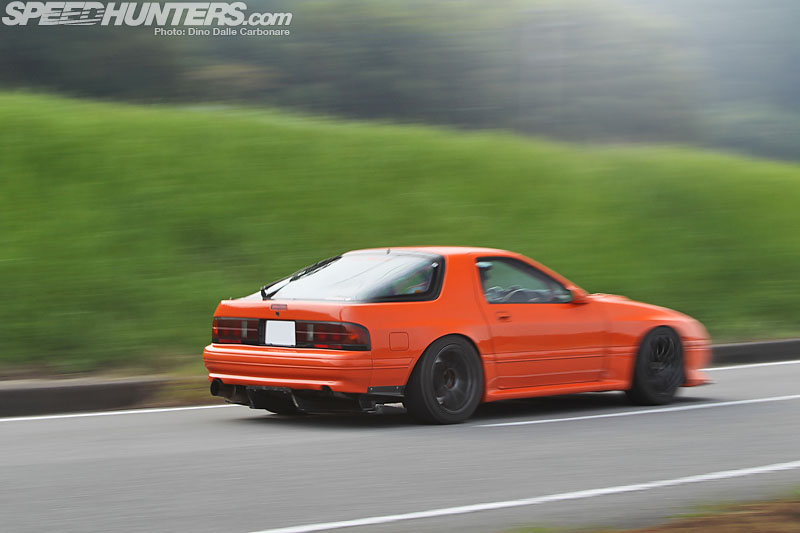 …on those deserted Japanese countryside roads.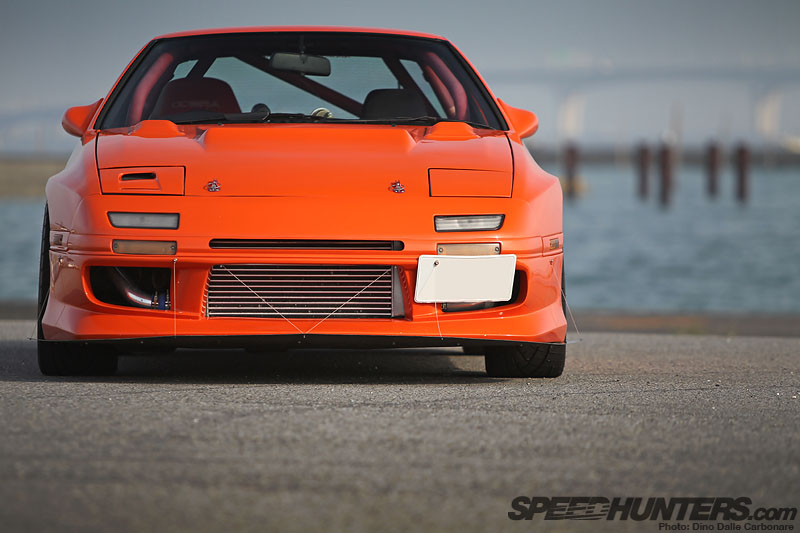 I've always been a sucker for a well tuned FC, a car that has always been one of the most appealing eighties JDM rides for me. Yoshi has done a good job of turning it into a proper street racer, even taking the time to come up with a thin front splitter, held in place with metal wires onto the Foresight bumper. Feeding fresh air to the cone filter is a Pan Speed headlight cover with built in air intake – again adding to the whole functionality of the project. Looking at the car head on it's also easy to spot those wider front fenders, 30 mm wider on each side, allowing wider wheels to be ran without problems.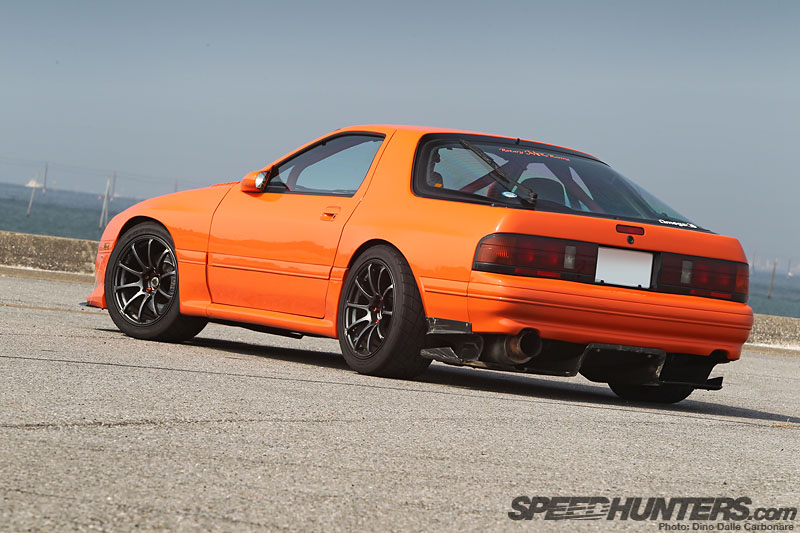 Thankfully there is no rear wing to be seen, a great omission that helps keep that simple rear end just that – simple. As a little aid in stability an RE-Amemiya diffuser and vortex generators were added, but if this is actually functional is anyone's guess. Still as Yoshi says, it does look pretty good!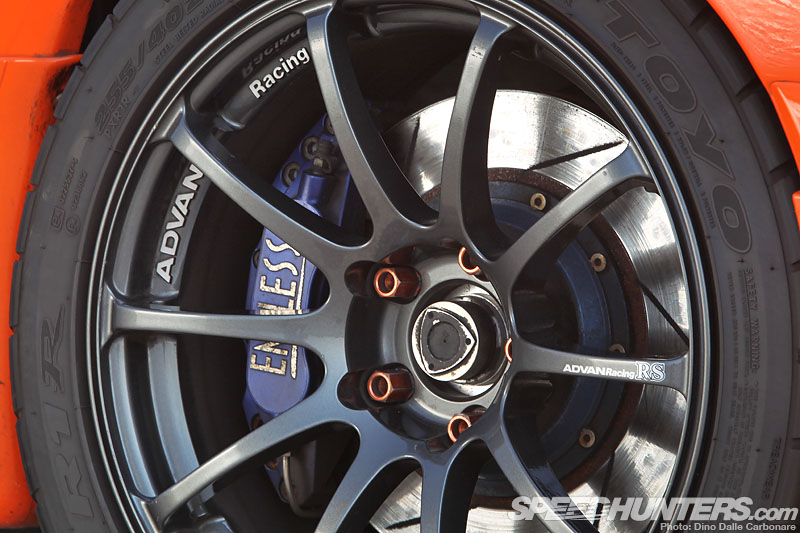 The dark silver Advan RSs are shod with 255/40R17 Toyo T1Rs, a nice and square match for the 9Jx17″ +22 sizes. Seeing the toll a properly driven mountain road can have on any braking system, Yoshi didn't take any chances and upgraded the front with Endless 6-pot calipers and matching slotted discs, the rears with a simple oversized disc kit. For better pedal feel the master cylinder was swapped out for an FD3S item.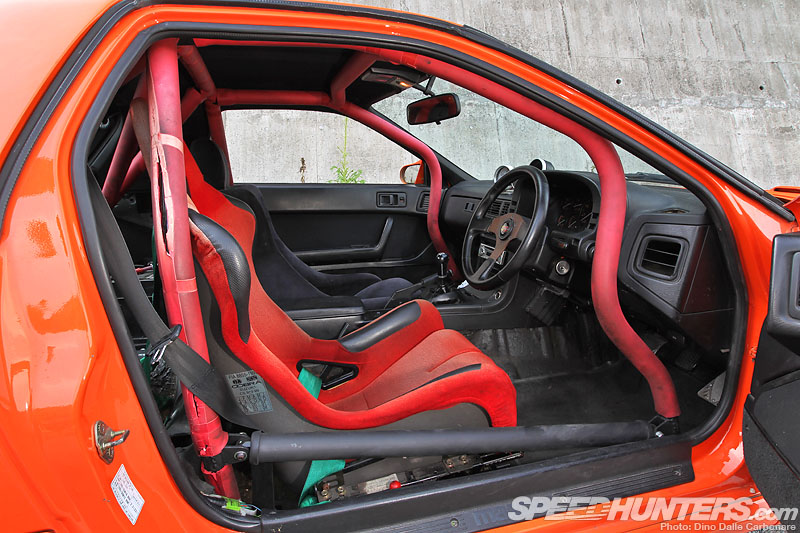 The roll-cage is also something that was added after the accident, as was a nice dose of spot welding around the door openings. The sills were even injected with self-expanding foam, a popular way to boost stiffness where it counts the most.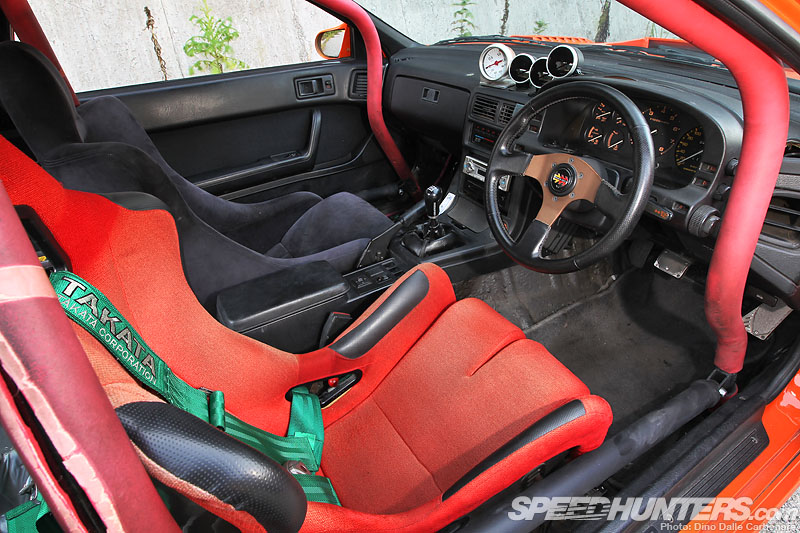 It's all about functionality in the interior too; we find a well used Cobra bucket seat with Takata harnesses….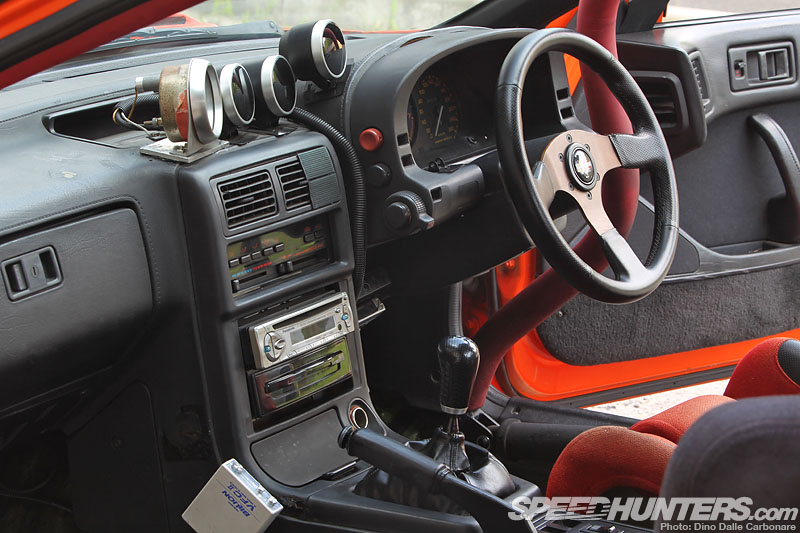 …as well as a simple Momo steering wheel, the first upgrades that were carried out.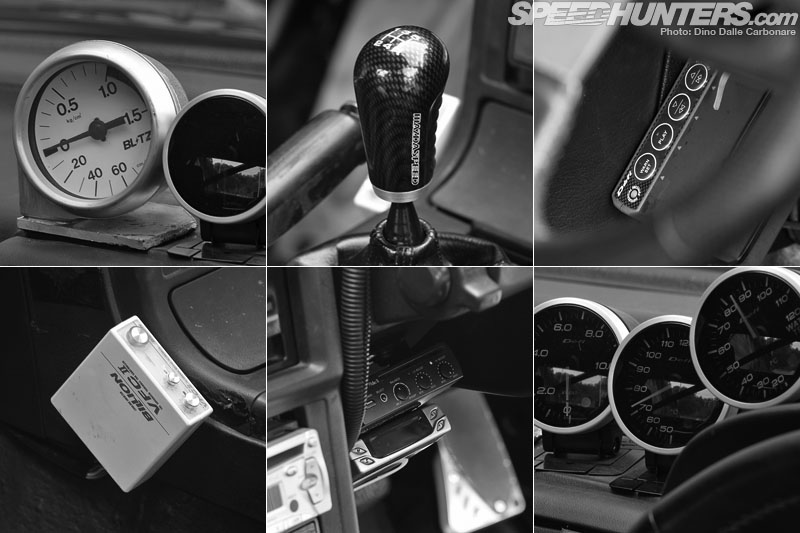 There is plenty of gadgetry to play with too, from the Blitz boost gauge and Defi gauges, to the Billion fan controller and old PRofec B boost controller.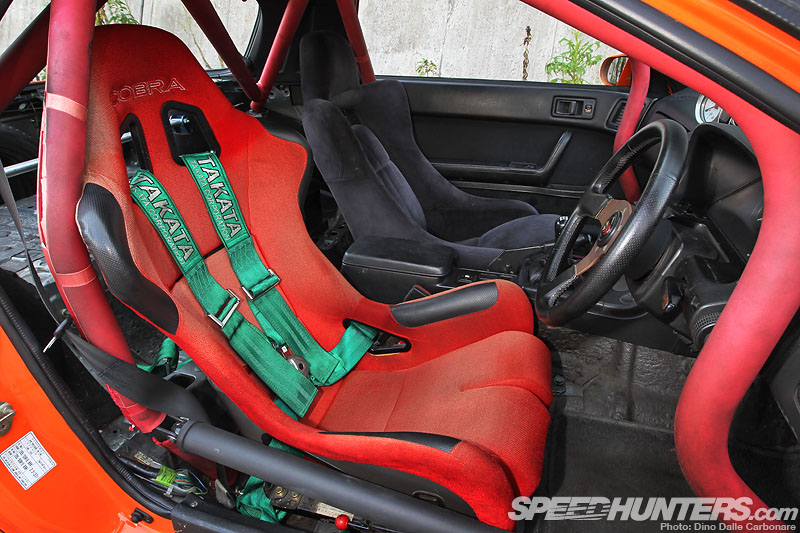 The main carpeting and everything aft of the seats…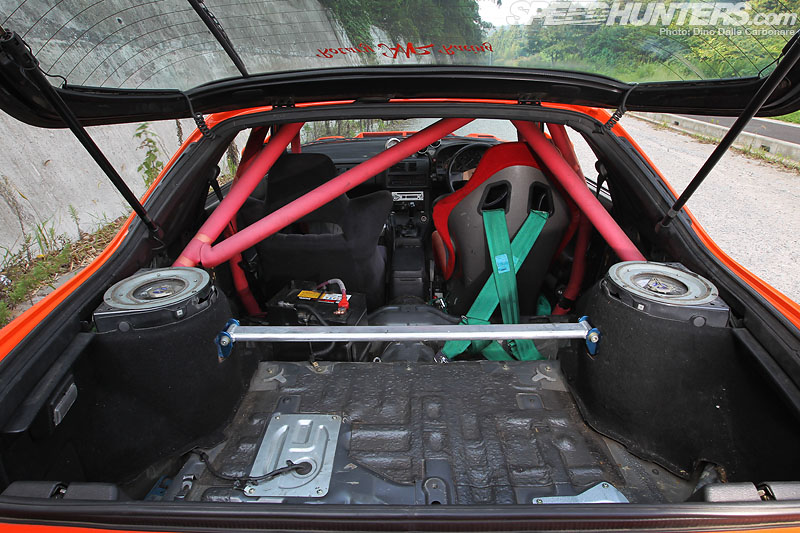 …has been stripped out. Open the hatch and you can also see the Cusco rear strut tower bar and two obsolete speakers. While they are actually still connected and functioning…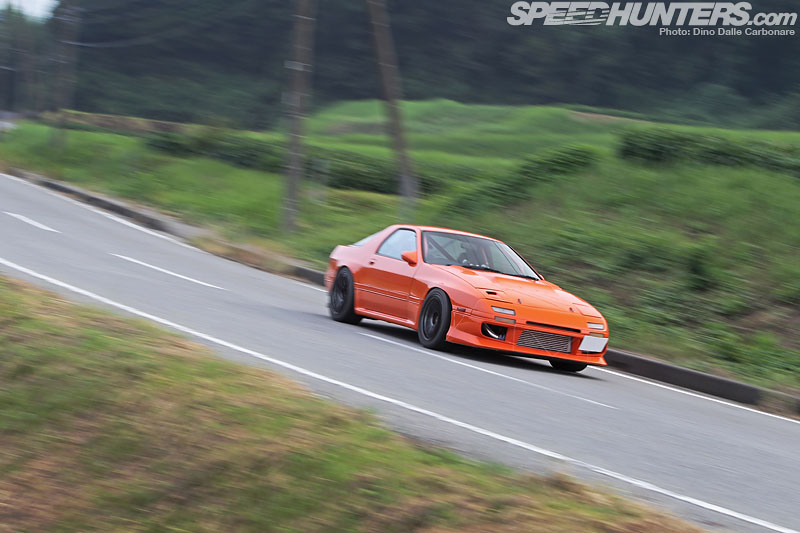 … if you have ever heard a bridge ported 13B screaming though an open exhaust and an external wastegate, well music is the last thing your ears will pick up!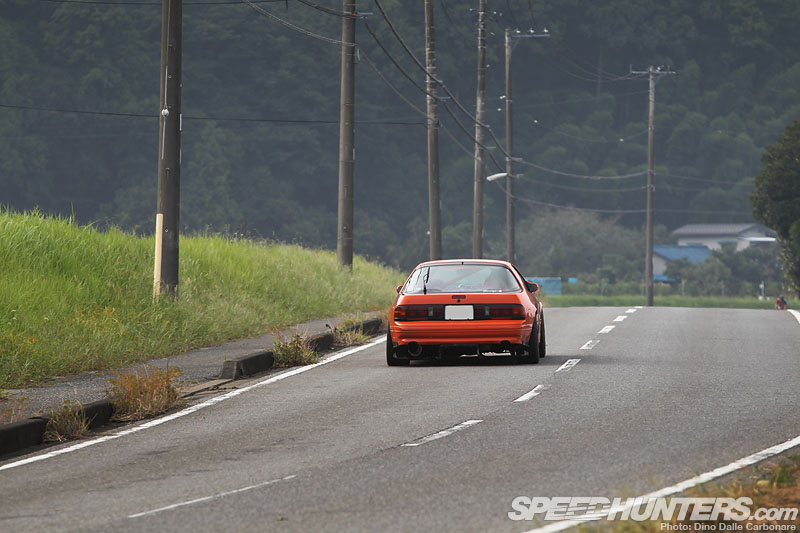 As pretty and as ageless the FD may be, the FC has always been an equally attractive generation of the RX-7. There is something about it, something that only cars born in the eighties seem to have; maybe it's the simplicity of it all, the tackiness and boxiness of the interior, or just that it brings us back to a time when Mazda was in the midst of creating some of the most unique and impressive sports cars of all times. Whatever it is, there is no doubting Yoshi has built upon the FC's potential, turning it into an impressively fast car capable of embarrassing very exotic and very expensive modern day performance cars.
Specs:
Engine: Bridge-ported 13B; MazdaSpeed engine mounts; HPI engine damper, air filter; custom-made T04R turbocharger; HKS external wastegate, F-Con V Pro ECU; custom-made exhaust system; custom intercooler piping; Trust triple core intercooler; FD3S intake manifold; BNR32 GT-R modified fuel pump; Sard FPR, 1,000cc injectors (x4); NGK Power Cable ignition leads, platinum plugs; Twin layer radiator, FC3S oil cooler setup
Transmission: ATS twin plate carbon clutch & lightweight flywheel; MazdaSpeed transmission mounts & LSD; Mazda FD3S 4.3 final drive
Suspension & Brakes: PCR custom set-up suspension kit; JIC carbon front strut tower bar w/ custom bracing; Cusco rear strut tower bar; Autoexe member brace; Nagisa Auto Gacchiri supports; Endless 6-pot front calipers & 324mm 2-piece slotted discs; stock 1-pot rear calipers & 315mm oversized discs; rear caliper offset adapter; FD3S master cylinder
Wheels & Tires: Advan Racing RS 9Jx17″ +22 (f/r); Toyo R1R 255/40R17 (f/r)
Exterior: Foresight front bumper, wide front fenders (+30 mm); custom front under diffuser; Aero hood; RE Amemiya carbon rear diffuser; Aero mirrors; Porsche 997 GT3 RS orange paint
Interior: Custom 9-point rollcage; Cobra driver side bucket seat; Takata harness; Mazda FD3S passenger-side bucket seat; Momo steering wheel; Night Sports combination meters; Mazdaspeed shift knob; Defi gauges (water temperature, oil temperature, oil pressure), control unit II; Trust boost controller; relocated battery
-Dino Dalle Carbonare