I have always wanted proper racing harnesses. In the few instances that I've taken my GT-R out on track one of the things that I was always concerned about, obvious safety aside, was sliding all over the seat through corners and under hard braking. And this isn't even only on track; ever since fitting Bridgestone RE55S semi-slick tires, taking the car on spirited mountain drives has increased this effect tenfold; the last thing you want to do when pulling over 1G in corners is having to brace yourself with your knees against the center console and the door! So I was very happy when Takata Racing became our very first official partners this year. I guess this is a perk of the job but I didn't quite realize how damn happy I would be…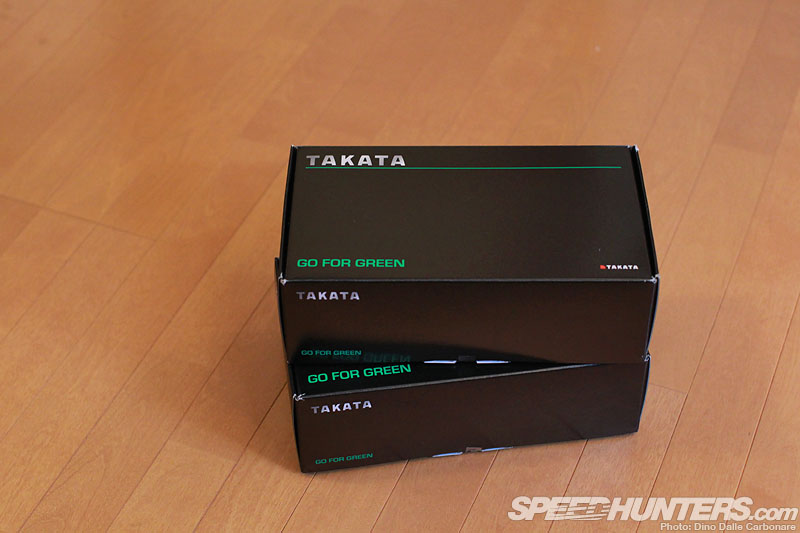 …when these two boxes were dropped off in the mail. Like a little kid at Christmas I looked and admired the package for about…uhm…0.5 sec…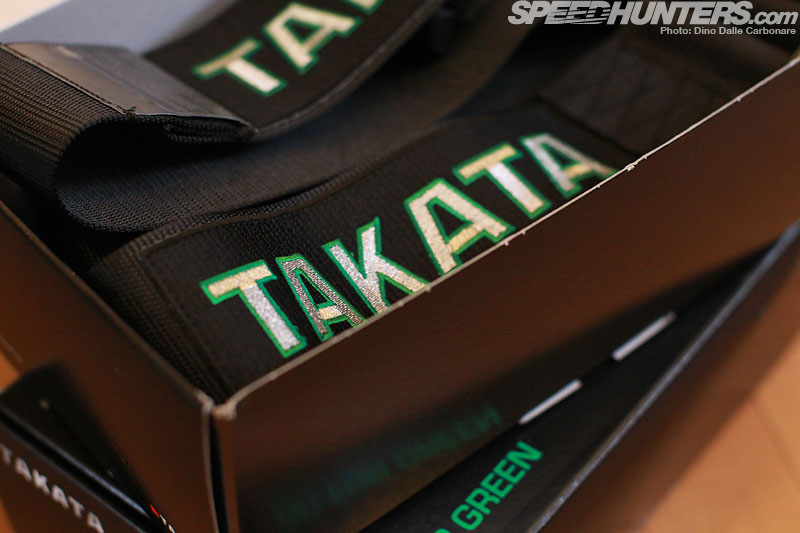 …before lifting up the cover and taking a peek inside. Now I know that true authentic Takada belts are supposed to be green, but since they have recently released an all new black line up, well I thought why the hell not. Aside from the fact that they are still as recognizable as the "original" colored items, they help give a breath of fresh air to the cabin – and if you recall…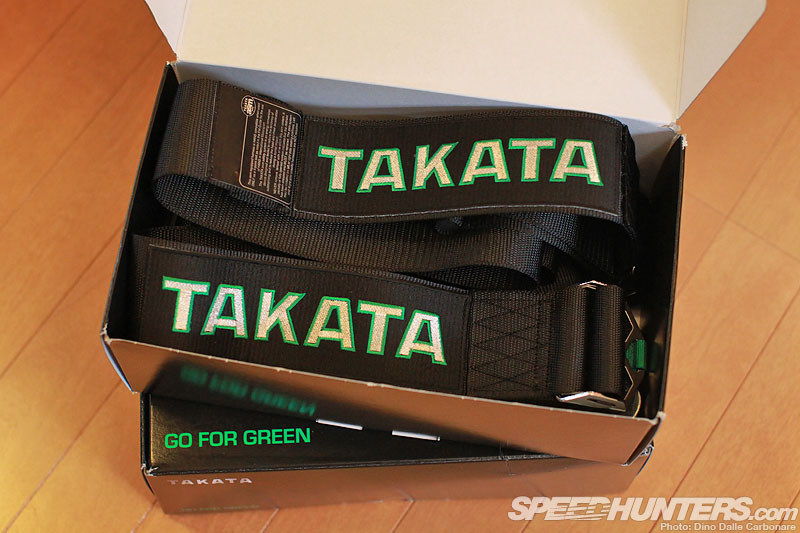 …modernizing the GT-R with subtle alterations and additions is my long term goal – so I knew these would do the job very well indeed.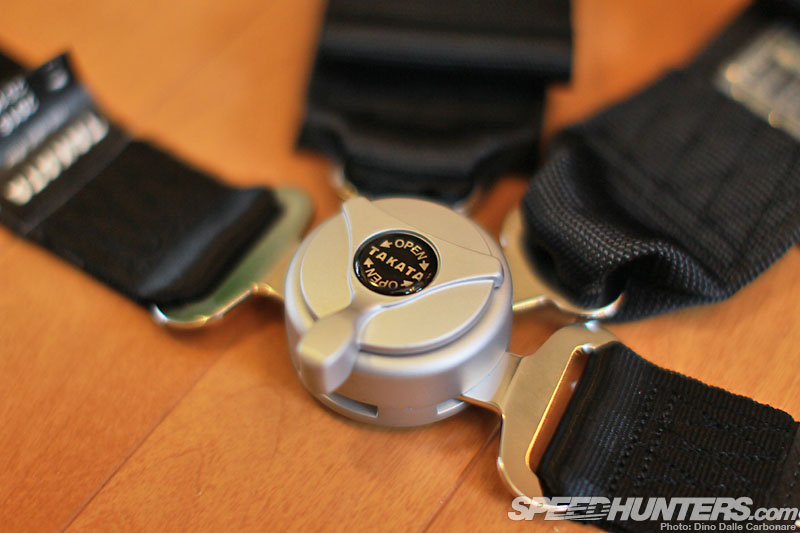 I couldn't resist taking them out of their boxes and arranging them on the floor to see what they would look like when fitted. These particular belts are called "Race 4 Snap" and are part of the "Race Series" line up. The "Snap" part of the name refers…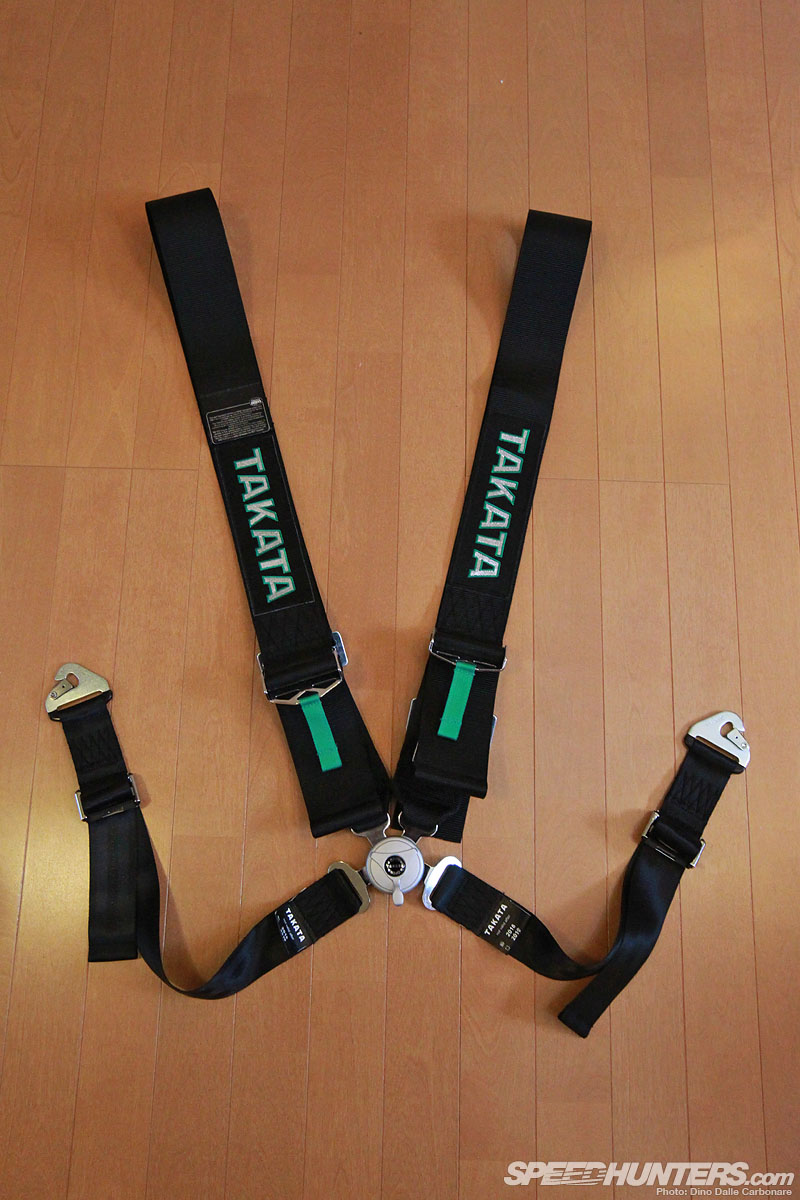 …to the way in which they are latched down onto the chassis. Since my GT-R is and will remain a street car, going for "bolt-down" type belts that can't be taken out quickly is not exactly what I wanted. So at each of the four latching points, as you can see above, there are quick release end fittings.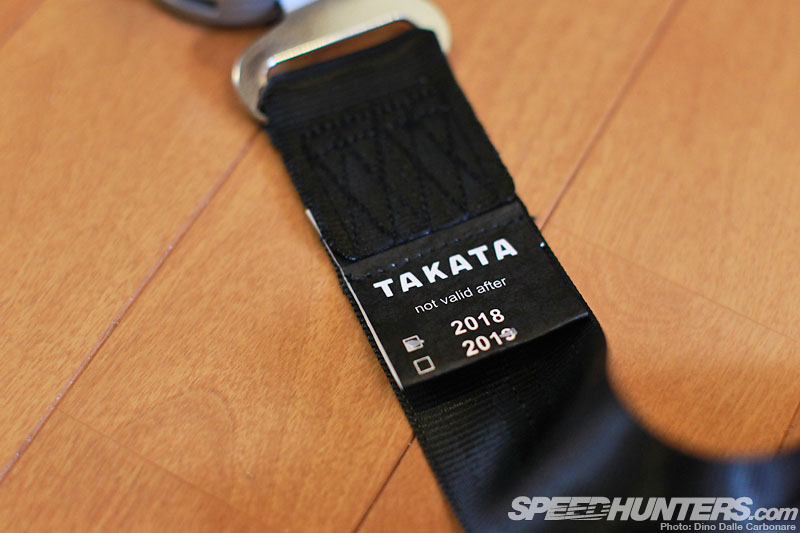 Like any safety restraint used in motorsport the belts have a "use by date," this particular set guaranteed until 2018, something that is specified on this label on one of the lap belts. That gives me a good 5-years of use…not bad at all.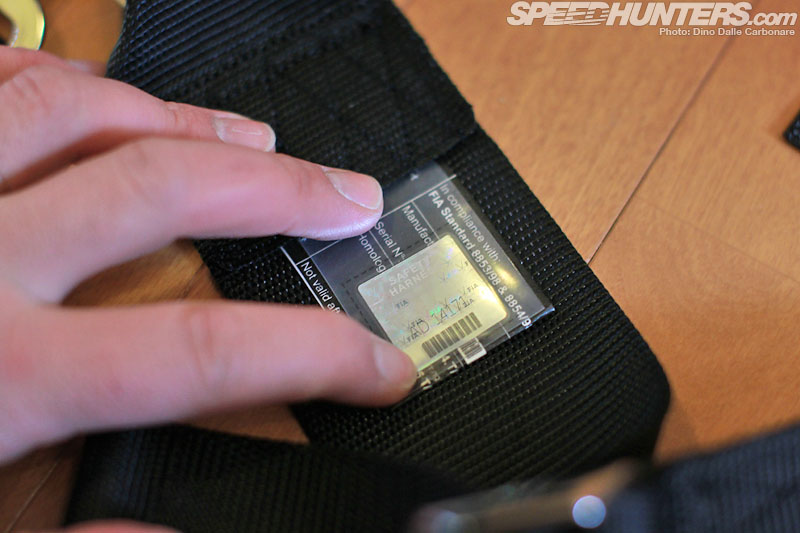 And with the ton of fake & copied tuning and racing products that continue to hit the market, make sure you always check serial numbers and official warranties of everything you buy. Takata places this serial number tag on the other lap belt, so if you are in the market for one of these harnesses, this is the first thing you should look at before buying.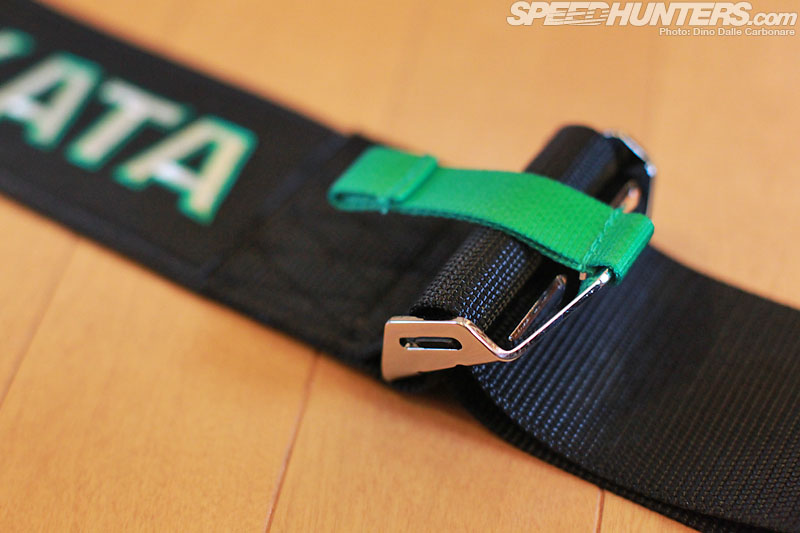 This is probably my favorite detail of these new black belts, the green little tab that you pull up when undoing the two shoulder straps.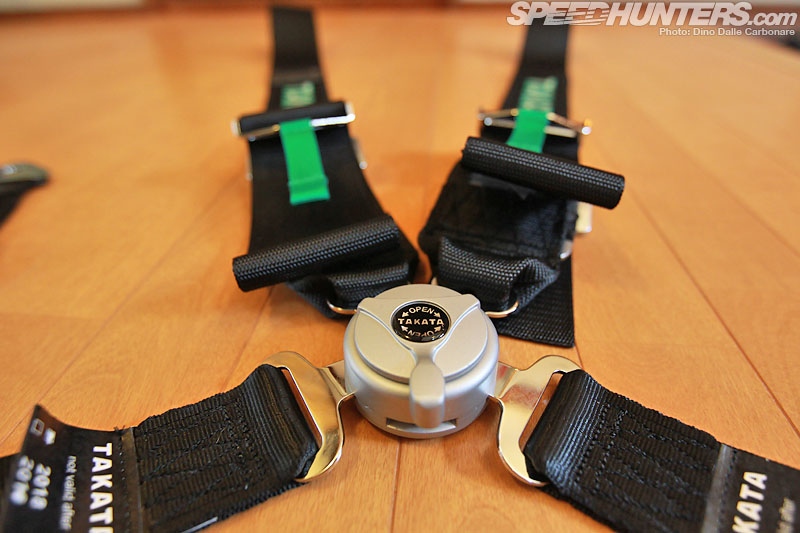 So after getting weird looks from the wife, probably puzzled at why a grown man would play with his latest gadgets on the floor like a child…I decided to pack them back in their boxes and get ready to fit them the following day.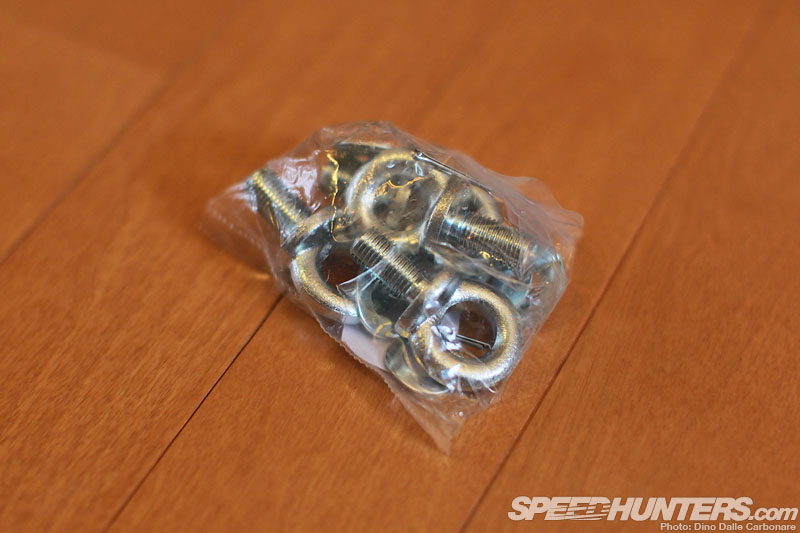 Each belt comes with a little bag containing eyelet bolts, washers and safety pins that help hold the snap-on latches shut when the end fitting are snapped in place.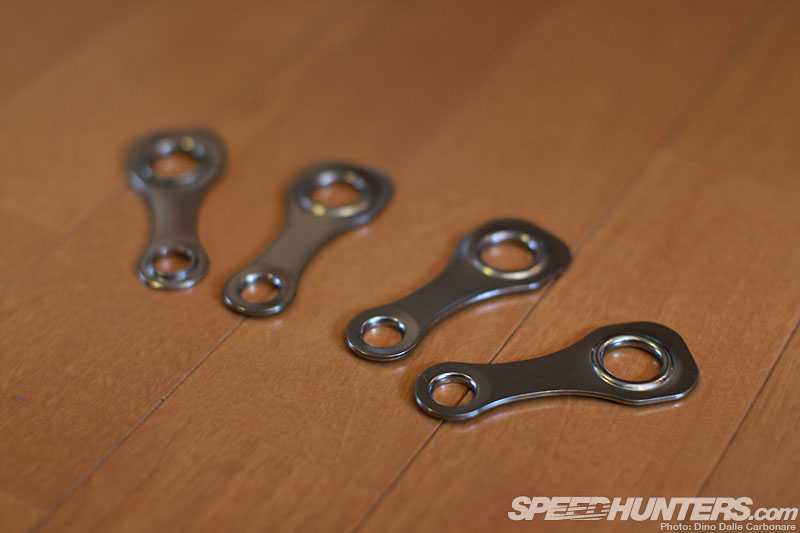 Seeing I would have to use a few of the stock belt mounting points, Takata also sent me a few of these Bendable Snap On Kits, ingenious little brackets that would prove invaluable.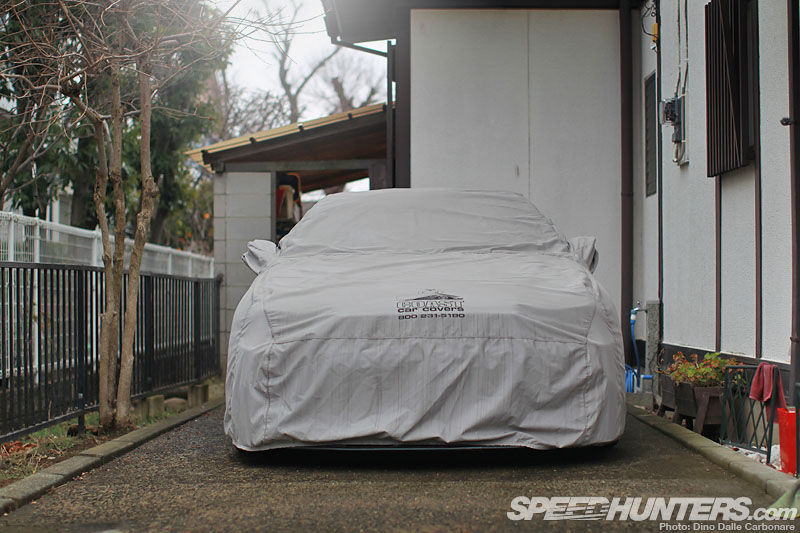 So this morning I got busy. After a night of rainfall I had to first dry the car cover my GT-R spends most of its time under…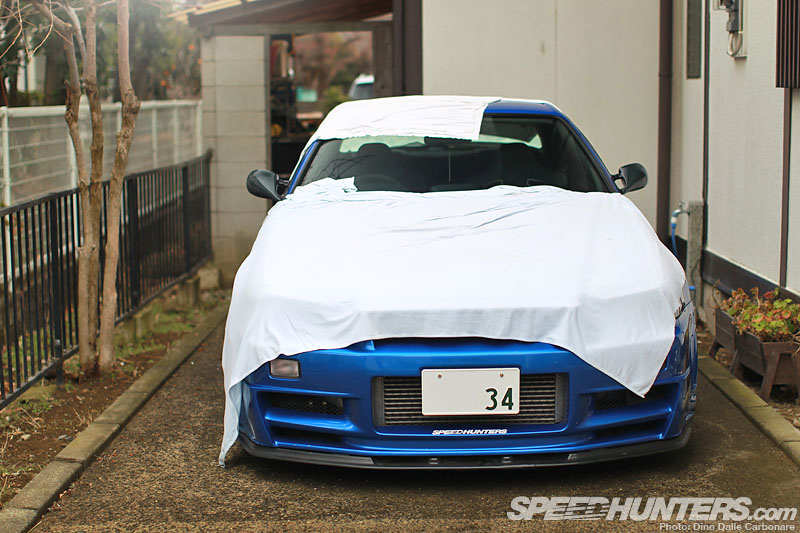 …before I proceeded to remove it. I never ever cover the car unless its completely clean and dust-free and to avoid the inner side of the cover to scratch the paint finish while it flaps around in the wind I always lay a few old sheets for extra protection. Seems to have worked for close to a decade now.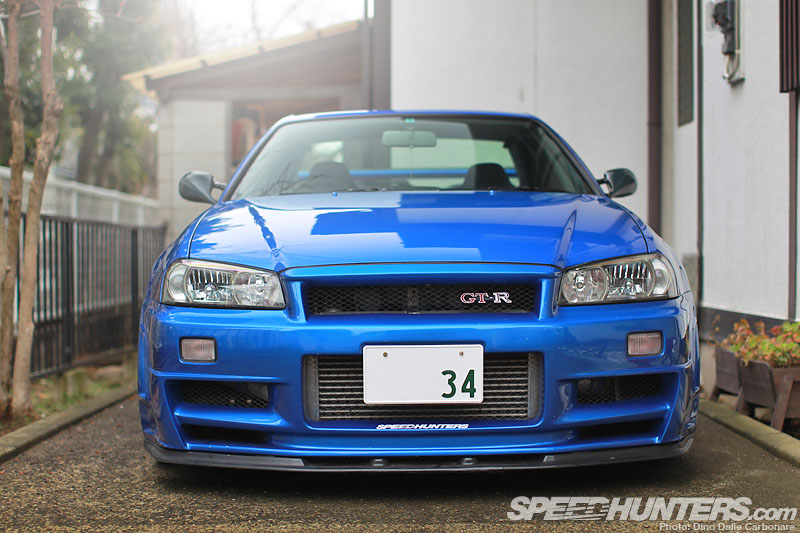 With the crazy work schedule I've had since the beginning of the year, the GT-R has been sitting unused, and just as I assumed the battery was a little on the flat side. Thankfully however…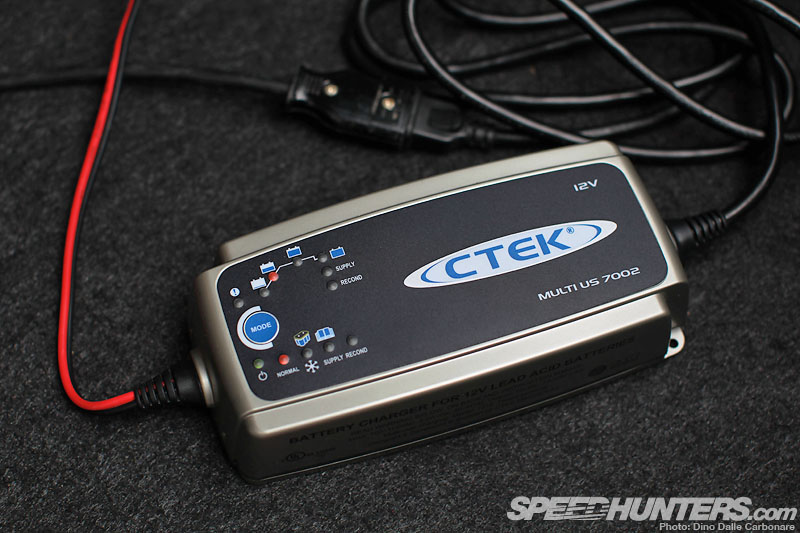 …my trusty car charger is never far away so I quickly plugged it in to allow it to bring voltage back to normal level and recondition the Optima battery that I fitted years ago (one of the best upgrades I've ever done BTW, GT-R owners out there will know what I'm talking about as the battery Nissan fitted would probably be too small for a Eunos Roadster – actually I'm pretty sure it's the same sized item!)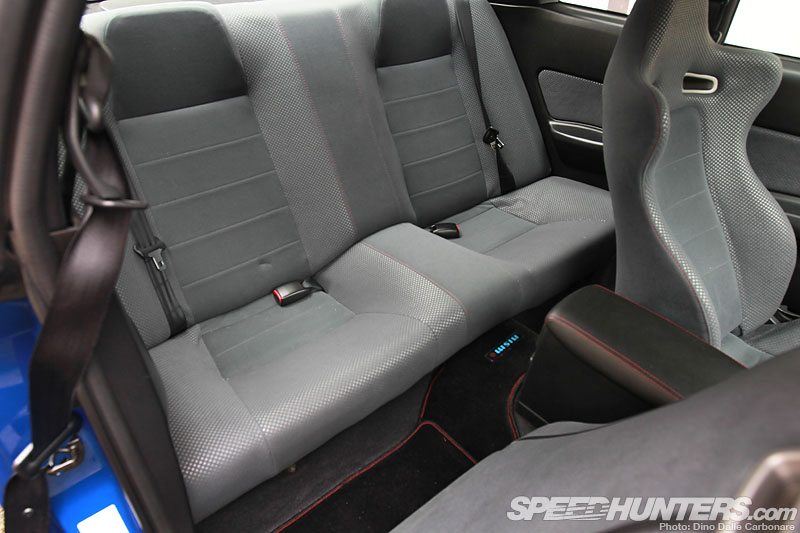 Anyway, with the charger plugged in and doing its thing, I moved into the interior where, to get going, I needed to first remove the rear bench seat.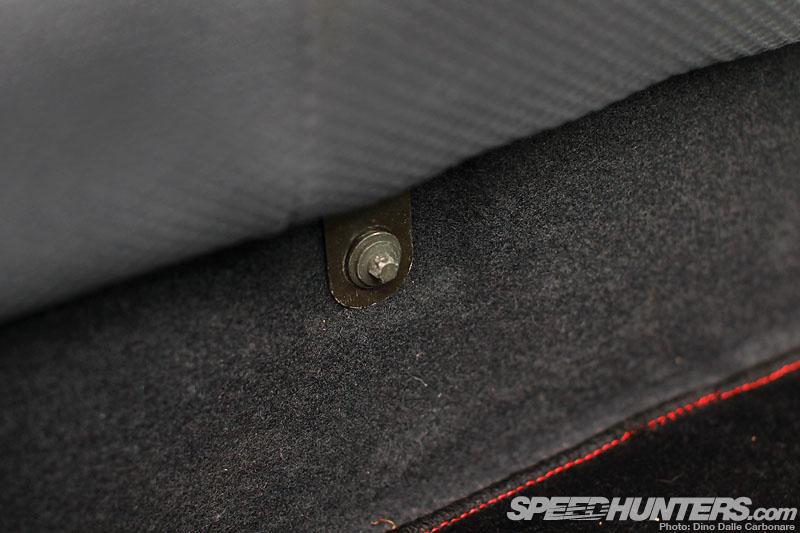 This is a very straight forward exercise as it's only held in place by two Torx bolts. With these removed…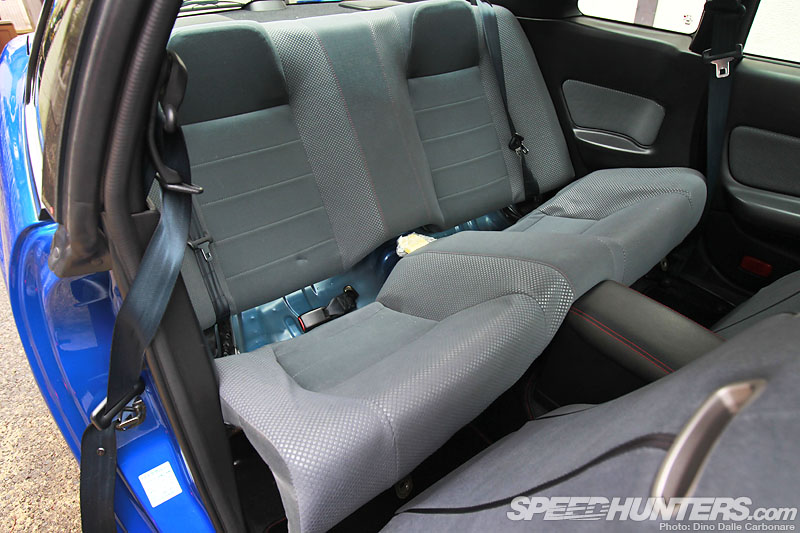 …you simply pull up and slide it away…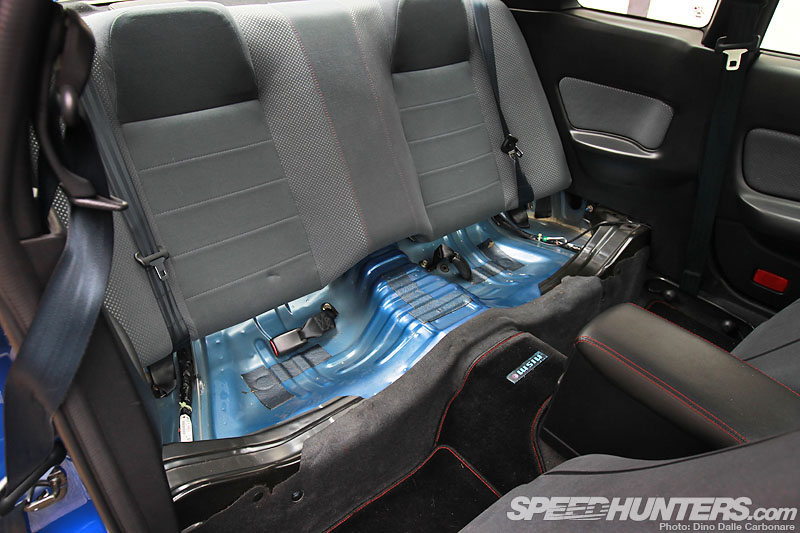 …revealing the exposed floor of the chassis.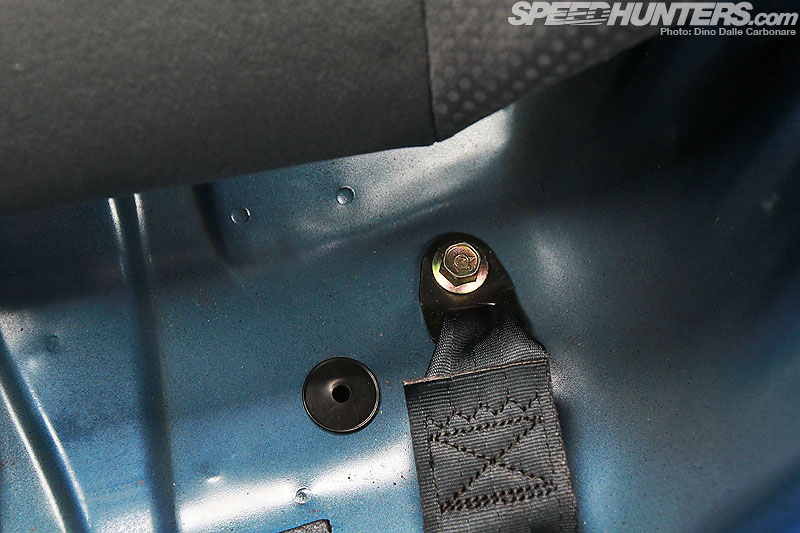 Thankfully Nissan, next to each central rear-belt mounting point, already added an additional threaded anchor point.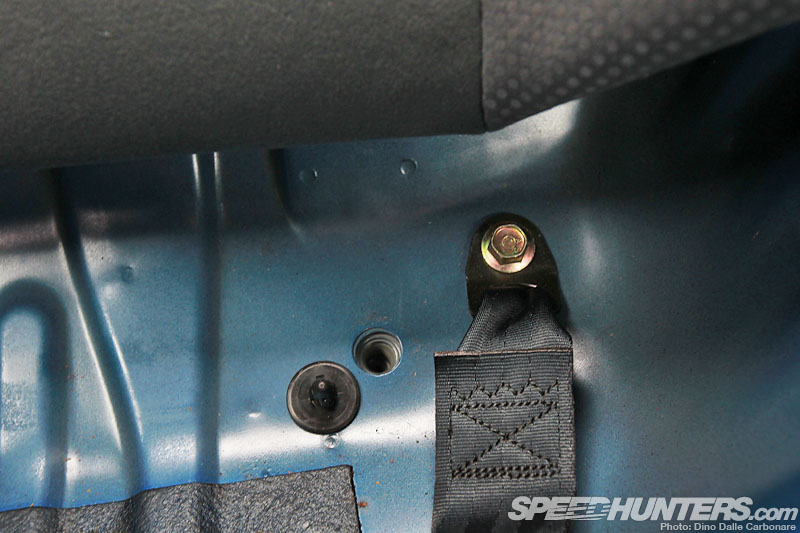 To expose it you just remove the plastic cap…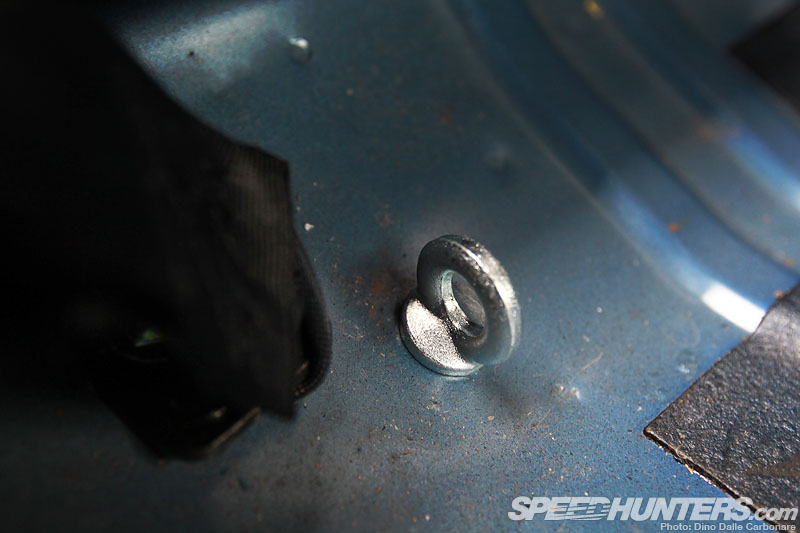 …and screw one of the Takata eyelets firmly down. That's one latch point taken care of.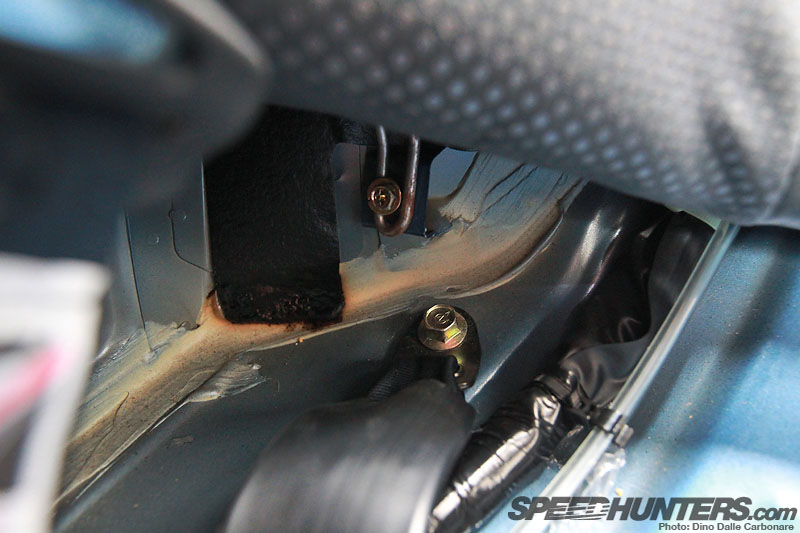 For the second one I had to use the bolt-point where the retractable rear seat belts are mounted.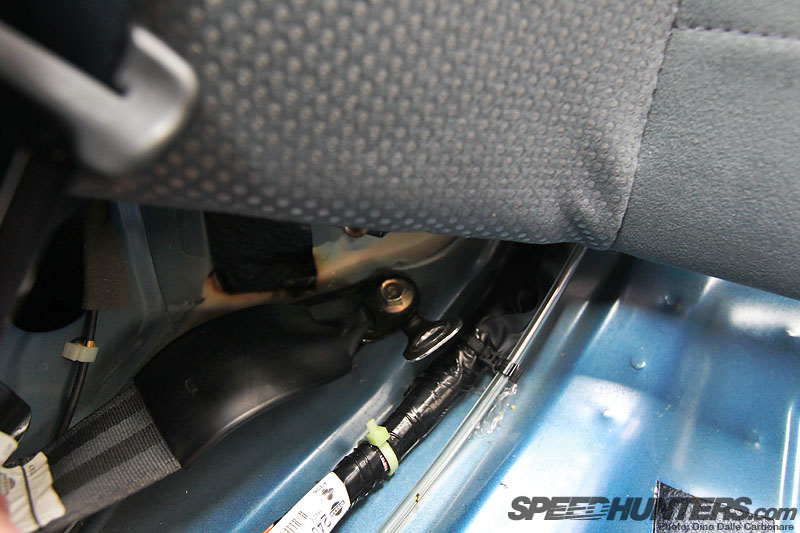 This is where those bendable brackets came in handy, easily bent upward to the most appropriate angle with a pair of pliers, a towel to avoid scratching them and of course a little force.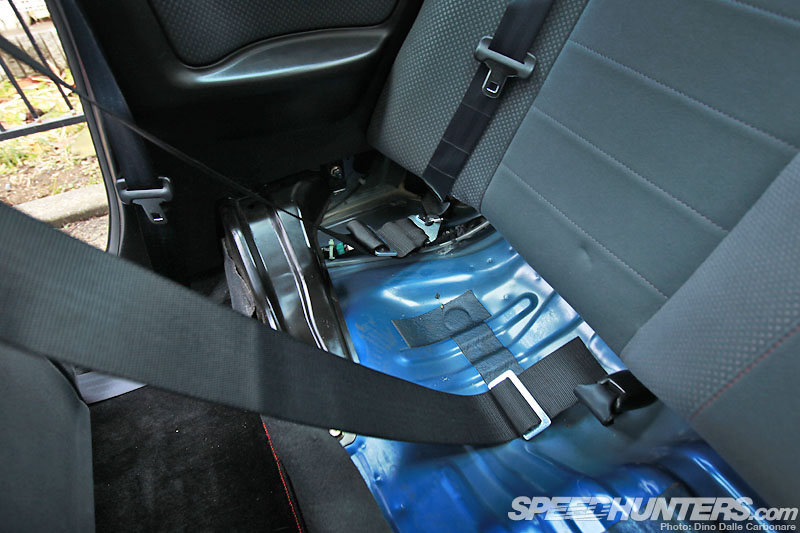 And voilà the shoulder straps snapped into place…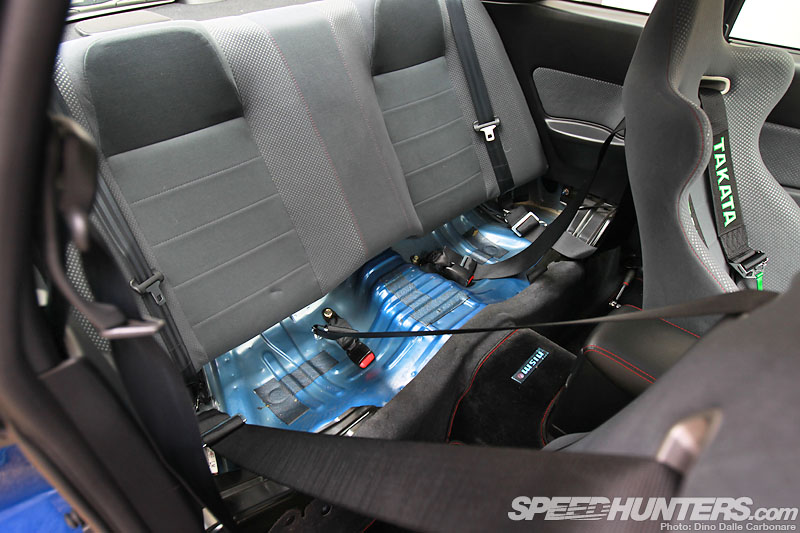 …on the passenger side too. Now before anyone comments on these latch points, yes I am well aware they are not the best way to mount harnesses. Unfortunately my car isn't a race car nor does it have a roll cage or harness bar. This is what almost everyone in Japan does with harnesses and while it's not optimal, it's borderline passable. I will be looking into a harness bar in the future so any advice on what is out there would be much appreciated.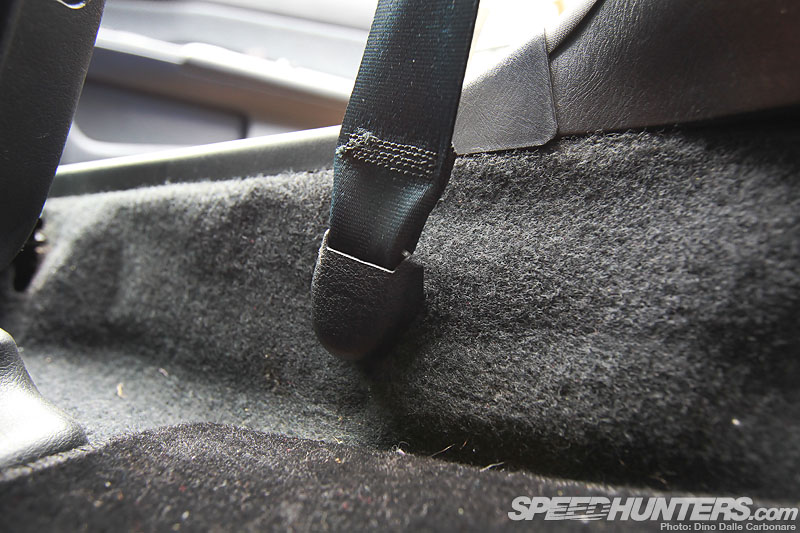 On to the lap belts. Since there are no other pre-drilled and threaded points I can use I had to pop off the plastic cover to the retractable driver side belt…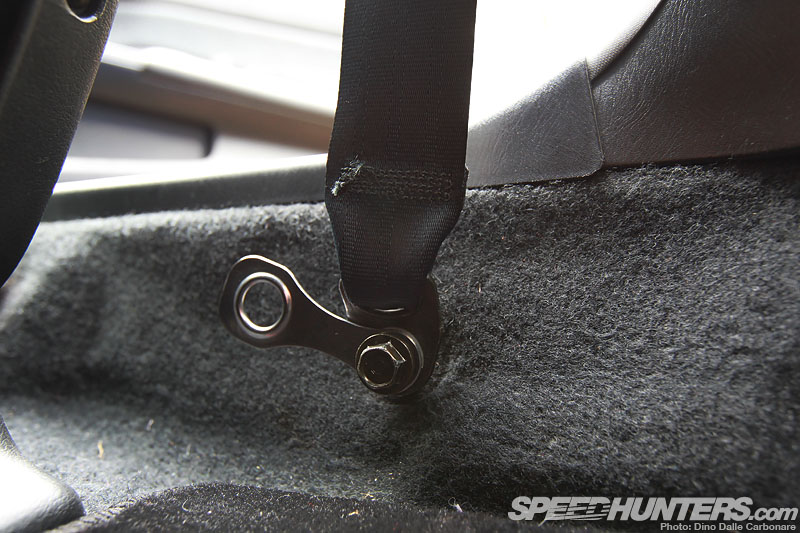 …and use that as the right mount.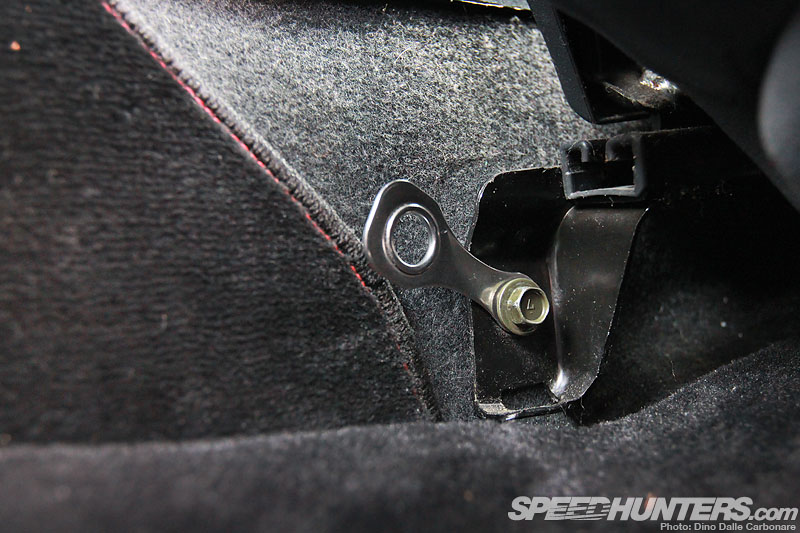 On the left side the sturdy seat rail mount came in handy, again to gain access to it I had to remove the plastic clip-on cover that usually hides the exposed metal.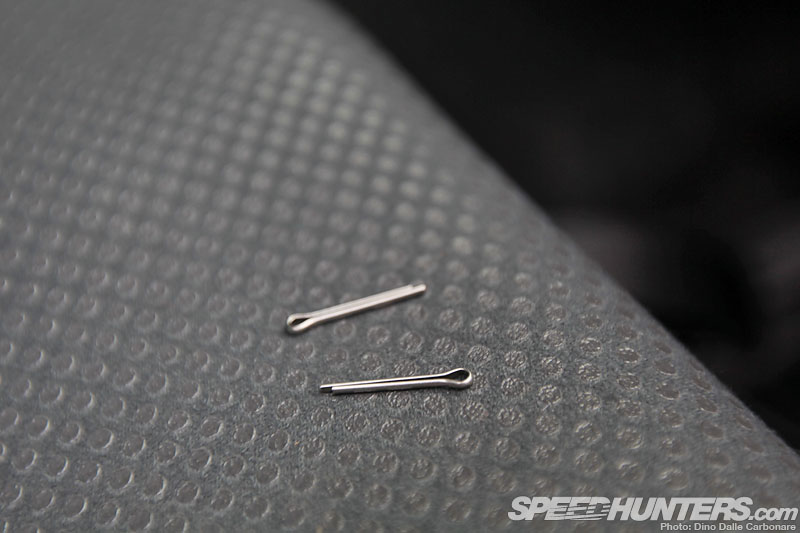 With all four points of the belts clipped in I then secured them with these pins that are included in each harness package.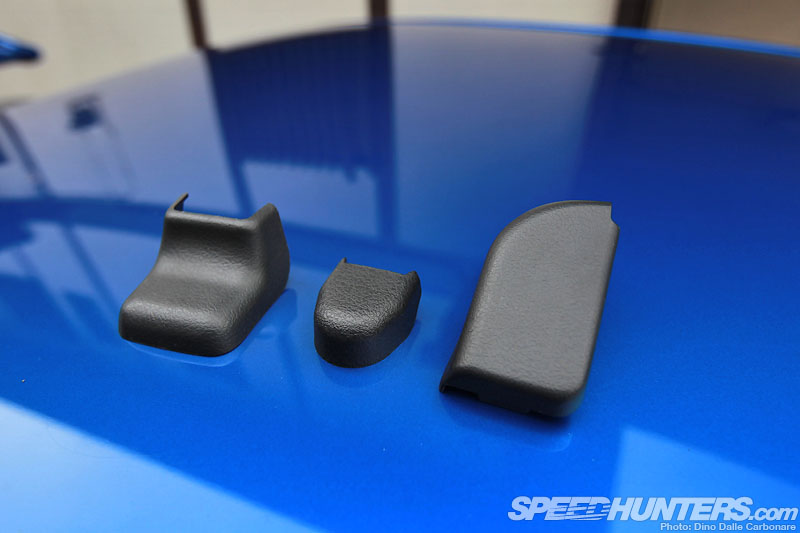 I actually ran out of bendable brackets so only completed the installation for the driver side; above are the plastic covers that needed to be removed to gain access to the bolts. These no longer fit as the bendable brackets are in the way. However with a bit of patience and a little plastic saw I bet I can make them fit again!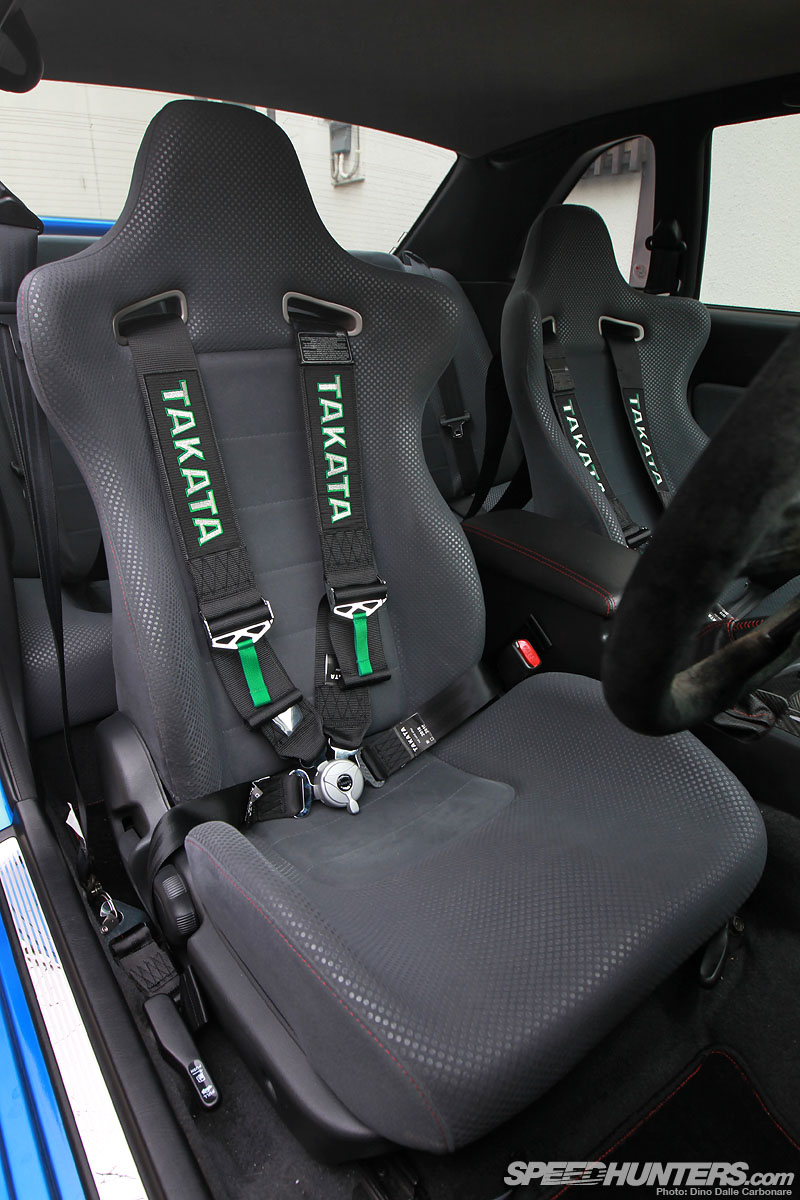 So this is what the belts look like when fitted. I have to say they really do look much better than sitting on the floor and sort of make the tacky seat fabric Nissan chose in the late nineties for the R34's upholstery, seem rather dated.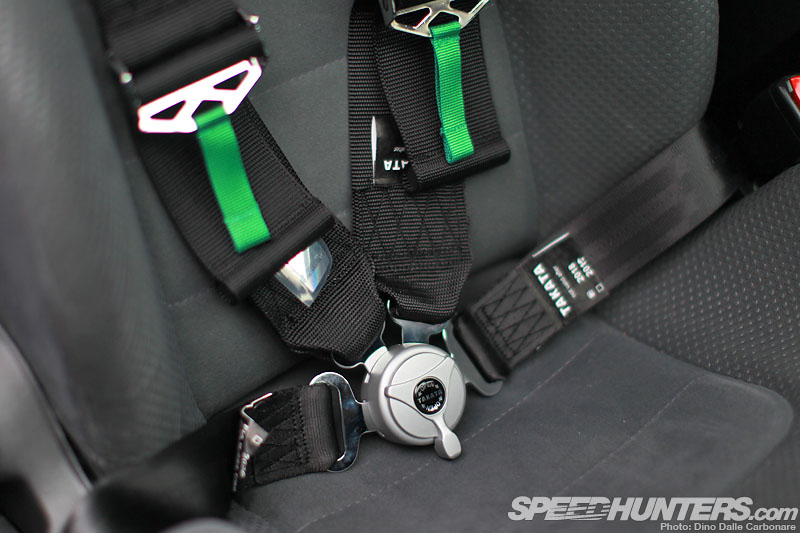 It's all in the details!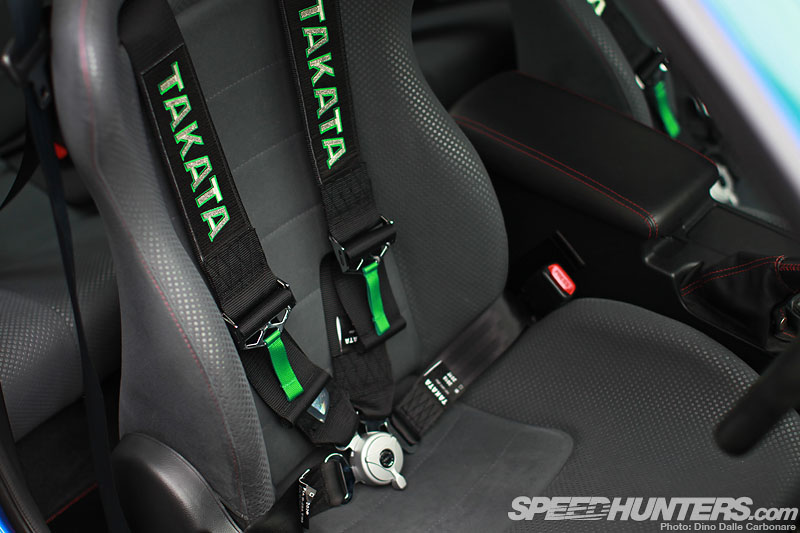 I am very glad I ended up going with the black ones as they really do look very modern and give that fresh feel to the cabin that I was looking for.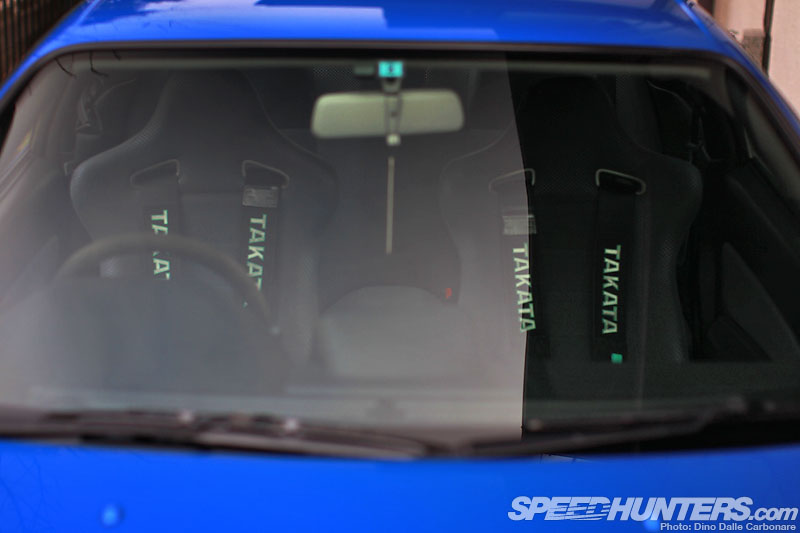 What would look even better is a set of matching black shoulder pads.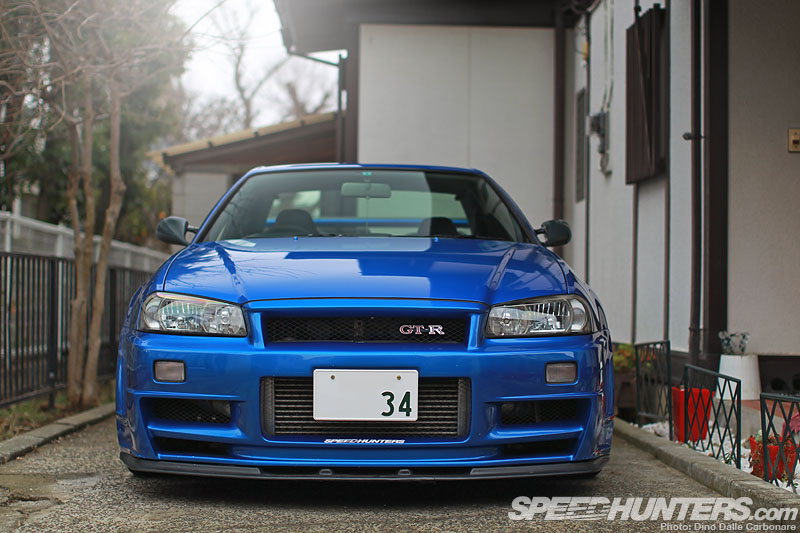 Now all I need to do next is find some time to take the car down to Hakone and give these belts a proper test!
 Takata is an official supplier to Speedhunters
GT-R Dreams – Intro to my GT-R Project
-Dino Dalle Carbonare