For my last post on the Premium Day, I will be concentrating on some more tuner cars I came across on the paddock as well as checking out some of the entrants that participated in the Option Magazine organized Super Lap time attack session. I'm going to kick things off with this Yashio Factory candy green S15 Silvia which was wearing a nice and fresh aero kit. Okamura-san of Yashio Factory has been doing a great job lately by coming up with a great deal of tuning parts for both his drift and grip customers. I think a trip to check out his shop is long overdue!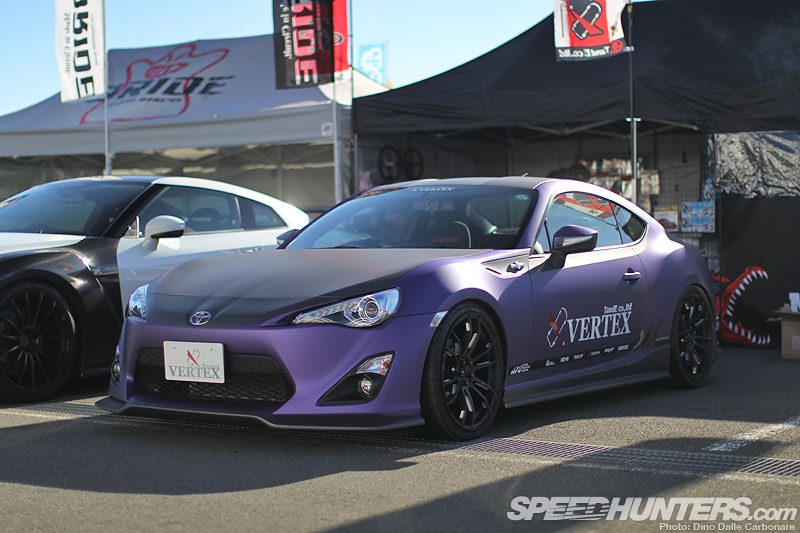 Ueno-san from T&E was at the show with his dry-carbon fender-equipped R35 GT-R, which we have seen before, as well as the Vertex kitted 86 sporting a matte purple wrap. This kit is their entry level aero, but I'm sure like myself, everyone is awaiting the release of their widebody kit for the hachiroku. Won't be long now.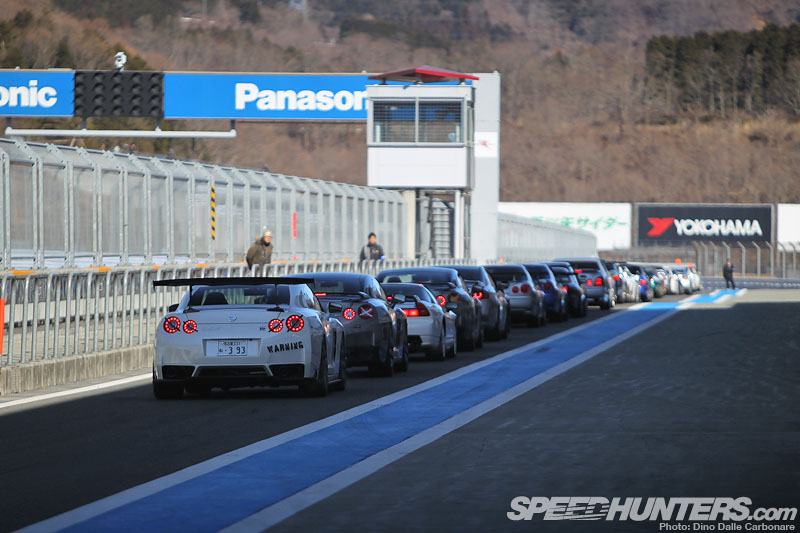 As the Hiper Challenge guys continued to run their sessions…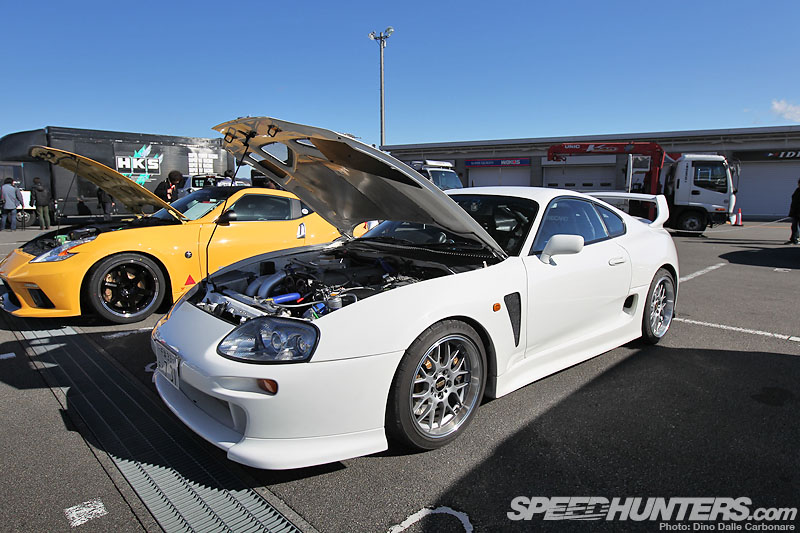 …I went to the far side of the paddock to check out a cool little area that HKS laid out with a bunch of supercharged tuner cars. These were all built with HKS products and a one of rides that stood out was this Jinbo JZA80 Supra…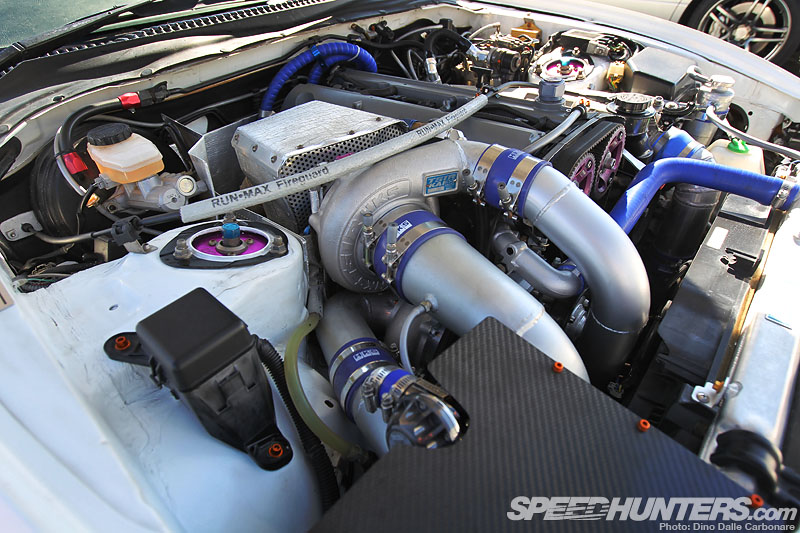 …running  a twin-charger set up, a blower for low rpm and an HKS T51R for the top end. Not a bad set up, all good for 750 HP and a nice and full mid-range.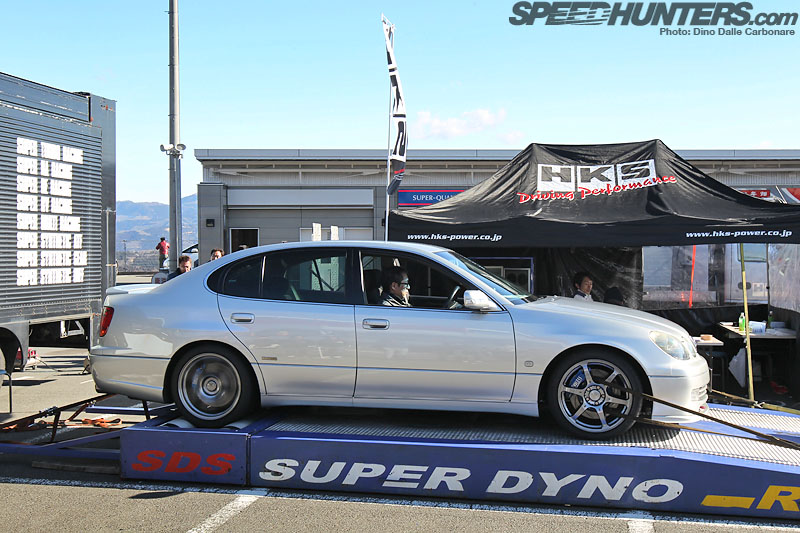 Still from Jinbo this JZS161 Aristo was running a similar tune, its 2JZ supercharged and turbocharged with a smaller T04Z, developing around 600 HP. The whole idea of having dyno runs at the event was also nice, something I have never seen in Japan, but a very popular attraction at most car shows and events around the world.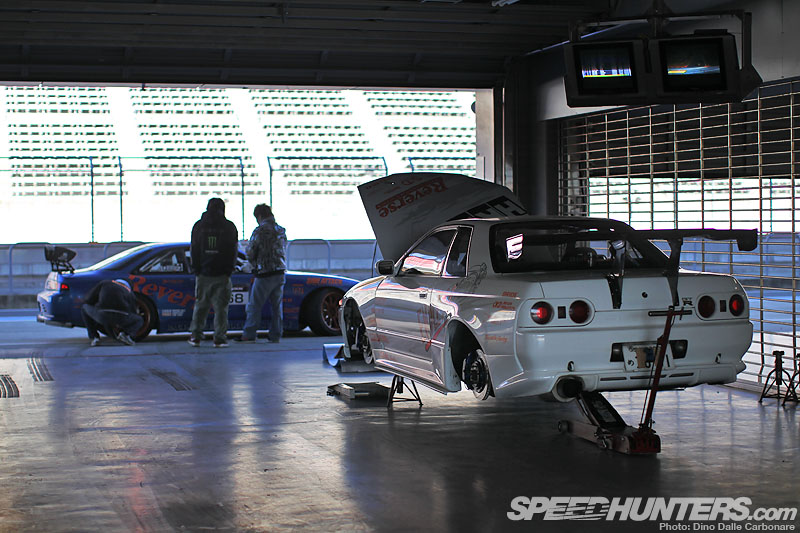 Back in the pit lane I stopped by for a quick look at the Reverse R32 GT-R which was sitting high on axle stands…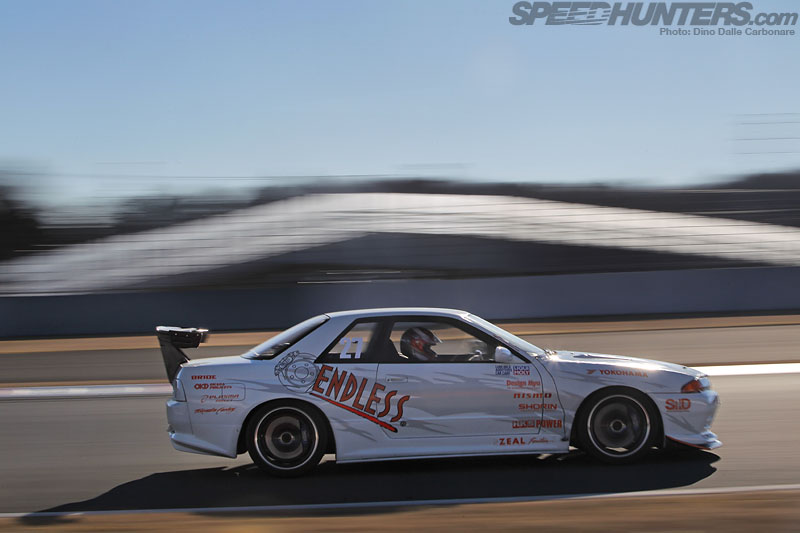 …after having been out in the morning session posting a 1'49.866 lap.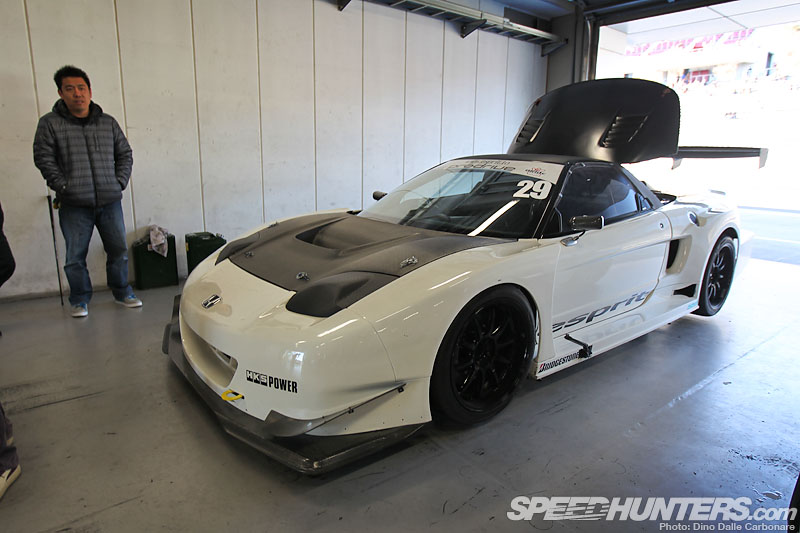 One car I always love seeing out at time attack events is the Esprit NSX. This was once again the fastest RWD entrant at FSW with an impressive 1.43.041 lap recorded by Tarzan Yamada. It also happens to be one of the most heavily modified tuner demo car projects out there.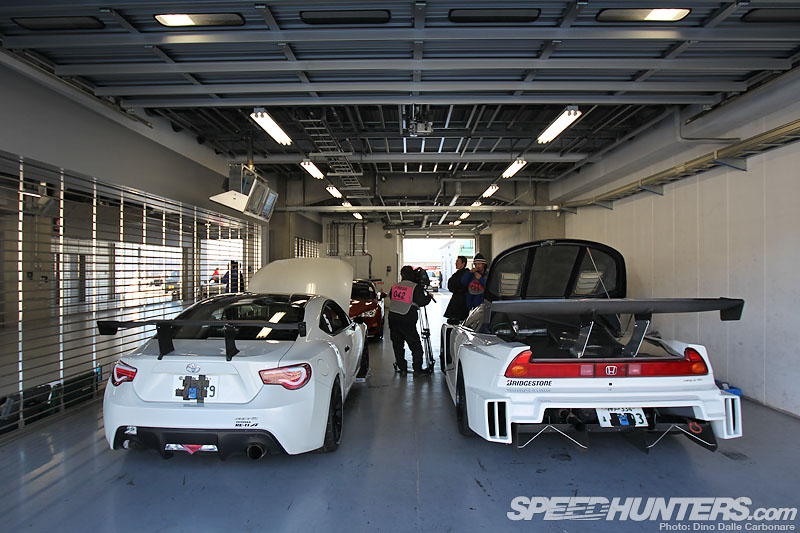 Not wanting to upset the Option video camera crew I tiptoed out of the pit it was sitting in, not before grabbing a few extra shots.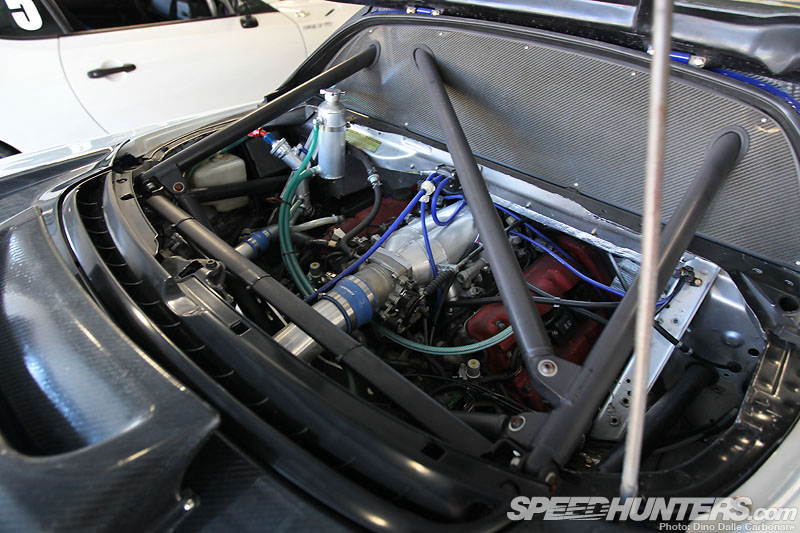 Oh and when I mean "heavily modified" I am not exaggerating because the 690 HP C30A that powers it sits in a "not so stock orientation." But more on this soon when I run a feature on it.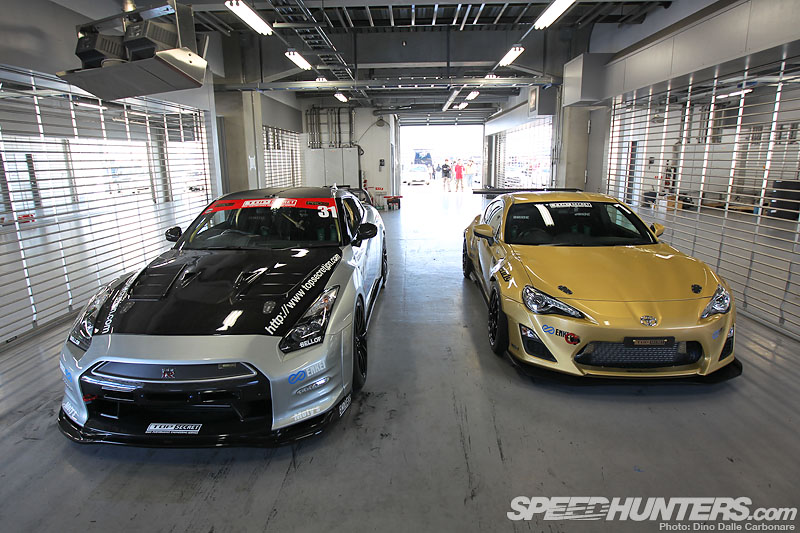 Not too far away was Smoky's pit, where he was hiding his two demo cars away behind a closed shutter. His gold demo car wasn't present of course because it has been shipped off to Italy for the Option Nardó high speed challenge that is happening this spring.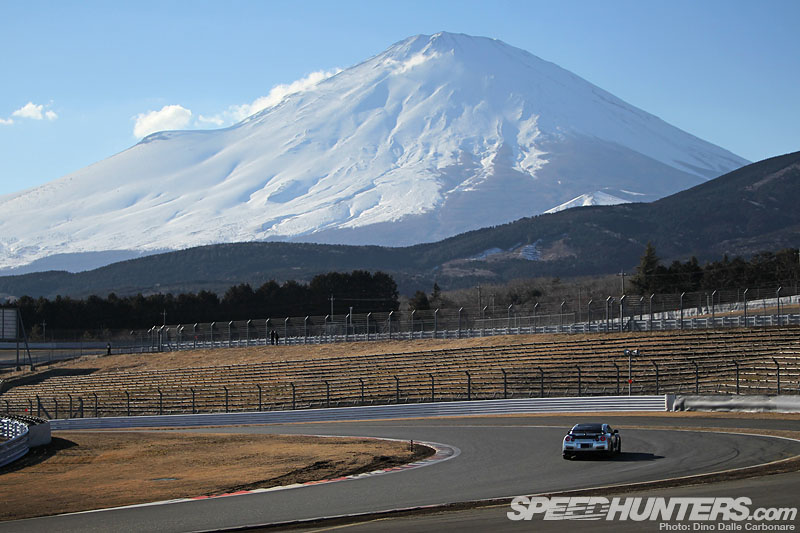 Their R35, with Yasushi Kikuchi at the wheel, was a little off the pace finishing in third position in the san-go group with a best of 1'45.938.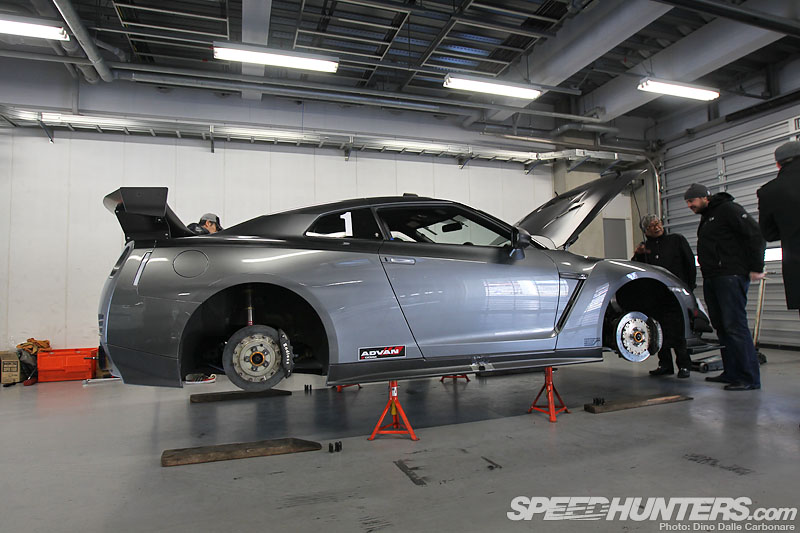 The real battle of the R35s was actually between the silver HKS Technical Factory car…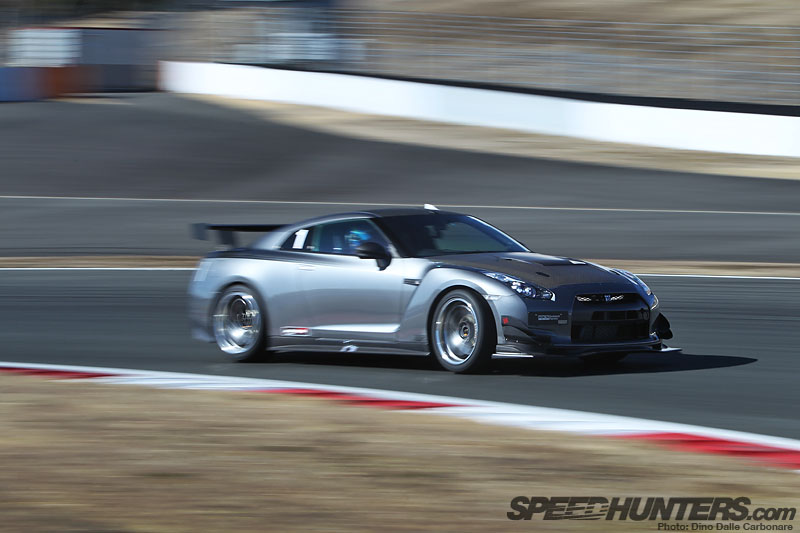 …which, thanks to Taniguchi's driving, recorded a 1'44.269…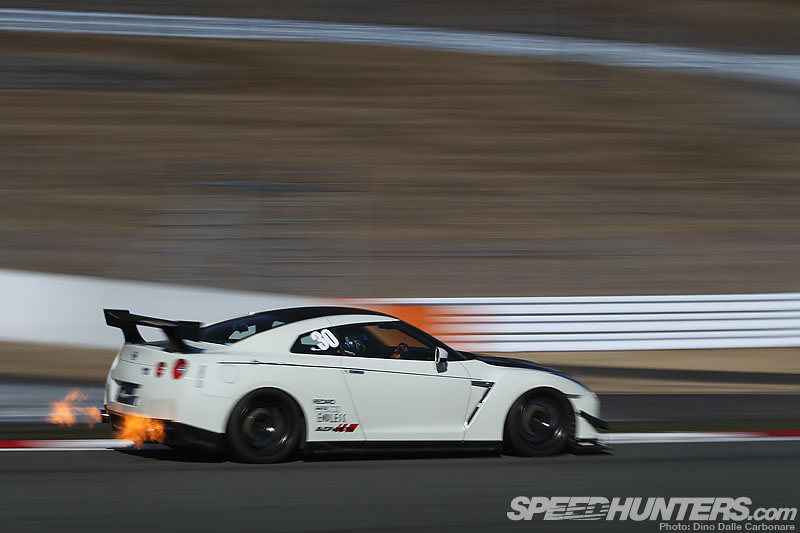 …and the fire-spitting Kansai Service demonstrator, again driven by Taniguchi and fastest new-gen GT-R on the day thanks to its 1'44.616 lap. These cars all run on stock Dunlop tires, so aren't really comparable to HKS's own black demo car which runs Yokohama Advan A005 slicks and set the record lap of 1'39.887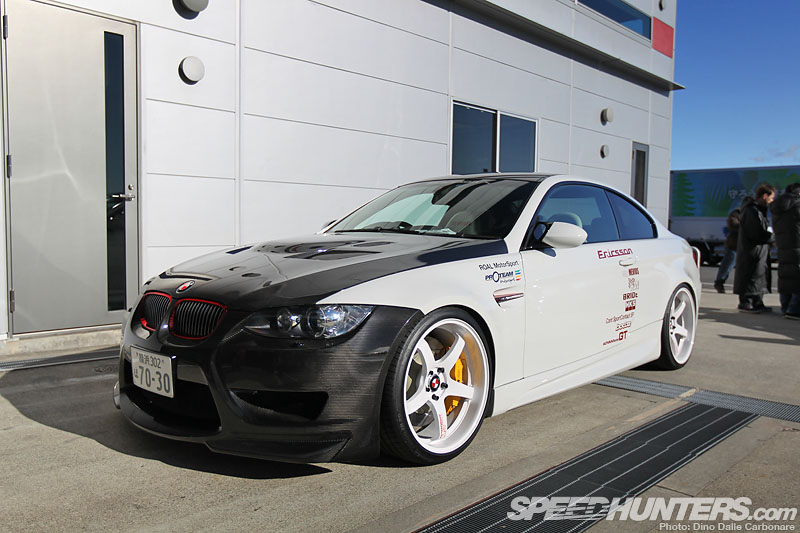 Was cool to see Amuse show up with their Ericsson M480, now boasting more dry carbon than ever before!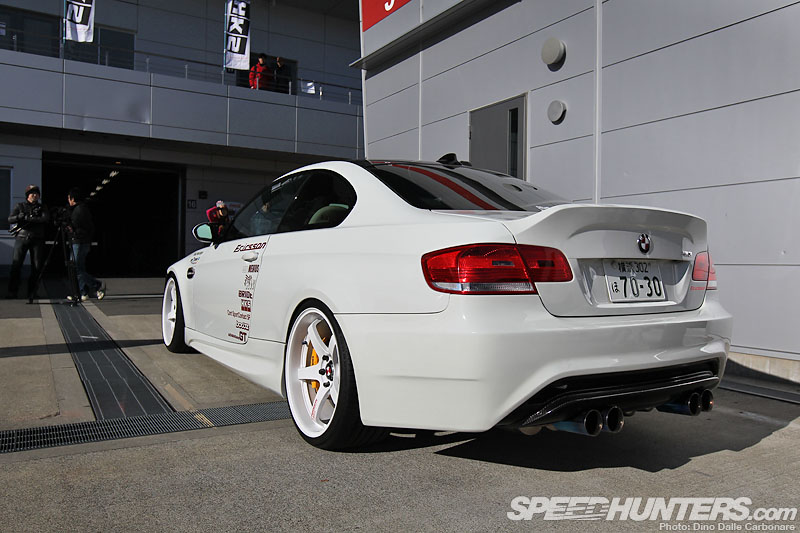 Certainly looks very different on Yokohama GTs rather than the usual BBS LM-Rs.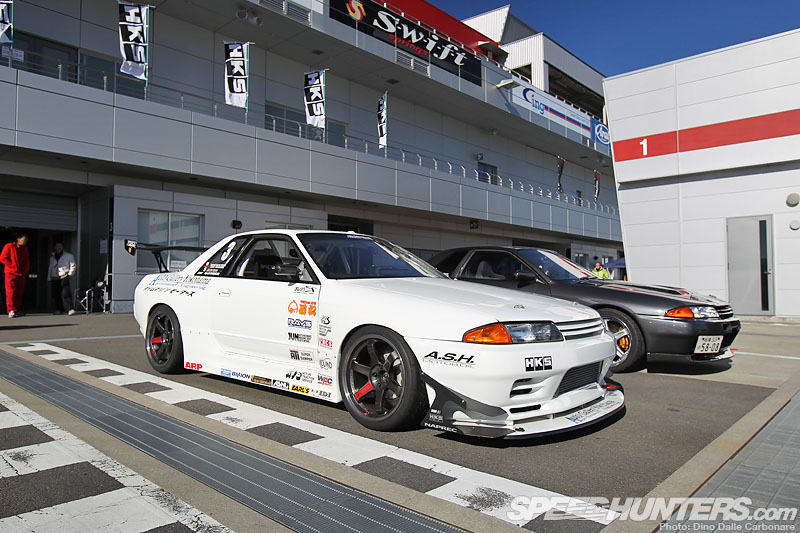 Overall top spot on the Option Super Lap session was the Auto Gallery Yokohama BNR32 with an impressive 1'42.678, proving that the older "R's" aren't quite giving up the fight against the 35s!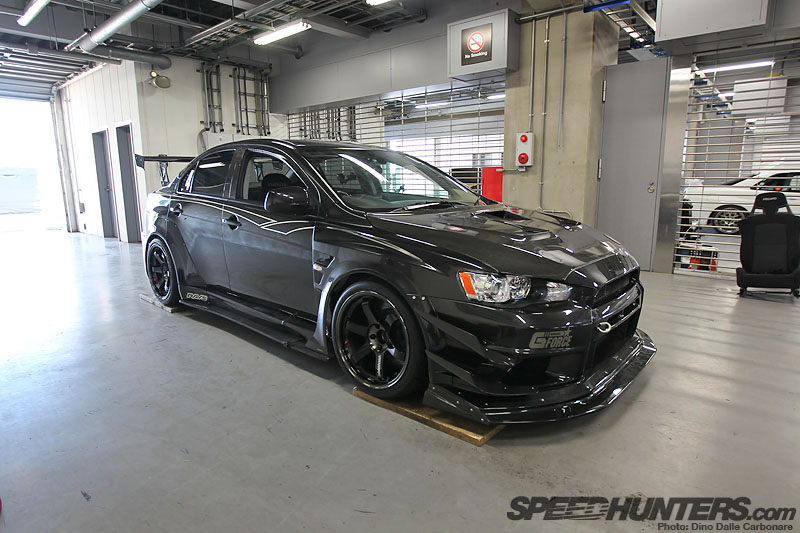 I was looking forward to seeing the Garage G Force Evo X hit Fui with its new red Volk Racing TE37RTs that it was fitted with at the Tokyo Auto Salon a few weeks back, but it was actually running TE37s TTA (Tokyo Time Attack). Seeing this is actually a street-tuned, SST-equipped car and not their wild white time attacker, the 1'54.933 Taniguchi recorded was rather impressive.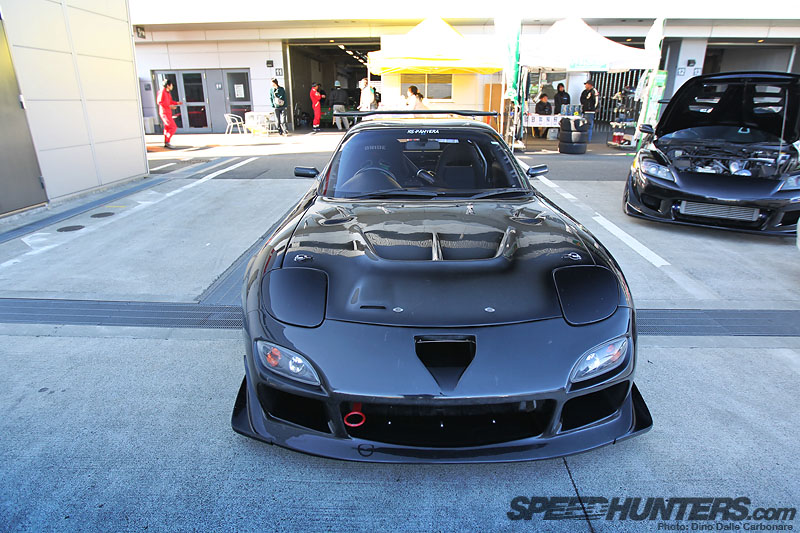 A stop by the RS Pantera pits was a must of course and on top of the shop cars they brought…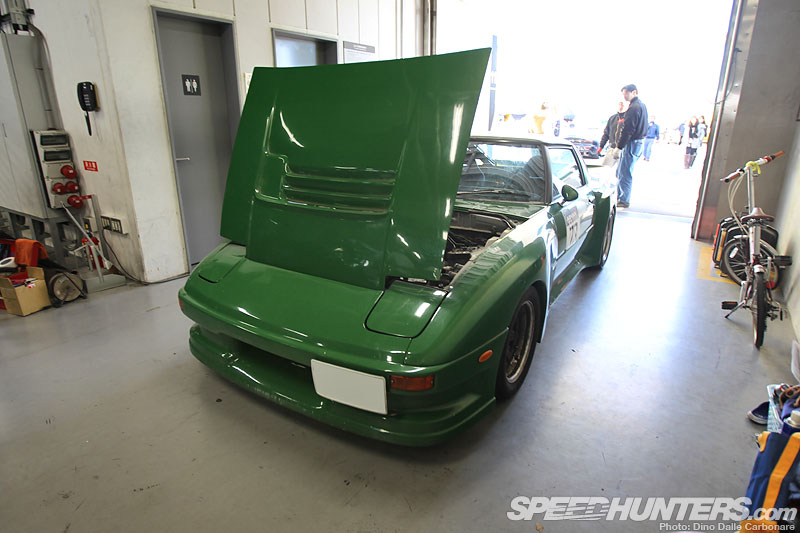 …there was plenty of customer-car-awesomeness to drool over like this wide body SA22 in the pits.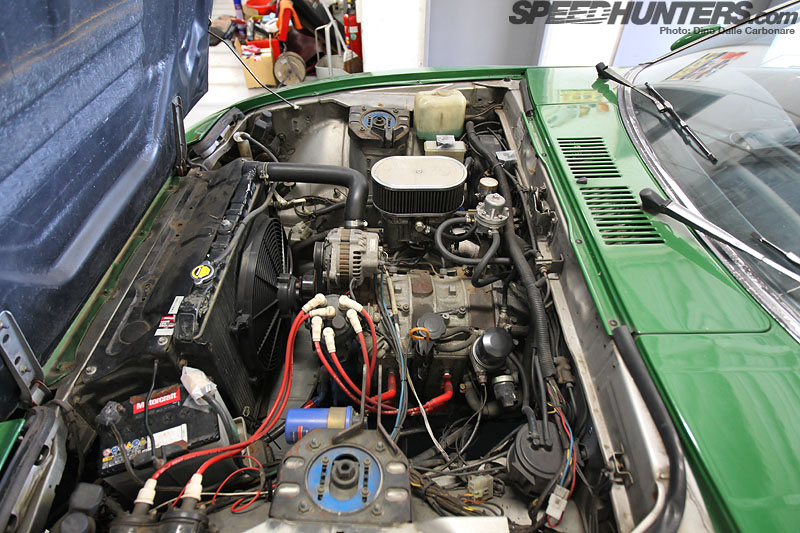 Nothing touches a naturally aspirated rotary when it comes to simplicity!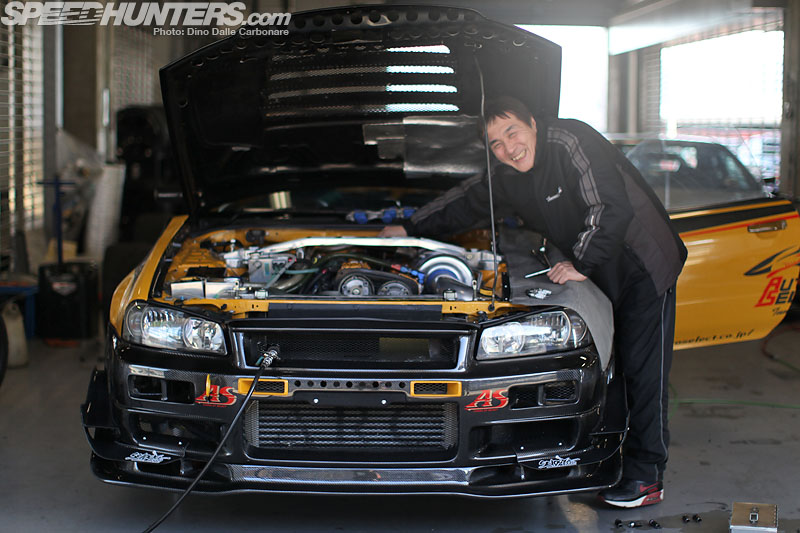 The Sawa brothers from Auto Select managed to extract a best of 1'46.168 from the "Yellow Shark," the second fastest BNR34 on the day behind the blisteringly fast red san-yon of Garage Ito which came in third position overall with a 1'43.847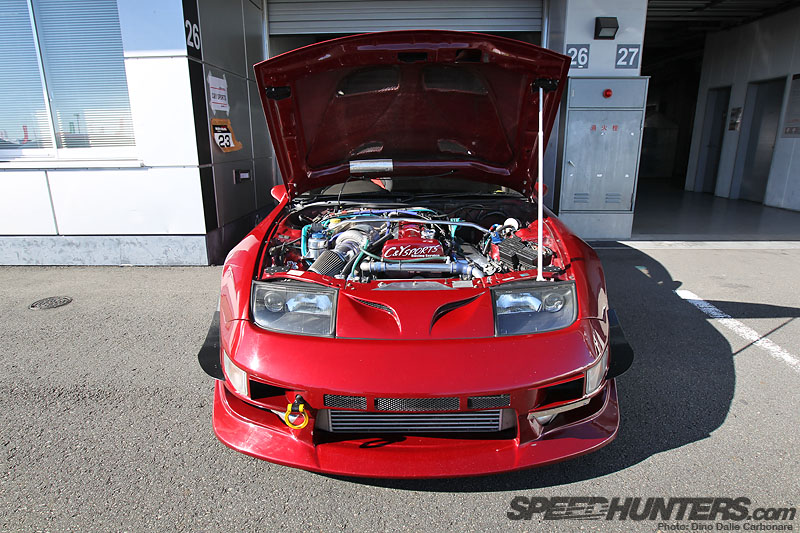 Since a lot of you seemed to like the C&Y Sports Z32 here is another shot of it where you can actually see the 2JZ-swap…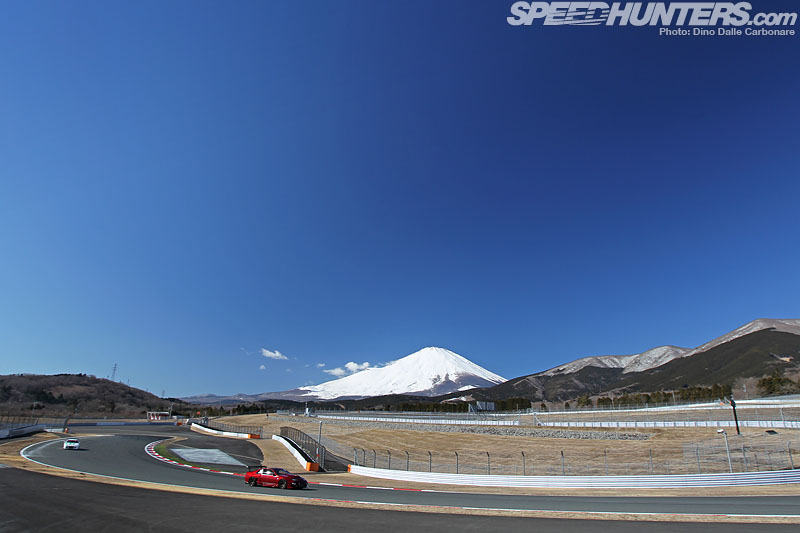 …and one of it out on track as it tackles the Netz Corner. Best on the day for the Toyota-powered Z was a 1'53.499, a very good time!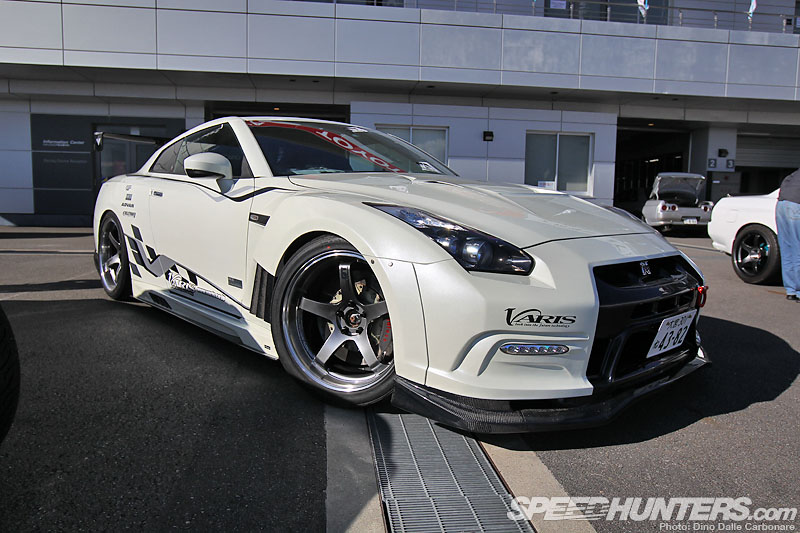 Was cool to get a closer look of the Varis 2013 version aero kit that has just been released. There are tons of cool parts to this kit, which is also available in carbon fiber.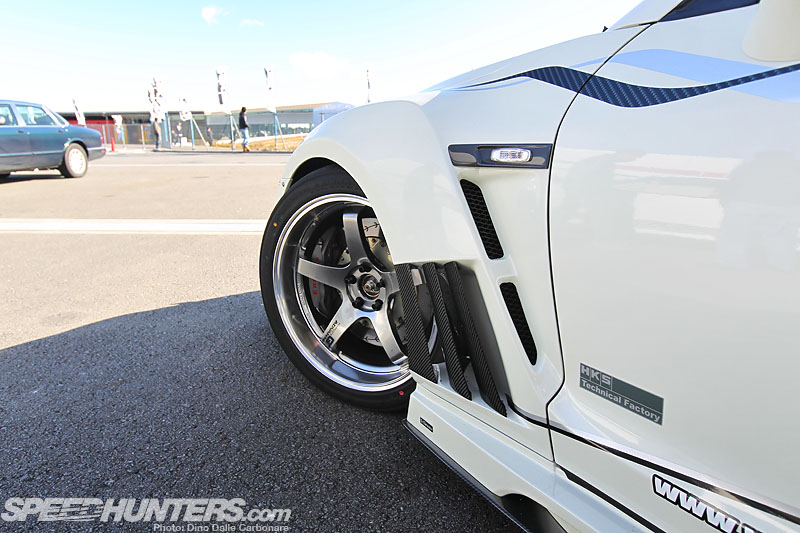 Check out the GT3-inspired louvered front fenders!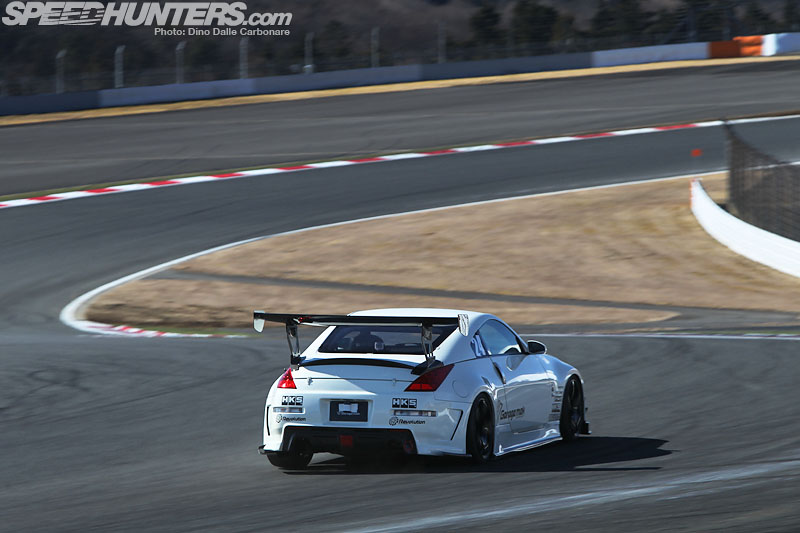 Manabu Orido was Garage Mak's hired gun and got a best lap of 1'51″161 from their supercharged Z33.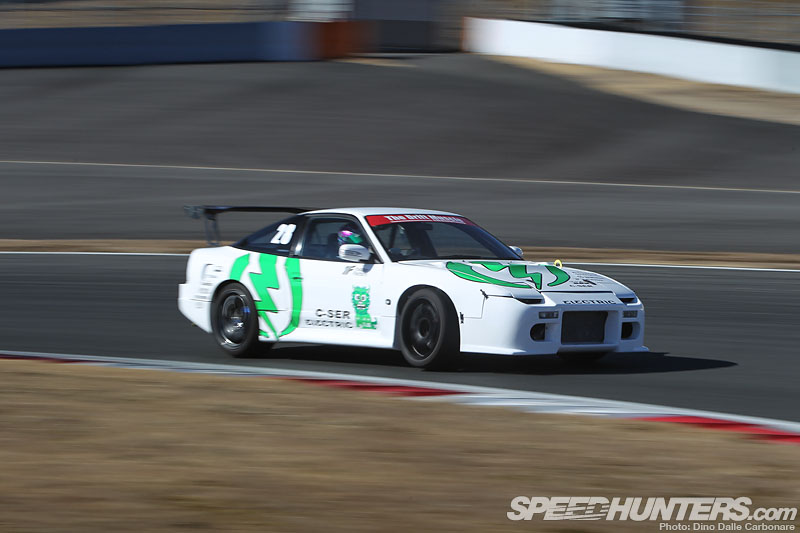 Okamura-san of Yashio Factory was cooking in his 180SX time attack slash Drift Muscle drift machine, managing a 1'50.709!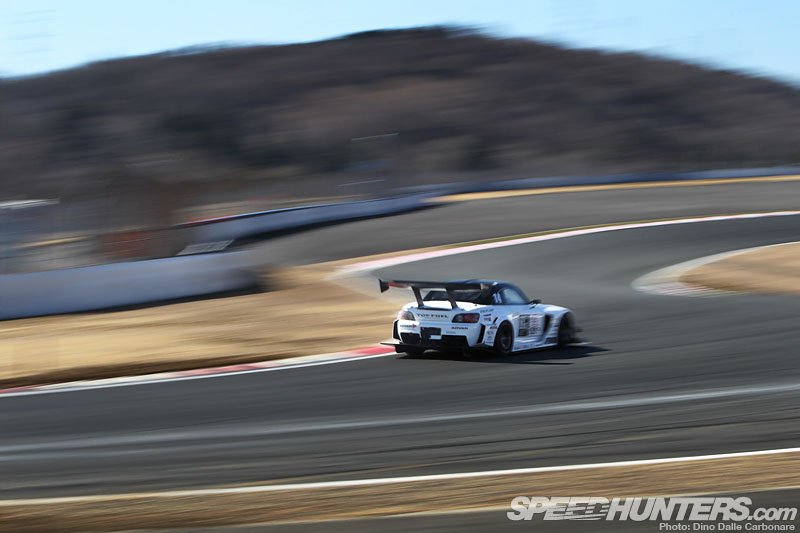 The Top Fuel AP1 grabbed third fastest in the 2WD class thanks to Taniguchi's 1'46.382.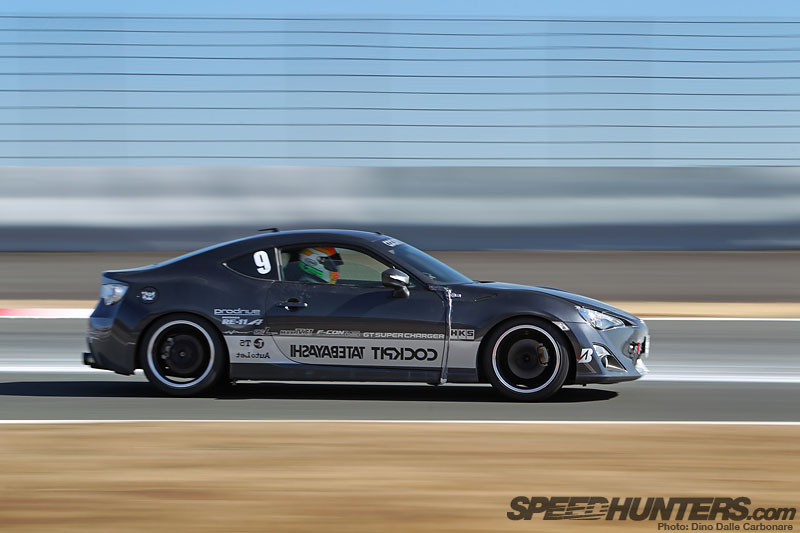 The Cockpit Tatebayashi 86 was one of the entrants in the 86/BRZ class and despite it not being one of the fastest with a 2'06.280, it sure looked like a hoot to throw around FSW's fast turns.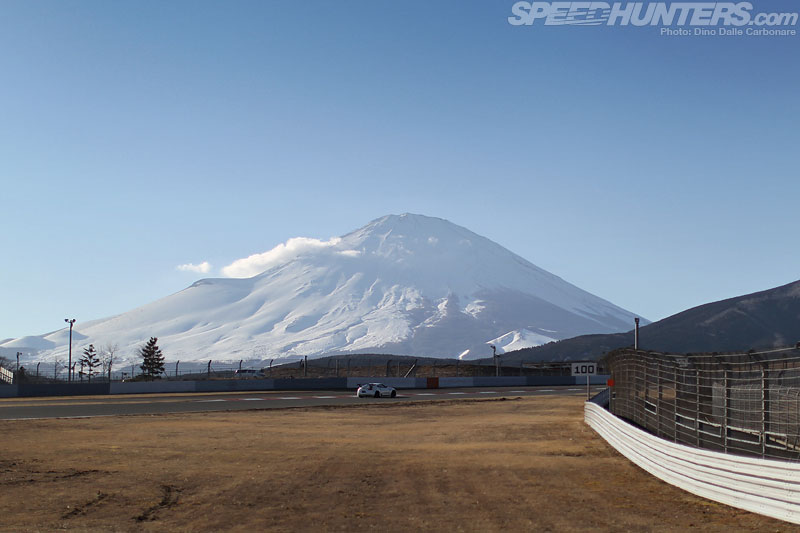 One more gratuitous Mt. Fuji shot.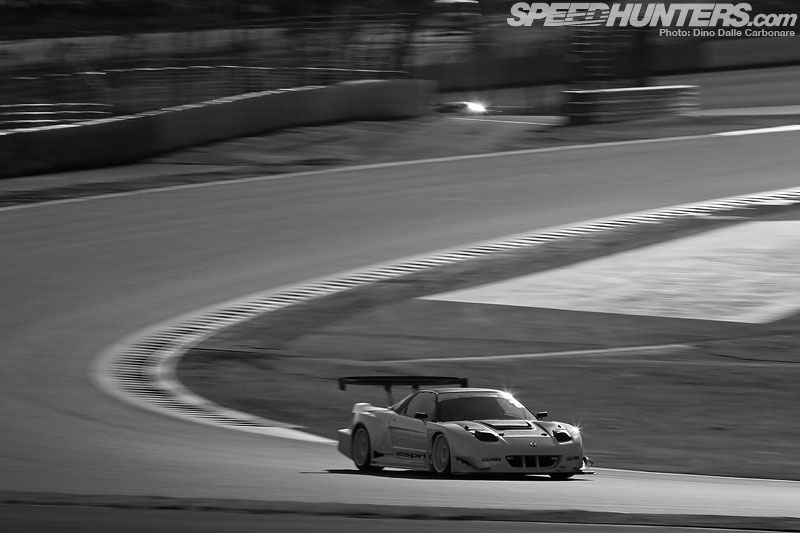 That about completes the coverage of this year's Premium Day, yet another success for Japan's tuning giant. I'll leave you with one final image of Tarzan Yamada wrestling the Espirt NSX as he extract his fastest lap of the day.
Let's hope events like this help bring even more time attack sessions to FSW!
HKS Premium Day coverage on Speedhunters 
-Dino Dalle Carbonare