Tokyo Auto Salon might be the place where the world comes to see the latest and greatest in Japan's tuning and custom car scenes, but one month later there's another event that I find just as, if not more fun than TAS. That would be Osaka Auto Messe. I first had the chance to attend Auto Messe last year and quickly fell in love, so I made sure to add it to my itinerary for this winter's trip.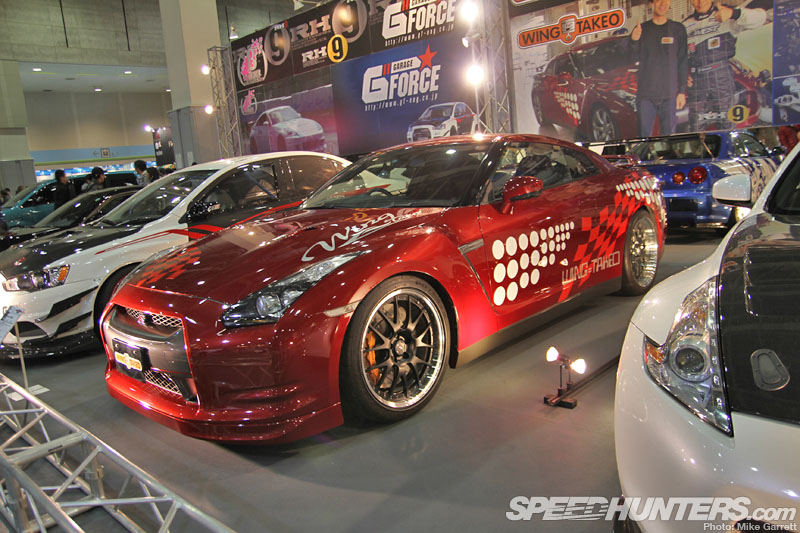 My current Japan visit included both Tokyo Auto Salon and Osaka Auto Messe, so it was interesting to directly see the differences between the two shows. They do share quite a few traits – both are held in the winter, both are promoted in similar ways, and many of the same cars and companies from TAS can also make the trip to Osaka.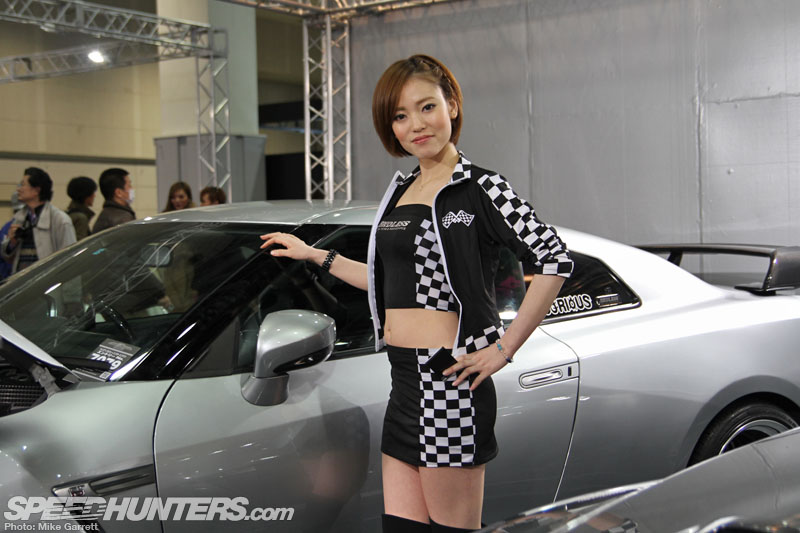 And just like TAS, Auto Messe has plenty of campaign girls…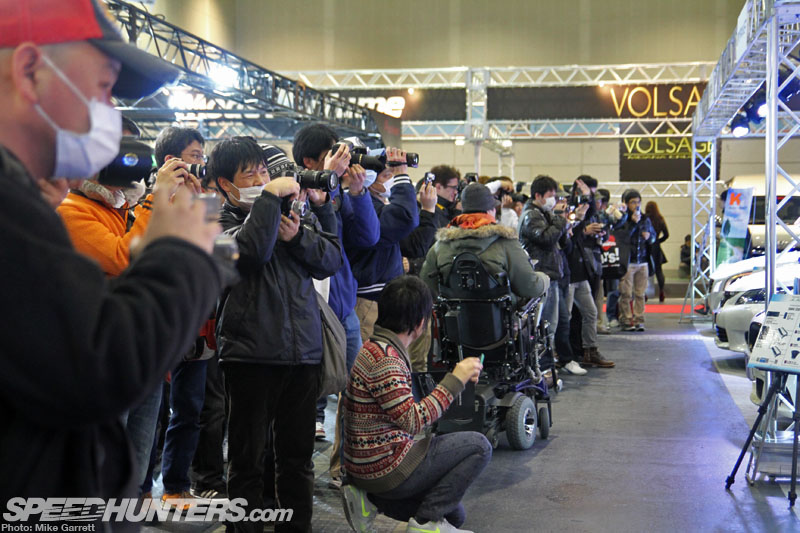 …along with their legions of loyal "fans" that follow them around all day.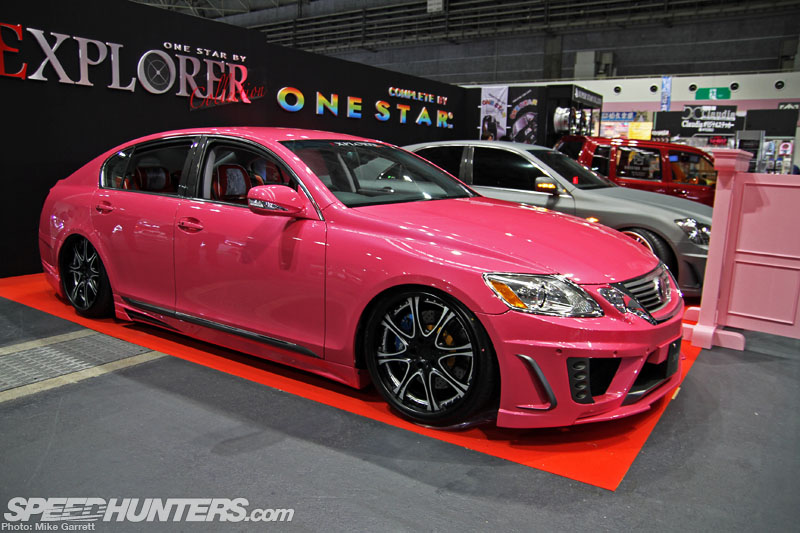 But even so, there are big differences in the overall atmosphere between the two shows. Like Osaka itself, I think Auto Messe presents a slightly more wild, homegrown take on things.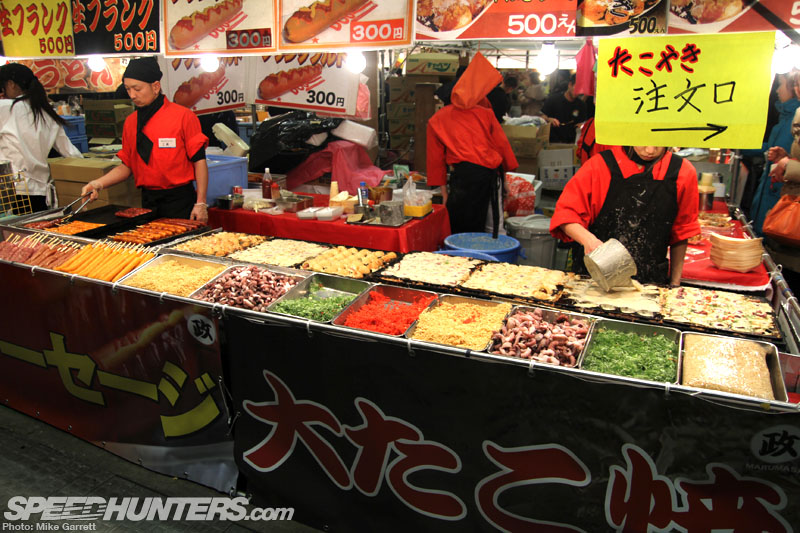 It wasn't just in the cars in that the Kansai vibe could be felt, but in the the cuisine as well. Rather than your typical car show snack bars, Auto Messe included its own food fair of sorts. All of the local favorites could be had – yakisoba, takoyaki, okonomiyaki and so on.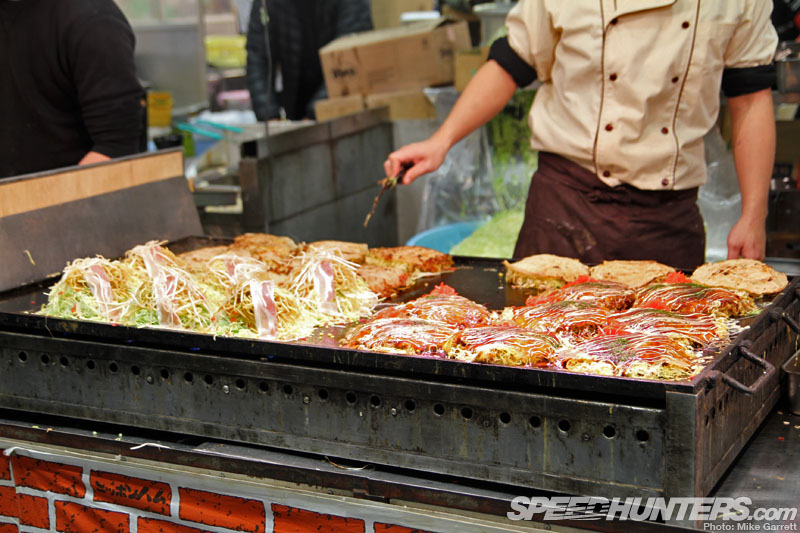 I don't mean to go all Foodhunters here, but it was seriously the biggest (and the most delicious) assortment of food I've ever seen at an automotive event.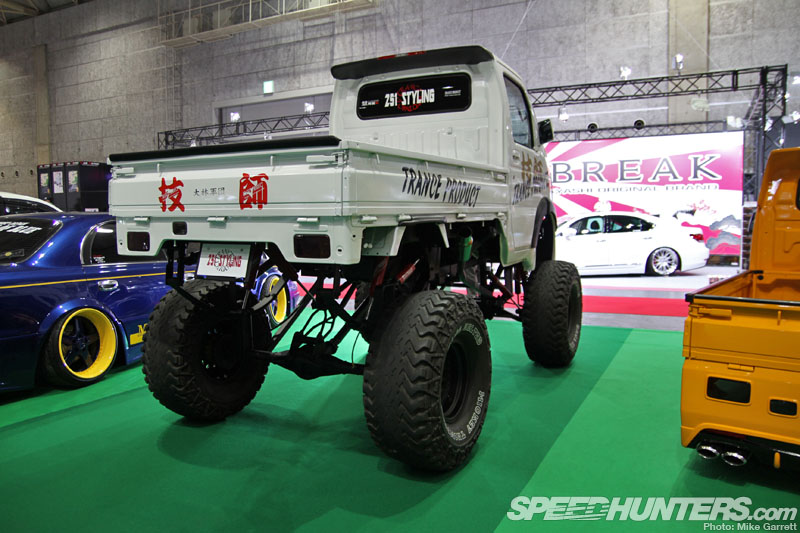 Ok, back to the cars now. Yes, Tokyo Auto Salon has it's fair share of crazy custom vehicles, but Auto Messe is really on another level in this department.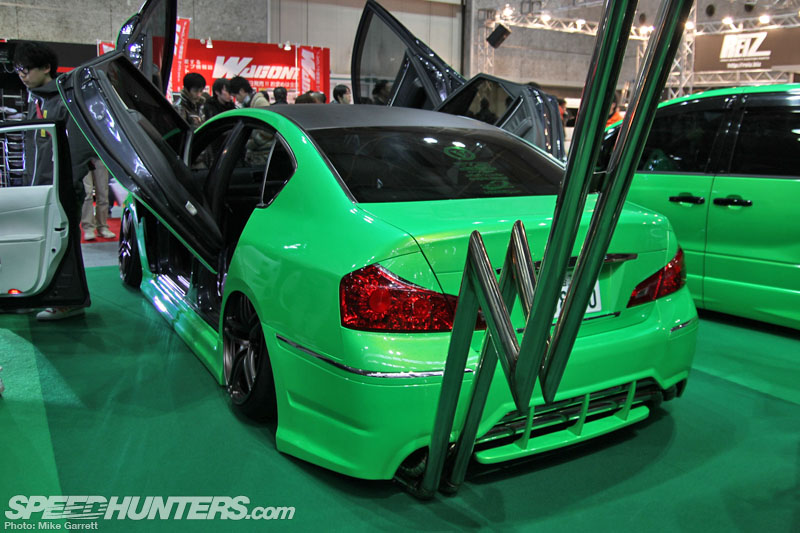 Body Shop Vivid Luster's "Jewel Bug" Nissan Fuga is a perfect example of the wild style that runs rampant at Osaka Auto Messe. It doesn't really matter whether you "like" what's been done to the car, but you have to smile when you see it.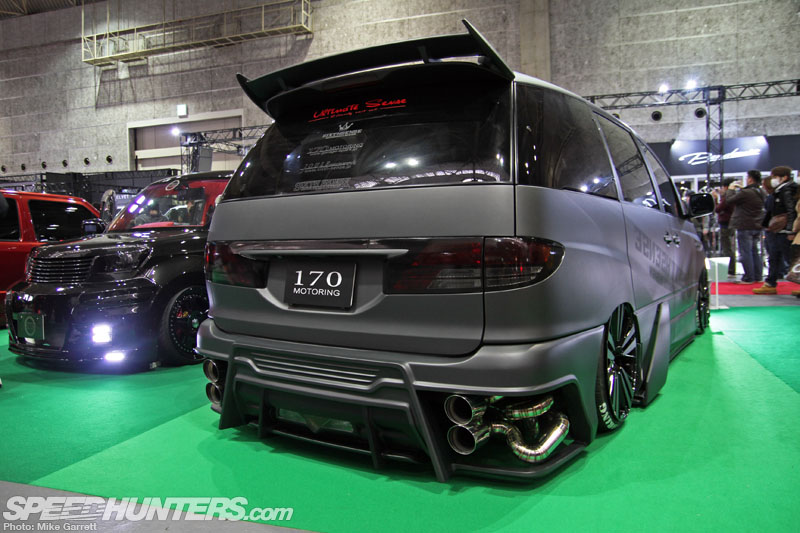 Perhaps the most common word on the spec sheets for each car was "one-off". Rather than just being a place for companies to show products, hand-built custom work is king here.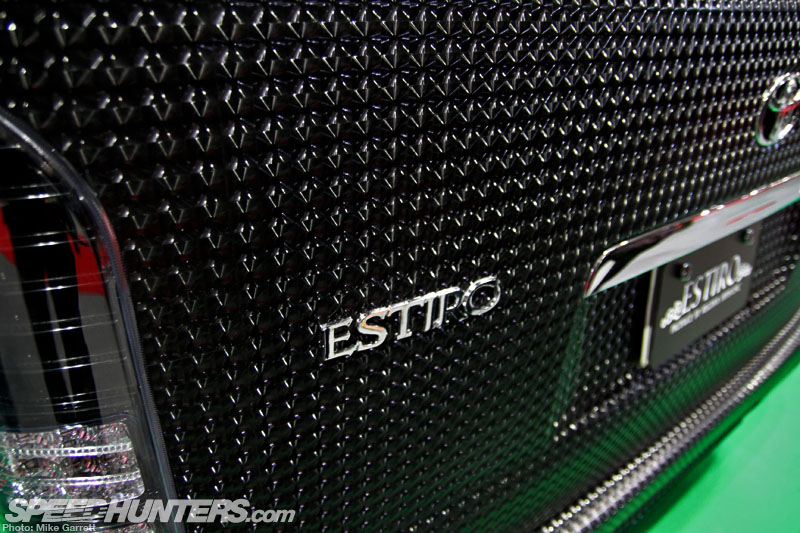 One element that seemed particularity big were custom body finishes – paint jobs and wraps with every type of finish and pattern imaginable…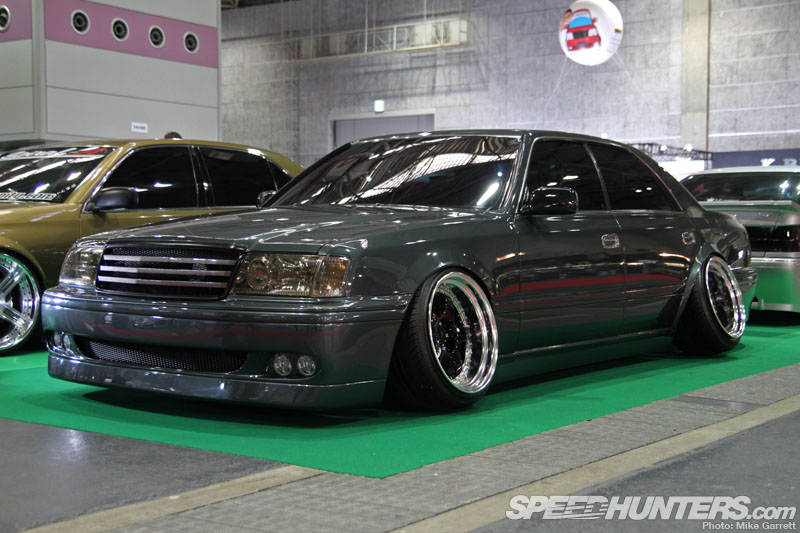 It's no secret that Auto Messe is known or its selection of VIP cars. For many, the VIP hall is the highlight of the show, and this year's batch of scraping sedans did not disappoint.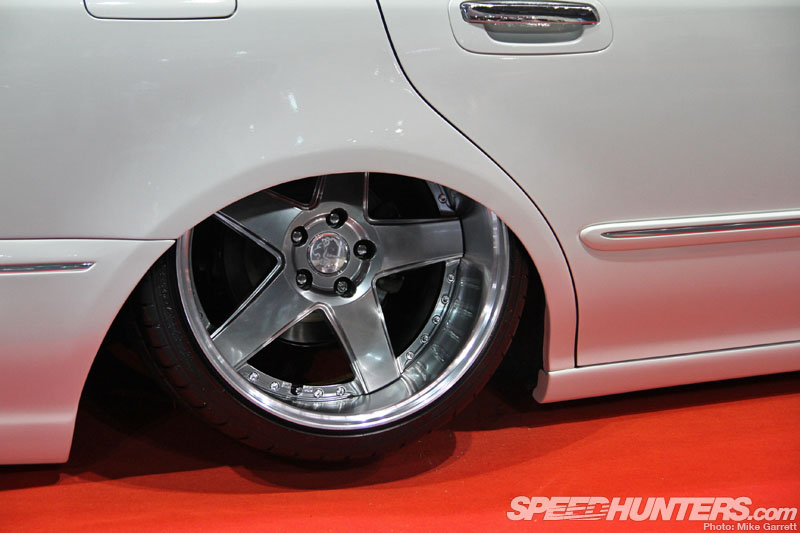 While the favored platforms have largely stayed the same, builders continue to bush the boundaries with lower ride heights, more camber, and tons of one-off body work. Again, even if you prefer your cars to be of the more "functional" variety, it's impossible not to appreciate the work and the creativity that goes into these VIP rides.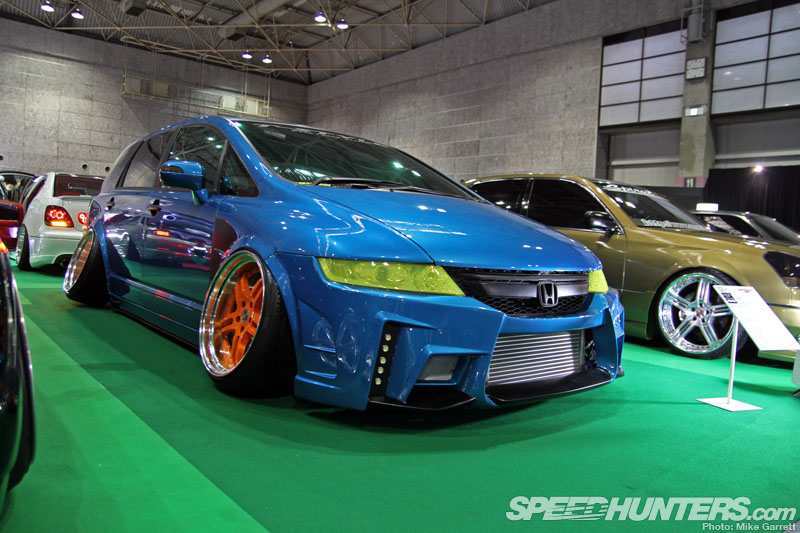 And of course, whatever can be done to a four-door luxury sedan can also be done to a van. There were countless mind-blowing family haulers like this RB1 Honda Odyssey from Custom Shop T-Style.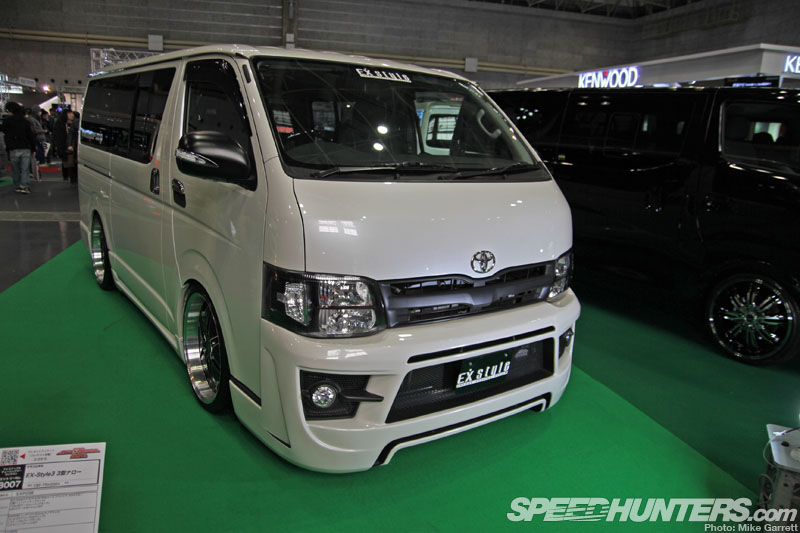 In addition to the waves of minivans, the "One-Box" portion of Auto Messe is worthy of being a separate show in itself. The array of custom Toyota Hiaces included lux'd out cruisers, huge RVs, and even one built for drifting (look for it in the next post).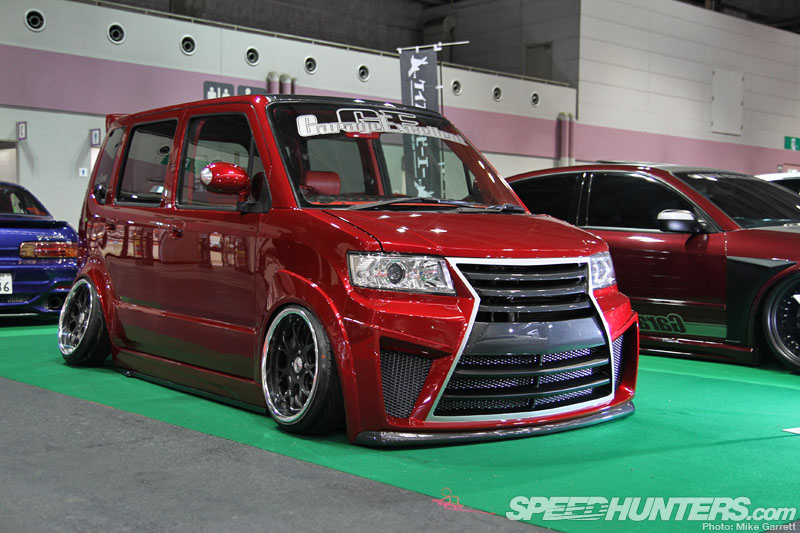 Osaka Auto Messe also shines when it comes to the custom kei car scene. You'll find these modifed minicars all over Japan of course, but Kansai builders in particular love applying their tricks to these things.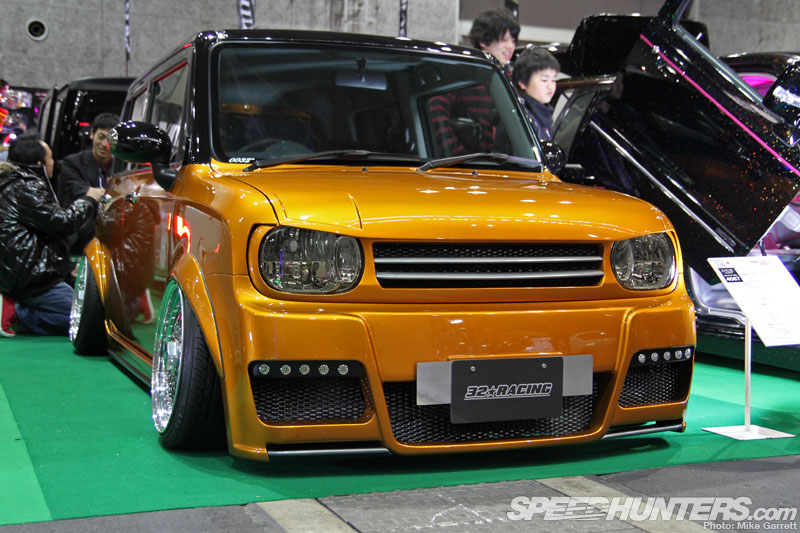 One of the most impressive kei builds I came across was this Suzuki Lapin from Meister Company Limited. In stock from the Lapin is a cute little retro-themed wagon favored by the ladies – but with a host of custom work this one has a completely different vibe.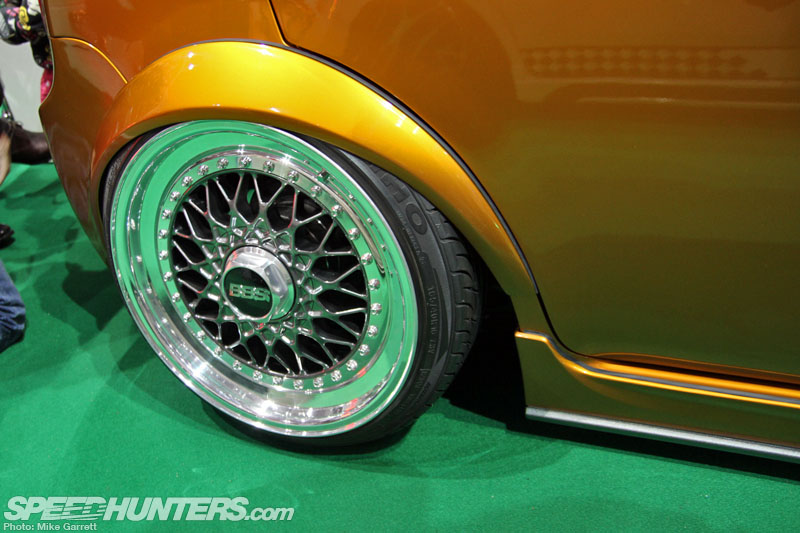 16″x7 +25 BBS RSs might not sound too aggressive on paper, but sitting beneath the custom over fenders of this Suzuki, they look positively mad.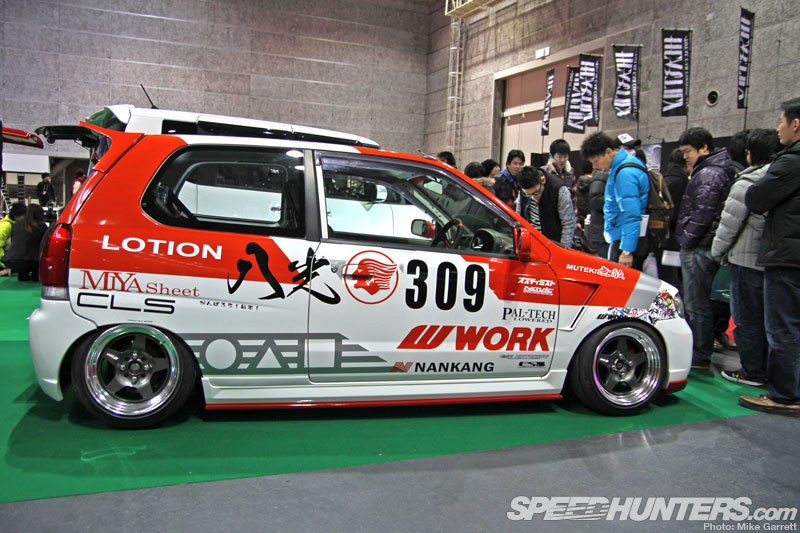 Another kei machine which grabbed my attention was the Suzuki Alto from CLS. The shakotan stance (on coilovers!) and 14″ Work CR01Rs are fantastic, but what I especially like is the Group A-inspired coloring.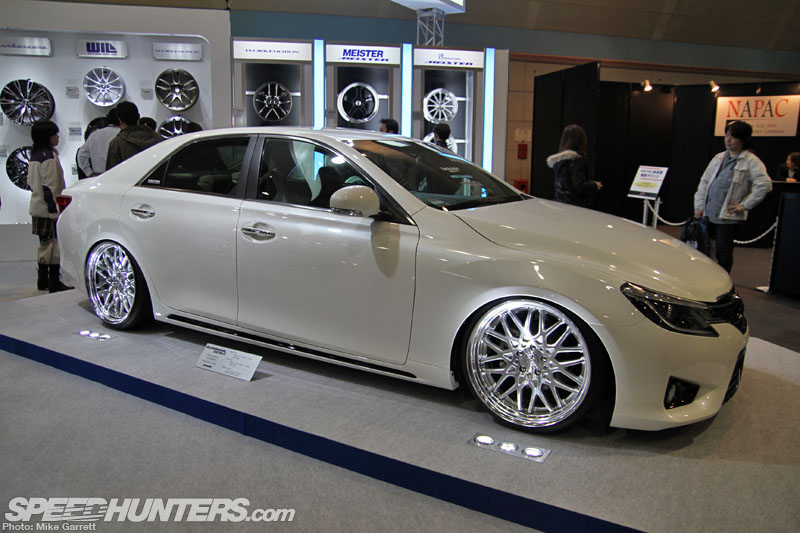 Speaking of Work Wheels, here's a set of brand new 20″ Durandal DD10.5s affixed to the Toyota Mark X of Masashi Kameoka from Osaka's Team Madame. Kameoka-san used to drive the previous generation Mark X done in a similar style, but last year he decided to replace it with the new model.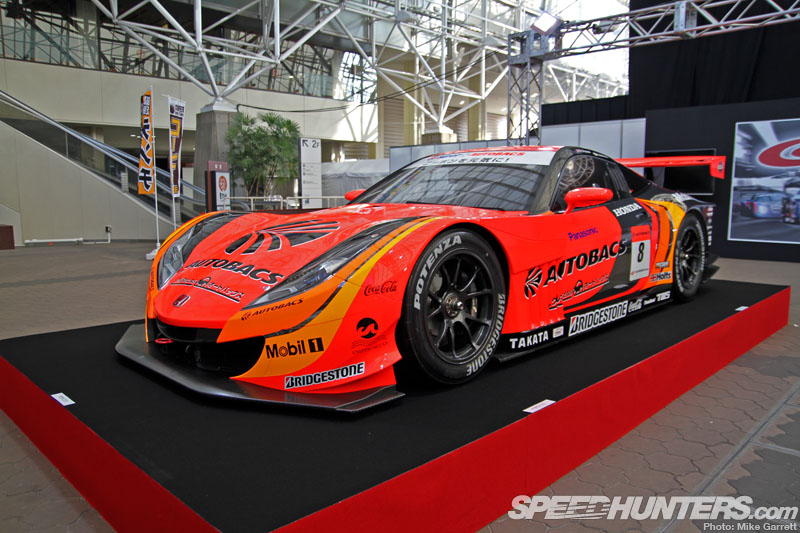 While the 2013-spec Super Autobacs Honda HSV-010 Super GT car was amazing to see, it was sad to be reminded that this beast only exists in competition form. Hey Honda, take the styling traits of the HSV and give us a reasonably priced S2000 successor and Toyota 86 rival!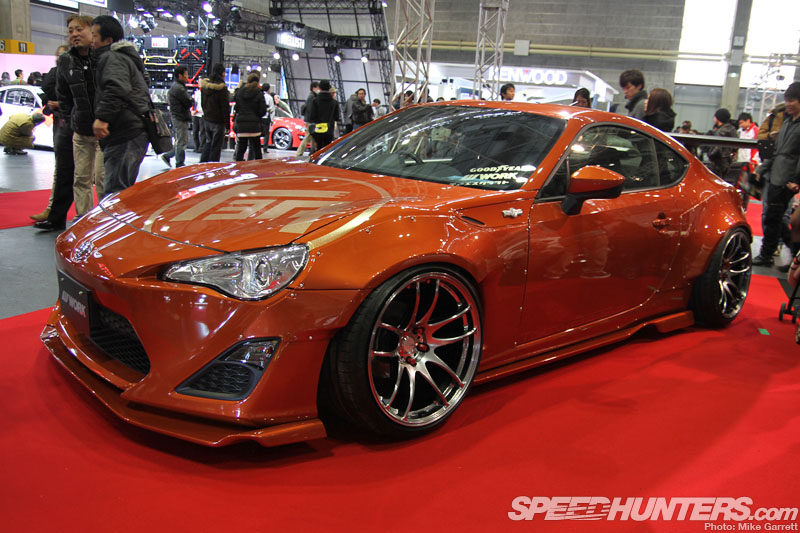 Ah yes, the 86. While there weren't nearly as many 86s and BRZs at Auto Messe as there were at TAS, the Toyota-Subaru twins were still the show's number one tuner car base by a wide margin. One of my favorites was the Rocket Bunny-equipped "AWESOME86″ from Todoroki Auto.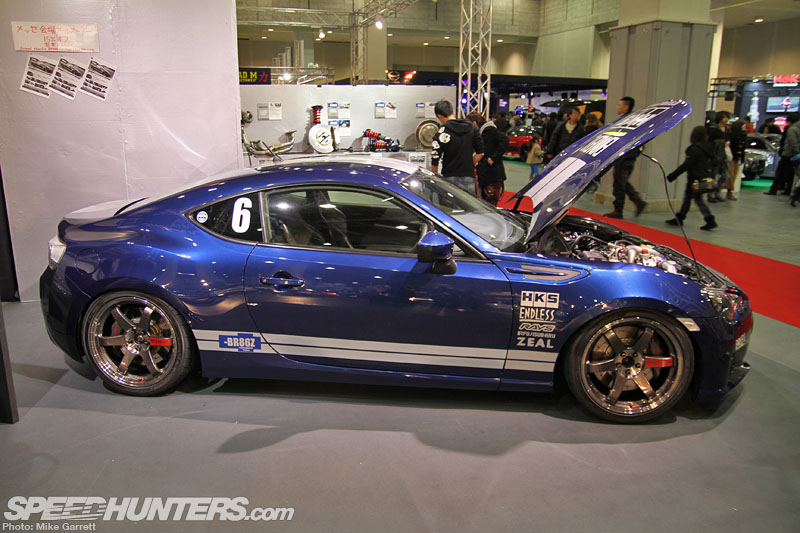 I also enjoyed the simple and very functional style of the Car Station Marche BRZ. It has all the right stuff – TE37SLs,  along with Endless brakes and suspension…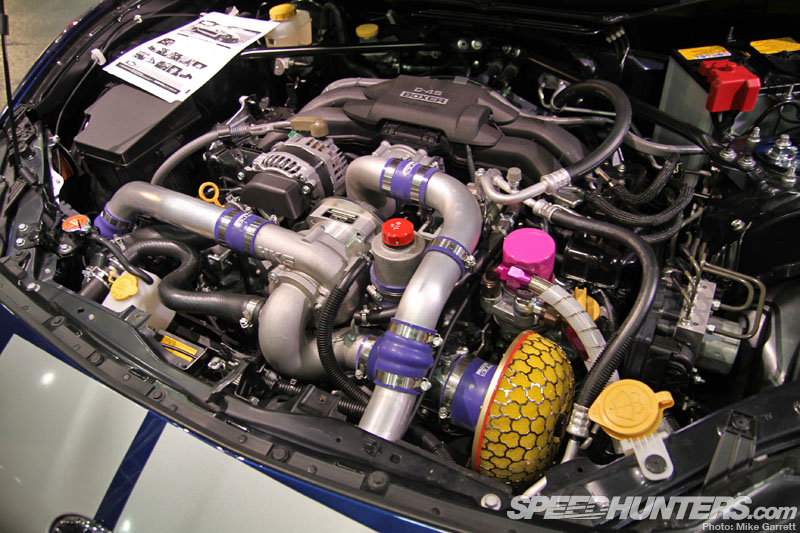 …and an HKS supercharger kit to make things more interesting under the hood.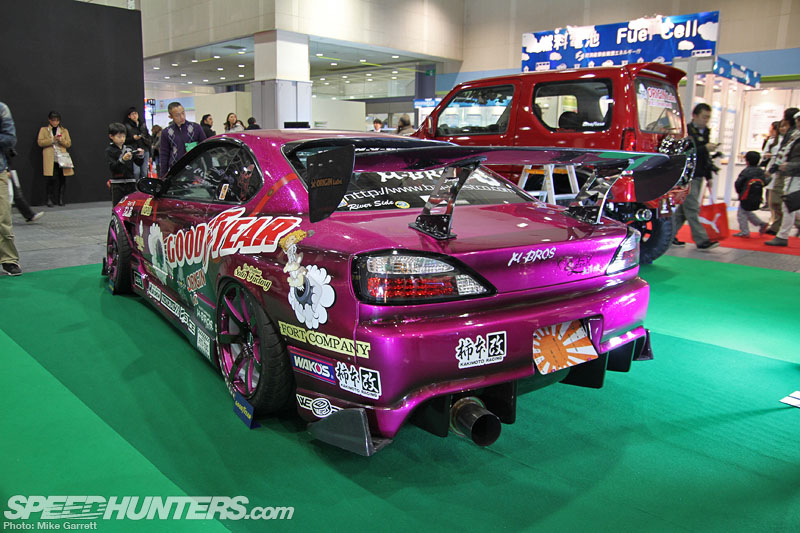 While Auto Messe wasn't too heavy on drift machines, the breed was represented by cars like the Origin Labo M-Bros S15. Kansai dori style to the max.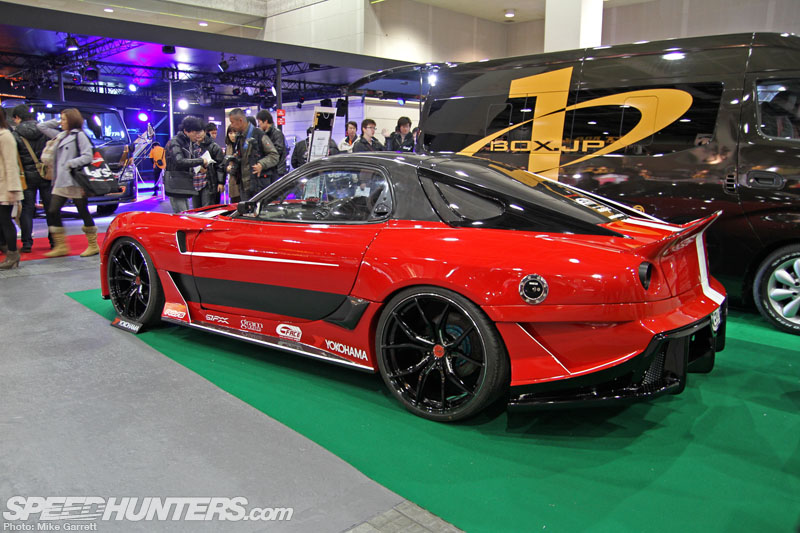 Let's not forget the venerable RX-7 either. Here's Total Car Produce Magic's wild FD3S.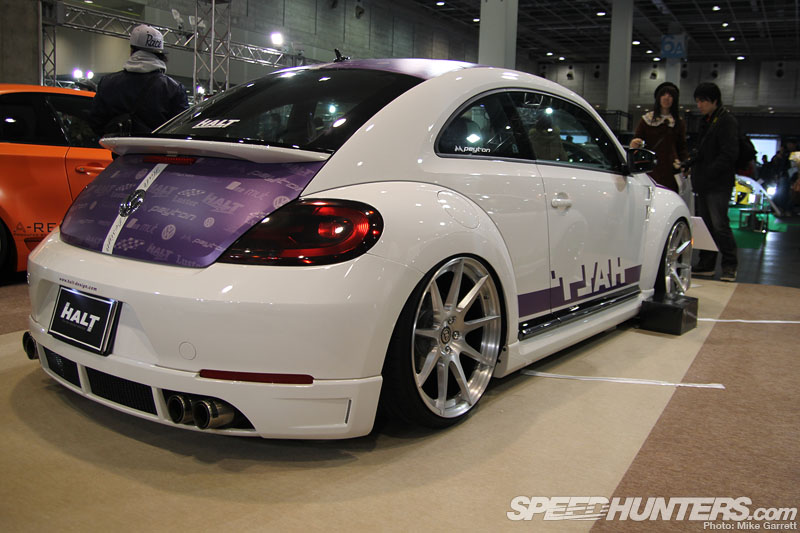 In addition to the crazy VIP cars and vans, Auto Messe also has an especially strong showing of modified European machinery, with Volkswagens leading the way. The new version of the Beetle is proving to be a popular custom base in Japan…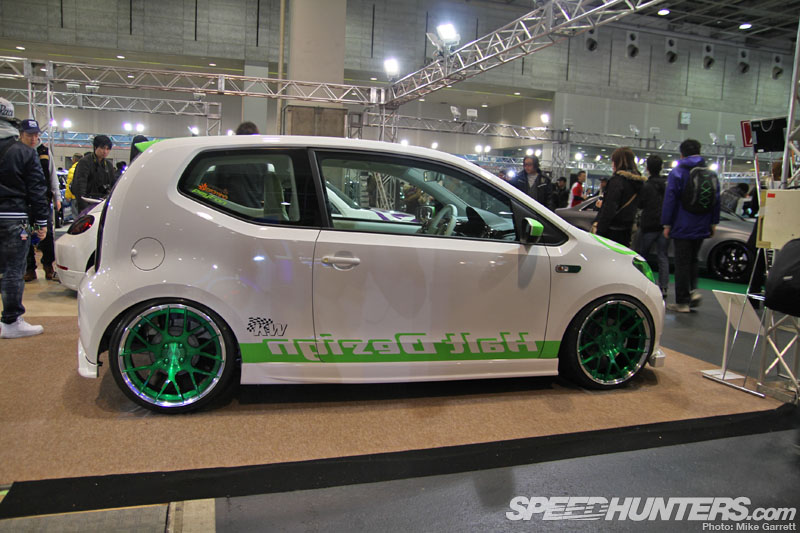 …as is the VW Up!. The little city car just hit the Japanese market recently, but customizers and shops have already taken quite a liking to the small and fuel efficient Volkswagen. This example from Halt Design was looking rather cool…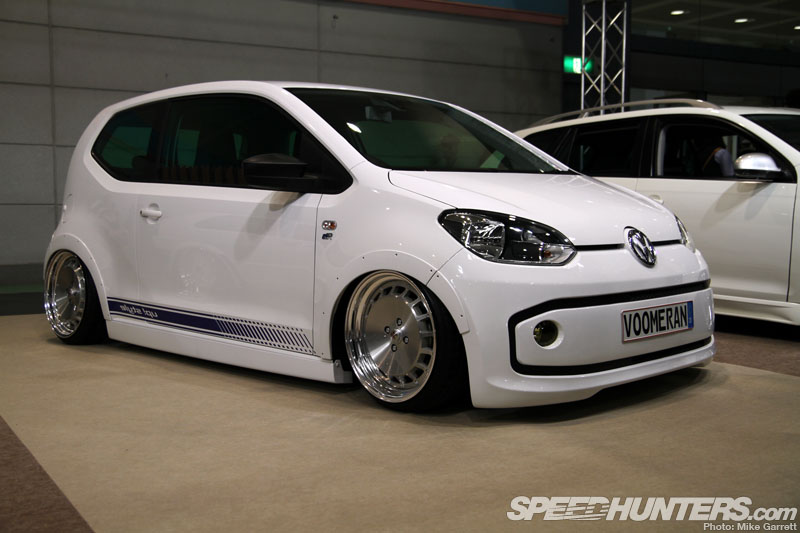 …as was this demo car from Voomeran/Euro Magic. It's wearing a complete set of Voomeran aero parts and airbagged over a set of 17″ Crimson RS Cup wheels.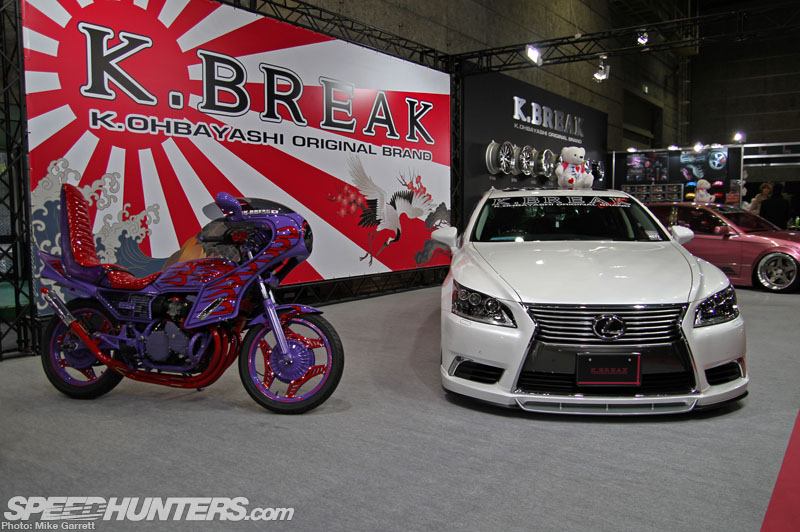 That will do it for my first volume of 2013 Osaka Auto Messe coverage, but I'll return shortly with a selection of car spotlights from the show floor. Stay tuned!
-Mike