From a distance, Japan might look like a pretty uniform nation. It doesn't matter what area you visit – everyone pretty much speaks the same language, the buildings and streets look similar, the trains always run on time, and the toilets wow with their high tech features. As with any country though, you look closer you look at Japan, the more differences you see. You begin to pick up on unique distinct language dialects, regional cuisine, and unique customs that vary as you travel the country.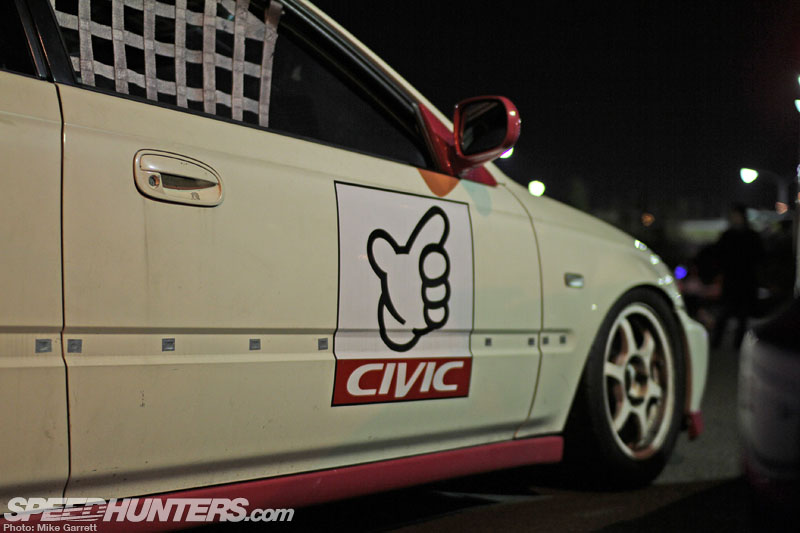 It's the same with cars. The longer I've been exposed to Japanese automotive culture, the more I've begun to pick up on these regional variations in motoring habits. And of all these "local flavors", I don't think there's anything more distinct than Osaka's Kanjo culture.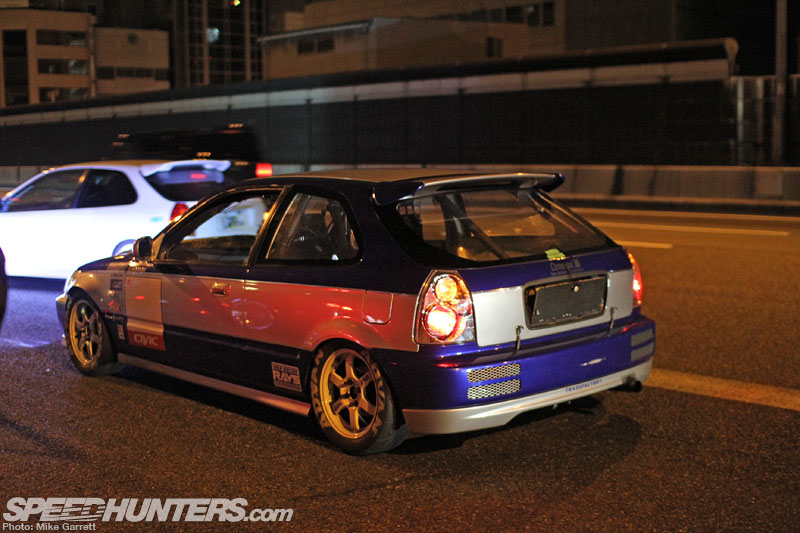 Once I heard that we'd be running FF-themed stories this month, I immediately knew I wanted to put something together on the Kanjozoku. After all, their primary automobile of choice is one of the greatest front wheel drive cars of all time – the Honda Civic. During my time in Osaka earlier this month I was able to spend some an evening (or is that morning?) with these mysterious fellows and their cars. What resulted was another one of those unforgettable Japan experiences.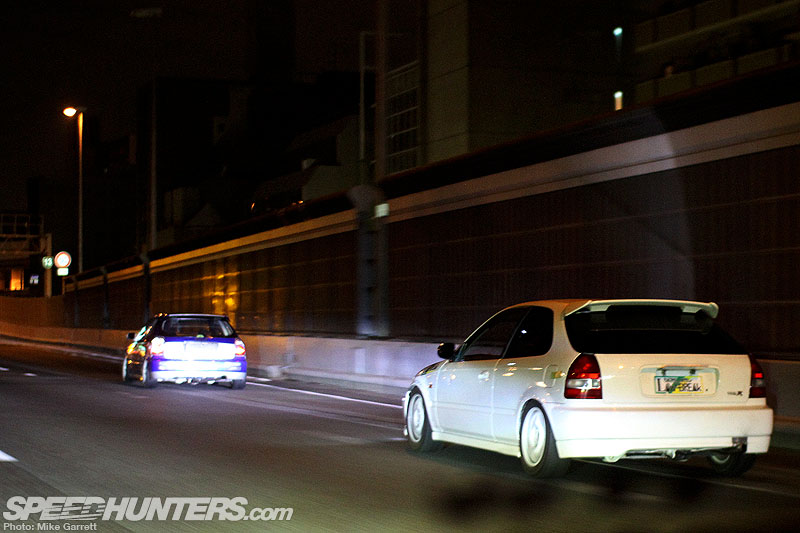 To be honest, I've never been a particularly big Honda guy. I've always had a respect for the brand and the cars, but a Civic has never been on my "must-own" list. It may be surprising then, to hear that these Kanjo machines are some of the most fascinating and exciting automobiles I've ever seen.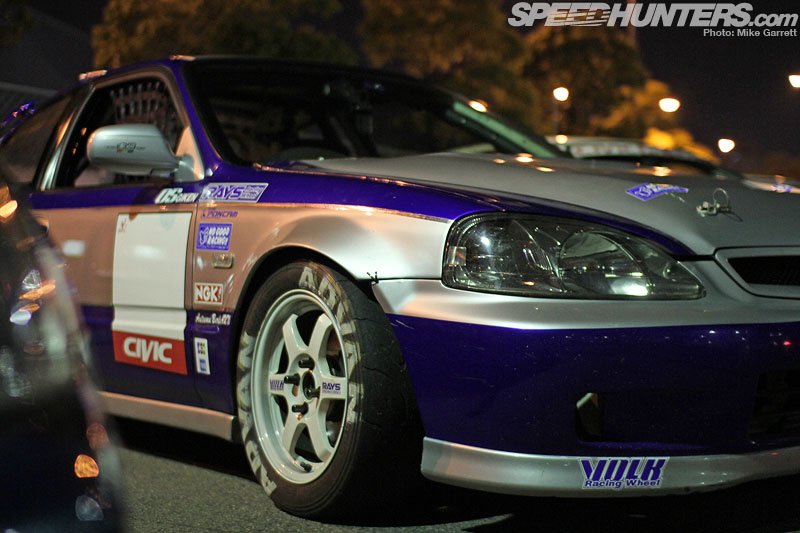 The cars are interesting yes, and the stories behind them are even more interesting. What's more important though, is that you won't ever see this sort of thing outside of the Osaka area. Even in Japan, few outside of the Kansai region are familiar with this distinctively local phenomenon.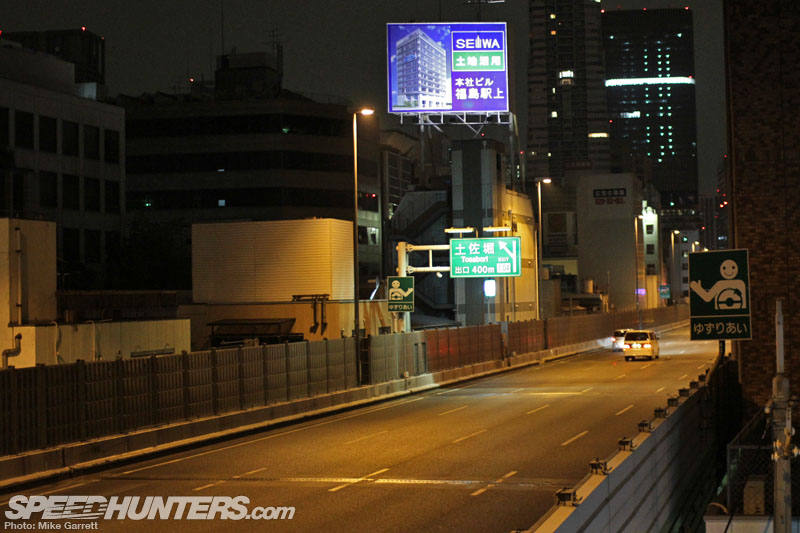 Before I move on to the cars, I suppose I should answer the question "What is the Kanjo?". Well, the Kanjo Loop itself is an elevated section of the Hanshin Expressway that circles the center of Osaka in a clockwise direction.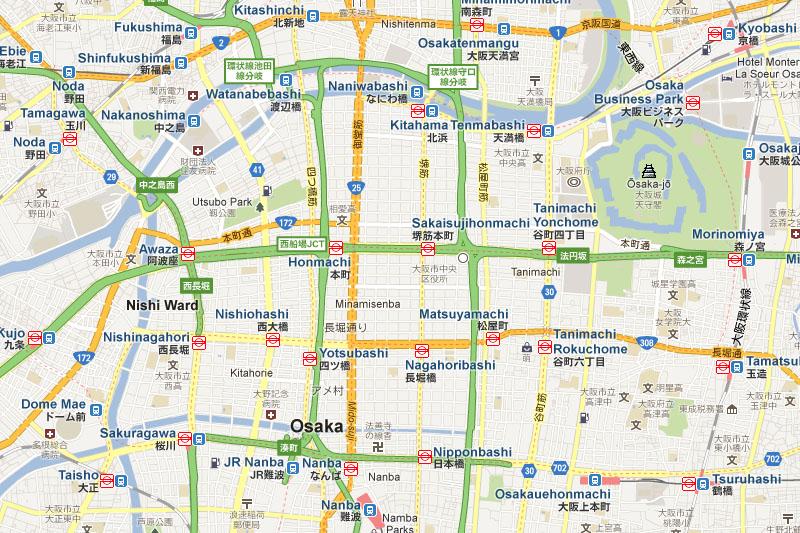 In this map you can see the loop in the center of the image, cutting through the heart of the city, elevated above the streets below. As you can see, there are both "long" and "short" routes available depending on which path you'd like to take.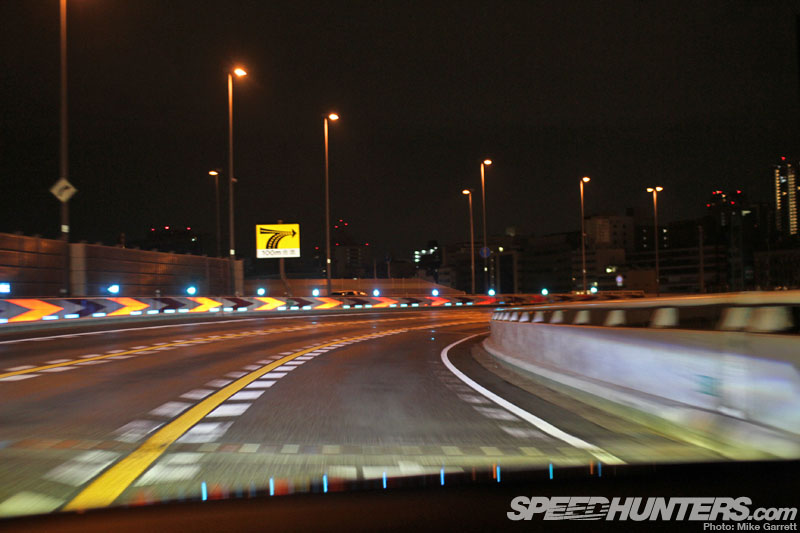 It's only natural to compare the Kanjo to what's probably Japan's most famous highway route – the Wangan line in Tokyo and Kanagawa. They really couldn't be more different. The Wangan is long, wide and straight – making it a favorite among drivers of high powered turbo cars. The Kanjo is shorter, narrower and its straights are linked together with tight corners and abrupt transitions. If the Wangan is about power, the Loop is about agility.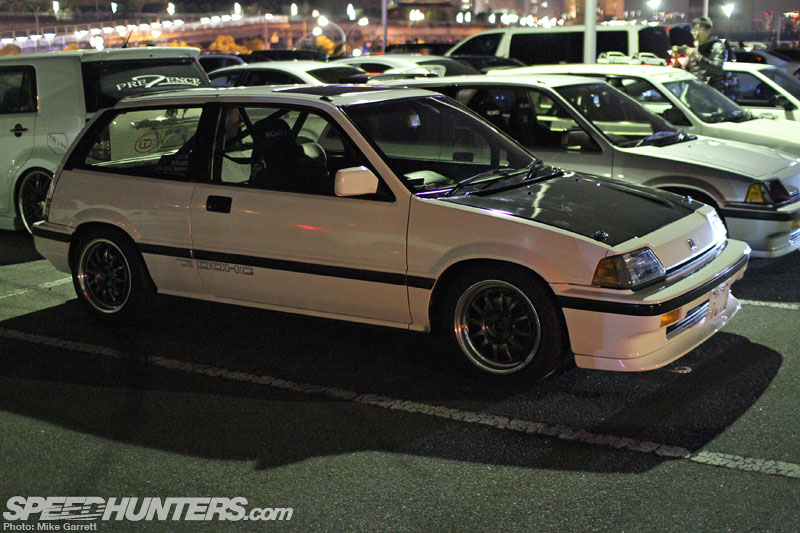 Not surprisingly, info on the history of the Kanjo is hard to come by ,and I'm still trying to learn all I can about the beginnings of this movement. The craze kicked off in earnest in the mid 1980s, and the Honda Civic was the popular choice from the get-go. The third generation Civic Si, known as the "Wonder" Civic in Japan became an early favorite among Kanjozoku with is DOHC powerplant and responsive chassis that was well-suited to the loop's tight bends. You don't see too many of the classic Wonder Civics today, but they are still loved and respected on the streets of Osaka.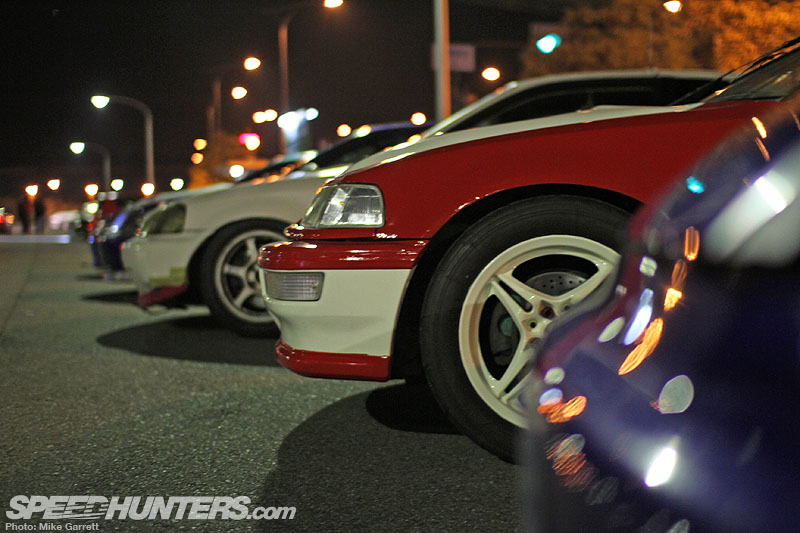 Today the Kanjo scene isn't anything like it was at it's peak. Big crackdowns from law enforcement have lead many to retire from driving the loop, and only the most dedicated (and craziest) can still be found out there these days. But even for those who have moved their action from the street to the circuit, the distinct Kanjo vibe can still be felt in their cars and driving style.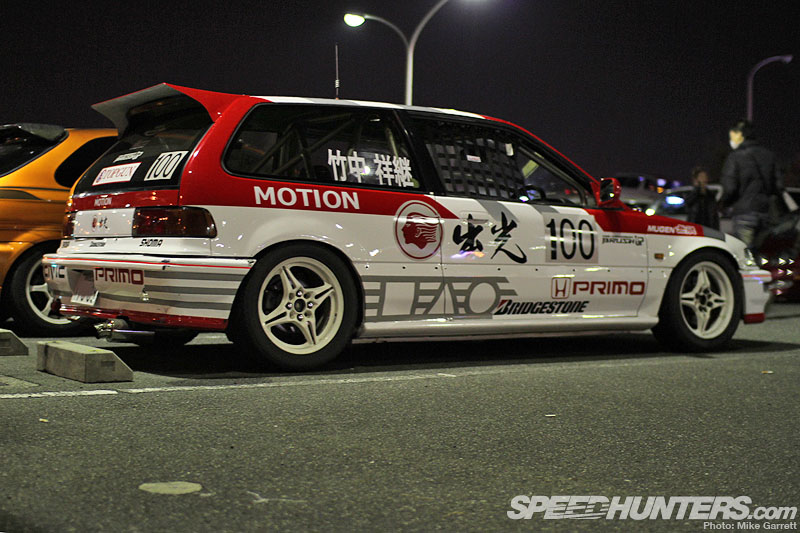 Since the beginning, the Kanjozoku have taken much their inspiration from the motorsport world. In the '80s and '90s the Civic established itself as a force in Japanese Group A racing, and the loop runners were right behind employing many of the same tricks in both car setup and styling.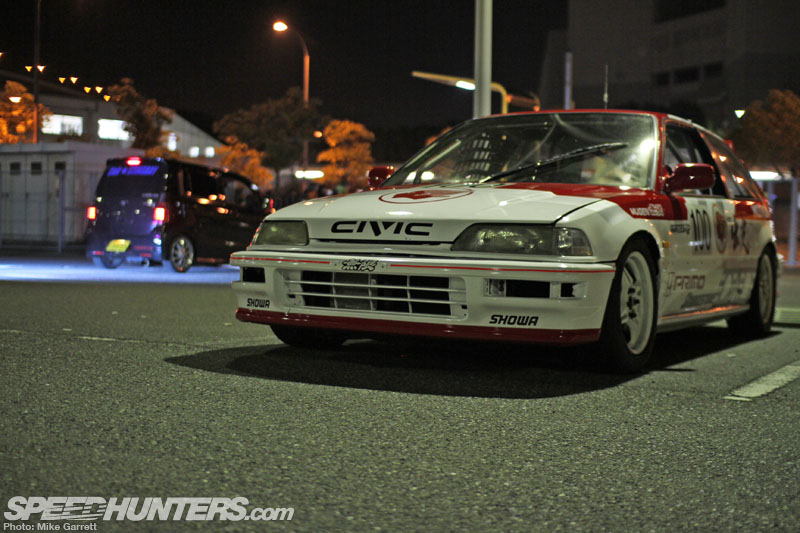 It's not unlike Japan's Kaido Racers, who are heavily influenced by what are now historic competition vehicles. This EF9 for example is styled very closely after the famous Idemitsu Group A Civic.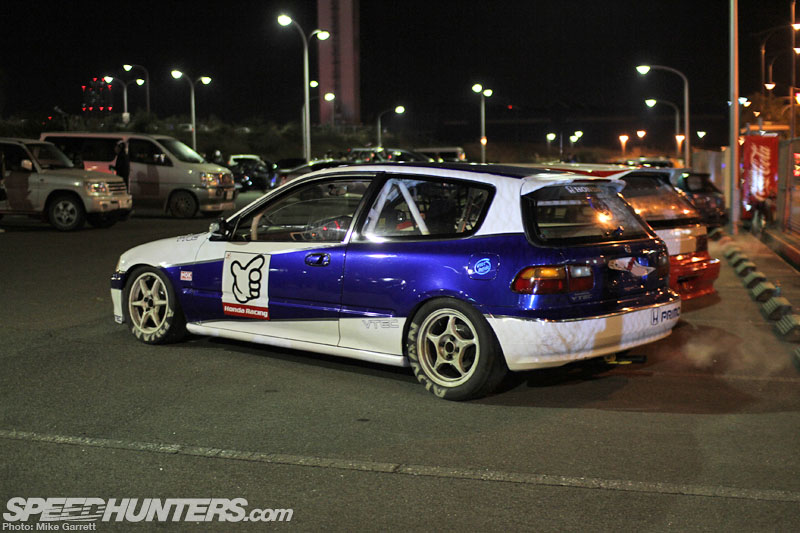 The racing-inspired paintjobs have been a staple of the Kanjo world since the beginning. In order to keep watchful eyes guessing, the paint designs on these cars would be changed regularly. Sometimes as often as once a week.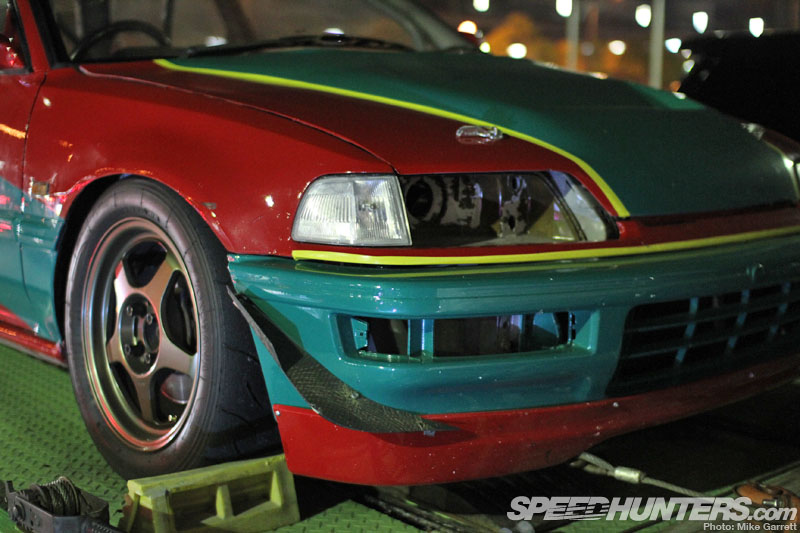 Other cars would instill confusion by running completely different graphic and color patterns on each side. It's all part of the game.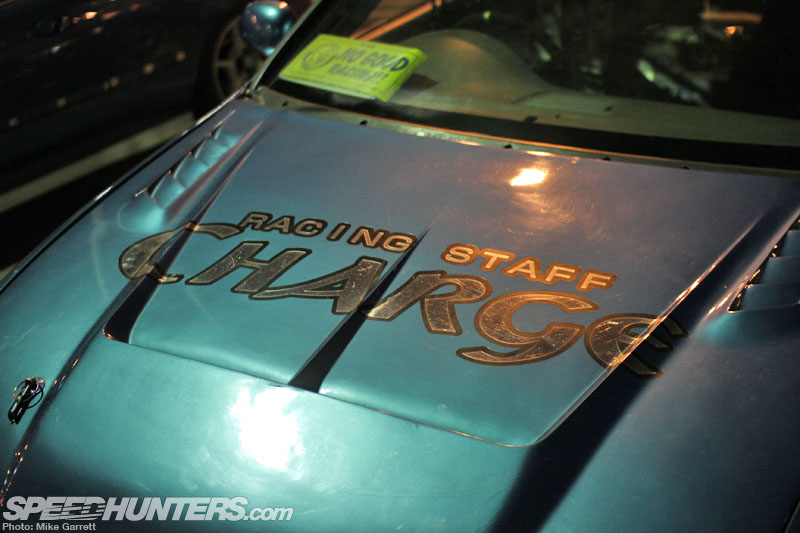 I was able to catch a quick glimpse into the elusive Kanjo world during my visit to Osaka last year, but this time I was able to take a much more detailed look at the cars and what goes into them.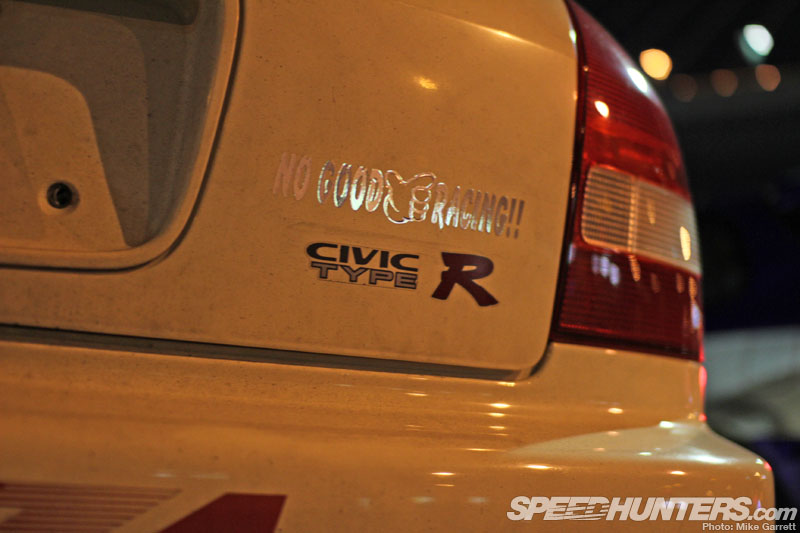 While most of these Kanjo machines are built of EF9, EG6, and EK4 Civic SiR models, it's not uncommon to see the occasional Type R out there. The engine modifications are usually not drastic. Pop the hoods on these cars and in most cases you'll find moderately tuned NA B-series VTEC motors.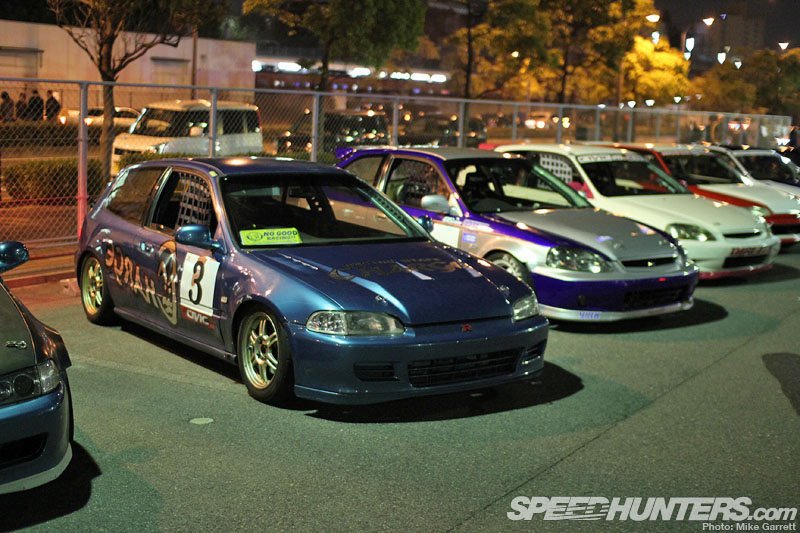 If you were under the impression that these Kanjo runners aren't the "nicest" cars around, you'd be right. Just like a lots of the world's race cars, these Hondas are dirty, scuffed, dented, and functional. The interiors are stripped bare and things like engine bay presentation are of no concern to these guys.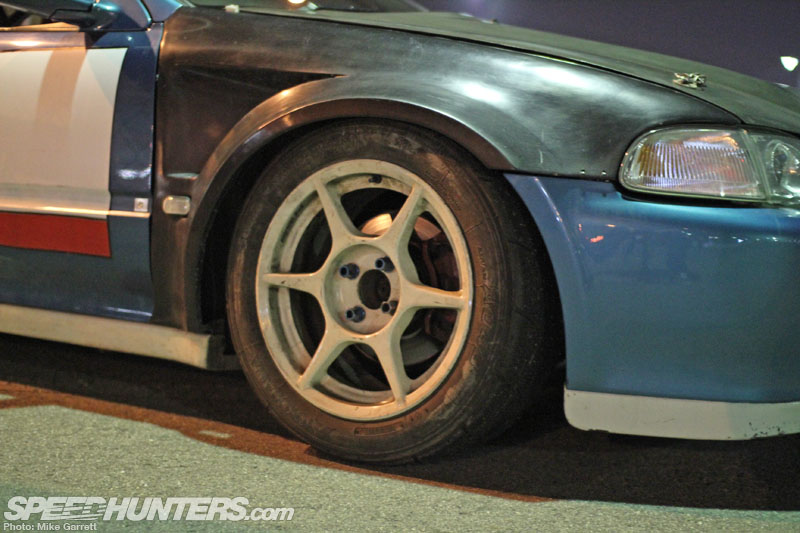 The same goes for the wheel and tire setups. Tires are dirty. Wheels are often mismatched and covered in brake dust. The wide fenders on this particular EG6 are unpainted, and they will probably stay like that.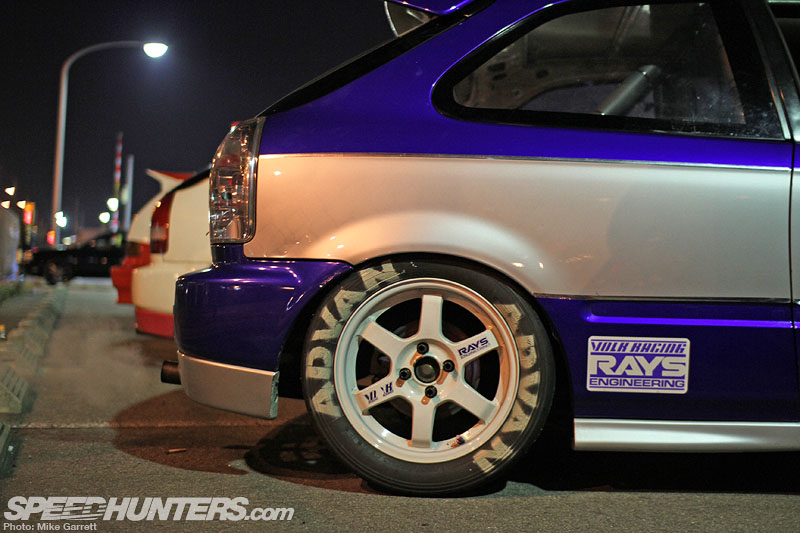 The parts might not shine like on show cars, but the choice of modifications is all you need to know about the owner's intentions. I don't think I encountered a single car, for example, that wasn't wearing Advan A048s or some other high grip race tire.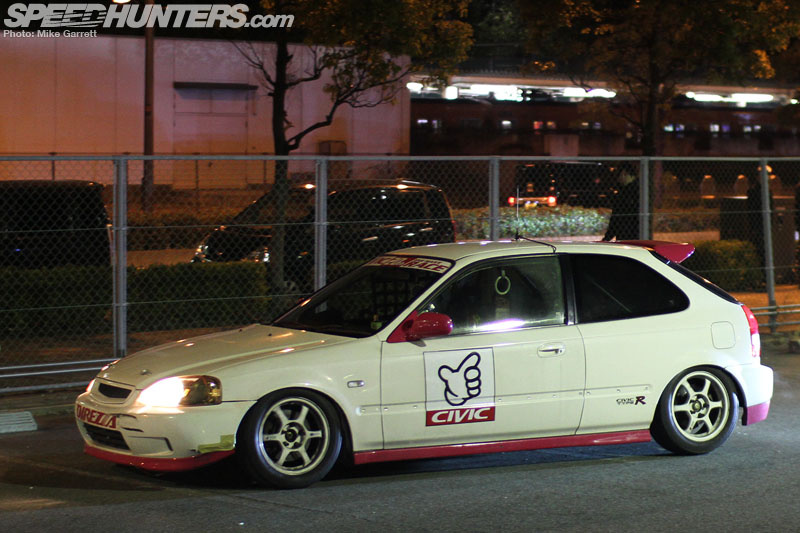 For me, it's that grittiness that makes these cars so damn interesting. Seeing functional battle-scarred Hondas is not uncommon at track days in Japan, but to see them prowling the street together is completely different.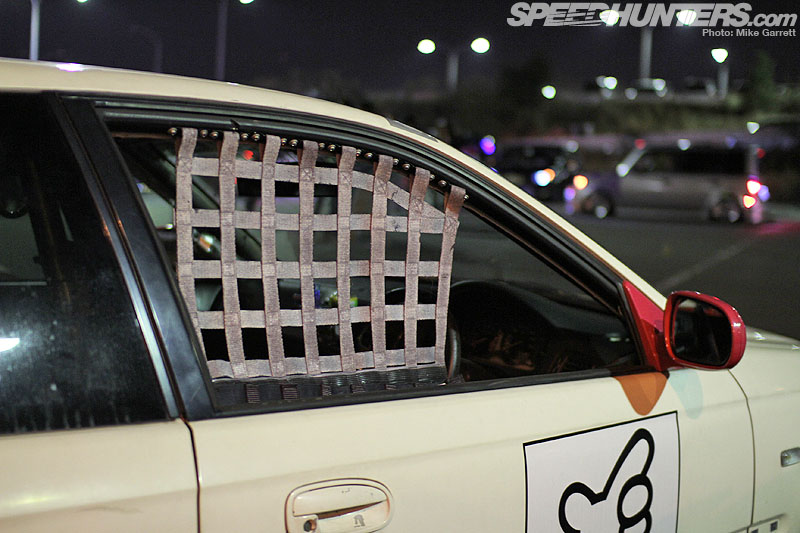 Another common element among the Kanjozoku is the use of window nets. As you might have gathered by now, these are used less as a safety item and more as a clever way to conceal the driver's identity.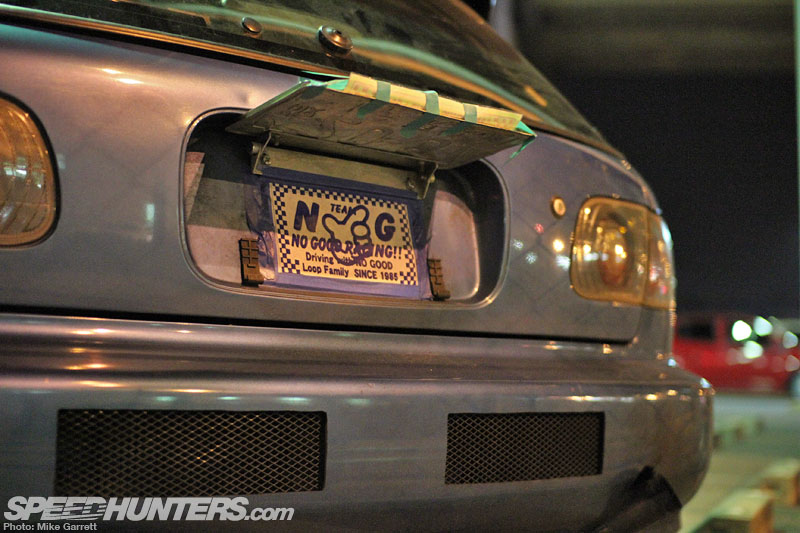 It's just one of the many tricks that the Kanjozoku have picked up during their decades of experience on the loop…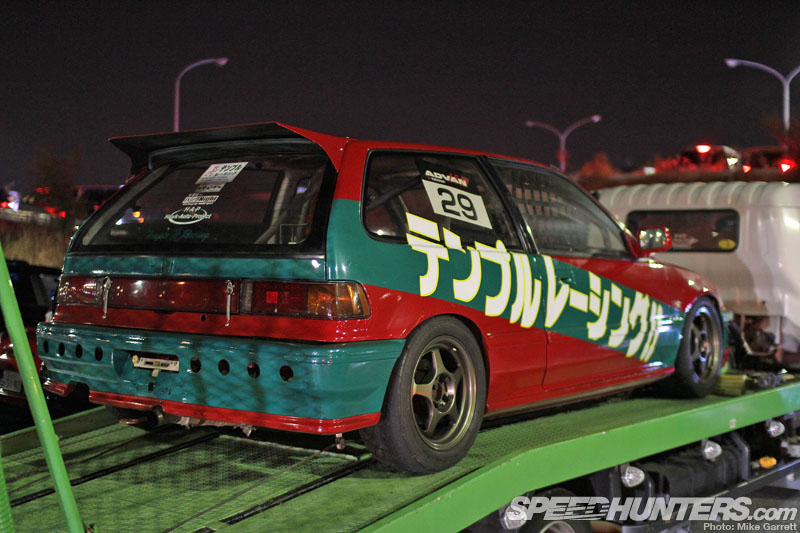 But for all the fascinating aspects of Kanjo culture, I think it's the tribal nature of it all that best defines this underground world. You won't find many lone wolves on the loop.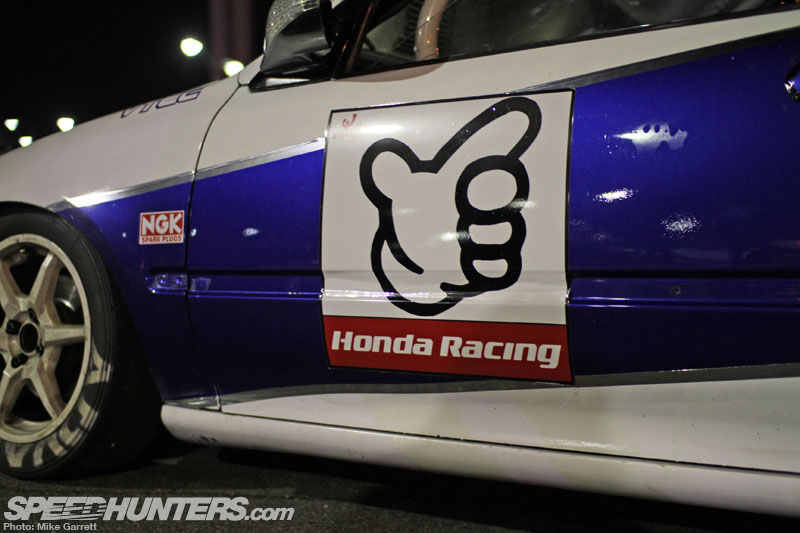 The family ties run deep here, and many of the teams have history that goes back to a time before many of us were even born.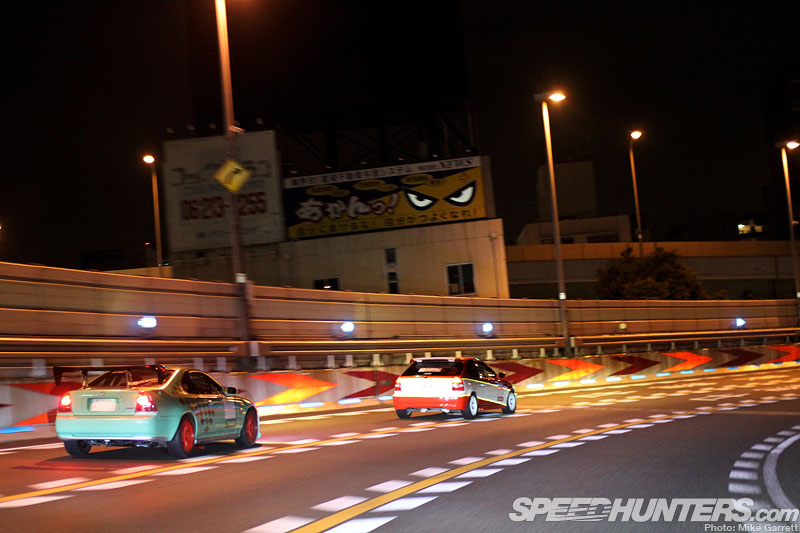 The shadowy, often masked figures that build and drive these cars prefer to be identified as team members rather than individuals. As is often the case in Japan, the group comes before the self.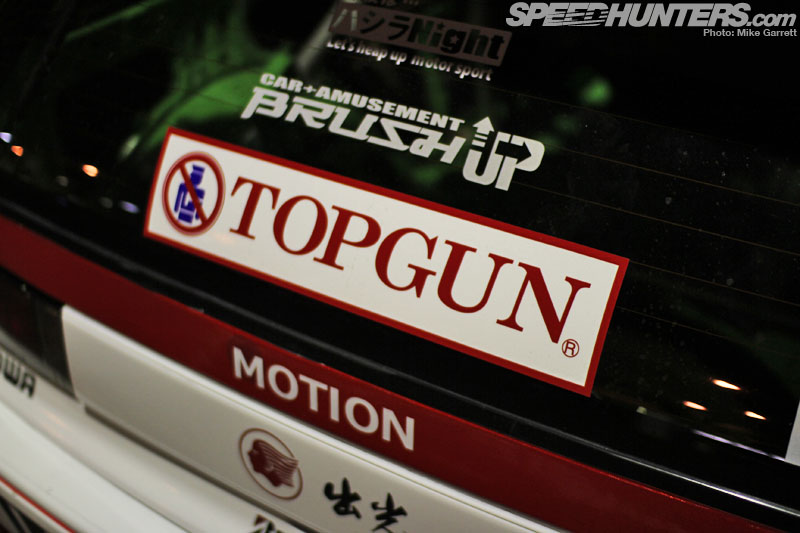 You can sense this when you eye the team logos that cover the windows and bodies of the cars. Temple, Trick, Loose Racing, Pandemic, TOPGUN, Law Break – meaningless names to some, but legendary to those in this circle.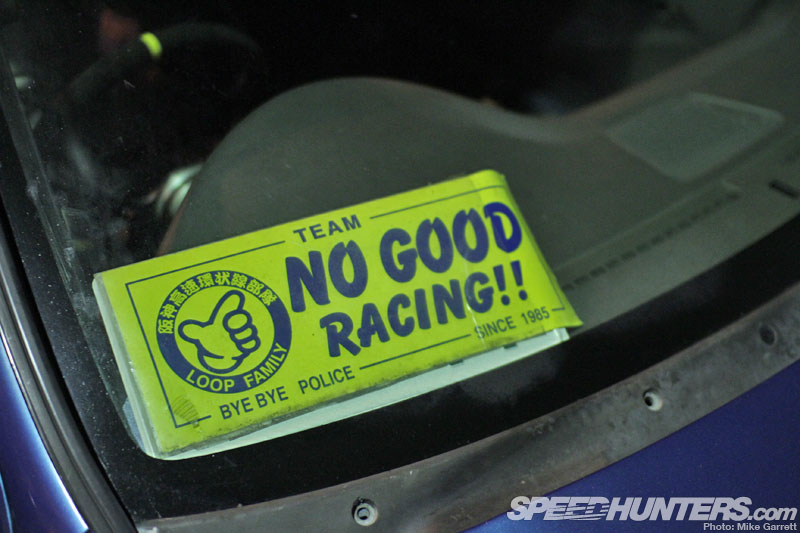 The members of No Good Racing!! (who assembled specifically to help me make this story) have been in the game since 1985. To think I was hardly a year old at that time…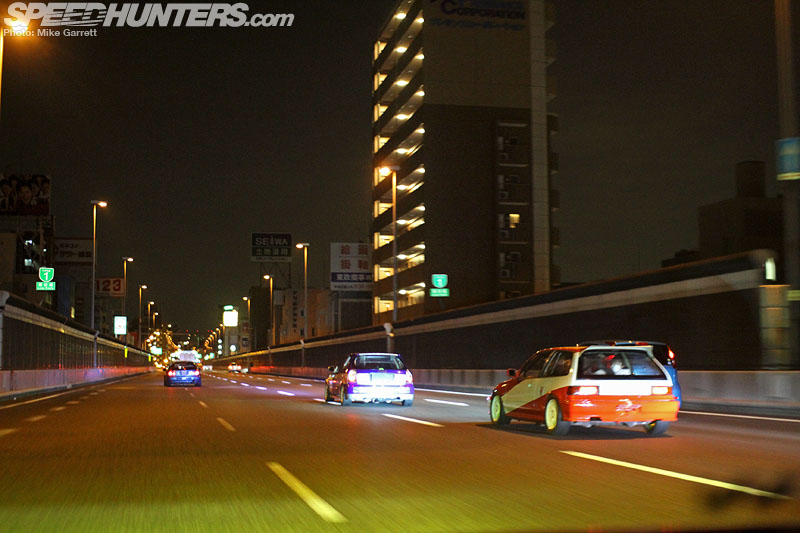 Just being around these guys, it's easy to pick up the on the fact they've been doing this for a long time. All of these guys lead normal lives outside of the Kanjo, but it's obvious that this is their place.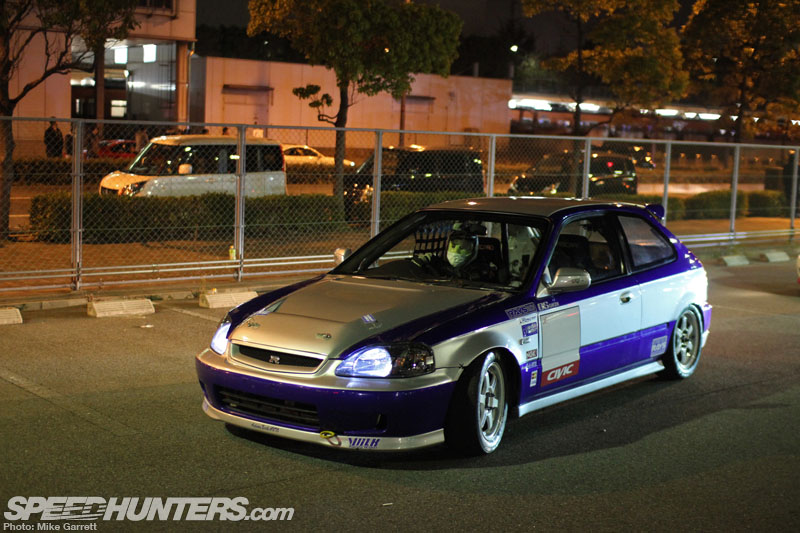 And for all the mystery and notoriety that surrounds them, when they emerge from their cars these guys are as humble and easy going as it gets. They chat, laugh, and smoke cigarettes just like anyone else…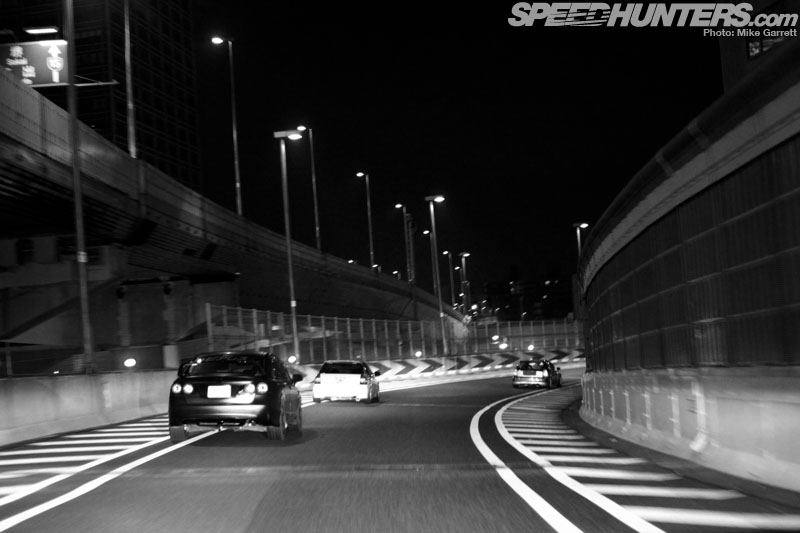 What is it that draws me toward the Kanjozoku? It's hard to put my finger on it, but I think it has to do with the unusual contrast. How can something be so chaotic, yet so structured? So completely serious, yet so playful?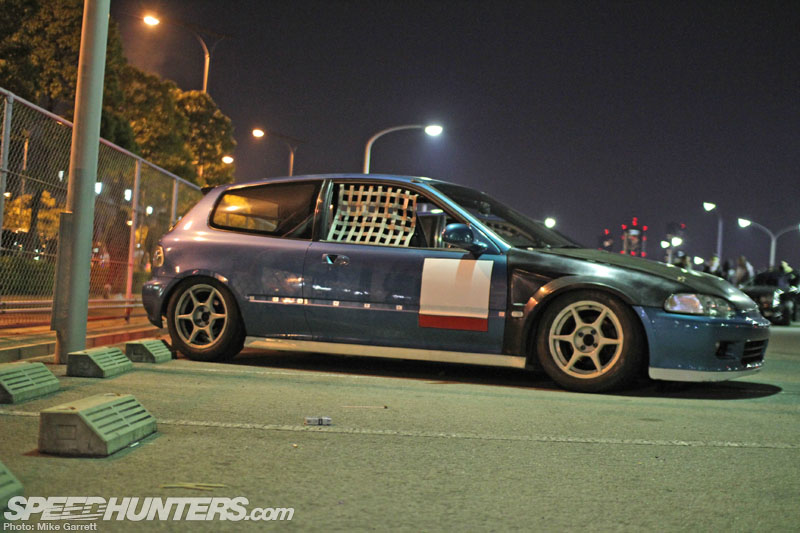 It goes beyond being just about cars. You could not know a thing about the Honda Civic (or any car for that matter) and still be amazed by this scene.The Kanjo culture is just so uniquely Japanese. So uniquely Osaka.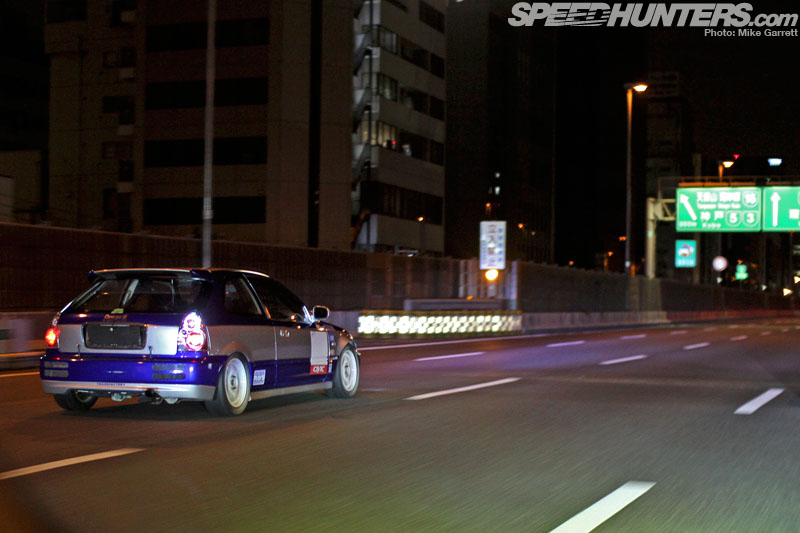 Even with all I've been able to learn so far, I want to know more. I'm hooked.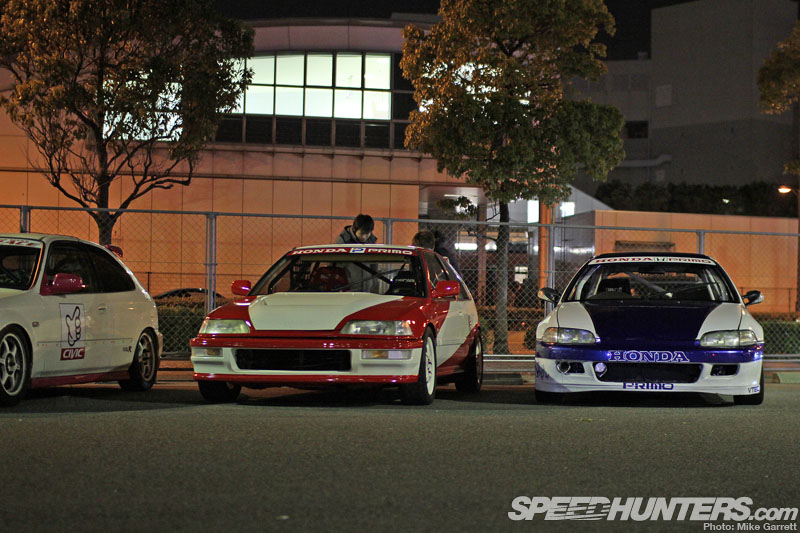 I'd like to extend some major thanks to both Tactical Art and No Good Racing!! for their assistance with this story. Without their help and connections it would have been impossible to get this sort of access, and more importantly the insight that helps fill in the story behind this fascinating world.
Speaking of Tactical Art, I'll be back tomorrow with a peek into their operations.
-Mike