Everything is so fast paced at a Battle Evome meet, there is literally no time to waste. With only two hours of shooting time available, you will just about manage to hit every major trackside spot, provided you keep moving. So with a few more moments available before the drivers went out on track for the four half hour sessions…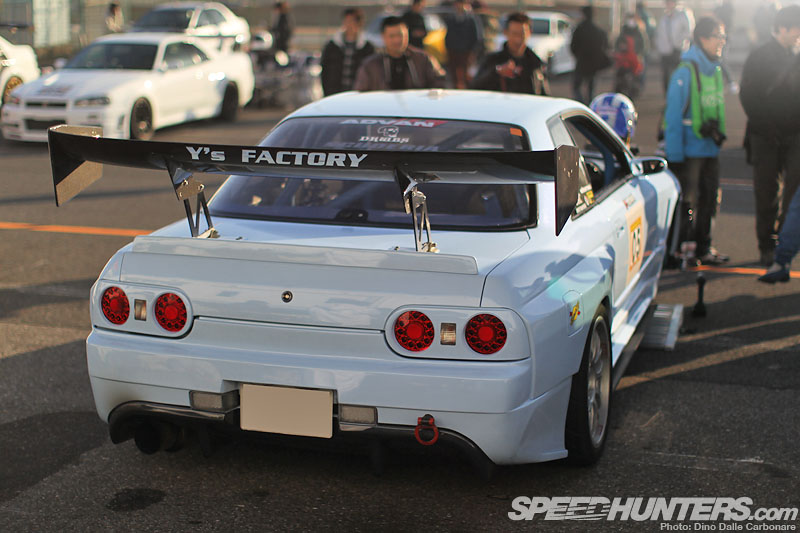 …I continued to do my thing around the paddock, trying my best to get a good look at every one of the 27 cars in attendance. This ex-white Y's Factory BNR32 built in collaboration with Auto Gallery Yokohama has received a set of wider fenders and a fresh coat of light blue paint since we last saw it in 2012. This was the 10th fastest car of the day with a best of 58.416 sec, making it the fourth fastest GT-R at this first meet.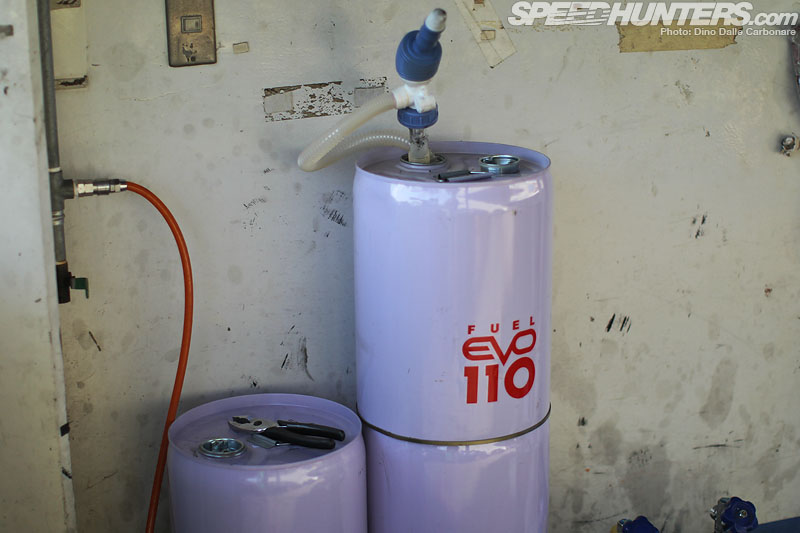 Battle Evome time attackers take things seriously, many cars running race gas for best performance.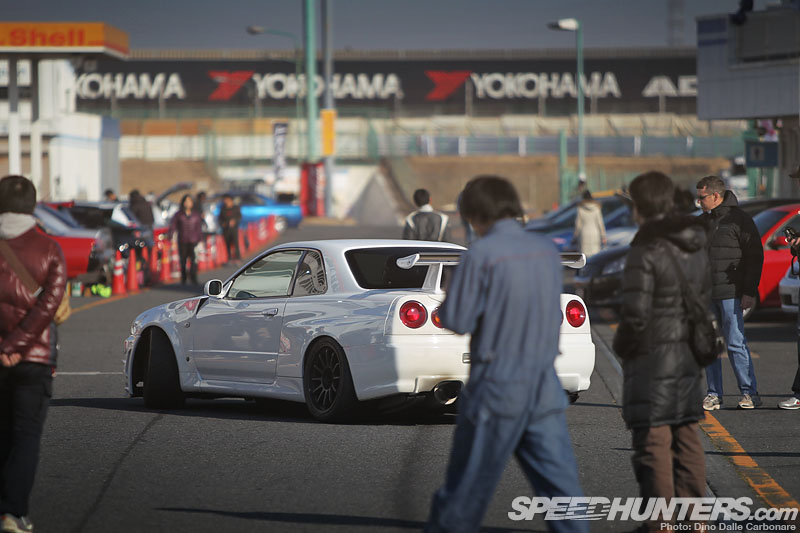 It wasn't long before the cars begun to make their way to the pit lane…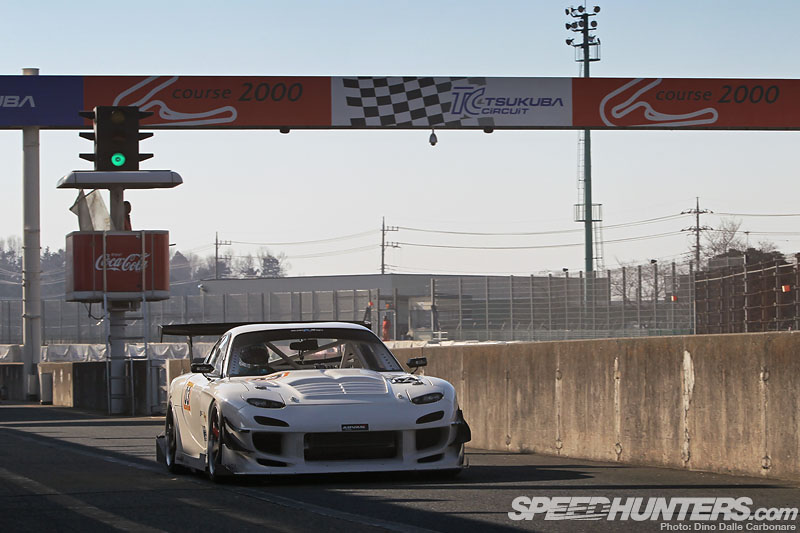 …and one by one begin entering the track…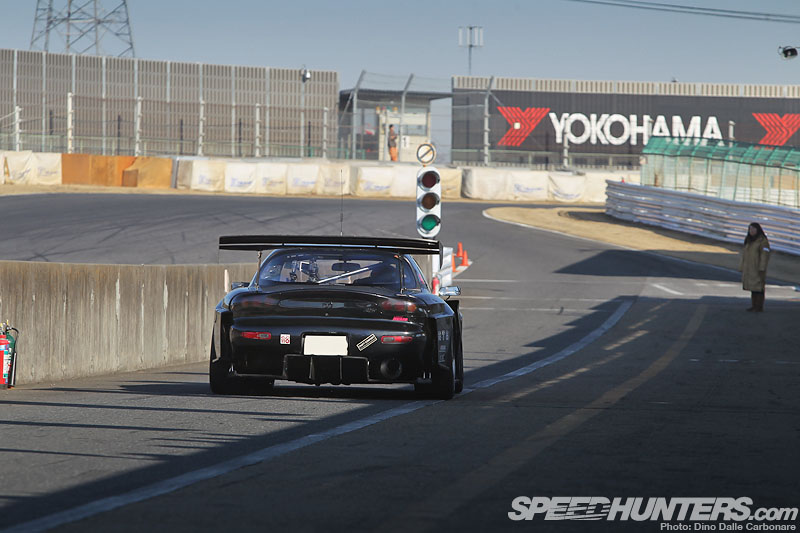 …for a couple of warm up laps. By 9 am the sun had slowly began to warm things up, the air was still bitterly cold, but the asphalt temps were rising by the minute.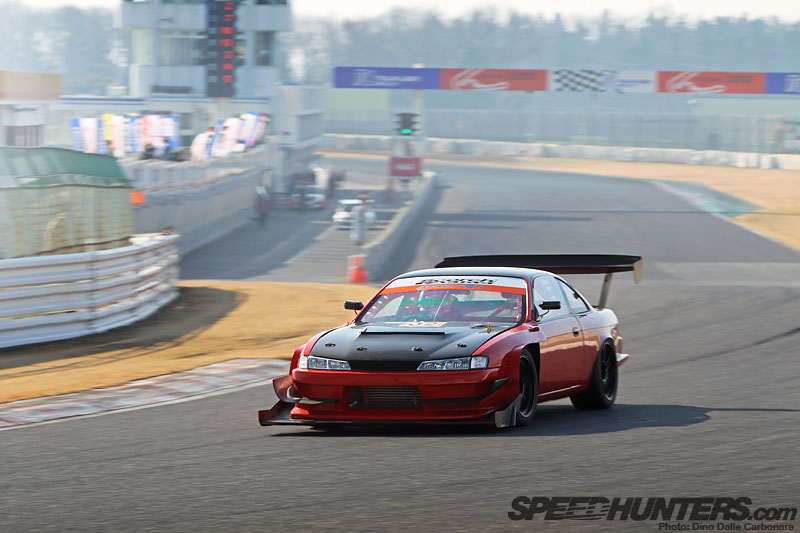 This of course means good constant grip with no overheating from the tires. Actually it seemed like some of the lightest cars on the course had trouble getting proper heat into their rubber, like Horikoshi-san in his Orange Exceed Moat S14 who had to baby his throttle for the first half of the session when exiting the tighter corners.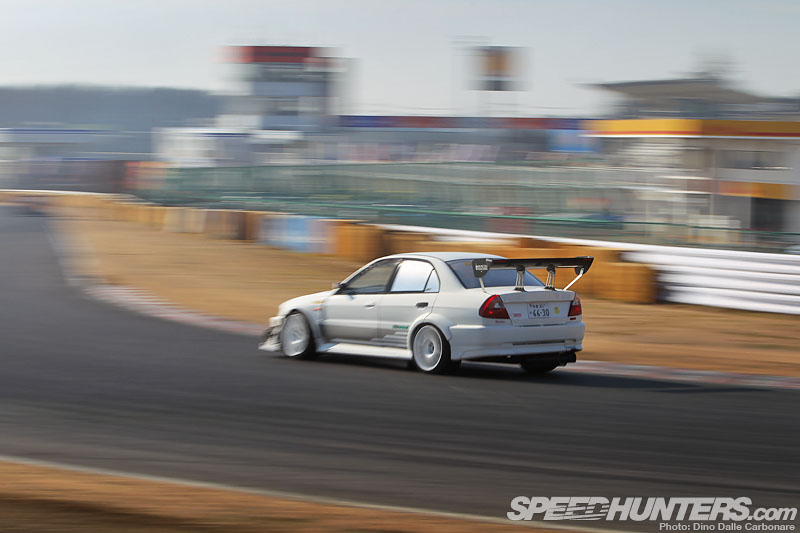 No such problems from the all wheel drive cars like this THF Evo 6 Tommi Makinen Edition, which was making great use of its explosive traction out of each turn enabling it to get a best lap of 58.941 sec.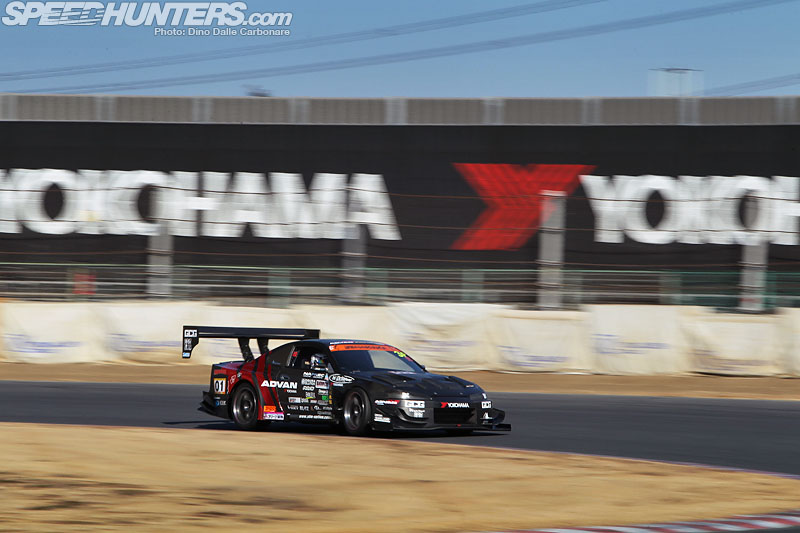 It seemed Suzuki-san was almost taking it easy, probably caming out to this session for a little testing.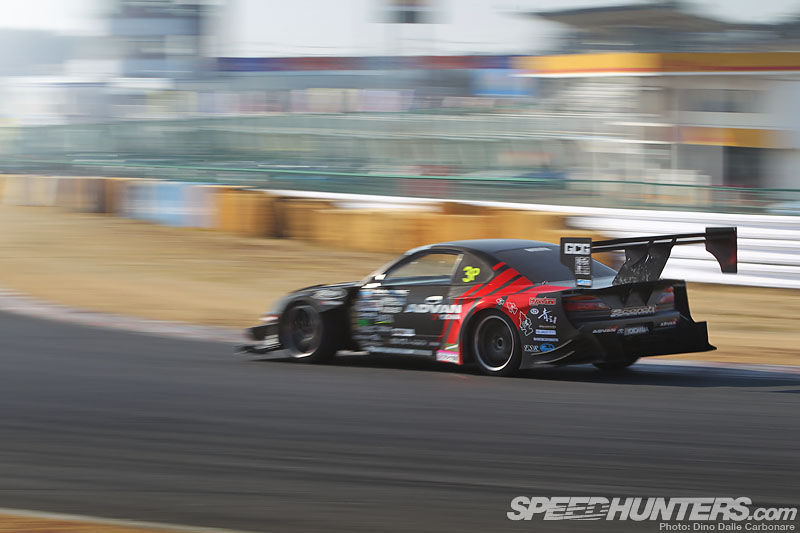 The truth is you never know what he has done to his engine, suspension, ECU or anything else that isn't obvious when looking at the car. He is always fiddling around and even if he wasn't going full out his 53.342 sec he recorded was the fastest time of the day.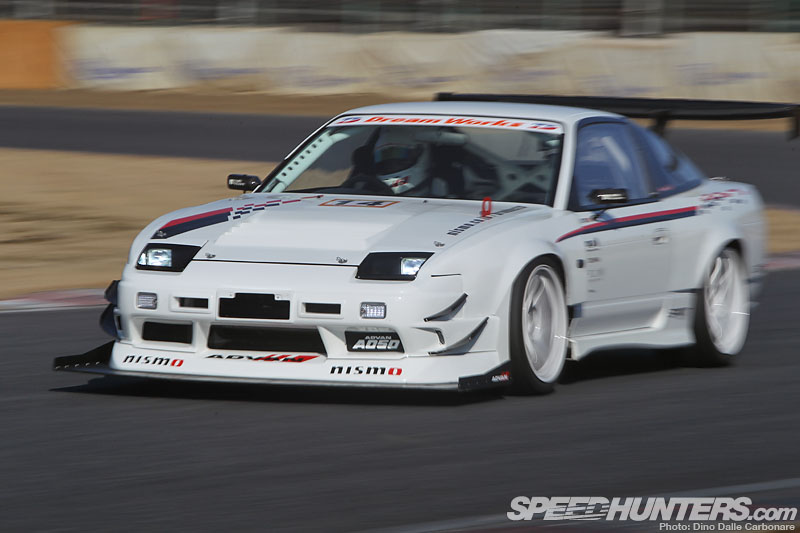 It's hard not to notice the bright white Dream Works RPS13 when it's out on track, a complete opposite to most beaten up drift 180SXs we normally see at soukoukai events. The driver managed to extract a 58.764 sec lap.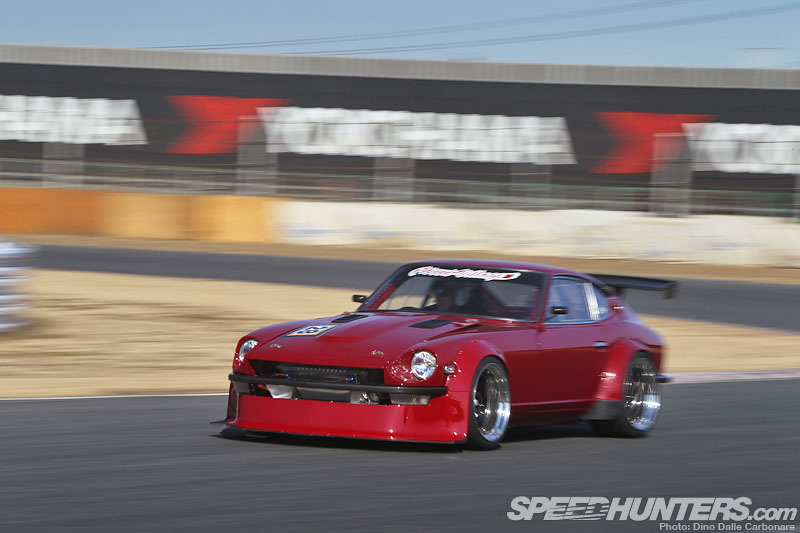 A lot of people seemed to like the 59-sec Wood Village S30 on the previous post so I thought I'd better throw in an action shot of it, powering out of turn one.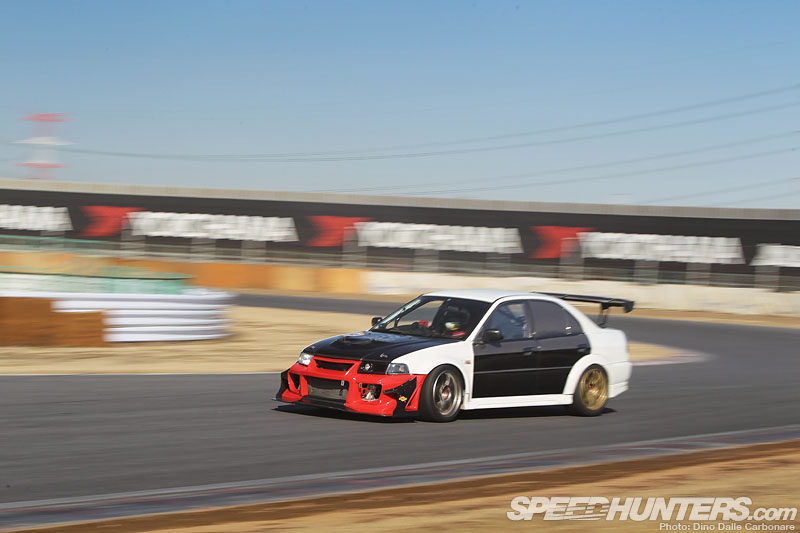 Here is another Evo 6, a true old favorite in Japan, a car from the golden era of Japanese sports cars that will continue to be revered as the years go by. This half carbon bodied beast has been tuned by Unlimited Works, the guys that looked after the Cyber Evo up until the other year. It finished the day in fifth spot, with a time of 56.961 sec. Just to put this into context, a 56-sec lap a decade ago would have won you the Super Battle event Rev Speed magazine organizes!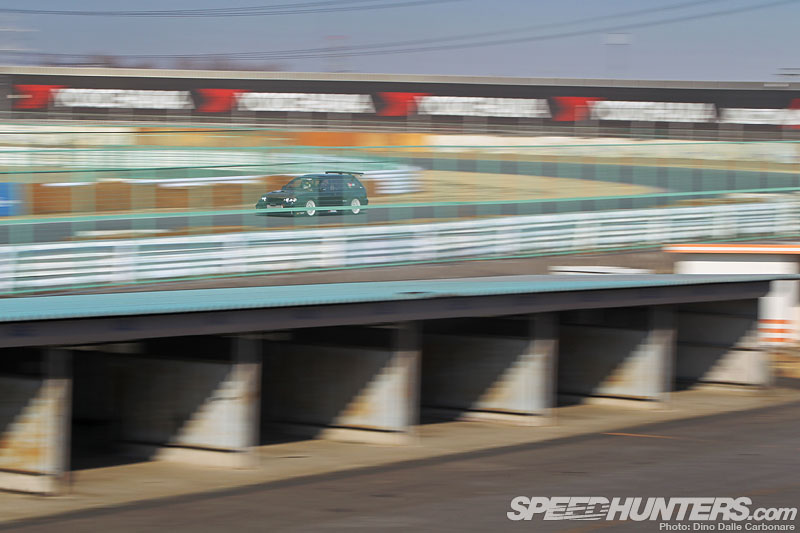 Here is a pan of the AS Mori BH5 wagon, what may well be the fastest and most extreme Legacy in Japan!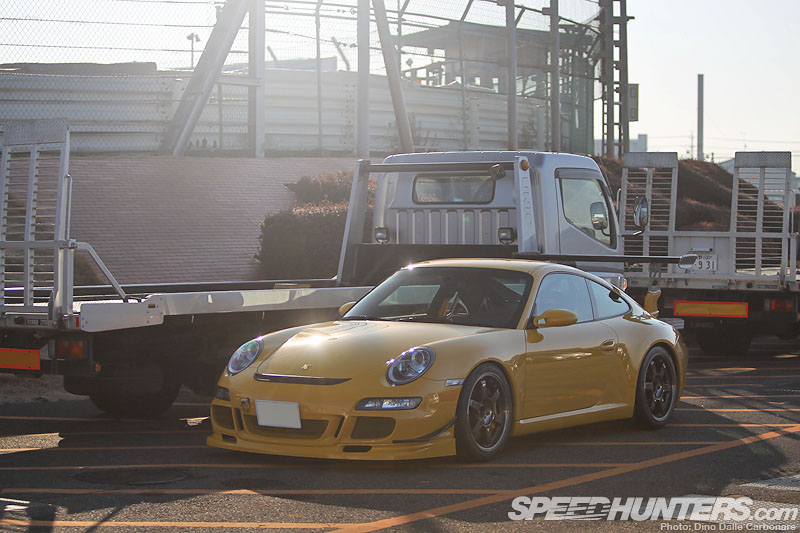 Walking to the other side of the circuit I had to stop to grab a few shots of this stunning 997 GT3…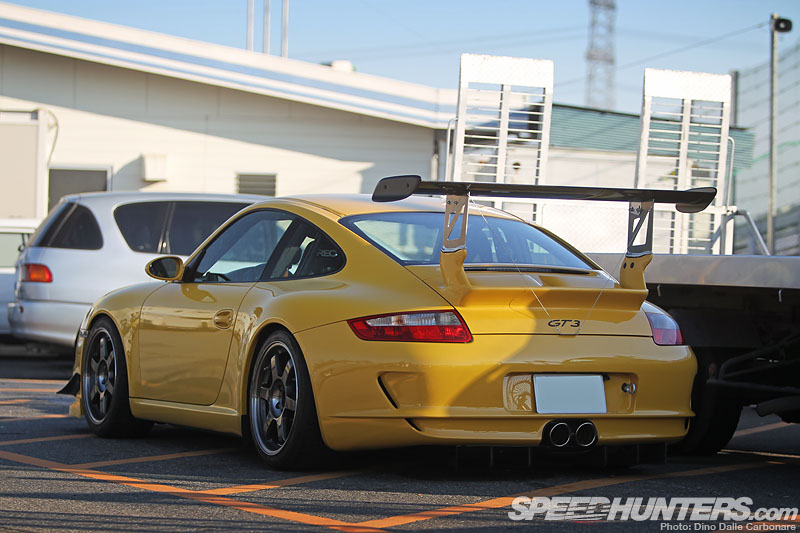 …which was riding on a set of exquisitely offseted 18-inch TE37s. Add to that a set of wild wing-stay boosters and it once again shows us that the Japanese are true masters of making cars sit just right.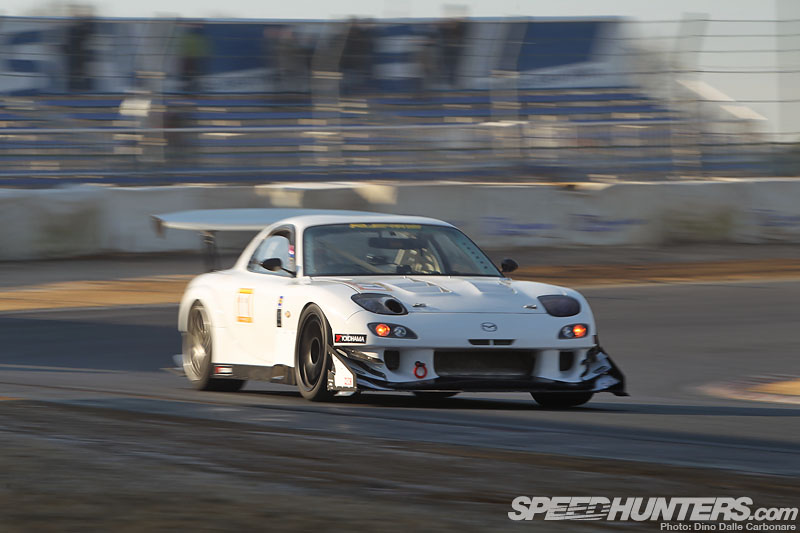 57.797 sec was the fastest this RE-Amemiya/Deepgrin/DG5 FD3S managed…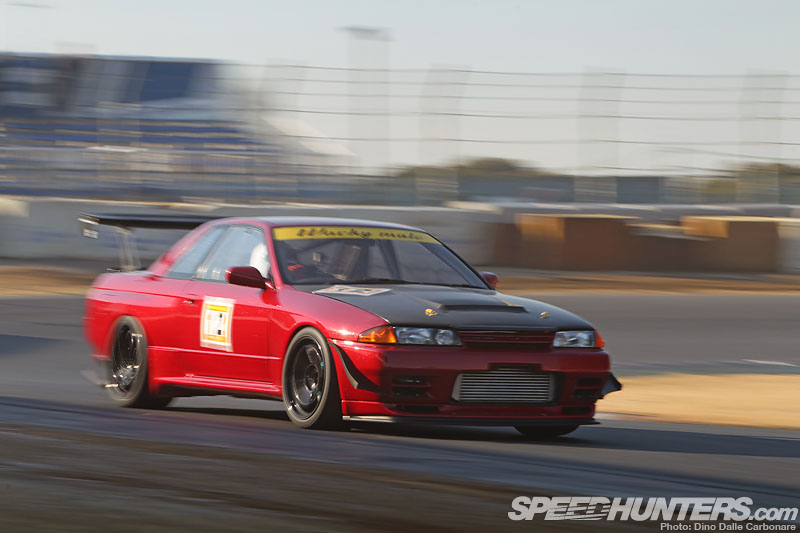 …however the biggest surprise was the Wacky Mate BNR32. I have never seen this car compete in a Battle Evome event, and seeing it is usually set up to attack the technical twisties of Suzuka Circuit I was blown away by what its owner manged to extract from it, a 56.536, the third fastest time of the day right behind Horikoshi's S14 and Suzuki's S15. Absolutely crazy!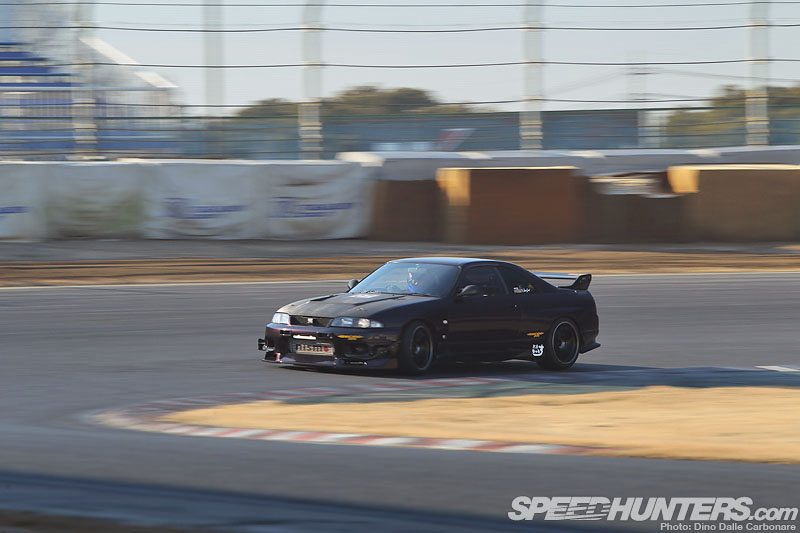 I was beginning to think that the BCNR33 had been forgotten by the time attack crowd, the slightly portly second iteration of the RB26-powered generation of the "R's" never seems as popular as the san-nis and san-yons. However this "Totoro" R33 annihilated every R34 present with its 58.010 sec lap time, finishing eighth overall.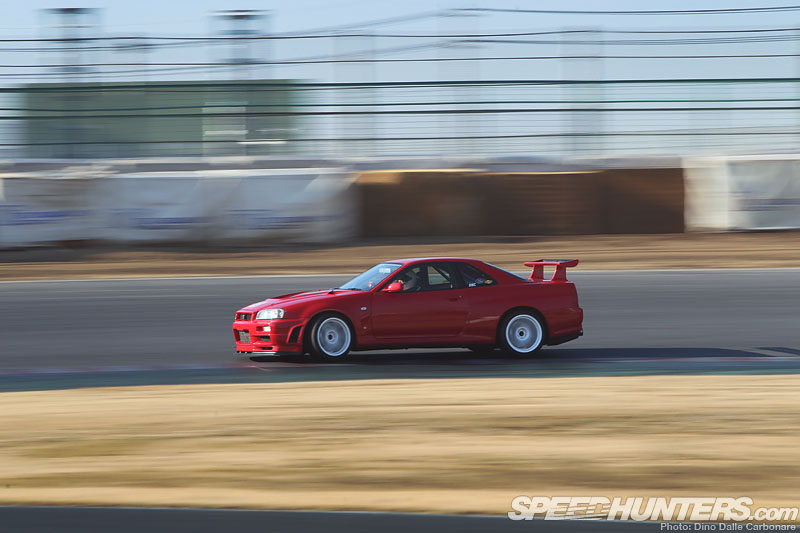 The Out Trash BNR34 was only 0.513 sec off its pace though. Maybe it can do better in the next Battle Evome meet this coming Sunday.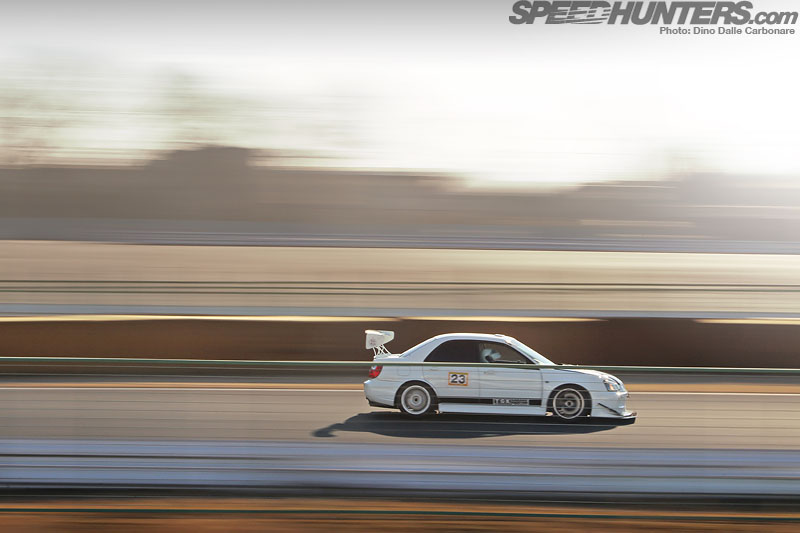 The Garage Kagotani GDB in action, simply beautiful. I hope the Subaru guys are not still thinking we don't give enough love to these cars!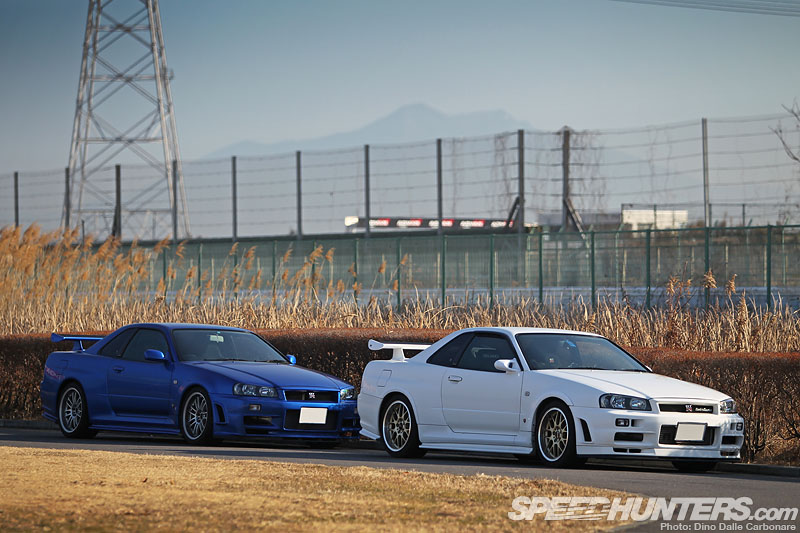 Ok yes. You might be noticing a lot of R34s in these posts, but you have to let me indulge myself at times! It's not every day that you see quite so many at Tsukuba, these two local cars dropping by for a quick look at the action…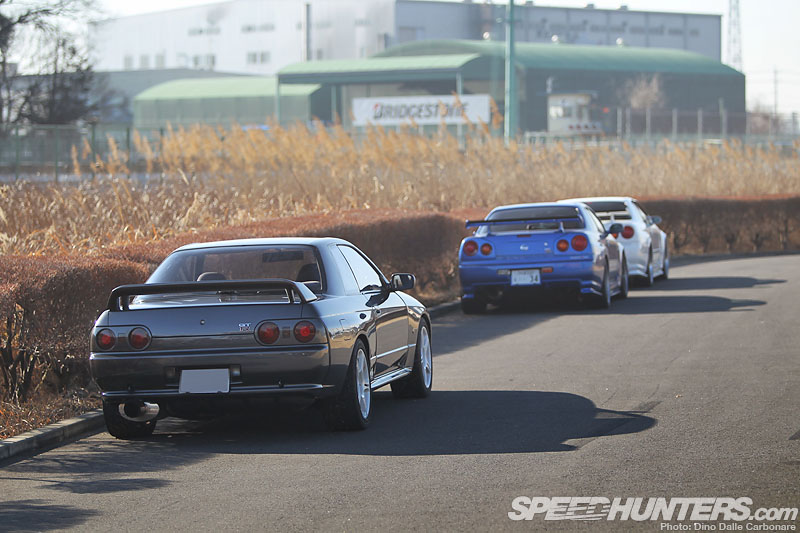 …parked in front of this lonely R32.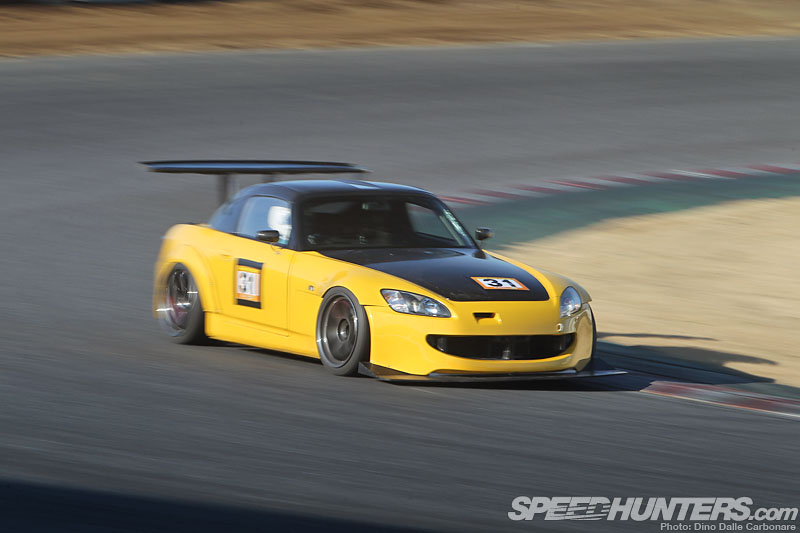 The happy faced AP1 we saw in yesterday's post might not have been fast among Japan's best amateur time attack cars…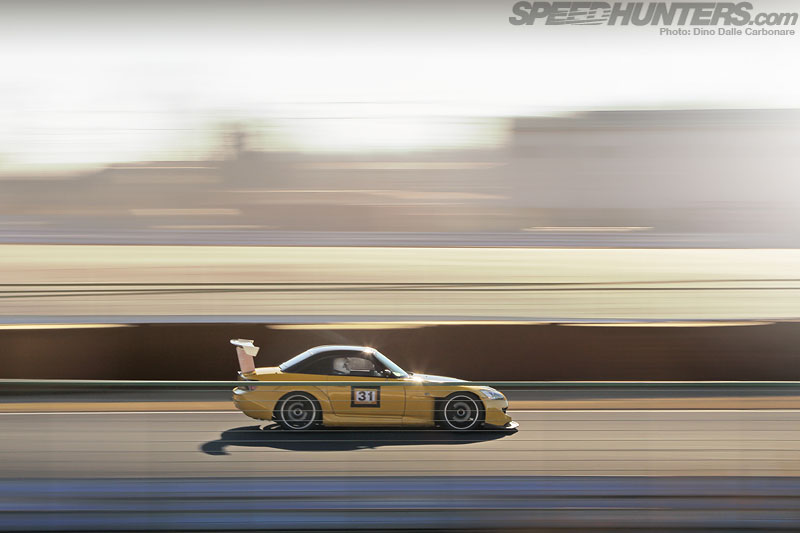 …but it certainly looked great out on track. Its 1:01:546 lap is still very quick, quicker than most modern day supercars would manage at Tsukuba in fact!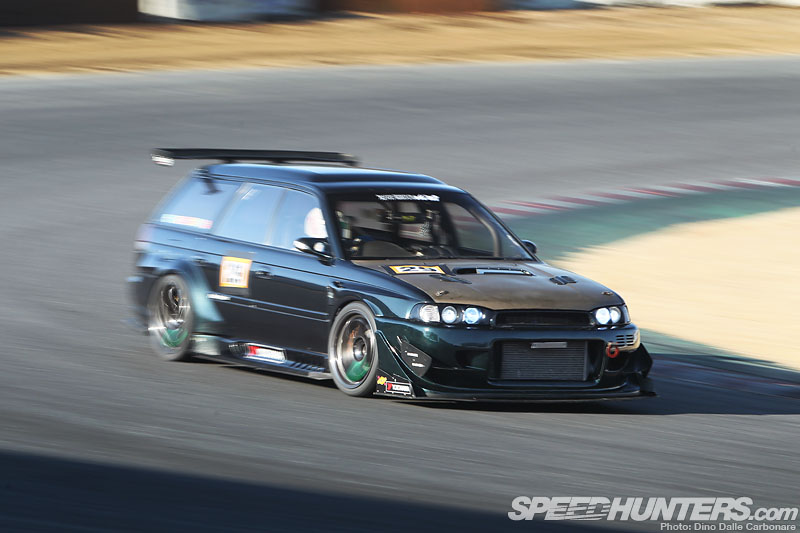 Since everyone seemed to like it so much…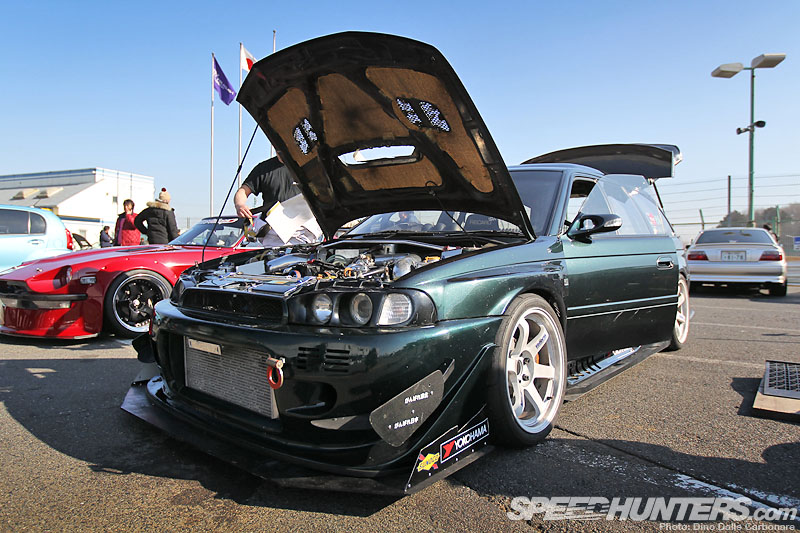 …I thought I'd end the Battle Evome coverage with a more detailed look at the AS Mori Legacy.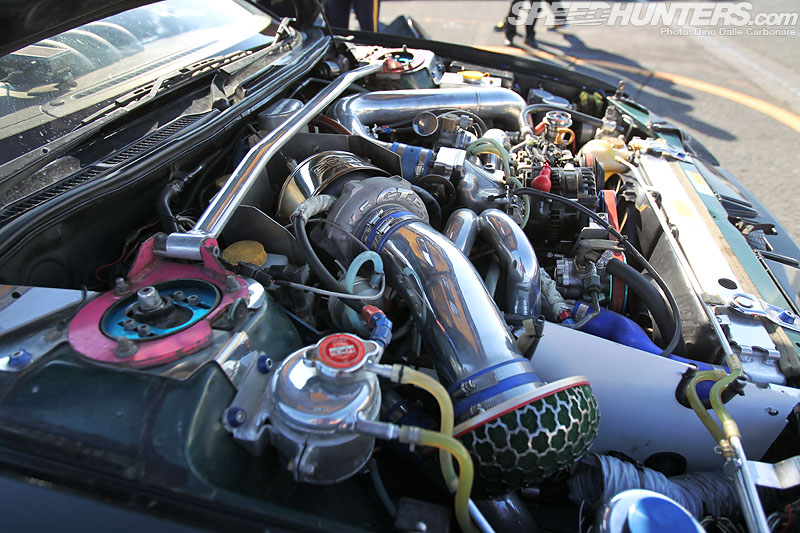 The EJ20 powering it runs an HKS GT-Pro turbo charger…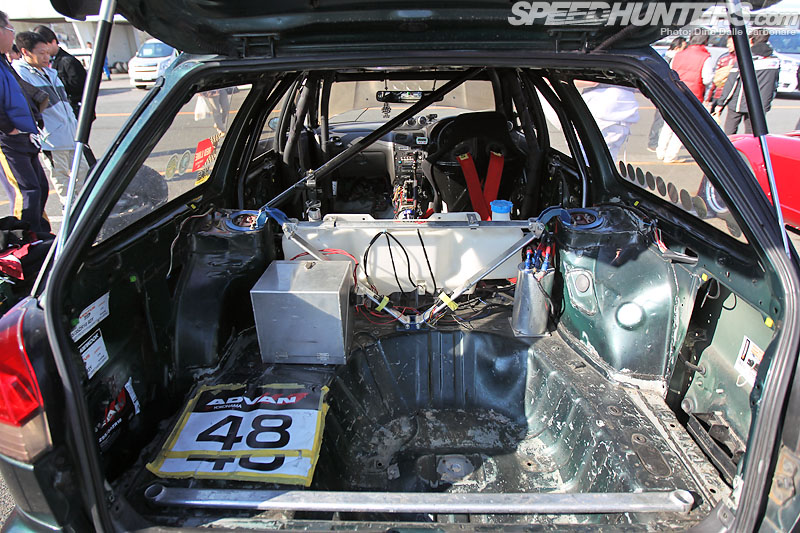 …while the whole interior has been stripped down to the bare metal. The only things you will see through the hatch are the relocated battery, the surge tank for the fuel system and the big water tank for the intercooler spray system. Rawest wagon ever? Possibly!
That's about it from this first Battle Evome of the year. With the HKS Premium Day coming up this Sunday I will have to skip the next meeting but I hope to make it the third or last rounds next month. I hear the Kyushu Danji NSX will be making the trek up from the other side of the country. Uhmmm….
Battle Evome 2013 coverage on Speedhunters
-Dino Dalle Carbonare