In the eyes of someone who grew up in the United States, it's hard to think of 1980s car more iconic than the Fox Body Ford Mustang. It may not have been the fastest, most advanced or sexiest car of the decade, but I don't think there are many car people in the States that don't at least have one story that involves a 5.0 Mustang…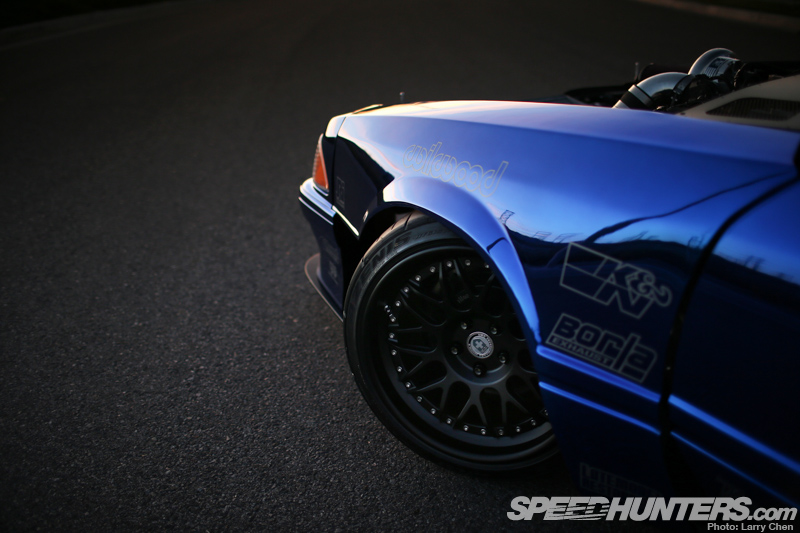 It doesn't matter whether you love or loathe the Fox Body, there's just no denying the significance of this car. The 5.0 brought the Mustang back to relevance after more than a decade in the dark, and for the first time fuel-injected V8s were being hot rodded and tweaked like their carburated predecessors from the '60s. An entirely new aftermarket industry quickly sprung up around the car.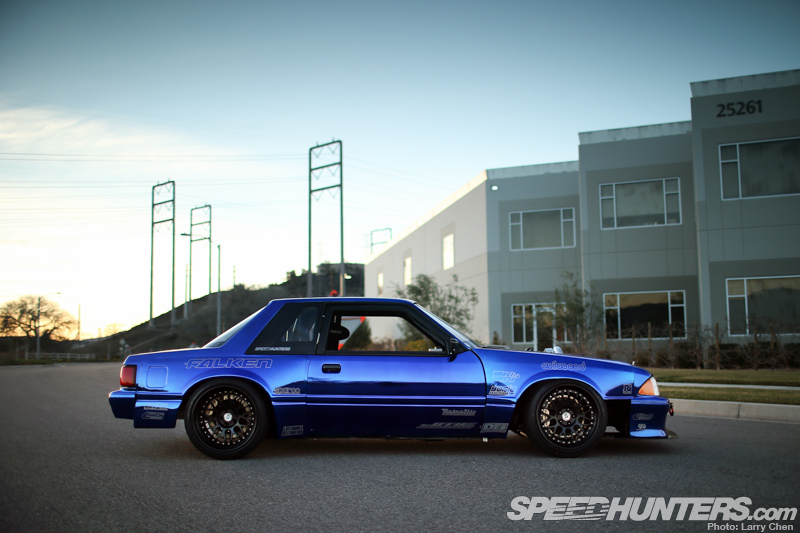 Soon, modified 5.0s began appearing and winning at drag strips and stop-light contests across the nation, and it's been that way ever since. If you preferred corners over quarter-mile ETs, the Fox could also be made to handle very well with the right combination of parts. Better yet, the 5.0 was affordable when new and got even cheaper as the years the went on. The same goes for the thousands of aftermarket parts available for them.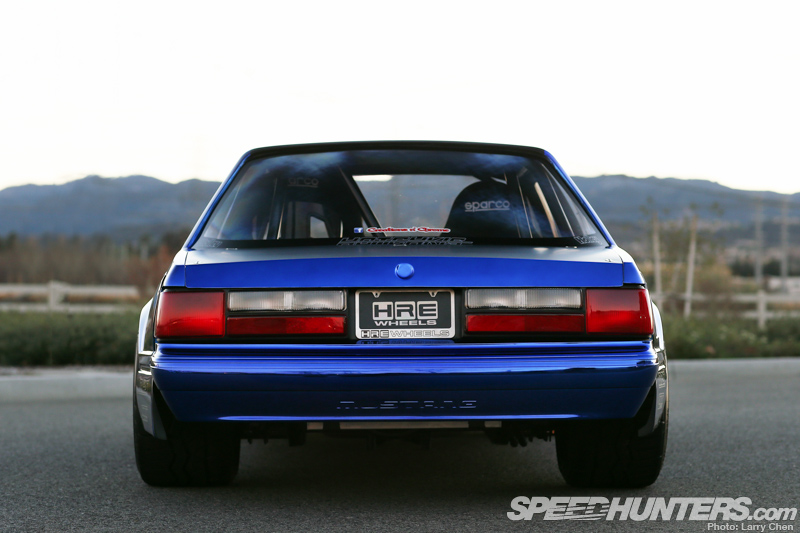 But for all of it's bona fide credentials as an enthusiast car, the Fox Body Mustang currently exists in a slightly strange place. Last built in '93 it's not new enough to be considered 'modern' yet it's not old enough to generate the same nostalgic appeal as, say, a '69 Mustang fastback. Take a walk around the SEMA Show and you'll see countless brand new Mustangs and countless 1960s Mustangs, but Fox Bodies are nowhere to be found.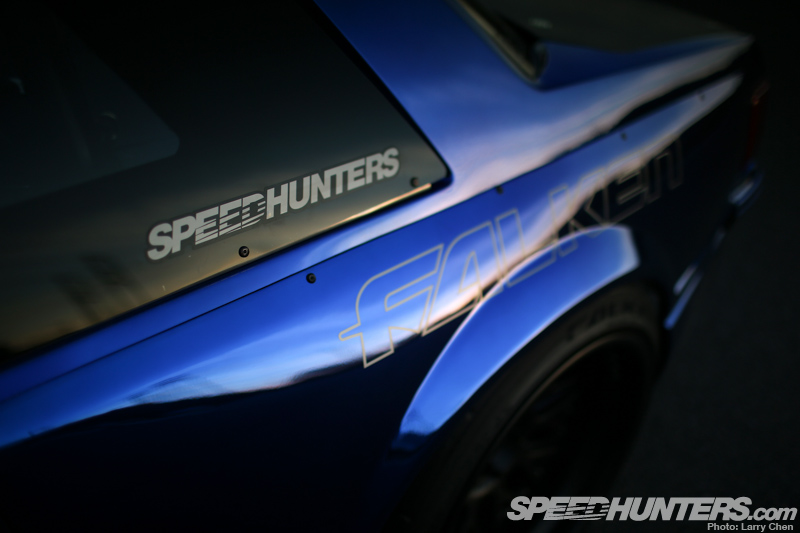 That's why I was blown away at last year's SEMA Show when I saw the 'Top Notch' Mustang from SoCal's Creations 'n Chrome. Not only was it cool just to see a Fox Body Stang on the show floor, but this one was at an entirely new level – a build truly worthy of being a SEMA show-stopper.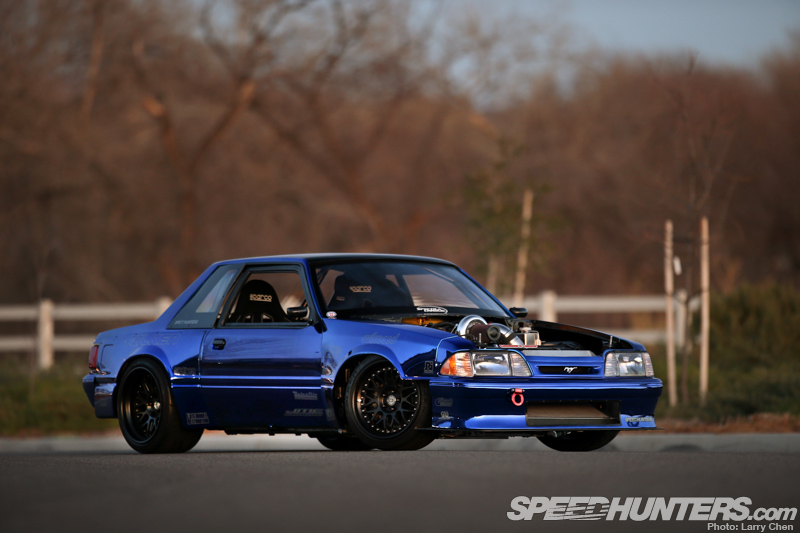 Bringing back some of that relevance and sex appeal was a big goal when Creations 'n Chrome set out to build Top Notch. Beneath the skin the car doesn't share a whole lot with the '86 Mustang it's based on, but they wanted it to be instantly recognizable as a Fox. More than that, they wanted to build one like the world had never seen. This car was to break what they saw as the 'cookie cutter' mold of one-dimensional drag cars, road racers and heavy street cruisers. Top Notch would do it all, and do it all in style.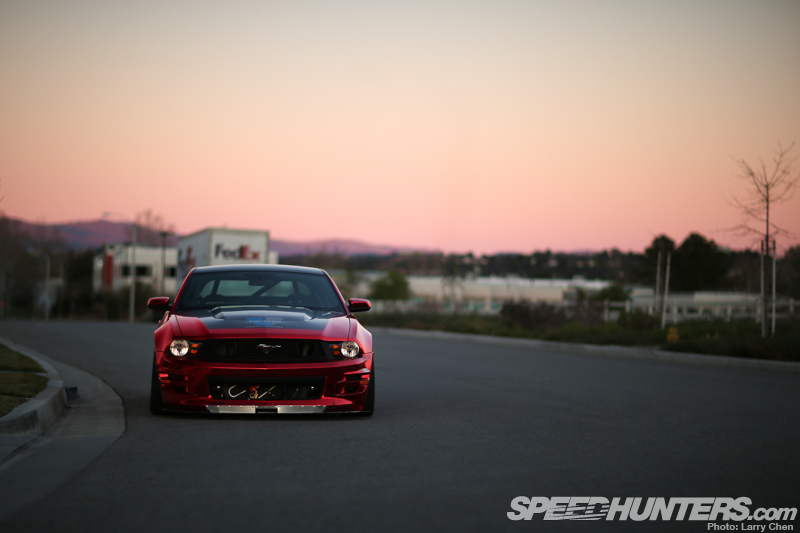 Of course this would be far from the first Mustang build Creations 'n Chrome had done. Let's not forget this is the same team behind the Boy Racer Mustang that Sean featured last year. So with plenty of Mustang experience and four and a half months to go before SEMA, they got to work on Top Notch.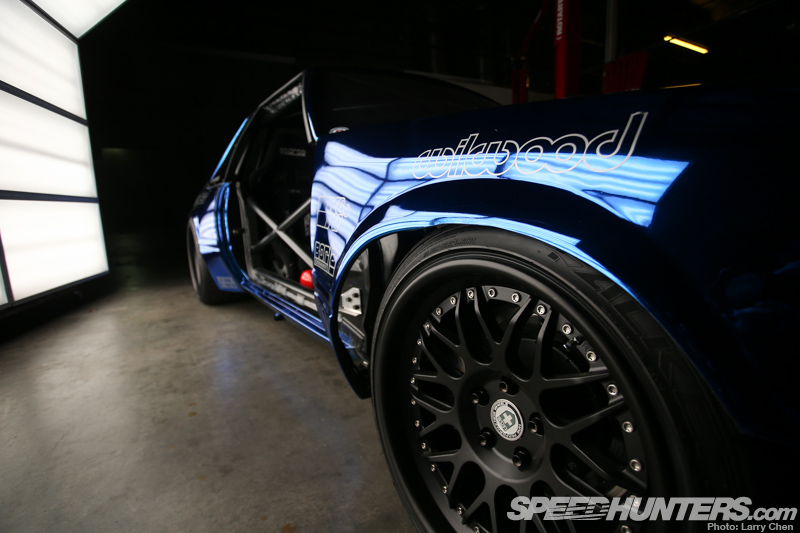 Seeing as its architecture that dates back 1979, the chassis would need a lot of work and custom fabrication to get the car up to the ass-kicking level that C&C wanted. For starters, everything on the chassis was seam-welded and reinforced throughout. The original floors were removed and replaced with full length frame rails and new aluminum floors. When all the work was done the wheelbase was extended by 1.5″ and the track widened by 3″.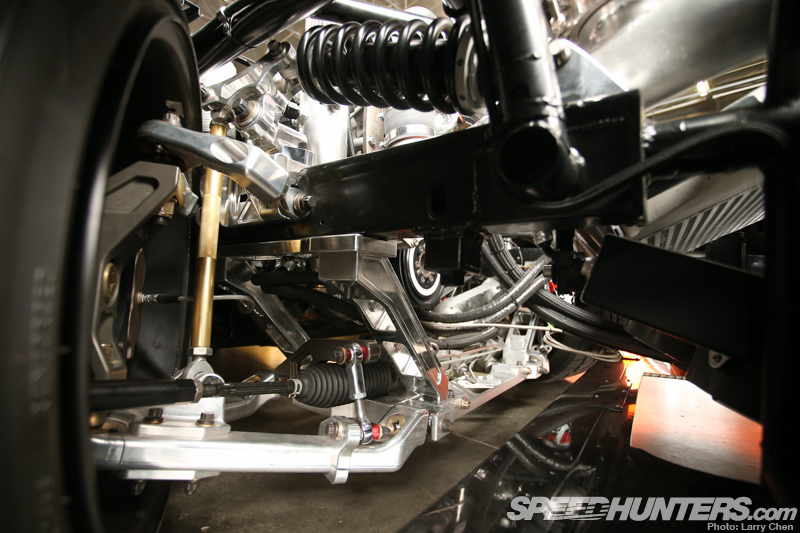 With the idea to make the Mustang handle as well as any modern performance machine, the car was equipped with an SLE double-wishbone, inboard cantilever front suspension from JME Enterprises. In the rear, the C&C team constructed a custom three-link setup that uses adjustable Hotchkis control arms from an S197 Mustang.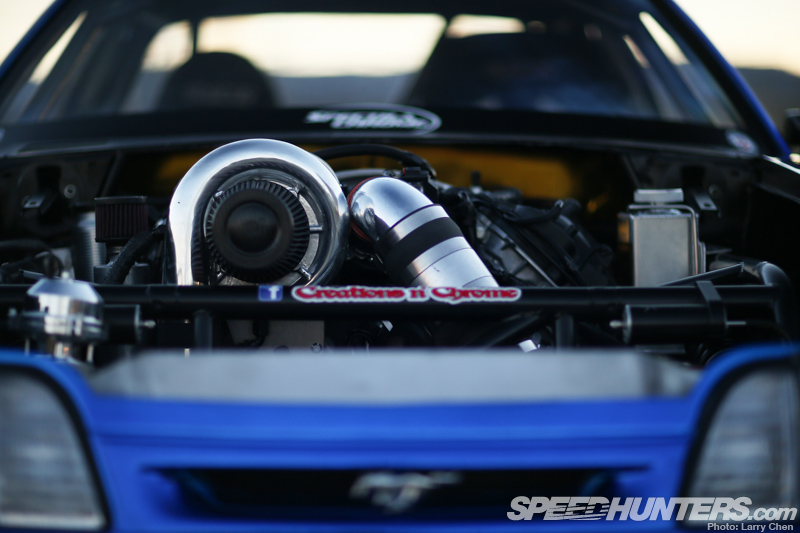 With the chassis and suspension up to spec, it was time to tackle the powerplant. While an original pushrod 5.0 small block could have easily been built to make some wild horsepower numbers, C&C decided to go with a slightly more modern approach in this department.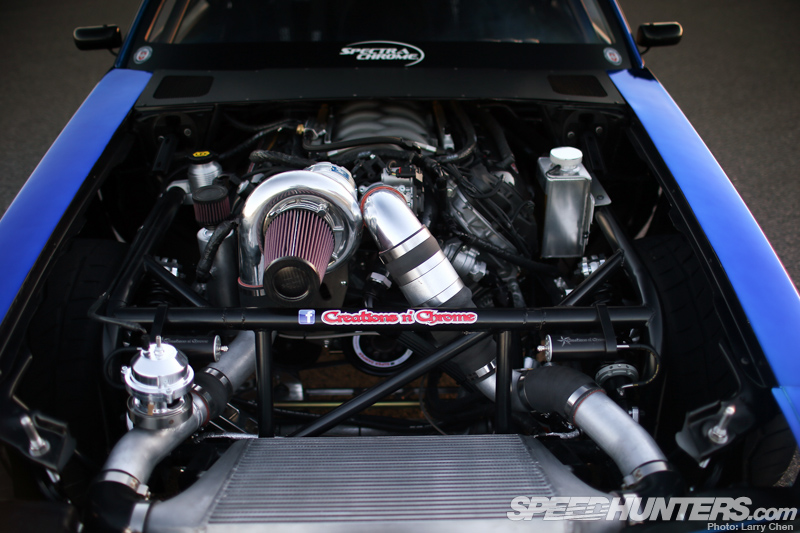 While it has the same displacement as the proven Ford 5.0 small block, the Ford Racing Aluminator DOHC 32-valve crate motor is a pure exercise in modern V8 muscle. With its lighter weight and placement far back into the chassis, this engine choice also keeps Top Notch as athletically balanced as possible.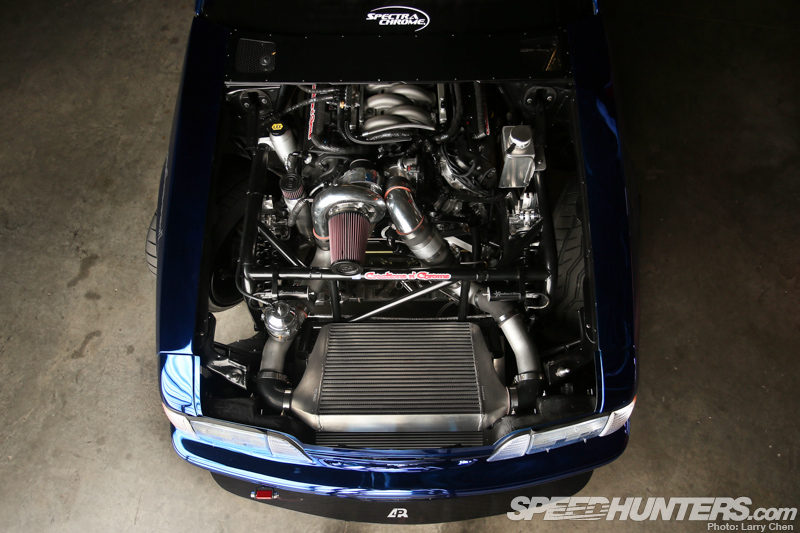 In this view you can really see just how far back the engine sits. In fact, six of the eight cylinders sit behind where the firewall originally was. Additions to the crate motor include a Canton Racing accusump, K&N air and oil filters and a full Borla exhaust with long tube headers, X-pipe, and XR-1 mufflers.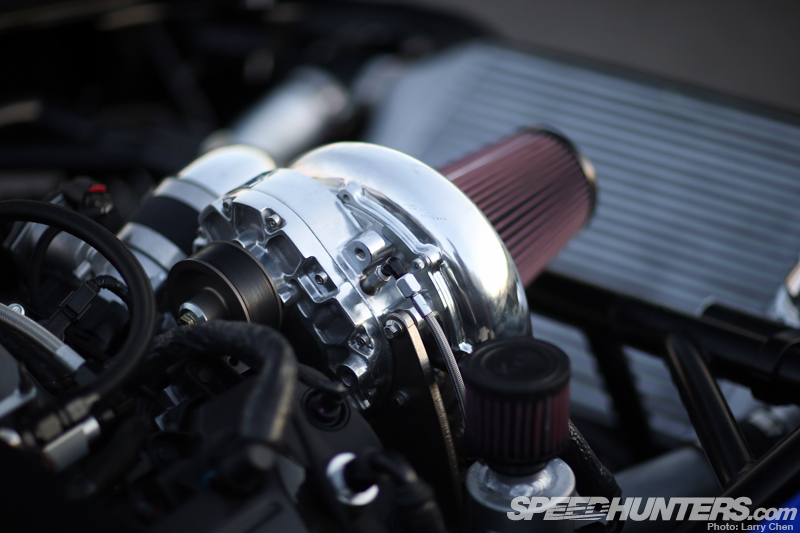 While four or five hundred horses of naturally aspirated DOHC V8 power would have been plenty for most sensible people, the motor swap was just the beginning. Dominating the engine bay is an enormous Vortech JT-Trim centrifugal blower with a V-mount type air-to-air intercooler. Of course the engine comes fully prepped for boost, with 9.5:1 Mahle forged pistons and Manley H-beam rods with ARP bolts.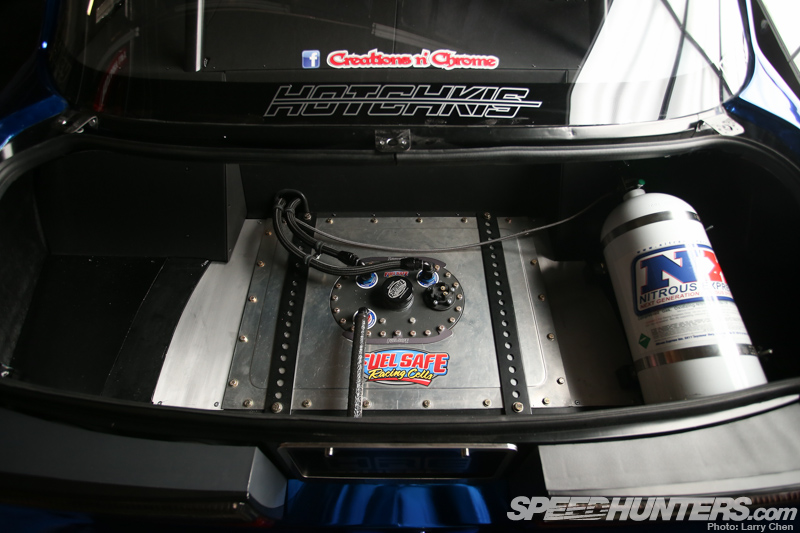 There's also a Nitrous Express N-tercooler system – just to keep things cool you know.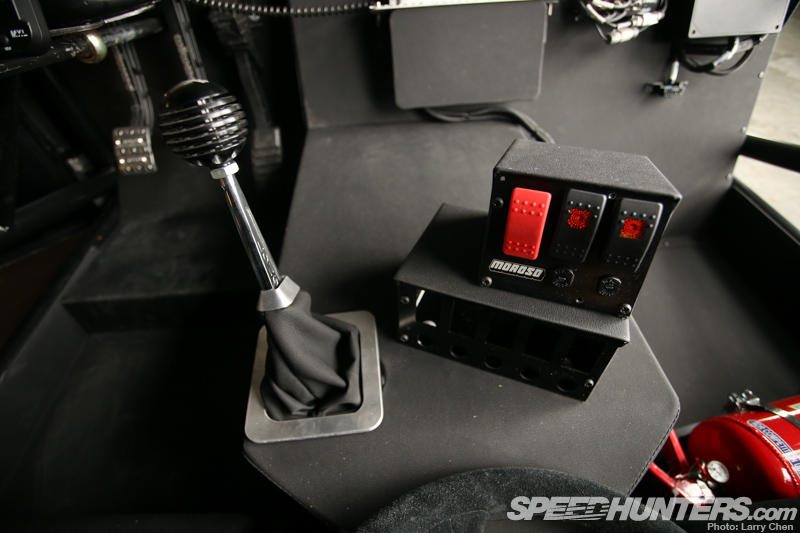 To handle the power, the thumping powerplant is mated to a G Force GF-5R five-speed transmission and RPS Performance BC3 Clutch with triple carbon disc.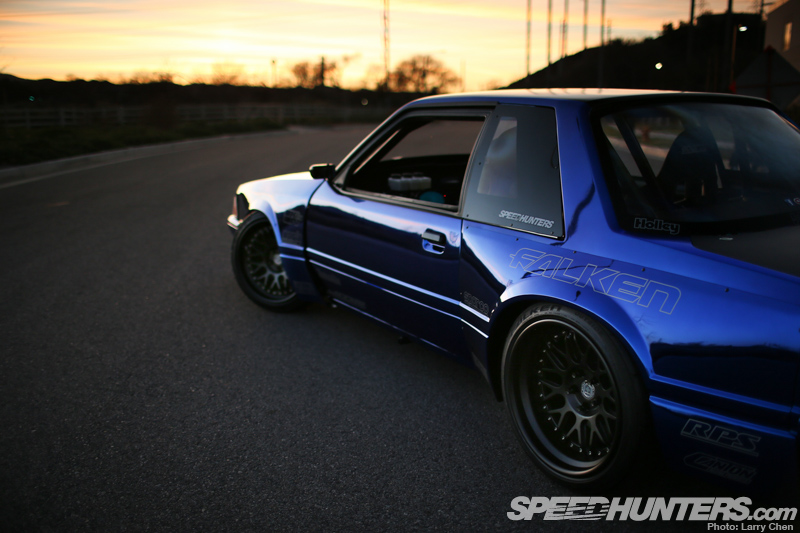 Trimming fat was another crucial goal of the build, with a goal weight of 2,500 pounds for the finished car. Lots of carbon fiber has been used to get there, with CF doors, front end, hood and deck lid sourced from Motor City Solutions.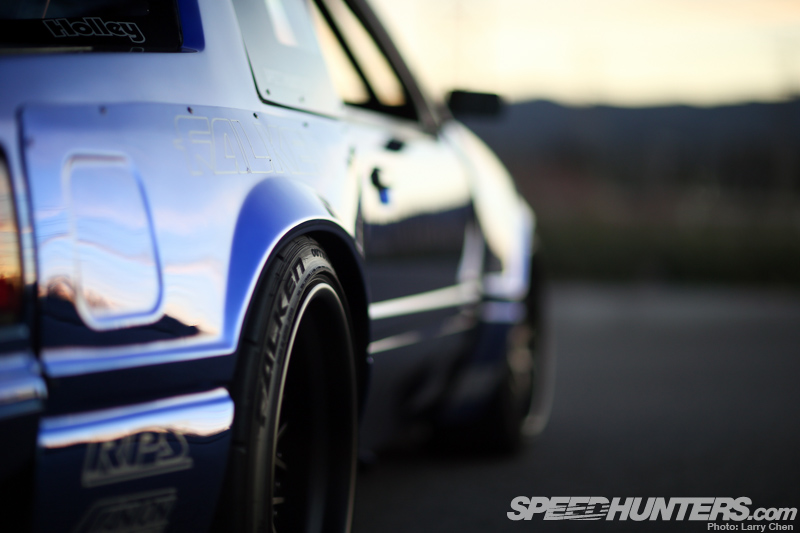 The aggressive Maier Racing flared fenders in the front and rear are also made from carbon fiber. With all of that carbon, the total weight of all the car's body panels is just 98.7 pounds combined.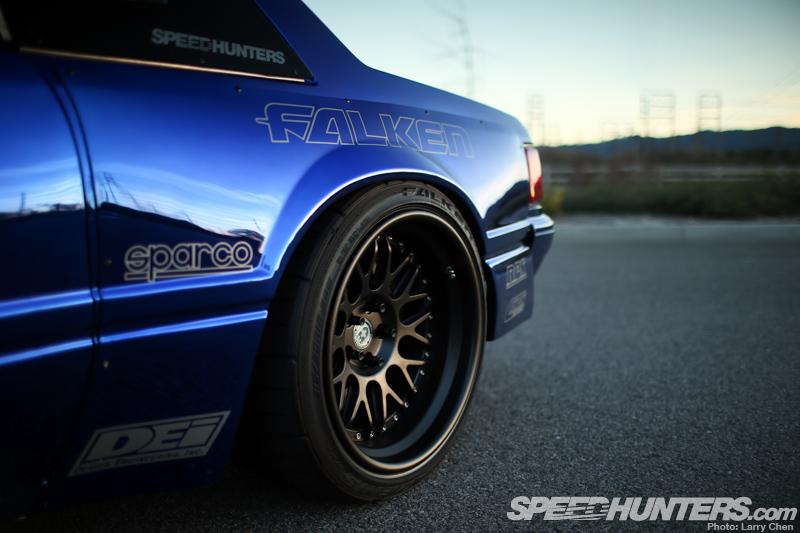 Having a mean but functional stance was another one of the goals for the project. When looking to fill those widened fenders, C&C contacted the folks at HRE who built a custom set of C100 wheels: 18″x11 for the front and 18″x13 for the rear.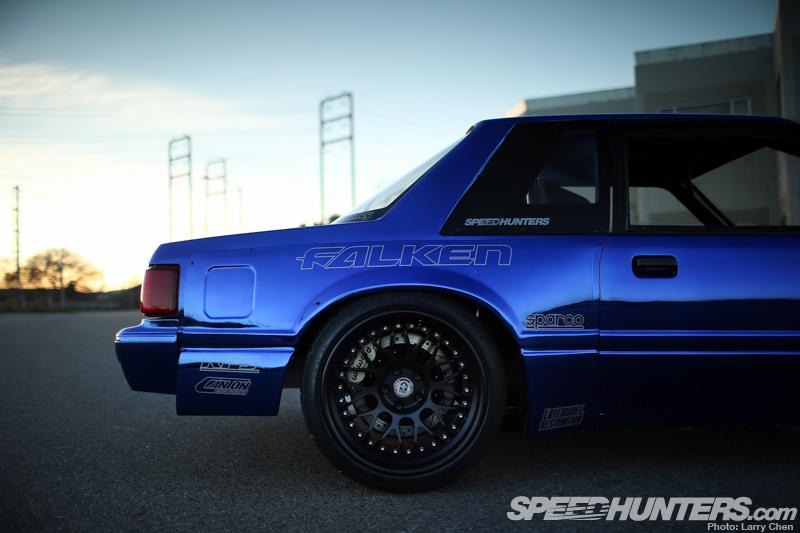 For street driving, grip comes from a set of Falken Azenis RT615-Ks: 265-35-18 front and 315-30-18 rear.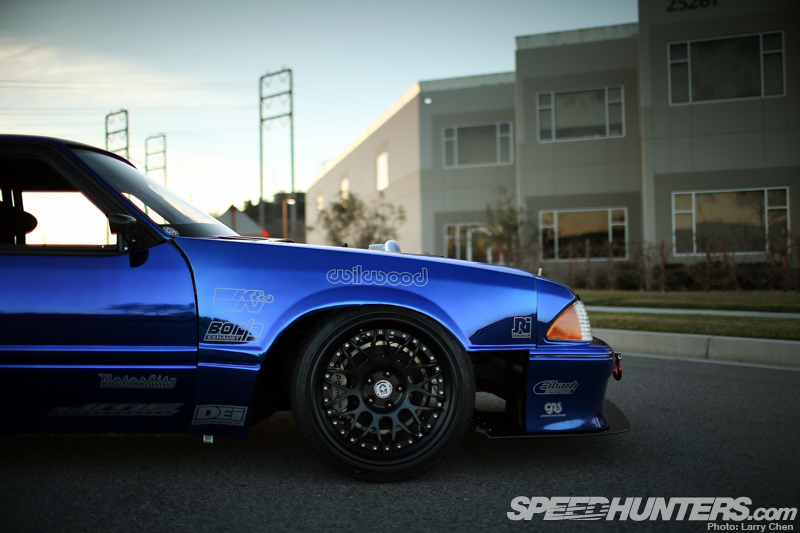 Behind the spokes of the HREs, you can catch a glimpse of the Wilwood Superlite brakes (six pot front, four pot rear). The pedal setup and remote master cylinders also come from Wilwood.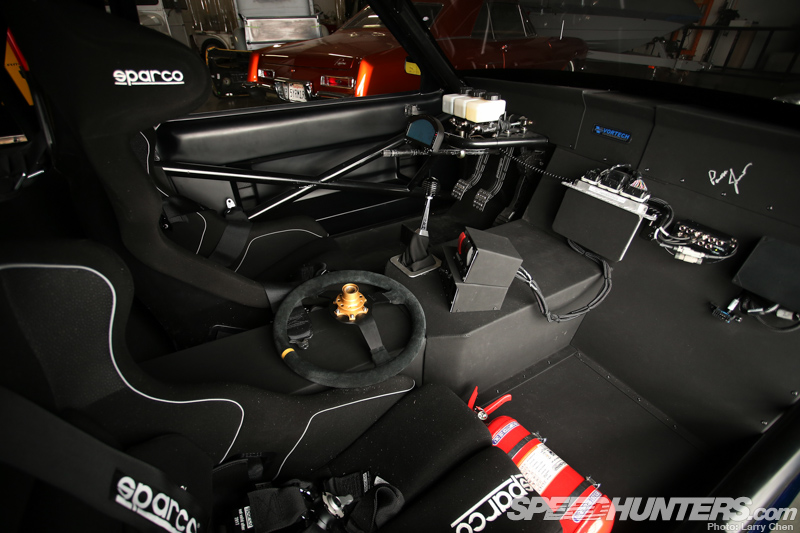 What kind of car is this again? There certainly isn't much Mustang left inside. Instead, we have a completely a stripped down, race-ready cockpit. Like the rest of the chassis work, the rollcage was done in-house at Creations 'n Chrome.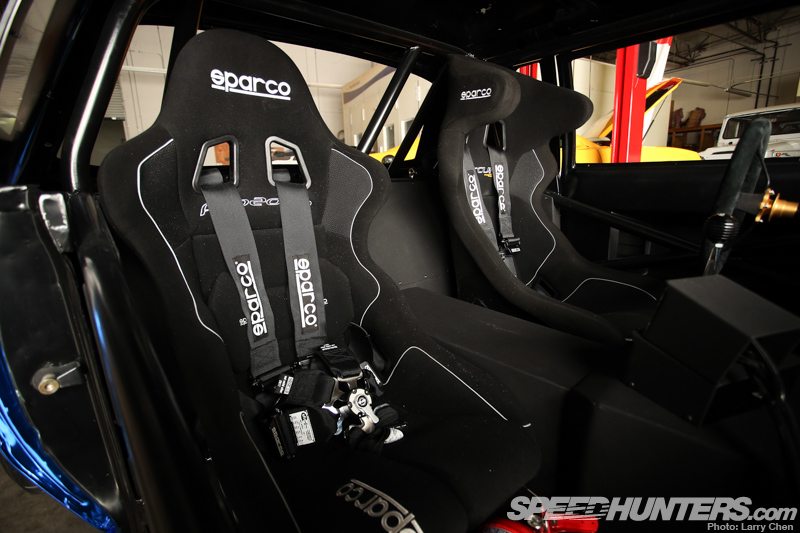 Sparco buckets are there to keep the driver and lucky passenger firmly planted when it comes time to unleash the car.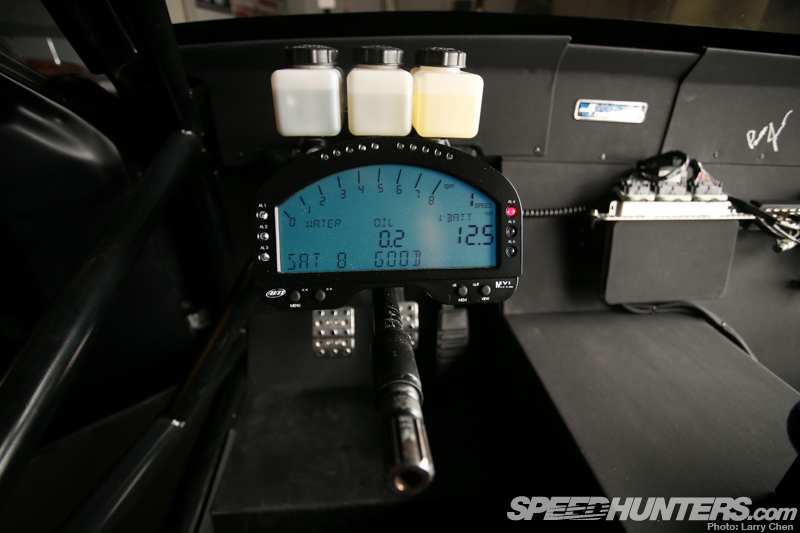 When strapped in, the driver will be greeted by this advanced AiM MXL dash unit. The Evo 4 data logger also comes from AiM.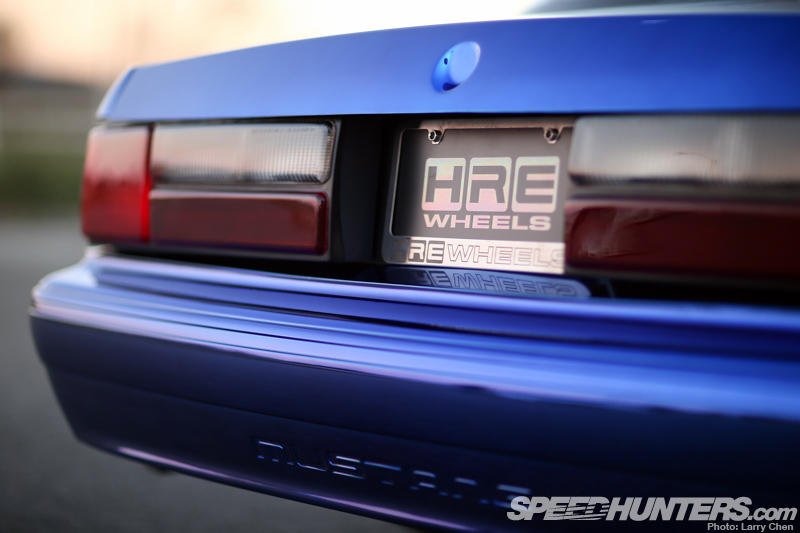 It would also be impossible not to mention the car's wild paint job. The Spectra Chrome spray on chrome paint and Ballistic Blue Candy topcoat were applied just two days before SEMA began.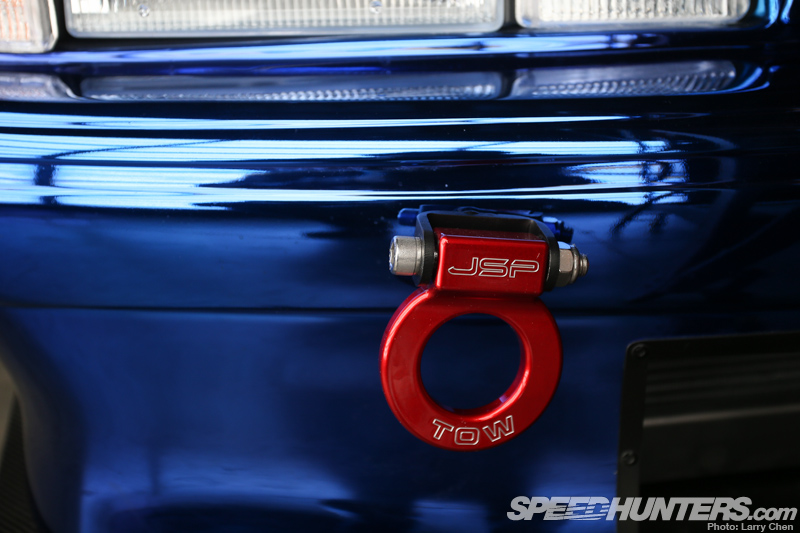 While the car looks complete in its current state, C&C actually has lots of work to do before Top Notch is completely ready for action. A flat bottom underbody is in the works, along with a rear diffuser and a Racelogic traction control system. Once that is done, the car will be registered for street use.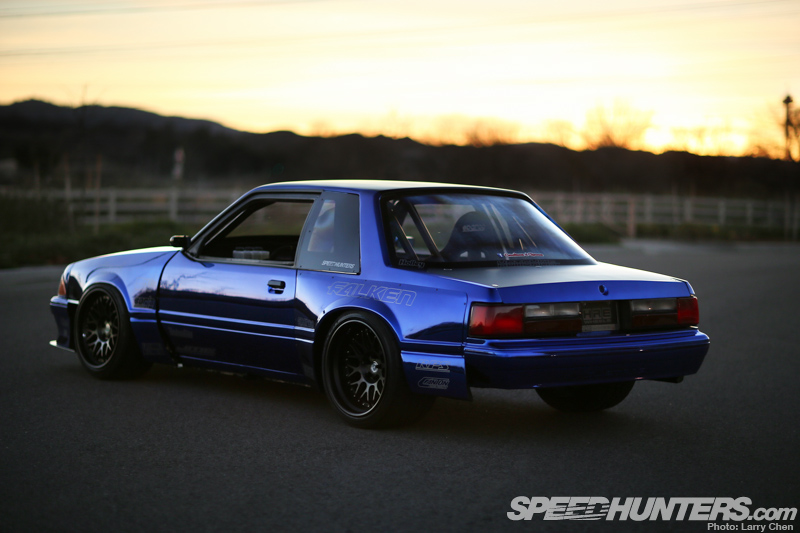 Besides being used for fun on the street, the plan is to take Top Notch to as many track events as possible. Everything from autocross and track days to drag strips and standing mile meets. This all goes back to the idea of 'breaking the mold' and pushing the Fox Body Mustang to new levels.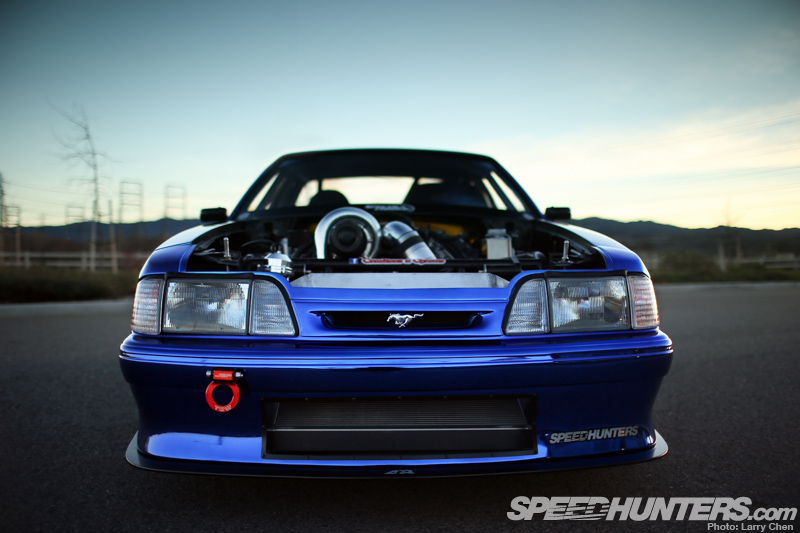 There's always something to be said for getting an incredibly popular platform and taking it to new, groundbreaking levels. With Top Notch, it seems Creation's 'n Chrome has taken the iconic Fox Body and done just that. As someone who has owned a couple Fox Mustangs myself, I'm quite excited to see this thing in action.
Mike
Photos by Larry Chen
Specs -
Top Notch – 1986 Ford Mustang Notchback
Powertrain
* Ford Racing 5.0L Aluminator crate engine for S/C Applications (9.5:1 Mahle forged pistons, Manley H-
beam rods w/ARP bolts)
* Vortech JT-trim Centrifugal Supercharger , BV-57 Bypass valve, and air to air intercooler
* G Force GF-5R 5 speed transmission w/ Long Shifter
* RPS Performance BC3 Clutch, Billet cover w/ triple carbon disc
* Ford Racing Boss 302S controls pack, Reflashed with SCT X3 programmer
* Borla stainless long tube headers, X-pipe, and XR-1 mufflers
* Holley Billet Dominator Fuel pump and regulator w/ Metco fuel rails
* Injector Dynamics ID1000 Fuel injectors
* Canton Racing Product Accusump, oil breather and coolant expansion tanks
* ATI Super Damper
* Ron Davis radiator
* Meziere electric water pump
* K&N Air and Oil Filters
* Nitrous Express N-tercooler system with custom sized spray ring
Chassis
* JME Enterprises front SLA suspension – push rod activated inboard cantilever
* Creations n' Chrome custom 3 link rear utilizing Hotchkis S197 Mustang adj. control arms
* Creations n' Chrome sheet metal work, cage, and chassis prep
* JRi double adjustable remote reservoir coil over shocks
* Eibach Springs, front 500 lbs./in. and rear 175 lbs./in.
* Wilwood Brakes Superlite 6-front
* Wilwood Brakes Superlite 4-rear
* Wilwood Brakes clutch/brake pedals with remote master cylinders
* Lee Manufacturing custom valved '03 Cobra power steering rack
* Lee Manufacturing chain-driven offset steering quickener/reducer
Wheels & Tires
* HRE Wheels C100 18×11 front, 18×13 rear
* Falken Tire RT-615K 265/35/18 front, 315/30/18 rear-street
* track tires-TBD
* Monster Lug extened open end hardened steel lug nuts
Exterior
* Spectra Chrome spray on chrome paint w/ Ballistic Blue Candy topcoat applied by Creations n' Chrome
* Motor City Solutions carbon fiber front facia, hood, doors, and rear deck lid
* Maier Racing front and rear carbon fiber fenders with 1.5" flares
* APR Performance carbon honeycomb front windsplitter
* APR Performance Formula GT3 mirrors
* Headlights, taillights rear bumper cover and all factory trim supplied by Late Model Restoration
* Pro Glass preformed polycarbonate windows
Interior
*AiM Evo4 Data logger and AiM MXL Dash
*Interior wrapped with UltraFabrics Ultrasuede
Safety
*Sparco seats, harnesses, wheel and driver's gear
*Fuel Safe 15 gal. fuel Cell
*Fire Safe fire suppression system
* DEI Firesleeve for AN lines and Heat Screen thermal barrier shields
Designed, fabricated, assembled, painted and tuned in house at Creations n' Chrome, Valencia, CA
Special thanks:
Lance Keck and Bob Endress @ Vortech Superchargers
Julio Mayen @ JME Enterprises
JJ Furillo and Jeff Ryan @ JRi Shocks
Lucio & Bert @ K&N Filters