Events like the Premium Day are where you can really get lost in the details. There is so much hot metal around that you can literally waste the whole day looking over your favorite cars without a care in the world for what is happening out on track. It's very difficult to pull yourself away from greatly modified rides, as it's where you notice inspiring new ideas, new parts and outright dedication that the Japanese seem to have when it comes to perfecting their own cars. So to get this spotlight-o-rama going I think I will start with a car that impressed me, and a lot of other people, no end. It's not the first time we see this BCNR33, but it is now currently in its finished state, a project that the owner undertook all by himself. Once done this san-san was taken over to Do-Luck where Ito-san got busy setting up and programming its ECU.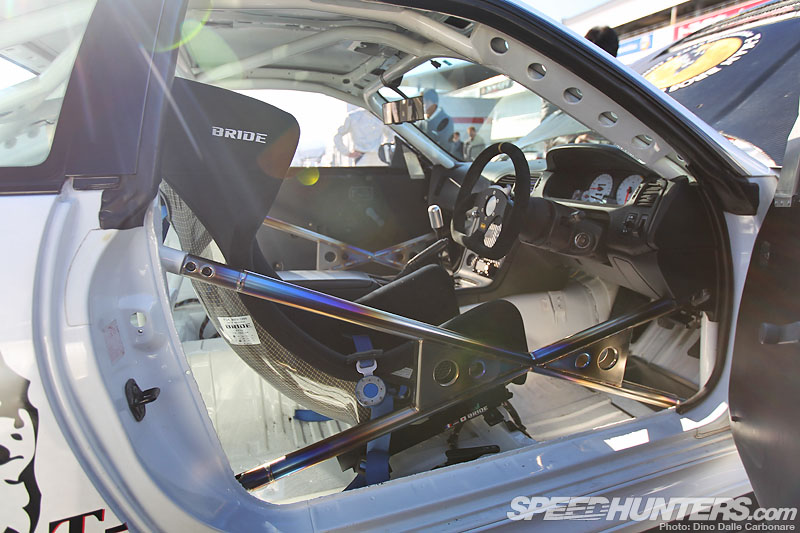 It was entered in one of the Hiper Challenge sessions and despite going out for only a couple of laps it managed to record a 1:47sec, literally only a second or two behind the fastest demo cars entered in the Option Super Lap event. The owner took the GT-R down to the bare chassis prior to getting the project started and fabricated a very sturdy, race-inspired cage, gusseted to the pillars and even sporting removable titanium side cross-bars. A first?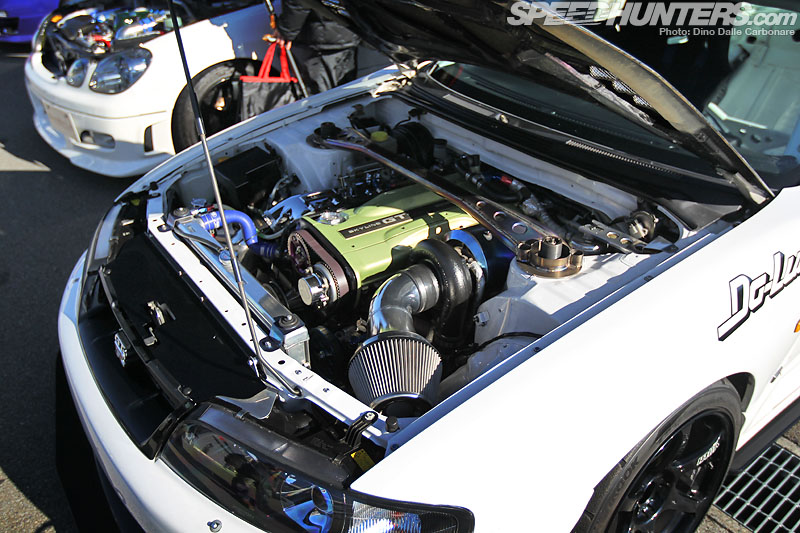 The RB26 runs an HKS 2.8L stroker kit and a big T88 blower, which as Ito-san told me is only set to low boost at the moment. So the car definitely has potential for faster times. There are lots of other goodies on show too like the old Nismo titanium strut tower brace which has become a bit of a collector's item, not to mention a Hollinger sequential taking over shifting duties.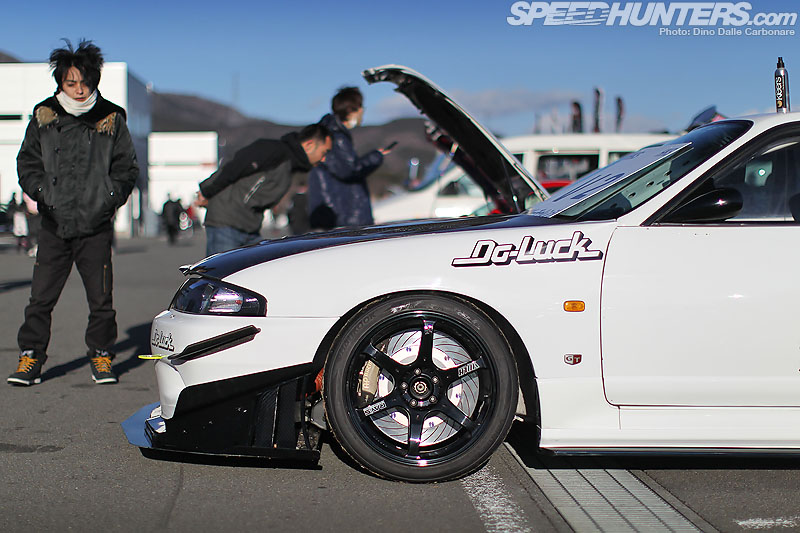 Brakes? How about Super GT-sourced AP Racing calipers and discs, 6-pots front and 4-pots rear with big thick endurance pads to finish it all off. This prohibitively expensive braking package barely manages to hide behind the Volk Racing GR.G2s wrapped in Hankook's stickiest semi-slick rubber.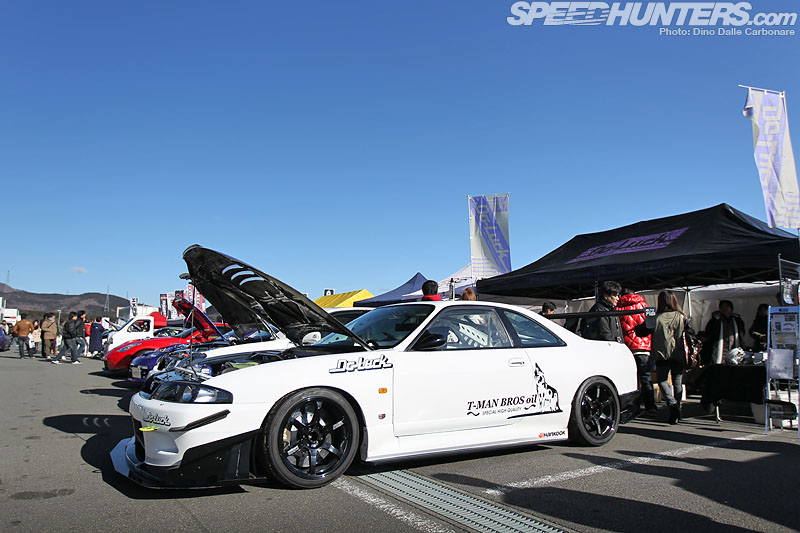 Add to all of this some pretty wild custom front aero and you have one of the most exciting R33s we have ever come across in Japan!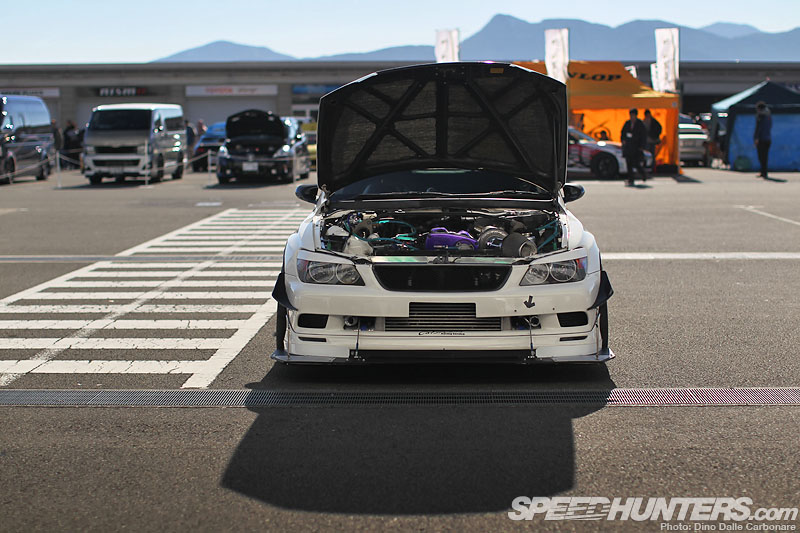 From a Nissan to a Toyota now except, as we saw in yesterday's post, this Altezza from C&Y Sports does away with its original 3S…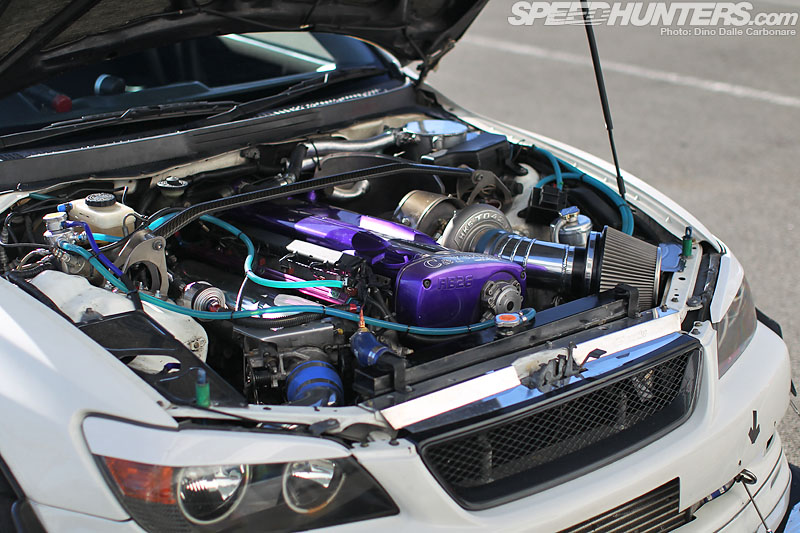 …in favor of a 600 HP RB26.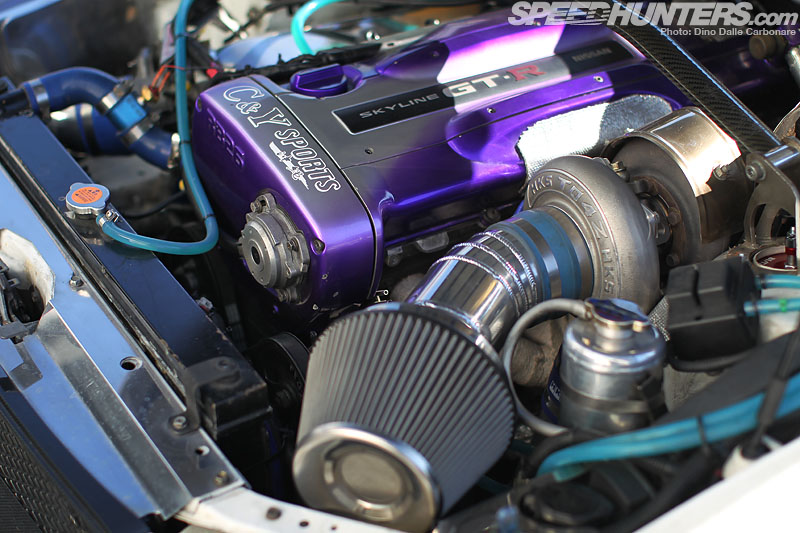 Every time you see a car sporting a C&Y Sports sticker you should not even begin to make assumptions. These guys are the creators of some pretty unique engine swaps, starting way back in the drag racing scene creating crazy 2JZ-powered AE86s.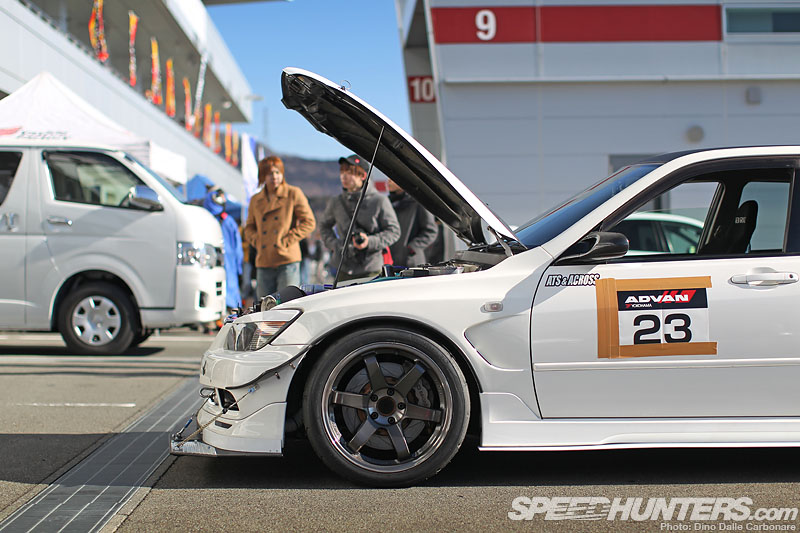 Like all of their cars the Altezza was exquisitely finished with plenty of grip-oriented aero gadgetry up front…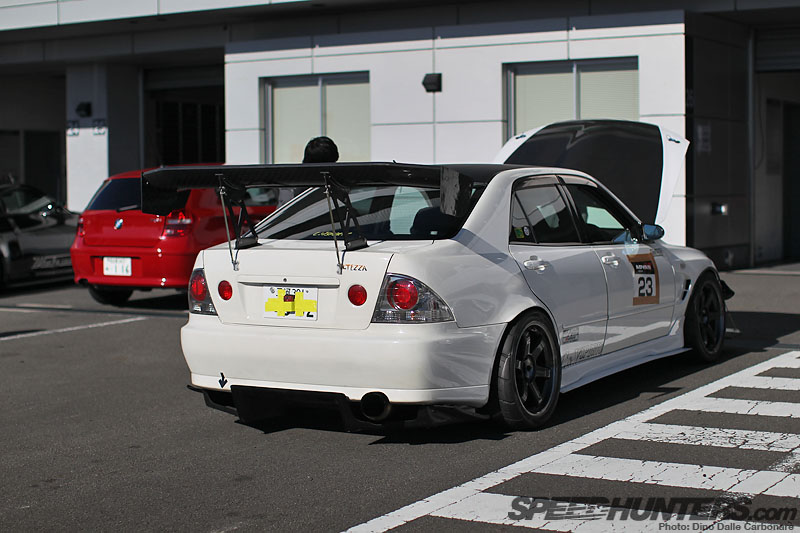 …not to mention a rather massive rear wing. Bet this thing must be a ton of fun to drive…or attempt to keep tracking straight!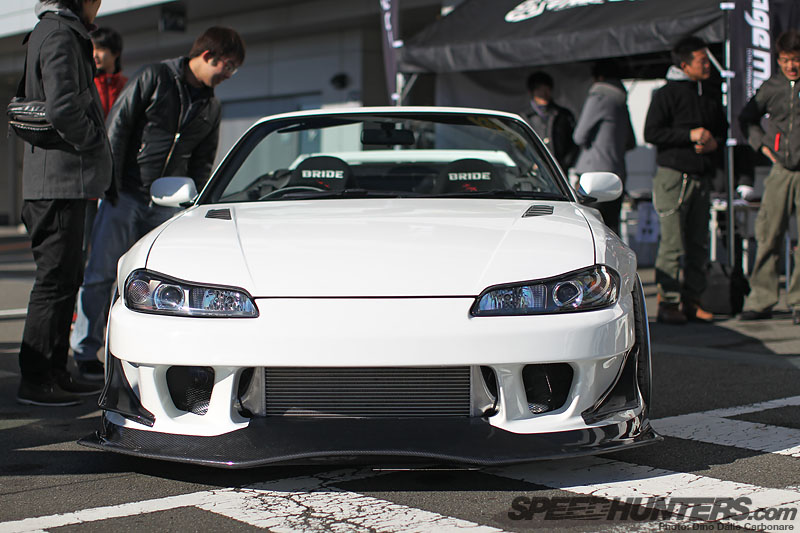 So much has been done with the S15 it is getting harder and harder to come up with fresh new looks and ideas. Garage Mak however have managed to do just that with their latest new project, this drop-top S15 Varietta fitted with their very own wide body conversion made up of their "Type 2″ front bumper, all new carbon hood and aero wide fenders…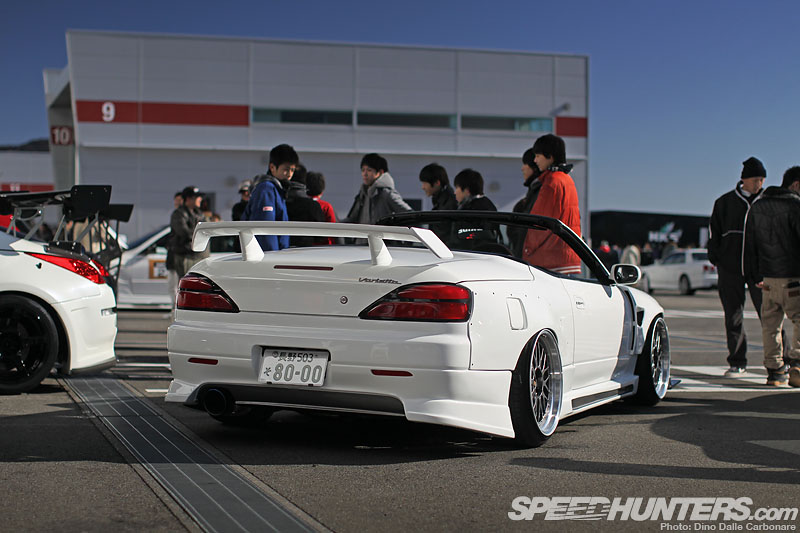 …and a special set of riveted-on rear overfenders, especially made for the Varietta's rump.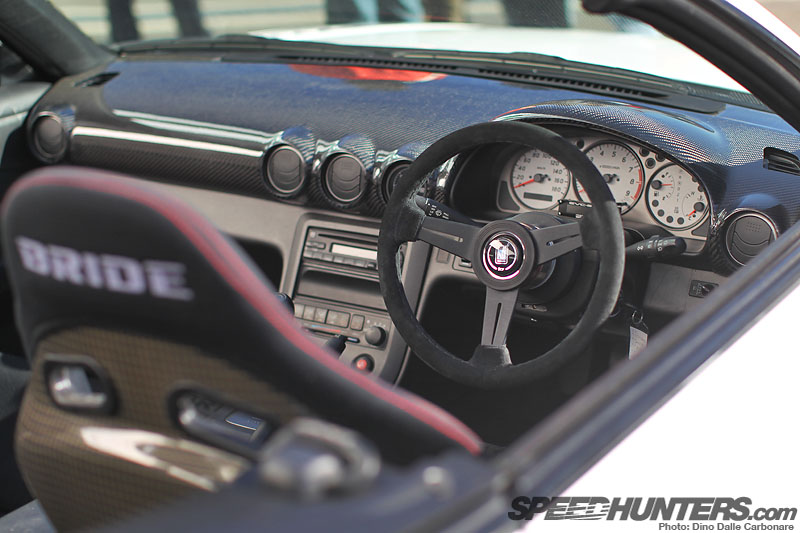 There were plenty of nice touches in the interior too like the carbon dash cover, Bride carbon-Kevlar buckets and the must-have Nardi steering wheel, this particular type finished off in suede.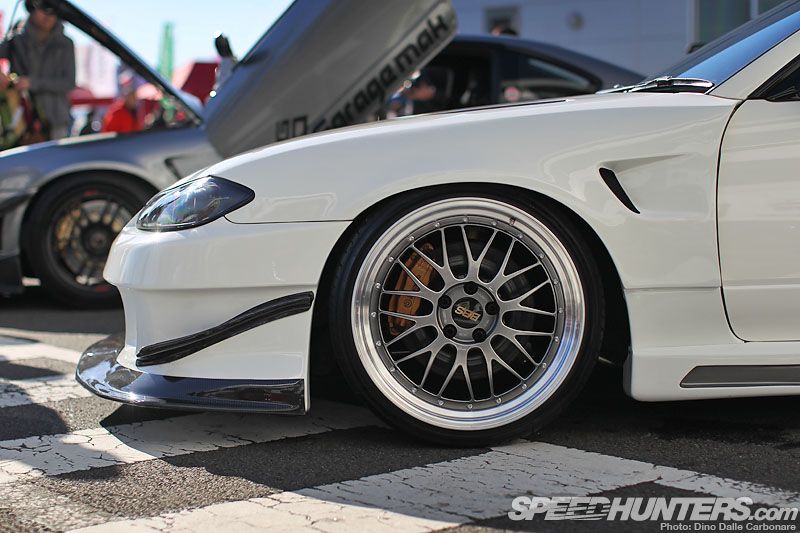 The BBS LMs it was fitted with were running nice and aggressive offsets front and rear as well as stretched rubber to finish off the look. Hiding behind the spokes are Brembo 4-pot calipers from an R34 GT-R mated to larger diameter discs.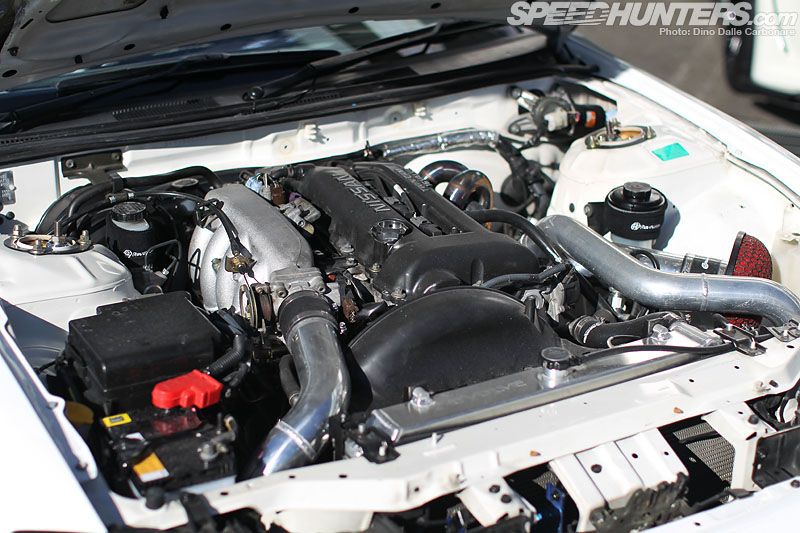 Since the car is created to be a cool every day street-driven machine the engine has been given some "boost up tuning, with a full hard pipe kit, upgraded intercooler, direct intake pipe with HKS filter and an ECU remap, all good for a nice and reliable 350 HP.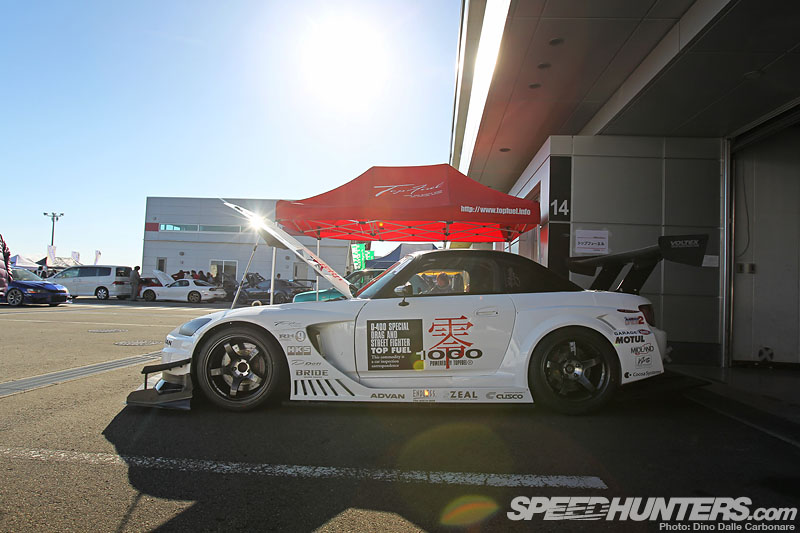 Over the years the Top Fuel Zero 1000 S2000 has gone through a few different guises, but none as aggressive as in its current form, sporting the bespoke Voltex-developed wide body aero treatment.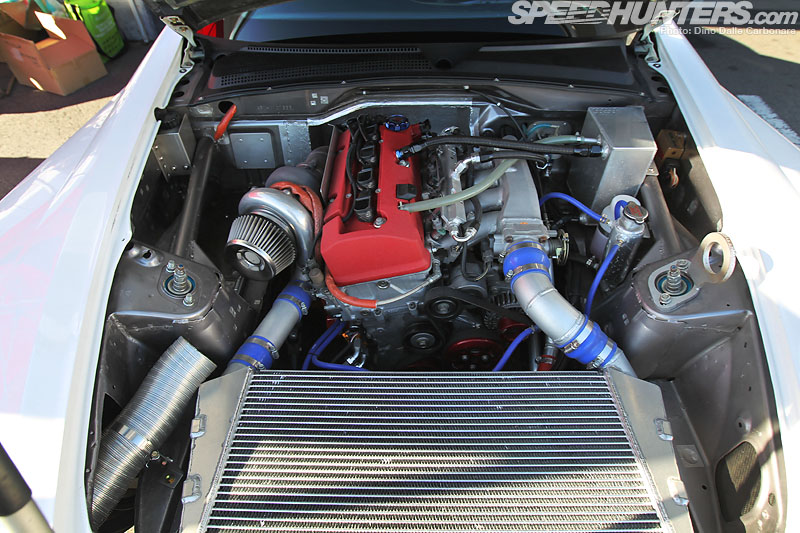 The car was entered in the Super Lap session where  Taniguchi was attempting to set some serious times with it.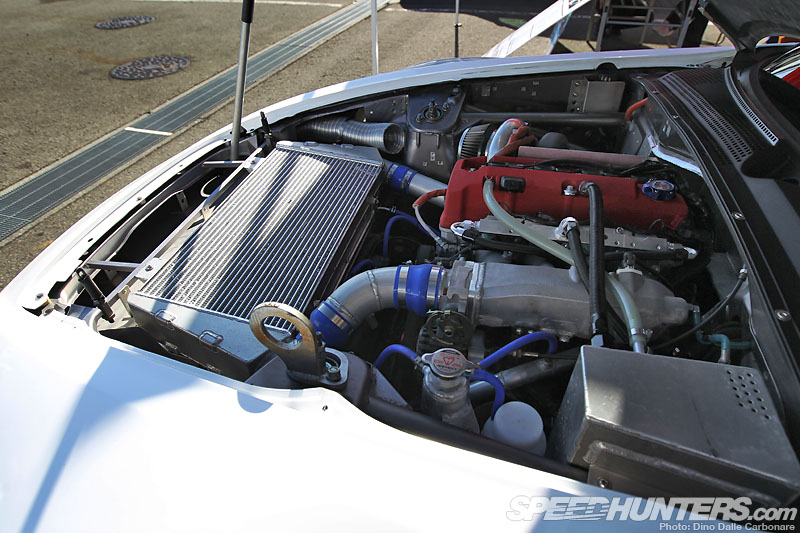 The 2.2L stroked and turbocharged F20C is good for just over 700 HP and taking into account a very light curbweight…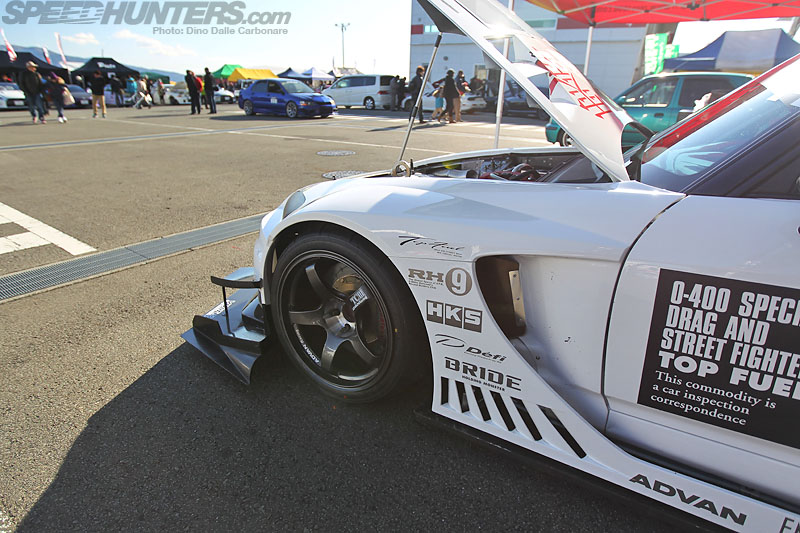 … coupled with a wind-tunnel-tested aero package, there is plenty of potential for record braking laps.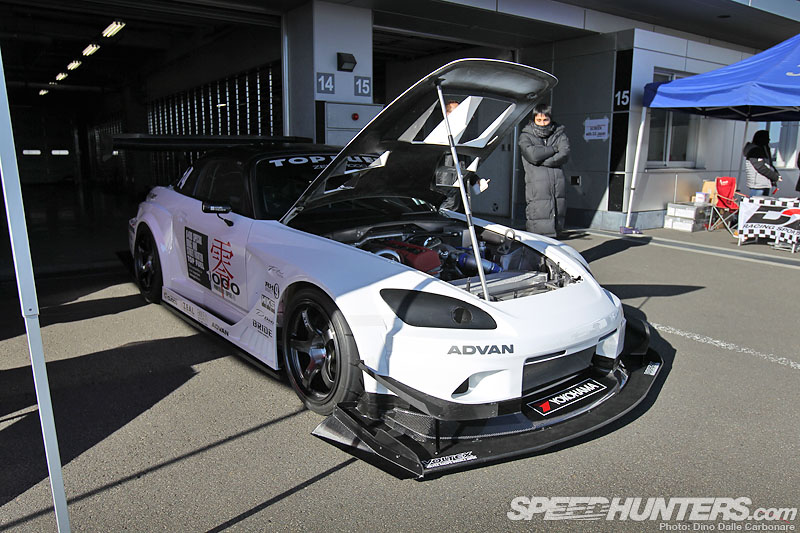 I'll give a quick run down of lap times in the next post so make sure you check back for that.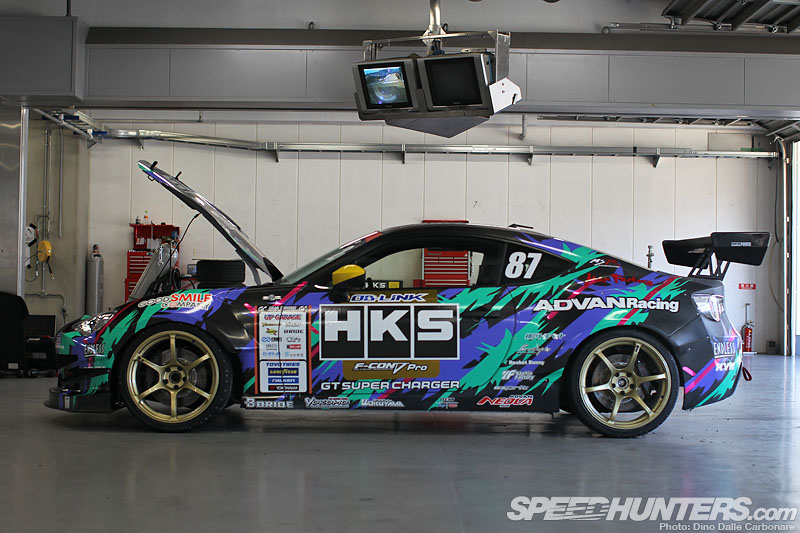 And finally it's on to one of the two time-attack-oriented HKS Driving Performer 86s.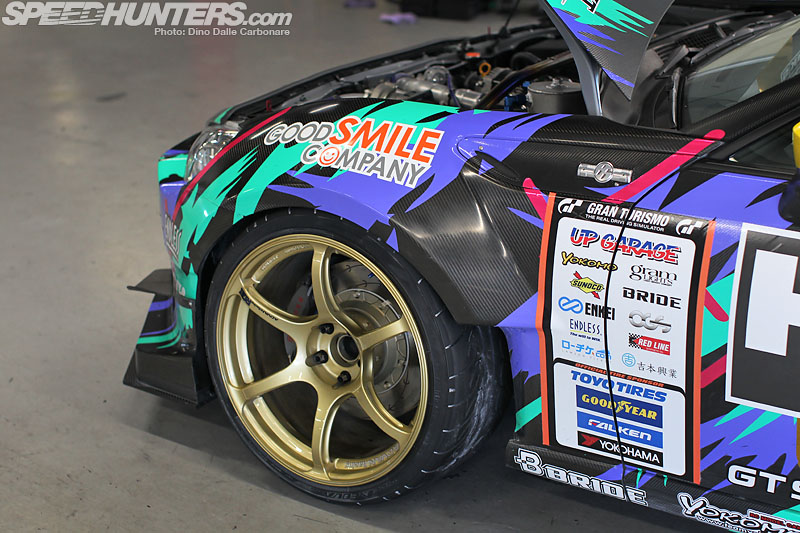 Much like Taniguchi's D1 car this car is fitted with dry carbon front widened fenders that HKS built using their own autoclave. These allow for a substantial increase in front track when wider wheels and tires are used like the 9Jx18″ RG-Ds that were fitted to this "Number 2″ car that Manabu Orido drives. Tire of choice is of course from Yokohama like every HKS demo car, but the street-legal Neovas rather than grippier A050 semi-slicks.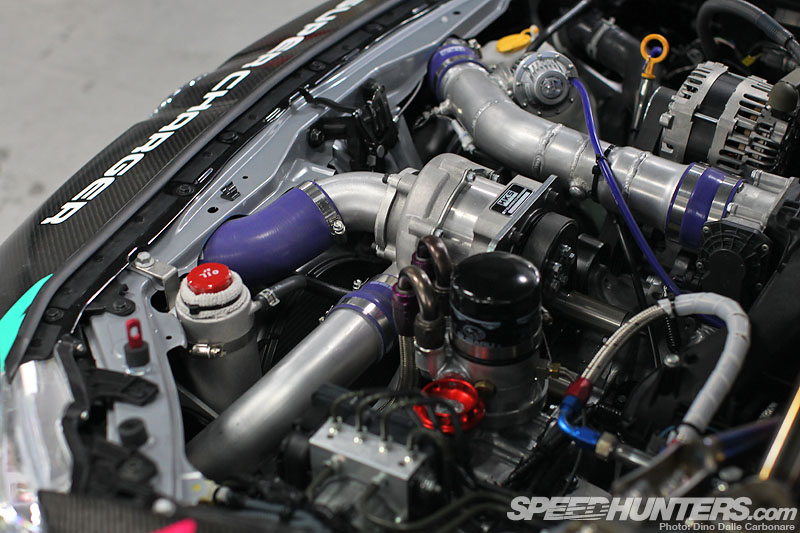 Under the hood is a more extreme supercharger set up than the kit HKS is currently selling. I wasn't able to get a straight answer when it comes to the power output but since the engine also runs their prototype forged internals, 400 HP wouldn't be surprising.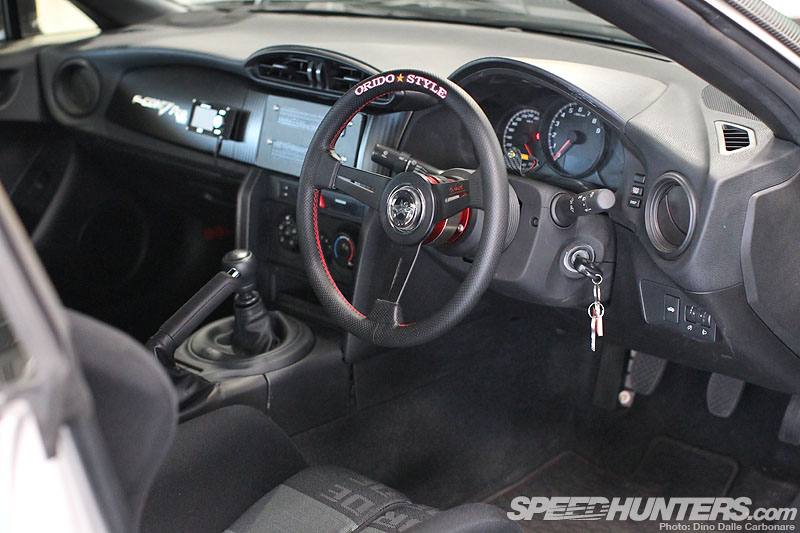 Orido likes to use his own "Orido Style" branded Nardi steering wheel of course!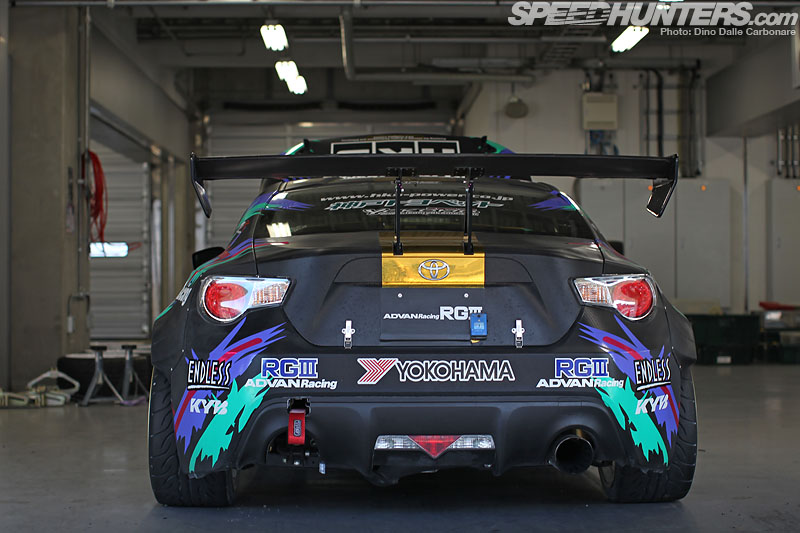 The rear end is pumped with bolted on overfenders and if you look closely you can also notice the trunk lid has been replaced with a carbon item. GT-wing is there for added downforce of course.
There is more to come from the Premium Day so check back soon!
HKS Premium Day 2013 coverage on Speedhunters
-Dino Dalle Carbonare