You know the feeling you get when you are at a club or concert and the music hurts your ears but you enjoy it anyway, even though you know your ears will be ringing in the morning? Well, it was that way for me when I was flooring this 591-horsepower Mercedes rocket through the tunnels of Dubai. It was a symphony of brute V8 power, and I loved every moment of it as the 6.3-liter engine screamed in my ears. It was literally ear-piercingly loud… all I could do was tear up in pain joy.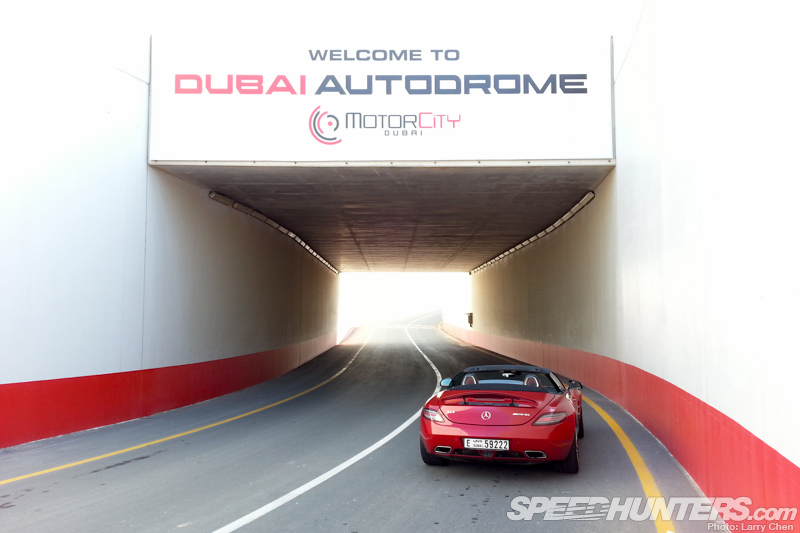 I had the chance to drive this beautiful supercar for a few days, so I took it to the track and tested its straightline speed against many worthy opponents – and lost.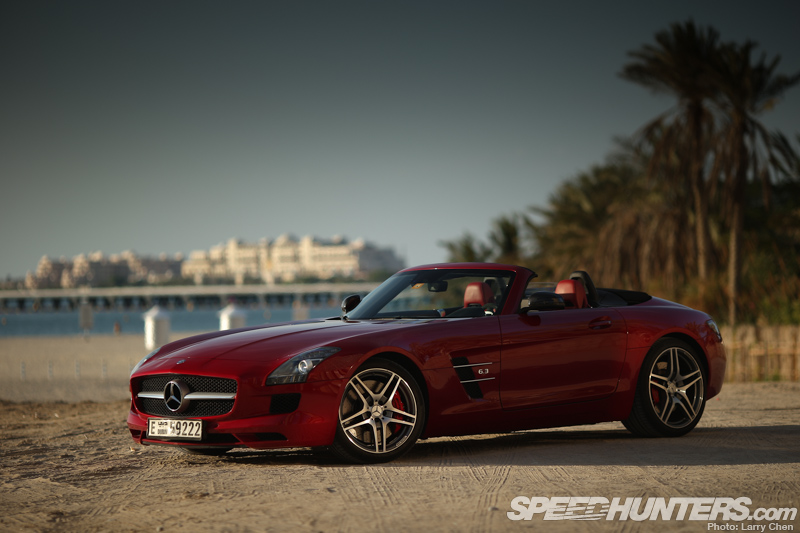 But that is not what this convertible is all about. The performance was certainly there when I wanted it, but I found myself just enjoying the drive.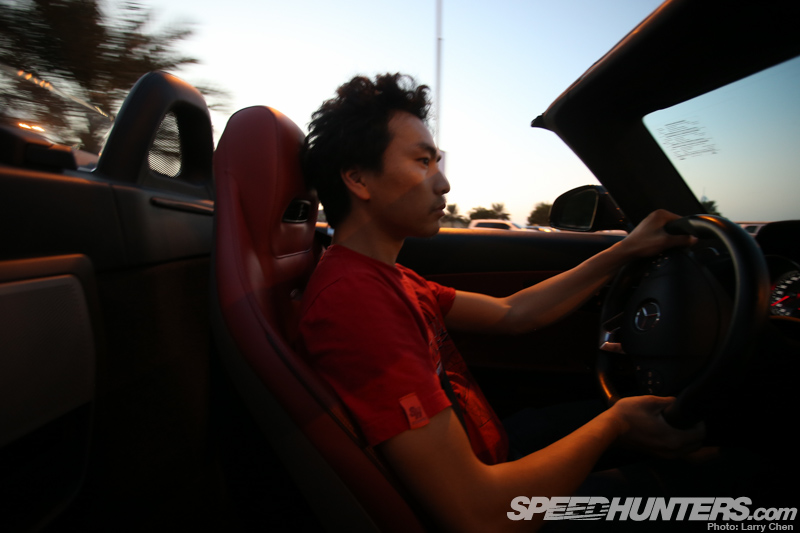 My own project car has been out of commission for over a year now, so in that time I have been getting my fix of driving nice cars elsewhere. I took this opportunity to see what this car was all about.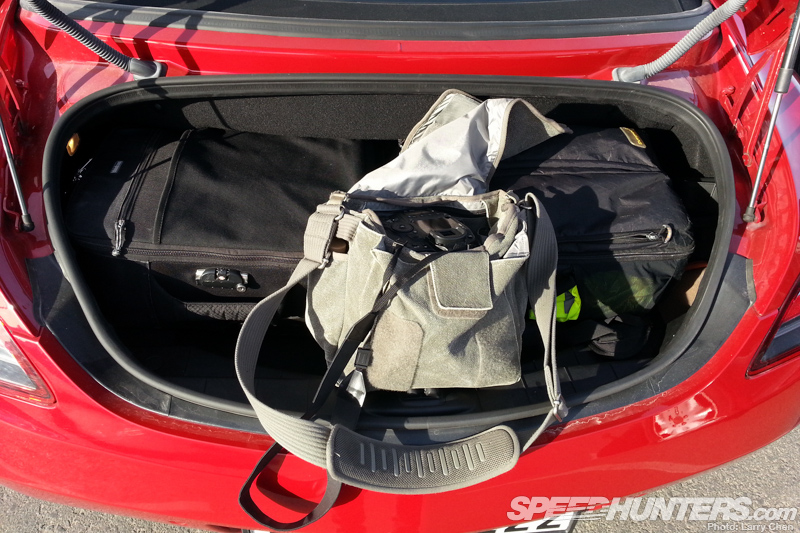 Of course I brought all my photo equipment with me, and after I left the spare tire at an undisclosed location everything fit nice and snug.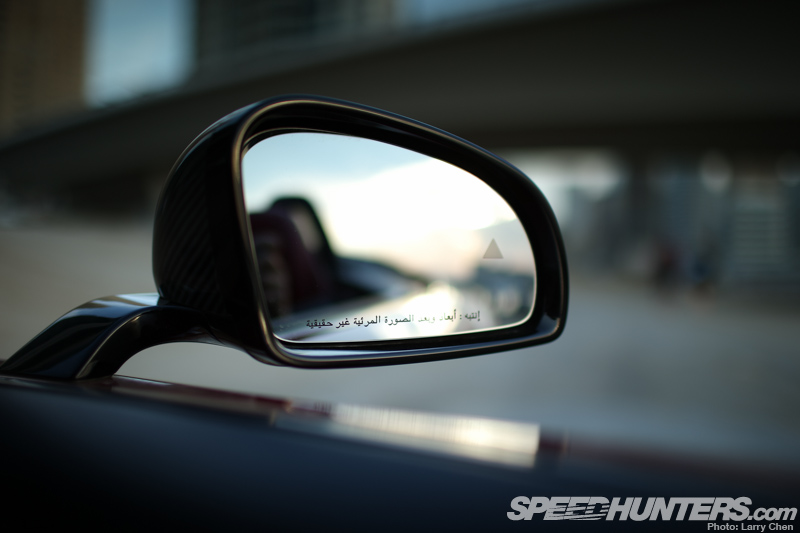 There were a few quirky little things about the car that I immediately noticed. Nothing too out of the ordinary though.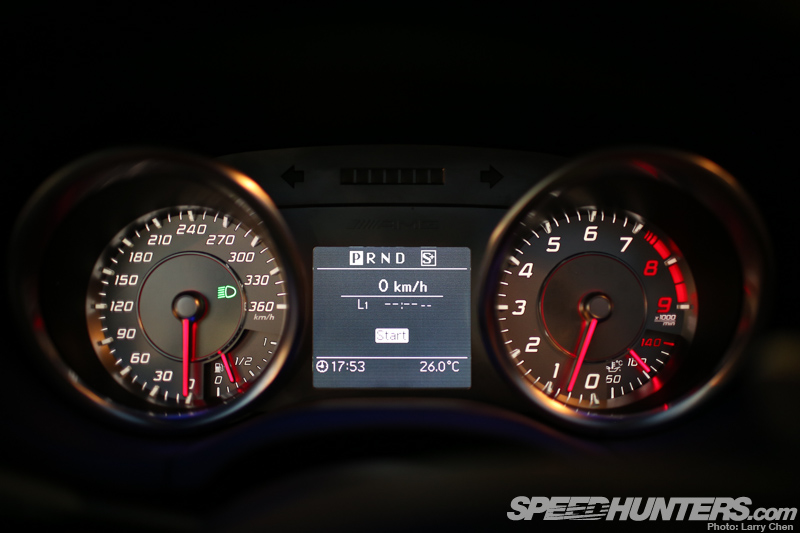 One thing that I loved about this car was how nice the gauges looked. I hate many of the new Mercedes and their new digital gauges. In fact, one of the things I could never get used to about the Honda S2000 was its digital gauges.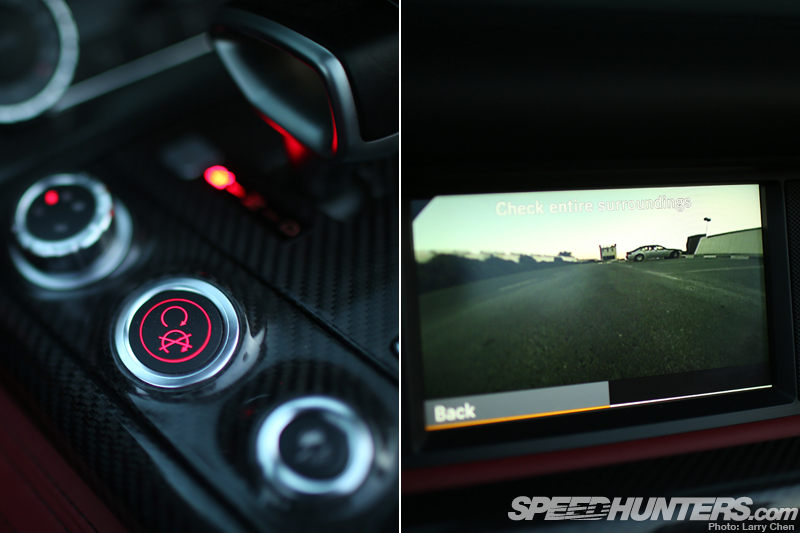 The SLS had all the modern amenities a proper luxury sportscar should have, like push-button start and a reversing camera system.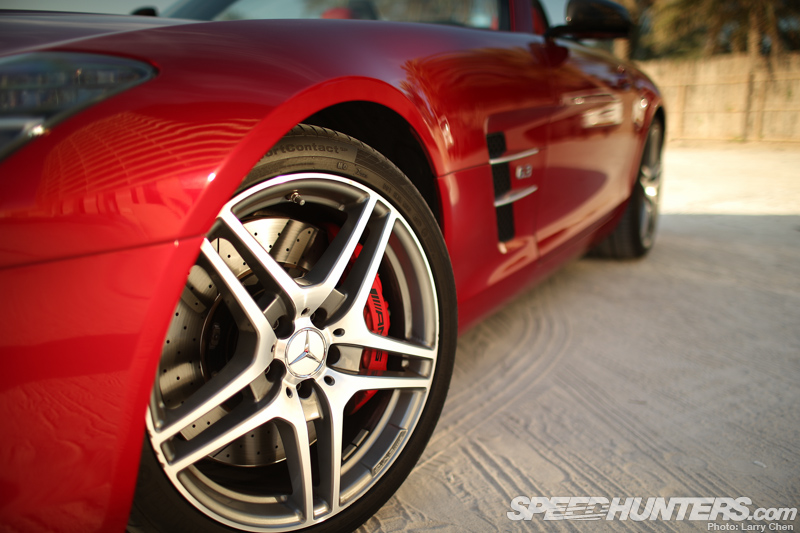 The brakes were very touchy and took some getting used to, but after a few hours of driving they became second nature. I barely would have to rest my foot on the brakes for the car to come to a stop. Those speed cameras never had a chance.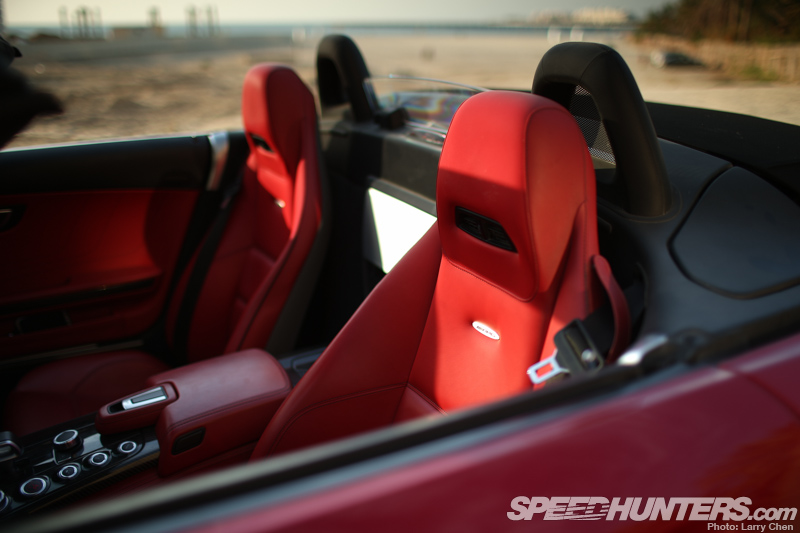 I've driven a few convertibles in my life, but I have never seen this feature. On top of the seat warmers there were neck warmers. I actually used these when I was driving back from the track at 4am in the morning. They kept my neck nice and warm.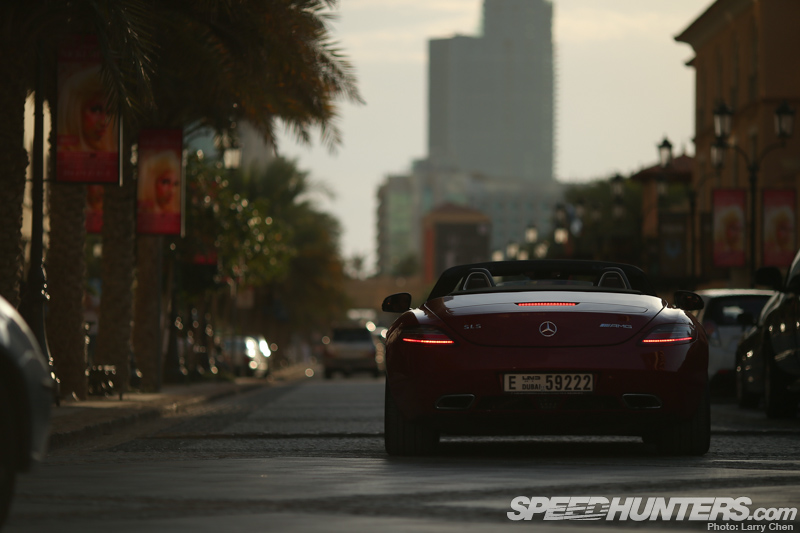 There were just so many supercars driving around Dubai that I figured that I would not attract any attention.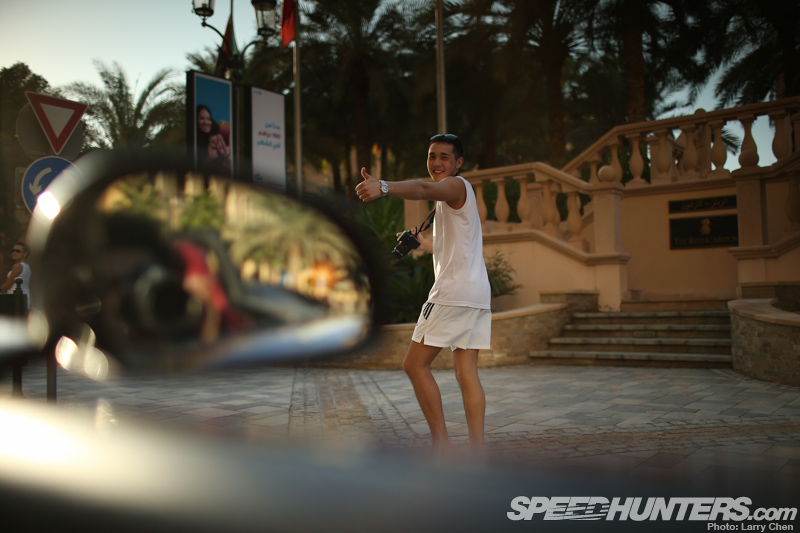 I was totally wrong. All the tourists would take photos of me and give me thumbs up. Groups of friends sitting at restaurants would drop their forks and stare at me, as if I stole this big red Mercedes. Of course, it probably did not help that I was giving it a little bit of a rev every few meters.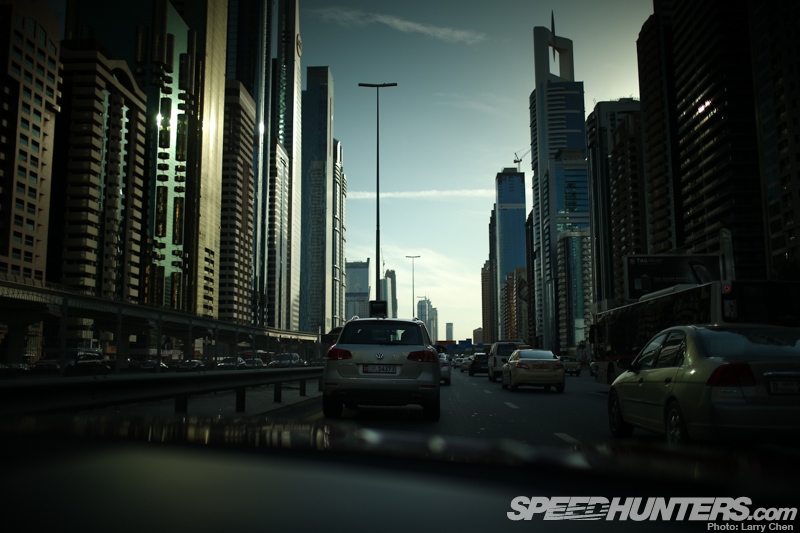 Driving in Dubai is like driving in a city of the future. All the buildings look brand new, and some of the highways are 10 lanes wide. It was such a breeze to drive this car around in traffic, and the flappy-paddle gearbox would go all the way to seventh gear just cruising along on the highway as long as I did not get on it.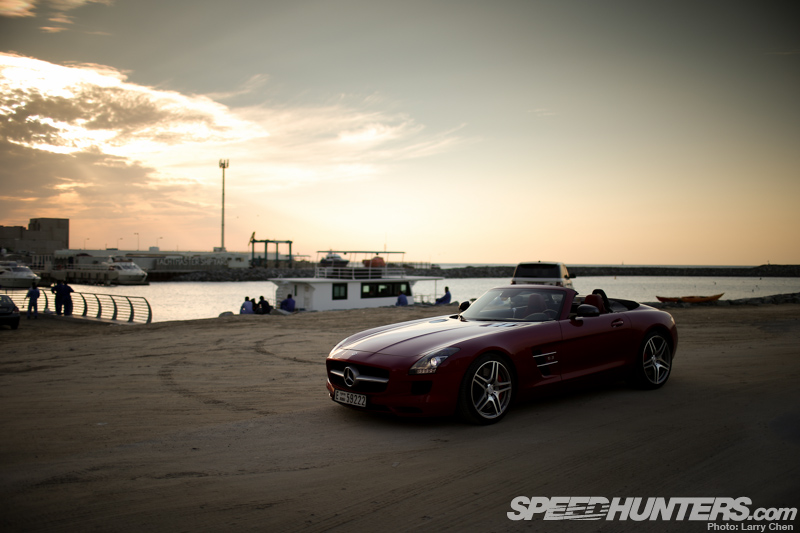 My friend who runs Drift UAE thought it would be a good idea if I could enjoy the Dubai lifestyle a bit and go on a little boat ride up the Abu Dhabi coastline.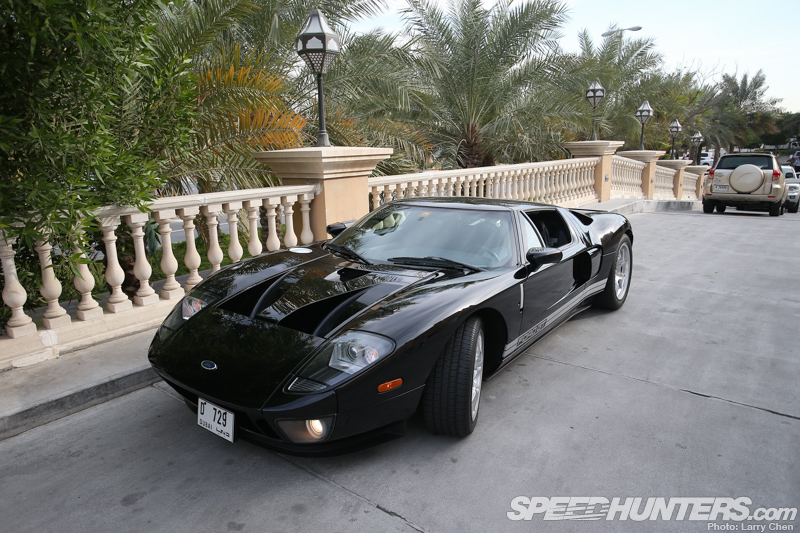 So, I met up with Omran Alowais, and this was his Ford GT. He also happens to be a gentleman racecar driver, and he will be driving in this year's Dubai 24 Hours.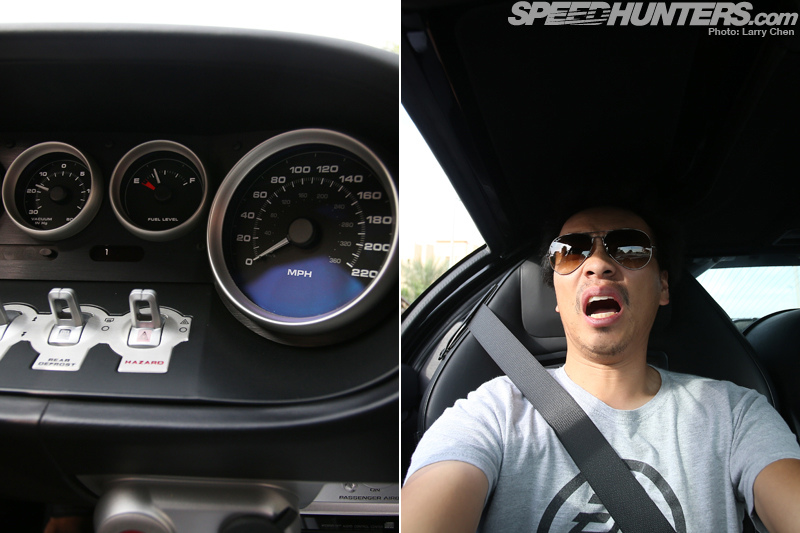 He took me for a little ride. I have never been in a Ford GT, but I have always liked the way they looked. I don't know how more of these are not stuffed into the side of mountains or driven off cliffs, because just driving on the street was a handful. It just loved to go sideways.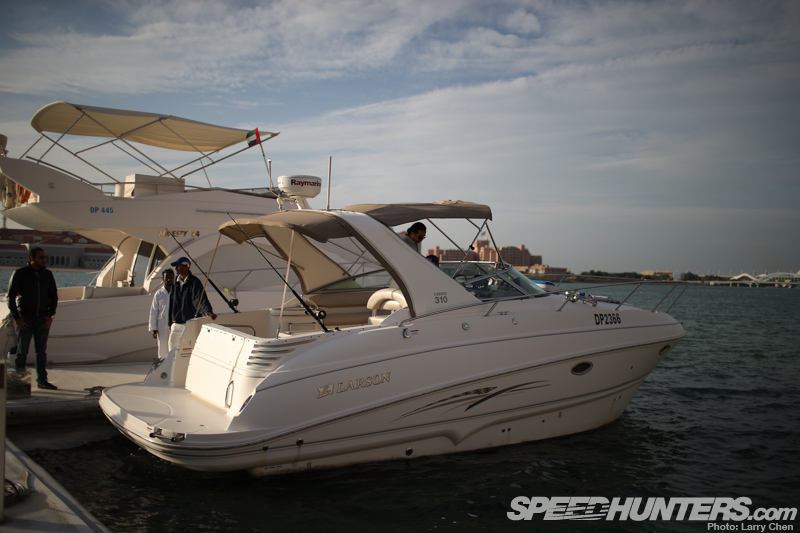 Eventually we made it to the docks, and right out in front was Omran's little slice of heaven.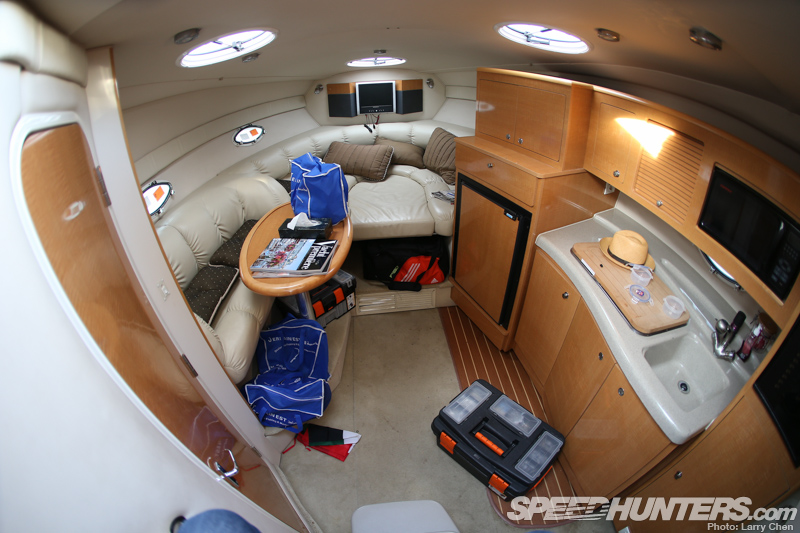 It was a pretty nice boat. It seems like it is the perfect size for fishing or a day-trip out to sea.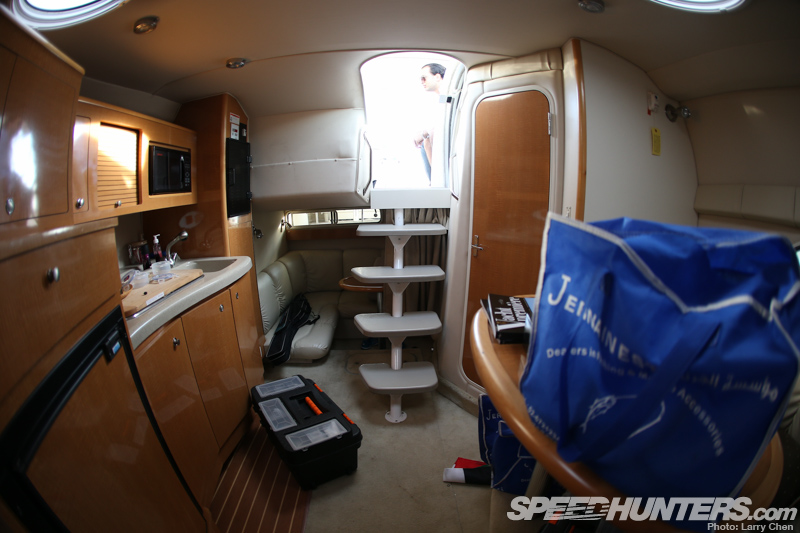 As soon as we were unhooked we were off for a trip up the coastline.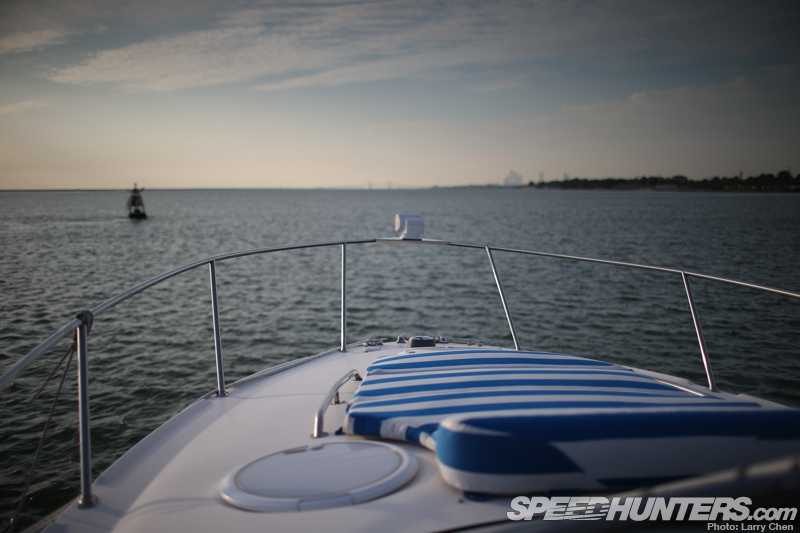 The water was very calm, so we hit a top speed of around 35 knots or so.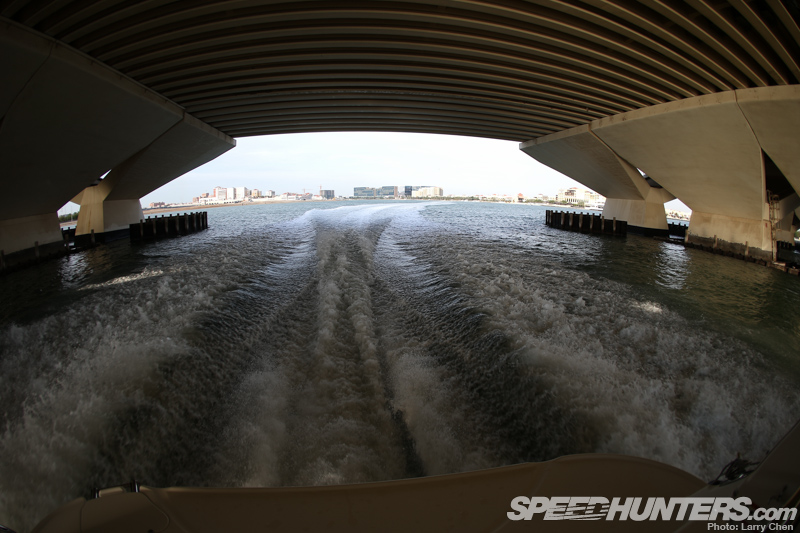 There were quite a few bridges that connect the various islands to the mainland.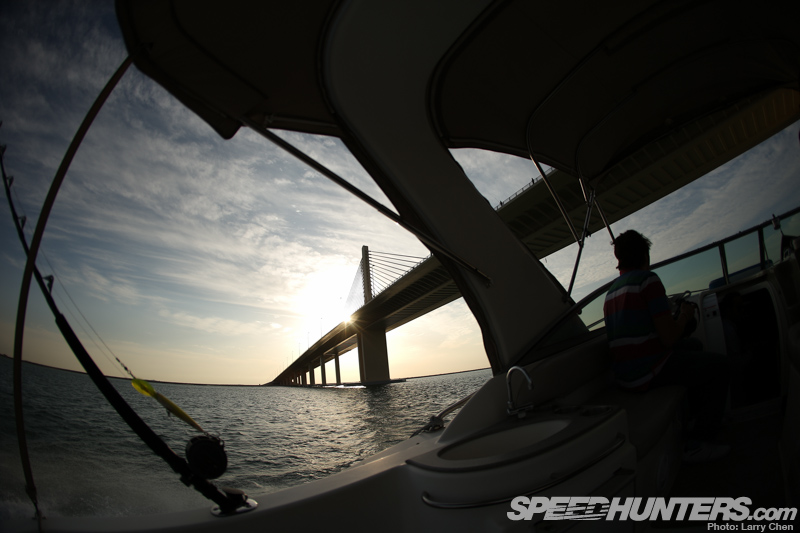 I had to pinch myself a few times, as I thought I was dreaming. It was such a wonderful sight.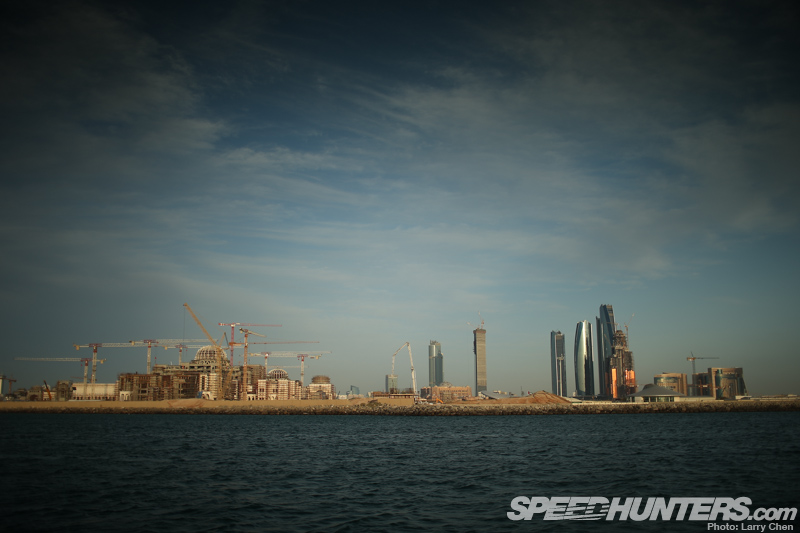 To the left was the new grand palace that was being constructed by the Royal Family.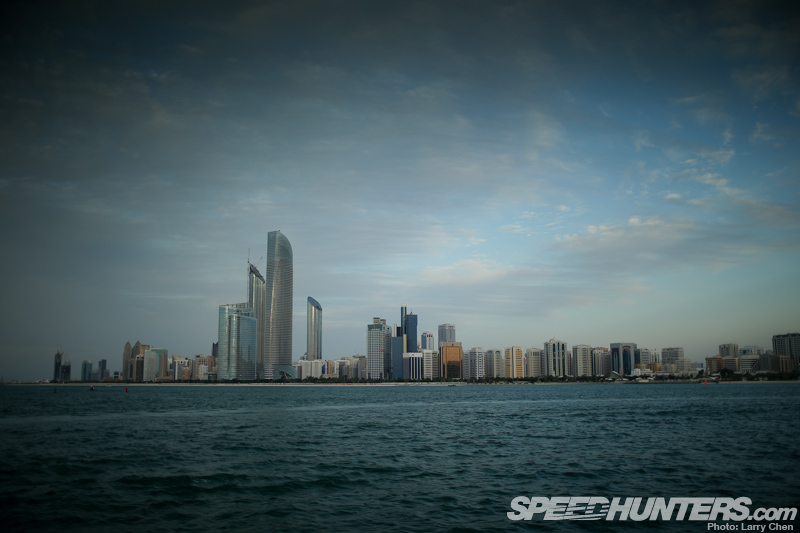 This was pretty much the main Abu Dhabi skyline. The buildings were a bit more modest compared to Dubai, but they were still very modern.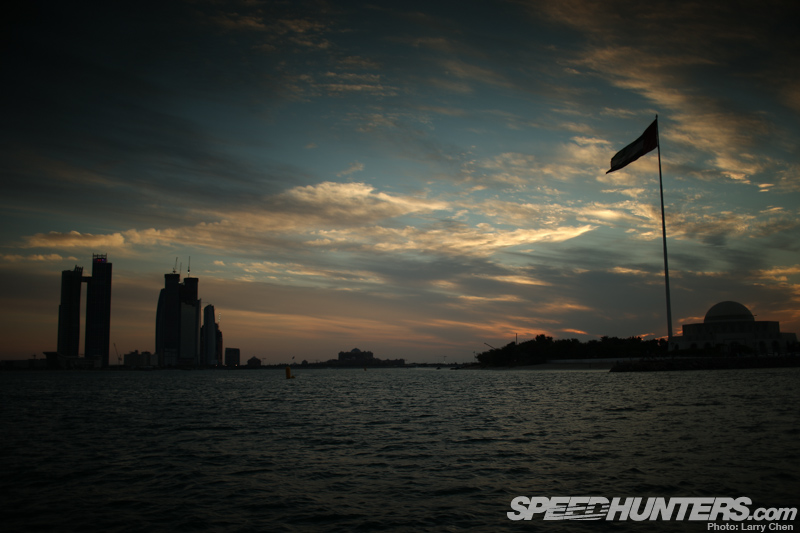 The sun was setting and the sky had shades of all different colors.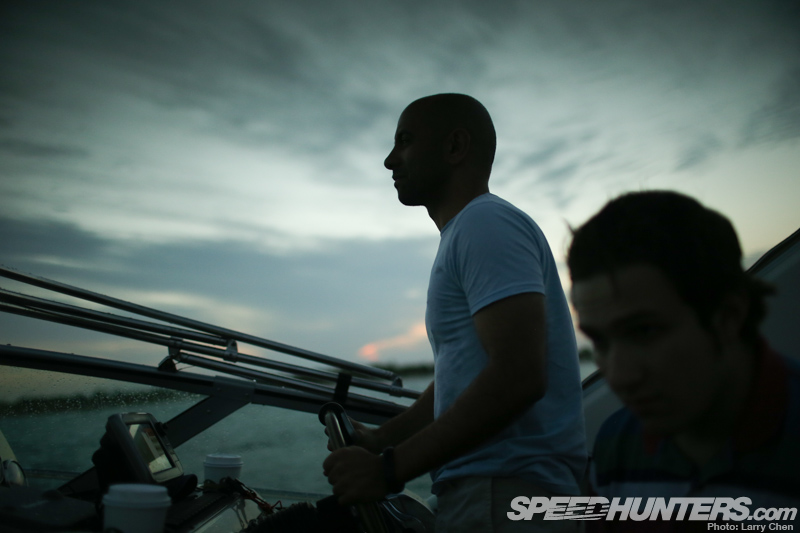 After a few hours of cruising around, it was time to head back.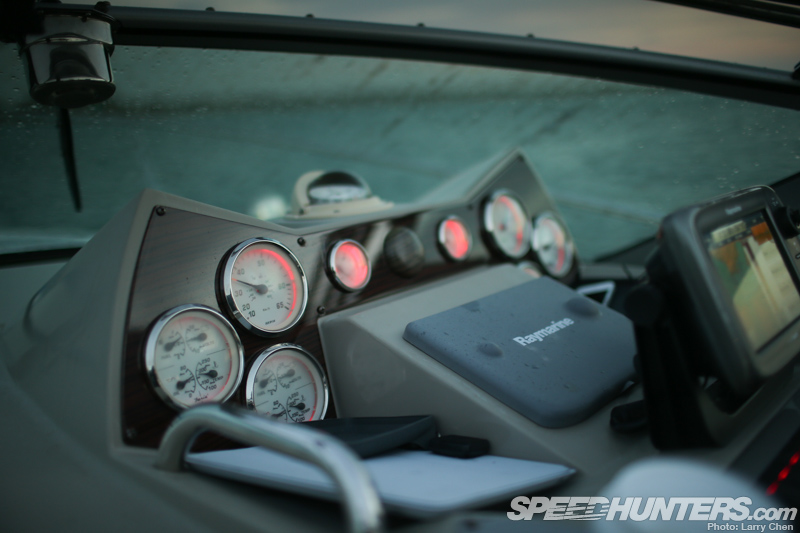 We hit max speed heading back, and the waves started to pick up a bit.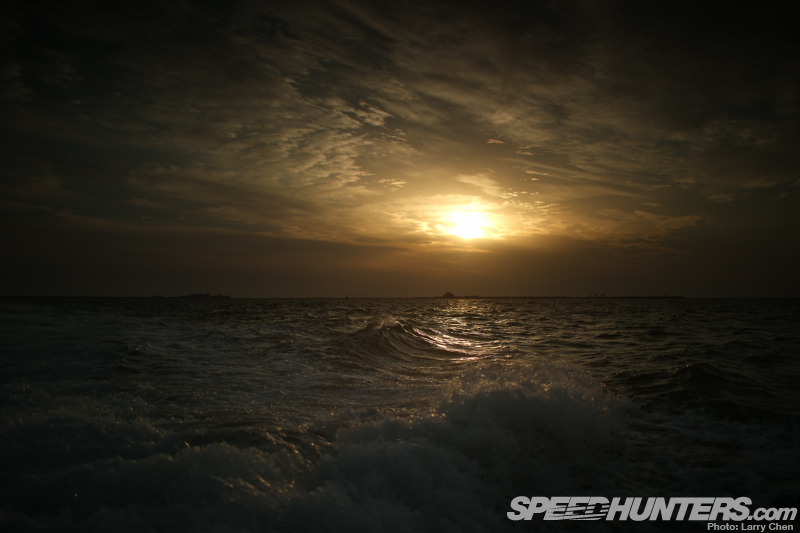 I tasted the salt a few times, but a little sea water never hurt anybody.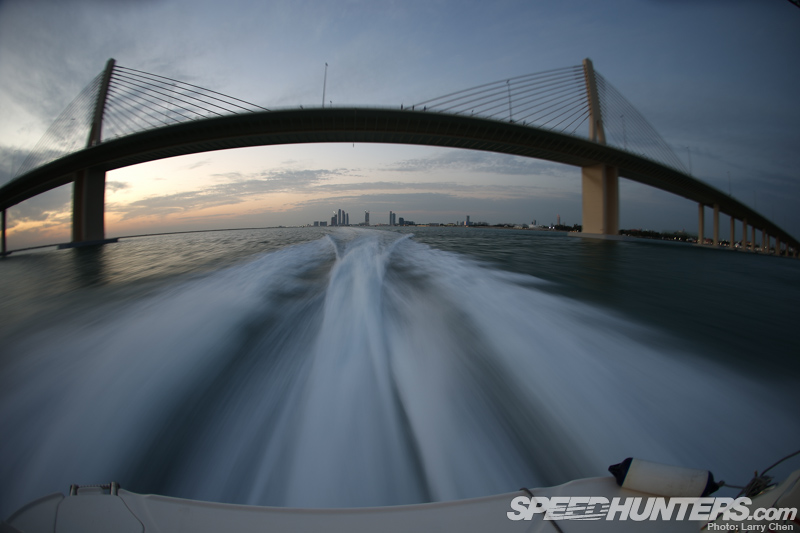 Soon downtown Abu Dhabi was just a little spec on the horizon and we were on our way back from our little dream cruise.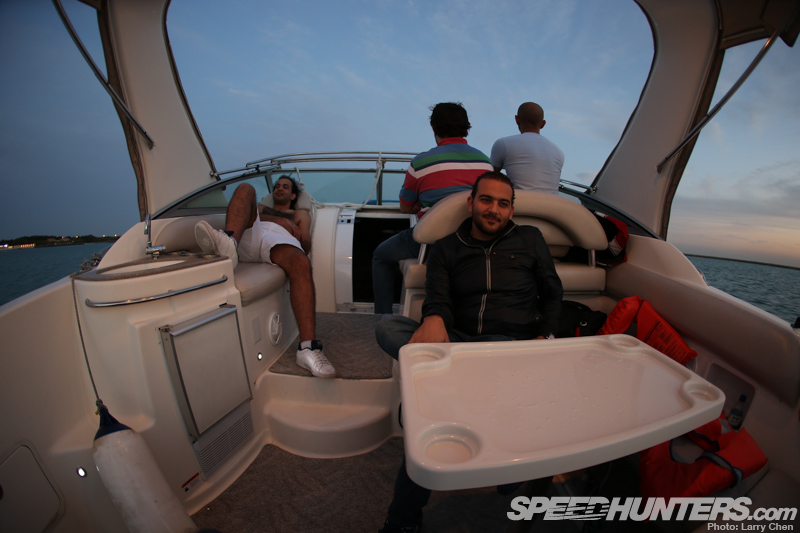 Anywhere I travel in the world, I know I can make friends easily as long as they are car guys. No matter what kind of car culture they are into, I can relate in some way or another.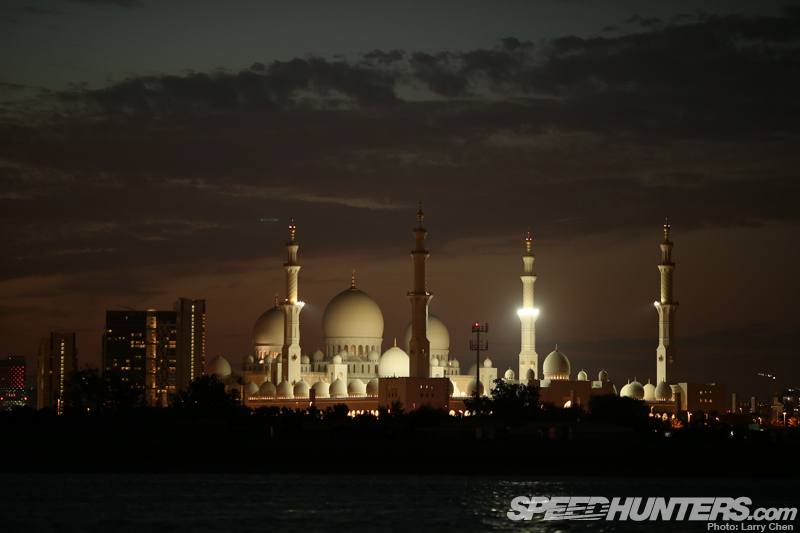 I could not think of a better way to spend a lazy afternoon in the Middle East.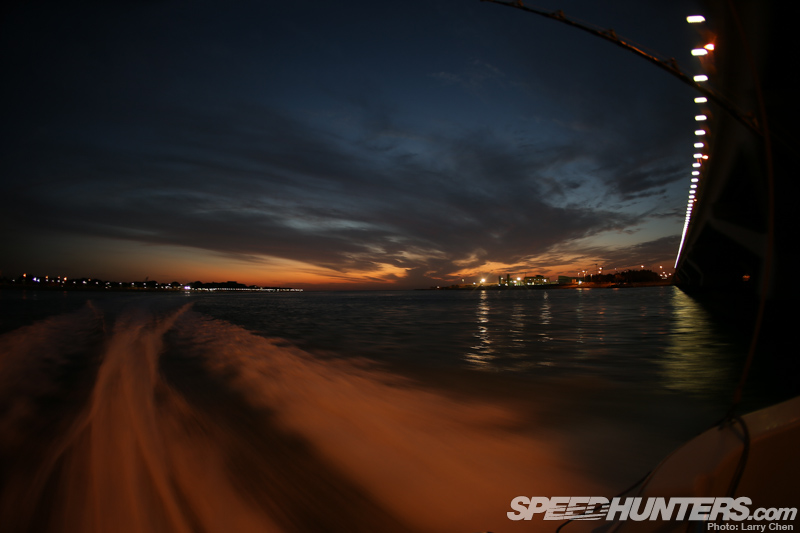 As we were pulling in there was barely any daylight left. It was time to get into my land-boat and sail around Dubai a bit more.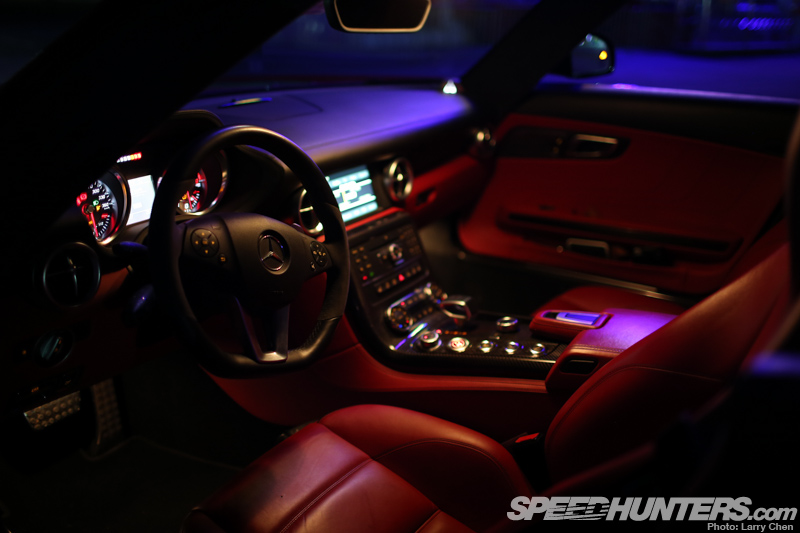 I am sure it would be different if I owned this car, but it was such a novelty to drive everywhere with the top down. It just did not wear off on me.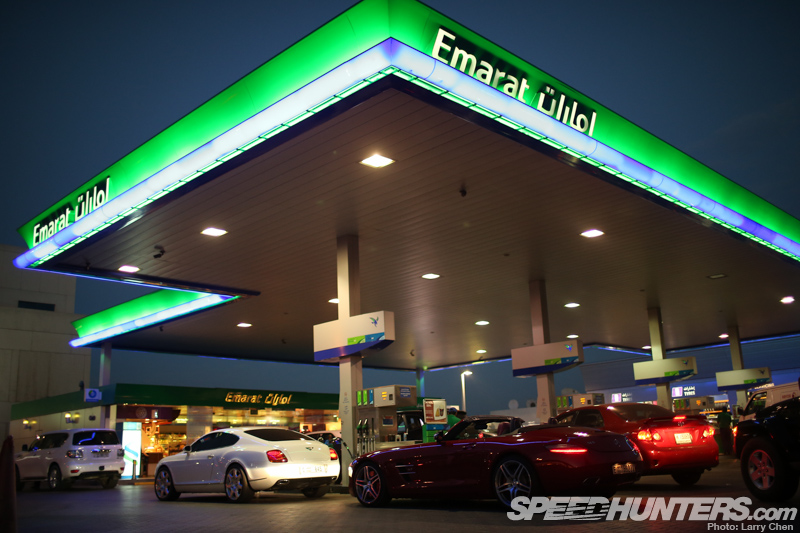 Before I knew it, the SLS was getting quite thirsty – probably due to my lead foot.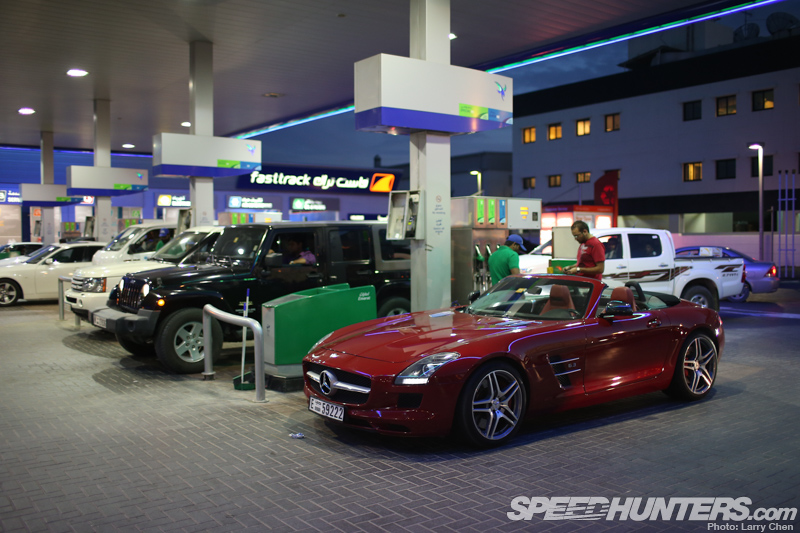 The petrol stations in the UAE were super clean, and they were always full service.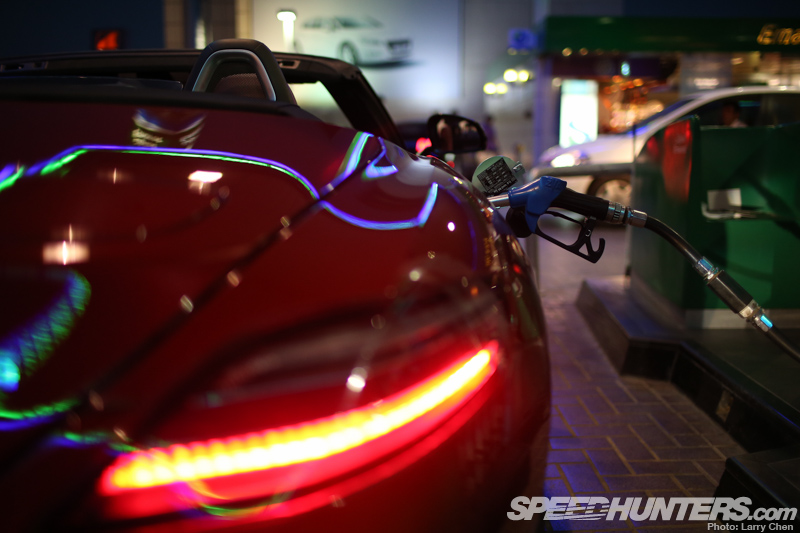 The SLS actually got surprisingly good mileage, considering how often I would womp on it. I only filled up the tank twice my entire trip.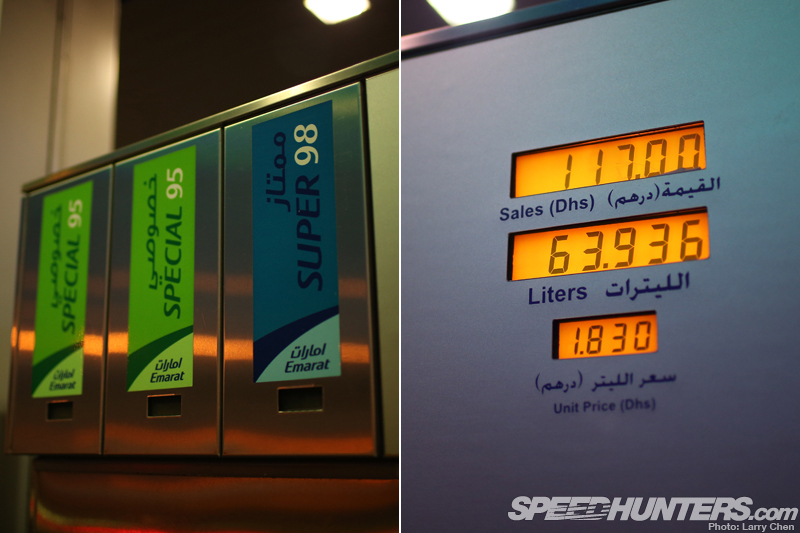 I was super jealous of the price of fuel, as well as the octane that was available. In California the highest you can get is 91 octane, and it is about four dollars per gallon. It is less than half the price for 98 octane in the UAE – $1.88 per gallon of 98.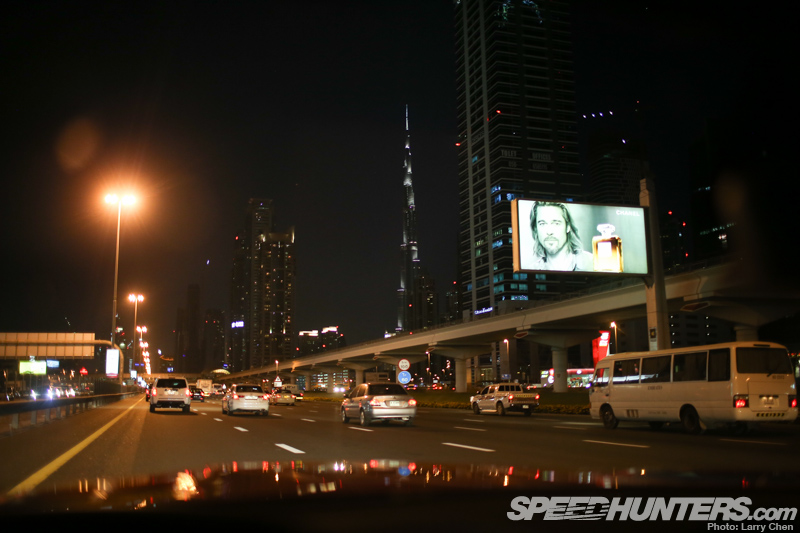 I hit the road once again and headed to the center of the city, towards the world's largest tooth pick.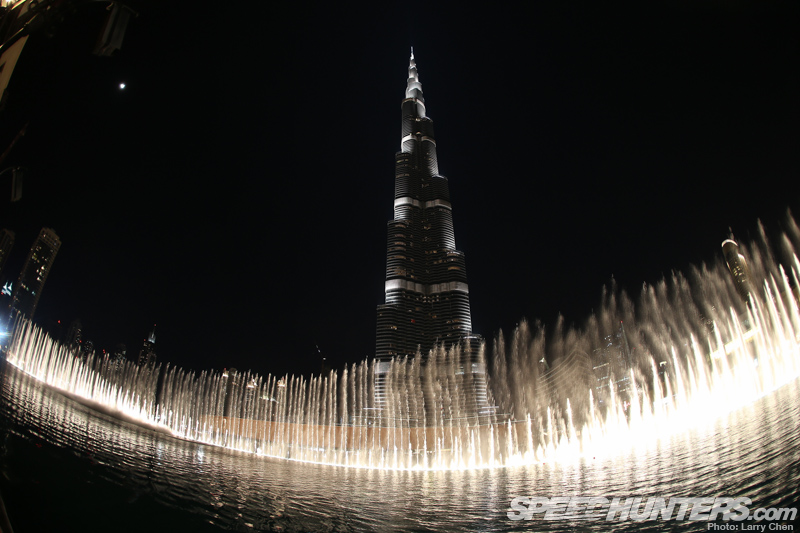 Ever since I heard the plans for the Burj Khalifa I knew I wanted to go and visit it. I was definitely not disappointed. The fact that they have a choreographed water display on the hour every hour just makes it that much cooler. To top it off, they never play the same song twice.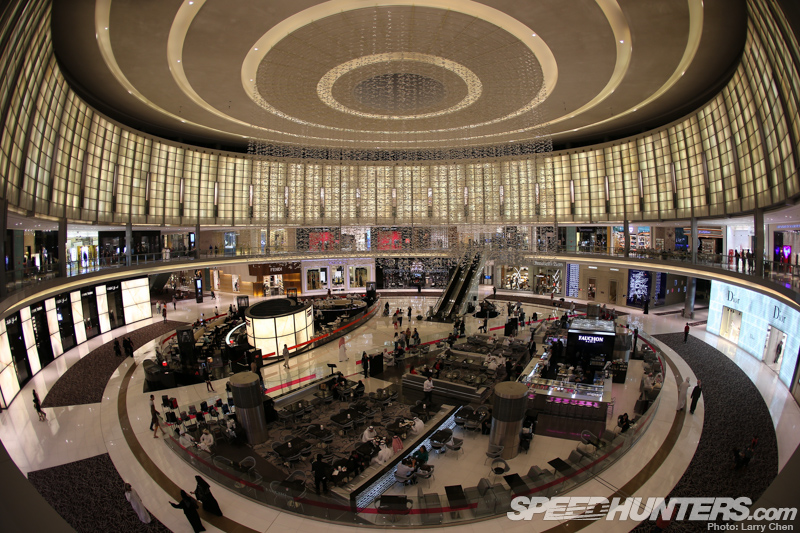 You can't visit the Burj Khalifa without visiting the Dubai Mall. I got pretty tired walking around this massive place, so I decided to call it a night. I did not get to visit the observation deck of the Burj Khalifa, but there is always next time.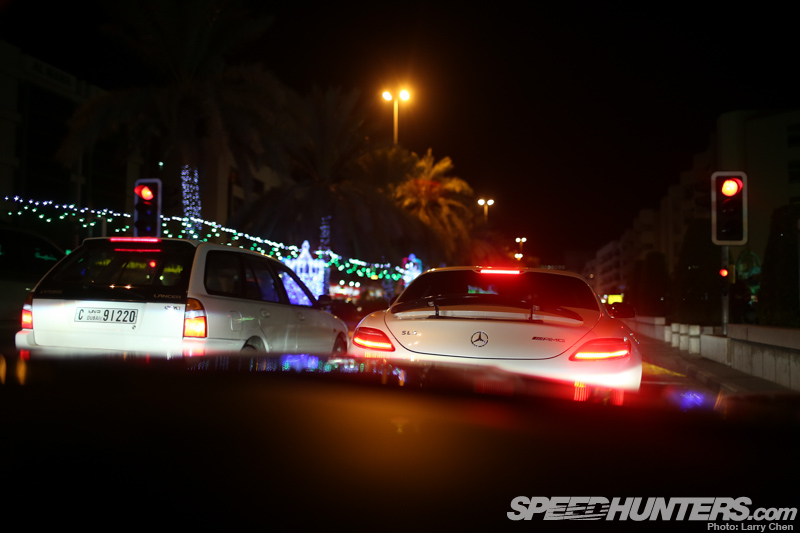 On the way back to the hotel I pulled up behind another SLS, but it was a hard-top. His wing was up, so he must have just come from a race of some sort.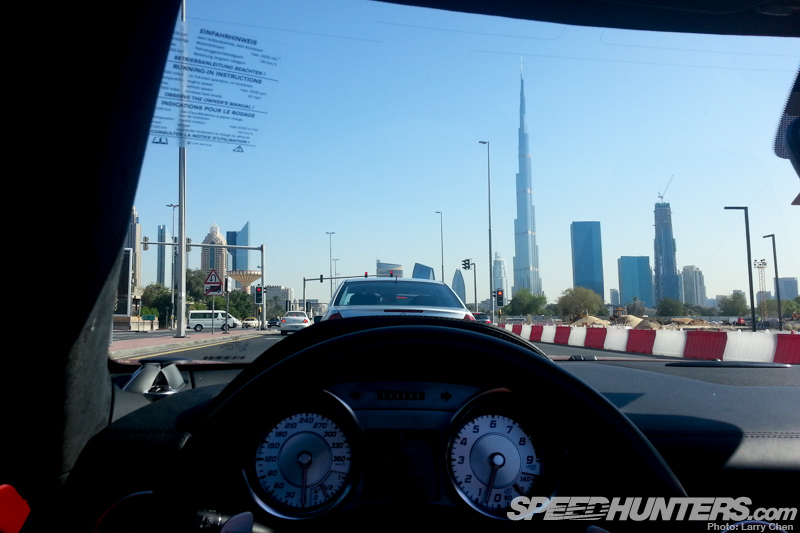 I just had one more day with my big red steed, so I decided to finish off some more touristy things and snap some glamour shots while I was at it.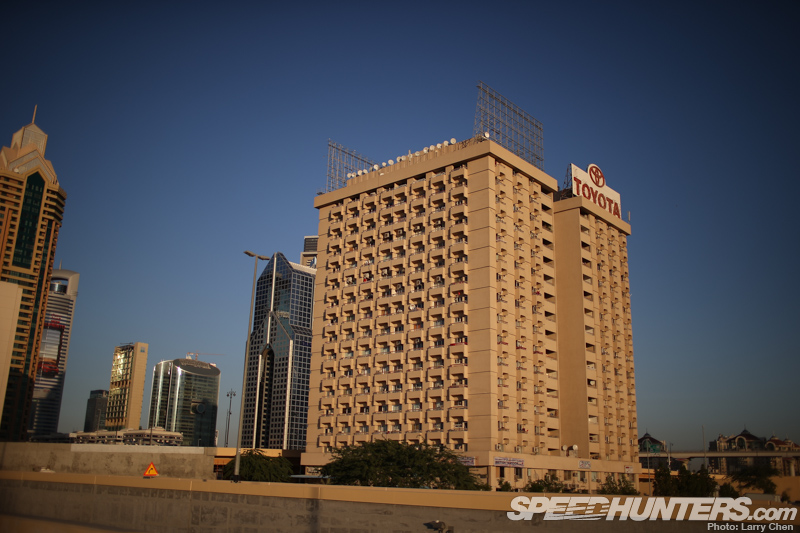 This Toyota building was the very first large structure in Dubai, built in 1974. It has become a landmark since then.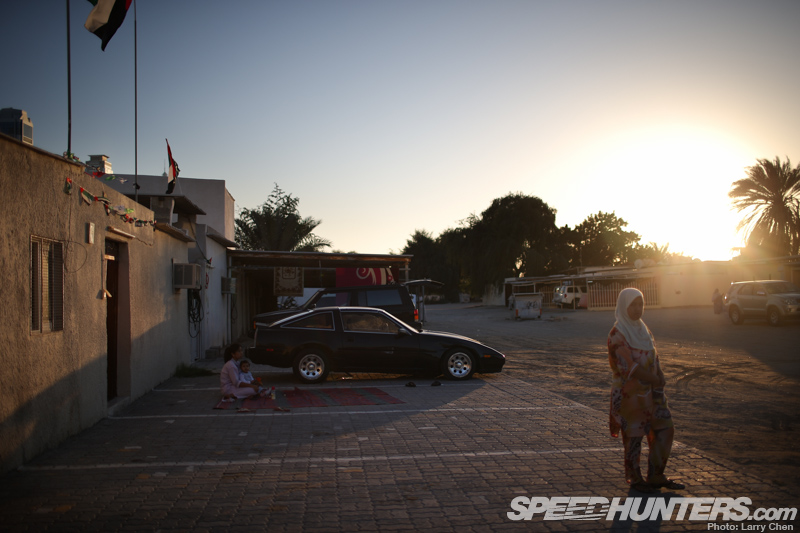 Across the street were some local neighborhoods, so I drove through to check out what kind of cars they were driving. I found some interesting cars, including this Z31.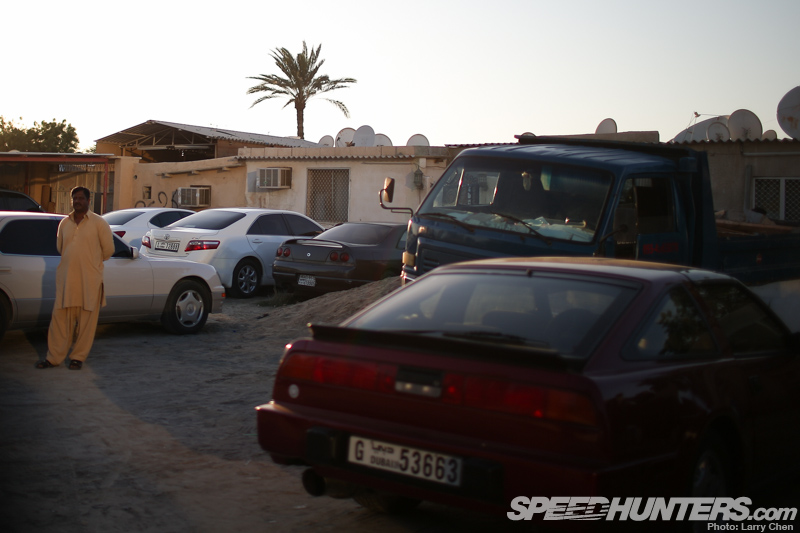 And then there was another, and another… Eventually I noticed a few Skylines in the mix.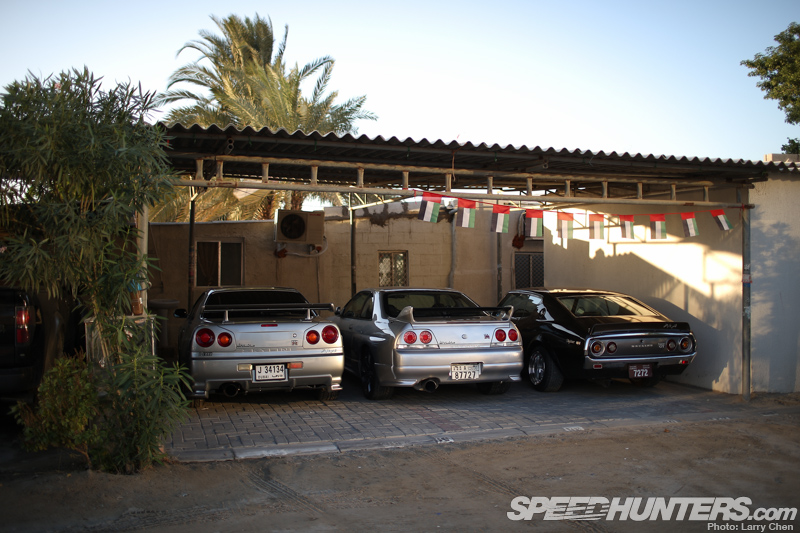 Then I came across this house. They had seven Skylines in total. Five of them were GT-Rs, which also happened to be matching.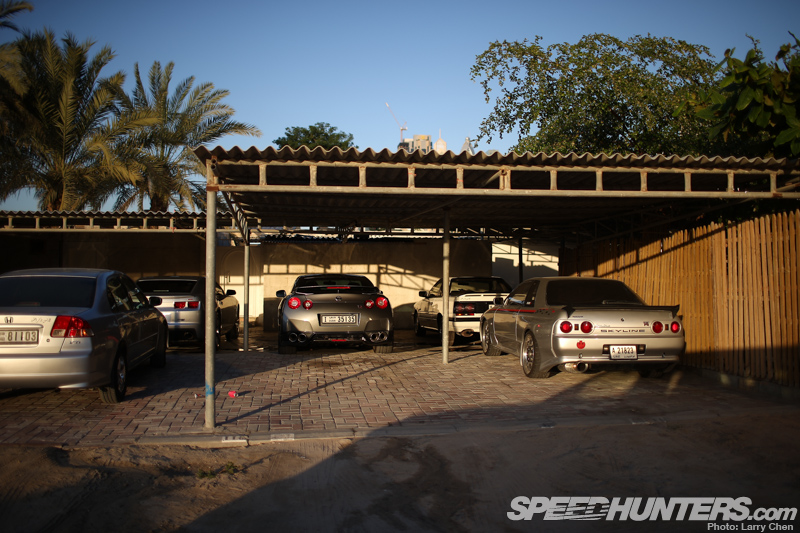 It amazed me that they just left these cars in plain sight from the street. If these cars were parked in Los Angeles, they would all be gone by the end of the month. Apparently the crime rate for car theft is very low in Dubai. The locals always leave their doors unlocked, and sometimes they even leave the keys inside the cars. I wish it was like this back where I live.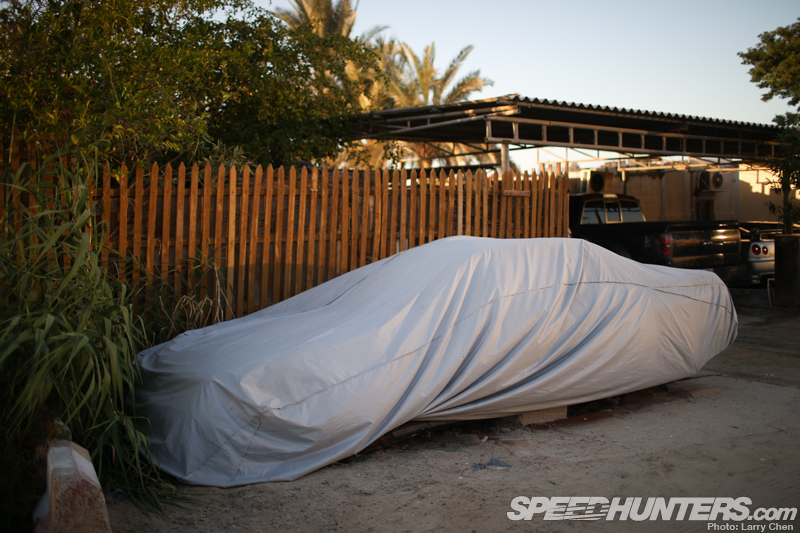 Under this car cover was an R32 GT-R that was being built. I can't imagine owning one Skyline, let alone seven. It was a real eye opener for me.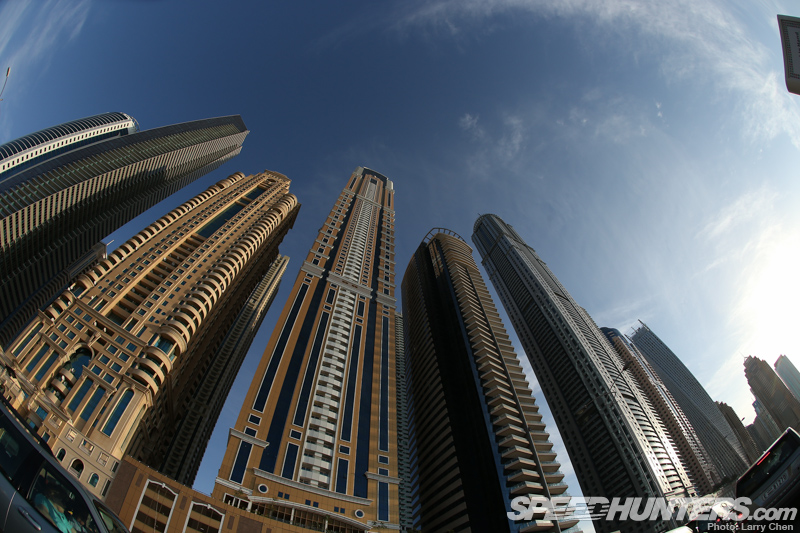 After wiping away my drool, I decided to hit one last stop. It was the only seven-star hotel in the world: the Burj Al Arab.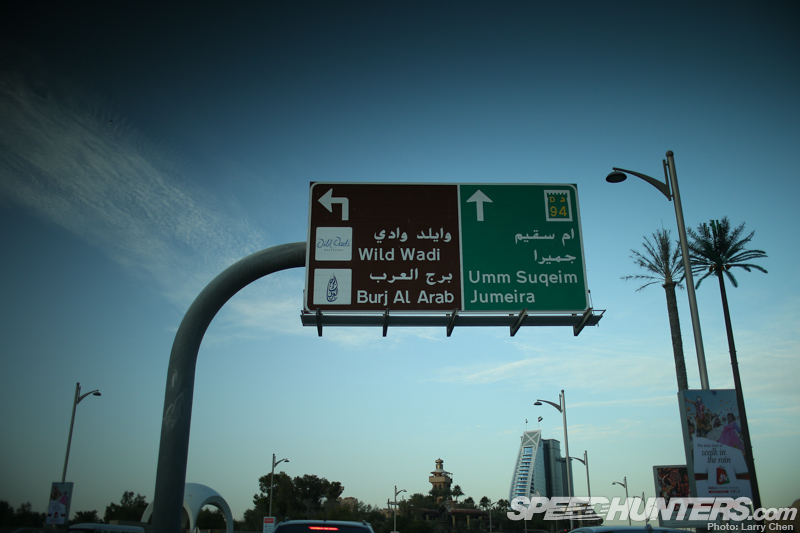 My hopes were crushed as I tried to drive onto the property. They won't let you in unless you have a hotel room, or if you are eating at the swanky restaurant up top.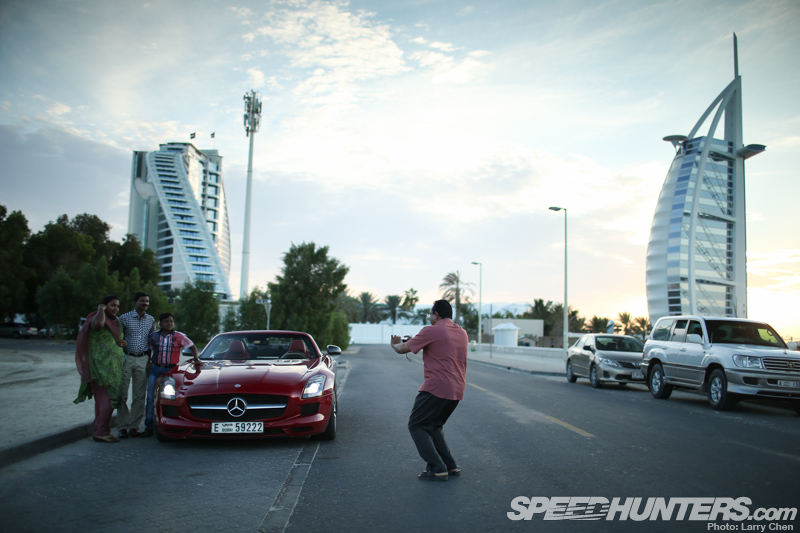 I did the next best thing. I drove along the beach looking for a nice backdrop. Once again, the lady in red caught the eye of some tourists. Just check out that photo stance!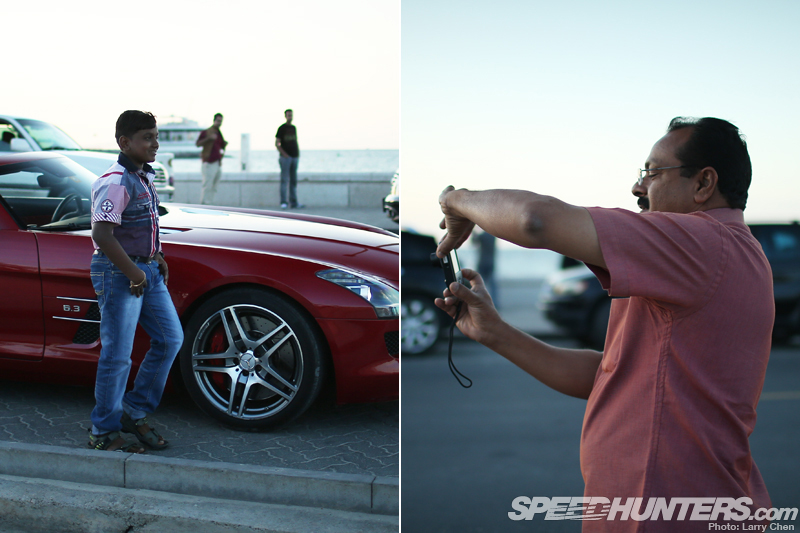 I figured golden hour would last a few more minutes, so I let anyone who wanted to take photos snap away to their heart's content.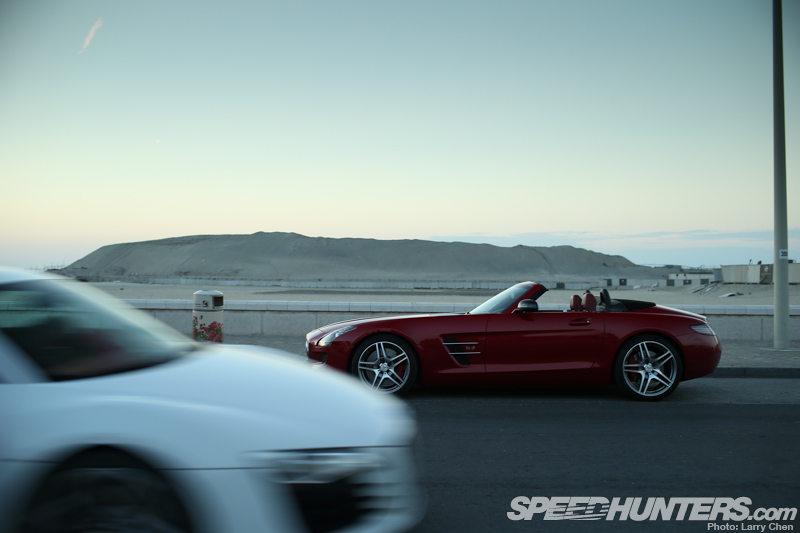 I moved away from the crowd a bit and found a nice secluded spot. I have a feeling this kind of thing happens quite a bit in Dubai. You are taking photos of a supercar when another supercar blocks your shot.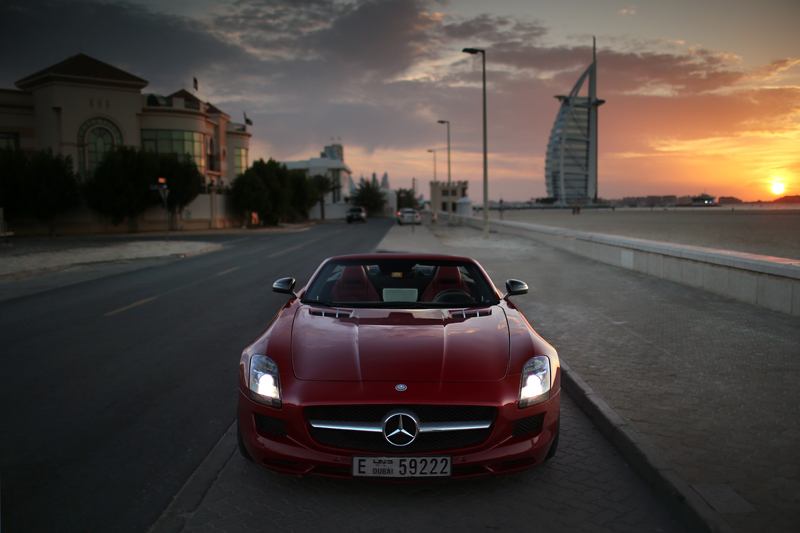 What a beauty… I fell in love with this face a few years ago when they first raced on at the 24 Hours Of Spa.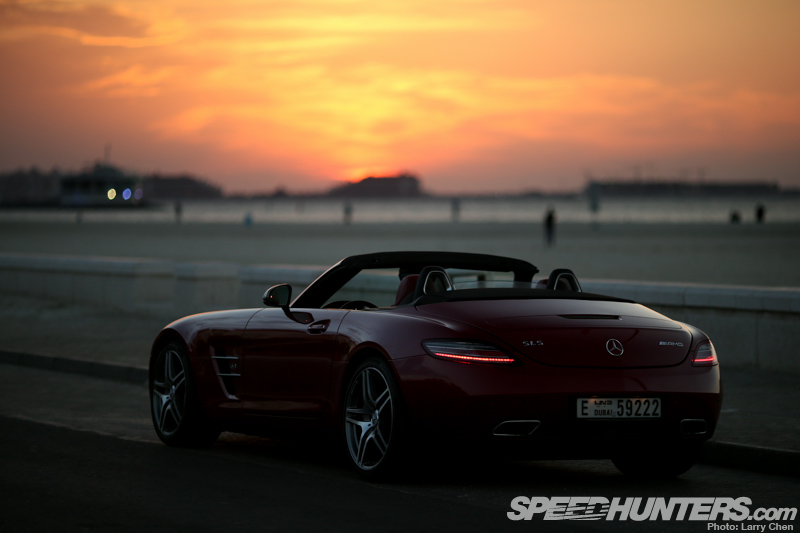 The rear end was not too bad either, although I think I prefer the hard-top version if I were to own one in my next lifetime.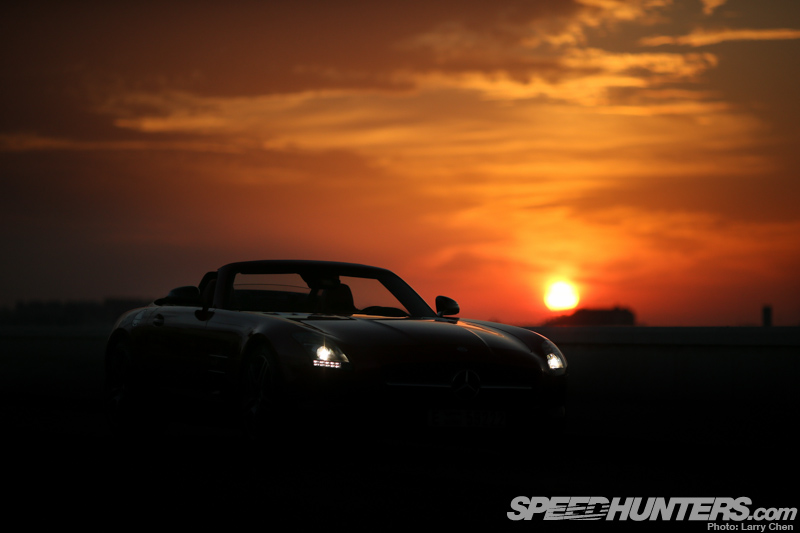 Once again the sun was disappearing into the ocean, so I set off to snap a few photos of Dubai from Palm Island.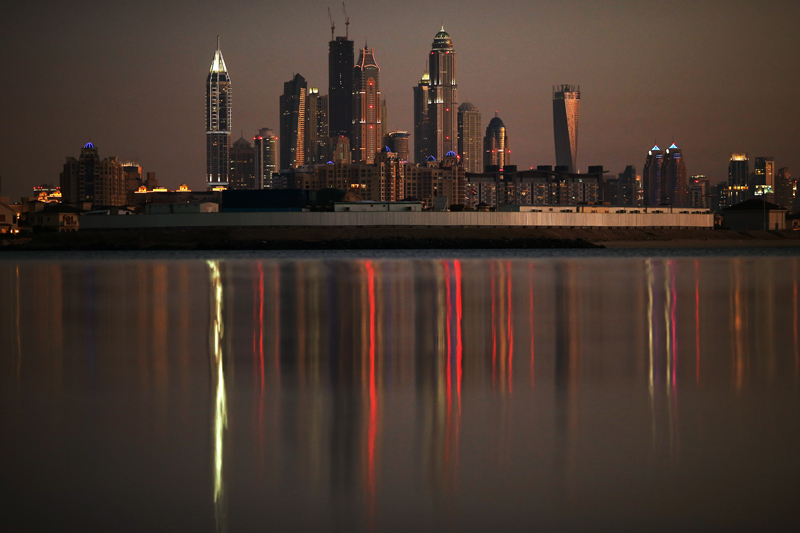 The man-made island was pretty interesting, as there were a few places that had a beach. Most of it was surrounded by giant boulders.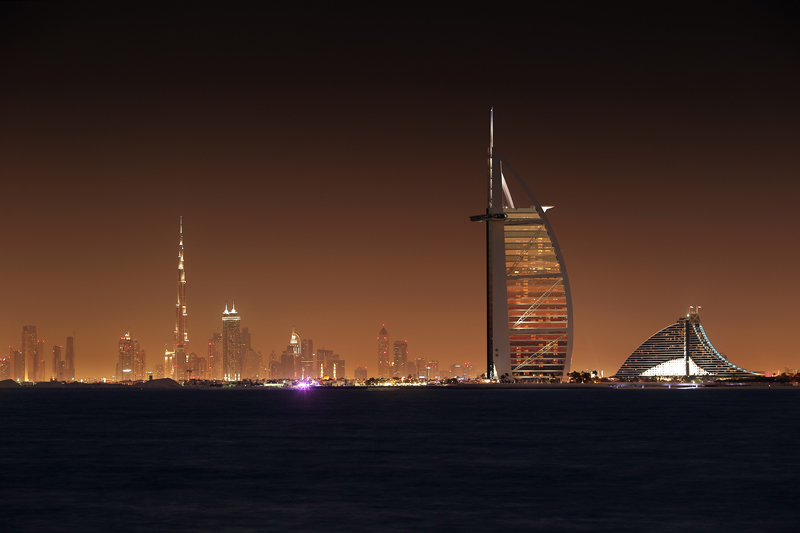 It definitely provided a great view of the Burj Al Arab and the Burj Khalifa. Two Burjs don't make a right….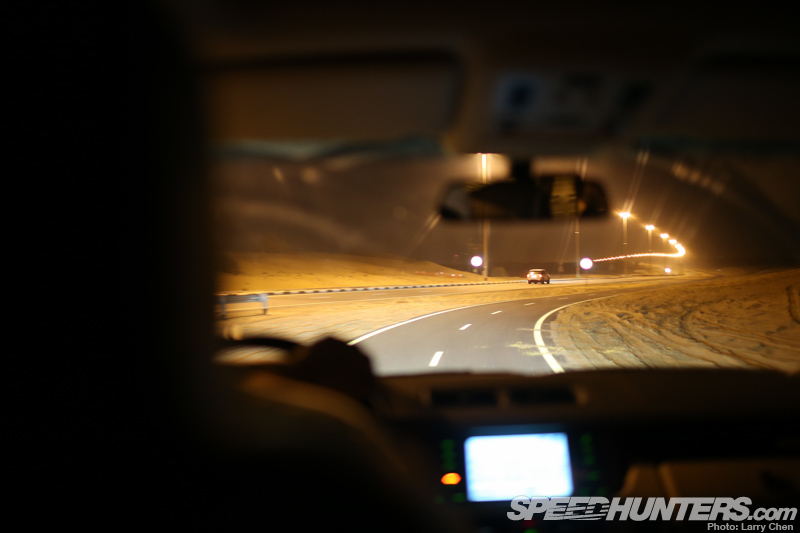 For dinner I met up with Darren McNamara, his brother Graham and my new friend Mohammad Alfalasi.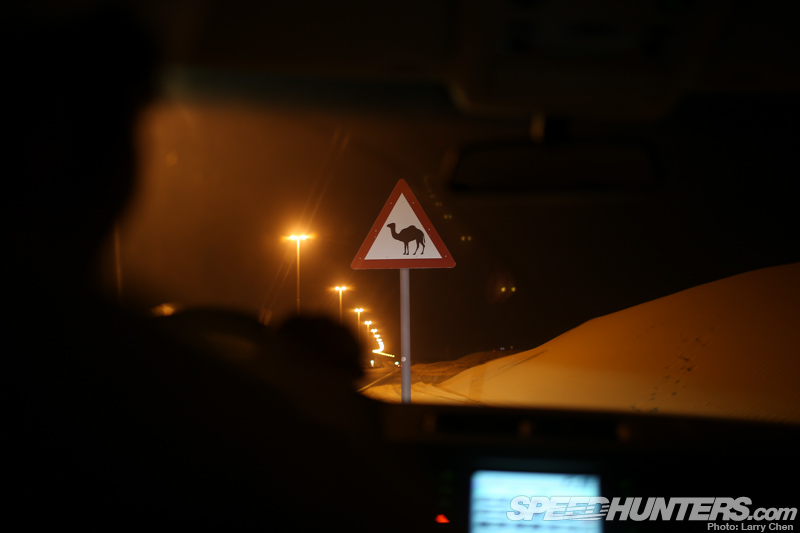 Mohammad wanted to take us tourists to a place off the beaten path that was popular with the locals. It required a trip about 30 miles outside of the city.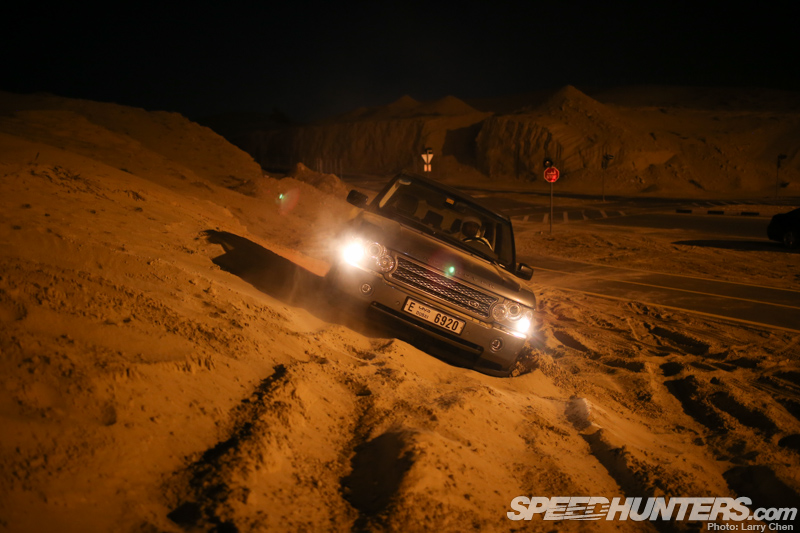 He wanted to take a shortcut, and he also wanted to show off the offroad-worthiness of this Range Rover.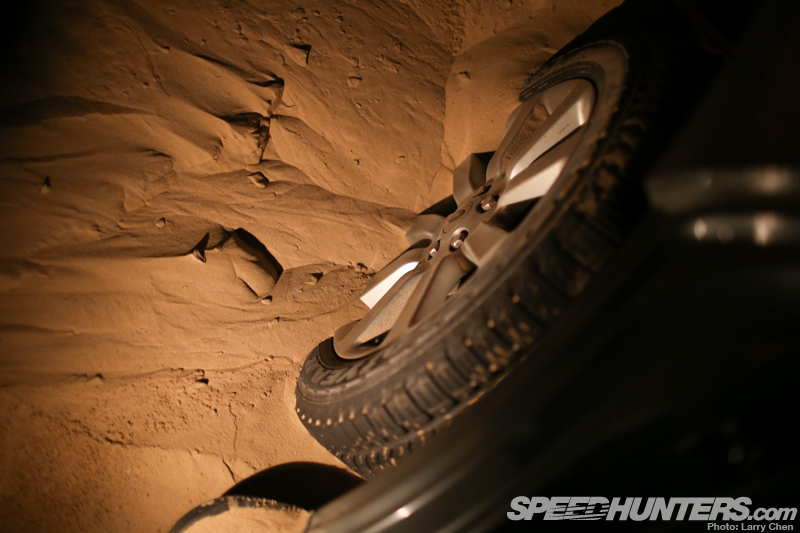 Except, we ran into a bit of trouble going up one of the dunes. We were ordered to evacuate, as it was easier to extract if we lightened the load.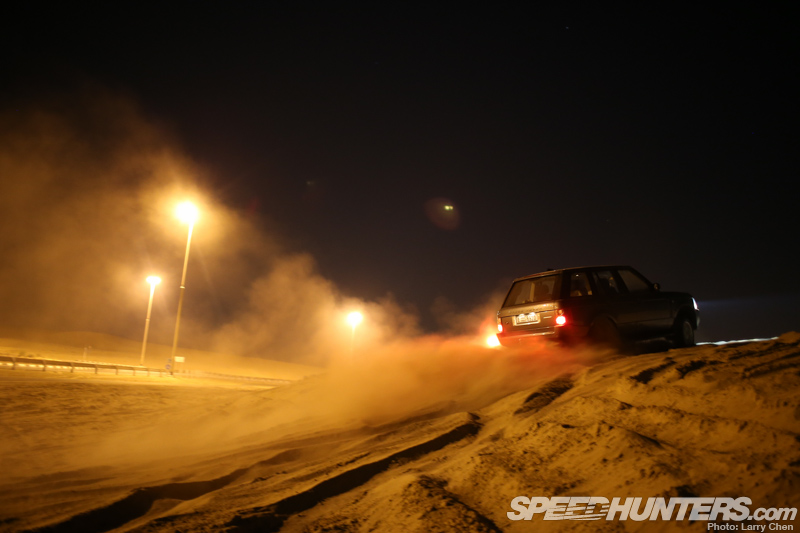 With a few back and fourths and some nervous gulps from yours truly, the SUV was free.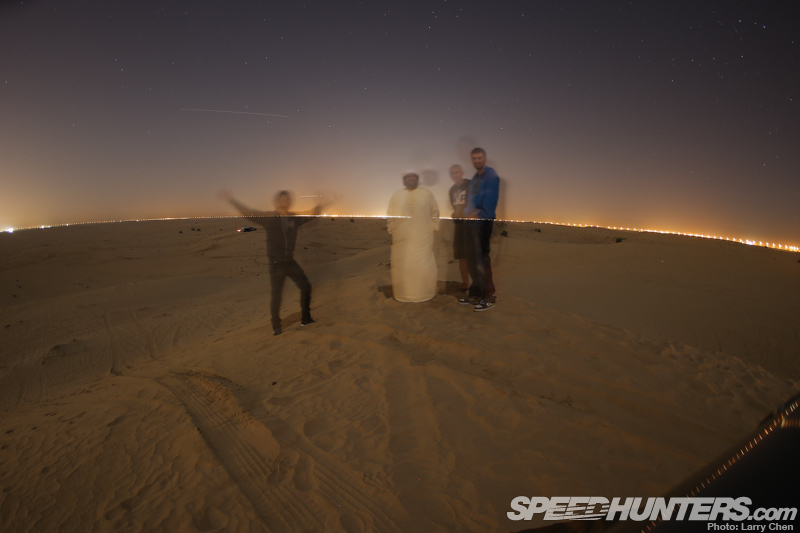 It was near pitch black with just a faint glow of the moon, so I decided to do some nice long exposures.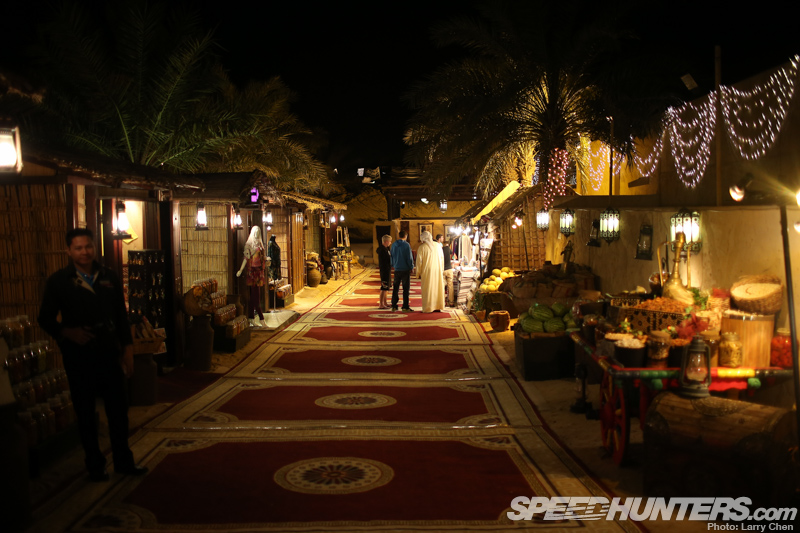 A few minutes later, we came across this tourist trap oasis in the middle of the desert.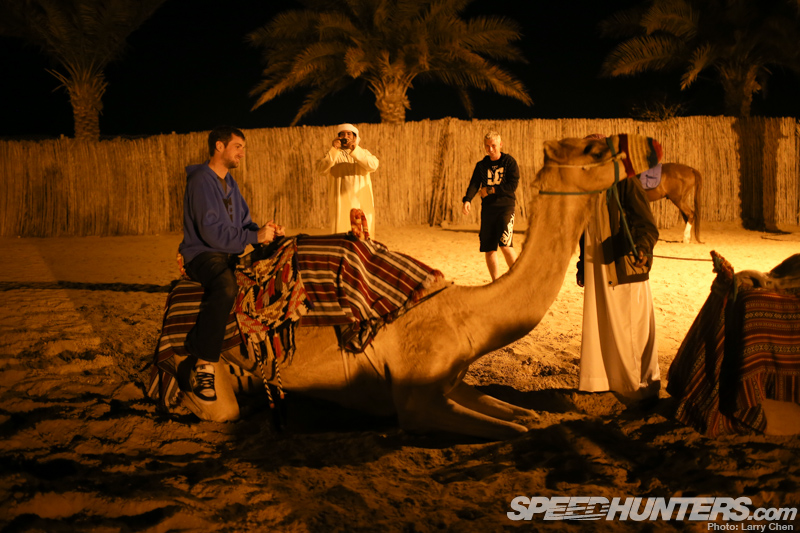 Darren gave camel-drifting a shot, but his controls were met with no response by the camel.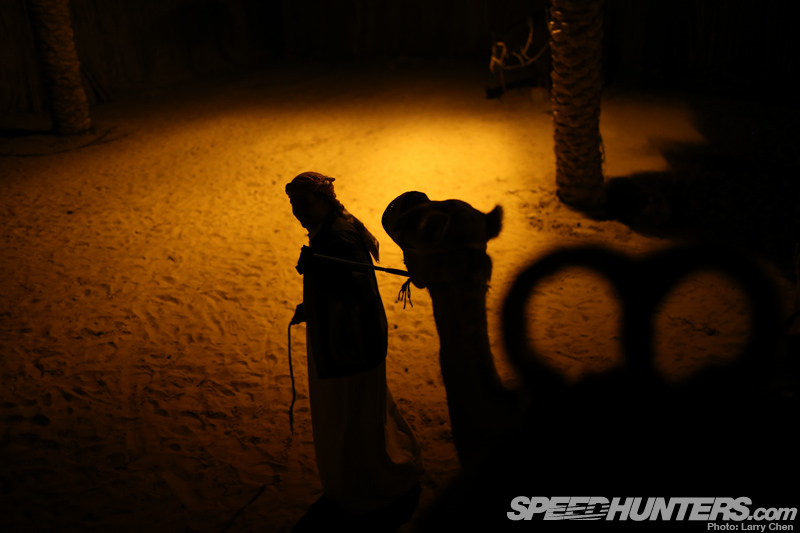 I also gave it a shot, and with the help of a very nice guide I was able to do a few donuts and figure eights.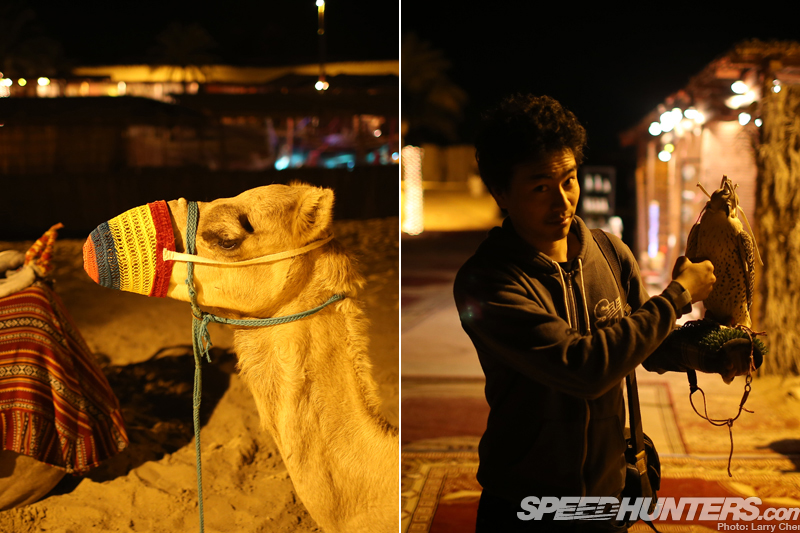 The poor camel had an empty hacky-sack covering his mouth. I got to hold a falcon while Darren snapped a few photos of me looking uncomfortable.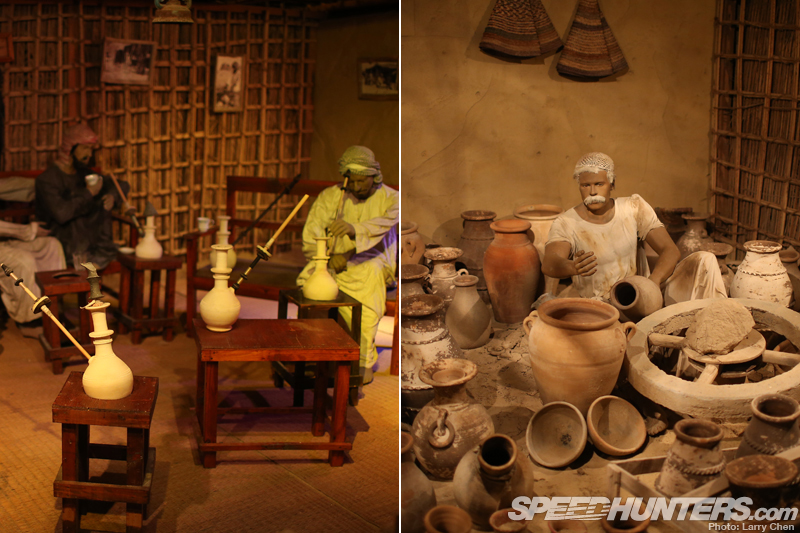 There were some cool old-timey scenes setup with wax figures. Check out that pot head.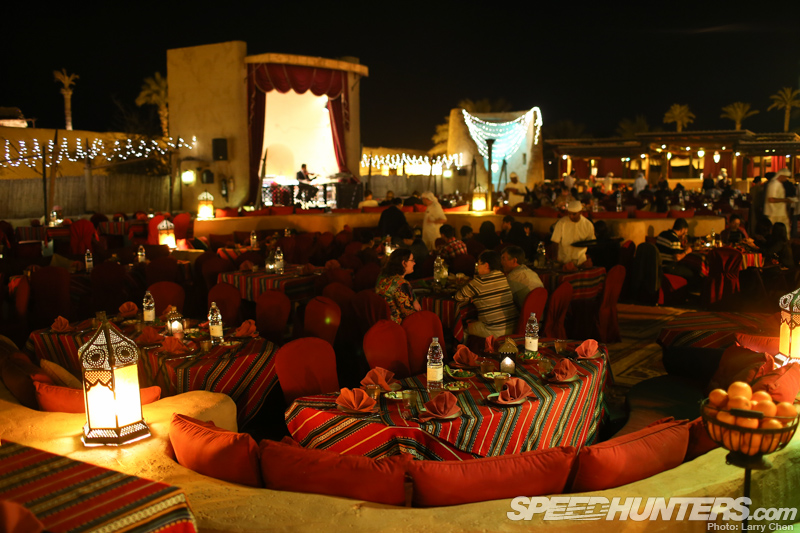 Can you believe this was in the middle of the desert? That stage, the tables and chairs are all set up on sand. It was like eating at the beach.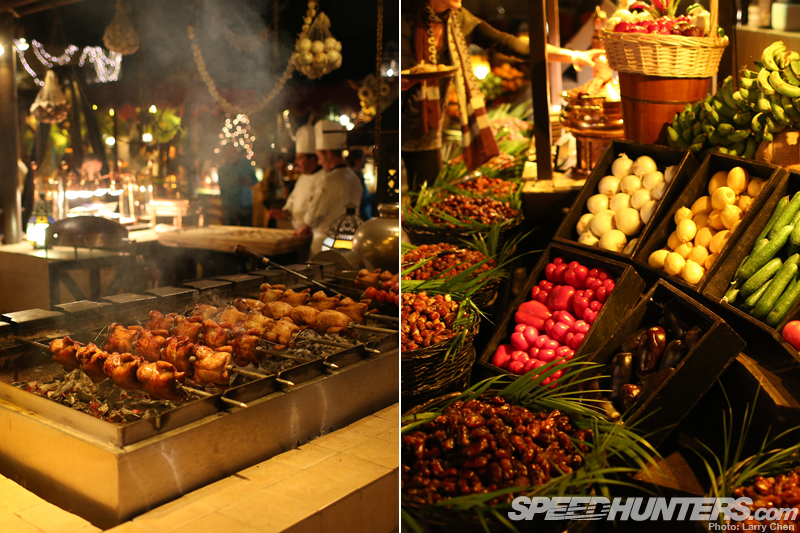 The spread was nothing like I have ever seen. I could barely walk afterwards.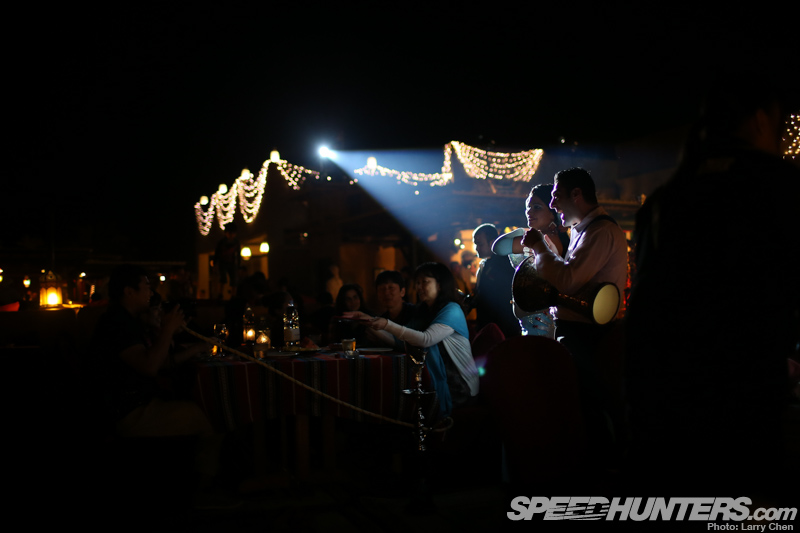 We were serenaded by a few local singers. They made two Irish and an American feel so welcomed.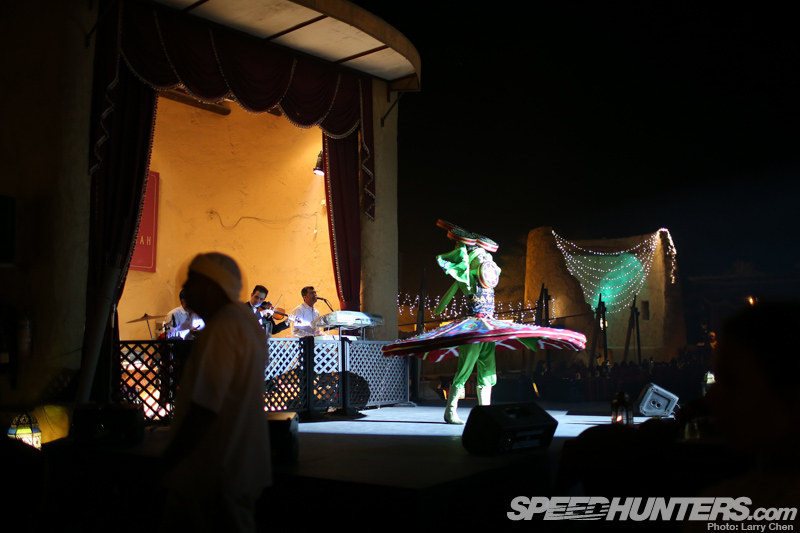 Then this dude came out. He spun around in place for over 30 minutes.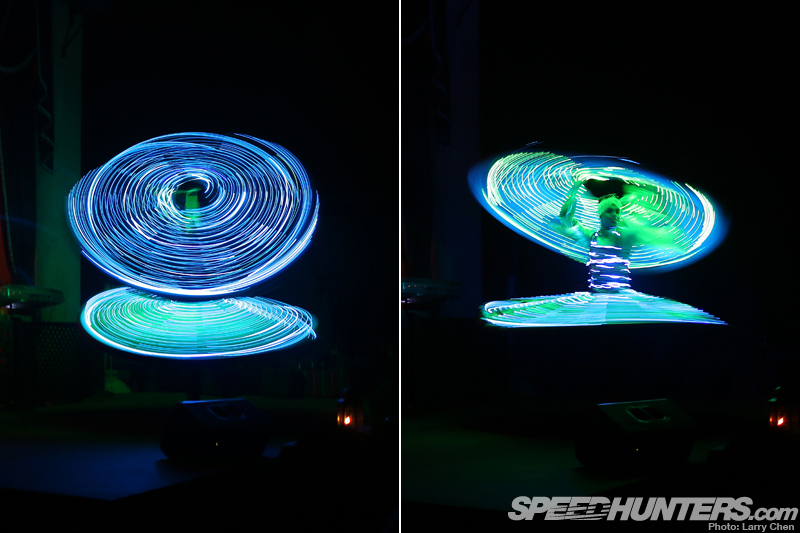 And just before I thought he was done spinning around the lights turned off and he turned into this LED spinning sensation sort of thing. I can't even explain it, but my mind was blown nonetheless. I could not think of a better way to end the night.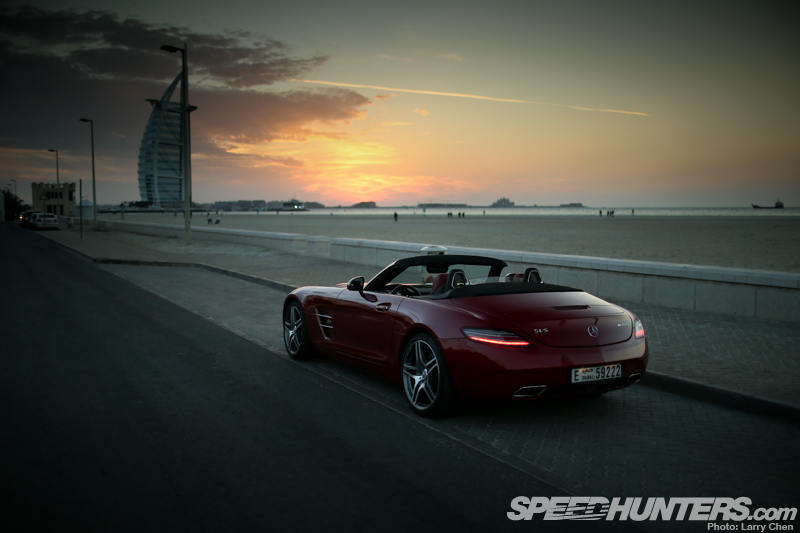 Well that is one more thing off my bucket list. I expected it to be a lot more hectic driving in the Middle East, but everyone was always so polite. As soon as I would catch up to the person in front of me in the fast lane, they would move over right away. What a great place for car enthusiasts. I'd like to thank my friend Mohammad Alfalasi for arranging this press vehicle for me. Enjoy the desktops!
Larry Chen
larry@dev.speedhunters.com
Instagram: larry_chen_foto
More dream drive stories on Speedhunters
More stories from Larry Chen on Speedhunters