Let's not kid anybody: all of you Speedhunters out there have likely done some 'spirited' driving on the streets in one form or another. But we all know that it is very dangerous. Too much spirited driving on the streets is a very real problem in the UAE – especially in Dubai. In an effort to curb street-racing, events like The Chase were created to satisfy the Dubai car enthusiast's appetite for racing. This single-day event has drifting, drag racing and autocrossing all at the same time, and anyone can sign up to drive their car on the track. As long as your car can pass technical inspection, you are good to go.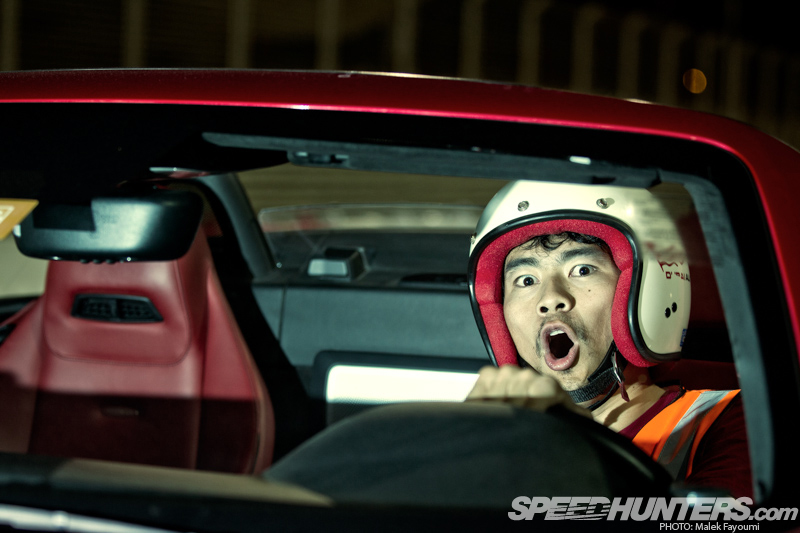 This would be different from every other event I have covered on Speedhunters, as I would be a participant as well as a journalist.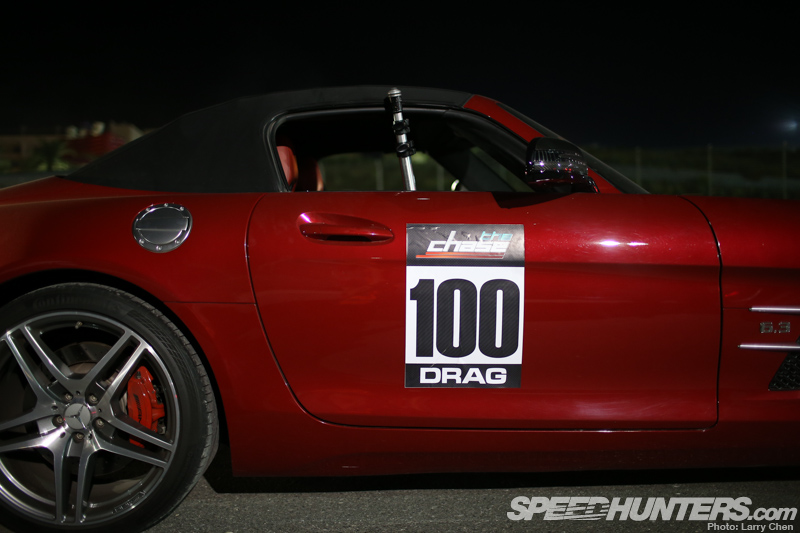 I entered a Mercedes AMG SLS convertible into the Street Drag competition, which was my press vehicle for the duration of my trip to the Emirates. Yes, that is my monopod sticking out of the window.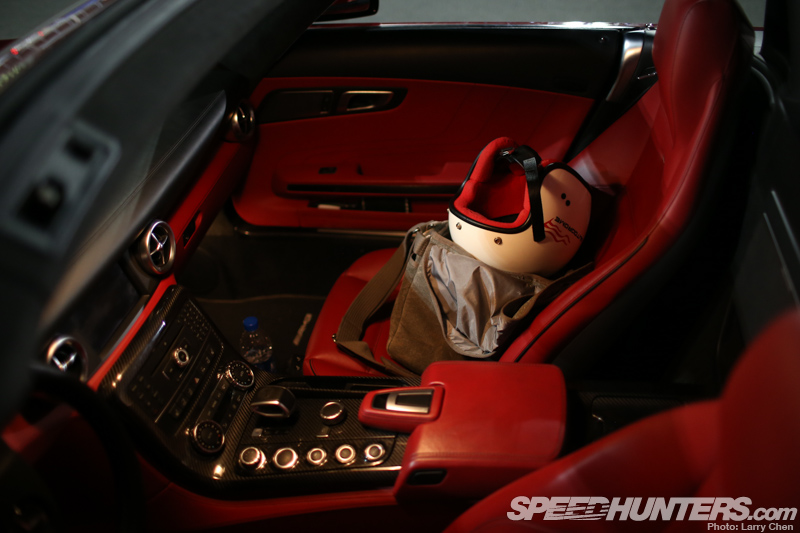 It would present some challenges, as I soon found out it was much harder than I had anticipated to shoot and drive at the same time. Although, to make things easier I always had access to my camera, because I left it in my car as I raced. Yes I raced with my top down… Shhhhhhh!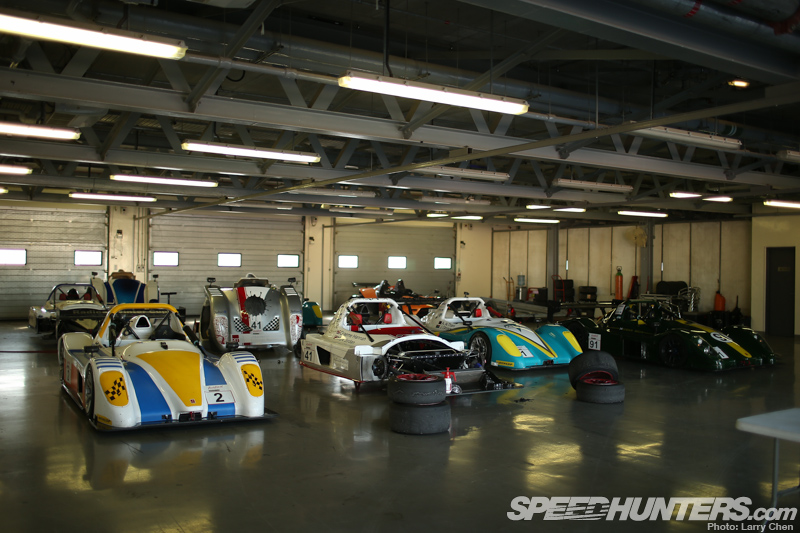 The Chase was held at the Dubai Autodrome, located just outside the city and only a short 20-minute drive from my beach-front hotel.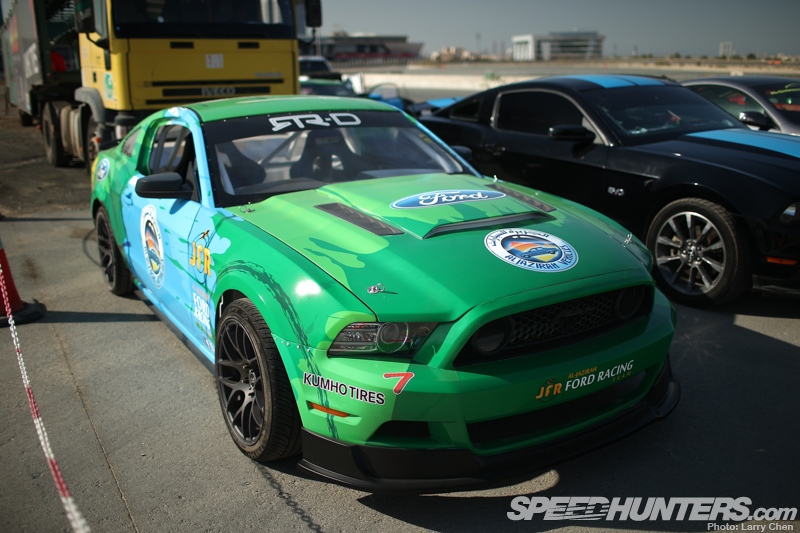 I arrived fairly early and had a chance to check out a few of the cars before they started practice – which is where I spotted this very familiar-looking car.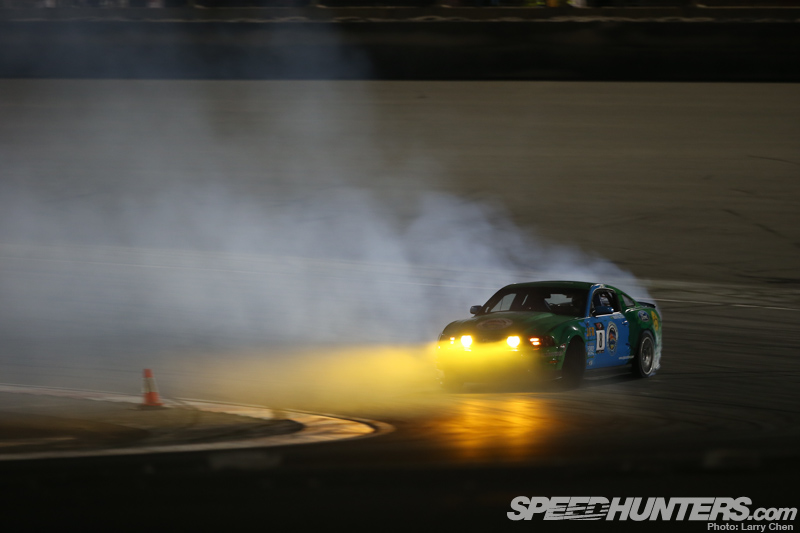 This was actually built by ASD in Charlotte, North Carolina. This is the RTR-D and it is an out-of-the-box, purpose-built drift car. If I closed my eyes I could swear it was Vaughn Gittin's Mustang tearing up the track at the Autodrome.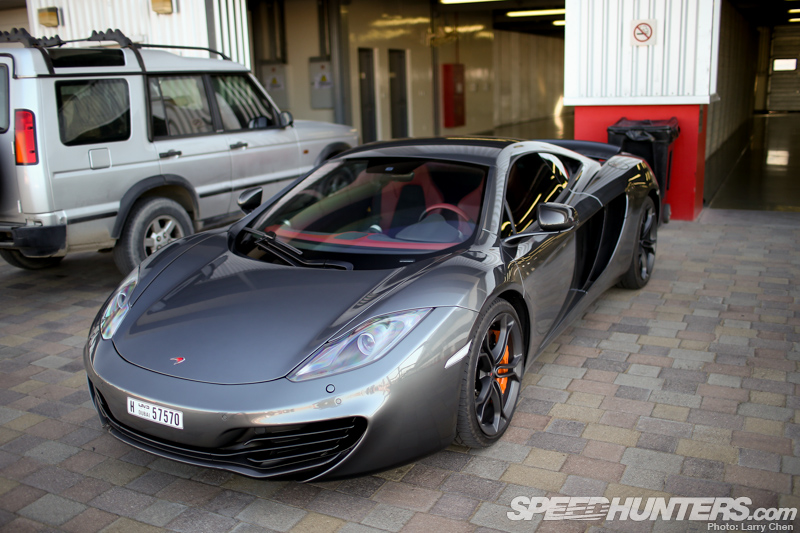 I wasn't able to cover the autocross competition as much as I wanted to but there were some interesting cars on track, including this MP4-12C. It was driven by a former national autocross champion: he was given the job of testing out the flow of the course.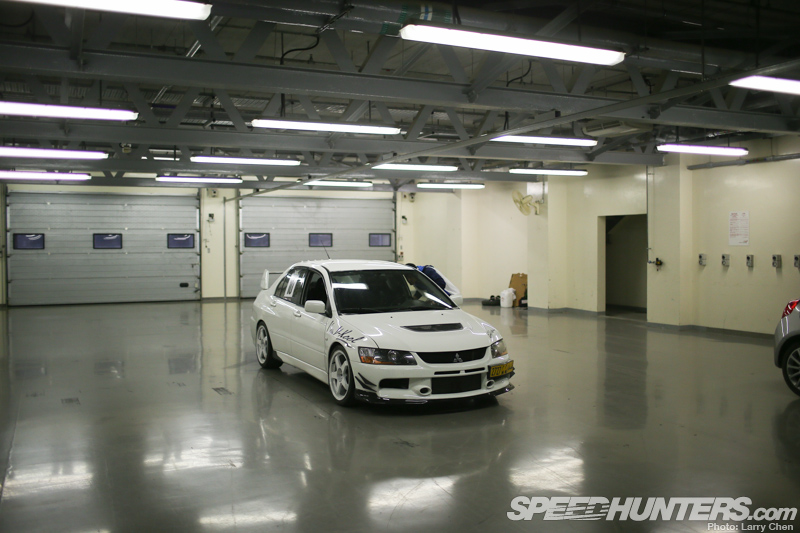 It seemed like the AWD cars were the dominate force, as they easily slid around the tight corners and powered out with all four wheels spinning.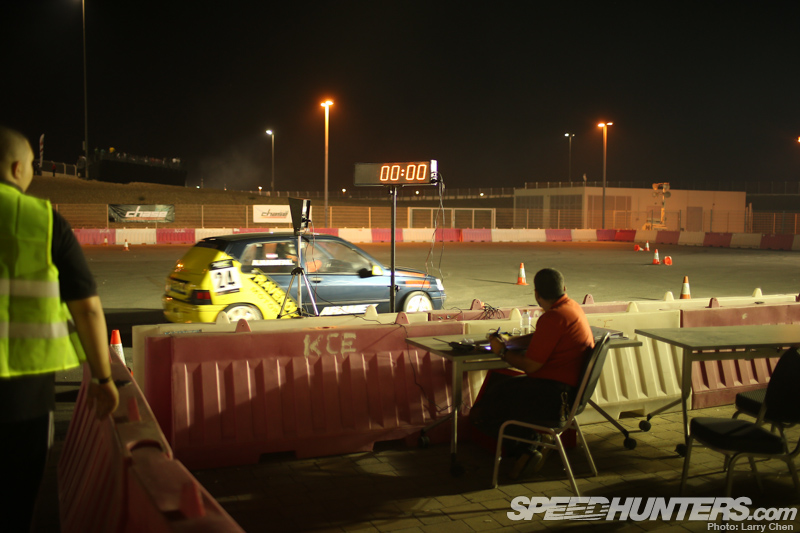 This competition was actually a part of the Dubai Autocross series, which has held championships for almost a decade.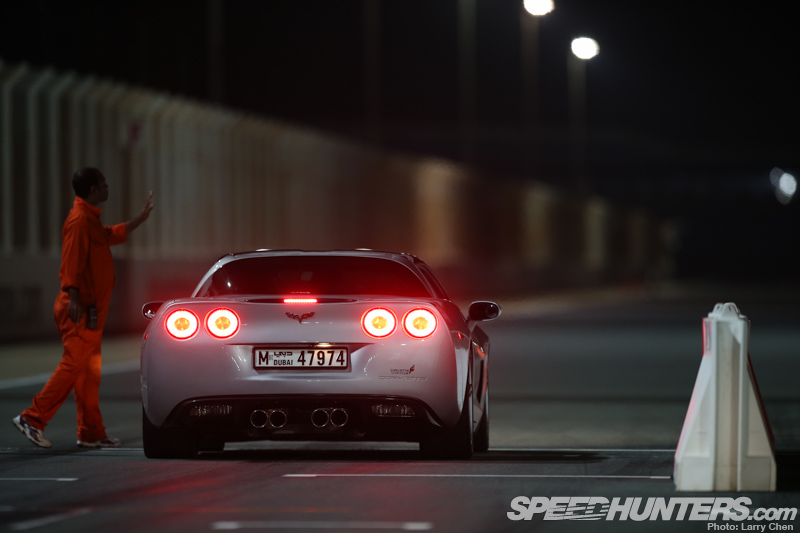 The drag racing was pretty standard fare, except it was held on the main straight of the Autodrome road course. It was about 300 meters (1,000 feet) long.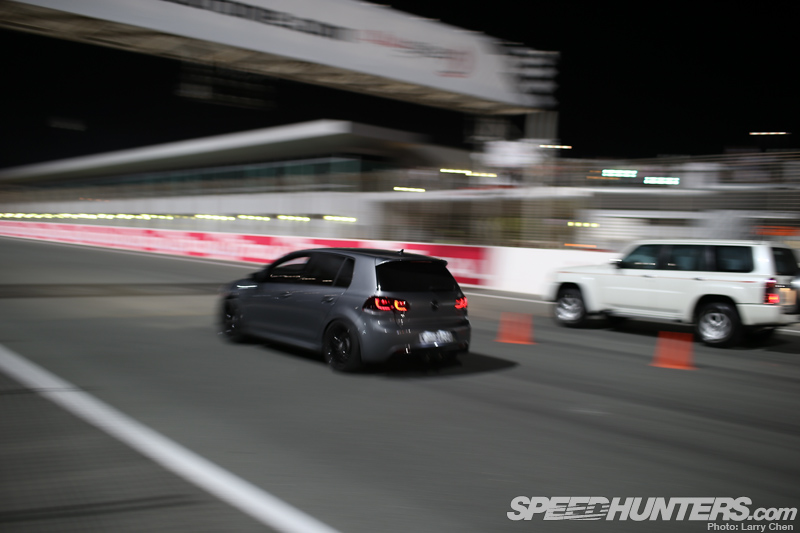 There were so many different types of cars – even quite a few SUVs and pickup trucks. Can you believe these guys raced a Nissan Patrol?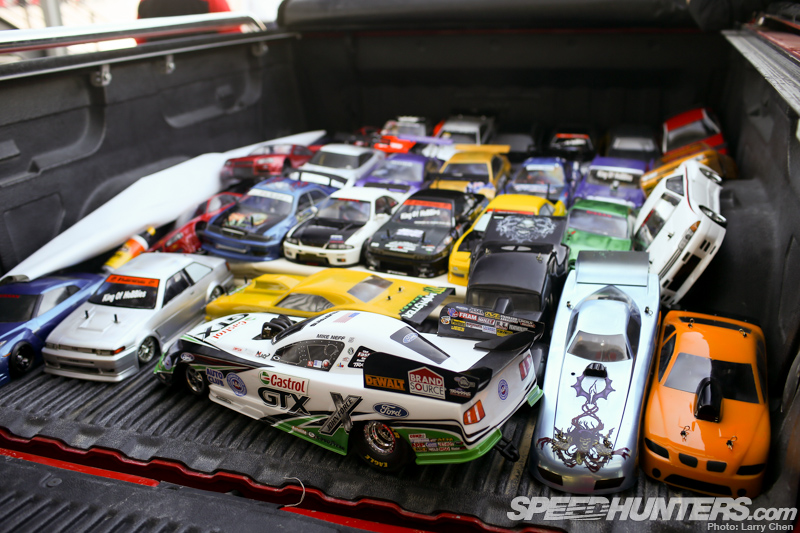 If real cars did not tickle your fancy then there were 1/10th scale remote control cars as well. I was really into these things when I was in high school. At one point I was working at a hobby store and as soon as they handed me my paycheck I would hand it straight back!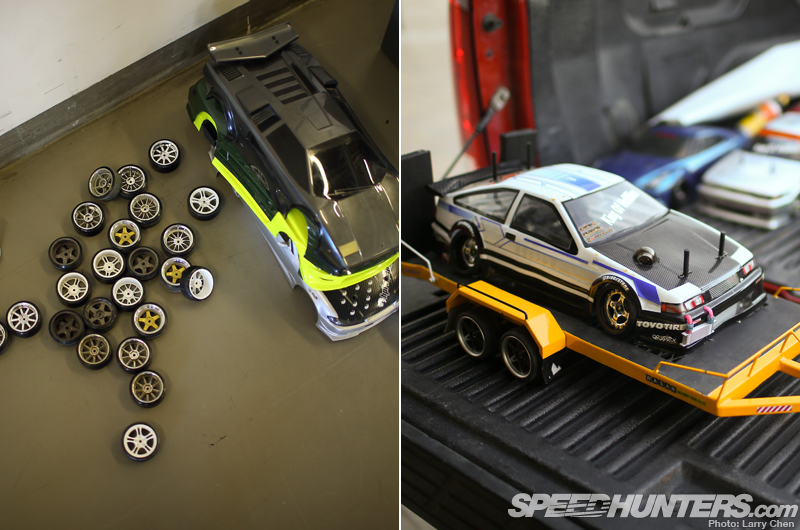 They set up a course in one of the garages so everyone could test their skill in miniature drifting.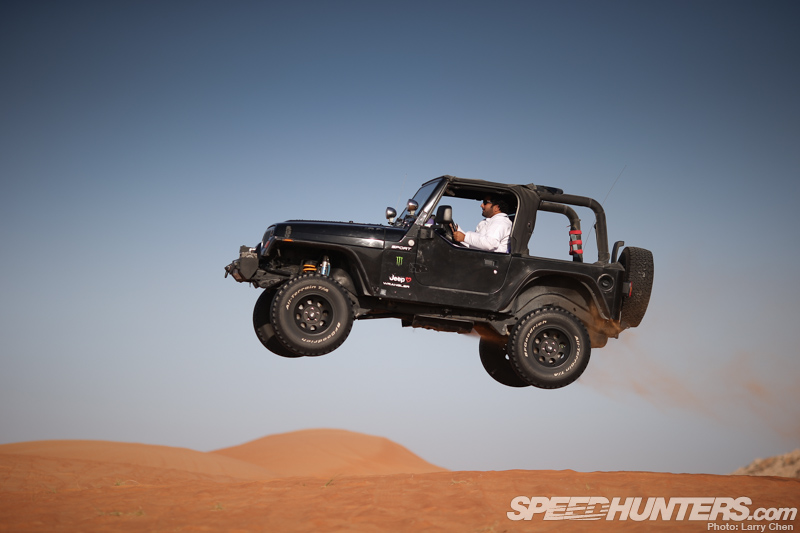 So who is crazy enough to host such an event? Enter Mohammad Al Falasi. The Chase was his brainchild, and it's been his baby from day one. When he is not pretending he is one of the Wright brothers he works full time at an IT-related job. Outside his nine-to-five hours he manages and plans events for the sheer love of car culture. Talk about dedication.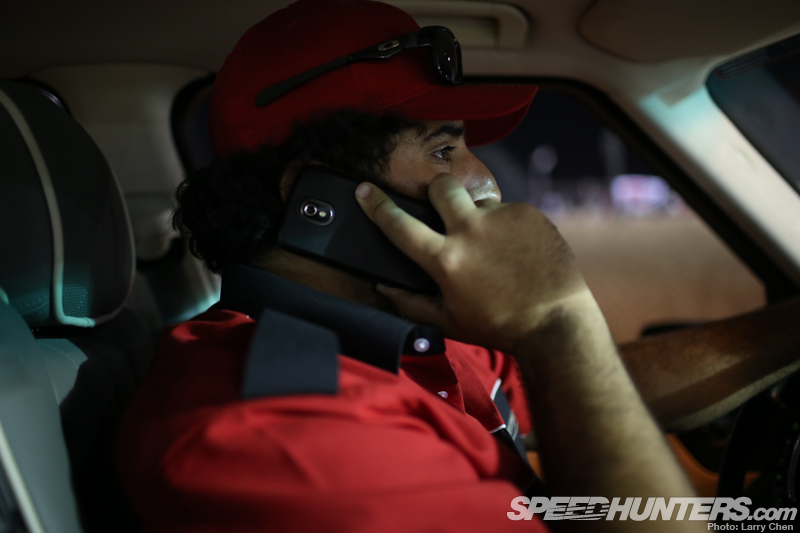 Since it was the first event of its kind at the Autodrome there were a fair amount of headaches. Mohammad's phone was glued to his ear every time I saw him.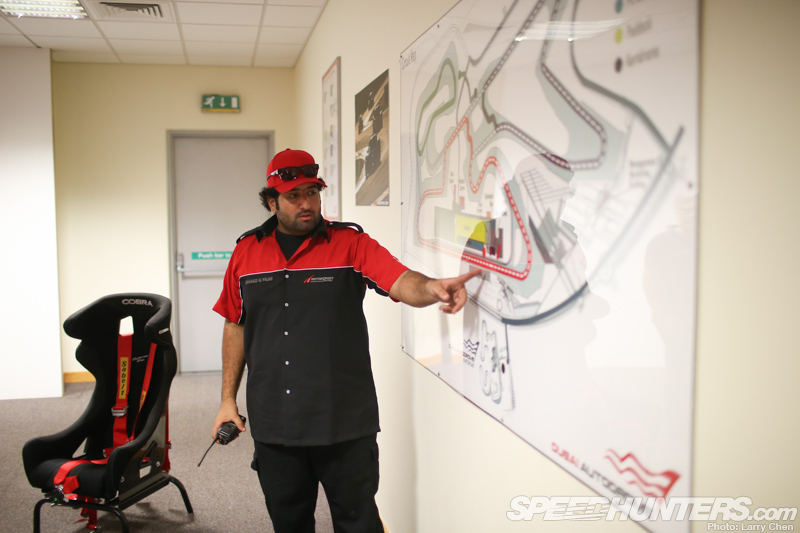 He is kind of a one-man band. He did everything, including the drivers' briefings. He also took tickets, picked up cones and he also ran the falafel cart!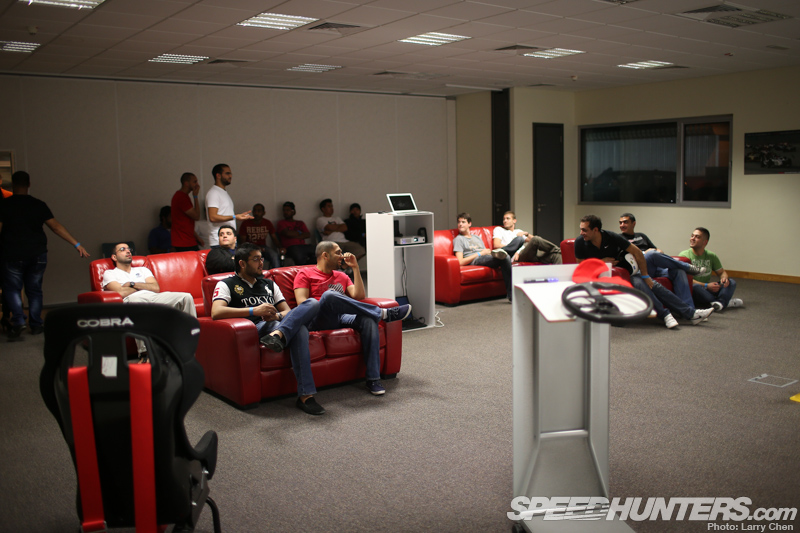 This was the drivers' meeting for the street drag event. Basically it was a straight-up elimination and everyone would be divided into engine classes. Eventually they raced class versus class to decide an overall winner. There was no timing, so whoever crossed the finish line first would move onto the next bracket.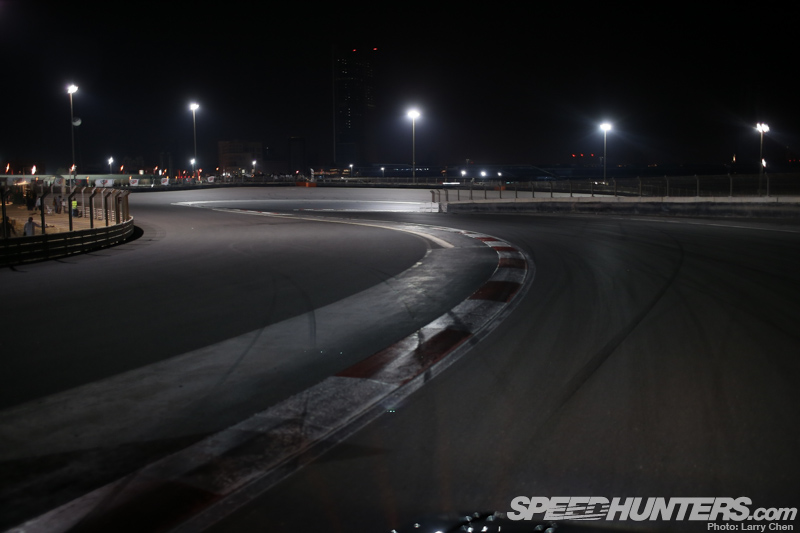 Before I entered into the street drag competition, I decided to watch some drift practice. The course was basically just two long sweepers.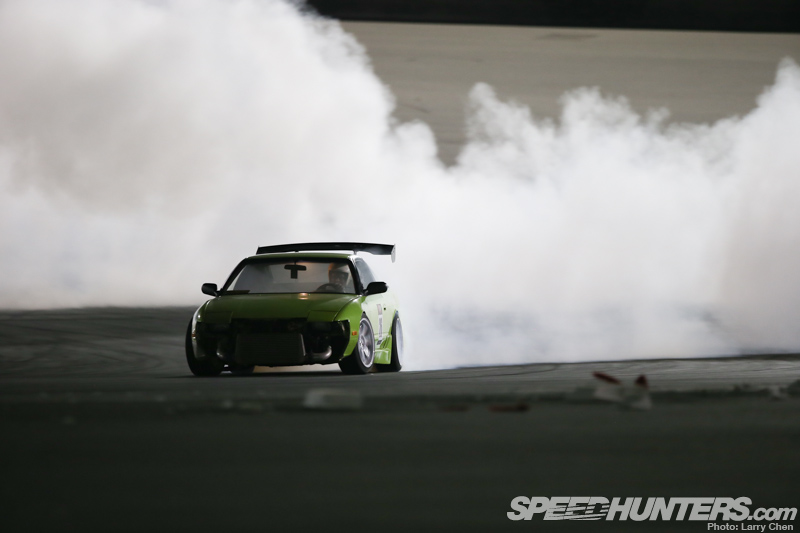 The layout was more than enough for the locals to lay down some great runs. They never failed to put on a show, even if they spun out.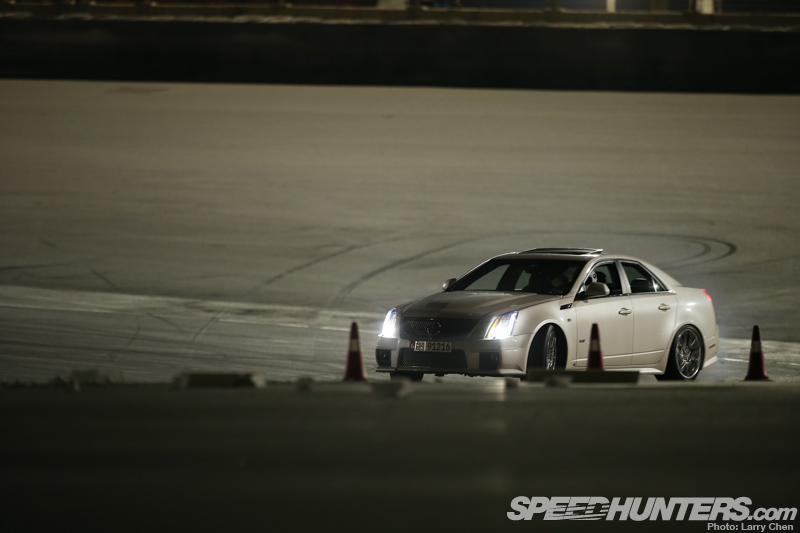 Many of the guys brought out their daily drivers. It was a great way to see how well a family car can drift. Pretty well, apparently.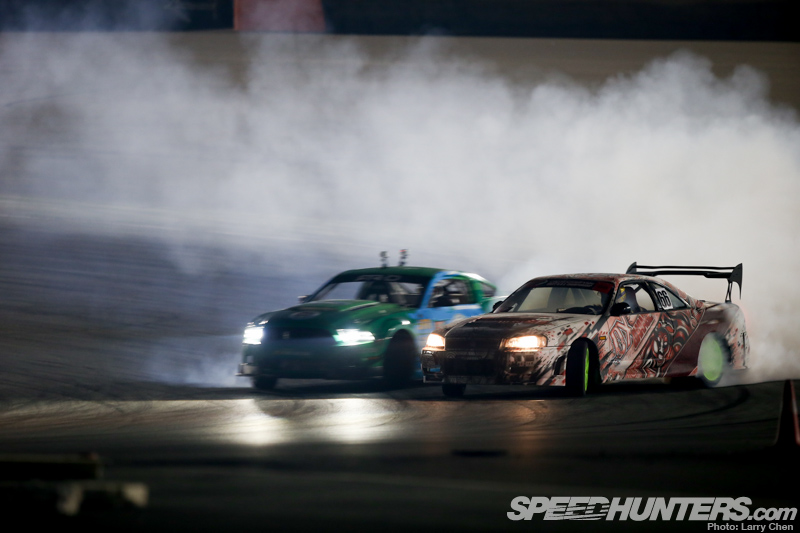 On the other end of the spectrum were the full-on Pro Drift UAE cars. Some of the teams came from Saudi Arabia just for this event.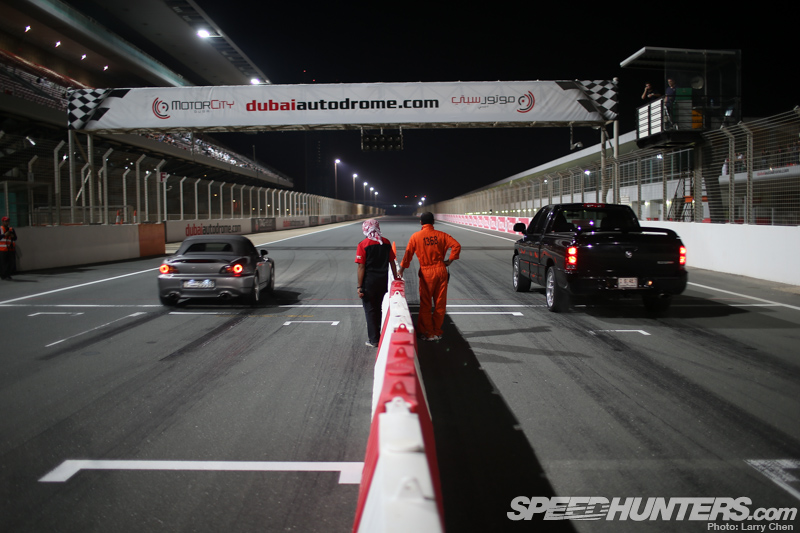 I eventually made my way to the temporary drag strip to find a wide array of cars already lined up and racing.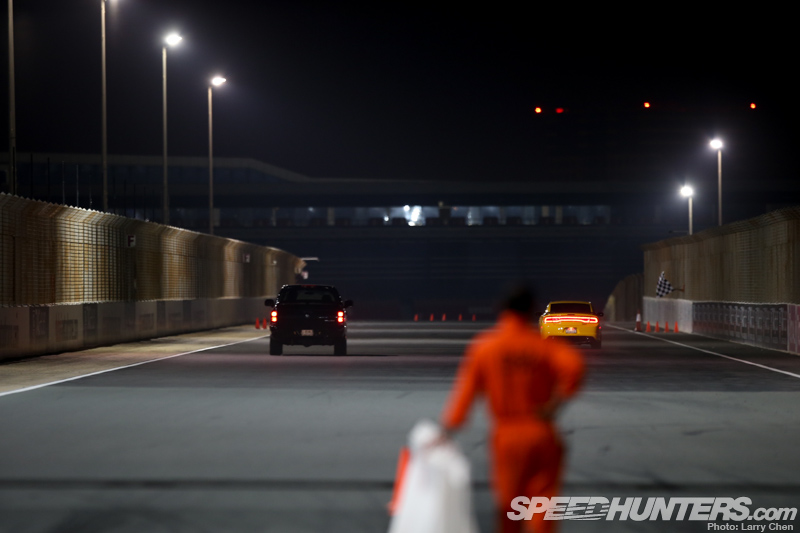 Basically it was supposed to have the essence of a race on the street. An inch or a mile – I will let you finish the rest…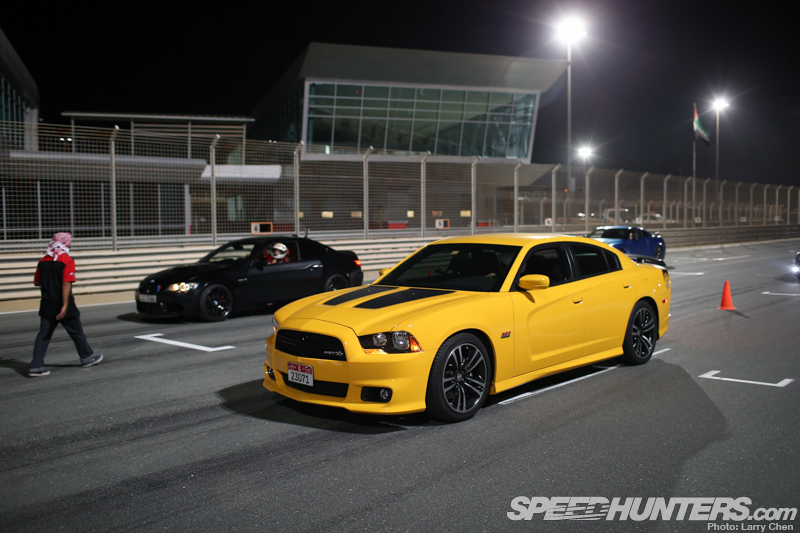 As I was shooting I realized that I did not bring a helmet! As that was pretty much the minimum requirement for the drag race I sadly pulled out of the line.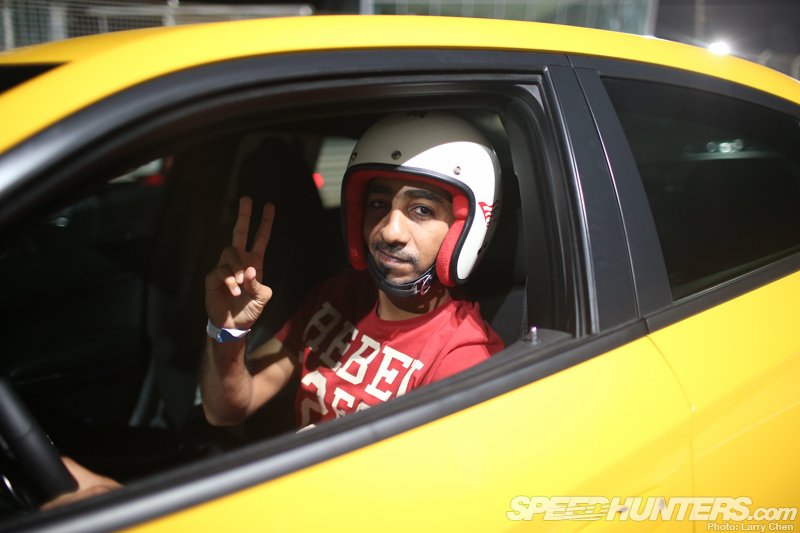 I still can't believe how nice everyone was to me, because when one of the guys saw that I didn't have a helmet he told me I could share his.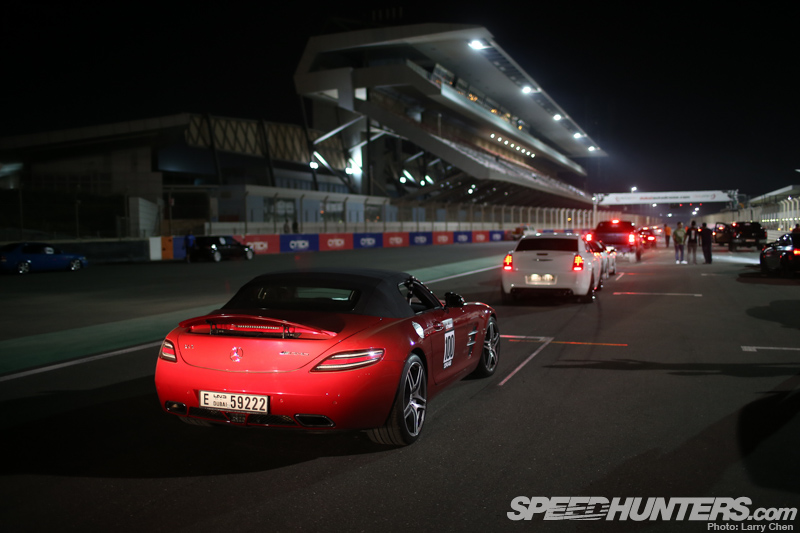 So after his race he handed the helmet over to me and I pulled back into the line.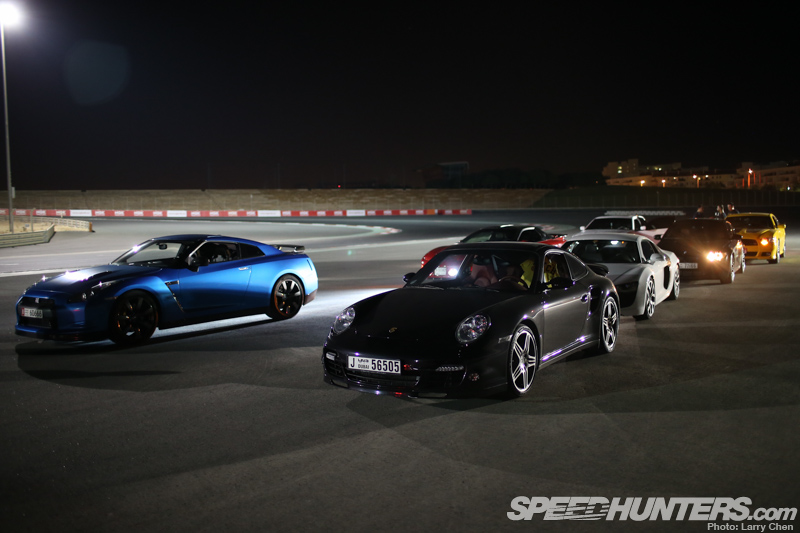 Behind me was a bunch of cars ready to go. There was no way to tell what each of these guys had under the hood. Some of them were very candid about what they were running and others were super secretive.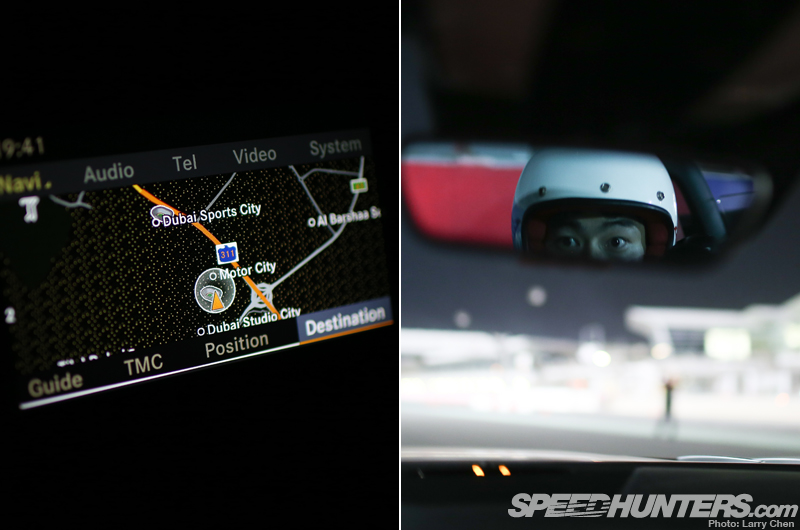 I was ready for my first race: we would have three practice races before eliminations. I strapped in and was ready to go.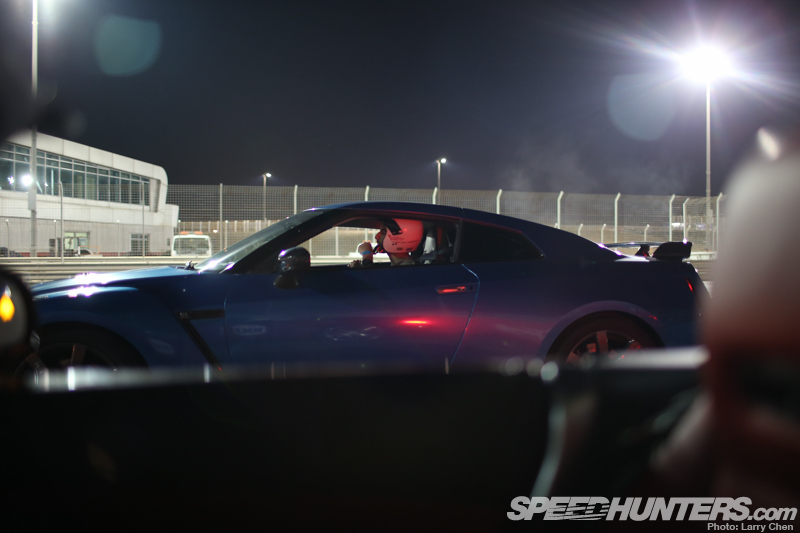 I looked over and I saw my first opponent was a Nissan GT-R. Dubai has more GT-Rs per capita than any other country in the world.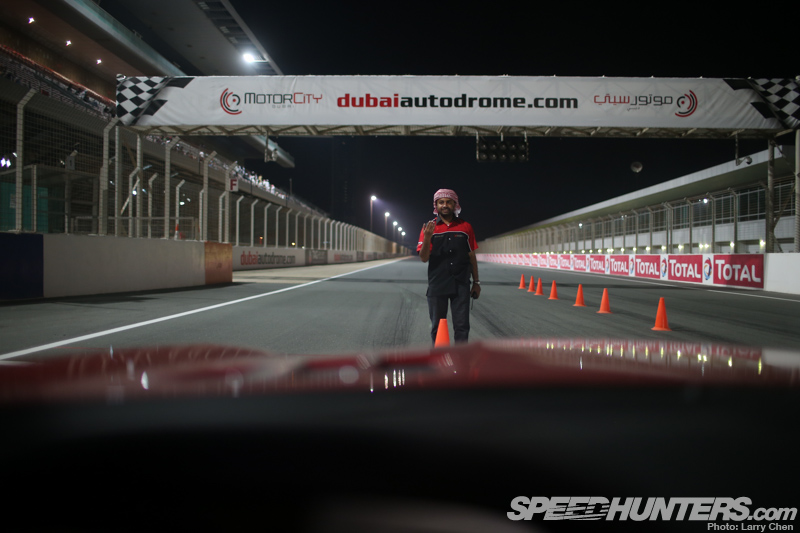 The starter lined me up as I scooted forward inch by inch. When we were both staged I activated the launch control and depressed both the gas and the brake.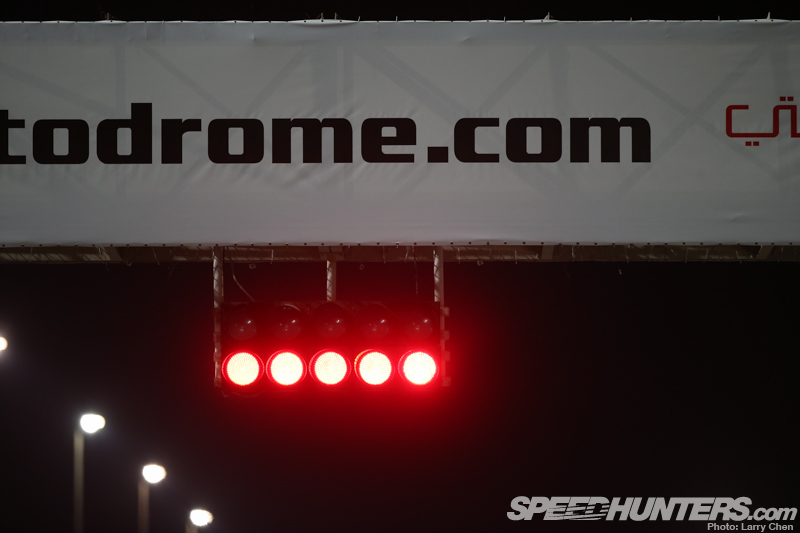 They used the F1-style starting lights, so basically when the red lights came on we would get ready and when they went out we would go. I put my camera in my bag and put the bag in the passenger footwell as I waited for the lights to go out.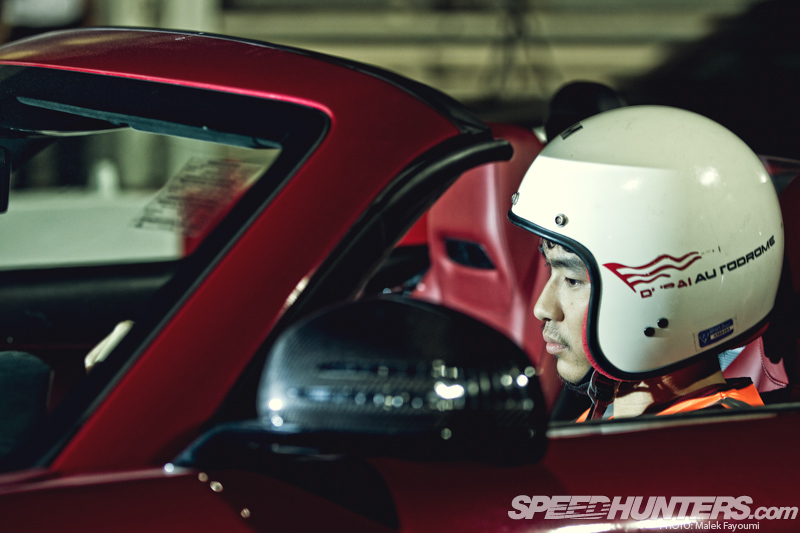 Well, the lights went out and the GT-R left, but my metrosexual SLS just sat there. Apparently I held down the gas and brake for too long and it shut off the launch-control and went into some kind of limp mode. I was just sitting there! Eventually the car let me move forward and I shot out of the gate like a bat out of hell and climbed all the way to 230kph (143mph).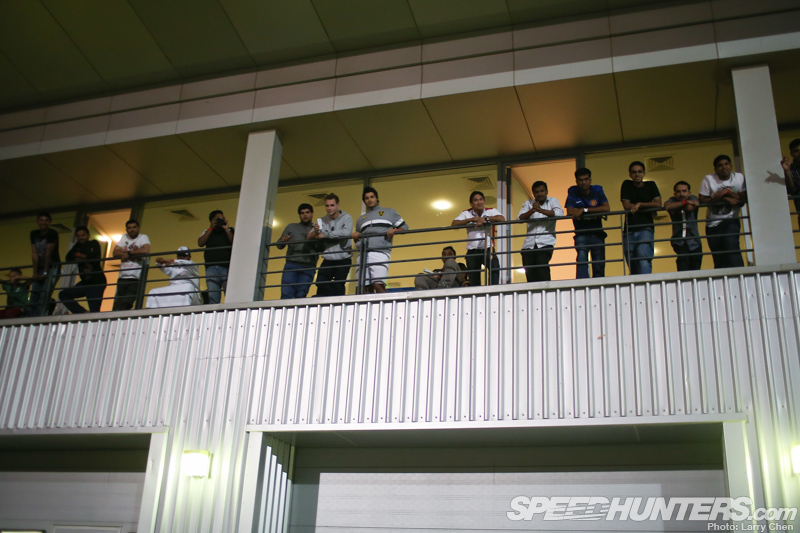 While I was on the access road going back, the spectators heckled me and yelled things like 'you suck' and 'go back to Russia'. Boy, was I embarrassed.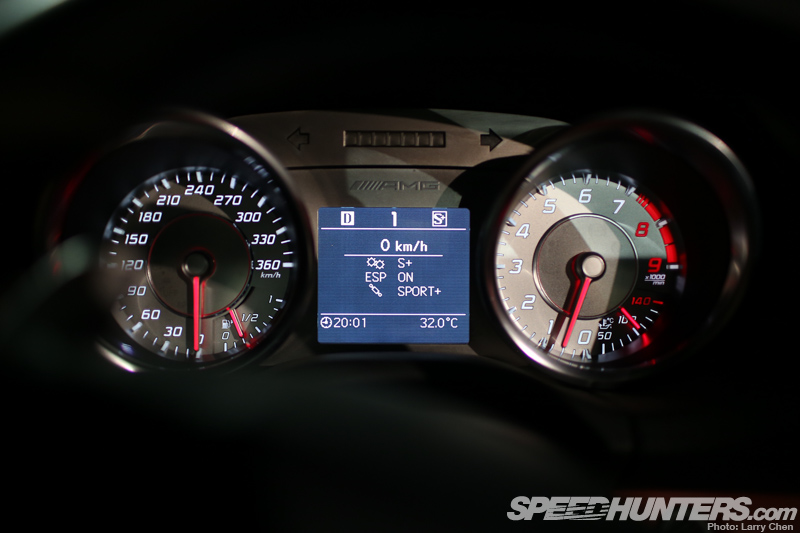 So I figured, okay, I have to time it right so the car does not disengage the launch control. I can't depress both the brake and accelerator too early. How could I fail at something so simple!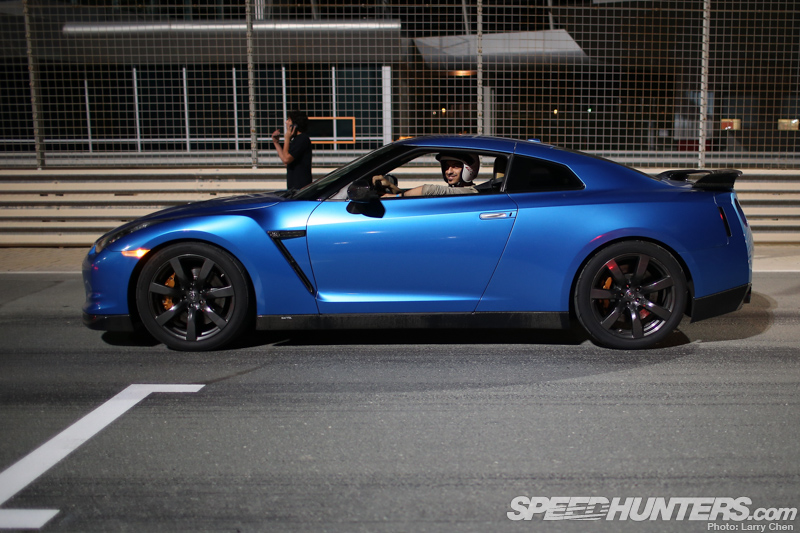 Once again we lined up. But this time the other driver had kind of a smug look. I was thinking, 'Why is he smiling like that?'… I was not about to make a noob mistake again, so I cut a great light and I even pulled out in front of the GT-R.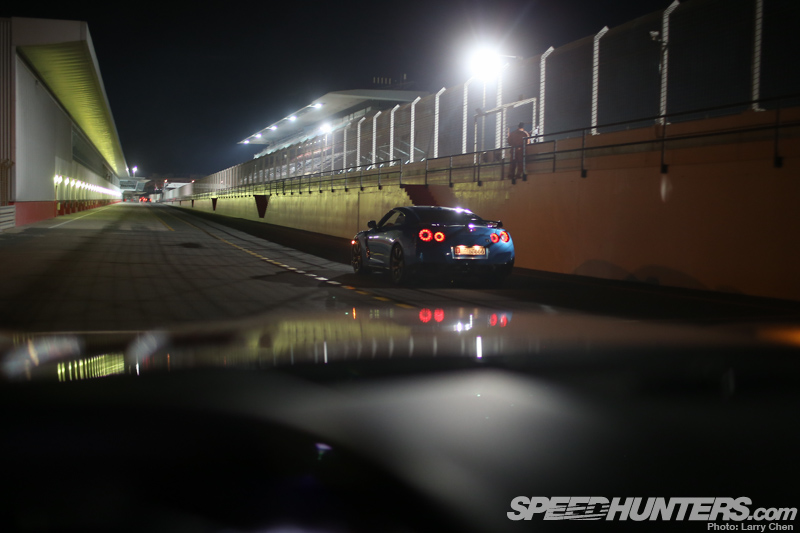 The challenge with shooting and driving is… well you can't do it. Not safely at least. So I don't have any photos of the actual race, but it was more than embarrassing. I might as well just have sat at the startline again, because he pulled away from me like I was standing still. My local friend told me that maybe one percent of GT-Rs in Dubai are still stock. That was good to know. Well at least it was just a practice run and I wasn't knocked out quite yet.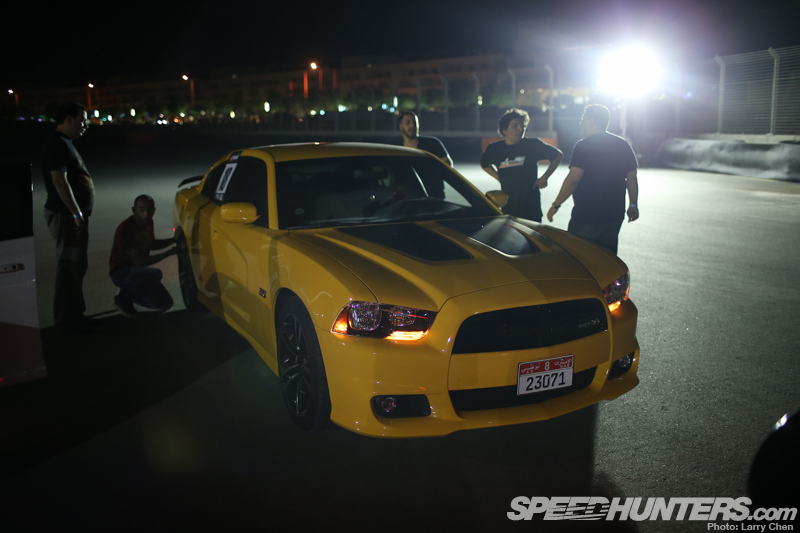 I headed back to the grid as my new best friend needed his helmet back.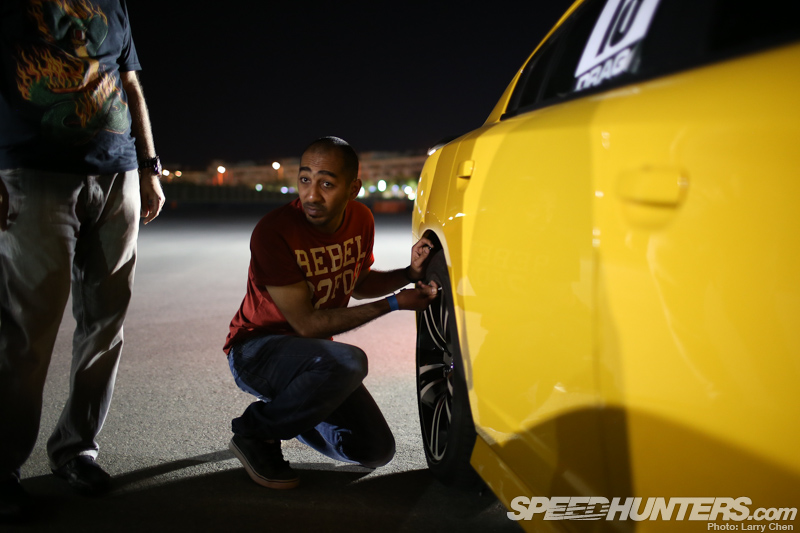 He had an elimination run coming up and he wanted some extra traction. Even though his SRT Charger was stock, he was still spinning the tires through second gear.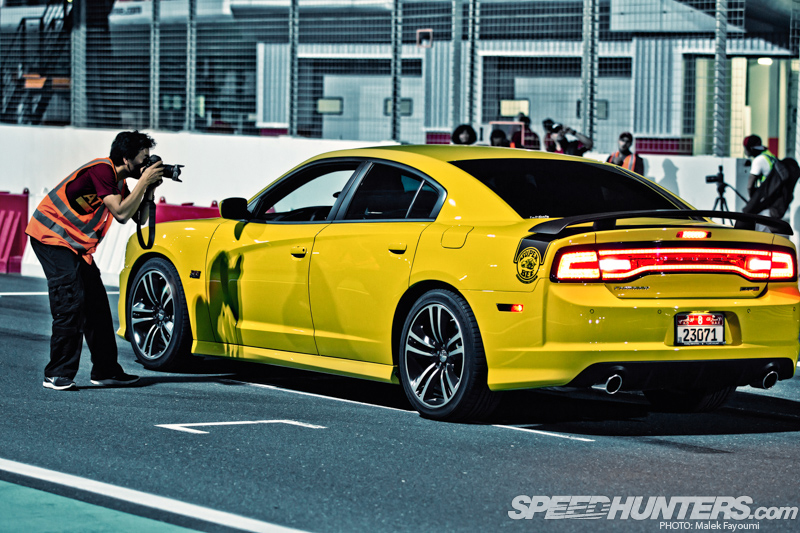 Local photographer and all around good guy Malek Fayoumi was also there to catch my photo stance. I've seen that stance before.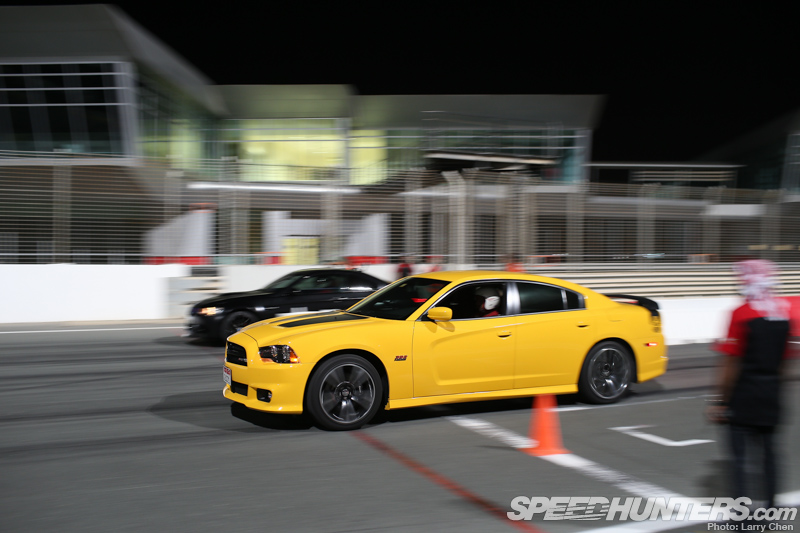 My buddy went up against a new BMW M5 and it looked like he was going to take it. He got an amazing launch, but halfway through the BMW came back with some serious V10 power and passed the Dodge at the last moment. The helmet was all mine from now on…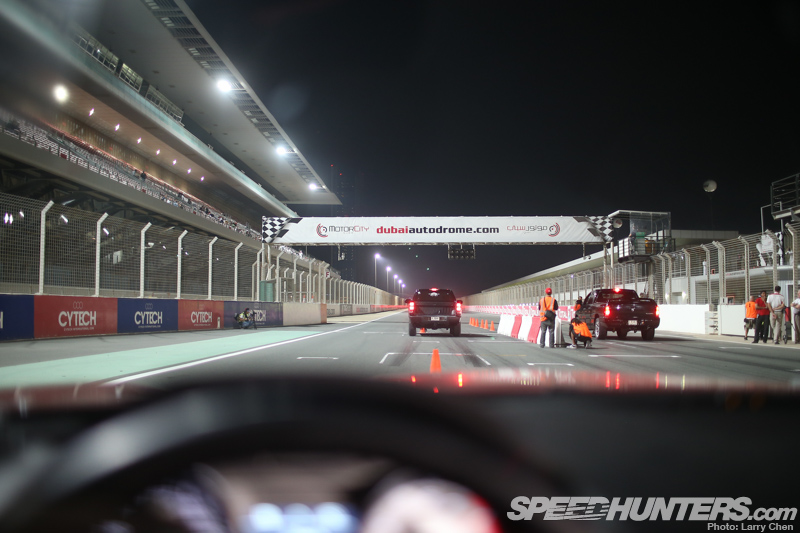 I was nearly back to the front of the line as it was time for my first elimination run.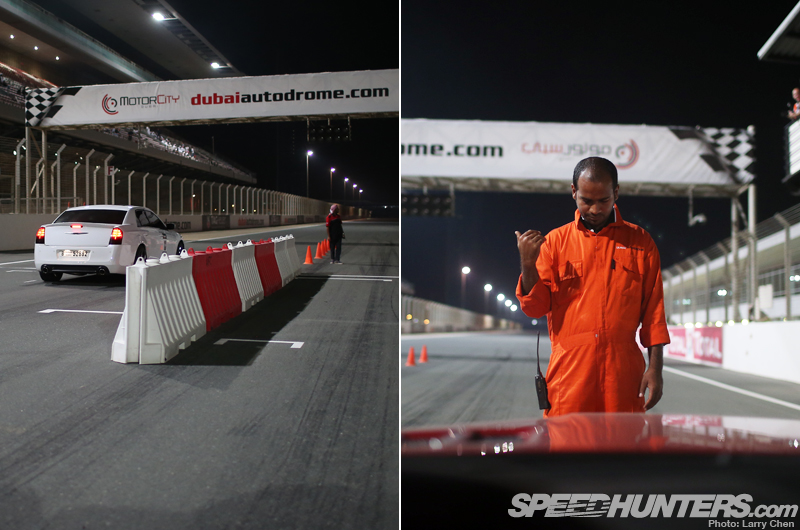 My opponent was an SRT8 300C. From the outside it looked like he was outclassed, as I was running 560hp and his car put out about 465hp stock, but this was Dubai. Nothing was stock out there.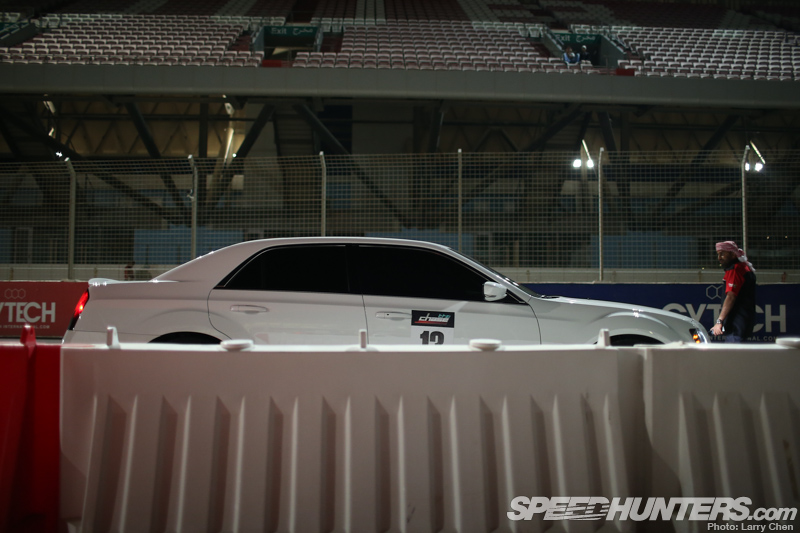 I looked over and I wondered how they can possibly see through such dark windows. Even the windshield was tinted. I guess it is completely necessary considering the ambient temperature reaches over 45 degrees Celsius (113 Fahrenheit) in the Summer-time.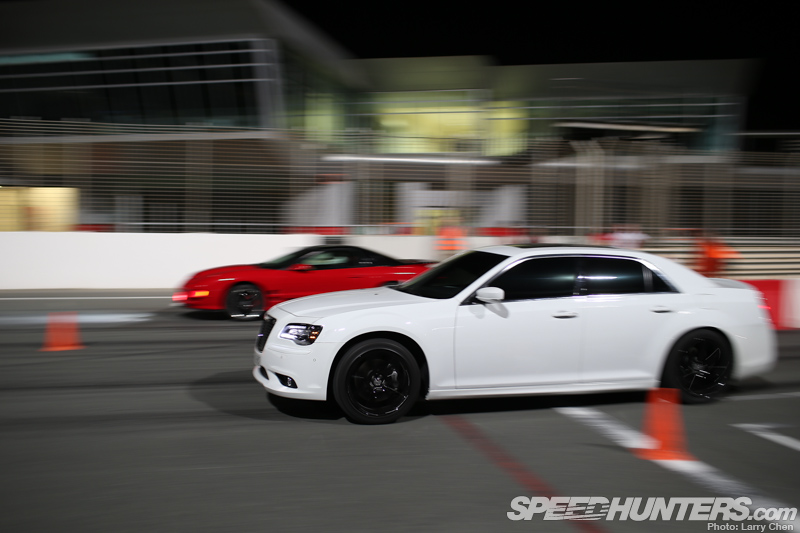 Let's just pretend for a moment that the Firebird in the picture was me in the SLS. It turns out this time the car I was racing was mostly stock. The Mercedes walked away slowly from the Chrysler while the wind pounded my face.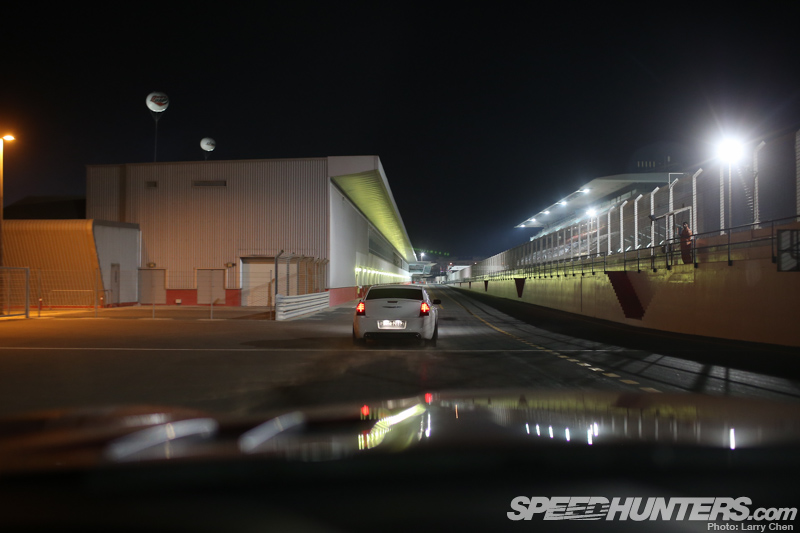 I won my first elimination battle and at last the crowd did not laugh at me… much.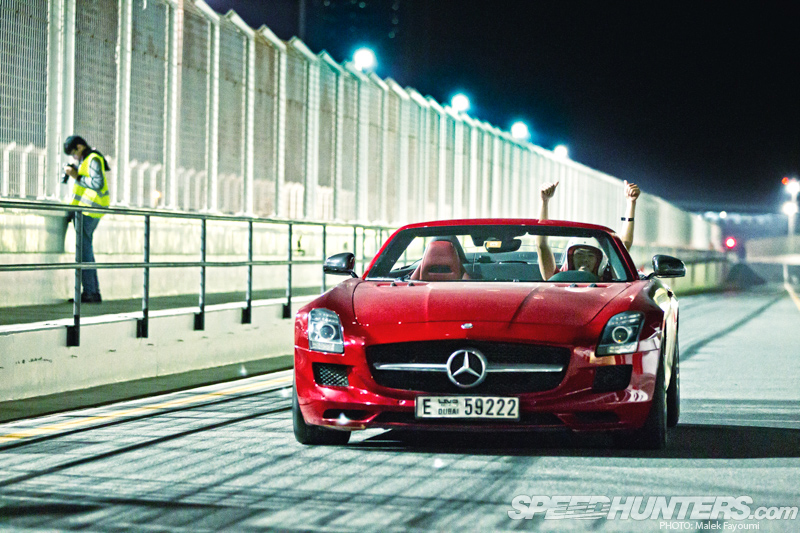 I was feeling pretty good. I knew this controvertible had some grunt.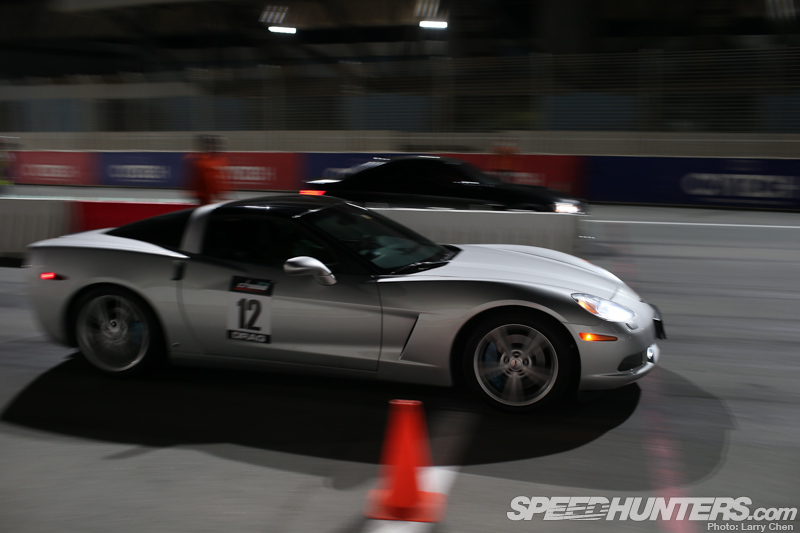 As the races went on tempers flared. Just like any other street race people like to talk smack.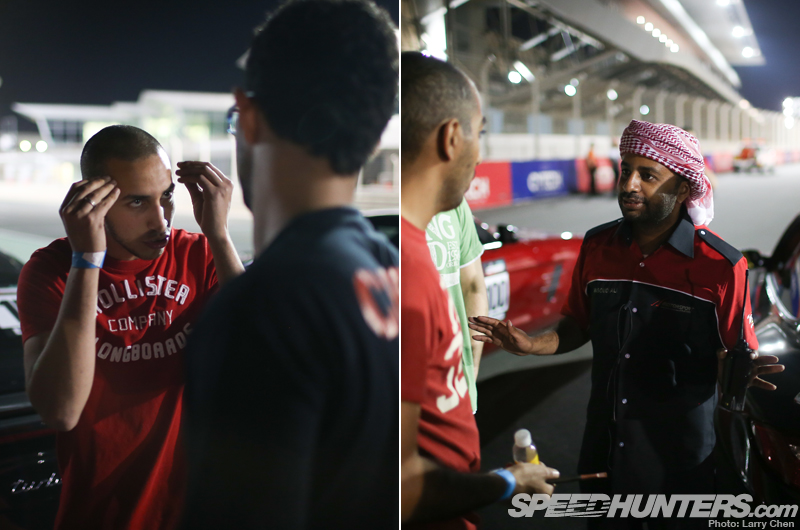 But in Dubai it seemed like everyone was very nice about it. They would talk, but in the end of the day it was all fun and games. It's just a bunch of car guys who are super passionate about their cars. What better way to spend a Friday night?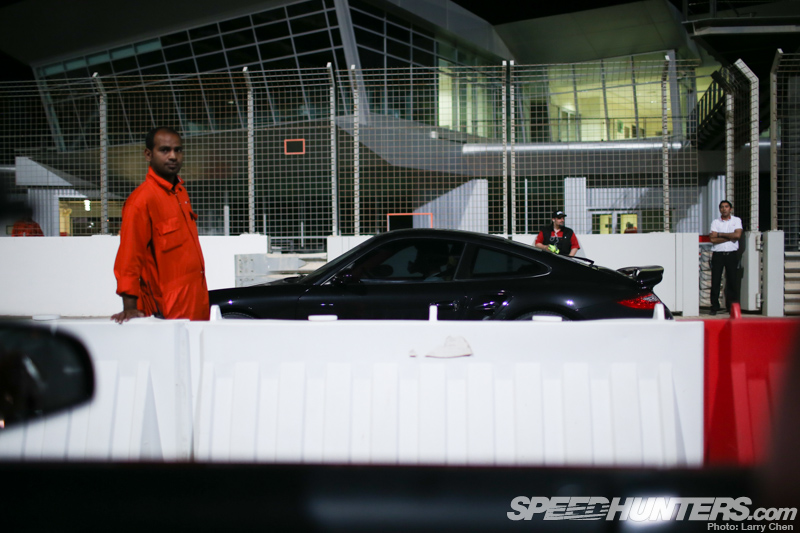 Next up for me was a Porsche 911 Turbo. I figured it would be a pretty even match if it was mostly stock like the Chrysler.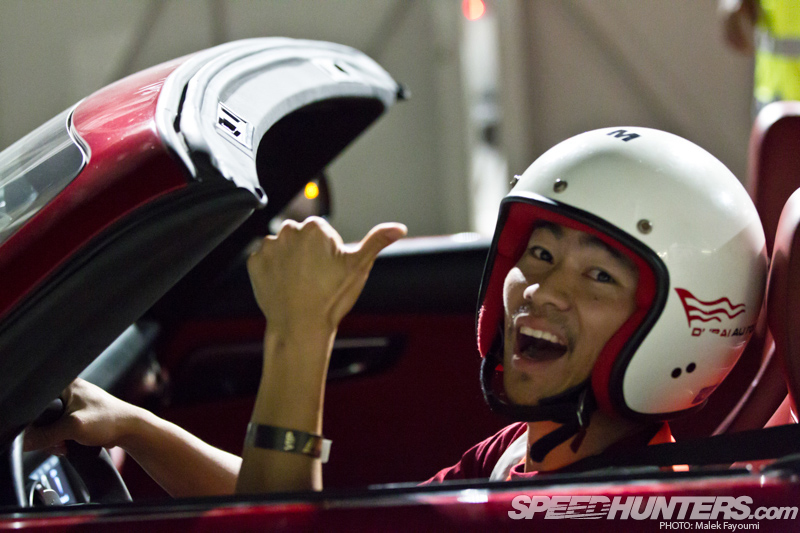 So I was optimistic. I had the timing down for my launch control and I had just won the previous race.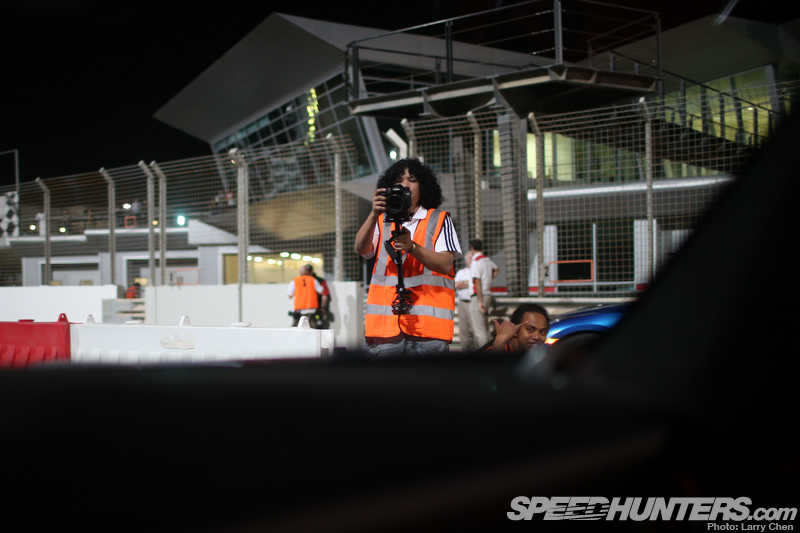 The tables had turned as I became the hunted, so I fired back – but I put my camera away as everyone was waiting for me to go.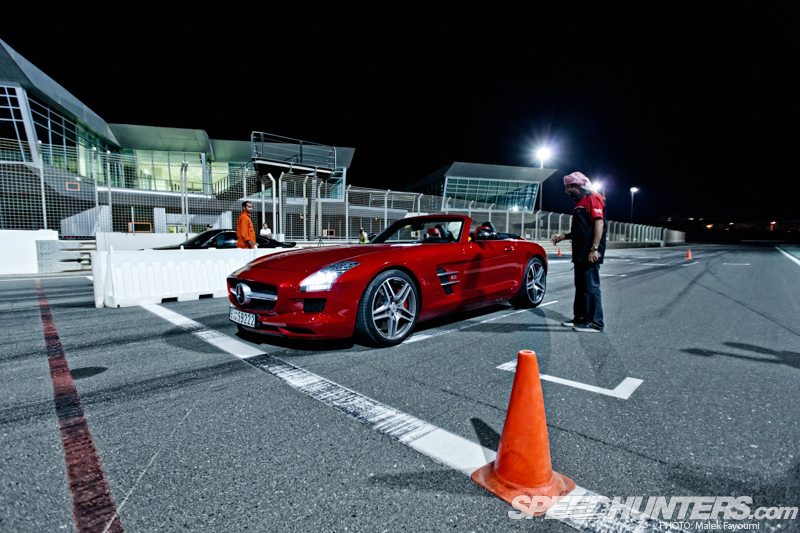 Once again I was ready. The launch control was engaged and we were off…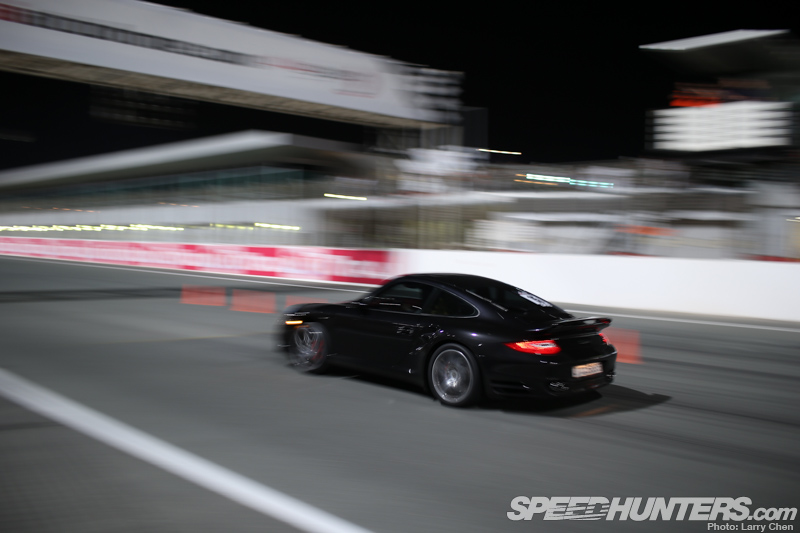 Well, what happened was that the Porsche turned out to be far from stock and it destroyed me. It must have been a five car-length margin of victory. The AWD Porsche just ate a $200,000 SLS AMG for breakfast.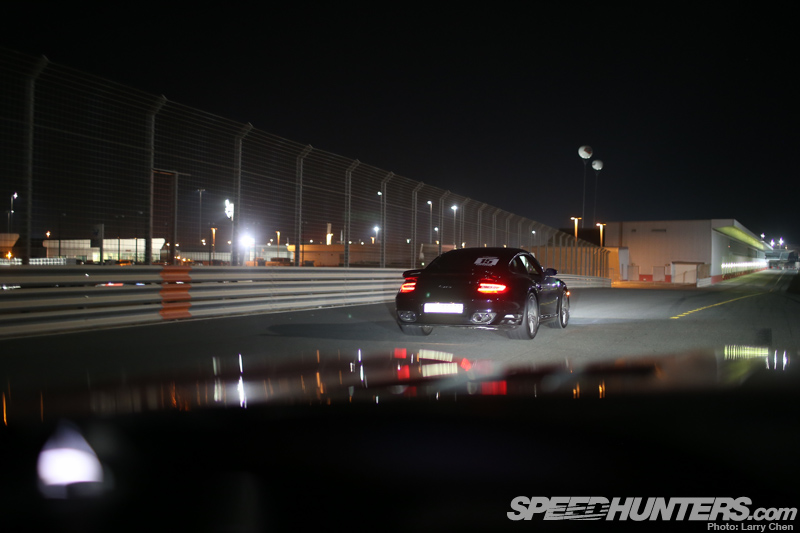 It was the drive of shame on the way back to the paddock and that would be the end of my day on the strip.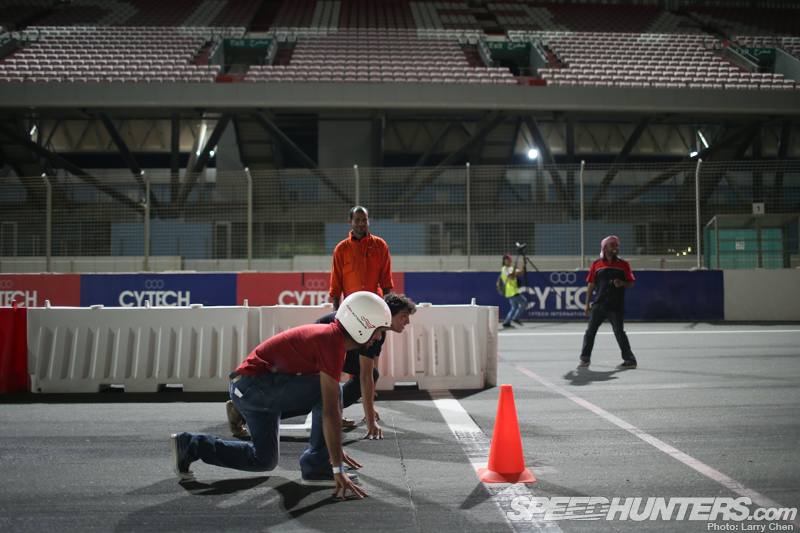 Back on the starting line, my friend decided to take his helmet back as he wanted to get his revenge, but on foot.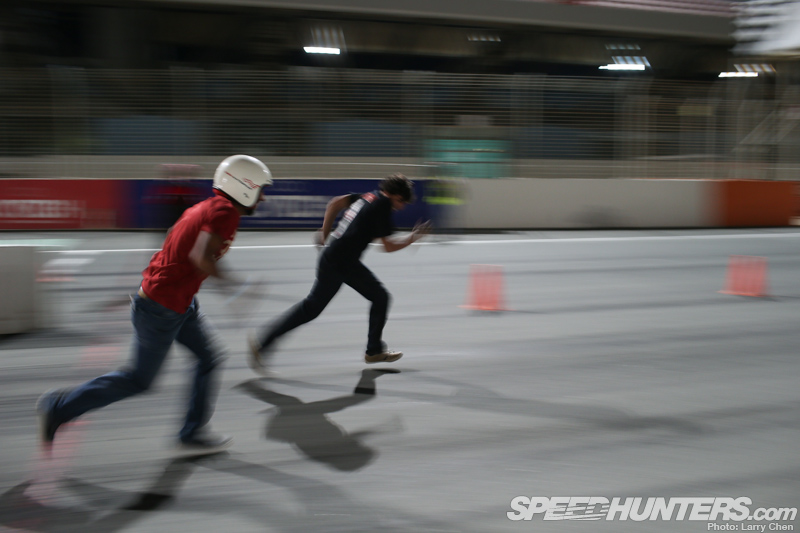 When the lights went out the kid in black launched out of the gate as he had a significant weight and aerodynamic advantage because he was not wearing head protection.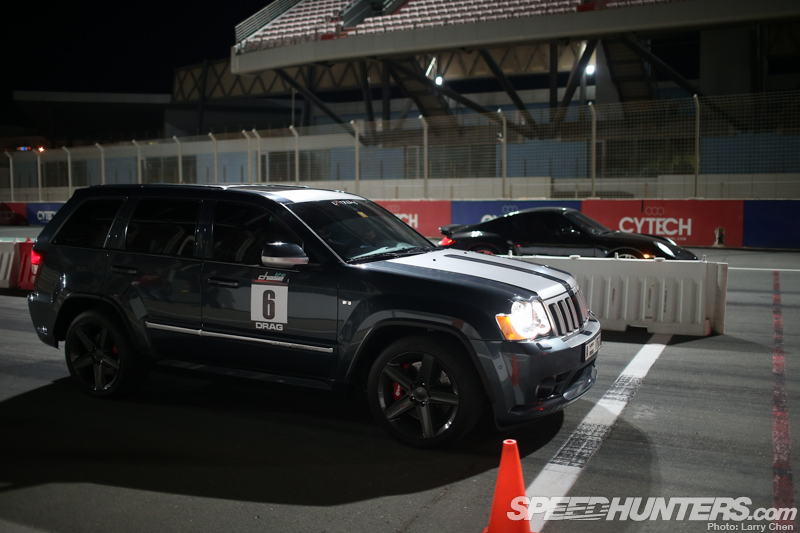 After a few more rounds of eliminations it came down to this race. At this point I had no clue how this SRT8 Jeep had got this high in the bracket. But when they took off I swear the ground shook. The AWD Jeep spanked the Porsche Turbo so good.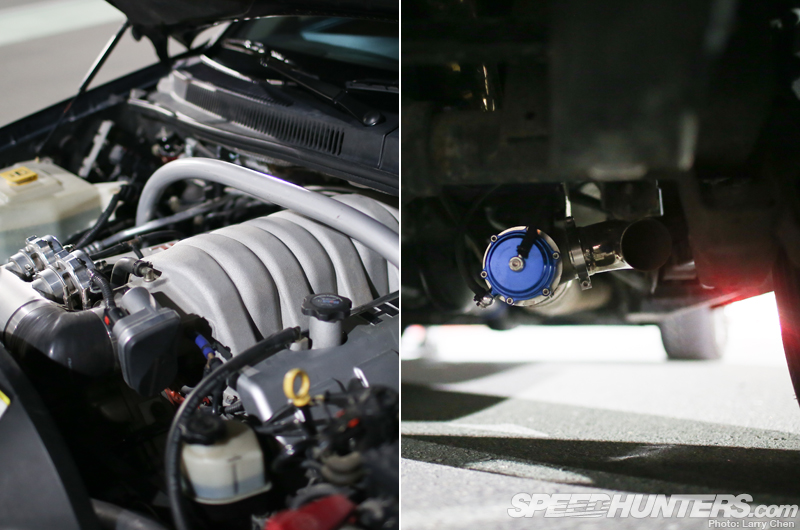 Apparently the Jeep was running over 900 wheel horsepower. On top of that it still had full interior and air conditioning. It was built by a local shop who specializes in these types of cars. I thoroughly enjoyed participating in the street drag, but it was time to check out what else was going on.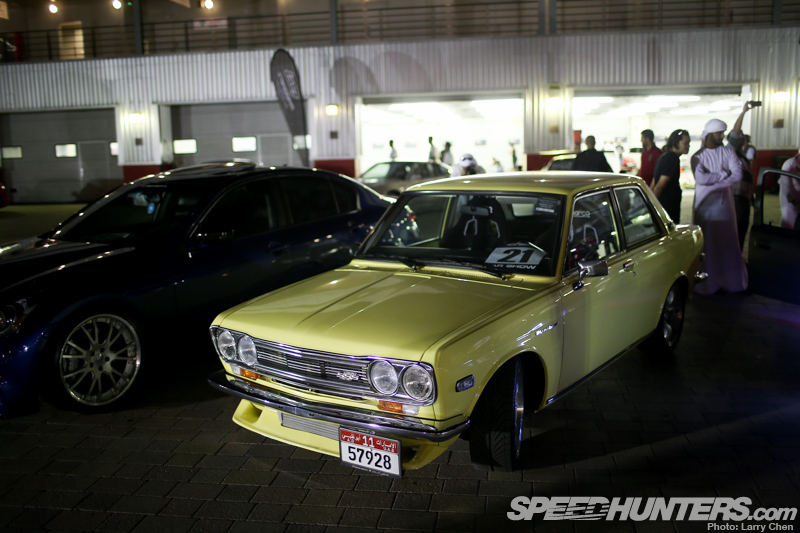 There was some down time before the drifting competition would start, so I walked around and investigated some of the show cars. Check out this super clean Datsun 510 that was built in North America.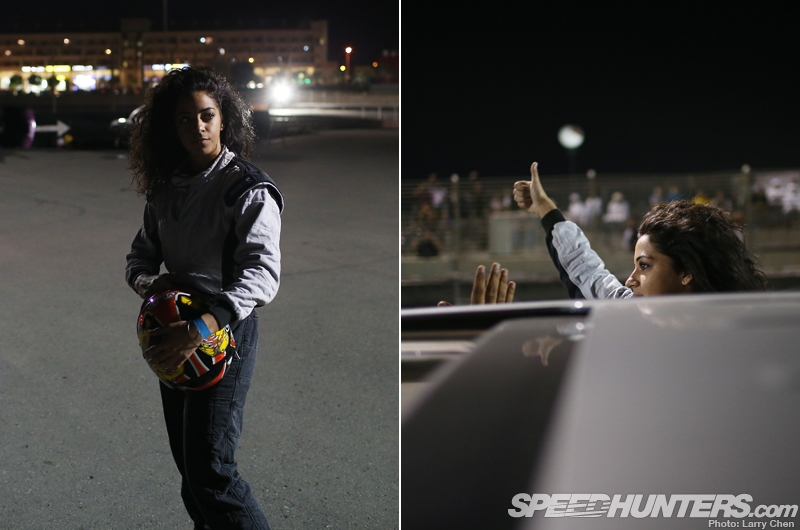 All the way from Palestine was Noor Daoud, who happens to be the first female drifter from the Middle East. She was not competing, but she was out there for a few demonstrations. She normally drifts a pink Skyline R33.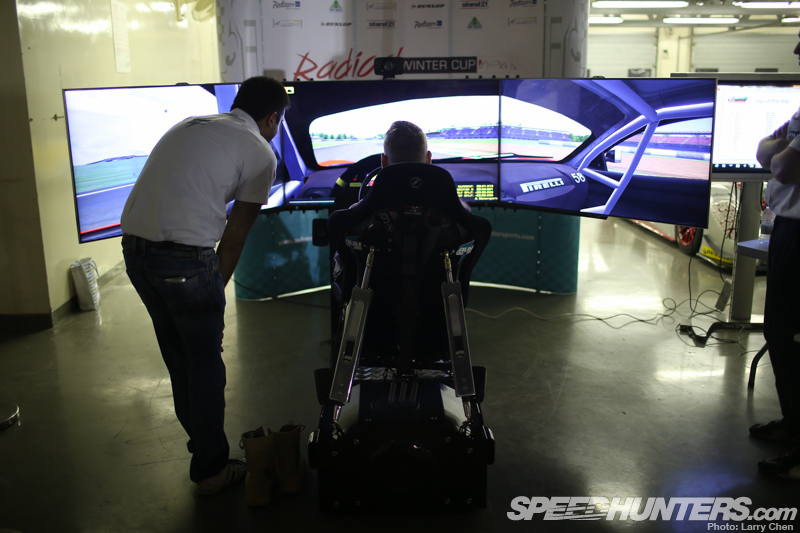 If you did not bring a car with you then you could still get your speed fix. Prizes were given for the fastest times of the day.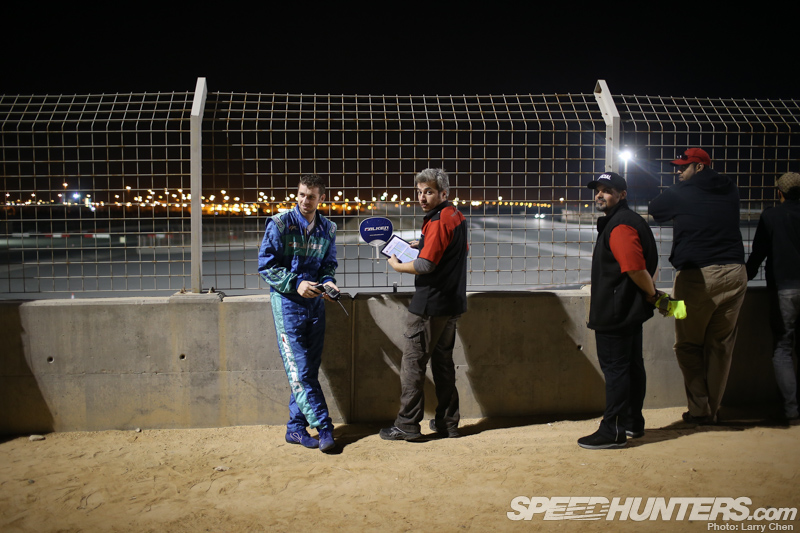 The head drift judge was our very own Darren McNamara. His home country of Ireland was frozen over, so Dmac decided to spend Christmas in the Middle East with the rest of his family. This was Round 2 of the Drift UAE series, so it was not just for kicks. These points mattered to each and every one of the drivers.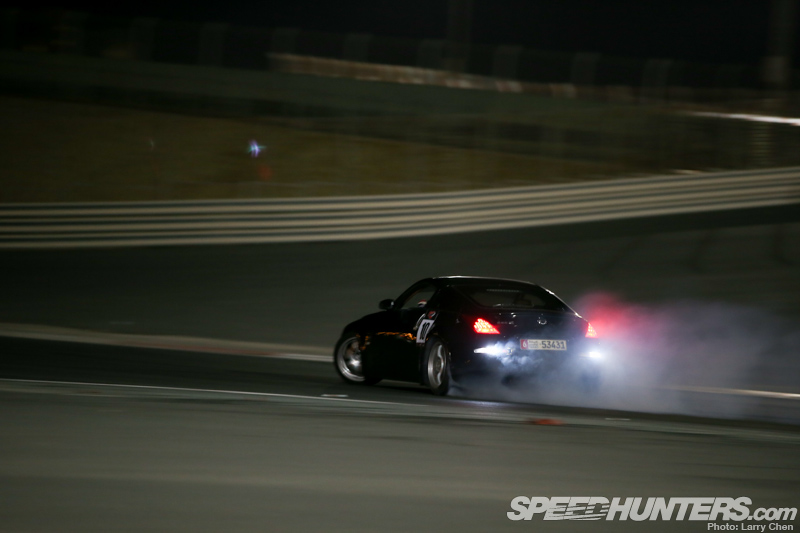 First came the Street-class drivers. These were all single-run competitions, as none of these cars had a roll-cage. The drifting was still very impressive.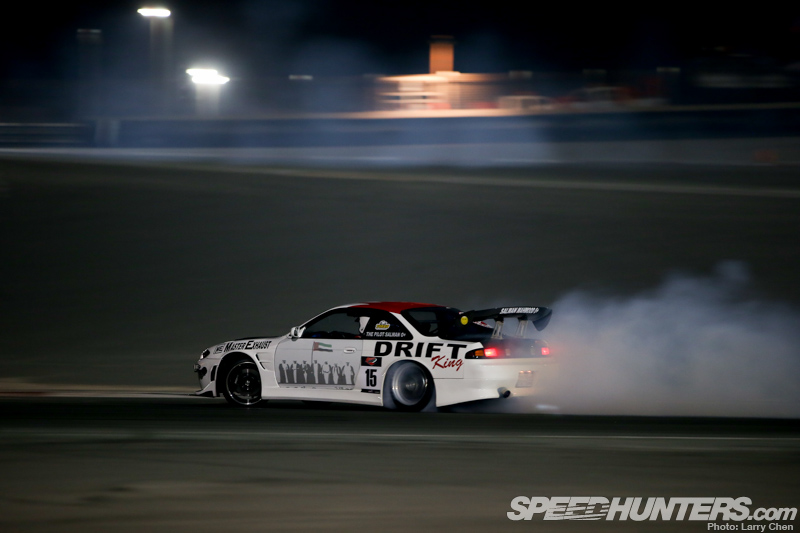 Next up was the Advanced class. Most of these guys had some pretty nice cars, and some of them had roll-cages. However, it was still a single-run competition because this group were still honing their skill on their way to eventually becoming Drift UAE Pro drivers.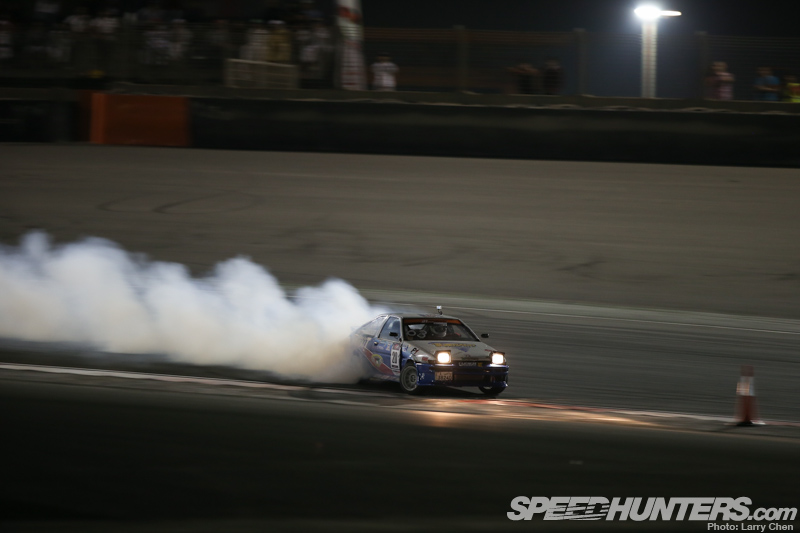 Pro drifting is still very new to these guys, as this was only the second competition where Drift UAE held tandem battles.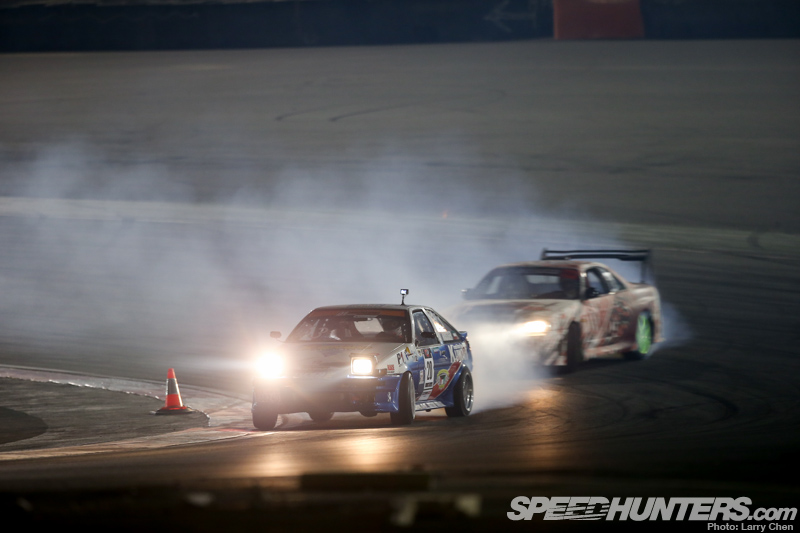 It was also the first time that the Dubai Autodrome has ever been graced with door-to-door drifting.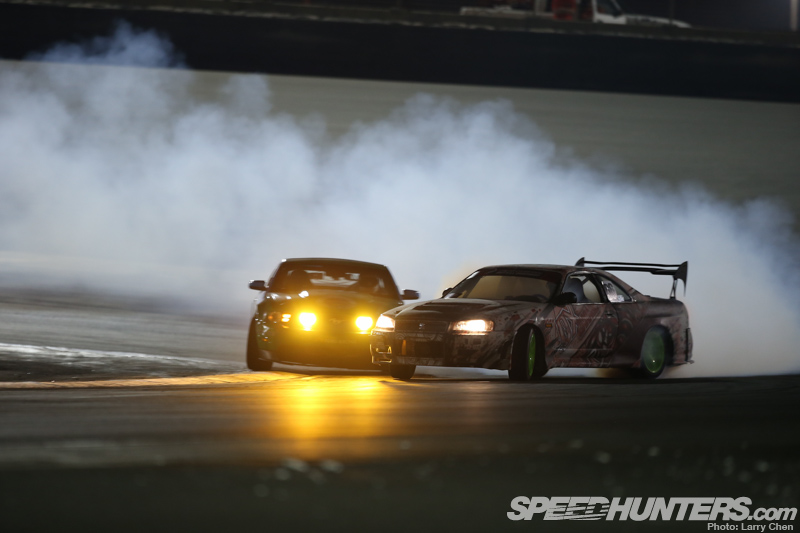 I had to take a step back just to take everything in, as this was only the second season of Drift UAE. Even though there was just a Top 8 tandem competition, I could see the skill level was very high.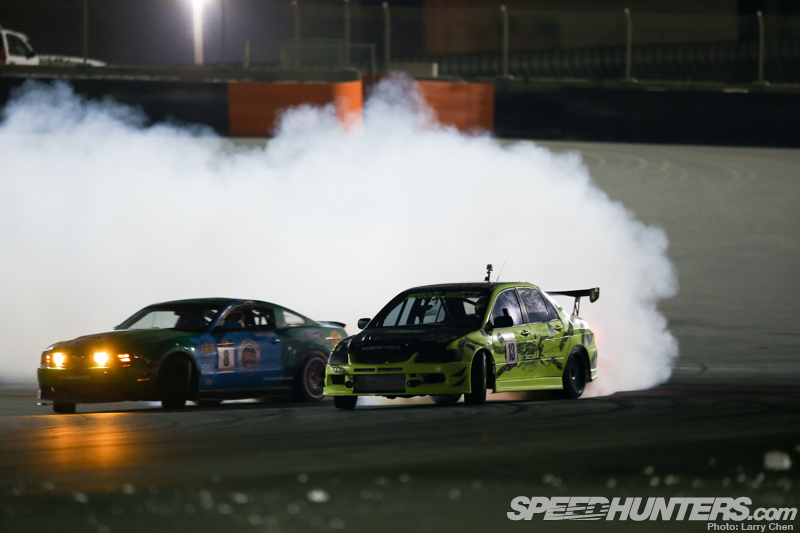 I bet in a few more years we will see some of these guys coming Stateside to compete in Formula Drift, because with their current cars and skillset I can see them easily getting into the Top 16.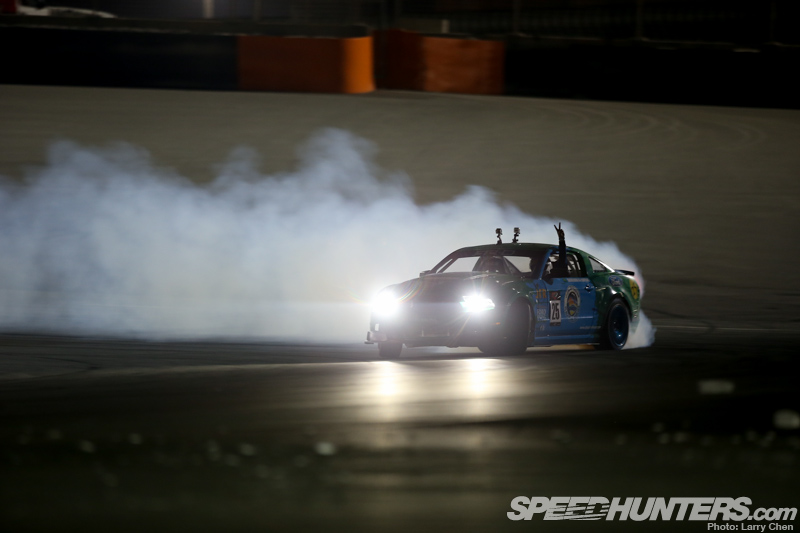 First place went to Abdulhadi Alqahtani of Saudi Arabia. Could he be running the number 25 as a nod to Vaughn Gittin Jr? I wouldn't doubt it.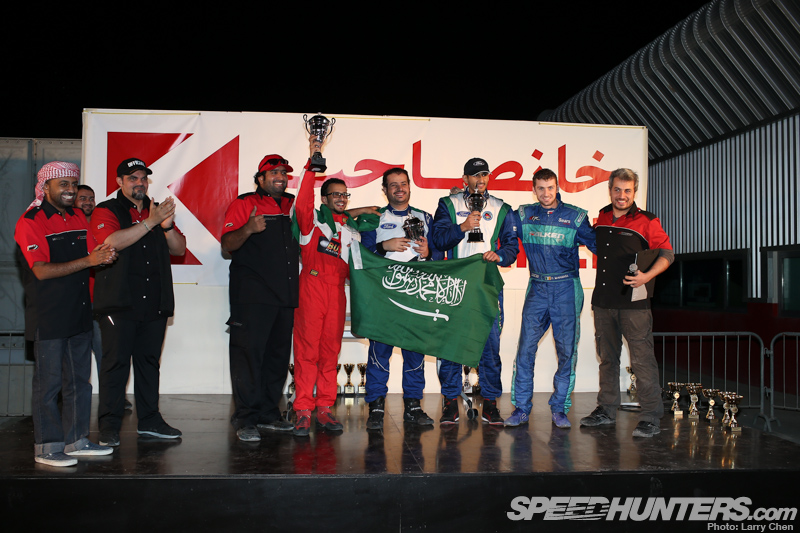 It turned out to be an all-Saudi Arabia podium. The trip across the border was worth it. Hopefully drifting in the Middle East will continue to grow, and from watching this event I predict that it will get exponentially bigger in years to come.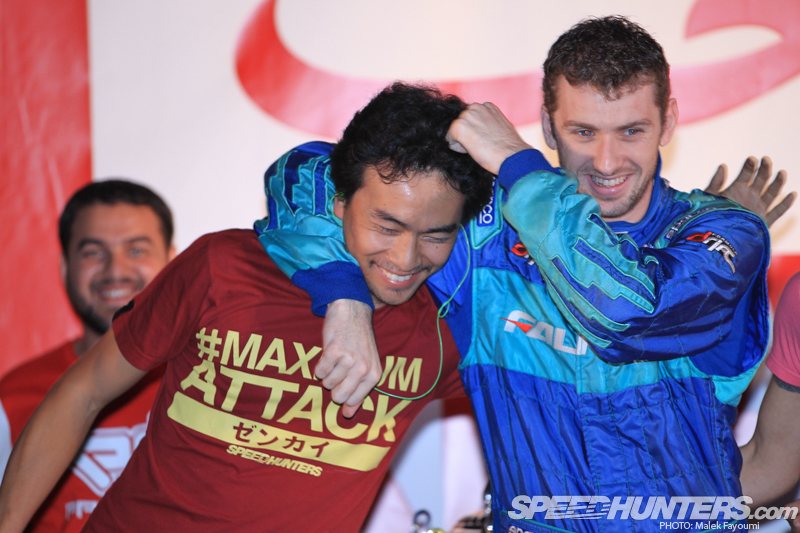 So what did I win? Nothing; Darren just wanted to give me a noogie. It's funny because I always see this guy in random airports all over the world. I wonder where I will see him next. Only time will tell. However, the real question is, why is he always in his race suit?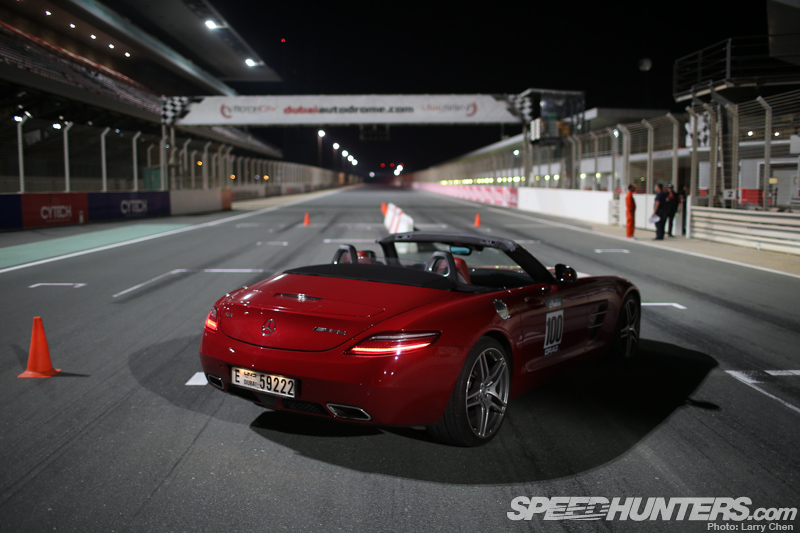 This festival of speed was unlike any other event I have been to. I had so much fun being a participant as well as being a spectator. I just wish they would hold more of these kind of events Stateside. Instead of going to an event and getting all hyped up afterwards and taking it out on the street, you can just take it out on the track and then at the same time enjoy some professional drifting. Keep an eye out for more from my trip to the Emirates.
Larry
larry@dev.speedhunters.com
Additional Photos provided by Malek Fayoumi
More stories from Larry Chen on Speedhunters