One man. Three legends. You don't get many opportunities to sit down with a six-time winner of the Le Mans 24 Hours alongside two of the cars he drove to victory. Then again, it would be a similar privilege to sit down with a winner of the Paris-Dakar. Or a man with eight Formula 1 victory trophies in his cabinet. So how about Jacky Ickx, a man with all those experiences to his name and more?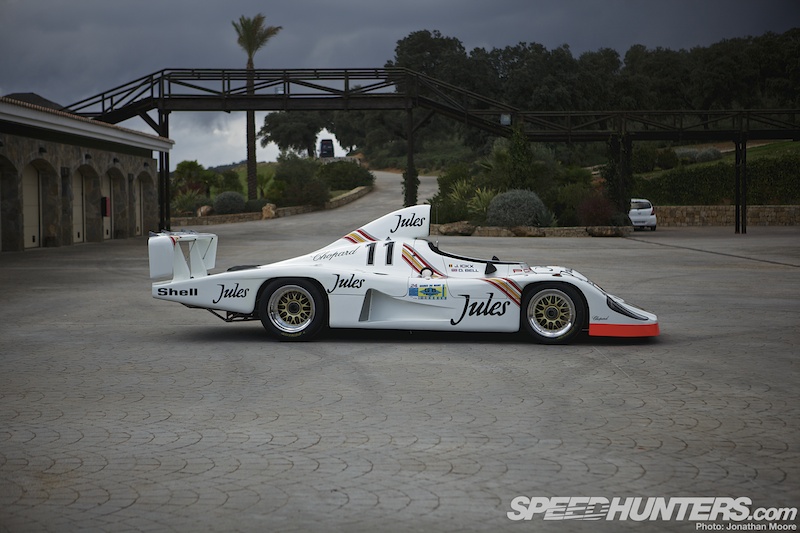 The Belgian driver's career reads like a complete history of motorsport's glory years. From his first off-road motorbike trials in 1961, following his path through racing tracks every major global series and the list of cars he's driven is simply breathtaking.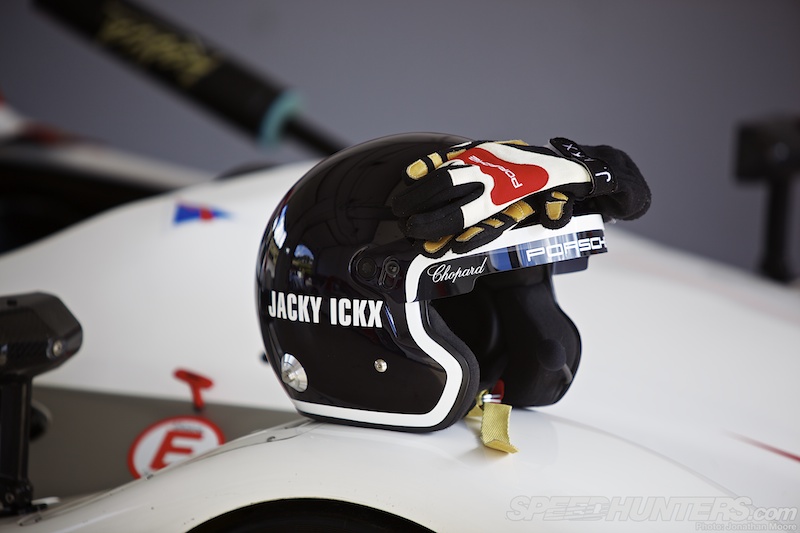 If you name an iconic racing car, the chances are that his unmistakeable helmet has been spotted in it: John Player Special Lotus 72, Gulf Ford GT40, Ferrari 312B, Lotus Cortina, Porsche 959 – in fact, Porsche anything.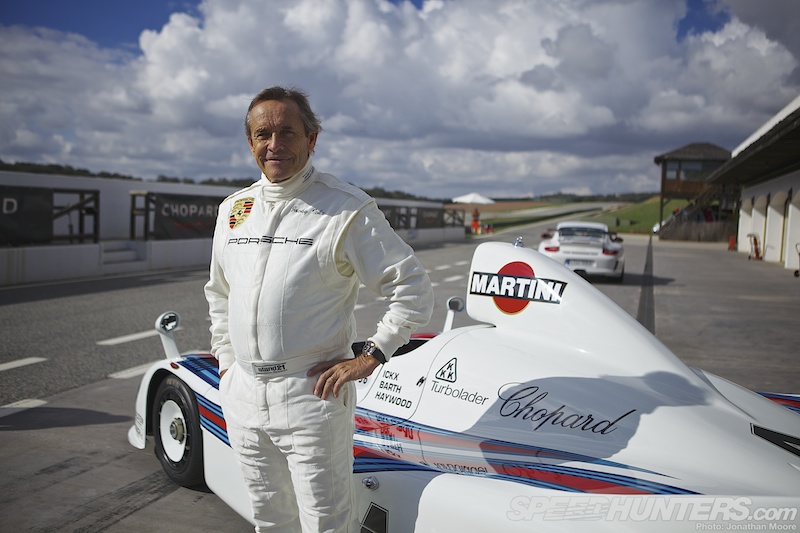 Jacky is still a busy man: although long retired from competition racing, he still takes part in – admittedly more leisurely – historic racing events such as the Mille Miglia and the Goodwood Festival Of Speed. He's also a regular in the Formula 1 paddock (he's the Clerk Of The Course for the Monaco Grand Prix and hosted the on-podium interviews at the Belgian Grand Prix this year) and is now a brand ambassador for a number of companies, including the Volkswagen group and Chopard watches.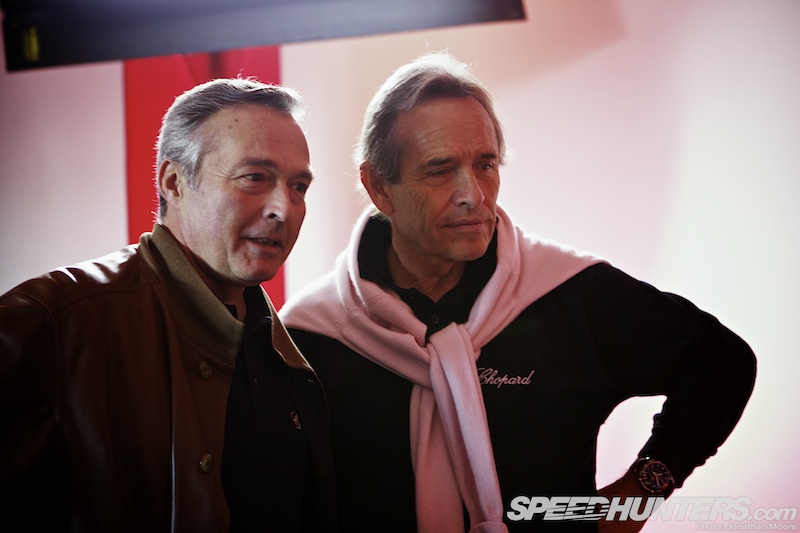 His link to Chopard is what has brought us together: the 150-year-old Swiss watch manufacturer has already released several timepieces named in Ickx's honour, and they work together on a number of major events. The company has been sponsor and timekeeper for the prestigious Grand Prix De Monaco Historique for a decade, and the modern MIlle Miglia since 1988. In the latter, Ickx has driven alongside the current Chopard boss, Karl-Friedrich Scheufele, where they can share their enormous passion for racing.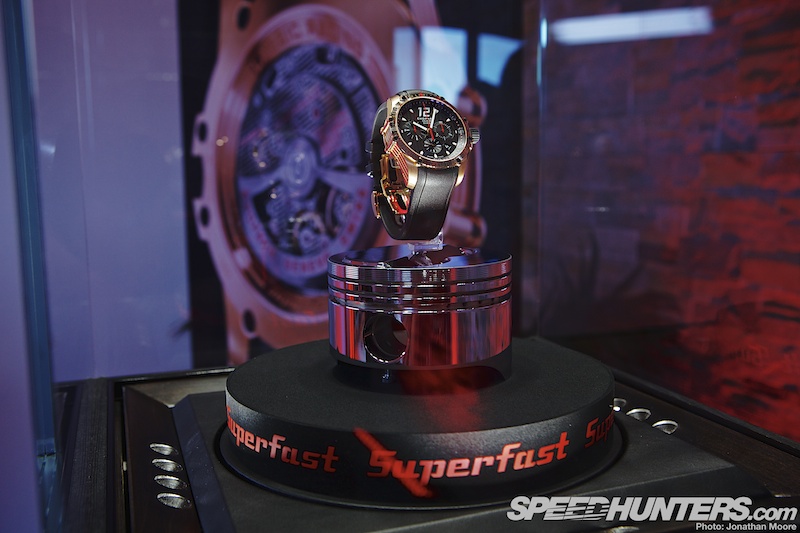 To celebrate the launch of another glittering motorsport-themed range of Classic Racing time pieces, the Chopard Superfast event was held at the Ascari Race Resort, a private testing and club track on the south coast of Spain.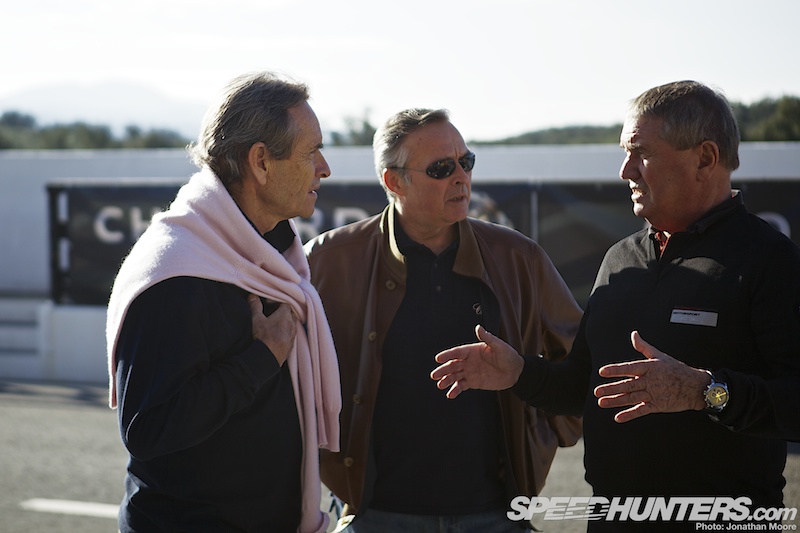 Having Jacky Ickx on hand would in itself have been a privilege (and how about five-time Olympic Gold Medal swimmer Ryan Lochte as well?), but the Porsche Motorsport trailer in the paddock and the presence of Klaus Bischof (director of Porsche's 'Rolling Museum' and former engineer to many star drivers of the '80s) showed that something else rather special would also be making an appearance.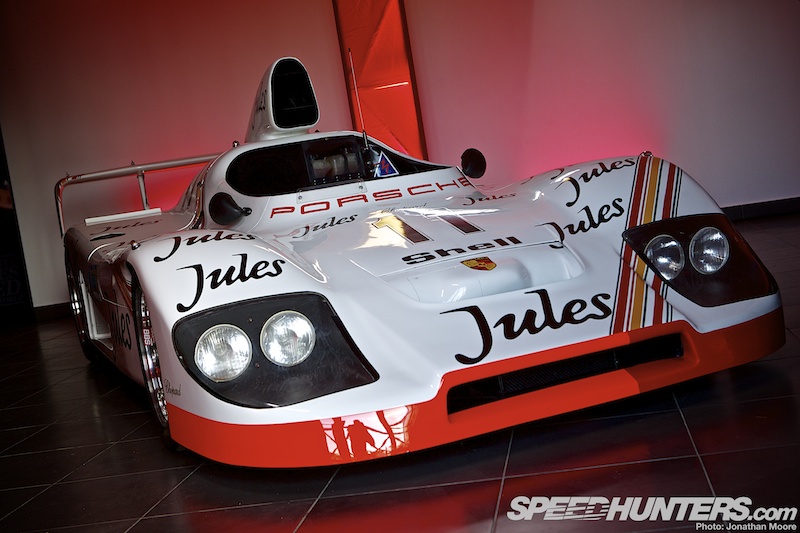 Sure enough, in the main presentation room was the first vision of the day: Ickx's newly-restored 1981 Le Mans 24 Hours-winning Jules-sponsored 936/81, fresh from Porsche's historic racing division. But that wasn't all.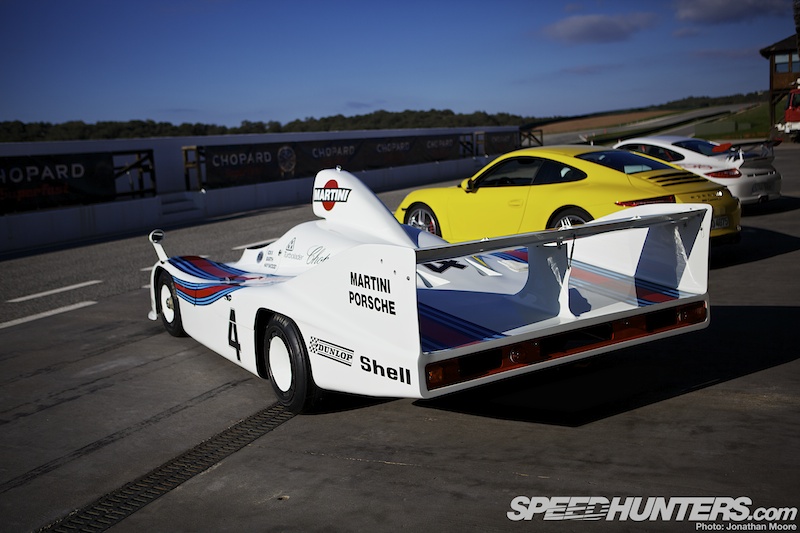 Out in the pit-lane, a second 936 was lined up, Le Mans-style, next to more modern Porsche fare. This was another car that Jacky Ickx had driven to victory: the 936/77.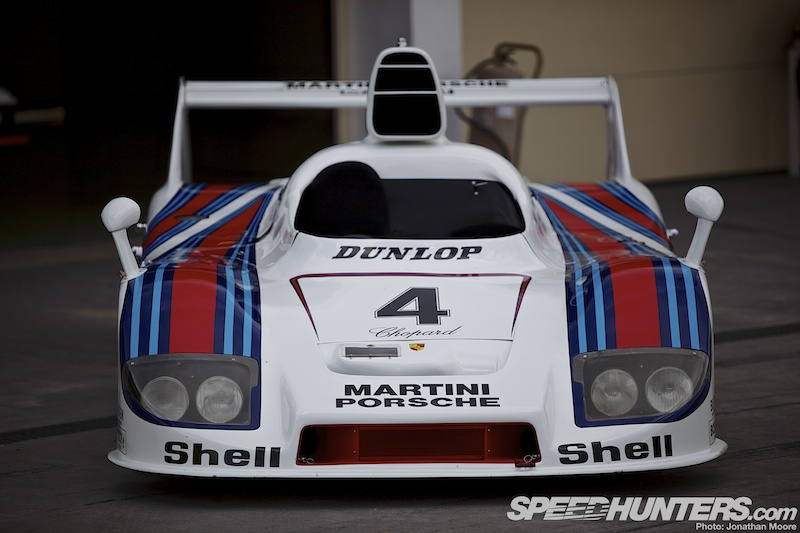 Pure two-seater racing prototypes had returned to FIA sportscar racing for 1976 with the advent of the Group 6 rules, which would race alongside Group 4 GTs and the mighty Group 5 silhouettes.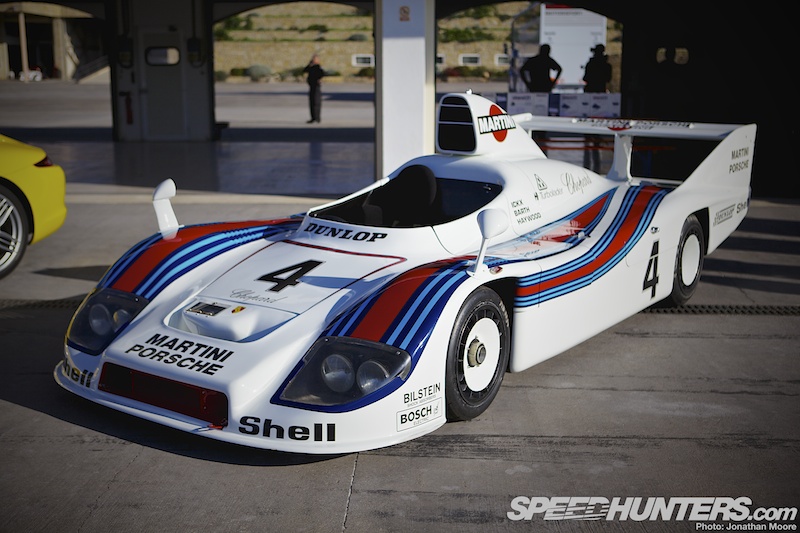 The 936 was Porsche's last-minute insurance policy against possible overall wins by a rival marque developing a Group 6 car: based on lessons learned with the 908/03 and with a svelte, modern body shape, the Martini-livered 936 cut a dash amongst the grid of new, long and low prototypes.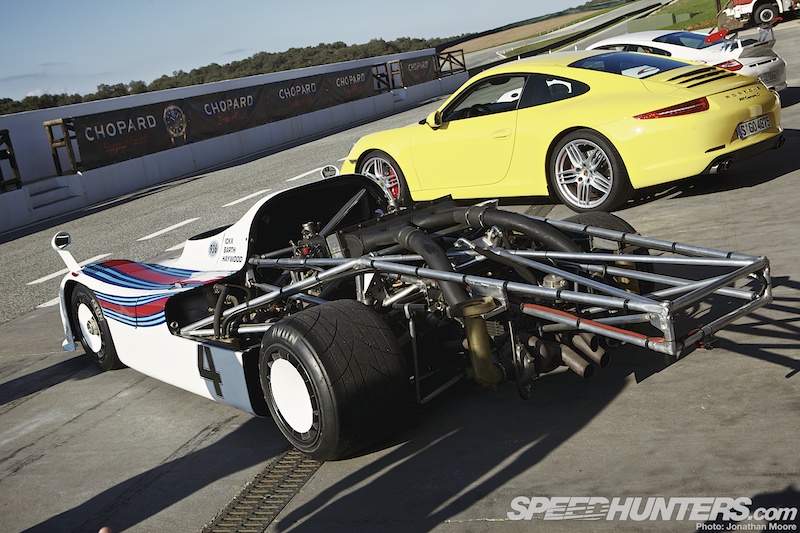 Under the elongated rear deck was its turbocharged flat-six – just a two-litre unit, taken from the '74 RSR Turbo, but the turbo multiplier took it up to the equivalent three-litre NA limit for the class. The KKK turbo sat in its long tail, behind the engine: 520hp motivating just 700kg of car.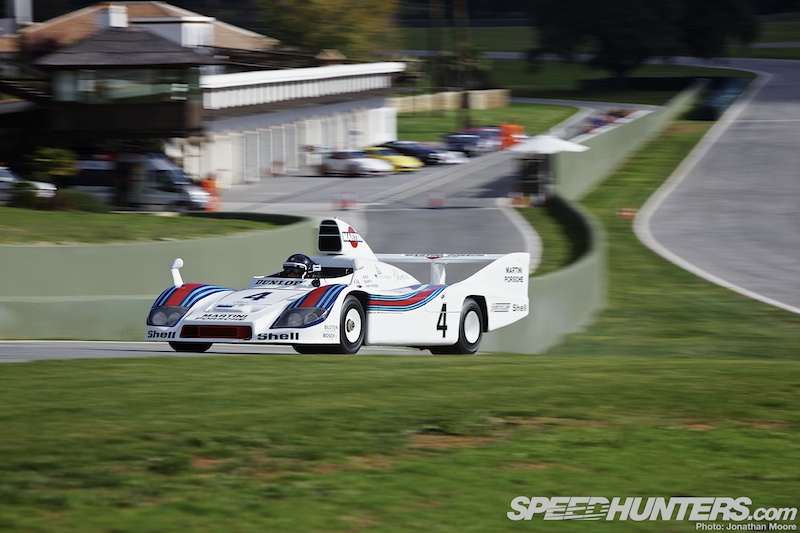 It was always going to be a very fast Porsche – though that's basically tautological.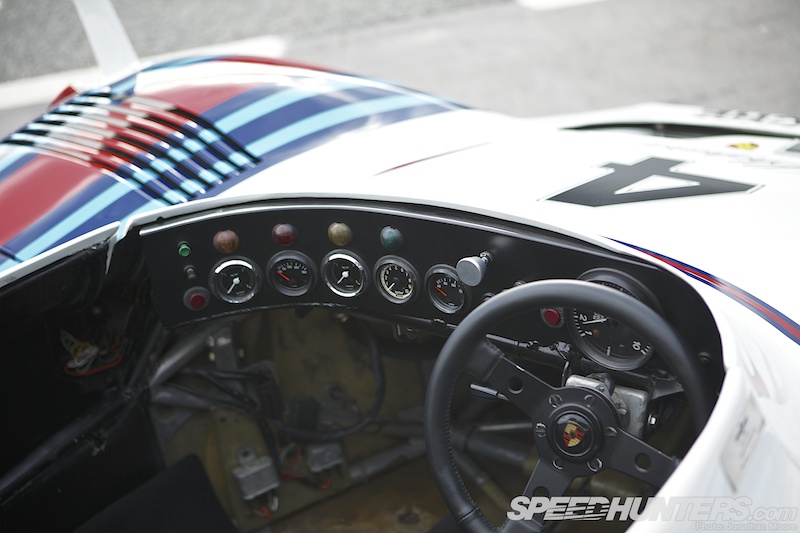 Jacky alternated driving (read: 'winning in the') the Martini 935 in World Championship For Makes races with jumping into the 936, winning the second World Sportscar Championship race of '76 at Monza.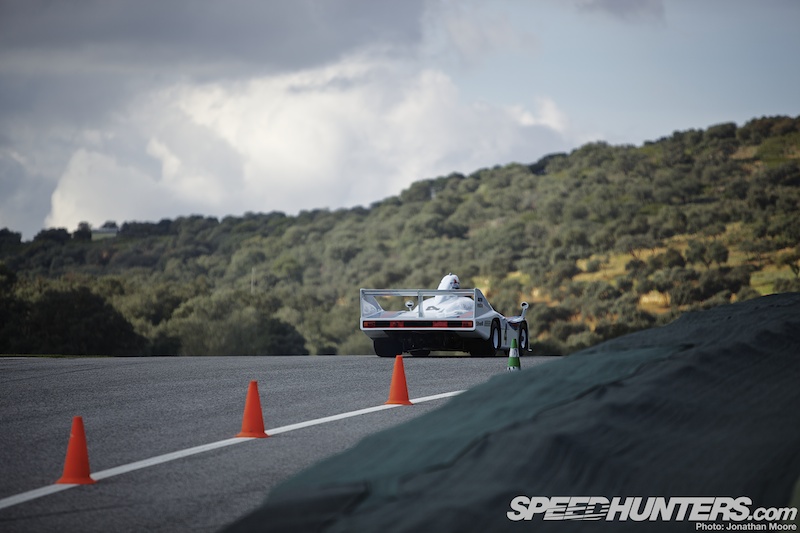 The car was originally run out in black, before the base colour was changed to white for Monza to help the sponsor decals stand out more. Le Mans wasn't part of the WSC that year, but Ickx won by a margin of 11 laps.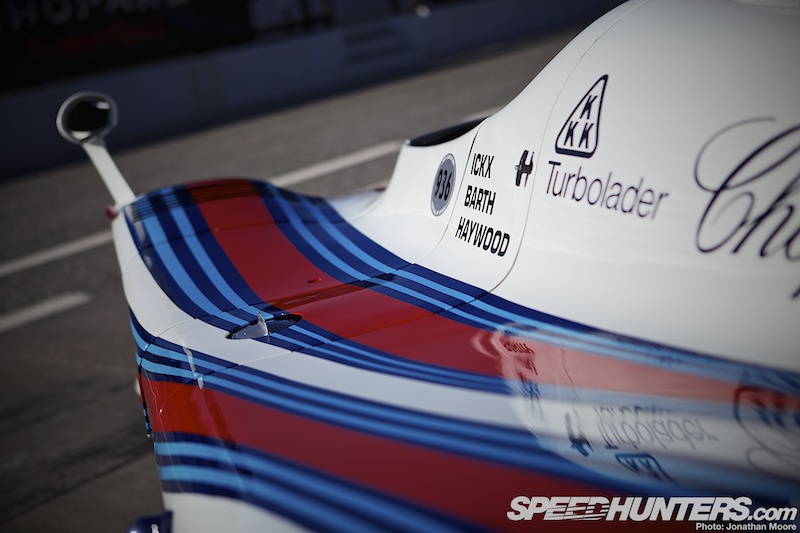 For '77, Jacky continued to mix Group 5 and Group 6 campaigns, and again Le Mans stood outside the World Championship. Despite a relative lack of development with the 936 and Alfa dominating the WSC, Porsche won at a soaking wet Le Mans, Ickx winning for a second time in a 936, this time alongside Jurgen Barth and Hurley Haywood.
This video from 1977 shows just how quick the 936 was: especial impressive is the section between Mulsanne and Indianapolis where Barth catches a pair of Carreras. Waiting for them to get back in line, he has a whole gear's worth of extra speed as he rushes past them.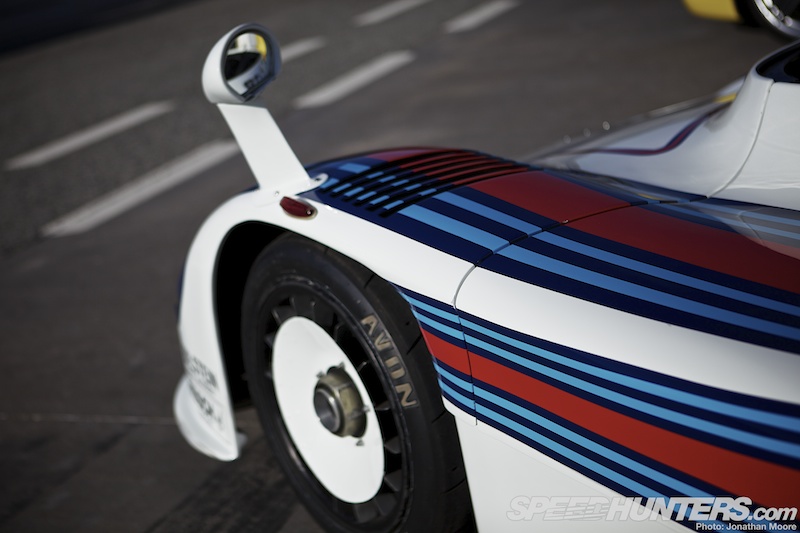 As with everything of this era, the 936 was about driver skill versus pure power. No traction control, no ABS. Just hands, feet and courage.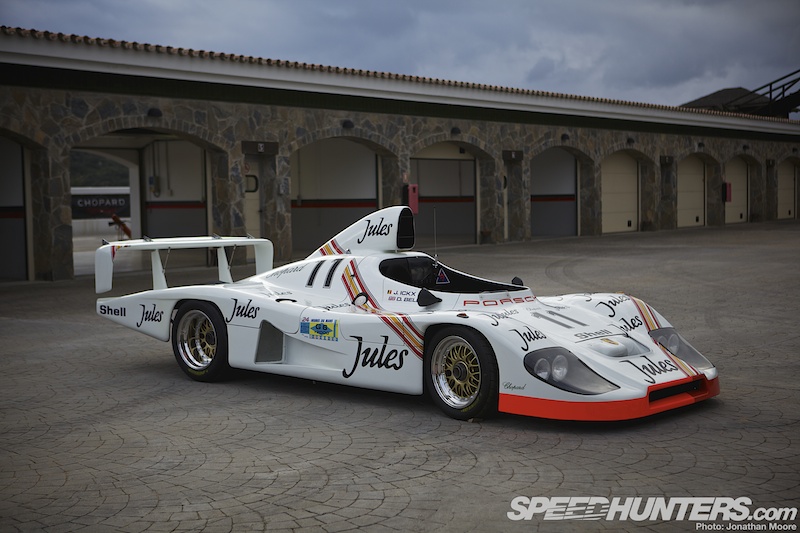 The 936 continued its strong run at Le Mans in /78 (Ickx second, with Barth and Bob Wollek), /79 (grid: second, but DNF in the race) and /80 (second with Reinhold Joest) guise, before returning to La Sarthe for a last hurrah in '81.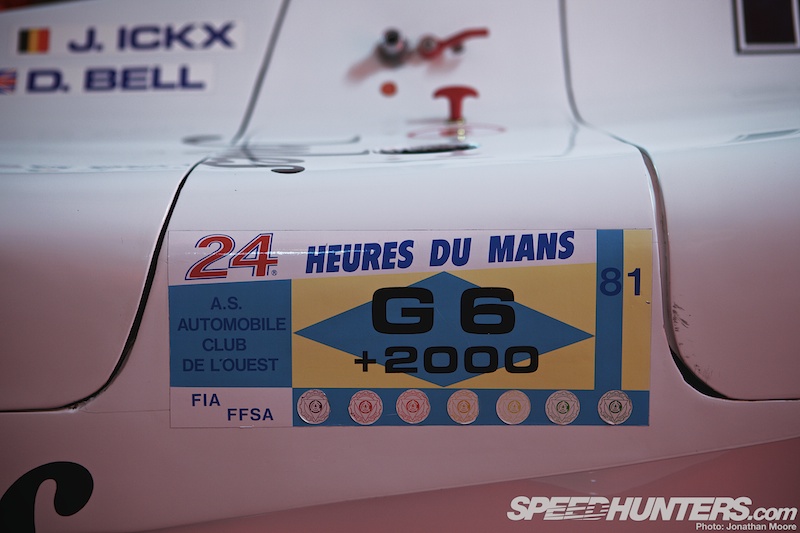 With Group 6 killed off by the FIA in 1979, the class (and therefore the 936) had only lived on at Le Mans whilst Porsche concentrated on the customer 935.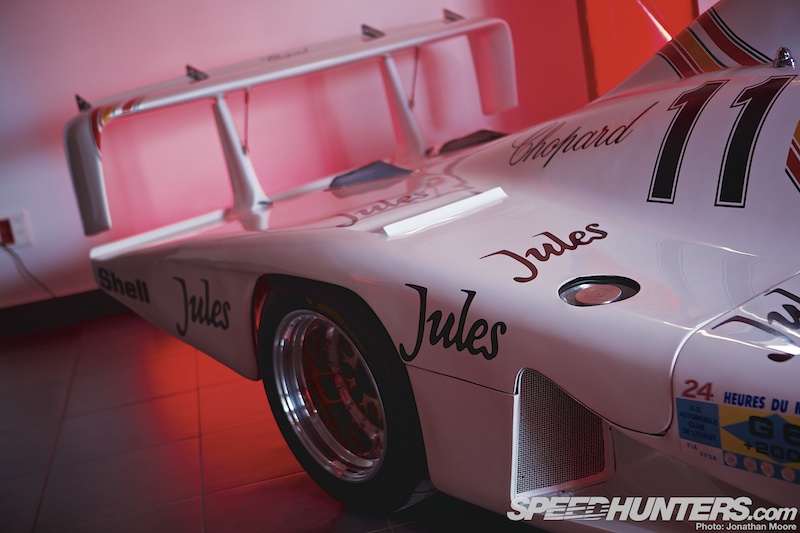 The 936 did see some minor development tough, with improved aero and a twin-turbo added, but the fact that the two factory chassis used in '81 had both been broken out of Porsche's museum with Ickx's persuasion gives you some idea of the relative low-key entry for the race.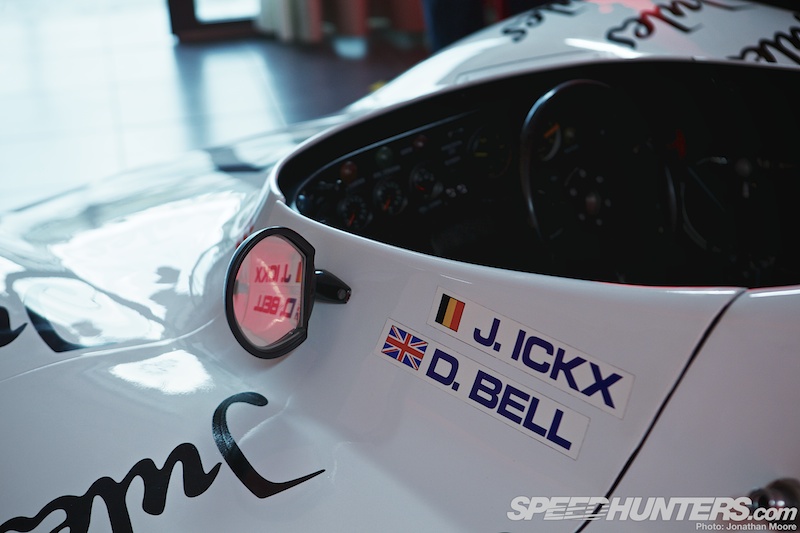 But with Porsche's stillborn, 2.6-litre Indy engine installed, Derek Bell as co-driver and a bulletproof 936 underneath him, Ickx's fifth Le Mans 24 Hours victory beckoned.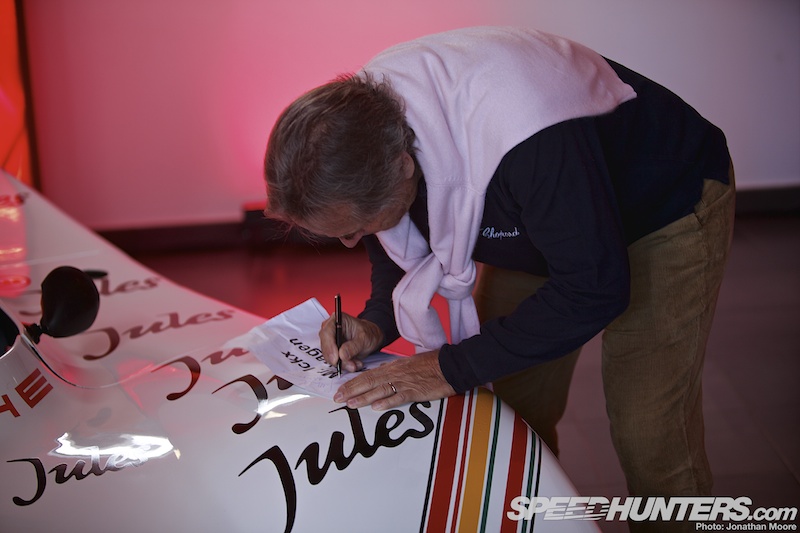 They took the flag after 24 hours with a margin of 14 laps over the chasing Rondeau. 1982 would herald the introduction of the 956 and a final win for Jacky Ickx at Le Mans, cementing his reputation as Mr Le Mans.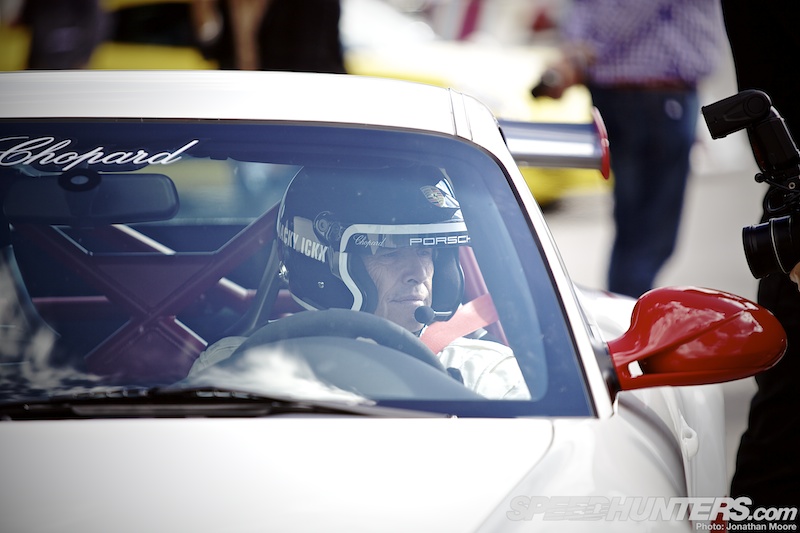 Nowadays leading a calmer life, Jacky exudes an effortless charm: his eyes have seen so much, both good and bad, that nothing seems to phase him. In conversation, he's easy-going and passionate; but out on the track? The fire obviously still burns: it always will for a racing driver.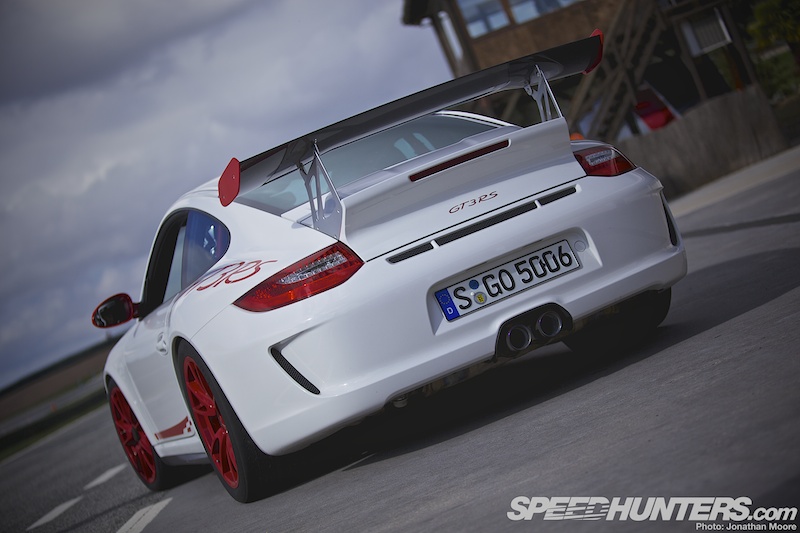 His first role was to take guests out on hot-laps around the Ascari track. Driven around by Jacky Ickx? Days don't really get better than this.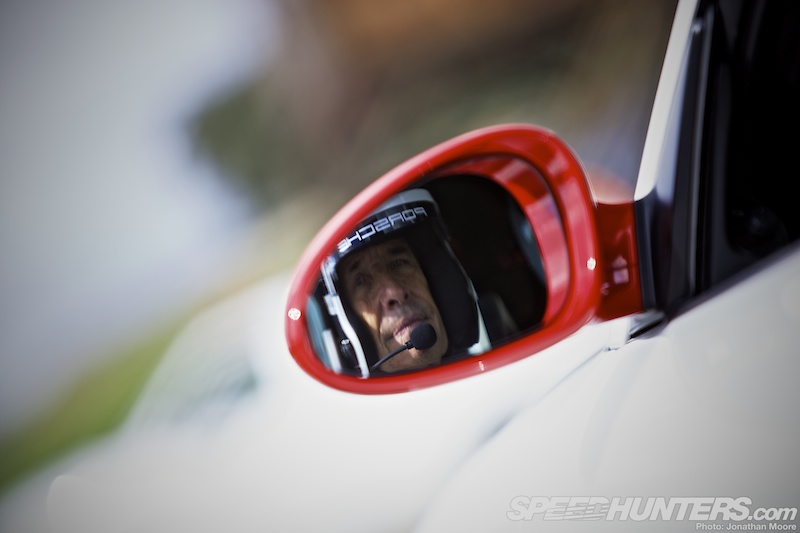 I'd been out once with Herr Scheufele behind the wheel of the GT3 RS, but with Ickx behind the wheel things got a whole lot more violent – though at the same time everything was completely calm and controlled on the other side of the cabin.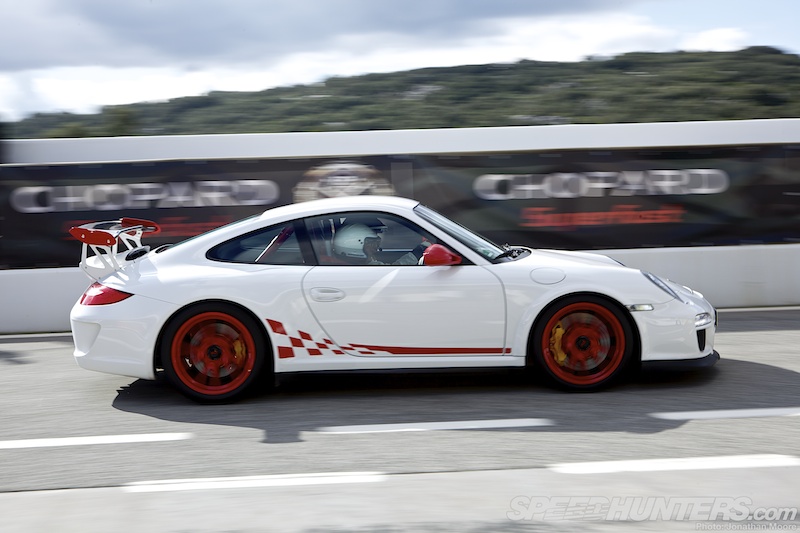 Scything through apexes and heeling through Ascari's twisting turns, Jacky still looked effortlessly fast behind the wheel.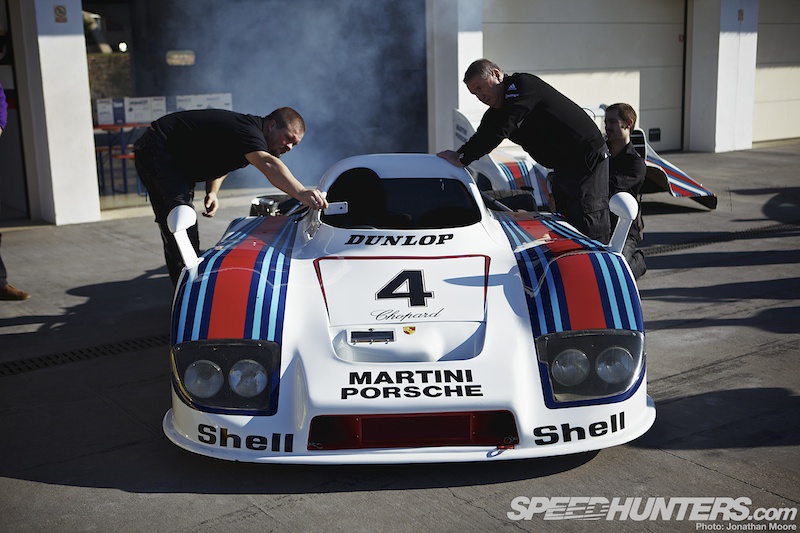 It hadn't been clear whether the 936/77 in the pit-lane was at Ascari for show or not, but when Herr Bischof and his team removed the rear deck and fired up the flat-six it was obvious that we were in for a treat.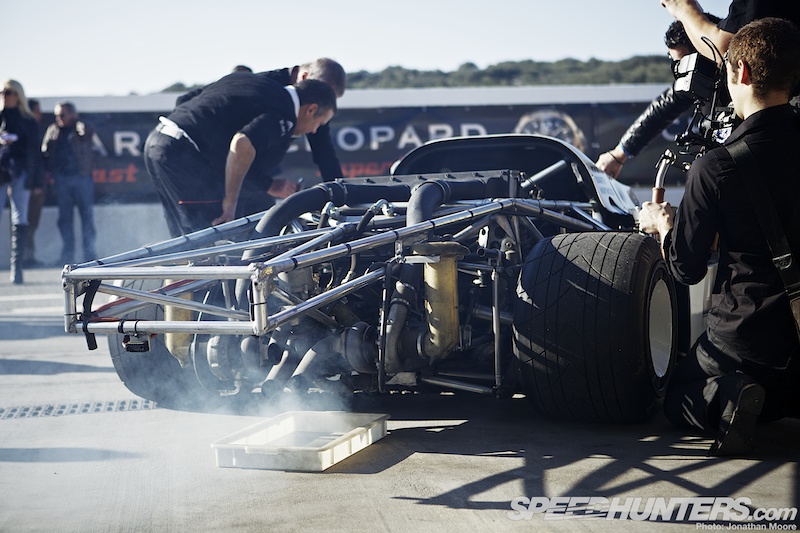 The rasping burble of the engine echoed through the garages, sending a chill down everyone's spine.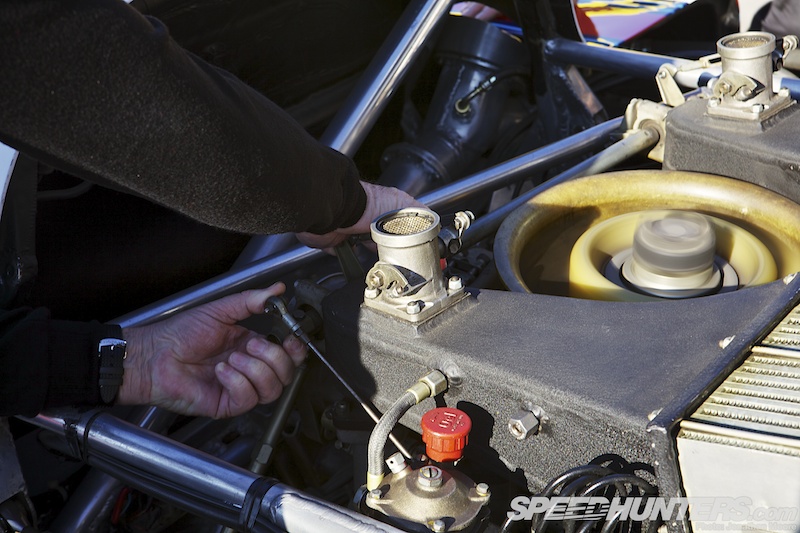 With Herr Bischof modulating the throttle and the flat-fan spinning away on top of the engine, the 936 was brought up to operating temperature.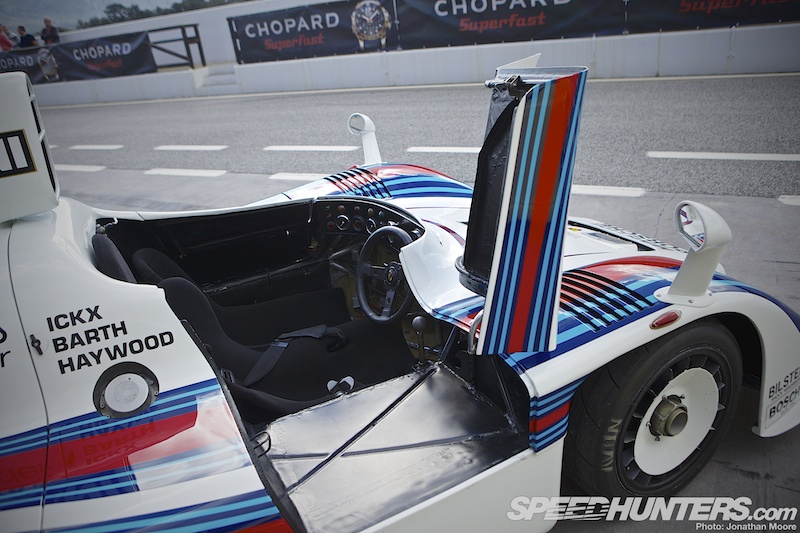 One thing I hadn't realised with the 936 was that there was an opening door section over the wide sponson tanks, making it easier (relatively) to get in and out.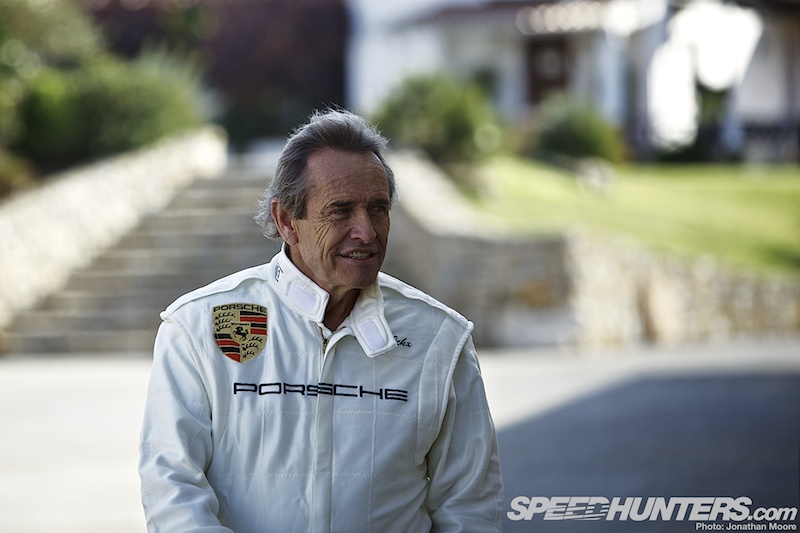 Jacky disappeared momentarily before reappearing in Porsche overalls. We would be witnessing something very special.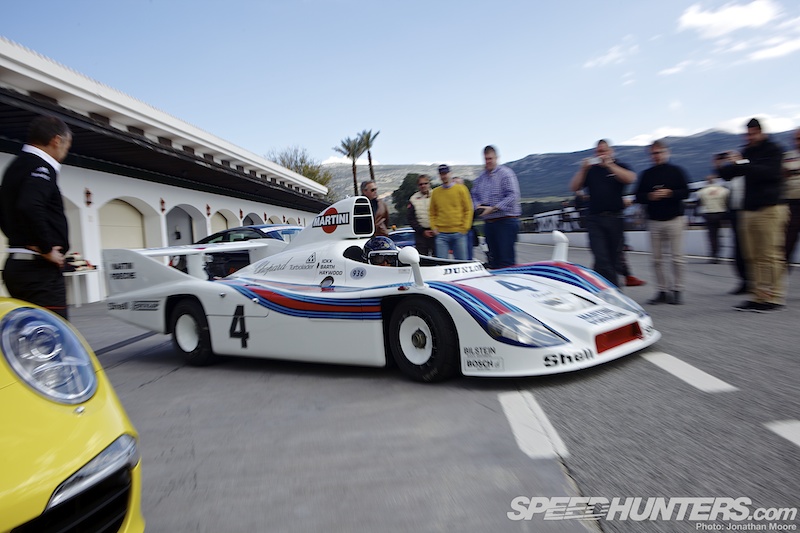 He left the pit-lane and joined the track in a blur of speed, the beautiful livery reflecting in the sun and the noise of the engine lingering in the air behind him.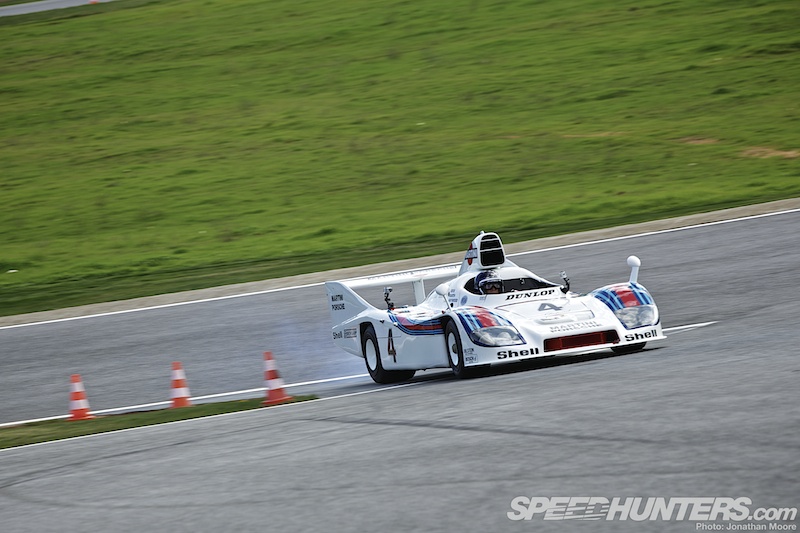 Through the uphill chicane that opened the lap, puffs of smoke and a rising engine note showed that Jacky was pushing his old racecar for his own enjoyment as much for us spectators.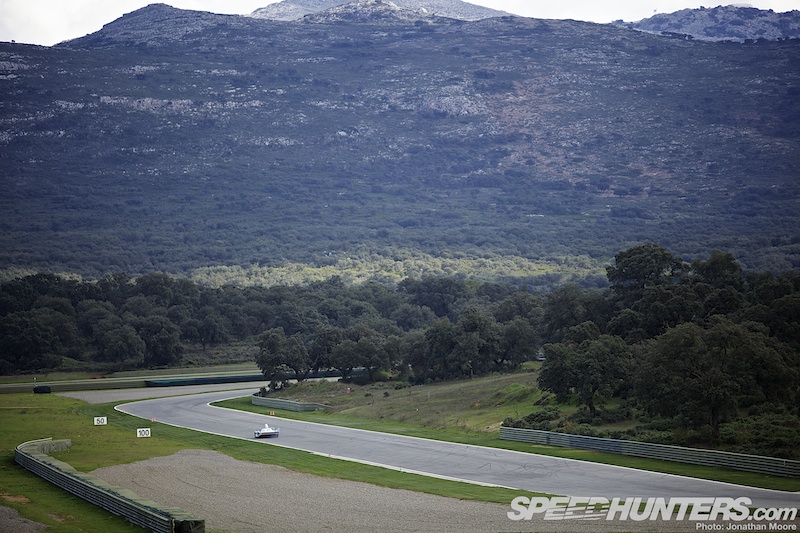 The track is lined with immense range of hills, and the 936 deserved such an majestic backdrop.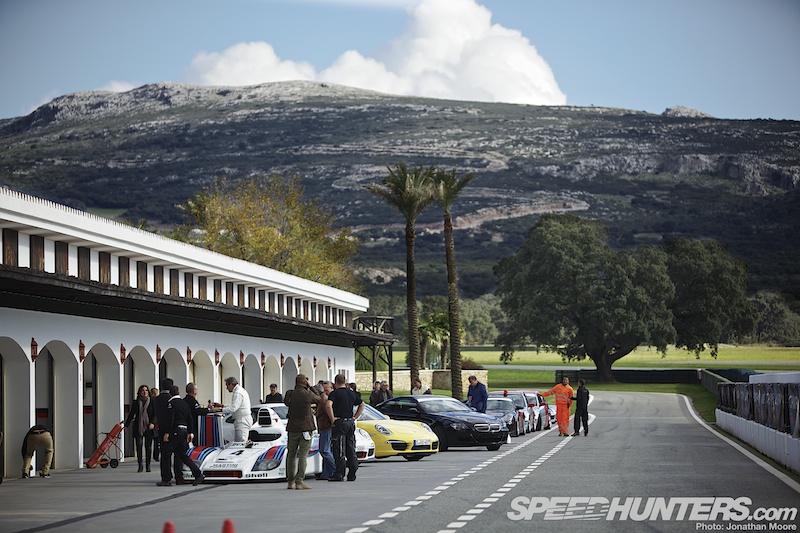 All too soon it was over and he brought the 936 back into the pit-lane.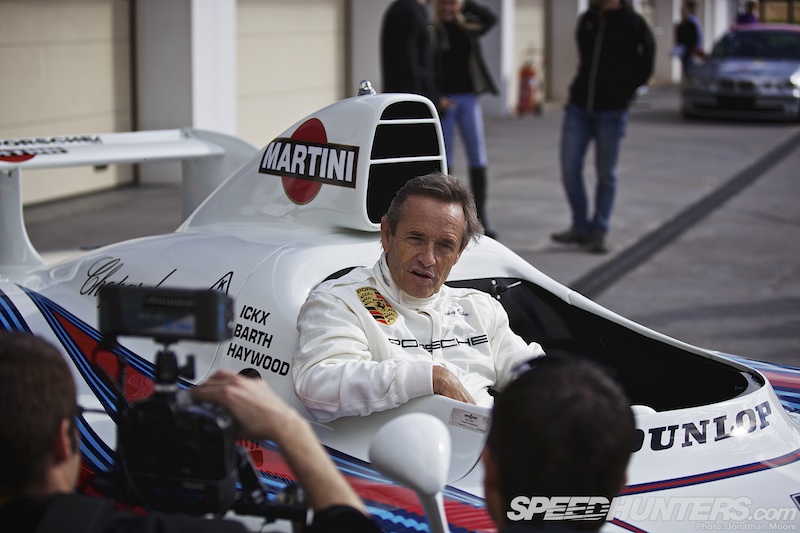 Helmet off and dealing with interviews, Jacky's self-effacing manner was at odds with his record of achievements: he has an innate understanding of every aspect of motorsport, whether behind the wheel or even behind a microphone.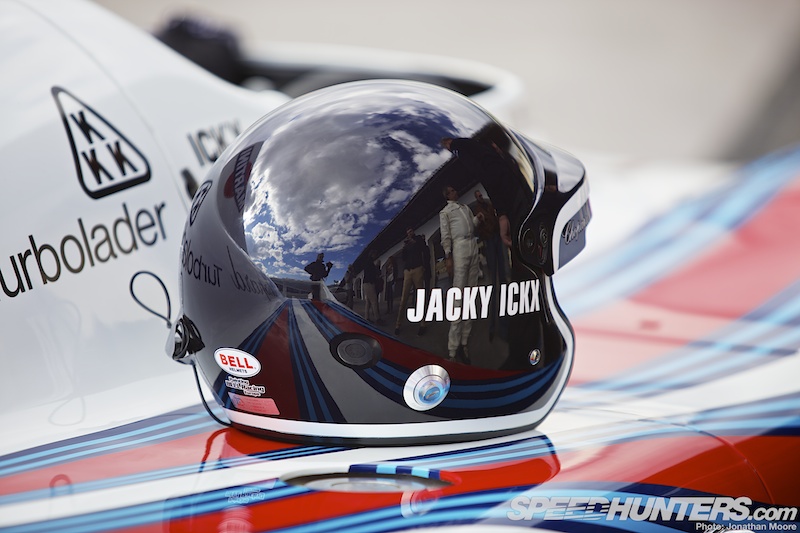 We had the chance for a brief interview during Jacky's hectic day. Even my opening question – about what it is like to be considered a racing legend and to have driven in such a wide variety of iconic cars – was modestly answered and even used a reference to my own profession as an analogy to his approach to racing.
Jacky: One of your interesting parts in journalism is that you have opportunities not to do always the same subject. You can concentrate on a subject if you want, but I think the charm comes from the fact that you can do all sorts of things. It's a big honour to be called a legend; I don't know if it's the case or not, but for sure I am a man from the past. Another type of era in motor racing. I was racing when most Speedhunters readers weren't born: I started back in 1961.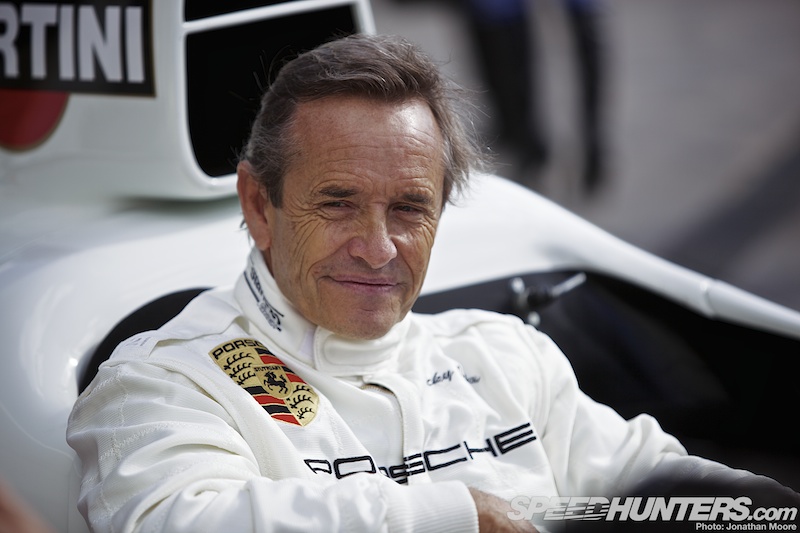 Jonathan: With your crossover between F1, endurance, rally raid and more you bridged several major eras in racing. How did you see the transition between what seemed to be a very dangerous, very technically basic period in the '60s to the advanced powerhouses of the '70s and beyond with cars like the Porsche 935 and 936?
Jacky: I would say compared to today: happy days! It was super fast. Even before I was racing myself, pre-war, it was really a dangerous sport. Sport being the important word. It was a deadly sport. Many people lost their lives doing the thing that I love to do. Because it was unsafe. Everything was unsafe. Cars, circuits… Actually today it is fantastic, because you can go flat out, you can have giant crashes, and every time you think that's it, but you see the driver getting out of the bits and pieces of their cars.
Jonathan: Like Allan McNish at Le Mans?
Jacky: Well yes, it's incredible. That sort of thing you don't want to happen, but it's a demonstration of how strong the cars are and it remains a reminder that motorsport is dangerous. It was a real miracle that nobody was hurt outside the car. With the driver it's an agreed risk: but then there were the marshals and photographers. Apparently there are still miracles.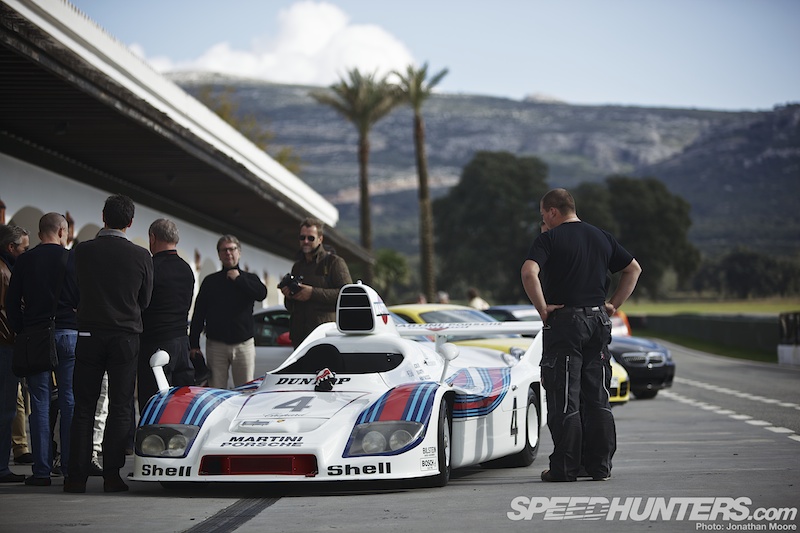 Jonathan: Before the Audi R8 the 956/962 was the last true high-level customer sportscar. Porsche had that history of producing top-line customer cars, but after then they haven't been in contention for outright wins until the relatively short-lived GT1 project. Are you excited about the new factory LMP programme?
Jacky: Oh yes. Racing is in their culture, you know, with Porsche: the father, the grandfather, the grandson, everybody is involved. If you take Ferdinand Piech, he's a member of the family, and now he's leading the group.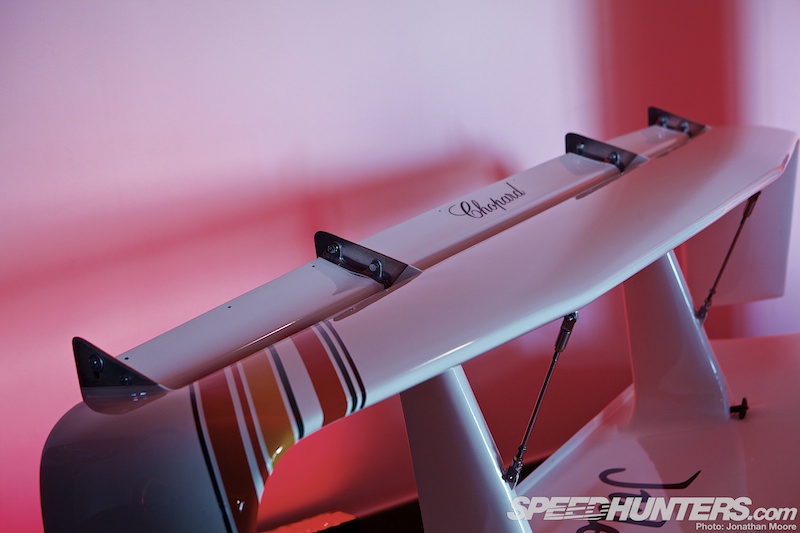 Jonathan: You also drove for Ferrari as well.
Jacky: Yes, but in those days it was different, because the sport was not as professional as it is today. In those days you could drive for Ferrari in Formula 1 and then drive long-distance for Ford, for example. There was less involvement in sponsorship or any kind of exclusivity, and very little money involved in it, even for the professional drivers.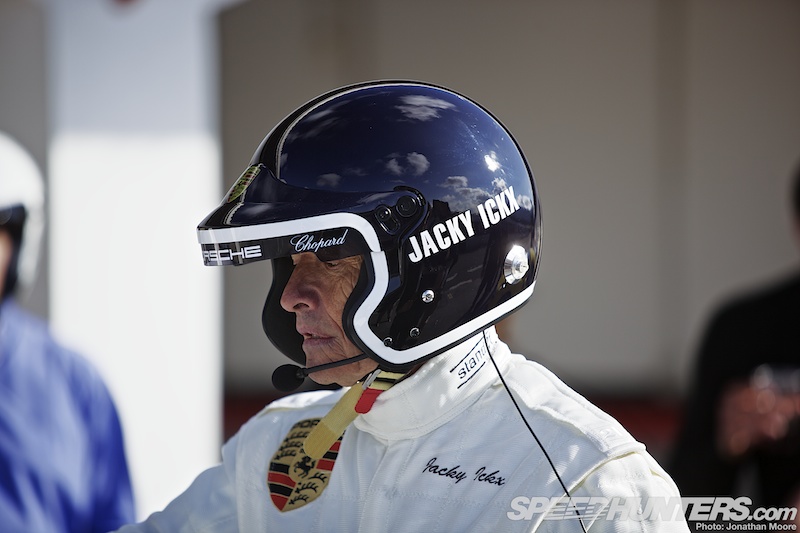 Jonathan: You've driven pretty much all the classic cars: the GT40, the 917, Can-Am Lola, BMW CSL, the 935 and all its variants. What a range of cars to have experienced!
Jacky: Again that's also specific to the long duration of my career. If I have to characterise my racing life, it has been long – roughly 32 seasons – and also I had the privilege to drive the racing cars you've mentioned. For the ability of driving different cars I am not the only example. Everybody was like that in the '60s, everybody.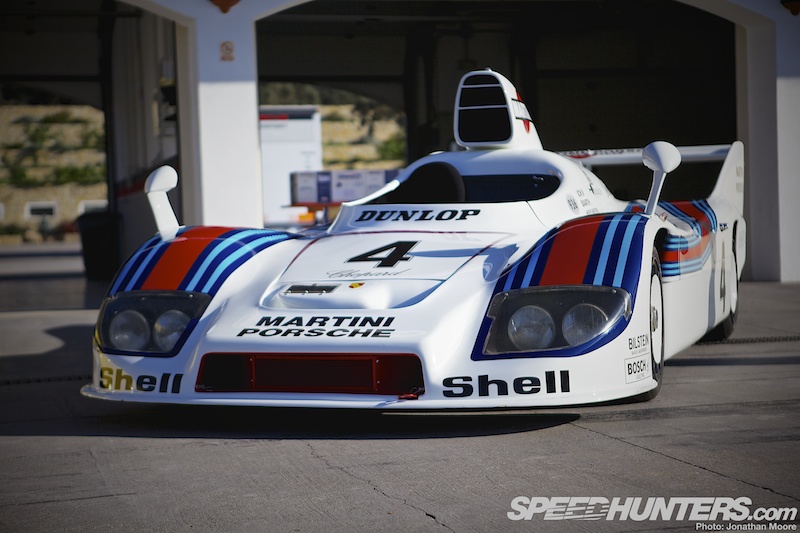 With the freedom we had and the pleasure of driving, the basic idea was to drive a saloon car, Formula 2, Formula 1, long-distance – whatever we could do. So I don't deserve any specific praise, but I am one of the few who remain from that era from when the risks where high. Most of the drivers disappear.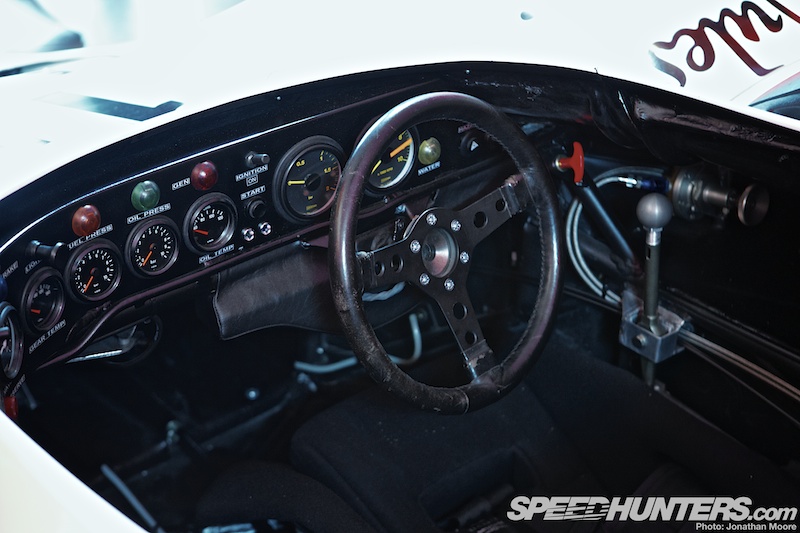 Jonathan: Do you think that current drivers are missing out on the experiences that drivers of the classic era had? Even Michael Schumacher started off in sportscars.
Jacky: No, I don't think they miss anything: they are very happy in what they do, because it's their aim, their goal, and they don't know anything else. I think it's a terrible mistake to try and stop the progress in a way; don't live in the past. It was different for us. You have to live the best you can in a segment of time. They may have missed out these other series, but they have the talent to do everything if they could. But in the strategy they have today and the goal they have, they are only able to do one thing at a time. It will never come back except for a very few exceptions.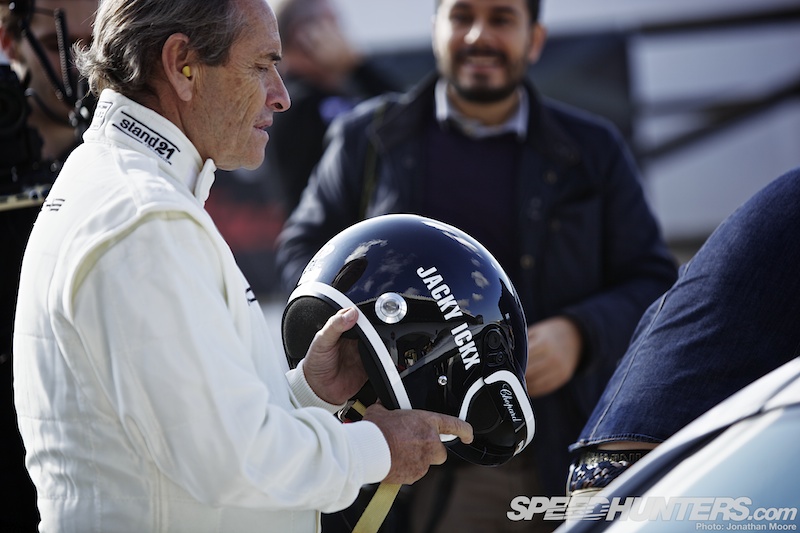 Basically if you are with McLaren, or with Ferrari, you are driving just for that team and what you do is F1. If you drive an Audi today in the endurance championship, you do the championship, that's it. You maybe do the DTM eventually, but that's it. If you drive for Porsche in 2014, no about you'll be driving exclusively for Porsche.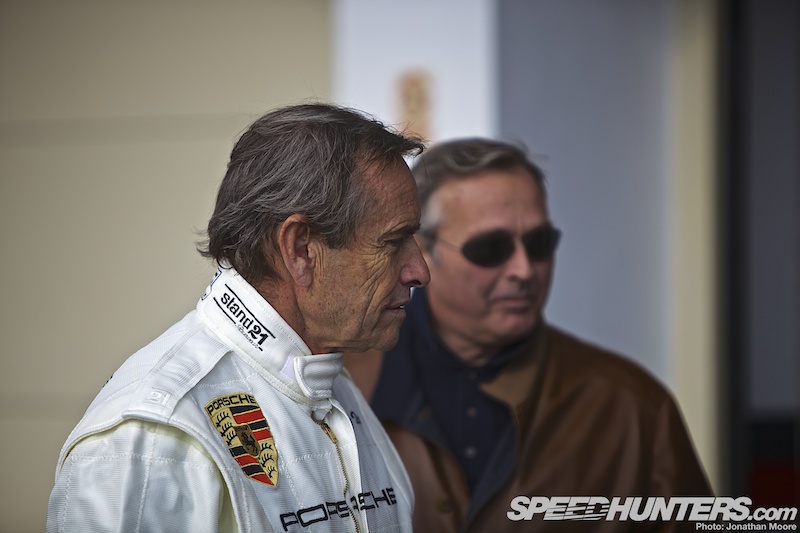 Jonathan: It must have been very exciting seeing your daughter Vanina racing.
Jacky: Vanina was a surprise, as she never mentioned any desire to compete. She studied biology at university, she finished her degree – and then she decided to go motor racing. She competed for 15 years. I am happy for her, but I cannot say that it was pleasant over the race weekends, because it's like you're competing as well. There's always a little bit of anxiety when your family races. But I think she had a hell of an experience, and she drove what we call 'big cars': LMP1 and DTM. The Aston Martin LMP1 was a beautiful car. She was happy, which was the goal.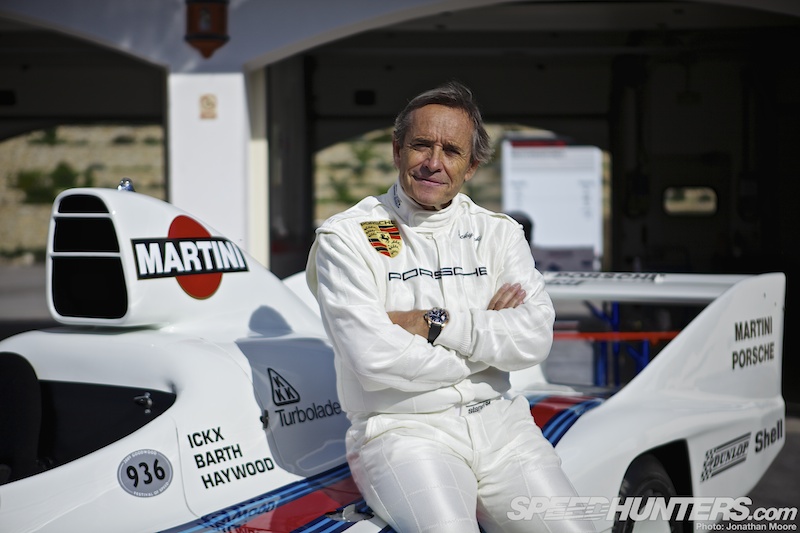 The question was not to know if I was happy, but to make those you love happy and make sure you don't cause any frustrations, don't make any complaints or comments.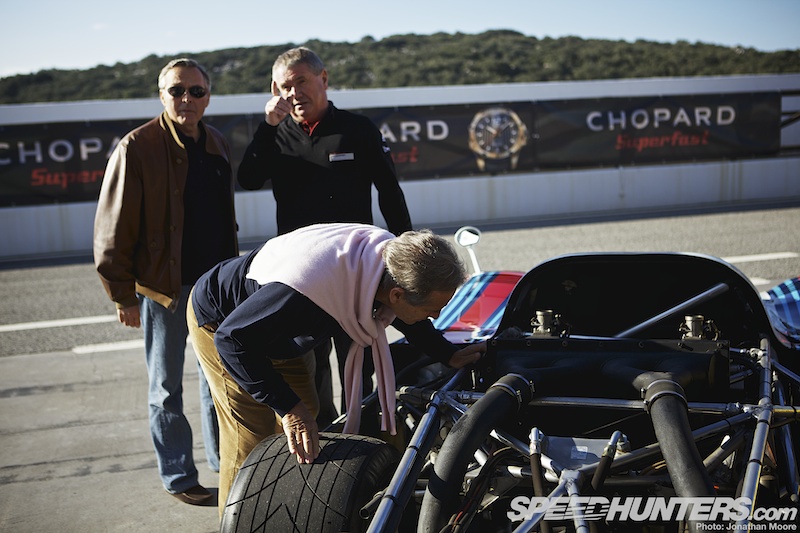 If my parents had been against motor racing then for sure I would never have become a racing driver. My father raced in the Liège-Rome-Liège rally and those kind of events in the '50s, and a lot of motor cycling. But he was also a motorsport journalist. But I never wanted to become a racing driver. I would have loved to be a gardener! Or a gamekeeper. So you can see I'm far away from what I originally thought of. I didn't do either! It's not too late: I'm still very busy, but I'm not so busy with racing.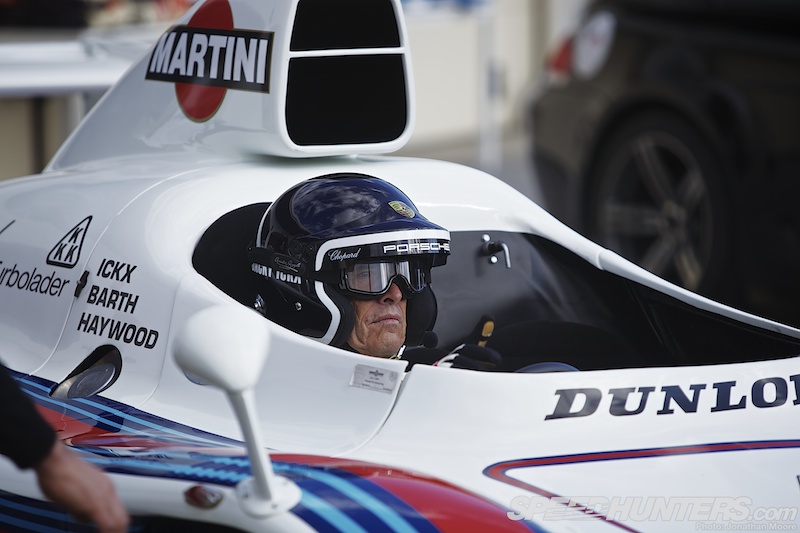 Jonathan: How much do you enjoy getting back in the old cars?
Jacky: Very much. To do a few laps in these cars, it's really fun; it's really nice. I have a lot of chances as I'm an ambassador for the Volkswagen group, so depending on which brand I am connected – it changes many times through year, I go here and there – I have many opportunities to drive these lovely cars. I'm a lucky guy! I have been very lucky, in many aspects of my life. Just being a survivor is something.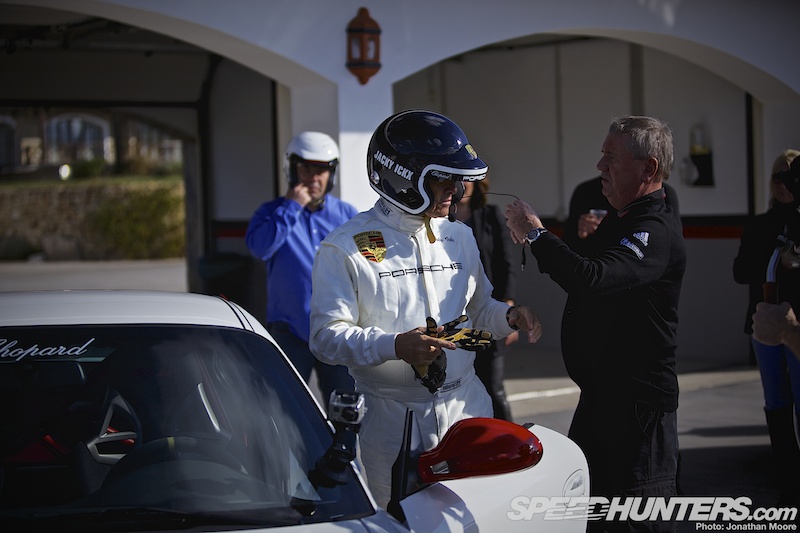 Jonathan: I saw Stirling Moss a couple of weekends ago, and it was interesting as he brought two steering wheels with him, one of which from his '62 crash at Goodwood and a second from a big accident at Spa. With both of them the top of the wheel was completely bent back…
Jacky: It must be an aluminium wheel, very thin. You spoke about legends: Stirling Moss drove many incredible races, but the one that will remain forever is being able in the 1955 Mille Miglia to drive on normal roads, from Brescia to Rome and return, in ten hours eight minutes and to average 160kph, including refuelling, changes of tyres, everything.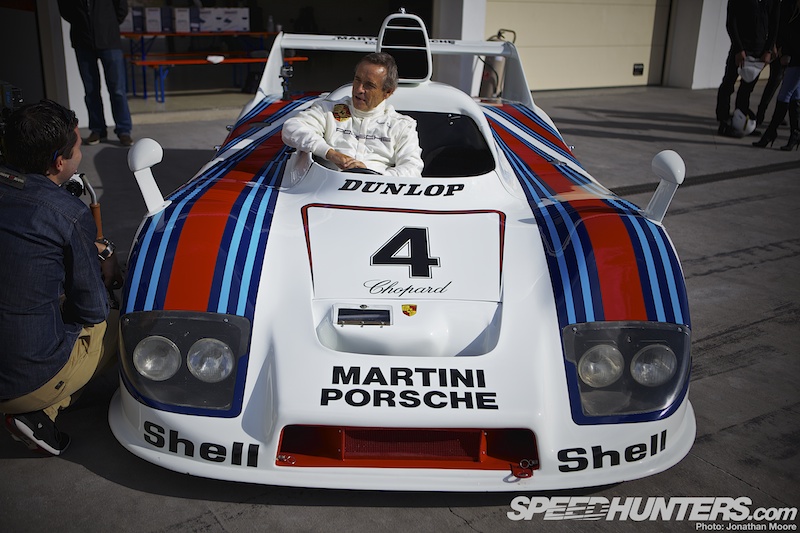 Jonathan: I think everyone finds so much joy in seeing drivers matched with their original cars. Historic racing seems to be so popular at the moment: it really appears to strike such a chord with drivers and fans alike. It's very professional and high level, but it seems to be more sporting and have more raw passion behind it. Do you prefer the modern or the historic races?
Jacky: What is the goal? The goal is to drive. Whatever it is, it doesn't matter. The key is success. If you win, you score what you were wanting. If I think about Jim Clark, Graham Hill, Jack Brabham, Jack Sears and all those guys, they were happy to win at Crystal Palace in a Lotus Cortina or Ford Mustang.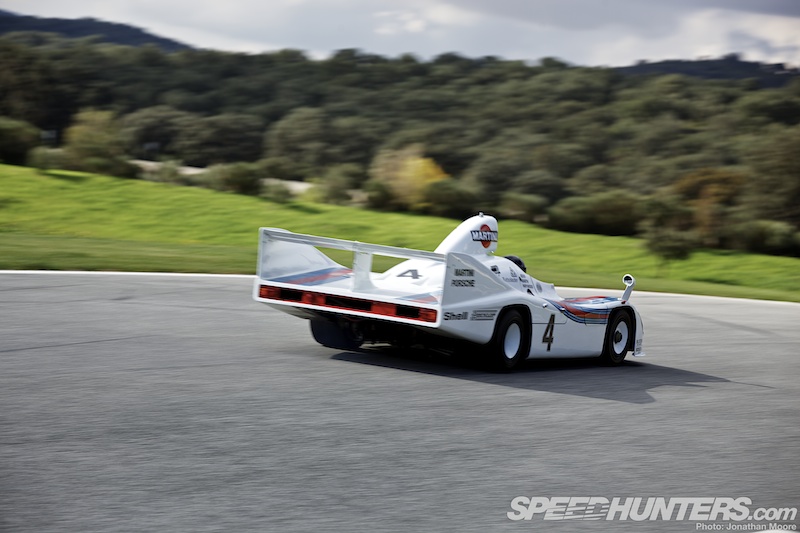 Jonathan: I recently visited Crystal Palace: it must have been an incredible track to drive.
Jacky: Crystal Palace was a lovely track – I drove it in Formula 2. So it still exists? That's interesting. There were a lot of great tracks in the UK, like Oulton Park and Mallory Park. I drove here at Ascari a couple of years ago on the short layout, but not the full track, and it's not so easy to learn the lines. The visibility is difficult, and it's challenging with the apexes and exits, there is a lot of guessing when you first go out. At first you're driving with your backside!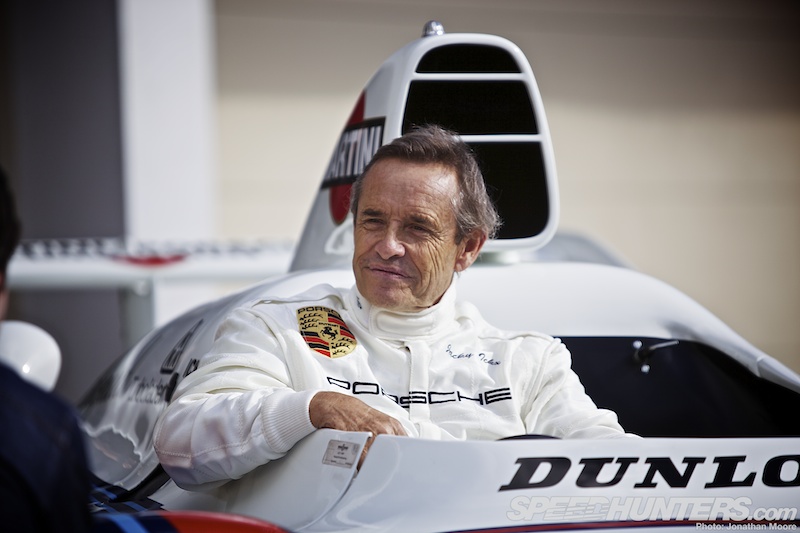 Jacky is then off to put that skill into practice again, with yet more hot-laps before the sun sets on an incredible day. His father, Jacques Ickx Sr, was a renowned sports writer, as well as a successful racer. Jacky's excellent self-titled biographical art-book (which is a must-have) opens with this quote from a 1958 article his father wrote: 'Free men are free to risk their lives'. We can only be grateful that men like Jacky Ickx risked everything for the sport they loved, but are still with us today to remind us of a most glorious era of racing. And that he didn't become a gardener instead of a racing driver! The word legend is more than appropriate for this most modest of men.
Jonathan Moore