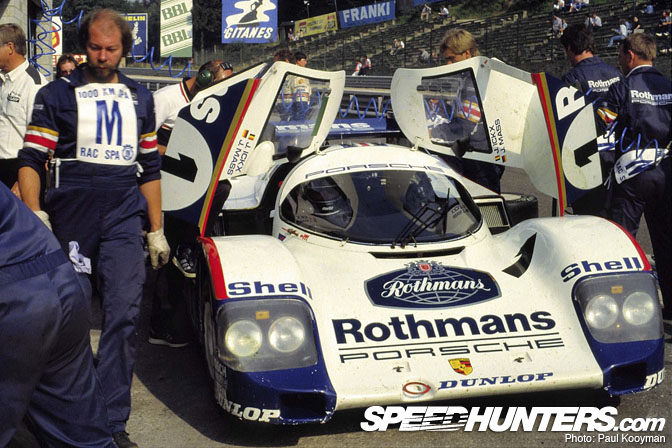 There is a name that's synonymous with Le Mans: Jacky Ickx. The unassuming Belgian driver ruled sportscar racing in general and Le Mans in particular throughout the 1970s and 1980s, but his career effectively spanned four decades. Ickx was a multi-discipline master: one of the old school of drive anything, anywhere, anytime – fast. An all-rounder of the highest ability; Europe's equivalent of Mario Andretti.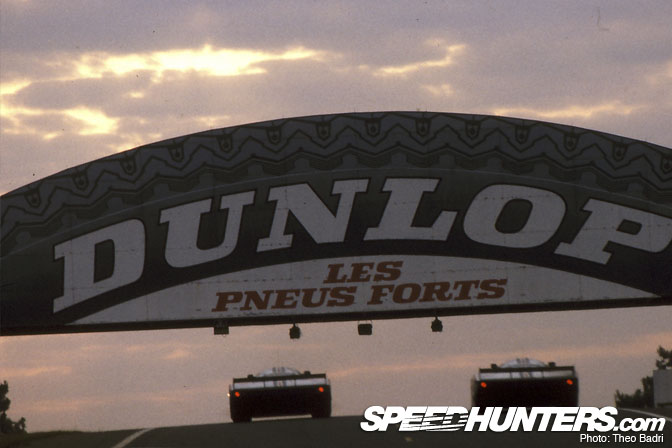 Unlike many sportscar drivers who never made their mark in Formula 1, Ickx was a top-line contender for the majority of his F1 time: he completed 25 podium finishes and was twice runner-up in the World Championship. These near-misses can be added to his titles of being six-time Le Mans winner, five-time Spa 1000kms winner, multiple sportscar World Endurance Champion, European F2 champion and Paris-Dakar rally victor. Danish driver Tom Kristensen – perhaps the modern equivalent of Ickx – may have overhauled his tally of Le Mans victories, but Ickx remains a legend in the racing world. Although he's best known for his Porsche associations in Martini and Rothmans liveried cars, he also worked with Ford and Ferrari.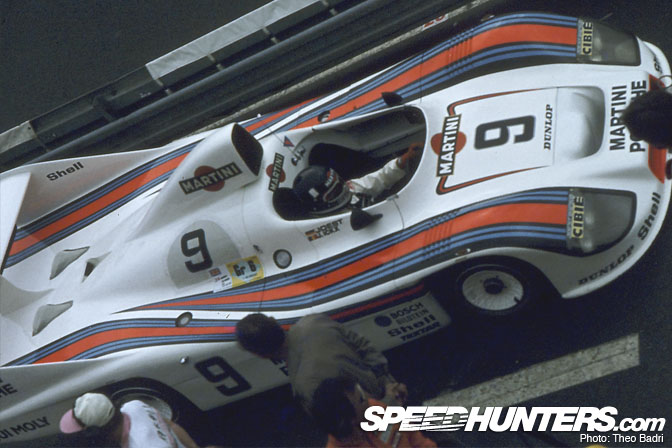 Jacques Bernard Ickx was born in 1945, the son of a journalist. His racing career started on trials motorbikes in his native country, but he quickly progressed to a Lotus Cortina, winning the '65 Belgian championship. His first year in professional motorsport, 1966, was indicative of how varied his CV would be. He won won the Spa 24 in a BMW 2000ti co-driven with Hubert Hahne, rode a Zündapp trials bike in national competition and drove a ridiculous amount of cars during the year: a Ford Cortina in hillclimbs and touring car races, a GT40 mk1 at Le Mans and Ferrari 250LM, Matra F2 and F3 cars, Brabham F3 and a McLaren-Elva in Can-Am!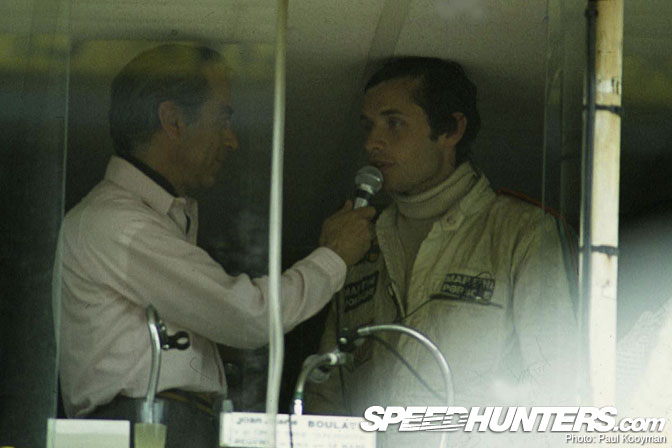 At only 22 years old, and two years into professional racing, Ickx made his Formula 1 race debut in 1967. The horrific frequency of casualties meant quick promotion for up-and-coming drivers, living a fragile life similar to that of Second World War fighter pilots. As debuts go, it couldn't get tougher: he was entered in a Formula 2 Matra (F2 cars were being used to bolster weak grids at the time) at the fearsome Nürburgring. The paddock was astounded as the young Belgian hauled the Matra up to third in qualifying, behind only the F1 cars of Denny Hulme and Jim Clark. The rules dictated that no matter what the posted time, F2 cars always started behind the slowest F1 car, but despite this Ickx fought his way to a stunning fourth overall before his suspension broke.
This impressive start naturally caught team bosses attention, and Ickx was placed in a Cooper-Maserati at Monza for his first start in an F1 car proper. He finished sixth – this only 18 months after his international debut. Major sportscar deals quickly followed: he signed a deal with the John Wyer Automotive/Gulf Oil team to drive a Mirage M1, which quickly highlighted Ickx's natural aptitude for endurance racing and particularly his ability to cope with rainy conditions.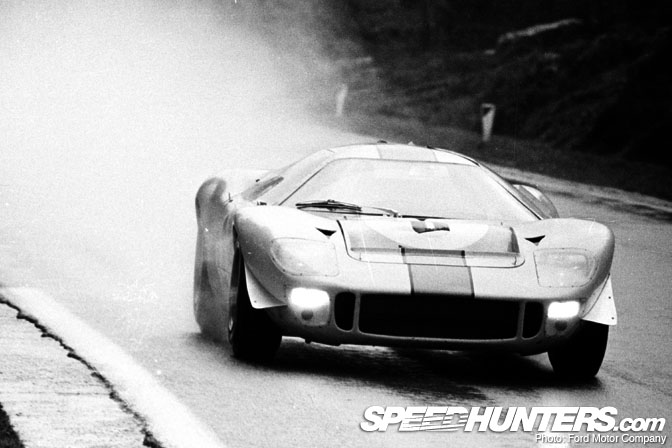 1967's Spa 1000kms was a typical Ardennes wash-out, but Ickx (sharing with American Thompson) blitzed the opposition to win – and this on the original, frighteningly fast 14km public roads circuit. He added to this with wins at the Montlhery 1000kms near Paris and the off-season Kyalami 9 hours, though his Le Mans debut only lasted 29 laps. Of course, this didn't satisfy his lust for racing, so he continued to campaign an F2 car with Ken Tyrell's team through the year.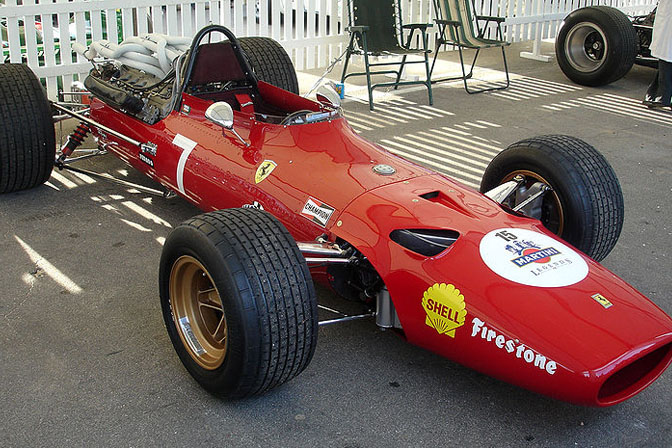 1968 saw Ickx sign as a factory Ferrari driver in their 312 for his first full season of F1. 3rd at Spa and 4th at a wet Zandvoort in Holland were followed by his first F1 win at the challenging French circuit of Rouen – in the rain of course – by almost a lap over the competition. This race is held up as a classic F1 wet-weather drive in the vein of Senna's masterful performances in Portugal '85 and Donginton '93. In sportscars the JWA team had now switched to the iconic and now massively successful GT40 to compete in the World Championship For Makes, and Ickx won the BOAC 500, Spa 1000 (soaking wet) and Watkins Glen 6 Hours. He ended the season with more strong finishes in F1 – and never finished lower than 4th (although he suffered three retirements) – but then broke his leg in Canada and missed the final two races. After recovering from his leg injuries he returned to the cockpit of a GT40 to win the end-of-year Kyalami 9 Hours again with David Hobbs.
JWA's strong link with Ford meant Ickx swapped to Brabham in 1969 and its winged BT26A – along with the strong Ford DFV engines. On his way to runner-up position in the F1 World Championship he scored victories in Canada and famously at the Nurburging, where he won by an astounding 57 seconds from eventual champion Jackie Stewart.
1969 saw the defining moment of his career. Driving with Jacky Oliver in a JWA GT40 mkII, Ickx refused to take part in the traditional Le Mans running start, where the drivers madly dash across the track to jump in their parked cars, Ickx calmly walked across the track to his car and carefully did up his race harness before finally getting away – dead last. To prove a bitter point, on the first lap John Woolfe in a privateer 917 crashed at the Maison Blanche section near the end of the track and Woolfe was killed; he hadn't taken the time to do his belts up properly.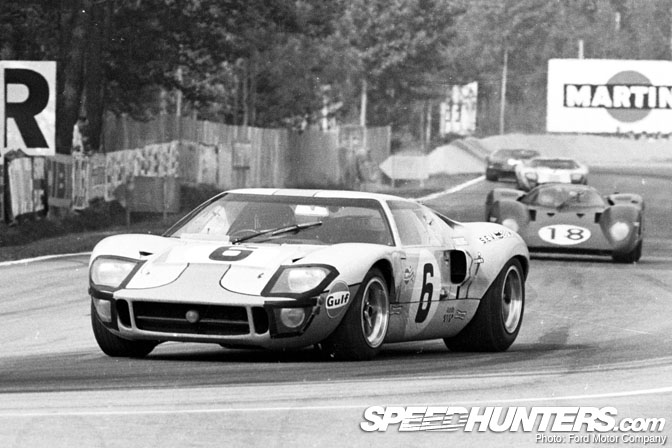 After a two hour delay the race was restarted. The new Porsche 917s were fast but proved unreliable and dropped out one by one, so the GT40s took the battle to the Porsche 908s. Through the final hours the 908 of Hans Herman/Gérard Larousse and the Ickx/Jacky Oliver GT40 swapped position lap after lap: the 908 had the edge on the straights, but the GT40 were stronger through the trickier final sections of the track. After an epic last few hours, Ickx took the win by a margin of little over 100 metres – one of the closest finishes ever. On the road back to Paris on the day after the race, a car pulled out in front of Ickx's  911, causing him to swerve in avoidance. The 911 front ended up wrapped around a telegraph pole; Ickx unbuckled his seat belts and got out unharmed – more proof that seat-belts saved lives. He added to Le Mans with victory at Sebring in a GT40, although generally Ickx had a bad season in the Mirage cars he drove for the majority of World Championship events.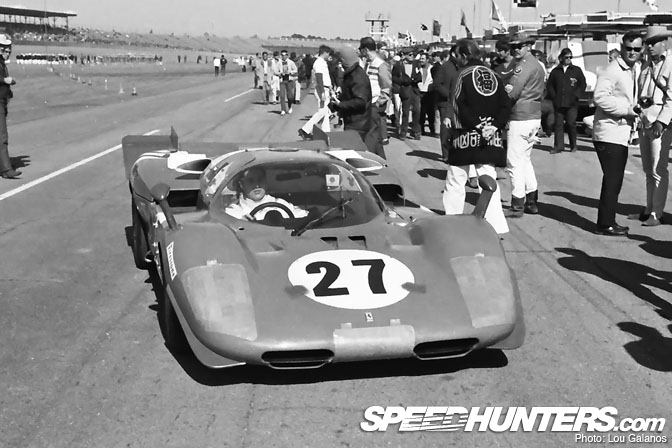 With this success came another call-up to Ferrari for the 1970 season and the start of four years driving for the Prancing Horse, broken by only a couple of F2 and BMW touring car races. Ickx raced a 312B in F1 and the beautiful 512S in sportscars, taking on his old JWA team who had now re-equipped with Porsche 917 – of course sporting the Gulf livery. At Le Mans, all drivers started the race buckled into their cars for the first time; Ickx's Ferrari failed to finish, however. At the end of the season, another victory in the Kyalami 9 Hours was notched up, the first of a hat-trick for the 512S at that event. In F1, Ickx crashed on the first lap in the Spanish Grand Prix at Jarama in April of '70, leaving him hospitalised with severe burns, but was back after only 17 days to compete at Monaco and went on to win in Austria, Canada and Mexico. Despite a string of retirements during the season he was once again runner-up – this time to posthumous champion Jochen Rindt, who was killed in practice at Monza. Ickx never seemed keen on bridging the gap to Rindt – it was simply not the right way to win.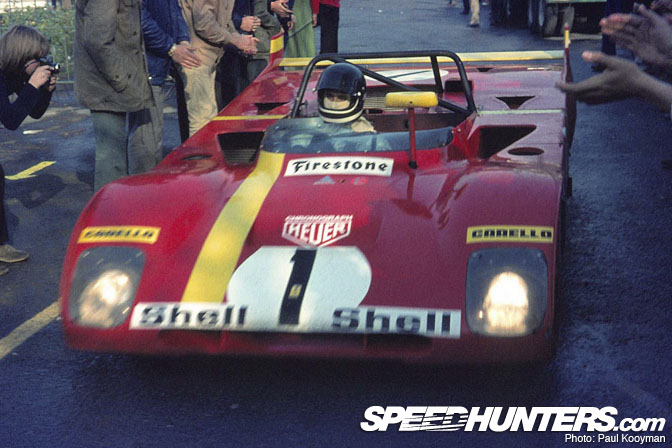 1971 was one of those years where Ferrari just don't deliver – and unfortunately for Ickx both their F1 and sportscar programmes floundered. The 312B and uprated B2 were completely outclassed in F1 by Lotus and Tyrell. Although he managed a win at Zandvoort (yes, in the rain), Ferrari couldn't overcome inherent unreliability – four straight retirements killed any chance of a good result at season's end. The year also saw Ickx clash with Stewart off-track – Ickx thought JYS's crusade on F1 safety was excessive and taking the challenge away, despite Ickx's own moves in the past to reduce the dangers. Ferrari, along with Alfa Romeo, changed down to the impending 3-litre prototype sportscar rules due to come into force the following year, meaning Porsche romped away with their existing 5-litre machinery. The 312PB might have been great looking, but even in Ickx's hands it was no match. Second at Brands Hatch was a single finish in a season of retirements. However, the struggle of developing a car would prove invaluable experience later in his career.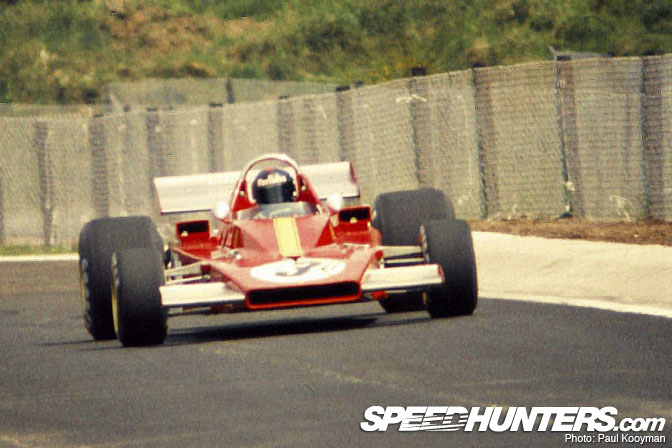 The Ferrari 312B2 F1 car of 1972 was an average car, and Ickx could only manage a few second places in between generally bad results. But the season did provide his final win in Formula 1, fittingly at the Nürburgring. In fact, he achieved a clean sweep of pole, fastest lap and the win, boosting Ferrari's ailing fortunes, and by the end of the season has somehow dragged the recalcitrant car up to 4th overall in the title chase.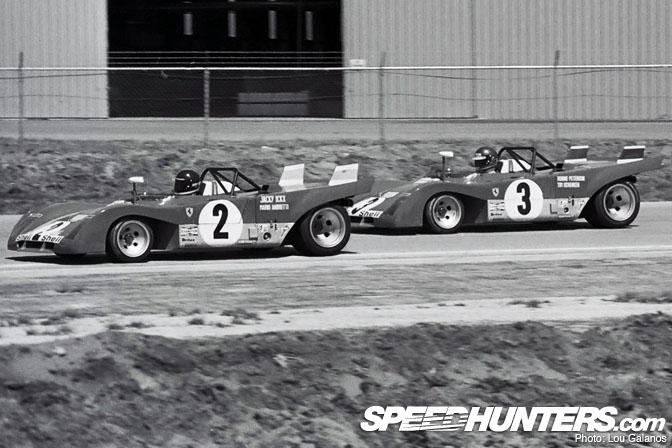 But in sportscars the compromises of the previous year paid dividends: this year the developed 312PB destroyed the opposition, with Ickx winning six times during the year. An impressive list of co-drivers included Andretti (co-driver for the another win at the Sebring 12 Hours), Regazzoni and Redman.  Alfa, Mirage and Matra just had no answer.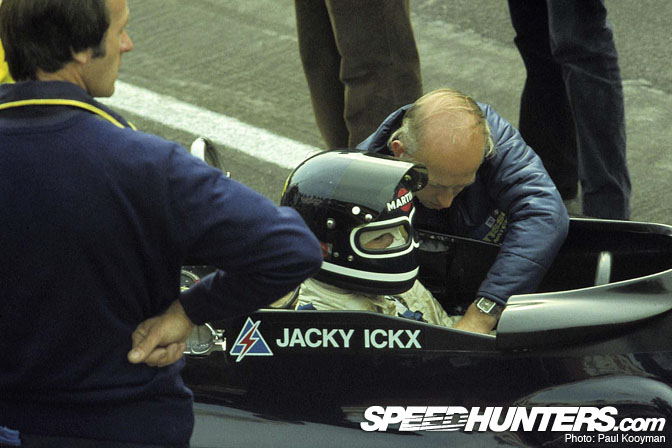 Ickx's final year at Ferrari in 1973 began unpromisingly. The uncompetitive 312B3 Spazzaneve ('Snowplough' after the shape of the car's nose – and it was apparently as slow as one) led to another disastrous year. A replacement B3 was designed in Britain due to the seemingly annual Italian labour-force strikes, but it fared no better. With Ferrari down to a one-car team, 19th position on the grid at Silverstone was the final straw. After the team elected not to go to the Nürburgring, Ickx took up a one-off drive in a Yardley-McLaren and swapped to a Williams ISO-Marlboro for the final race of the season at Watkins Glen. In sportscars Matra took the fight to Ferrari: Ickx managed victories at Monza and – of course – the Nürburgring, but then the Matra MS670B in the hands of Henri Pescarolo and Gérard Larousse took five wins, including Le Mans. Ickx's appearance at Monza was to be his last competitive Ferrari drive.
With Ferrari pulling out of sportscars, well aware that they were now no match for Matra, it was clearly time for change. Ickx signed for Lotus for the 1974 F1 season, but the Lotus 76 was no match of its predecessor, the 72, and he retired in all six races entered in that car. Ickx also just wasn't able to match 'Super Swede' Ronnie Peterson's ability to drive round the problems the car had: Peterson scored three wins to Ickx's meagre brace of third positions. Qualifying was tough and he rarely escaped the back rows, though Ickx did win a non-championship race at Brands Hatch. Other high points of a generally low season were driving the BMW 3.0 CSL in endurance events and races for Alfa Romeo in their 33TT12  (along with 1973 Ferrari F1 team-mate Arturo Merzario). And if you can't beat 'em, join 'em: a one-off drive for Matra in the Spa 1000kms, co-driven by Jean-Pierre Jarier resulted in a win.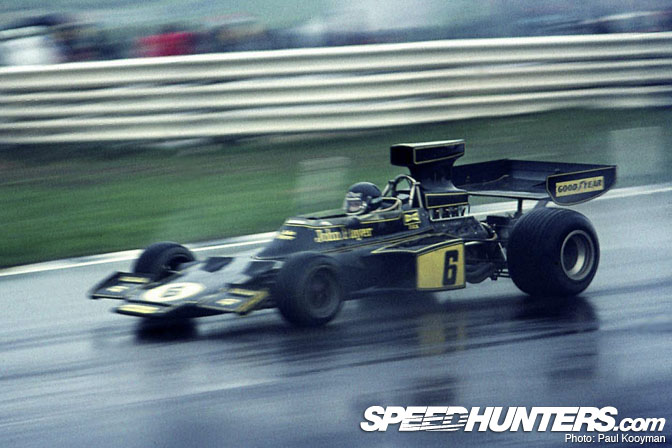 1975 was the beginning of a cycle of bad career choices that so many successful F1 drivers seem to make. The Lotus switch must have appeared to offer a return to the glory of his earlier time at Ferrari, but in fact the bi-plane rear wing Lotus 76B was a disaster – whilst frustratingly Ferrari's second attempt at a low-polar movement F1 car this time worked. Regazzoni and Lauda cleaned up at the front of the grid, whilst Lotus were again forced to switch back to the four-year-old 72E design with some updates. Peterson continued to outperform Ickx and the car itself, further adding to his frustration. A fourth at the wet Brands Hatch Race Of Champions which he won the previous year was small recompense, and with no improvements in sight Ickx left the team half way through the season.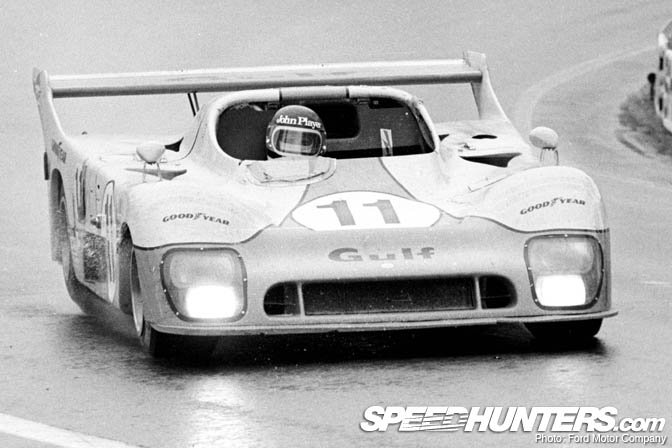 It was sportscars that would see him through – and then some. Ickx won Le Mans in a Gulf Mirage GR8 partnered with Derek Bell and run by his old JWA team. The classic Ickx/Bell partnership began at the Le Castellet 1000kms in the south of France (now the Paul Ricard High Technology Test Track) with third place earlier in the season.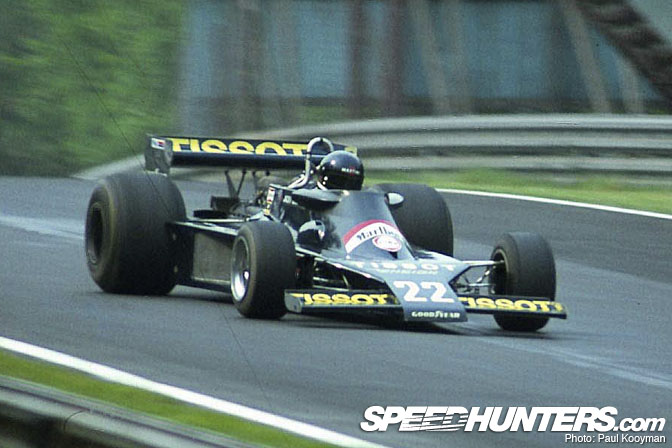 Ickx didn't seem ready to give up on F1 quite yet, and he started the 1975 season in a Wolf-Williams FW05. Ickx's affinity with the classic European tracks gave him some cheer, and he managed third place at the Race Of Champions. But again, a change of team seemed the only way forward. He signed with Mo Nunn's mid-field Ensign team (Nunn would later run the Ganassi Champ Car team to great success in the '90s) to finish the season. Thankfully, this latest upheaval went some way to restoring Ickx's reputation, but a worrying crash at the Watkins Glen circuit was a reason for him reduce his involvement in F1 and concentrate on sportscars.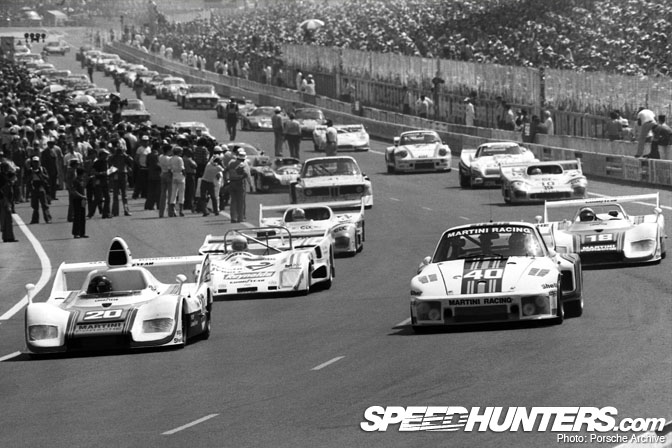 Compared to decisions over the previous couple of years, for once Ickx's timing couldn't have been better. He signed as a factory driver for Porsche and Ickx entered a period of unprecedented success. He won seven of 10 events entered with Jochen Mass as co-driver, initially using the Group 5 935 weapon and then the open-topped prototype 936 Group 6 car. Backed up by Gijs van Lennep, Ickx took victory at Le Mans in the 936.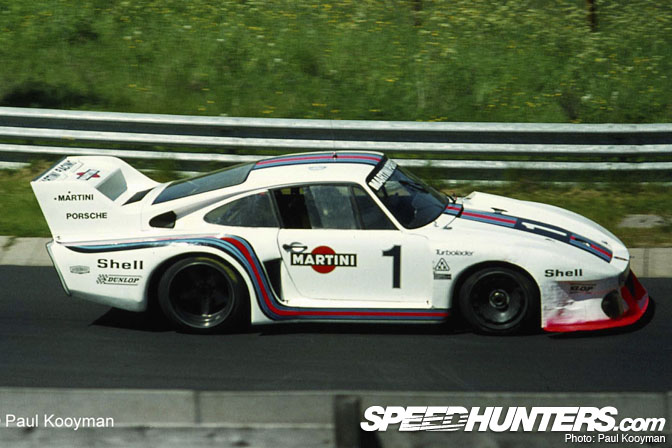 Through 1977 Ickx took three wins from nine World Championship For Makes races in a 935/77.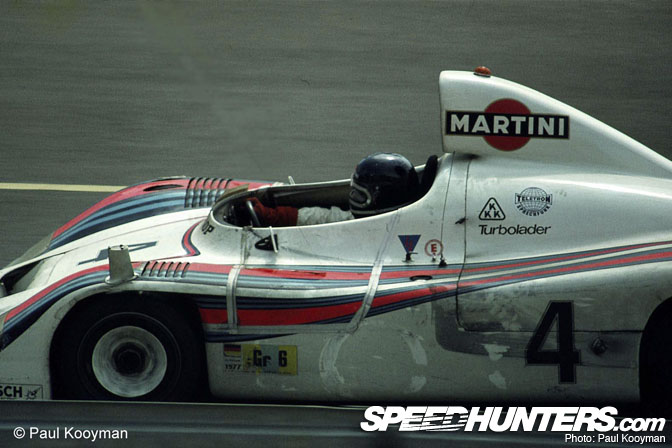 Ickx himself rates his 1977 Le Mans win as one of his best. Early on in the race his Martini 936/77 (co-driven with Pescarolo) retired with mechanical problems, so the team dropped him into the sister car of Jugen Barth/Hurley Haywood – then in a lowly 42nd place. Ickx put in a consummate drive to be in the lead by early morning, overhauling the fragile Renault prototype opposition, only to suffer an engine problem. In the pits the team cut one cylinder. Ickx set out again and nursed the car to the finish – the lead he'd built up earlier was more than enough to secure the result.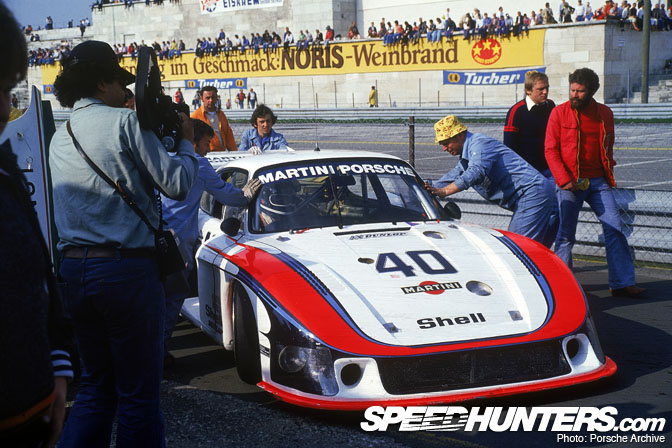 Ickx really took advantage of his freedom: he competed in the German DRM series in a long-tail 935 Moby , an IMSA race at Mid Ohio and several IROC races.  Another milestone was a drive at the Australian Bathurst 1000kms with local hero Allan Moffat: they won the race in their Ford Falcon. In F1, a single race in an Ensign N177 at Monaco, subbing for Clay Regazzoni, resulted in 10th place.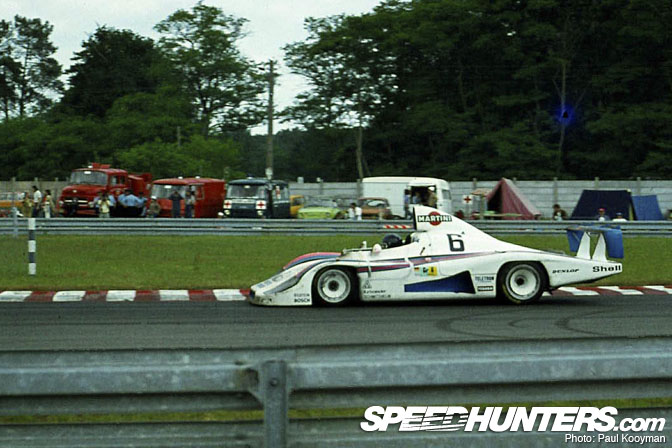 Ickx took on four mid-season F1 races in 1978 in an Ensign N1777 – which resulted in four non-finishes. The World Sportscar Championship had problems of its own, being in a transition between rules and with waning grids, but Ickx fought on with Porsche. He won the Silverstone 1000 in his Moby 935. The weather? Raining of course. The second half of the 1979 season saw Ickx running out in a ground-effect Ligier JS11: a very different style of car for Ickx to adapt to. He managed two points finishes but suffered six retirements. But in North America the Can-Am championship was more his style: six wins out of nine in Jim Hall's Lola T333CS brought home the title. At Le Mans Ickx managed a second place in '78, but was disqualified in '79 for receiving outside assistance to restart his Porsche 936.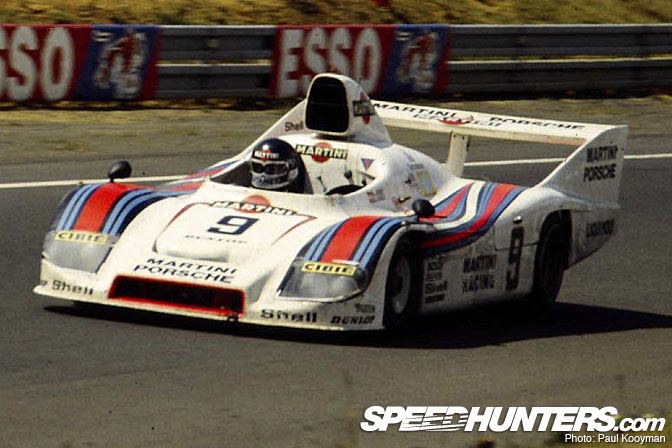 1980 was a quiet year for Ickx, perhaps signalling a slide into retirement? There was just a single start at a shockingly wet Le Mans alongside Reinhold Joest in a privateer Porsche 908-80 (nicknamed FrankenPorsche by journalists!), as Porsche were unwilling to enter their Group 6 cars against customer 935s. Ickx took the lead in the third hour, but suffered a broken fuel injection pump. In a precursor to the efficiency with which Joest would later run LMP teams, a basic toolkit was in the car: Ickx managed to repair the car in just 14 minutes, with only a few places lost. Cosworth-powered French Rondeau cars headed the field, but Ickx soon fought back up to the lead lap. However, for once the strategy was called wrong: the Rondeau pace was faster than expected, and the Joest car dropped back after another problem – this time with the gearbox. With less than two hours remaining Ickx was two laps back but now running faster. 35 minutes left and the heavy rain returned: Ickx pitted, but the Rondeau skated on with its slicks, managing to keep the gap to the end despite a last lap spin. It was still a fine second for the Ickx/Joest car, but after the race Ickx announced his retirement – only to reverse his decision a few months later.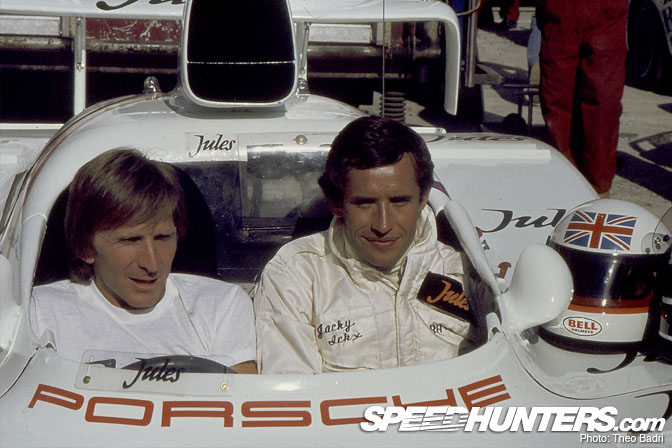 His decision proved a good one. In 1981 he won Le Mans for the fifth time (partnered with Derek Bell in a 936-81), but even greater things were on the horizon with the birth of Group C. Ickx also made his Rally Raid debut in a Citröen CX in the Paris Dakar – this then became a regular feature for him in which he regularly competed until the 1995 race.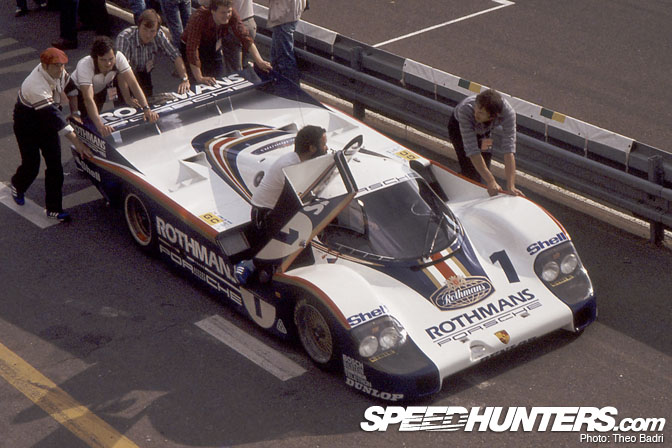 1982 was the year of the Porsche 956. In its iconic Rothmans livery they destroyed the opposition to become WSC champions, and at Le Mans the three factory cars finished one, two and three – in their starting number order. Ickx, again with Derek Bell, took victory by three laps over the second place car of Jochen Mass and Vern Shuppan.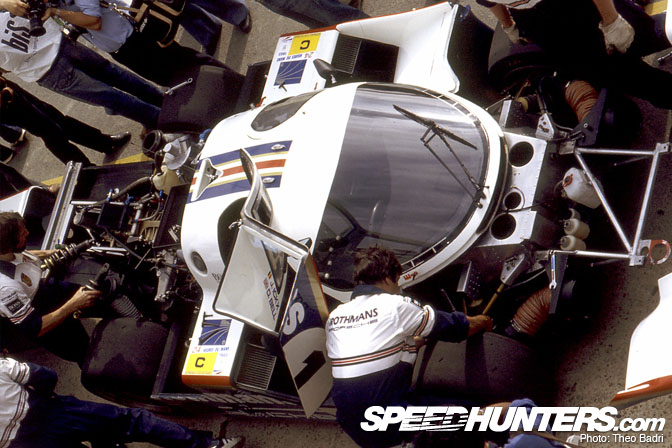 In 1983 the 956 was the only car to have and it took nine victories in the 10 round World Sportscar Championship, with Lancia's LC2 stealing a single win at Imola. Porsche blitzed the manufacturer's title, with Ickx setting the lap record in the last ever race to be held on the old Nürburgring. This year the car was available to privateer teams and the 956 took nine of the top 10 places at the running of the Le Mans 24 Hours; Ickx and Bell finished runner-up to their team mates. Jochen Mass was his regular team-mate, but '83 was also the first contact Ickx had with up-and-coming German driver Stefan Bellof, who joined the factory team. Out of sportscars, Ickx also tackled the Rally Paris-Dakar in a Mercedes, winning five stages and the event overall with co-driver Claude Brasseur in a 280GE.
No longer in the cockpit, Ickx continued his F1 involvement by acting as Race Director for the 1984 running of the Monaco Grand Prix: this ended in his controversial decision to red-flag the race near half distance due to the appalling weather conditions. Bellof in a Tyrell and Senna in a Toleman had been catching Alain Prost's McLaren – powered by a Porsche-developed engine. Ickx was, of course, a Porsche employee in sportscars… Because of the early end to the race, only half-points were awarded – Prost ended up losing the championship by half a point at the end of the year, so it hadn't given him any advantage; Ickx was suspended from his post for not consulting with the race stewards before making his decision. For once Ickx didn't drive at Le Mans this year, as the Porsche factory team boycotted the event due a dispute over fuel tank size. Entered in the 1984 Paris-Dakar, Ickx won the majority of the stages but could only manage sixth after having to recover from early electronics problems in his Porsche 911.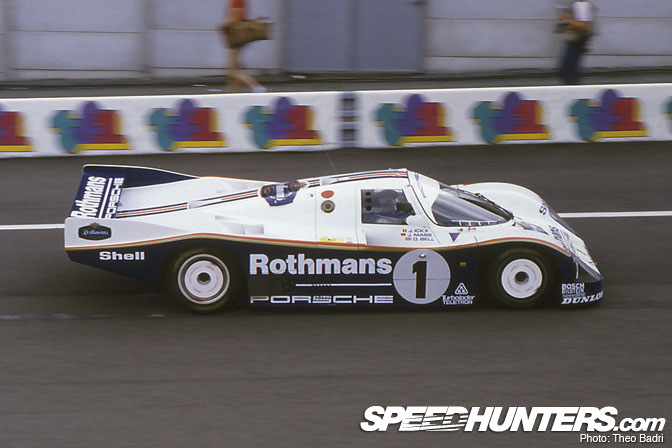 1985 would be Ickx's final year at the top. He began the year as usual with January's Paris-Dakar, but his Porsche 959 effort ended with suspension failure after his usual strong showing. In sportscars he and co-driver Jochen Mass battled with the Hans Stuck/Derek Bell pairing in the other Rothmans Porsche over the season, taking three wins apiece. But the Spa 1000kms, scene of so many of his finest drives, would be a bitter event for Ickx. Erstwhile team-mate Stefan Bellof, on edge of a stellar career in F1 and a move to Ferrari, was racing a privateer 956 entered by the Brun team. He and Ickx had been battling for the lead for five laps when Bellof attempted a move into the fearsome Eau Rouge corner. Not expecting anything at that corner – who tries overtaking there? – the Spa veteran cut off Bellof's nose and both speared off the track into the barriers half-way up the hill. The in-car video shows Ickx desperately try and catch the car as it slews round, and as he goes backwards into the Armco Bellof's car is visible just down the hill, it's front completely destroyed and folded up at 90 degrees. A fire starts as Ickx and marshals run towards the stricken 956, but Bellof is fatally injured and dies soon afterwards. The race is halted. Ickx completes the season, but retires for good after the final race.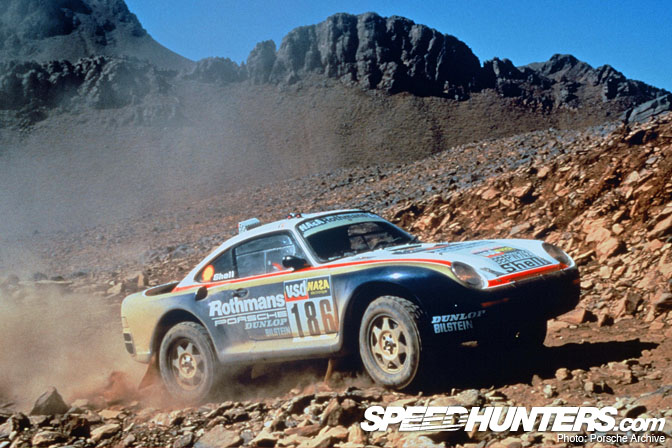 From then on Ickx concentrated on Rally Raids: the revolutionary Porsche 959 was far and away the best car in 1986, and Ickx finishes second to his team-mate, René Metge. Following this dramatic 1-2 Porsche withdraw for 1987, and Ickx makes an optimistic move to the Lada team with new co-driver Christian Tarin – predictably poor results followed. Peugeot were winning everything with their the Raid version of the Group B 205, so Ickx again decided that joining a winning team was the best option. In 1989 Ickx piloted one of two 405 T16s to take on the Peugeot 205 and Mitsubishi opposition. Ari Vatenen in the other 405 barrel-rolled his car whilst in the lead, leading to team manager Jean Todt calling team orders – frustratingly based on the toss of a coin. Vatanen's side came up, and he nursed his car to the finish with Ickx dutifully holding station despite another mistake from Vatanen temporarily allowing Ickx back into the lead.
Ickx swapped to PSA stablemate Citröen in 1990, though he drove for Lada once again at the Dakar -– even scoring a special stage win for the Russian marque! Once again teamed up with Vatanen in '91, he drove his CX until an engine fire put an end to their challenge and allowed Vatanen a hatrick of Paris-Dakar victories. Ickx's season – and in effect his career – would end on a tragic note. On the Pharaohs event he somersaulted his 405, which crashed and burst into flame. Long-time co-driver Christian Tarin was tragically killed in the crash. Witnessing yet another racing death close up, the time had obviously come: Ickx retired from top-line competition in 1992.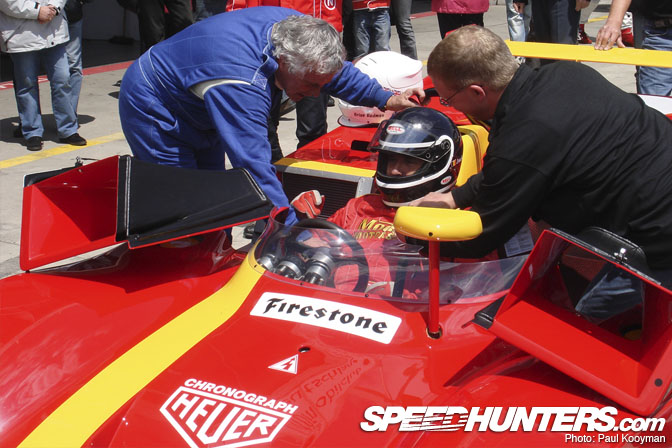 Ever the passionate racer, Ickx was never going to be able to divorce himself from the sport. He acted as a consultant to the victorious Oreca-run Mazdaspeed M787B entry at Le Mans in 1991 and also drove a Toyota in the 1995 Granada-Dakar rally. Even circuit racing still figured, with outings in the Historic Shell Challenge Series racing his original Ferrari 312PB. He won all four races he entered between 1998 and 2000.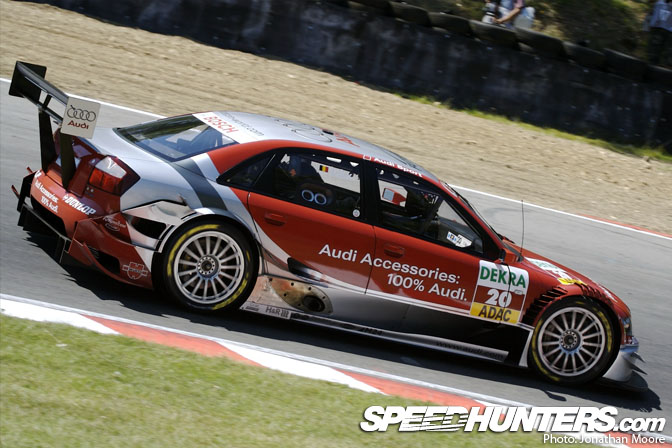 At 55 years old Ickx even entered the Paris-Dakar with his daughter Vanina in 2000, finishing 18th overall in a Toyota Land Cruiser. Vanina had become a successful driver in her own right, competing in GTs, at Le Mans in prototypes and in the German DTM series between 2006-7.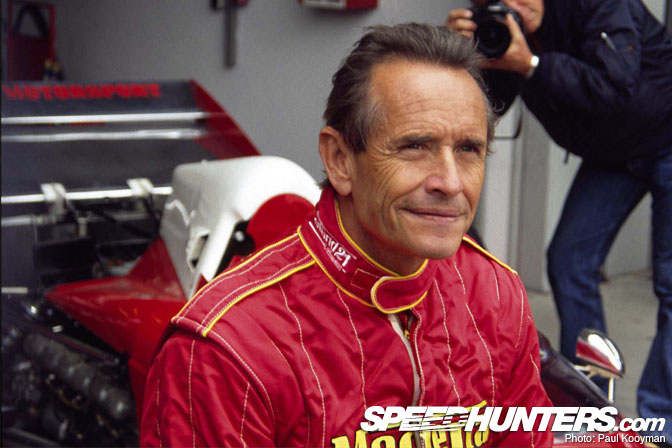 Ickx also returned as Clerk Of The Course at Monaco, and of course his Le Mans achievements were not forgotten: he was made Honorary Citizen Of Le Mans in 2000 and honoured with the 'Spirit Of Le Mans' award by the Le Mans organising body the ACO. Ickx is now a regular attendee at the classic historic festivals such as Goodwood and the Mille Miglia revival, where he is respected by a new generation of fans.
The tougher the track, the longer the race, the worse the weather, the more you instinctively knew Ickx would win. The final word goes, appropriately, to Tom Kristensen: "I may have more wins than Jacky Ickx, but he is absolutely unique, a great personality—Mister Le Mans."
Many thanks to Theo Badri, Paul Kooyman, Lou Galanos, the Jacky Ickx Tribute site, Ford and Porsche for the images.
Jonathan Moore