Overwhelming. That was the first reaction on entering the second showroom at JD Classics in Essex, the UK's – if not the world's – premier historic car restoration firm. Surrounded by Ferraris, Lamborghinis, Porsches and so on, I had the impression that I was in an international automotive art museum of the highest calibre. Which effectively is the case, but a living, organic museum where the contents are on a revolving platform as they're repaired and restored, bought and sold, travel to races and back.
Then I'm told that there are another five more rooms after this. That make this one look understocked.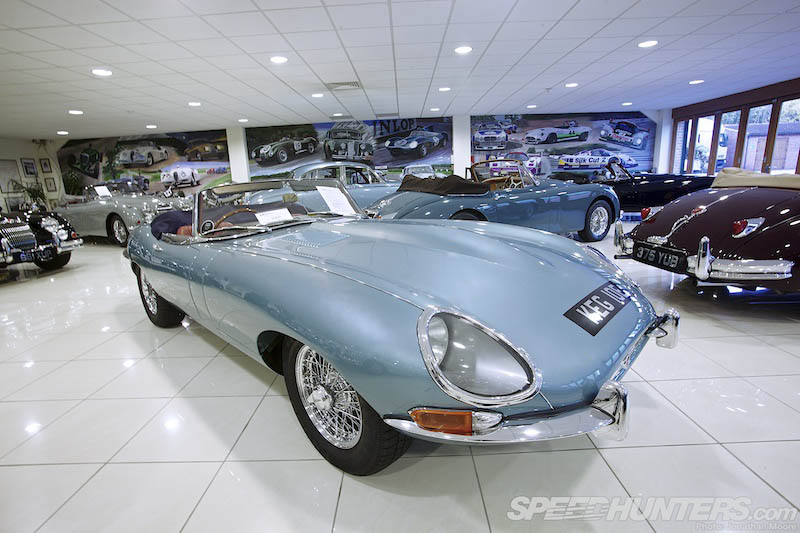 The first port of call had been JD Classics' main showroom, which was overflowing with Jaguars – the company's bread and butter. Jaguar dealers in the 1960s cannot have been this impressive and sparkling, and it's difficult to believe that the cars were any shinier even when first brand new and rolling off the production line.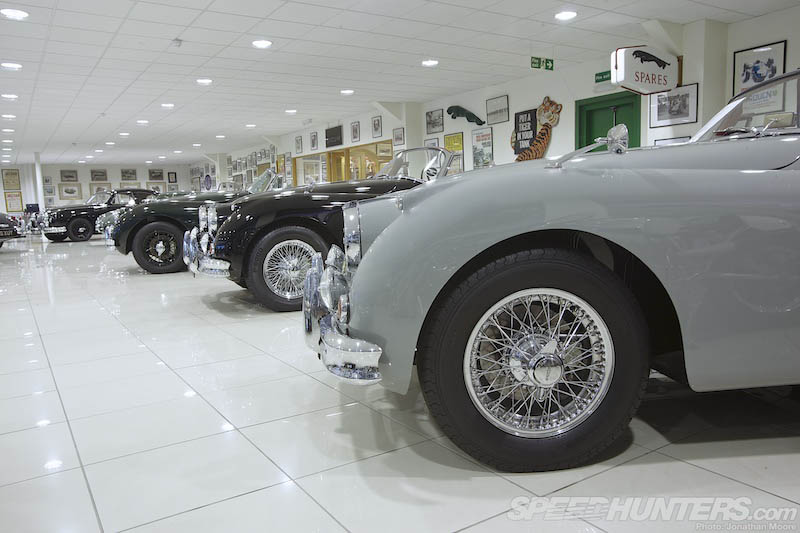 The glittering collection covered pretty much all post-war Jaguar sportscars and saloons, with the odd toe dipped into pre-war waters. There's no question that these are expensive cars to buy – that kind of thing is always given away when prices state Price On Application. But the whole point of JD Classics' work is to allow people to own an important classic car that matches or even exceeds the quality of the original, and there are cars available for the more modest budget.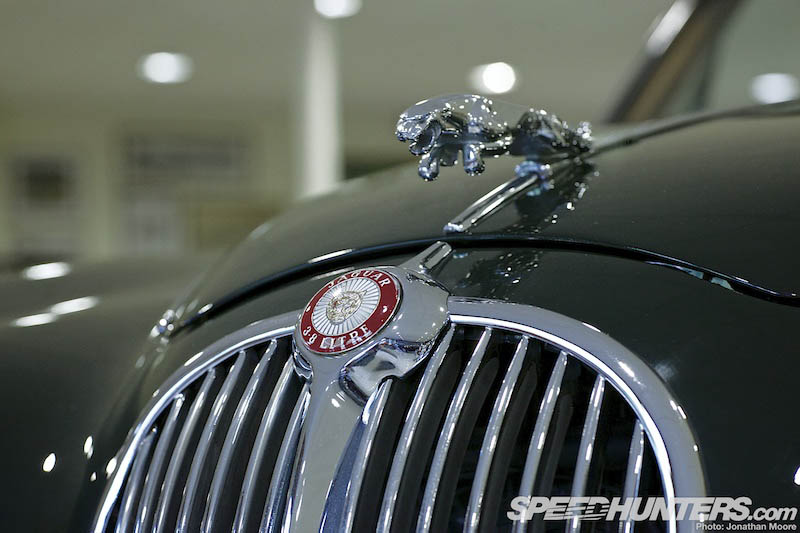 This may be the shop-front to the business, but it also highlights the passion of the company. This is all about quality, about tracking down the rarest of the rare and the most special Jaguars possible – and other marques, as I'd see whilst exploring further. There is immense pride on show: a glorious, simple celebration of beautiful cars. Yes, they're for sale, but you get the impression that they're enjoyed to the full whilst in JD Classics' possession. The most caring foster parent possible, looking for the right home for their surrogate children.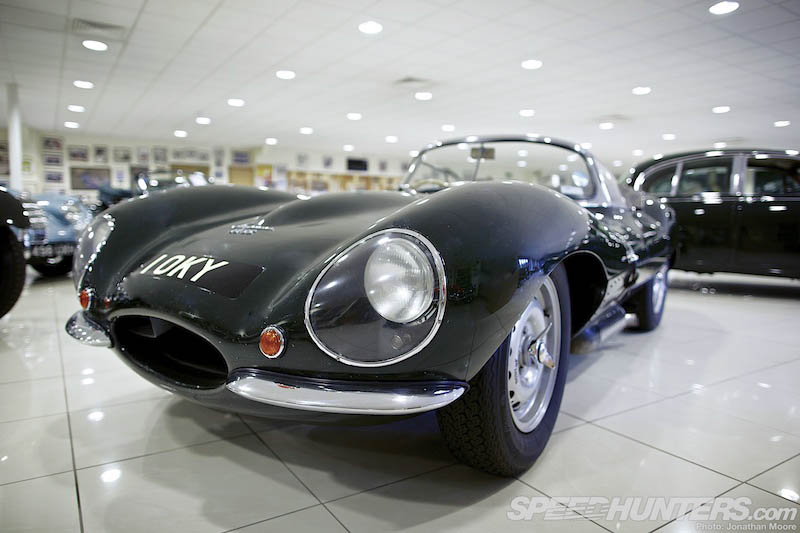 The XKSS bridges the gap between the D- and E-Type: based on the racing D-Type, the XKSS removed the rear fin and cockpit divider and added doors, a full-width windscreen and bumpers. In its shape you can see clear styling cues that would relate through to the E-Type four years later.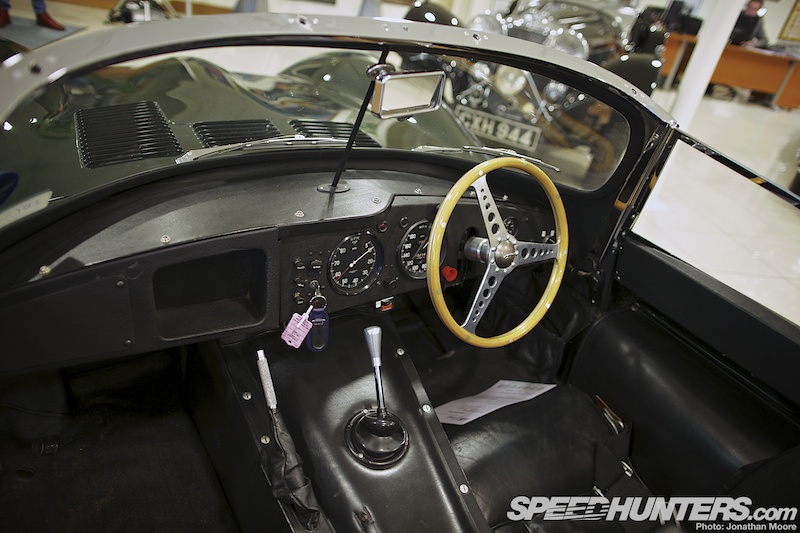 This is chassis 766: one of only 16 XKSS constructed in 1957 and with just 18,400 miles on the odometer. Its 3.4-litre XK6 engine has the correct triple Sandcast Weber DCO3 carbs and the synchromesh D-Type four-speed gearbox.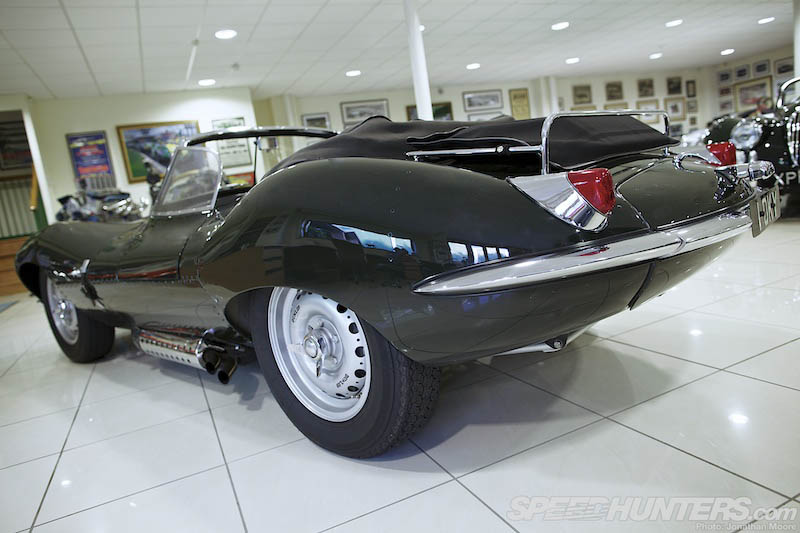 Chassis 766 is well-travelled: it was originally delivered new to Miami, but found its way to Cuba where it lived until rediscovered in 1986 and restored back in the UK. XKSS 766 was then sold to another American buyer in 1996, before once again recrossing the Atlantic after JD Classics purchased it, giving the car a full suspension and mechanical overhaul. It's now part of the Jaguar Heritage collection, which flew it back to Pebble Beach in the USA in 2010 to participate in the XKSS reunion event.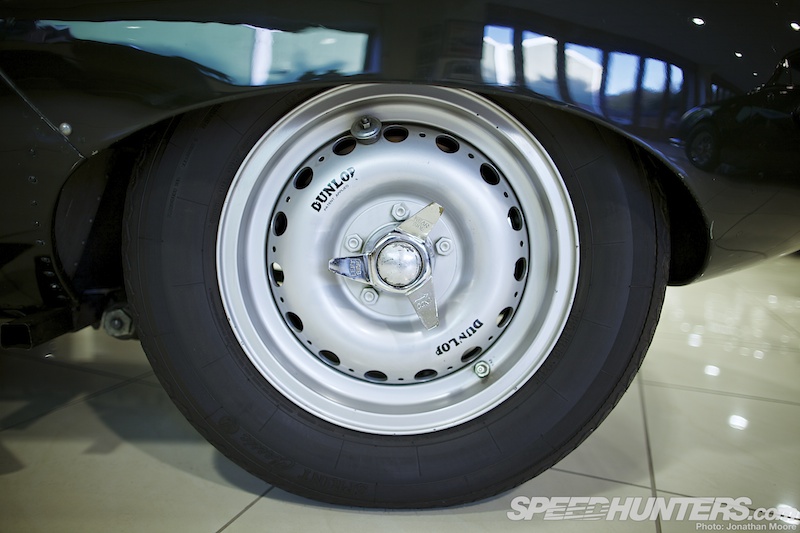 Road-going it may have been, but the XKSS wore its racing heritage on its aluminium sleeves and still sported the gorgeous one-piece 16″ knock-off Dunlop alloy wheels.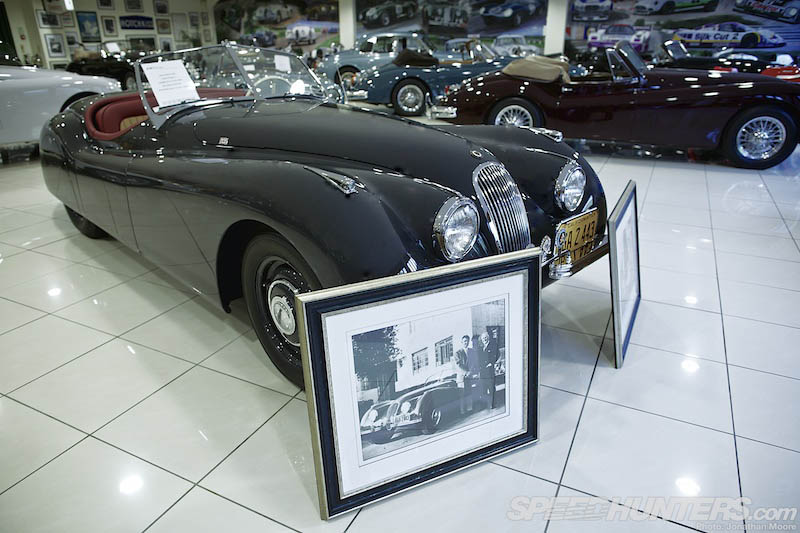 A second case in point: an XK120 roadster with a spectacular history. Not only is this the first XK120 to be completed in 1949 but its first owner was none other than the legendary actor Clark Gable, as the framed pictures in front the car attested to.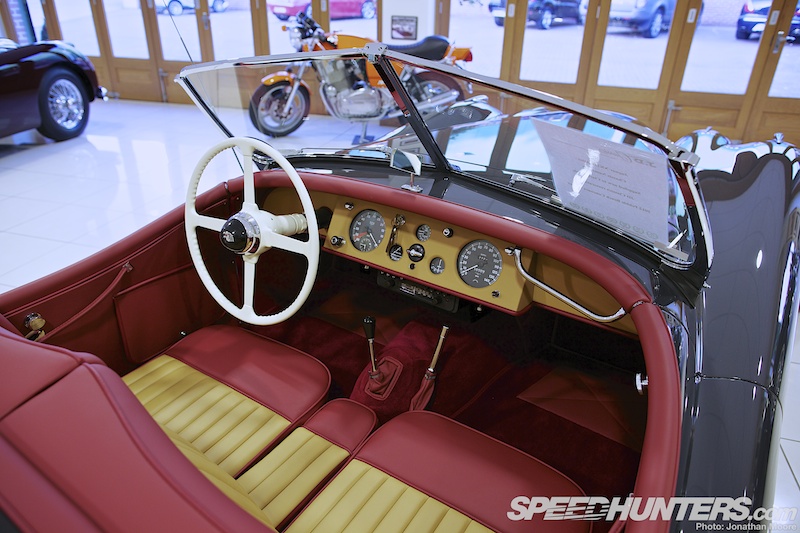 Chassis 3 was delivered to Gable in California: the first production Jaguar since 1940. The rhubarb-and-custard interior was absolutely stunning: immaculate post-restoraton and looking ready for a new moustachioed, slick-haired movie star to jump right in and take a ride down a coastal highway. Magnificent.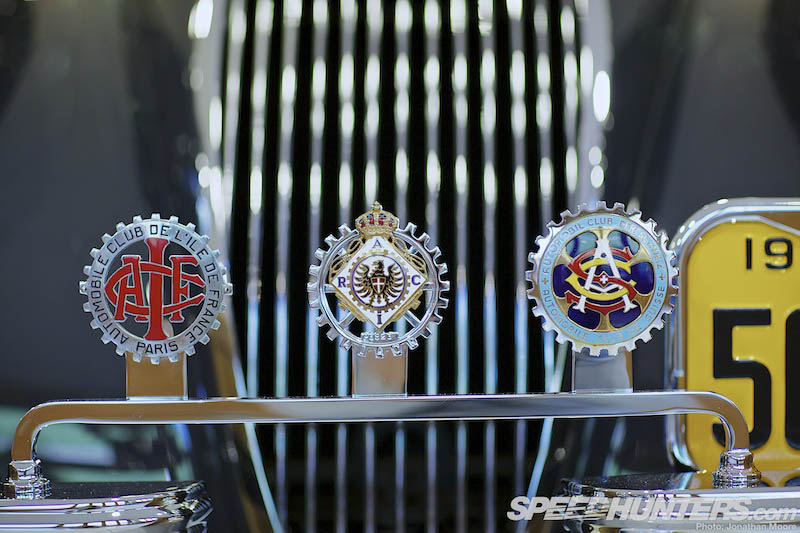 The nose of the XK120 had some amazing club badges still fitted: French, Italian and Swiss automobile club emblems from the period of Gable's owneship. So much more artistic than stickers!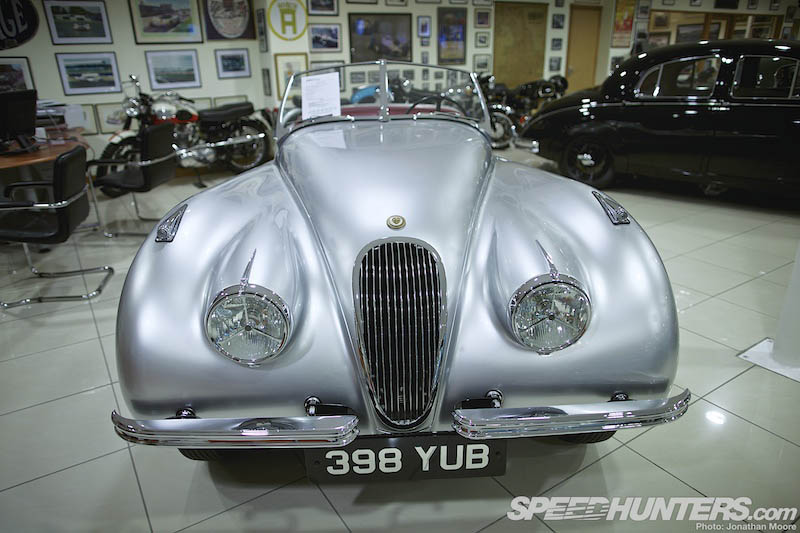 The first limited run of the XK120 were all aluminium alloy bodies on ash frames, before construction switched to pressed steel for the mass production run. This was another lefthand-drive alloy roadster, built in 1950 and painted post-restoration with a shimmering opalescent silver – though this was also the original factory colour specification.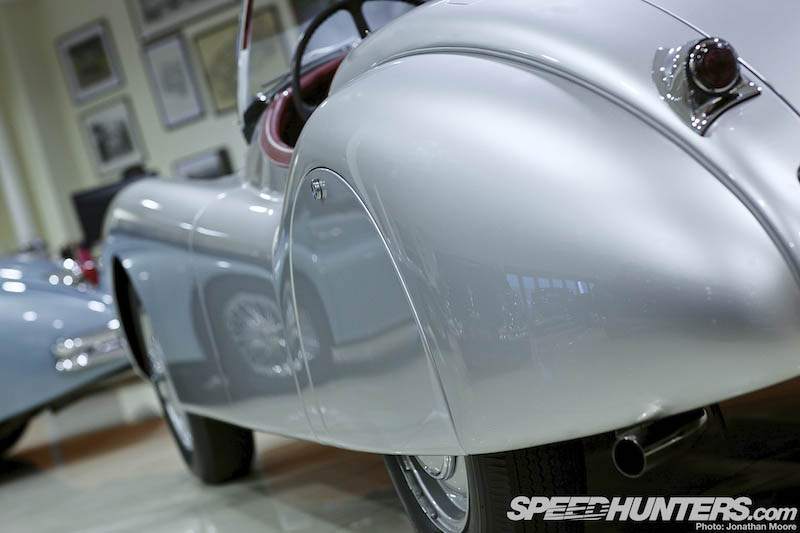 It has only 25 miles on the clock since the restoration, and the covered-in rear wheel wells even further accentuated the perfect cinched waist of the XK120. I'd cooed over a similar roadster at the Coys Auction area of the Autosport International show at the beginning of the year, and even in the company of these other sumptuous Jaguars at JD Classics it still stood out.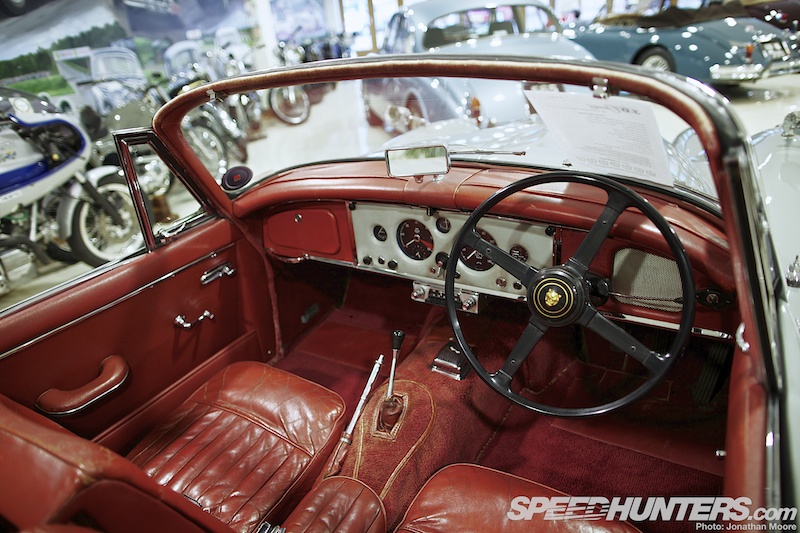 Plenty more XK120s,140s and 150s adorned the showroom – this was my favourite interior, with the patina on the leather seats and general lived-in feel of the red cockpit all very agreeable. It made me want a nice glass of port and a cigar. And a trilby.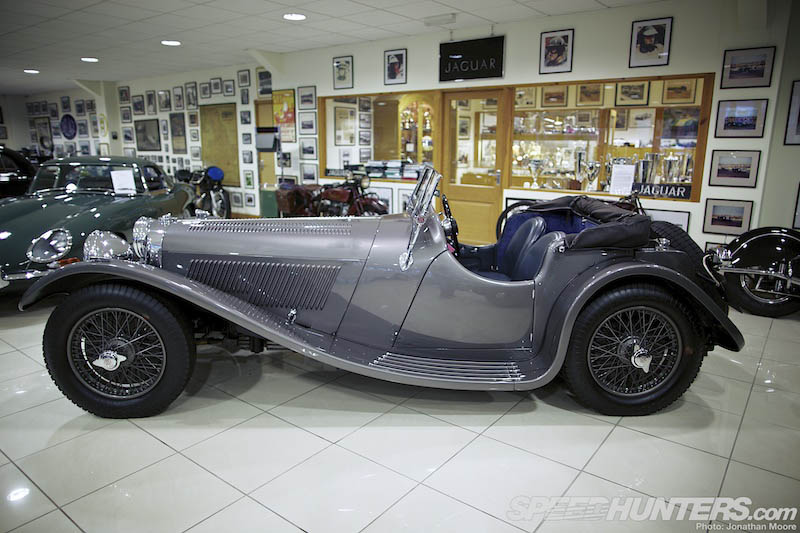 The XK120 was the first Jaguar production car since the swooping SS100: JD Classics had several examples of the late '30s roadster, with one in the workshop and this newly restored 3.5-litre version from 1938 in the main showroom.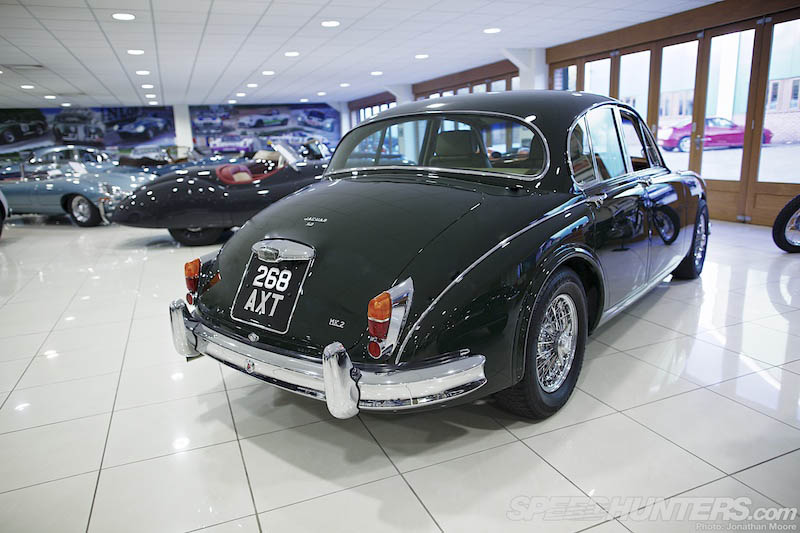 Jaguar's MkII saloon came to dominate people's idea of what a Jaguar was: from racers to police cars to elegant city cruisers, the MkII defined the refined side of Jaguar in the '50s.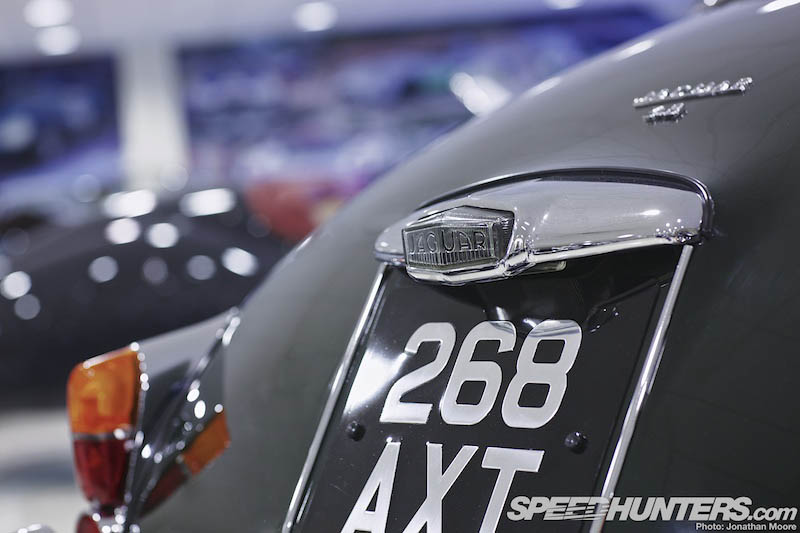 The MkII enjoyed a decade-long production run, with over 80,000 produced.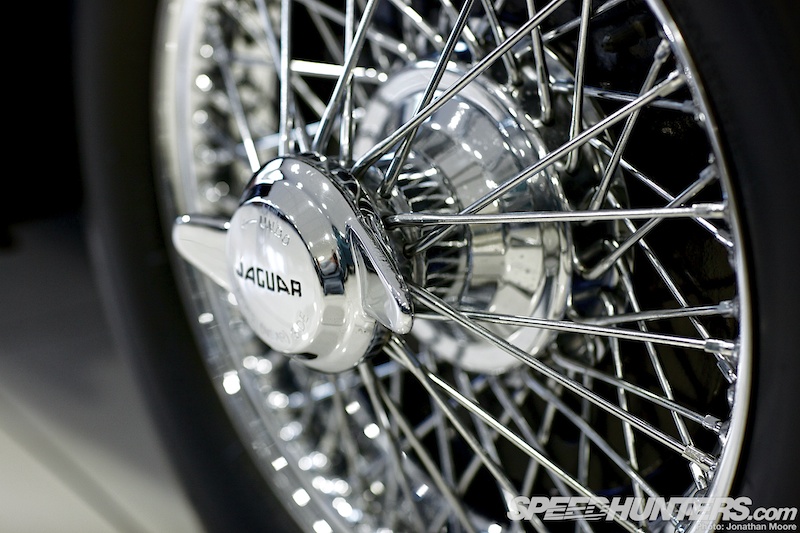 Although solid wheels seemed more modern, you can't beat a set of the complex wired knock-off rims for class.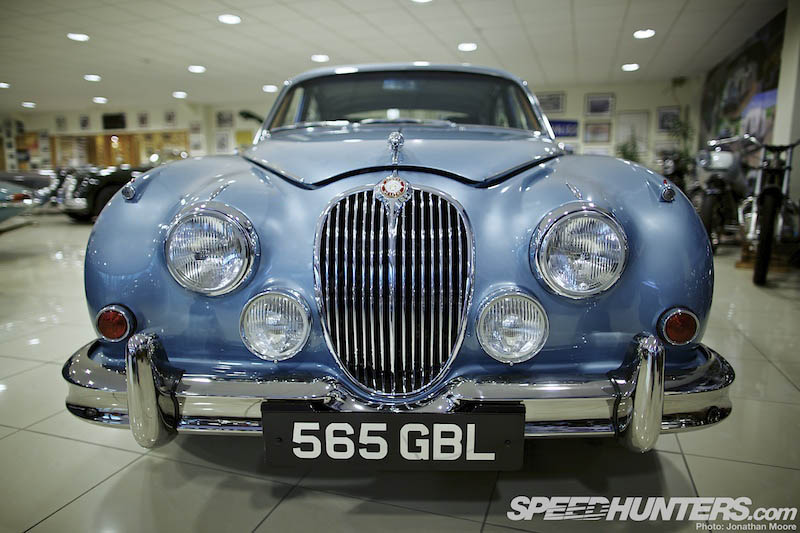 The venerable XK inline-six engine continued to deliver the goods for Jaguar, available for the MkII in 2.4, 3.4 and powerful 3.8-litre versions. These 3.8s were fast machines, with 220hp and a sub 9-second 0-60mph time. Not bad for a 50-year-old saloon weighing a ton and a half!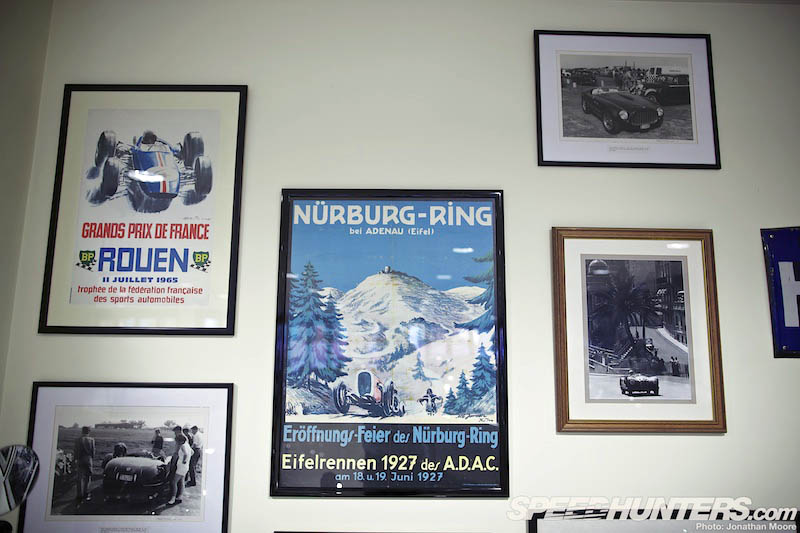 The walls in the Jaguar showroom showed off not just memorabilia of Jaguar's past glories but also motor racing's heritage in general, with a good concentration on the Nürburgring – the scene of many fine results for Jaguar over the years.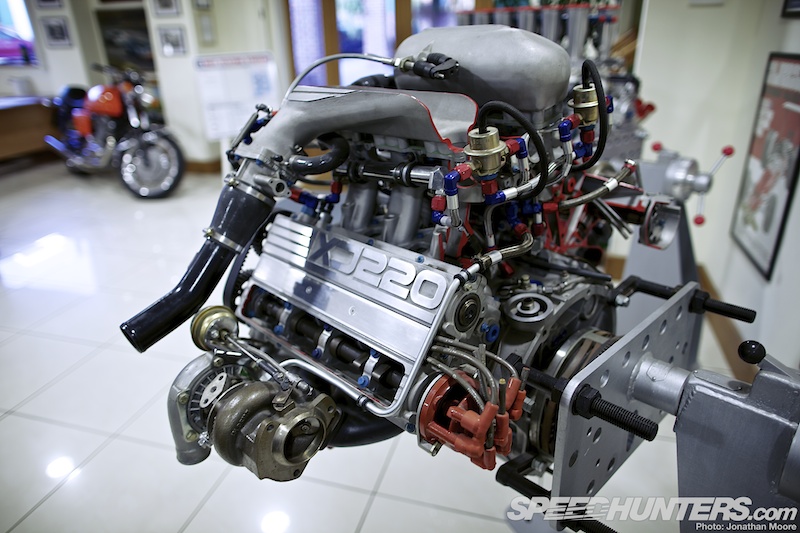 Two more modern Jaguar powerplants took pride of place by the entrance: the V6 twin-turbo from an XJ220…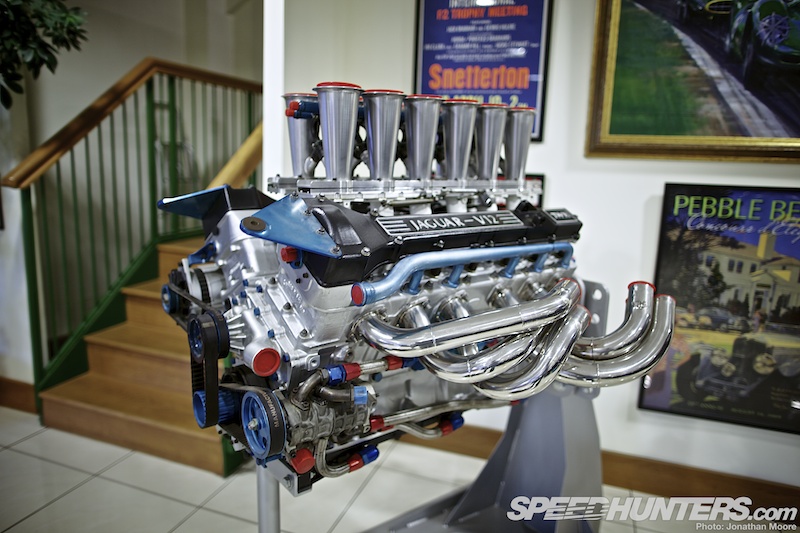 …and a V12 from TWR's 1980s Group C programme.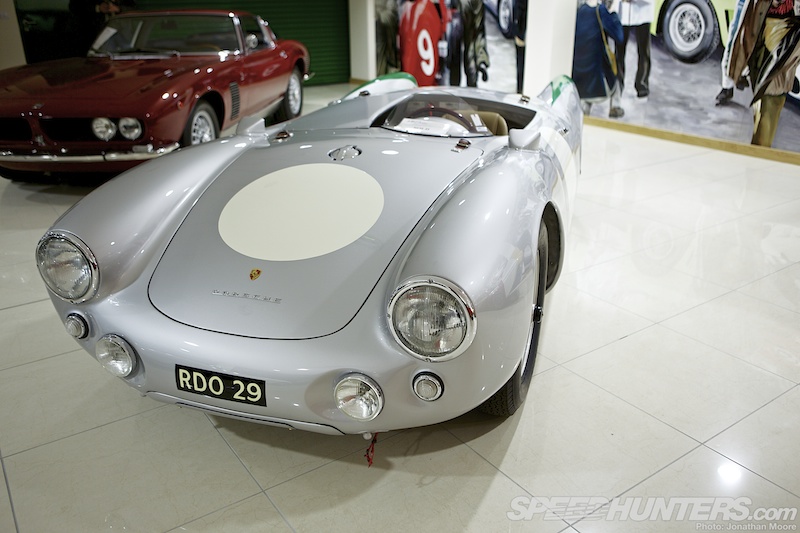 Onwards to the second showroom, which had a distinctly Germano-Italian flavour. Many of the cars in these subsequent showrooms were either owned by clients and looked after by JD Classics or often owned directly by the company, and run by them at events around the world. It's like a dream toy box, just containing real cars…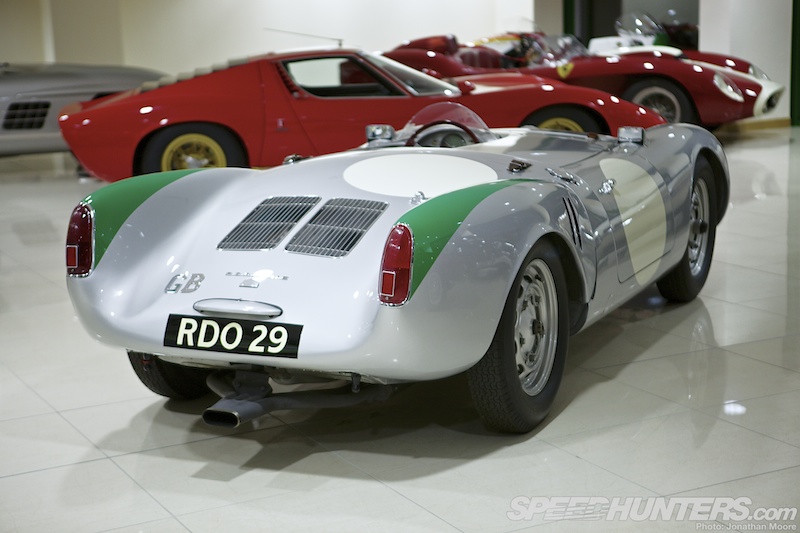 This 550 Roadster, originally part of of Porsche's factory Le Mans squad,  was campaigned on the 2012 Mille Miglia by the team…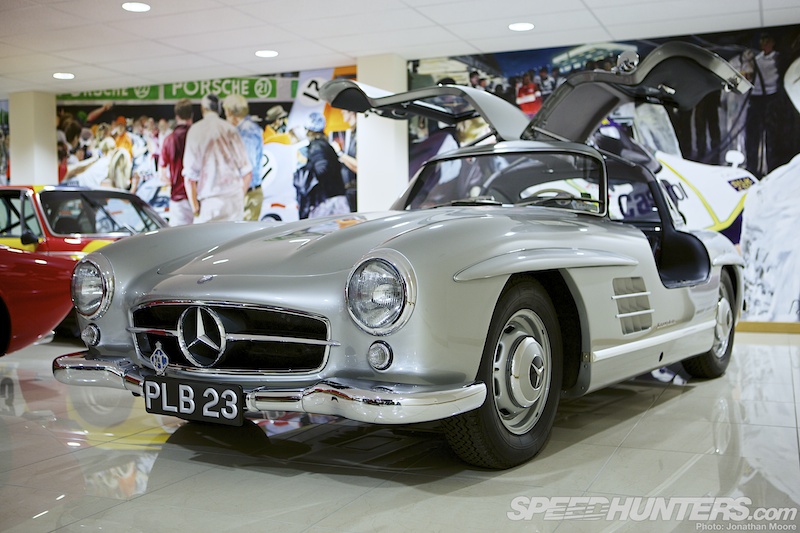 …alongside a Mercedes-Benz 300SL Gullwing. This particularly Gullwing is one of the earliest and most significant 300SLs in the world. It was shown at the 1954 Paris and 1955 London Olympia Motor Shows before being used by Stirling Moss and Denis Jenkinson as a practice car ahead of their famous run at the 1955 Mille Miglia.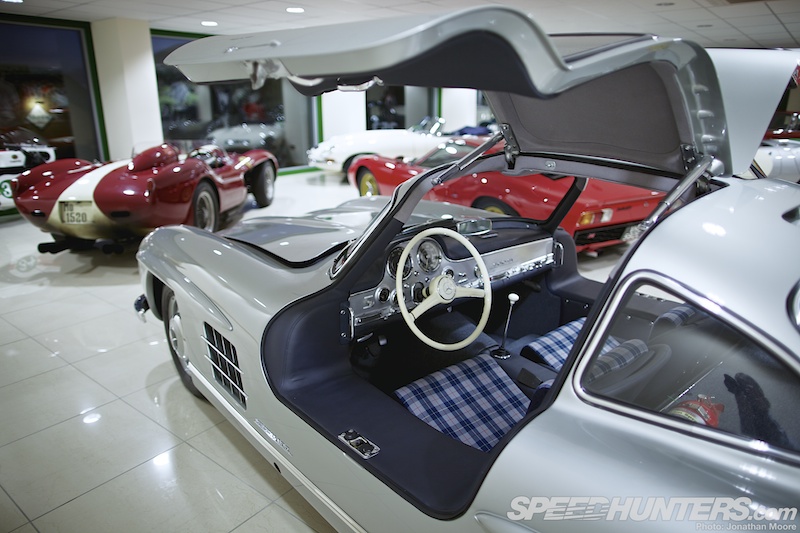 The blue leather interior and checked cloth upholstery are unusual and very attractive, and the car was recently signed and authenticated by Sir Stirling Moss himself during a visit to JD Classics.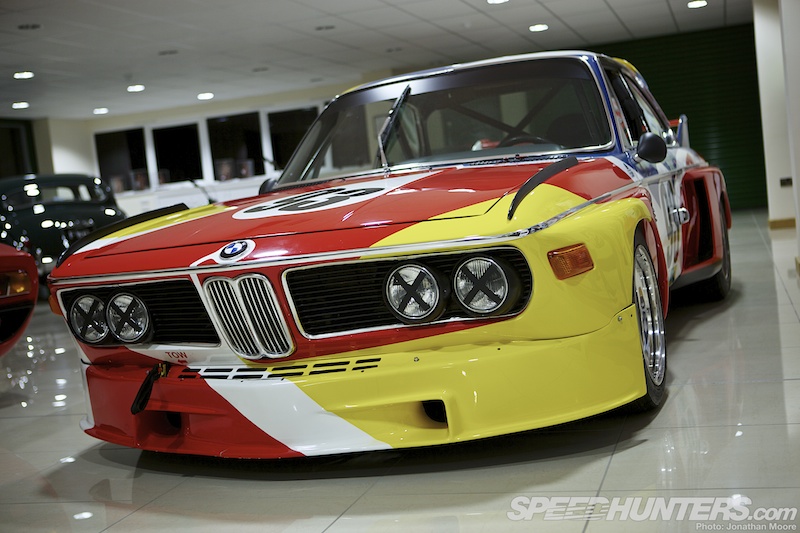 JD Classics also care for a recreation of the Group 2 BMW 3.0 CSL Art Car, originally painted by artist Alexander Calder in 1975.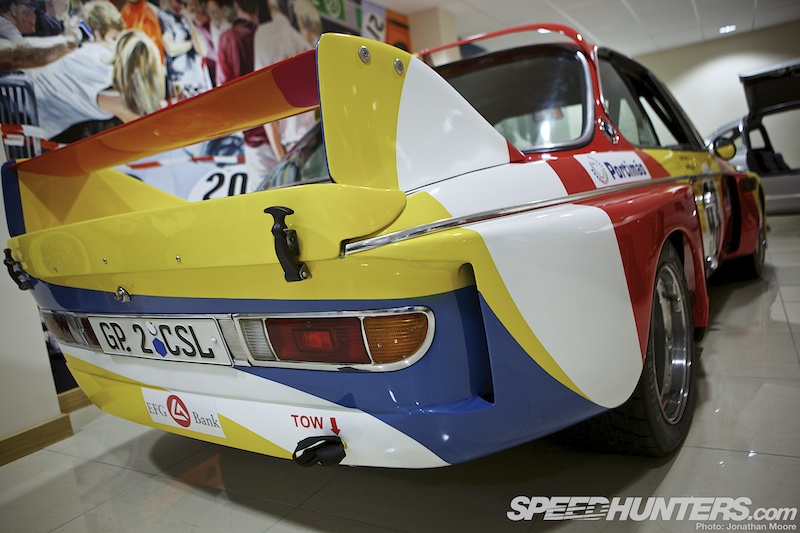 Group 2 cars were the SuperTourers of the time: bewinged behemoths then and now.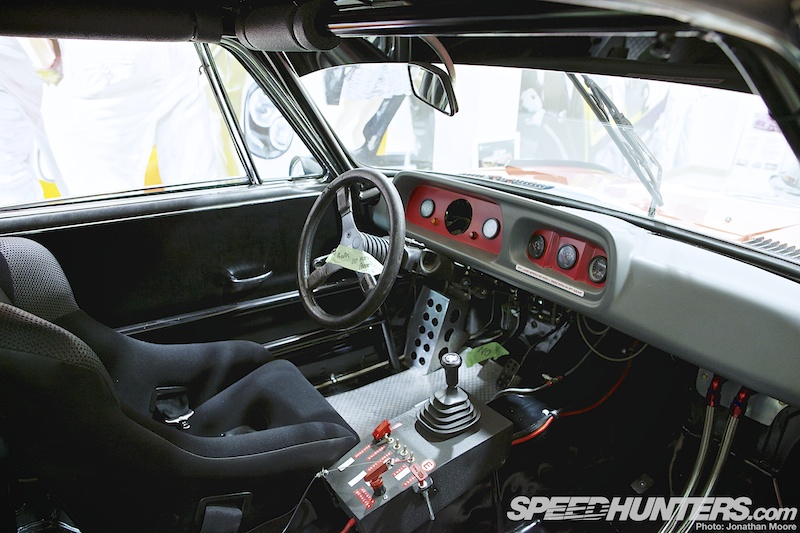 The original car raced at the Le Mans 24 Hours in 1975 – it qualified tenth but was knocked out of the race with a broken CV joint.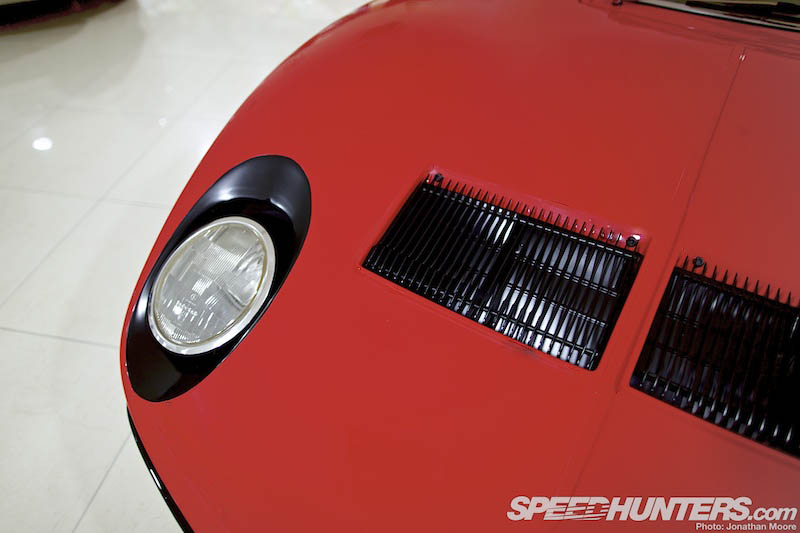 Turning to the red side, the wide eyes of a Lamborghini Miura are unmistakable.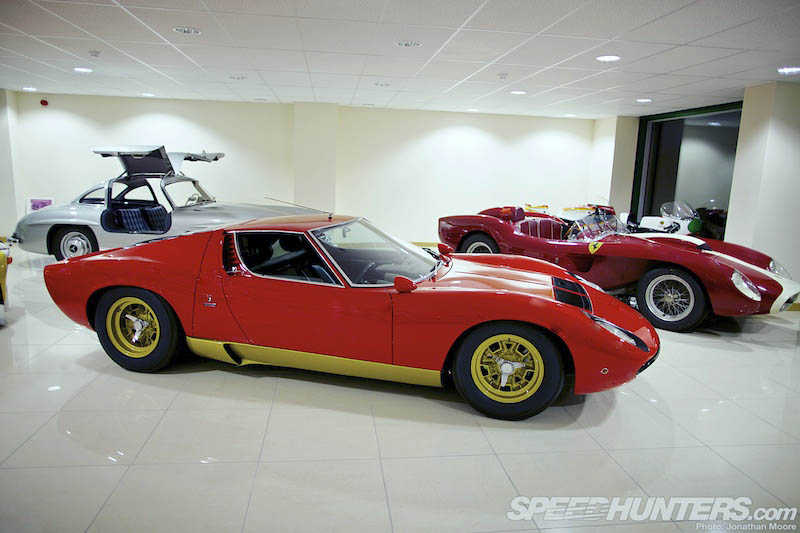 This 1972 Miura SV (Super Veloce) was one of seven right-hand drive cars built by Lamborghini, and the only one with factory-fitted air conditioning, limited-slip diff, electric windows and radio. It has been authenticated as being driven by legendary Lamborghini test driver Valentino Balboni, and had just had a full bodywork restoration programme completed at JD Classics.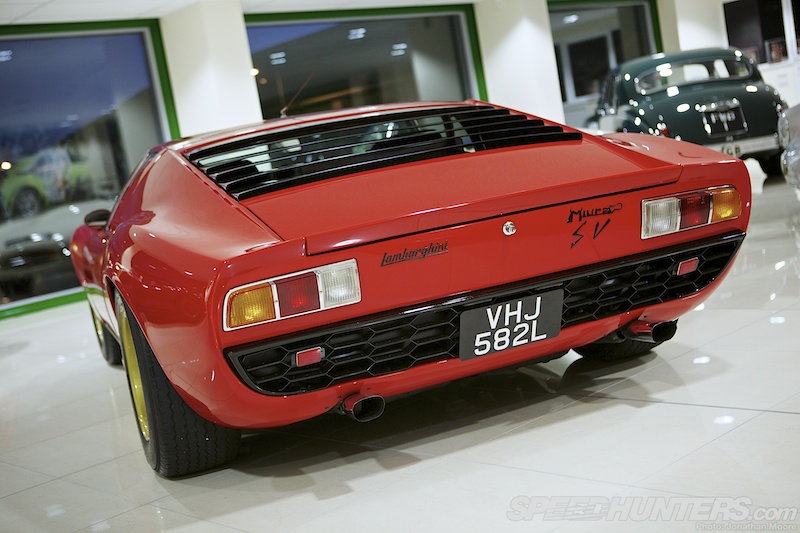 It's a supercar that is beautiful from every angle. Looking in the cockpit you quickly realise that the barely-shrouded V12 is just inches away from the driver's head. Who needs the radio?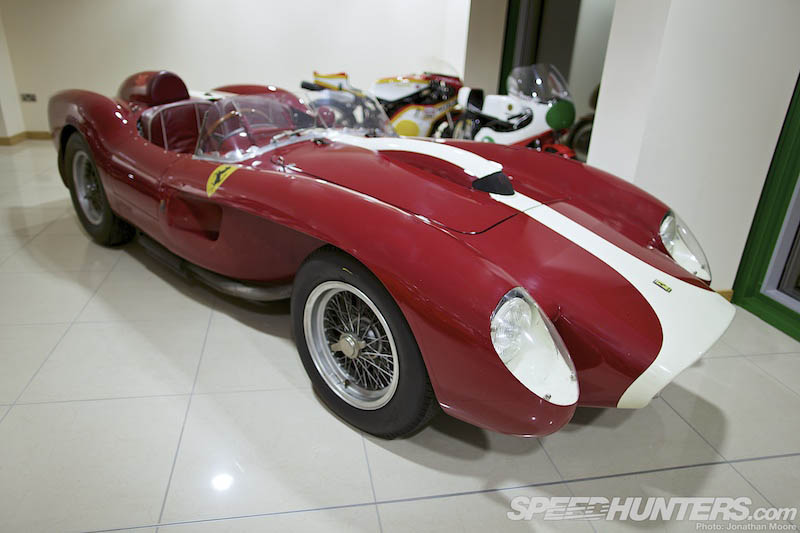 Next door, another redhead: a Ferrari 250 Testa Rossa.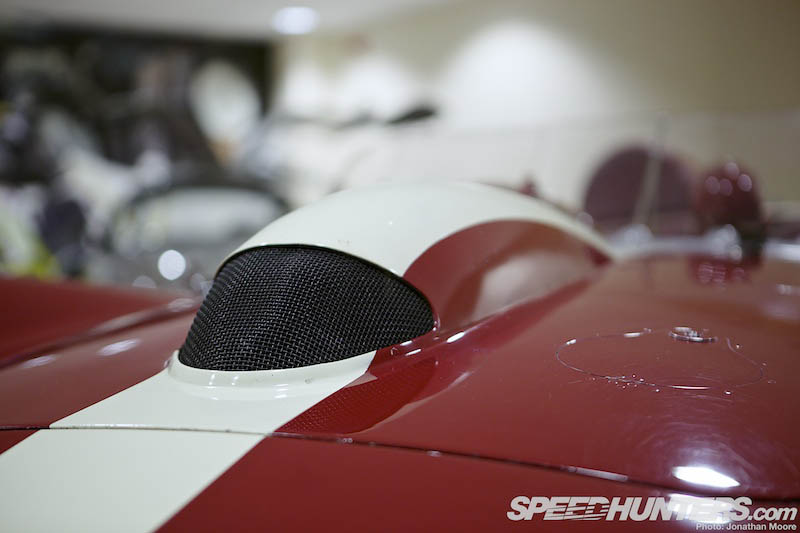 With its long, protruding nose (to help channel air to the drum brakes) and bulging bonnet hump for the 3-litre short-block V12, the Testa Rossa brought Formula 1 technology into sportscars.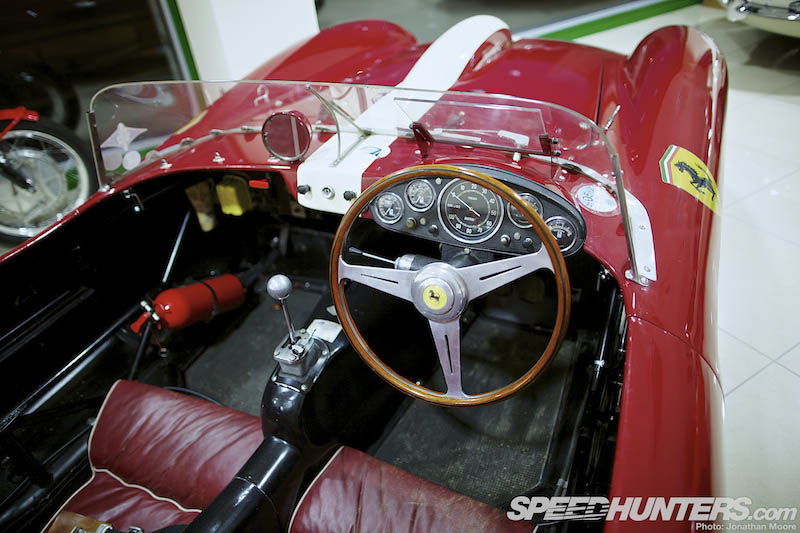 These cars sell for millions…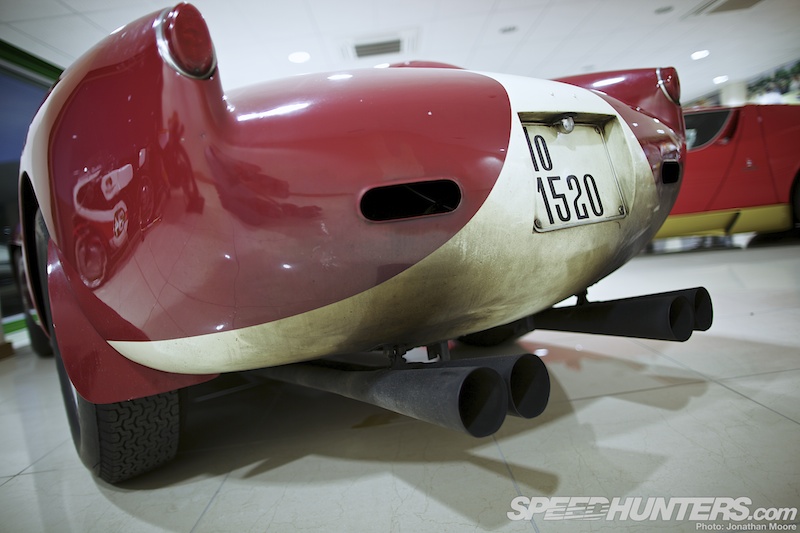 So what do JD Classics do with theirs? Keep it in bubble-wrap in a basement? No. They race it.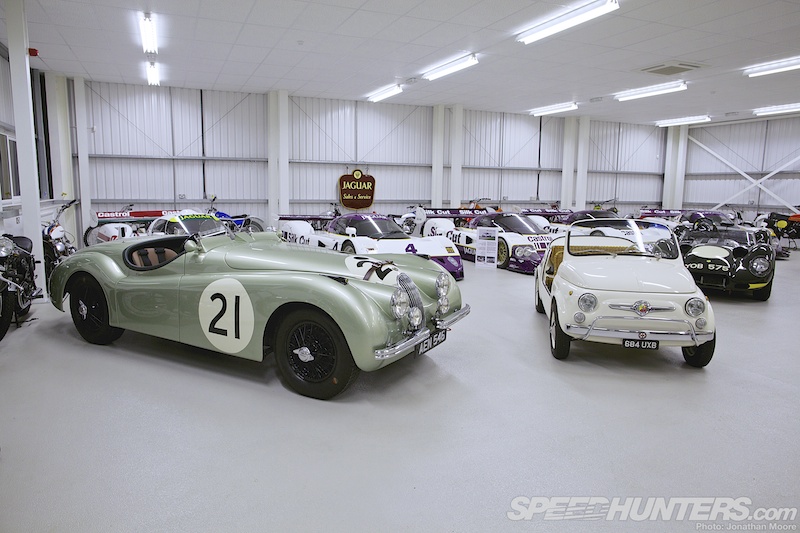 Next door, after passing a large area full of cars covered up under dust covers, there was all this metal shimmering in the crisp white light.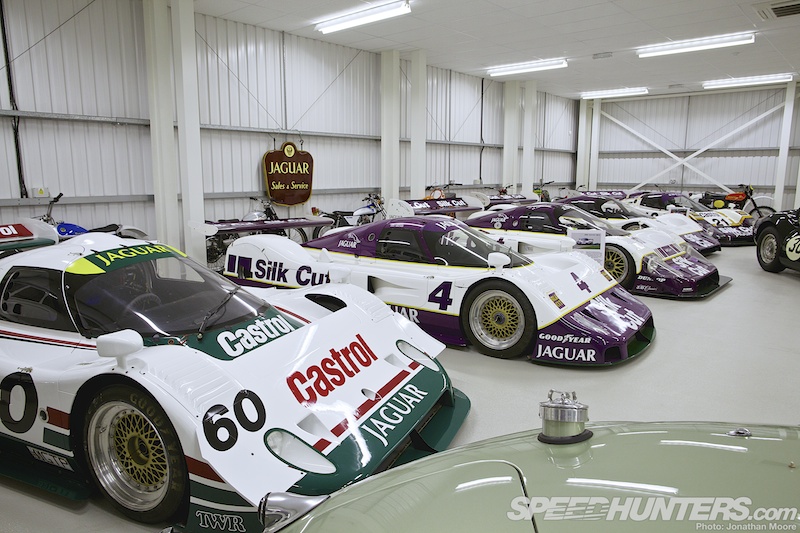 Yes. Including five iconic Group C Jaguars. In one place.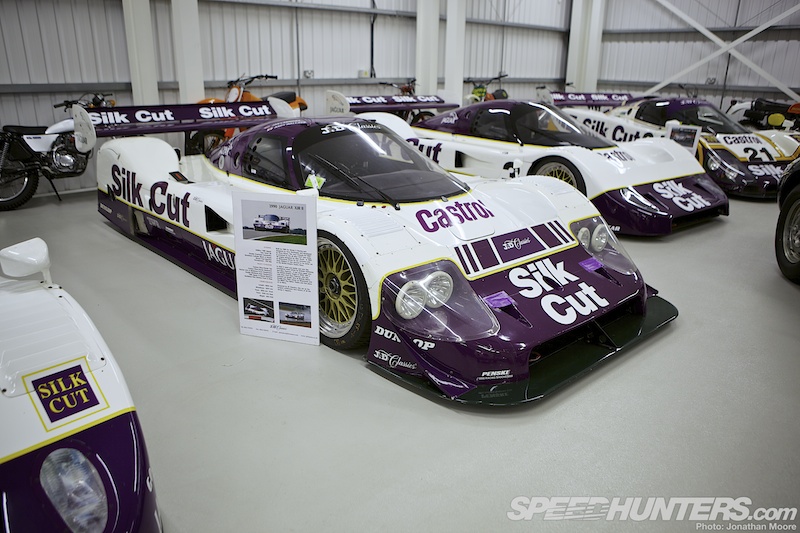 An unfeasible three XKR11s, an XRJ9LM and an IMSA XJR10.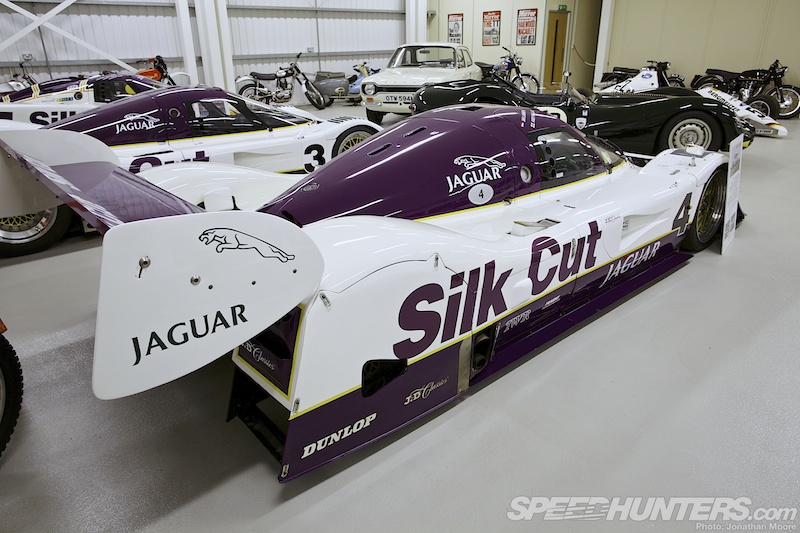 This means that JD Classics have the entire trio of Jaguar's TWR XJR11 World Sportscar Team line-up from 1989. And the team's spares package.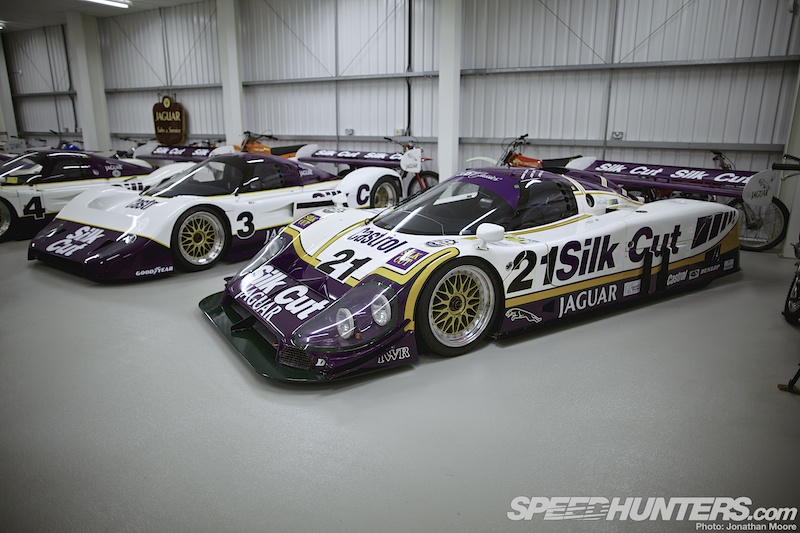 Five Silk Cut XJR9LMs competed at the Le Mans 24 Hours in 1988, coming home first, fourth and 16th, crossing the line in formation to the adulation of the crowd.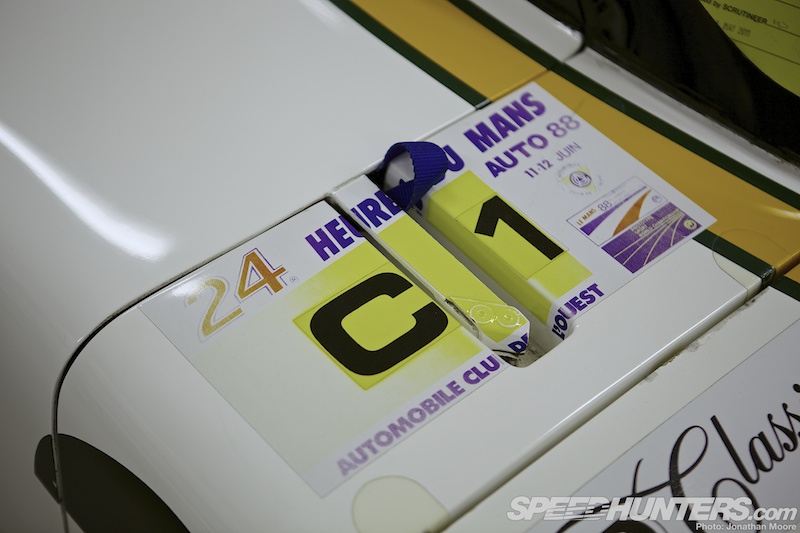 This XJR9LM still sported its original C1 sticker from that 1988 edition of the 24 Hours. It is chassis 188, #21 in the race, which finished 16th overall, 63 laps down on the winning Jag. After Le Mans it reverted to IMSA spec and competed in US.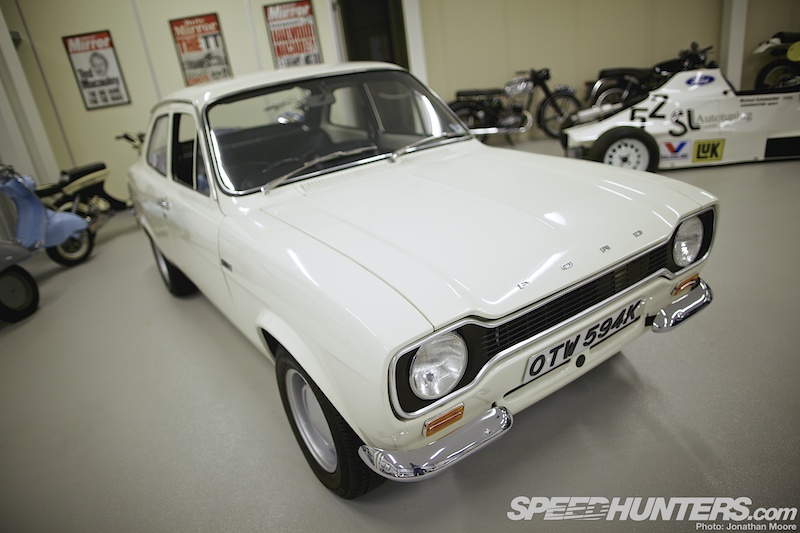 Fancy an immaculate BDA-powered Escort?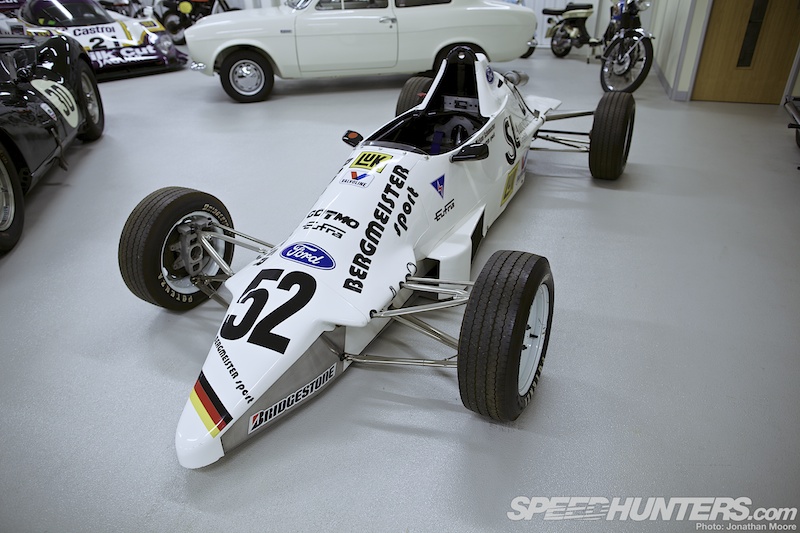 Or how about Michael Schumacher's first single-seater racing car, a Kent-powered Formula Ford from 1988.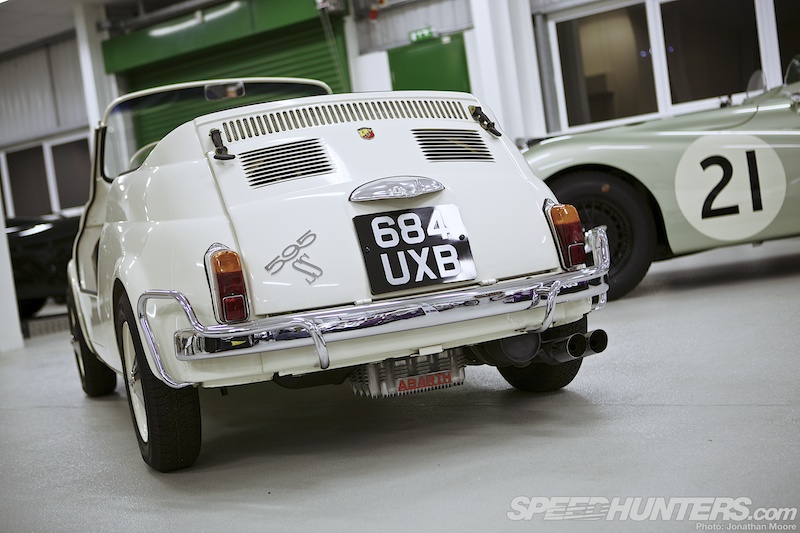 In fact, you could use the Escort to get to the track, race the FF and then when you get back to your yacht use this, an Abarth 595SS, complete with wickerwork seats so you don't damage the interior after going for a swim.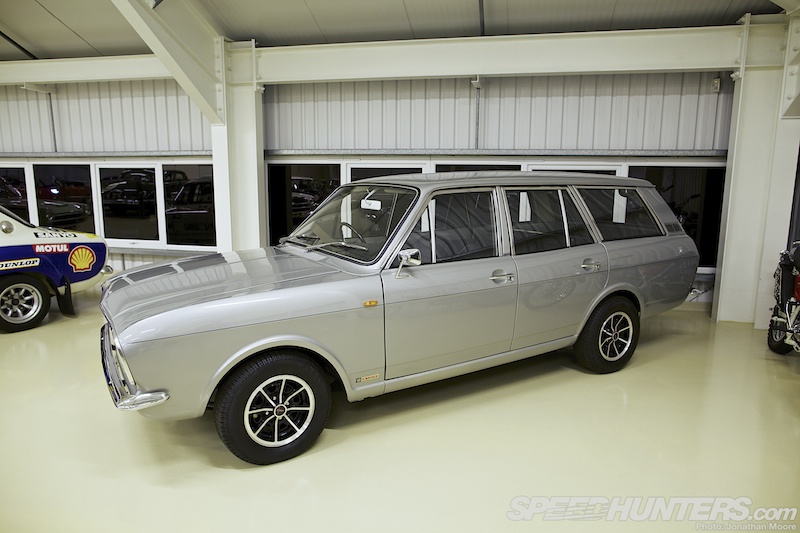 Then there was upstairs, which was even bigger. Classic Fords and Austins complemented yet more Jaguar racers. This Savage Cortina MkII estate packed a big V6 and sports suspension: the ultimate '70s sleeper station wagon. I'd spotted a saloon Savage at the Brooklands Autumn Motorsport Festival last month: it's a rare treat to see a pair of Savages in such a short space of time!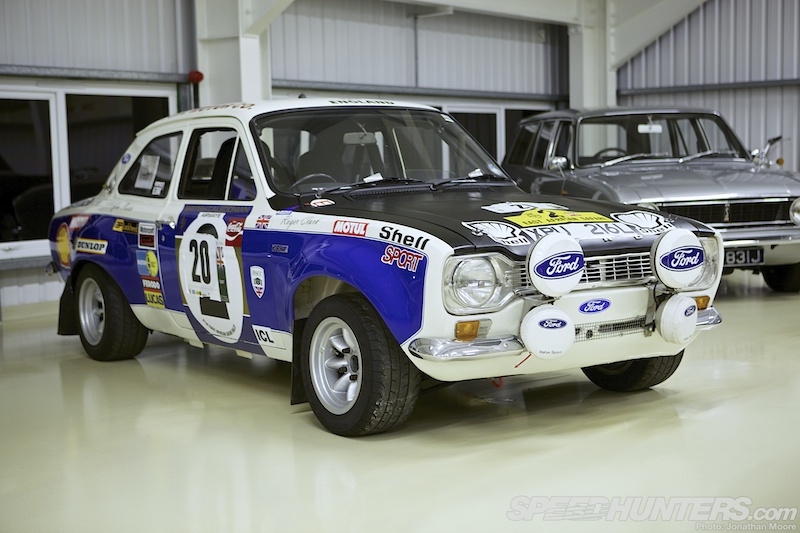 An RS1600 MkI Escort in full rally spec driven by Roger Clark in period.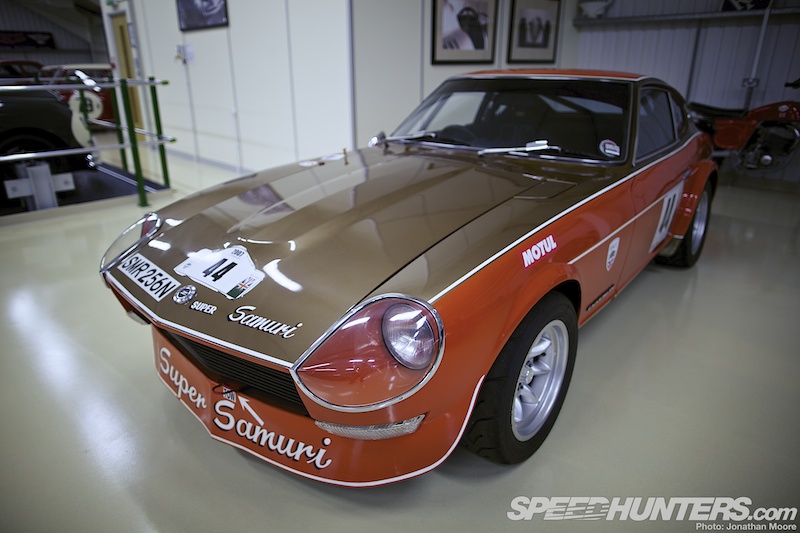 And yet another Samuri S30, to match the pair in the race workshop. So, three of these iconic S30s are in the care of JC Classics!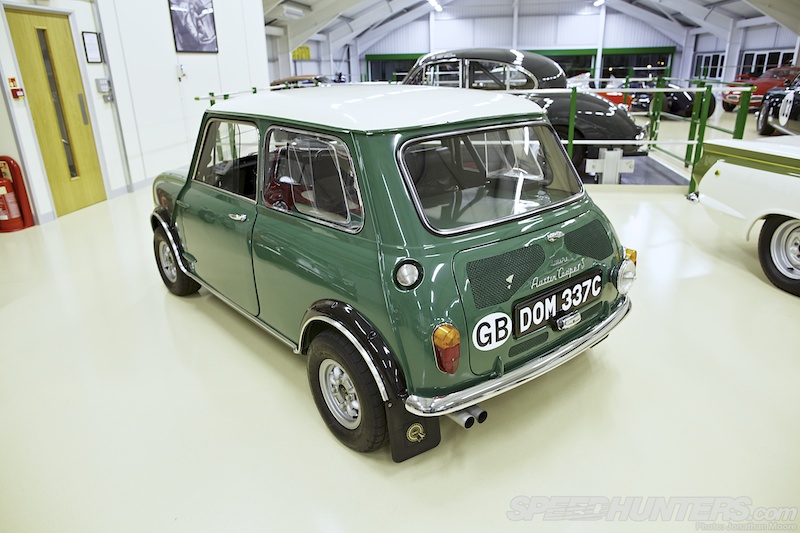 The rear vents and covered-in rear seats on this Mini made it clear that there was something out of the ordinary going on with it.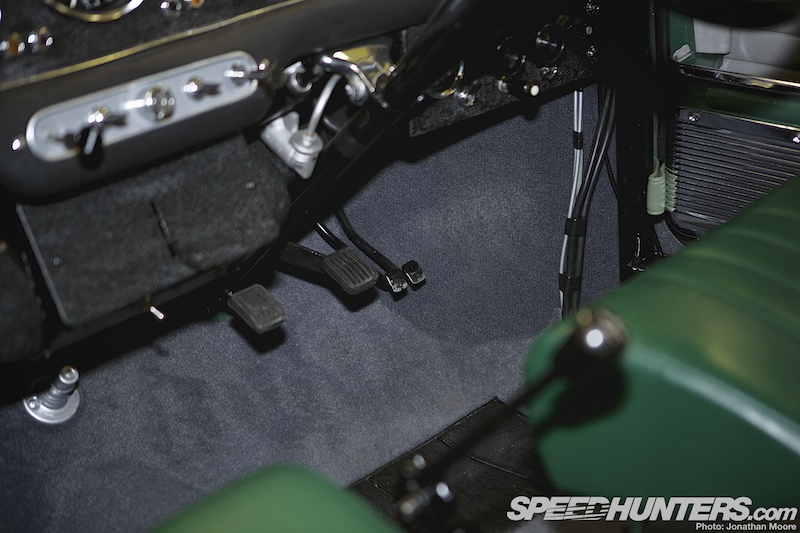 In the driver's footwell was another give-away: twin throttle pedals. This car is a lovingly-crafted recreation of the famous prototype Austin Cooper S Twini Mini from 1965. With 178bhp, four-wheel drive and two motors it looked like it could be even more of a giant-killer, but overheating rear engines stymied the original car's performance.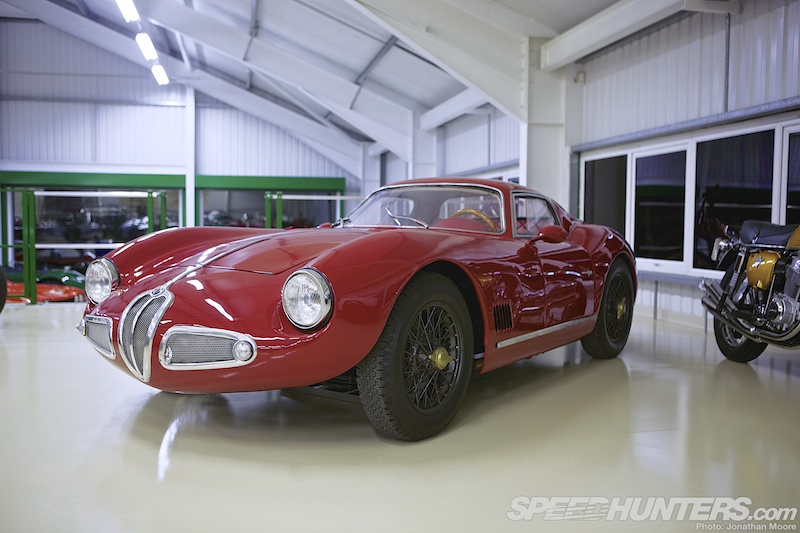 I'm embarrassed to say that I didn't recognise this Alfa. Call myself an Alfista? Not a 1900 Zagato, it's the 1957 ATL Mille Miglia car: a unique one-off styling project by Italian coachbuilders ATL. I love the muscular rear haunches: it gives the car a completely different and more GT racer look.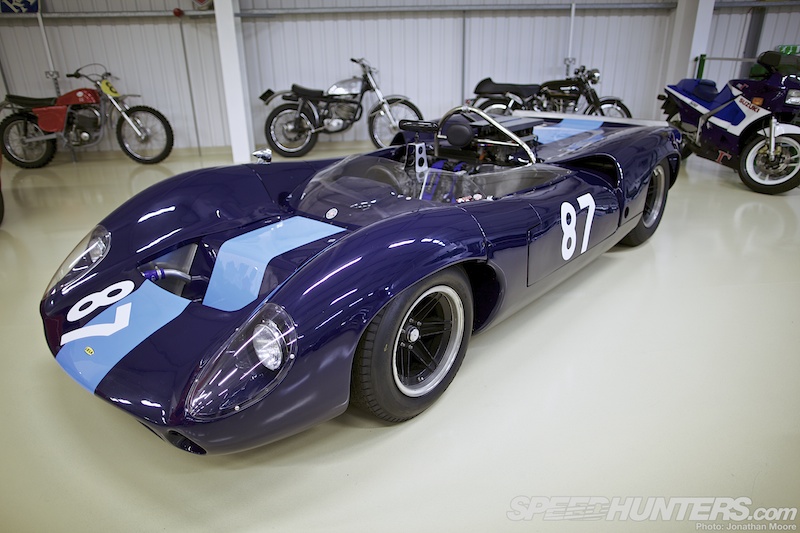 The range of cars on display continued to be breath-taking the further I delved into the collection: Lola's big-banger T70 Spyder was a stalwart of the CanAm and sportscar racing scenes of the '60s. The Spyders predate the muscular coupés: this is a MkI from 1965.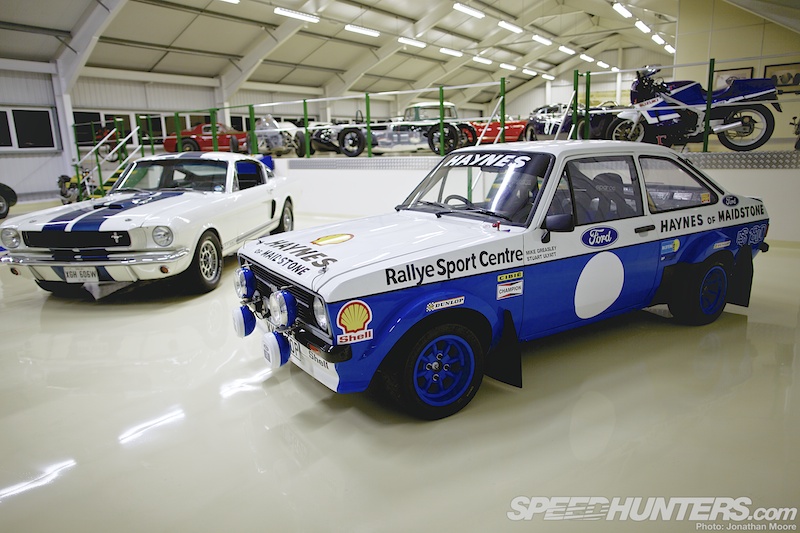 Down on the mezzanine below, the famous Maidstone Competition RS1800 from 1977 – thought to be the only RS1800 with its original factory competition body shell. Next door, a Shelby Ford Mustang GT350, restored to original condition in 2005 and now 'nicely mellowed'.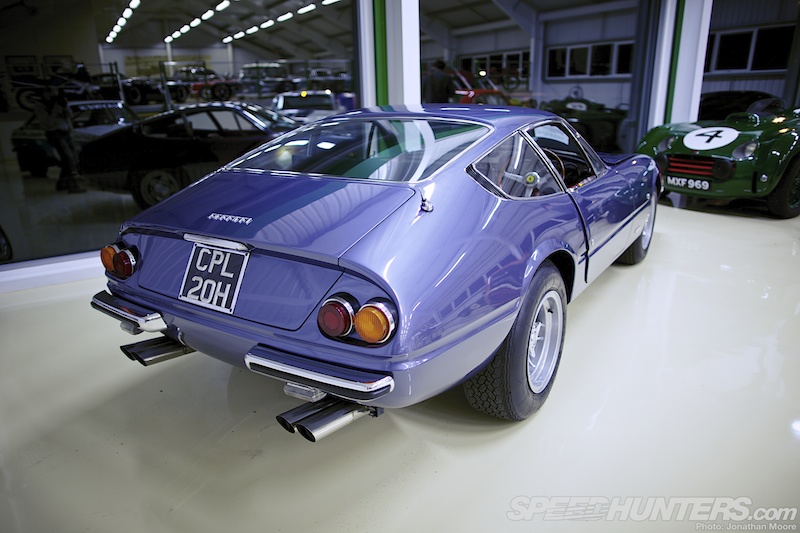 The 365 GTB/4 Daytona: Ferrari's beautiful grand tourer from the '70s. This 4.4-litre V12 was originally sold in 1970 by Britain's Ferrari specialist of the time, Colonel Ronnie Hoare of Maranello Concessionaires. Those lines! That quad exhaust!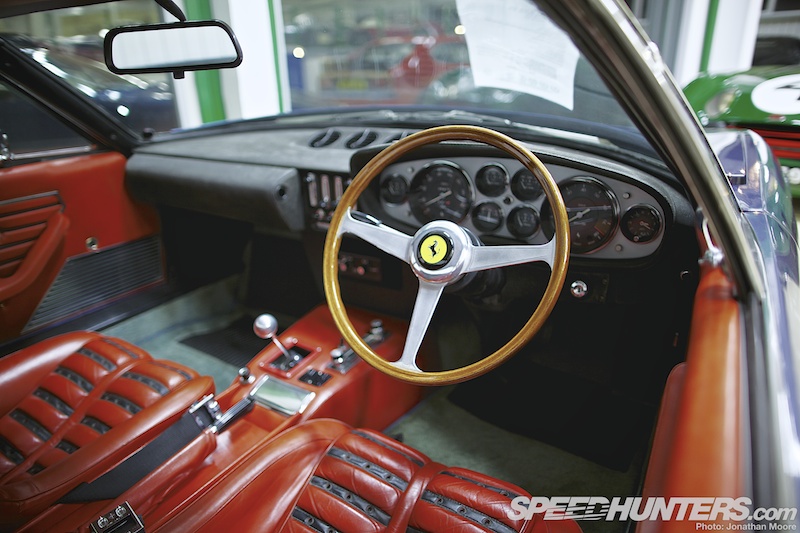 It's one of only 158 righthand-drive Daytona coupés built, and considered one of the best condition survivors. The interior is stunning, with the ribbed leather seats and black inserts, big wooden-rimmed wheel and the short-throw 'box.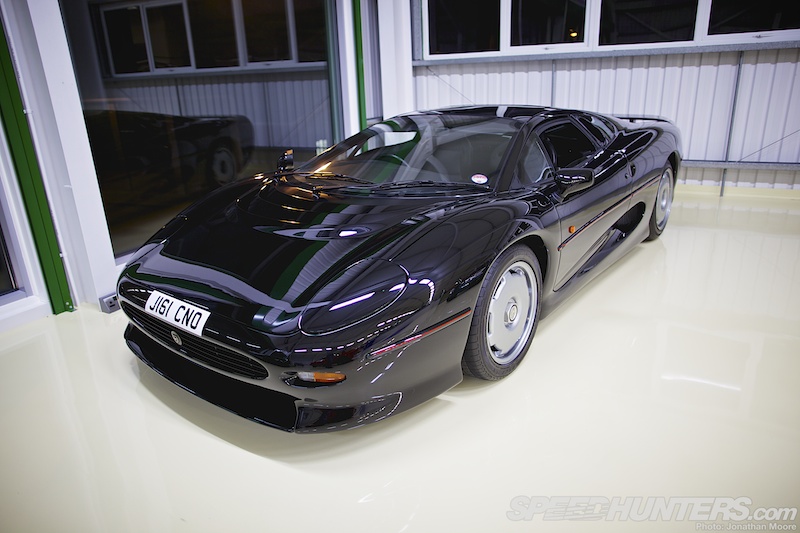 As if XJ220s weren't special enough, this one ticked an additional box, being a Royal Family special order.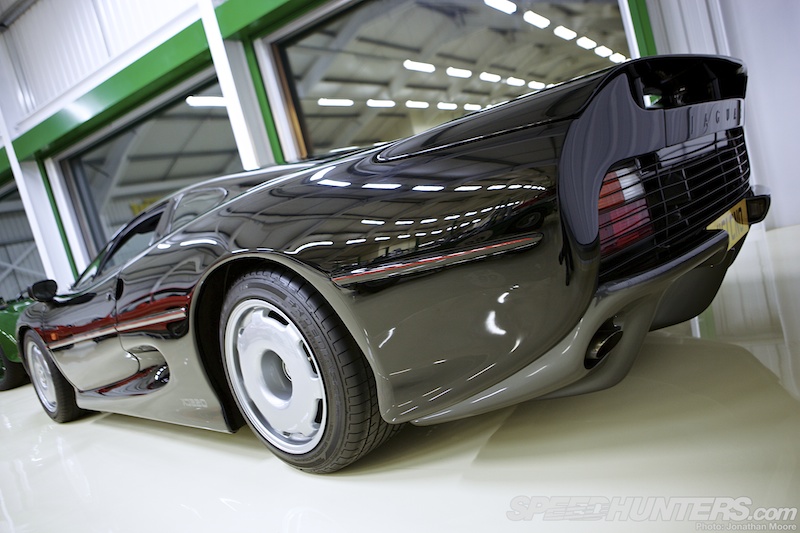 It was one of a pair, finished in solid black with black interiors, shipped to the Middle East in 1993. Not the ideal colour for the environment, one would think…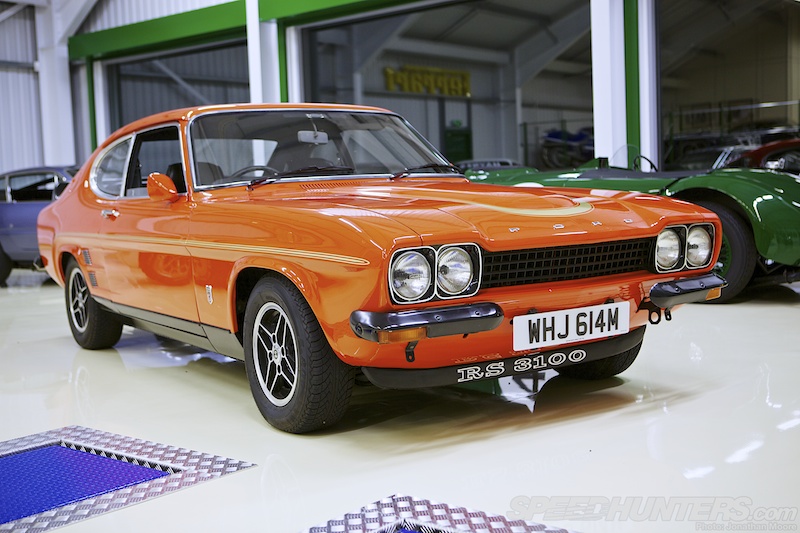 This is what the Broadspeed Capri we saw in the Historic Racing Workshop was based on: an RS3100. This car is from 1973, painted in Sebring Red (which is actually rather orange!) with a black interior, and was given a full restoration that took four years to complete.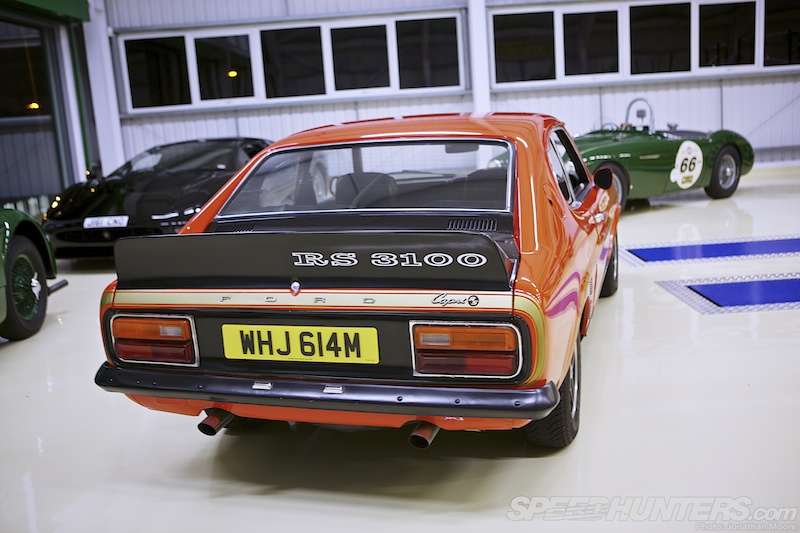 One of 250 produced, this RS3100 has a Group C Touring Car-specification 3.1-litre engine under the bonnet, and was originally supplied new to Australia.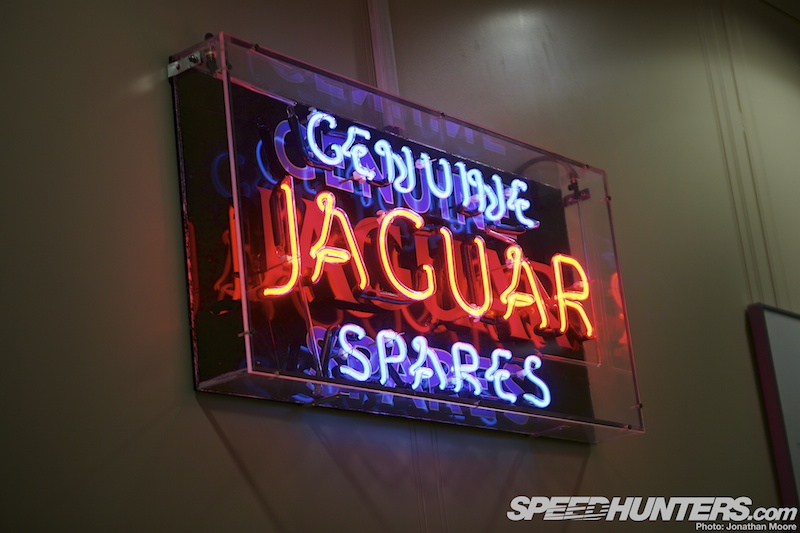 There was still more to come across the way.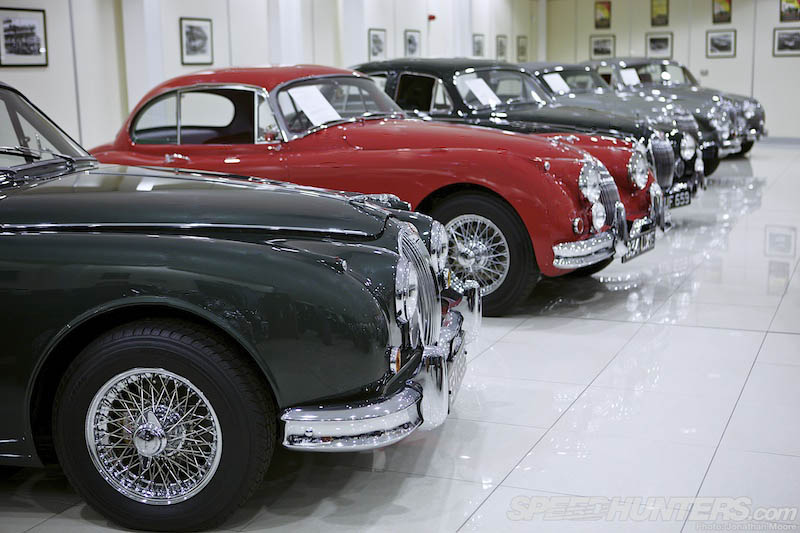 Downstairs, lines of pristine MkIIs and E-types, and then upstairs…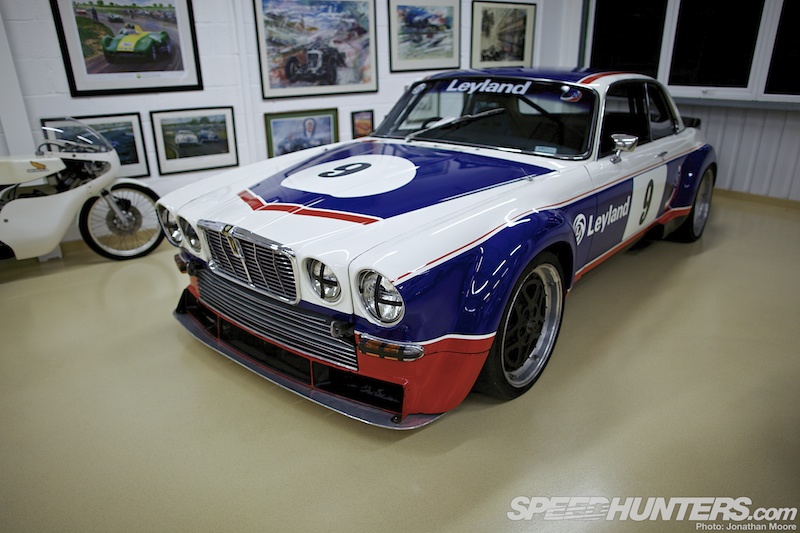 …more racing metal that included this big Broadspeed XJ12 saloon. This was the last of four factory race-cars, and the most successful. Its stonking 5.4-litre engine was dry sumped, and the car is still in original condition after last being raced in 1977.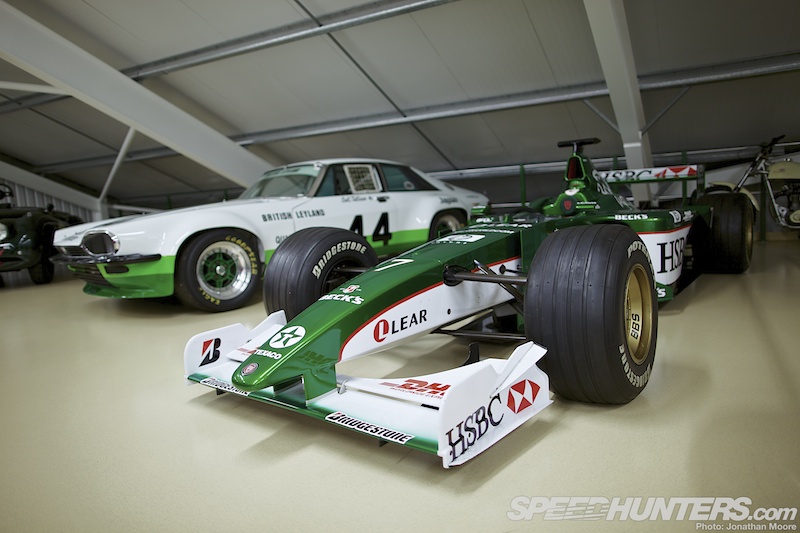 Two more sides of Jaguar's racing history here: one a lot more successful than the other… A single-seater from Jaguar's struggle in Formula 1…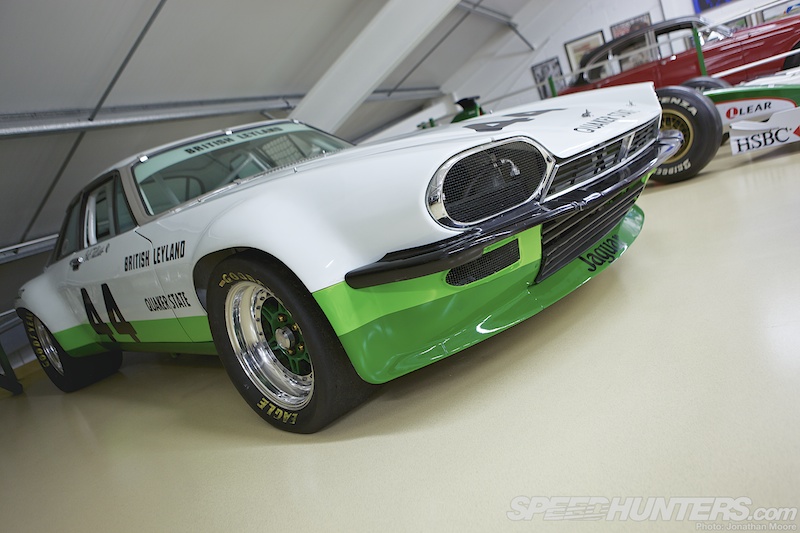 …and one of the cars from a privateer team who helped kickstart the Jaguar factory's successful return to racing in the '80s: a Quaker State XJS from Bob Tullius' Group 44 team. It runs a classic Jag V12, but the half dozen twin-barrel Webers make it sound like a fantastic cross between a fighter plane and a nuclear bomb.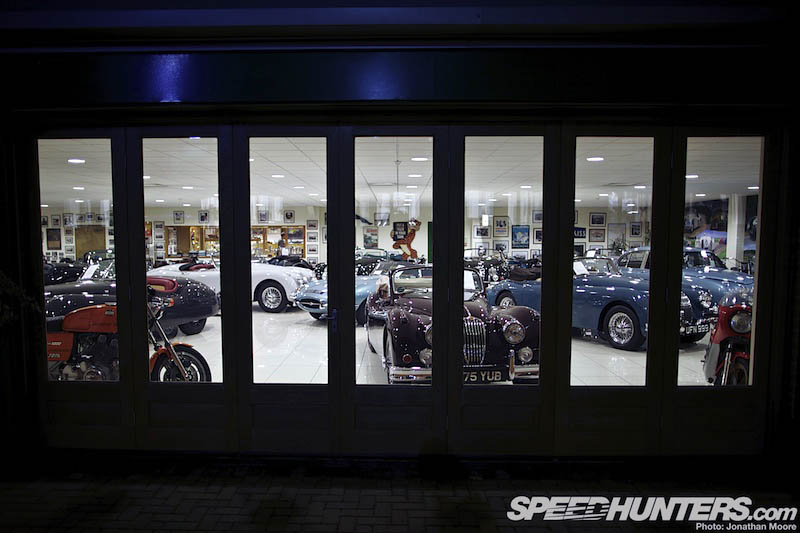 So, JD Classics. An amazing, overwhelming place. And the best thing? It might not be open to the public in general, but JD Classics hold regular ticket-only open days that allow you to soak up their incredible, ever-changing collection. Check their website regularly – and add it to your bucket list. But even without a visit to their HQ, remember that so many of these cars can be seen out in their proper environment: on the track. It doesn't get better than that.
Jonathan Moore
---
---
---