The Mazda Miata is a car that's many things to many people. For some it's a daily driver – an open aired way to enjoy the daily commute. Others keep their Miatas locked in the garage awaiting the weekend and a scenic backroad journey. Some people don't even drive their cars on the street, using them instead strictly for track days and other competition events. More recently, the Miata has grown a following among the style crowd who favor slammed ride heights and aggressive wheel fitment.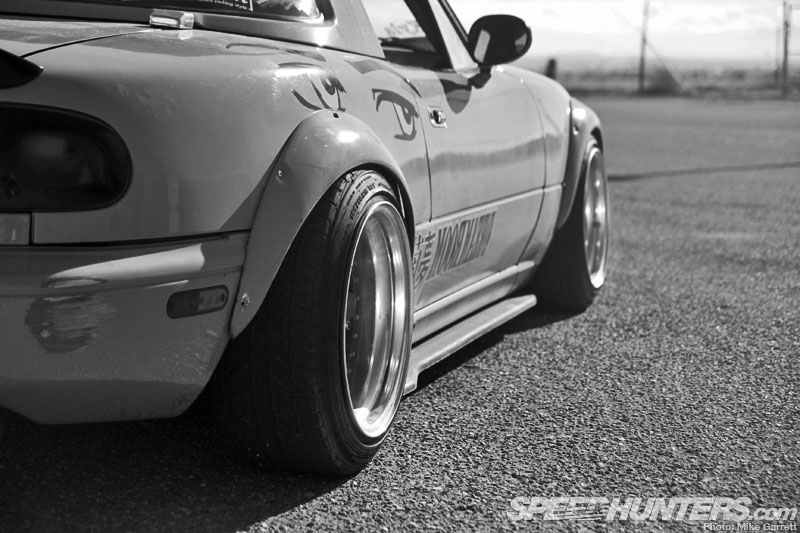 In a way, the car we are looking at here uses elements from all of those categories and combines them with a rather unique powerplant to make for one of the coolest and most interesting Miatas I've seen in a while. In fact, if you've been following our #FeatureThis readers ride posts, this Jordan Hall's NA6CE Miata might look familiar. I was quite intrigued by the car that Jordan shared, but I assumed I wouldn't have the chance to see it in person anytime soon as Jordan is based out of distant Saskatchewan, Canada.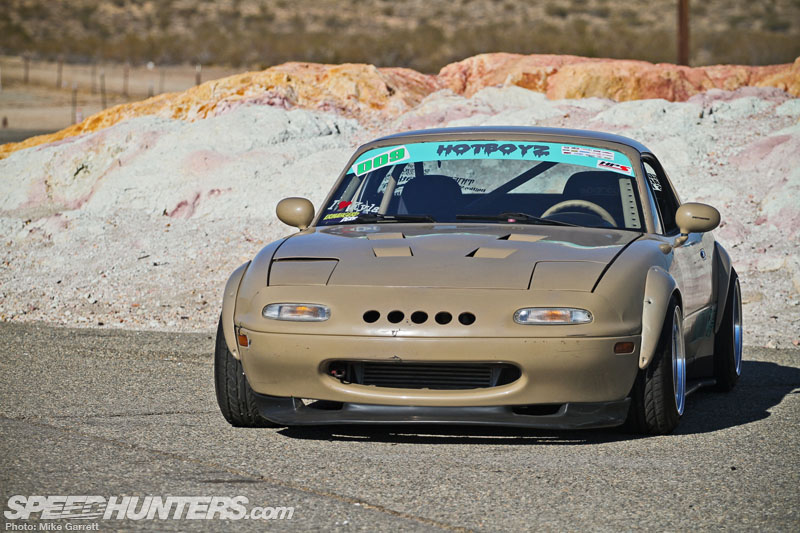 So you can probably imagine my surprise when I was at All Star Bash a few weeks ago and I came across Jordan's Miata in the pits parked with our friends from Drift Union. There was the unmistakeable tan-colored Roadster, soaking up the California desert sun some 1,800 miles from its home in cold Canada. Needless to say, I introduced myself and asked Jordan if I could shoot his machine.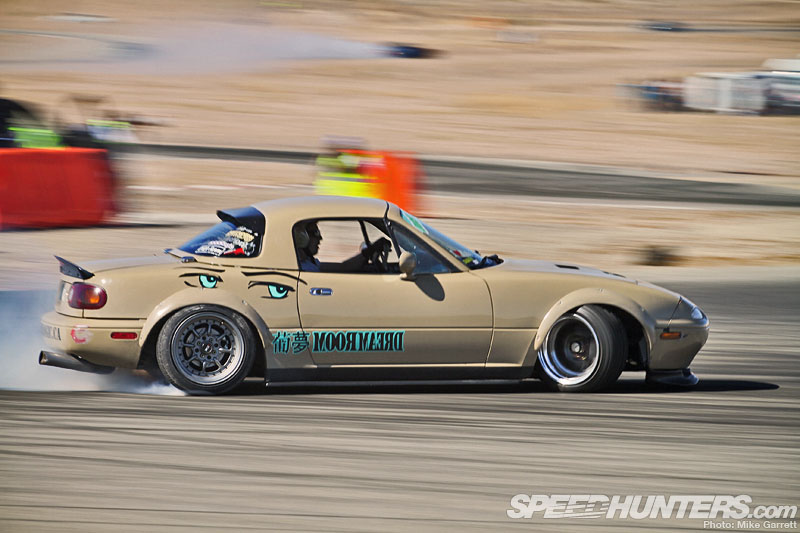 The fact that Jordan had just brought his car half way across the continent to enjoy a weekend of drifting with friends just made me that much more interested in his story. The spirit and dedication of the grassroots drift community is something that never fails to amaze me.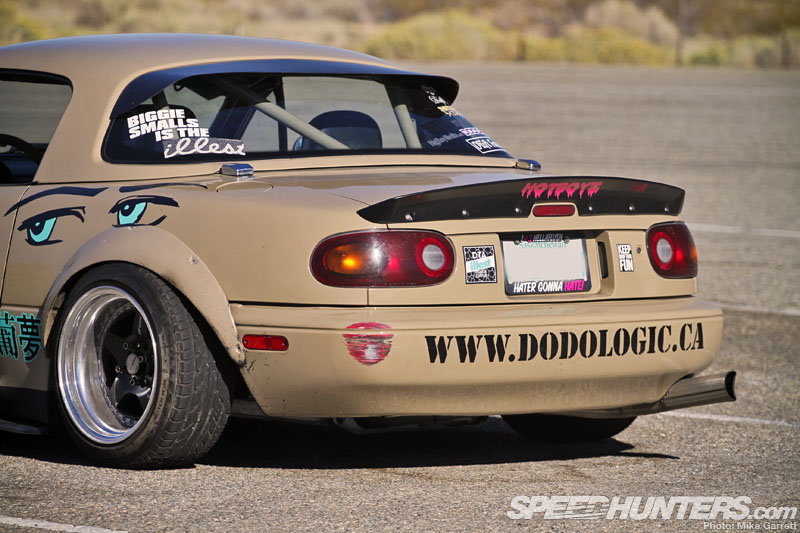 The story of Jordan's Miata begins a long time ago. He originally acquired the car from a friend who was involved autocrossing, and he soon he found himself out there dodging cones as well while using the little Mazda as his daily commuter. Eventually he wanted more power, so he boosted the original 1600cc motor and that did the trick. Around this same time he also discovered drifting and began learning to slide the Miata alongside his Nissan driving buddies.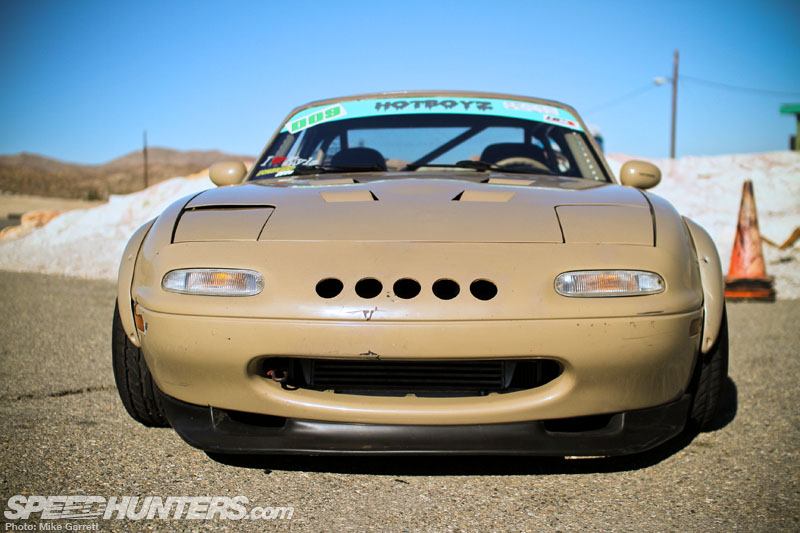 Eventually the little 1.6 blew, and Jordan faced a dilemma. What to do next? Rebuild the 1.6 or swap it for something else? As luck would have it, one the aforementioned Silvia driving friends had decided to make the leap to a V8 and that meant there was a good running SR20DET that needed a home.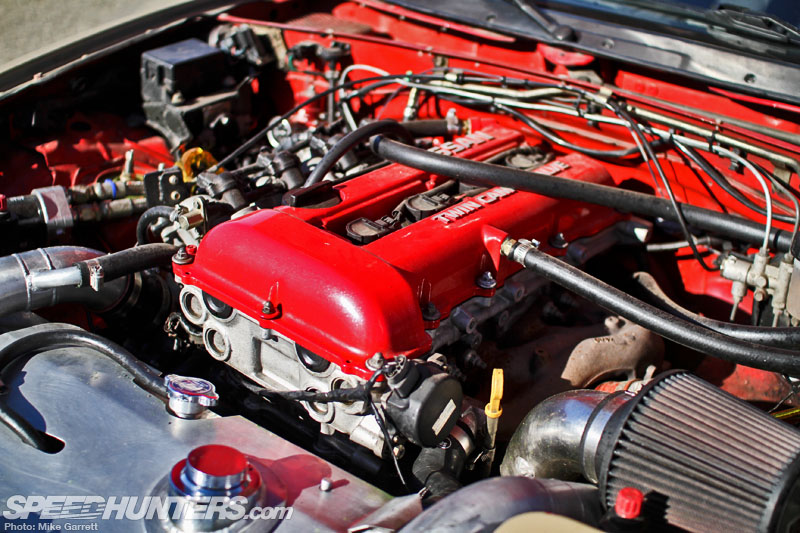 Shortly after, the SR had found a home in Jordan's Miata thanks to a set of motor mounts and an oil pan from Thai-Phoon out of Australia, a small company that makes swap kits for SR20s into the Miata. Jordan enjoyed the SR power for a while, but he eventually it spun a bearing and he decided to rebuild the motor with beefed up internals.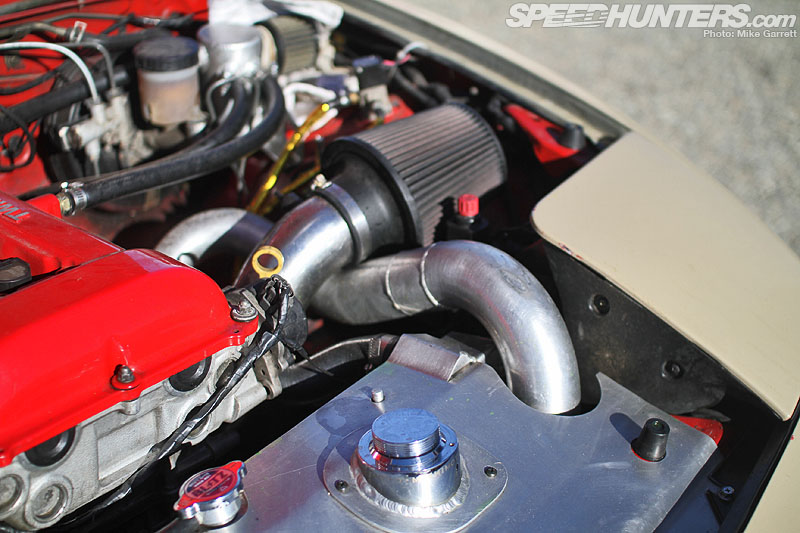 Of course you may be wondering why he went with an SR swap when the original Mazda B6 and BP engines can be made quite powerful with forced induction. Jordan himself says that building and boosting the original motor is a more cost effective solution, but he wanted to try something different. Also, the fact that his friends all drive modified Nissans is a big benefit when it comes to sourcing parts and knowledge.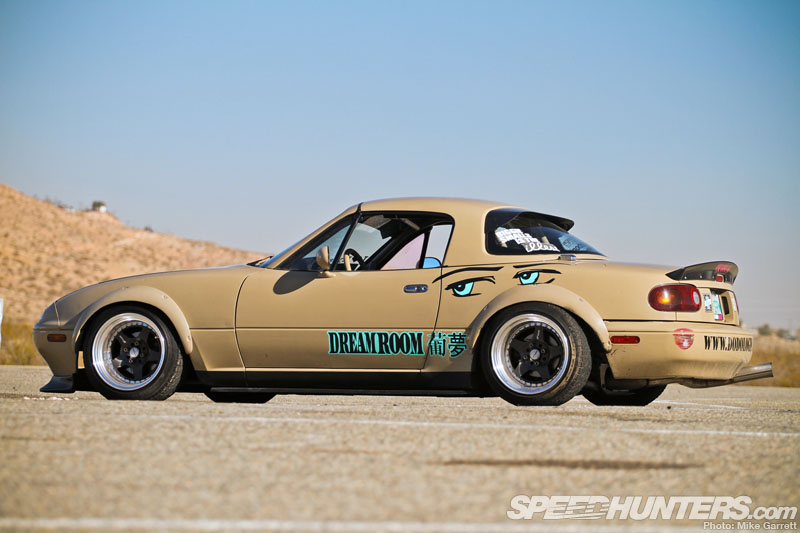 He would eventually like to fully build the SR, but for right now the mild GT28RS-fed setup rips pretty well at 15psi. The only real issue with the car right now is cooling, and Jordan is planning to upgrade the cooling system before next season begins.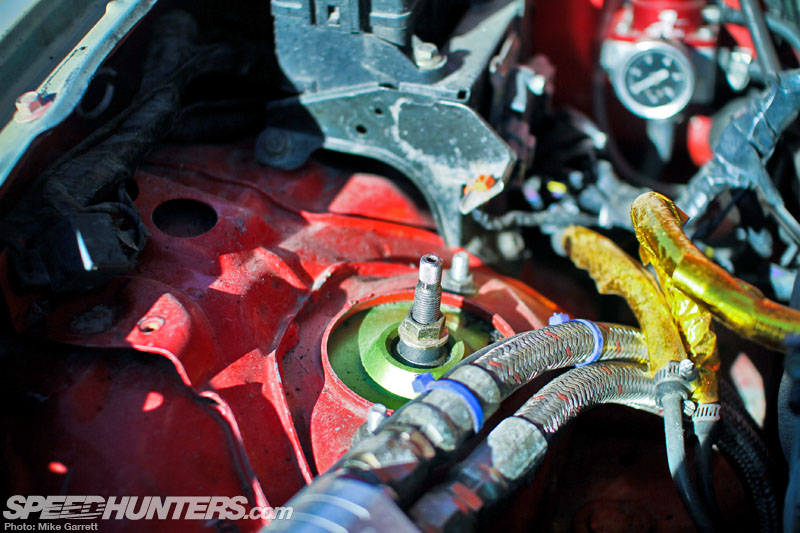 Besides the added power from the SR swap, Jordan's also done plenty of chassis and suspension work to make the Miata more adept and going sideways. There are HSD coilovers, modified knuckles, lengthened rear upper control arms, and more. The power reaches the ground through a welded RX-7 differential mounted in Miata Torsen pumpkin. Many say that Miata's short wheelbase limits its capability as a drift car, but I couldn't notice any of those shortcomings while I watched the car slide around the Streets of Willow last month.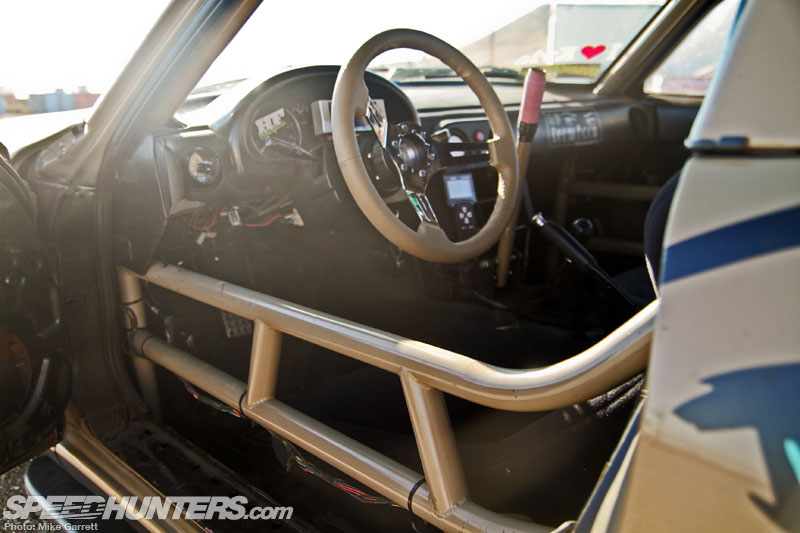 Inside, the car is pure function with a full custom cage complete with door protection for those crazy tandem moments. Although the factory Miata dashboard remains in place, all of the non-essentials have been stripped out. A Grip Royal steering wheel also adds a bit of style.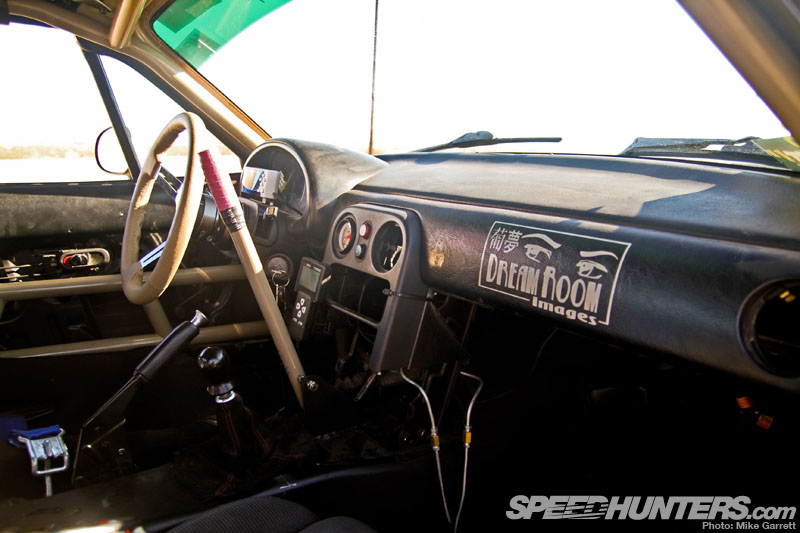 Oh yes, then there's the giant lever for the custom hydraulic e-brake setup. It dominates the tiny Miata cockpit.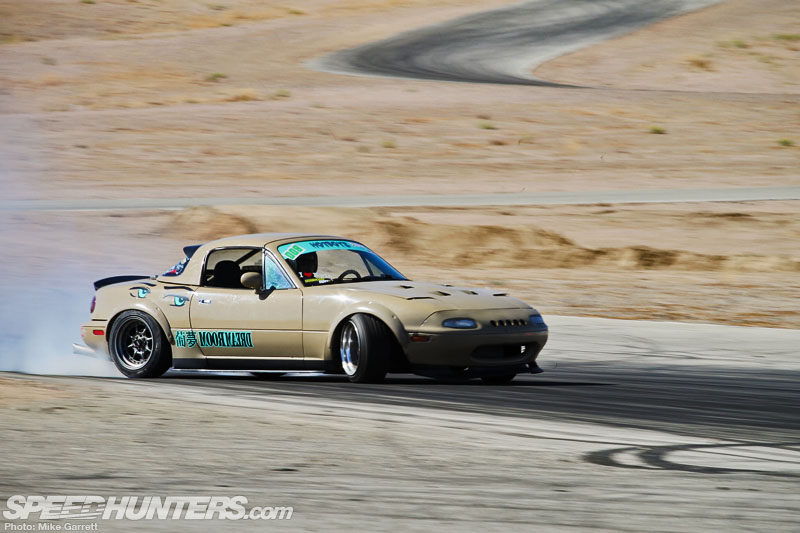 Jordan definitley seemed to be getting fair use out of the trick e-brake during All Star Bash. Here we see him joining the line of cars making crazy tail dragging entries down the front straight on Streets of Willow.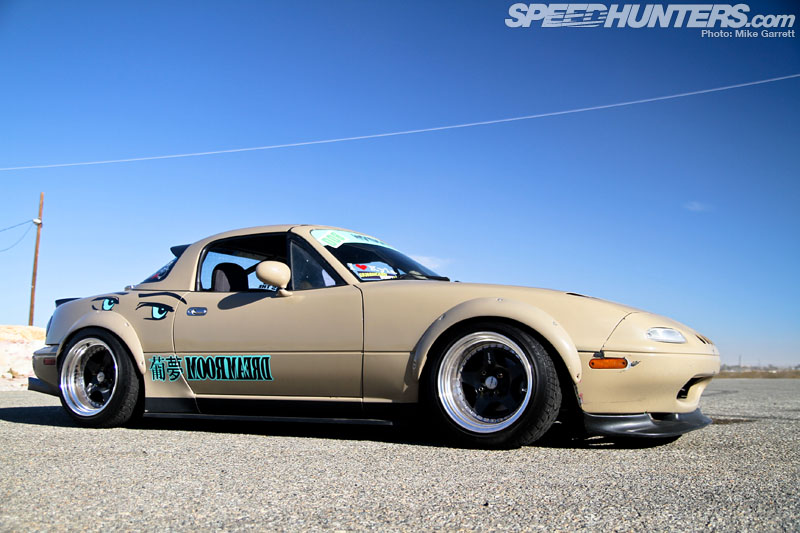 So it's pretty clear that Jordan has equipped with his Roadster with everything that it needs to move, but style is another important of the equation when it comes to building an drift car. Naturally, he addressed this area too. With the HSD coils dropped down, the Project-G sideskirts come close to kissing the deck and the KG Works rear spoiler looks just right hanging off the decklid.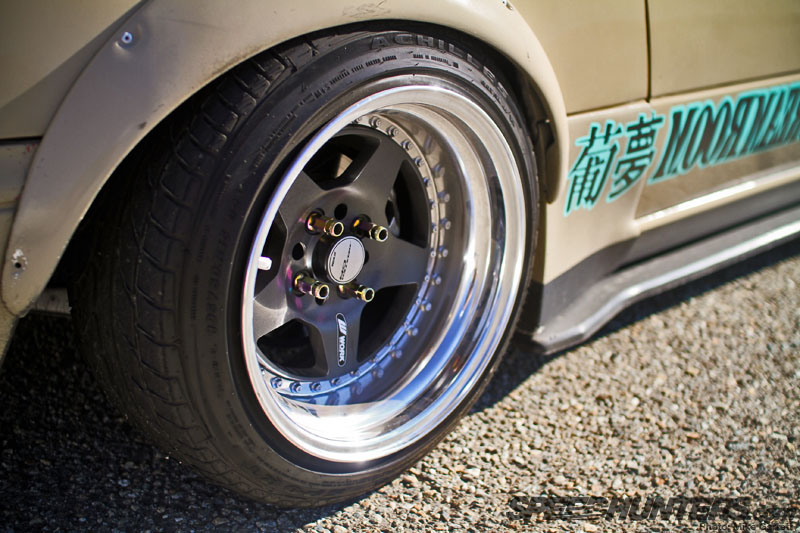 If this were my car and I could choose any wheel for it, I would go with the Work Meister CR01 – just as Jordan did. They measure 15×9 all around with a negative six offset, which is perfect for sitting beneath the Autokonnexion over fenders. Affordable Achiles 195-50-15 tires are the perfect choice for destroying at drift events.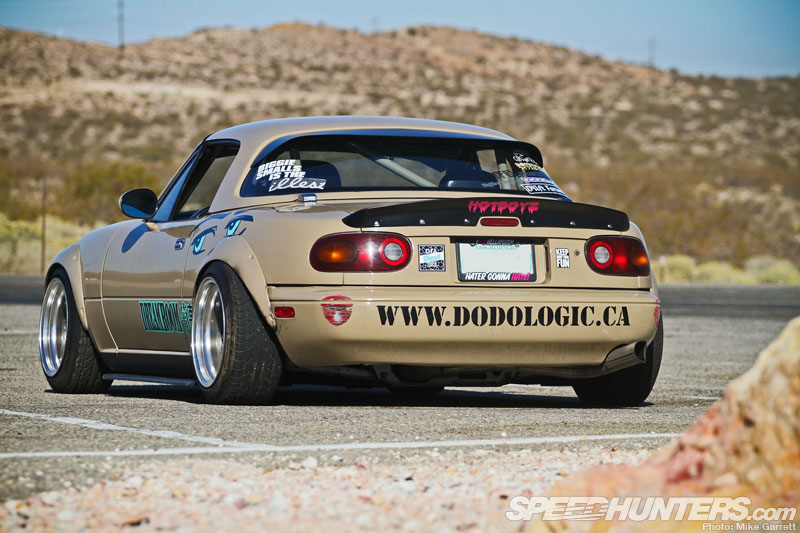 While the Miata was retired from daily driver service and moved to its more track-oriented setup while back, it still wears number plates and gets used for the occasional errand or cruise. Jordan says it's perfect for those special moments when he feel like an annoying, smelly, loud drive around the city.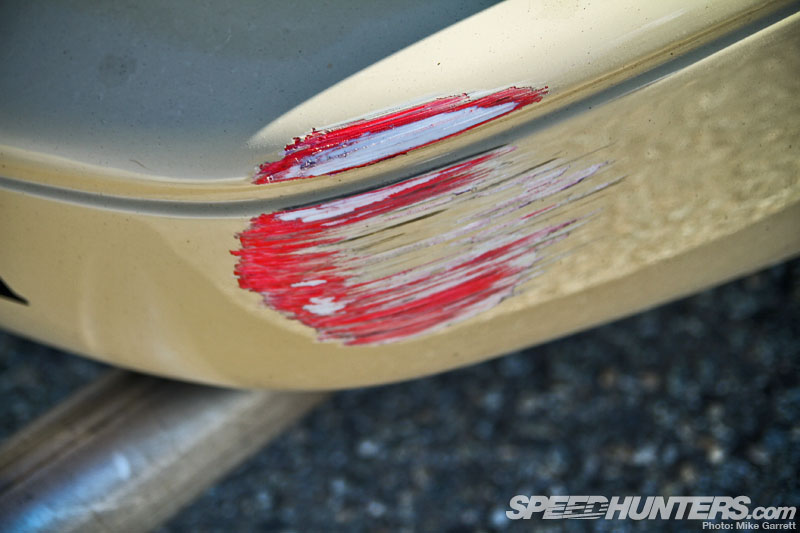 While the Miata has progressed into a very capable grassroots drift car, it's actually a challenge to find opportunities to enjoy it. Central Canada doesn't have many local drift events, so Jordan often has to travel quite far to get practice. This made it tough to progress in terms of driving, so this past summer he headed west along with his girlfriend and some of his drifting buddies to British Columbia for three months.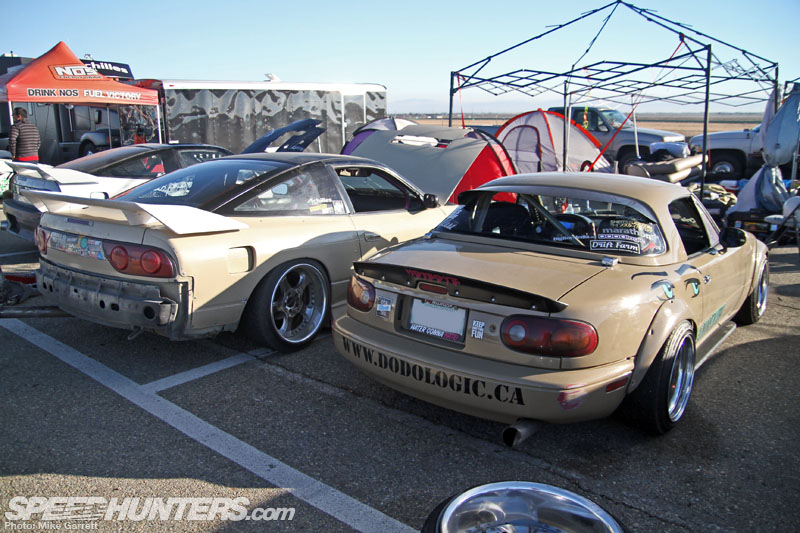 There he met up with the Drift Union guys and ended up driving more this summer than he ever had before – culminating with the trip down to California for All Star Bash.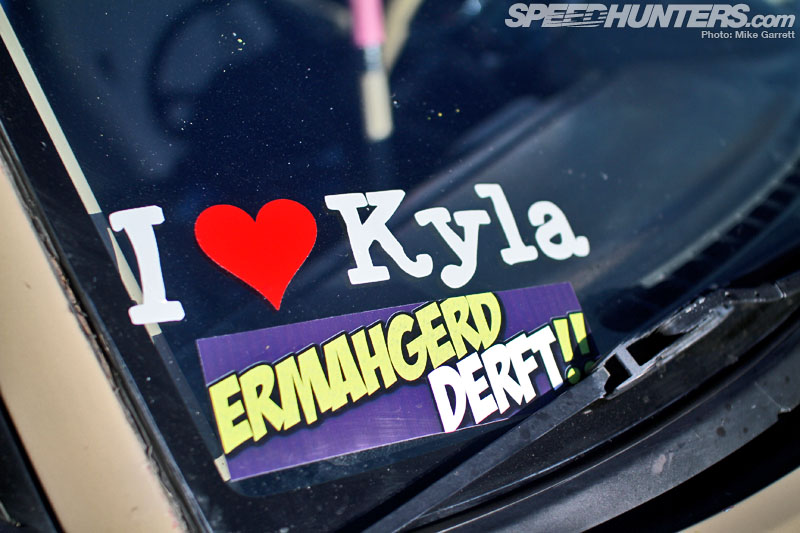 Speaking of his girlfriend, Jordan gives her all of the credit for supporting him and allowing him to travel around drifting and having fun. I hear she even made him run these "I <3 Kyla" stickers as part of their agreement to let him come to California for ASB.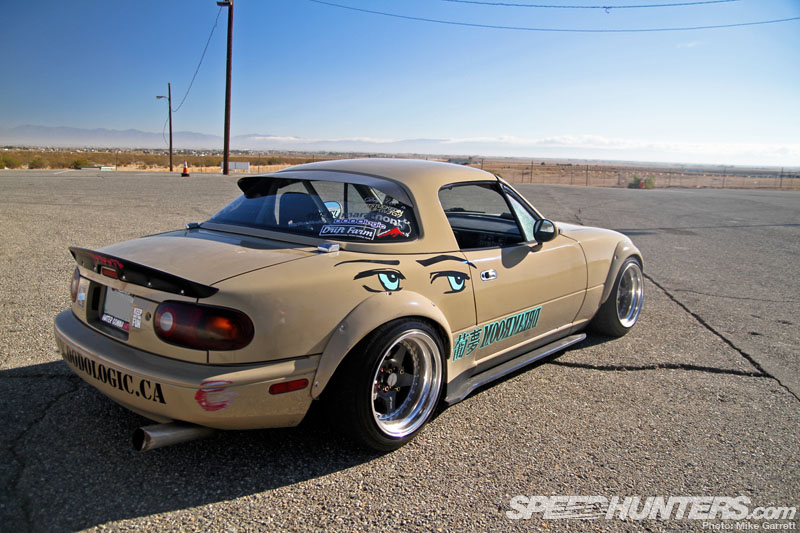 With winter setting in, Jordan has plenty of plans for the car. Besides tackling the aforementioned cooling issues, he's also considering redoing the car's exterior with new paint and just cleaning everything up. Eventually he'd like to add a bigger turbo and more power – just for fun he says.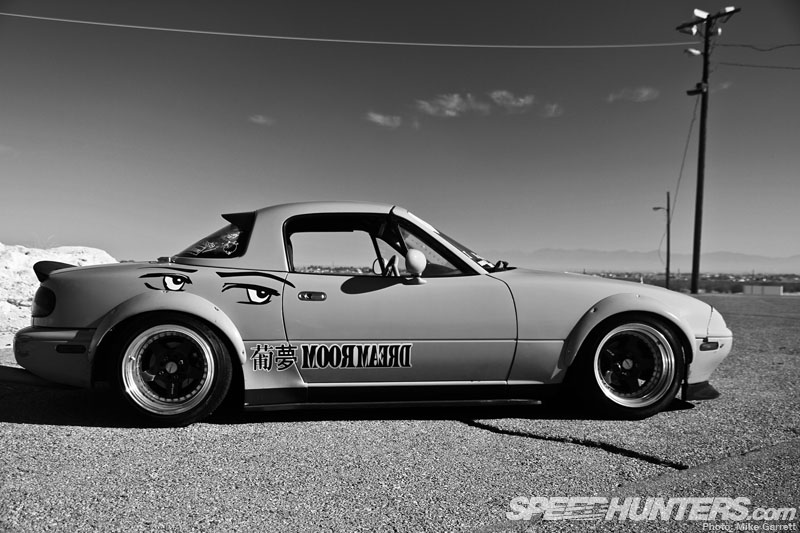 As we celebrate the Miata this week, I feel that Jordan's example is a perfect for showing just what the car can be. Sure a Nissan-powered drift car might not be the textbook example of a modified Miata, but that's what makes it so great. It's just another version of someone's journey with Mazda's lovable little sports car.
-Mike
Specs –
Engine
-SR20DET Motor and Trans Swap
– Thai-Phoon Engine & Transmission Mounts
– Thai-Phoon Oil Pan
– CP Pistons
– Eagle Rods
– ACL Bearings
– ATI Super Damper (Bottom End Balanced)
– Cosworth Head Gasket
– ARP Head Studs
– New Stock Water Pump And Oil Pump
– Stance Water Pump Pulley
– Stock Head (For Now)
– Garrett GT28R Turbo @ 15psi
– 3″ Straight Pipe from Turbo Back
– Custom Intercooler Piping
– Modified Flyin' Miata Intercooler
– Apexi AVCR Boost Controller
– Apexi Power FC (MAP)
– Tomei 740cc Injectors
– Walbro Fuel Pump
– Aeromotive Fuel Pressure Regulator
– Mishimoto Radiator with Electric Fans
– Samco Hoses
– Circuit Sports Oil Filter Relocation
Drivetrain
– SPEC Stage 2 Clutch
– B&M Short Shifter
– Custom Drive Shaft
– Rx7 Welded Differential with Miata 1.8 Torsen Pumpkin and Axles
Suspension, Brakes & Steering
– HSD Coilovers
– All Bushings Polyurethane Except for Rear Sway Bar
– Modded Knuckles
– Lengthened Rear Upper Control Arms
– Power Slot Rotors
– Hawk HP Plus Pads
– Custom Hydro E brake
– No Front Sway Bar, Stock Rear Sway Bar
– Racing Beat Lower Rear Strut Brace
– Custom Full Cage
Interior
– Gutted, No Heat, Radio, etc.
– GripRoyal Steering wheel
– Nismo Shift Knob
– Sparco Sprint Seat
– RCI Harness
Exterior
– Autokonexion Version 1 Flares
– Hardtop Spoiler
– Project G Side Skirts and Rear Corner Flares
– KGWorks trunk spoiler
Wheels and Tires
– Work Meister CR01s 15×9 -6
– Achilles ATR Sport 195/50/15s
– XXR 002s 15×8 +0 (Drift Spares)
Jordan would like to thank his parents, and hiss girlfriend Kyla for their help,  as well as JGG Fab, Bahr Tuning, dodologic.ca, Drift Union, Minute Muffler & Brake, and Regina SK for all of the support.