This is the most beautiful car I have shot this year. Period. It's not very often that the top of the line bull gets a complete makeover, it's a rare occurrence, a time span usually measured in decades rather than years. So when I got the chance this summer to immortalize Sant'Agata Bolognese's latest creation, I was more than honored. The car you see here was the first ever Aventador LP700-4 brought into Japan and kindly donated by its owner…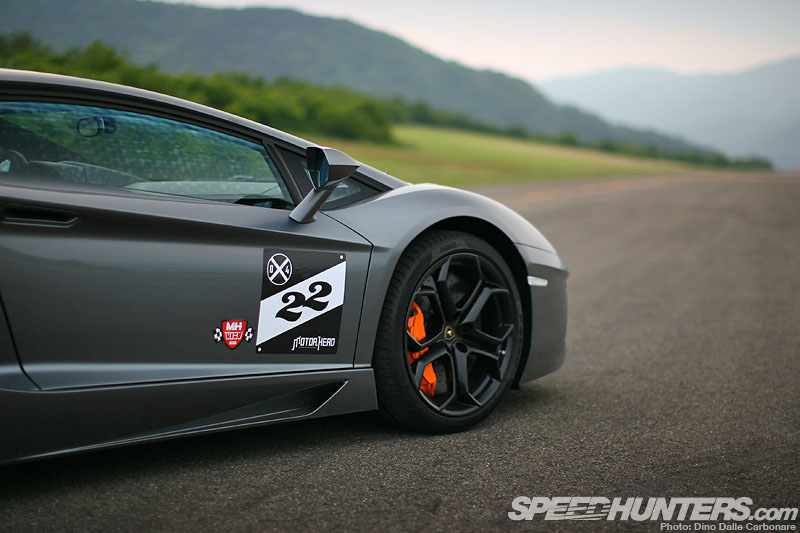 …to the MotorHead Magazine crew for the Zero-Yon event they organized at the Fukushima Sky Park. If you recall that is where an impressive and varied mix of cars were round up and timed down the quarter mile, for a big feature that was ran on the summer issue of the magazine.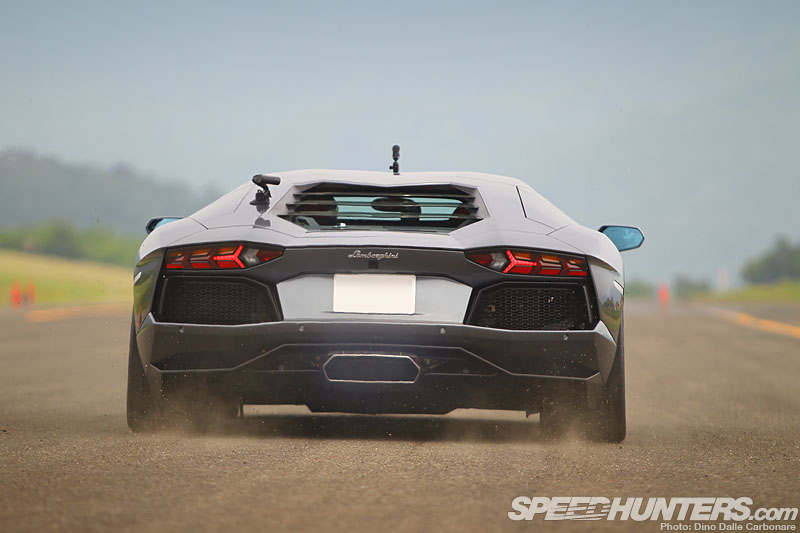 Pro driver Takashi Ooi had the fun job of extracting the best possible time out of every car present, and the Aventador turned out to be one of the fastest.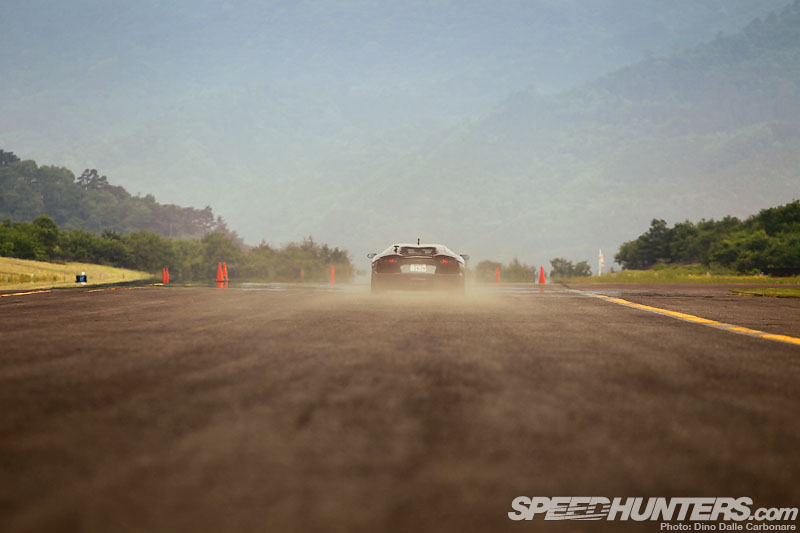 With launch control engaged, AWD to help out traction and 700 screaming horses it shot off the line without much drama, packing on the speed and recording a 10.9 sec pass.
Hit play and see the run for yourself, and notice how Ooi-san laughs as he is blown away by the acceleration!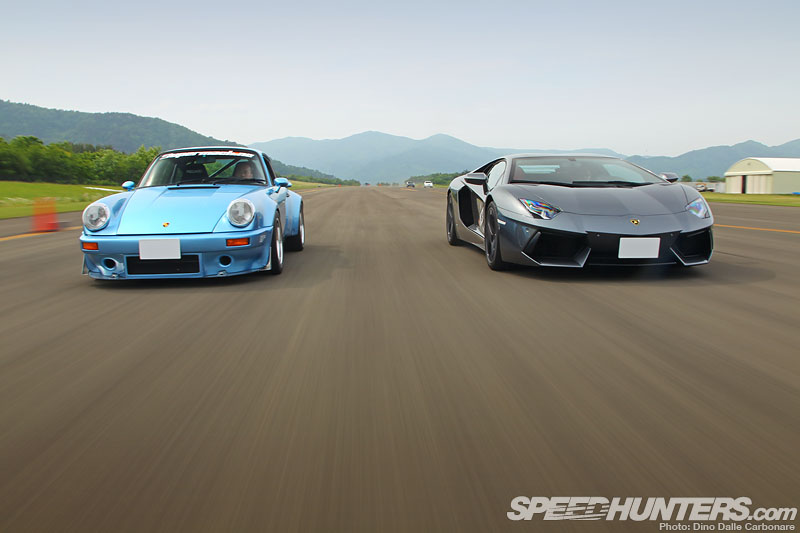 The Zero-Yon event for me will go down as one of the most fun shoots of all time, an awesome selection of cars and an incredible location. The Aventador was to be the last car I had to shoot on the day, and I patiently waited for all the driving to be finished so I could take over the whole runway.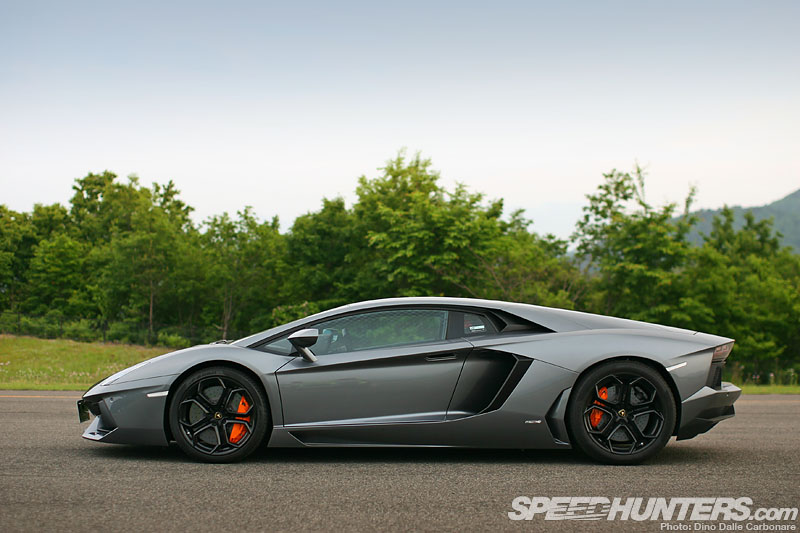 The wait was of course totally worth it; as dusk approached the light couldn't have been any better, the Aventador's angular contours and lines basking in a warm hue that really highlighted the unique design. And design has always been one thing that has always set Lamborghini apart from the rest. Cars are built to shock at Sant'Agata Bolognese, there isn't an ounce of subtleness in their creations, they are bold, aggressive and to the point and if you don't like it, go elsewhere for your supercar fix. It's a simple formula that for their close to fifty years has served them well, through the good and bad times.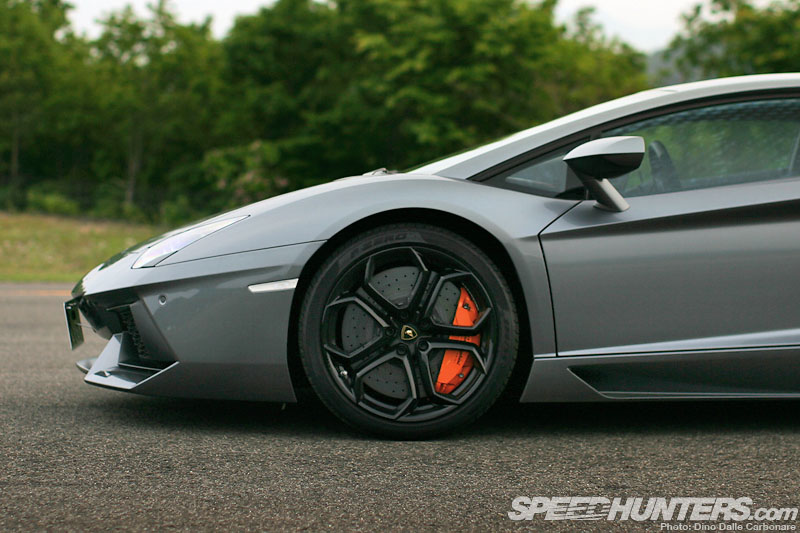 No matter what angle you look at the Aventador from…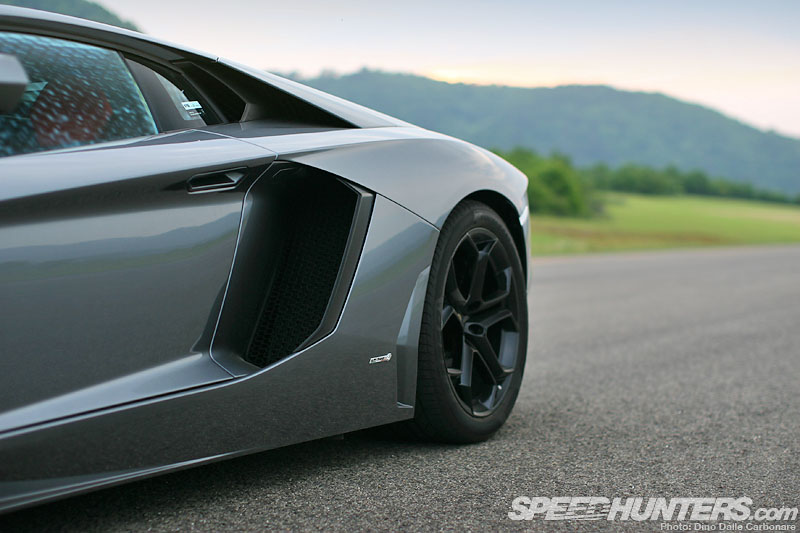 …there is an obvious continuity to its design, where every detail has a purpose and is there for a reason.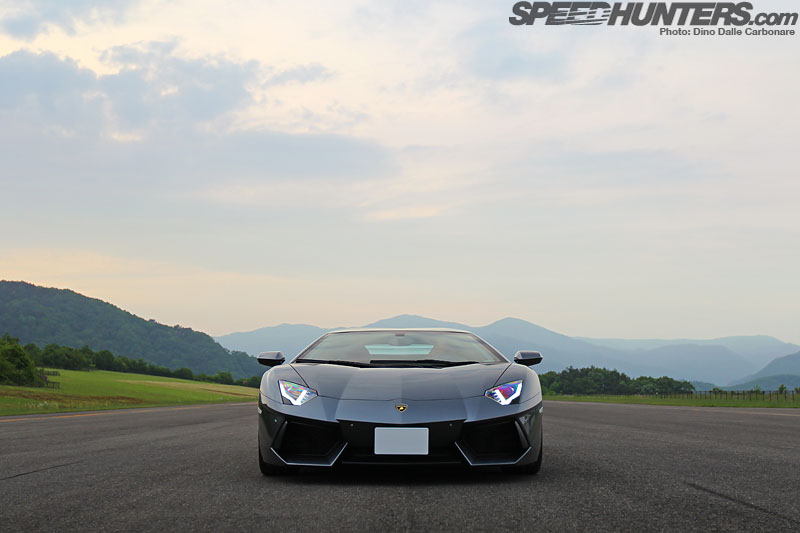 Simply put there is nothing quite like this car on the streets today; it's like a car from the future, sent back a decade to show off how far supercar development has evolved. Look at it head on and it combines those flat aeronautical-like surfaces we saw a few years back on the Reventon, with almost shark-like qualities to create what is set to become one of the most recognizable faces of all times.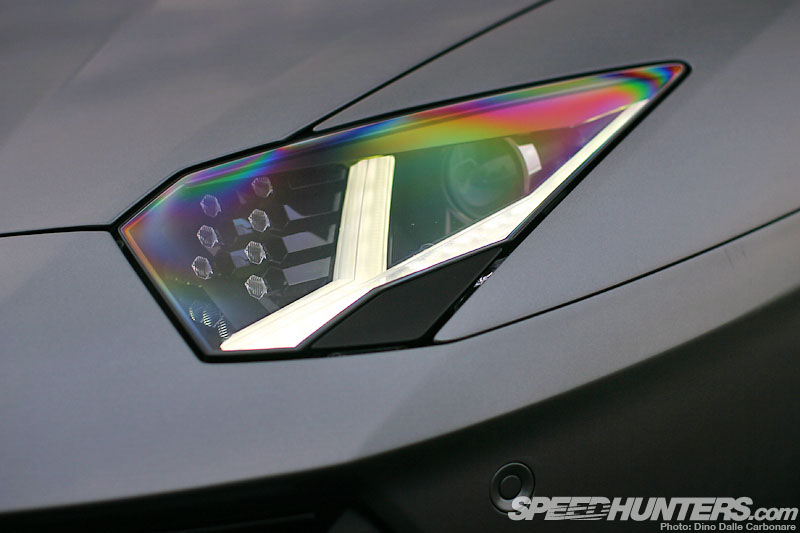 I love how headlights these days have become so complex; there is so much happening in these enclosures that they have become little works of art, helping give even more character and depth to the whole car.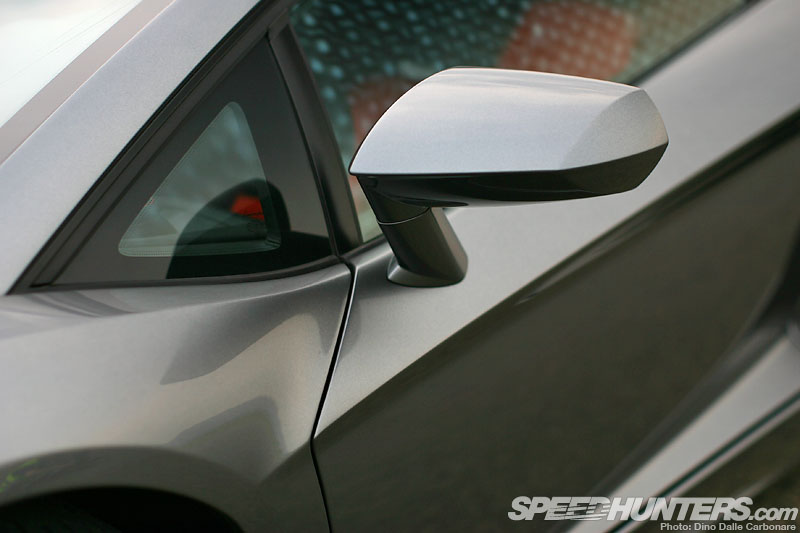 It's all in the details, from those complex curves as the front fenders merge with the doors to the side mirrors, sculpted to slice through the air as effectively as possible.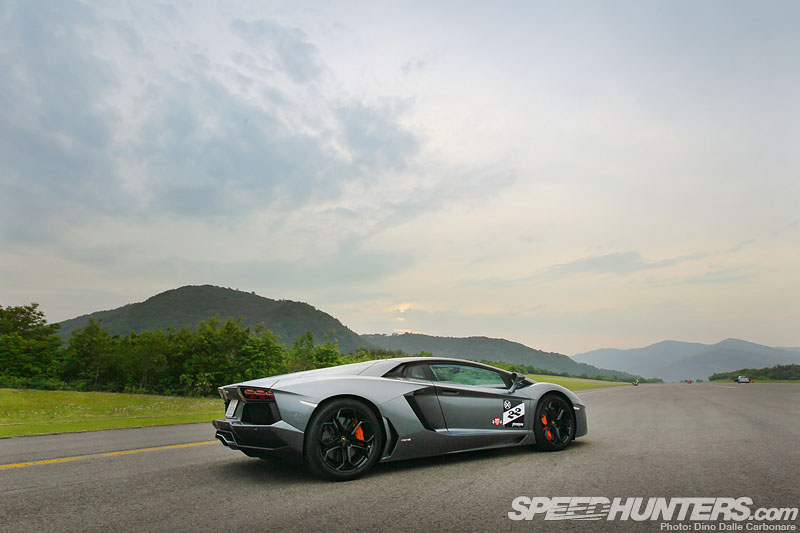 Coupled with the calm and serene background of the Fukushima mountains the Aventador continued to visually impress, but it wasn't long before I pulled the release for the hood…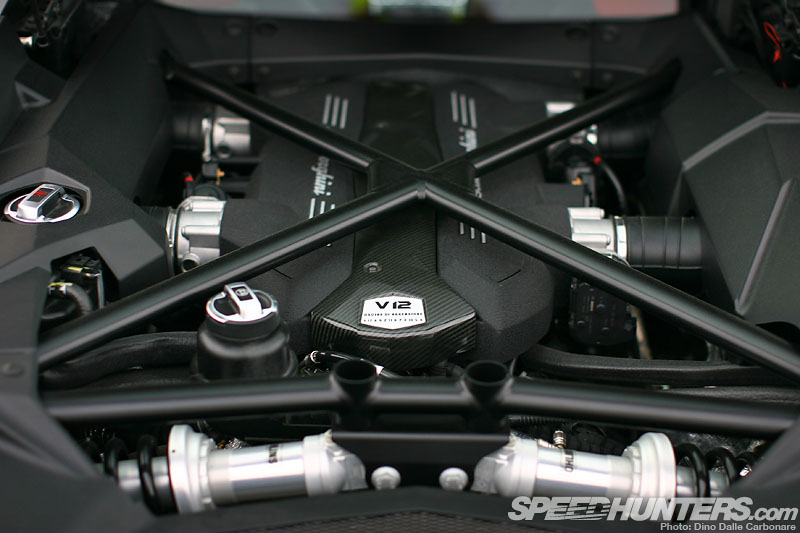 …and buried my head deep in some V12 awesomeness!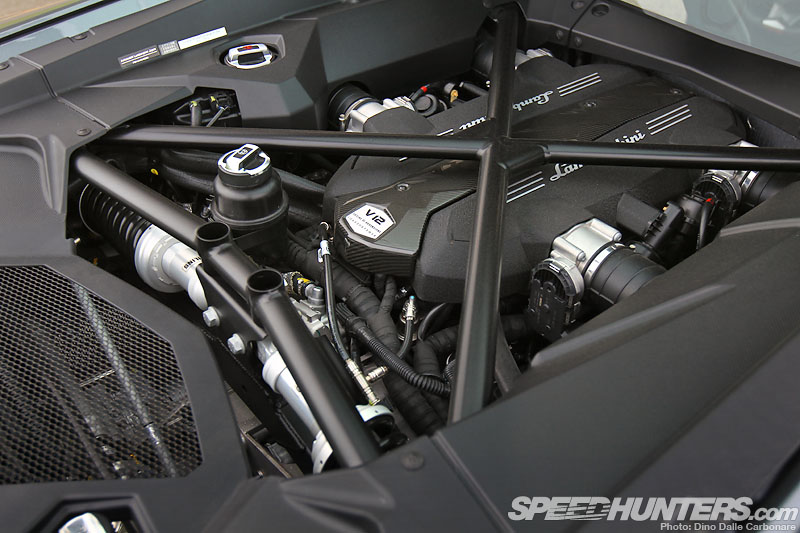 6.5 liters of naturally aspirated, and extremely musical, 12-cylinder magic – an engine that sees its roots all the way back to the transversally mounted unit in the 1966 Miura, evolving through history on the Countach, the Diablo and then the Murcielago ending up at this 700 HP beast. It boasts 8% more power than the most powerful version fitted to the Murcielago, yet manages to cut fuel consumption and emissions by 20%. It sits behind the occupants, locked in the carbon fiber monocoque that Lamborghini developed for the Aventador, an extremely lightweight (only 147.5 kg!) yet rigid chassis that takes this pinnacle of Lamborghini design and engineering well into the 21-st century. The big dry-sumped, high-revving powerplant sends drive to all four wheels via a further evolution of the single-clutch semi-automatic transmission that was used in the Murcielago. Lamborghini says that this new 7-speed ISR (Independent Shifting Rods) 'box offers a more emotional shift when driving the car on the limit and is lighter and more compact than both a conventional manual or a dual clutch unit. If I really have to come up with at least one criticism about the Aventador, this has to be it; for how fast-shifting this type of transmission is, it is quickly becoming obsolete technology, as every other direct competitor has already moved to dual clutch systems. But Lamborghini is sticking with it for the foreseeable future, so maybe they know something we don't know!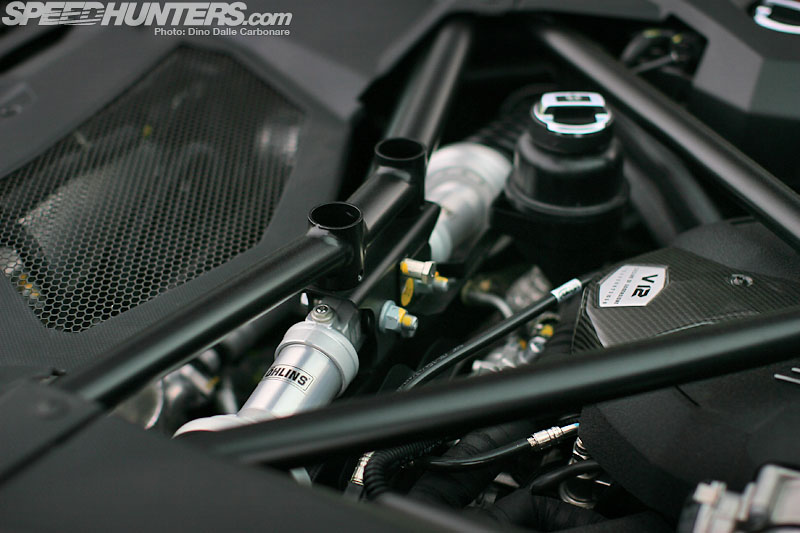 One detail that you really have to appreciate are the on-board-mounted dampers, linked to the suspension arms via a pushrods, in true race car fashion. This takes a lot of unsprung weight away from each corner of the car, bringing obvious benefits to the steering, handling and overall feel.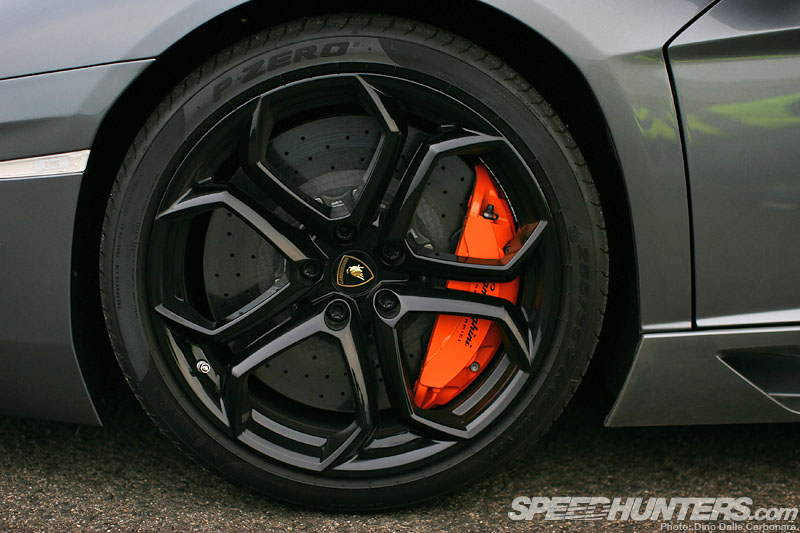 Of course hiding behind each of the glossy black wheels, 9Jx19″ front and 12Jx20″ rear, are big carbon ceramic discs…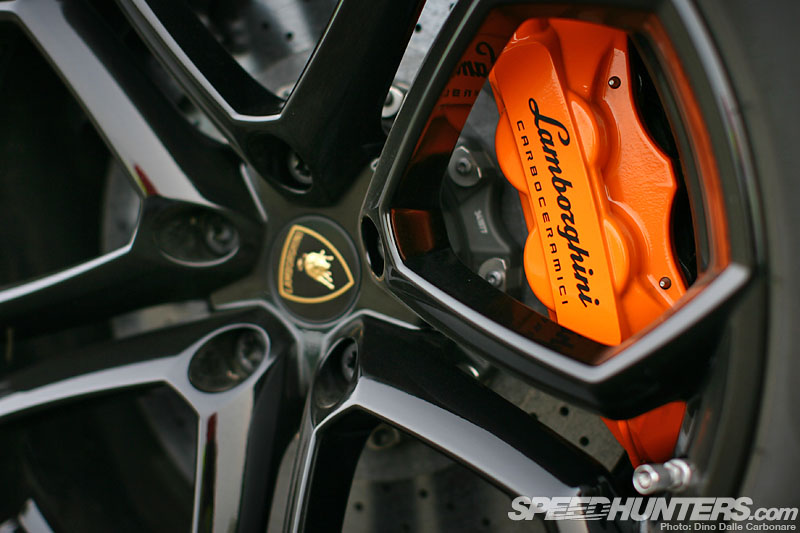 …further keeping unsprung weight as low as possible.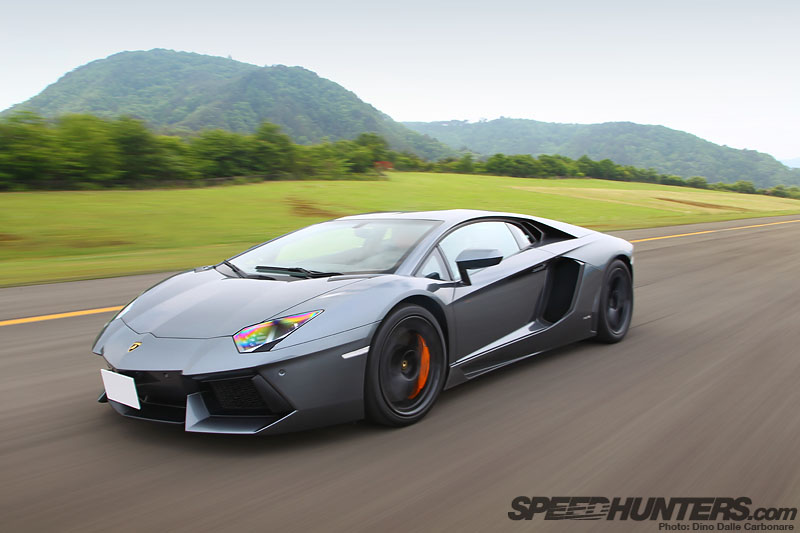 I was lucky enough to get to drive the car to and from the shooting location at the center of the runway, and in this short stint behind the wheel I did get a feel for the sense of occasion it is to drive a car like this. The engine dominates the car in every way, it's very much present from the moment it barks into life at the push of that red, fighter-jet-inspired, starter button to when you even cruise down the road in automatic mode. I'm not one to go wild with other people's cars but I did sample a little acceleration in second gear and I was blown away at the immediate response of the V12 as well as the rather snappy gearshift. It was a very short "test" and there is so much happening in those initial moments when you are handed the keys to a supercar of this stature, but what surprised me the most was the sheer size of the thing, it's big, low and wide, with somewhat hampered lateral and rear visibility…you really find yourself taking extra care!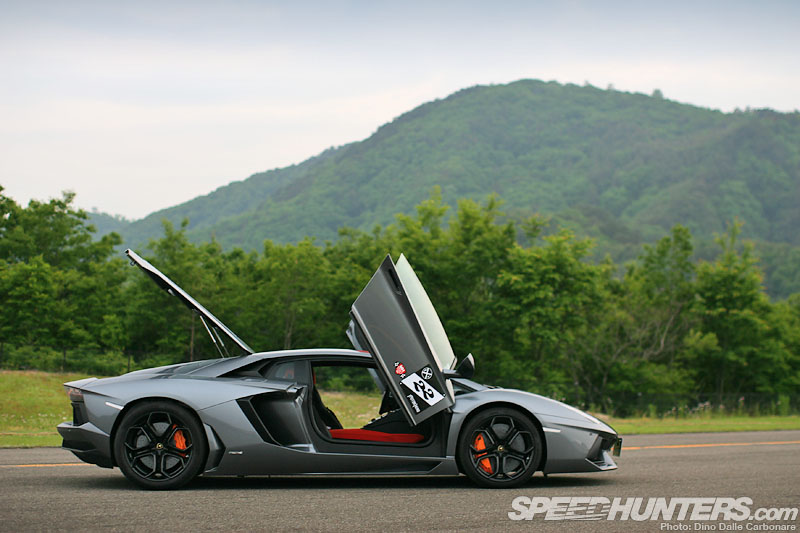 Ever since the Gandini-designed Countach, a V12 Lamborghini wouldn't be right without those skyward opening scissor doors, so elegant and well suited to a car like this, yet so tacky and pointless when retrofitted to more "regular" cars!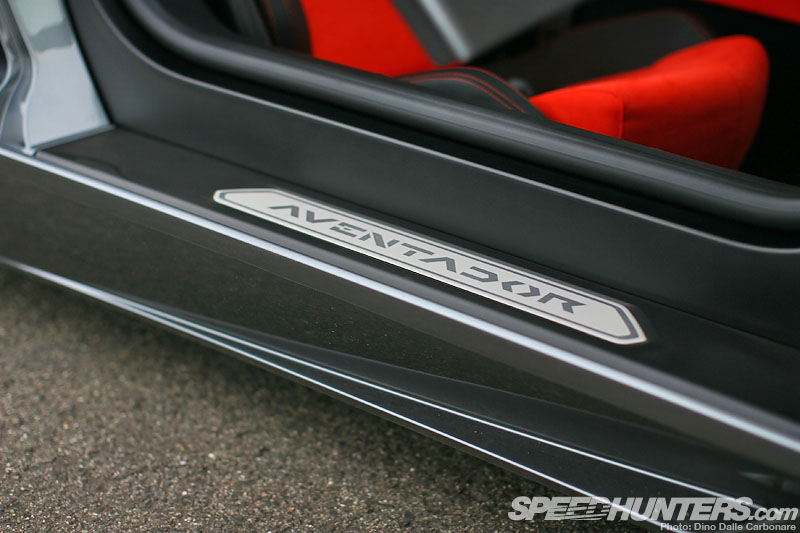 As you begin your boarding procedure into the Aventador's cockpit you are greeted with this plaque on the sills…like you forgot what car you were getting into!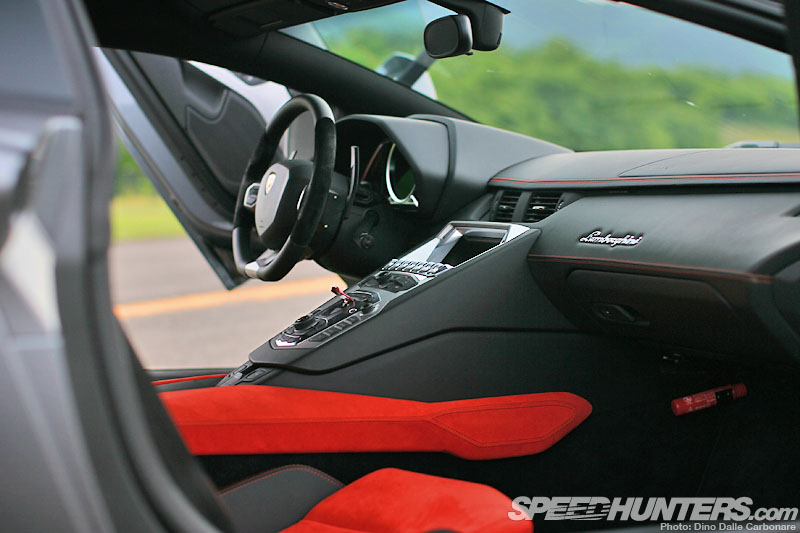 Like the exterior design, there are lots of aeronautical touches on the interior…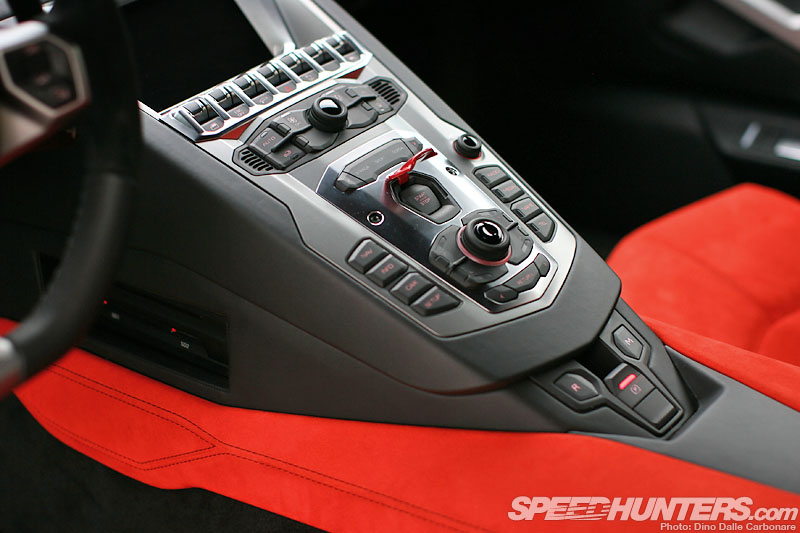 …the highly inclined center console hiding that starter button I previously mentioned, which you have to first expose by lifting a little hinged cover, just like the missile trigger on a fighter jet. The quality and feel of the switchgear and overall build quality feels very Audi-esque…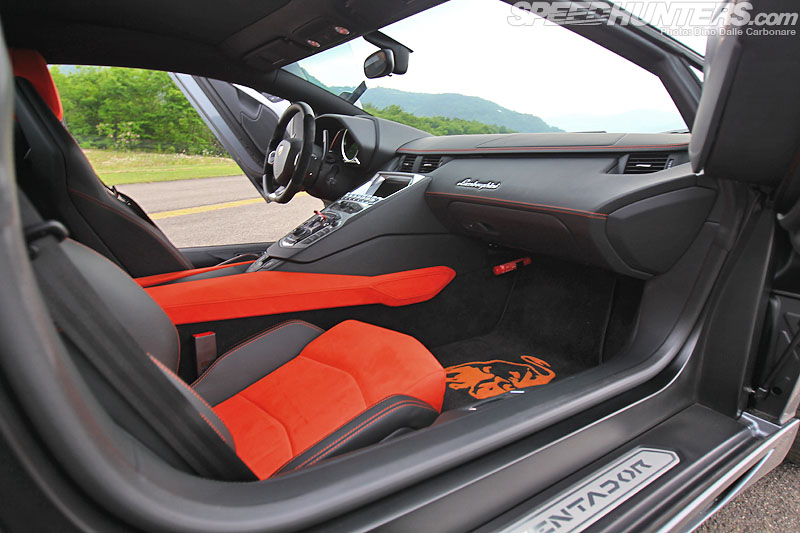 …which is of course a very good thing. Since being taken over by the VW/Audi group its this combination of German engineering and precision mated to the Italian design flair that has helped Lamborghini get to where it is.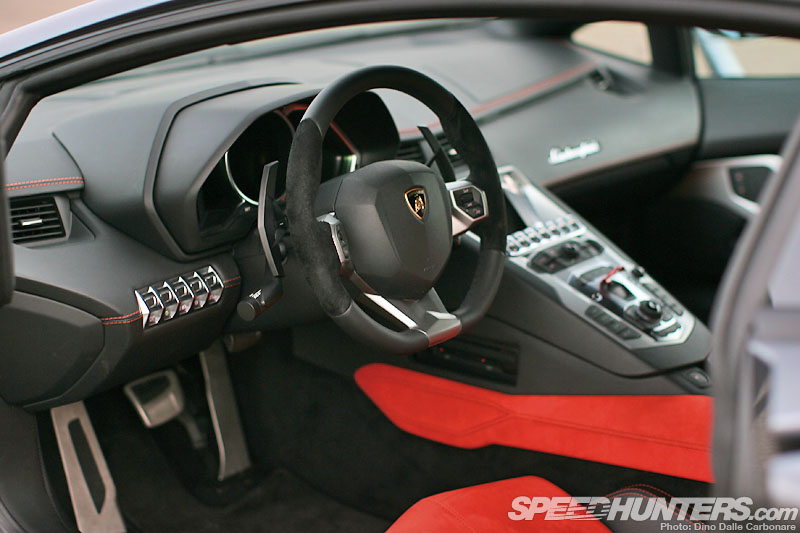 In the Aventador this is where you want to be sitting, with that half suede upholstered steering wheel held in your hands…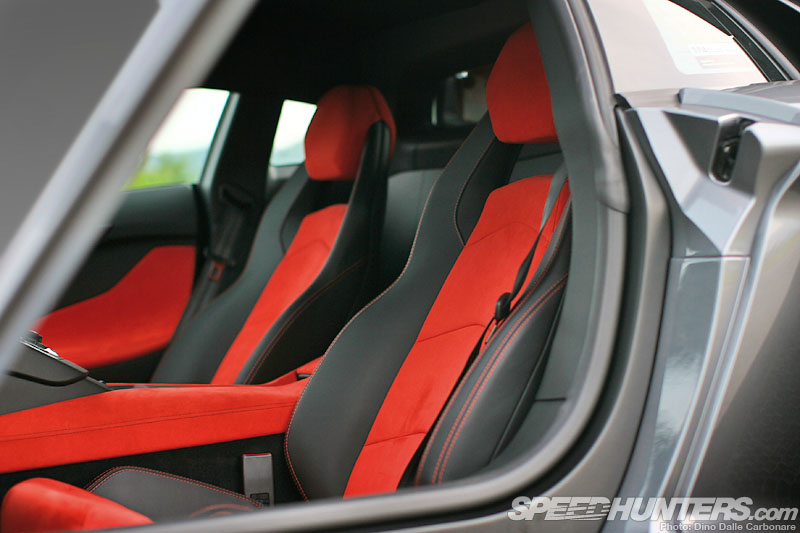 …and sitting on this supportive yet comfortable seat. Everything about the Aventador is a sense of occasion…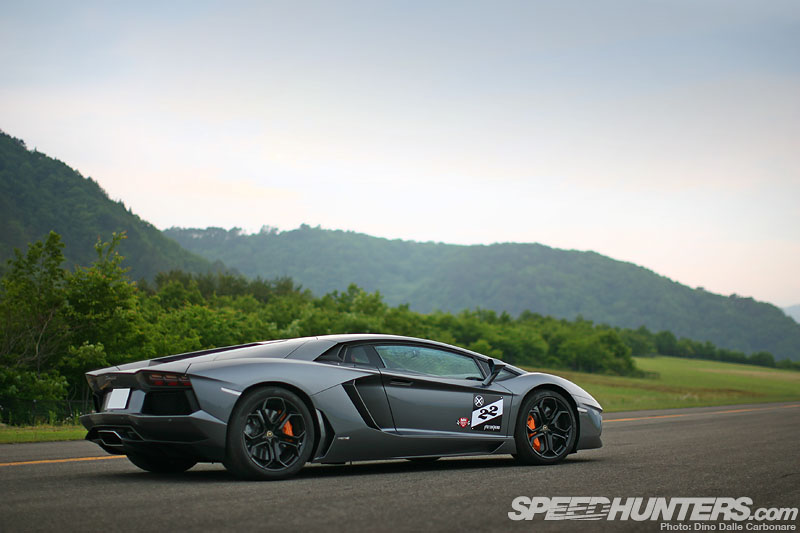 …it's an perfect balance of engineering and art, a modern day sculpture that will catapult you to 62 mph in 2.9 seconds and on to a top speed of 217.5 mph. I feel very lucky to have had the chance to spend an hour or so with the best car Lamborghini has ever made, but I yearn for more time behind the wheel to fully comprehend what driving a hypercar like this is all about!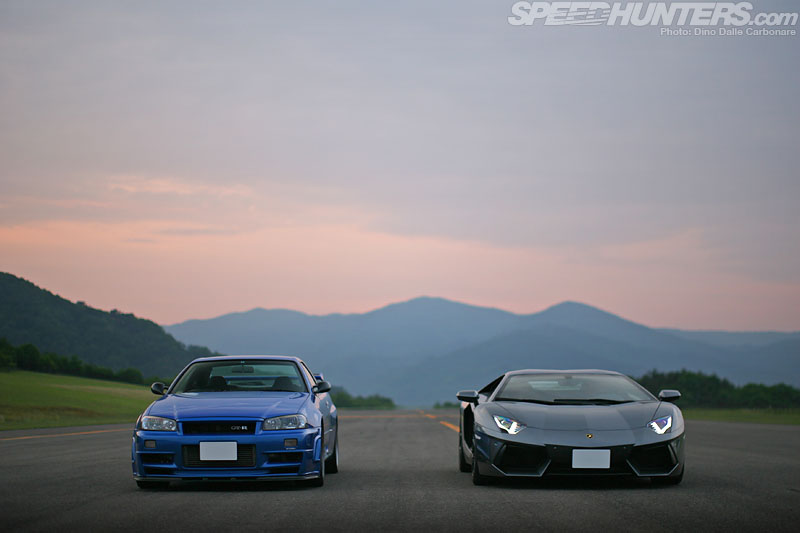 With only a few minutes of light left I just had to run to the parking lot and bring my R34 onto the runway, park it next to the Aventador and just admire both for a few minutes. Two extremely fun cars, both legendary in their own right yet completely different from one another. I felt it was a great end to a great day, reflecting over cars in general, the way they totally captivate us with their different qualities.
MotorHead Magazine Official Blog
-Dino Dalle Carbonare