In this day and age of ultra-high-speed-perpetual-Internet-connection-at-all-times there isn't a whole lot of stuff that comes through the pipeline the surprises me. This is especially so with cars, something I've dedicated a good portion of the last decade of my life to the investigation and reporting of. Rarer still is coming across a car that I cannot quickly define.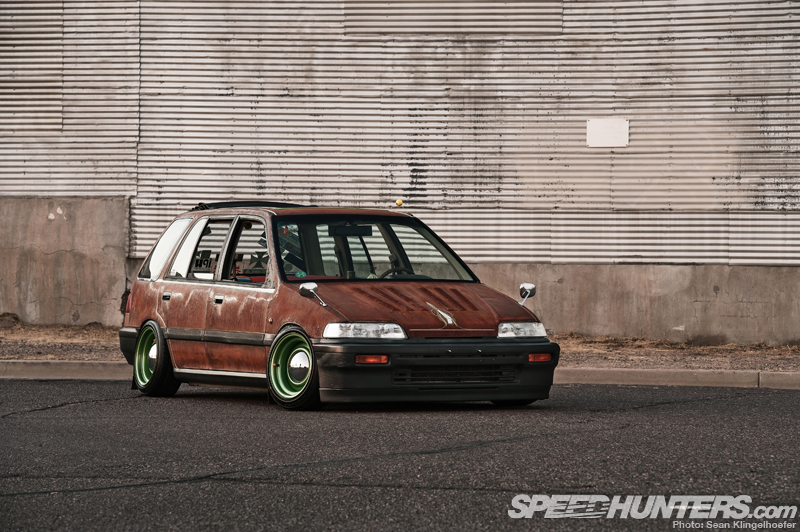 When I stumbled upon this rusted Civic at The Infamous last month it was a breath of fresh air in what was a mostly mono-thematic show. In fact I was intrigued so much that I reserved a good chunk of the latter part of  my post to a spotlight of the car. At first glance the exterior of the car sets the tone quickly and I'm sure pretty much all of you will have an immediate love/hate reaction.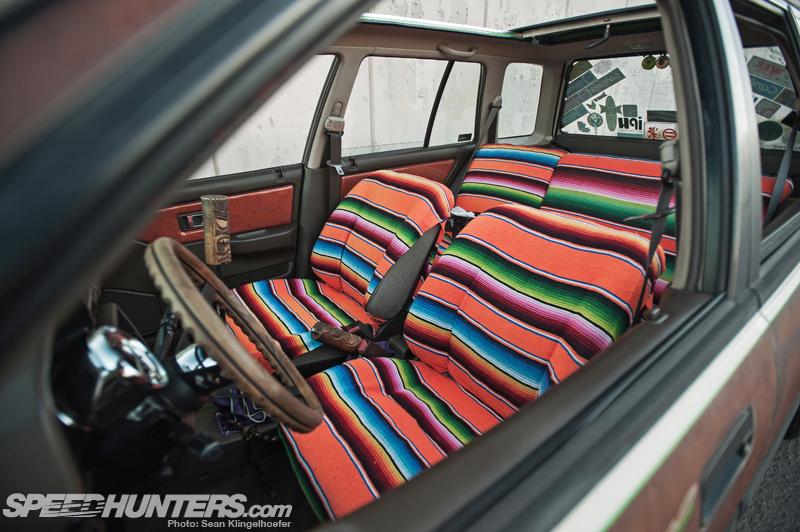 But if you can look past the exterior, which wasn't actually what caught my attention to begin with, you start realizing that there was a lot of time and effort put into this build. This car really can't be placed into a genre or a scene which is really cool. It's too ratty and old school to fit in with the Honda crowd, too slammed and slow for the performance guys, too new and Japanese for Hot Rodders to understand it. It's a misfit.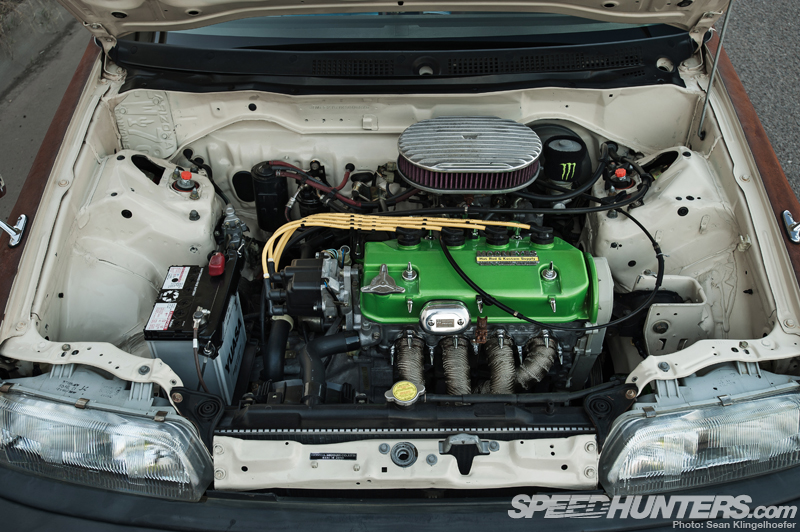 Yet somehow there's nothing about the car that is particularly unique or innovative – I've certainly seen everything on this car done before. But I've never seen so many seemingly unrelated pieces thrown together in such a thoughtful and coherent way. While some will surely be quick to write it off as junk, I think it's quite brilliant.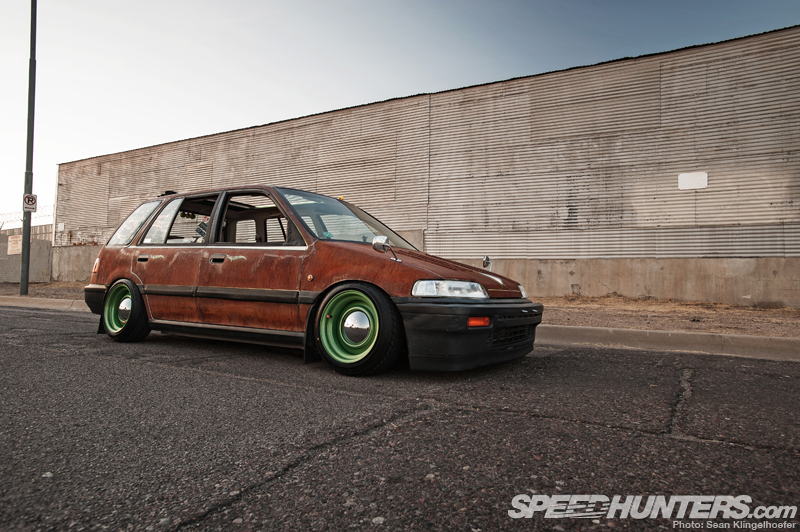 One thing I couldn't help but notice at Infamous was that the car was wearing Arizona tags, the state where I received my first driver's license and turned my first wrench. I immediately ran through my mental rolodex to see if I could conjure up a guess as to who the owner was but I came up blank. Fortunately after the Infamous post went live I ended up with several emails from people who said they knew the man that built this machine.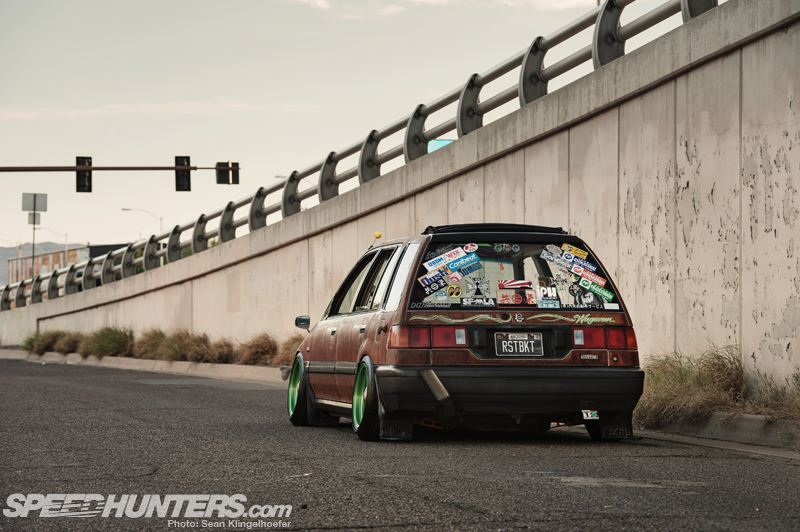 One of the emails came to me from my buddy Chris who currently works at K-Sport but was one of the founders of the Arizona-based Honda forum AZHT. As it turns out James Rasmussen is not only the owner of this Wagovan, but also Chris' roommate. As much as I enjoyed peeking around at the show I was dying to do this car more justice and lined up a proper feature.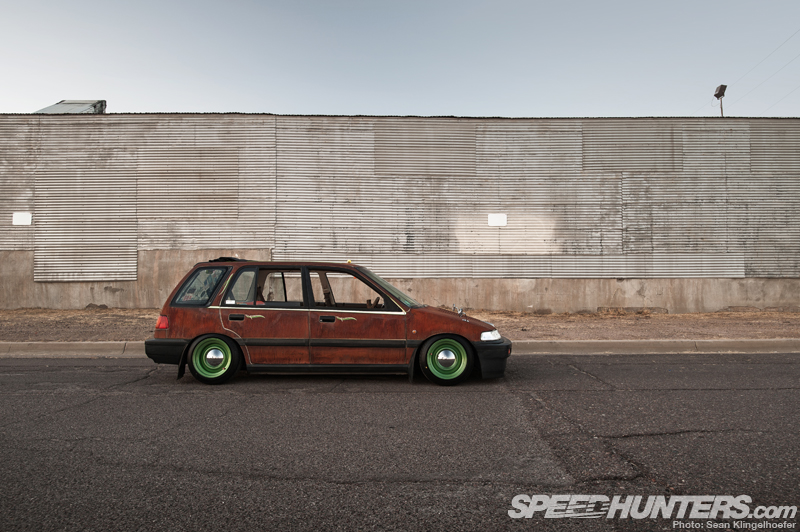 In a bizzarre homecoming I decided to meet up with the guys at my old stomping ground, an industrial area in the heart of central Phoenix which served as the location of some of my very first paid photoshoots. Being familiar with the area I knew that it would provide the perfect backdrop to further contrast the incredible colors and textures of the car.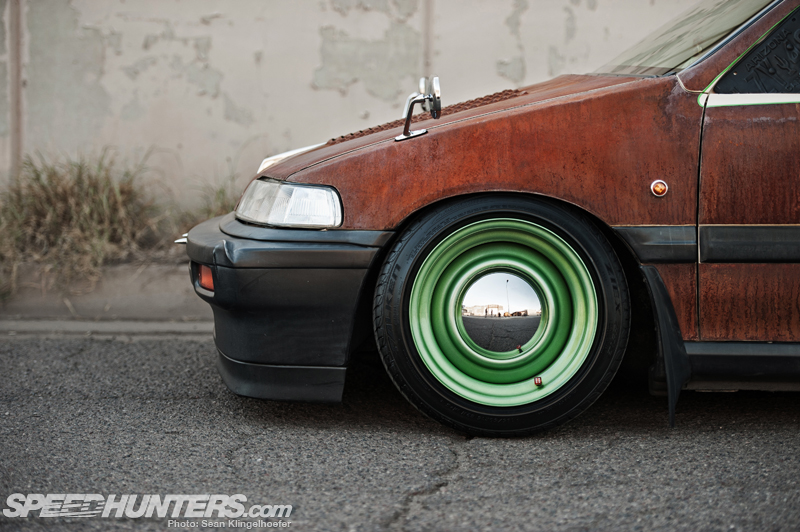 Although the rust may not be appealing to some, in fact it's not my first choice in finish, it does seem to get cooler as you get a little closer. And getting closer to a build like this is an absolute necessity because the more you look around the more interesting the car becomes. For example, from a distance it's easy to overlook custom-built wheels, Mooneyes fender mirrors and the retrofitted Honda Ruckus LED lights turned sidemarkers.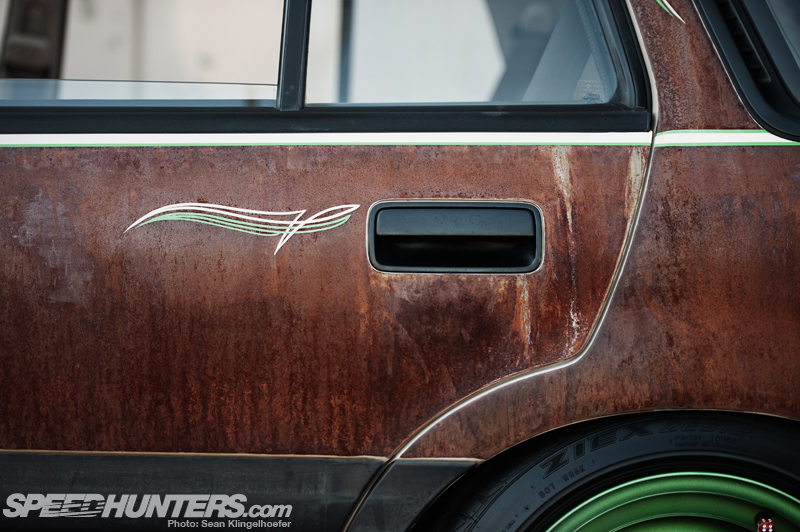 Getting closer still, even those turned off by rust can begin to appreciate the beauty of this living organism. "Living" in the sense that the rust is constantly changing shapes and colors all by itself. Looking further still and you can start to pick up on some of the intentional details, like how the car was painstakingly reduced to bare metal by hand, making sure to leave hard painted edges around all the trims and openings.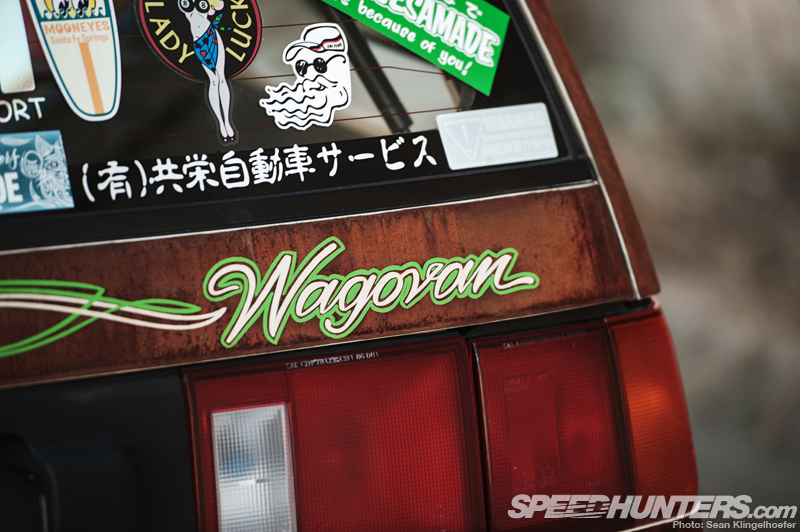 In addition to the factory painted seams, James had the car custom pinstriped adding a further level of detail. He told me that when he initially took the car in to be striped it was already rusted, but the painter insisted that he take it back down to bare metal. A day later he returned to the shop with a Civic he described as "looking like a DeLorean" and the lines were laid down. Once the paint cured the car was then left to rust again, giving a very interesting final aesthetic.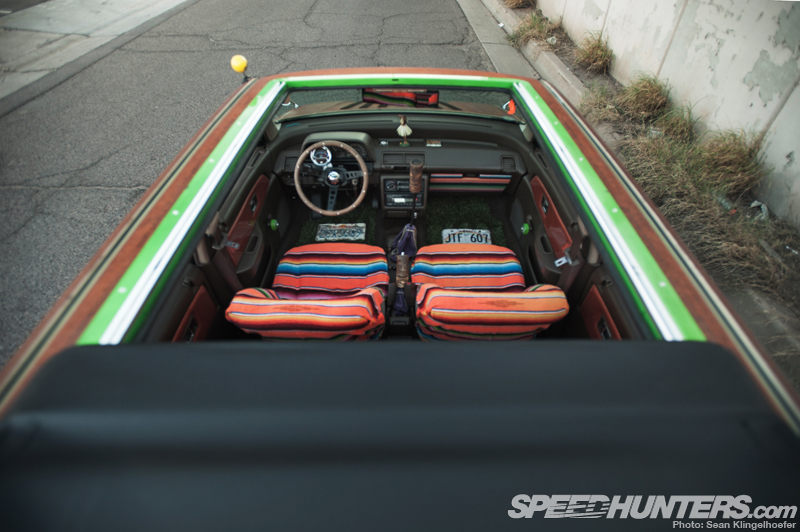 But the quirky creativity doesn't end there, it quite literally flows from the outside, via a full-length sliding rag top, into the interior. The first time I saw the car I couldn't help but smile at how looney it is, but when I took a second look I realized that there was more to the inside than a cheesy theme.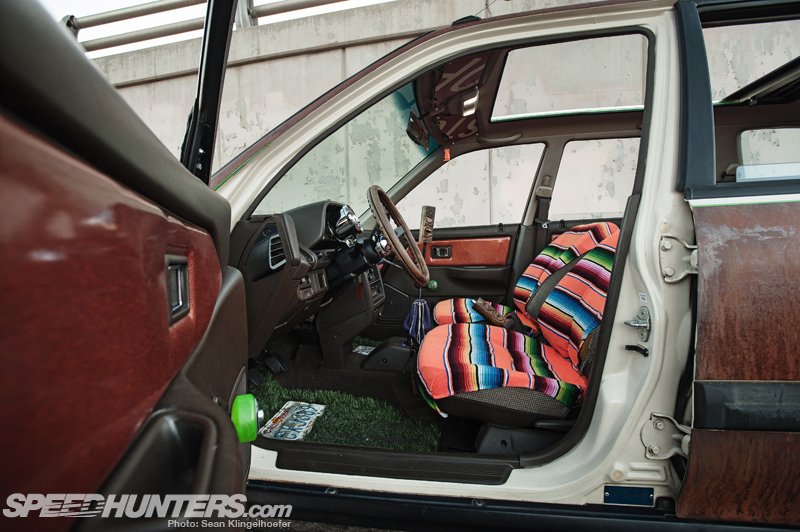 I'm not denying the loudness of the Mexican blanket seat covers, they're almost overbearing, but appropriately so for a car from Phoenix. Moving past that, the next thing you'll notice is probably the astroturf carpet which has been secured by individual stained wooden slats and finished off with heel plates comprised of old license plates. But there's more still…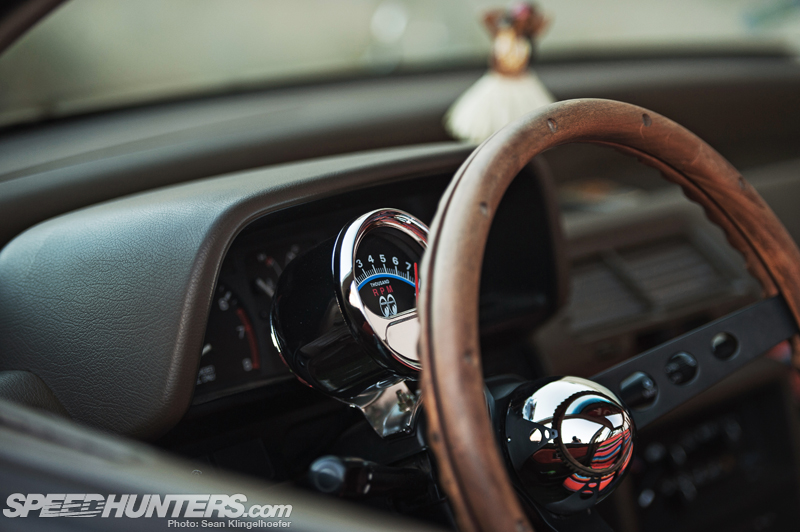 Take for example the Grant Walnut steering wheel. I can't imagine another car on the planet that this would look good in, yet I can't think of a better solution for this one. Peering out behind the chrome bullet horn button is an equally shiny tachometer from Mooneyes, providing a bit of old school cool validity to the cabin.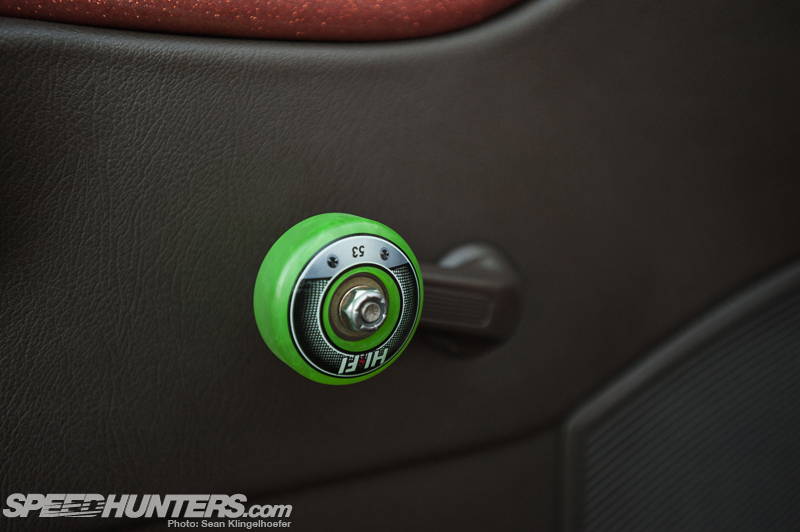 Underneath each of the custom glitter-vinyl door panel inserts is a skateboard wheel window crank. But the skateboard theme doesn't end there…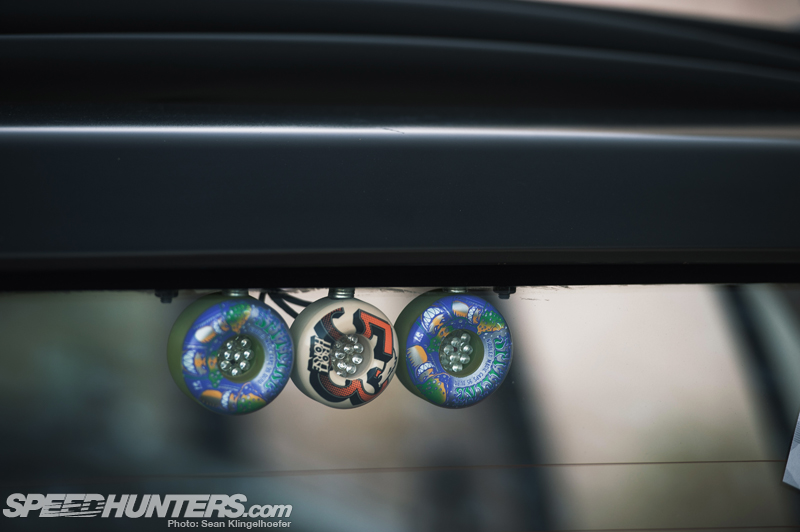 While I didn't spot it the first time, I thought that the matching third brake light was daring. The car is a bit like a good movie in the sense that I think I could go back and look at it a dozen more times and continue upon new findings.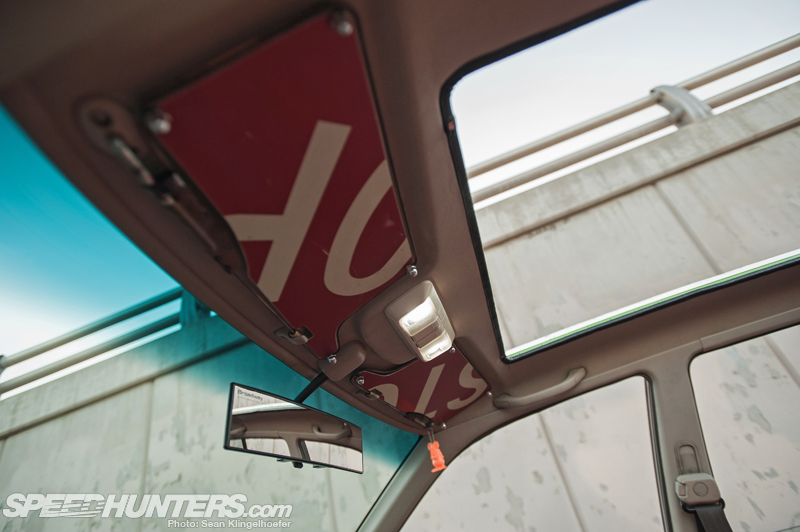 Virtually everywhere you look there is something not quite stock about it. Take for example the sun visors which were fashioned out of a reclaimed stop sign, a contribution from a friend. In fact James tells me that almost everyone he knows has donating something to build. How cool is that?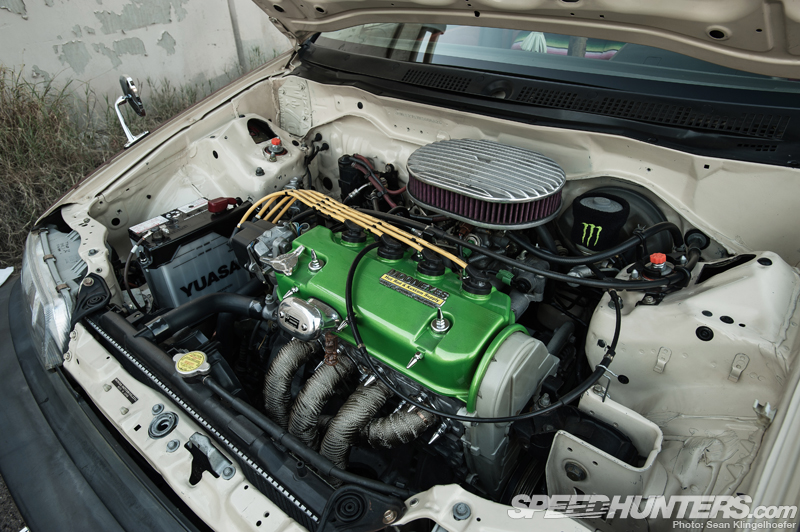 By this point I wouldn't be surprised if you'd written off the car as some sort of weird semi-show car, and as such presumed that the engine bay was forgotten. I know that's what I had though when I saw it in Long Beach, but we'd both be wrong. While it isn't making one thousand horsepower or have the latest and greatest bells and whistles, it does show further inventive problem solving.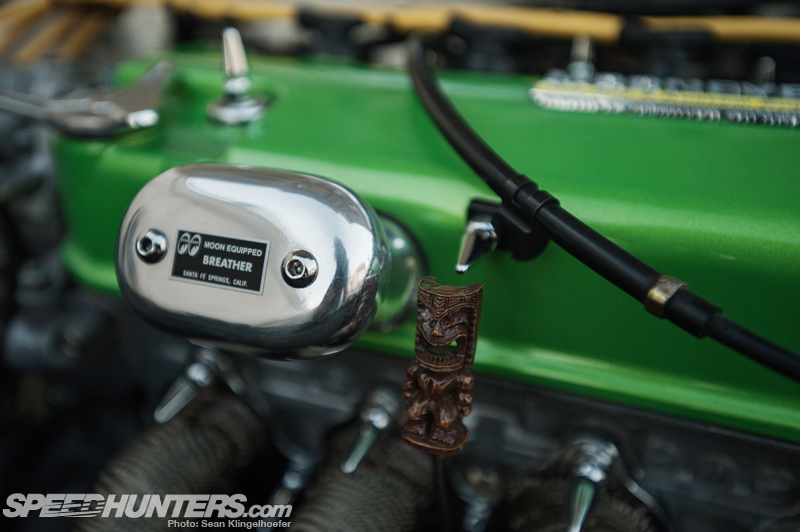 As you might guess, Mooneyes doesn't make a single part for an '89 Civic, so if you want to use their goods on one you need to get creative. But as  you can tell from the smiling Tiki dipstick, creativity is something that James seems to have quite a bit of.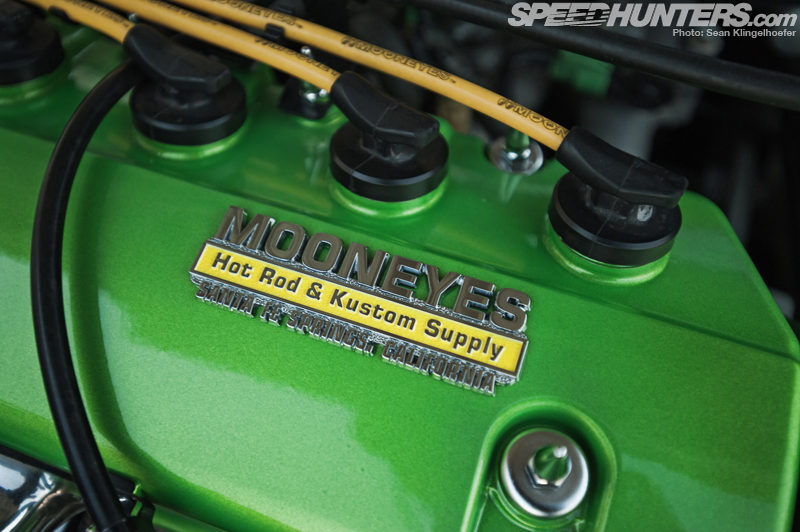 In order to get parts like the Mooneyes breather and oil cap to fit, James had to do some customization to the valve cover. This included some cutting and welding along with a pinch of thread pattern manipulation. With all of the serious metalwork taken care of the valve cover was powder coated to match the wheels and finished off with a Mooneyes badge and some spiked nuts.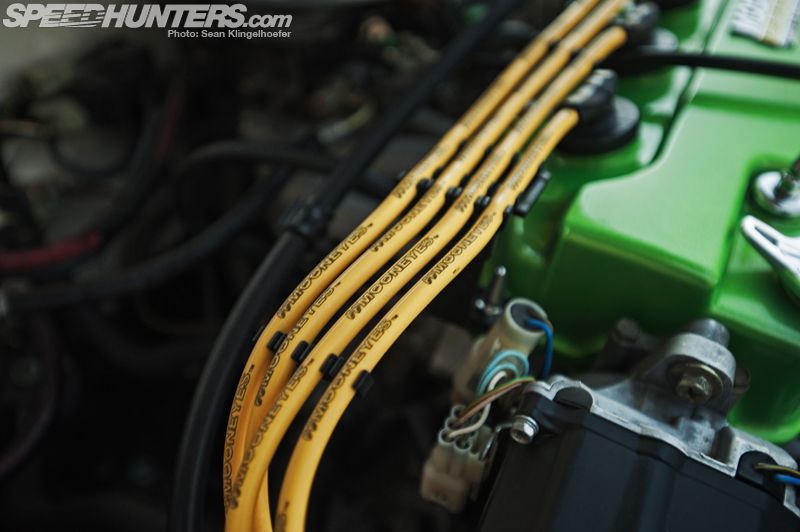 But the coolest modification in my opinion is probably the easiest to overlook – the spark plug wires. Since there wasn't anything off the shelf from Moon for a 4-cylinder Honda, he grabbed a set of V8 wires and went to the proverbial drawing board. In the end he had to cannibalize a set of NGK wires and, using their donor bits, fashioned his own set of Mooneyes cables for the Civic. If that's not badass, I don't know what is.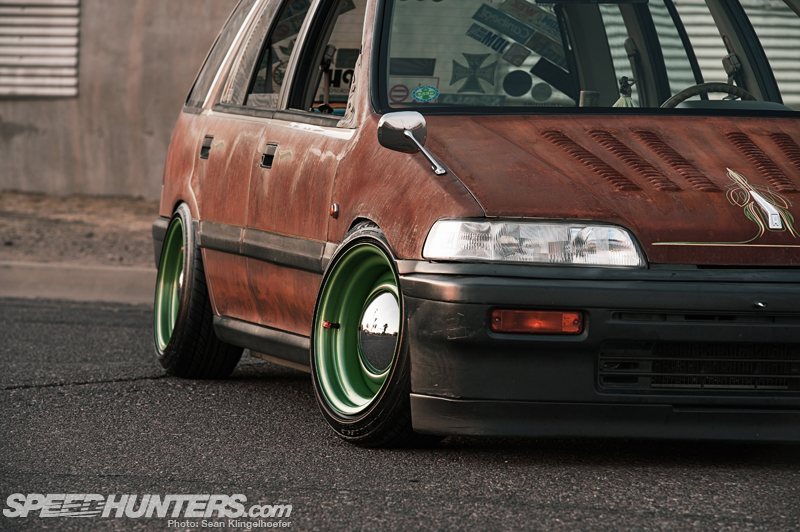 Then again I might be wrong, I certainly have been before, but I find this to be a very interesting re-think of what a Civic is and can be. Although he's built a bunch of cars prior to this, he decided to just cut loose and have fun with this Wagon and in the process created something I find terribly interesting. While I might not like everything he's done, I do like most of it and I'm glad that it exists and is daily-driven at that.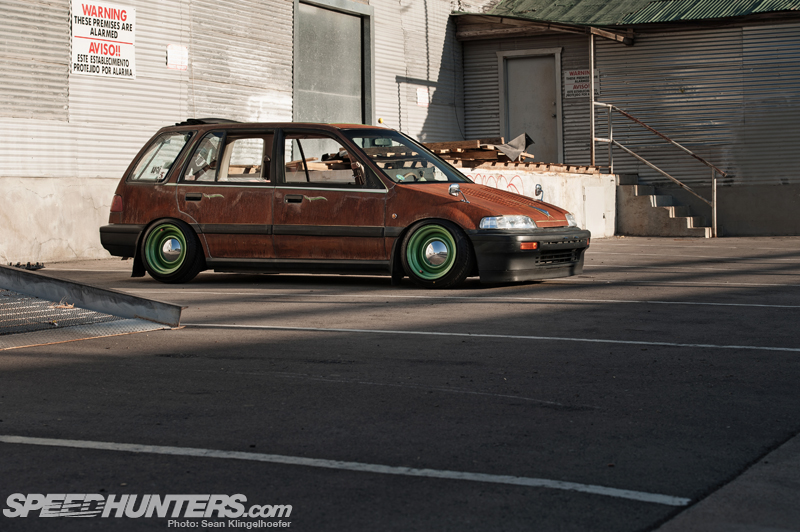 I'm sure many of you reading this started the article hating it, but I hope that after a further look you can appreciate some of what's been done here. It's a car that doesn't fit any particular mold and celebrates what I love most about cars at the core – having fun. I think that's exactly what's so great about it, it stands for doing something for the simple fact that you love doing it.
In a way it's a rolling metaphor for Speedhunters and in my opinion an excellent ambassador for what we stand for… vehicular diversity.
1989 Honda Civic Wagon
ENGINE
Stock D15; Energy Suspension engine mount inserts; SoCal Speed Shop aluminum finned air cleaner welded up to fit the stock throttle body; Megan Racing header with DEI titanium wrap; Magnaflow muffler with custom piping; NGK spark plugs; Mooneyes/NGK hybrid spark plug wires; Gates Powergrip hose clamps; Jagermeister overflow tank; modified valve cover with Mooneyes oil cap and breather; Tiki dip stick; mild wire tuck; Downstar inc. spike nuts
ENGINE MANAGEMENT / ELECTRONICS
Mooneye's Half-sweep Tach
DRIVELINE
New Honda reman axles; Exedy Clutch kit; Hondamatic shifter extension; Energy Suspension shifter bushings
SUSPENSION / CHASSIS
Ksport Kontrol pro coilovers w/ 14k/12.5k springs (f/r), adjustable rear UCAs, rear LCAs, adjustable toe links; Skunk2 adjustable front UCAs; DA Integra swaybar powder coated green; -6.5deg camber front, -5.8deg camber rear, zero toe
WHEELS / TIRES
15X8″ +0 / -6 Custom Smoothies wheels; Falken Ziex ZE-512 195/50/15 tires
CABIN
Grant Classic Walnut wheel with a Bullet horn button; custom Tiki bar decoration shift knob and e-brake handle; Mexican blanket seat covers; glitter vinyl door inserts; synthetic grass flooring with wood slats and license plate heel plates; skateboard wheel window cranks; Crown Royal shift boot and ebrake handle boot; reclaimed stop sign sun visors
BODY
Rusty orange exterior; 90's Volvo wagon front lip; Universal 55in Ragtop w/ powder coated green frame; custom hood louvers done by Hot Rod Central; Pin-striping by Tom Schmid; JDM EF2 sedan headlights; Drow Sports Ruckus LED sidemarkers; custom skateboard wheel 3rd Brake lights made by Machine-13; Factory BMW HID's with LED's throughout ; Mooneyes fender mirrors; 1981 Honda Accord hood emblem, 1971 Honda Life fender emblems
THANKS
Thanks to all my friends that helped me work on this crazy car and gave me so many ideas! Thanks to Ramsey and Will at Import Power House, Jin at Kyoei-USA, Nick and Chris at Ksport, and Hien Le aka "Hondamatic"
More stories by Sean Klingelhoefer on Speedhunters
More car features on Speedhunters
-Sean