In the sport of baseball the term "doubleheader" refers two games played consecutively by the same teams on the same day. In the sport of Speedhunting a doubleheader is anytime you shoot two separate events, or cars, at two separate locations in the same day. Saturday would be one of what will only be plenty more in a long line of Speedhunting doubleheaders as I spent the day bearing the sun and heat to cover both Nisei and Infamous. They said it couldn't be done. They were wrong.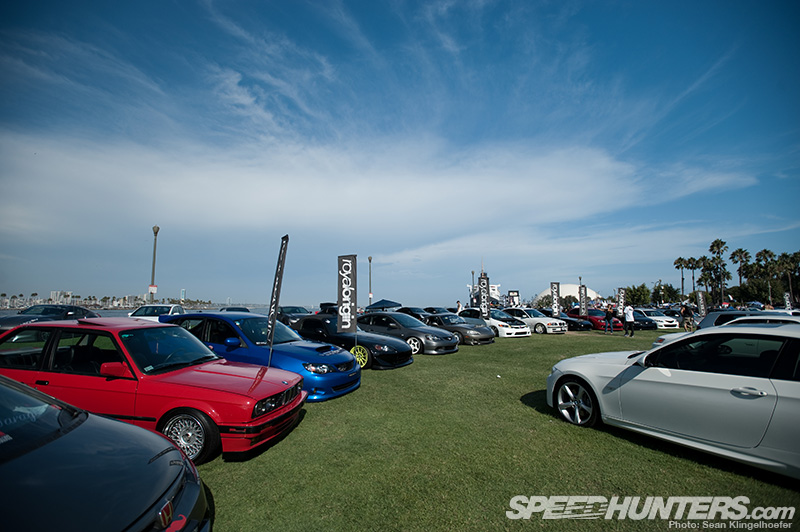 Doubleheaders in all senses are mentally fatiguing and physically exhausting, the difference being that I had no relief pitcher to step in for me at Infamous. I left Nisei and a very hot DTLA at half two and hopped into my Civic, with an A/C compressor that just decided to go out, and drove halfway across LA county to Long Beach. I eventually arrived at a much cooler Queen Mary and found a second wind.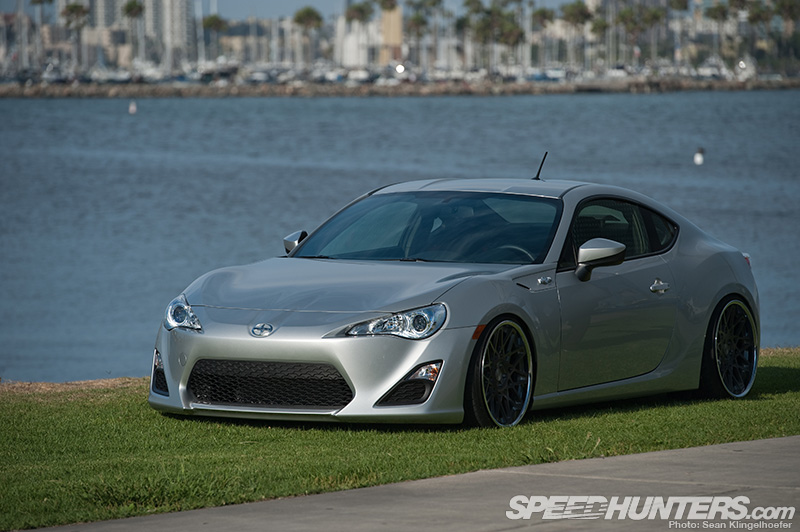 Having literally just left one show to attend another I couldn't help but draw a couple of comparisons in my mind. The first thing that stuck out was how Infamous seemed to be a more mainstream event geared towards the casual enthusiast. It showed in both the attendance and the other activities going on around the show, like the DJing and breakdancing on the main stage. I'm not saying this is bad thing, actually it makes a lot of sense since cars are just one of the many facets of life Fatlace represents.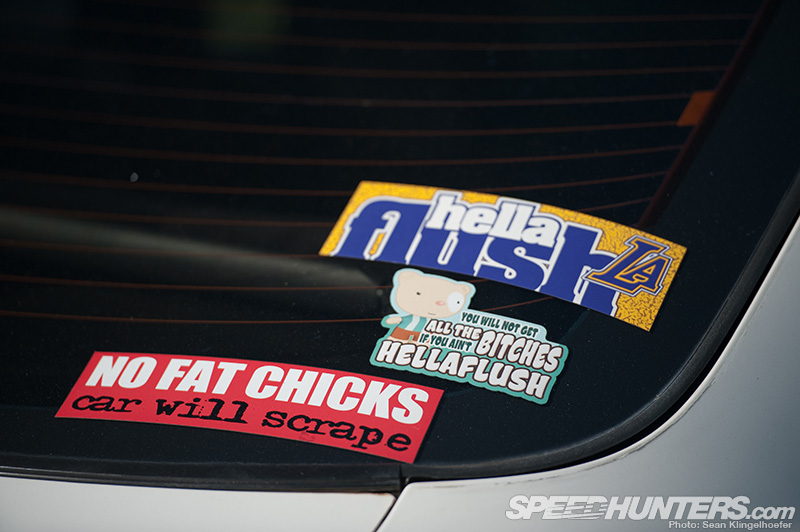 The other glaring difference was the average age of people at the event, both car owners and show goers alike, seemed to be much younger here. Just one look at most of the cars, even from some distance, and you could quickly see they were put together by someone with little experience.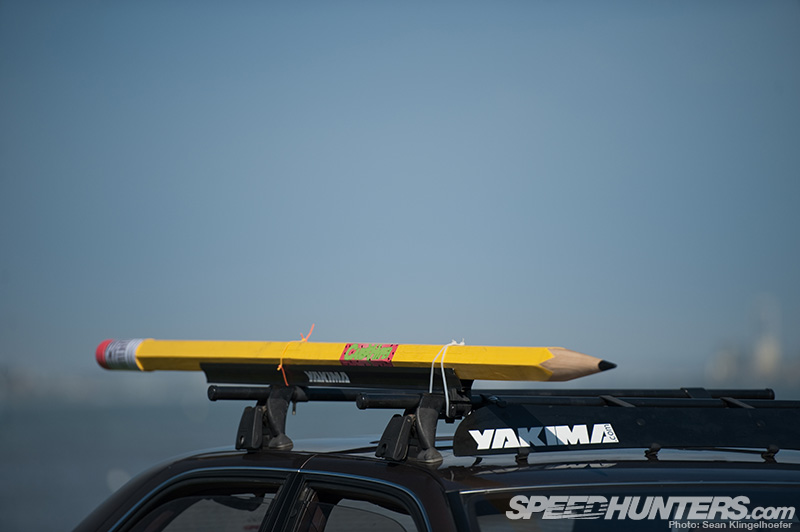 Some of the stuff I saw at Infamous made me have downright "WTF, mate?" moments. Again, I'm not saying that's a bad thing, we all go through phases and learn from our mistakes.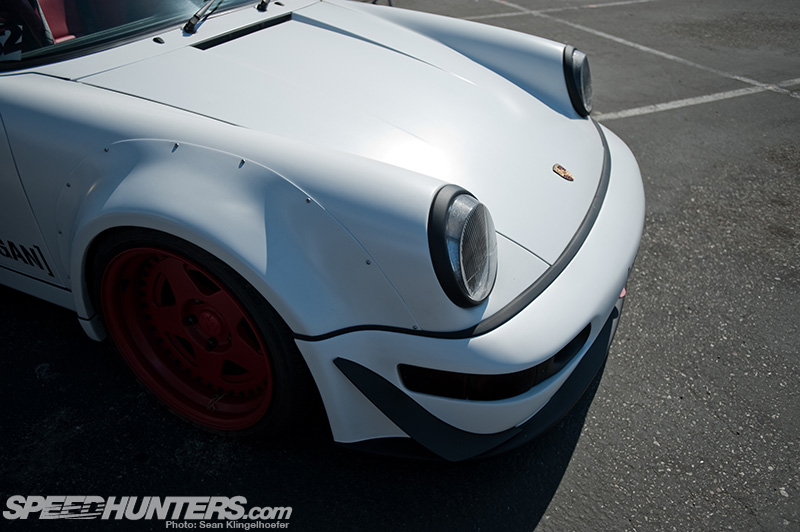 Of course that's just a generalization though; there were some truly great cars out in the sun. I knew going into the event that anything having to with Fatlace would likely bring along some pretty impressive cars, like Brian Scotto's RWB 911. It was Mark Arcenal's plan to get all of the west-coast RWB cars together in one place.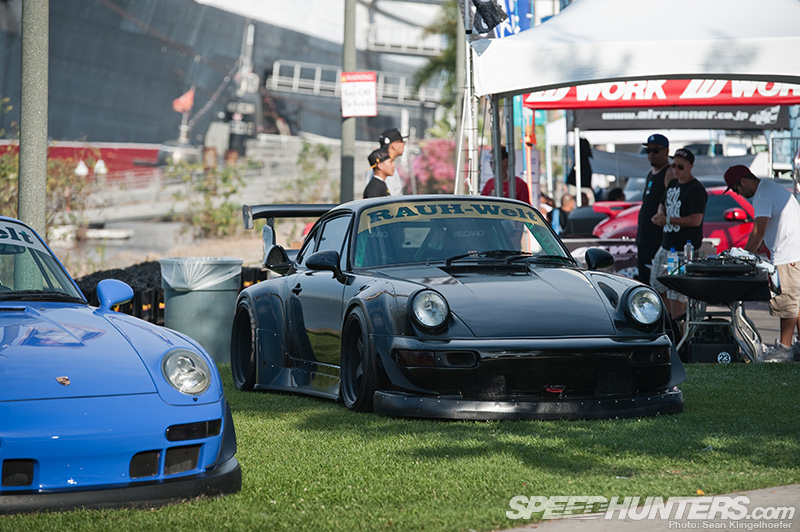 Needless to say, he succeeded. In order to complete the trifecta he would of course have to bring his own "Pandora One" 911, which was debuting at INFMS for the first time in its new colorway. Unless you've been living under a rock, you'll likely remember it being rather green. Mark decided black suited him a little better and ditched the Kermit color.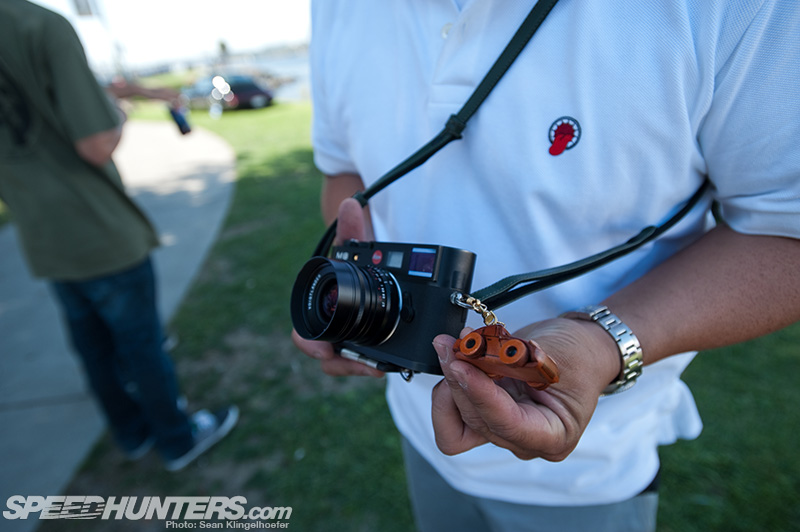 I guess I'd have to concede that black does seem to go along a little better with a Leica M8. Maybe one day I can afford a camera that nice, until then I'll have to keep to shooting photos of Mark and live vicariously through his Instagram stream. He even has a rad leather 911 keychain, the man is unstoppable!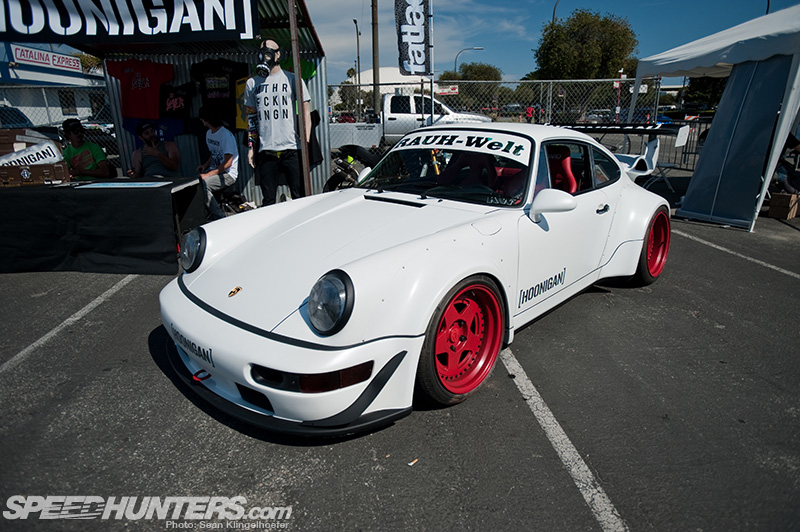 Speaking of unstoppable, I've been seeing a lot the Hoonigan brand lately and I can't help but think that Brian's Porsche has a little something to do with it. Well, that and that Ken Block guy. No matter what the secret to their success is, I have a hard time finding a fault in a satin white Porsche. To me this car can do no wrong and the Fifteen52 3-piece Tarmacs look killer.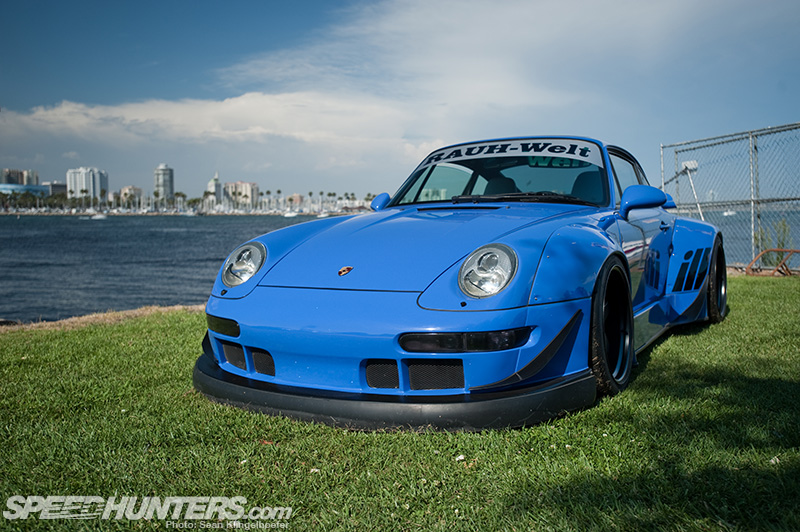 The third car, of which I had only seen in photographs prior, is named "ЧАЙХОНА". I dare you to say that five times fast. Actually I dare you to even say it once, slowly. Like most seemingly wacky names Nakai gives these cars, it does actually mean something – apparently it's a bar in Russia. Go figure, from a guy that once gave me a wrinkled up left over pack of Marlboro reds, which I can only imagine were found in a customer car (he smokes Winstons), nothing surprises me.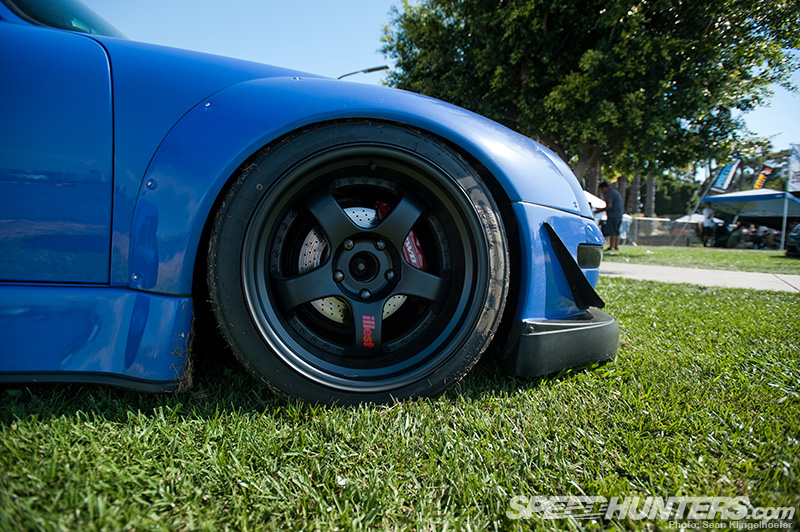 I do have to admit that I think the 993 is probably the best the looking of the RWB kits, if only by a smidgeon. I'd really love to see an RWB 993 wingless, my gut tells me it would be a good look. Anyway true to RAUH-Welt form, this car has been finished off with a set of 3-piece SSR Professor SP1s and an Idlers tire stencil.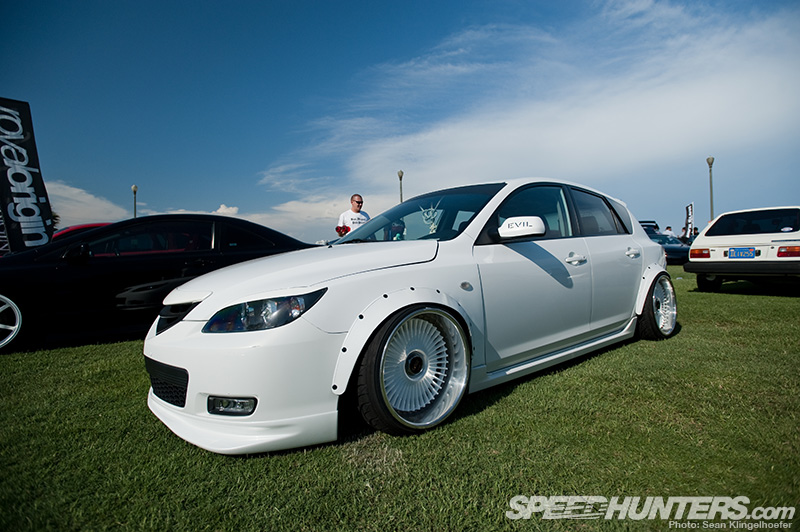 Elsewhere many cars were getting their stance on. While most of what I saw didn't particularly interest me, I couldn't help but notice there seems to be new car trending with this crowd – the Mazda3. When you think about it, it does seem to check all the boxes for a young man's car: it's cheap, it's reliable and it has plenty of room to haul around your buddies, or the occasional unlikely lady friend, in.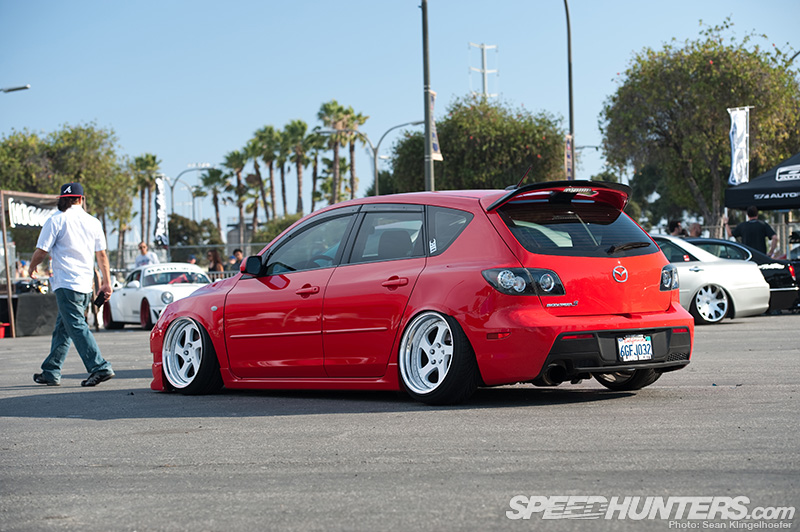 On top of that, from where I'm sitting it actually makes a pretty good "stance car" (god did I just say "stance car"?).  The body shape actually supports being that low to the ground quite well.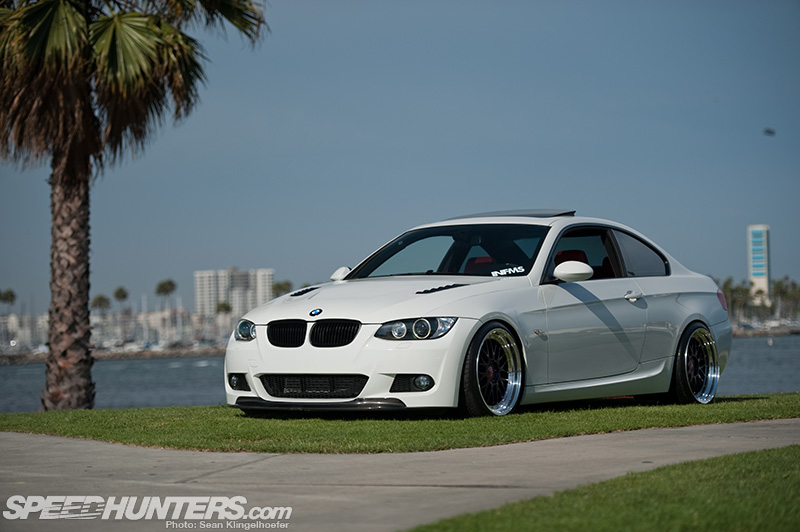 I also found some pretty clean BMWs like this E92. There's nothing over the top about it but the keen will quickly pick up the modifications which have been tastefully applied.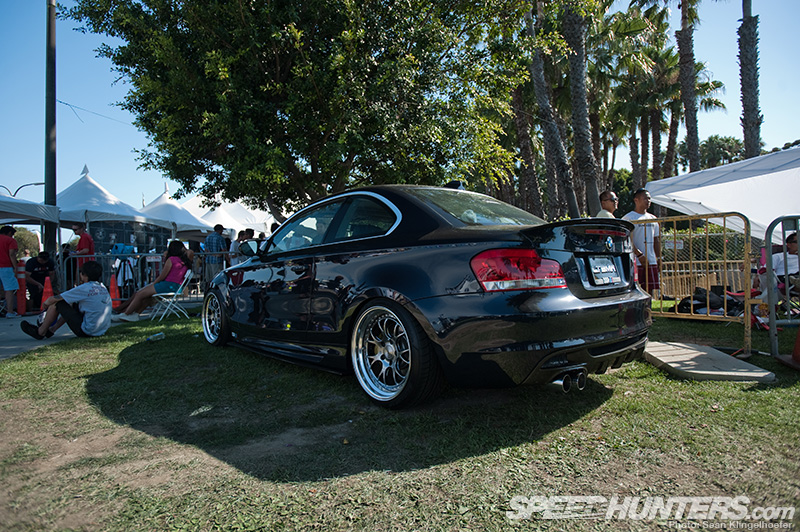 Here's a 1-series I quite liked, too bad it was in such a shit location for photographs. The backdrop combined with the mirror-like paint made shooting an accurate photo of this car all but impossible. It's difficult to tell from the picture but there is some pretty cool stuff going on like a carbon rear diffuser and SSR Professor MS3s.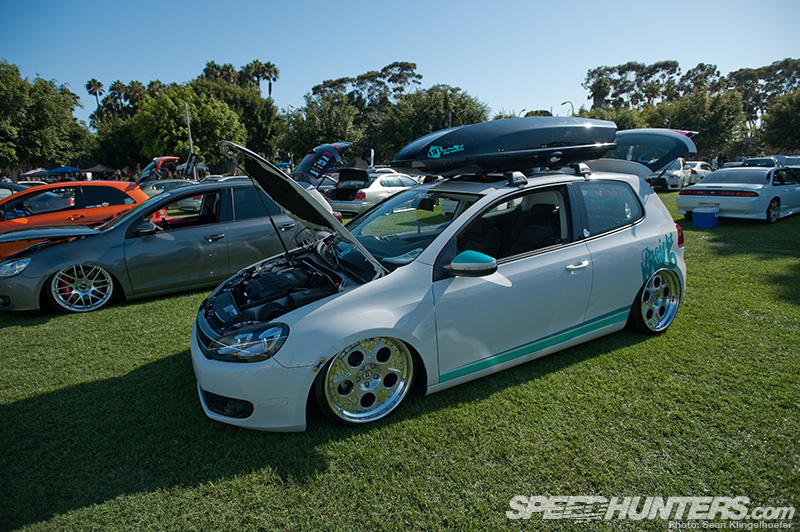 There isn't much about the newer Dub scene that does much for me, but occasionally I stumble across something I like. This was one such example of a car that was quirky but not over-done in its dedication to a theme.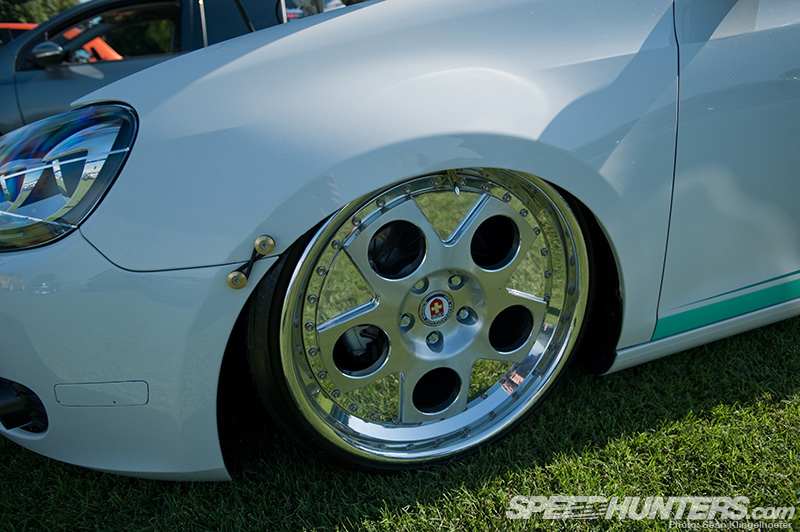 If I'm honest, the wheels were what intrigued me the most. I knew HRE had a line of "vintage" wheels, but I had never seen this particular model, the 454, until now. I can't really imagine another car off the top of my head that these would look ideal on, but they seemed to work nicely on this MKVI.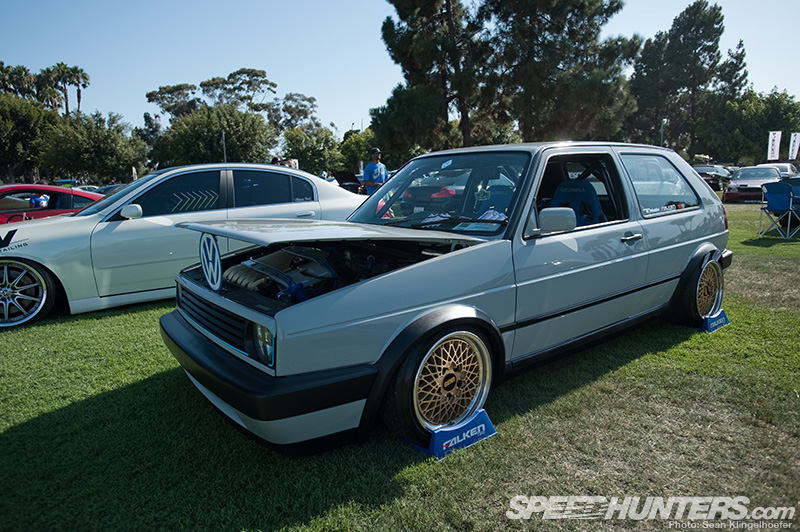 Now this is VW that I can get fully behind. Call me a traditional idiot, but there's something incredible about the first two generations of the Golf that seemed to slowly diminish with every body change thereafter. I'd liken the installation of BBS wheels on such a car to the use of Helvetica as an international standard typeface – not for how "right" it is, but for how "wrong" anything else would be.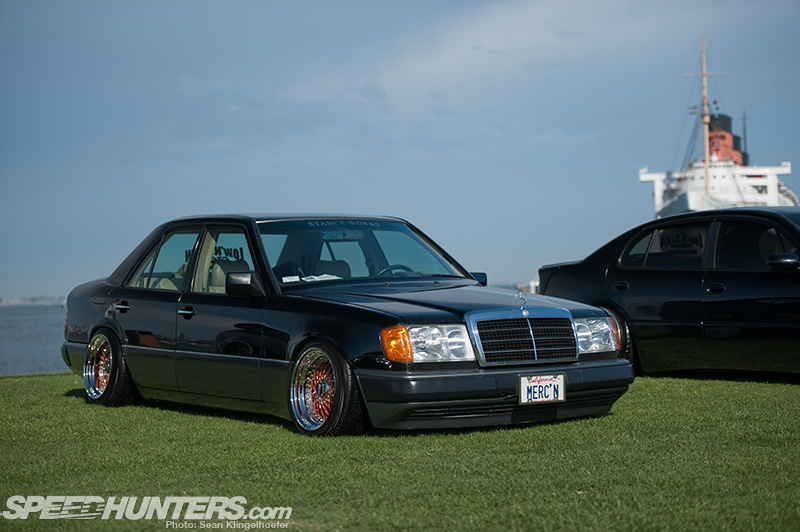 It wasn't just the Dubs that were gettin' stancey, I spotted this 300E doing its thing on the grass as well. Its thing of course being extra glossy, extremely close the ground and having a set of wheels with barrels so shiny that it was difficult to properly set the exposure.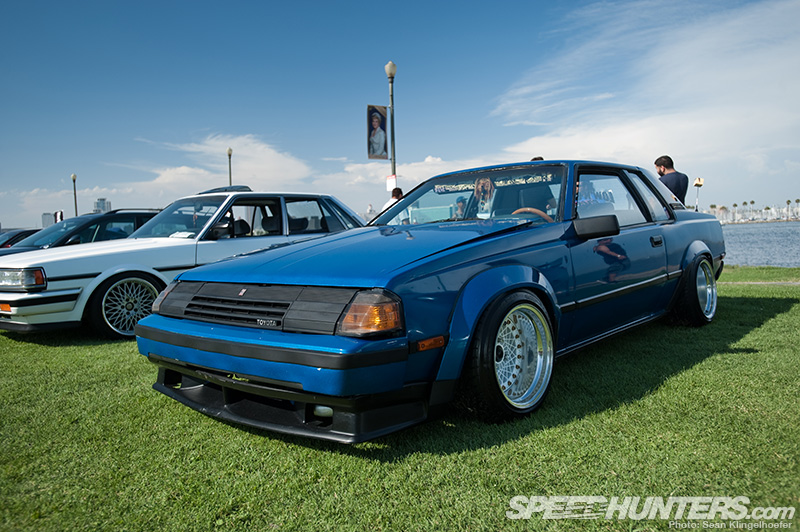 Here's another example of a car that was just made for this and/or the shakotan scene. The MKIII Celica, this being a later model GT-S (unless the headlights and fender flares were swapped out), is a car with a face so ugly only it's mother could love it. Yet at the same time there's something so radical about it. For several months I sat around searching craigslist for one of these that I was convinced I would swap a 1UZ into and go around pissing off everything in site. One day.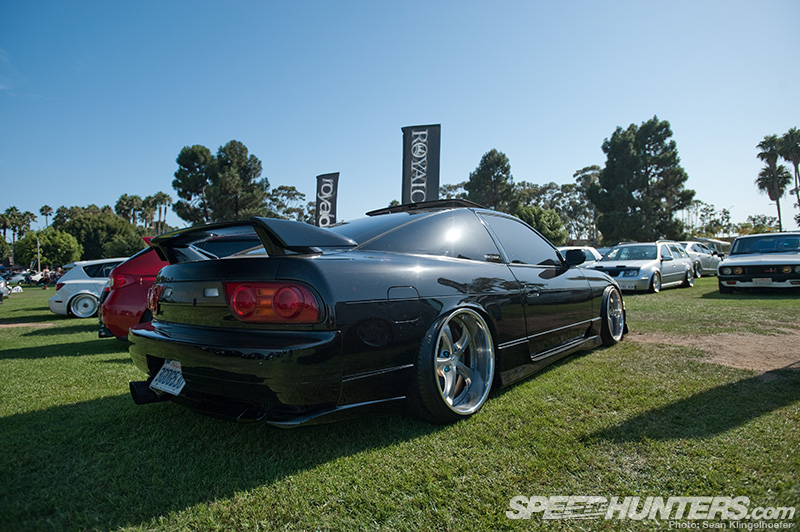 On the other end of the spectrum I have a lot of respect for people that are still building cars to a certain set of criteria that some would call purists. Love it or hate it, the Kouki 180SX is a look that isn't going away any-time soon.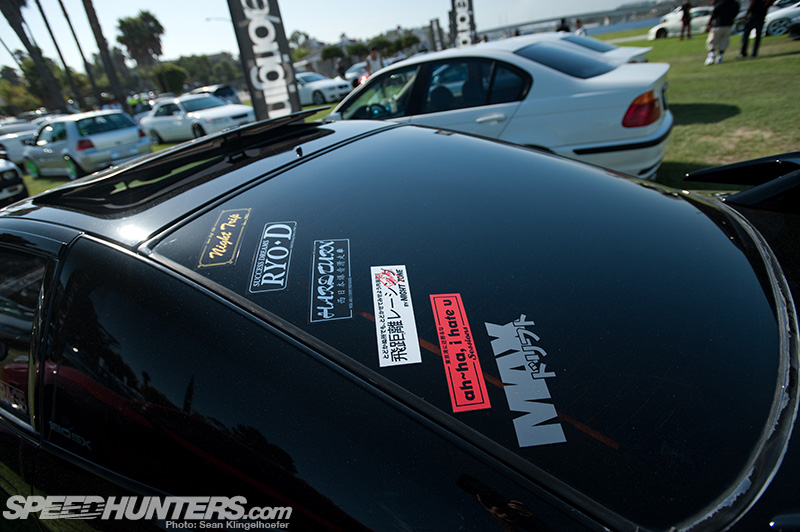 And would you look at that, a sticker collection with taste to match. Well done.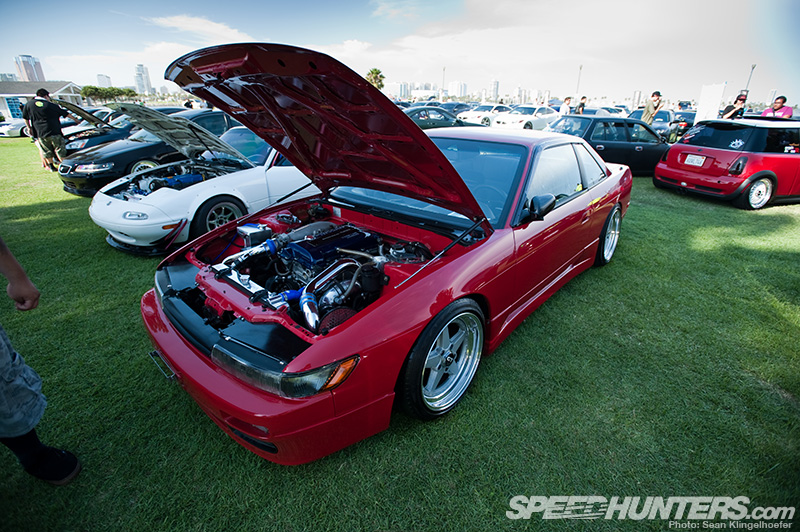 I also spotted another "traditional" S13 of a different shape. For a while I really did get bored of the Silvia-replica-with-minimal-aero-on-period-correct-wheels look, but compared to how a lot of people are destroying these cars (literally and metaphorically) these days, it's a welcomed breath of fresh air!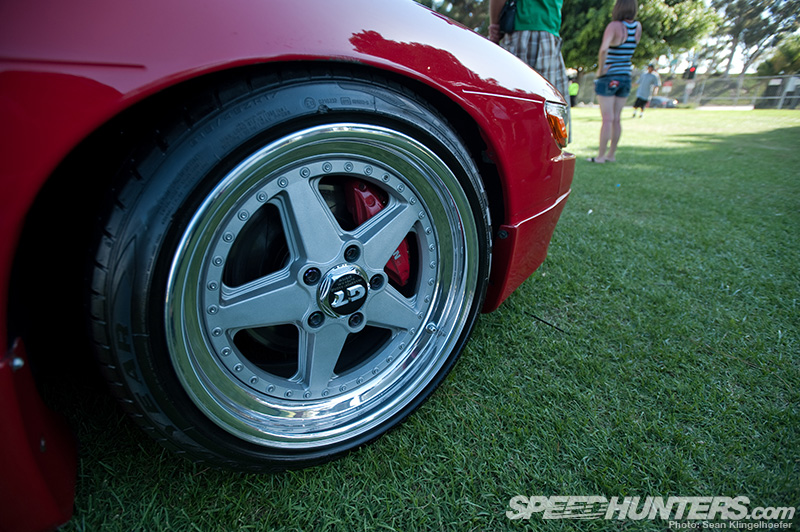 Panasports on a Silvia is always a safe bet. It's not every day that you see G7s, but this particular style is even less common. In fact I'm not even entirely sure what these are called, I would presume they are a G7 C5__ but I don't know the final designation. Maybe someone out there even nerdier than I can help out?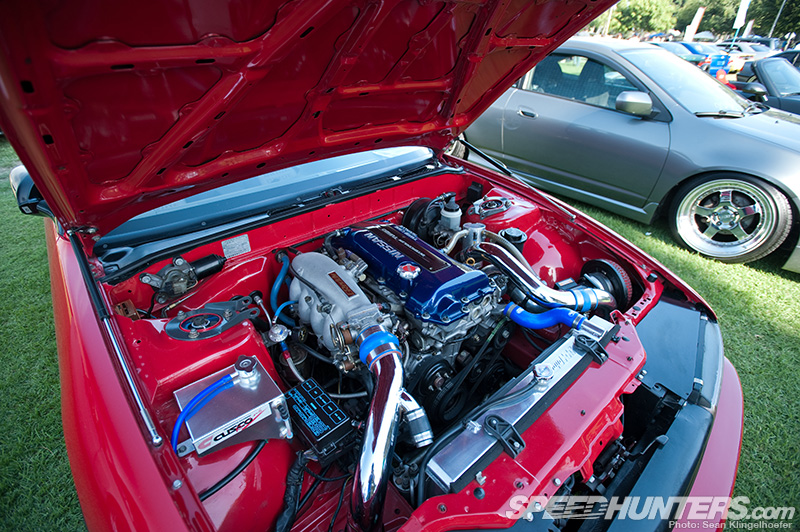 The engine bay looks fresh out of a late-'90's Option magazine. GReddy intake manifold? Check. HKS super suction intake? Check. Nismo oil cap? Check. SARD fuel pressure regulator? Check… and so on, and so forth. Very cleanly done.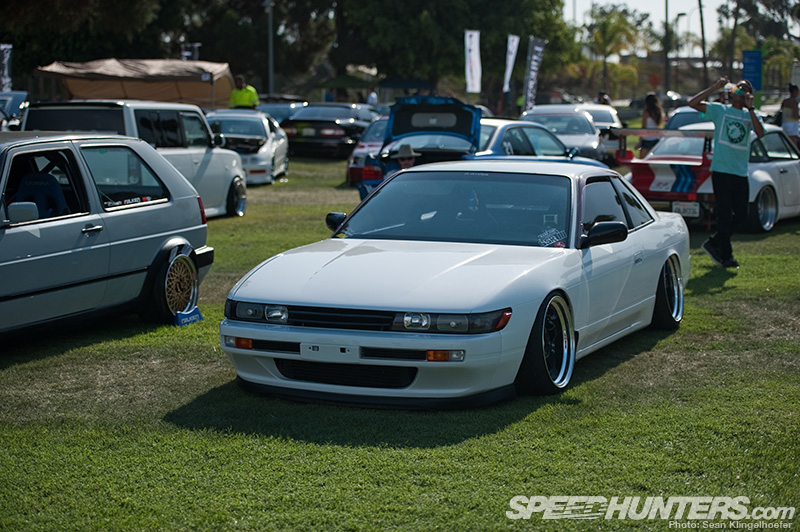 Here's yet another S13 wearing a Silvia face that's been styled in a slightly more modern fashion. It's quite low but not exactly Hellaflush. Actually I know a bit about this car owned by Brandon Burke because it was featured in Super Street when I was working there.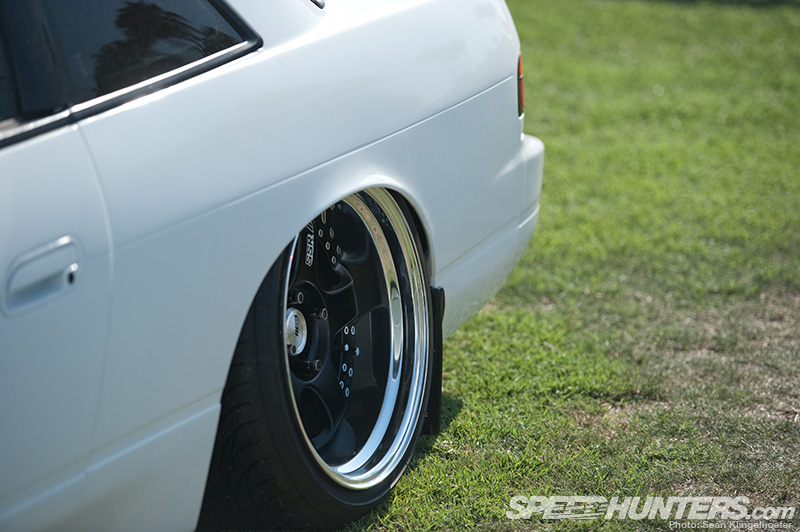 Long story short, the car was built entirely by the owner in his garage. The only time the car left was to go to a paint booth where Brandon would paint it himself. I think this is a better alternative to a lot of the cars I'm seeing these days and propose a new heckatucked style will emerge.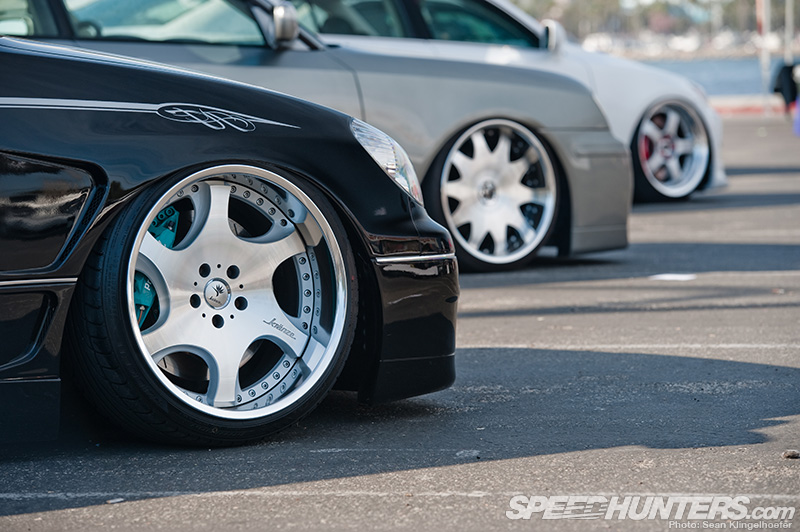 Of course it wouldn't be a Hellaflush show without a ton of VIP stuff. While there were some incredible machines out there like the ones from Autofashion who consistently knock it out of the park, a lot of the cars were more VIPish or VIP-inspired or sort-of-VIP.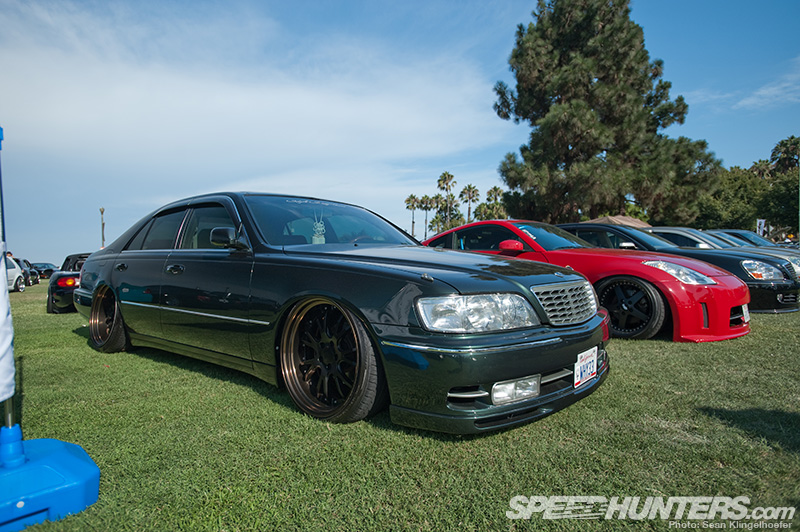 I'll admit I am a little biased to the Y33 body style, there's just something about that sloping C-pillar that makes me crazy. This particular example looked extra hot with its bronze Work Gnosis GS4s contrasting the forest green metallic paint. Damn that's a good color combo.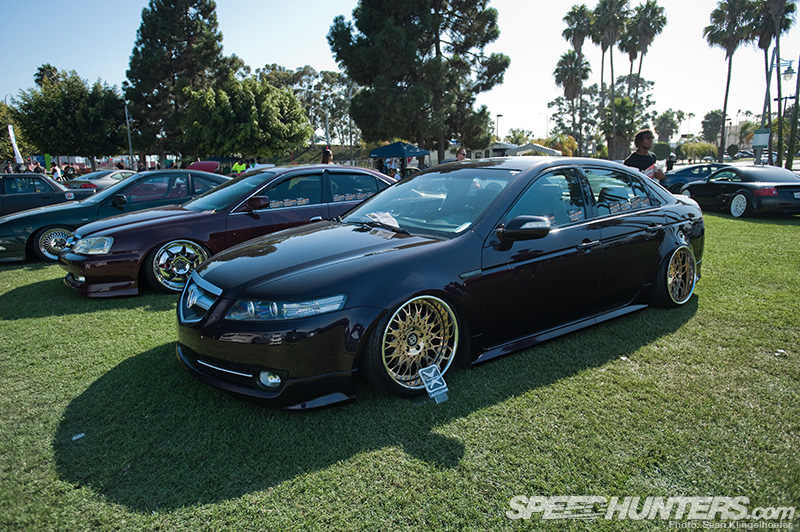 On the road-less-traveled I found this cool Acura TL. You certainly don't see many of these modified in this manner, but I think it quite suits the lines of the car. It's virtually impossible to tell from this photo but the paint was a dark root beer color and it went too went well with the wheels it was sitting atop.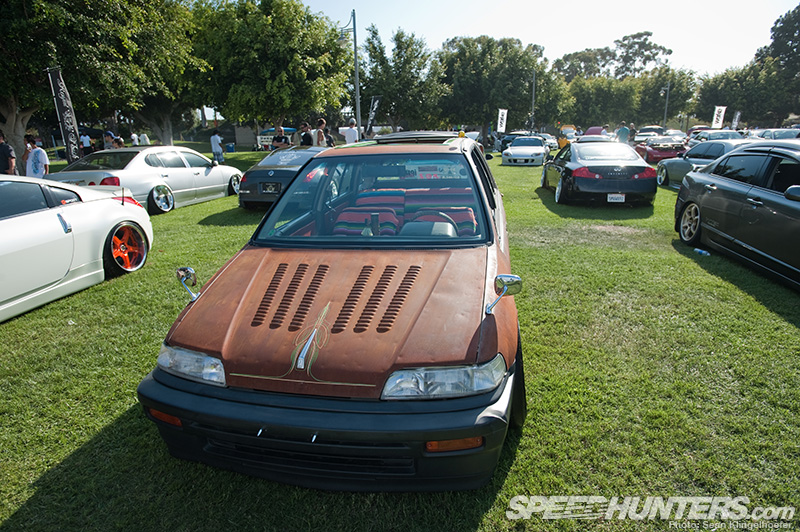 If that TL was considered the road-less-traveled than this Wagovan must be the road that has yet to be paved. All joking aside I think this might have been the most interesting, and I'd argue best thought-out, car of the show. I'm prepared to get a bunch of crap for this but hear me out…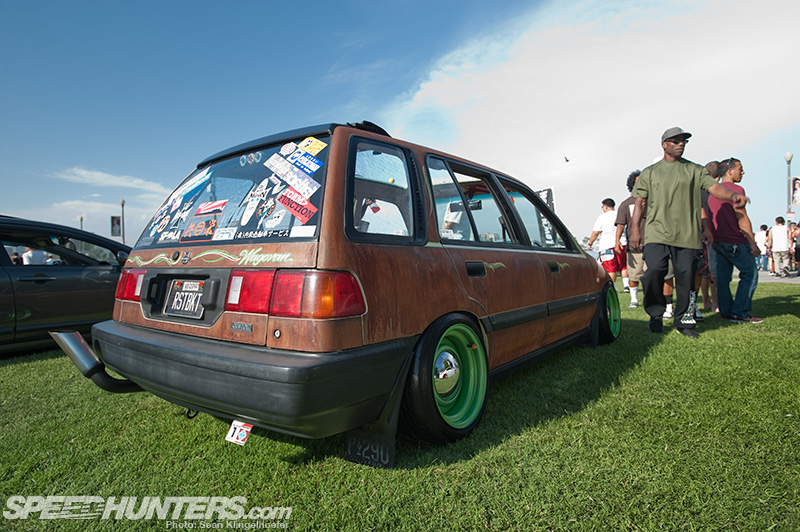 Sure at first glance it looks like a rust bucket, and it is. There's nothing new about the concept of patina, I mean pretty much every car currently sitting in a junkyard for more than a decade will bear at least some resemblance to this. But if you look past the obvious there are lots of little treasures waiting to be discovered.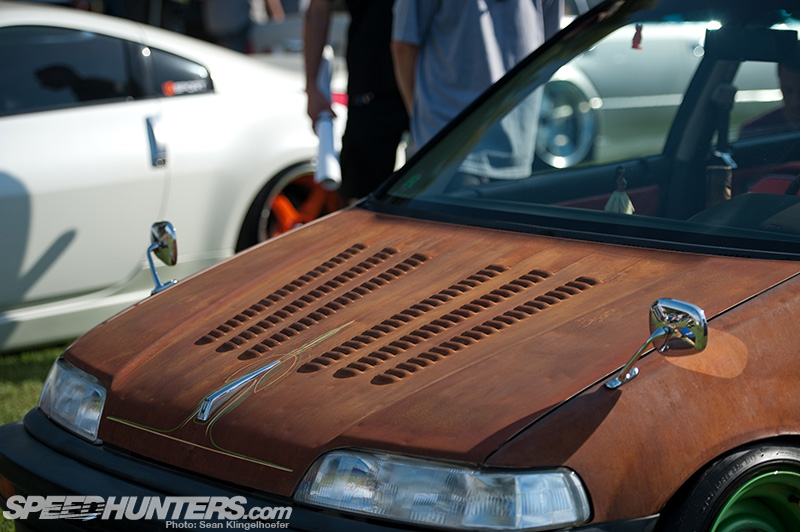 For starters the louvers in the hood I think are quite cool. I didn't get a look underneath so I'm not sure how they were done, but any method I can think of would be quite time consuming. Then there's the hood ornament, which appears to be that of a first generation Accord. Oh and don't forget the JDM headlights, some style points there, surely.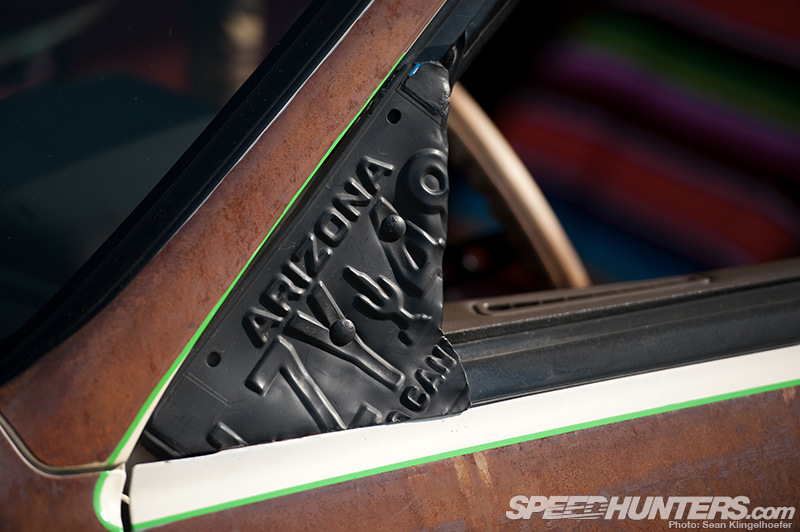 The owner has also integrated a theme of license plates which have been re-tasked for various needs. Here we see a mirror block-off plate, but they can also be found as mudflaps and even inside the car…
As heel-up plates. I'll admit inside the car things start to get a little strange as the rust bucket theme is met by a Brady Bunch Tiki party, but it somehow works. Again the little details really go above and beyond, the wooden slats securing the AstroTurf  mats, the skateboard wheels on the window cranks, the crown royal shift boot. At the very least you have to admit there was some thought put into it.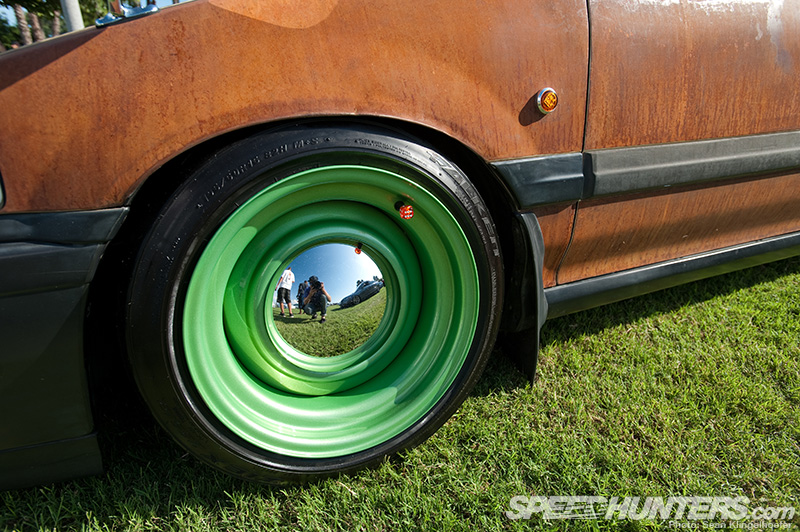 The wheels seem simple at first, just some steelies with a baby moon cap, but judging by the way they fit I'd guess these are completely custom jobs. I think it's also somewhat interesting that this is the only car at the show which could at any time truly be described as "Infamous."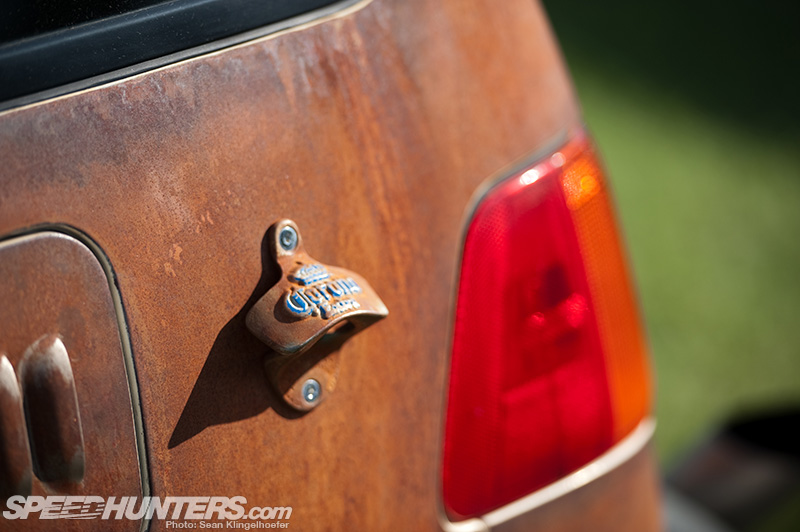 But if I had to explain what I like the most it's probably the fact that this car isn't trying to be something that it isn't. It's not something built to impress people on the internet or show off how much money the owner has or "get bitches". It's a car that someone had fun modifying, which is the reason why we all got into cars to begin with.
Until next time, I'll leave you to that thought – crack open a cold one and enjoy the rest of your day!
More car show coverage on Speedhunters
More stories by Sean Klingelhoefer on Speedhunters
-Sean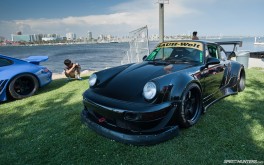 ---
---