The time attack scene in Japan is just about to begin. As the summer's scorching temperatures begin to fall, as hazy humidity gives way to crispy blue skies, race tracks begin to populate with a special breed of enthusiasts. Shooting for the ultimate lap has become somewhat of a way of life for some, Scorch Racing's Suzuki-san always coming up as the best example here. But long ago, before I even came across Suzuki-san and the Battle Evome series I had the fortunate chance to meet a guy that decided to take his pursuit of speed…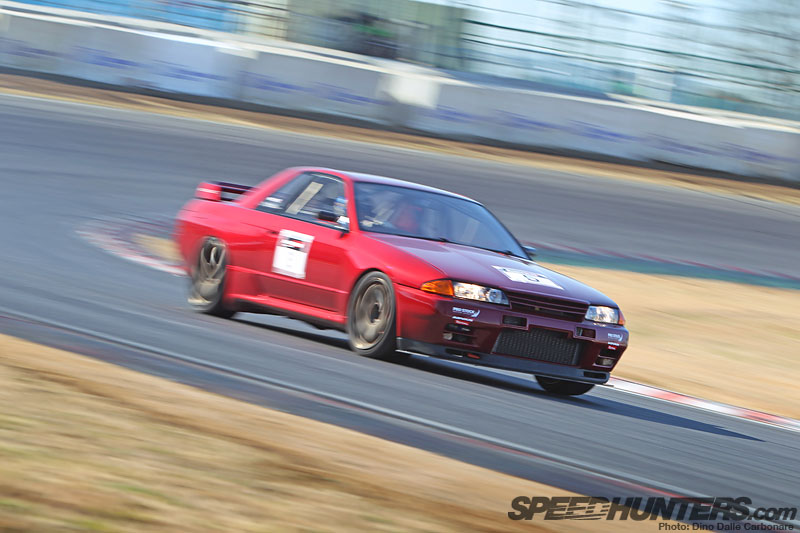 …to a whole new level. Jin-san has always been very passionate about GT-Rs and back in 2006 he commissioned Garage Ito in Osaka to build him the mother of all time-attack "R's," that wild BNR34 I featured back in 2010. Next to the M-Speed GT-R, that san-yon is without a doubt one of the most extreme Skylines ever created, featuring a heavily customized chassis, double wishbone suspension layout front and rear and a very powerful 2.8L RB engine. It was built as a demonstration car for the tuning shop that Jin-san had always wanted to set up, a place where people could bring their cars for no-nonsense tuning and excellent maintenance, a place that ended up being called Pro Stock Racing. By 2007, when Jin's impressive facility was built in the outskirts of Tokyo, the R35 GT-R release was just around the corner and it was decided to put the R34 on the back burner and get ready for the unavoidable race to develop and produce parts for the new-gen GT-R. Fast forward a couple of years and with the R35's bubble sort of popped, Jin-san found himself craving for some RB-action, but it wasn't his crazy R34 that he wanted to get back into, but rather the car that had sparked his interested in the GT-R, the BNR32 you see here. This san-ni for years had been his track day toy…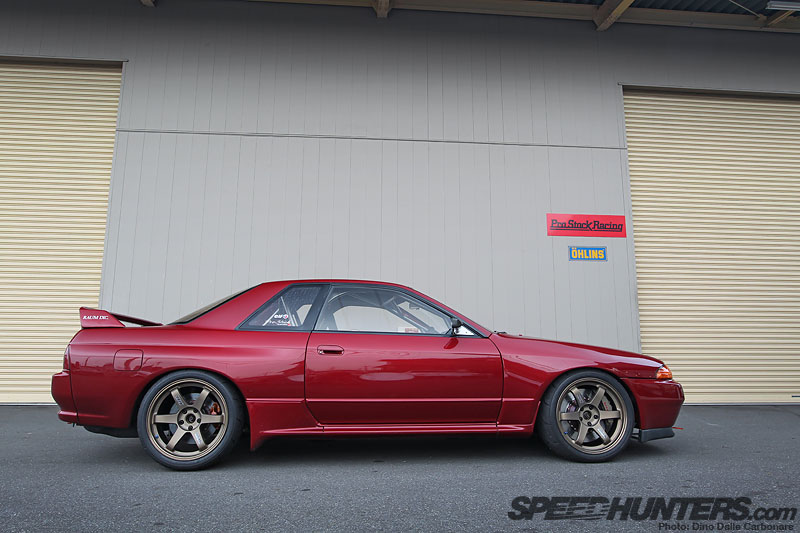 …a car that had allowed him to learn so much about the GT-R, the RB26 engine and fast, on-the-limit driving. So with the need to get back into time attacking it was the Street Class of the Rev Speed Super Battle that attracted him the most. Unlike the extreme Open Class where shops like Pan Speed, Revolution and Unlimited Works were pushing the boundaries…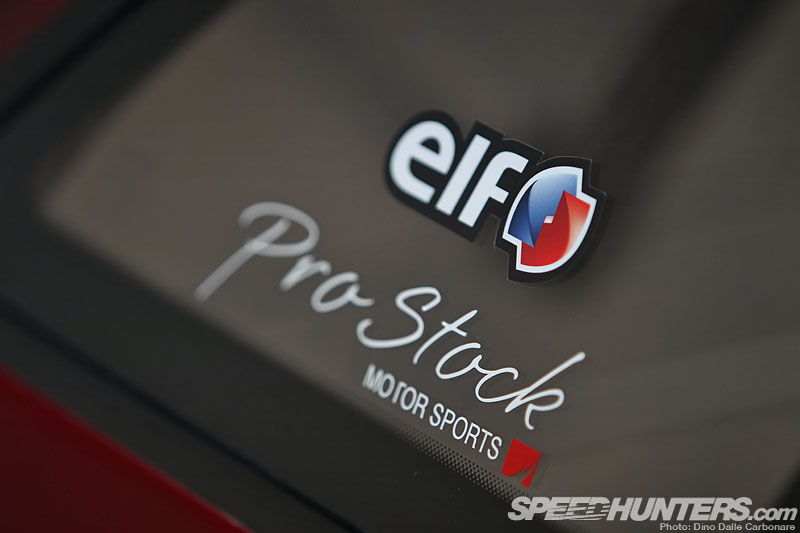 …he felt the more street-oriented class was a great way to show off Pro Stock's capabilities in making the most out of a seemingly simple R32 package.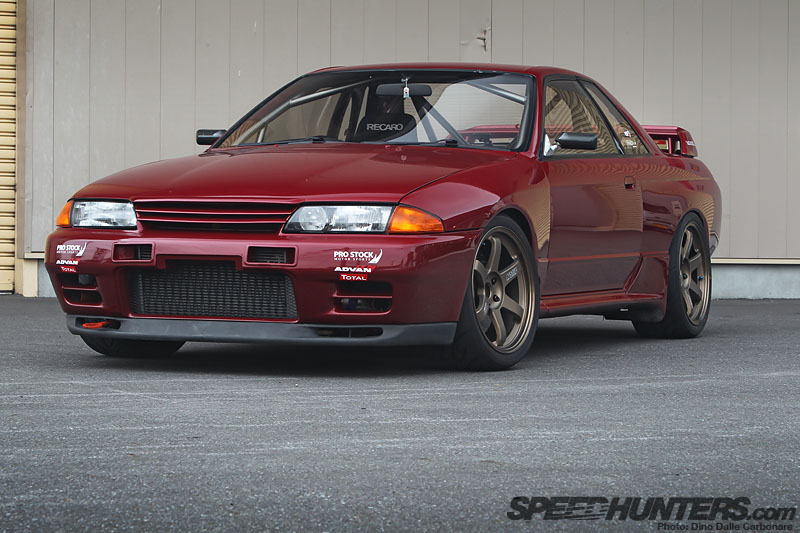 But don't let the somewhat sedate exterior fool you, under those stock looks lies one of the most capable and track-focused GT-Rs in Japan. Simplicity was key in the build of this particular car, Jin preferring to concentrate on the things that have a direct impact on performance rather than unnecessary modifications. So on the actual body you won't find much aside for a pair of Nismo front bumper air intakes to help flow more air through the top part of the intercooler, Nismo hood grill spoiler…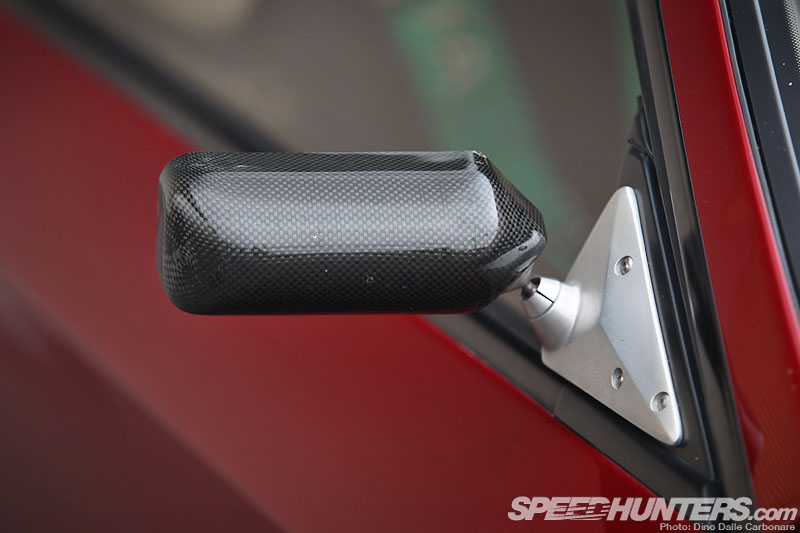 …a set of Craft Square carbon GT mirrors and a few other additions like the Top Secret  rear fender finishers and the Nismo trunk lip spoiler.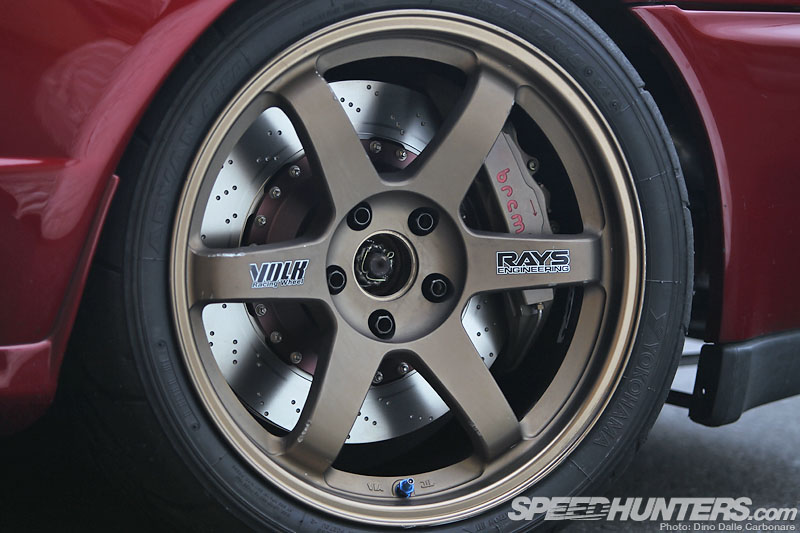 We all know that nothing out there fits a GT-R better than a nice set of Volk Racing TE37s, and that is very much the case on this car too. The matte bronze 18-inch rims measure 9.5 inches across front and rear with a +15 offset and are shod in a M-compound Yokohama Advan A050 in what in Japan is commonly referred as "GT-R size" or 265/35/R18. But no matter how great a simple bronze TE37 may look I'm sure you are probably wondering about the massive brakes that sit behind those 6-spokes.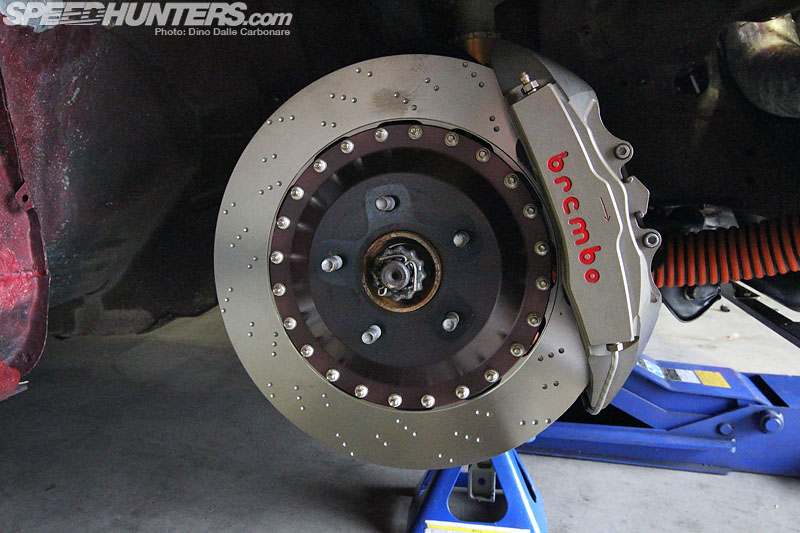 Jin is not a guy that likes to cut corners and thought his R32 could do with a top of the line Brembo Racing kit. Those monoblock calipers are extremely lightweight made up of an aluminium-magnesium alloy, forged into shape and housing six titanium pistons that help the PFC brake pads bite down hard on massive PFC 380 mm dimpled rotors. The rear runs stock calipers but repositioned to accommodate the larger 343 mm PFC discs.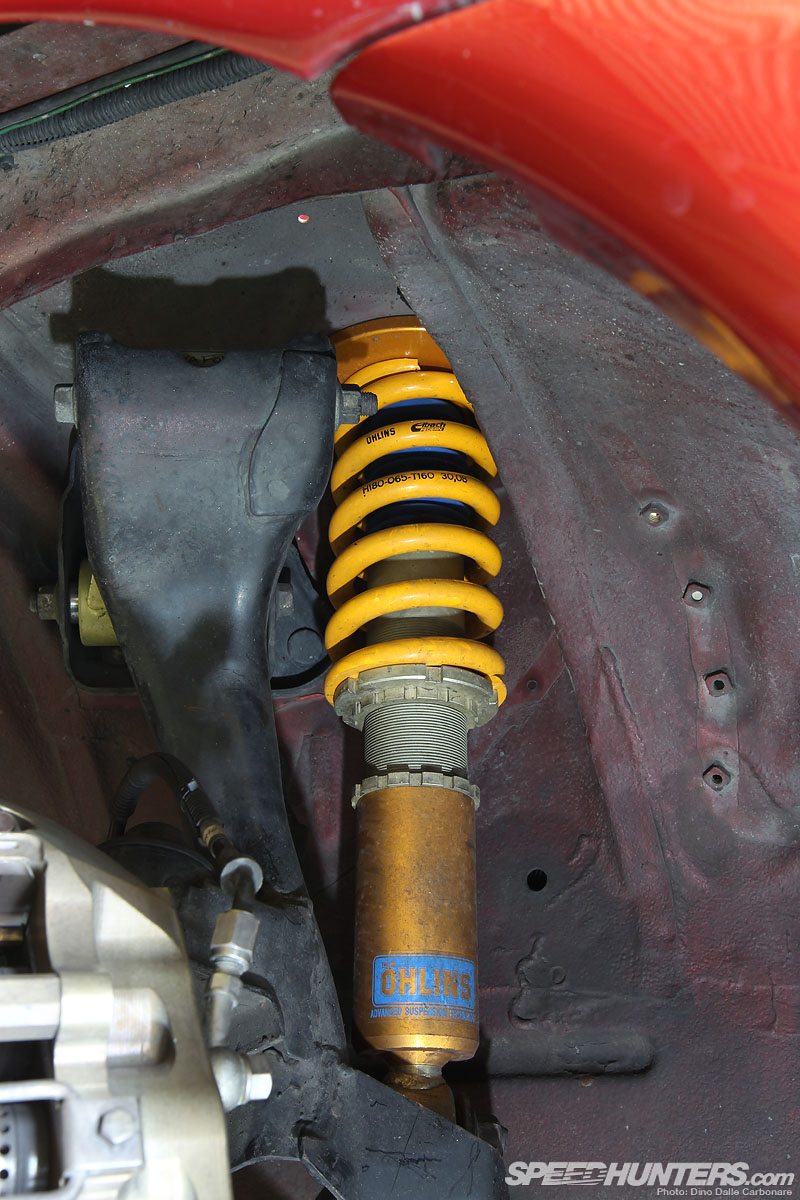 Taking care of things in the handling department is a set of Öhlins dampers, custom valved to Pro Stock Racing's requirements and running Eibach springs all round, 18 kg/mm at the front, 16 kg/mm at the rear. All suspension links have been replaced with Ikeya adjustable arms which also run pillow ball/rose joints to replace most of the rubber bushing.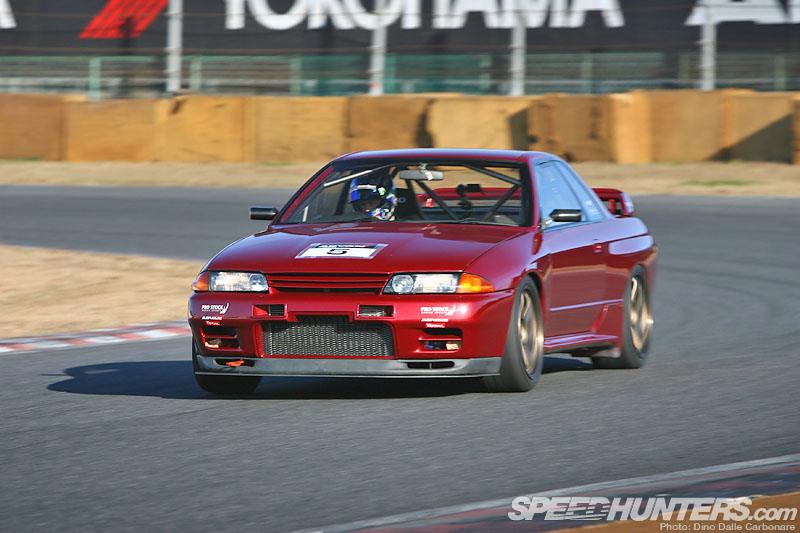 Out at Tsukuba Jin's R32 GT-R can lap the 2 km track in 58″779 sec, thanks also to Nobuteru Taniguchi's driving skills but mainly thanks…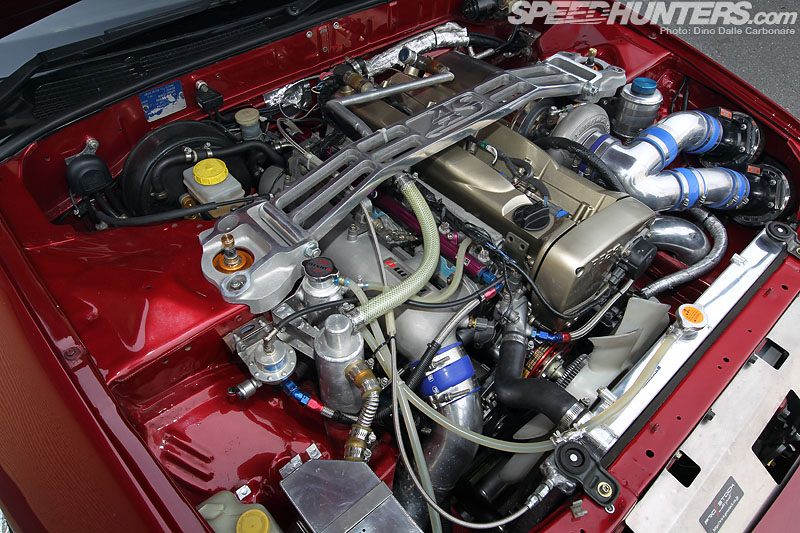 …to the car's heart. Lifting the stock hood reveals a fully tuned motor, built around an N1 RB26 sourced from an R34 V-specII Nur. For optimal power at the track the stock ~2.6 capacity was boosted by close to 200 cc to 2.8 thanks to an HKS Step 2 stroker kit. The increased capacity is a great match…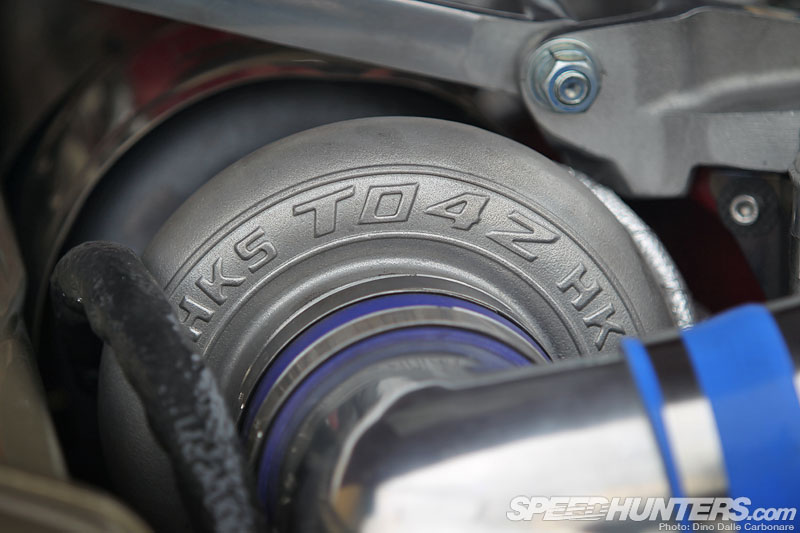 …when wanting to run larger turbos, like this externally gated T04Z that has been bolted in place onto an HKS stainless steel manifold.  But while an increased capacity is great, if the engine's flow-rate isn't improved you aren't going to get the maximum performance out of your engine. So with this in mind the head was skimmed and its water jackets cleaned out from casting residue before being ported and polished. Special valve guides followed and new valve seats cut to accept the larger valves, all topped up with HKS 272-deg duration cams.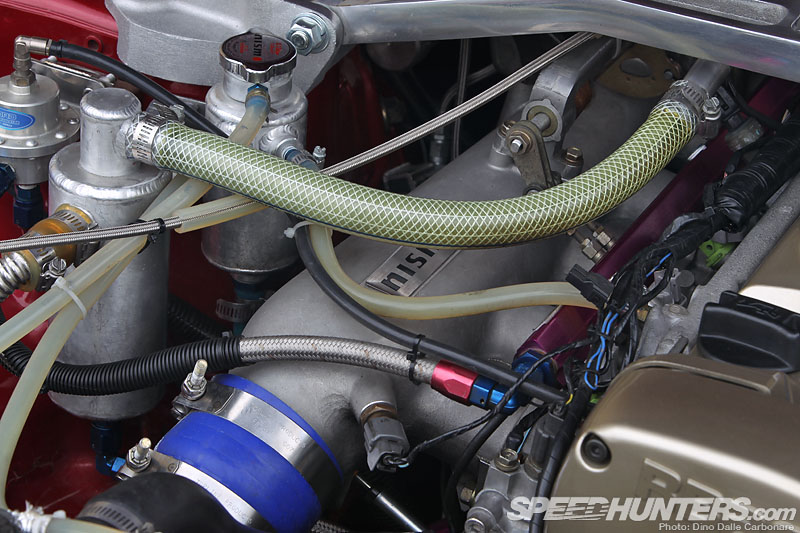 To help maximize the intake charge and distribute it evenly to each of the six cylinders a Nismo GT plenum was also fitted, a part that was uses for many years in JGTC and Super GT. 800 cc/min injectors were selected for the job of delivering the appropriate quantity of fuel for the 1.6 bar of boost the HKS blower supplies all resulting in a 720 HP & 564 lb/ft punch of performance. Engine management is handled by, would you believe it, a stock ECU. Pro Stock Racing is a firm believer that the stock Hitachi computer is more than up to the job of accurately controlling any tuned engine thanks to their ROM-programming skills. This allows all the fail-safe controls to remain in place for peace of mind and has become one of Pro Stock's biggest seller, customers preferring to take this route rather than forking out big money for a stand-alone computer.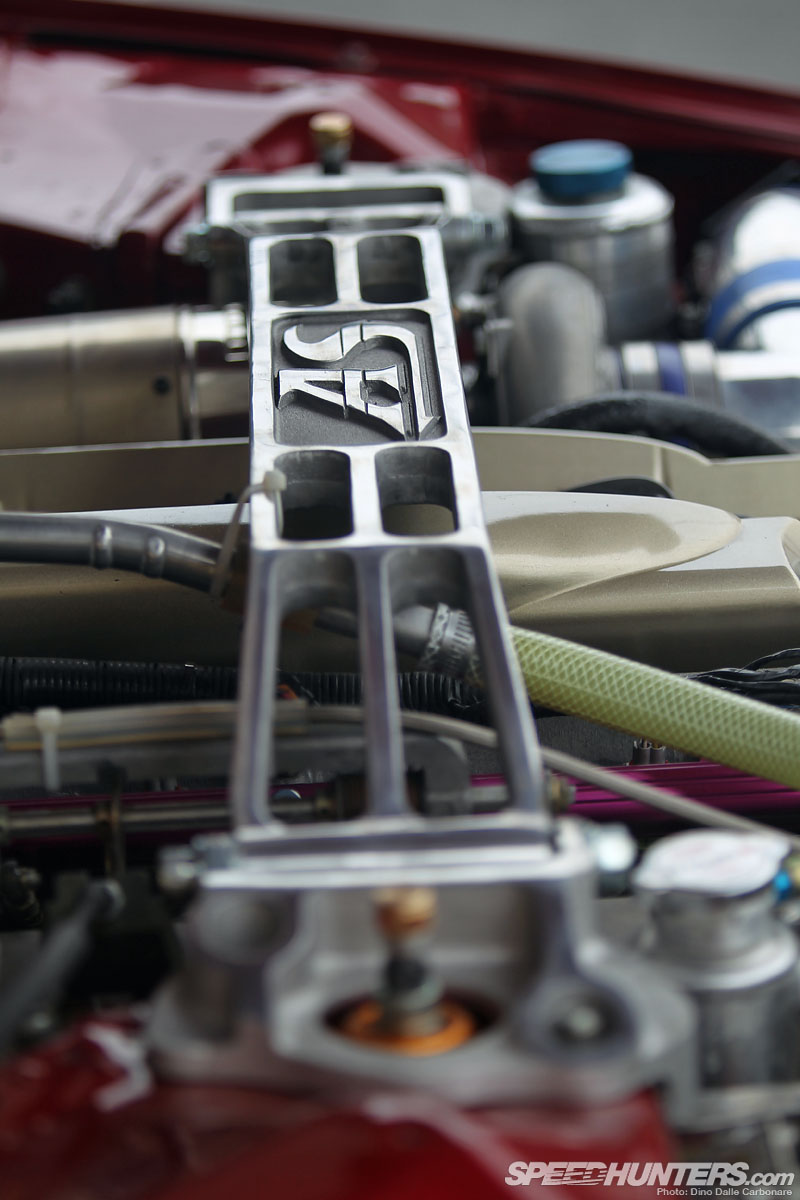 Adding to the fully spot welded and strengthened chassis is this massive Auto Select billet strut tower bar…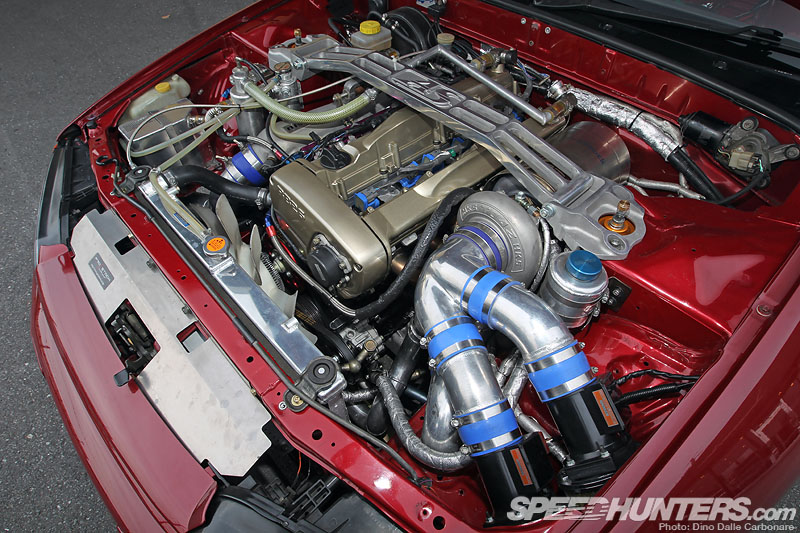 …one of the most recognizable items in the engine bay. A Calsonic racing radiator takes care of cooling and is joined by a Pro Stock air separator tank/system.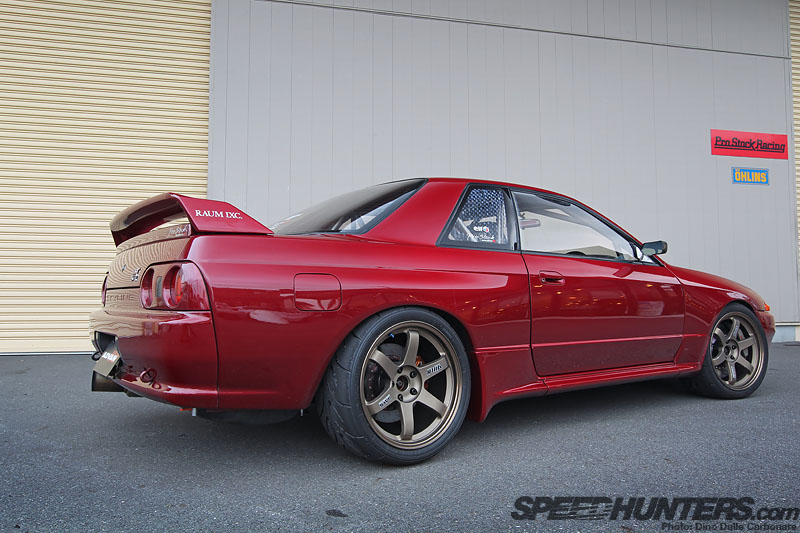 Exterior functional simplicity is joined…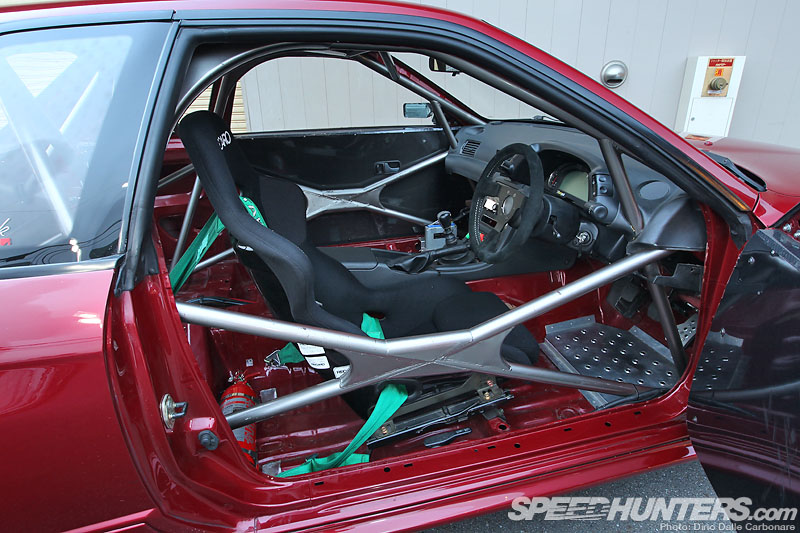 …by what is by far the most extreme part of the car, the interior.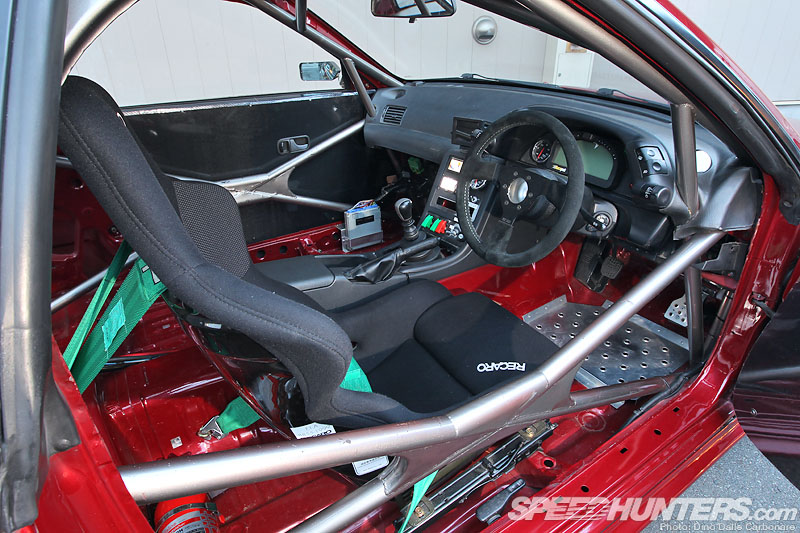 It's not often you see extensive and well-fabricated roll cages on Japanese demonstration cars, but Jin put safety and torsional rigidity as one of the most important factors of the whole build. This required a full strip down of the car, tons of welding and fabricating finished off with a few fresh coats of the same dark metallic red as used on the exterior of the car.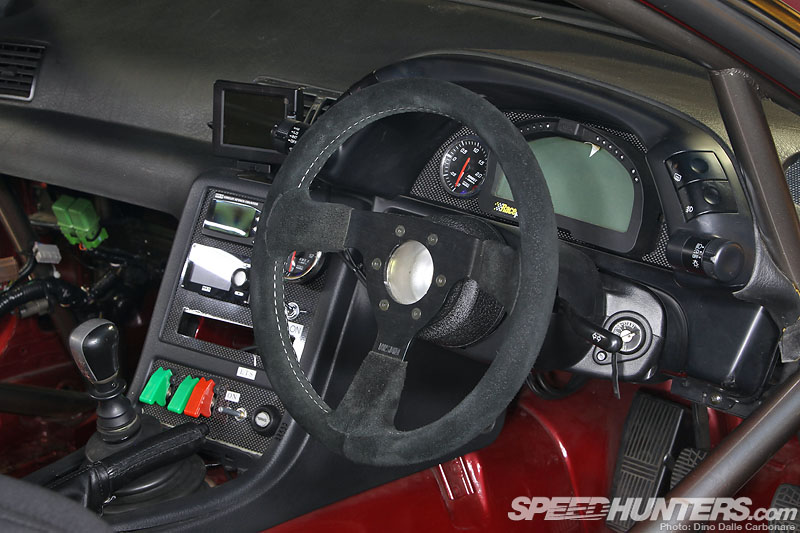 All of the GT-R's instrumentation has been removed…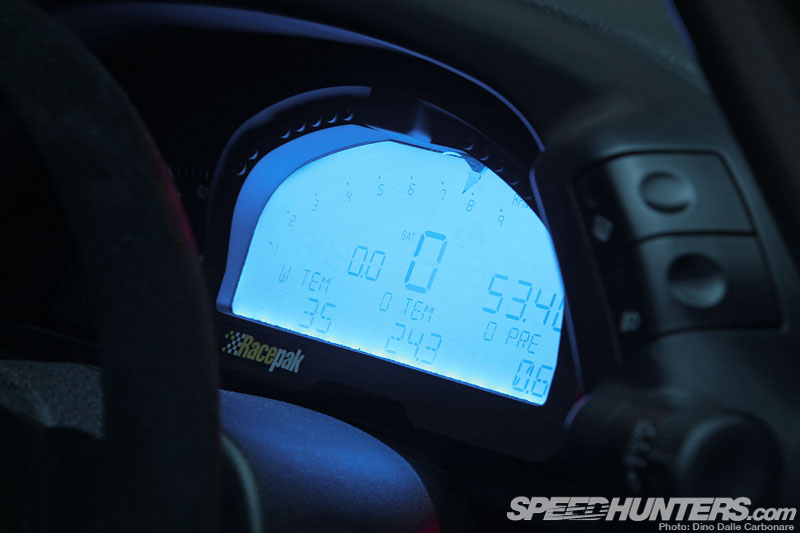 …the dash replaced with a Racepak IQ3 data logger unit…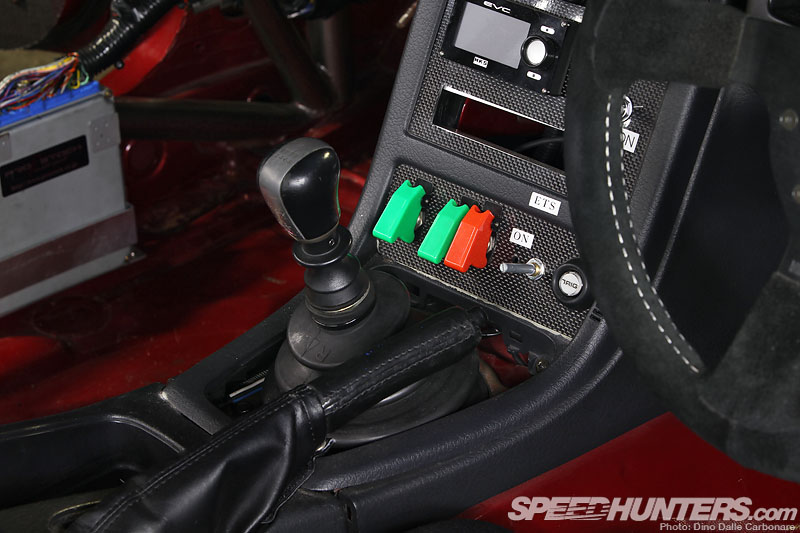 …and the various switchgear neatly arranged in the lower portion of the center console.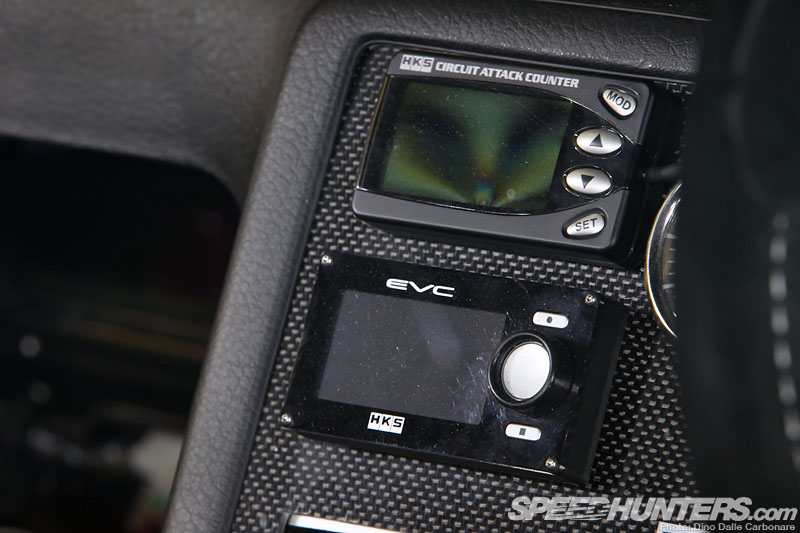 The HKS EVC boost controller and Circuit Attack Counter (lap timer) are found next the HKS exhaust temperature gauge, all easily viewable from the driver's seat.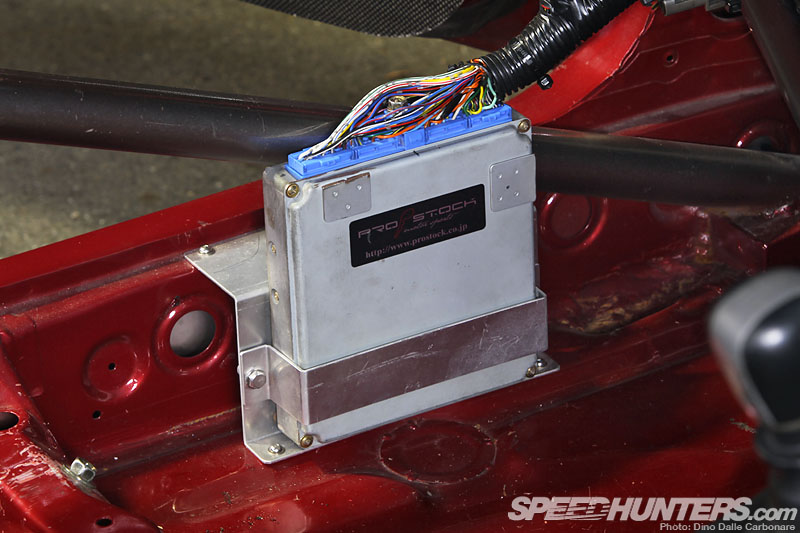 A custom mount was fabricated to hold the Pro Stock modified stock ECU, Jin-san very proud of his company's ECU-programming capabilities, wanting to show that big-power RB's don't require race computers to work properly.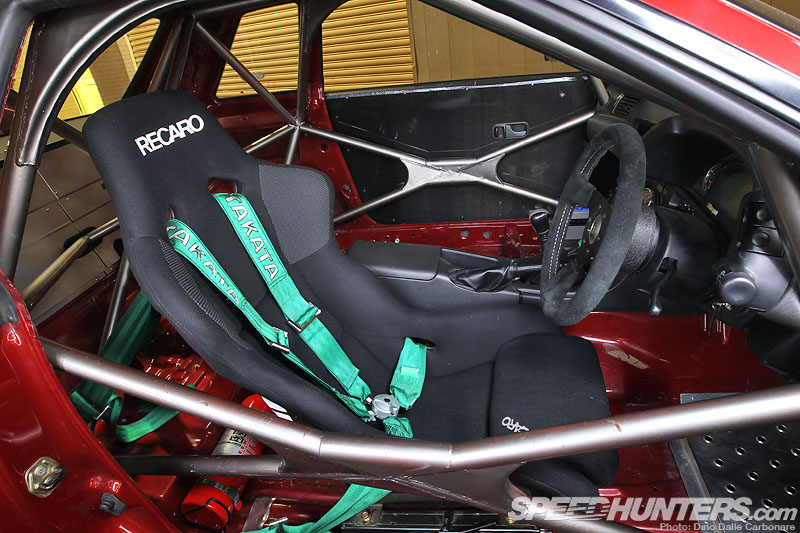 When Nob set the 58-second lap time at Tsukuba this is where he sat in, a full Recaro bucket seat sporting the must-have Takata racing harnesses.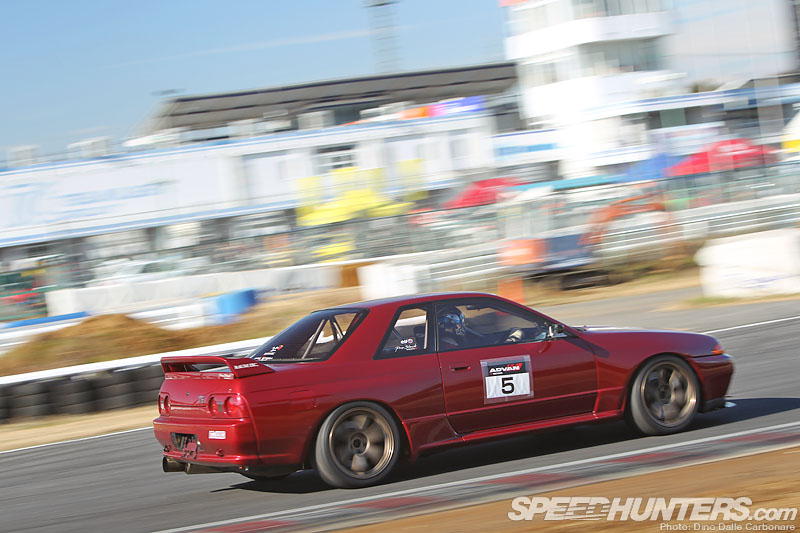 Jin-san is now happy. He has achieved what he set out to do, and now it's time to move on to a new project. He's put this amazing R32 up for sale and is wondering that to do next. I'm sure that like myself you are probably thinking that it's about time he blew the cobwebs off the R34 time attack monster and began shooting for the 52-second Tsukuba lap it was built for! So what will it be Jin-san?
Specs:
Max Power: 720 HP at 8,200 rpm
Max Torque: 564 lb/ft at 5,600 rpm
Engine: N1 block, Trust extended oil sump, Reimax oil pump , N1 water pump, HKS step II 2.8 L stroker kit, Dynamic-balanced HKS crank, HKS 1.2 mm metal head gasket, High performance valve guides, Re-cut valve seats, Polished and ported head, Cleaned up and ported water jacket, HKS 272º 10.2 camshafts IN & EX, HKS stainless steel exhaust manifold, HKS T04Z turbine, HKS GT-II external wastegate, Pro Stock racing 90 mm front pipe by Fujitsubo, Pro Stock Racing 90 mm track-spec titanium exhaust by Fujitsubo, Pro Stock Racing V-intake pipe, Pro Stock Racing high-flow AFM, Trust Airinx filters, HKS intercooler piping kit, HKS intercooler, Nismo GT inlet plenum, Bosh Motorsport fuel pumps x2, Pro Stock Racing collector tank, Sard adjustable FPR, HKS billet fuel rail, HKS 800 cc/min injectors x6, Splitfire ignition coils, Calsonic radiator with Pro Stock air separator tank, Pro Stock Racing lightweight radiator fan pulley, HKS oil cooler, Pro Stock Racing oil catch tank, Billion power steering reservoir tank, Pro Stock Racing relocated battery (in trunk), Pro Stock Racing ECU
Transmission: BNR34 6-speed Getrag transmission, ARC tranmission cooler, Exedy triple plate clutch, Dynamically balanced lightweight flywheel and clutch cover, ATS carbon LSD front & rear, ARC differential cooler, Final 3.9
Suspension & Brakes: – Pro Stock Racing track-spec adjustable suspension by Öhlins, Eibach springs 18 kg/mm front, 16 kg/mm rear, Full Ikeya formula BNR32 pillow ball suspension arms and links, Auto Select billet aluminum strut tower bar, Brembo Racing forged monobloc racing 6-pot calipers, PFC 2-piece dimpled 380 mm floating front discs, PFC 2-piece dimpled 343 mm floating rear discs, PFC race-compound brake pads
Wheels & Tyres: Volk Racing TE37 9.5Jx18" +15 (front & rear), Yokohama Advan A050 M-compound 265/35R18 (front & rear)
Exterior: Nismo front bumper intercooler air vents, Nismo bonnet grille spoiler, Moonface tow hook, Craft Square carbon side mirrors, Top Secret rear fender finisher, Nismo rear lip spoiler
Interior & Chassis: Fully spot welded, stripped and reinforced shell, Pro Stock Racing custom multi-point race roll-cage with side impact corssbars, Carbon fiber door cards, Recaro racing bucket seat, Takata 4-point racing harness, Nismo alcantara clad steering wheel and boss, Racepack dash unit and data logger, Custom carbon instrument panel, HKS boost and exhaust temperature gauges, HKS Circuit Attack Timer, HKS EVC boost controller, Custom carbon fiber center console and switch panel, BNR34 stock gear knob
-Dino Dalle Carbonare