Ask anyone who knows anything about drifting and there's little chance they won't recognize the name MadMike, or one of his world-renowned Mazda drift machines. But what about the guy behind the name? Last weekend I spent a day out at Mike's workshop shooting a feature on his reloaded BADBUL RX-8, so thought I'd use the opportunity to take a look inside his compound and give you a glimpse into the day-to-day life of MadMike Whiddett.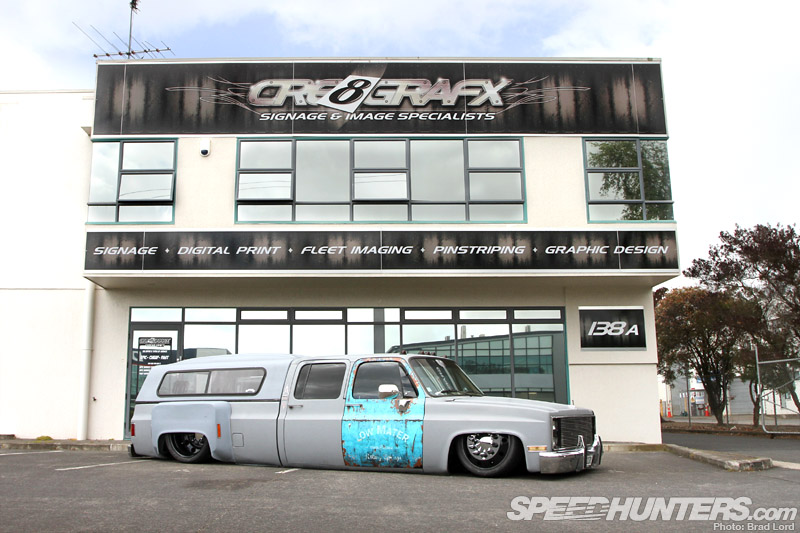 First things first. Mike might be the recipient of some amazing sponsorship deals, but they certainly haven't come by chance. He works hard to play hard and that means holding down a day job too. I've visited his digs (which also doubles as his workplace) a few times before, but this was the first time I couldn't get a park out the front. Mike had told me about his latest project based around an old school C30, but what I had envisaged in my mind wasn't the thing that was quite literally  laid out in front of me when I arrived at the 'shop. Get ready for more on 'BRODZR' later in the post!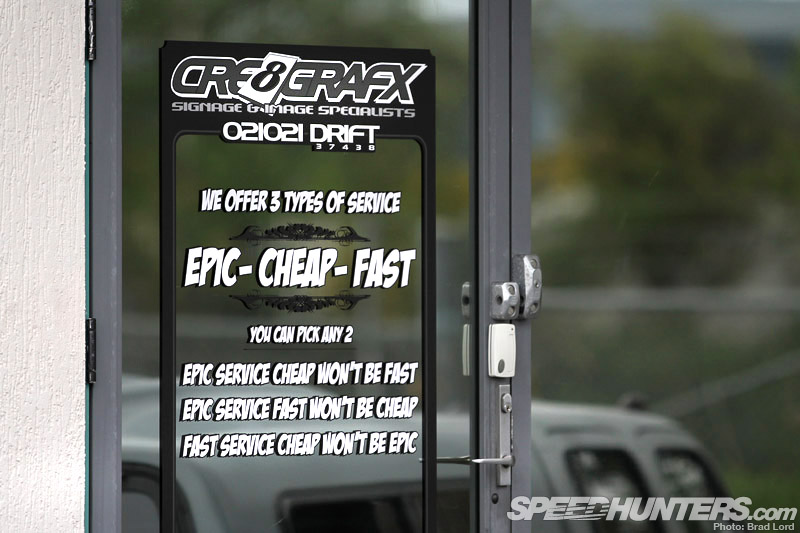 Just so there's no confusion…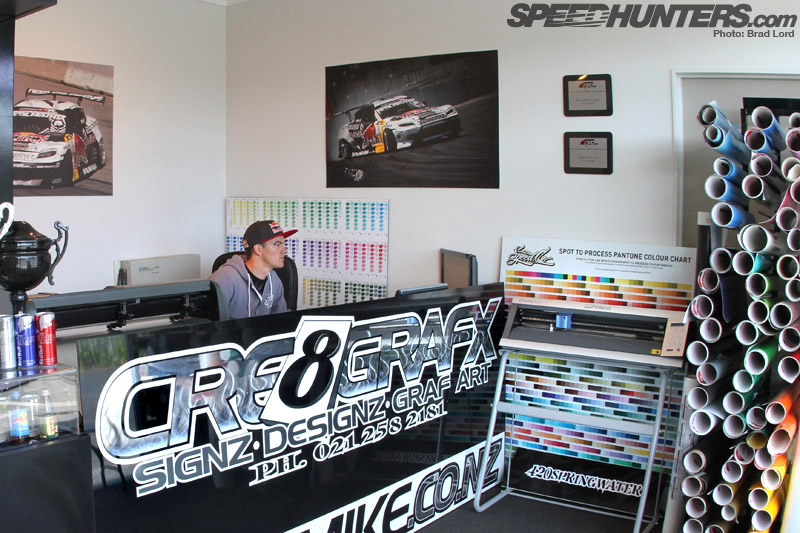 When I stepped inside Mike was busy setting up vector files as usual. When he first left school he worked as an arborist, but soon after found his true calling as a sign writer. That ultimately led to opening his own business, CRE8GRAFX, when he was just in his early twenties. While Mike cut some vinyl, I had a look around…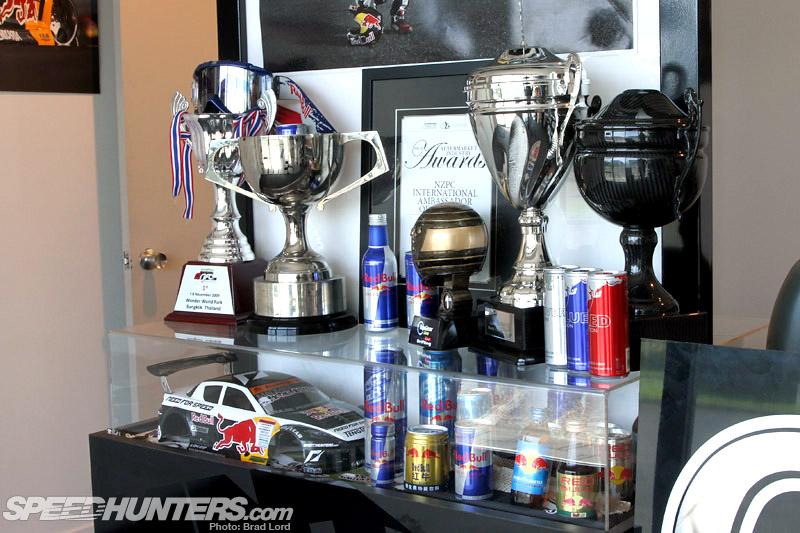 As well as being the client reception area, Mike's office features numerous display cabinets stacked with drift-related memorabilia. This particular one featured different Red Bull cans and bottles from various countries that drifting has taken him to over the past few years, as well as some of his most prized trophies. He was presented that big silver one on the right after being crowned the 2012 Gatebil Powerslide World Champion.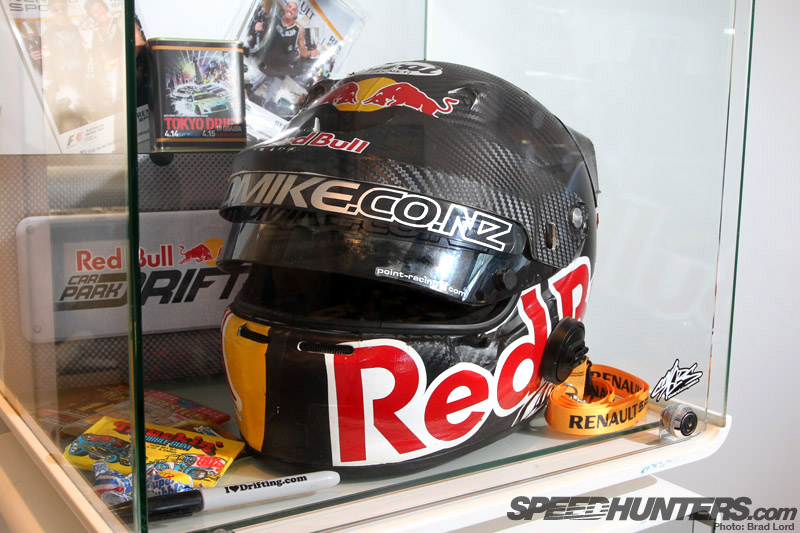 Behind the counter were more collectables from Mike's drifting career so far. To think that he was only introduced to drifting six years ago is quite amazing considering where the sport has taken him.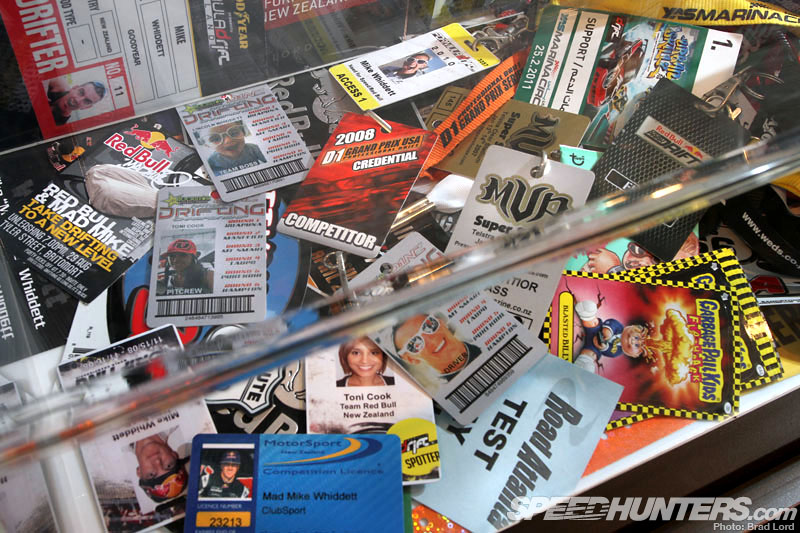 Instead of bundling up his event ID cards and hiding them away in a drawer somewhere, Mike's made a bit of display of those items too. I'm not quite sure how he managed to get 'Mad' onto his official Motorsport New Zealand Competition License, but there it is!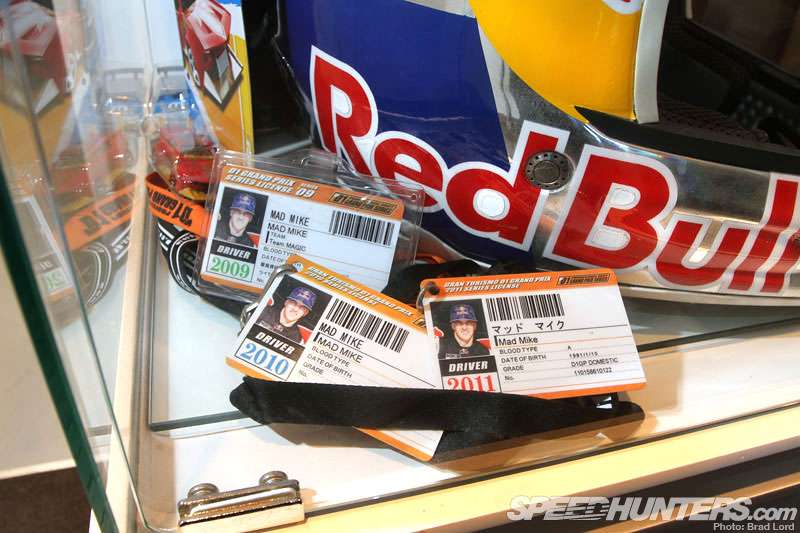 Being the rare commodities they are, his Japanese D1 Grand Prix hard cards constitute their own display.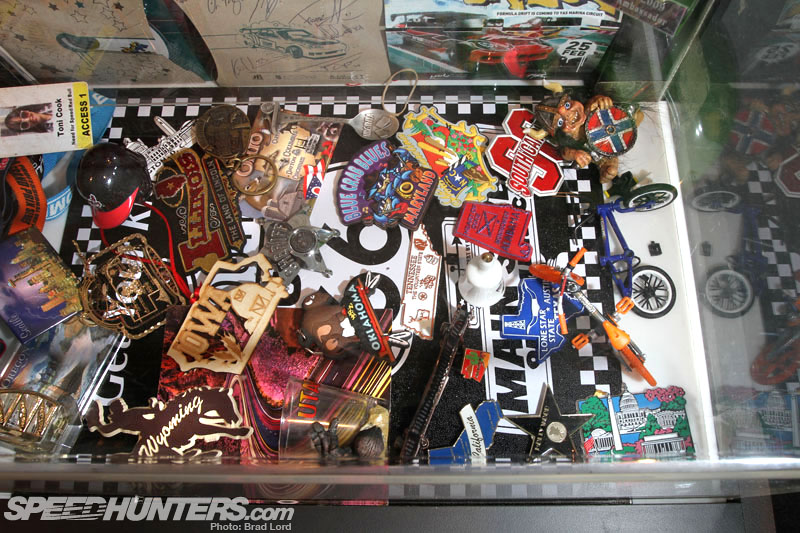 When Mike contested the 2010 Formula Drift series he and his fiance, Toni, used the opportunity to see the US by road trip. Over the course of the season they racked up some serious miles towing Mike's BADBUL RX-8 across the country and always made a point of picking up a small mementos (usually at truck stops) from each State they visited.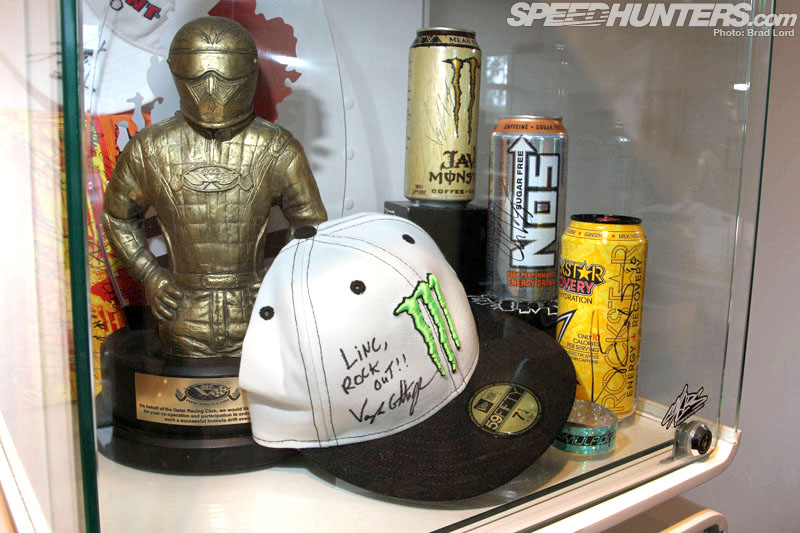 Another display cabinet and more keepsakes, this time autographed cans from fellow energy drink-sponsored Formula Drift drivers: Vaughn Gittin Jr, Chris Forsberg and Tanner Foust. The cool statue trophy was awarded to Mike for taking part in an FD demo event in Qatar, and the signed 59Fifty was a gift from Jr. to Mike and Toni's son, Lincoln.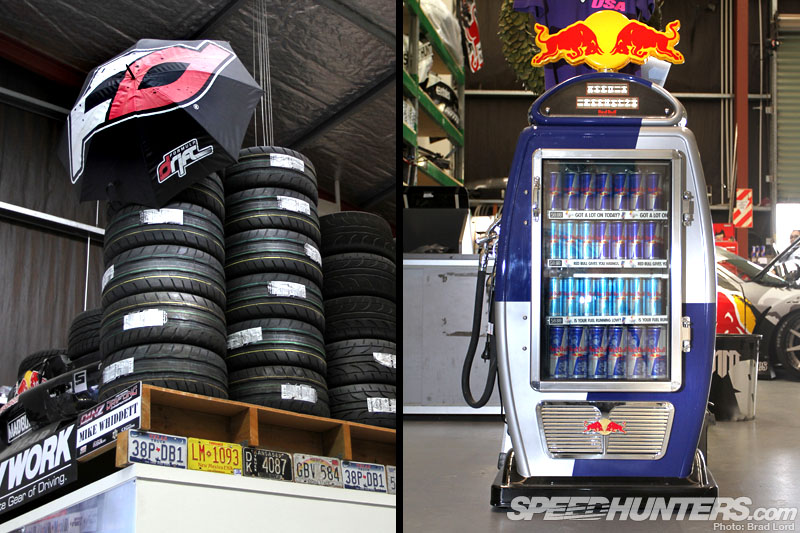 Although I could have spent much more time checking out Mike's collectibles in the reception there's a lot more to check out in the workshop itself. It's a pretty big space with a enough room to handle large signage jobs, as well as keep his race cars and everything else needed to fuel his drifting career, fresh Nitto tires and cold Red Bulls included.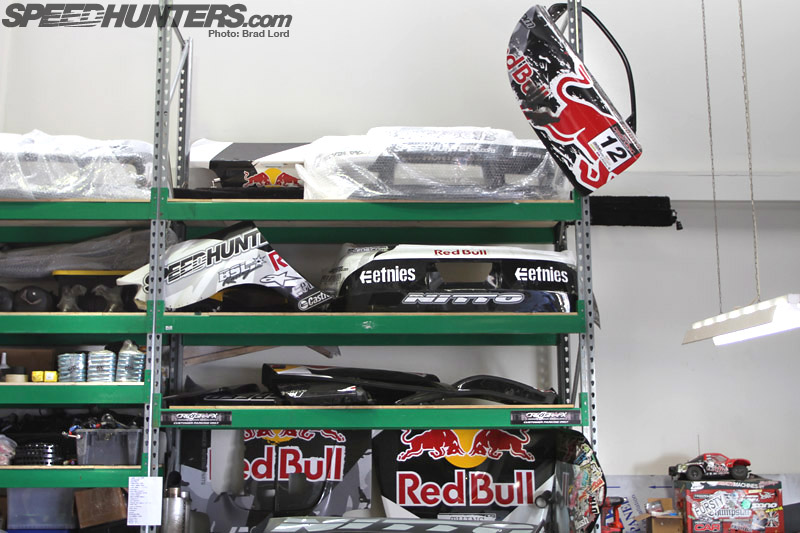 As expected Mike has a large and well organized spares inventory which includes everything from body kit parts, suspension and brake components, to Castrol consumables like oils and fluids. In the past there have been times when he's had to ship one of his cars overseas at drop of a hat, so Mike likes to ensure they're geared to go should an opportunity arise.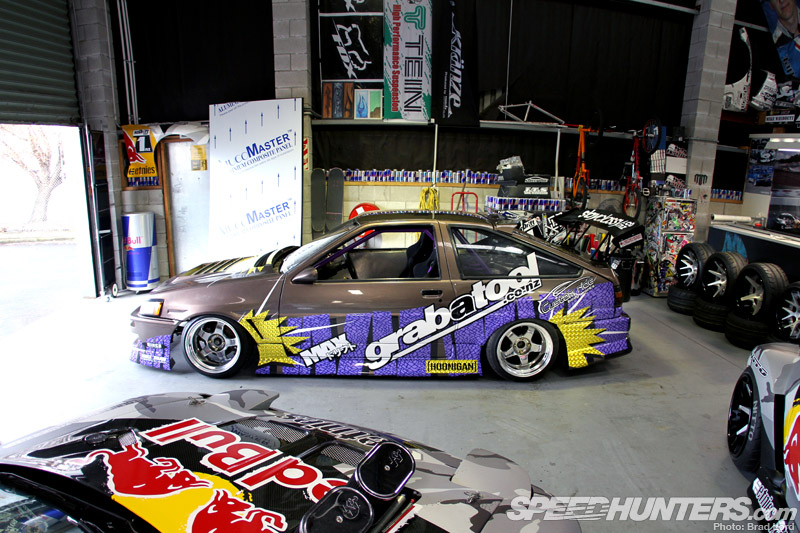 Over on the other side of the workshop Mike had just finished making some final touches to the livery on a fellow D1NZ competitor's car. Long-time Speedhunters readers might remember this particular Toyota Corolla Levin from the times it's appeared on the site over the past couple of years.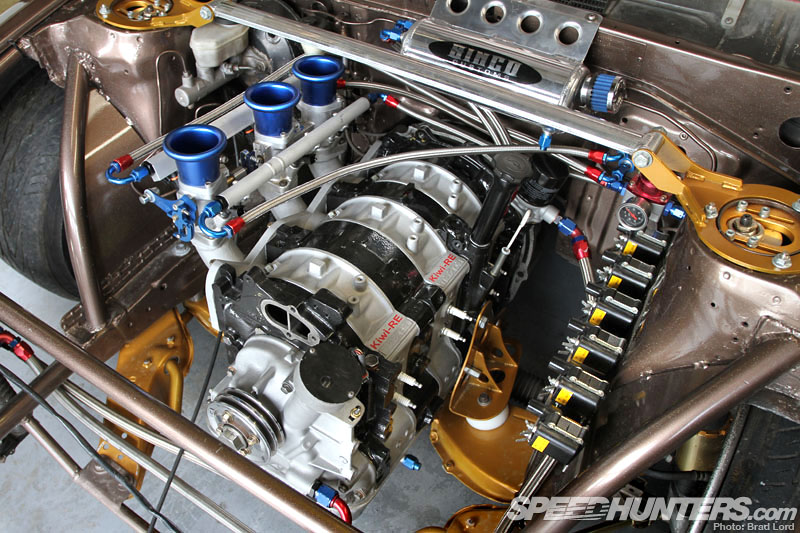 Hugo Maclean's AE85 used to run a turbocharged Honda S2000 F20C and then a 13B turbo set up, but for the 2012/2013 D1NZ summer season ahead he's stepped up his game with a full rebuild and a new naturally aspirated, peripheral ported 20B Kiwi-RE  engine package. I have a feeling this thing's going to sound pretty crazy at full noise!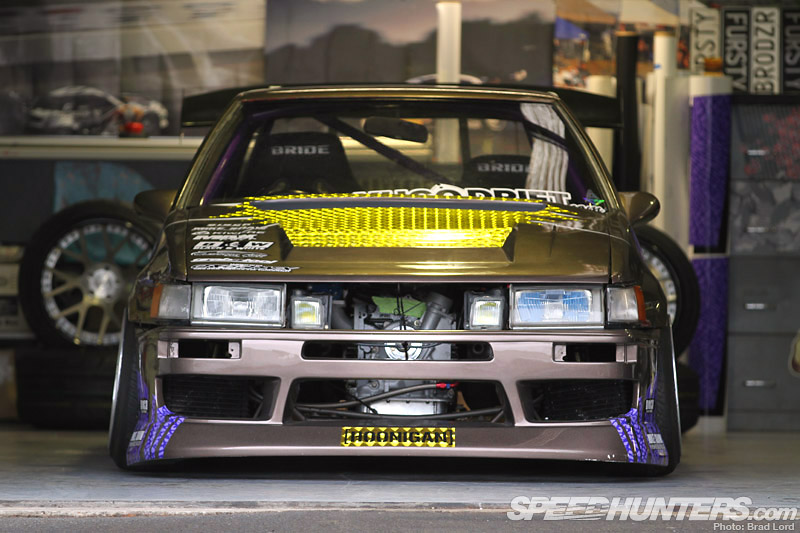 Although there's still a little bit of work to be done, one thing's for sure: it's definitely going to be a weapon. I'm sure Hugo will do new sponsor, Hoonigan proud, too.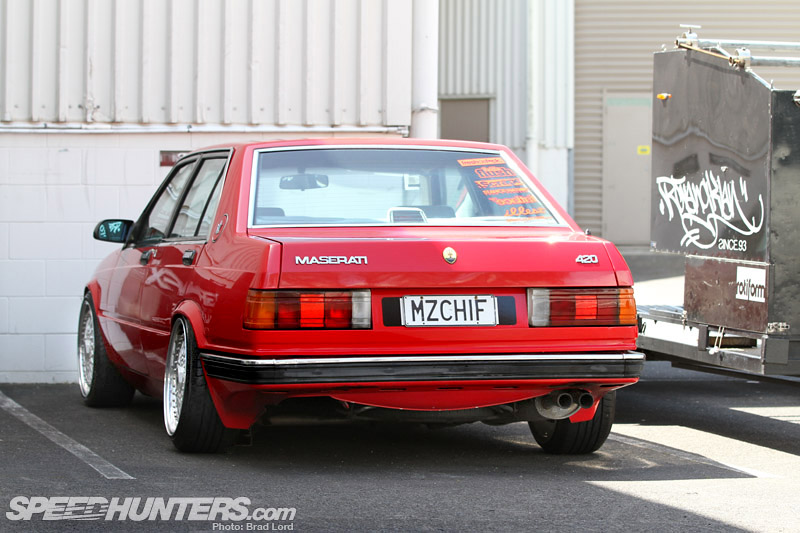 While the workshop roller door was up I thought it would be a good idea to grab a couple of shots of some other cars in the MadMike family: first up Toni's '89 Maserati 420. Like Mike, Toni's owned some pretty crazy cars including a 13B-powered '87 500 SE Mercedes-Benz and a later model C-Class fitted up with Toyota 1UZ quad cam V8 and two Garrett GT3540 turbos! Initially there were plans to drop a 13B turbo engine in to the Maserati, but for now it's sufficing with factory twin turbo V6 and nice drop on BBS mesh rims.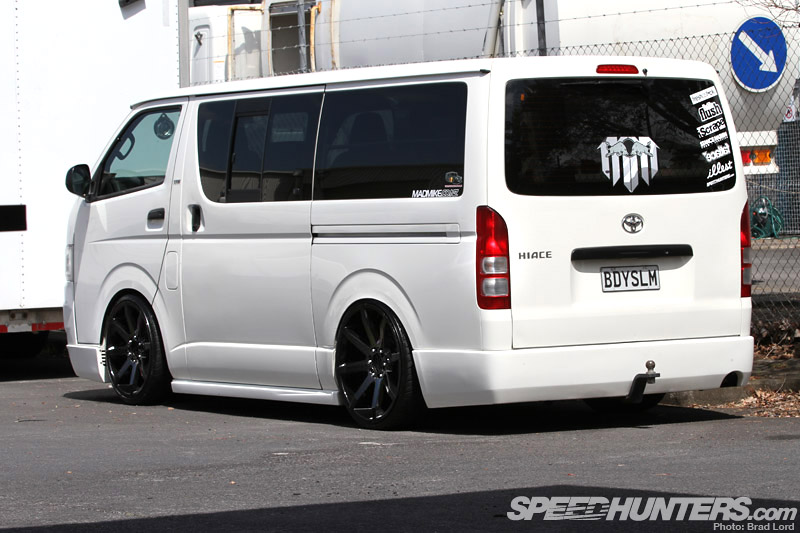 For daily work duties Mike gets around in this slammed out Toyota Hiace. You didn't expect it to be standard issue, did you?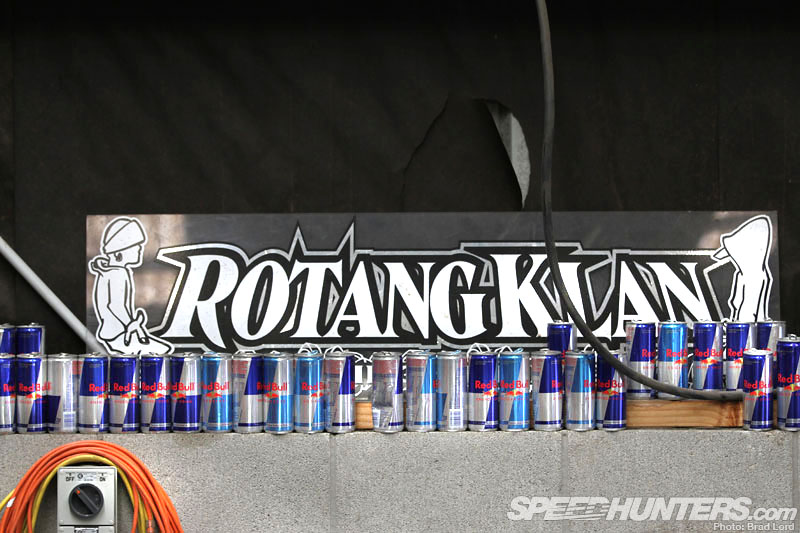 I ventured back inside the workshop to see what other cool stuff I could unearth. Mike's been toying with rotary engines since before he could legally drive, which ultimately  led to a close-knit group of friends forming the Rotang Clan. If you look closely at the back window of BADBUL, you'll see that almost two decades on Mike's still staying true to his RK roots.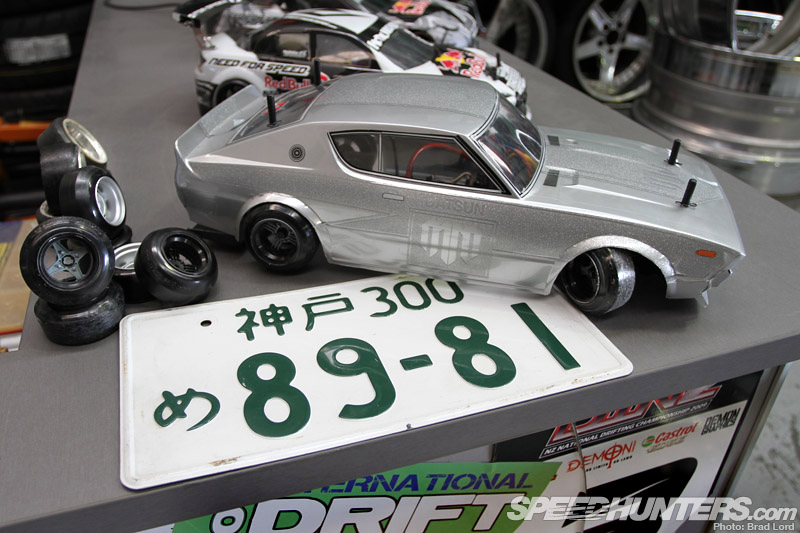 He's been playing around with R/C cars just as long too, and over the past few years has amassed a pretty cool collection of scale sliders. Loving this old school Datsun 240K (aka Nissan Skyline)…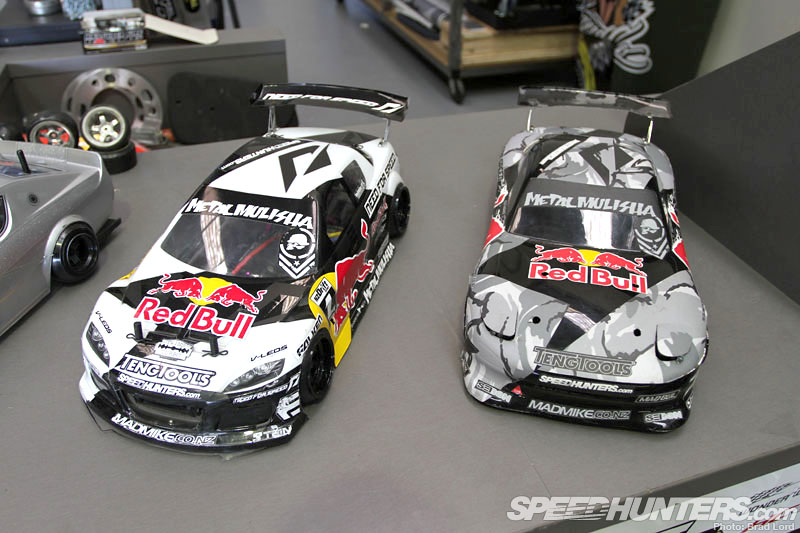 …and, of course, his BADBUL and MADBUL 1/10ths.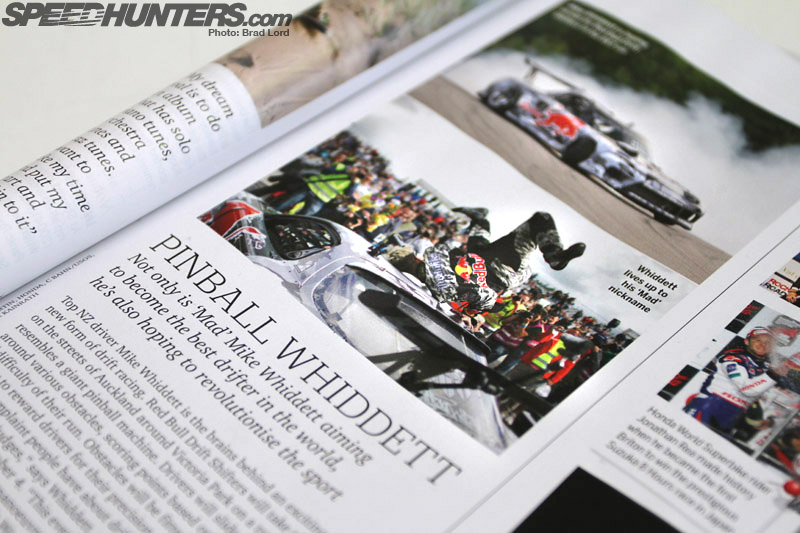 On the work bench I found the September issue of Red Bull's NZ-edition Red Bulletin, which has a small piece on a new pinball-inspired drift event that Mike's cooked up. 'Red Bull Drift Shifters' will go down on some closed roads in Auckland's CBD and will hopefully attract a few internationals. It goes without saying that Speedhunters will be in the thick of it!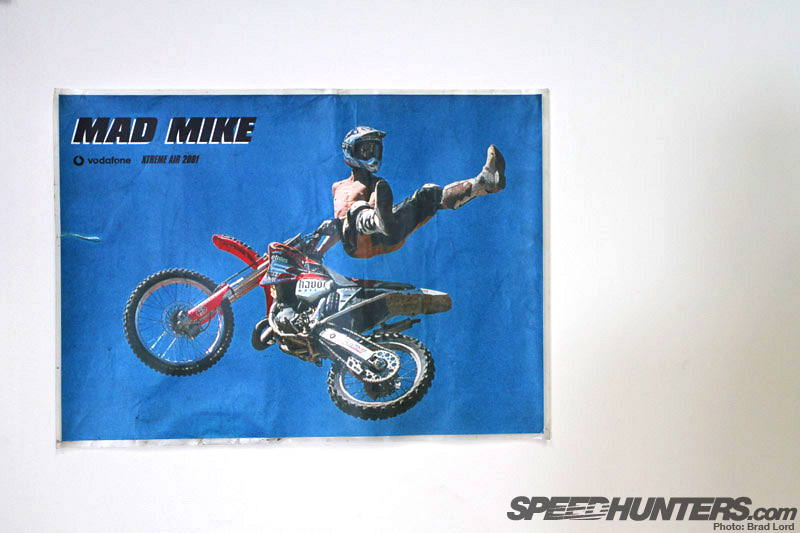 How's this blast from the past! That's Mike competing in FMX at the Vodafone Xtreme Air Comp 11 years ago: seems like he was mad a long time before he got behind the wheel of a drift car.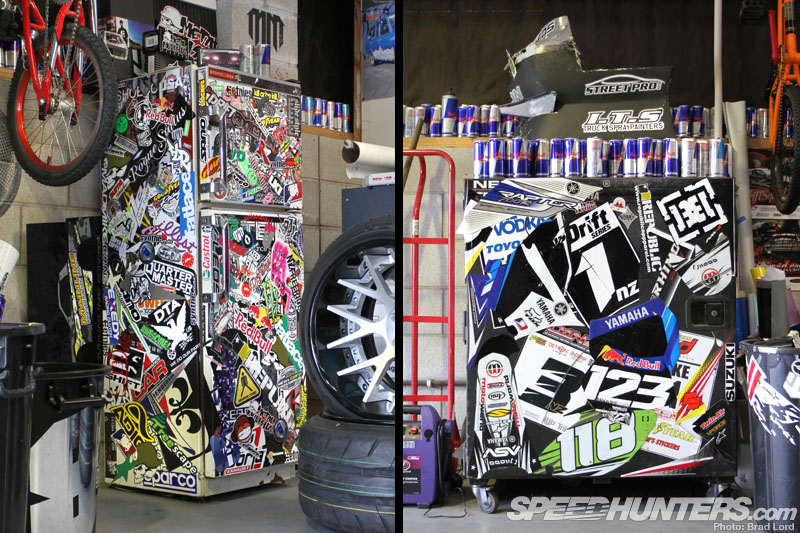 Thanks to so much color there's definitely a fun vibe in the CRE8GRAFX 'shop. There's a story behind each one of these stickers…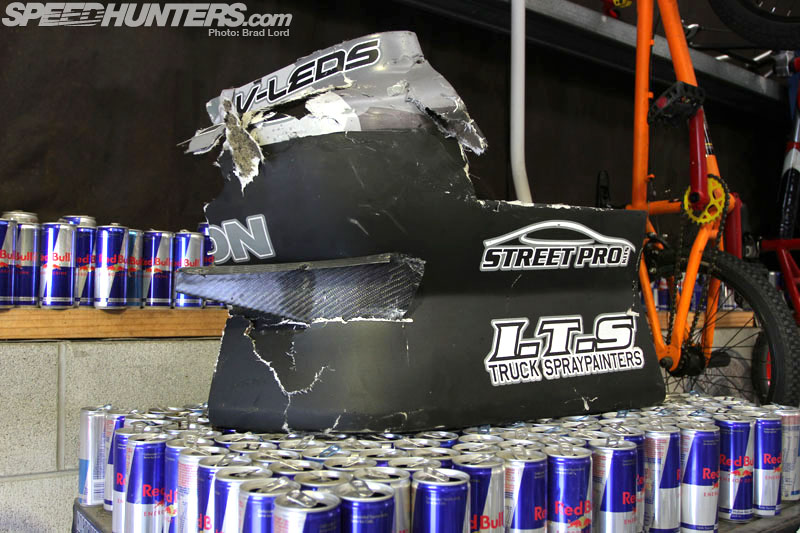 … as there are with each of the battle-scared body kits parts displayed around the place. Mike told me this is a bit of MADBUL's back bumper which was torn off when an S13 Silvia ran up its rear during the D1NZ 2011/2012 Grand Final earlier this year. As you can see, the other car lost a carbon fiber canard in the process…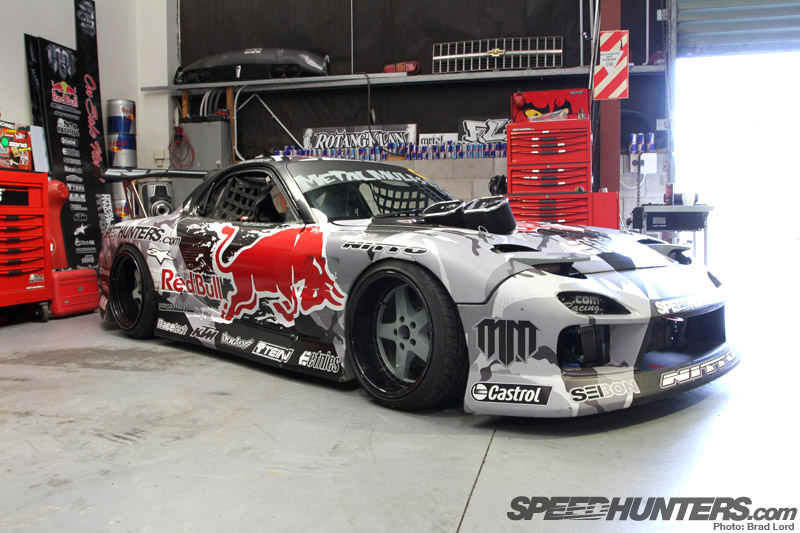 Speaking of the world-famous RX-7, the day before I visited Mike had picked it up from the container terminal after a slow boat ride back from Norway. Who knows where MADBUL will end up next?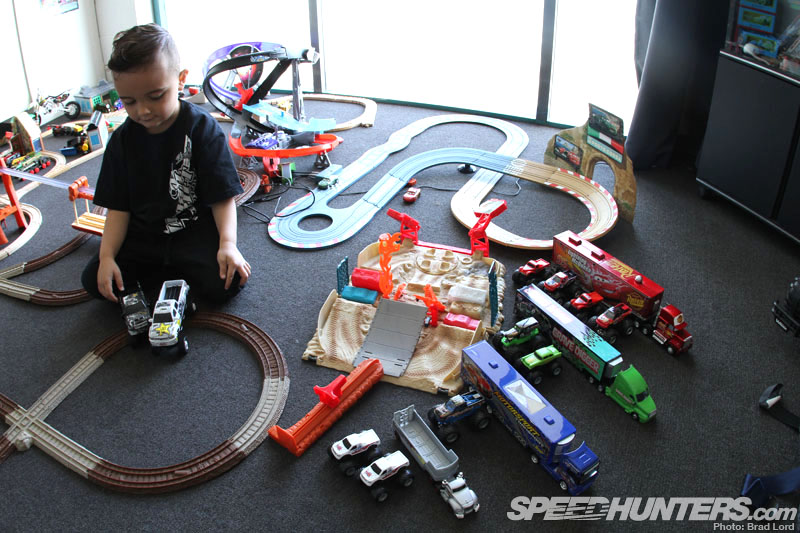 While I was checking out all of Mike's toys, Lincoln was keen to show me his scale train and slot-car sets which are permanently set up in one of the downstairs offices.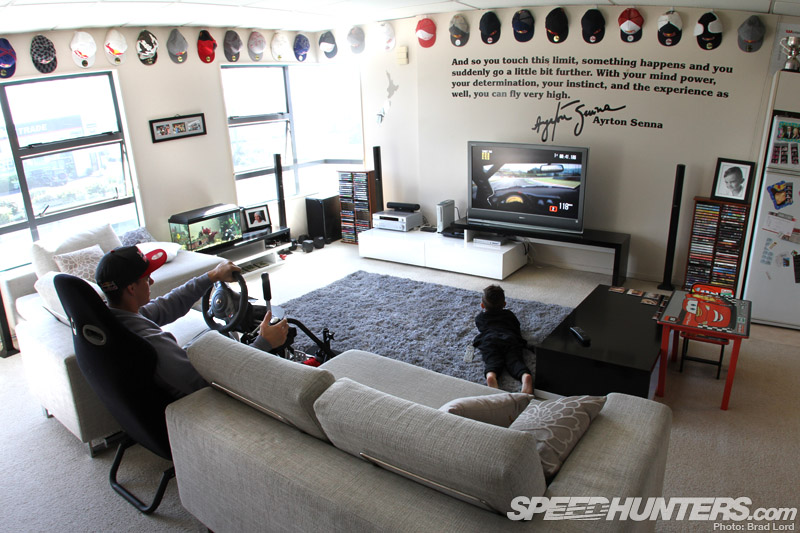 Upstairs is a modest two-bedroom apartment, complete with an open plan living and dining area where the family spends their evenings together. As you can see, Mike's has quite a nice collection of official New Era Red Bull athlete hats. Motivation comes care of the legendary Ayrton Senna.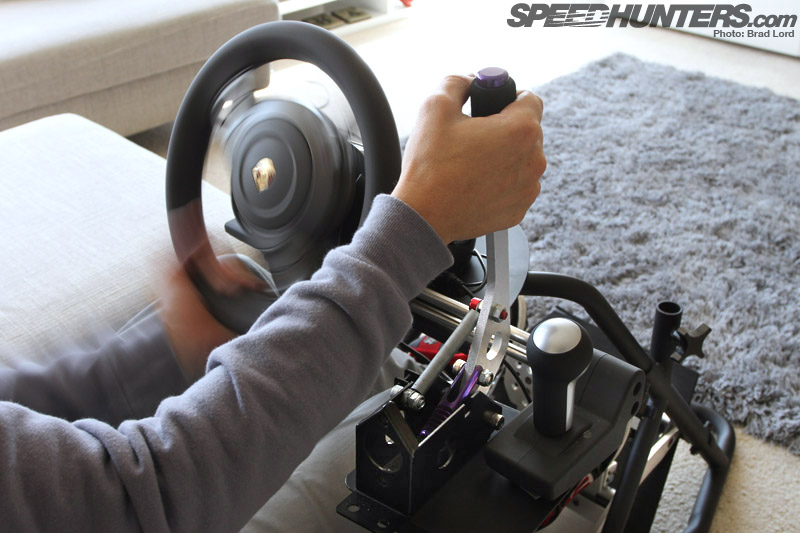 Check out Mike's racing simulator rig which has been modified to take the mechanism from a D2 hydraulic e-brake lever for a more authentic drifting experience. I wouldn't want to speculate on why Mike's running the sim in left-hand-drive guise though…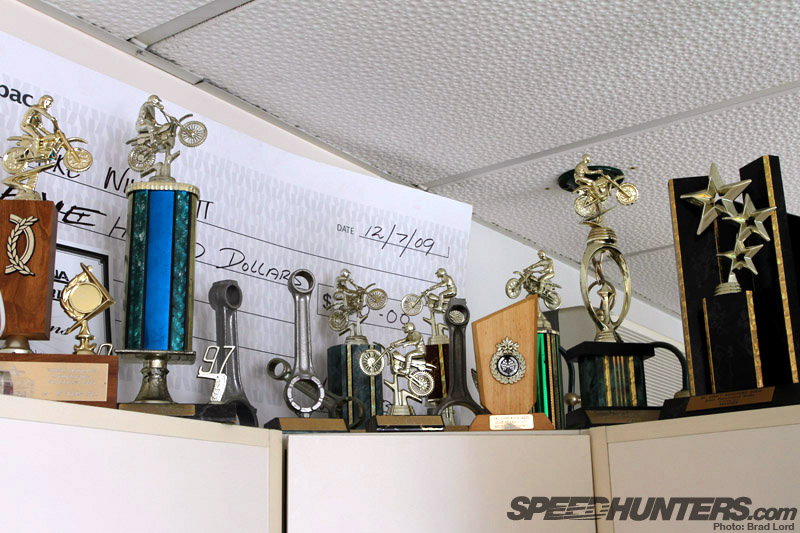 All around the kitchen area are more reminders of where Mike (and Toni) have come from. Mike started off on MX bikes in his early teens, and without a father on the scene he was lucky to have a mother who did her utmost to support his desire to race. He did well though, often beating older guys and always doing so riding older bikes which he made to look new by hand-cutting graphics with scrap vinyl offcuts he collected from sign shops. Although Toni donated back most of the trophies she earned as a sponsored BMX rider, she still has plenty silverware from the successes of her show-winning twin turbo 'Benz.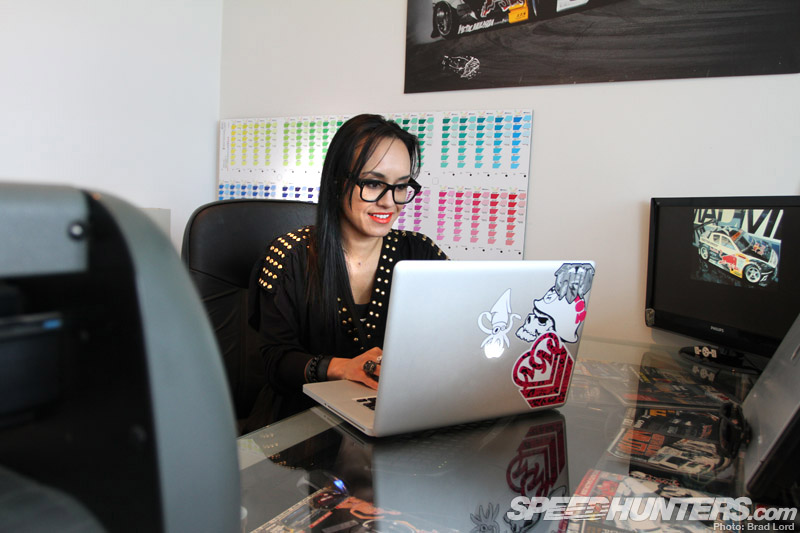 These days, though, she's kept busy running CRE8GRAFX with Mike and making sure the MadMike Motorsports wheels keep turning.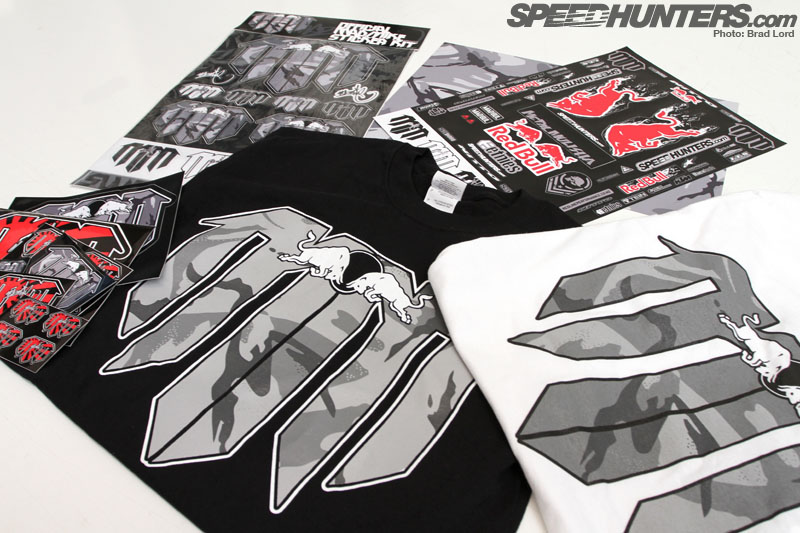 That includes looking after an ever-growing range of official MadMike x Red Bull apparel and sticker packs: 1/10 scale R/C car liveries included.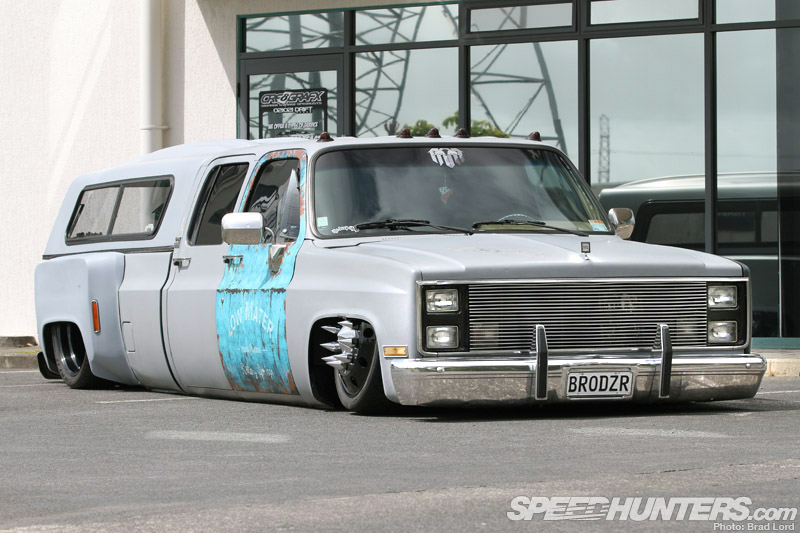 I'm going to wrap up this post with – as promised – a look at latest addition to the MadMike stable of modified machines. To fill you in, Mike had originally planned to bring back home the '04, twin turbo Cummins-powered Dodge Dually he and Toni used to get around in during the 2010 Formula D season. Unfortunately though, due to local regulations the 'Bro Dozer' needed to be converted to right-hand-drive to be put on the road in New Zealand. Because of the position of the turbo set up on the Dodge, that wasn't an option. So instead Mike opted to pick up something a little older (anything over 20 years is exempt from requiring a steering conversion) and settled on an '83 Chevy C30 from West Virginia that he found on eBay. From the outset the goal had been to recreate an old school version of Bro Dozer with a black-on-black look. That might still happen in the future, but for now he's sticking with the primer grey scheme.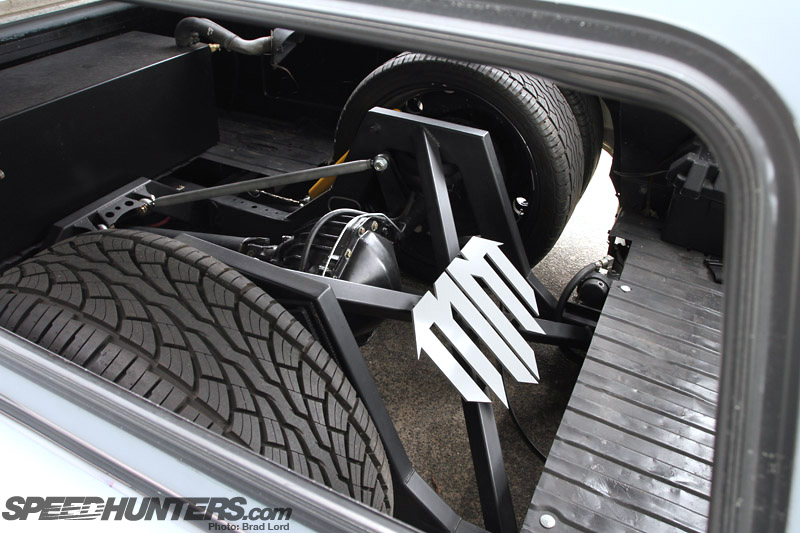 Although the truck had already been air-bagged when Mike purchased it, it still needed quite a bit of work. With the set up Mike was able to get it to lay frame, but because the chassis rails hung down four inches below the body work the look was never going to cut it. So Mike got Mat Addis of Auckland's The Drop Shop on board and this is the  result. Apart from the obvious custom chassis work, the set up runs Bilstein shocks, high-spec bags, as well as an AccuAir E-Level electronic leveling system.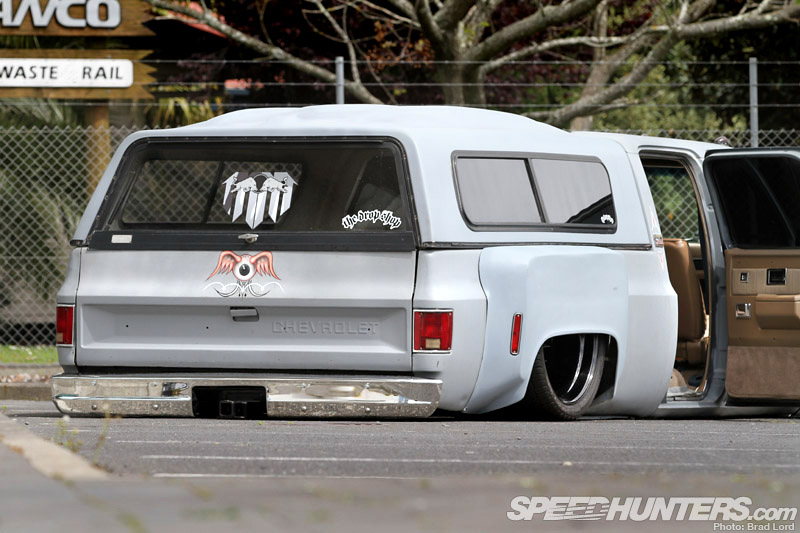 We have touch down! As you can see the Chev runs some seriously large wheels too. The modified truck-spec Alcoas that have had their beads slightly machined to take low profile, high performance road tires: 24 inches high out the back and slightly smaller 22-inch rubber up the front – but only so the hood can shut!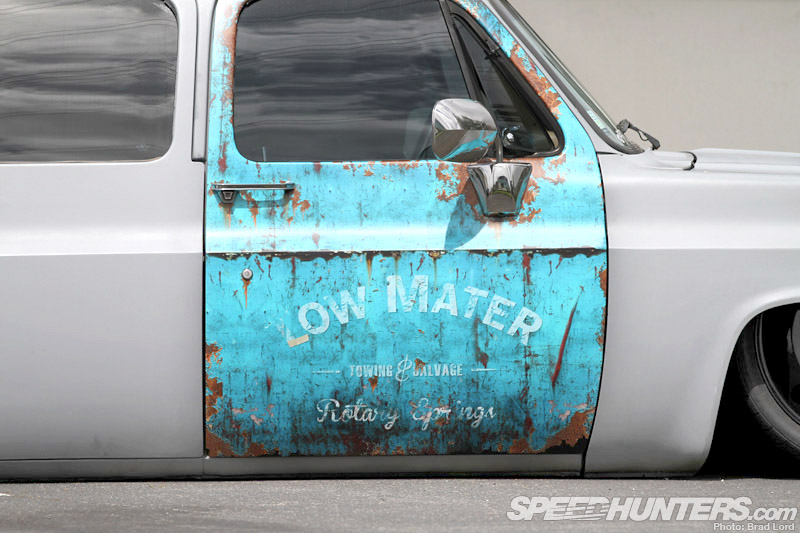 Here's a closer look at the right-side door, which is in fact a digitally printed stick-on that Mike custom designed and printed to perfectly match in with the C30's door hardware and lines. Lincoln's favorite movie is Cars, so it seemed only appropriate that Mike put his own spin on things for his tow truck: Low Mater, Rotary Springs!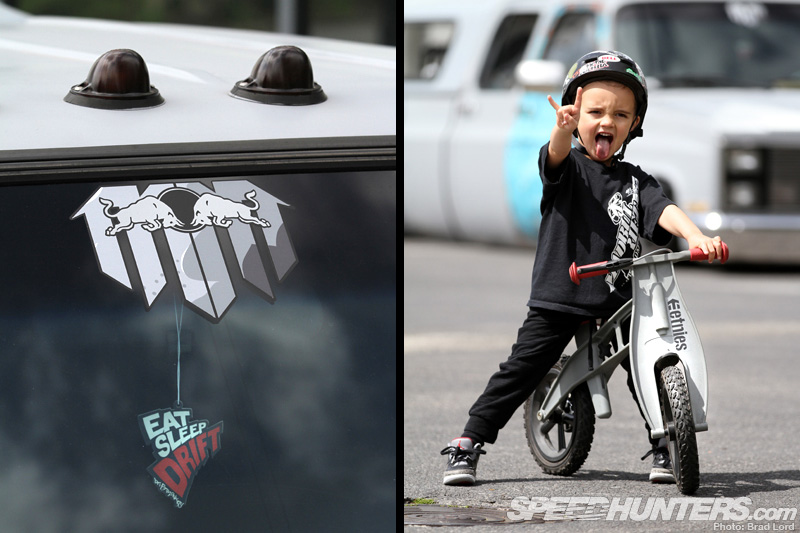 It definitely gets the seal of approval from the little guy.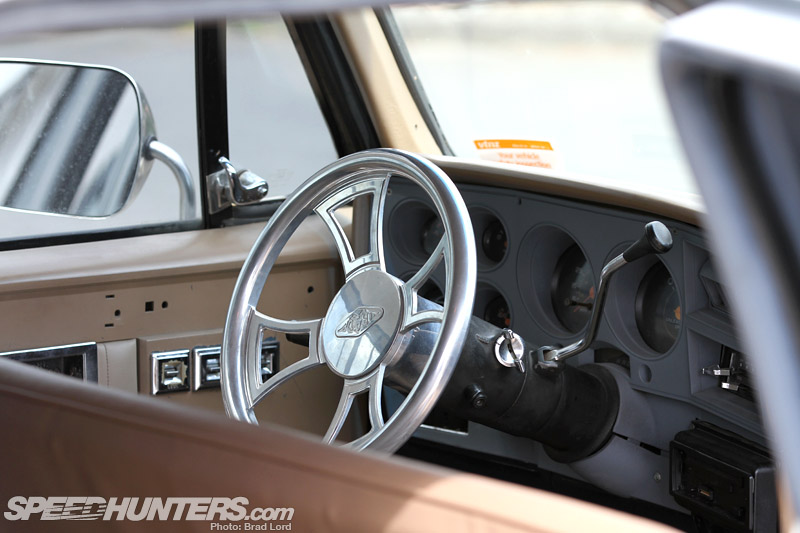 With bench seats front and rear and summer fast approaching in NZ, it's definitely going to be a cool cruiser. But it might not stay that way for long…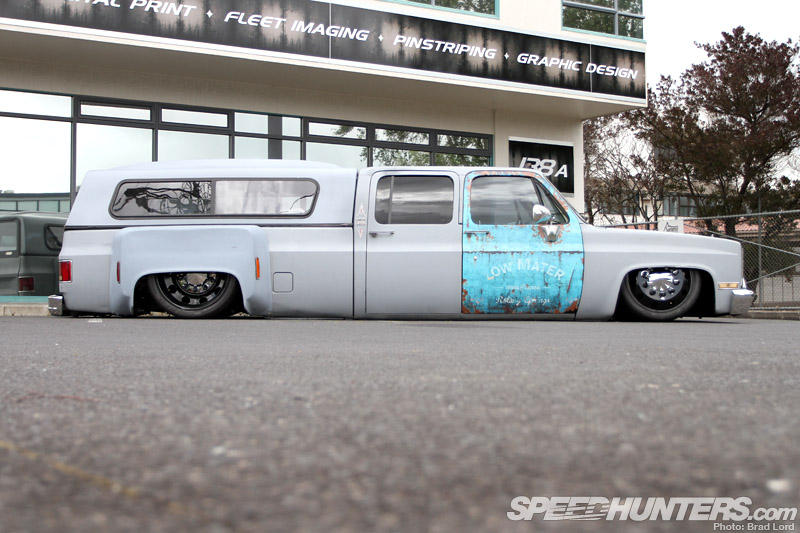 At present it's been set up with a mild 454ci big block, but to satisfy Mike's thirst for big power that'll soon be swapped out for a brand new GM big block crate motor which should offer up 700hp straight out of its wooden box. As bad-ass as BRODZR is already, I'm definitely keen to see where Mike takes this project.
I hope you guy enjoyed this post as much as I did putting it together. Big thanks to Mike, Toni and Lincoln for letting me take a little look inside their world!
– Brad
The Official MadMike Page on Facebook
Desktops