When it comes to building cars as tough as they are unique there aren't too many people out there that do it better than New Zealand's drift export, Mad Mike Whiddett. But while his famed MADBUL RX-7 has proven itself on the international stage, Mike's the first to admit that his other car – an RX-8 named BADBUL – was more about the way it looked than how it performed. Although that package showed itself to be quite competitive during his 2010 stint in Formula D, he's alway known there was a whole lot of untapped potential just begging to be exploited.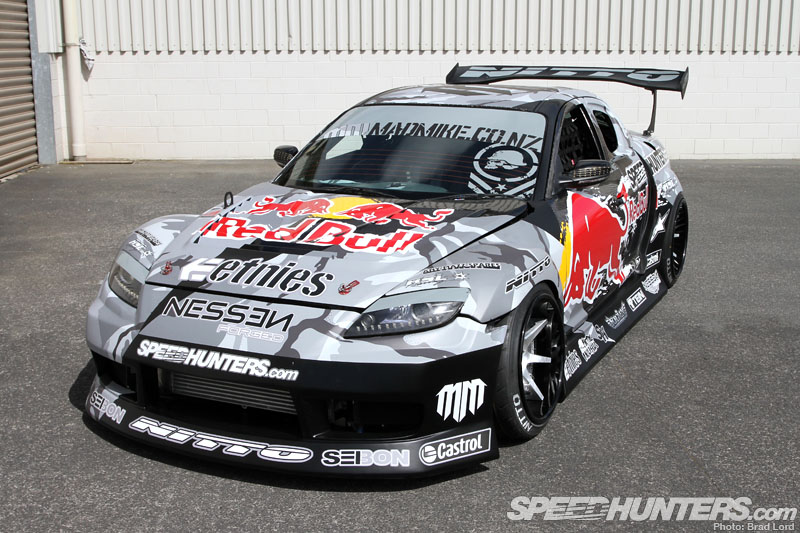 After two years overseas, BADBUL made its return to New Zealand earlier in the year. When that happened Mike wasted little time ripping into the Mazda with the goal of running it at the Tectaloy International Drift Challenge in Sydney, a side show to the World Time Attack Challenge. While the majority of the mechanical upgrades were completed before the car was shipped to Australia for the August event, he still had a long list of work to complete in just a few weeks before the local 2012/2013 drift season kicked off. This is the result of many late nights and early starts.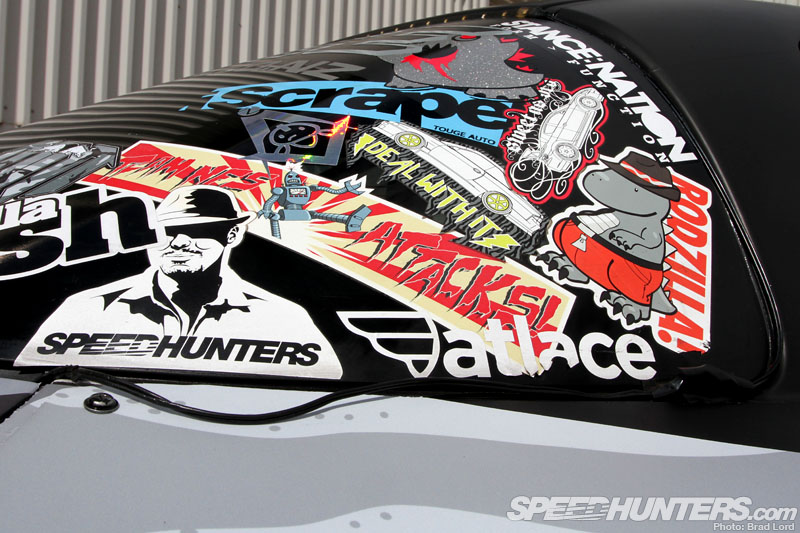 Although there are plenty of remnants of the original BADBUL,  like the sticker bomb on the rear glass (complete with a couple of cameos by our Creative Director, Rod)…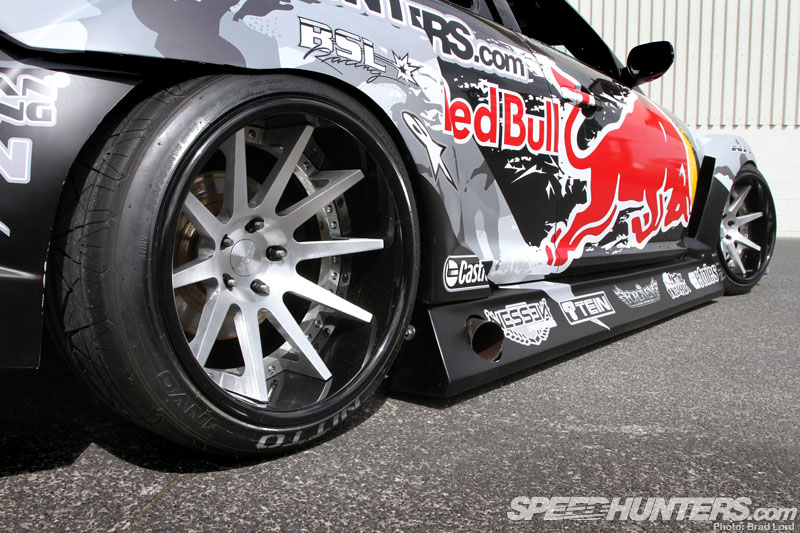 …for the most part this is a very different car than the one Mike competed in Stateside.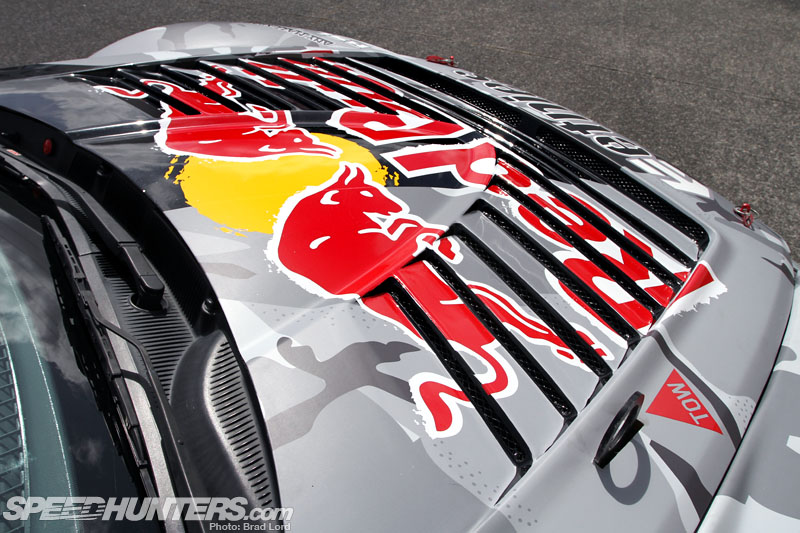 The most obvious change is the way the car looks. Although the RX-8 still runs a Kiwi-made Street Pro kit and a BN Sport vented hood, Mike wanted to theme the car like his MADBUL RX-7, hence a similar military-spec grey camo wrap and Red Bull/Speedhunters livery. To help with weight reduction, Seibon supplied full set of doors and a trunk lid in perfectly formed carbon fiber.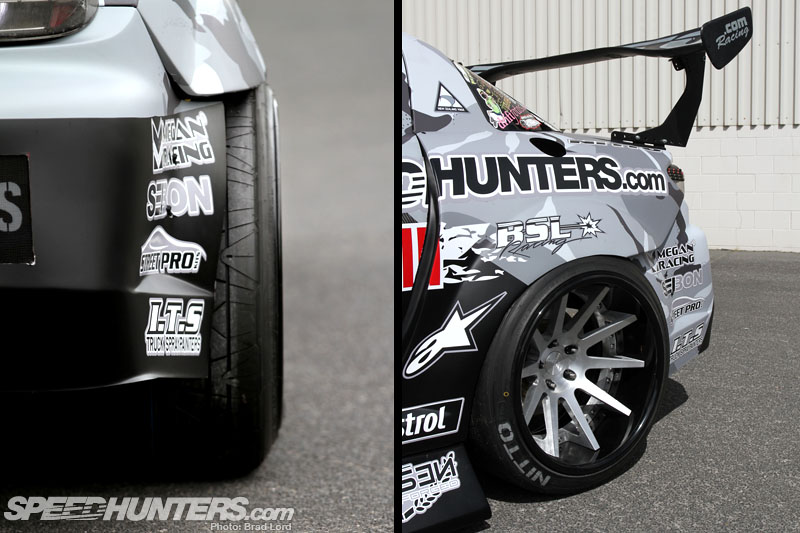 When it comes to wheel choice it's fair to say that Mike's always been one to push the style boundaries. Thanks to a new partnership with Nessen Forged he's been able to achieve a look he's been chasing for a while: maximum concave with maximum dish. And in the case of the custom-made, 10-spoke, 18×11″ rears there's plenty of both. I'm definitely feeling the clear-coated raw alloy spokes and black barrels!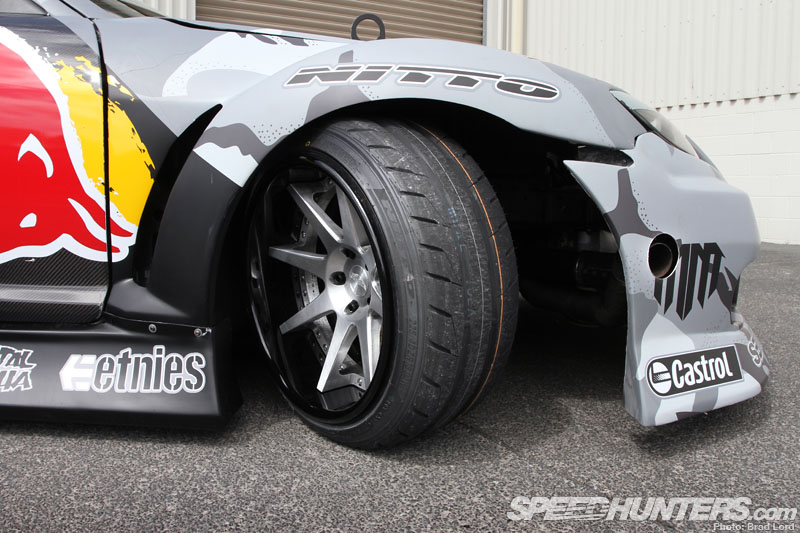 Up front the BADBUL's sitting on 8-spoke Nessens, which at 18×10″ are a full inch narrower then the wheels previously used to remedy issues with the tires rubbing on the firewall at full lock. And on the subject of  lock, there's a whole lot more of it this time around thanks to Mike's own refined steering knuckle design, which will soon be manufactured in billet form by local fab shop, BSL Racing.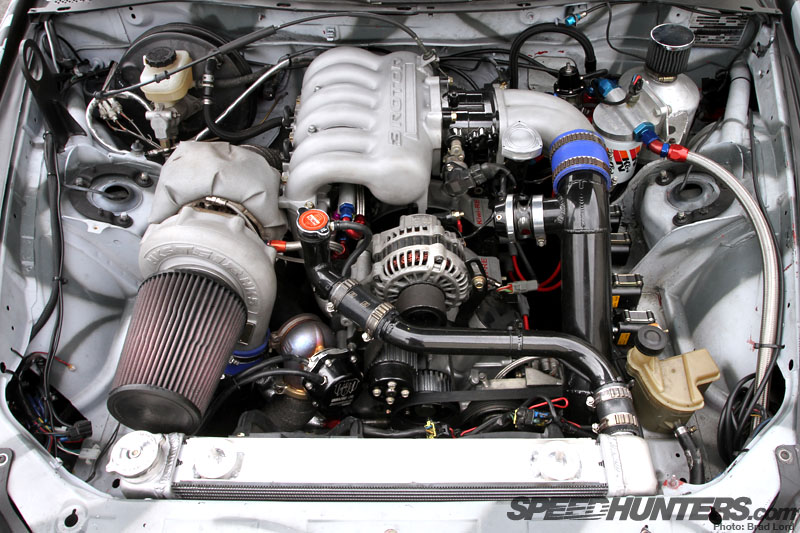 The set-up under the hood still revolves around a Kiwi-RE built 20B triple-rotor motor with a big single HKS T51R turbo, but the engine's undergone a full rebuild and this time with much larger bridge-ports.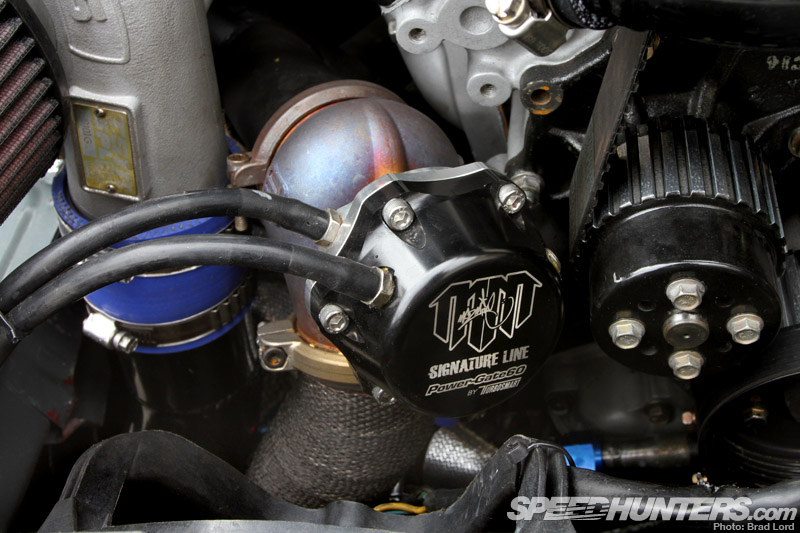 A full host of Turbosmart gear can now be found around the engine bay, including this Power-Gate 60 external wastegate complete with laser-etched MM insignia. This Signature Line version might one day make it into production, but for now Mike's more than happy to rock the prototype.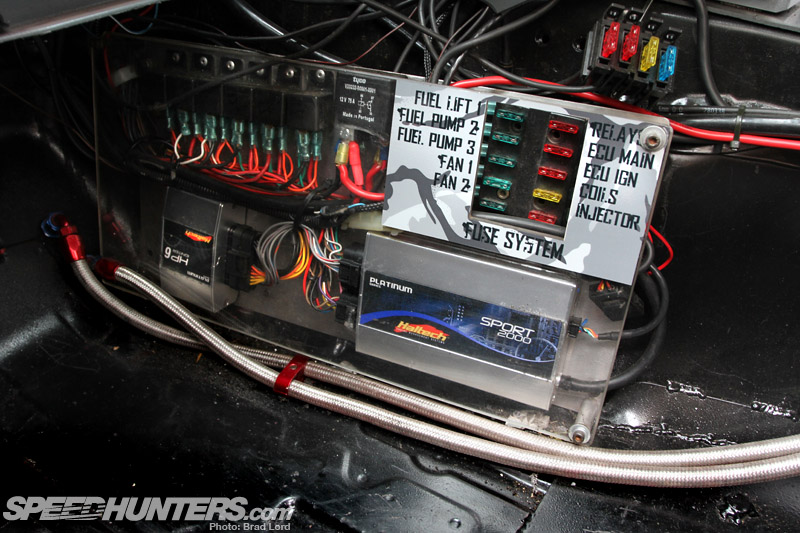 Before the rebuild, BADBUL was still using much of its factory wiring, but since then almost 90 pounds-worth of colored cable has been removed from the car, making way for a custom loom and an overhauled electrical system. Rich in functionality and well-suited to firing the 20B, the Sport 2000 engine management system from Haltech's Platinum Series line is also a new addition. Running on a mix of 98RON pump gas and Castrol Power 1 TTS two-stroke oil dyno tuning has netted a peak power output of almost 700 horsepower at the rear wheels.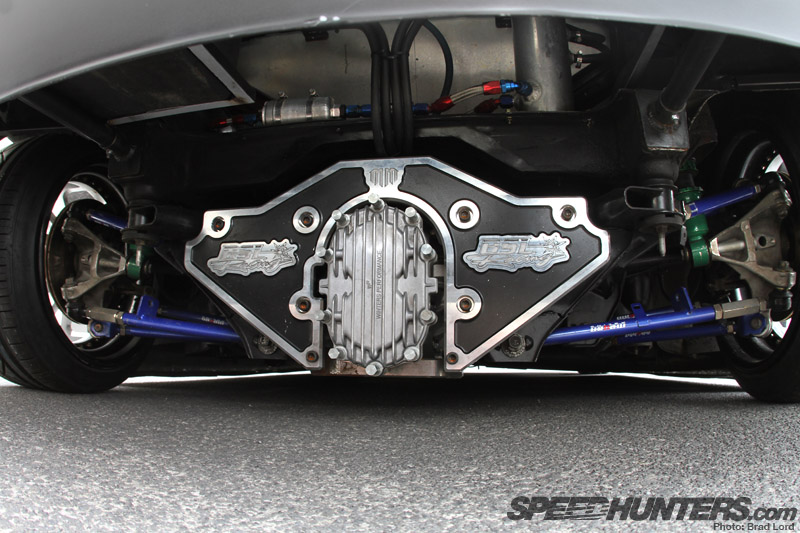 But the most important upgrade made during BADBUL's reincarnation has happened out the back of the car. Not only has the chassis been cut away to make room for tube frame work, but the rear end's now home to a Winters quick-change set-up pieced together by ASD (Autosport Dynamics) in North Caroline utilizing one of its one-way limited-slip diffs. Fitted into the RX-8 by BSL Racing, Mike now has the option of six final drive ratios ranging from  3.5:1 to 5.0:1 across three quick-change kits.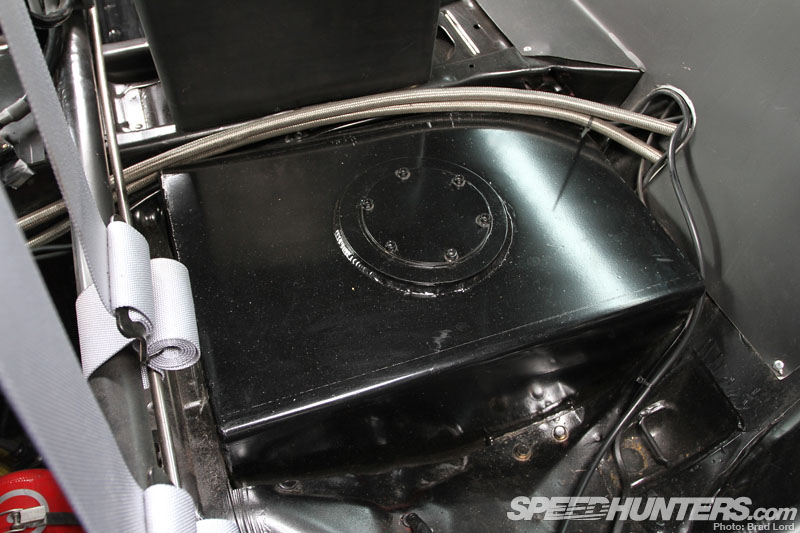 Because the factory rear end was completely removed, so too was the factory fuel tank. A custom-built cell dropped into the floor now resides behind the passenger seat.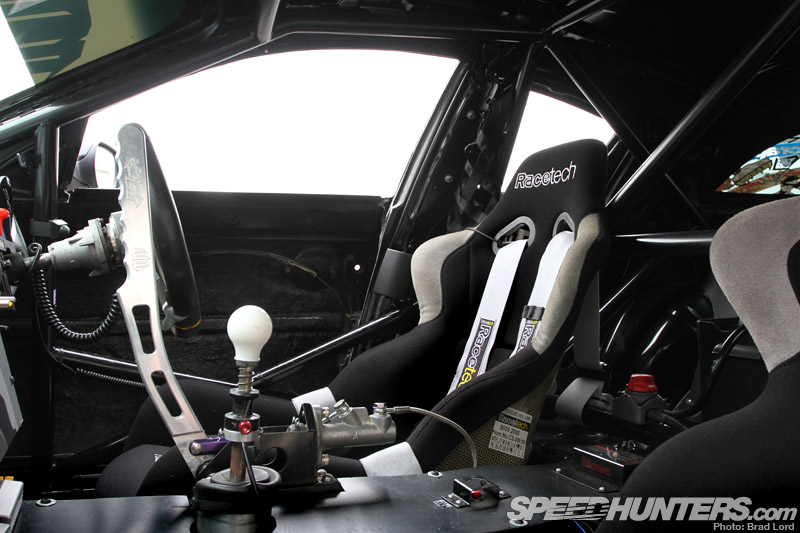 And on the subject of seats, NZ-made carbon/Kevlar-framed Racetech 9090s threaded with Racetech three-inch harnesses are a new feature in the office. With the original set-up the seating position was too high for Mike's liking, but repositioning (read: cutting and dropping) the floor beneath the seats has rectified that problem once and for all.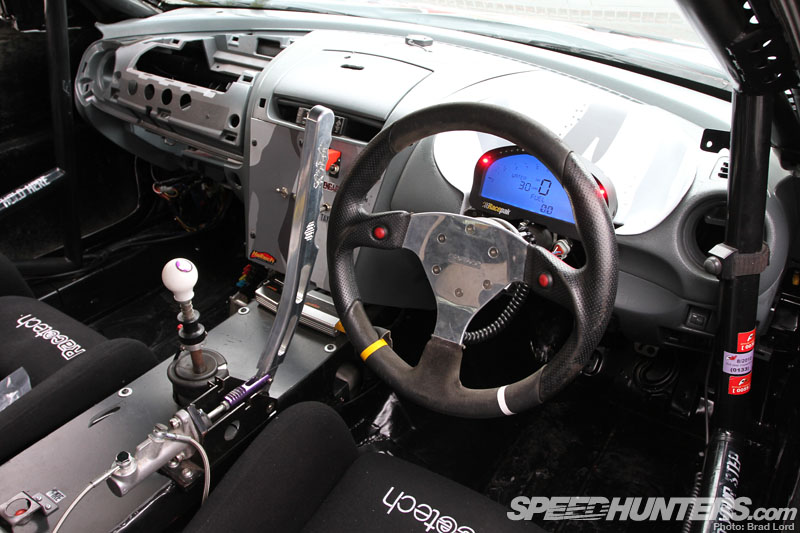 Mike wanted to carry the military theme through to the cockpit, and he's done a pretty good job of it.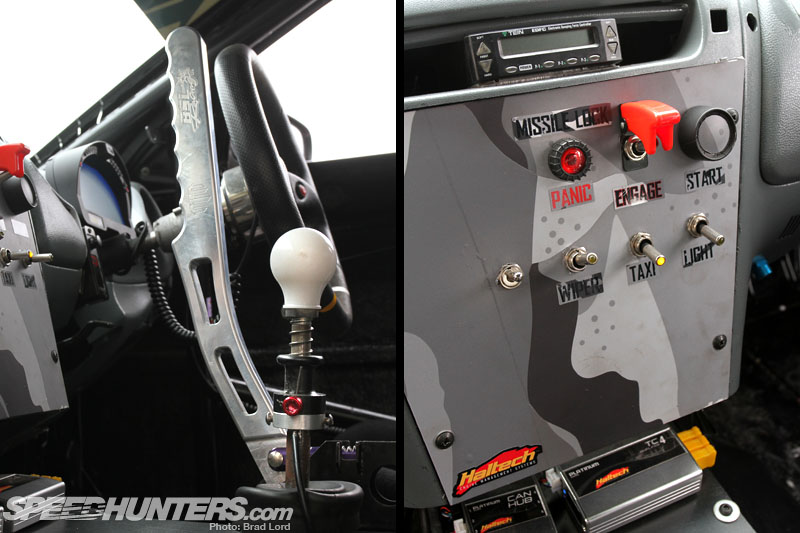 One of the coolest features has to be the billet hydraulic e-brake lever, which once again comes courtesy of BSL Racing.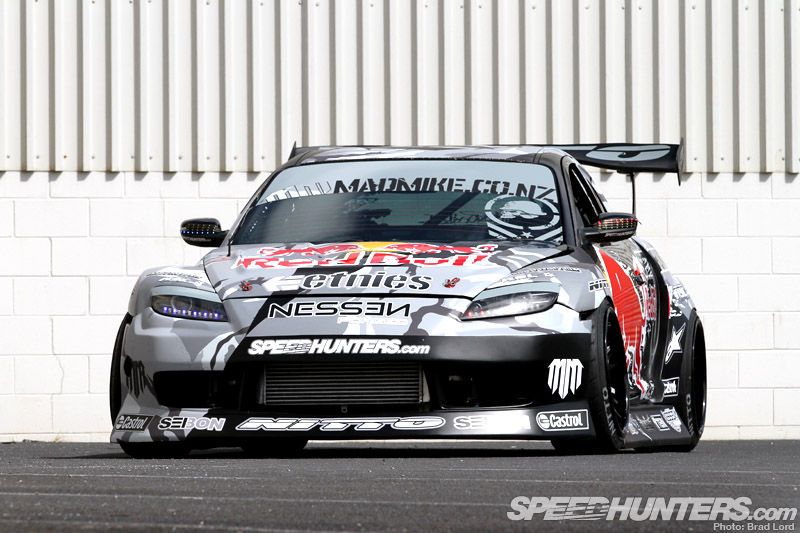 Those with good memories might recall Formula D's 'Best Looking Car of the Year' award being bestowed on RX-8 back in 2010. I'm not quite sure how Mike does it with his builds, but just when you think they can't get any better he cooks up something like this.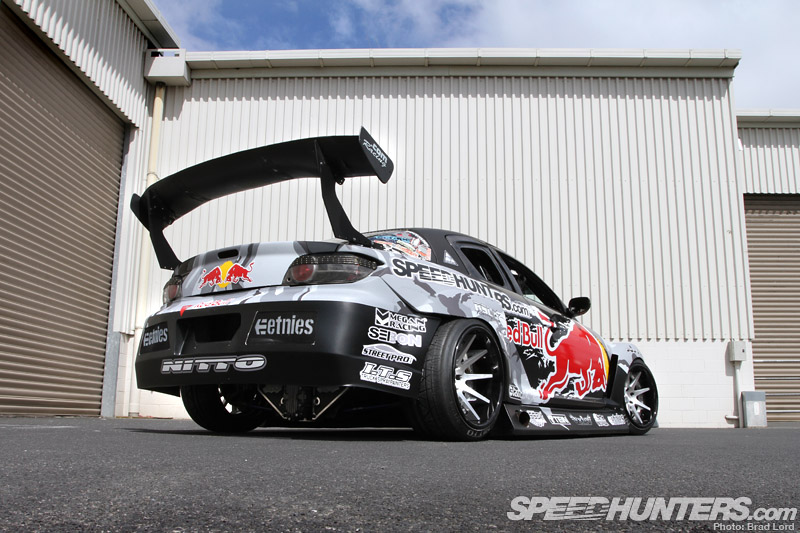 Is there a tougher-looking drift car on the planet right now? I'm going with no…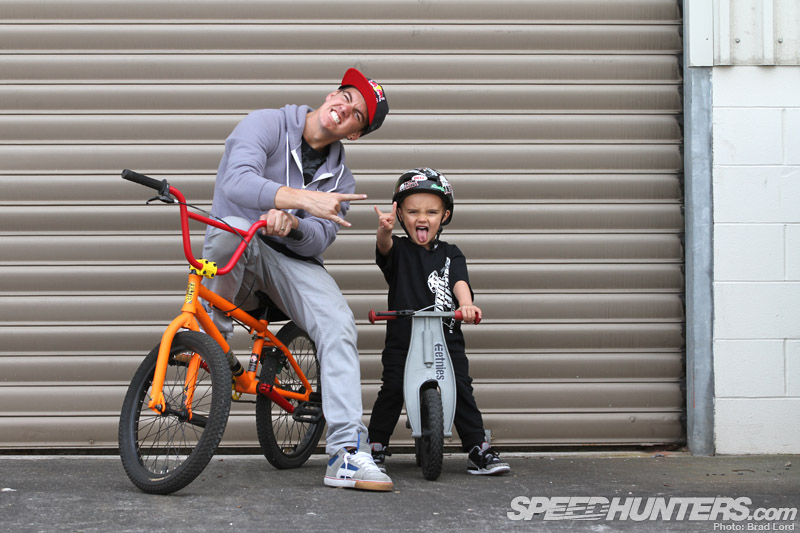 While I was getting busy with my camera Mike and his little fella, Lincoln, made good use of a break in the weather…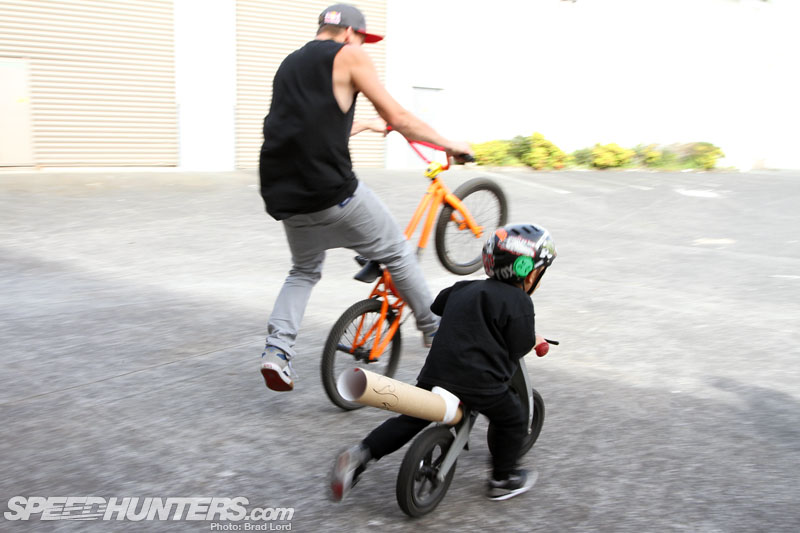 …and indulged in some two-wheeled drag racing in the car park outside the workshop. A stock bike wouldn't cut it for Lincoln – check out that Boso' pipe!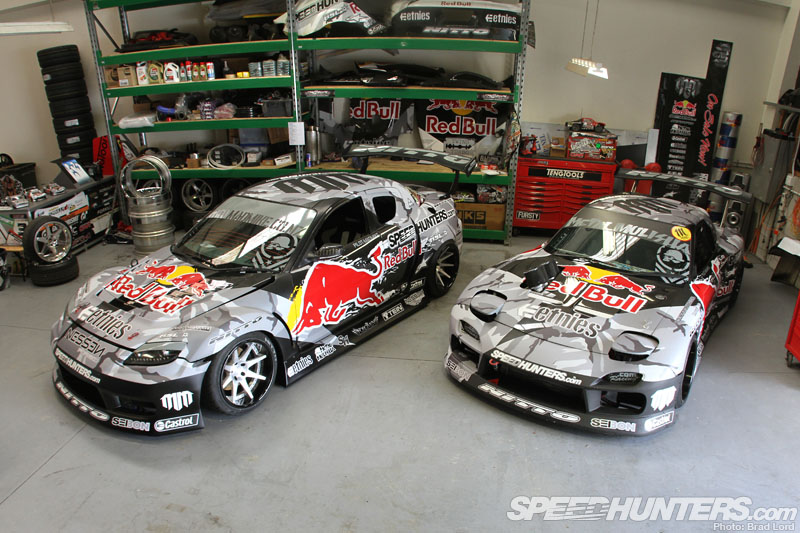 Back inside the workshop a little later on, two cars that spend more time apart than they do together were reunited once again: MADBUL fresh off the boat from Mike's win at Gatebil a couple of months back and BADBUL ready to do battle at the first event on the local calendar. But if you think these two creations are wild, just wait 'til you see what else Mike's been cooking up in his compound.  Stay tuned for a guided tour of Mad Mike HQ next week…
Brad Lord
BADBUL MAZDA RX-8
ENGINE: Mazda 20B 3-rotor; Kiwi-RE Monster Bridgeport; lightened/balanced rotors; cross-drilled eccentric shaft; Kiwi-RE apex seals; modified stationary gears; HKS T51R turbocharger; custom exhaust manifold; Turbosmart Mad Mike Signature Edition 60mm Power-Gate 60 external wastegate; Redline Performance GT-R intercooler; Turbosmart blow-off valve; K&N air filter, custom 3.5″ stainless steel exhaust system; custom fuel cell; 2x Bosch Motorsport 044 fuel pumps; Bosch Motorsport lift pump; high-flow fuel lines; Turbosmart adjustable fuel pressure regulator; custom fuel rails; high-flow injectors; Gilmer belt drives, custom catch tank and overflow bottle; Redline Performance alloy radiator; 2x Setrab oil coolers; intercooler and radiator water sprayers
ENGINE MANAGEMENT / ELECTRONICS: Haltech Sport 2000 ECU; custom loom
DRIVELINE: HKS 6-speed sequential gearbox; HKS Pro 2 twin-plate clutch; HKS flywheel; ASD/Winters quick-change rear end; ASD limited slip differential; custom Driveshaft Shop axles
SUSPENSION / CHASSIS: Custom built Tein Super Drift/Mono Flex suspension; Tein EDFC, FD3S RX-7 steering rack; Megan Racing steering arms; URAS tie-rods; Megan Racing tie-rod ends, MM/BSL Racing steering knuckles
WHEELS / TIRES: Front: 18×10″ Nessen Forged 8-spoke, Nitto NT05 225/40R18 tires; Rear: 18×11″ Nessen Forged 10-spoke, Nitto NT05 (dry) and Nitto INVO (wet) 265/35R18 tires
CABIN: Six-point weld-in rollcage; Racetech RT9009 carbon/Kevlar seats; Racetech 3″ harness belts; RacePak digital dash; BSL Racing hydraulic e-braker lever, Lifeline fire extinguisher system; D2 Racing air jacks; custom switch board
BODY: Street Pro/Lokey custom wide body kit; BN Sport vented hood; Seibon carbon fiber doors; Seibon carbon fiber trunk lid; Sard GT wing; BSL Racing laser-cut wing mounts; V-LED patrol lights; custom CRE8GRAFX livery
THANKS: Red Bull; Speedhunters; Nitto; Castrol EDGE; Nessen Forged; BSL Racing; Street Pro Kits; Tein/Autolign; Megan Racing; Seibon; ITS; Redline Performance; Etnies; Metal Mulisha; Alpinestars; Forgiven Supplements; Any Mazz Spares; V-LEDs; .COM Racing
DESKTOPS