I've long been of the opinion that if I was pushed in to buying one standard car to use for everything, that it would be an Audi. An RS4 Avant to be precise, a car that is good in all weathers, I can carry most anything I need, tow something with it, do a track day and sleep in it. These are just some of things that I need my cars to be able to do for me. That's no small admission given what I do for a job either, but yes, I think an Audi would fit the bill. I've never owned one though, limit myself to just one car? Are you insane?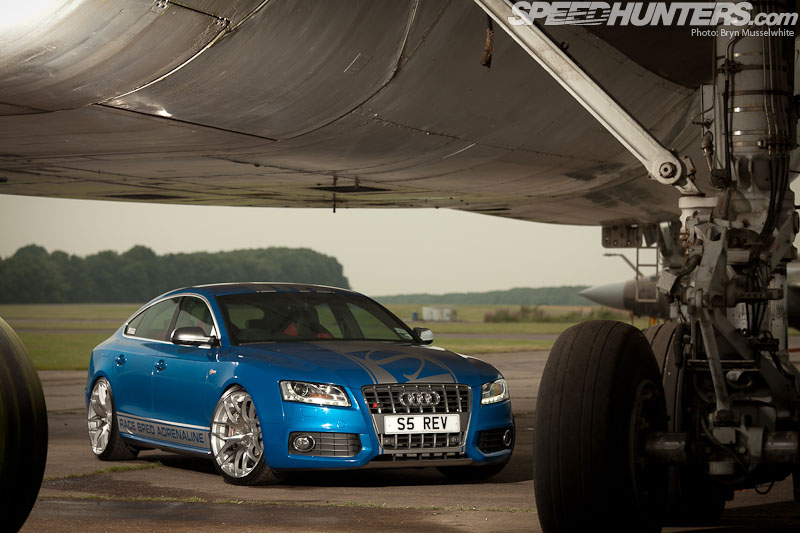 Such a thought scares me. Would my instincts be correct? Just how good can one car be? That's the problem with road testing a vehicle, it's all very well quantifying how it corners, or how much horsepower it has. But it's the other stuff that matters. Does it move me?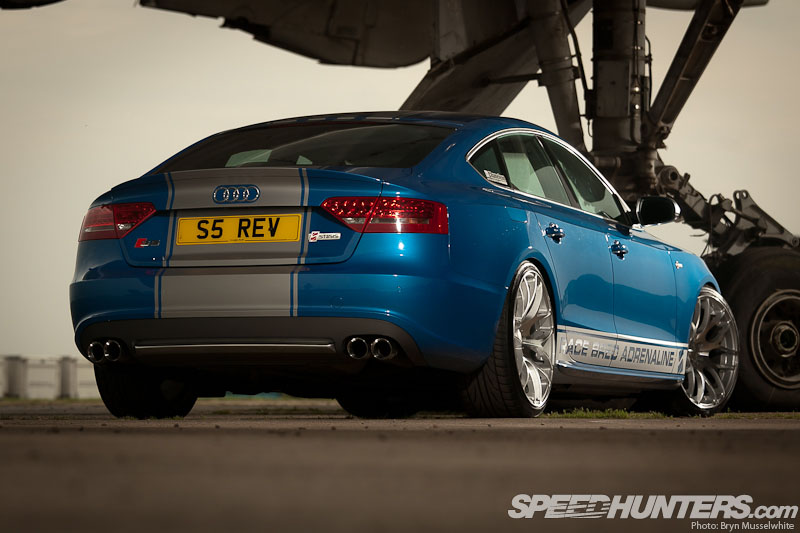 Audi is a brand I struggle with sometimes, for me the name echoes of a fire spitting SWB Quattro, five cylinder engine growling and fighting its way through a forest somewhere. But I've always felt the crossover between racing pedigree and road car lineage has always been very subtle. It's here though. Take this S5,  it's the STaSIS European Motorsports "Touring" Edition.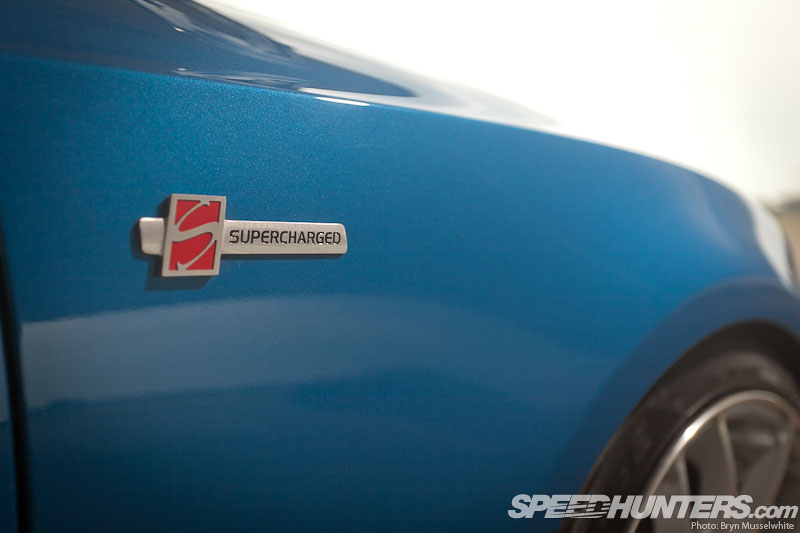 It's a demo car, so the graphics and colour might not be your choice but it's been designed to stand out. The Supercharged badge kind of gives the game away, but not entirely.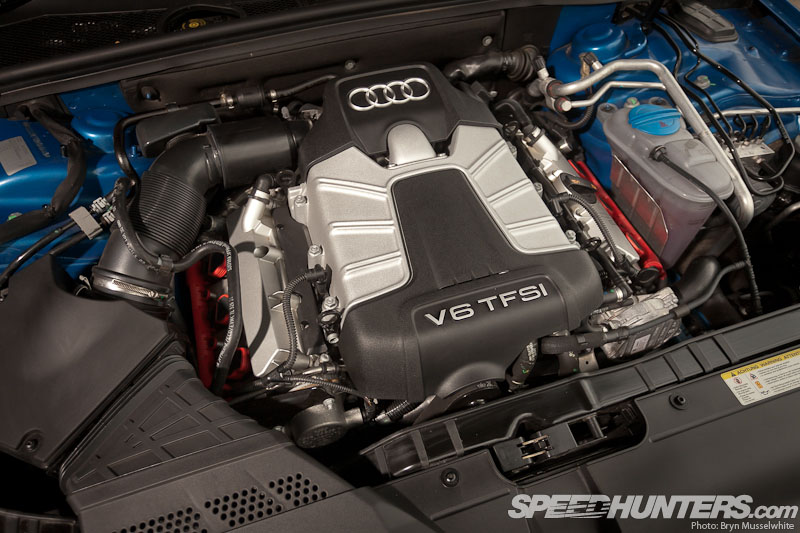 So I open the bonnet. Maybe I'm too old school for my own good, but I want to see the blower. Again Audi not seeing the need to flaunt or overly advertise what they have keeps it tasteful. Plus why would I really need to see the supercharger? Surely it's about what it does, not how it looks.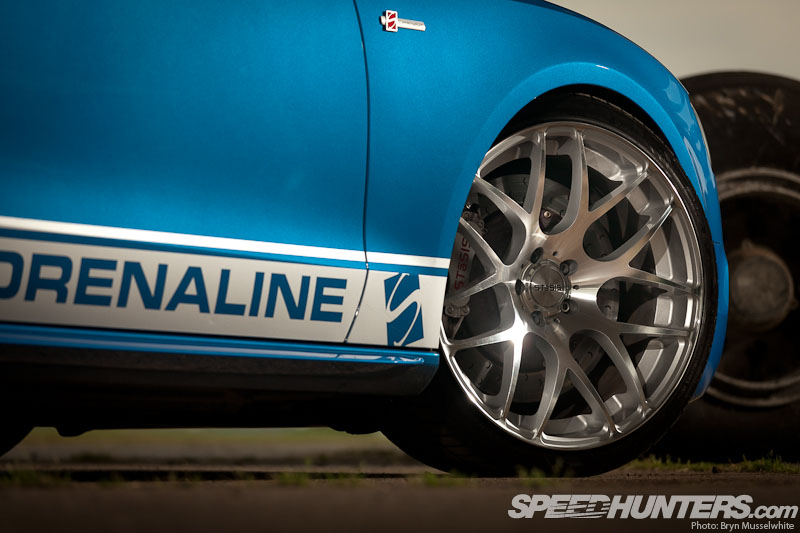 Sitting just below that badge is a STaSIS 20in forged SL12 Edition wheel, the diamond cut and polished face finish suiting the slick shape of the S5 well. These are bold wheels and for me they work well with the up to date S5 shape, especially as they sit so well in the arch thanks to a ten point parallel damping adjustable B16 kit courtesy of Bilstein.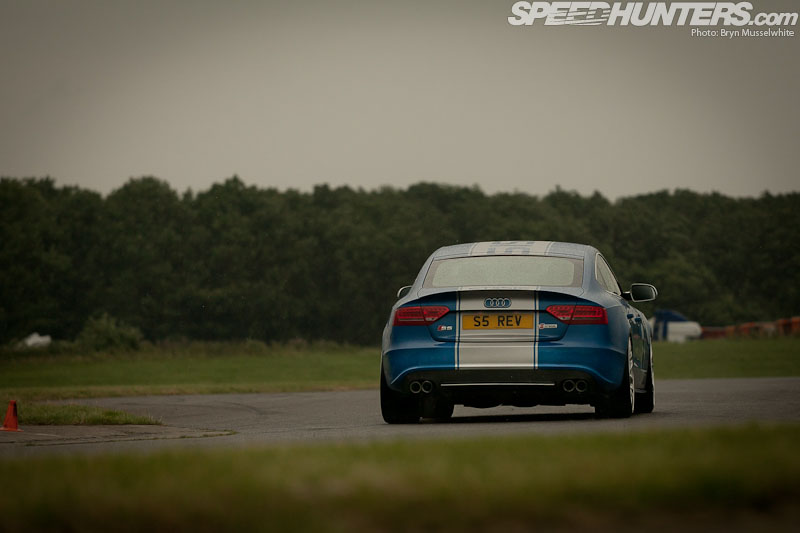 They are set firm for track use rather than usual road use settings today, because yes we're at a track. Bruntingthorpe proving ground in the middle of the UK, an ex USAF base with one of the longest runways in the UK. I've been coming here to test cars for the last 13 years. Some of my biggest moments and highest speeds have been seen here, a sideways slide for nearly 250ft without flipping and 211mph for those that want to know.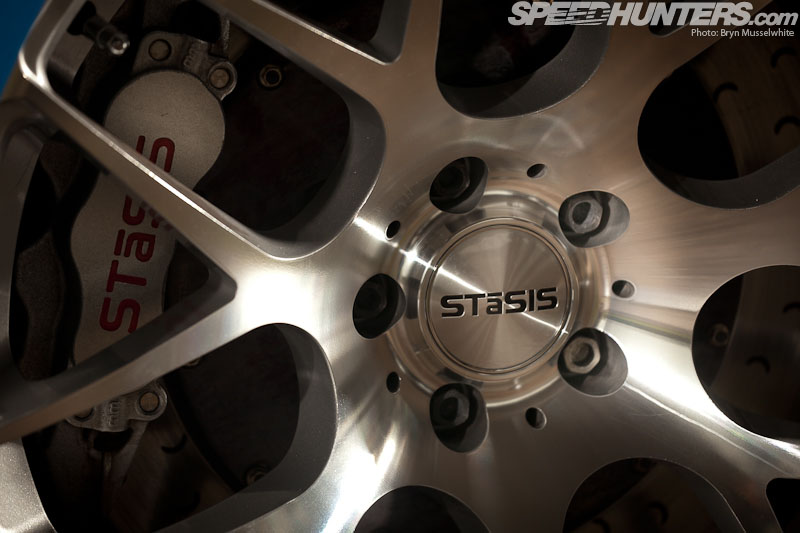 Good thing that not really hiding behind the wheels are some six pot STaSIS SL calipers by Alcon with 390 mm rotors and bespoke race composition brake pads. I know race pads might not be wholly applicable to a road car, but again we're on a track today…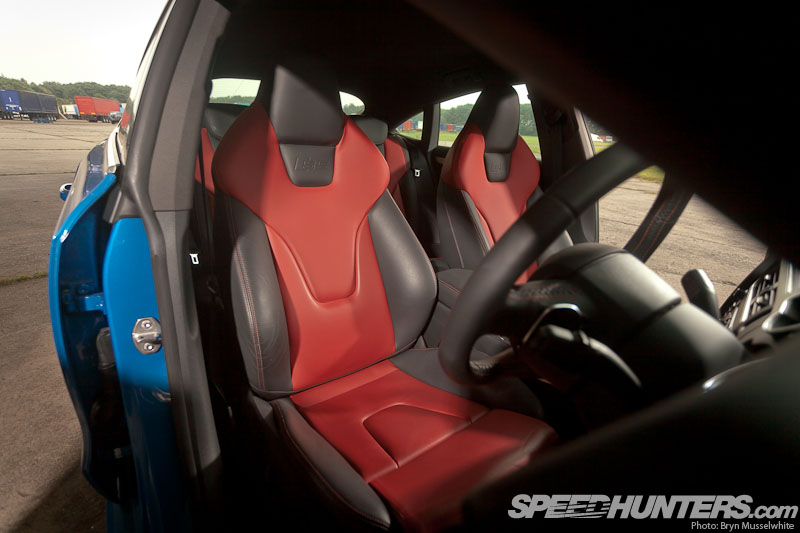 I'll get back to the driving impressions later on, but here's another reason why I think I could live with an Audi as my only car. True I'm not a fan of the red and blue, but look at this picture in monotone and it's a great place to be. I come from a generation when brand new cars needed upgrading, which simply isn't something you need to think about as much these days.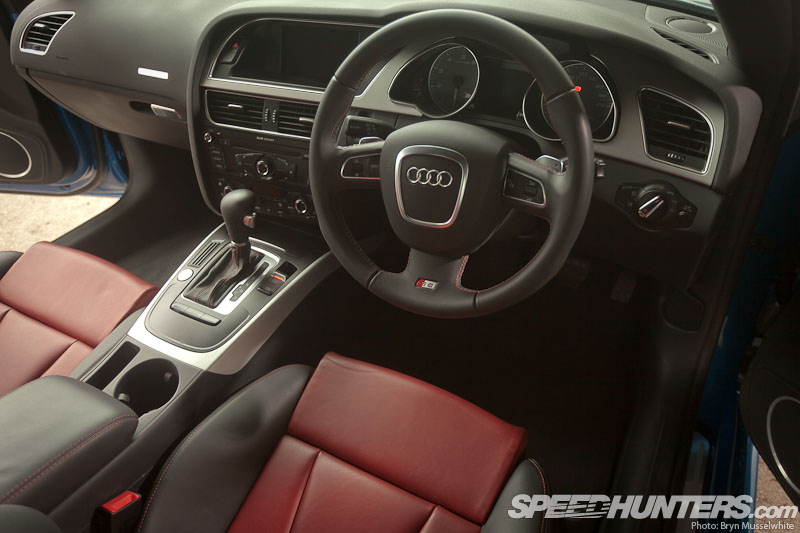 The S5 interior is a very well balanced place. Taking this picture I hadn't driven it, but already I'm getting a feel for what it promises. There's an air of business class…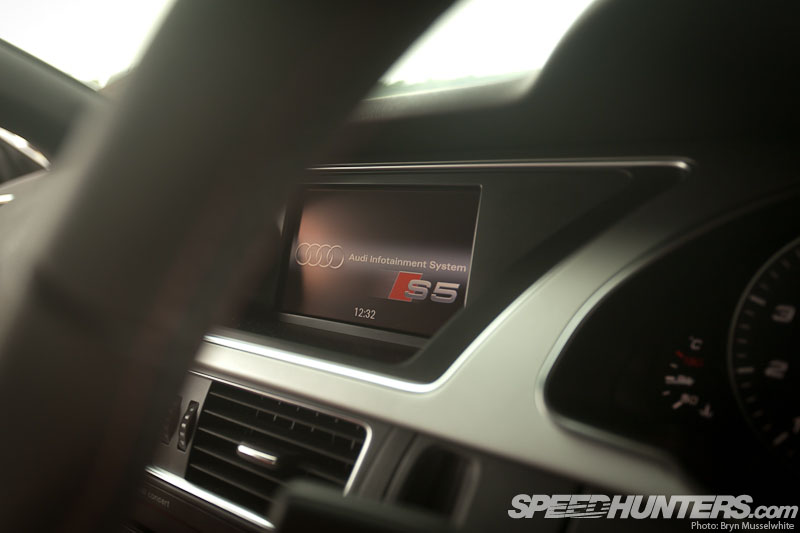 With just enough badging to keep me interested.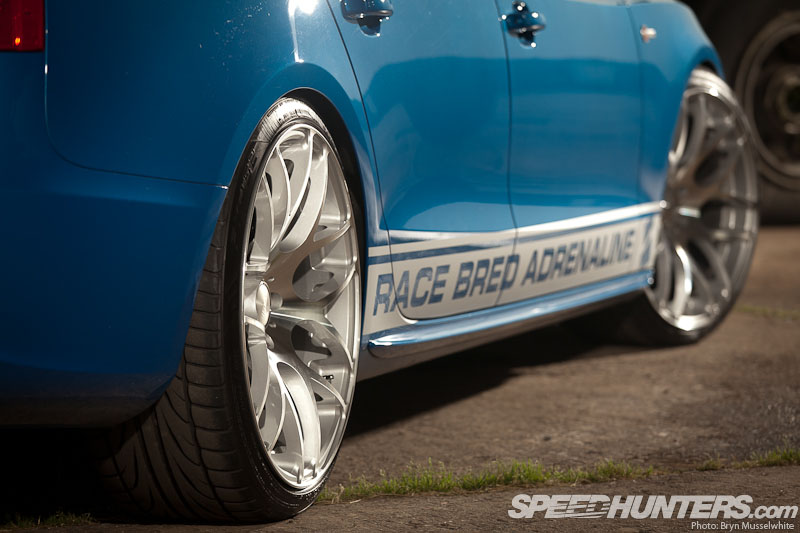 Upgraded rear brakes are to be expected, the B8 kit specified to compliment the fronts.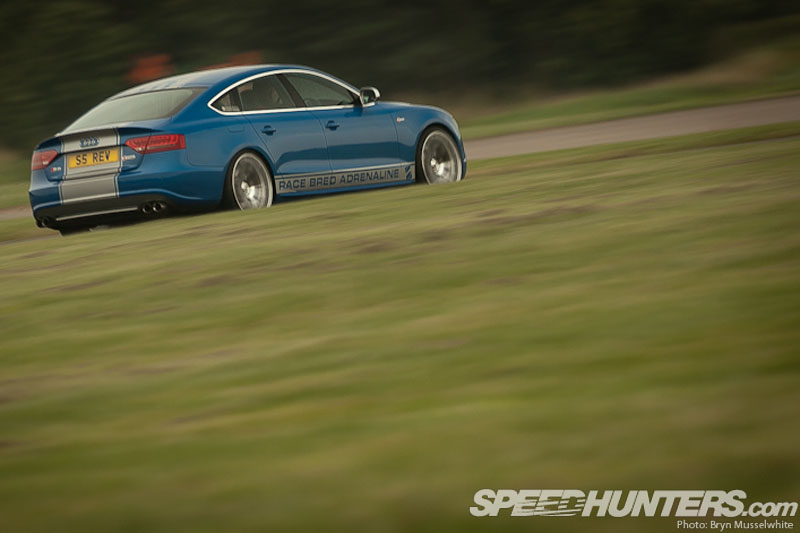 And for the exterior that's about it, along with the Passat CC and Merc CLS the S5 suits a lowered, hunkered down look really well.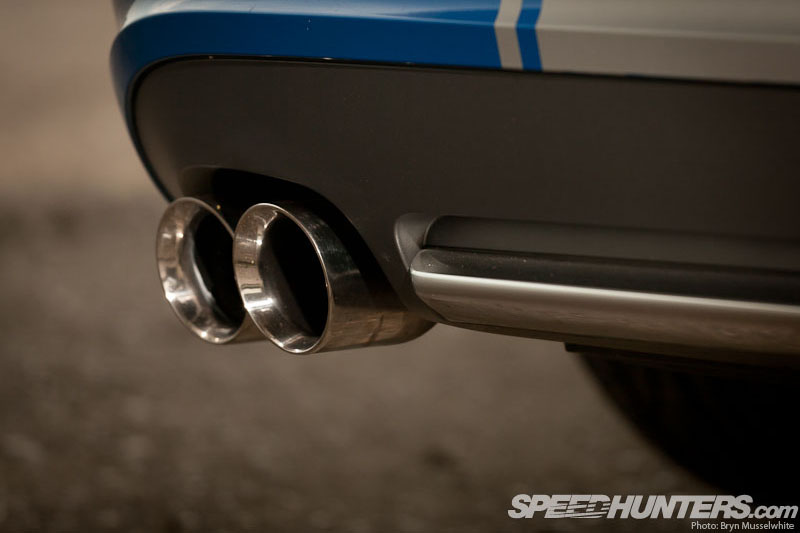 Sure look closer and there's a quad tip exhaust, but again it's all quite subtle. The truth is that these are the end of a three inch sports system with no rear boxes, fabricated by the very experienced Milltek from stainless steel.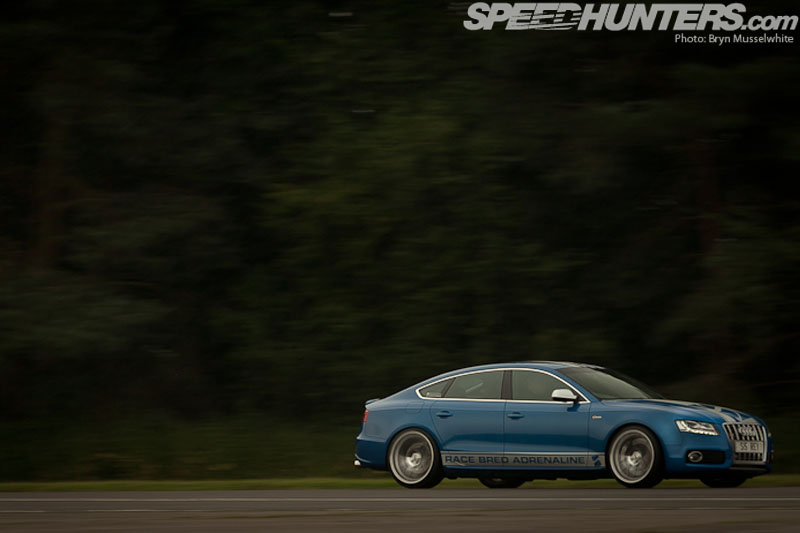 So as a visual package it's very much got the executive express look sewn up, not one I'd aspire to personally.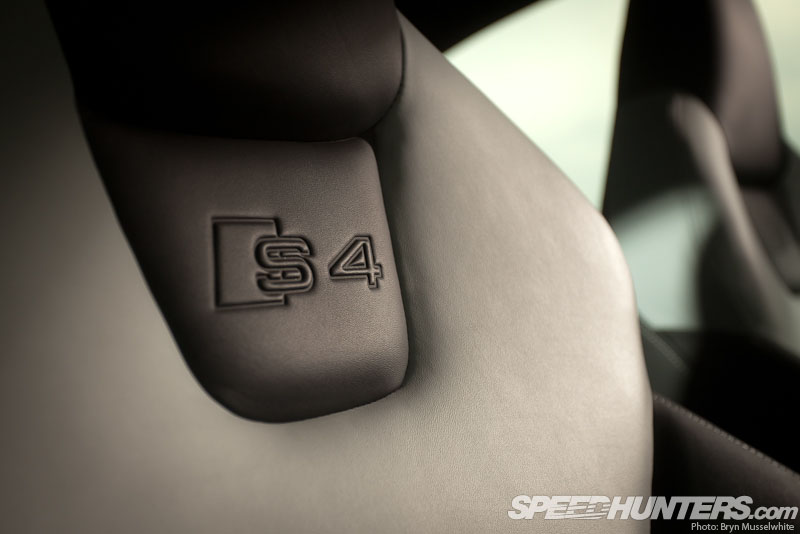 No, I think the S4 is more me.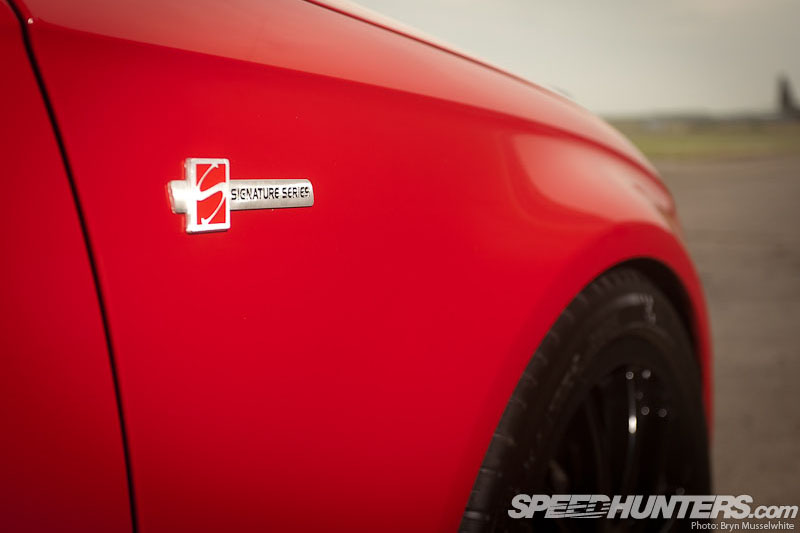 This S4 is one of the STaSIS Signature series, again signified by a subtle wing badge.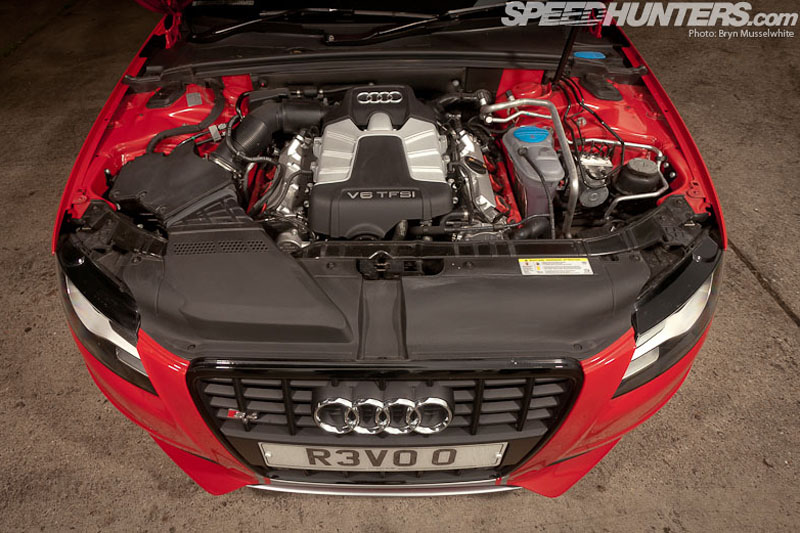 Factory power is up from 333bhp to 410. This is done by a stage one remap using STaSIS Motorsports software, with three modes to switch between. All we need to know today is that running on Shell VPower (98 Octane fuel), it's in Stage three for our Speedhunters test, thank you very much. You'll notice the plate here. The REVO refers to the UK company who are now part of STaSIS. Well established and hugely experienced, they've been on the European car scene long enough to trust.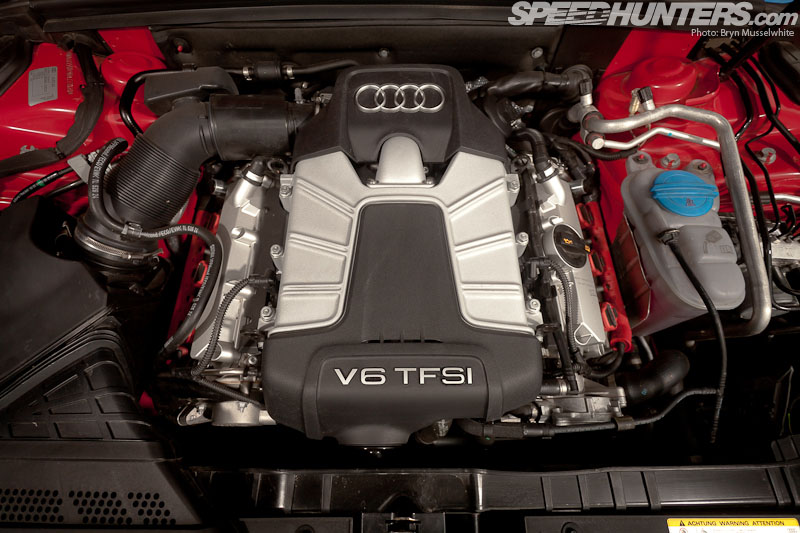 Again looking closer under the bonnet and it's modern, nothing to adjust and spanner on, nothing to provoke you. Nothing that says, 'Arrgggh. Drive me already!'. TFSI? It could be a new economic scaling method for all I know.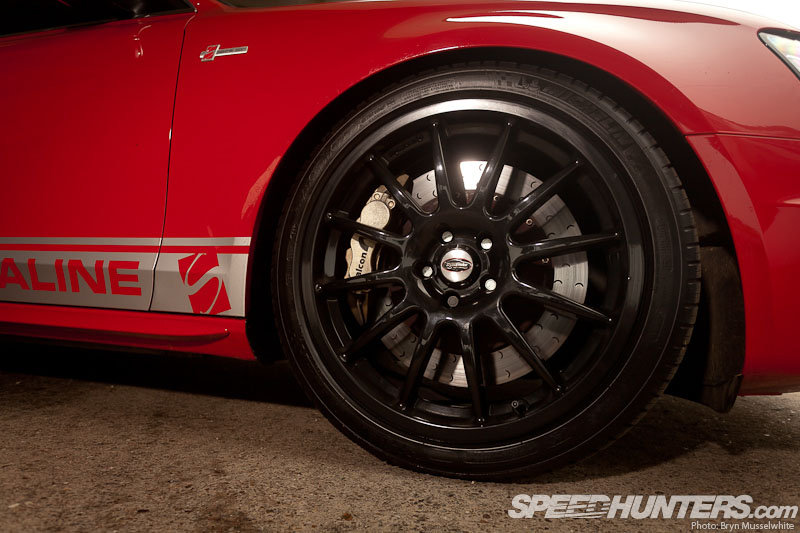 The S4 features the same six pot STaSIS SL calipers by Alcon and 390 mm rotors as the S5, and this time Team Dynamics rims and Michelin Sport Pilot 3 tyres. These are fitted with track use in mind. The S4 in daily mode wears another set of 20in forged rims like the S5, which I reckon would look pretty damned good.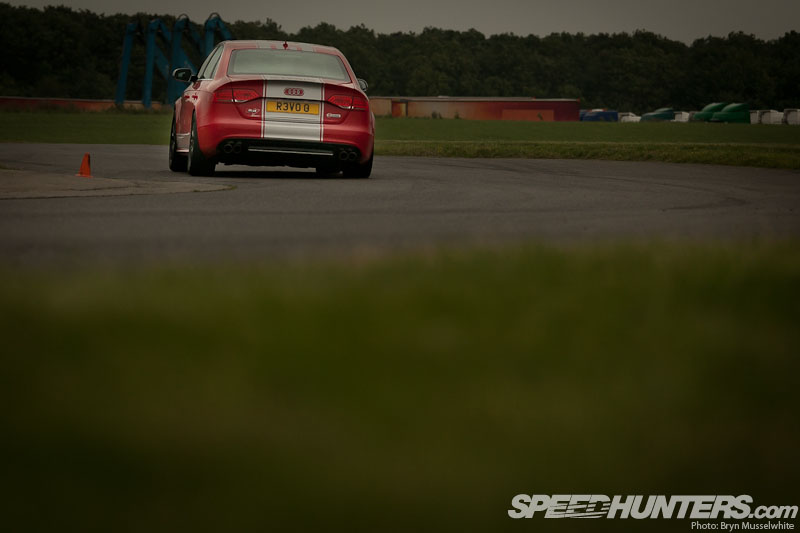 Suspension is a STaSIS SL Challenge kit with track set up Ohlins dampers. Of course they're fully adjustable for ride height and with a STaSIS high performance anti roll bar at the rear it looks properly planted through the corners. So does that translate to it being too stiff? You have to remember for all the full race this and performance that, you have to live with car and this is no small investment. For this sort of money you can buy a lot of other vehicles, so it has to work well.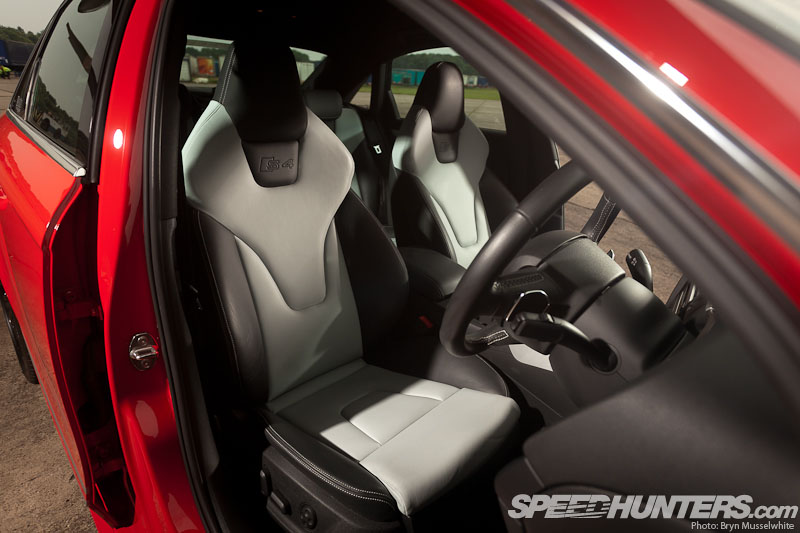 With the static photos taken, it's time for some tracking. Let's see how these things look on the move.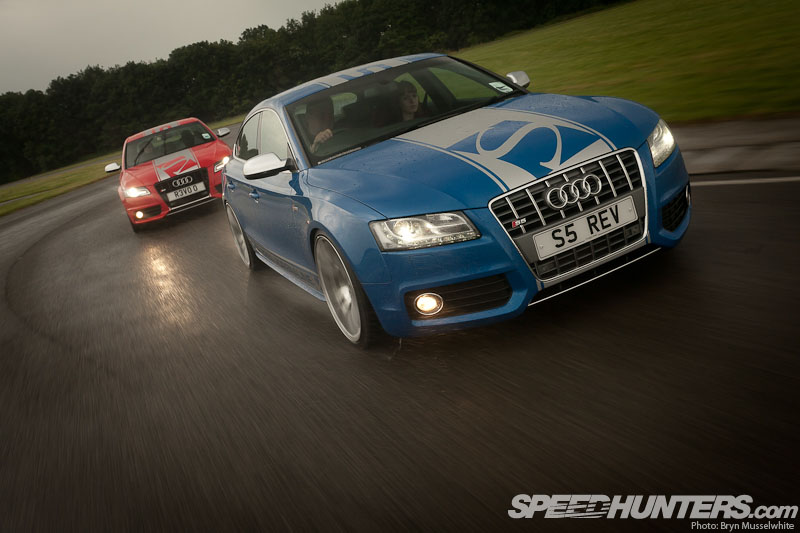 Since Audi added the lower grille to it's snout nose, they look like they're trying to inhale the road. On the move both the STaSIS S4 and S5 work for me, they're neither 'stanced' nor standard. The factory look is simple powerful bulges and vents, fluid lines with a certain understated aggression. Looking at the S4 then moments later the S5, you realise how compact the 4 is, squat almost… The observant among you will also notice it's started raining.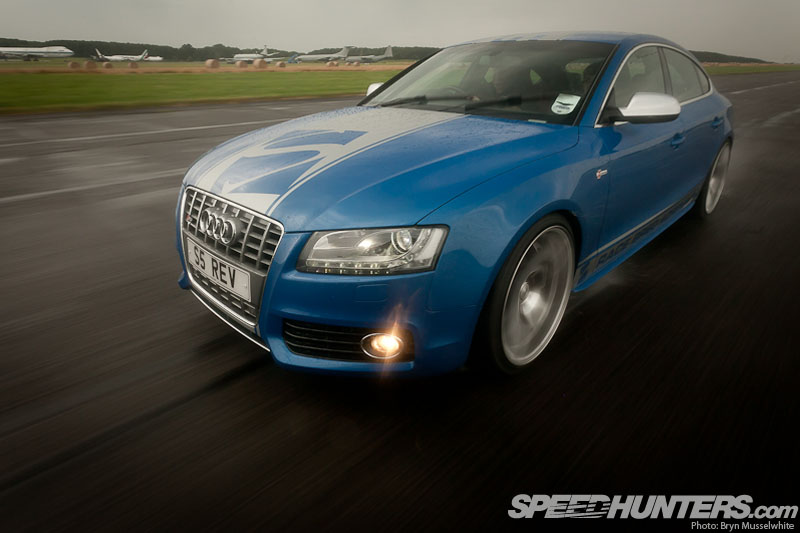 Out on the main runway the water starts to settle, large pools forming and spray sucks back in on my lense.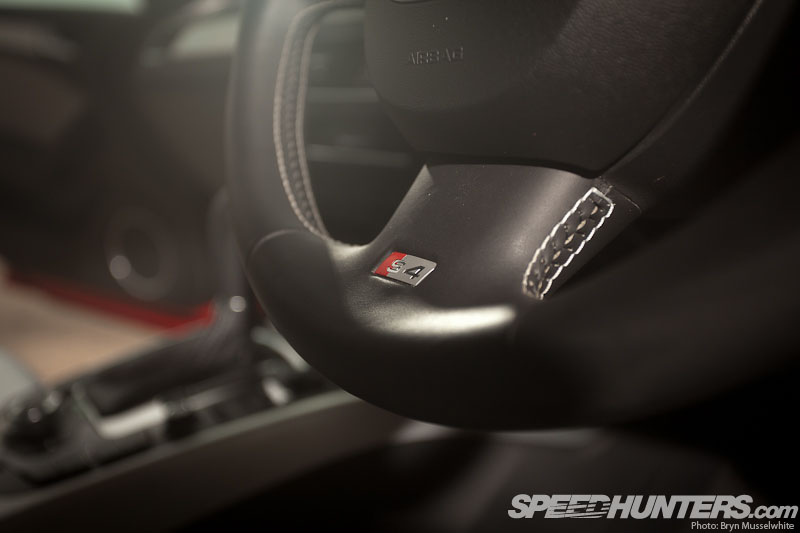 Okay, so now it's time to drive them. Standing water and pouring rain are not the best conditions to test a car in, but we're here and it's going to happen. So I fire up the S4 first and head out on to the track. It's actually a very simple lay out, with a couple of wide open corners and a chicane section that cuts across an infield to the middle of the runway. After a lap or two building some confidence, I try and unsettle the four door coming in to a fast right hander. I go hard on the brakes from just over 100mph and steer slightly to the left so I can get on the power, steer right and drive through to the apex. The S4 squirms slightly and responds quickly to my demands, the four wheel drive system and driver aids dealing with my shoddy skills perfectly.
The power delivery isn't brutal, ironically given the conditions today I'd say it's fluid. You want more? Here it is. Still more? Of course sir. I don't know what the power curve looks like but it's got to be pretty smooth. Pull gears on the paddles and the 3.5in Milltek system makes a very solid sound. Like it's gargling with big bolts and spitting them out at will.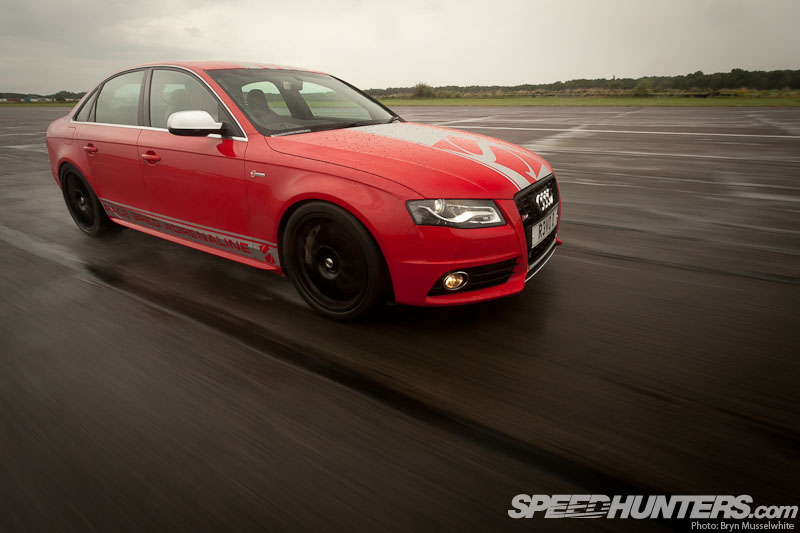 Now this is where I tell you I don't consider myself to be a road tester. I'm a car guy and if I'm honest my driver skills are fair, but I'm no pro drift driver or GT racer. Which is why Bruntingthorpe is so good. Like I said, there is a twisty section of track where I did the rear end shots you can see above. This set of curves feed you on to the main runway much like a motorway/interstate slip road would. The only difference is you have a whole runway to soak up any mistakes. So I figure on my last lap I'd see just how far I could push the S4. Exiting on to a clear runway in heavy rain, accelerating hard up from roughly 70mph to 130mph plus the saloon gives me a slight hint of all four wheels travelling sideways whilst pushing and pulling me forward. No drama, no frights. In three laps the S4 and I have become firm friends.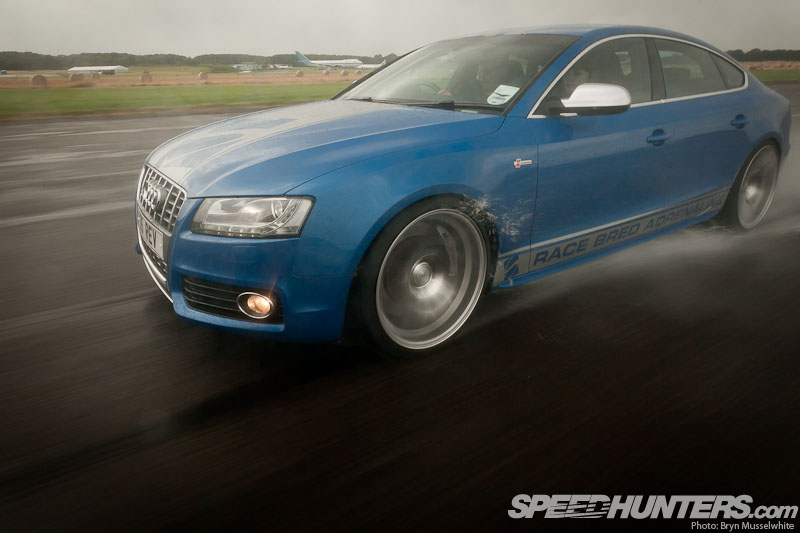 This is one of the last pictures I took and can probably best communicate how bad the conditions were getting. Again the S5, like the S4 drove exactly as you'd expect. It was planted and the STaSIS upgrades really just refined what was already there, which sums it up for me. Torque is up from 340 to 370lb-ft with a similar power hike to the S4. Of course it's a bigger car, but what STaSIS have done is sharpen up the edges. If you like, you could cross a continent in the S5 with passengers and luggage whilst taking in every race track you come across. I'm always wary of a virtually brand new modified car. It must be so hard as a tuner to take something with millions of pounds worth of investment and improve on it. But they have, simple as that.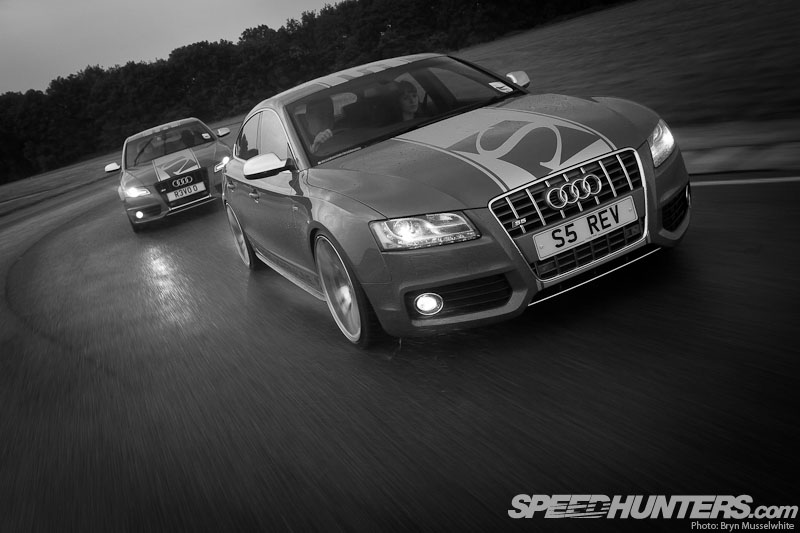 To dislike the graphics, body or interior trim colour would be like saying you don't like the house you're buying because the wall paper is the wrong hue. Ignore the colour. Instead imagine what colour you'd like it in?  Take a look at this black and white shot. Suddenly the body lines become more apparent, close your eyes and your hearing will become more acute.
So if that's my impression and I'm not a road tester, what about your own? Well this is where I can make a recommendation. If you have the opportunity or inclination… or even the Audi. I can safely say you should try one. They're like an inappropriate joke from the straightest person you ever met. You don't want to smile and laugh, but you just can't help yourself…
So could I limit myself to just one car and would it be an Audi? Hypothetically yes. As long as I come home from the dealer via STaSIS…
………………
S4 STaSIS European Motorsports "Challenge" Edition
Stage One STaSIS Motorsports software, three mode fully switchable and selected for Shell VPower (98 Octane fuel)
Six pot STaSIS SL calipers by Alcon, 390 mm rotors, STaSIS race composition brake pads, B8 rear brake upgrade kit
STaSIS SL Challenge kit with track set up Ohlins dampers, bespoke digressive internal valving and  increased sports spring linear, fully adjustable ride height with a STaSIS high performance rear anti roll bar
3.5in full SL Challenge sports race system through to quad stainless steel branded tips (courtesy Milltek Sport)
Team Dynamics 18in wheels
S5 STaSIS European Motorsports "Touring" Edition
Stage One STaSIS Motorsports software, three mode fully switchable and selected for Shell VPower (98 Octane fuel)
Six pot STaSIS SL calipers by Alcon, 390 mm rotors, STaSIS race composition brake pads, B8 rear brake upgrade kit
Suspension is a ten point parallel damping adjustable B16 kit (courtesy Bilstein), set firm for track use rather than usual road use settings
3in  full sports race system (no rear cans) through to quad stainless steel tips (courtesy Milltek Sport)
STaSIS 20" Forged SL12 Edition (with diamond cut polished face finish).
---