I have been following Charles Ng ever since I met him at Formula Drift Pro-am back in 2009. He was drifting in a mostly stock, SR20-powered S13 and he was killing it on the notoriously hard Irwindale Speedway banking.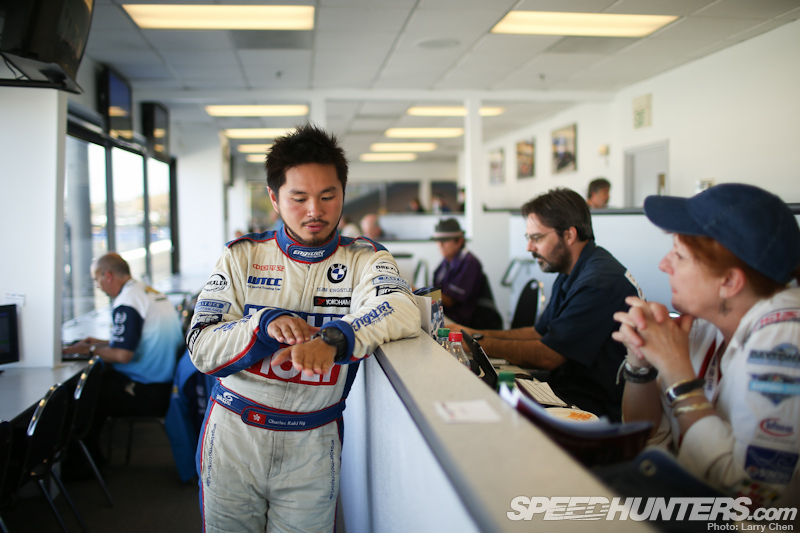 Little did I know that he was already a seasoned driver in the Asian Touring Car Championship as well as various amateur open-wheel series.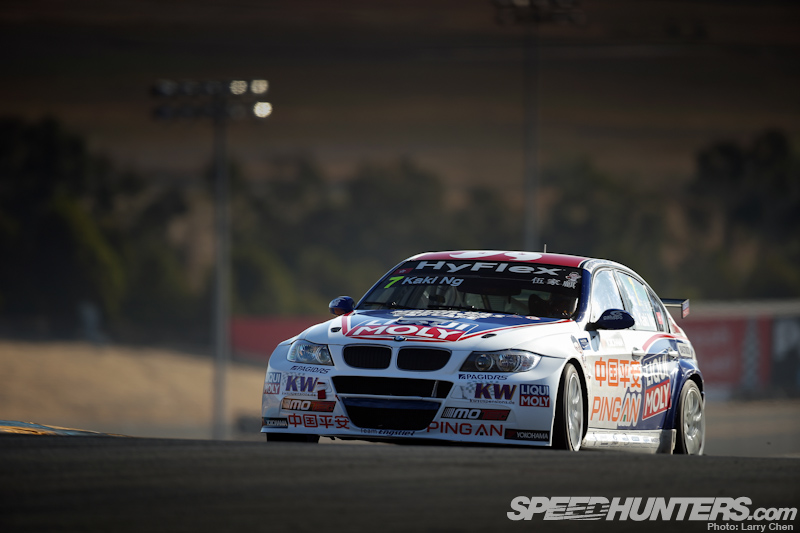 Some drivers struggle in professional drifting coming from a racing background and some drivers do well. In Charles' case he was a contender for Rookie Of The Year back in the 2010 Formula Drift season, and after making into the Top 8 bracket a few times it looked like he was going to take that coveted title until a bit of bad luck and some hard battles knocked him out of the race near the end of the season.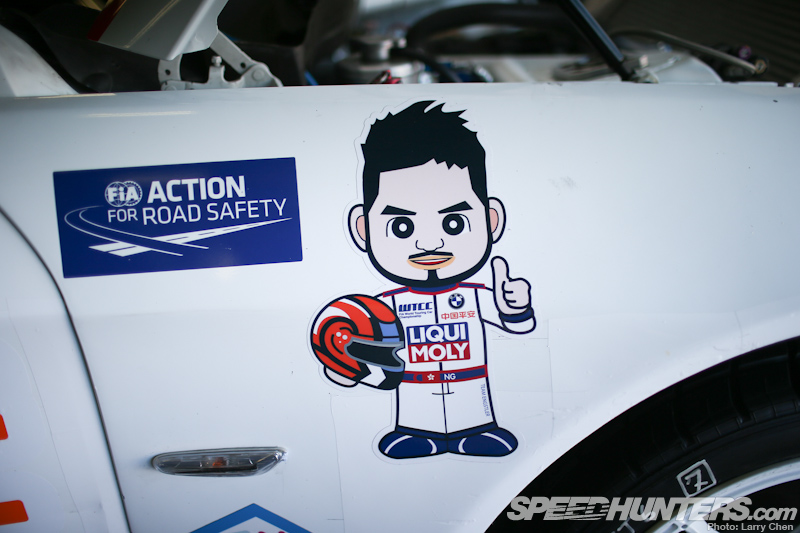 Well, Charles is back at Sonoma Raceway (formerly Infineon) but this time it is not for professional drifting. He is one of 23 drivers that made it across the pond for the very first World Touring Car Championship event in North America. He drove the number the #7 Liqui Moly E90 BMW 320TC. I sat down with him to talk about his campaign in the WTCC.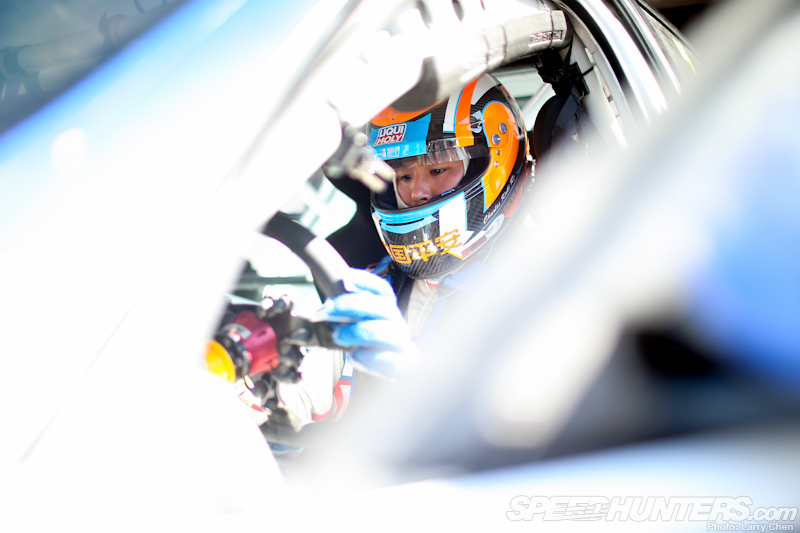 Larry: Charles, thanks for meeting up with me. First of all, do you miss drifting?
Charles: I miss it very much, although I have been instructing in Europe at grassroots events. My friend runs some local track-day events and he lets me take out the school's drift cars.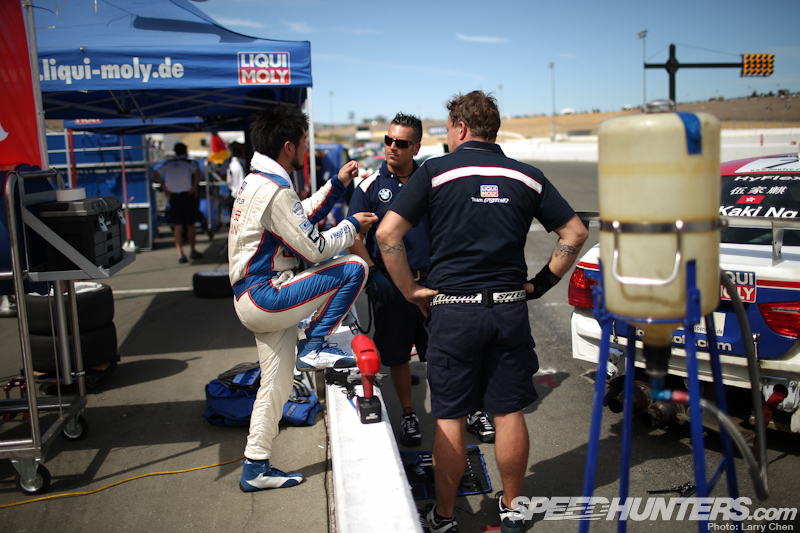 It's nothing like driving Formula Drift, so I definitely miss competitive drifting. I mostly miss the drivers who became my friends, like Joon and Mike Essa. They were my teammates as well.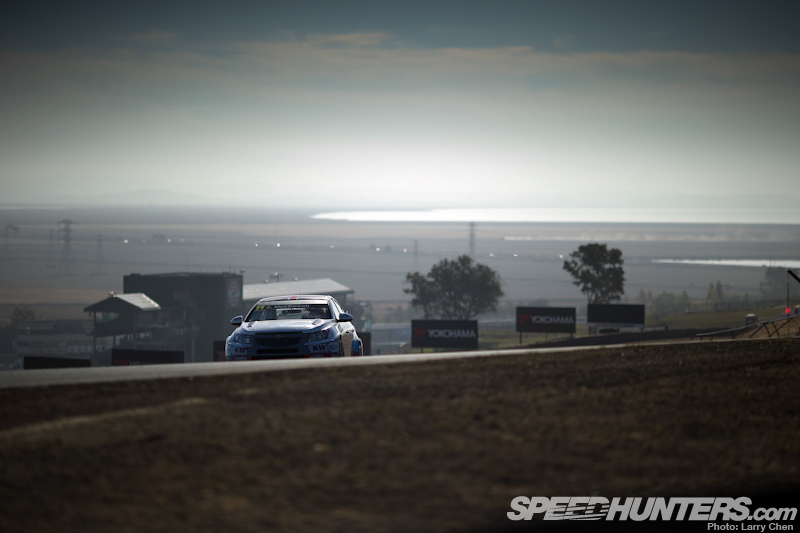 Larry: So you think you wanna come back soon?
Charles: Yes, but it all depends on how the World Touring Car Championship schedule looks for next year. My number one goal is to competing in the full WTCC season again. It really all depends if I can put together a program.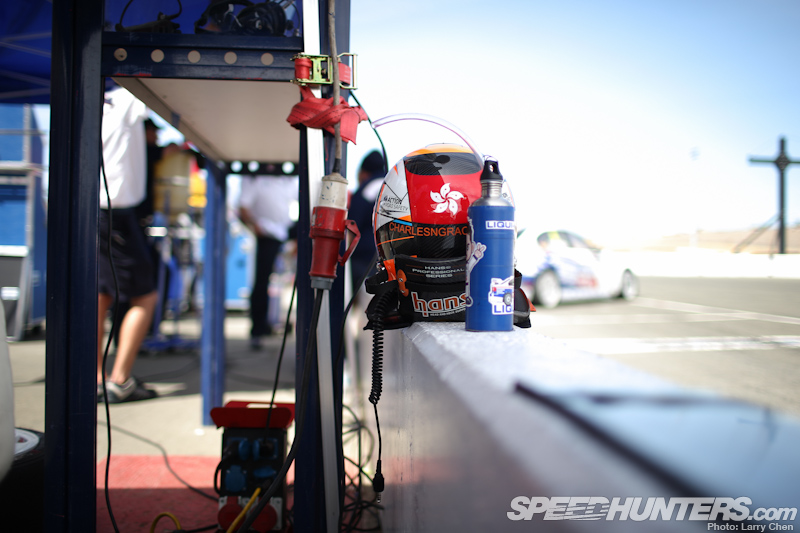 At the same time I am always looking for an opportunity to do at least one or two rounds of Formula Drift. I've been asked a couple times to do Formula Drift Asia, but the schedule always clashes with WTCC. I am definitely looking to do some rounds of Formula Drift in North America, but unfortunately not the whole season.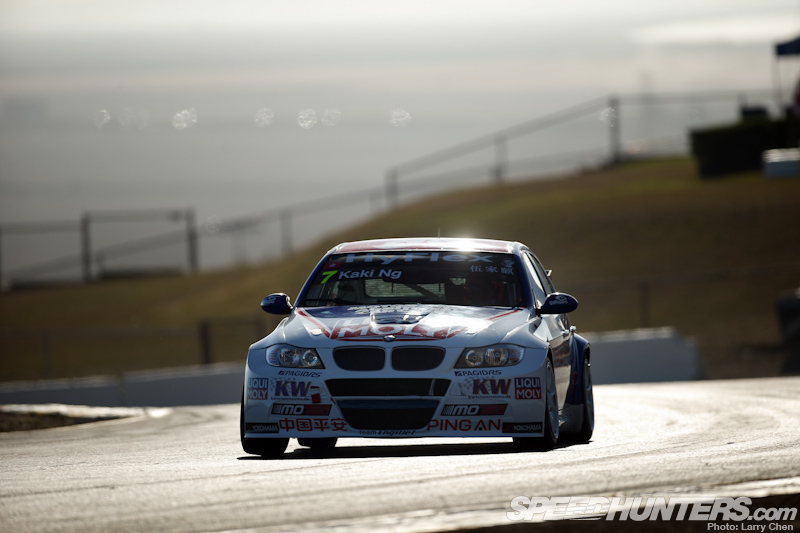 Larry: You mentioned to me earlier that you have a much easier time drifting in your RX-7 than driving your BMW in WTCC. Tell me a little more about that.
Charles: Think it about it this way: when drifting the car is actually set up to go sideways, so the car is pretty much at ease when doing that.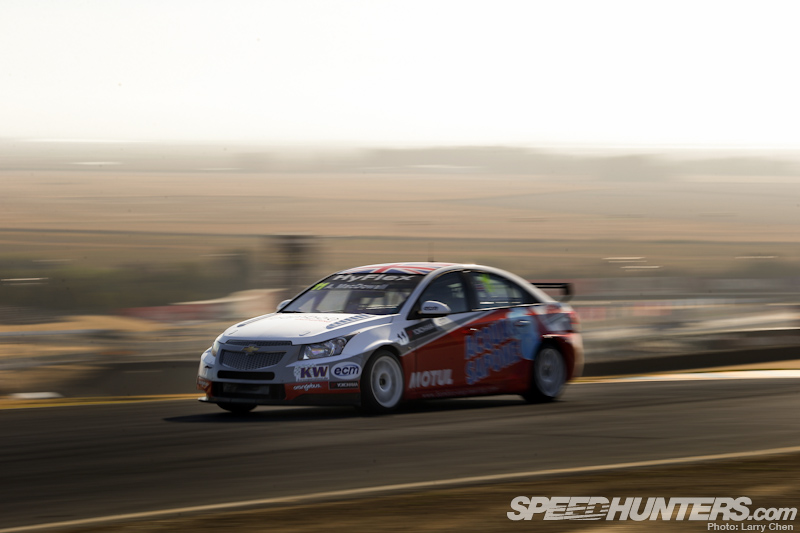 These WTCC cars are set up to grip, so basically you are not just sliding the car around and having fun, but you are actually trying to link all the corners in the fastest way possible.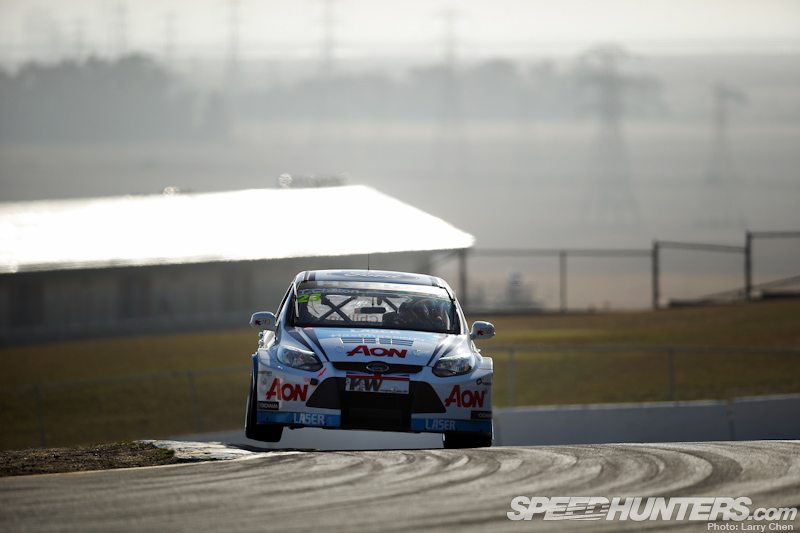 You are using the maximum from all four tires, which means that you are going to be sliding for sure, but you are going to slide just enough to use the slip angle of the tires for the fastest way around the corner. You are at the absolute limit at that point.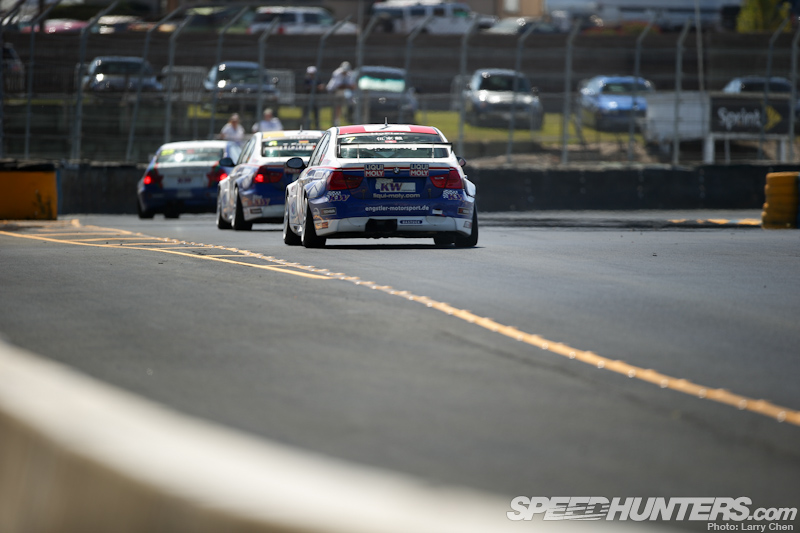 So I try to achieve the fastest lap time by sliding the car around the track just barely but around every single corner. To be able to find that fine line between going off and staying in control for all the corners and for 15 consecutive laps and with cars inches away from you is definitely a challenge.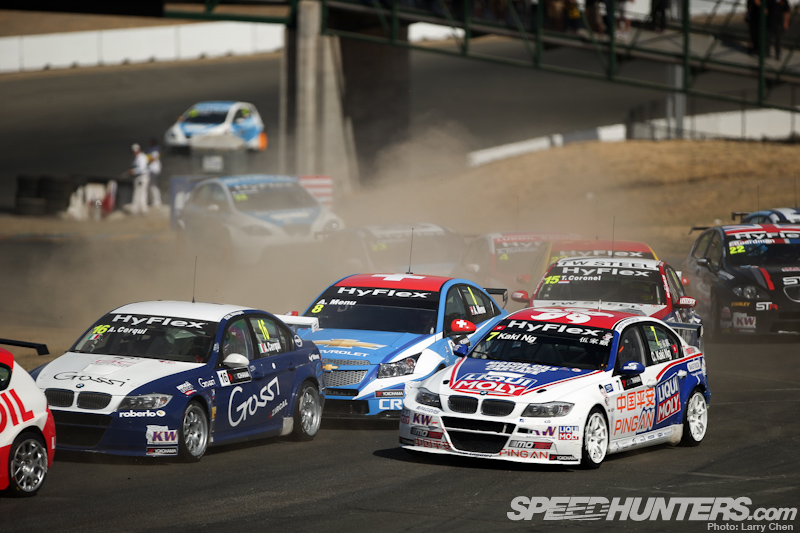 With drifting we put everything on the line when we go for a run, but the difference is it is only one or two runs consecutively. So you do have some time to think about it, but when you are with 20 or more cars on the track it is much harder to think.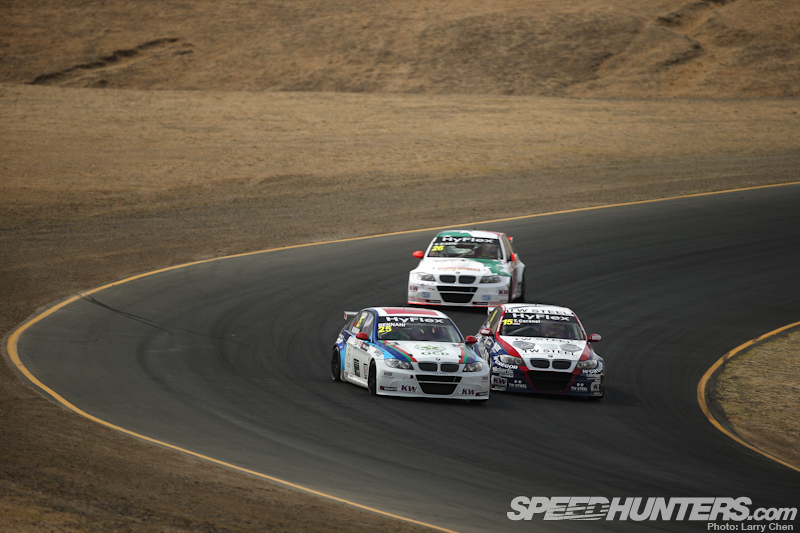 Especially when we are bumper to bumper and we are rubbing a lot and kissing bumpers, it is a pretty challenging task to manage the tires and slip angles of the car for every single corner while also defining the right braking points.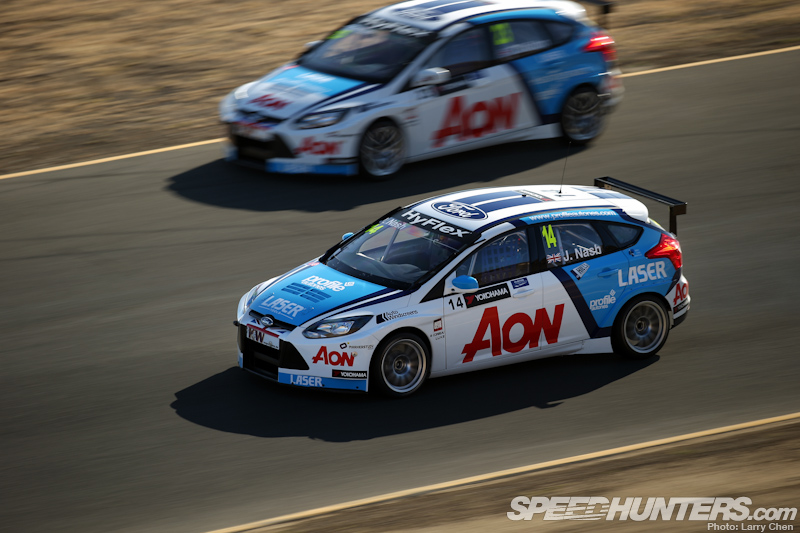 It is a different challenge and I would not say it is more difficult than drifting, but it takes a lot of concentration and focus during a 30-minute sprint race. Especially when we are trying to pass, because we have to find our passing opportunities and once you find one you have to dive into that gap before it closes.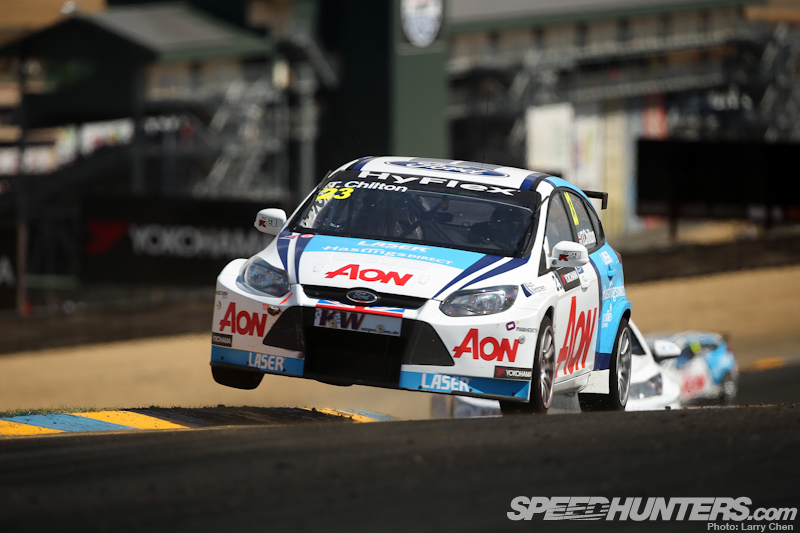 Sometimes that could mean you have to go two wheels off the track or jump the curb and sometimes even three-wheel. It is such a different world compared to drifting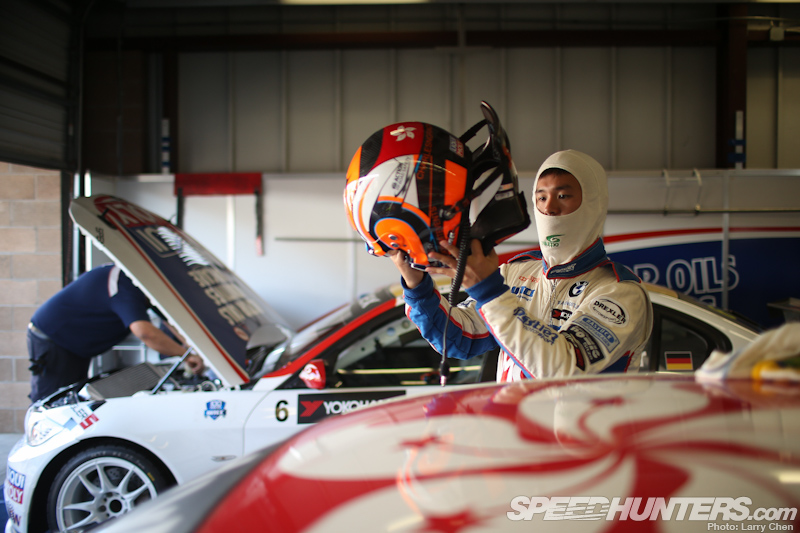 Larry: So when you are competing at a drift event you are not driving 100 per cent? Are you driving a little under the absolute limit?
Charles: I think it is different because in drifting if you have a really fast car you don't have to push 100 per cent. For example, when you are in Top 32, chances are you won't have to push it that hard to beat your opponent as long as you qualified high.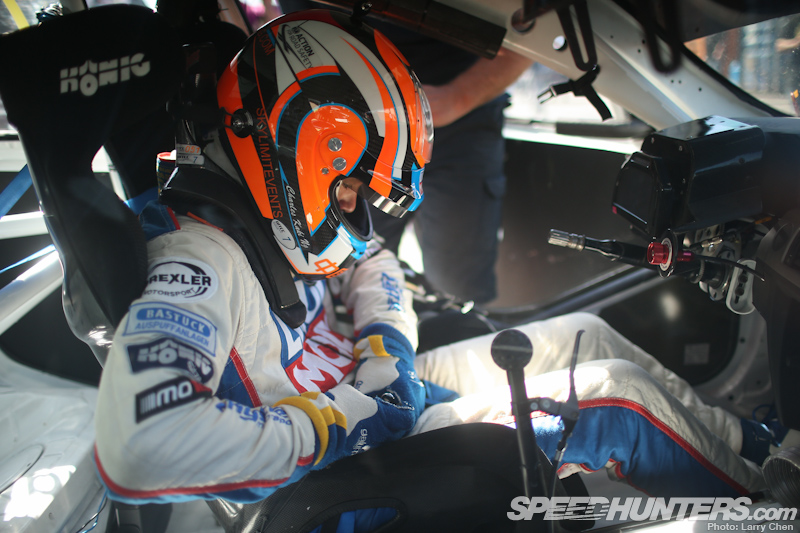 For WTCC, from the time you put on your gloves you have to go 100 per cent from the get-go, from lap one to lap 15. But then again, in drifting you really have to give it everything, and sometimes you make mistakes and you are done for the weekend. So the two are very different.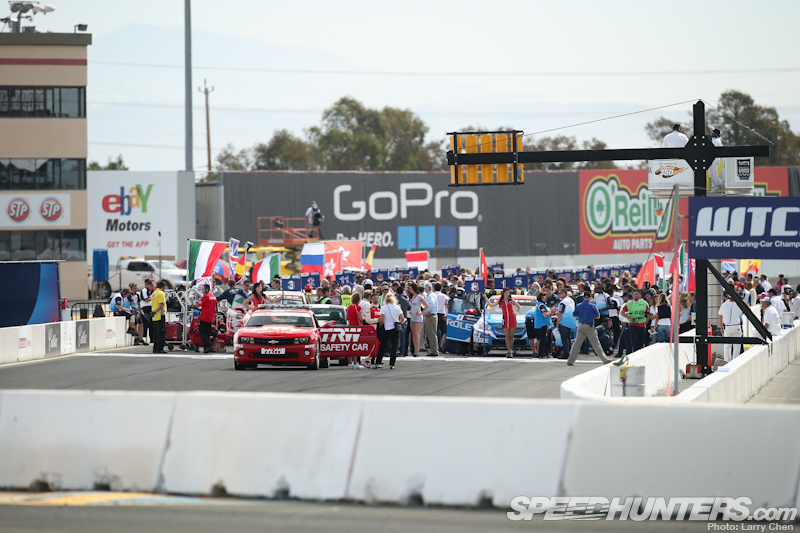 Larry: Do you still get nervous before a sprint race?
Charles: Actually, yes. I get nervous when I am waiting in the car, or if I am on the grid. We go out there and line up according to our qualifying positions and there are so many people surrounding you, but you are just sitting in the car. All you can think about is the upcoming race.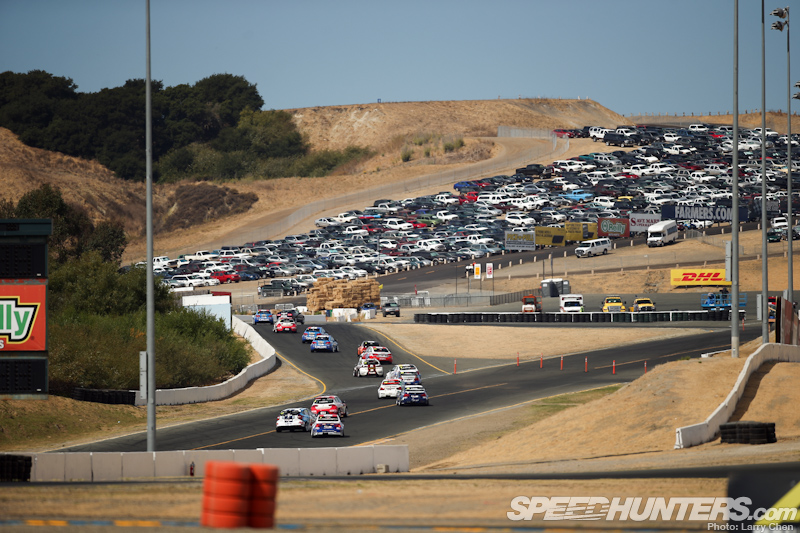 I try not to think too much and focus on something else besides the race. But once the green flag is out I am not nervous any more, because you are so focused you have no time to be nervous.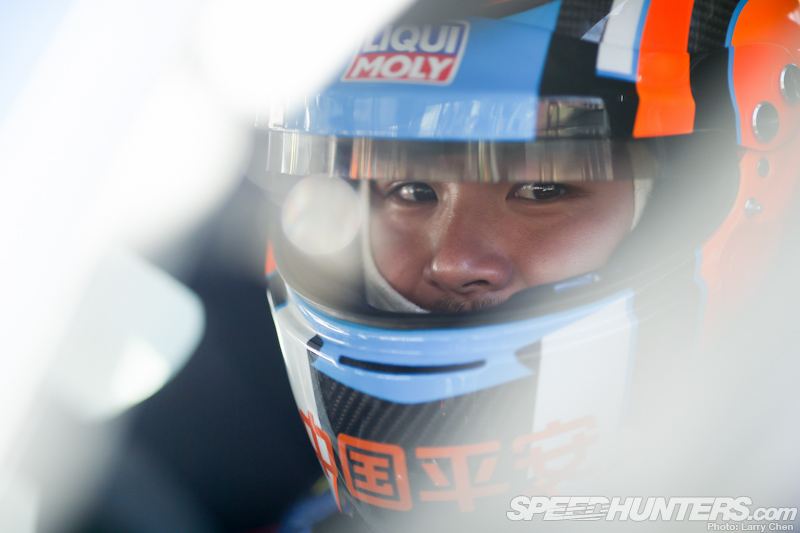 Larry: What about when you were drifting? Did you get nervous?
Charles: For me, when I am racing wheel to wheel I feel nervous beforehand, but in drifting it is afterwards. After I finish a run I want to hear if I have won or lost a tandem. That is when the nervousness comes in. Or even in qualifying I have to wait for the crew to get on the radio to tell me my score.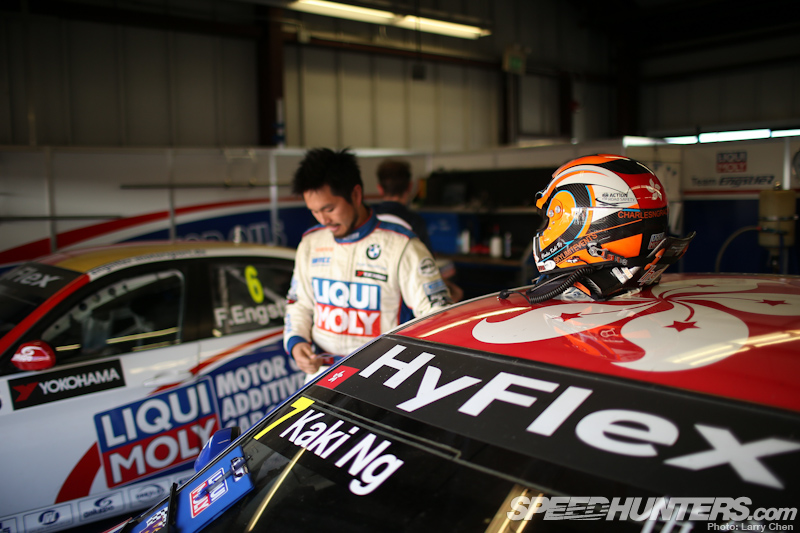 Larry: I remember Vaughn was telling me that he gets pretty nervous early on in the competition when he is in the Top 32 bracket, but once he progresses in the brackets he gets more and more relaxed.
Charles: Yes, I am the same way, although during my season with Formula Drift I have not really been able to experience that because the furthest I have gotten a few times was Top 8.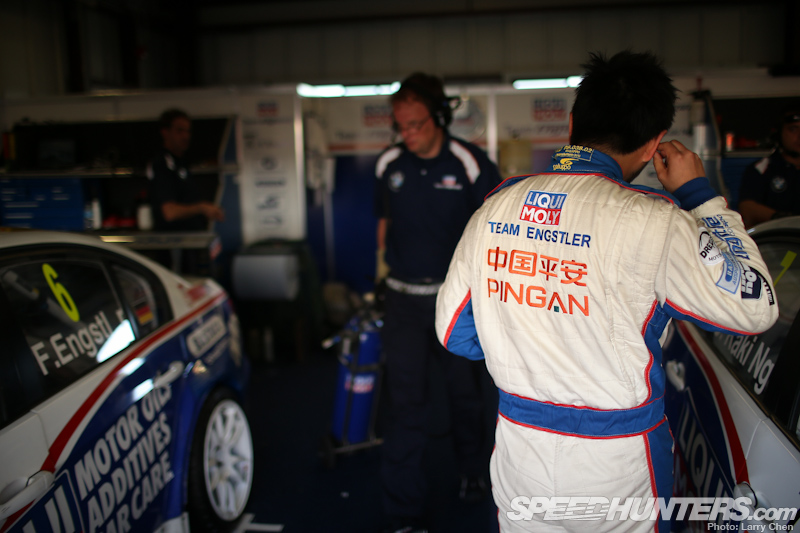 That is also one of the reasons why I want to come back to Formula Drift.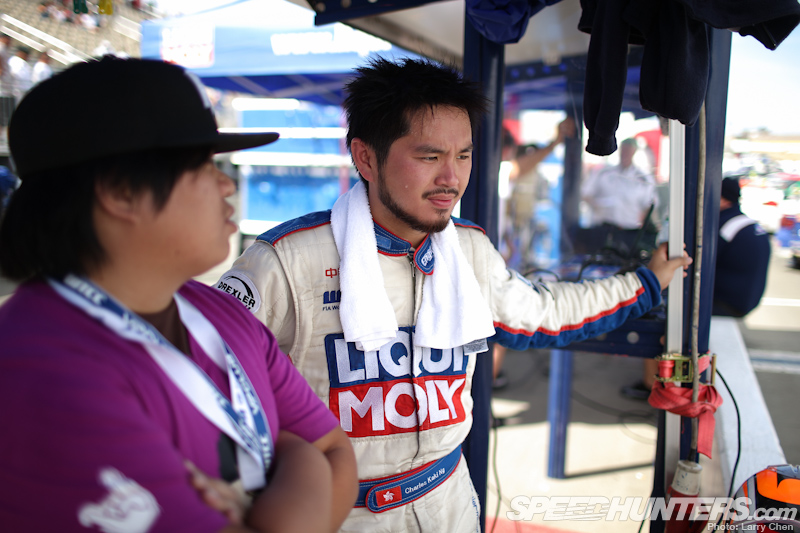 Larry: You have unfinished business then?
Charles: Yes, and I would not say my car was bad when I was competing back in 2010, but having a fast car is very important – especially nowadays. So I have to make sure when I come back I have a great car.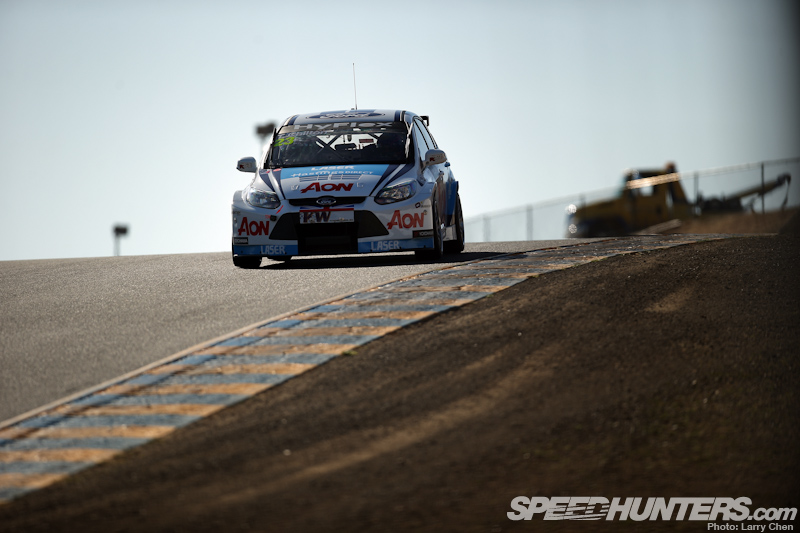 Larry: So tell me, why is it that the front-wheel drive cars are dominating in WTCC? What is the difference between the cars?
Charles: It is like a lot of other wheel to wheel racing series: if you get great results then race control requests that you put success ballast on your car. Maximum is 40kg and minimum is negative-20kg. We are actually supposed to be negative-20kg, but we cannot get our BMW chassis any lighter than we are right now. So it happens to all the guys running the BMW 3-Series chassis: we are a little heavy compared to the given minimum. That is one disadvantage for the rear-wheel drive cars.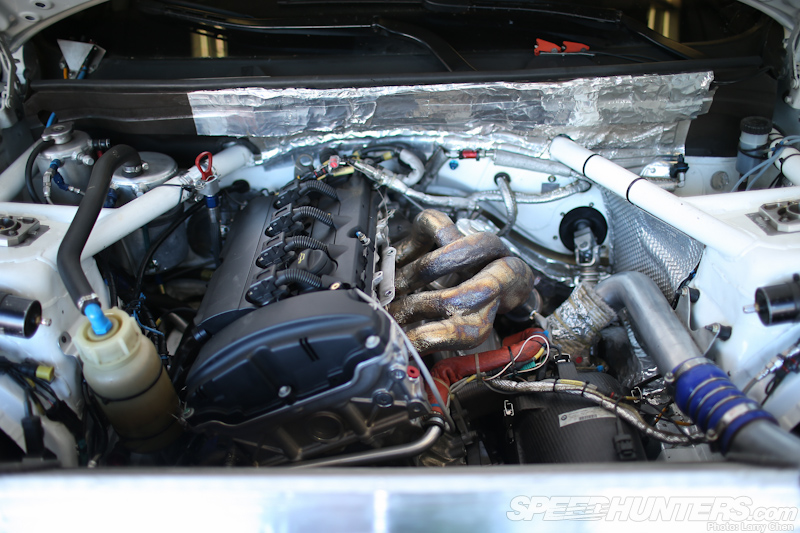 The 1.6-liter inline-4 powering the 320TC has around 300bhp. It is very peaky, so it is very hard to drive, although the BMW tuners are always trying to improve on the tune every single race.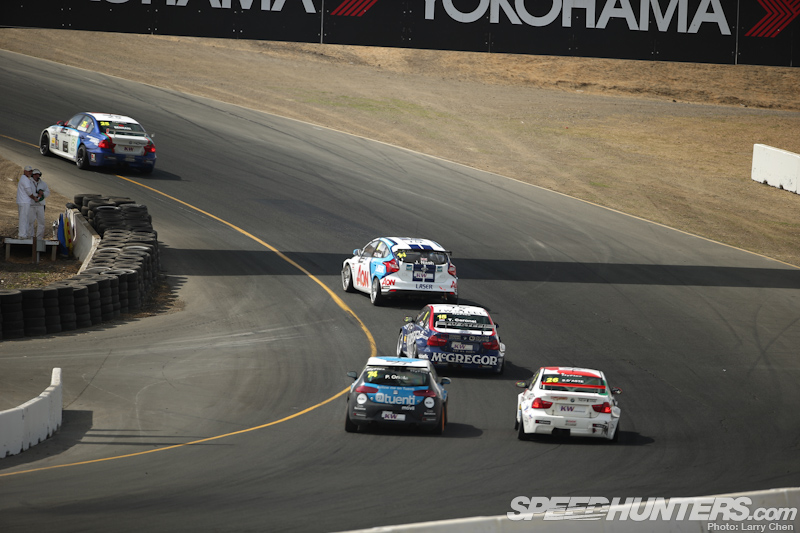 For the front-wheel drive cars it's always easier to drive because during a race we are always touching and bumping. Once one of us gets hits and pushed sideways, the front-wheel drive cars will always recover much faster than a rear-wheel drive car.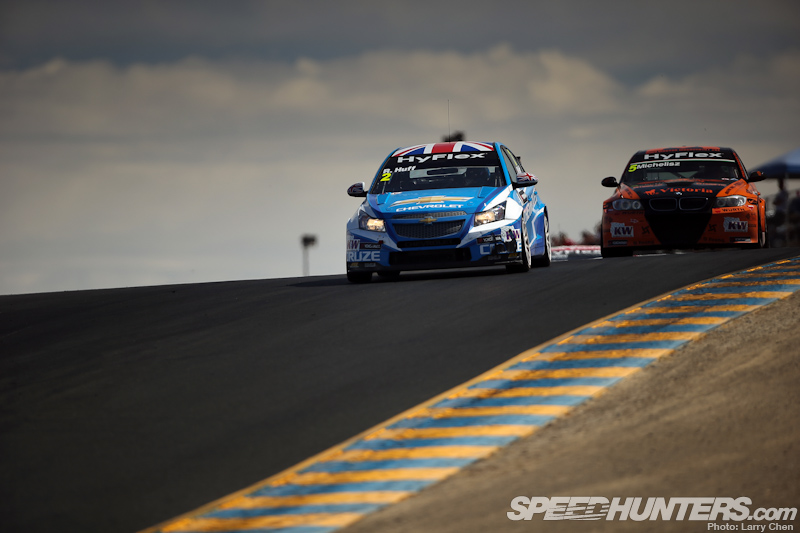 When you get hit in a front-wheel drive car all you have to do is plant your foot on the gas pedal and the power from the front wheels will just pull you back straight.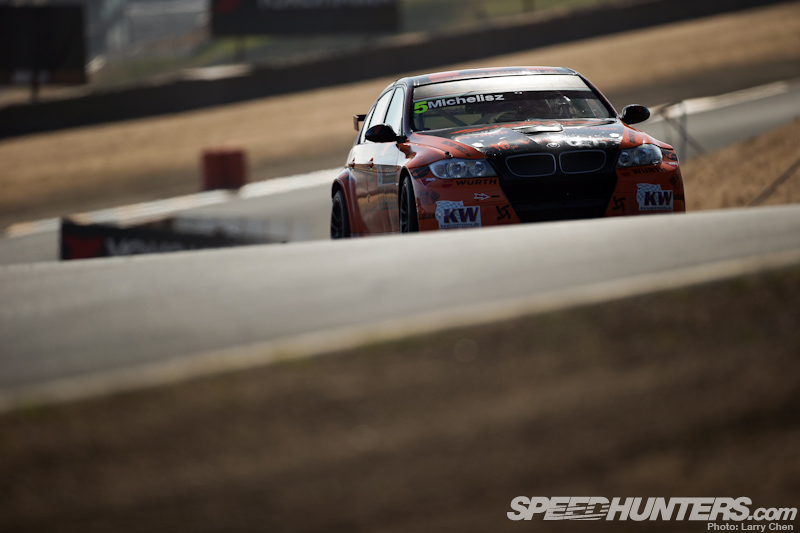 But with rear-wheel drive cars our cars are not set up to be drift-friendly, so we have to lift and compensate for the unbalance. Basically we have to wait for the car to come back under control and apply the power gradually. Because of that we lose a significant amount of time.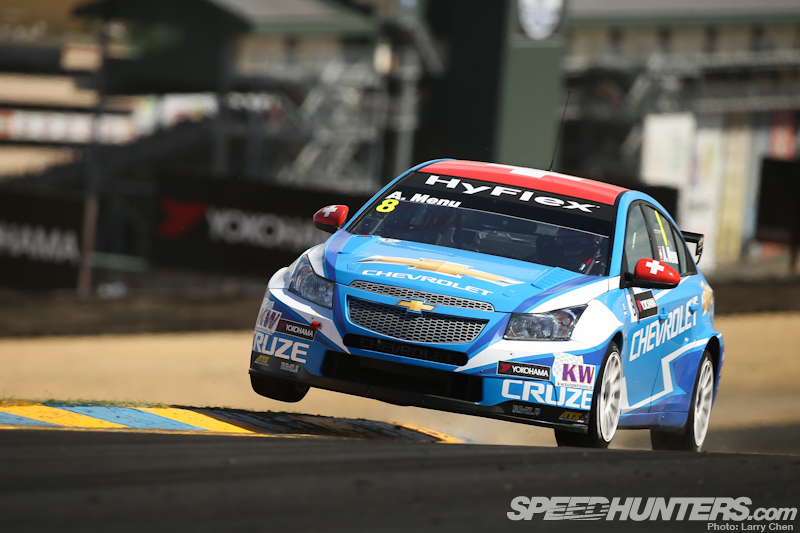 In terms of curb-hopping the front-wheel drive cars will always land one wheelbase earlier before they can apply full power.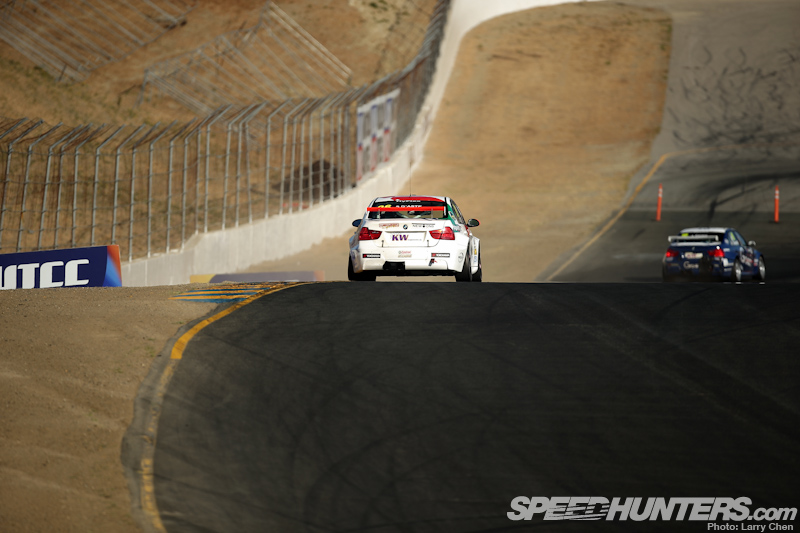 When our cars are in the air we don't apply full power because we can snap an axle when we land, so we have to lift a little bit.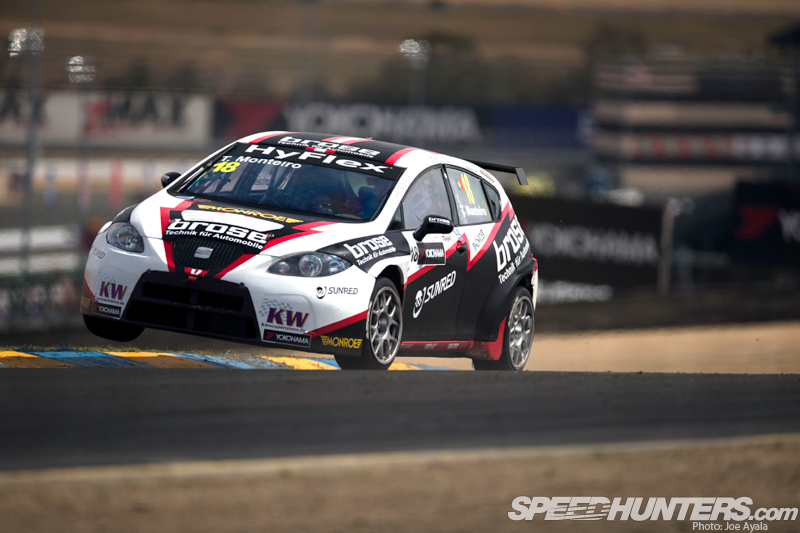 When the front-wheel drive cars land they can always slam straight on the throttle.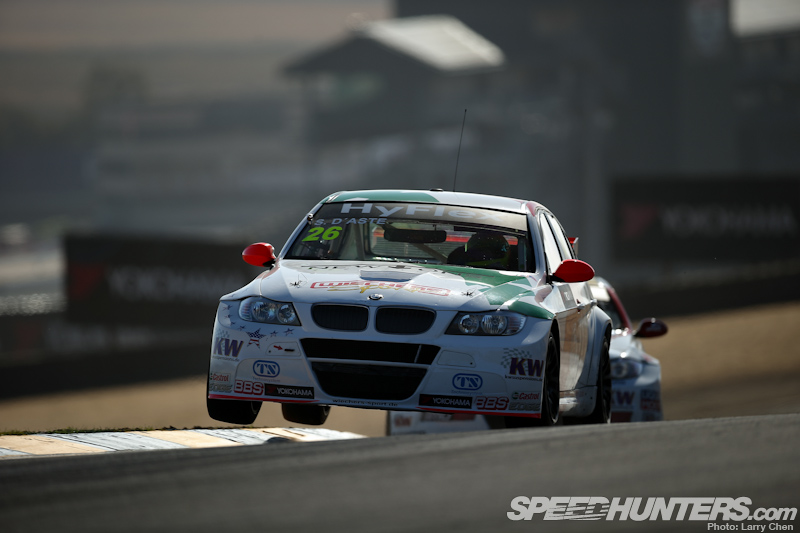 The rear-wheel drive platform does have an advantage in terms of tire wear though.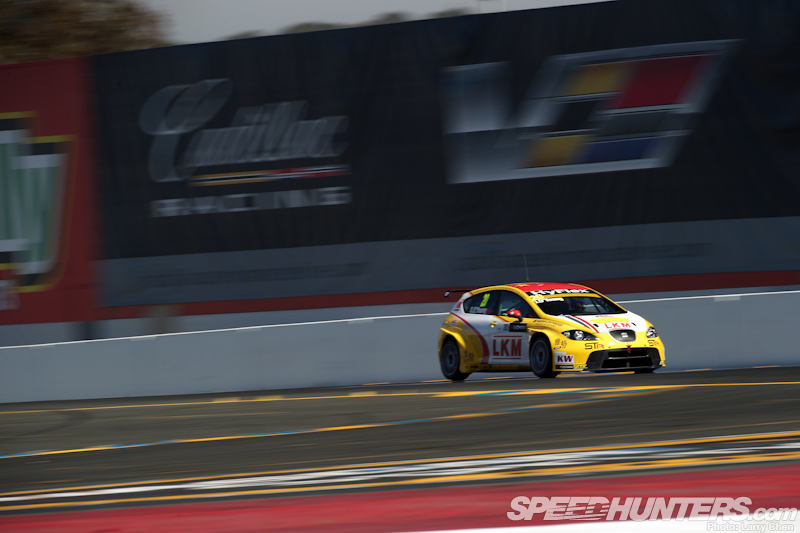 In a front-wheel drive car you have to brake, corner and accelerate on the front tires.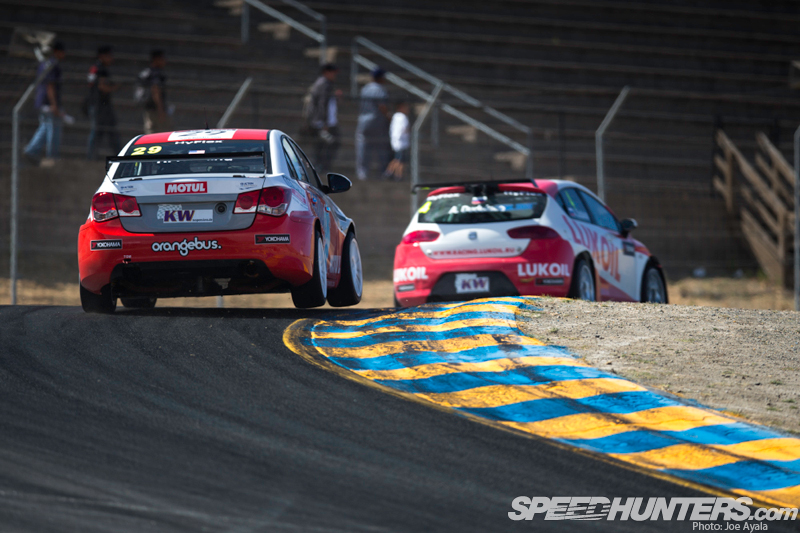 On a rear-wheel drive car we use the front wheels to turn and brake while the rear wheels are used to accelerate, so usually near the end of a sprint race our times don't really drop versus front-wheel drive cars, who slow down significantly.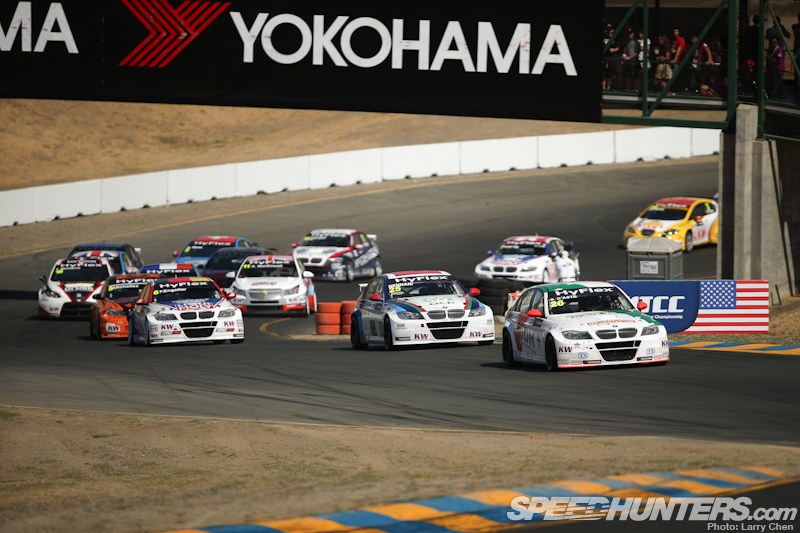 Larry: And what about the launch from a standing start? You guys have one rolling start and for the second race you have a standing start?
Charles: Yes, on the standing start we will always have an advantage. I made up three positions just from the launch. That was quite good: I was top 10 for a while, but then I was pushed off course by the Chevys and into the dirt, and I was immediately passed by four cars.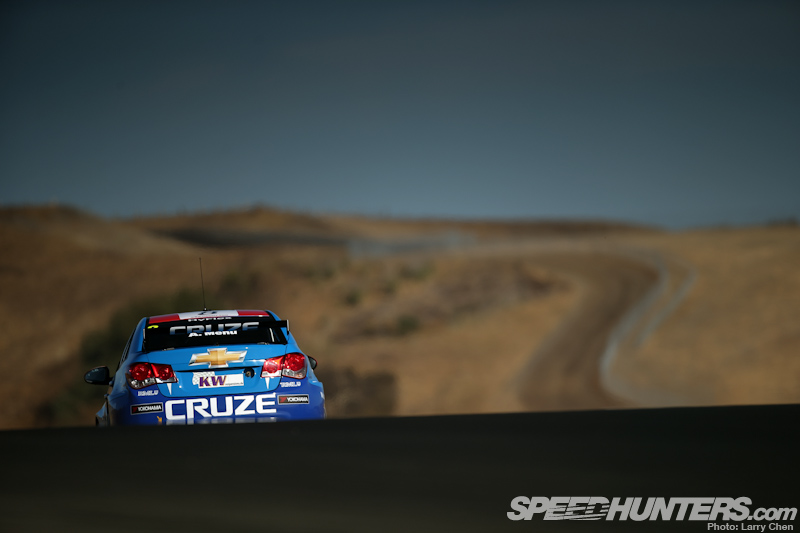 Larry: It is amazing to me how different all these cars are, yet you guys are still very close in times on this very technical course.
Charles: Yeah, sometimes one second will separate 10 or 15 cars in qualifying on select tracks. This track I qualified 14th position and the four cars in front of me are within one hundredth of a second. So if I was just a tenth of a second faster I would have qualified eighth.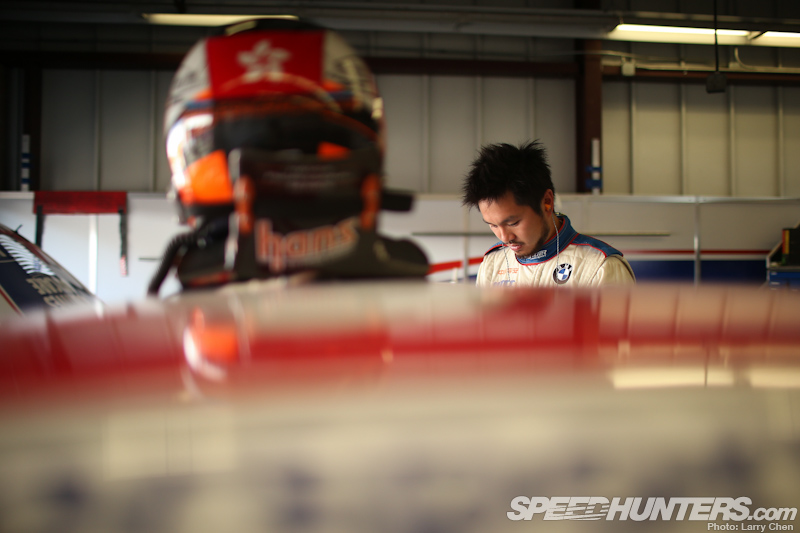 It sucks because I had to slow down on my fastest qualifying lap as the red flag came out. Otherwise for sure I would have gotten a faster time. That would have put me in Q2, which means I would have started near the front, because for the second race they reverse the qualifying order: the 10th place qualifier would start in pole position and ninth would start second and so on.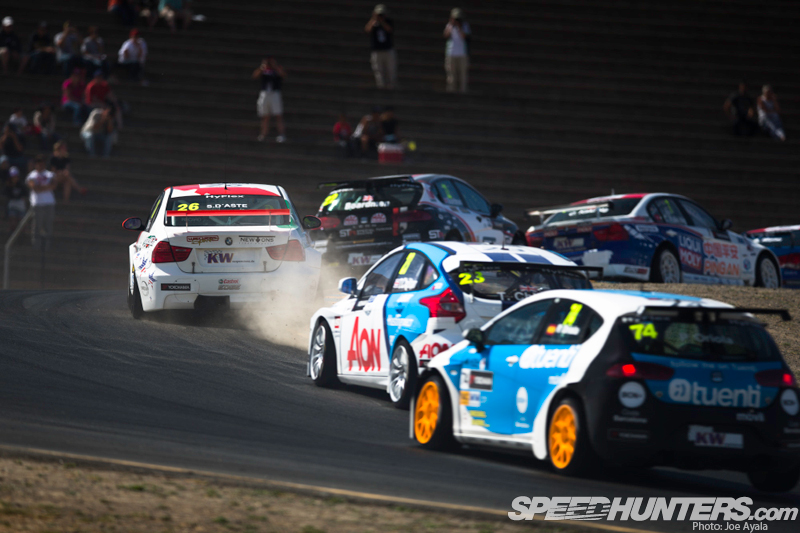 That way we can mix up the field and put on a better show for the fans.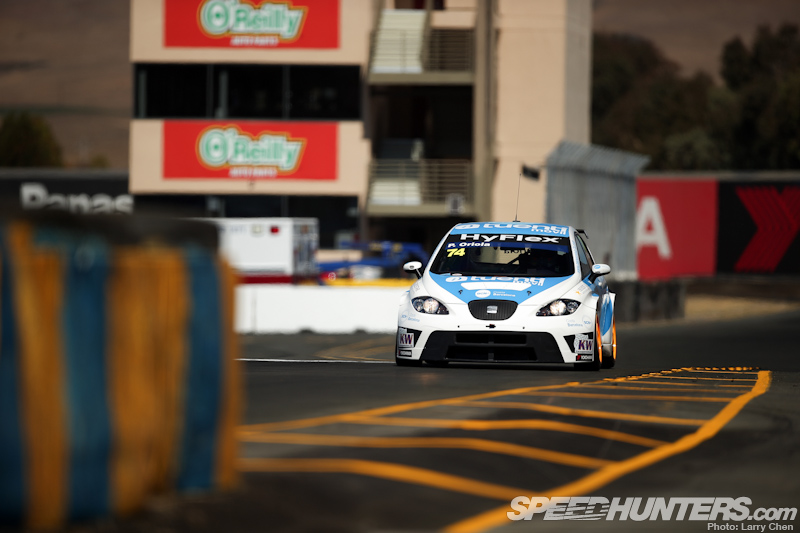 Larry: That is interesting. So that means the fast guys have to work their way through the pack?
Charles: Yeah, and it is really cool because the guys in the front are not that much slower, but in order to stay in the front they will have to do lots of blocking and that really makes it exciting for the fans.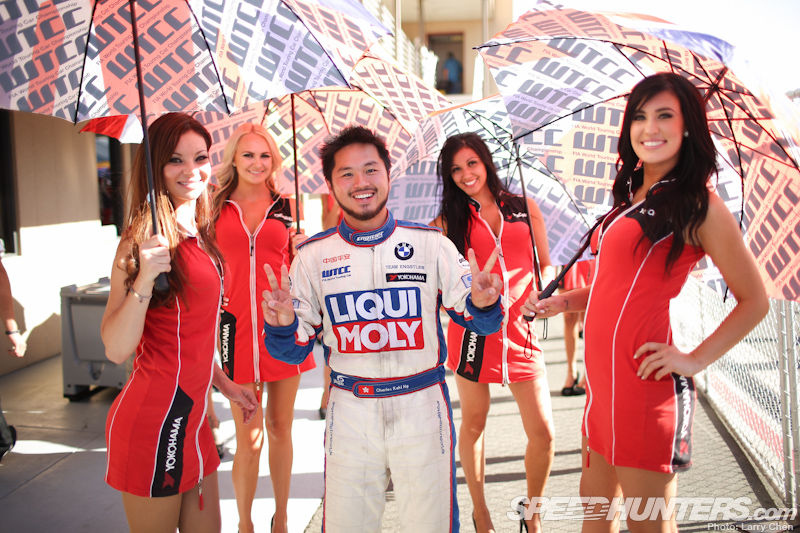 Larry: Well thanks for sitting down with me, I know you are super busy.
Charles: No problem. Any time. I just hope people out there understand WTCC a little more.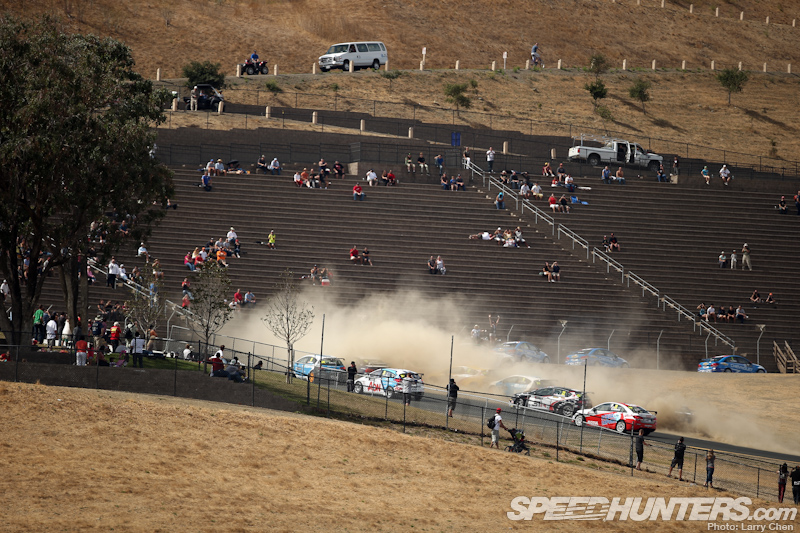 For the first race Charles was rear-ended on the very first lap which cracked his rear wheel. It developed a small leak and he lost traction at the rear, causing his BMW to be nearly undriveable.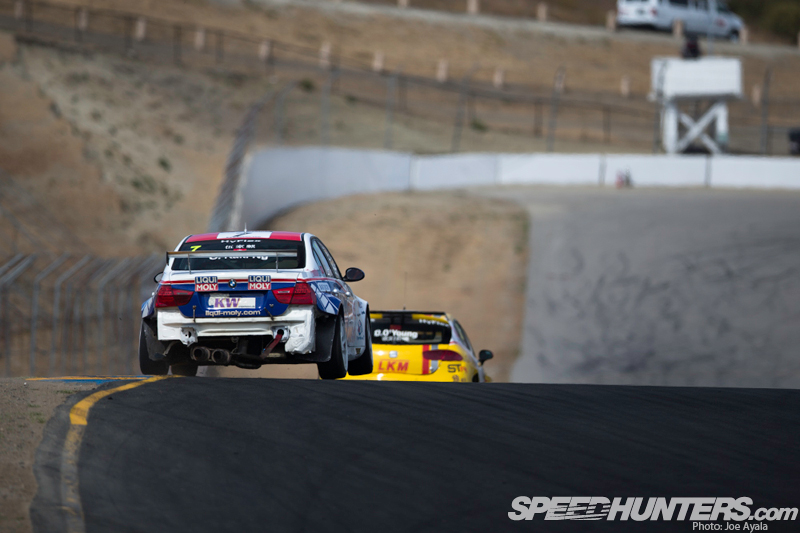 In the second race he made it all the way up to seventh position after a very good start, but unfortunately he got rear-ended once again.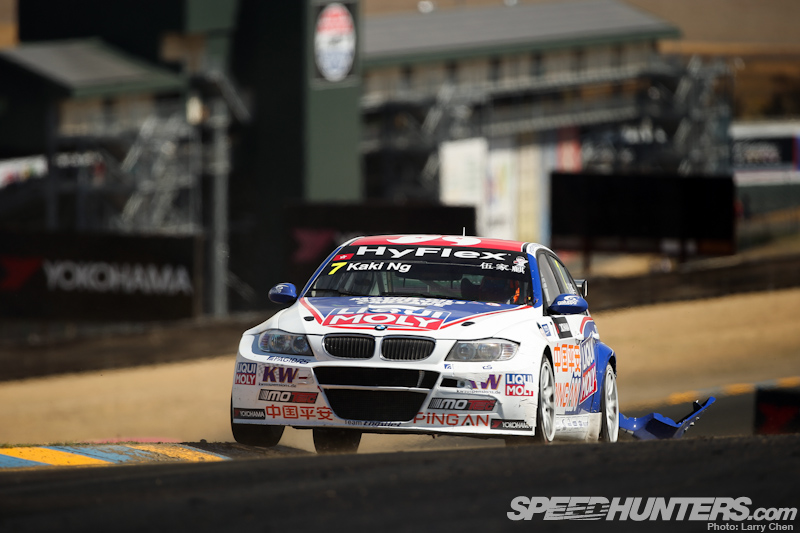 He was still doing well in the top 10, battling it out hard for 10 laps before he was black-flagged because his bumper caught on fire from it hanging over the hot exhaust fumes.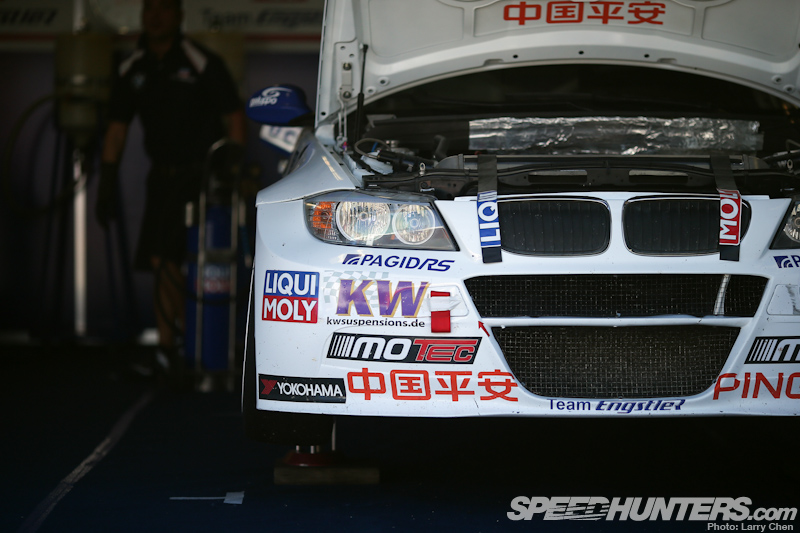 It seems like he could not could not catch much of a break, but he is still in high spirits as the next three events will be on his home turf in Asia. For more info as well as race results check the FIA WTCC website.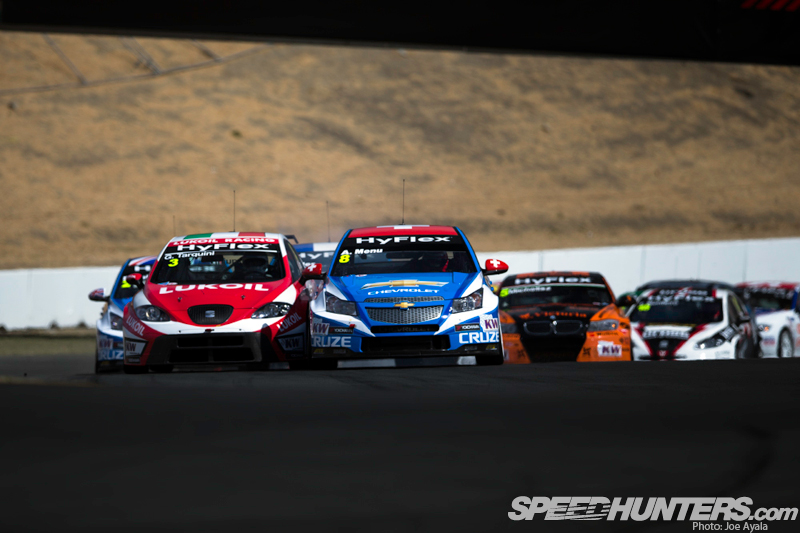 This will be the last year for the Chevys and next year Honda will be joining the program, so next year's championship is up for grabs for anybody.
Larry and Charles
Additional photos provided by Joe Ayala – Lifeblasters.com
More stories on FIA WTCC on Speedhunters
More stories from Larry Chen on Speedhunters
---
---
---
---
---