Like a lot of things in Japan, VIP style probably makes little or no sense to the causal observer. But much like the unique culture of the country from which it originates from, bippu style is hardly for everyone. It has no real benefit when applied to a car; it doesn't improve its performance, its handling nor does it make it more comfortable. Next to crazy kaido racers it probably represents the furthest extreme of the heated "function vs form" debate. Yet it continues to grow in popularity and has found various interpretations in other countries too. But why? Why would people render their cars close to undrivable?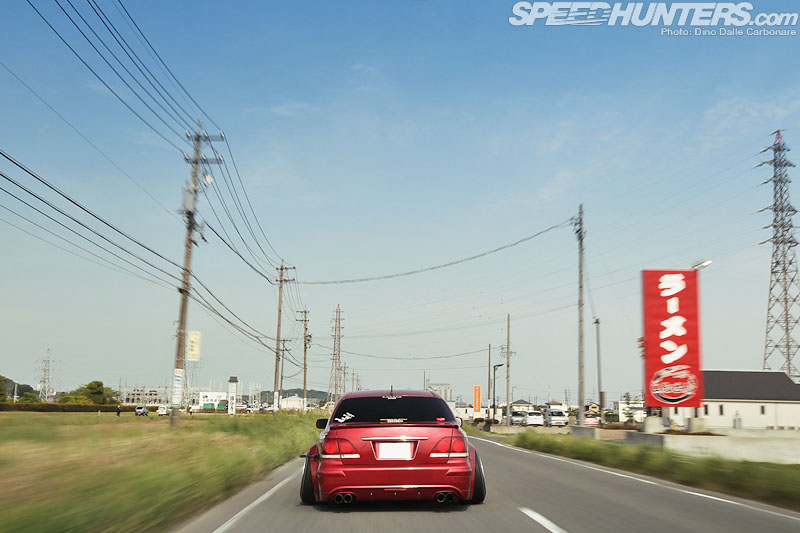 I have given up attempting to explain it to those that don't get it, it's hard to justify something out of context, you either get it or you don't. A VIP car, when witnessed up close on the streets of Japan simply makes sense. It may look absolutely stupid, but at the same time it's just too cool.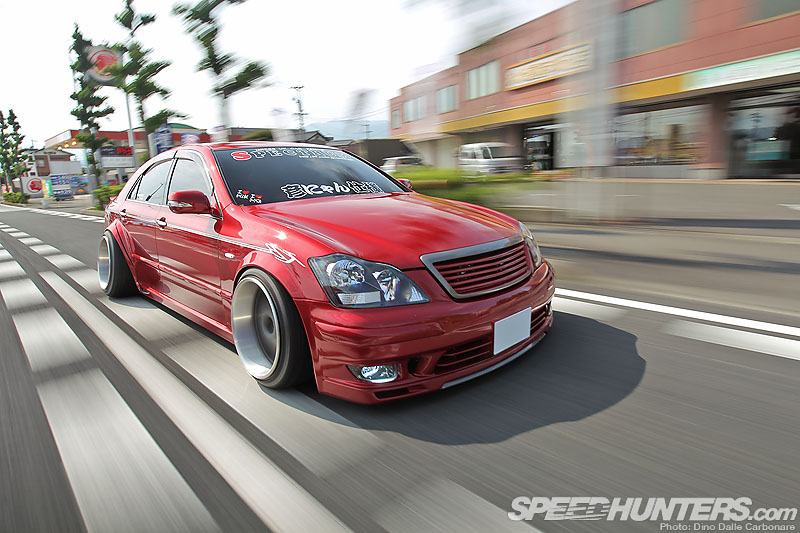 Back when I visited Imamura-san at Bee Dragon a few months ago, he was kind enough to invite a couple of his customers along to his shop in Gifu-ken, owners of the two most extreme cars he has ever created – on top of his wild Infiniti Q45 of course. One was this candy red GRS181 Toyota Crown Athlete – a car that in some people's opinion perfectly embodies the more modern take on VIP style…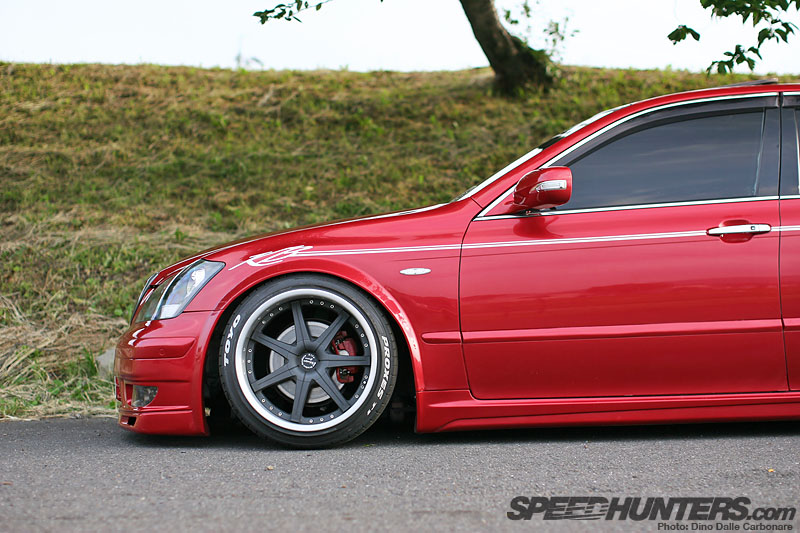 …a mix of the old way of doing things, but with a more "sporty" approach. Imamura is considered quite the innovator in the scene, he has helped bippu style evolve but stay true to its essence which of course is to make a statement, to be seen and get a reaction from people.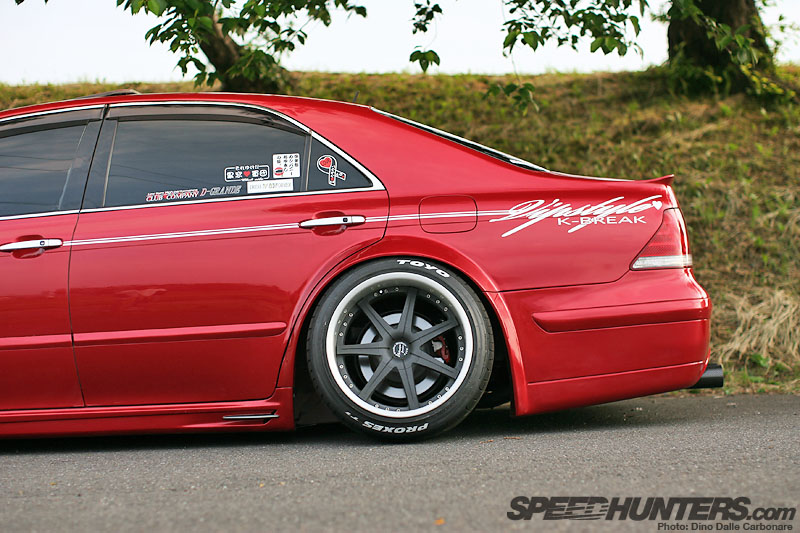 In the pursuit of the ultimate aggressive stance most of his cars feature aggressively, yet smoothly widened fenders…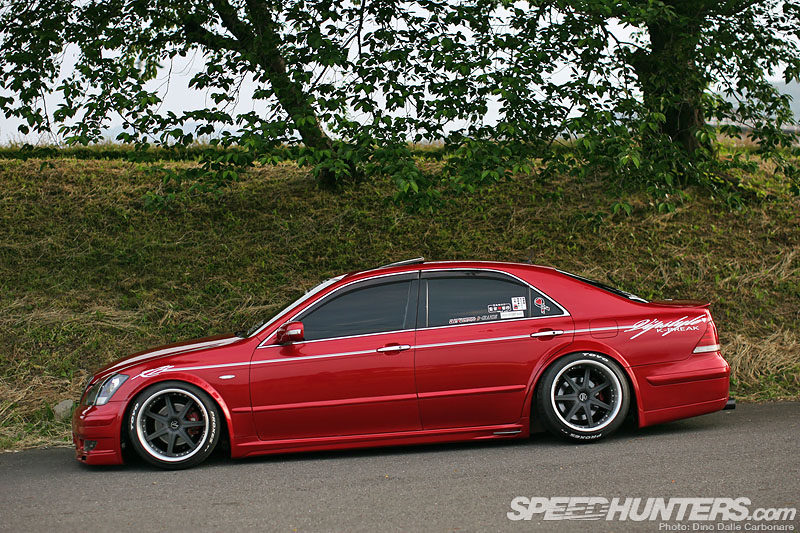 …necessary to contain the wild offset of the wheels. This Athlete is no different; it sits on 20-year old Intensive Hanku 2-piece split rims, the centers powder coated in a shade of dark grey, the lips of course polished. They measure 10.5Jx18″ at the front, with a -12 offset, while the rears are 12Jx18″ -20. Toyo T1Rs are fitted at each corner, or should I say stretched, 225/45ZR18 up front and 275/35ZR18 on the rears.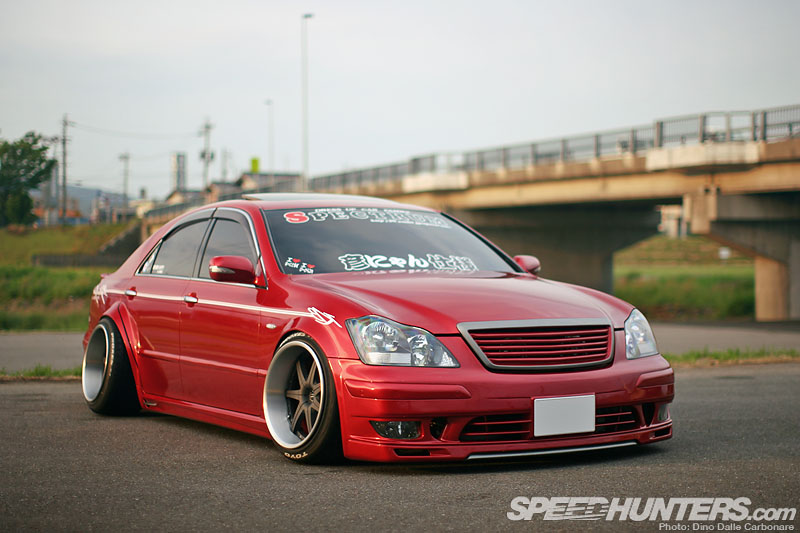 The K-Break Kai adjustable suspension helps the car ride extremely low…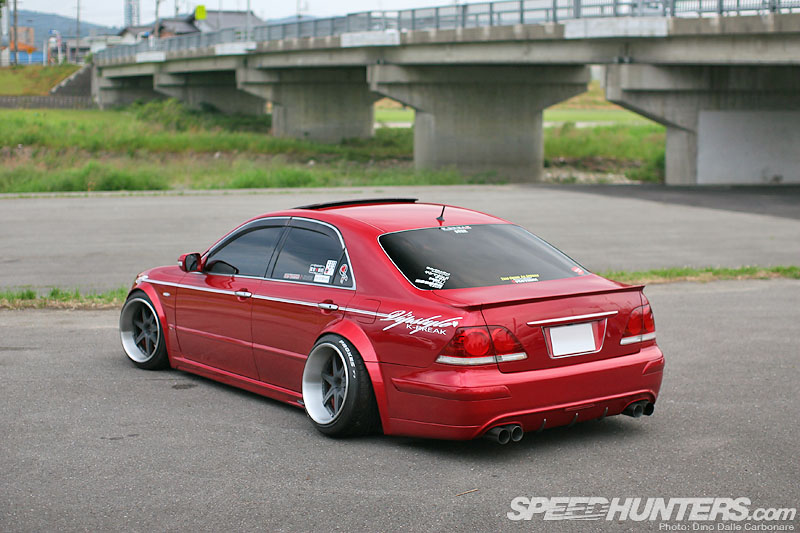 …but to make it sit just right, Imamura had to fit some of his special adjustable suspension arms.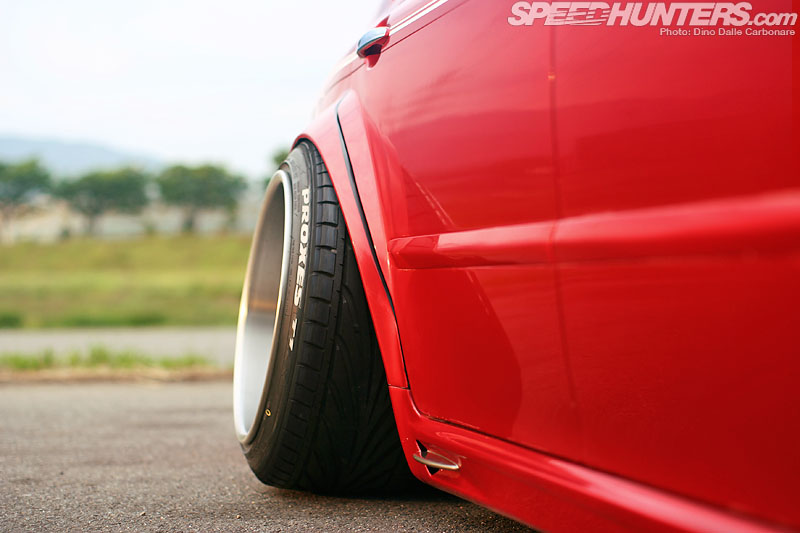 The result is shorudazura perfection, or when the edge of the fender sits right up against the sidewall – or "shoulder" (shoruda when pronounced in Japanese) – of the tire.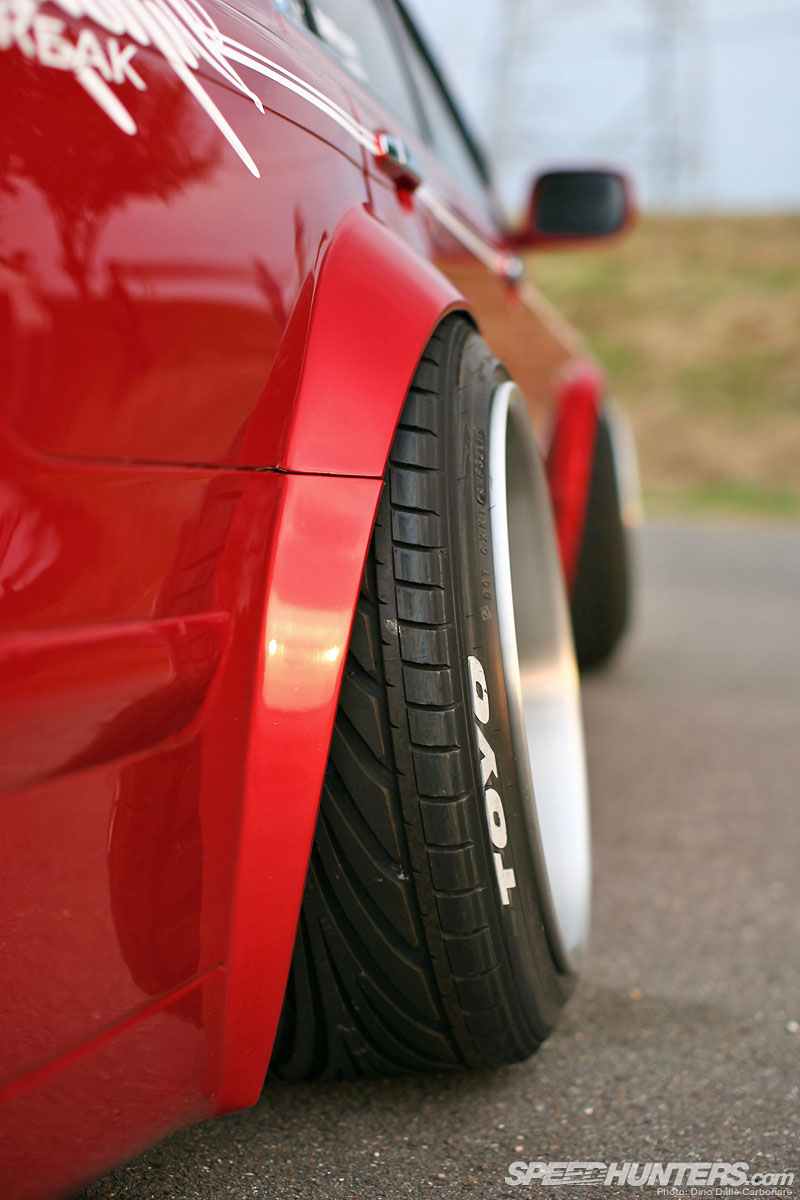 While the rear sports some pretty extreme fitment…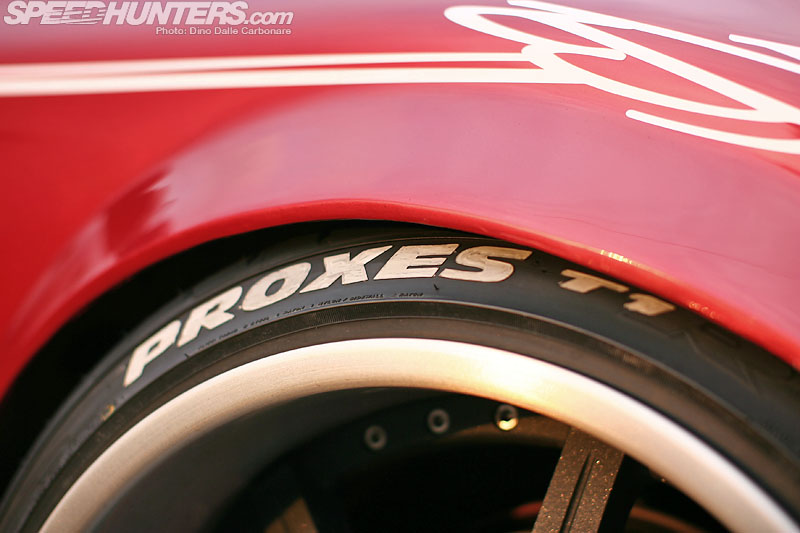 …the front tires are given a little more space to breathe, or steer rather. Following this car around the streets of Gifu it became pretty obvious that there are no compromises when you go full out and do the VIP thing properly. The car bounces around, tramlines everywhere with plenty of rubbing and scratching noises as the driver tries to avoid "dangerous" obstacles like manhole covers. You either embrace it or you don't – there is no in-between, especially if you want to do things the Bee Dragon way.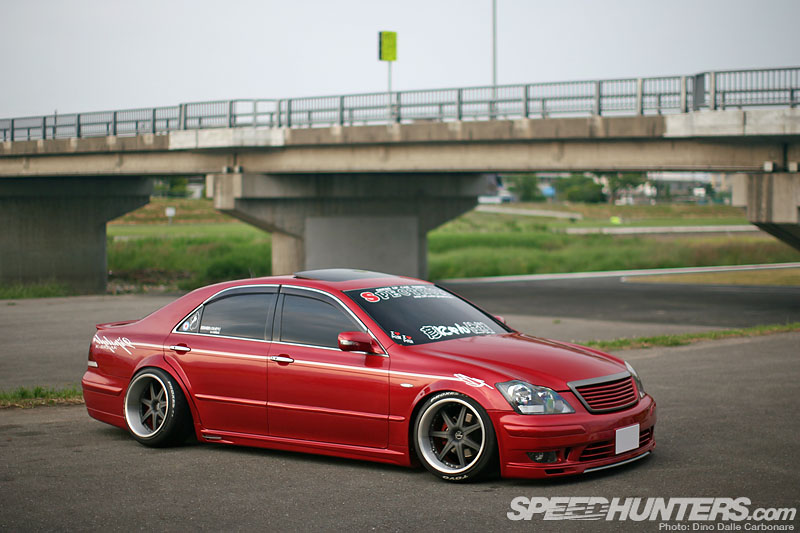 The exterior wears a full K-Break Platinum aero treatment comprising of a front bumper, side skirts…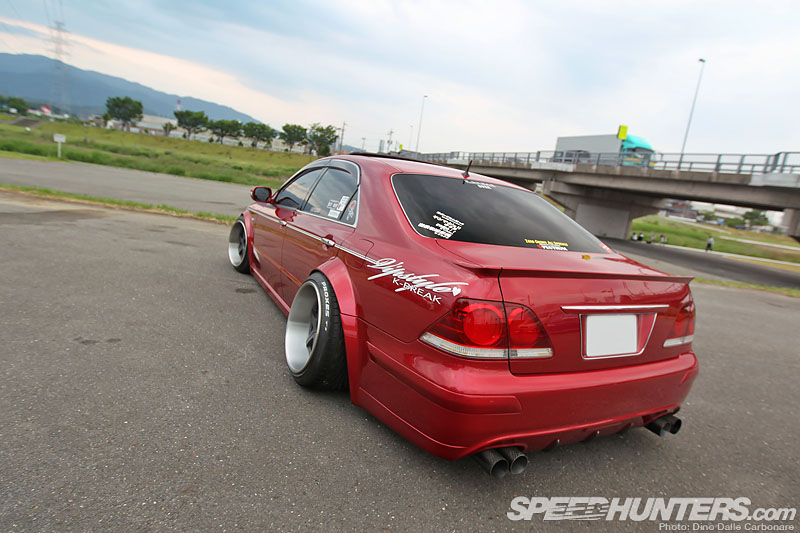 …and rear bumper kit, all modified to fit around the custom Bee Dragon fenders that just like on all cars that Imamura builds, are actually fabricated out of steel, not FRP.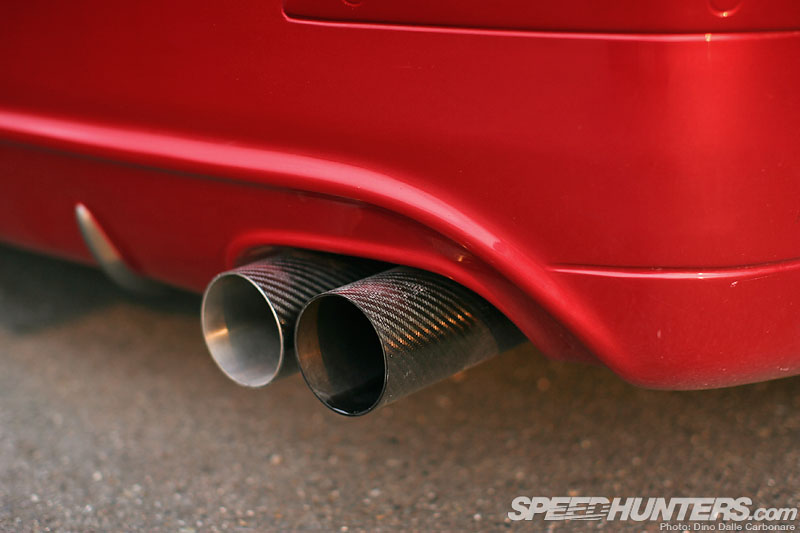 Coolest detail had to be the dry-carbon wrapped tail pipes, again adding to the sporty appearance of the conversion.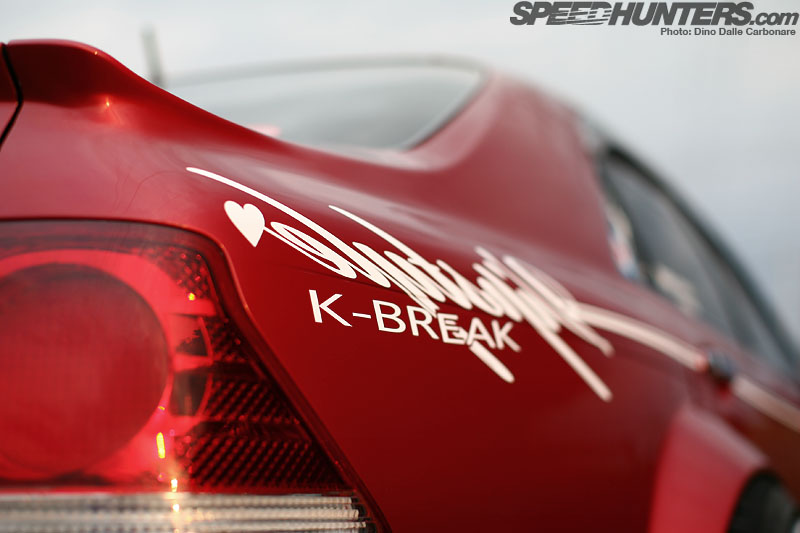 The owner of the car chose a factory Nissan Cube candy red color, a hue that would have made VIP guys back in the early nineties cringe, but something that now is very much accepted.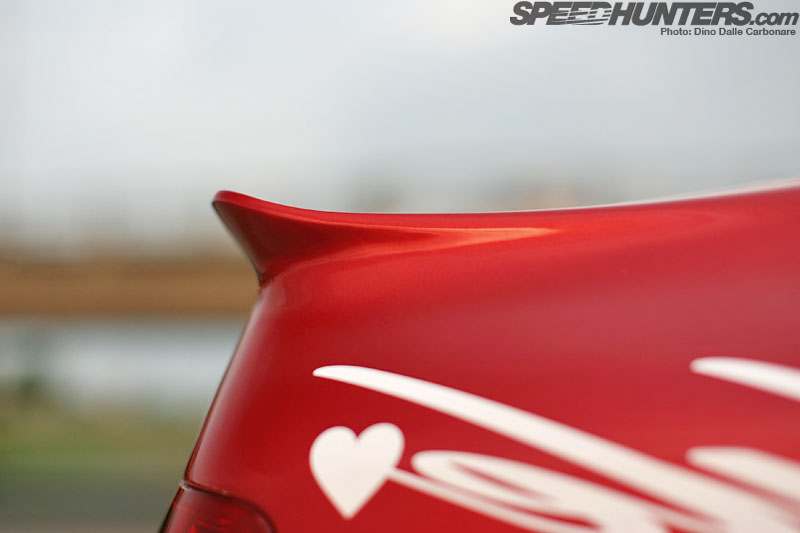 Another small detail was the integrated rear lip spoiler, like the fenders shaped out of steel and welded onto the trunk and sides of the rear.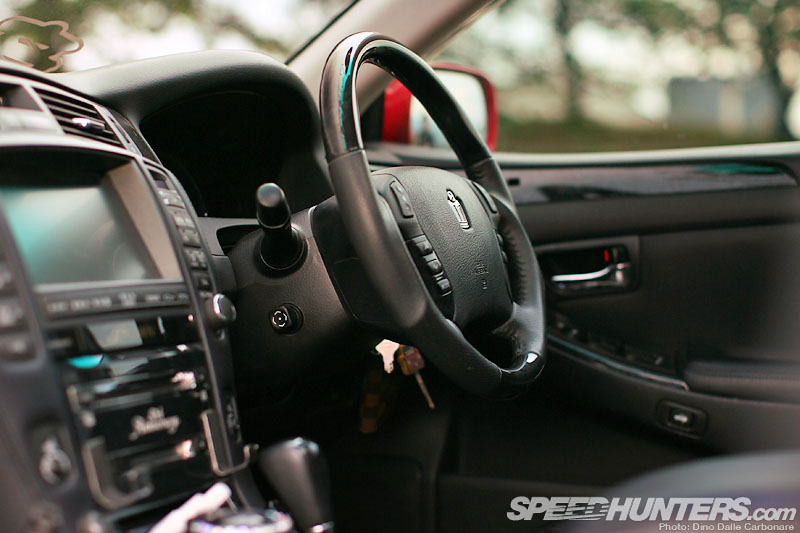 The owner didn't even want to open the hood as the 3GR 3L V6 that powers the car is completely standard, aside from the ridiculously loud Bee Dragon straight through and unsilenced exhaust system, a must on any self-respecting bippu ride! The interior was also pretty much all stock, aside from small add on accessories like A/C vent-mounted passenger-side cup holder…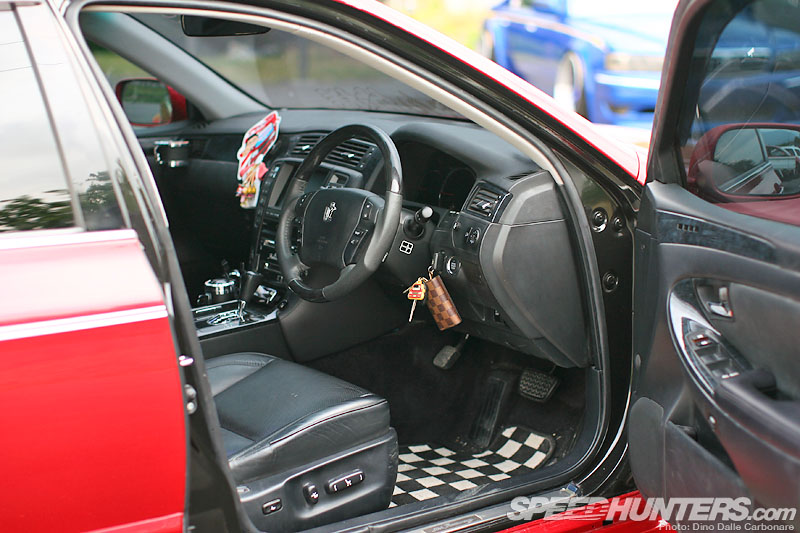 …and custom check-pattern mats.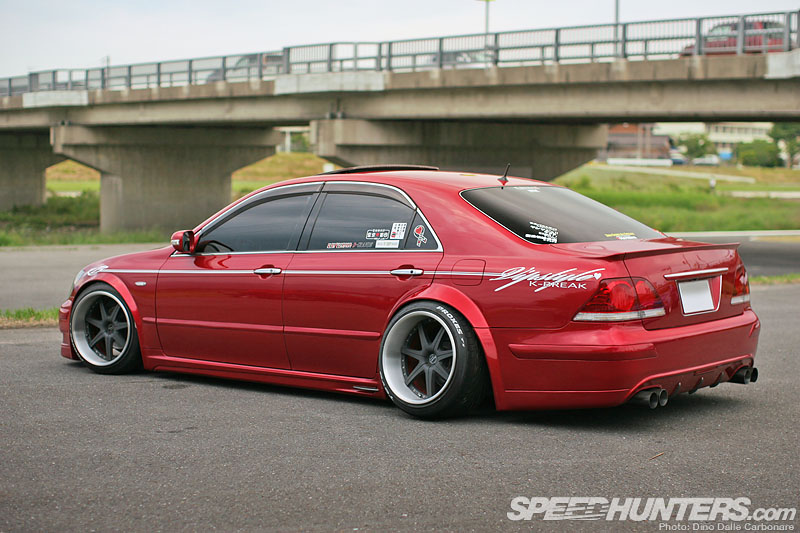 Viewed in its natural habitat…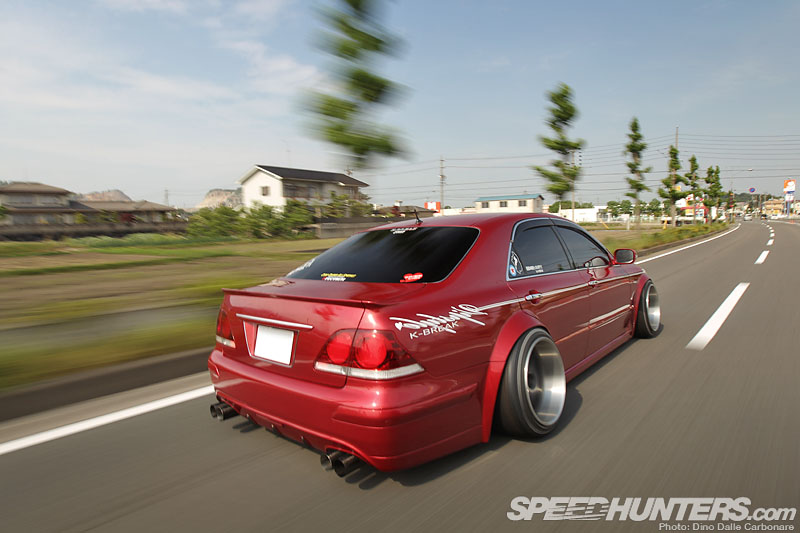 …on the streets of Japan this Crown Athlete can actually make sense. If VIP is all about showing off and making a statement then something like this will more than help you meet those goals. It's as much part of Japan as an ice-cold glass of shochu and side plate of edamame; it can only be appreciated it by those that get it.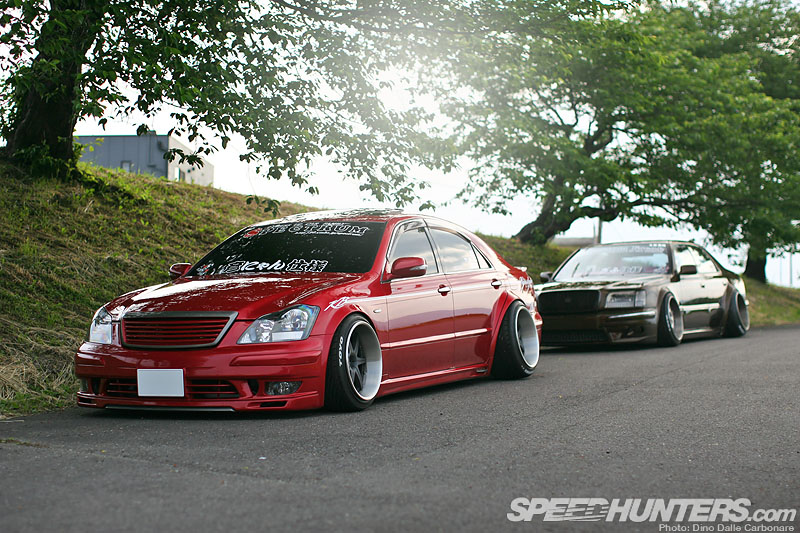 And guess what. The other ride that showed up was pretty awesome too, but you will have to wait a little longer to see it in all its low-riding glory.
So what do you guys think of VIP style?
Specs:
Engine: Bee Dragon straight through exhaust system, carbon fiber tail pipes
Suspension: K-Break Kai adjustable suspension kit, Bee Dragon adjustable arms
Wheels & Tires: Intensive Hanku wheels, 10.5Jx18″ -12 (front), 12Jx18″ -20 (rear), Toyo Proxes T1R 225/45/ZR18 (front), 275/35ZR18 (rear)
Exterior: K-Break Platinum aero kit, Bee Dragon custom fenders, Bee Dragon custom smoothing, Bee Dragon custom trunk spoiler, Nissan Cube candy red
Interior: Custom floor mats, A/C cup holders
-Dino Dalle Carbonare