We often forget that one, if not the most important, aspects of motorsports is the development of new technologies. Pretty much every last bit of gadgetry, innovation and evolution that has been applied to your everyday road car has in some form or another trickled down from its original use in motorsports. From turbocharging and fuel injection (mechanical & electrical, indirect & direct) to automated gearboxes (single and double clutch) and everything in between has come to us thanks to the million of dollars of research and development and outright testing that manufacturers do along with their race teams. While further evolution may seem difficult considering how far the internal combustion engine and the motor car in general have come in the last 100+ years, there are still plenty of ideas worth exploring, especially seeing the pace at which hybrid and electric motor technology is advancing. And this is exactly why nerding out on some technical stuff now and again can really be exciting, especially when you can see the obvious links and potential that it can all have on future sports cars.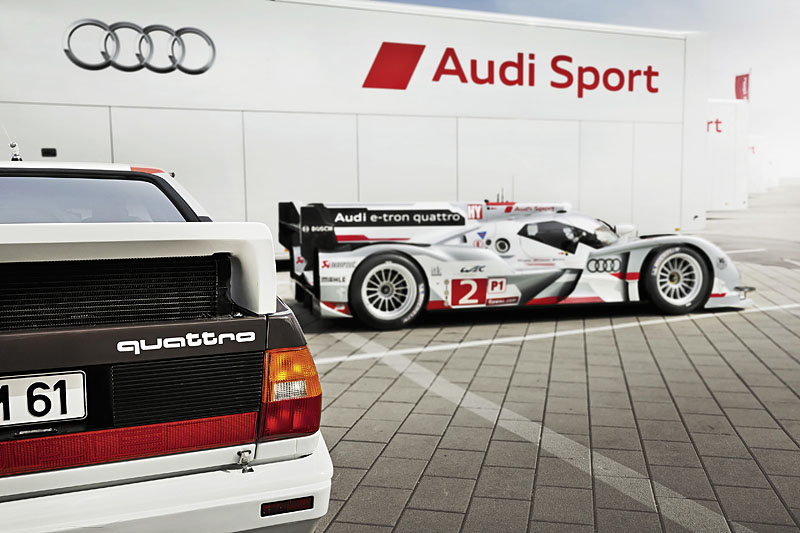 After seeing the awesome performance of the Audi R18 e-tron quattro at this year's Le Mans I decided to read up on the car's driveline and power train, just to see what on earth made it so blisteringly quick and outright untouchable. Needless to say I was impressed by what I discovered.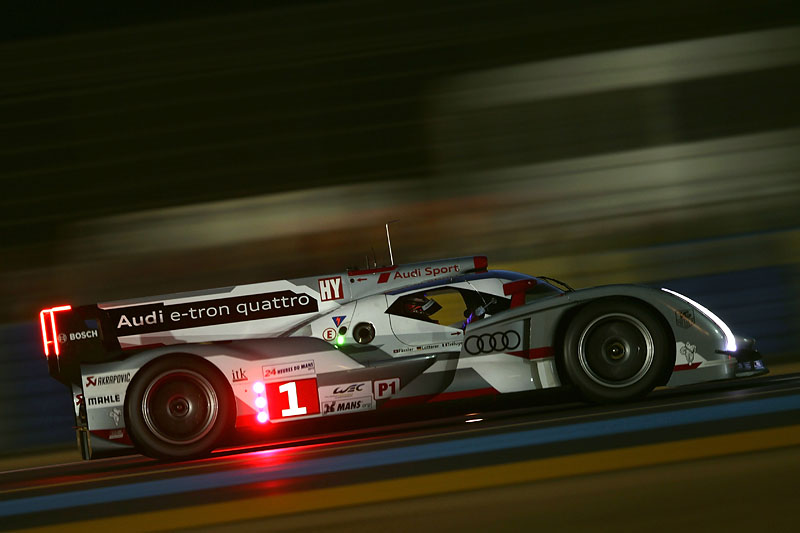 While it's very interesting that Audi partnered up with Williams to develop their hybrid e-tron (AWD) drivetrain, which functioned rather differently to the Toyota  TS030 KERS system (RWD), it's the engine side of things that really grabbed my attention. Audi serves as the perfect example of how R&D can be applied to not only adapt to new racing regulations, but  also push technology to extremes. Back in 2006 when they first won Le Mans with a diesel-powered car, the R10 TDI, they were running a twin-turbocharged 5.5L V12 monstrosity of an engine. This year's R18 e-tron quattro managed the same feat with an engine running half the numbers of cylinders, 32% less capacity but able to power the car, along with the e-tron hybrid AWD system, to faster lap times.   Amazing as that may be it's the actual way in which they designed the 3.7L turbocharged V6 diesel engine that is most impressive…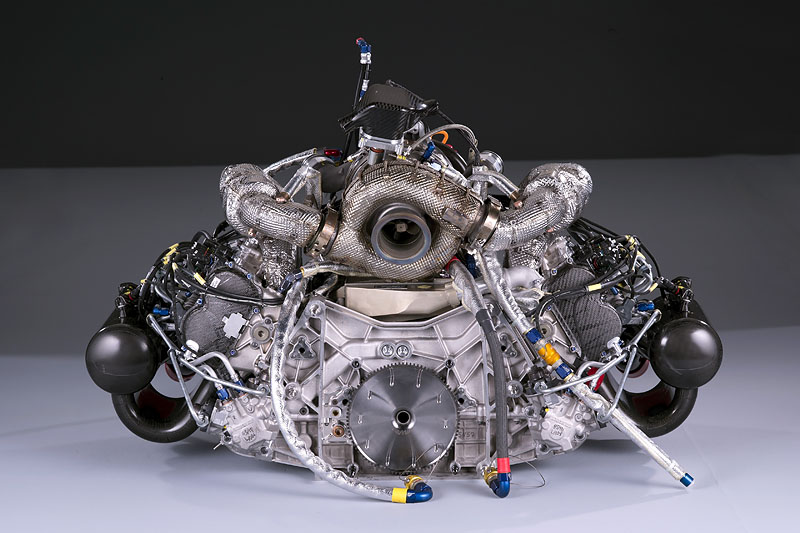 …and notice I said turbocharged, not twin-turbocharged. That's because Audi, along with its long- standing turbo partner Honeywell Garrett came up with the "monoturbo." It's a simple idea but one that has required a rethink of some key engine aspects, most obvious of all the angle between the two banks of three cylinders, set at 120 degrees, and the exhaust side of the heads which have to obviously be located towards the inside of the "V"(hot side inside if you will). This allows the two exhaust manifolds to connect up to the hot side of the turbocharger and flow exhaust gasses radially into it, spinning the turbine via its variable geometry vanes. Once they have done their job exhaust gasses are dumped through the axial outlet that you can see above, onto the exhaust itself.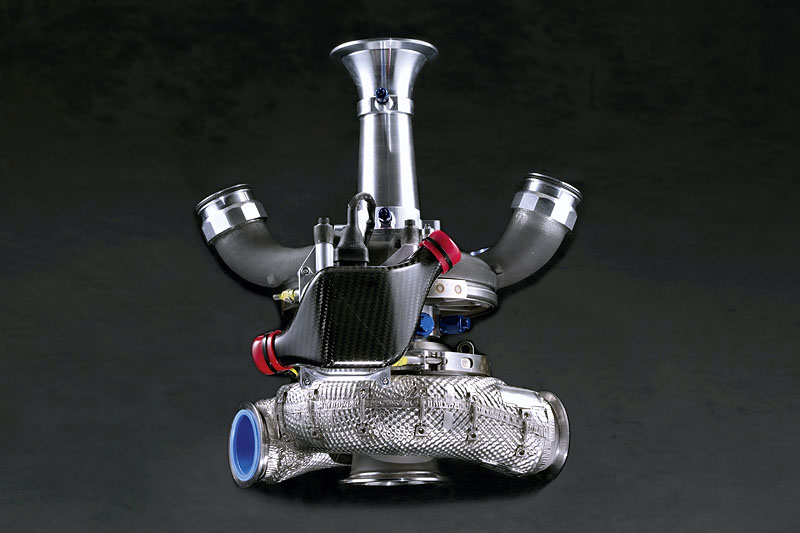 Here is a better view of the monoturbo, its hot side towards the bottom, wrapped in heat shielding and the compressor side, which seems to be coated in some kind of heat-resistant ceramic finish. Once aspirated through the intake restrictor the air gets compressed in the visibly small compressor (designed this way to allow the best possible response) and then sent to each bank of cylinders…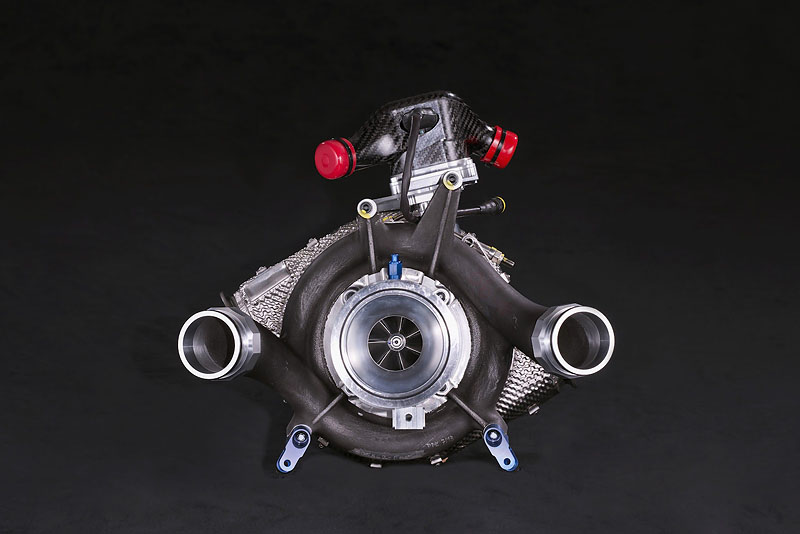 …via the two above outlets. The carbon fiber enclosed control unit on top of the turbocharger assembly controls the Variable Turbine Geometry (VTG) system, which continually adjusts the angles of the vanes on the turbine wheel to make sure there is no lag in throttle response and power. This is also guaranteed during gear shifts, thanks to clever use of electronics, something that apparently surprised even the ACO, the Le Mans organizer when the technical stewards were going through the engine data.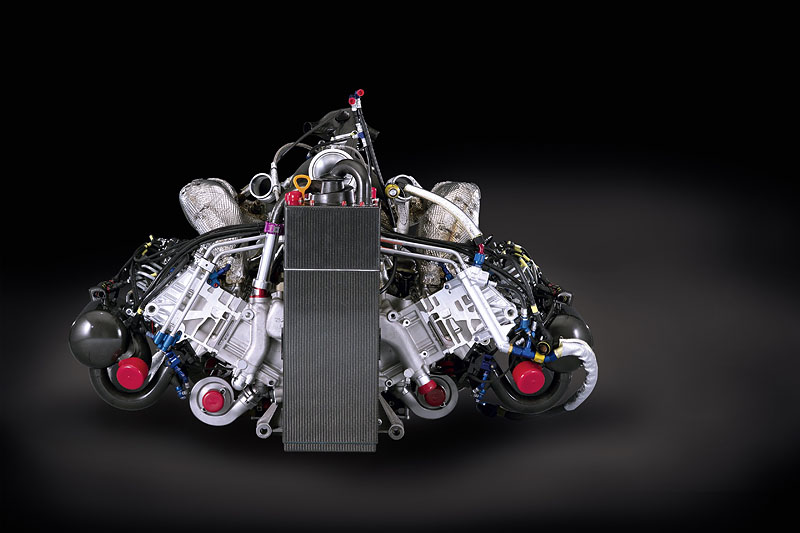 It's all fascinating stuff and hopefully technology that will eventually trickle down onto road engines, and maybe also gasoline engines.  BMW has already done something similar when it comes to turbocharger placement in their current generation of twin-turbo V8 gasoline engines that power the 5, 6, X5, X6 and 7 series (including the M5, M6, X5M and X6M). The V8's "hot side," like Audi's TDI V6 monoturbo, has been located on the inside of the "V" and the two turbochargers positioned within it (literally on top of the engine). This, coupled with the cross-flow exhaust manifold which times offset pulses into the correct scrolls of the turbos, helps keep piping short and the adoption of charge coolers rather than intercoolers all make the engine as responsive as a naturally aspirated motor would be.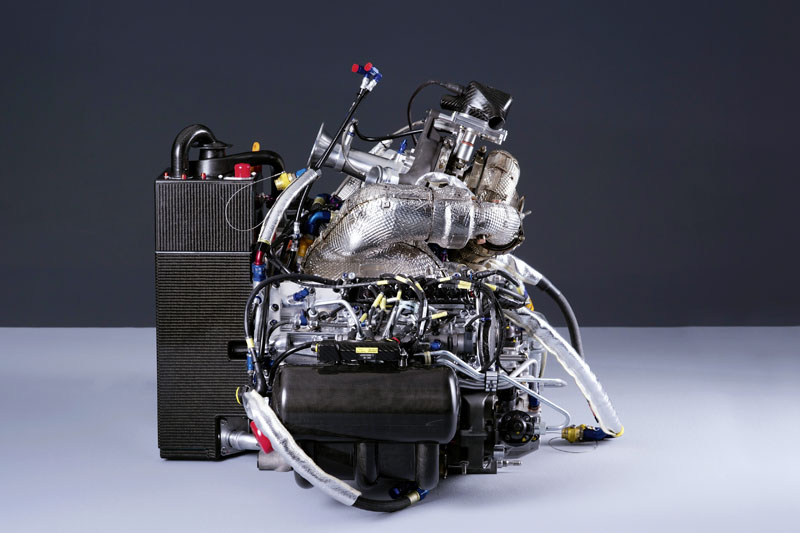 Here is a side view of the 3.7L TDI, where you can see the monoturbo placement and angle as well as interesting components like the carbon fiber intake manifolds and the carbon casing for the dry-sump's oil tank in front of the motor. When looking at advanced race engines like this diesel V6 it's hard not to wonder when we will be able to see powerplants like this make it onto production cars. I'd personally love to see a future RS model powered by something similar, gasoline of course! Maybe and RS version of the future R8? Audi failed a few years ago when they tried to twin-turbocharge the R8's V10, with a pair of test cars catching fire on the Nordschleife. A centrally mounted monoturbo seems like the perfect solution, good for power, packaging and in the case of a mid-mounted engine, probably even cooling.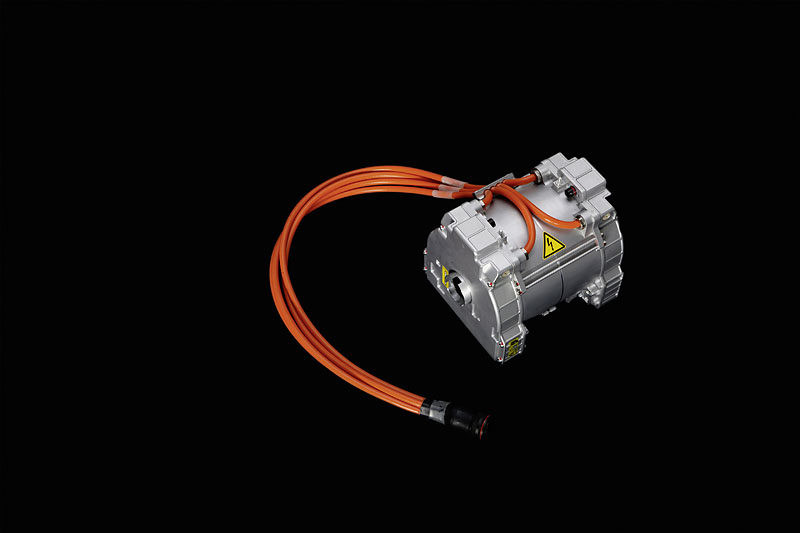 If that will ever happen it may well be joined by a similar hybrid system to the R18's e-tron to power the front wheels. It's all exciting stuff and as long as engineers continue to make these innovative engines feel as responsive and immediate as enthusiasts expect, then we have exciting times to look forward too.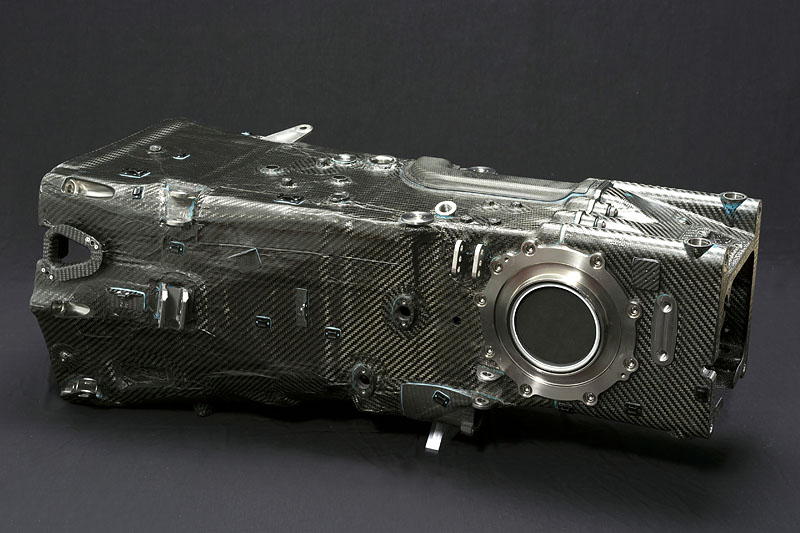 The R18 also hides other interesting technology; of course composites make up the majority of any race car, and to save weight in critical areas Audi Sport even made the car's gearbox casing out of carbon fiber. Pretty wild right?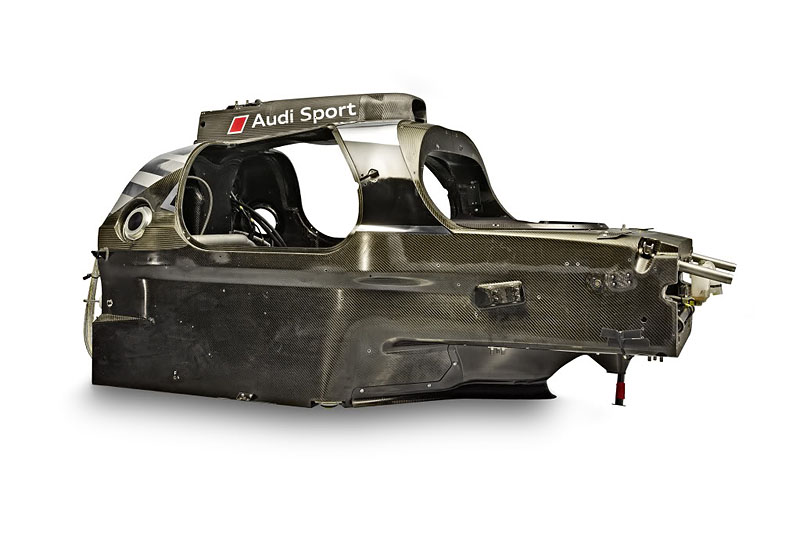 Oh and let's not forget the now-closed (new LMP regulations) tub part of the chassis, which seen here from this angle in its naked pre-paint state strangely looks like a closed cockpit F1 car!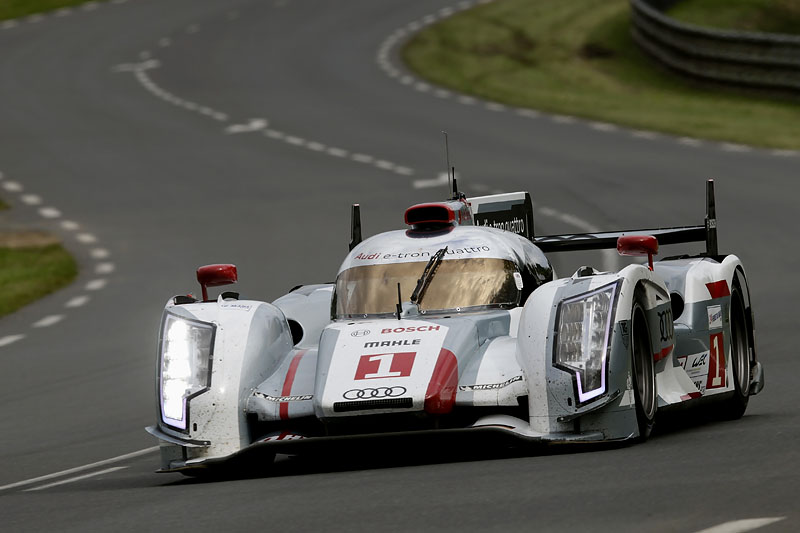 What do you guys think, will the monoturbo developed in conjunction with Garrett Honeywell be something we can expect to see in the future on road cars? It makes sense in so many ways and is such a great example of the importance of motorsport.
Images courtesy of Audi Motorsport 
-Dino Dalle Carbonare