What is it about car shows that just doesn't seem to excite me? It wasn't always that way, I used to rather enjoy them. Perhaps I'm a little jaded because I've spent the last decade attending these types of events and the better half of it photographing and reporting them. Yet despite all of that, one show I've always looked forward to, then and now, is Nisei Showoff in Little Tokyo / Downtown LA.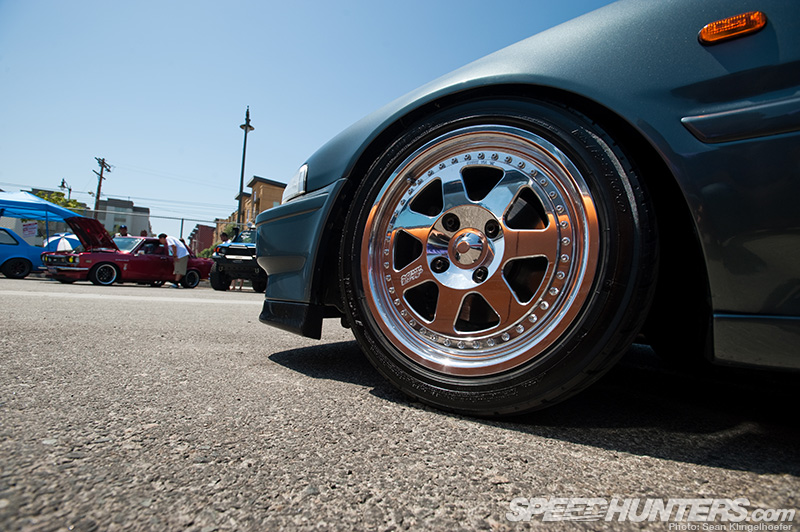 I've been going to Nisei since 2005, long before I lived in Los Angeles, and I haven't missed a year since. For those wondering exactly why that is, it's plain and simple – quality and authenticity. This is a gathering of some of the finest Japanese cars in America and it was spawned for all the right reasons, not monetary gain.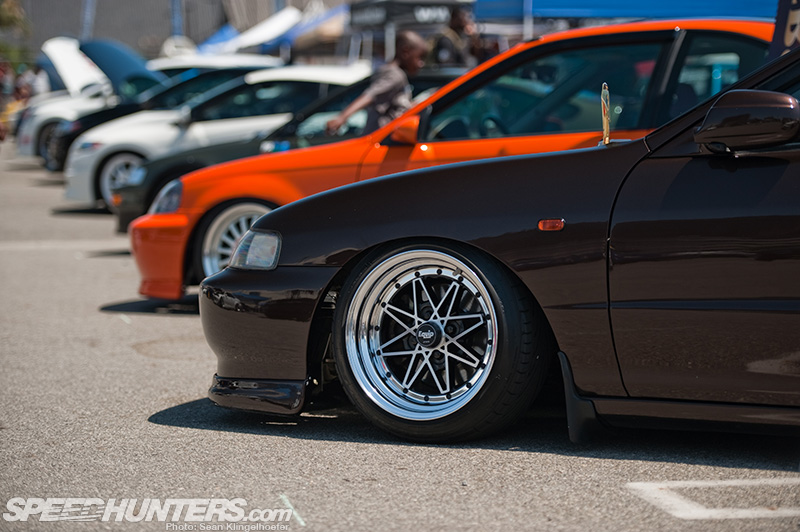 It all began back in the day when SoCal's Japanese car enthusiasts would cruise Nisei week, a cultural festival celebrating Japanese-Americans; a large portion of LA's community. It wasn't long before it became obvious that a car show in Little Tokyo during Nisei Week made a lot of sense. Ken Miyoshi was able to orchestrate the whole thing and the rest is history.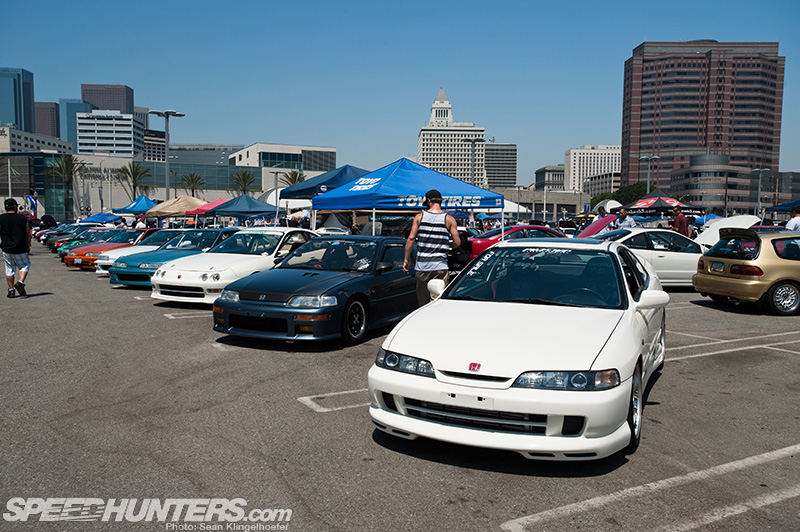 For a long time Nisei has been the place you go to find the best JDM show cars Southern California has to offer, but in recent years, due to various reasons, car count has been dwindling. With each passing year the show seems to be more and more Honda-oriented and with the Infamous show falling on the same day this year, it all but made extinct other marques.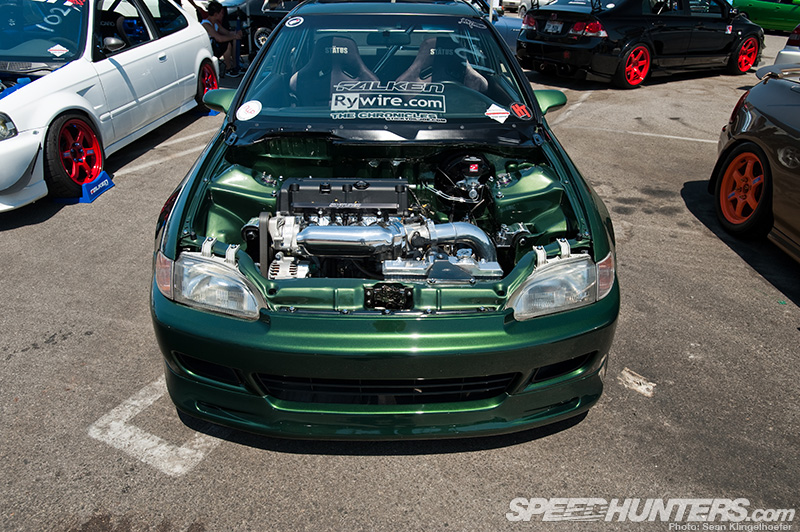 Now I can tell some of you are already rolling your eyes at thought of a bunch of Hondas in a parking lot. Hell even my personal tastes have lead me away from show cars but I can't deny it, these are my roots. While I no longer crave the most rare parts or dream of a perfect paint job, I do have loads of respect for these cars.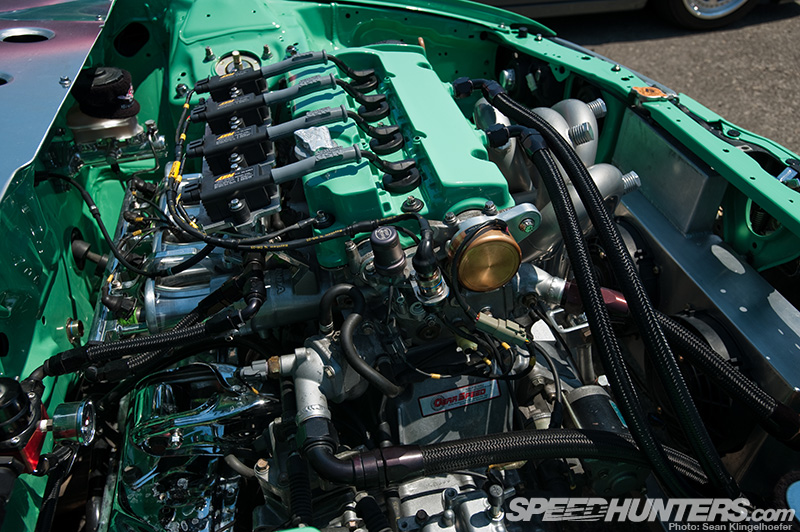 I still own, drive and track two Civics, but I don't spend anywhere near the amount of time focusing on "the scene" like I used to. In fact since I've been on board at Speedhunters I haven't even shot one Honda, and that used to be something I did at least monthly. But if anything, I think spending some time away from these cars has made their ambition even more spectacular. Guys like Big Mike just keep rebuilding, tweaking, customizing and perfecting… it's in their blood.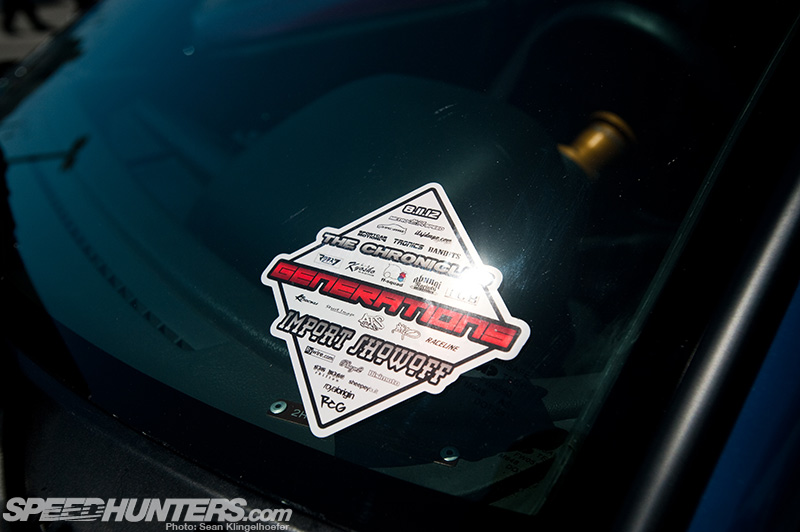 For the last few years Joey Lee, who runs the chronicles blog, has had a dedicated section of the show called "Generations". This section has essentially been a who's-who of Hondas, showcasing roughly ten of the best cars around. However this year Generations received a gratuitous boost in count with over seventy cars split into three sections – "past", "present" and "future" (hence "Generations").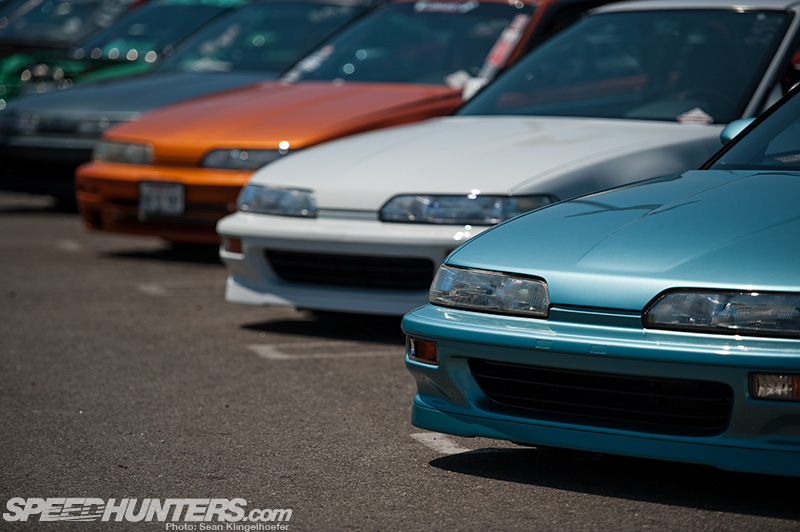 By allowing Joey to expand his selection of cars, Ken has been able to curate a show of the highest standards. Starting in the "past" section, it's difficult not to fall in love with this trio of DA Integras.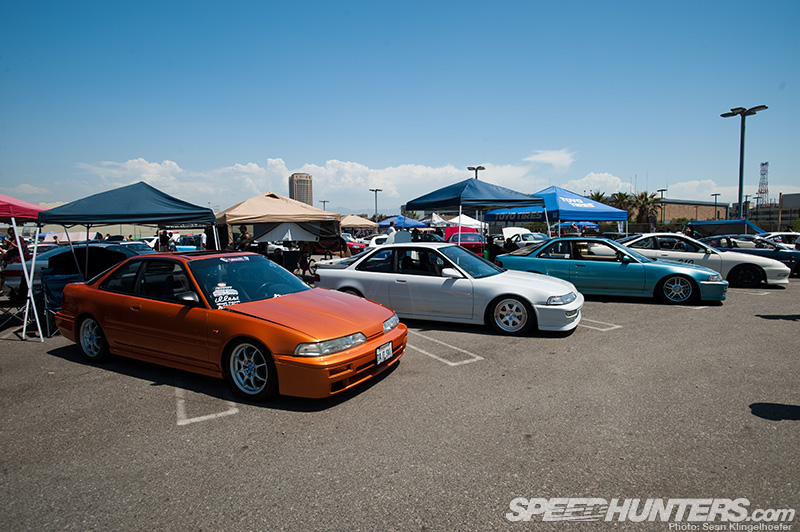 From left to right we have Parnell Navarro, Jason Haradon and Dave Chik's immaculate cars. There isn't much, if anything, I'd change about any of these cars and all three of the owners are excellent dudes. Interested in seeing one of these featured in the future? How about all three?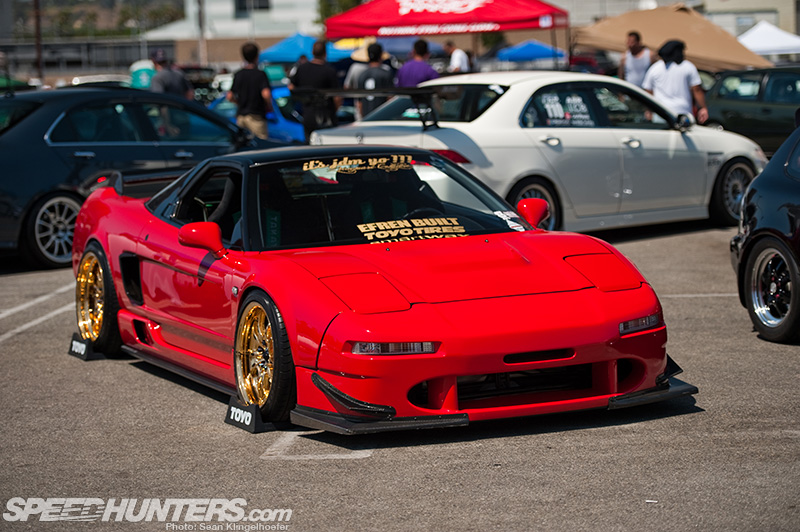 The largest section by far and away was "present" and featured lots of incredible cars, but perhaps the most mind-blowingly baller was Michael Mao's Internet-legendary NSX. Is there anything meaner looking than that Taitec JGTC body kit?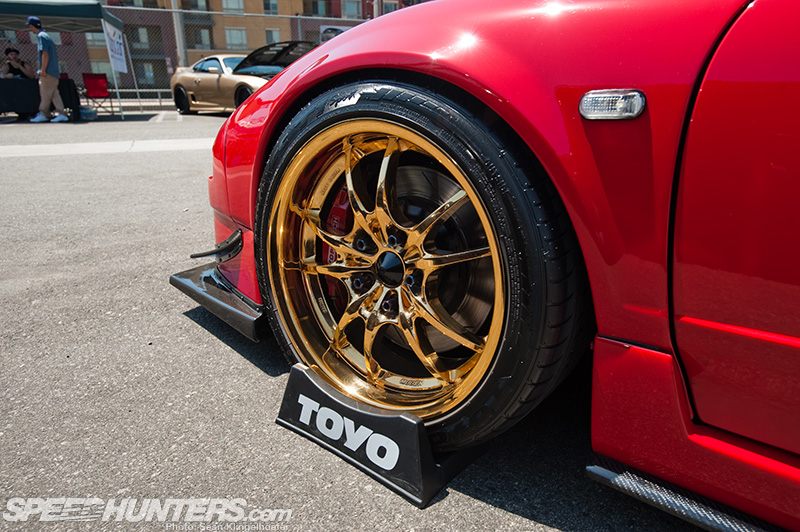 If that's not enough, how about a set of Mugen MF10s in proper NSX fitment? Might as well gold plate them while you're at it, of course.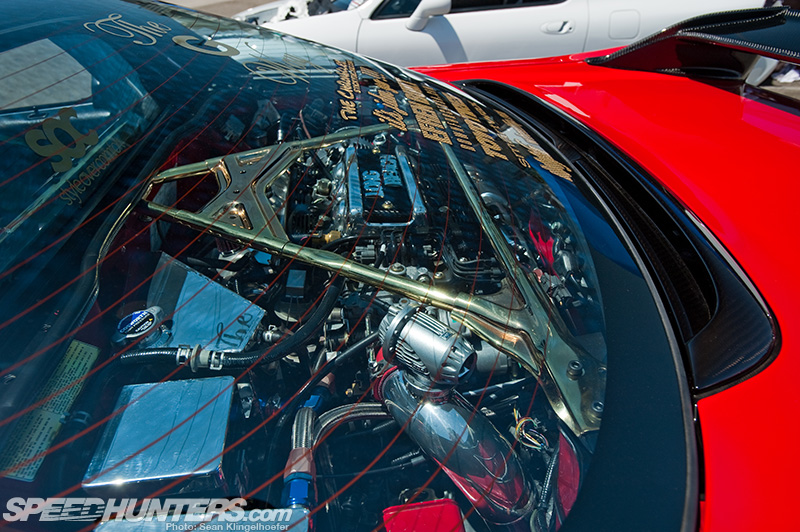 Like any real show car, the attention to detail doesn't stop at the exterior. The car has a custom twin-turbo setup and more shiny polished and plated bits than you can shake a stick at. I would say that this is a very good representation of the kind of car most Honda enthusiasts would build if they had the means to do so.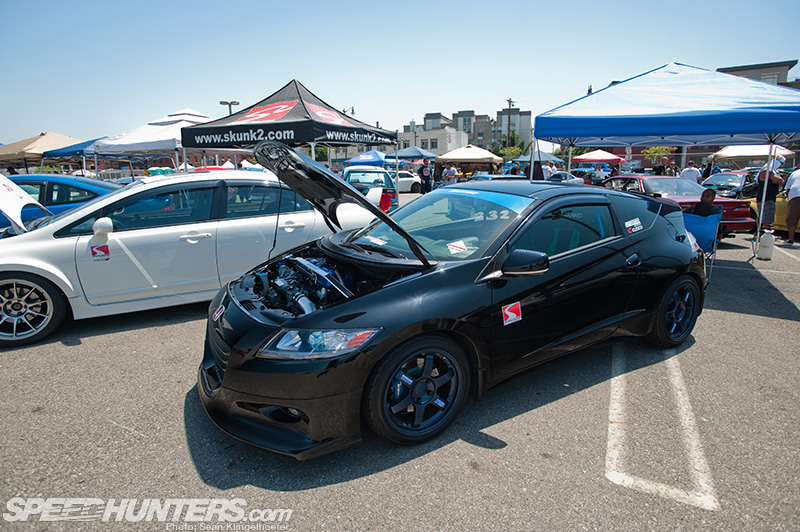 It should come as no surprise then that the "future" section included cars that demonstrate things to come, like Daniel Herrera's CR-Z built by Sportcar Motion in San Diego. Those familiar with Sportcar know that they don't build show cars, so it goes without saying that this car gets beaten on.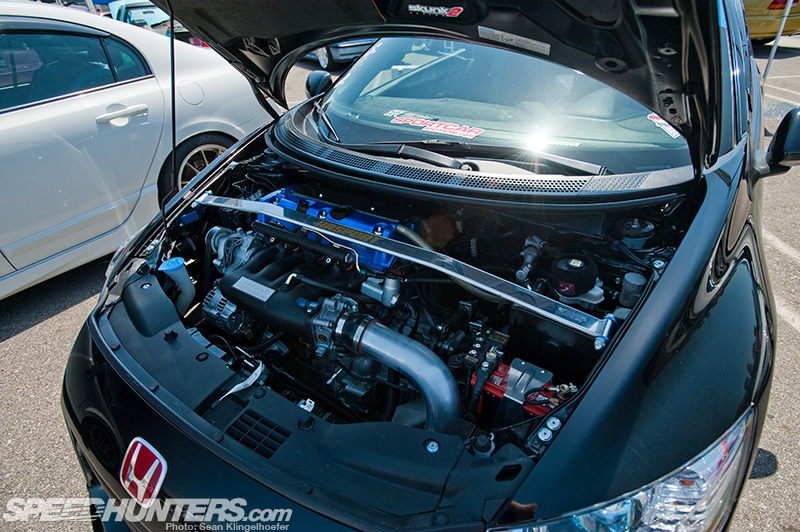 Of course the standard anemic powertrain is about as much fun to drive as watching paint dry; so, with the help of a Hasport mount kit, this is now a K-RZ. In fact it was, and still is, one of the very first K-swapped CR-Zs on the planet and I can attest first hand, as I competed against it at Super Street Magazine's FF Battle 4, it's no slouch!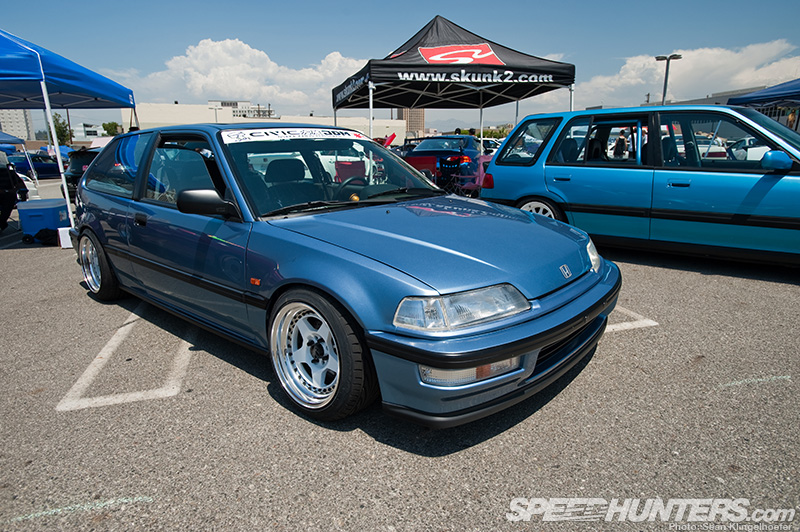 Speaking of Super Street, it was nice to see my friend, and former boss, Jonathan Wong's EF hatchback out and about. He's owned the car for a number of years but recently picked up some new goodies from Osaka JDM including their Loop 5 edition Work wheels and windshield banner.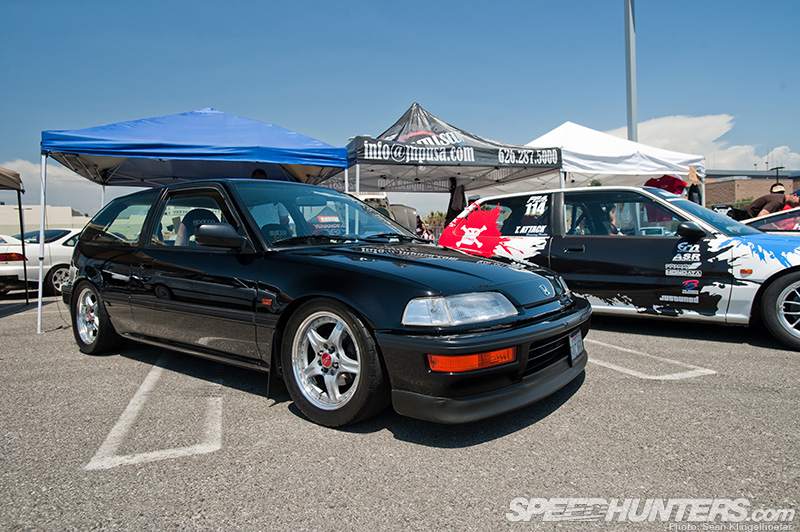 Another one of my favorite EFs at the show belonged to Andy Hope, best known for his driving skill as a Honda Challenge pilot…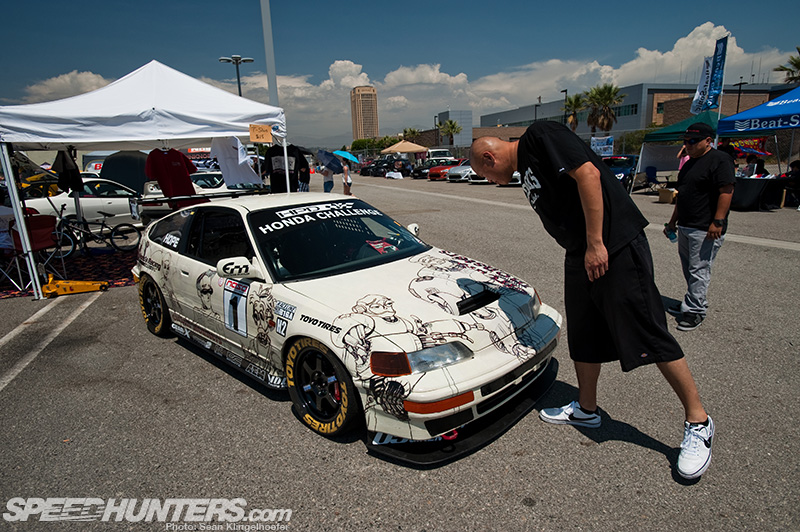 Maybe his B16-powered CRX rings a bell? It never ceases to amaze me how many people stop and take a closer look at his custom-made hood vent.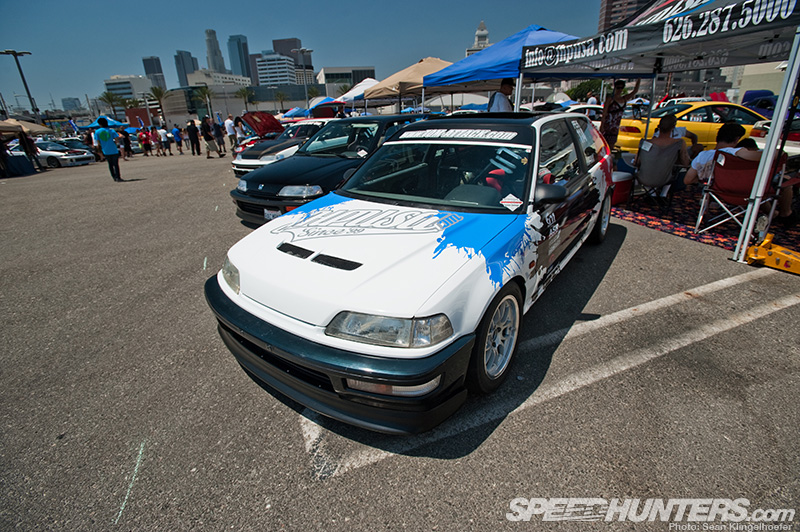 Sandwiched between Mr. Hope's cars was yet another EF, owned by Tom Liang aka TOM-ATTACK. Tom's car is a little rough around the edges but it's a purpose-built track car with a mean K-series under the hood. I'm really looking forward to seeing this car in action at Super Lap Battle this year.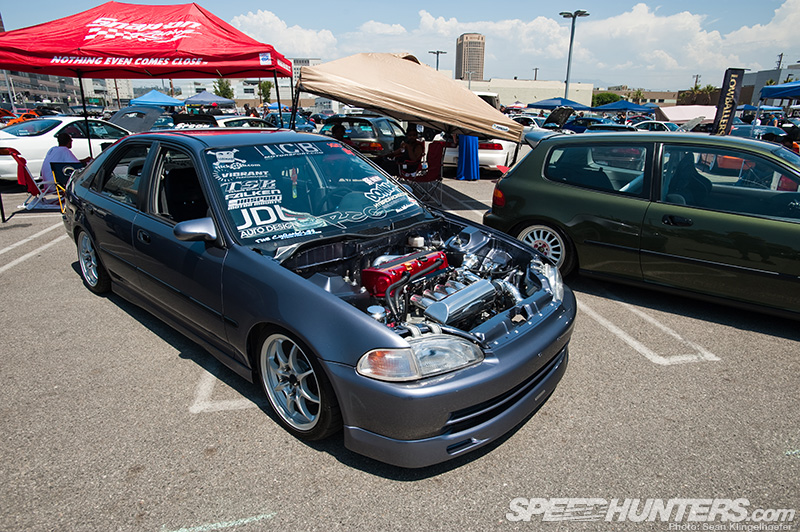 As a former resident of Phoenix, I used to make the six hour drive to LA for Nisei each summer. While I definitely don't miss that commute, it does bring a smile to my face when I see others coming out to represent Arizona at this event. One excellent ambassador for the kind of builds AZ is capable of RC Chacon.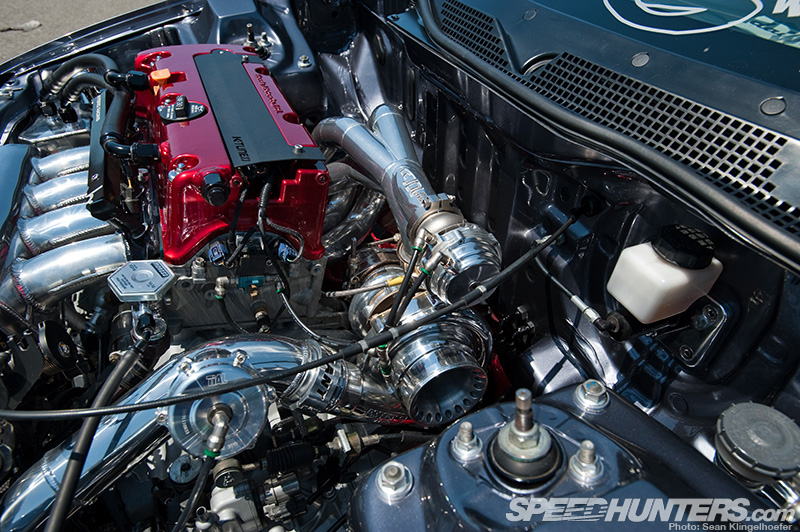 This is pretty close to the epitome of excellence when it comes to current Honda builds. Not only is the bay spotlessly tucked and shaved, but the K-swap makes serious power thanks to a sick JDL side mounted turbo setup.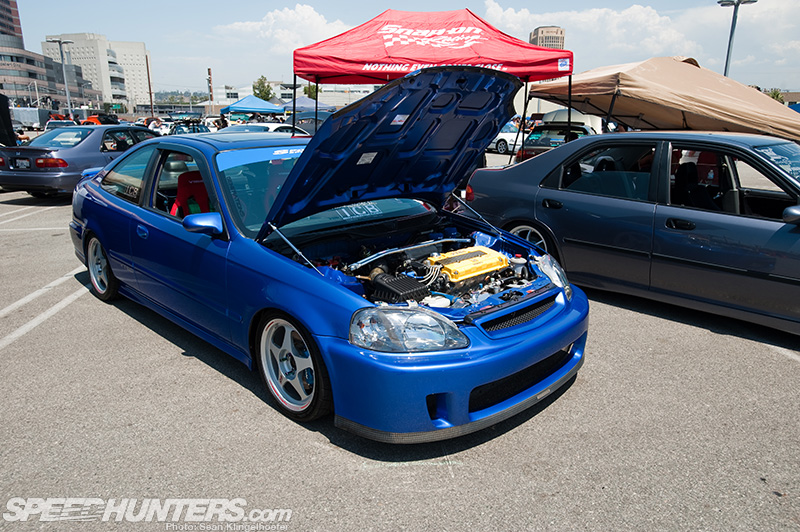 Mike Schietroma also made the trek out from Arizona with his EM1 Civic Si. This thing is amazingly simple, clean and understated. It's almost textbook purist JDM and reminds me of a time when things were a little bit simpler.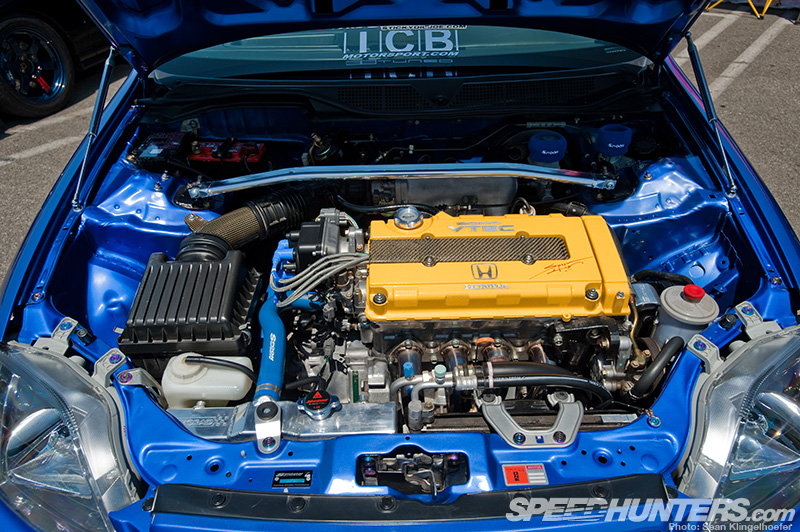 I mean what's not to like? A plethora of Spoon goodies, functional air conditioning and power steering. Plus it's clean enough to eat off of. Form and function, thats my kind of engine bay.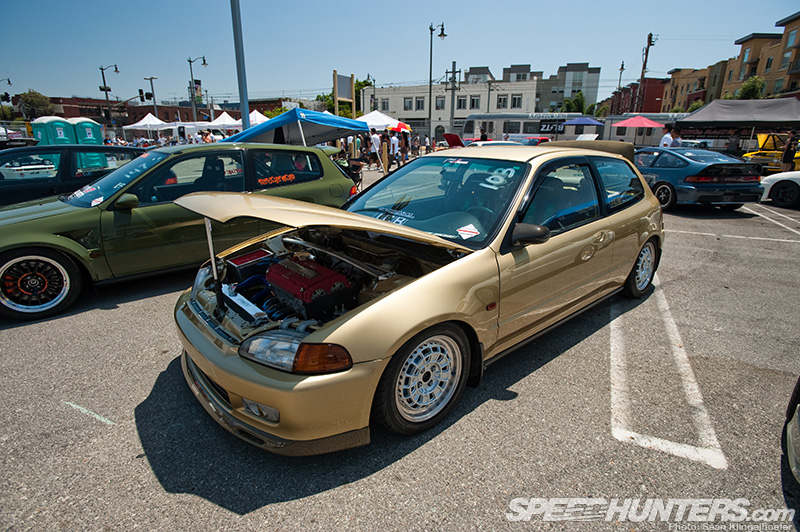 If I must play favorites, I'd say the best Arizona car was and still is Jorge Hernandez's gold EG. I've shot this car more times than I can even remember and it just seems to get better with age. Aside from the Mugen NR10R wheels, which I adore, I don't think there's a Civic with more mass appeal than this.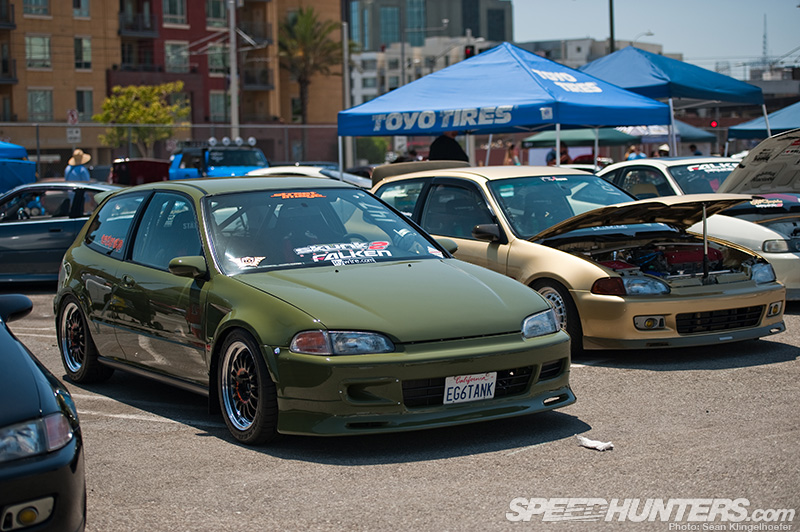 But there certainly are some EGs that will give it a run for it's money, like SoCal legend Mike G's "tank" parked directly next to it. I don't think I'd be wrong in saying this car is quite possibly the most famous Honda of all time, I mean it even has a worship thread dedicated to it.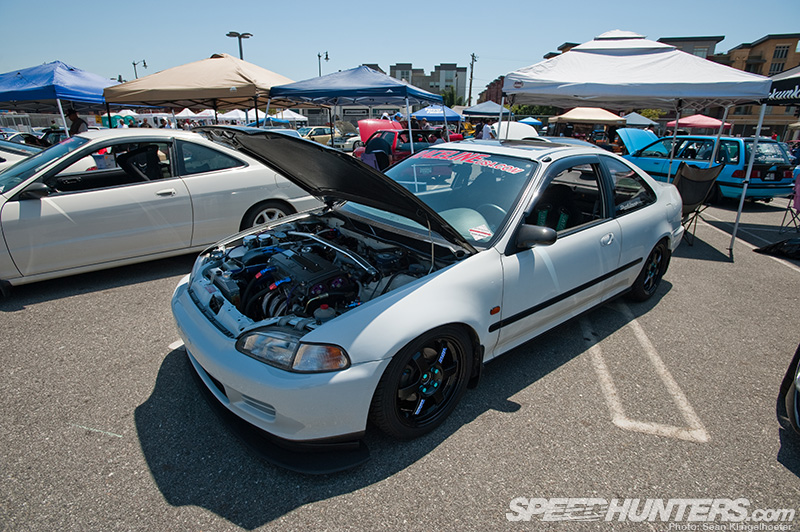 Another of my favorite EGs from LA, albeit a coupe, belongs to Kane Chan. This car is one the few out there that looks as good in person as it does in photographs. Kane's owned the car since it was new and it's without a doubt one of the most immaculate Civics I've ever seen.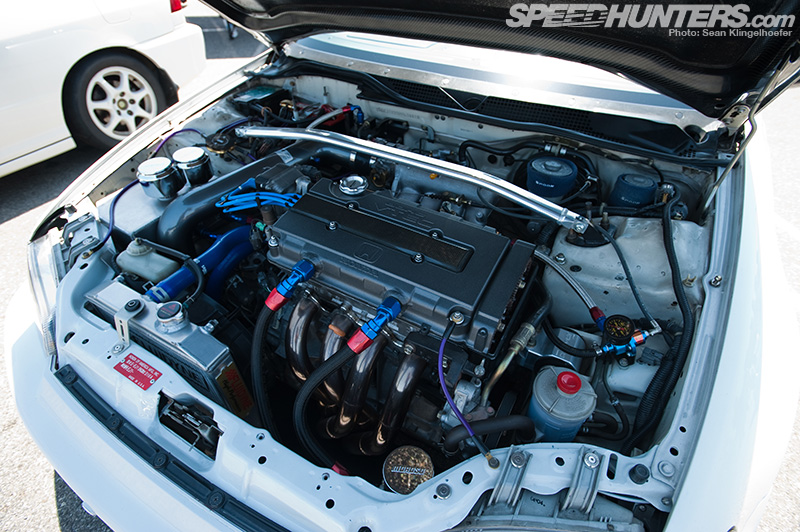 Powering it is one of the most powerful B-series motors I know of as well. Over the last few years the car has become more and more track-oriented and I believe it scored one of, if not the fastest lap at FF Battle 4.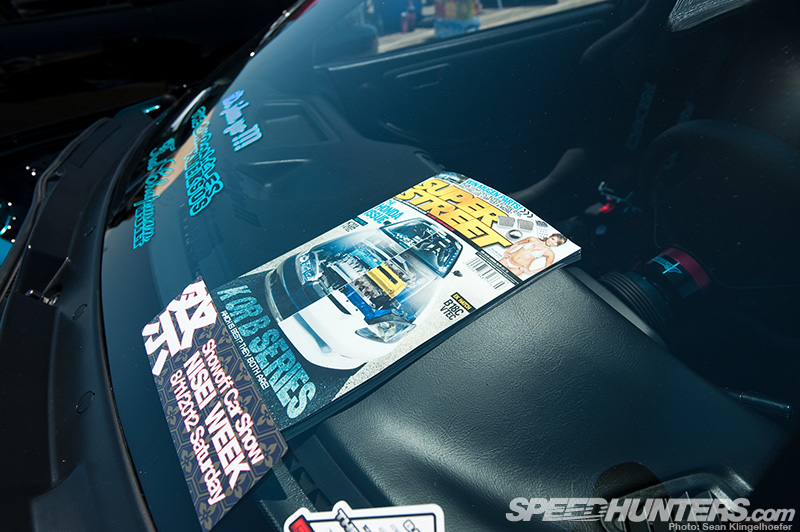 If I'm honest, for the last half decade the best Hondas, at least in terms of show cars, anywhere on the planet have been coming from California's Bay Area. In particular ATS Garage seem to churn out amazing builds time and time again, like Ryan Der's Civic and Anh Truong's Integra which I shot for the cover of Super Street a few years ago.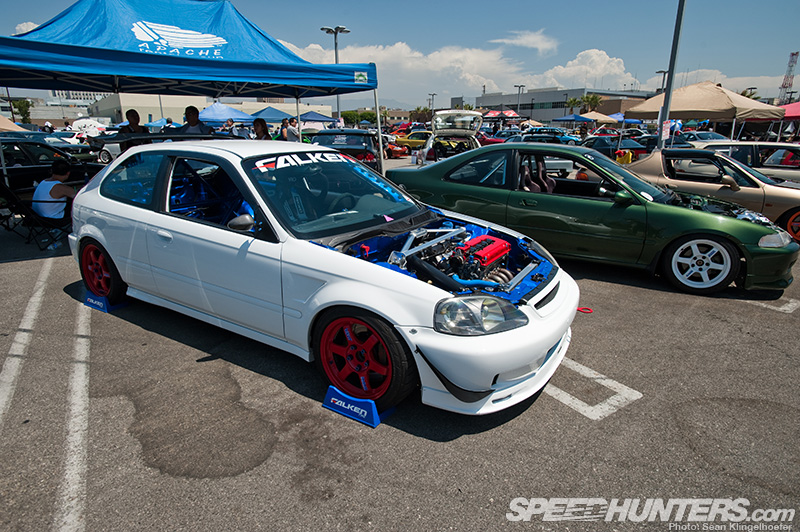 Since the shoot both cars have continued to evolve, Mr. Der's latest setup utilizes a bit of red to contrast all of the blue bits. If you've never seen this car before you should google it, because it just might be the definition of attention to detail. Every time I see it a little bit of me dies inside because I know I will never build anything even close to this level.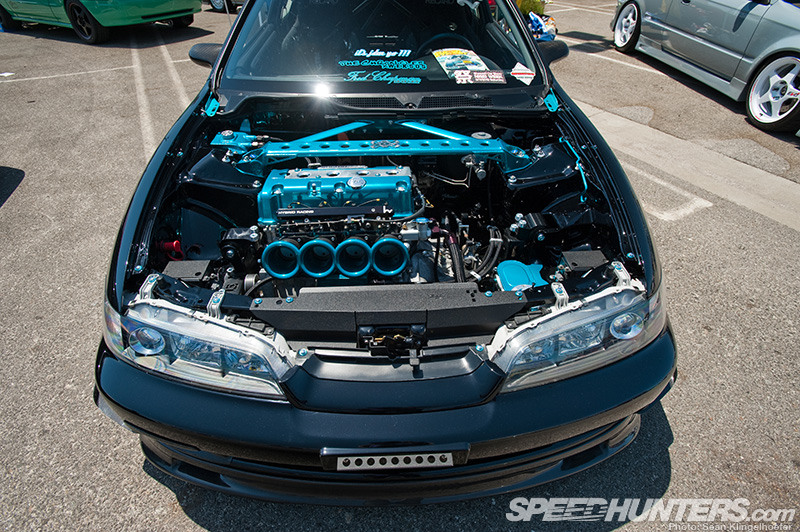 But if there is a match to Ryan's EK, Anh's ITR is close. I still remember the first time I ever saw the hammer coated pieces and falling in love with the way they add a bit of stealthy contrast to the shiny black bay. It's ingenious.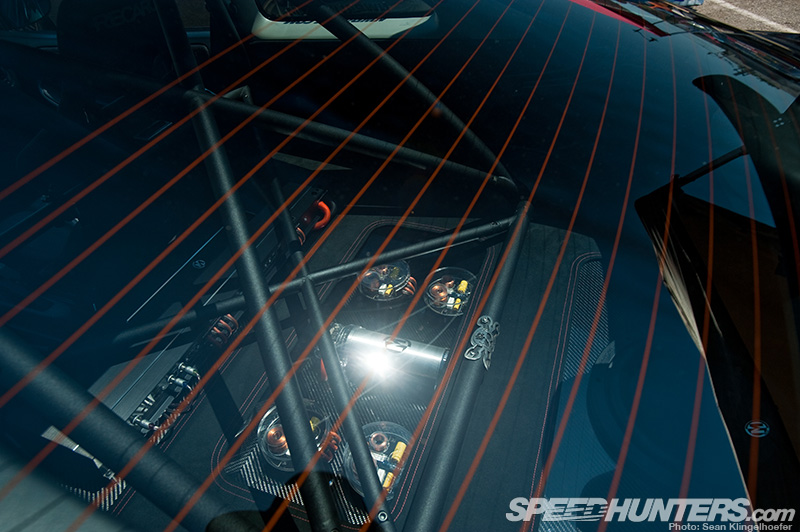 The interior has come along a ways since I first laid eyes on the car and in addition to the complex ASC Speedmetal jungle gym, the car is rocking something usually left out of today's cars – a stereo system.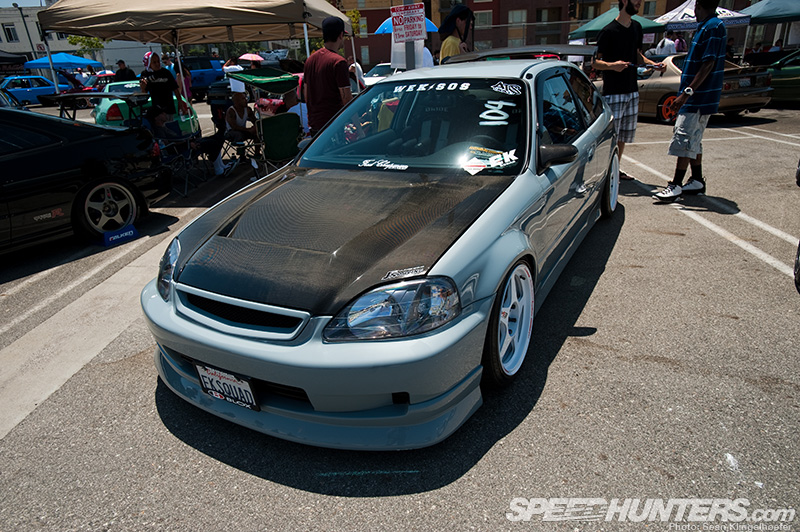 Another well known ATS car belongs to Chris Sakai, the founder of the EK Squad. This is yet another car I've watched come a long way over the years. Chargespeed lip, J's Racing hood, First Molding wing, Regamaster Evos… this is JDM at its best.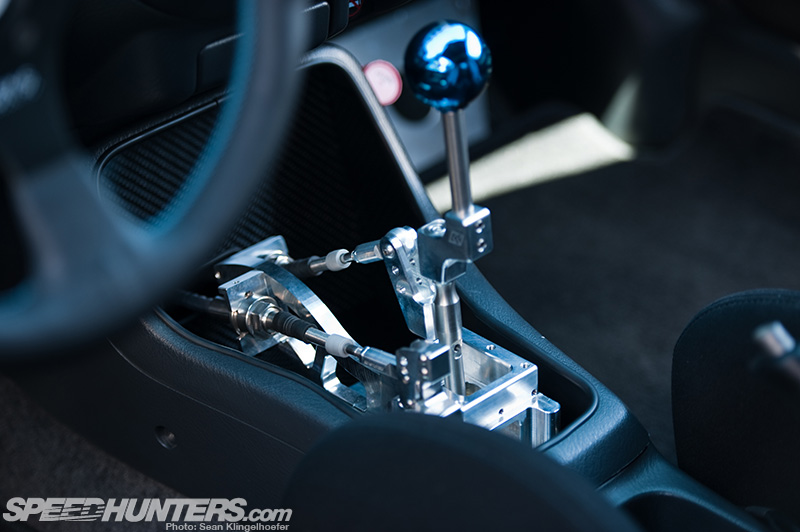 Inside the car Chris showed me his latest improvement, a K-Tuned shifter. However he wasn't pleased with how the center console looked once installed, so in true ATS fashion he took it upon himself to construct a carbon backing plate to finish it off in an elegant manner.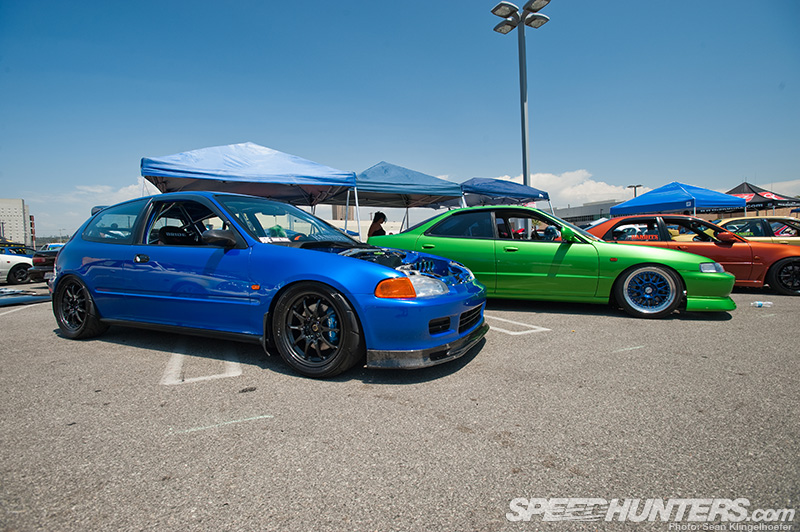 But it isn't just ATS Garage that are doing big things in Norcal. Another group to watch are going by the name Bandits.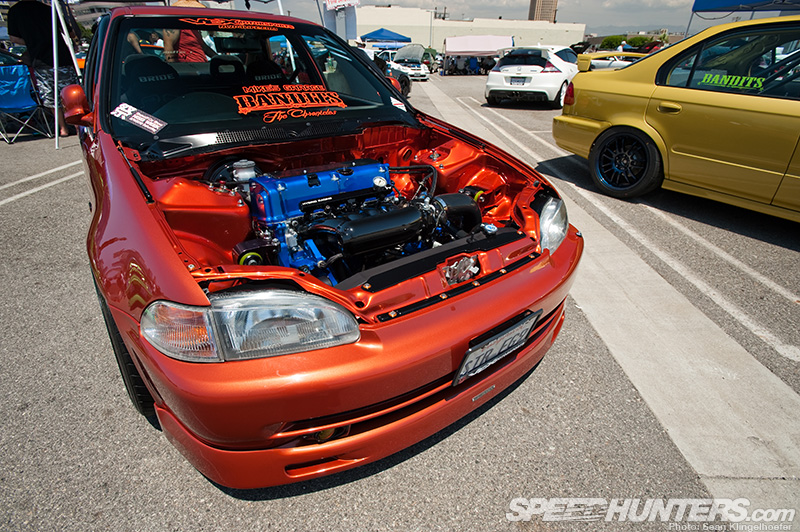 Mike Trevino's Civic really caught my eye at Wekfest earlier in the year when it came out with a bright color change and super-tidy K swap. This is another car taking attention to detail to the next level and is quite flashy but somehow still done in rather good taste.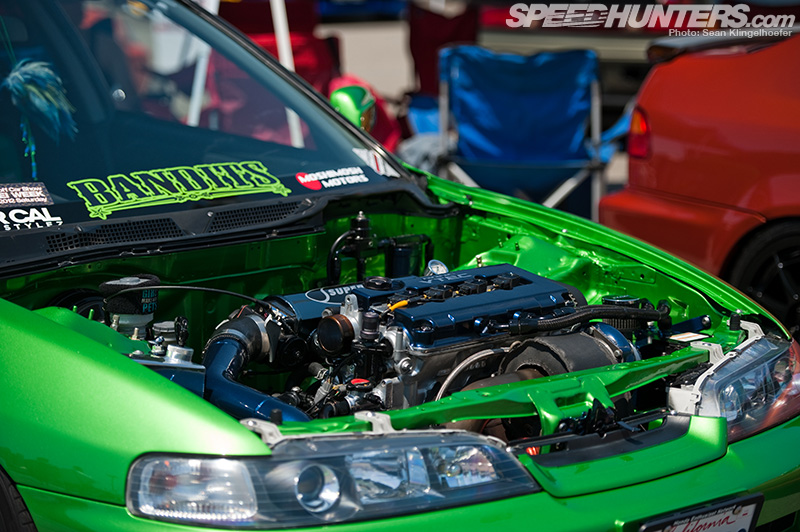 Perhaps Jeremy Duarte helped to serve as a little bit of inspiration. This Integra sedan has been around for a while but is constantly changing. I'm not sure a B-series turbo has ever looked quite so good.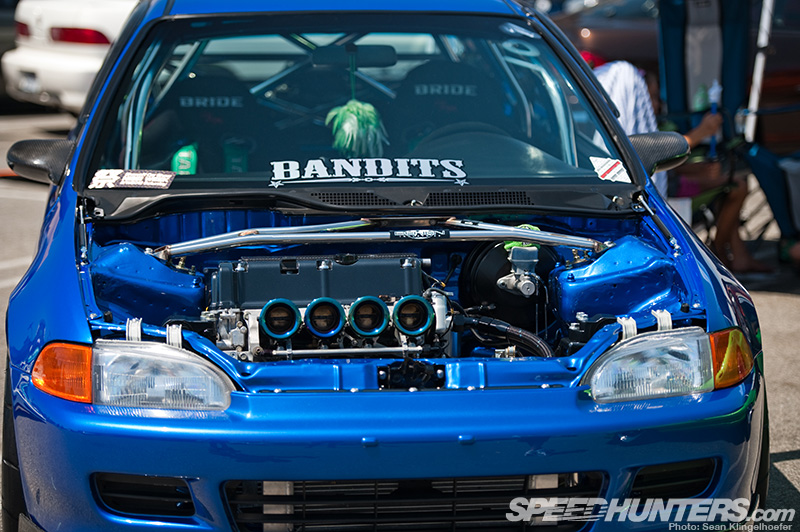 Then again I am quite partial to N/A! I've had my eye on Jimmy Neitte's Civic for a while and would love to do a full feature on it someday. Regardless I'm a sucker for ITBs, even if they are impractical, and this love is only amplified by rainbow velocity stacks.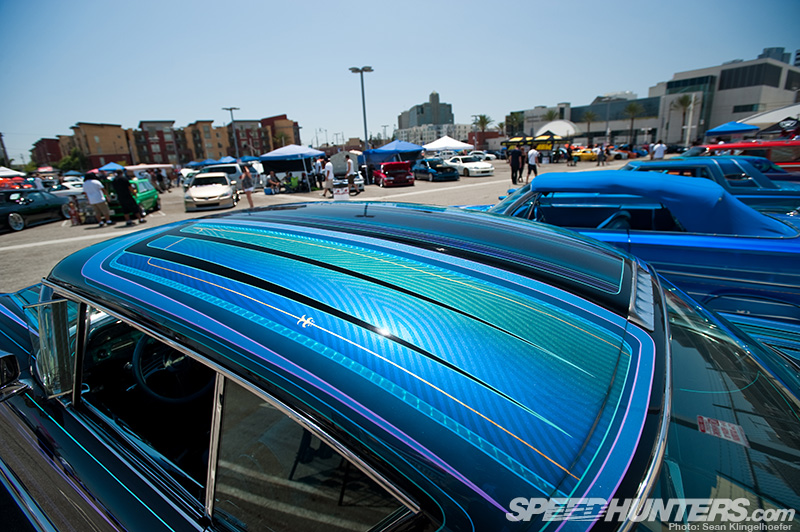 Speaking of rainbows, Hondas weren't the only cars at Nisei sporting some flashy colors. In fact the best paint jobs I saw all weekend weren't on a Honda, or any Japanese car for that matter…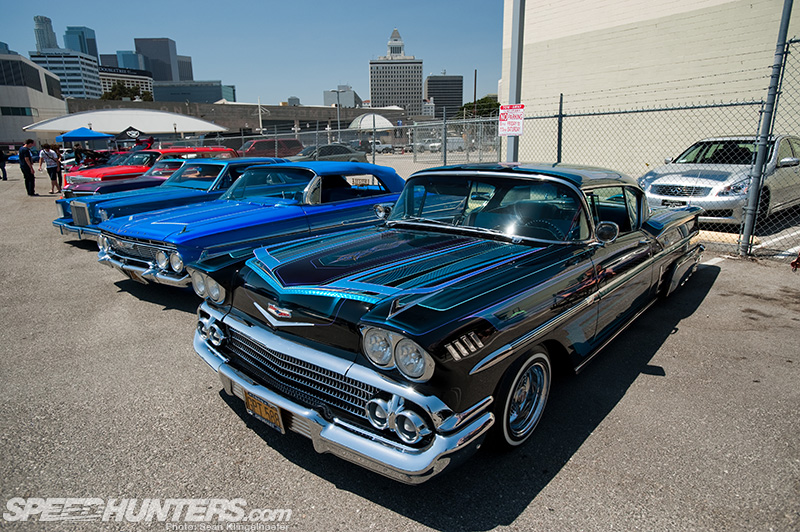 But rather some good old American steel. The Honda scene, particularly in Los Angeles, has taken inspiration from Lowriders for some time now so it was a cool surprise to see some lolos from Lifestyle CC in the lot.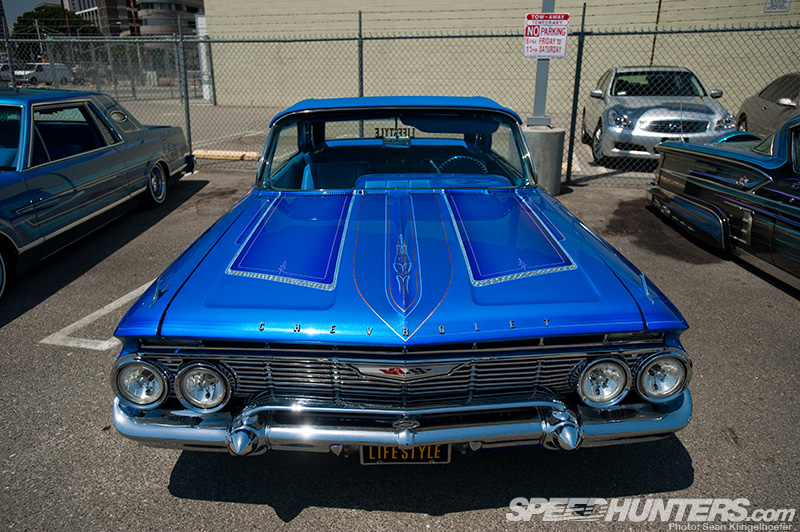 When it comes to the details, these guys are on another level. It was a reminder that lowriding is a segment of car culture I'm quite interested in exploring.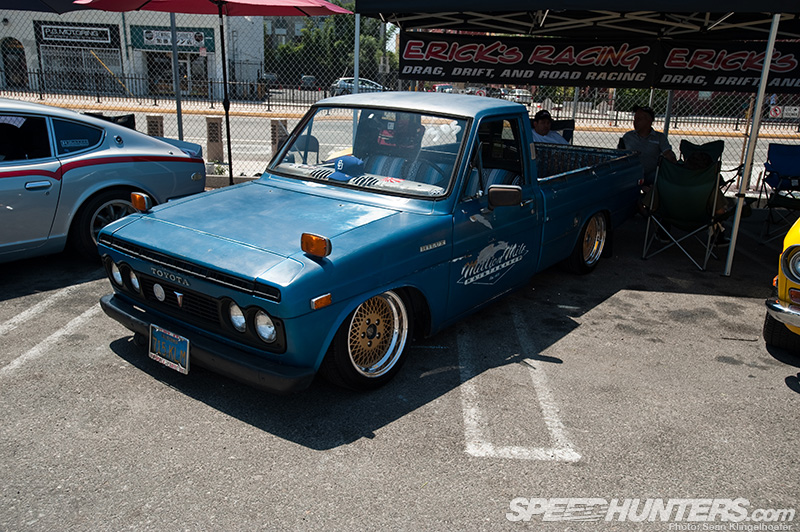 Contrary to it's name, this Toyota Hilux was also quite low. You may remember seeing this truck at JCCS, but I never get sick of it. Though it's not a show car in a traditional sense, it's undeniably cool.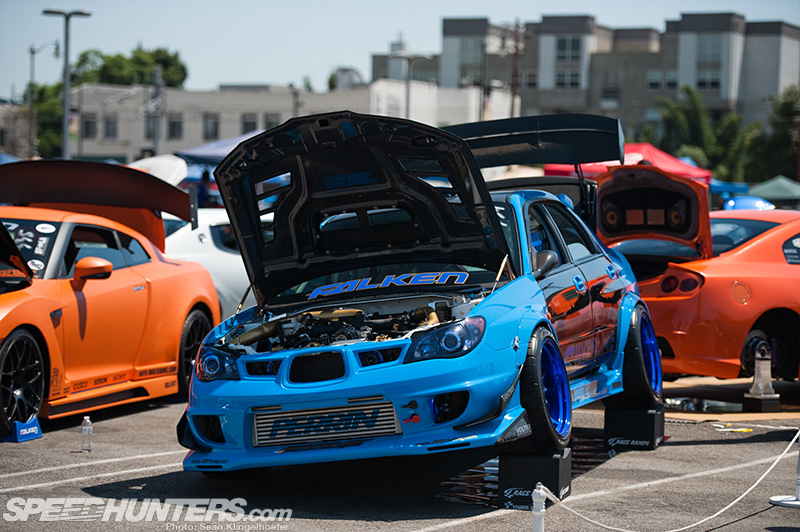 Of course Nisei did have your typical throw-lots-of-money-and-shiny-bits-at-it show cars, some considerably more interesting than others. But on the whole I'd say that the mirror-under-the-car-and-faux-cotton-ball-burnout days are over.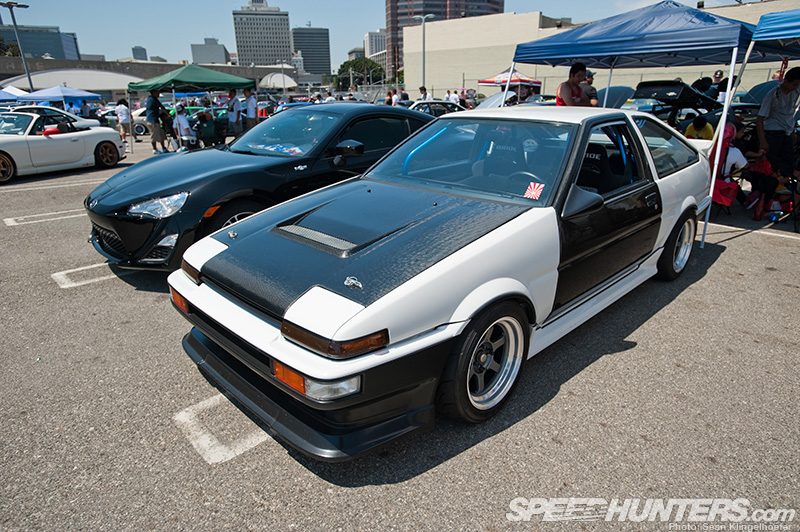 So what is around the corner for Japanese car shows? Of that I cannot be certain, but I will say I like looking to the past for inspiration. On that note I'll leave you with this shot of Brandon Leung's AE86. More to come tomorrow…
More Japanese event coverage stories on Speedhunters 
More stories by Sean Klingelhoefer on Speedhunters
-Sean
---
---
---