I can't possibly imagine what your average Joe might think when being confronted with a shakotan ride from Japan. For me these sort of cars are as much as part of Japanese car culture as drifting is, but I'm sure a lot of people out there, including enthusiasts, might scratch their heads in confusion when seeing perfectly good vintage rides transformed into a mix of pseudo race cars and something out of a manga. These creations, synonymous with yanki culture, can pretty much be defined as the roots of the whole tuning movement in Japan. Sure people fiddled around with their cars before the seventies but what the whole kaido racer, zokusha and shakotan movements are for many, the real birth of car customization.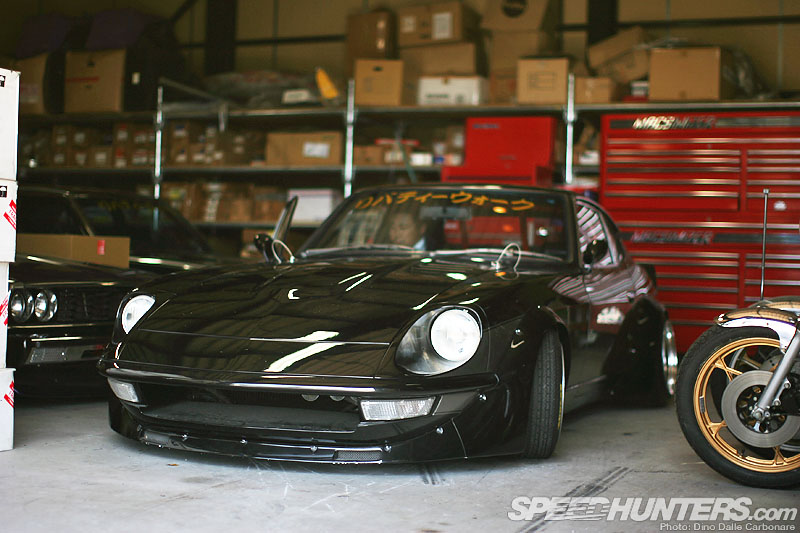 It's getting ever so difficult coming across these sorts of cars on the street, unless you happen to run into a gathering at a highway rest area, always popular meeting spots. So when I was lucky enough to spend some time with Kato-san's personal Liberty Walk shakotan collection a few moths back when I featured the C130 Laurel, there was a second car that caught my eye. Sitting in the middle of the dark garage among bosozoku bikes and other crazy rides, was a very special looking…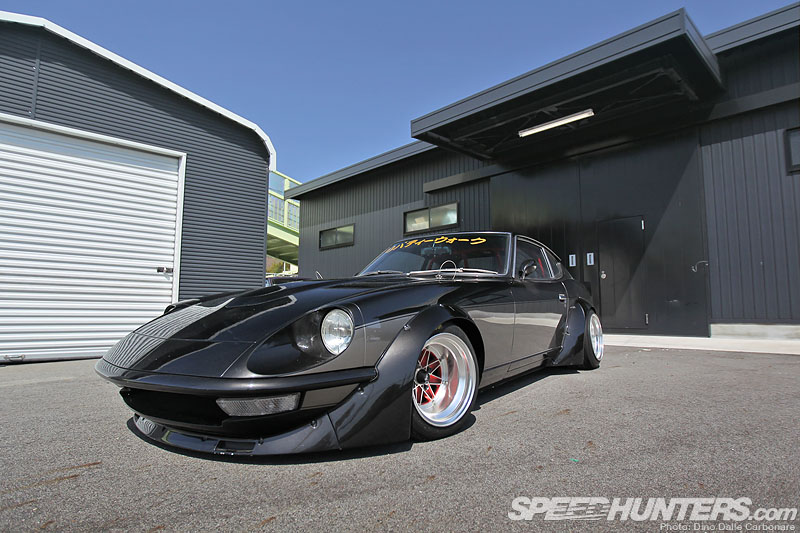 …S30 Fairlady Z. Slammed right on its bodywork it oozed presence, kind of resembling a shark waiting for its prey. I just had to take a closer look.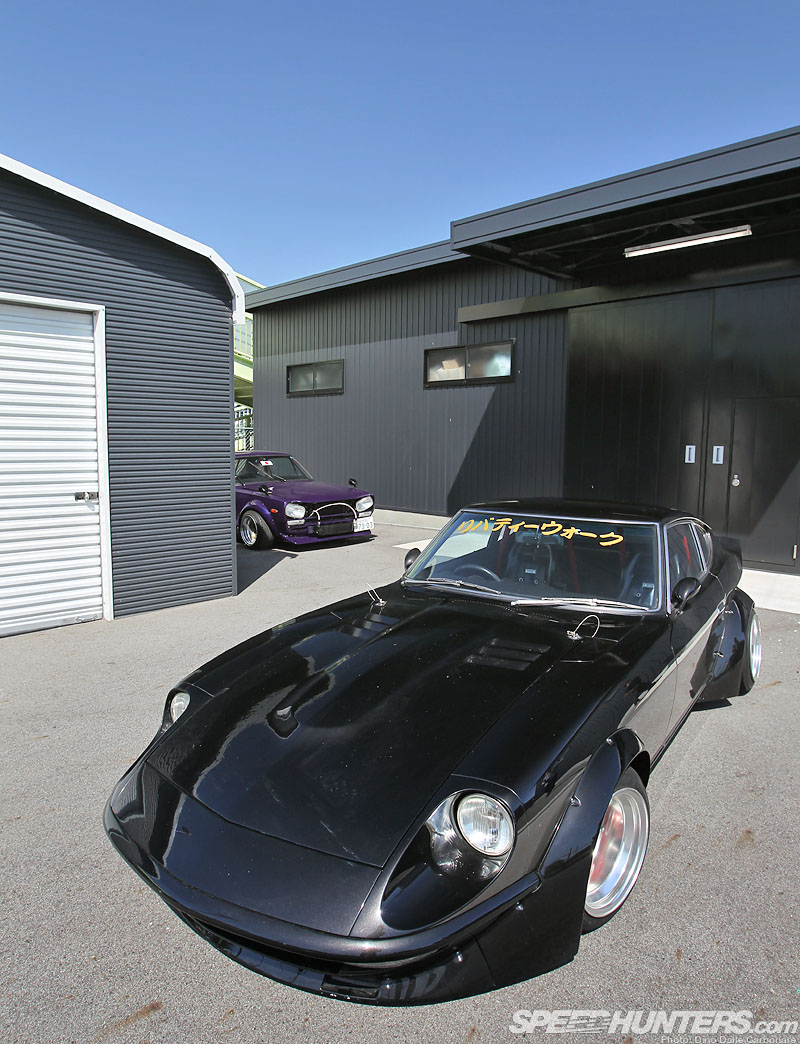 Out of all the S30 Fairlady Zs that I've shot, and there have been quite a few, I can safely say that this is the wildest one. Just like every shakotan car it was built to look aggressive…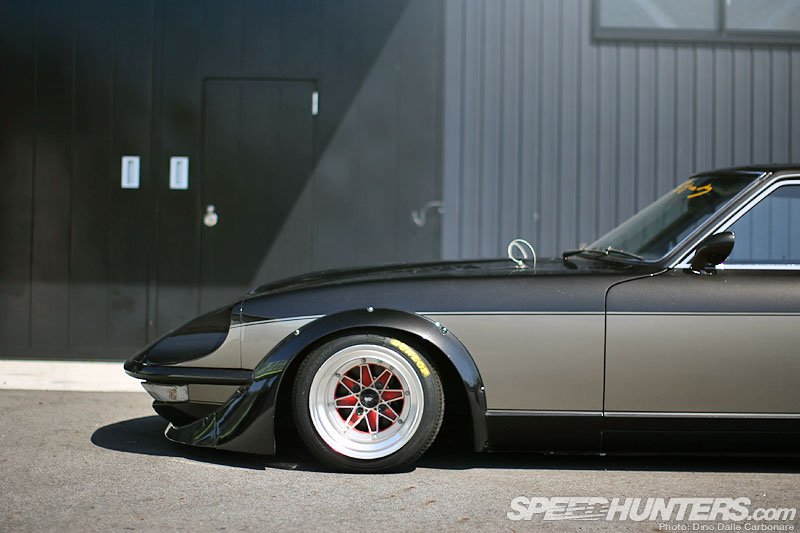 …starting off with that G-nose at the front and of course the works-inspired bolted-on overfenders that integrate into the lip spoiler.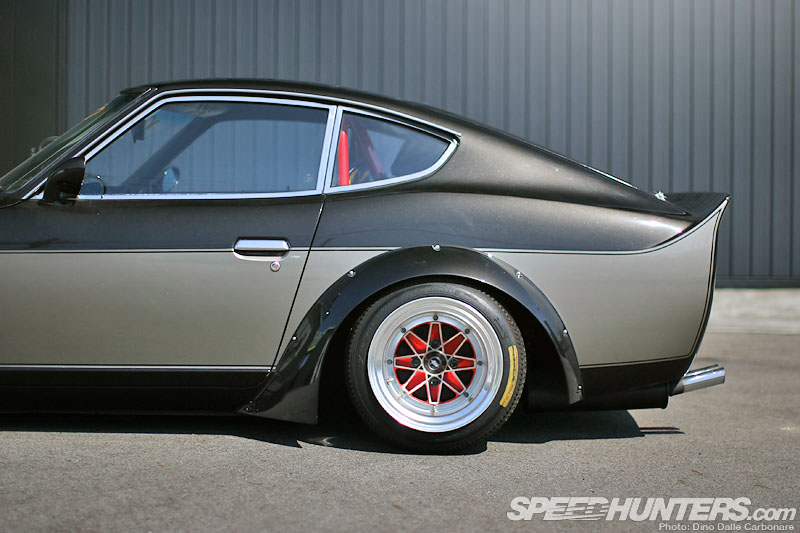 The aggression continues with the rear overfenders but then things get wilder with a very evident kaido racer element…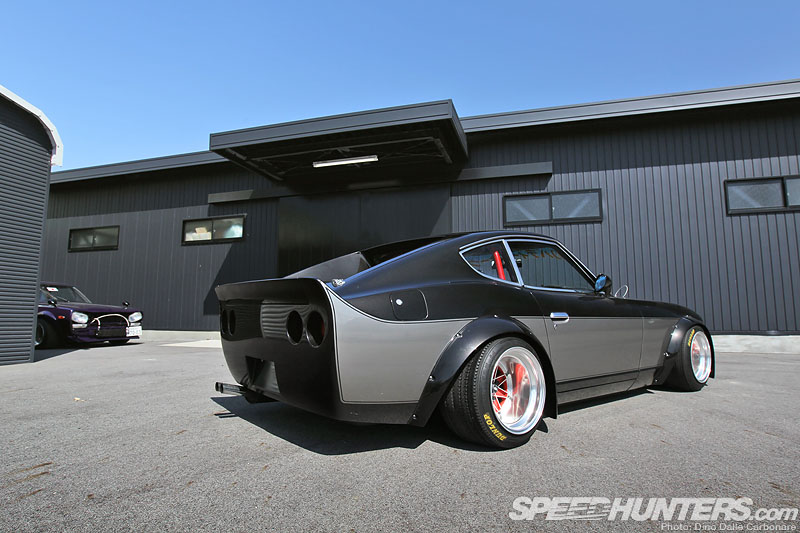 …the rear end conversion. Sporting a smoothed out rear bumper and taillight section this S30 also runs an Airone R-gate which replaces the stock hatch…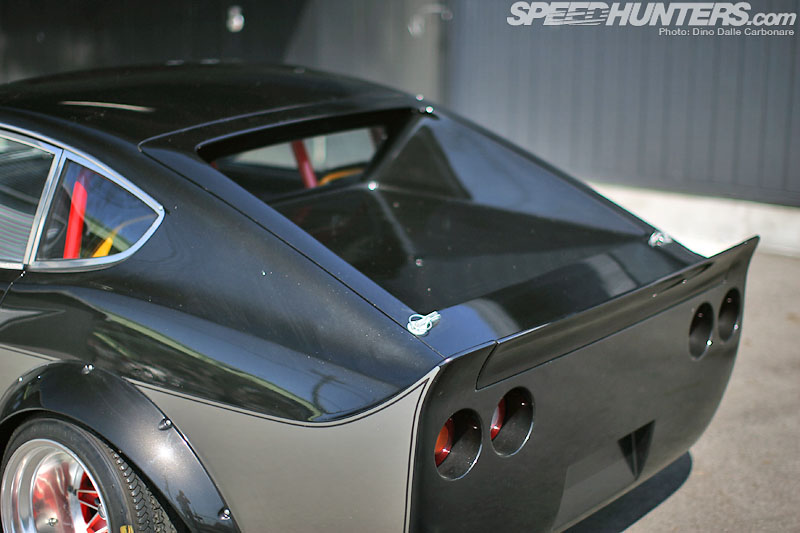 …with a redesigned FRP item, giving it a true oldschool street-racer look. Like with all these sort of cars, wheel choice is critical, not only do the rims have to be vintage but sport the right sort of lip, offset and of course tire fitment.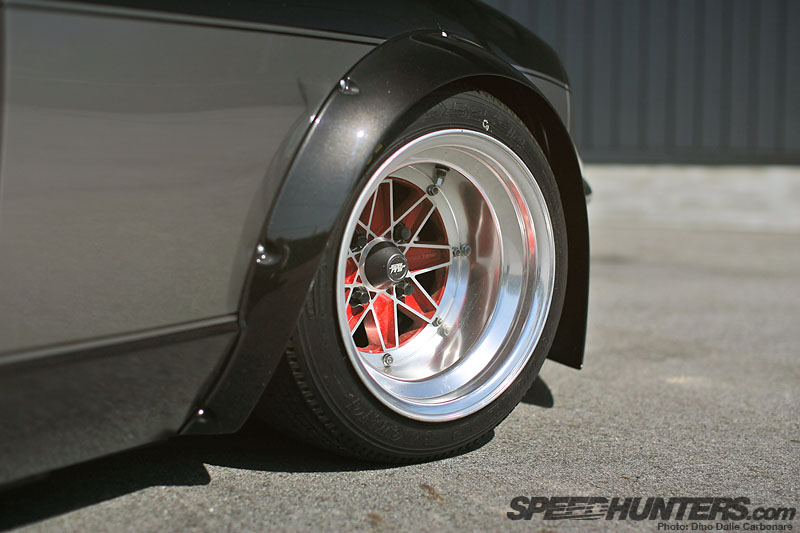 Kato-san went for a set of SSR Jilba Racing rims with highlighted red centers…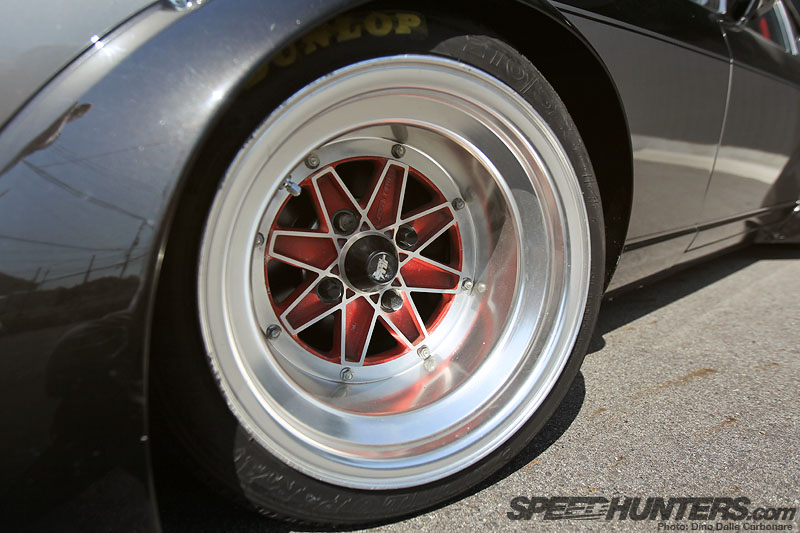 …strating with 9Jx14″ up front.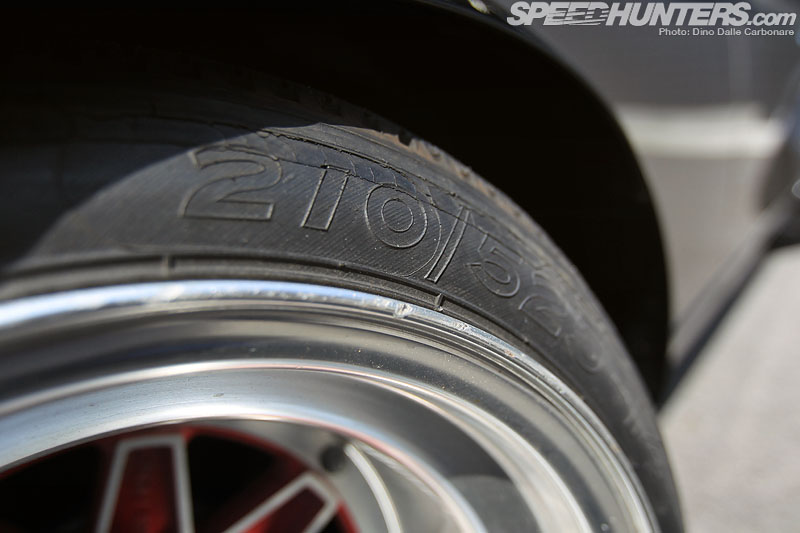 One of the coolest things about this car for me was the old Dunlop Racing CR88 race tires, a little detail that further emphasizes that race feel the car tries to go for. Like the tread pattern the sizes are pure race-spec, 210/525-14 fore…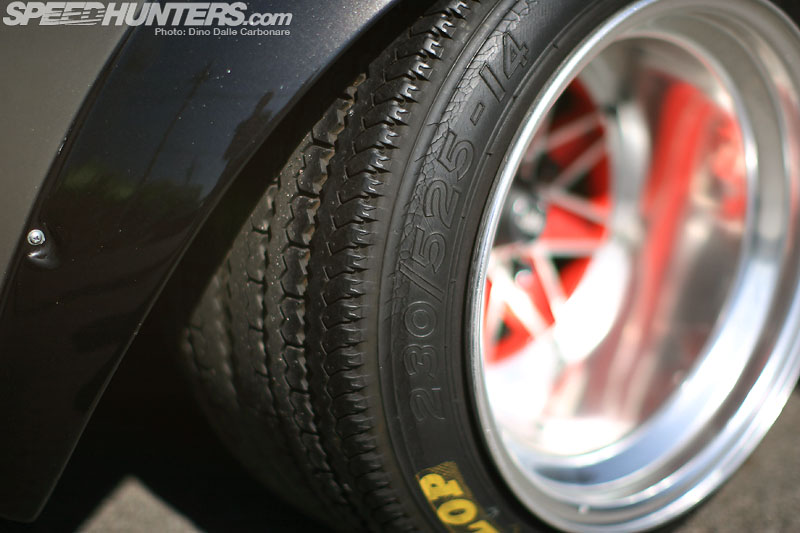 …and 230/525-14 aft, which have been stretched…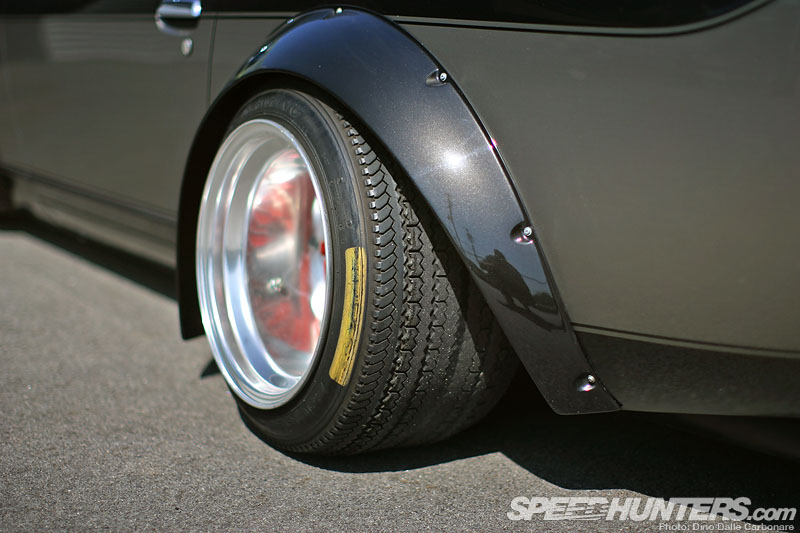 …over the 11J wide 14″ rims. Awesomeness right there!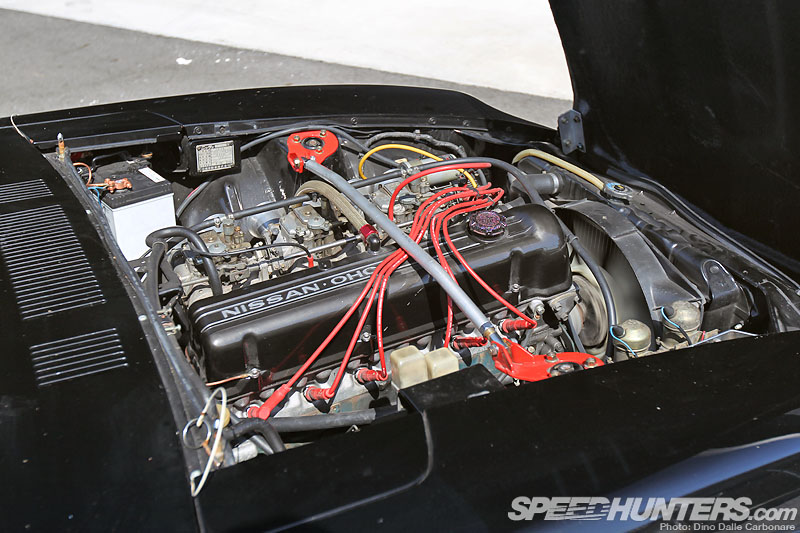 Under the custom vented hood lies the stock, single overhead cam L24 motor, lightly tuned for a little more performance and response thanks to a select number of upgrades, starting off with the exhaust manifold.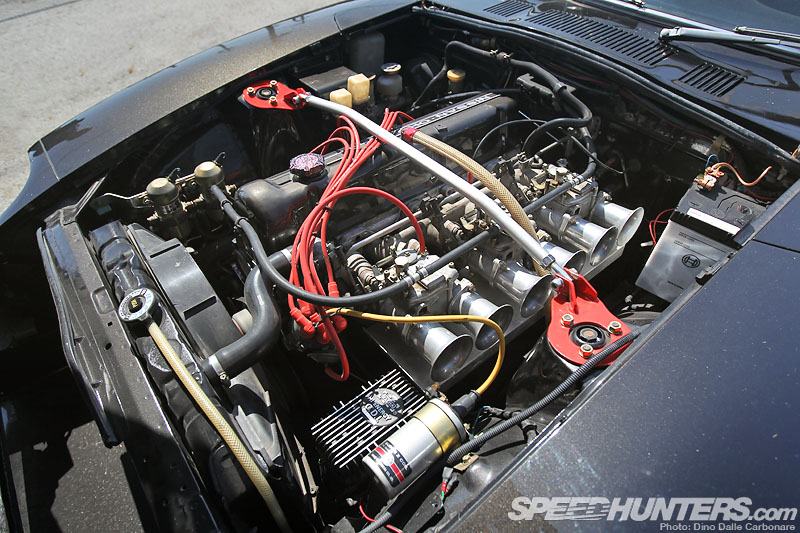 The intake gets a set of competition Mikuni carburetors…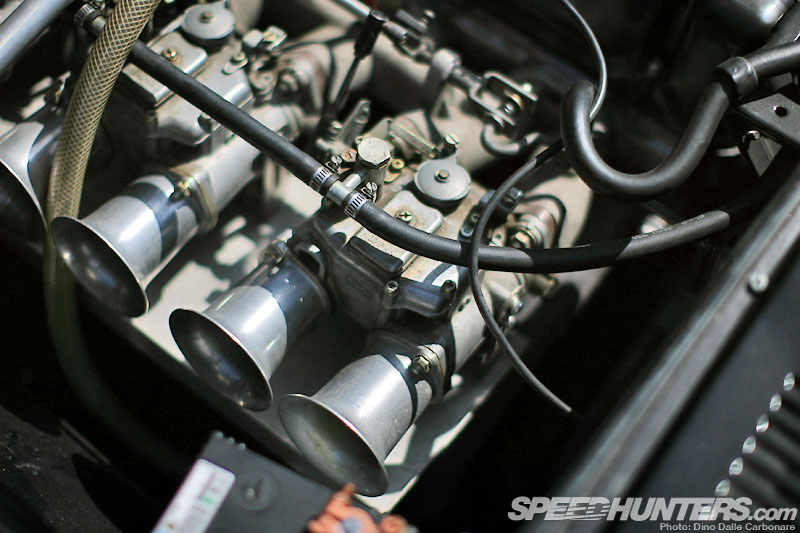 …that help liberate more horsepower and let the engine breathe more freely thanks to the aluminum velocity stacks.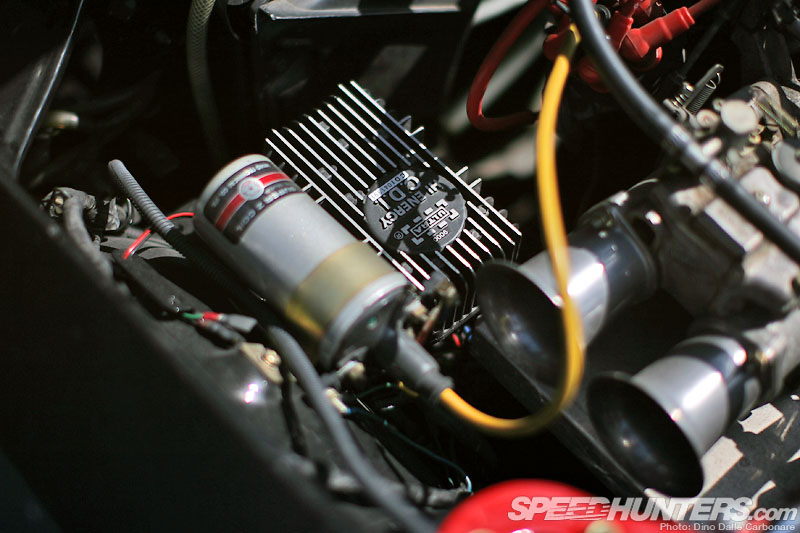 An Ultra Hi-Energy ignition booster along with Ultra ignition leads supply the best and strongest spark at all engine revolutions, a good way of getting a smooth power delivery.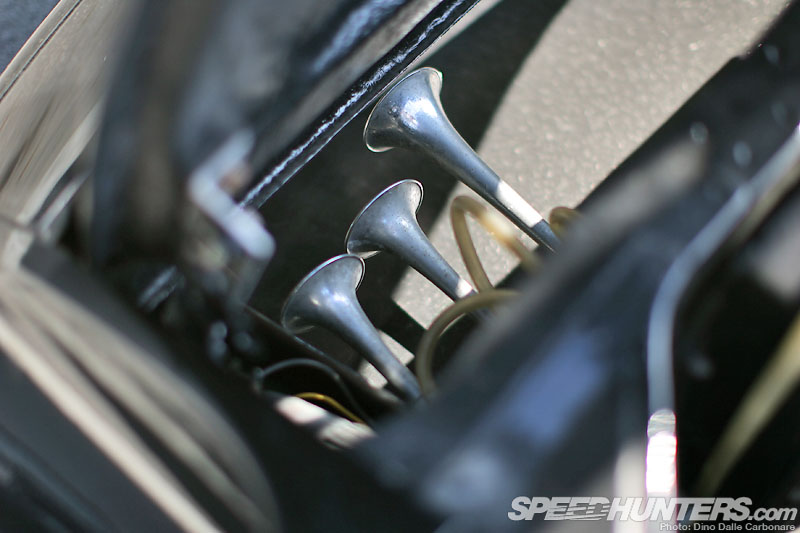 And here is a must-have bosozoku addition, a set of air horns, hidden away behind the grille!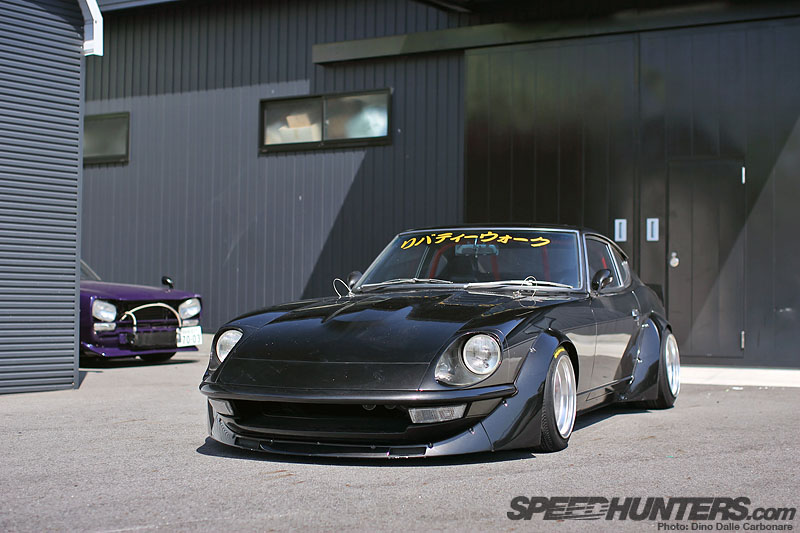 The Liberty Walk written in katakana on the windscreen is a thing that Kato-san reserves only for his personal shakotan rides!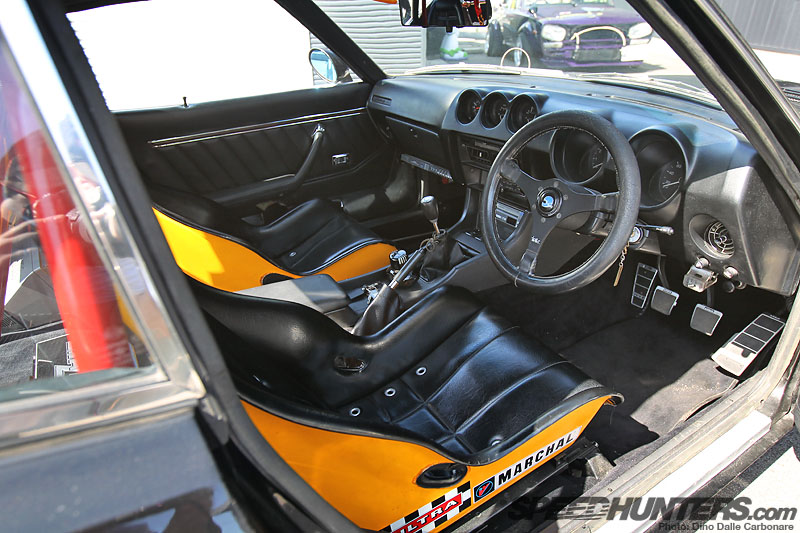 Interior upgrades have been kept simple and very period correct…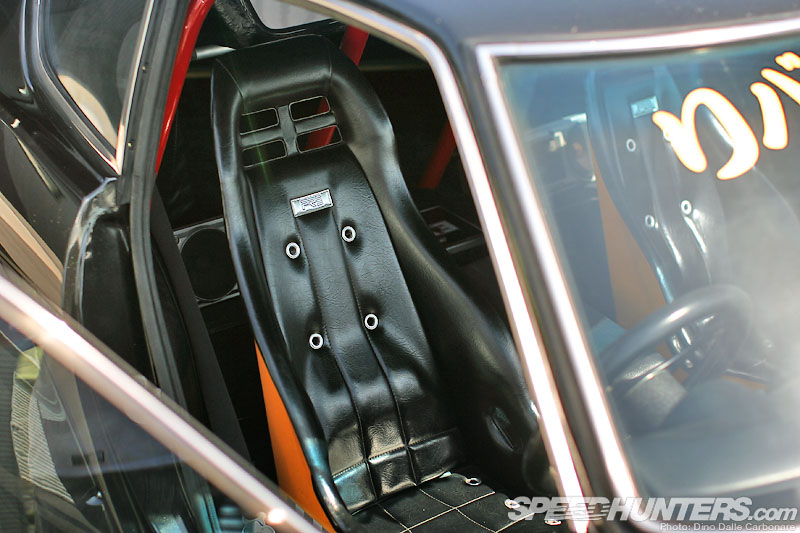 …starting off with the PRE leather bucket seats…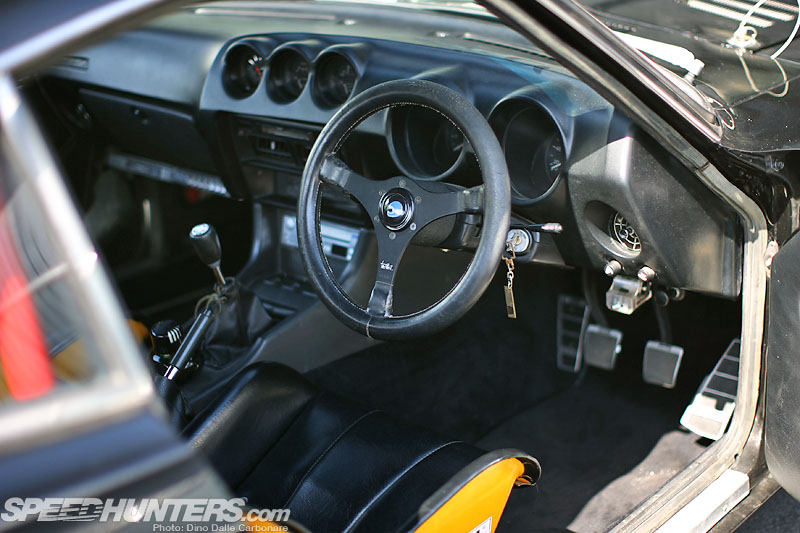 …and a very old looking Momo steering wheel. The stock pedals have been fitted with some modern clip-ons to that it's a bit easier to perform those heel-and-toe downshifts.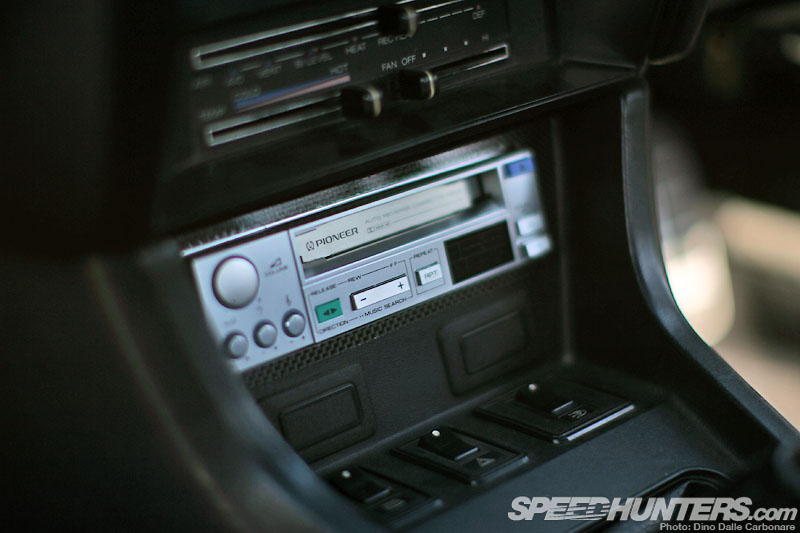 I quite liked how Kato-san fitted an old eighties tape deck…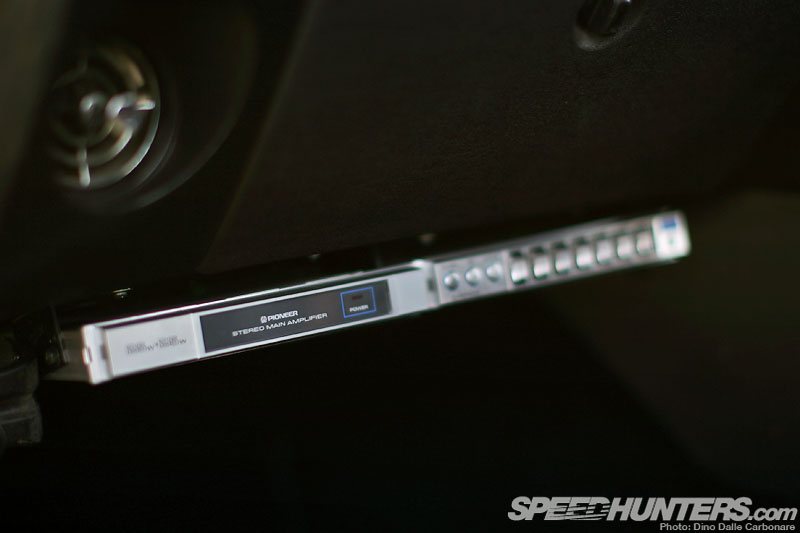 …along with a separate amplifier and equalizer.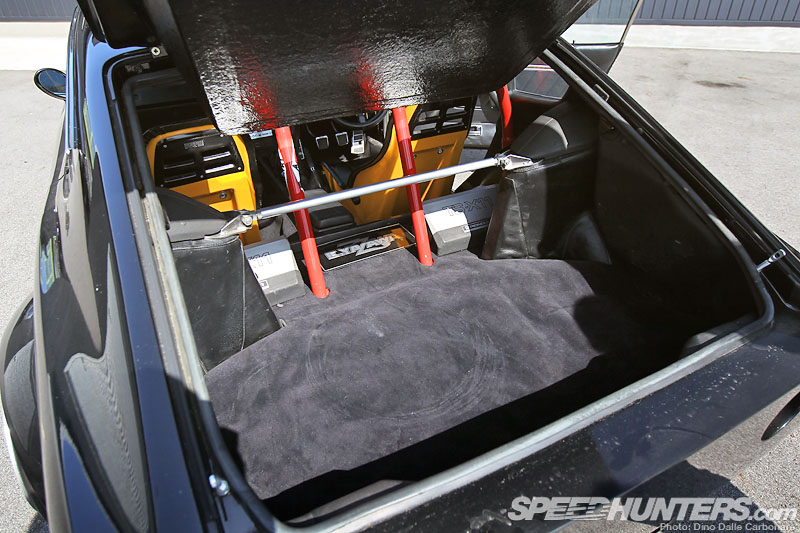 Open the rear FRP hatch and you can see the Pioneer TS-X11, must have box-speakers for any shakotan ride! To stiffen up the shell a small half-roll cage was also fitted, along with front and rear strut tower braces.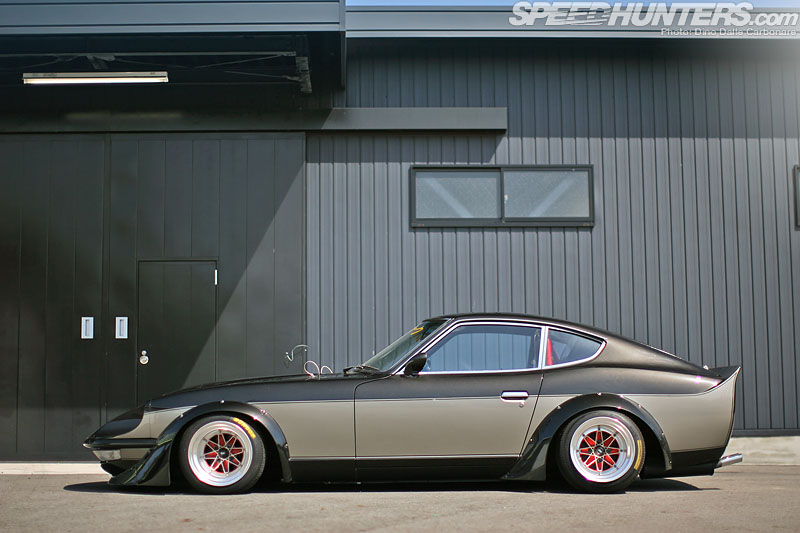 You either love them or hate them, understand them or dismiss them, but there is nothing quite so Japanese like a shakotan car, especially one as extreme as this S30. What do you guys think? Form over function, or the perfect mix of both?
Specs:
Engine: Mikuni carbs, performance exhaust manifolds, Ultra Hi-Energy CDI ignition, Wako Super Z coil, Ultra ignition leads, custom exhaust system with twin tails, air horns
Suspension: Unknown dampers, front & rear strut tower bars
Wheels/Tires: SSR Jilba Racing 10Jx14″ (front), 9Jx14″ (rear), Dunlop Racing CR88 210/525-14 (front), 230/525-14 (rear)
Exterior: G-nose, Works integrated front lip spoiler, Works overfenders, Airone R-Gate, custom rear end conversion
Interior: Half roll-cage, PRE leather bucket seats, Momo steering wheel, Pioneer tape deck, Pioneer power amplifier, Pioneer equalizer, Pioneer TS-X11 speakers
Liberty Walk Features on Speedhunters
-Dino Dalle Carbonare