With so many events to cover on the Speedhunters calendar, a well organised meet is a welcome break in pace. The day before Ford Fair, I made my way across the M4 in the UK towards Ace Cafe near Wembley for the second annual Retro Toyota Gathering. Ace Cafe which originally opened in the late 1930s became a hub for motorcycle enthusiasts after the war and today remains one of the most important automotive sites in the UK. The history of the venue is pretty much unrivalled.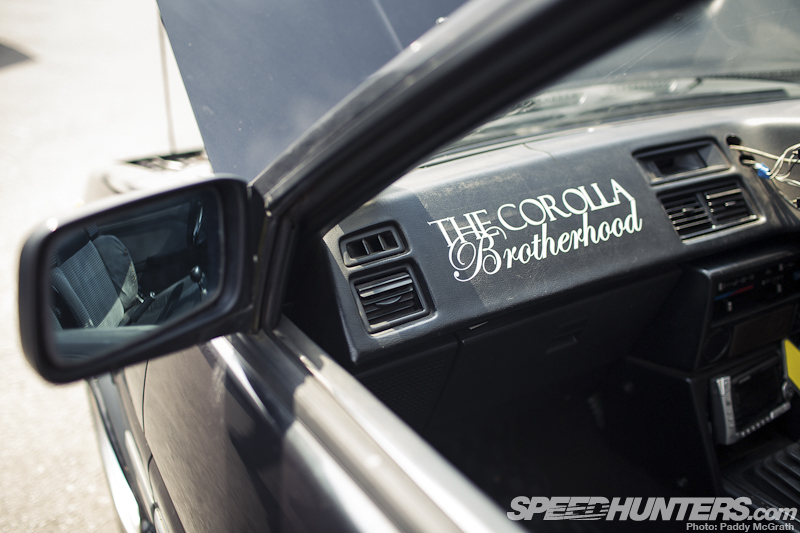 The event was organised by Chay from the Corolla Brotherhood, along with help from Sweet Oblivion, Eight-Six.co.uk & OISHI. The purpose of the event wasn't just to bring some retro 'yotas together, it was also to raise funds for the FSID, a charity devoted to the study of infant death. A noble cause indeed.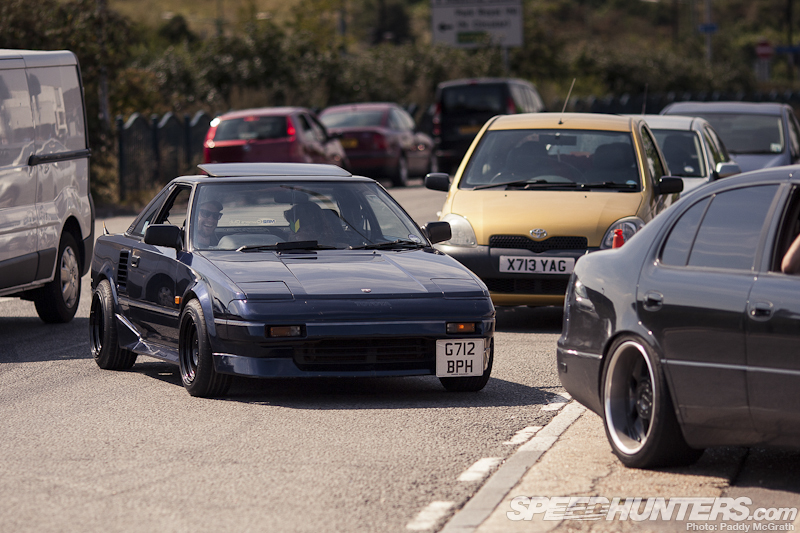 From around 11AM, cars began pulling into the car park at Ace …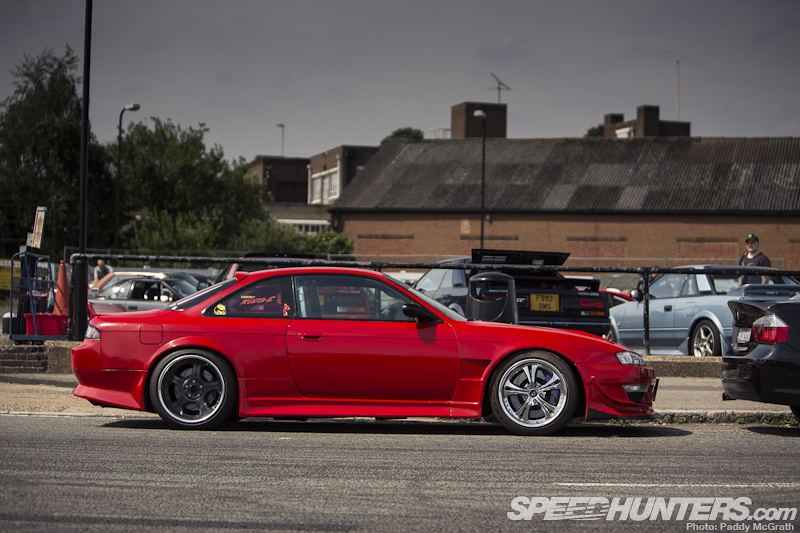 … which was reserved for retro Toyotas only. That meant the rest of us had to park outside on the street, where I was joined by this rather fetching Blister kitted S14.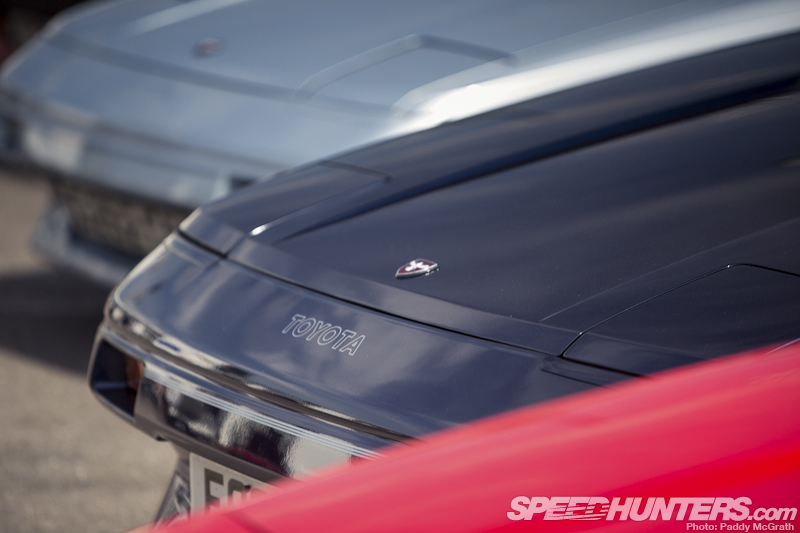 Within the boundaries of Ace, the cars continued rolling in – the vast majority being either '86s or MKI MR2s.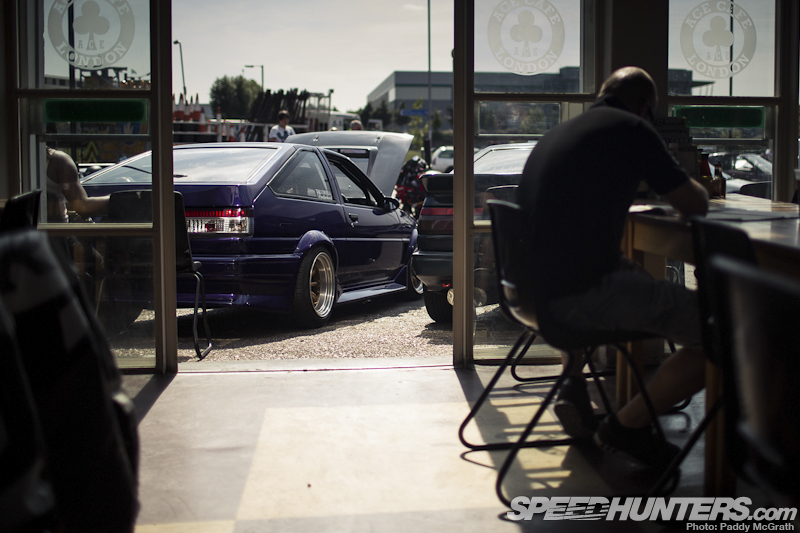 Ace is pretty much the perfect location for a meet in London – you can't beat being able to enjoy a chilled drink with these parked just outside the door.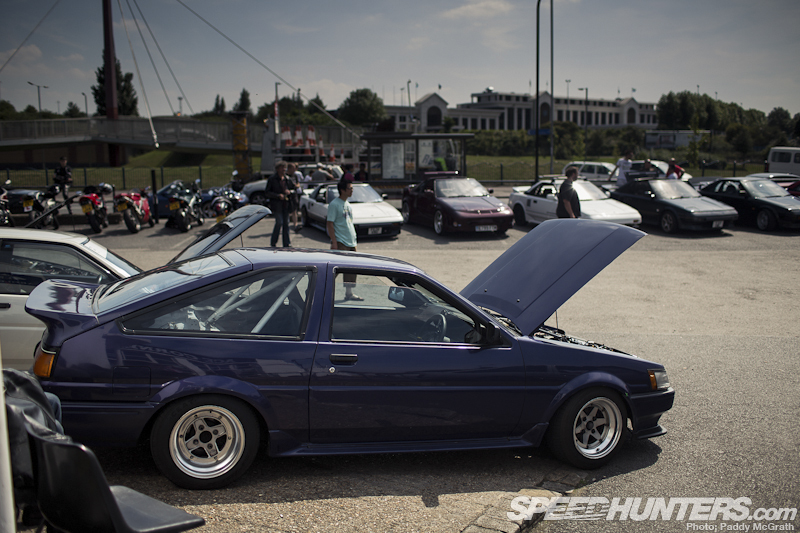 I've always been a long time lover of the '86 so it was great to spend some time admiring some of the UK's best.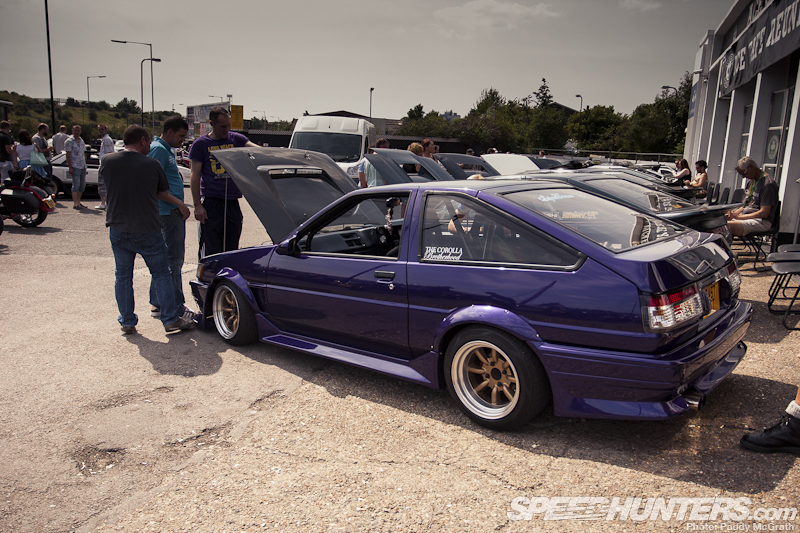 This purple 16 valve example was a personal highlight.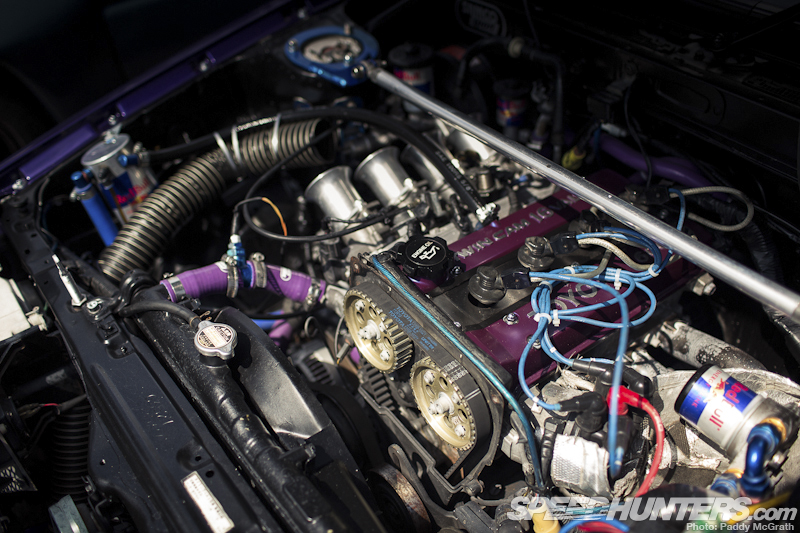 I think all but one of the '86 cars present – more on that one later – were running the 4A-GE in various stages of tune.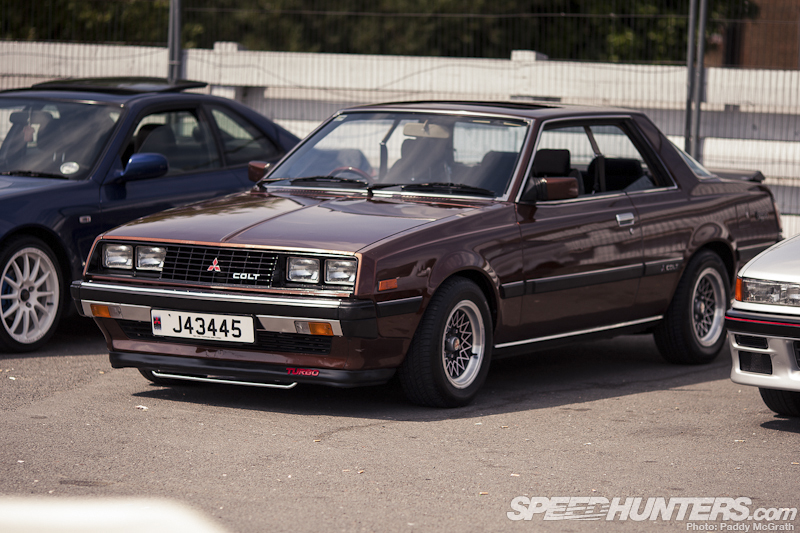 As it turned out, some non-Toyotas had made their way inside, but I'm sort of glad that this Colt did.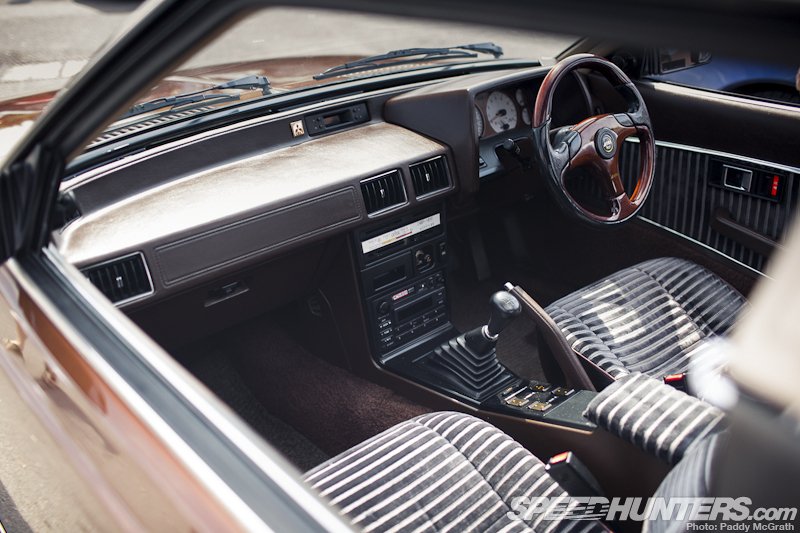 I've never seen a Sapporo Turbo before in the metal before. Actually, if I'm honest I sort of forgot that they even existed but wow!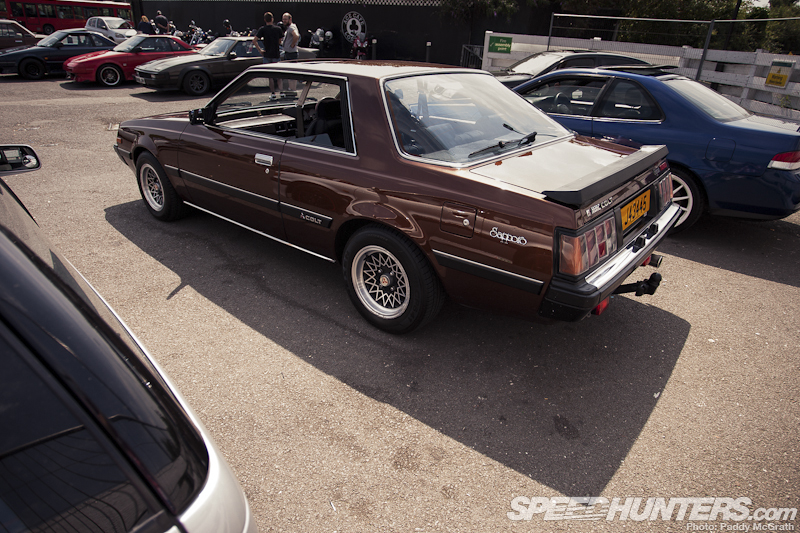 It was a stunning example of one and I hope the owner is proud. For those of you in the know, are they that rare or have they just been forgotten about?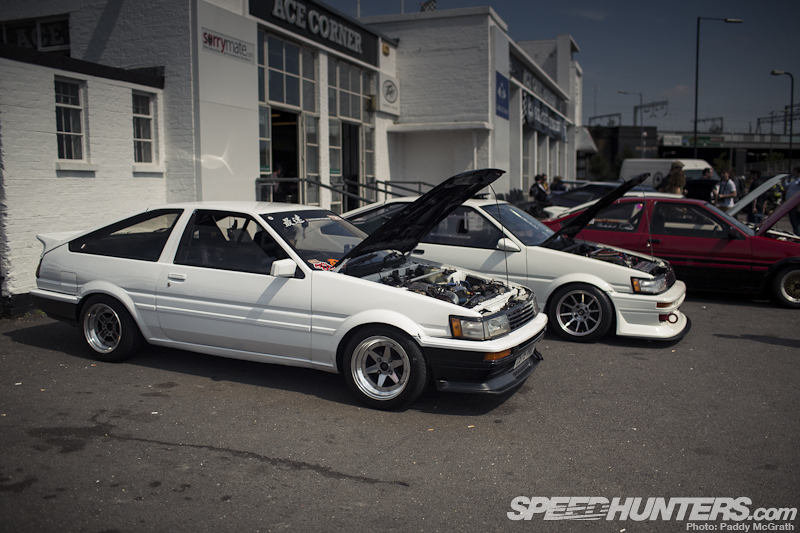 Sorry, I got distracted there so back to the Toyotas!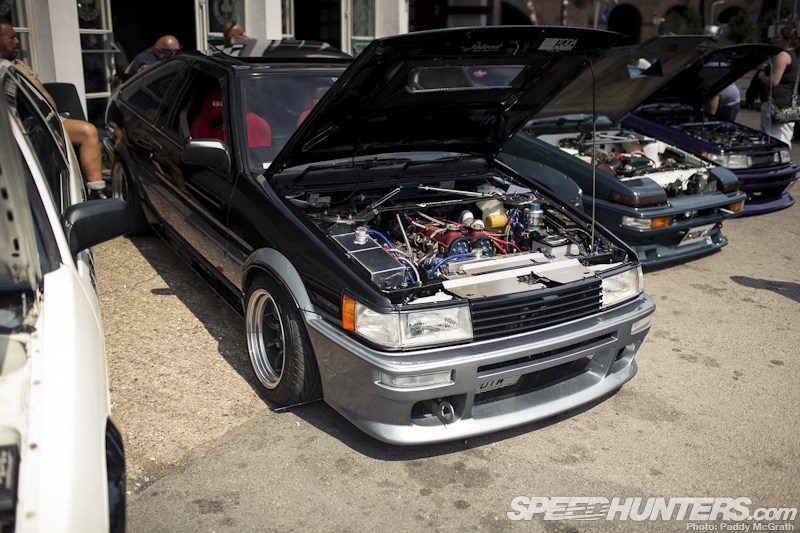 If this is the car I think it is – and I'm pretty certain it is, although I'll have to check with Dino to confirm – then I never thought I'd see the day it was in the UK. (EDIT TO ADD – Just checked and confirmed that it's the Newera Imports AE86)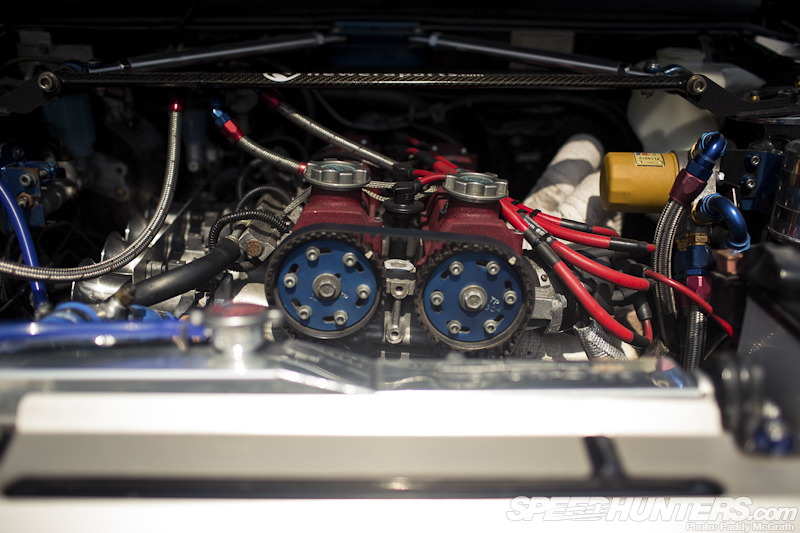 You should check out Dino's feature from 2009 for a full run down on what is, in my opinion, the greatest street '86 ever built. I LOVE this car.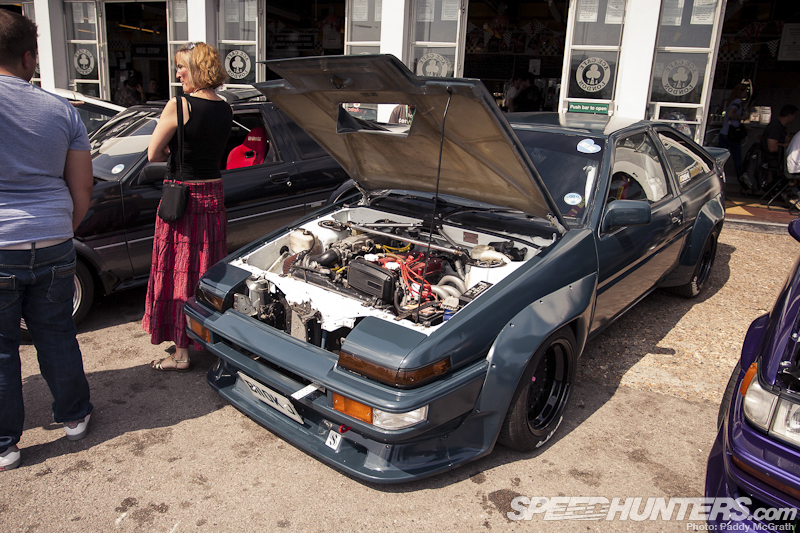 Organiser Chay's N2 kitted '86 featured in Mike's 'Eighty Six 86s' story on 86 day a little time ago.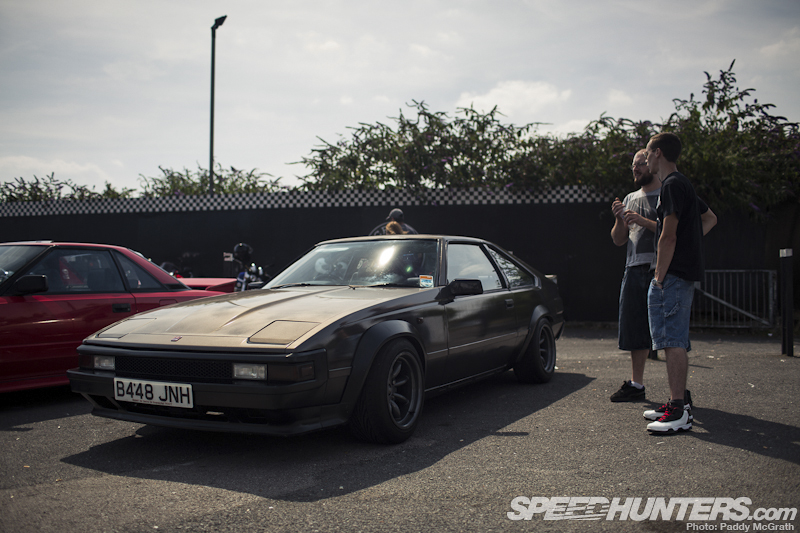 Another car I haven't seen in a very long time – curse you recession – is the Celica Supra.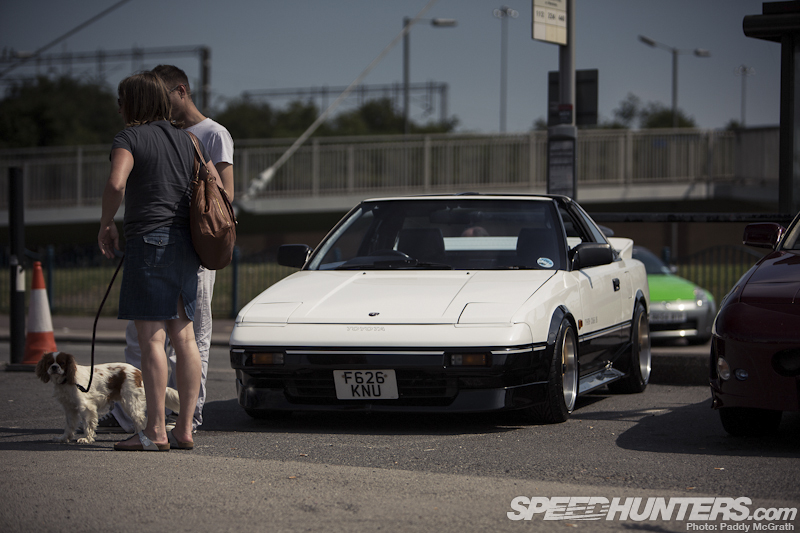 The humble MKI MR2 was well represented. The AW11 is a car I never really got to know as they were pretty rare in these parts when I was growing up. The second generation was a lot more popular but was commonly referred to as a 'widow maker' in our year round winter conditions.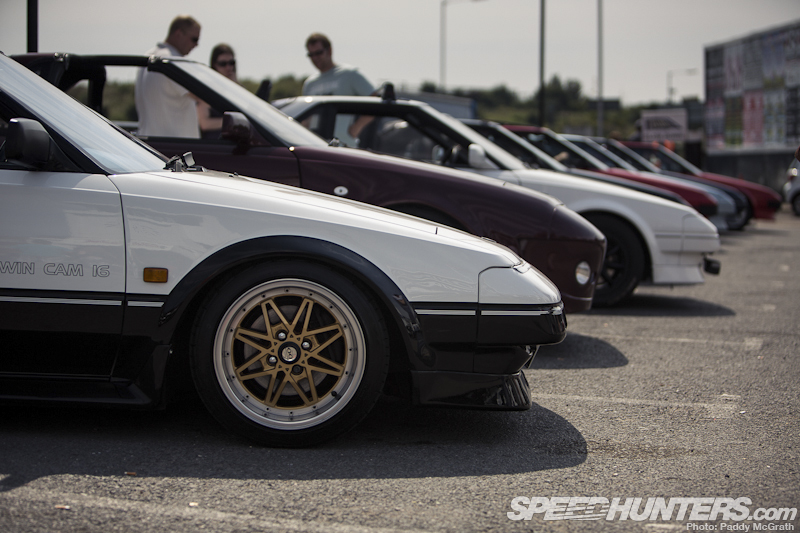 This white over black example obviously draws on its relationship with the AE86, and rather successfully too.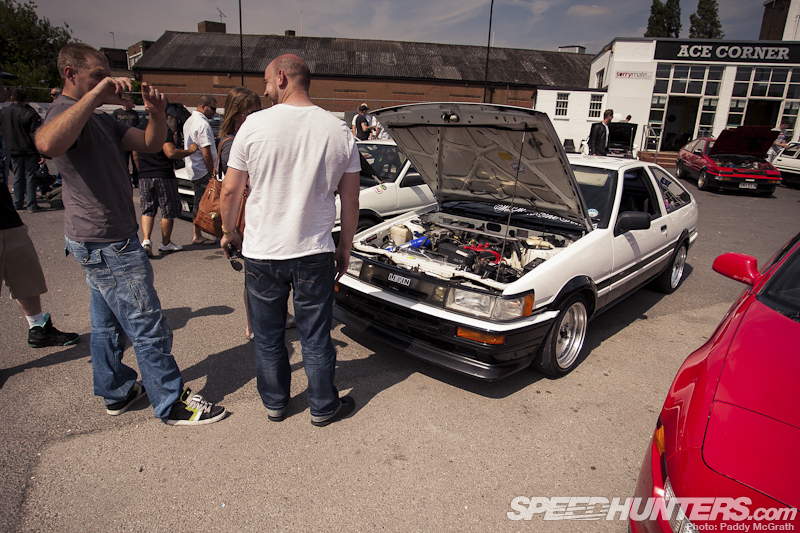 Ah, the international sign language of an automotive conversation.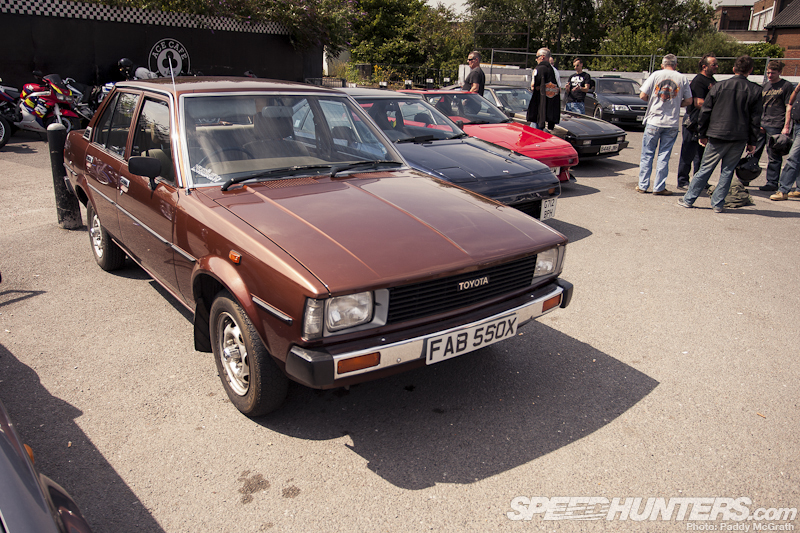 The last time I seen a Corolla DX, D-Mac was drifting it around a karting track in County Tipperary nearly ten years ago. Mind you, his wasn't this clean.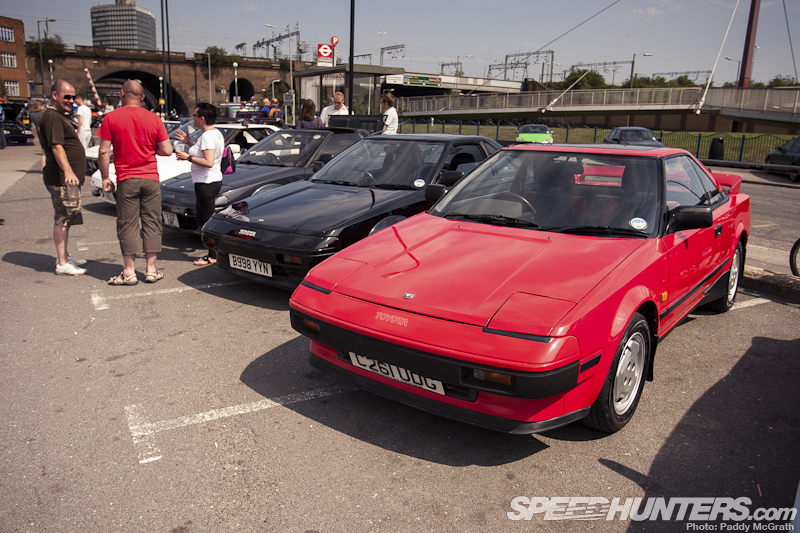 As time rolled on, the cars stopped arriving but the atmosphere began really chill out.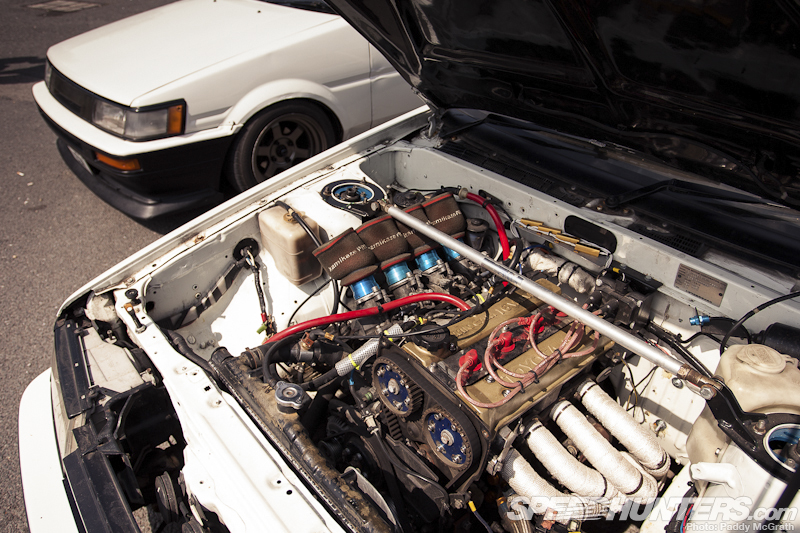 With such a small venue and a collection of cars that focused on quality over quantity, there aren't really any better ways to spend an afternoon.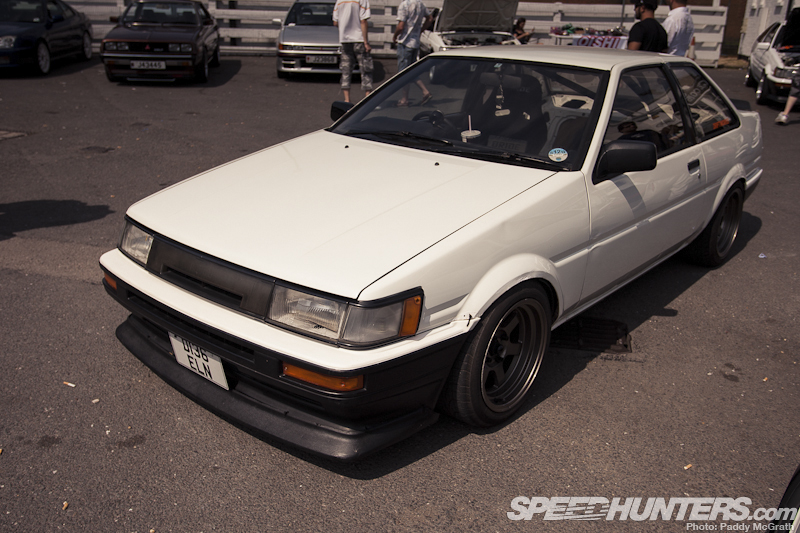 I particularly love the less is more approach enjoyed by many AE86 owners, a perfect case of K.I.S.S.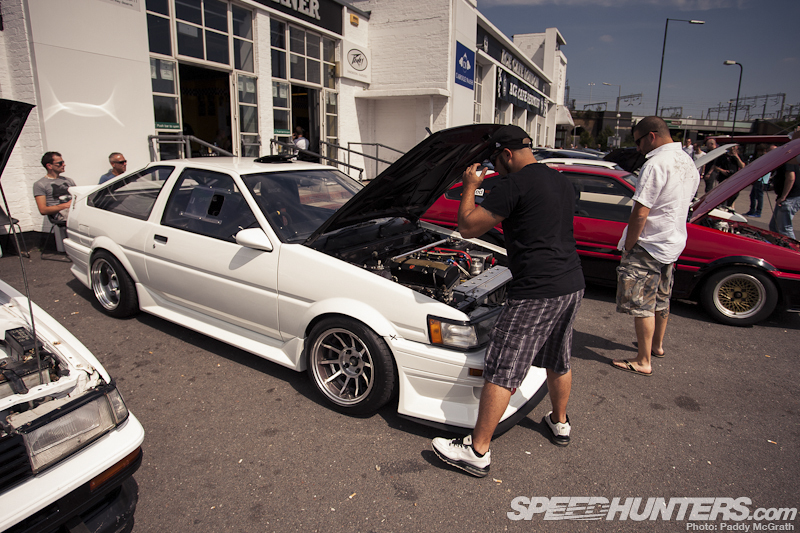 Although going over the top sometimes has its benefits too.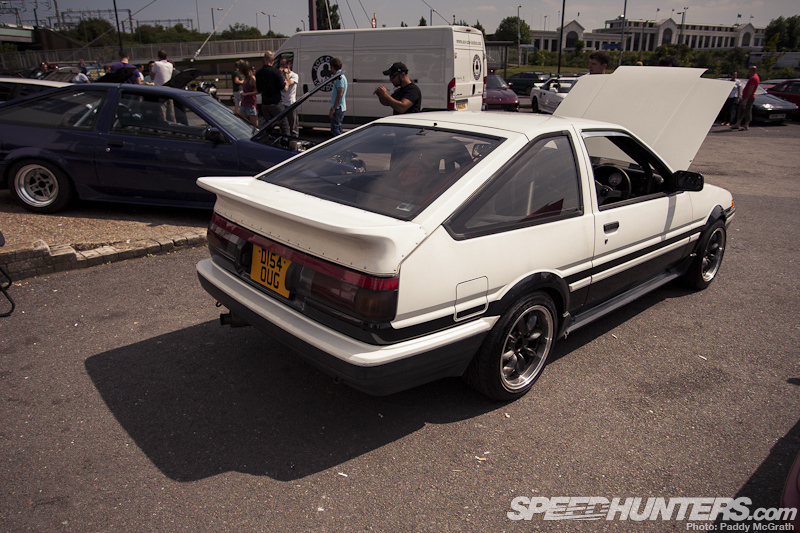 It's interesting to see that most of the UK AE86 owners seem to prefer the Japanese import models and styles over their own native 'GT Coupe' version.  I've enjoyed many a conversation discussing how polarized the AE86 community in Ireland & the UK is by the JDM Versus UK debate.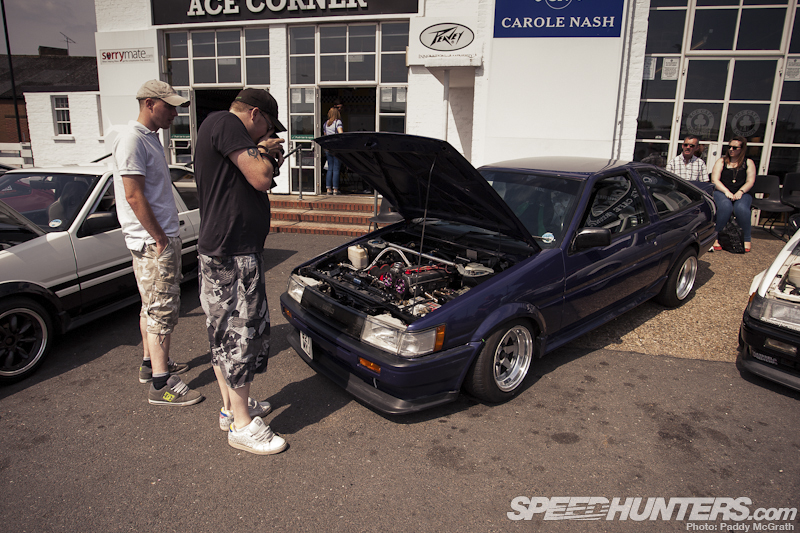 Personally, I can appreciate the merits of both arguments but would lean towards the Japanese way of doing things – if only for the fact that I think it's a more creative and individual approach.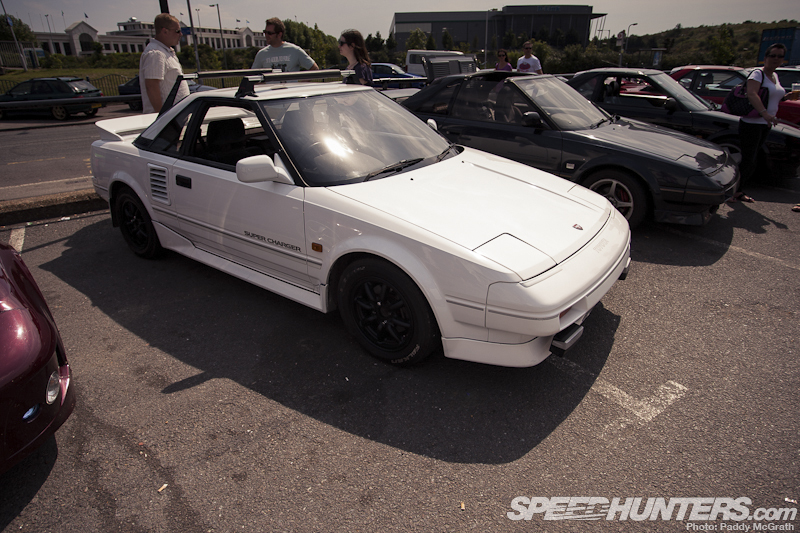 This 4A-GZE AW11 looked very clean sitting on black Watanabe wheels.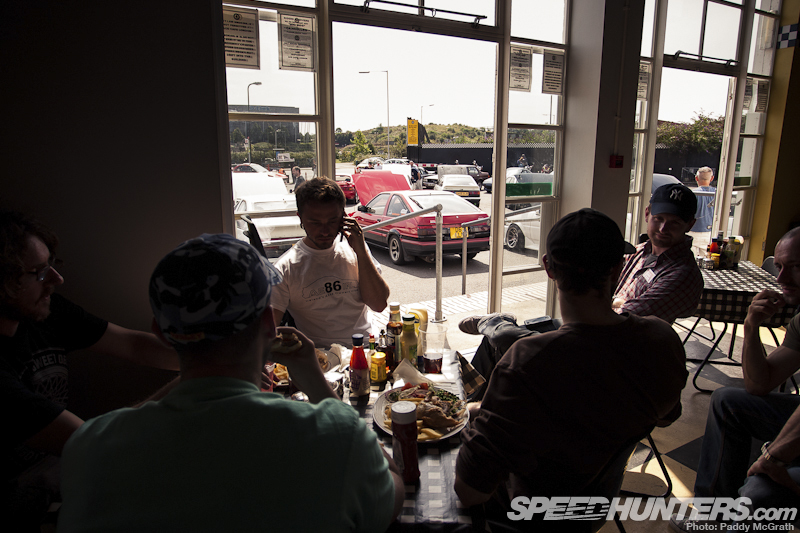 With soaring temperatures (by UK standards) it was time retreat into the shade, enjoy a bite to eat and admire the view.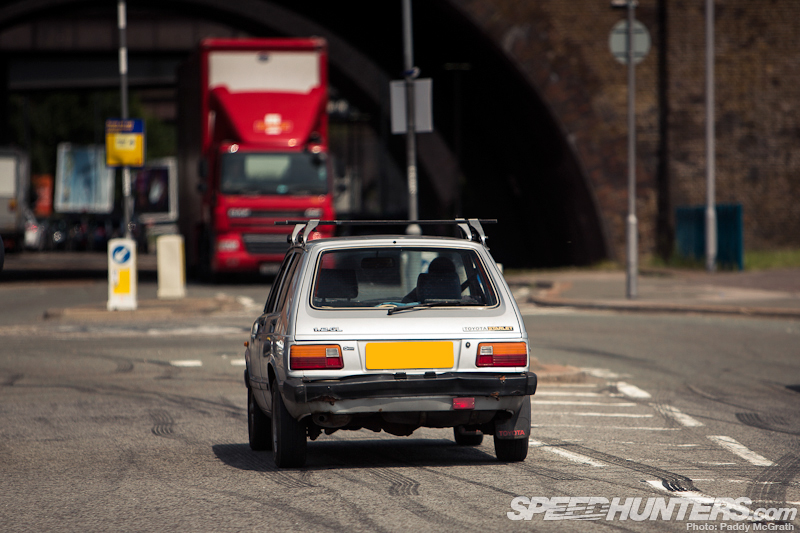 Packing up to leave and I happened to catch this KP Starlet saunter past Ace Cafe, its owner oblivious to the gathering nearby. It was a bittersweet moment – on one hand the car is still on the road doing as Toyota intended, but on the other you know that someone else could be taking much better care of it. Hell, I just happen to know a few guys …
–
Paddy McGrath
paddy@dev.speedhunters.com