Now as much as I enjoy playing around with RC drift cars myself, I've all but given up on trying to further learn how to do it properly. I actually haven't touched my RC car since last fall, ever since that feature I did on the custom RWB Porsche body that Russ over at RE-Xtreme built for me. Lack of spare time, combined with the extreme intimidation I get when attempting to drive at an RC track in Japan, has kind of put me off. But when Johnny at Weld called me the other week, telling me of this big RC drift event he was organizing at the Max One track in Tokyo, I got rather excited and decided to stop by.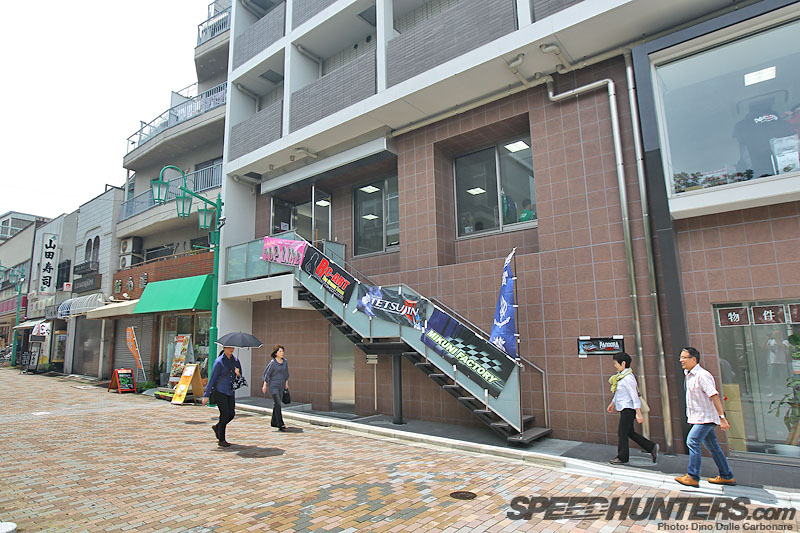 The event was held over two days and combined a display of all the latest parts from all the big RC Drift brands, a great way to pick up discounted hop-ups for your car and other miscellaneous gadgets. Johnny rented the second floor to a brand new building opposite Oiimachi station in Tokyo…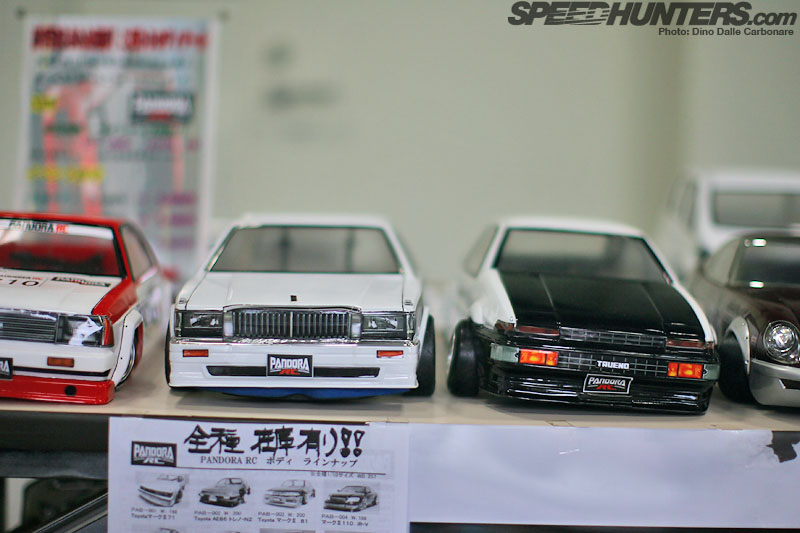 …and had all participating companies set up their displays inside. Here is a nice selection of bodies from Pandora…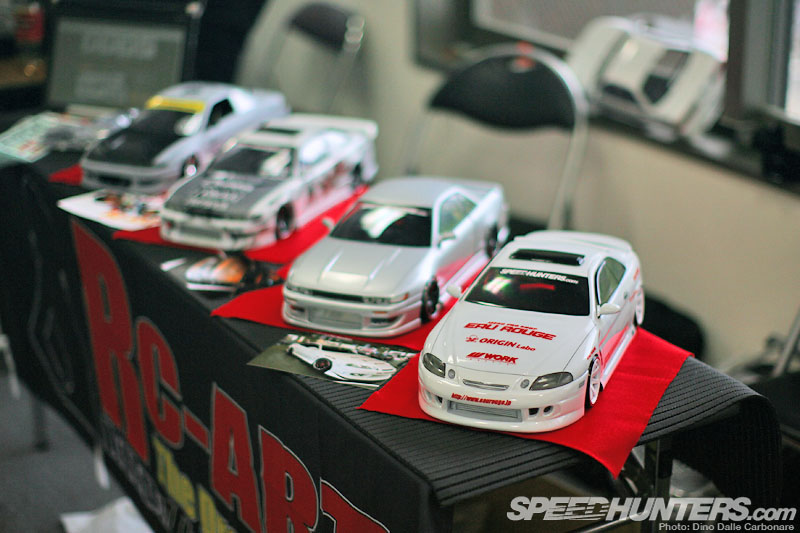 …as well as RC-Art who had a lot of Origin and Eau Rouge drift car replicas.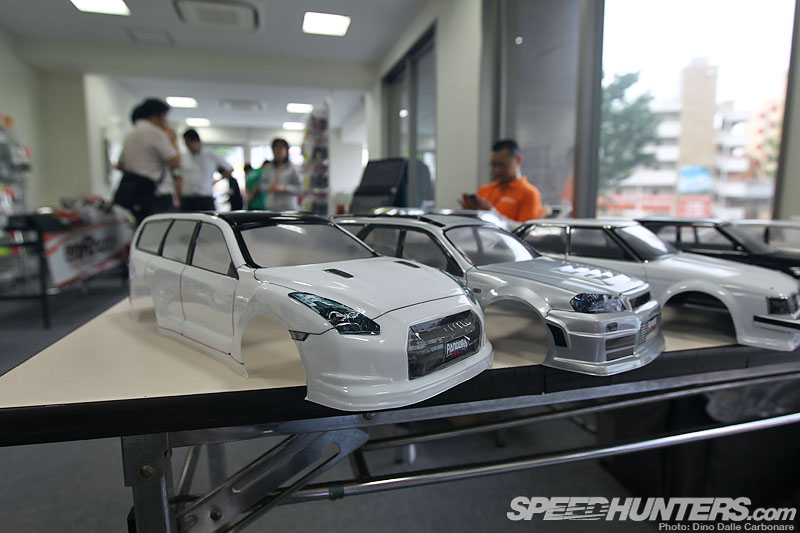 These two where by far my favorites though, the R35 and R34 front end Stagea bodies!  See, this is another reason I've tried to avoid this potentially very expensive hobby! It's just so hard to resist to pic up all sorts of different bodies…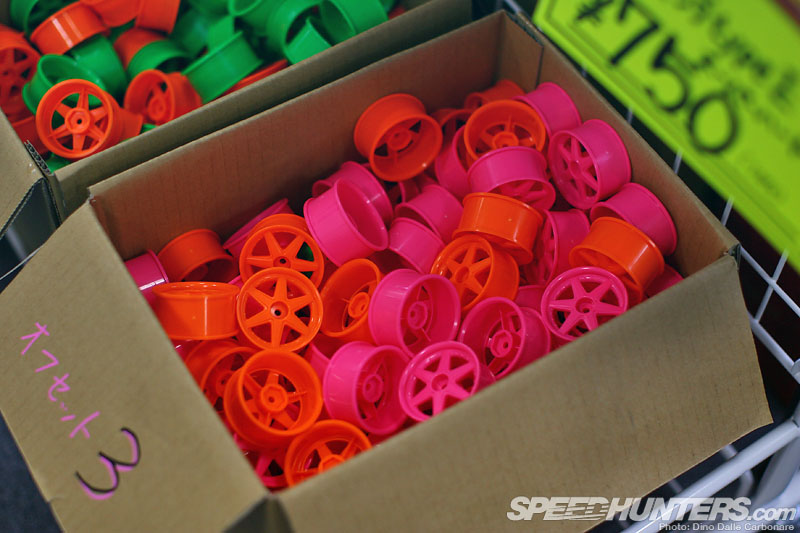 …and wheels, which were on sale by most vendors at very reasonable prices.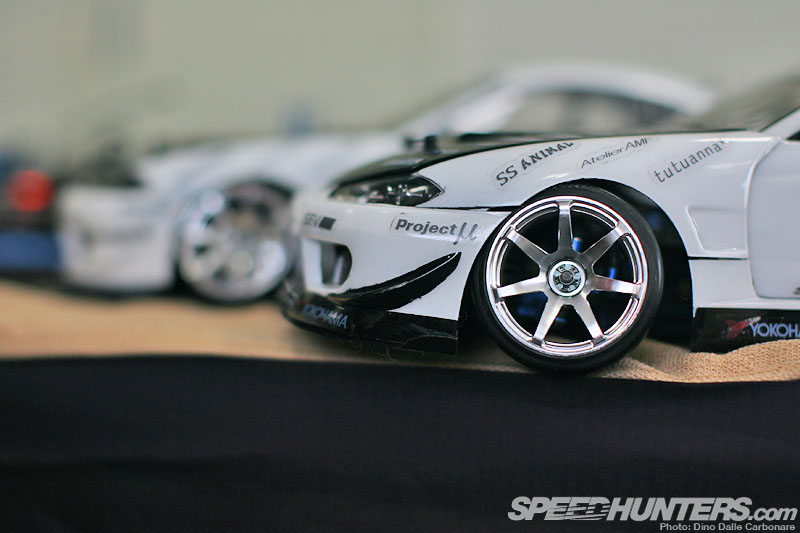 And on the subject of wheels I found this pretty impressive. Guild N One, the same people that create the Celica-front conversion for the JZA80 Supra and run a car in D1, make tons of cool parts for RC cars including these billet-aluminium wheels! These will set you back $76 for a set of 2!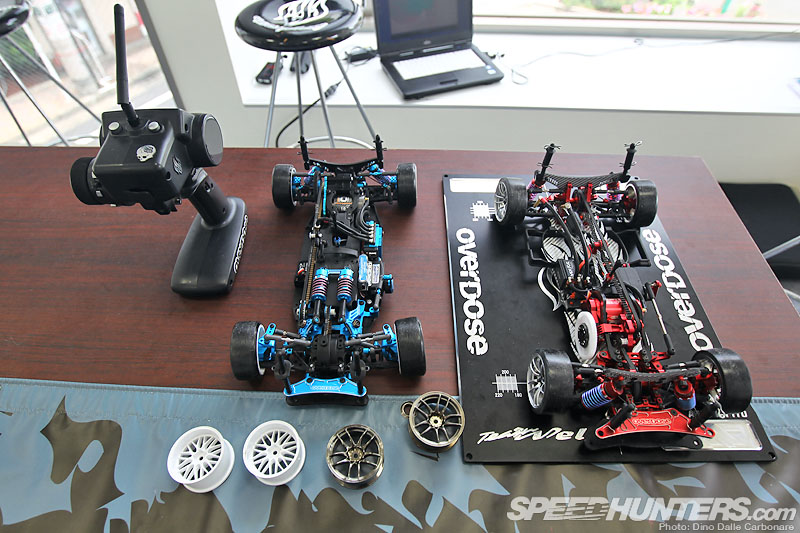 It's actually quite incredible how so many shops involved in real drifting, have begun creating products for RC drift cars. Weld's own brand, Overdose offers a ton of choice for the HPI chassis and these were two fully loaded examples of what you can achieve if you go full out.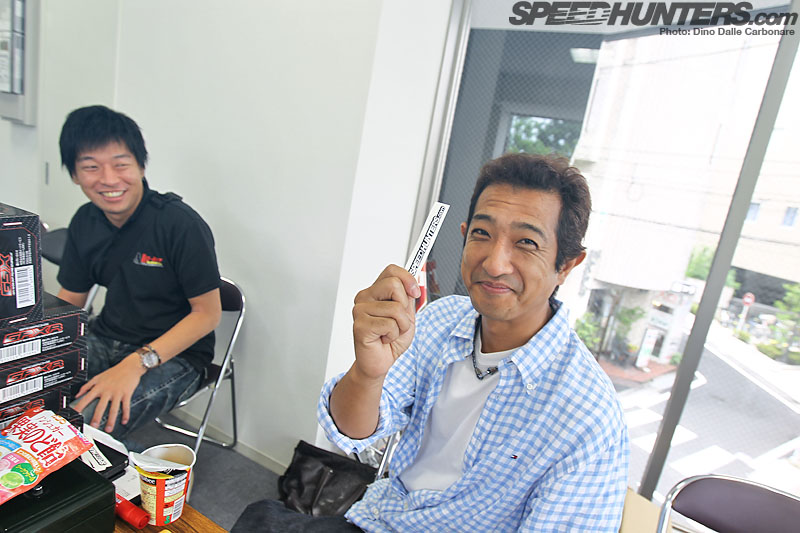 Kazama-san of Kazama Auto was also there, one of the first D1 shops to venture into the miniature side of drift. Here he is modeling a Speedhunters sticker!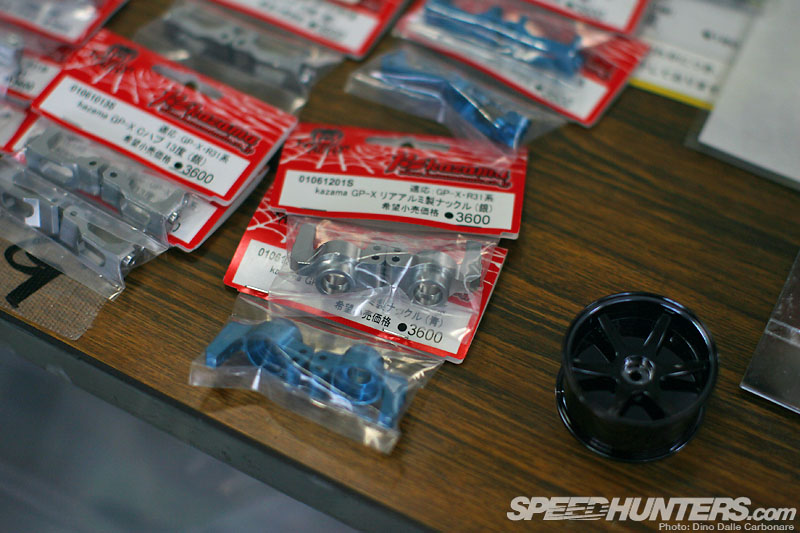 Kazama Auto has two RC drift tracks and an ever-expanding line up of products, from billet and anodized knuckles…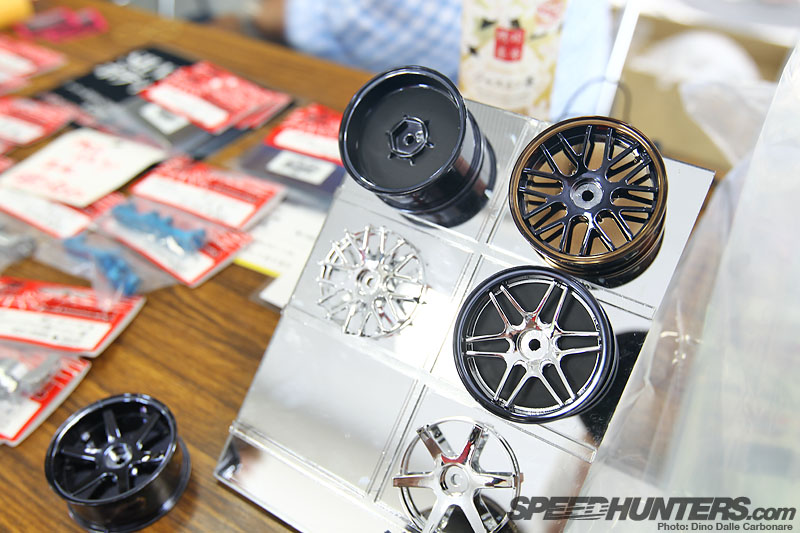 …to new 2-piece wheels!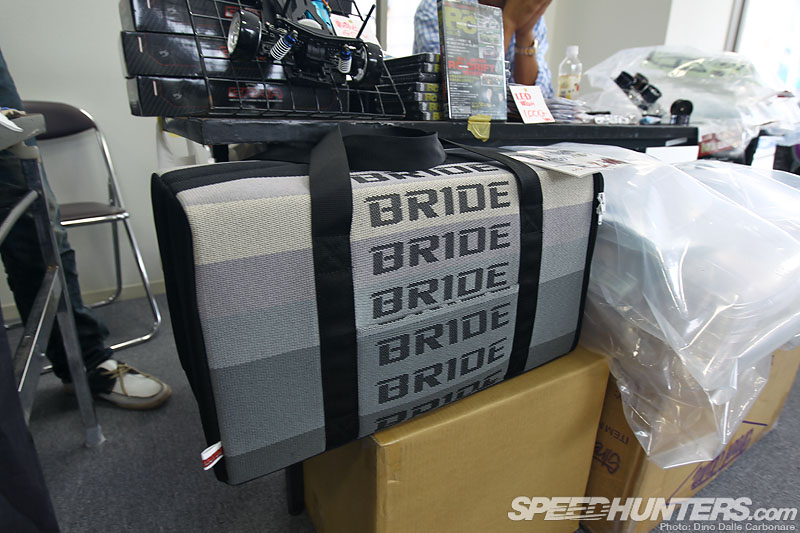 However it was this carry bag that got me very excited! This was done in collaboration with Bride and is upholstered in the same fabric as used on their seats. Seriously, how cool is this!! You can fit two cars and a few tools in there,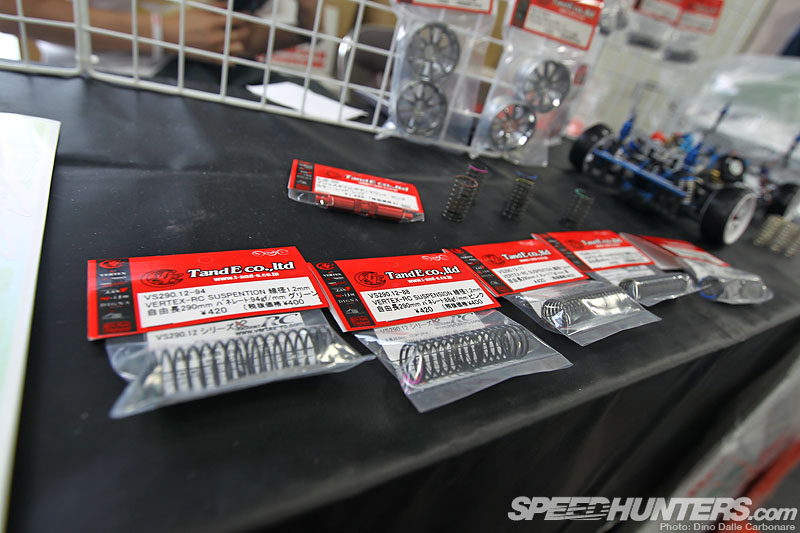 T&E have been in the RC drift game for a few years now and on top of their own track down in Yokohama they have a vast line up of parts like these titanium springs.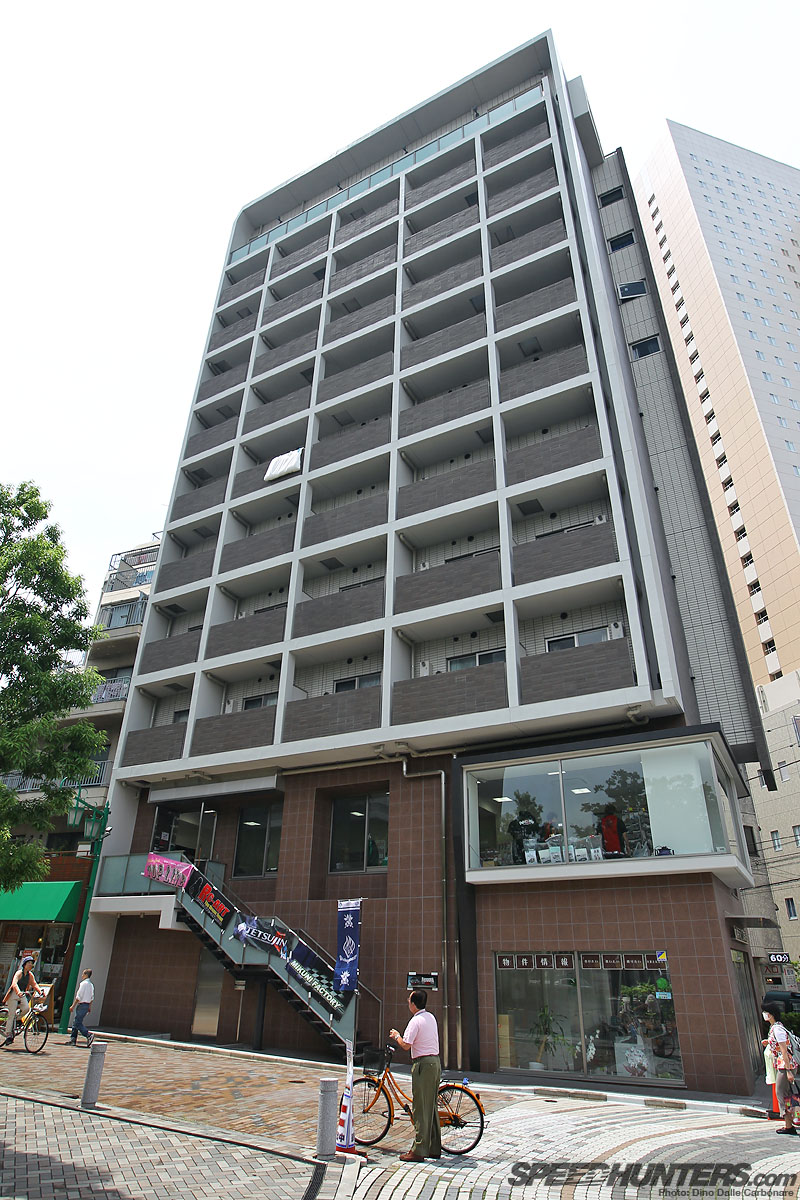 After checking out all the cool parts I stepped outside the building…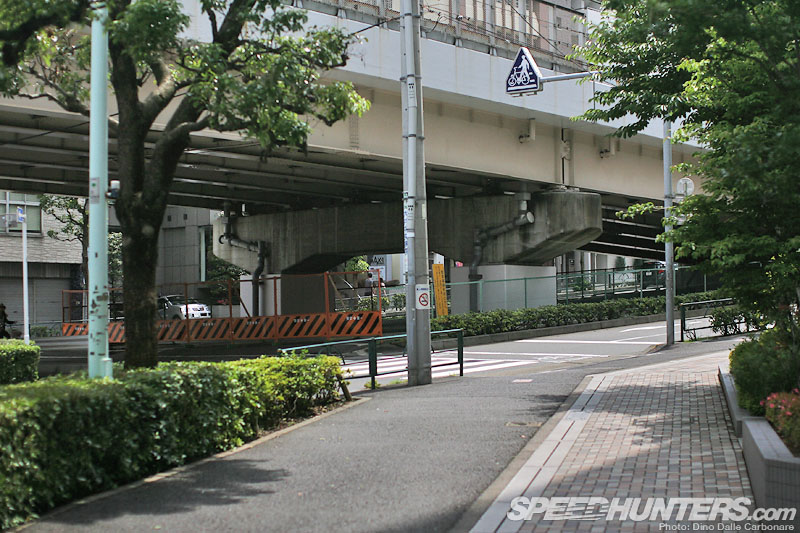 …walked 1-minute across the street…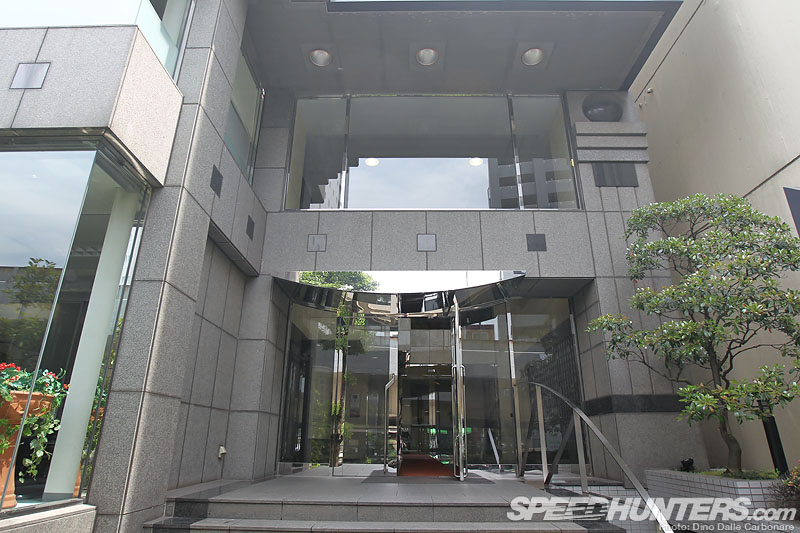 …and arrived at the entrance of the high-rise where Max-One is located. It's quite strange as it's a regular high-class office building in central Tokyo, yet if you take the elevator up to the seventh floor…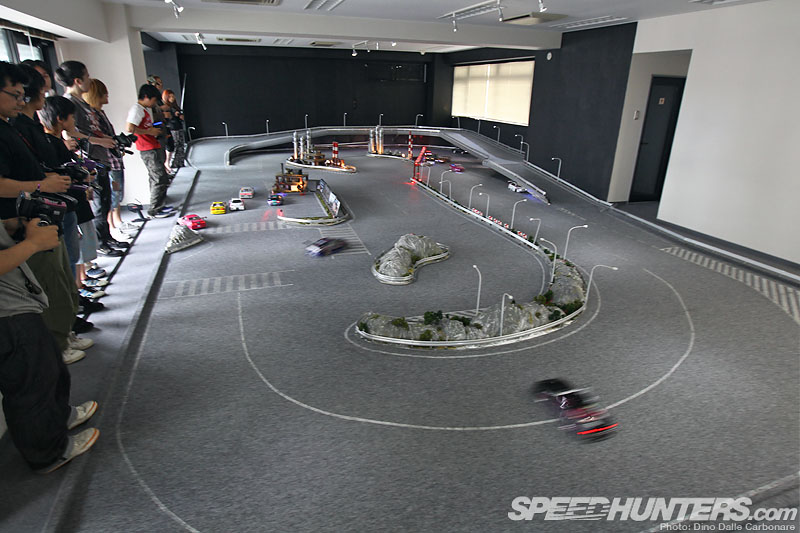 …you are greeted with this sight!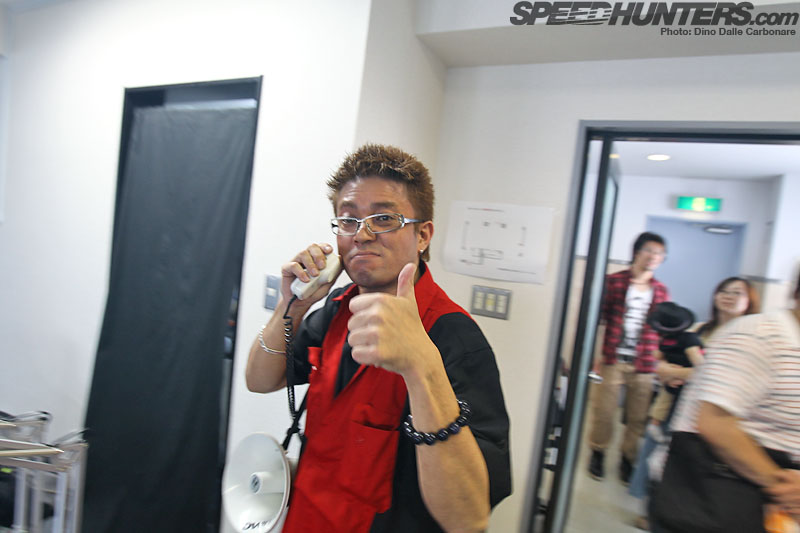 There I finally met up with Johnny from Weld who was busy commentating on the action via his portable PA system!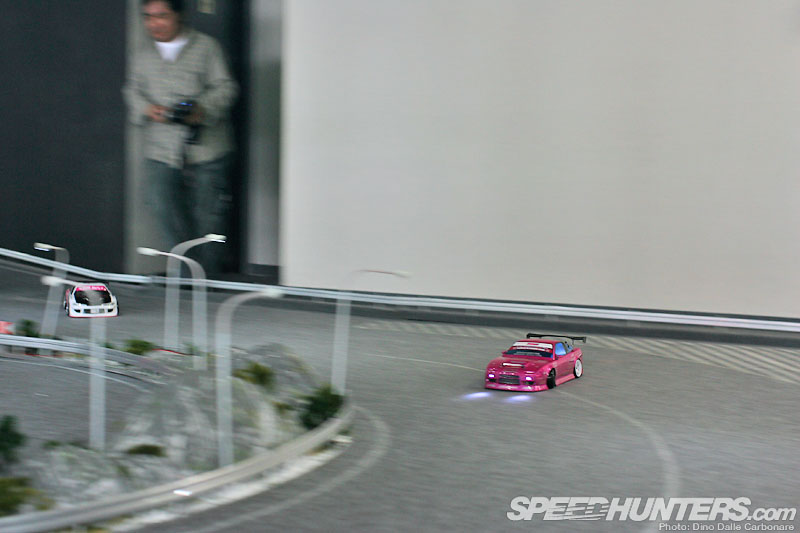 Max-One isn't exactly a big track, but what it lacks in outright size it more the makes up in character with extremely accurate scale model details recreating the looks of Tokyo's roads and industrial area where real street drifting still goes down every once in a while.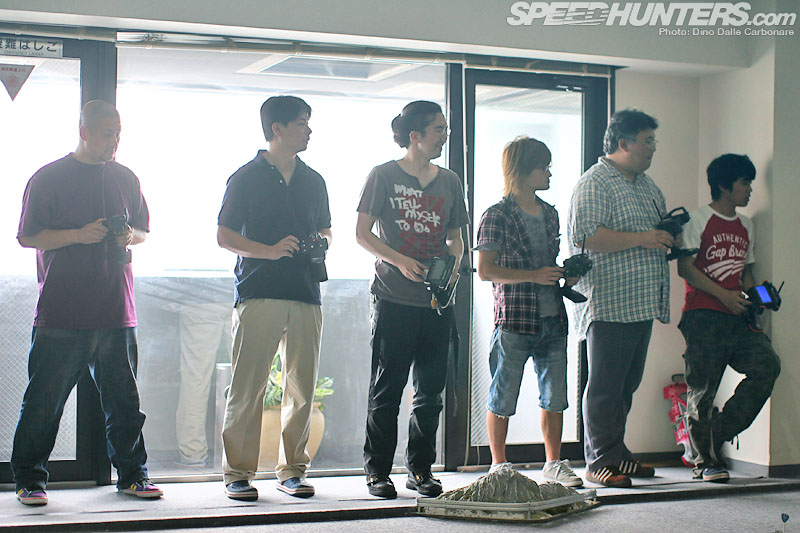 When I arrived everyone was busy piloting their respective cars and just as I thought…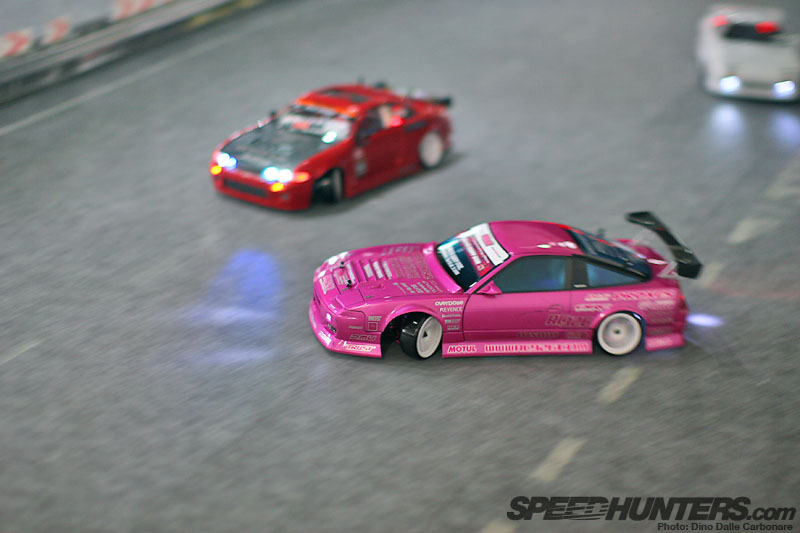 …the actual level of skill was simply awesome. Most of the time the top drivers engaged in up to seven or eight car tandems that lasted for a few laps before someone messed up. It's pretty mesmerizing to watch, as it all seems to happen in fast forward!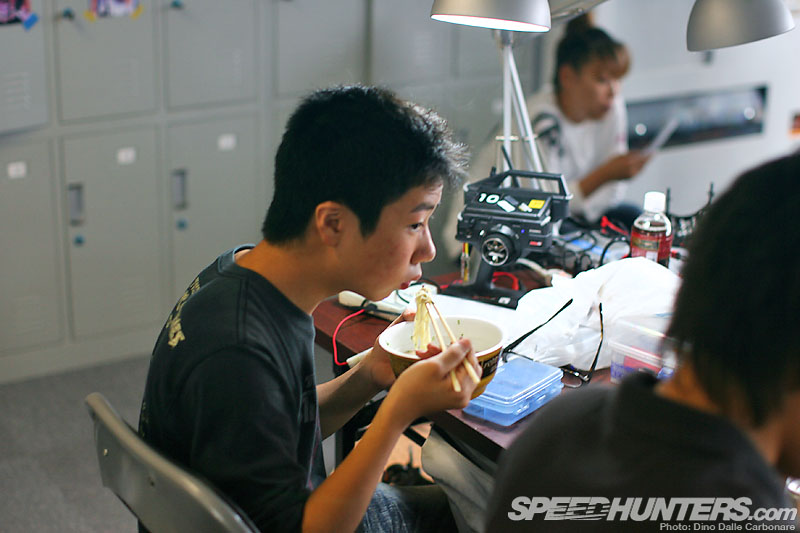 On one side of the converted office space is where members can set up their miniature pits. During the lunch break it's also the perfect place to relax for a bit, wait for the batteries to charge and slurp some instant noodles purchased at the 7-11 outside the building.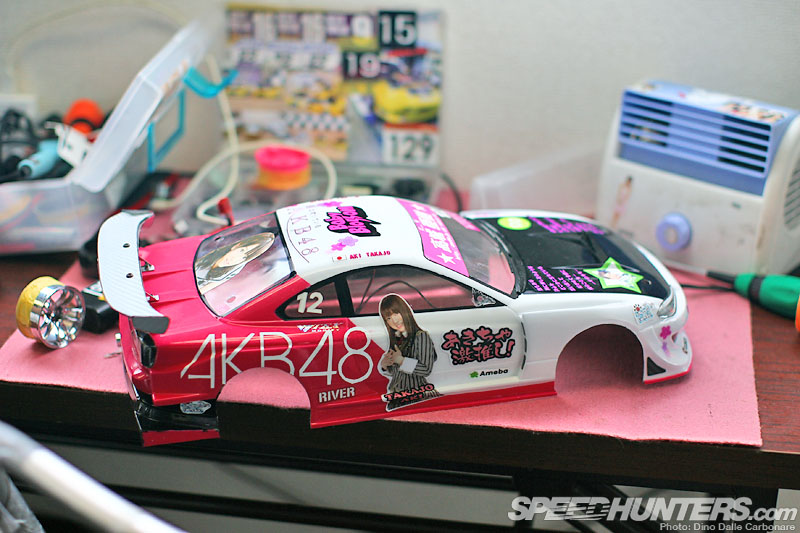 It's always cool to see the variety of styles that some go for, this GP Sports 180SX a good example! It was one of 3-4 cars of Team "AKB 48," named after an extremely popular teenage girl group that, you guessed it, is made up of 48 girls! AKB stands for Akiba, or Akihabara, Tokyo's electronic town and base for the girl group.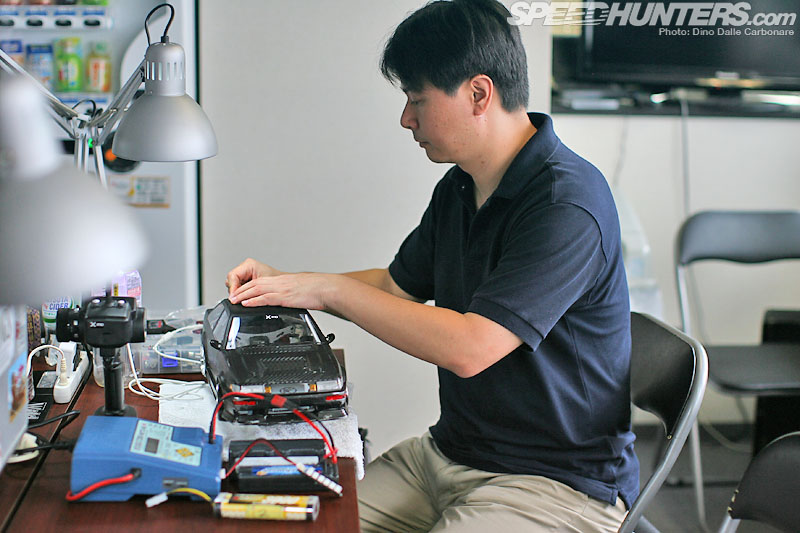 Bodies vary from the more usual drift car choice like an AE86 Levin…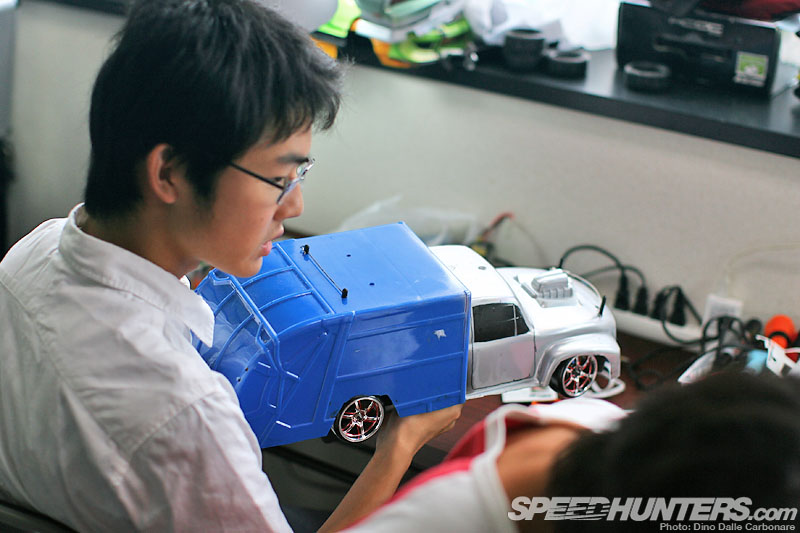 …to curious wild creations like this custom trash truck!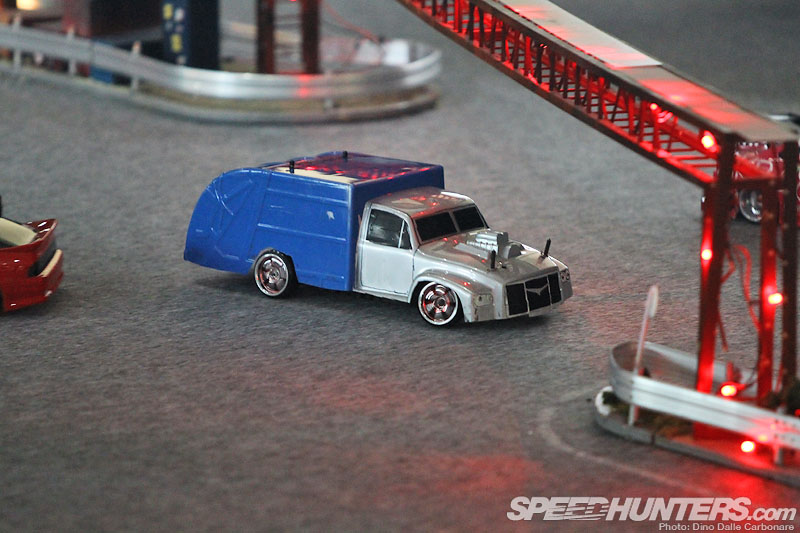 It looked quite funny out in action!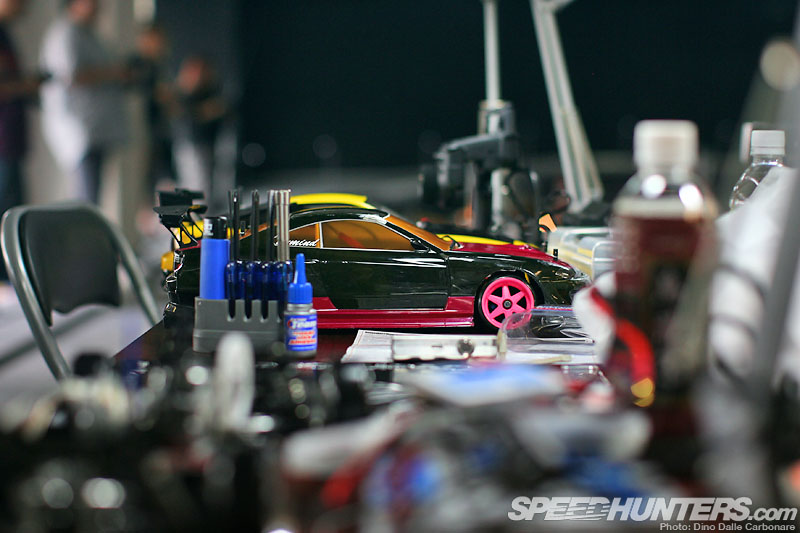 It might look like overkill but if you have ever attempted to play around with an RC drift car you will know what a difference suspension settings, geometry and overall wheels alignment can make. It's not uncommon to see springs being swapped or fine tuning of toe and camber angles.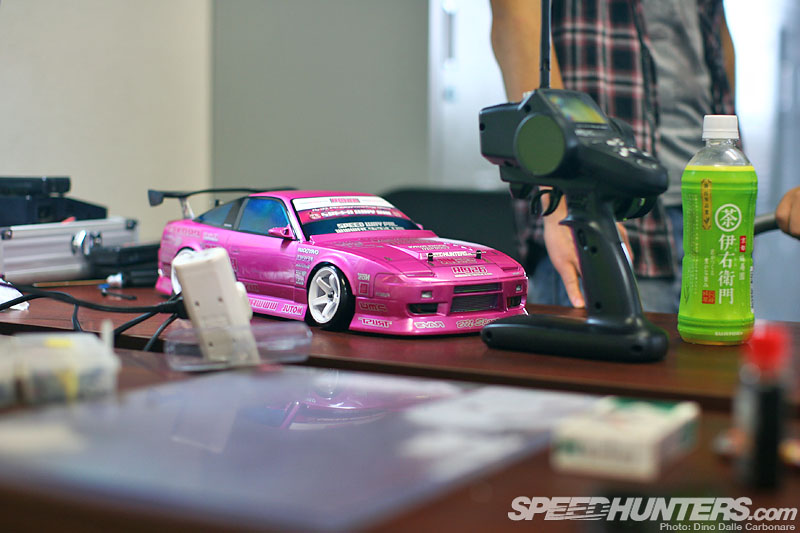 I spotted this nice pink 180SX…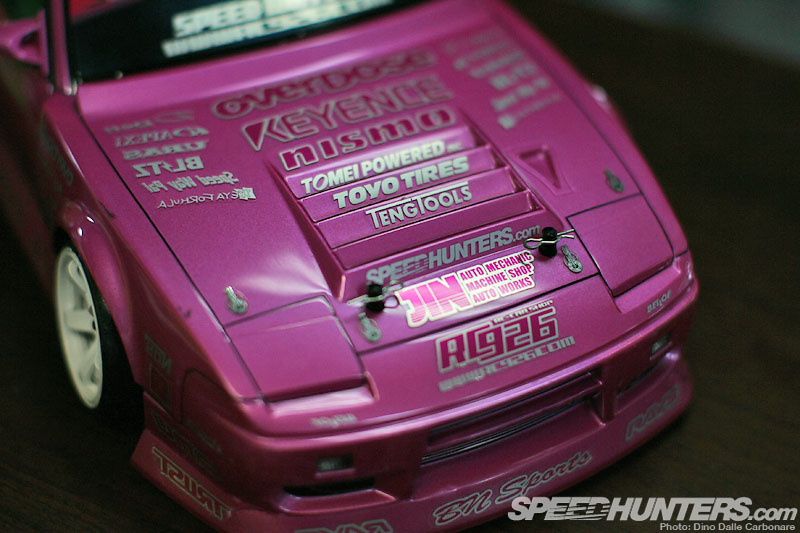 …which as the owner pointed out was wearing some custom made Speedhunters stickers. It was actually very humbling to see so many of these cars sporting Speedhunters logos, meticulously cut out by hand in most cases! Thanks for representing guys!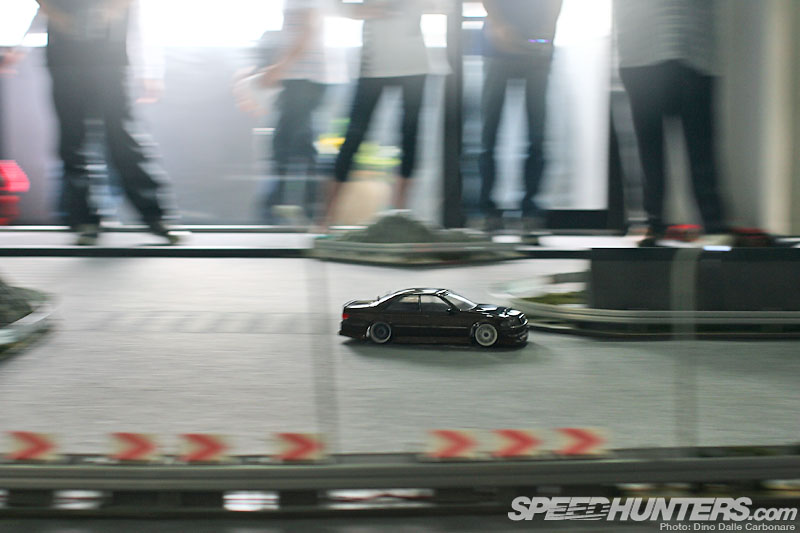 I tried to check out the on-track action from a variety of different spots, and this was one of my favorite angles as it combined the realism of the track and cars themselves with a background view of the drivers on the side, piloting away with their top of the line remote controls.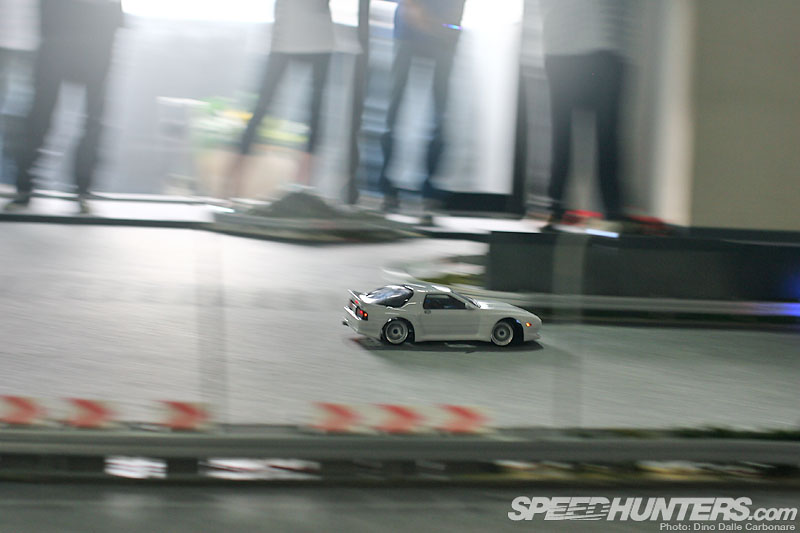 Nice FC getting some good angle in the mid-field transition.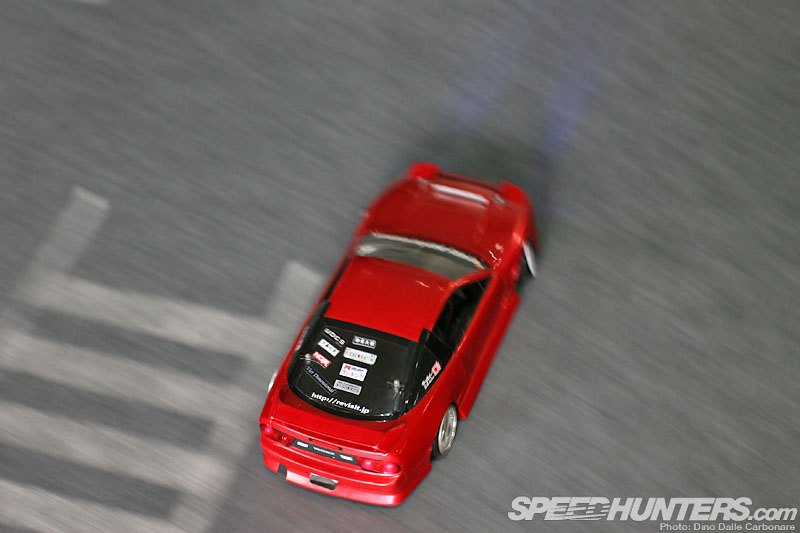 Some pro drivers were also invited to show their skills and it was a true pleasure to watch them in action.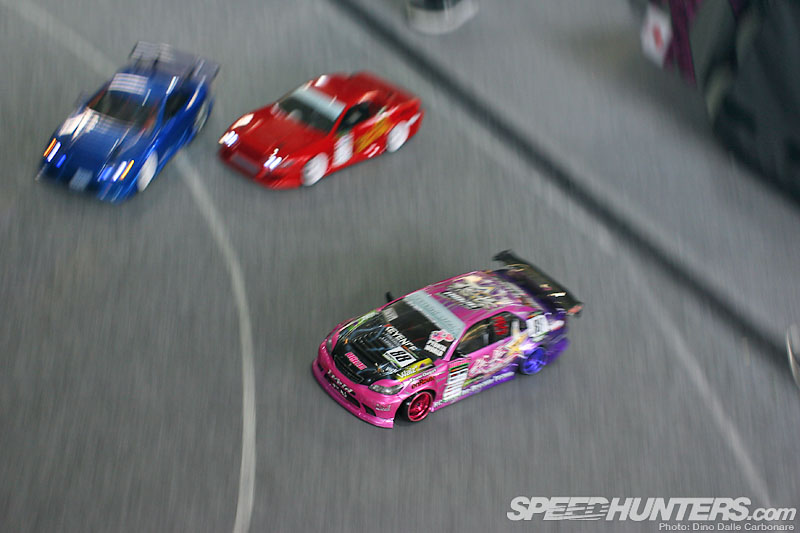 Some triple tandem runs were going down here. These little cars are so hard to frame and shoot my head was beginning to spin! Talk about instant change of direction!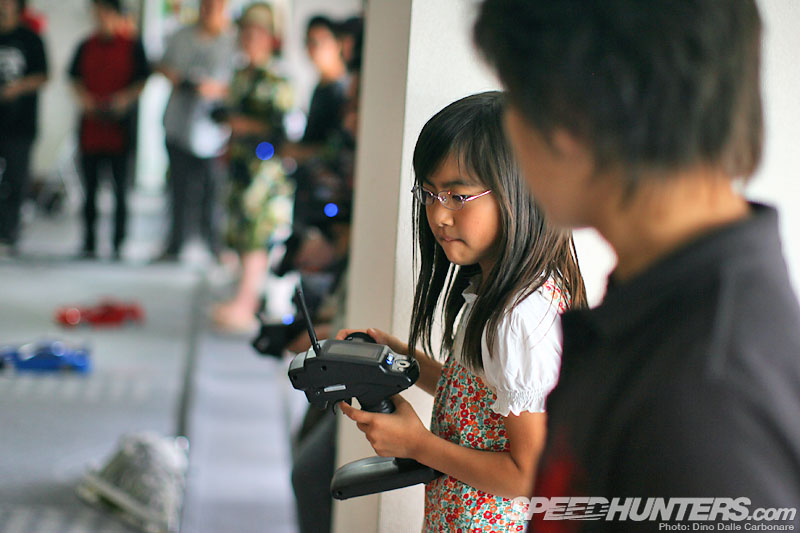 And of course who ever said that RC drifting is a boys-only hobby" This little girl was ripping the track up with her 370Z and was joined by a few more ladies there to practice their skills.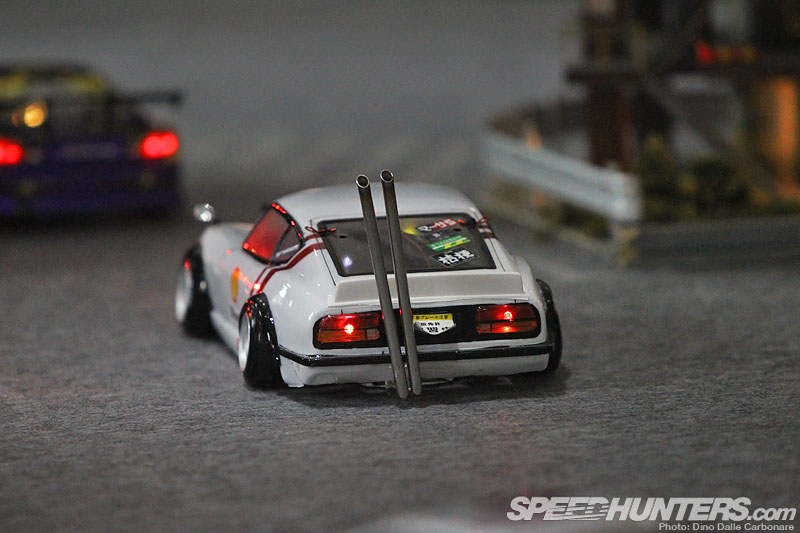 It would be a pity not to take a little closer look at some of the custom creations that stood out the most. It turns out the owner of this slammed zokusha S30 drives a very nicely tuned Datsun 510 so I've arranged to shoot his ride down in Daikoku PA one of these nights!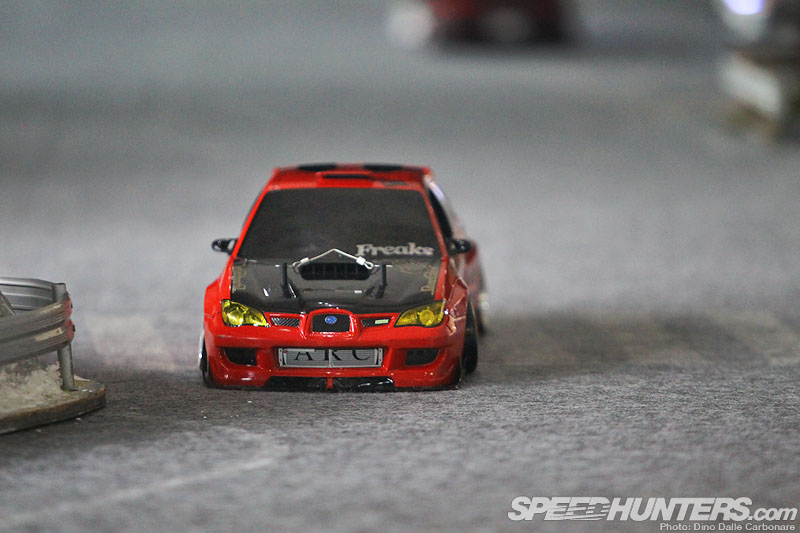 This GDB was sporting a very USDM look, with Fatlace logos on each side of the body.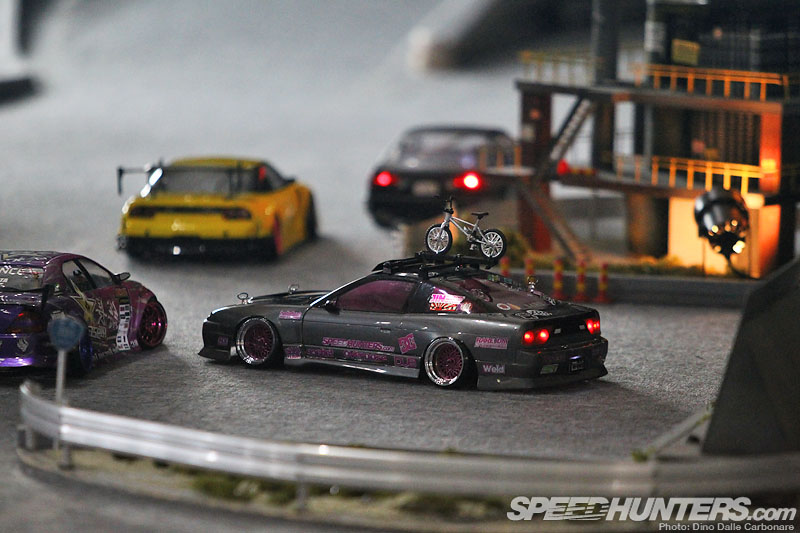 And here is more USDM detailing going on, this 180SX sporting a custom roof rack and tiny little BMX bike!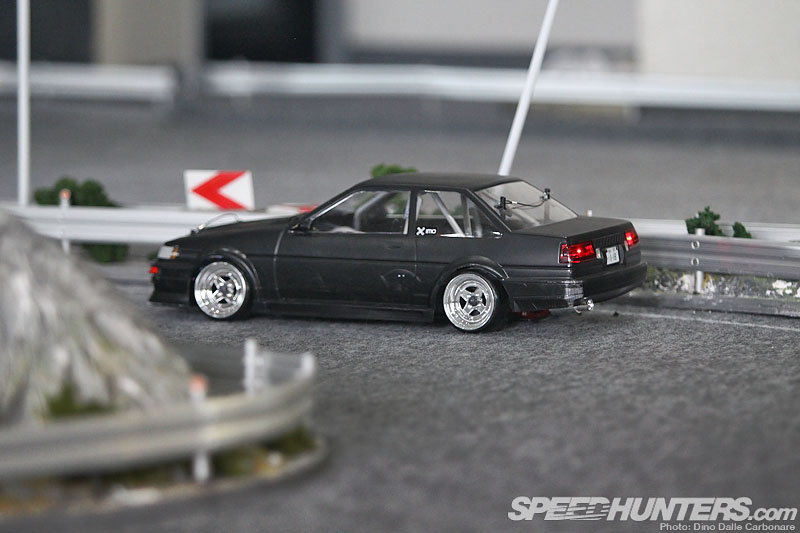 With so much effort and detail put into each car, it's no surprise they look as good stationary as they do sliding around on the carpet track.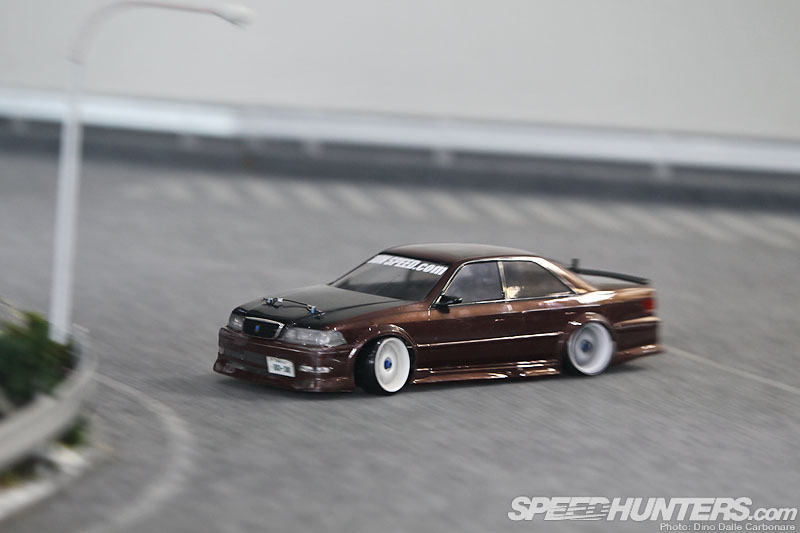 Drift-spec Toyota sedans always look good, both in full size and in 1:10th scale as this maroon JZX100…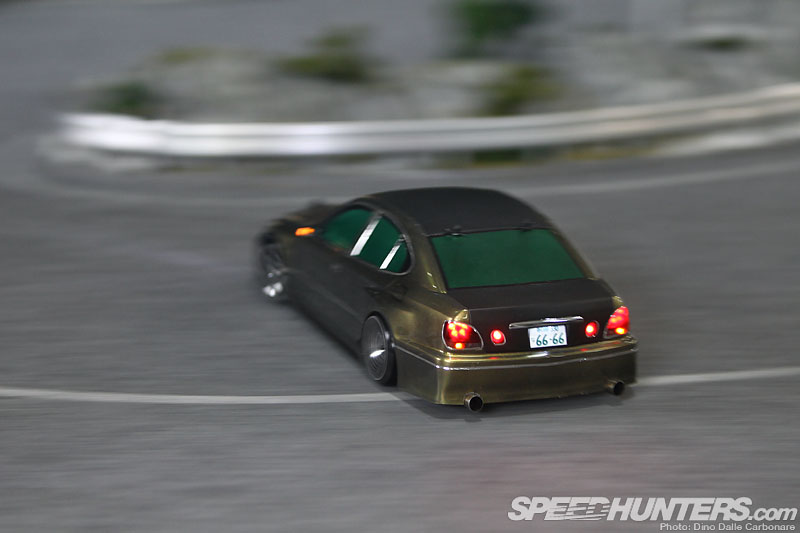 …and flake green JZS161 Aristo show us.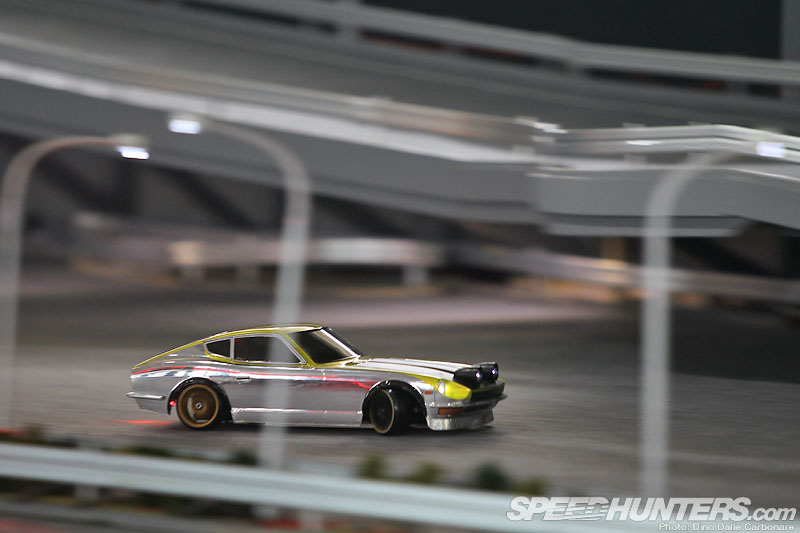 Does this S30 look familiar? Well it probably should as it's modeled after Rocky Auto's Tokyo Auto Salon demo car from this year!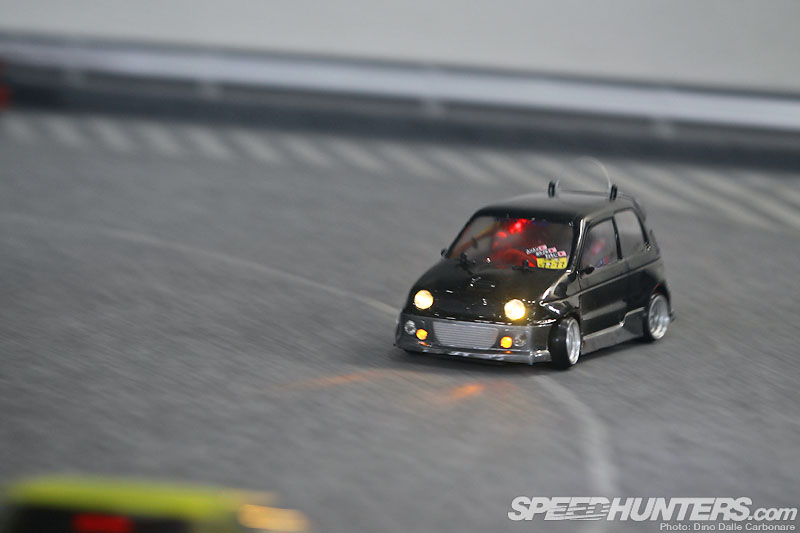 If I had to pick the most original car there it would definitely have to be this little wide body Suzuki Alto Works! Look at this ting, had a short wheelbase and all.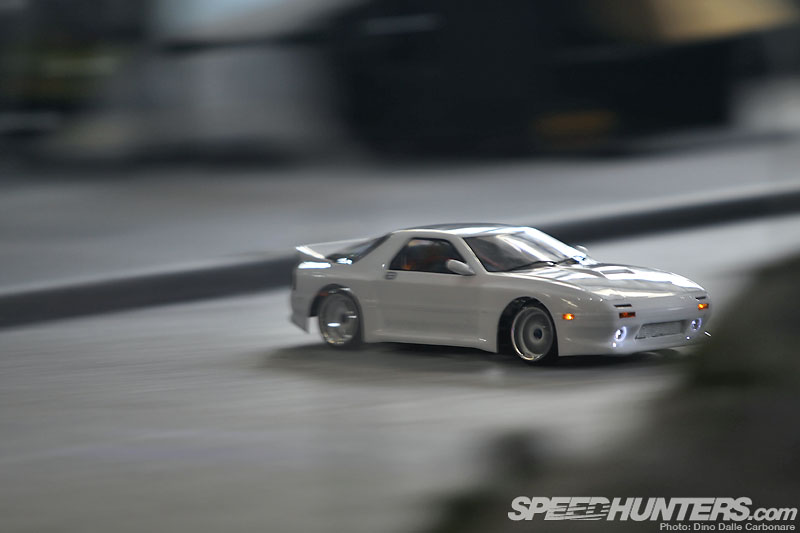 Small competitions were run throughout the day…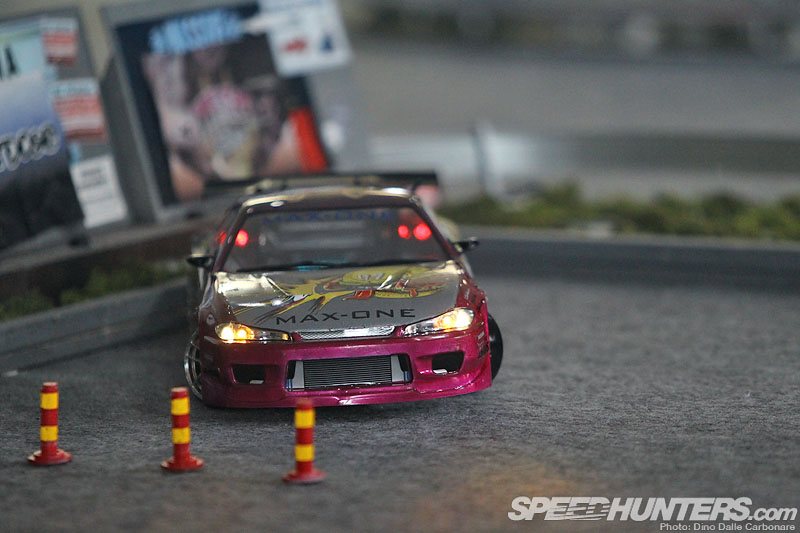 …like giving each driver three chances to drift around the central section of the mid-field…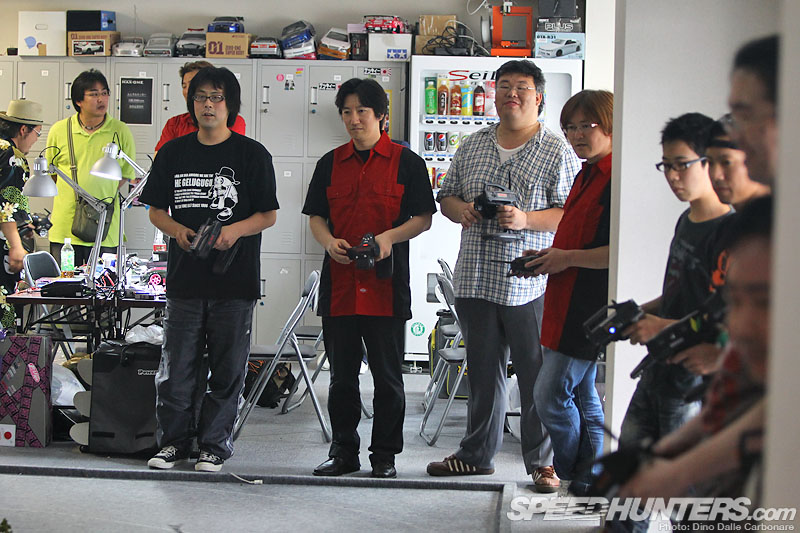 …and then try to slide in the car as straight and as close as possible to the magnetic cones that were put down in the little parking area. Here is Yamada-san (in the middle), the owner of Max-One, going for a try.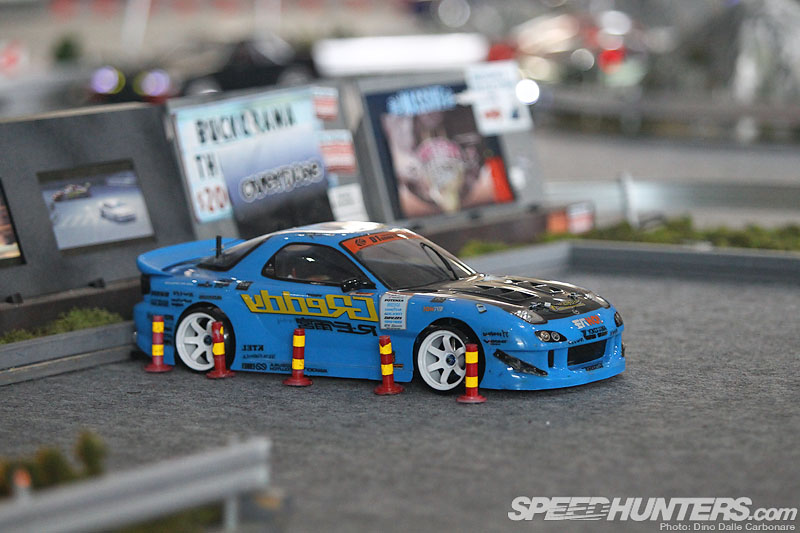 This RE-Amemiya FD took the win with an awesome parking job.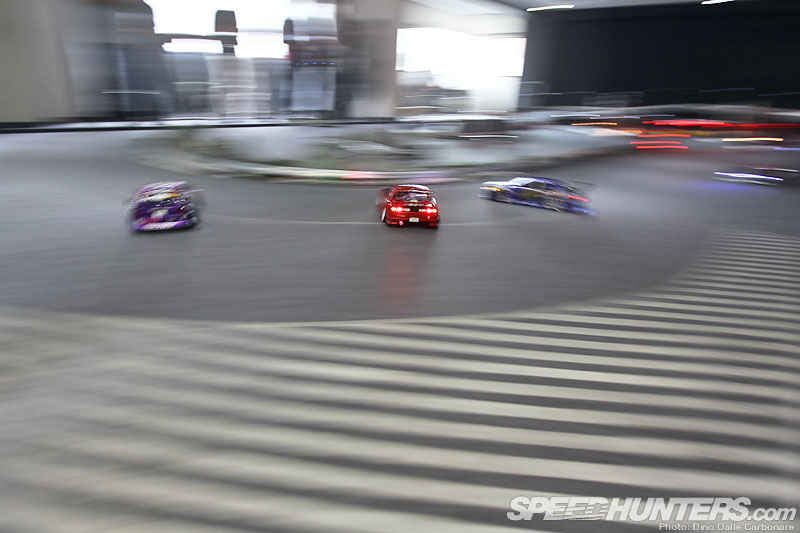 It was a fun couple of hours checking out some RC drift action at Max-One, seeing how this tangent on the whole drift scene continues to grow and develop. Certainly makes me want to get the "RWB Speed Hunter 34″ out for a quick play!
-Dino Dalle Carbonare