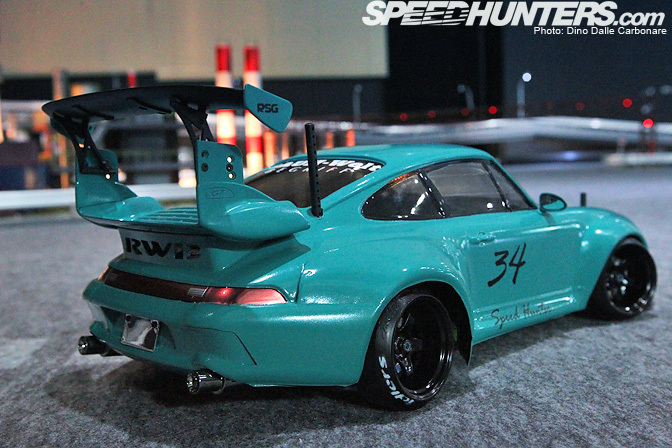 Nakai-san's RWB name has exploded in popularity over the last year and in that time I have found myself at his shop countless times to either shoot cars or interview him. Like a lot of people out there I love and respect the work he does and have wondered what my very own RWB Porsche would look like if I had the spare cash to commission a build from him. First up what model would it be, turbo or NA, narrow body or mega-wide? How about the rear wing, a subtle ducktail or a full on stacked GT-wing look? And the name; what would Nakai actually name the thing?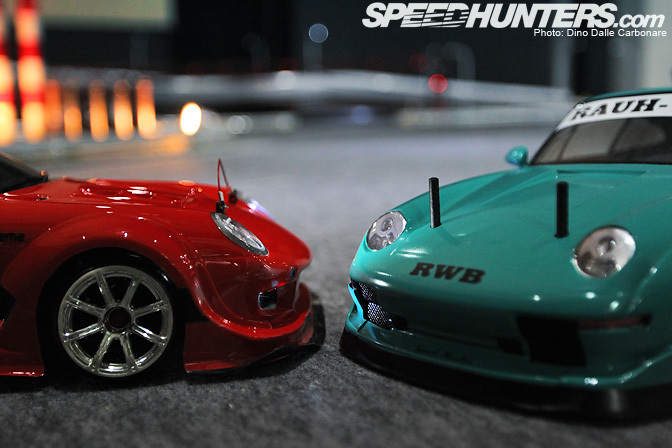 It's cool to daydream about things like this, I think most car enthusiasts do this on a daily basis thinking about a variety of things from parts & upgrades, to your next car. However after a phone call to Russ of RE-Xtreme one day all the daydreaming led to a "little" idea. I'll let Russ take over for now and explain how the Speed Hunter Number 34 came to be. Over to you Russ: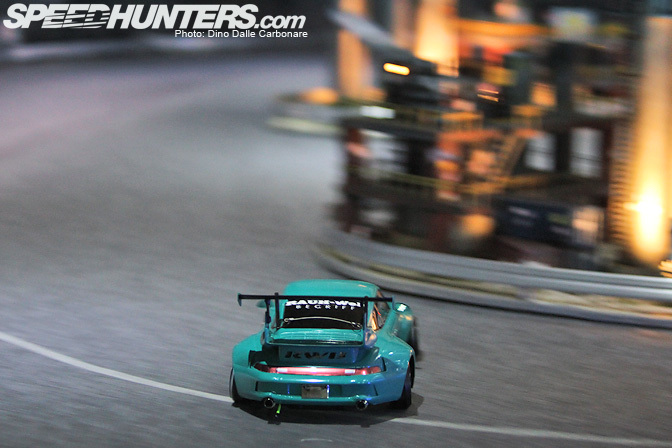 Well it all started with a phone conversation about RC cars while Dino was at RWB one day. A trip the next week to the Tamiya Fair in Tokyo secured a limited run Tamiya Taisan Porsche GT2 shell. I was happy to offer Dino a wide "RWB style" machine.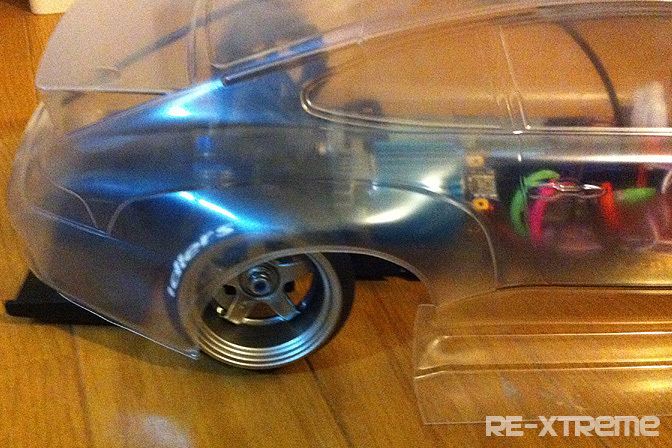 In my excitement, I forgot to check the wheelbase. 250 mm to 257 mm is not so different, right? WRONG. It did not fit our Yokomo chassis at all. I said, probably over-confidently, "No problem, I'll just modify it."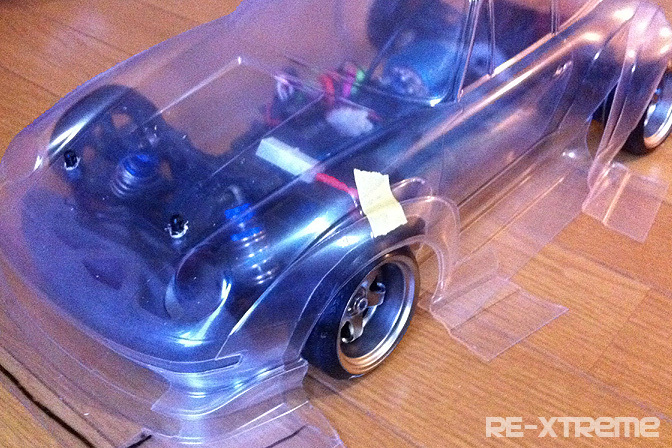 I went back and picked up another shell to use as a donor and proceeded to graft the butchered fenders on. Immediately, I knew it would give the desired look, even if it was a little longer in wheel base. But there was a much longer than estimated process ahead.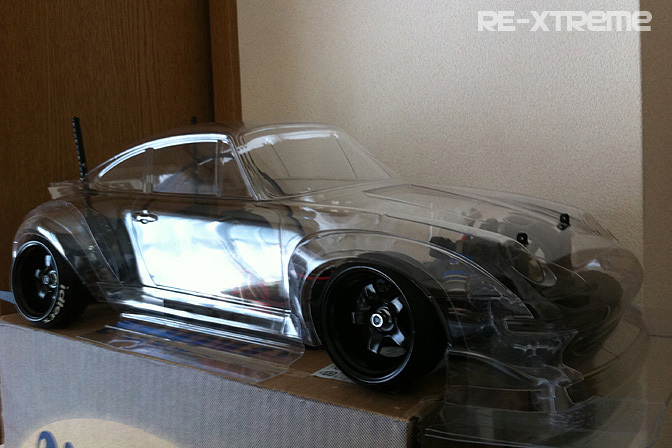 The one thing I didn't want to do was use a lot of filler on the fenders. This was not going to be a static display model, so it was durable "Shoo Goo" to the rescue. A common adhesive for polycarbonate, it is flexible and strong. With a couple of strategic applications, I was luckily able to get the fenders to bend into almost the right shape before adding a small amount of filler. I also wasn't building an exact detailed model, but the feel of RWB should be there. An RWB should be driven, not become a shelf queen.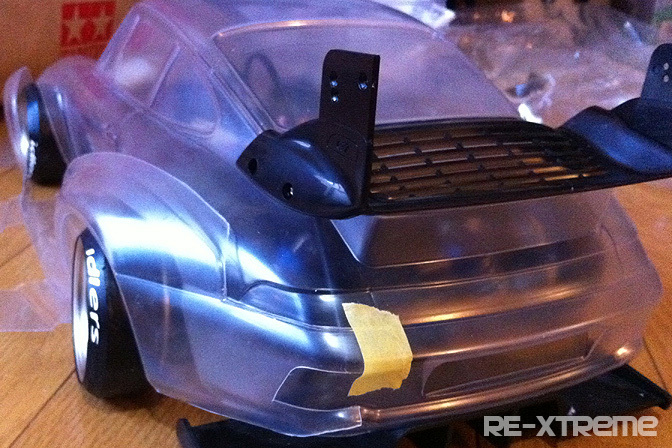 As you take a long time to build something unique, little things run through your head. So I teased Dino with, the banana wing from a Yokomo S15…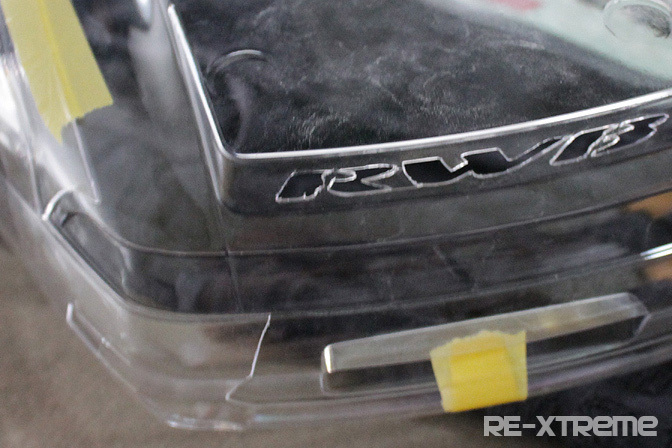 …the RWB cutout in the rear cover, custom headlight assembly and photo-realistic dash etc…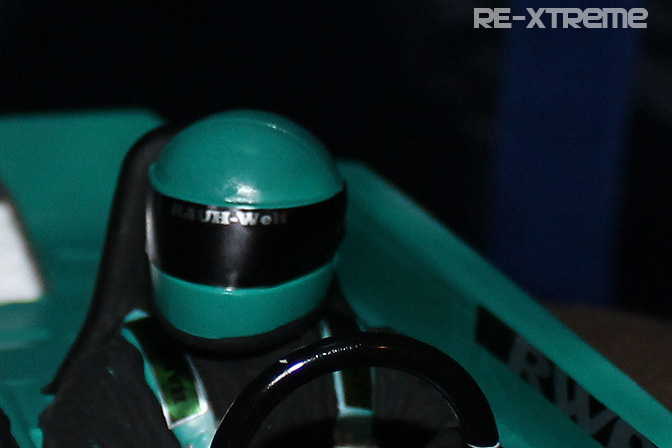 …and a suitably attired Tamiya driver. Maybe a few years ago this wouldn't have been possible.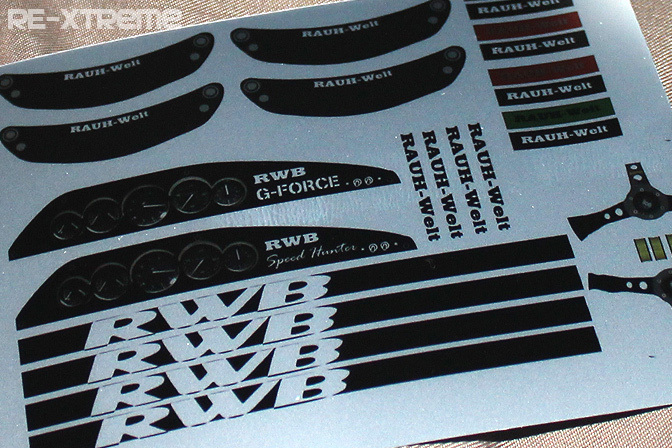 Ink jet printed stickers, plotter cut graphics and materials simply weren't available cheaply. You soon see many many hours pass by and it doesn't really come together until the very end with a budget blowout. Just like a SEMA showcar and its deadline. Although luckily, also 1/10th the scale!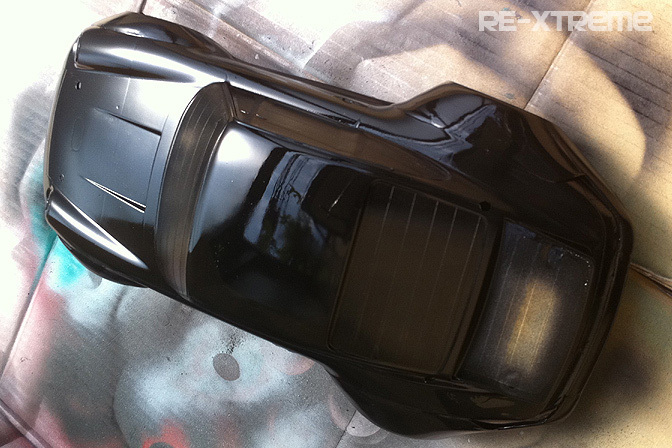 The final color has an undercoat of black…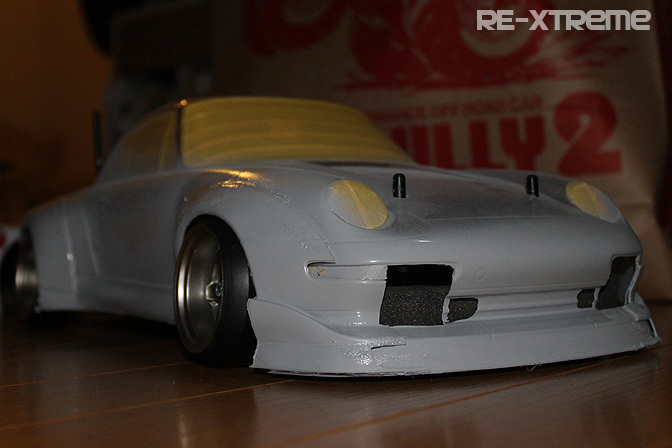 …with a raw Cobalt Green on the top. This is painted on the outside…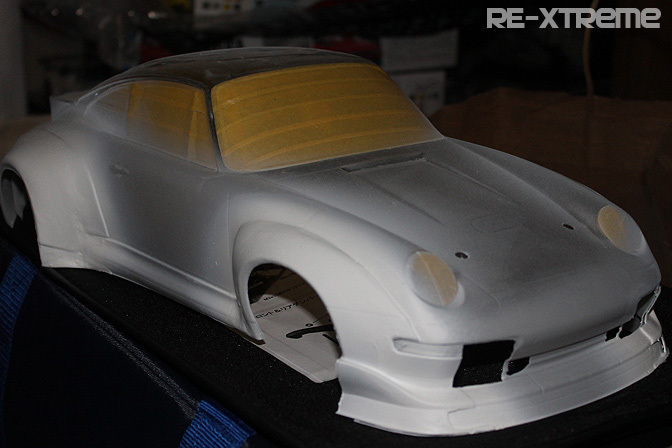 …rather that the traditional inside clear.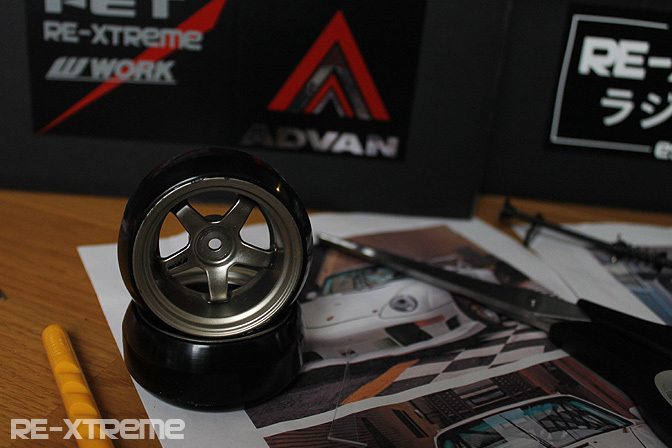 The Wheels are HPI Work Meister S1 in RC +9 offset. The drift package chassis wears TN Racing +6 Offset rear axle spacers for an overall increase of +15 each side (150 mm in full scale terms) and the tires tuck nicely.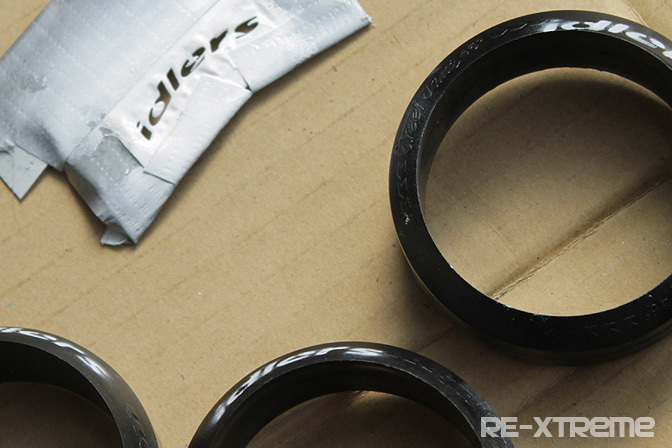 The idlers logo stenciled on the sidewalls of the tires was to be the final detail.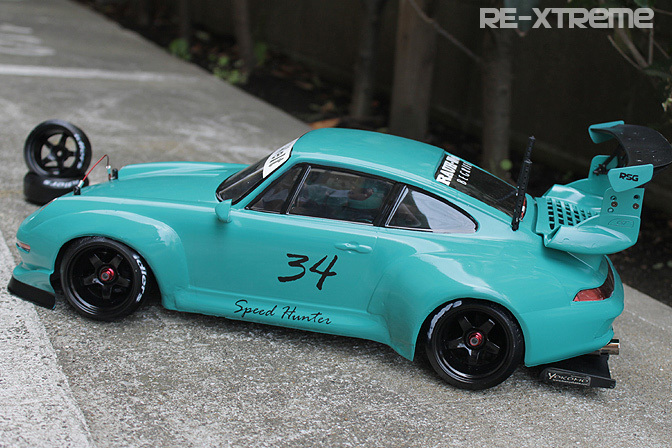 Maybe another 2 mm of offset would be nice, but that's all that was available. Tires are Street Jam drift tires with a 60º stretch look on the front and a 45º stretch look at the rear.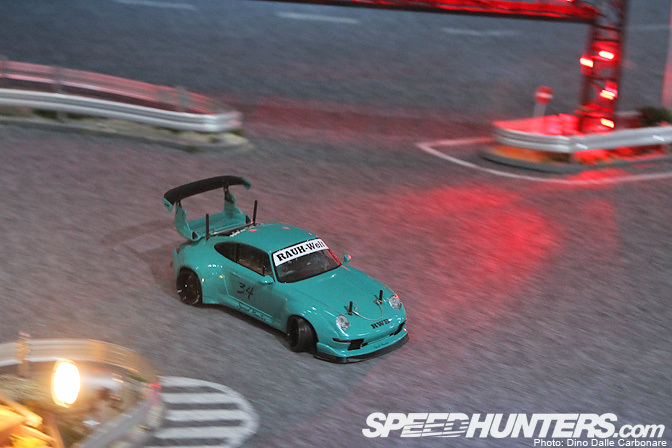 When drifting a Porsche of this width at the rear, you already have the visual impression of a much bigger angle…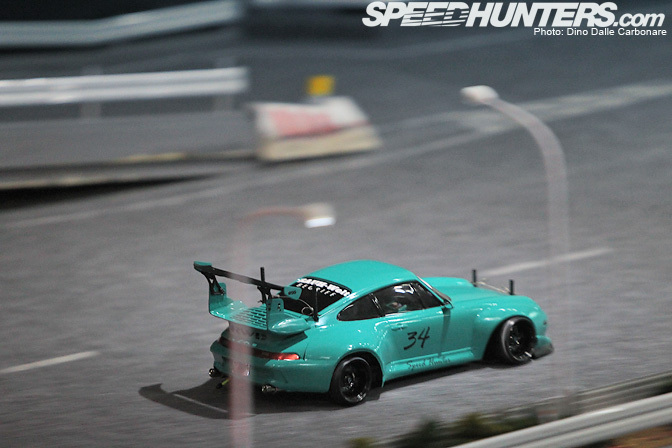 …and that adds the extra 150 mm RWB grin.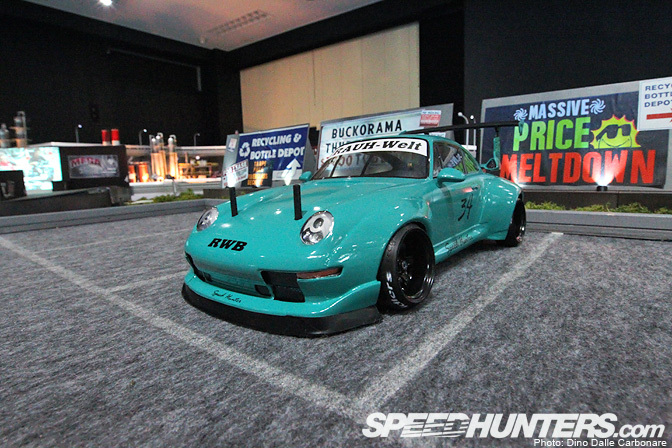 So there you have it, the final completed Speed Hunter 34 parked up at Max One!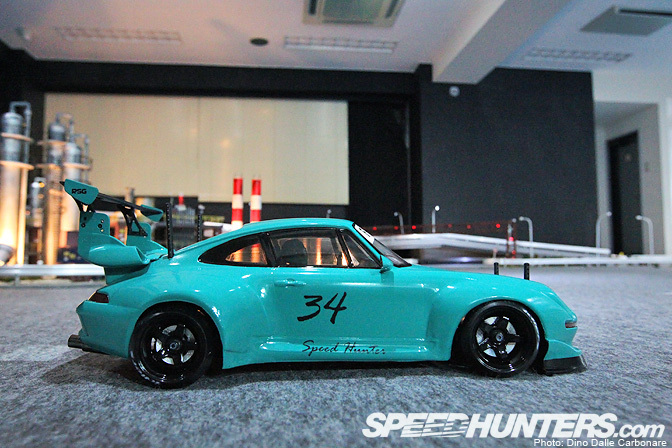 It took Russ many months of hard work to get this body completed and I was really enjoying finally seeing it grace my Yokomo chassis. I couldn't stop taking shots of it!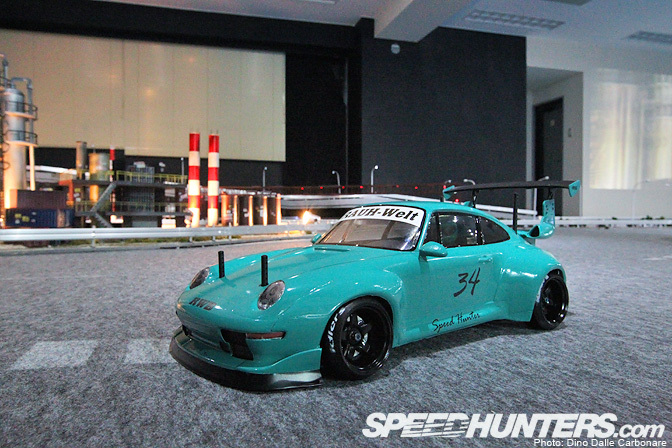 Attention to detail is what makes this so special, Russ even made a rubber-look front splitter just like on some of Nakai's creations.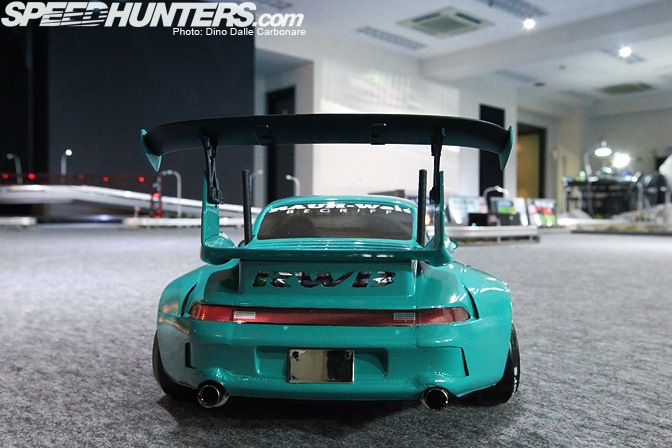 Pardon my language, but this is what we call a fat ass! And yes in case you are wondering, if you look through the cut-out RWB engine cover, you will see a picture of a flat-6 running velocity stacks!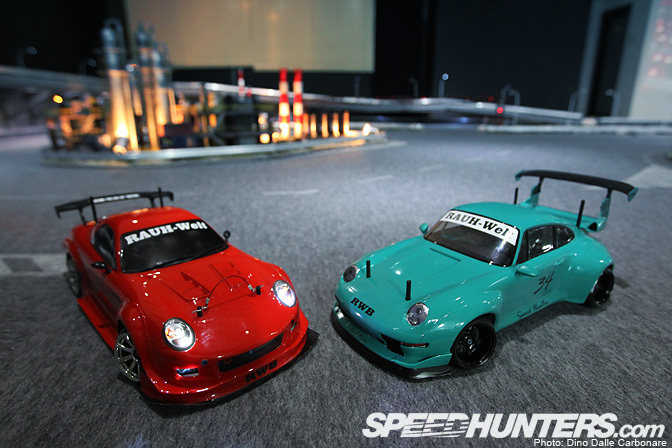 And finally a shot with Russ's first RWB-inspired creation, his Super GReddy FD. Next thing we have to do is show these bodies to Nakai-san! I wonder if he will like them! 
-Dino Dalle Carbonare