The 2012 Formula Drift Season is past the half way mark now as we finish up qualifying at Round 4 in New Jersey.
Qualifying in the first position was Odi Bakchis -his very first time as the top qualifier.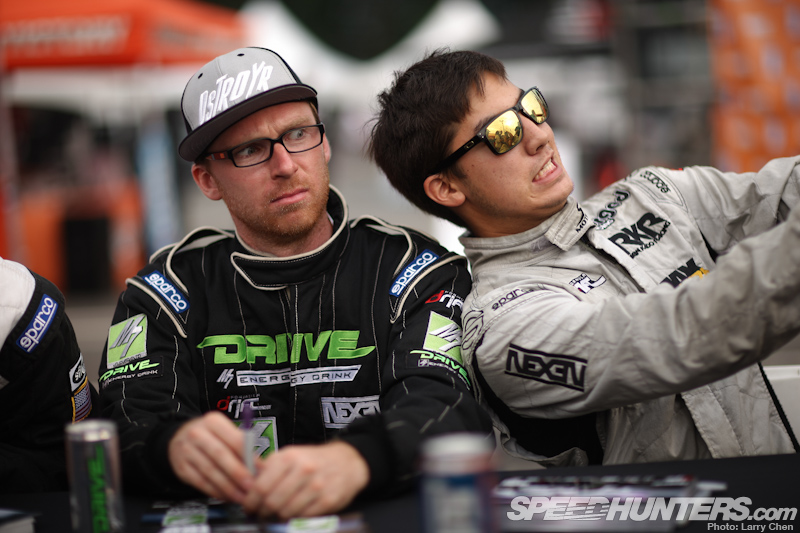 I don't think he believed it himself. I've watched the young driver come up the ranks from local events all the way until now. It's amazing the natural talent some of these drivers have.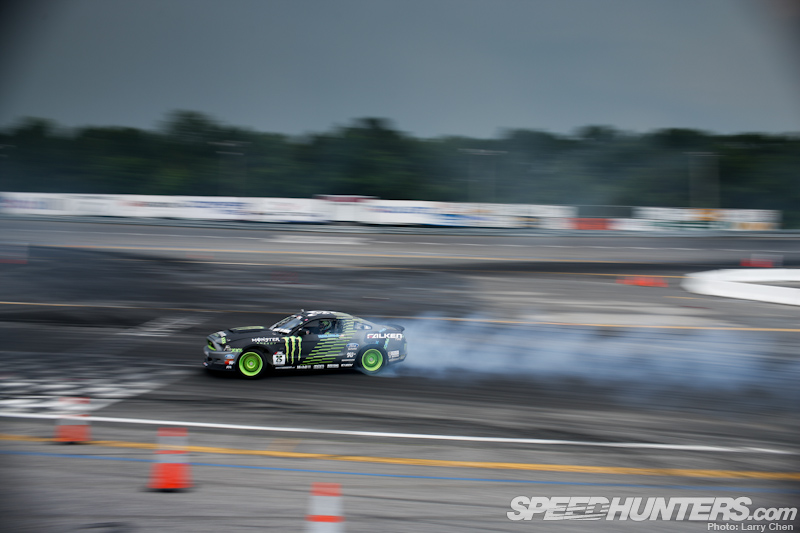 Coming in a close second was non other than Vaughn Gittin Jr. Stay tuned for an article about a recent visit to his home in Maryland.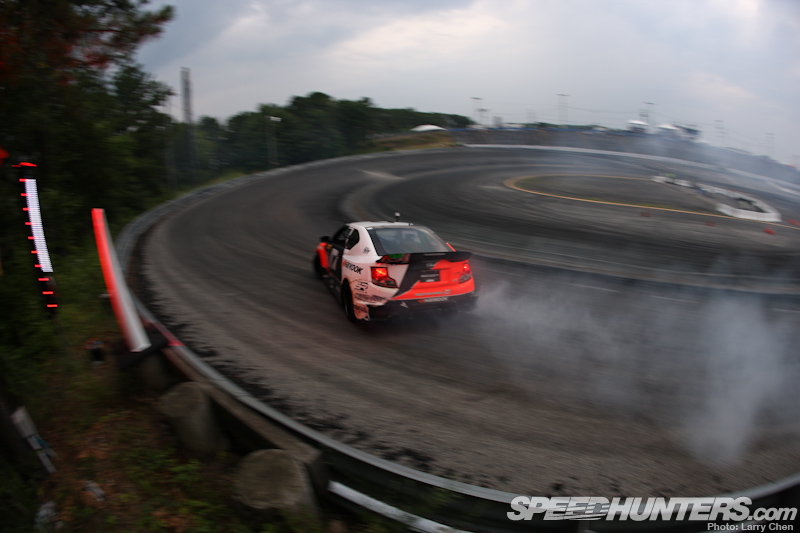 Coming in third was our very own Fredric Aasbo. He has been on fire recently and I would not be surprised if he ended up on the podium on competition day.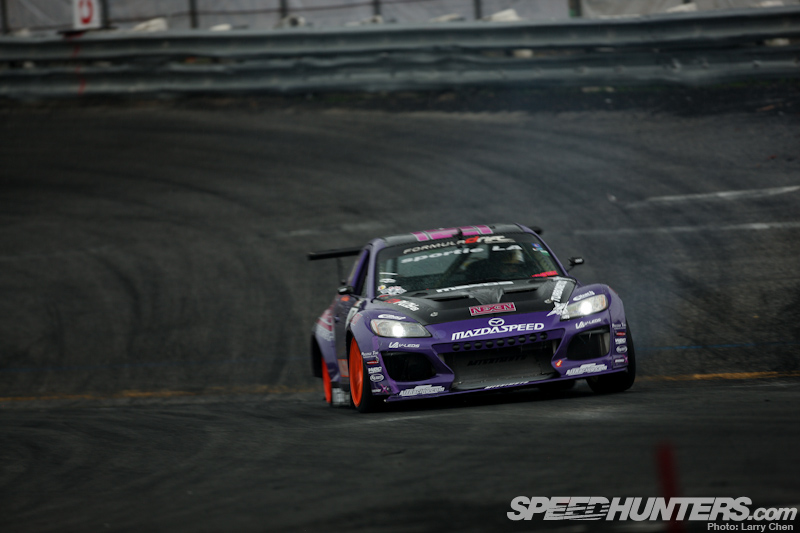 Of course qualifying did not go without a hitch as it started to rain midway though the session.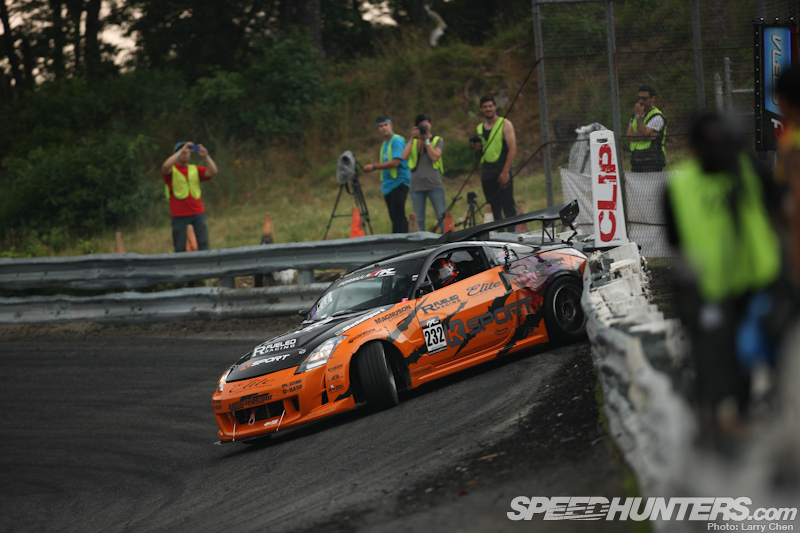 It made the track surface very slick and the judges had to compensate their scores for the lack of speed and smoke.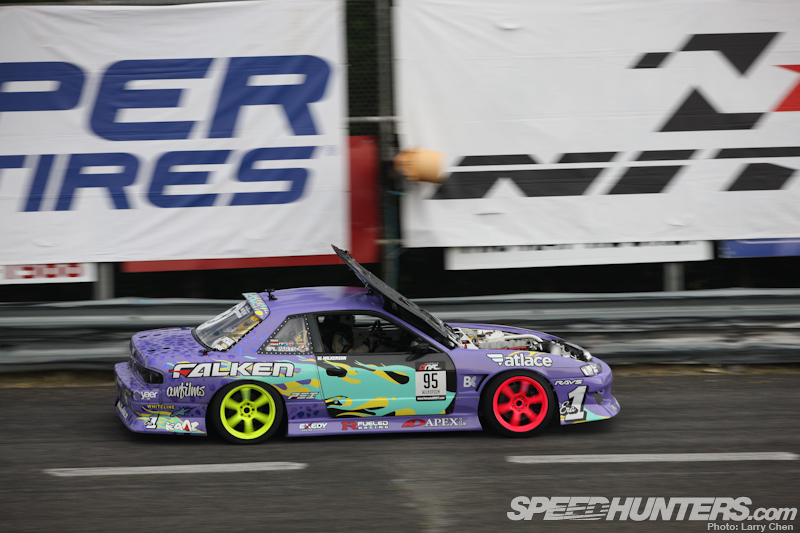 There were also other minor incidents including Walker Wilkerson getting a double zero. On Walker's first run he spun out and on his second run he left the start line and his hood came up. Because he left the line there was no way for him to redo his run.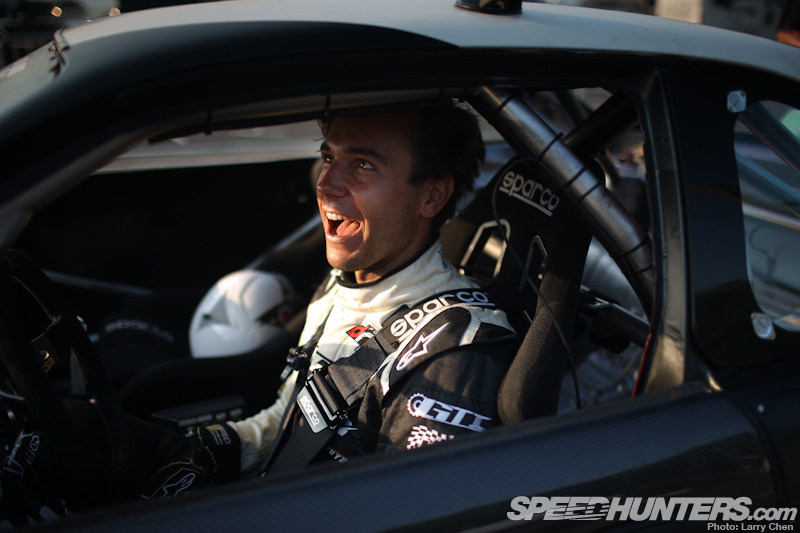 Another driver that was having problems in the wet conditions was Team Need for Speed driver Matt Powers. He spun out on his first run so he was very stressed out about trying to make it into the show on his 2nd try.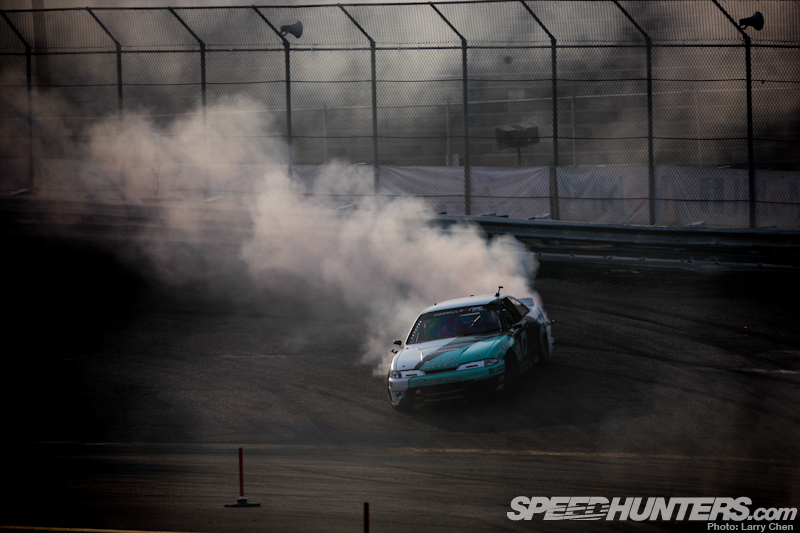 Matt's best friend and videographer, Nasty Nate bought him some ice cream to cheer him up. It seemed to have worked because Matt made it into the show.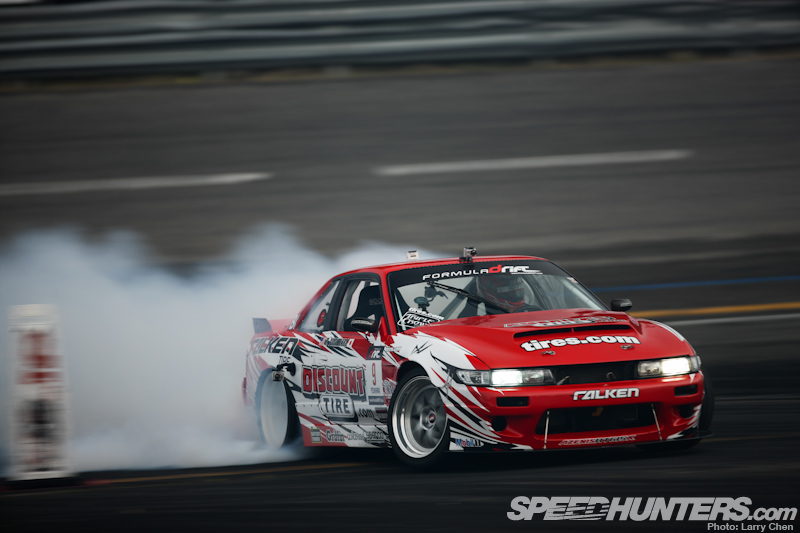 Daijiro Yoshihara rounds out the top four qualifiers. He had an incident during practice day with the guard rails, so I am sure he had that on the back of his mind during qualifying. Even so, he still put down an amazing run.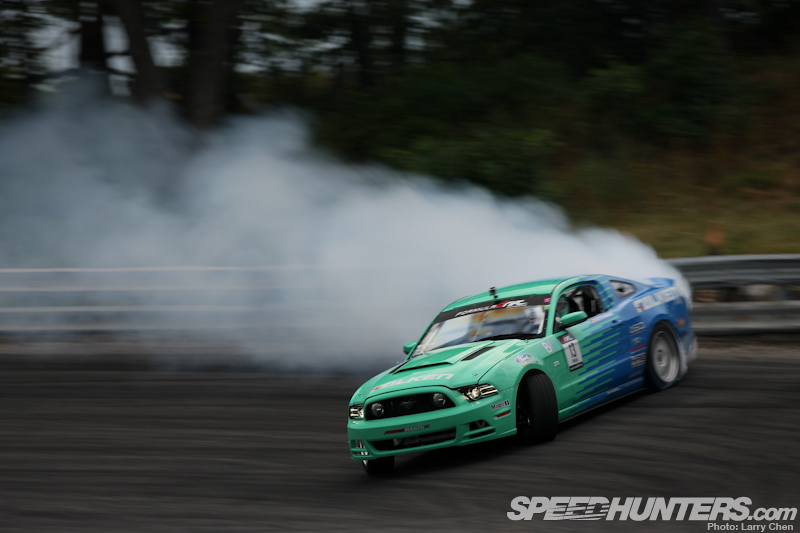 Our current points leader, Justin Pawlak, actually qualified mid pack at 14th position. Justin still has a commanding lead for the championship, but with Daigo Saito hot on his tail it should be an interesting  event to watch come tomorrow.
-Larry
More stories about Formula Drift on Speedhunters
More stories from Larry Chen on Speedhunters
1. Odi Bakchis (M7 Japan/Nexen Tire Nissan 240sx)
2. Vaughn Gittin Jr. (Monster Energy Drink 2013 Ford Mustang)
3. Fredric Aasbo (Need for Speed Scion tC)
4. Dai Yoshihara (Discount Tire Nissan 240sx S13)
5. Chelsea DeNofa (BC Racing E36 BMW)
6. Chris Forsberg (NOS Energy Nissan 370z)
7. Kenneth Moen (Lutz Performance Nissan 350z)
8. Conrad Grunewald (Hankook Tires Chevrolet Camaro)
9. Ken Gushi (Greddy Scion FR-S)
10. Darren McNamara (Falken Tire S15 Silvia)
11. Ryan Tuerck (Retaks Nissan 240sx S13)
12. Tyler McQuarrie (Go Pro/Mobil 1 Chevrolet Camaro)
13. Rhys Millen (2013 Hyundai Genesis)
14. Justin Pawlak (2013 Ford Mustang)
15. Robbie Nishida (Achilles Tire Lexus SC300)
16. Luke Lonberger (Hankook Tire Chevrolt Corvette C6)
17. Daigo Saito (Achilles Tire Lexus SC430)
18. Joon Maeng (Nitto Tire Mazda Rx-8)
19. Ryan Kado (Nexen Tire Nissan 350z)
20. Michael Essa (GSR BMW Z4)
21. Dennis Mertzanis (Fuelculture.com Nissan 240sx S13)
22. Kyle Mohan (Nexen Tire Mazda Rx-8)
23. Matt Powers (Need for Speed Nissan 240sx S14)
24. Patrick Mordaunt (APEX'i Lexus SC430)
25. Chris Ward (S13 Nissan 240sx)
26. Tony Brakohiapa (eBay Motors 2013 Ford Mustang)
27. Danny George (Crabbroker.com Mazda Miata)
28. Tony Angelo (Scion Racing Scion tc)
29. Taka Aono (Megan Racing Toyota Corolla AE86)
30. Jhonnattan Castro (Progreso Bank Nissan 350z)
31. Miro Ovcharik (Sikky Engineering Nissan 240sx)
32. Nick D'Alessio (Elite JDM Nissan 240sx)