Following today's little teaser post from the Mooneyes event in Odaiba, it's time to get stuck in now and begin to take in the show in all its enormity. Like at every gathering put on by the Mooneyes Japan crew, my favorite part of the day is hanging outside the venue and just checking out all the cars as they arrive…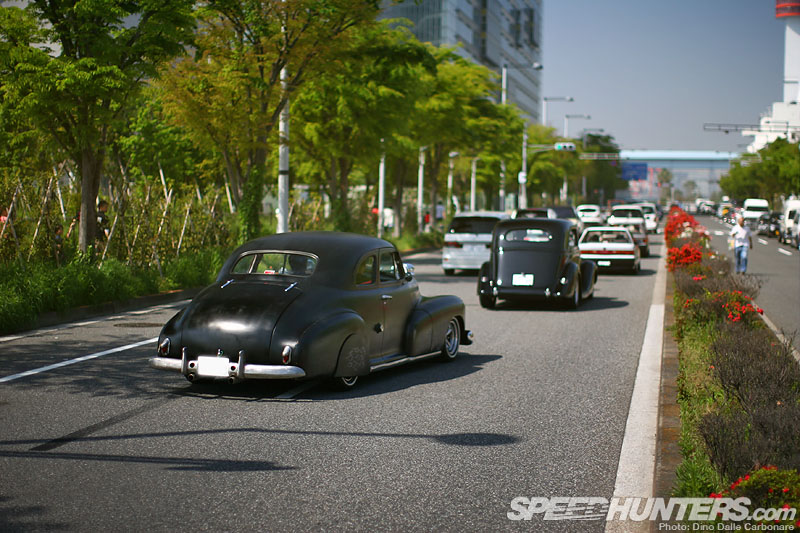 …because it's simply not every day that your vision is bombarded by a sight like this. Seeing cool Japanese rides of all vintages mixed up with a variety of American customs makes for true entertainment as you are constantly surprised at what drives by. And then of course there are the sounds, the Odaiba area of Tokyo echoing with the coarse exhaust notes of barely silenced big block V8s as well as more familiar rev-happy tones of Japanese classics.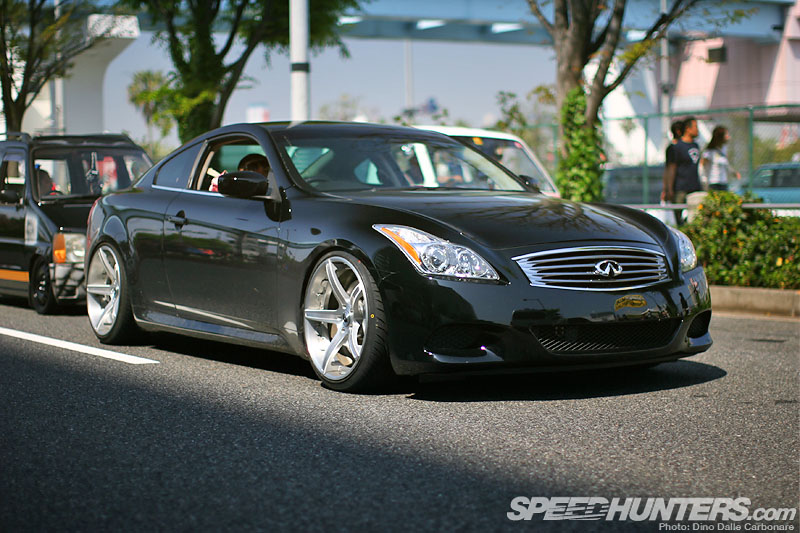 It's here that the show basically crawls past you, as cars that are waiting to enter the display area line up with cars trying to make it into the overflowing parking lots. Take a look at this slammed V36 Skyline running on big 20-inch rims and sporting an "Infiniti" badge conversion. I wouldn't be surprised if Infiniti owners in the States fit Nissan Skyline badge conversion to their cars!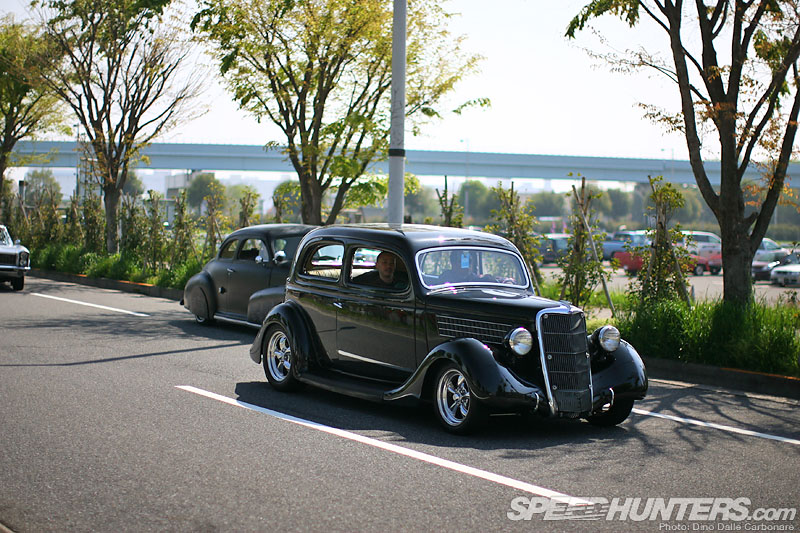 The Mooneyes show attracts enthusiasts from all over Japan, I saw number plates all the way from the north of the country like Iwate and Aomori, all the way down to Nagoya, Osaka and even Hiroshima.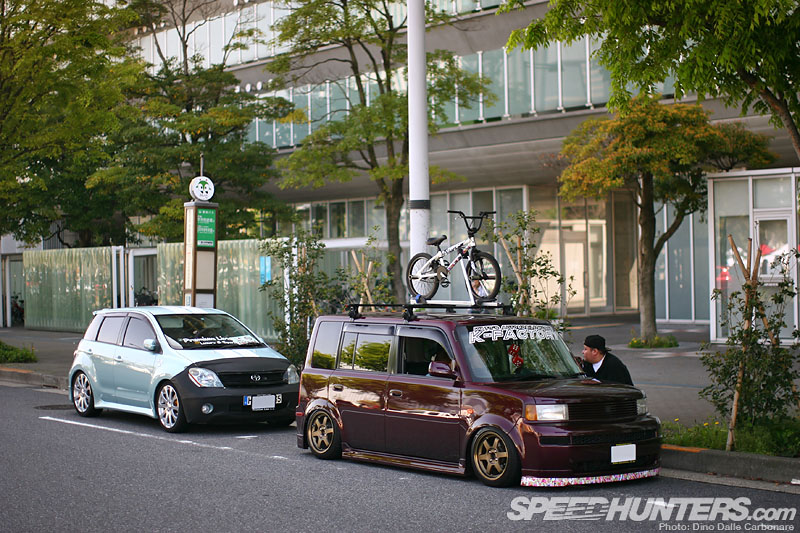 I came across this Toyota bB and Ist in front of the convenience store opposite the show venue. The show creates a very cool atmosphere out on the street as lots of cars park up and people chill out outside, a perfect time to catch up with those into the same styles.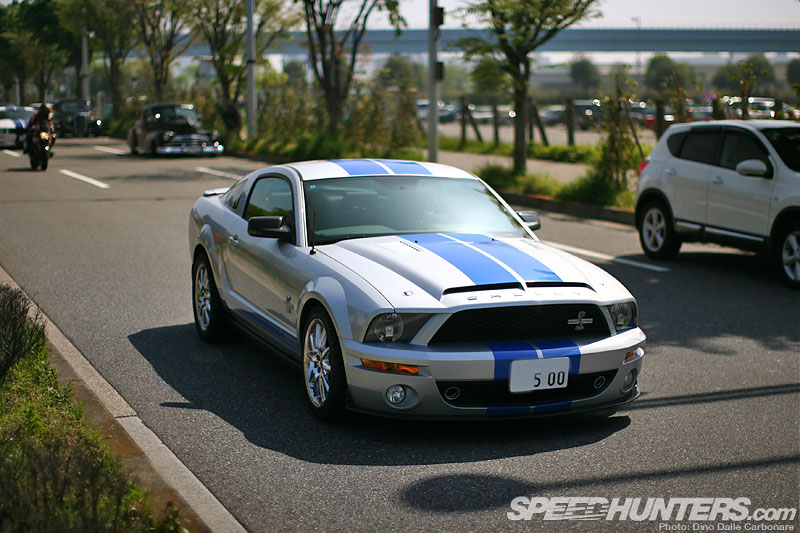 And the diversity continued as a group of Shelby Mustangs drove past…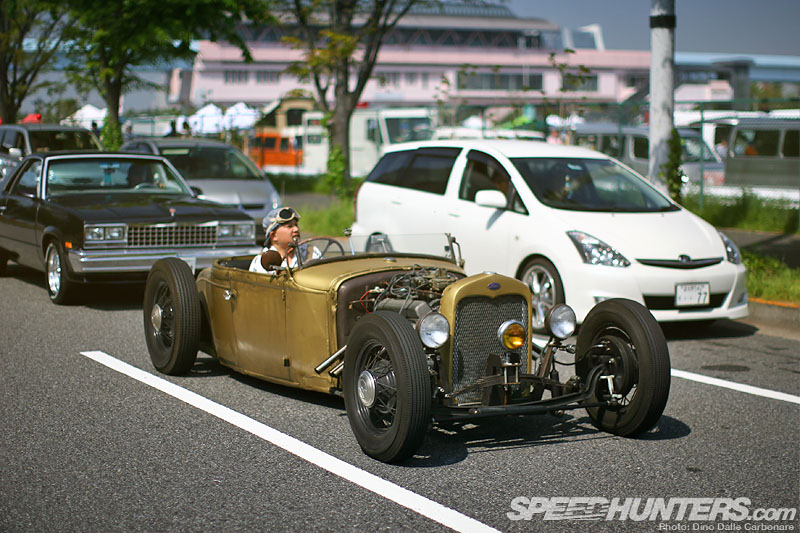 …followed by this Ford hot rod.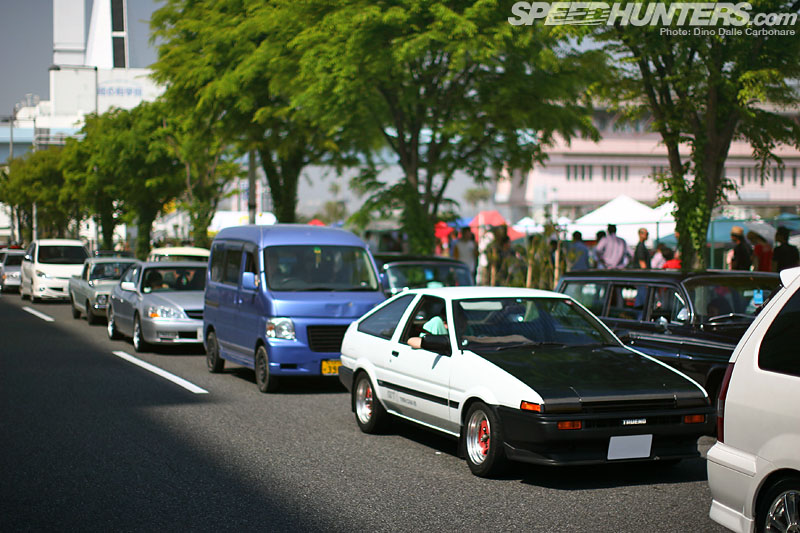 Things could not be complete without at least one AE86, this is Japan after all!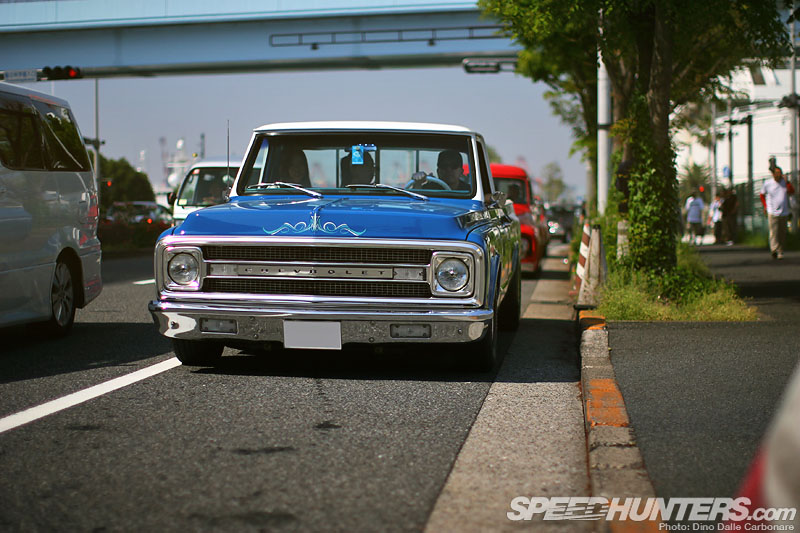 With most of the cars having made it into the massive show area by 9 am it was time to head inside…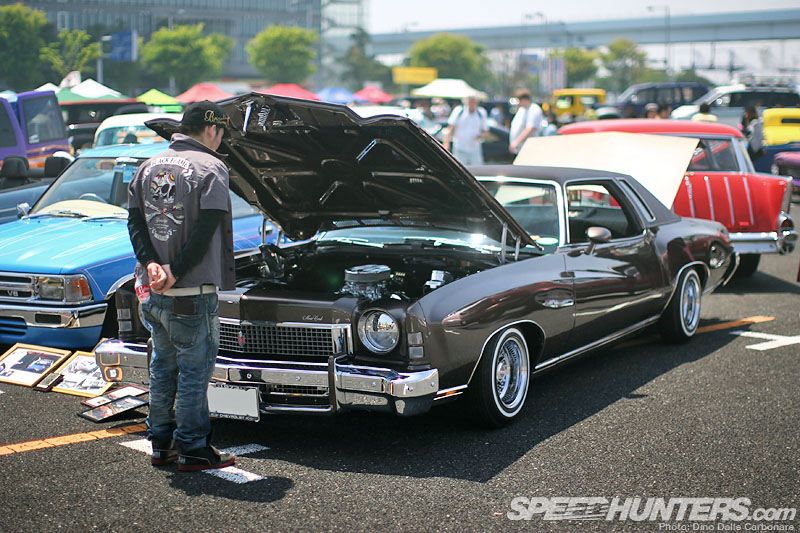 …and do what everybody does when confronted with all sorts of custom goodness, take it all in.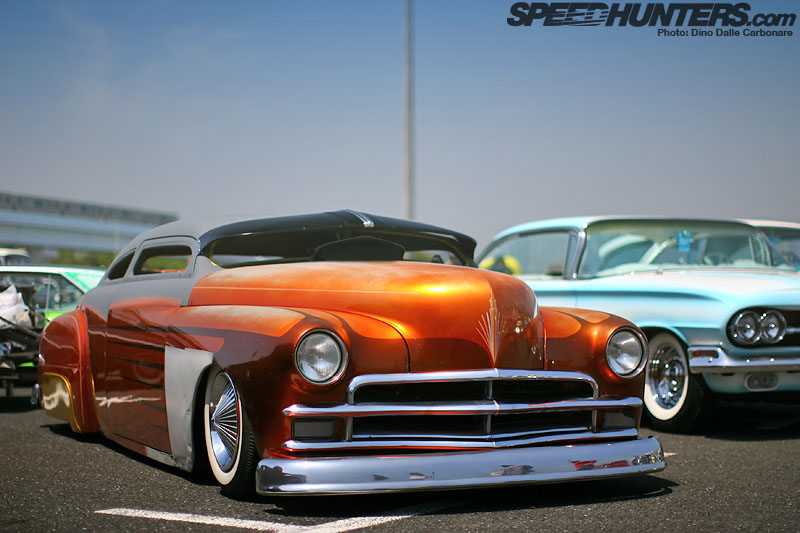 After having walked through all of the show, just to get a general idea of what was present, I began to get stuck in and examine the cars in more detail. Out of the whole show it was this particular roof-chopped Plymouth Coupe that really stood out…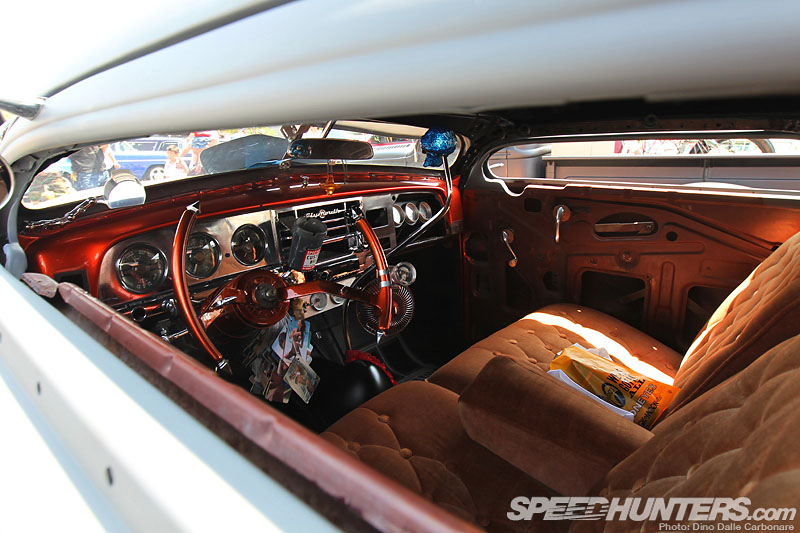 …obviously a project that is still a work in progress. It's probably hard to portray with these images just how extreme of a chop this was, I could barely fit my camera's lens through the window (well there wasn't one yet) to grab this shot of the rather cozy looking interior.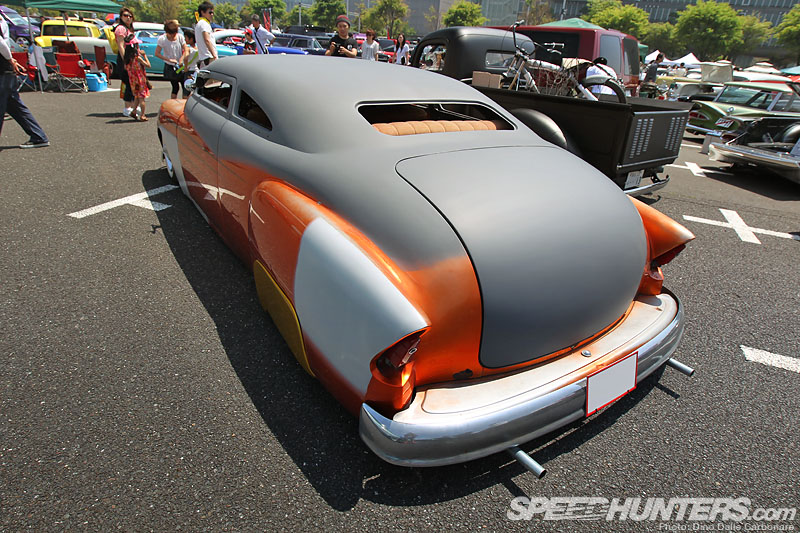 An impressive ride to say the least.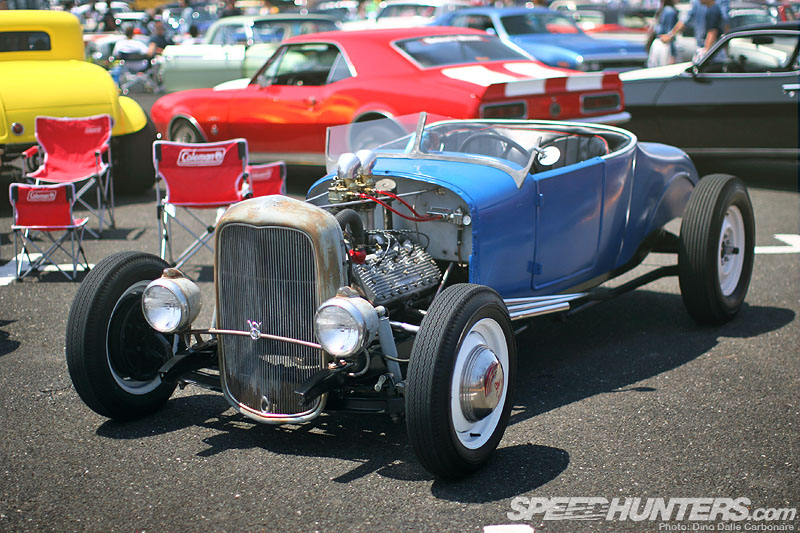 Like I mentioned in the teaser post it's hard not to appreciate all the work and imagination that goes into creating these one off automotive work of arts…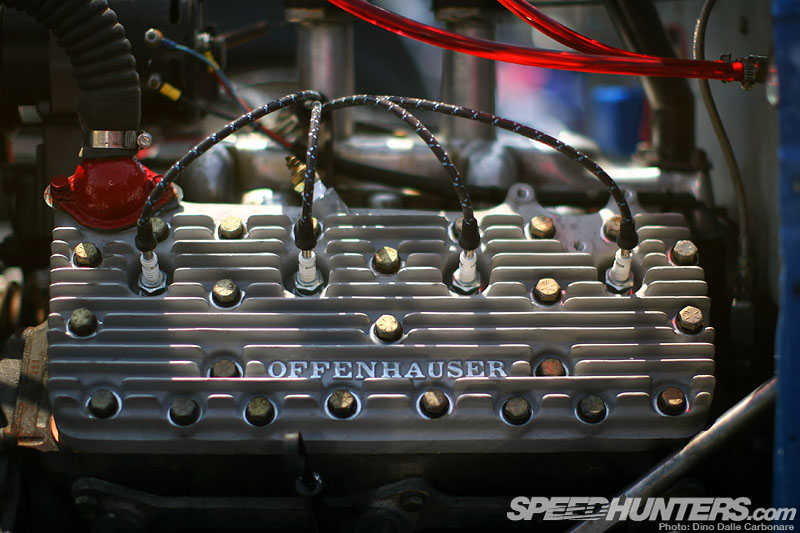 …even if this may not be your scene, it's impossible not to admire the details.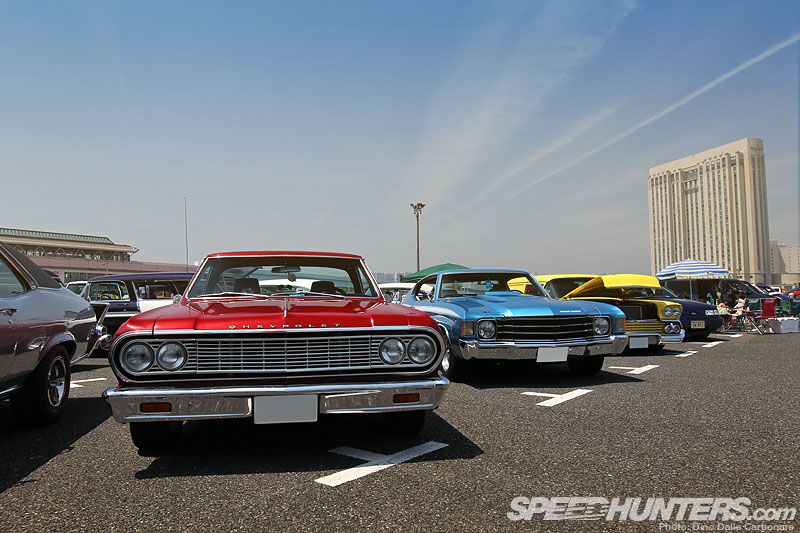 There is nowhere in the world where you can see so many kinds of muscle cars, hot rods and customs…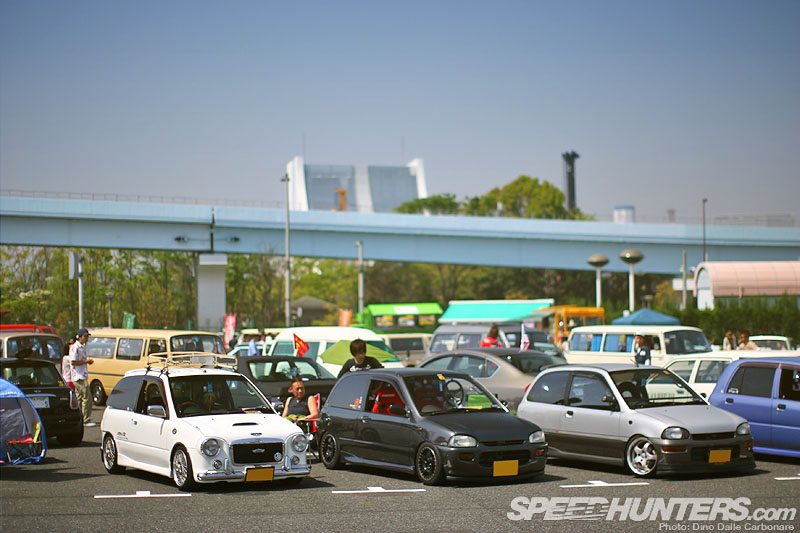 …and then turn around and be presented with a line up of slammed kei cars. When it comes to car culture, Japan is just about as unique as a country could ever get. Japanese people are virtually into everything, and if they are going to do something they will always do it well!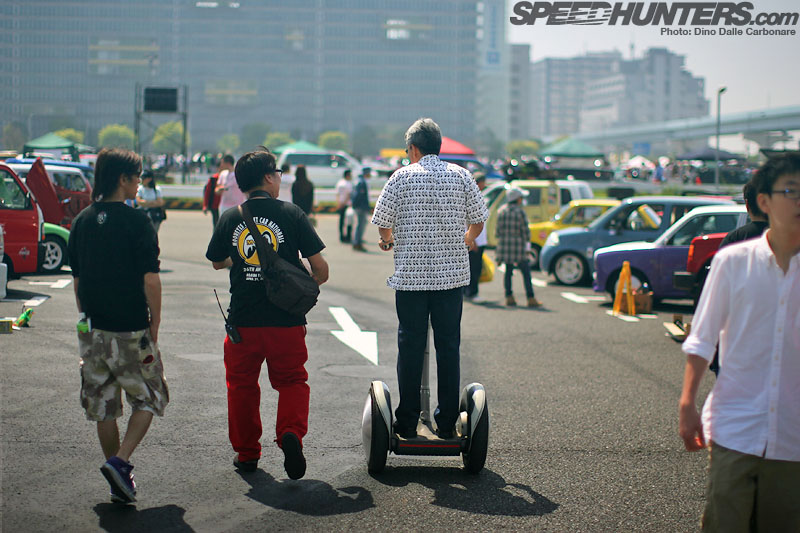 Here is Shige Suganuma, the man behind Mooneyes Japan, cruising around in his Moondisc-equipped Segway. Let me tell you, after 6 hours walking around the show, I could have really done with a Segway myself!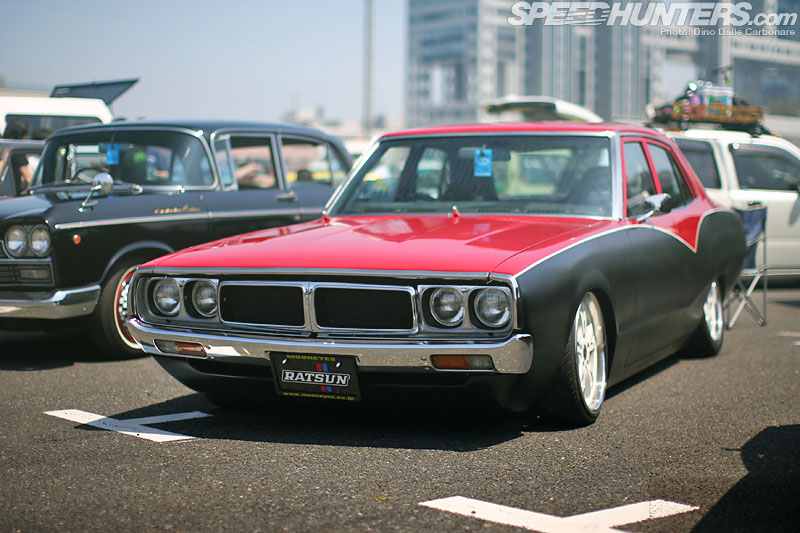 The Japanese car section of the show is just as educational, I always end up seeing models of cars from the past that I didn't even knew existed.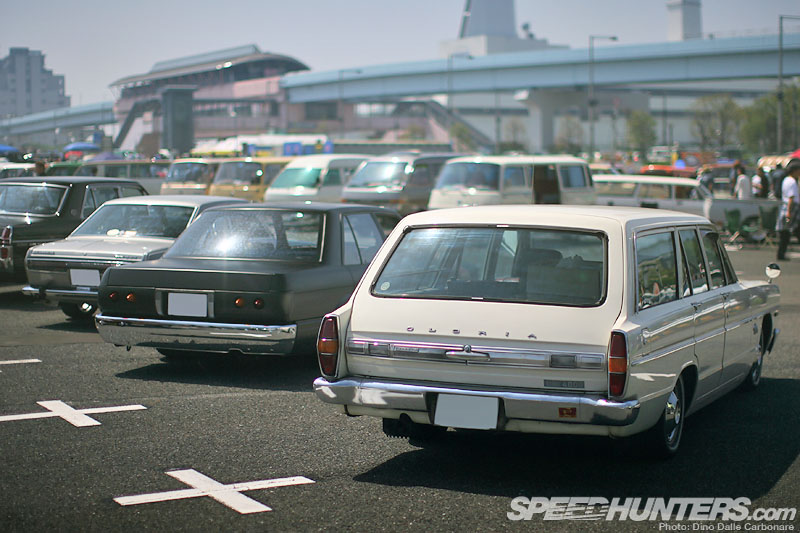 Take a look at this Gloria station wagon, displayed on an all Nissan/Datsun line up.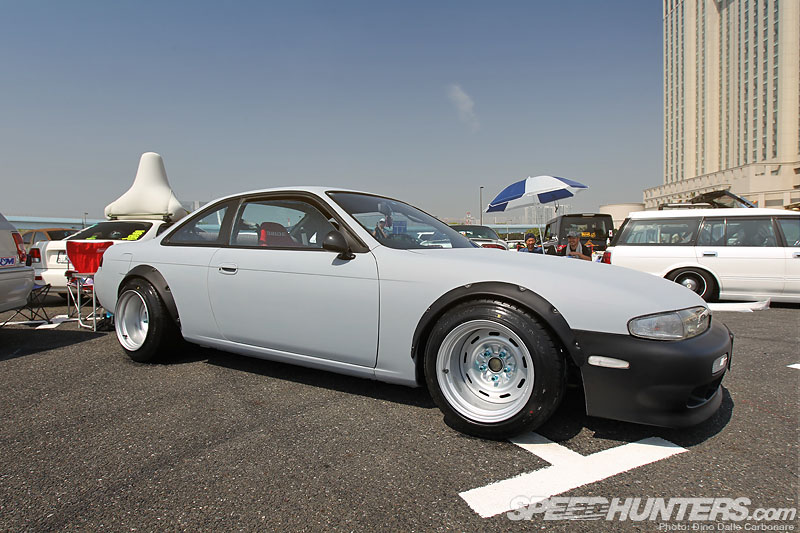 And speaking of Nissans, this S14 was grabbing a lot of attention thanks to the flat gray paint along with the bolted-on fender flares…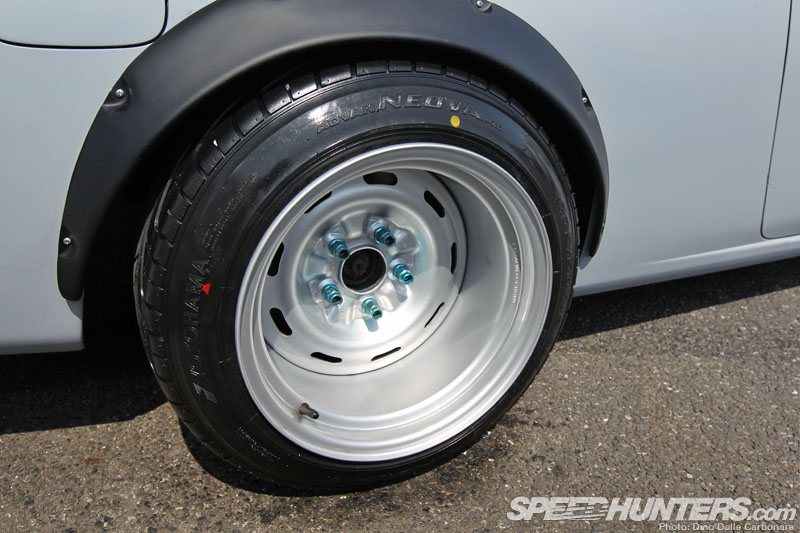 …and of course these deep-dish steel wheel wrapped with stretched Advan Neovas.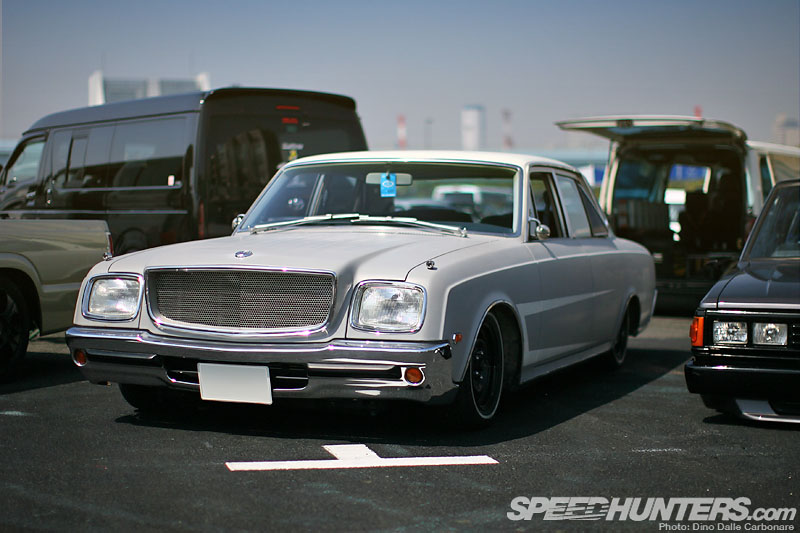 High on my list of favorites was this first generation Toyota Century, dropped to the ground and finished off with a two-tone paint job. You just can't get more Japanese than a Century!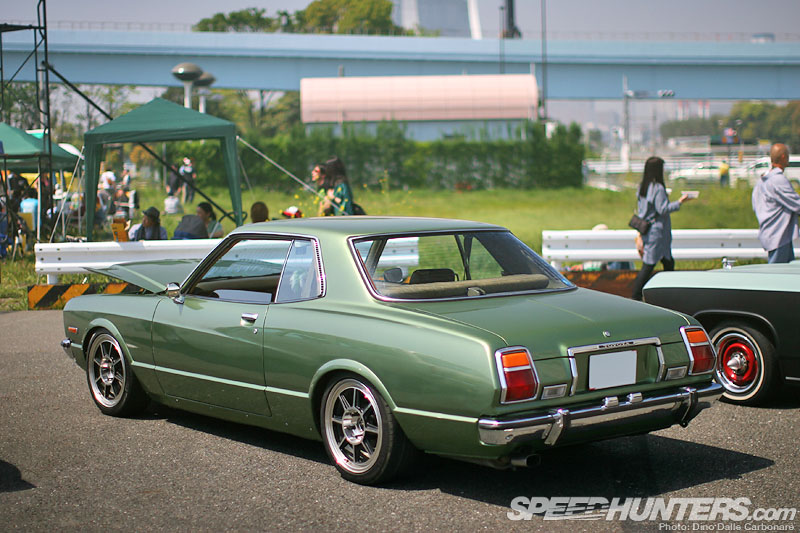 A nice Corona Mark II coupe from the seventies on Hayashi Racing wheels. Simple but effective.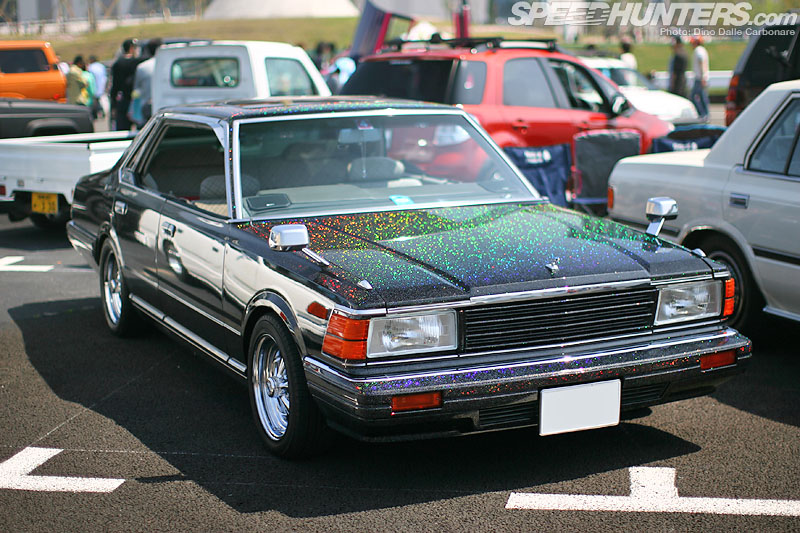 Who likes things sparkly?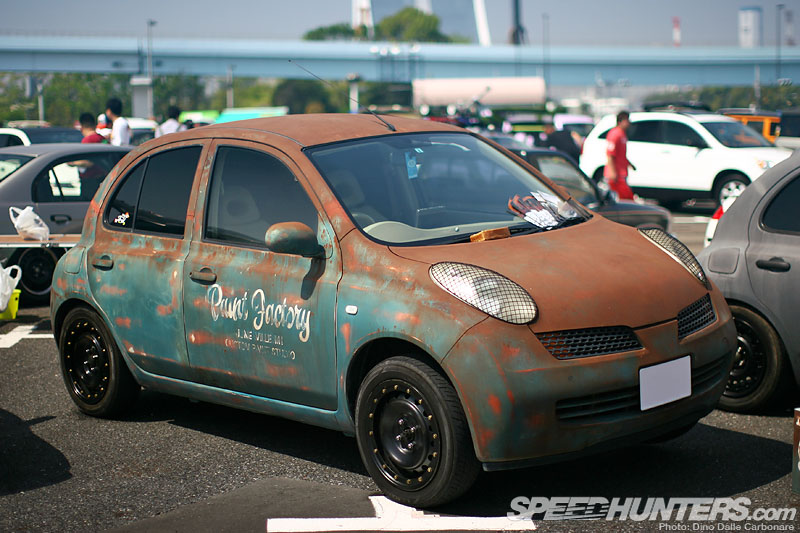 How about a rusted out Rat Rod look for your Nissan March?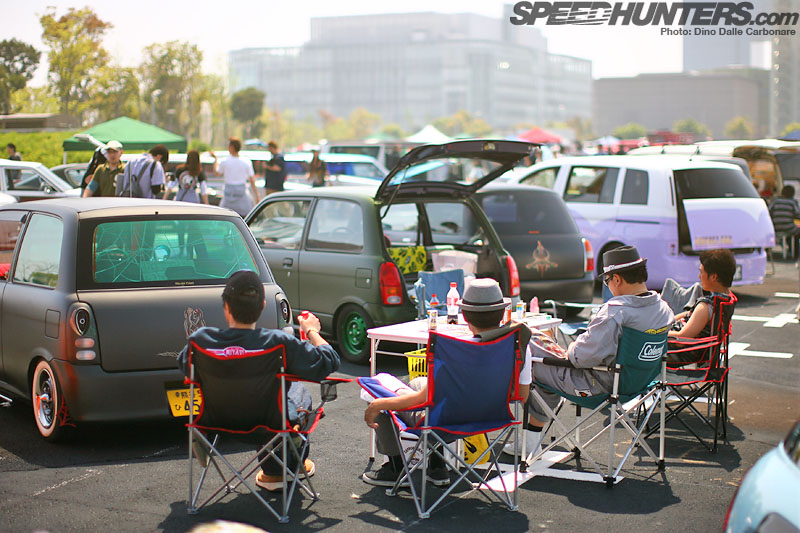 Mooneyes is as much about chilling out with your friends as it is about the cars. Most owners set up camp behind their cars and make a day out of it.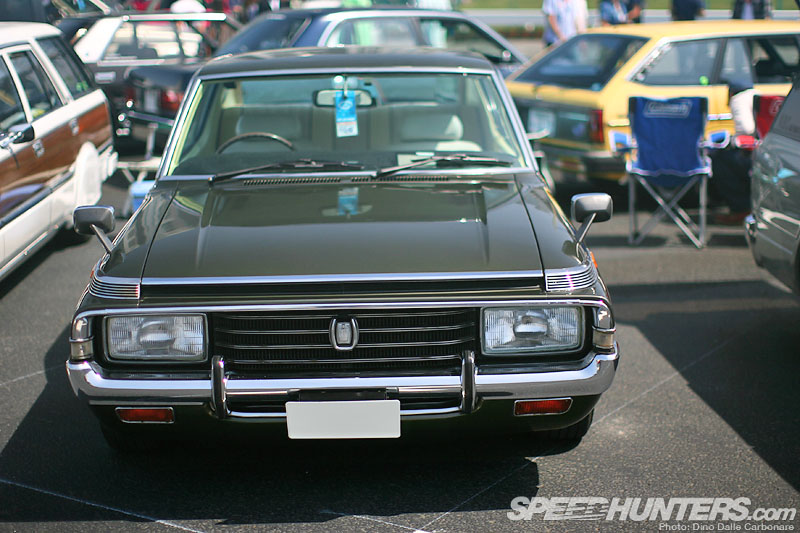 I just love these old Crowns…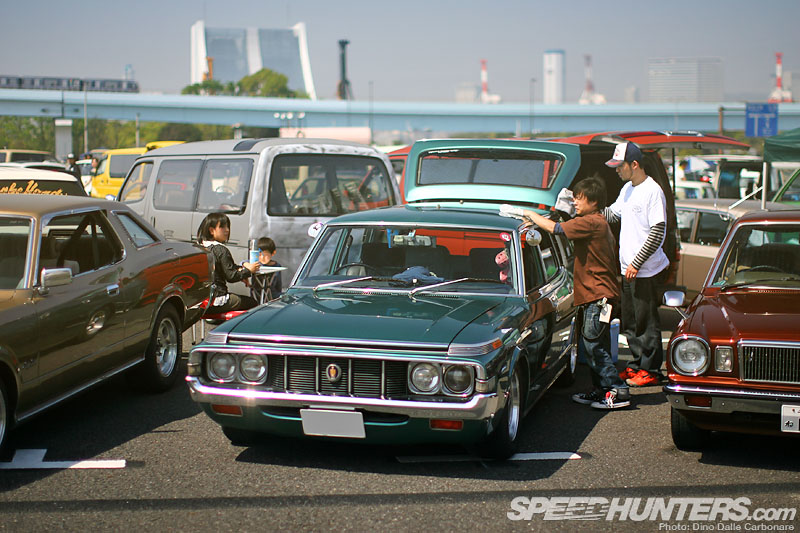 …and of course the wagons are my favorites. Talk about oozing style!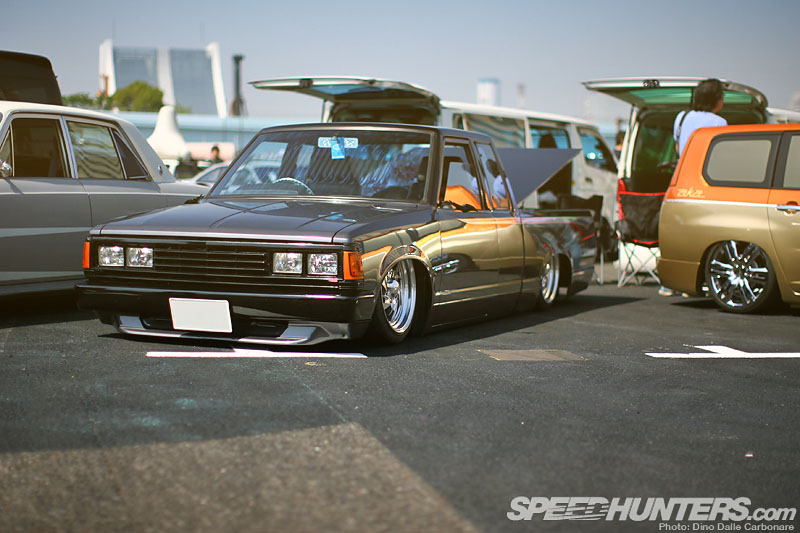 There is always something unique in the mix.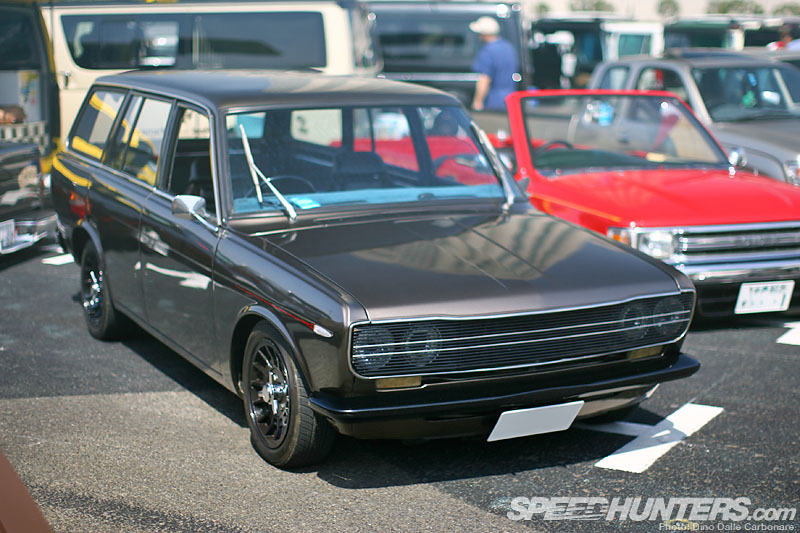 Another wagon, this time a Datsun 510. Loving the grille.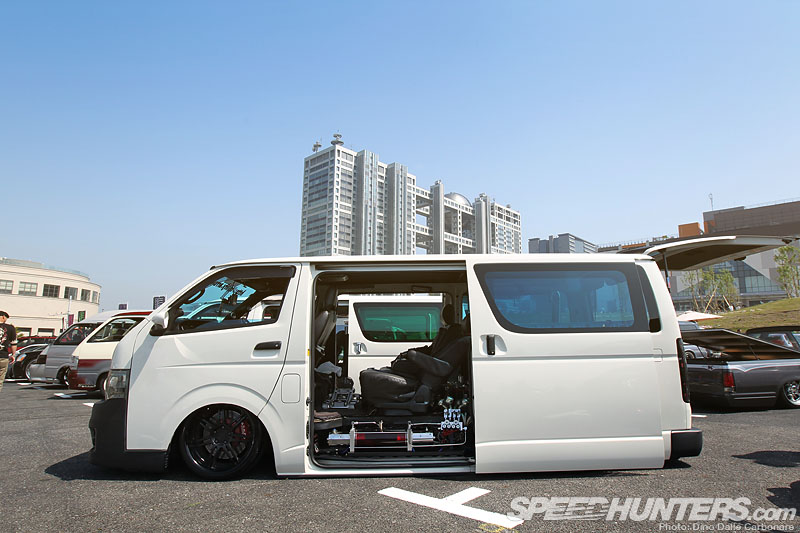 The Toyota Hi Ace is by far the most popular commercial van in Japan, and as you can see here it lends itself rather well to all sorts of styles. There are so many parts out for these vans it's pretty incredible.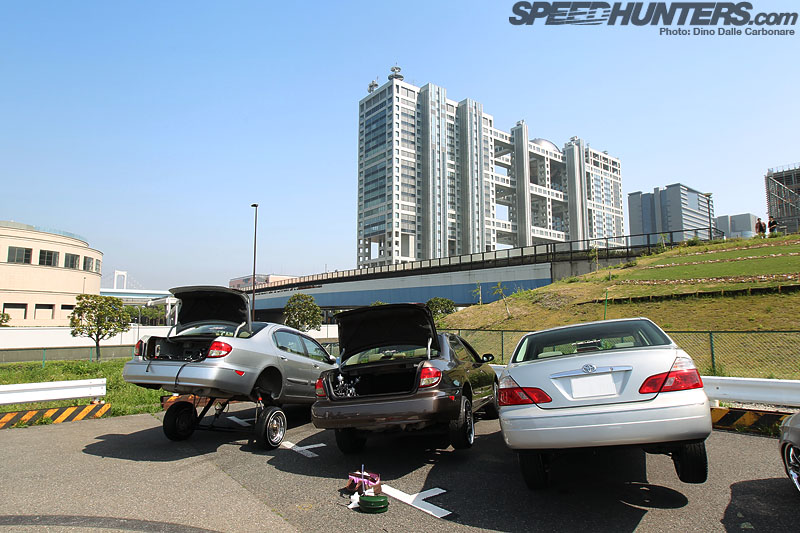 Something different!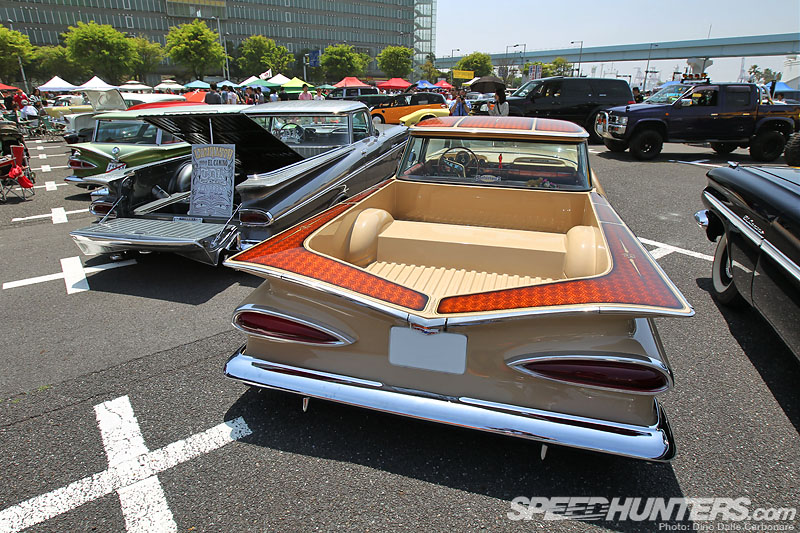 I'll stop here for now. There are many more American and Japanese custom rides coming up in the next part, so check back soon for more!
Mooneyes 2012 coverage on Speedhunters
-Dino Dalle Carbonare